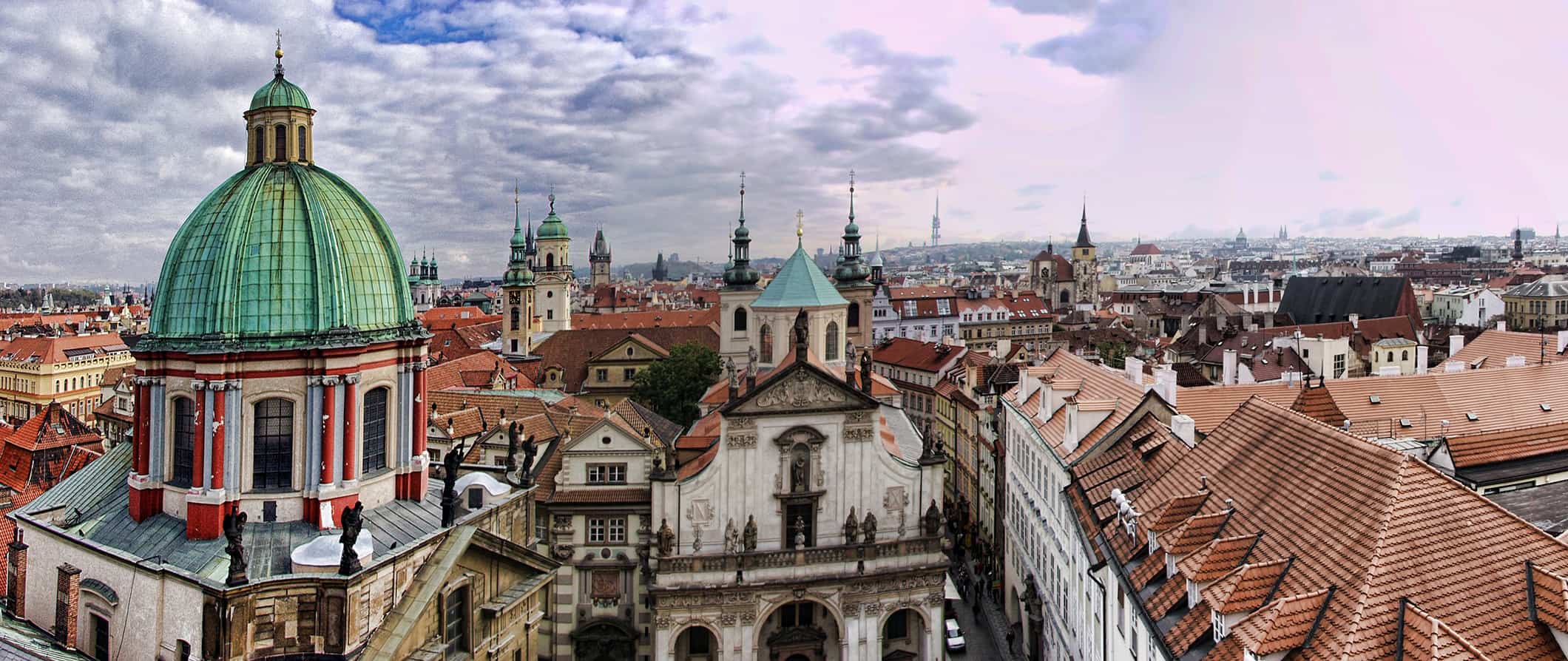 One of the great rites of passage is the summer backpacking trip through Europe. For young people, especially college-aged Americans, the summer trip is one of the most memorable experiences people have in their life. From beautiful Paris, to smoke filled coffeeshops in Amsterdam, to Oktoberfest, to the beaches of Greece, there's so much to see on the continent I couldn't name it all even if I tried. But even if you aren't about to backpack around Europe, the continent holds wonderful beaches, historical architecture, amazing wine, and wonderful people. Every country is incredibly different than the next. I've visited the continent every summer and always find something new that blows my mind. This extensive backpacking travel guide will help you visit the continent on a budget.
Top 5 Things to See and Do in Europe
1. The Greek Islands
2. Ride the rails
Europe is famous for its international rail system. Rail passes make is easy to get from country to country on a relatively small budget. You'll find lots of backpackers gazing out the windows on the diverse European landscape. Riding the European rails is one of the best ways to not only get around but see the continent!
3. Get lost in Paris
The city of lights is everything people say it is. I feel in love with it the first time I stepped foot in
Paris
. The food, the wine, the atmosphere, the history. It's hard not to see the magic. You'll never be able to see the city in just one visit. It would take years to see everything, but, you can get a good feel of the city in a few days.
4. Go city hopping
There are so many amazing cities in Europe that we'd need a top 100 to list them all. Some of my personal favorites and must sees are: London, Edinburgh,
Amsterdam
,
Berlin
, and
Barcelona
, Lisbon, Prague, Tallin, Florence, and Stockholm. Criss cross the continent, take in the culture, and enjoy all the historic cities!
5. Hit the Swiss Alps
Whether you go skiing in the winter or hiking in the summer, the Alps hold some of the most breathtaking views in all the world. Italy, France, or Switzerland, all the alps are great! You can't go wrong with any place you see them and they are one of the greatest natural attractions on the continent.
Other Things to See and Do
(Click the title to expand the text)
1. Go to Amsterdam
There's more to the city than just coffee shops and red lights. I love Amsterdam so much, I lived here for a short period of time in 2006. Cobblestone and brick streets weave around lovely canals. Amsterdam has a vibrant art and music scene and friendly locals willing to help you out. Make sure you get out of the center into the Jordaan and Oost with their wonderful outdoor cafes.
2. Hang out in Barcelona
Barcelona is a city that goes 24 hours a day, 7 days a week and could give NYC a run for the "city that never sleeps" title. Be prepared for late-night dinners and parties til dawn. Barcelona knows how to get down. Besides a great food and nightlife scene, there is a wonderful beach, Gaudi architecture, and history dating back to Roman times.
3. Visit Berlin
Hip and trendy Berlin is an energetic destination. It is one of Europe's most affordable capital cities with a vibrant music and art scene and a growing foodie movement. There is a ton of cheap Middle Eastern food. Be sure to check out the history museum – it's one of the best in the world.
4. Drink beer at Oktoberfest
Oktoberfest is a must for anyone going to or near Germany at the end of September. There are people from all over the world, lots of beer, excitement, music, and wild fun. Watching thousands of people sing together, toast and party atmosphere make you feel good about the world. (Or maybe that's just the beer?)
5. Experience London
Get a taste of English culture in diverse London. The museums here are some of the best in the world (and free), plus the city offers great food, and the pub culture is wonderful. Head to Brick Lane for some amazing Sunday food markets. I prefer Paris to London, but there is something sophisticated and fun about London. Just watch those pints – London is not a cheap destination.
6. Hang out in Scandinavia
My favorite region in Europe is Scandinavia. The quality of life here is high, the people beautiful and friendly, the cities clean and historic. True, this area of Europe is not cheap, but there are plenty of ways to reduce your expenses. Don't let the high prices scare you away. Highlights for me include Copenhagen, Stockholm, Gotland, Norway's fjords, and Lapland in Finland.
7. Get enchanted in Prague
Prague is a beautiful city with amazing history. It's a cheap destination and during the weekends it heaves with people enjoying the bars, cheap beer, and delicious food. It is one of the most beautiful and picturesque cities I've seen.
8. Wine and dine along the French Riviera
Have fun in the sun, hob nob with the rich and famous, and sail (or gaze at) gigantic yachts. You can pretend to live the high life for a little bit. Nice is nice and Monaco is just a skip away.
9. Enjoy the great outdoors in Interlaken
Located in the beautiful mountains of Switzerland, Interlaken is a great place to unwind with some good hikes, hot chocolate, and outdoor sports. It's a good alternative from all the cities and museums you constantly see. Interlaken is also a popular party destination for backpackers and other young travelers.
10. Explore Rome
This thriving historical city has amazing food and nightlife. Moreover, with its tiny little streets to wander through (you can't walk two feet without stumbling over a ruin), Rome is a history buff's dream. Visit the Trastevere area for a taste of "local" Rome and chill bars. It's my favorite area in the city.
11. Hike around the Cinque Terre
Cinque Terre is my favorite part of Italy. These five beautiful cliff side towns are perched near warm waters and beautiful olive and grape groves. You'll find some wondrous and strenuous hikes in these hills. For a real challenge, take trail #8. Or just walk the coastline for something less difficult.
12. See Krakow
Krakow looks like it stepped out of a medieval postcard. It's even nicer than Prague! It's a hip, trendy, and youthful city as it is the center of education in Poland. You have a lot of university students here. Most travelers come to party here (the vodka is cheap) but try to enjoy the city's history and food besides just the bars. Auschwitz concentration camp is also close by.
13. Visit the ruin bars in Budapest
The coolest nightlife in all of Europe is found in Budapest. These bars are built in abandoned buildings and lots and feature funky art installations and decor. They are amazing, fun, and great places to meet locals. People of all ages flock here. If you skip these bars, you miss out on one of most unique things about the city.
14. Explore Cornwall
The best part of England is outside London, and unfortunately not a lot of people leave London. Head west to the area of Cornwall for cheaper prices, friendlier locals, more natural beauty, great hiking, rolling hills, small towns, and overall what you think of "traditional England."
15. Walk the Camino
El Camino de Santiago (The Way of Saint James) is an ancient pilgrimage route that stretches from France all the way across Spain. It is an 800km trail that winds through some incredible terrain, usually taking over a month to complete. Of course, you can just walk a section of it if you don't have the time.
16. Throw tomatoes during La Tomatina
By far my favorite festival, this giant food fight happens during the last Wednesday of August in Bunol, Spain. For about an hour, everyone throws tomatoes at each other and the streets become ankle deep in tomato juice. Afterward, everyone walks down to the river, cleans off, and then heads to the town square for sangria and music.
17. Find more than Dracula in Romania
Not a lot of people visit Romania but this is off the beaten path country in Eastern Europe has undiscovered medieval towns, gorgeous beaches on the Black Sea, and incredible hiking – all at dirt cheap prices. I spent $30 USD per day here and experienced the country without any of the crowds of central and western Europe!
18. Drink fine whisky in Islay
Whisky has a long history on Islay. It's been made there since the 16th–century — first in backyards and then, starting in the 19th–century, in big distilleries. Over the years, whisky from the island came to be considered a specialty and was used to flavor a lot of other blends on the mainland. My visit here was amazing and, even if you don't like whisky, there are tons of good hikes and walks throughout this magnificent island.
19. Explore Iceland
Iceland is a magical country. You'll find majestic waterfalls and hidden hot springs around every corner, with sweeping vistas unlike anywhere else in the world.With whale watching in the summer and the northern lights in the winter, there really is no bad time to visit!