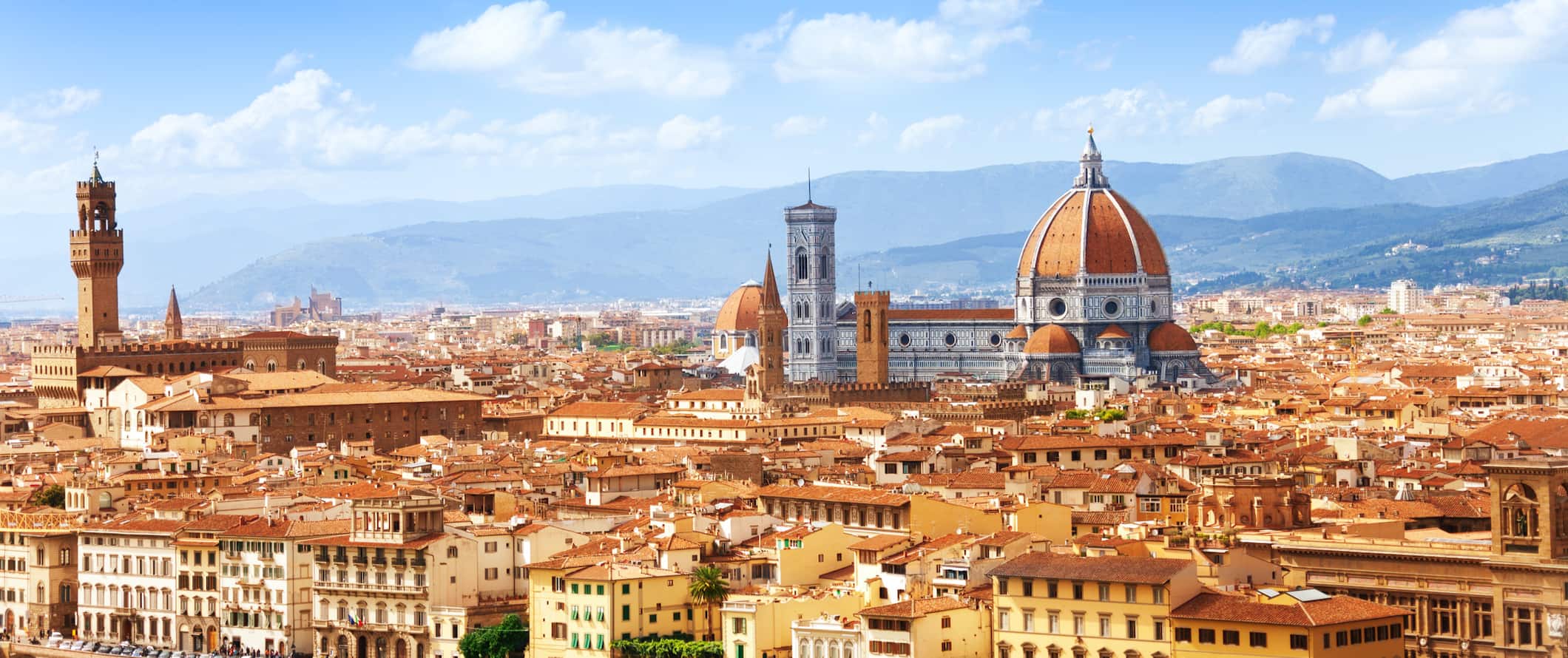 Florence is one of the most famous cities in Italy and a hotspot on the country's tourist trail. Few people miss it, especially if they are visiting Italy for the first time.
With stunning Renaissance architecture, winding streets, and picturesque white buildings capped with red roofs, Florence is one of my favorite spots in Italy.
If you love art, the number of galleries here will keep you busy for weeks. There are also beautiful Renaissance churches to be explored and you could easily spend hours on foot wandering the manicured pathways at the Boboli Gardens.
The city is also a great jumping-off point for Tuscan winery and food tours. Moreover, Florence is a popular study abroad location so the city also boasts incredible nightlife.
This Florence travel guide can help you plan your trip, save money, and make the most of your time in this classic Italian city.
Top 5 Things to See and Do in Florence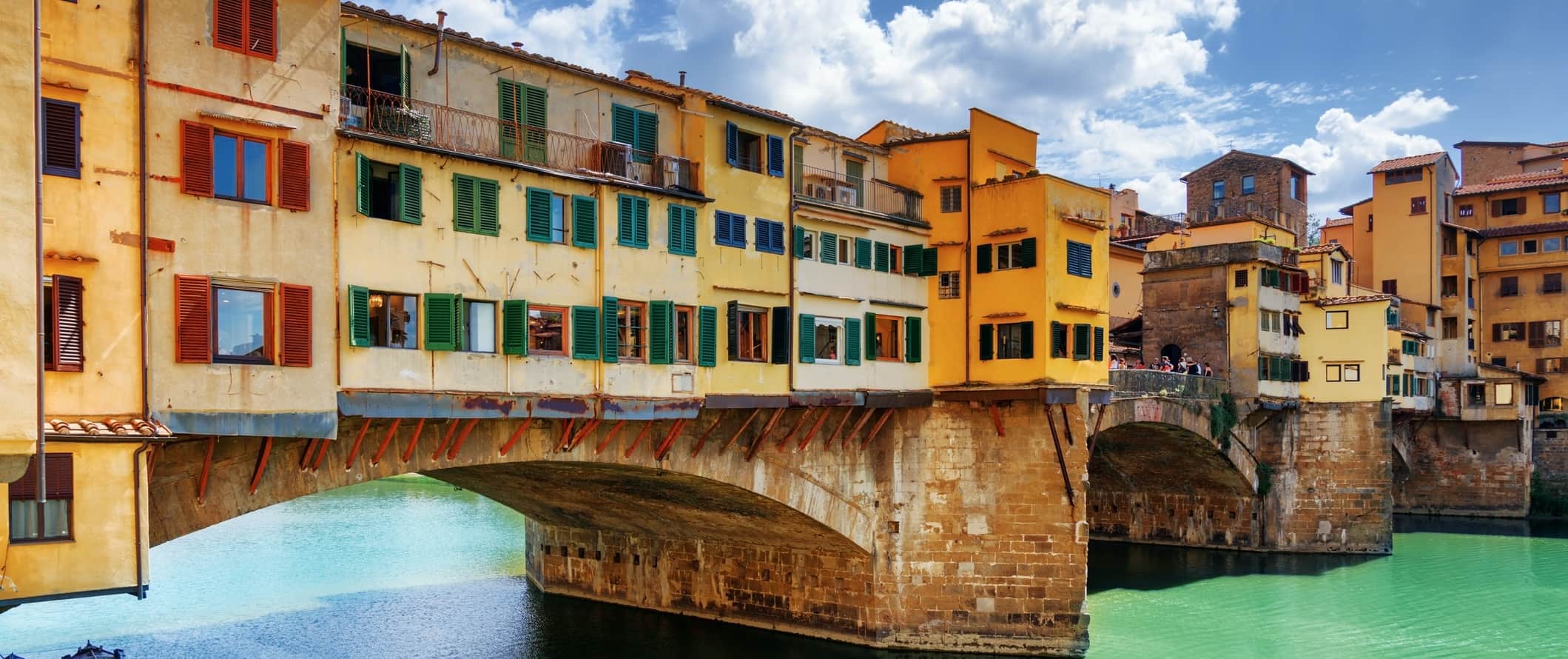 1. Spend a day in the Galleria de Uffizi
The Uffizi holds the world's most important collection of Renaissance art (including the The Birth of Venus and La Primavera by Botticelli, Bacchus by Caravaggio, and Doni Tondo by Michelangelo). Towards the end of the gallery, there are some portraits and Dutch works that are beautiful too. Be sure to buy tickets in advance to avoid long lines. If you go later in the day, there are fewer crowds. Tickets are 20 EUR (plus a 4 EUR online booking fee).
2. Climb Il Duomo
One of Florence's most popular sites is the Duomo (the cathedral). This huge Gothic building was started in 1296 and is part of the UNESCO World Heritage Site that covers Florence's historic center. Filippo Brunelleschi, known as the father of Renaissance architecture, engineered the famous dome, which is still the largest brick dome ever constructed. The real highlight is the view from the top where you get a panoramic look at Florence and its iconic red roofs (time slot reservation required). The cathedral itself is free to visit, but if you want to visit anything else in the complex (such as the dome, bell tower, or museum), you'll need to purchase one of three passes, with prices ranging from 15-30 EUR. The passes are good for three days. You can also get a skip-the-line ticket with exclusive access.
3. Walk along Ponte Vecchio
The Ponte Vecchio is a medieval bridge, built in 1345 as the city's first bridge across the Arno River. Today, it's the only surviving historic bridge in Florence, as all the others were destroyed in World War II. The bridge is lined with shops selling gold and silver jewelry. It's closed to vehicular traffic, making it a fun place to stroll around.
4. See David
Housed in the Galleria dell'Accademia, Michelangelo's 16th-century David is one of the most impressive sculptures in the world. At 5.17 meters (17 feet) tall, it's a lot bigger and more detailed than you think it would be. This is the one piece of art in the city that is a must-see. Admission is 12 EUR and skip-the-line tickets (with a guide) cost 74 EUR.
5. Wander the Giardino di Boboli
Commonly known as the Boboli Gardens, the Medicis (an Italian banking family and powerful dynasty; four popes were Medici family members) designed the landscape and architecture here in the Tuscan Renaissance style that later influenced aristocratic and royal gardens throughout Europe. The gardens are absolutely gorgeous, with ancient marble statues and large fountains everywhere, and the scent from the citrus trees completely flooding your senses. It costs 10 EUR to visit (there's also a combined ticket for the gardens and Pitti Palace for 22 EUR).
Other Things to See and Do in Florence
1. Take a walking tour
Walking tours are a wonderful way to learn about Florence and there are a handful of excellent free tours in the city. They cover all the highlights and are the perfect introduction to the city. Florence Free Walking Tours runs daily free tours in English. Just be sure to tip!
If you're looking for a high-quality and detailed tour focusing on the city's art or history, try Walks of Italy. They're my favorite walking tour company because their tours offer behind-the-scenes access and are led by informative guides. Tours start at 69 EUR for a 3-hour tour with skip-the-line access to the Duomo and Accademia Gallery.
2. Visit the baptistery
Consecrated in 1059, the baptistery of John the Baptist is one of Florence's oldest buildings. The octagonal baptistery that you see today was rebuilt from an earlier building dating back to the 4th-5th century CE. It was here where famous Renaissance figures, including poet Dante Alighieri and members of the Medici family, were baptized. Standout features include the three sets of huge bronze doors and the interior of the dome, which is covered in golden mosaics. Admission is part of one of the Duomo passes, which range from 15-30 EUR depending on which group of monuments you want to see.
3. Visit the Piazzale Michelangelo
Head to the Piazzale Michelangelo on the south side of the Arno River for a great cityscape view. It requires a good hike up a hill but it's a great way to see the stunning view of the city without paying to climb the Duomo. Florentine architect Giuseppe Poggi designed the space in 1869 specifically to showcase Michaelangelo's works. There's a bronze cast of David here, along with bronze casts of some of the artist's other works. If you aren't able to or can't walk up the hill, you can take city buses 12 or 13 to reach the top.
4. Lounge in Liberia Café la Cité
This is a combination bookstore, café, and cultural center. It's a great spot for some in-depth conversation with locals and a prime atmosphere for getting some work done. They host a lot of weekly events too, such as readings and writing workshops. It's open late (until midnight most days), when the atmosphere changes into a trendy, book-filled bar with great cocktails.
5. Admire Palazzo Pitti
Palazzo Pitti was built in 1457 for the Pitti family and was later sold to the Medici family in 1549. As major patrons of the arts, this palace serves as a beautiful ode to the Medici family's contribution to the cultural advancement of Florence. It hosts an impressive collection of paintings from the 16th and 17th centuries, including works by Filippo Lippi and Botticelli. Admission is 16 EUR (combined admission for Pitti and the Boboli Gardens is 22 EUR).
6. Explore the National Museum of Bargello
The museum, which originally dates to the 13th century, is home to original works by Bandinelli, Donatello, Antonio Rossellino, and other Renaissance masters. It has the largest Italian collection of Renaissance and Gothic sculptures in the country and is just a short walk from the Piazza della Signoria. Admission to the museum is 11 EUR.
7. Visit the Sant'Ambrogio Market
Sant'Ambrogio is one of the oldest districts in the city, and in fact is the oldest market in Florence, having been around since 1873. Although it's just a 10-minute walk from the Duomo, the market here is completely underrated. It's not as famous as the Central Market, and so its atmosphere is much more laidback. While you're here, try some traditional foods like lampredotto (made from cow's stomach), cured meats like finocchiona (fennel salami), pecorino sheep's cheese, and local wines. You'll find some excellent Tuscan food at the Trattoria Da Rocco restaurant. The market is open 7am-2pm from Monday-Saturday.
8. Hang out in Piazza Santo Spirito
Piazza Santo Spirito is a public square located in the quiet district of the Oltrarno. In the mornings, the place is bustling with market stalls. Once the sun goes down, locals flock to the bars and restaurants. There's a nice church to admire at the center of it all as well.
9. Visit the Stibbert Museum
This is one of Florence's most interesting and unique museums, though it doesn't get the same attention as the city's other museums since it's tucked away on the outskirts of town. This is the private collection of Frederick Stibbert, who also donated his villa and gardens to the city. There's some fascinating stuff amongst the collection of 36,000 artifacts, including historic armor from the Middle East and a completely reconstructed army of medieval knights sitting on their horses in the great hall. The main attraction: Napoleon Bonaparte's cloak from when he was coronated. Admission is 8 EUR.
10. SUP on the Arno River
If you want a unique way to see the Arno River, head out for a stand-up paddleboarding (SUP) session with Toscana SUP. You'll paddle your way underneath the Ponte Vecchio and then take a break for a glass of Chianti (you're in Italy, after all!). Tours start from 60 EUR and last two hours.
11. Check out the Biblioteca delle Oblate
This public library is housed in the former Convent of the Oblate and is a popular study spot for students. It's an important cultural center too, with an entire section dedicated to local history on the first floor. When you're done browsing, go to the rooftop terrace for a coffee at the Caffetteria delle Oblate. There's a great view of the Duomo from here and it's never crowded with tourists. Note: the cafe is temporarily closed.
12. Admire Santa Croce
Santa Croce is the largest Franciscan church in Italy and holds the tomb of Michelangelo (there are also funerary monuments to Dante and Leonardo da Vinci here too). It's an interesting place to explore if you have already covered the highlights and have extra time in town. There are usually rotating exhibitions here as well. Admission is 8 EUR.
13. Take a vineyard tour
Florence is surrounded by vineyards, many of which can be accessed via day tours. Most tours visit a couple of vineyards and include some samples. Expect to pay at least 50 EUR per person for a half-day trip. If you have your own vehicle, you can arrange your own tour (but you won't be able to drink). Many vineyards also operate B&Bs or Airbnbs, which makes for a nice getaway if you want to splash out for a night.
14. Take a food tour
To learn more about the history and culture behind Florence's cuisine, take a food tour. It's the best way to eat your way around the city sampling the best eats Florence has to offer while learning what makes the cuisine unique. Devour Tours runs in-depth food tours led by expert local guides that will introduce you to the food culture and its history. If you're a foodie like me who wants to learn more about the history and culture behind each dish, this tour is for you! Tours from 89 EUR.
For more information on other cities in Italy, check out these guides:
Florence Travel Costs
Hostel prices – In peak season, a bed in a hostel dorm with 4-6 beds costs 30-55 EUR per night, while a bed in a dorm with 8-10 beds costs 27-40 EUR.Private rooms cost 85-150 EUR per night during peak season.
In off-peak season, 4-6-bed dorms are 27-33 EUR while 8-10-bed dorms are 25-30 EUR. Private rooms are 70-100 EUR in off-peak season.
Free Wi-Fi is standard and a couple of hostels also have self-catering facilities and offer free breakfast.
Budget hotel prices – During peak season, budget two-star hotels start at 80-90 EUR per night. During off-peak season, rooms start at 60 EUR. Free Wi-Fi and free breakfast are usually included.
On Airbnb, you can find private rooms for as little as 40-75 EUR per night (though prices are usually double that). You can rent entire homes (usually studio apartments) for closer to 100-125 EUR per night if you book early.
Average cost of food – Italian cuisine is beloved around the world, though every region in Italy offers its own distinct flavor. Tomatoes, pasta, and olives and olive oil form the backbone of most meals, with meat and fish and various cheeses rounding out the menu. In Florence, popular dishes include bistecca alla Fiorentina (Florentine steak), lampredotto (tripe sandwich), tagliatelle funghi porcini e tartufo (pasta with mushrooms and truffles), and of course gelato.
While eating out in the city is expensive, the good thing about Italy is that you can get pizza and pasta for reasonable prices. A filling meal at a casual Italian restaurant won't cost more than 15 EUR. You can get a small personal pizza for about 10 EUR or less.
If you want to splash out, a mid-range meal with drinks and an appetizer costs around 35 EUR.
You can find cheap sandwich shops all over the city for 4-6 EUR. A fast-food combo (think McDonald's) costs around 8 EUR.
Chinese takeout is around 6-10 EUR for a noodle or rice dish, while a meal at a Thai restaurant is around 10-15 EUR.
Beer is around 4-5 EUR while a latte/cappuccino costs 1.50 EUR. Bottled water is around 1 EUR.
If you plan on cooking your own food, a week's worth of groceries costs around 45-55 EUR. This gets you basic staples like pasta, seasonal produce, rice, and some meat.
Backpacking Florence Suggested Budgets
If you're backpacking Florence, my suggested budget is 65 EUR per day. This assumes you're staying in a hostel, cooking all of your meals, limiting your drinking, taking public transportation to get around, and doing mostly free activities like walking tours and enjoying the parks and plazas. If you plan on drinking, add 5-10 EUR to your daily budget.
On a mid-range budget of 135 EUR per day, you can stay in a private Airbnb, eat out for a few meals, enjoy a couple of drinks, take the occasional taxi to get around, and do more paid activities like visiting the museums and doing a vineyard tour.
On a "luxury" budget of 250 EUR or more per day, you can stay in a hotel, eat out for all your meals, drink as much as you want, rent a car or take more taxis, and do whatever tours and activities you want. This is just the ground floor for luxury though. The sky is the limit!
Accommodation
Food
Transportation
Attractions
Average Daily Cost
Backpacker
30
15
10
10
65
Mid-Range
70
35
10
20
135
Florence Travel Guide: Money-Saving Tips
Florence is one of the most expensive cities in Italy. A visit here can really set you back, mainly due to all the museum tickets you'll buy (as well as all the delicious food you'll eat). Fortunately, there are some ways to save money in Florence. Here are my top tips:
Eat cheap – Eating near Piazza della Signoria or in the square can be very expensive. If you move further away from the busy tourist hubs, you'll find cheaper places to eat.
Travel on foot – Public transportation in Florence isn't quite as necessary as in other European cities because most attractions are within walking distance. Skip the bus and walk if you can. You'll save a few euros.
Get the Firenze Card – If you are going to do lots of sightseeing, this card provides free entry to the top museums, tours, and attractions. It costs 85 EUR and is good for three days. Note: The Firenze Card is currently unavailable.
Get a Duomo Pass – If you don't want to get a Firenze Card but still want to visit the monuments of Piazza del Duomo, you'll want to get one of the three passes: Brunelleschi, Giotto, or Ghiberti. These range in price from 15-30 EUR depending on which monuments you want to see and are valid for 3 days.
Pass on the bread – Some restaurants charge extra for bread or breadsticks set on the table — but they won't tell you until the bill comes. Decline the bread to save money.
Buy wine at the store – You can buy a great bottle of wine at the store for just a few euros. It's a lot cheaper than drinking at the bar.
Stay with a local – Accommodation is expensive in Florence so use Couchsurfing to find free accommodation. It's the best way to save money and connect with a local who can share their insider tips and advice.
Take a free walking tour – This is a great way to learn the history of the city, see the main attractions, and fill in your day without spending a lot of money. Just be sure to tip your guide at the end!
Bring a water bottle – The tap water here is safe to drink so bring a reusable water bottle to save money and reduce your plastic use. LifeStraw is my go-to brand as their bottles have built-in filters to ensure your water is always clean and safe.
Where to Stay in Florence
There are several budget-friendly hostels in Florence. My favorite places to stay in the city are:
How to Get Around Florence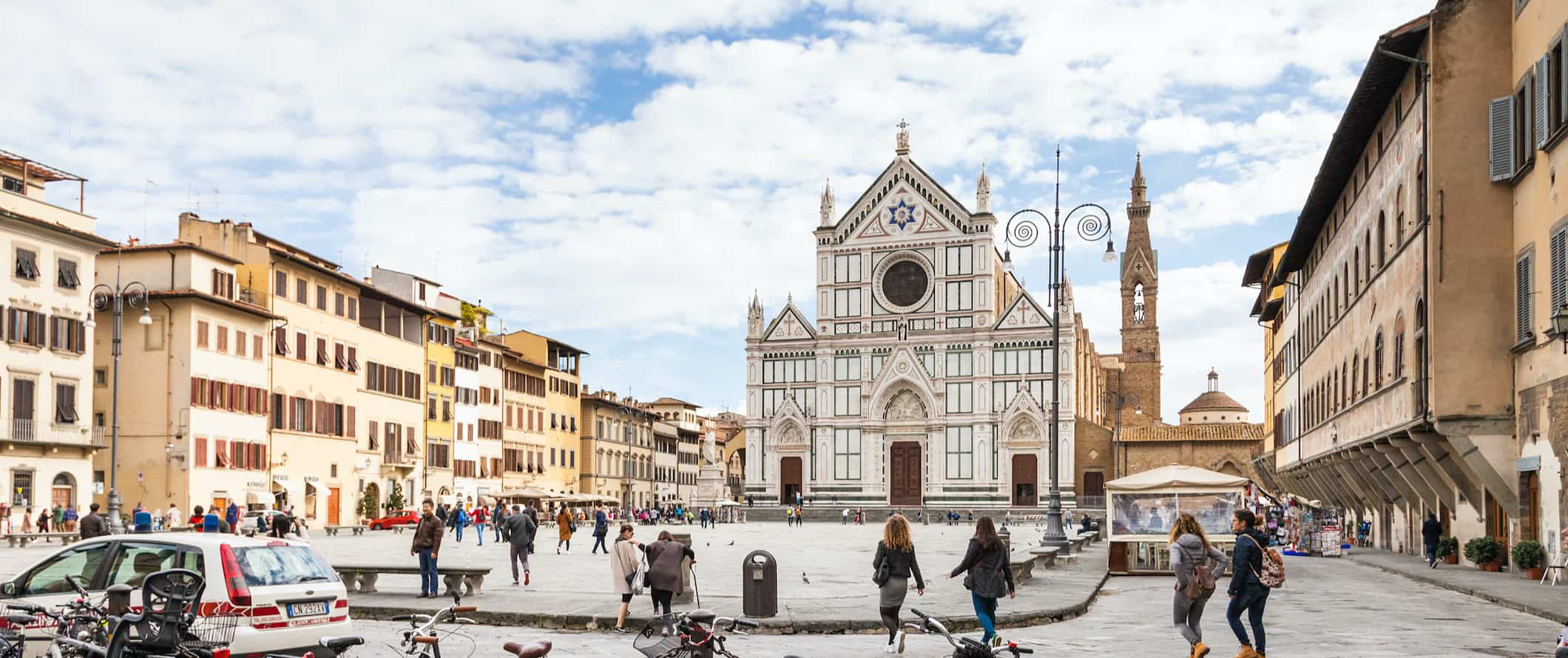 Public transportation – Florence, especially the city center, is very walkable. You can get between all the top sights (like the Duomo and the Uffizi) in just a 5-10 minute walk. The furthest you will walk to see just about any attraction is 30 minutes.
That said, if you need public transportation to get around, Florence's Autolinee Toscane bus system is efficient and reliable. A bus ticket that's valid for 90 minutes costs 1.50 EUR (or 2.50 EUR if purchased on the bus, though drivers often run out of tickets). You can get tickets at just about any newsstand or kiosk. You can also buy ten 90-minute tickets for 14 EUR.
Bicycle – Florence is mostly flat and ideal for cycling. Rentals start around 10-15 EUR per day. E-bikes cost 30-45 EUR per day.
Taxi – Taxis aren't cheap here, so I don't recommend taking them. The base rate is 4 EUR, and then it's an additional 1 EUR per kilometer. Skip the taxis if you're on a budget!
Car rental – You definitely don't need a car to get around the city, however, it might be helpful for day trips around the region. Car rentals can be found here for around 30 EUR per day for a multi-day rental in the off-season (during peak season, prices can be double and even triple that).
When to Go to Florence
Florence is a year-round destination. The warmest months are July and August, which is also peak season. The average high throughout July and August is 31°C (88°F). Temperatures are slightly cooler in June and September, but these months are also very busy.
December and January are the coolest months, with an average high of 11°C (52°F). From March-May and October-November, temperatures average 7-13°C (46-55°F). It gets a bit rainy during this time, especially in November. Make sure you have a few layers with you.
My favorite months to visit are during the spring and fall when the weather is still nice but the crowds have thinned out.
How to Stay Safe in Florence
Florence is a very safe place to backpack and travel – even if you're traveling solo or even as a solo female traveler. While violent crime is rare, scams and pick-pocketing are common, especially at major tourist sites. Be vigilant around Piazza del Duomo and Ponte Vecchio and always keep your valuables secure and out of sight.
Don't buy "skip-the-line" tickets from people on the street as they are usually scamming you and selling you fake tickets. To learn more about scams, you can read my post on common travel scams to avoid here.
It's also a good idea to avoid wandering around the city alone at night, especially in Santa Maria Novella.
Solo female travelers should generally feel safe, however, the standard precautions apply (when out at the bar, always keep an eye on your drink, avoid walking home alone at night if you've been drinking, etc.).
If you experience an emergency, dial 113 for assistance.
Always trust your gut instinct. Make copies of your personal documents, including your passport and ID. Forward your itinerary along to loved ones so they'll know where you are.
The most important piece of advice I can offer is to purchase good travel insurance. Travel insurance will protect you against illness, injury, theft, and cancellations. It's comprehensive protection in case anything goes wrong. I never go on a trip without it as I've had to use it many times in the past. You can use the widget below to find the policy right for you:
Florence Travel Guide: The Best Booking Resources
These are my favorite companies to use when I travel. They consistently have the best deals, offer world-class customer service and great value, and overall, are better than their competitors. They are the companies I use the most and are always the starting point in my search for travel deals.
Skyscanner – Skyscanner is my favorite flight search engine. They search small websites and budget airlines that larger search sites tend to miss. They are hands down the number one place to start.
Hostelworld – This is the best hostel accommodation site out there with the largest inventory, best search interface, and widest availability.
Booking.com – The best all around booking site that constantly provides the cheapest and lowest rates. They have the widest selection of budget accommodation. In all my tests, they've always had the cheapest rates out of all the booking websites.
HostelPass – This new card gives you up to 20% off hostels throughout Europe. It's a great way to save money. They're constantly adding new hostels too. I've always wanted something like this and glad it finallt exists.
Get Your Guide – Get Your Guide is a huge online marketplace for tours and excursions. They have tons of tour options available in cities all around the world, including everything from cooking classes, walking tours, street art lessons, and more!
The Man in Seat 61 – This website is the ultimate guide to train travel anywhere in the world. They have the most comprehensive information on routes, times, prices, and train conditions. If you are planning a long train journey or some epic train trip, consult this site.
Rome2Rio – This website allows you to see how to get from point A to point B the best and cheapest way possible. It will give you all the bus, train, plane, or boat routes that can get you there as well as how much they cost.
FlixBus – Flixbus has routes between 20 European countries with prices starting as low 5 EUR! Their buses include WiFi, electrical outlets, a free checked bag.
SafetyWing – Safety Wing offers convenient and affordable plans tailored to digital nomads and long-term travelers. They have cheap monthly plans, great customer service, and an easy-to-use claims process that makes it perfect for those on the road.
LifeStraw – My go-to company for reusable water bottles with built-in filters so you can ensure your drinking water is always clean and safe.
Unbound Merino – They make lightweight, durable, easy-to-clean travel clothing.
Top Travel Credit Cards – Points are the best way to cut down travel expenses. Here's my favorite point earning credit cards so you can get free travel!
Take Walks – This walking tour company provides inside access to attractions and places you can't get elsewhere. Their guides rock and they have some of the best and most insightful tours in all of Italy.
BlaBlaCar – BlaBlaCar is a ridesharing website that lets you share rides with vetted local drivers by pitching in for gas. You simply request a seat, they approve, and off you go! It's a cheaper and more interesting way to travel than by bus or train!
Florence Travel Guide: Related Articles
Want more info? Check out all the articles I've written on backpacking/traveling Italy and continue planning your trip: