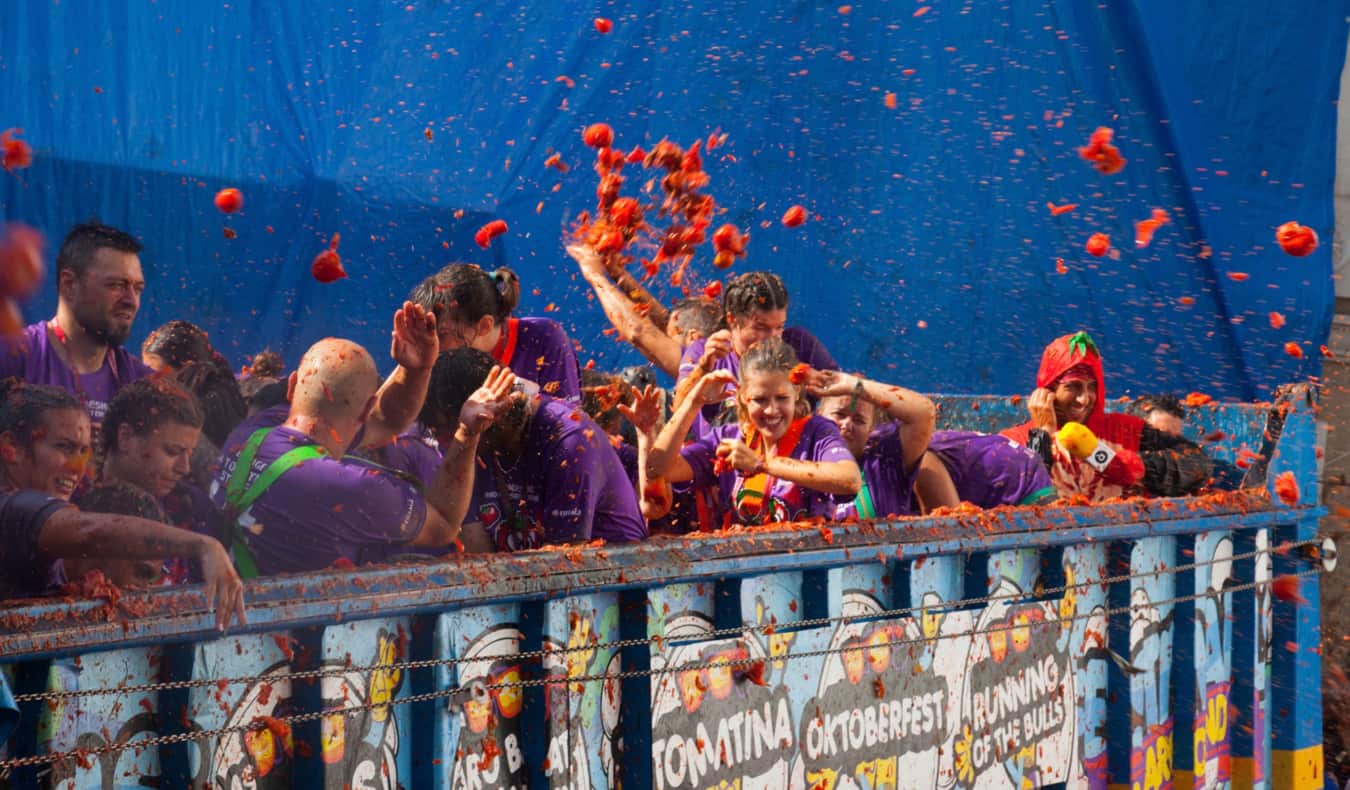 Last Updated: 3/1/2023 | March 1st, 2023
Everybody loves a good festival. They are a chance to let loose, have fun, and indulge in something crazy.
And the only thing crazier than a giant festival?
A giant food fight.
And there's nothing better than La Tomatina in Buñol, Spain for that!
What originated as an impromptu local food fight among friends in 1945 grew to become its own cultural event — and the world's largest food fight. Since 1945, La Tomatina has become a yearly occurrence in Buñol, Spain (aside from a few years in the 1950s when it was banned under Franco). It takes place every year on the last Wednesday of August, and upwards of 20,000 tourists come to take part in this massive food fight.
Here's everything you need to know to take part in La Tomatina:
What La Tomatina Is Like
Starting early in the morning, people wearing clothes never to be worn again crowd trains heading from Valencia to Buñol. They get there and join the masses heading to the city center, stopping on the way for some food and (a lot of) drinks. Eventually, everyone reaches the city center and simply stops. There's nowhere else to go. The crowd is simply too thick.
During the run-up to the 11am kick-off, many participants compete in a pole climb, where they scramble up a greased pole to win a ham. Once the ham is captured, the party official "starts" (though I didn't see anyone get the ham so you can be sure that the party is starting at 11am no matter what).
Nothing I write will give justice to this ridiculous festival, which is why I brought my camera along when I attended! While I was fighting away, my friends at Travel Yourself took my camera so I could bring you this:
The fight lasts for one hour after which the city is ankle-deep in a river of tomato juice. The fire department will come out shortly thereafter and hose down the city (which when combined with the citric acid in the tomatoes actually does a nice job of cleaning the place!). Partygoers tend to head down to the river to clean up and wash off (or you can get hosed down by one of the locals and their kids who love spraying everyone).
The party continues in many of the plazas around the city. There's music, dancing, copious amounts of sangria, and lots of good food. This goes until sunset when most crowds head back to Valencia.
It is one of the best times I've ever had. In the crush of the crowds, you're just throwing tomatoes left and right at anything and everything — barely looking where you're going. I watched people climb statues and doorways for better angles only to turn themselves into easy targets for those nearby. Afterward, our friends jovially skipped to downtown and spent the rest of the day partying and chatting with everyone.

Tips for Attending La Tomatina
Planning to attend this epic food fight? Here are a few tips to help you make the most out of your trip:
1. Wear clothing you're ok with throwing out – Chances are it's not going to recover (including your shoes!) Many clothes get torn, stained beyond repair, and just end up smelling for days after. Don't bring anything nice.
2. Stay safe – If you're a woman, be on the lookout and wear a sports bra as many guys get grabby and oftentimes try to snap bras off.
3. Only bring what you need – Don't bring any valuables like your wallet or passport as you might lose them. Plus, petty crime is rife here. It's easy to get into people's pockets.
4. Be careful with your gear – Only bring your camera or phone if it's waterproof. Even then, make sure it has a protective case!
5. Wear goggles – You don't want to get tomato juice in your eyes.
6. Plan ahead – If you're traveling with friends, agree on a place to meet afterward. There's a good chance you might lose them in the crowd.
7. Arrive early – There's limited space!
8. Don't wear flip flops or sandals – The ground gets slippery fast, so you want good shoes to keep you upright. The right crowds also mean people will step on your feet all the time!
9. Stay hydrated – It's going to be super hot in August, and there will be people everywhere. Drink up before the fight so you can fling tomatoes without getting dehydrated.
10. Watch for shirt rippers – There is a tendency for people (who may have had a bit too much to drink beforehand) to try and rip the shirt off your back. It's against the rules of the festival, but people will still try to do it so be aware!
11. Book early – Accommodation in the region sells out fast so book ahead. That includes tickets as there is limited capacity for the festival (currently capped at 20,000). Tickets are 12 EUR.

How to Get to La Tomatina
Buñol is located around 40 kilometers (24 miles) outside of Valencia. To get there from Valencia, you have 3 options:
Drive – It's about a 40-minute trip by car. If you don't want to rent a car yourself, try using BlaBlaCar (a ride-sharing app)
Bus – The bus #265a, #265b, and #2 go from Valencia. The ride takes between 60-75 minutes. Round-trips tickets cost just under 12 EUR.
Train – Take the C3 from Valencia. Tickets cost around 8 EUR each way and it takes slightly over an hour.
You can visit the official website for more information.
***
La Tomatina was certainly the most interesting festival I've been to. It's quite dirty (obviously) and if you don't like a mess or crowds, chances are you won't like this! But I had an amazing, energetic time, and my time there connected me with some of the most important people in my life. There's something that bonds people throwing vegetables with each other.
So for those looking to spend a few hours throwing food, dancing in the streets, and drinking sangria, visit La Tomatina!
Get Your In-Depth Budget Guide to Europe!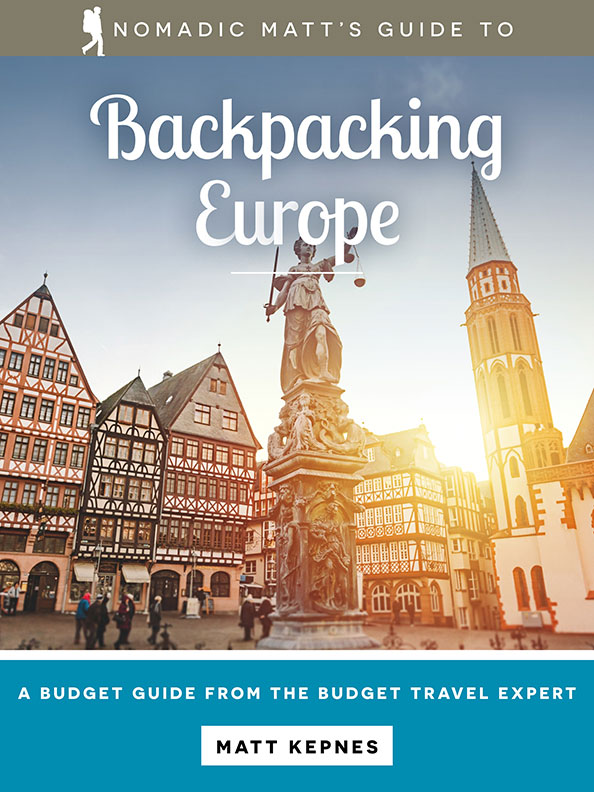 My detailed 200+ page guidebook is made for budget travelers like you! It cuts out the fluff found in other guides and gets straight to the practical information you need to travel while in Europe. It has suggested itineraries, budgets, ways to save money, on and off the beaten path things to see and do, non-touristy restaurants, markets, bars, safety tips, and much more! Click here to learn more and get your copy today.
Book Your Trip to Valencia: Logistical Tips and Tricks
Book Your Flight
Use Skyscanner to find a cheap flight. They are my favorite search engine because they search websites and airlines around the globe so you always know no stone is left unturned.
Book Your Accommodation
You can book your hostel with Hostelworld as they have the biggest inventory and best deals. If you want to stay somewhere other than a hostel, use Booking.com as they consistently return the cheapest rates for guesthouses and cheap hotels.
Don't Forget Travel Insurance
Travel insurance will protect you against illness, injury, theft, and cancellations. It's comprehensive protection in case anything goes wrong. I never go on a trip without it as I've had to use it many times in the past. My favorite companies that offer the best service and value are:
Looking for the Best Companies to Save Money With?
Check out my resource page for the best companies to use when you travel. I list all the ones I use to save money when I'm on the road. They will save you money when you travel too.
Want More Information on Valencia?
Be sure to visit our robust destination guide on Valencia for even more planning tips!