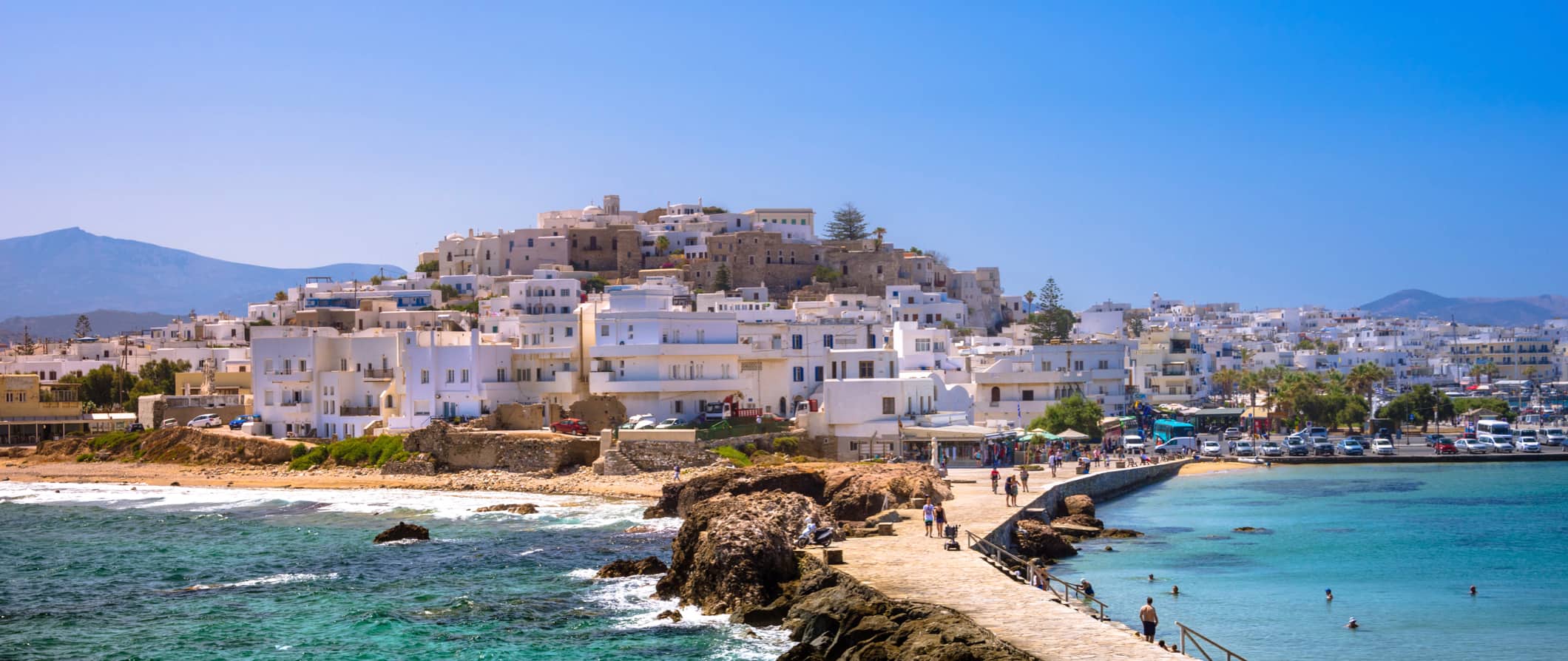 Naxos is arguably the best island in the Cyclades. It's just as gorgeous and picturesque as Santorini and Mykonos but without the crowds or exorbitant prices.
Home to around 20,000 people, the island is the largest in the chain and is dotted with the iconic, white-washed cube-shaped homes that have made this corner of the world famous. It's a lot quieter than other islands in the Cyclades and its size makes it easy to feel like you're in the region by yourself. You'll find charming villages, pristine beaches, and well-signed trails (including hiking up the mountain where Zeus was supposedly hidden after his birth) as well as a Venetian fort. Plus, it's way cheaper than other islands in the chain. You can get incredible deals here.
I love this island and can't recommend it enough!
This travel guide to Naxos will help you plan your trip, save money, and make the most out of your time in paradise.
Top 5 Things to See and Do in Naxos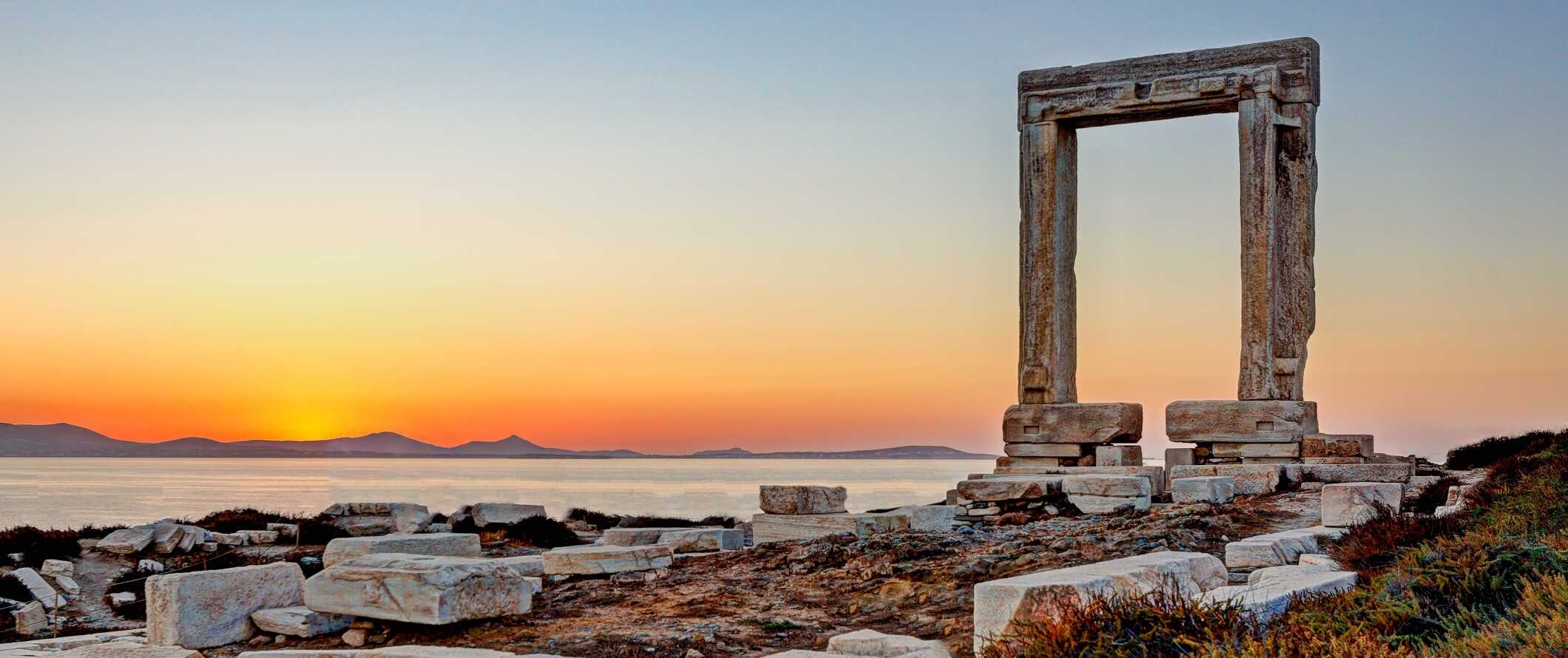 1. See the Portara
This towering marble gate, or "Great Door," is all that remains of an ancient temple from 530 BCE. The origins of the temple are unknown, with some claiming it to be dedicated to the Greek god Apollo, others to Dionysus (god of wine), and still others to Athena (goddess of wisdom). Each of the marble slabs that make up the gate stands 6 meters (19.6 feet) high, 3.5 meters (11.5 feet) wide, and weighs 20 tons. A very quick walk from the main town, come here for sunset as the views are amazing! For a guided sunset Greek Mythology tour, check out Naxos Cultural Tours.
2. Lounge at Plaka Beach
This postcard-perfect stretch of beach boasts inviting turquoise waters where you can swim and enjoy water sports. The beach is located on the west coast, about 9 kilometers (5.6 miles) from Naxos Town, and stretches 4 kilometers (2.5 miles) so there's plenty of space to lounge away the day. You can rent lounge chairs and umbrellas from 10 EUR for the day. Note that the southern part of the beach is especially popular with nudists.
3. Explore Naxos Castle
Naxos Castle (or the Kastro) refers to the walled section of town that dates to the 13th century, when the region was under Venetian control. It's one of the few surviving medieval towns in the country and a nice place to stroll around for a few hours. Today, the town is home to a 16th-century cathedral, shops, galleries, cafes, bars, and museums (including the Naxos Archaeological Museum and Venetian and Folk History Museum). You'll also get great views from the top, as it's the highest point around.
4. Hike Mount Zas
At 1,000 meters (3,280 feet) high, Mount Zas (Mount Zeus) is the highest point in the Cyclades. Legend states that this is where the god Zeus (as well as his son Dionysus) was born and raised, making it an important mountain in Greek history and mythology. Mount Zas is located near Danakos village, about 18 kilometers (11 miles) from Naxos Town. Expect hikes to take between 2-3 hours, and bring water as there is no shade!
5. Explore Chora
Chora (which means simply "town" in Greek), or Naxos Town, is the capital of Naxos and is home to around 7,000 people. There's an interesting mix of Cycladic and Venetian architecture here, with the medieval Kastro at the top of the hill, and white-washed buildings juxtaposed with splashes of color popping everywhere. You'll find tons of restaurants, cafes, museums, clubs, and live music here.
Other Things to See and Do in Naxos
1. Wander Chalki
Tucked away in the center of the island, Chalki (or Halki) village is the former capital of Naxos. The region surrounding the village is very fertile and one of the main olive-producing areas in the Cyclades. It's also home to countless groves of citron trees, from which the famous Naxian liqueur is made. You can even take a free tour of the Vallindra Kitron distillery to see how this Greek aperitif is produced. While in town, wander the pedestrian-only streets, pop into the art gallery, and sit in the sun at one of the many cafes (Dolce Vita is the most famous).
2. Swim and snorkel in a sea cave
Rina Cave is a secluded cave that's only accessible by water, meaning you'll have to take a boat to get here. Upon arrival, you'll be rewarded with a fantastic swimming and snorkeling spot under the cave's rock dome. Swim in the cool turquoise water and observe the marine life or just hang out on the boat. Full-day tours cost 70 EUR.
3. Relax on Agios Prokopios Beach
Located about 6 kilometers (3.7 miles) from Chora, this beach is considered one of the most beautiful beaches in Greece. There are two parts to the 1.5 kilometers (1 mile) stretch of beach: one part is natural and undeveloped, while the other is more developed, offering sunbeds to rent and beachside cafes. Bring a book, pack some food, and lounge the day away!
4. Try windsurfing
During the summer, the island's winds create the perfect conditions for windsurfing, making this a popular activity for locals and tourists alike. Mikri Vigla, Agios Georgios (Floisvos), and Laguna are all great spots for windsurfing, with facilities offering courses and equipment rentals. A 3-day course costs 225 EUR, while a 1-day rental costs about 85 EUR. If you don't want to surf, you can always just sit on the beach or at a nearby café to watch others catch the waves.
5. Hike from village to village
Naxos has hundreds of kilometers of hiking trails cross-crossing the landscape. The trails pass by ancient churches and monasteries and through farmland, olive groves, and vineyards. You can start and end in any number of small villages, making these trails the perfect way to experience the island. The footpaths are well signed so you won't get lost. There are a variety of paths of different lengths and difficulties so you can find something for your experience level. Just make sure to wear a hat, wear sunscreen, and bring water.
6. See street art in an abandoned hotel
Wind your way up from Alyko Beach and into a cedar forest, where you'll come upon an abandoned hotel complex turned street art gallery. The hotel, which was built in the 1960s, was never finished. Today, both nature and artists have given the uncompleted buildings new life. You can see works by famous street artist WD (Wild Drawing), including his rooftop mural Faces in the Sea, created in memory of Syrian refugees who drowned while attempting to cross the Mediterranean and Aegean seas.
7. Visit Panagia Drossiani Church
Located in the middle of the island, this is one of the oldest churches in the country (some of the walls and frescoes date to the 7th century, making them the oldest in the Balkans). Monks and nuns secretly taught children Greek here during the Turkish occupation (which lasted for centuries) when doing so was forbidden. It's open daily from 11am-5pm and admission is by donation.
8. Day trip around the island
If you don't want to rent a car, the best way to explore the island is via a bus tour. Most tours last 8 hours and cover tons of highlights, including villages, beaches, and ruins. Sure, it's touristy but it's also a fun and easy way to see a lot in a short amount of time. Buses have AC and tours start at just 25-30 EUR (not including lunch). If you don't have a car, it's the best way to see the island.
9. Take a sailing trip
Naxos, like all the Greek Islands, is meant to be explored by boat. There are tons of sailing trips available on Naxos, ranging from half-day excursions to multi-day getaways. Half-day and full-day trips are the most common choice, with boats taking you around the island so you can swim and snorkel and cliff jump (most include a stop at the Rina cave). Expect to pay around 90-100 EUR for a full-day tour, including lunch. Actionseaze Yachting runs a tour for 97 EUR that includes snorkeling, lunch, and a visit to Rhina Cave.
10. Visit the Temple of Demeter
Built of Naxian marble in the 6th century BCE, this temple is dedicated to Demeter, the ancient goddess of agriculture. Over the years, it was converted into a Christian basilica and a chapel was added later on. The area fell into disrepair until the mid-20th century when archaeologists rediscovered the ruins and later restored them so that they could be enjoyed by visitors today. There's a small museum at the archaeological site that you can visit for free.

For more information on other destinations in Greece, check out these guides:
Naxos Travel Costs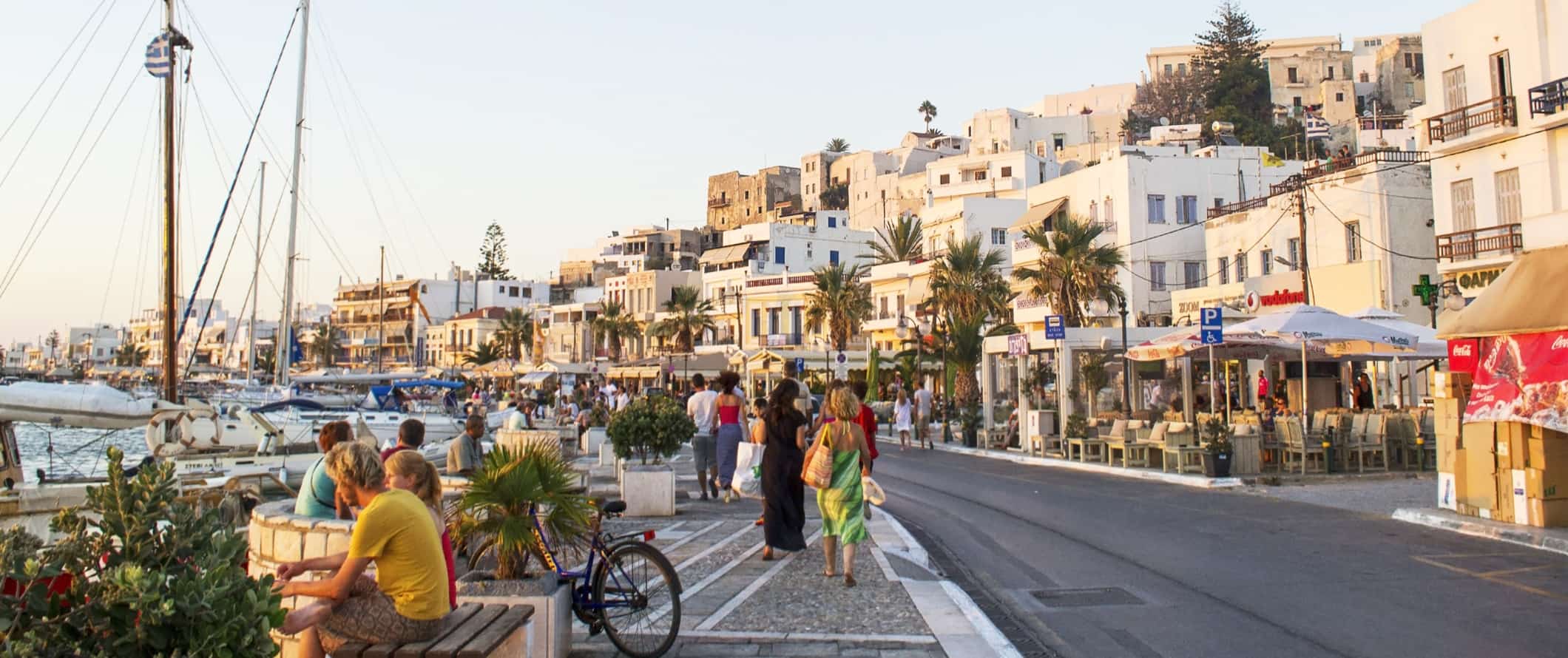 Accommodation – There are no hostels on Naxos but there are many smaller budget hotels and bed and breakfasts. A budget hotel costs between 70-90 EUR per night in peak season and 30-60 EUR in off-peak season. Accommodation in Naxos Town tends to be higher than elsewhere on the island.
A private room in an Airbnb costs around 45-65 EUR per night, while an entire apartment averages 65-100 EUR per night.
For those traveling with a tent, a basic camping plot for one person starts at 12 EUR in the summer and 8 EUR in the off-season. At some campgrounds, like Maragas Beach, you can rent a tent and other camping equipment starting at 14 EUR per night.
Food – Greece is known for its food. Think seasonal vegetables (like olives), fresh seafood, grilled meats, bread, feta cheese, and yogurt — all the staples of a classic Mediterranean diet. Naxos is known for being a major olive oil producer so the olives here are particularly popular (and delicious).
To eat cheap, stick with eating gyros, souvlaki, and kebabs. These cost under 5 EUR and easily fill you up. If you're on a budget, you can live off these for as little as 10-15 EUR per day.
At a casual taverna, expect to pay around 8-12 EUR for traditional Greek dishes and about 2-4 EUR for a glass of wine. A Greek salad costs between 6-8 EUR. Fish is more expensive, costing around 15-20 EUR for a fillet. The catch of the day is done by weight and can get really expensive (they price it for tourists, especially during high season) so stick to a fillet.
Most restaurants charge for bread. The price is between .50-1.50 EUR. A bottle of water is about 2 EUR.
All in all, if you're going out for dinner at a traditional taverna, expect to spend between 15-20 EUR depending on how much food you get. After that, the prices go up depending on how fancy the restaurant is.
Beer is 5 EUR, a cocktail is 8-12 EUR, and a latte/cappuccino is 3 EUR. Bottled water from the supermarket is 0.50 EUR.
If you cook your meals, expect to pay 30-40 EUR per week for groceries. This covers basic staples like pasta, seasonal vegetables, and some meat or fish.
My favorite places to eat here are Maro's, Elizabeth's Garden, Scirocco, To Elliniko, and Nissaki (for something fancy). For drinks, head to Like Home for cocktails and Cava Wine for wine.
Backpacking Naxos Suggested Budgets
If you're backpacking Naxos, expect to spend around 55 EUR per day. This assumes you're staying in a budget hotel or Airbnb, cooking most of your meals, using the bus to get around, visiting only a few cheap attractions (like a museum) and sticking mostly to free hikes and beaches, and limiting your drinking. If you're going to party while you're here, add another 10-15 EUR per day to your budget.
On a mid-range budget of 125 EUR per day, you can stay in a private Airbnb, eat out for most meals, rent a bike to get around, visit more museums and take some tours, and enjoy a few drinks. You won't live large but you'll want for nothing!
On a "luxury" budget of 235 EUR or more per day, you can stay in a hotel, eat out anywhere you want, drink as much as you'd like, take taxis or rent a car, and do as many tours and activities as you want. After that, the sky is the limit!
One thing to keep in mind is that if you're coming during the summer prices are 10-20% higher for everything.
Accommodation
Food
Transportation
Attractions
Average Daily Cost
Mid-Range
65
25
15
20
125
Naxos Travel Guide: Money-Saving Tips
Naxos is one of the cheaper islands in the region and, if you are "keeping it local" you aren't going to spend a lot of money here. Accommodation and taxis will be your biggest expenses, especially if you're here during peak season. Here are my favorite ways to save money in Naxos:
Use the Greek salad/bread rule – If the bread cover is .50 EUR or a Greek salad is less than 7 EUR, the restaurant is cheap. If the cover is around 1 EUR and a salad is 7-8.50 EUR, the prices are average. Anything more than that and the place is expensive. use this rule to figure out how to eat at cheap restaurants.
Eat super cheap – Gyros and other street snacks only cost a few euros and can keep you full for around 10-15 EUR per day if you're on a tight budget.
Rent a moped – You can usually rent a moped for around 15 EUR per day. Just drive carefully on the winding mountain roads, as Greek drivers tend to be aggressive.
Take public transportation – Buses, while sometimes running on inconvenient schedules, are the best way to get around Naxos. Taxis are very expensive so minimize their use whenever you can and stick with the buses.
Visit in the off-season – July and August are the most expensive months, so skip the middle of summer if you're on a budget.
Stay with a local – Couchsurfing is a great way to get a free place to stay and meet locals. You'll get a free place to stay and you'll get to connect with a local who can share their tips and advice. There aren't a ton of hosts here though so send your requests early.
Buy wine at the store – You can buy a great bottle of wine for around 4 EUR at the store. It's a lot cheaper than drinking at the bar.
Rent a car – Car rentals can be incredibly cheap in Naxos. Prices start at just 20 EUR per day when booked in advance. Drivers need to be at least 21 and have an International Driving Permit. If you're traveling with people, this is the cheapest way to get around.
Bring a water bottle – The tap water here is generally safe to drink so bring a reusable water bottle to save money and reduce your plastic use. LifeStraw is my go-to brand as their bottles have built-in filters to ensure your water is always clean and safe.
Where to Stay in Naxos
There are no hostels on Naxos, but there are many affordable bed and breakfasts. Here are my suggested places to stay in Naxos:
How to Get Around Naxos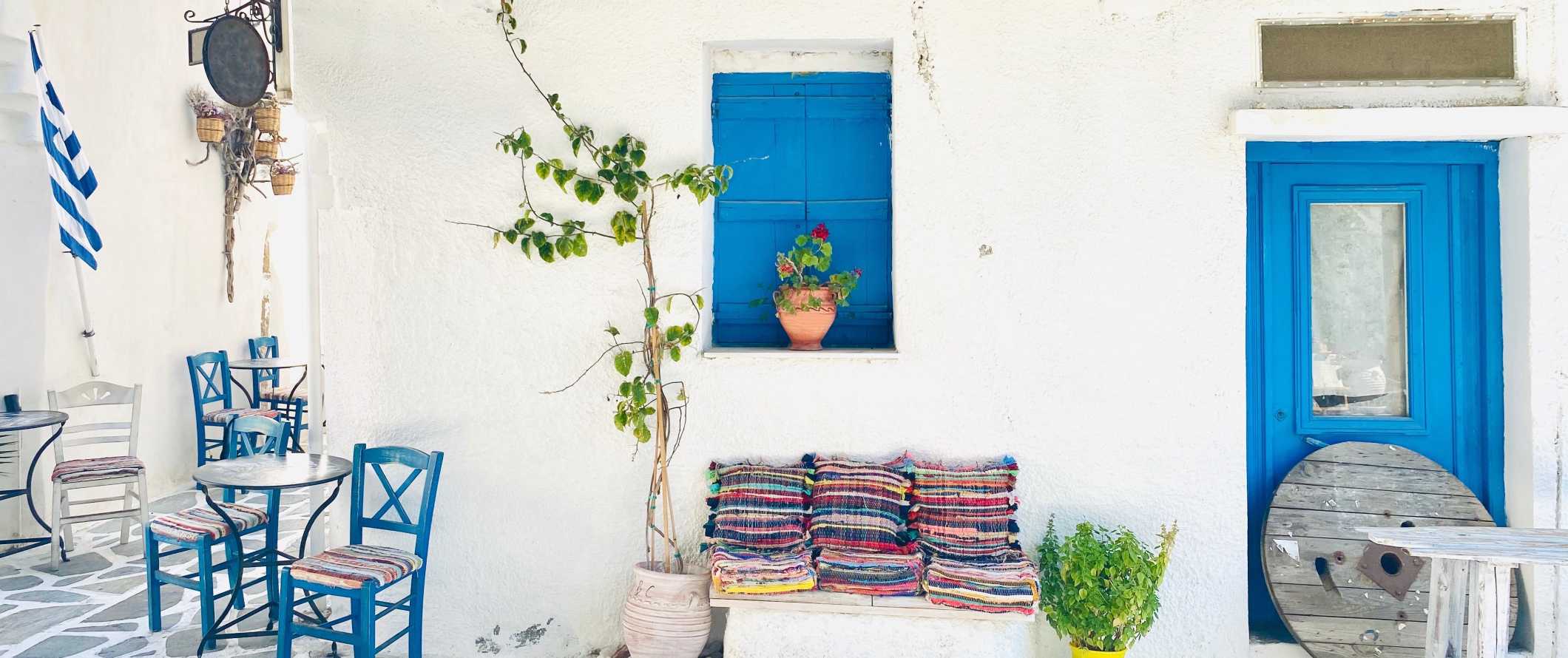 Public transportation – The local bus system is run by Naxos Buses. It travels to the major villages and destinations (including beaches) around the island. Tickets increase with distance, ranging from 1.80 EUR for a 15-minute ride to 6.20 EUR for a 1 hour and 45-minute ride. Buses on the west coast are frequent but might only go once or twice a day (and at weird times) to some of the villages in the center of the island. Buses run on an even more limited schedule in the winter.
Ferry – Since Naxos is in the middle of the Cyclades, there are many ferry connections from the port in Chora to and from nearby islands. Expect to spend an average of 35 EUR per trip, though you could spend as little as 12 EUR. There is always at least one daily ferry to Athens, a journey that takes 3-6 hours and costs 35-65 EUR.
There are many different ferry companies, and most are created equal. High-speed ferries or catamarans cost a lot more (book in advance). You can research routes and ticket prices using FerryHopper.
Scooter/Quad rentals – Renting a scooter or ATV is a popular way to discover Naxos. It lets you explore at your own pace and is quite affordable too. Scooter rentals cost between 15-25 EUR per day depending on if it is peak season or off-season, while ATVs cost around 30-45 EUR per day. Just be aware that Naxos has many winding and mountainous roads, so only rent what you're comfortable driving.
Car rental – Car rentals here are super affordable, starting at just 15 EUR per day for a multi-day rental. Expect manual transmissions. Drivers need to be at least 21 years old with an International Driving Permit. For the best rental car deals, use Discover Cars
Hitchhiking – Hitchhiking is safe and common in Naxos. That said, it may be hard to find rides in the off-season when traffic is less busy. Hitchwiki, the biggest hitchhiking resource, currently doesn't have any info on Naxos but that could change at any time so be sure to check the platform before your trip.
When to Go to Naxos
Peak season on Naxos is from June-August. Temperatures hover around 33°C (92°F) and prices increase during this time. But the overall atmosphere and weather is great, so it's still worth visiting during peak season.
Personally, I think the best time to visit is during the shoulder season (March-May and September-October). It's still warm during these times but there aren't as many crowds and prices are cheaper. The Naxos Festival takes place from June to September, with plenty to enjoy, including art exhibitions, music, theater, dance performances, and more.
Winter is from November to February. It gets cold, with temperatures hovering around 12-16°C (53-60°F). Tourist crowds thin out considerably and many hotels and restaurants on Naxos shut down entirely during the off-season (November-March). In short, I'd skip a winter visit unless you're only planning to visit museums.
How to Stay Safe on Naxos
Naxos is very safe. Violent attacks are uncommon so petty crime is about the worst that could happen here. Fortunately, Greek police have really cracked down on perpetrators so even that is rare. Just keep your valuables out of sight and you'll likely be fine.
Be careful when driving as Greek drivers tend to be on the more aggressive side and some of the roads aren't very well maintained.
Before you go hiking, check the weather. Bring sunscreen, water, and a hat. It can get incredibly hot here.
Solo female travelers should generally feel safe here, however, the standard precautions apply (never leave your drink unattended at the bar, never walk home alone intoxicated, etc.).
Scams here are rare, but if you're worried about getting ripped off, you can read about common travel scams to avoid right here.
If you experience an emergency, dial 112 for assistance.
Always trust your gut instinct. Make copies of your personal documents, including your passport and ID. Forward your itinerary along to loved ones so they'll know where you are.
The most important piece of advice I can offer is to purchase good travel insurance. Travel insurance protects you against illness, injury, theft, and cancellations. It's comprehensive protection in case anything goes wrong. I never go on a trip without it as I've had to use it many times in the past.
Naxos Travel Guide: The Best Booking Resources
These are my favorite companies to use when I travel. They consistently have the best deals, offer world-class customer service and great value, and overall, are better than their competitors. They are the companies I use the most and are always the starting point in my search for travel deals.
Skyscanner – Skyscanner is my favorite flight search engine. They search small websites and budget airlines that larger search sites tend to miss. They are hands down the number one place to start.
Hostelworld – This is the best hostel accommodation site out there with the largest inventory, best search interface, and widest availability.
Booking.com – The best all around booking site that constantly provides the cheapest and lowest rates. They have the widest selection of budget accommodation. In all my tests, they've always had the cheapest rates out of all the booking websites.
HostelPass – This new card gives you up to 20% off hostels throughout Europe. It's a great way to save money. They're constantly adding new hostels too. I've always wanted something like this and glad it finallt exists.
Get Your Guide – Get Your Guide is a huge online marketplace for tours and excursions. They have tons of tour options available in cities all around the world, including everything from cooking classes, walking tours, street art lessons, and more!
The Man in Seat 61 – This website is the ultimate guide to train travel anywhere in the world. They have the most comprehensive information on routes, times, prices, and train conditions. If you are planning a long train journey or some epic train trip, consult this site.
Rome2Rio – This website allows you to see how to get from point A to point B the best and cheapest way possible. It will give you all the bus, train, plane, or boat routes that can get you there as well as how much they cost.
FlixBus – Flixbus has routes between 20 European countries with prices starting as low 5 EUR! Their buses include WiFi, electrical outlets, a free checked bag.
SafetyWing – Safety Wing offers convenient and affordable plans tailored to digital nomads and long-term travelers. They have cheap monthly plans, great customer service, and an easy-to-use claims process that makes it perfect for those on the road.
LifeStraw – My go-to company for reusable water bottles with built-in filters so you can ensure your drinking water is always clean and safe.
Unbound Merino – They make lightweight, durable, easy-to-clean travel clothing.
Top Travel Credit Cards – Points are the best way to cut down travel expenses. Here's my favorite point earning credit cards so you can get free travel!
Ferry Hopper – If you're looking to book your ferries, this website is an easy way to search the various companies, piece together routes, and book your tickets.
Naxos Travel Guide: Related Articles
Want more info? Check out all the articles I've written on backpacking/traveling Greece and continue planning your trip: