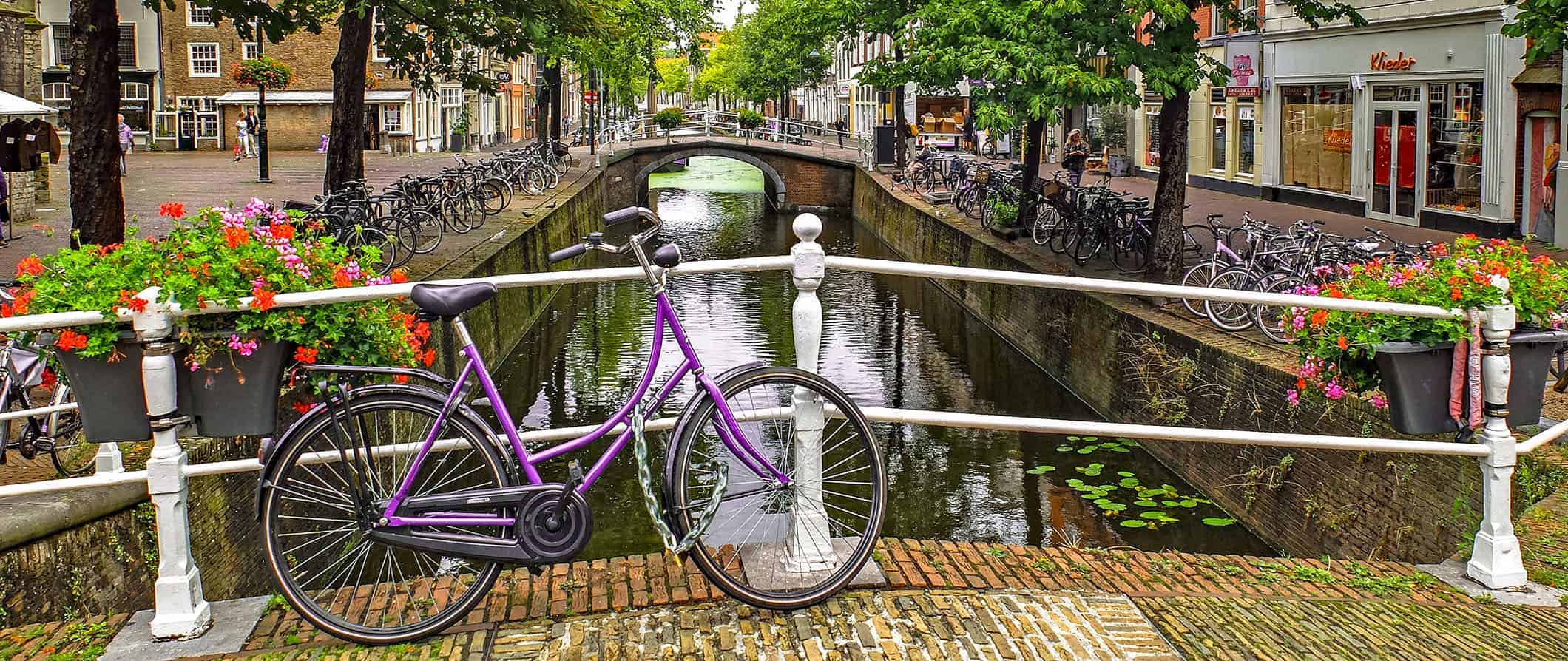 When most people think of traveling in the Netherlands, they think of Amsterdam, with its semi-sleazy Red Light District, charming canals, historic windmills, and laid-back "coffee" shops where you can smoke pot.
But there is much more to the country than its largest city.
The Netherlands is a country filled with centuries-old brick homes, an interconnected system of canals (you can travel most of the country via the water), expansive farmland, and even some really nice beaches. It's one of my favorite countries in the world. The people are wonderful, there are tons of small towns to explore, and its small size means it's easy to visit in a short time.
Most travelers come here just to see Amsterdam for a few days before moving on.
Don't do that.
Spend time exploring outside of Amsterdam and you can discover the country that keeps me coming back every year.
Whether you are backpacking or just traveling on a budget, this Netherlands travel guide can help you plan your trip, save money, and ensure you make the most out of your time here.
Click Here for City Guides
Top 5 Things to See and Do in the Netherlands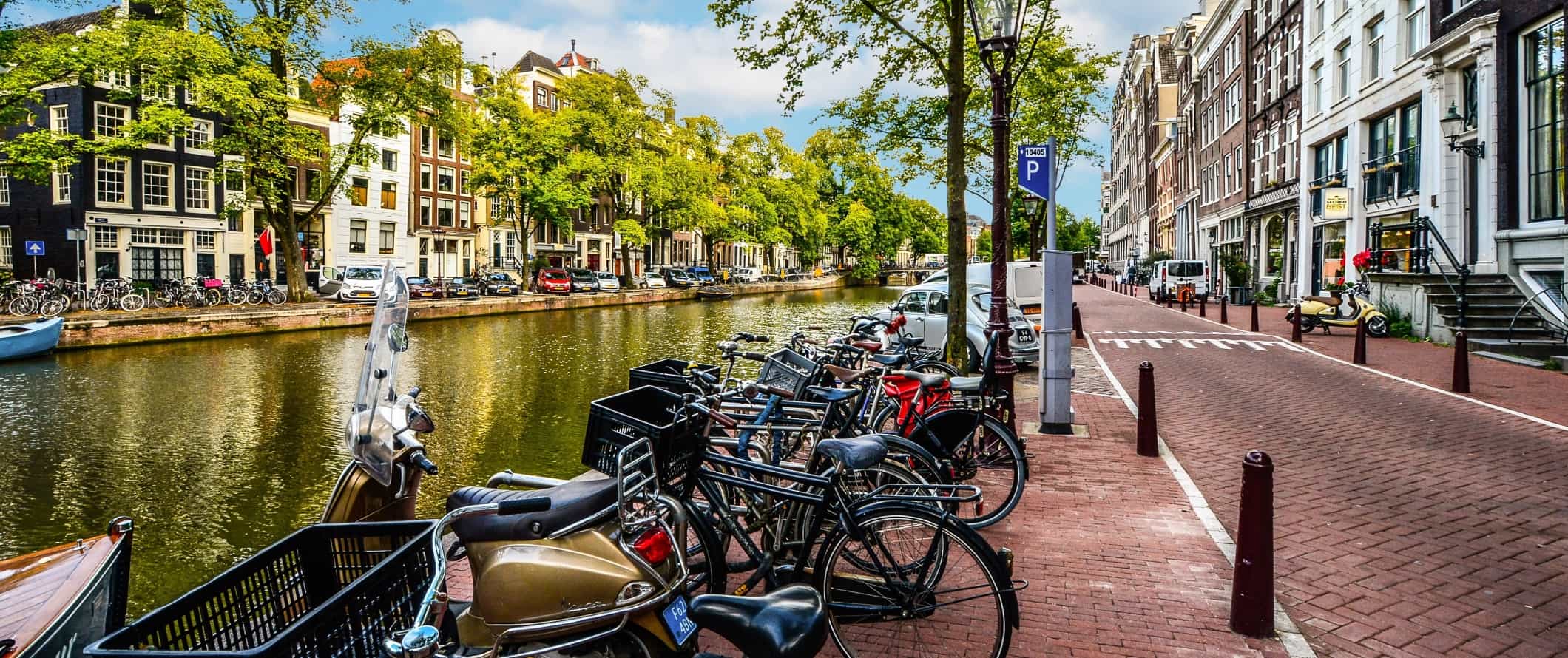 1. Visit Amsterdam
The capital and center of tourism in the country, Amsterdam is as beautiful as it is crazy. There are famous canals, beautiful and historic houses, tons of parks, a foodie scene, art, coffee shops, and, of course, the infamous Red Light District and its wild nightlife. It's perfect for exploring by bike and it's every museum lover's dream, with exhibitions on everything from Anne Frank to van Gough. Take a free walking tour to really get a feel for the city.
2. Explore Rotterdam
Rotterdam is one of the busiest shipping ports in the world. It may not get the attention Amsterdam does, but this city is a great place to visit if you want good parks and modern architecture (most of the old buildings were bombed in World War II) — including some futuristic cube houses. The port has an interesting harbor to explore (you can learn more about it in the attached Futureworld) and a few decent museums. It's an often-overlooked city that's worth a few days of exploring.
3. Take a canal tour
Whether in Amsterdam or in another city, make sure you take a canal tour to see the canals that made the country famous. The canals are such an integral part of life that you can't really understand the country until you spend time boating on the canals. You can take a tour with a large company (there are tons of different canal tours on offer including a pizza cruise, cruises with wine and cheese, and booze cruises with unlimited drinks) but if you can, I suggest you rent your own boat which is much more affordable (prices start at 50 EUR) and gives you a more intimate experience.
4. Tour Leiden
Head to this small town and see where the Pilgrims lived before they left for America. It's a historic city and filled with beautiful 17th-century buildings and landscaped parks. There are over a dozen museums in this small city, including the Museum of Antiquities and the National Museum of Ethnology. It also boasts in one of the Netherlands' largest flower-growing areas. Go in May to catch the best of the tulip season.
5. Wander The Hague
The Hague is a cosmopolitan city and home to the International Criminal Court. You can see some of the royal palaces here as well as some beautiful historic buildings dating back to the 13th and 14th centuries. There are also some good museums (including the Museum de Gevangenpoort and the Kunstmuseum Den Haag), but since The Hague is located on the coast, when the weather is nice you can also just lounge on the beach.
Other Things to See and Do in the Netherlands
1. Day trip to historic Haarlem
Haarlem, located just outside Amsterdam, was a cultural and economic hub during the Dutch Golden Age (1588-1672). Wander the city and take in the historic homes of the merchant class who brought the city to prominence. There's not a ton to do here but the town center has a good market, a towering Gothic church, and it's a low-key alternative to the hustle and bustle of Amsterdam. It makes a nice escape for an afternoon.
2. Celebrate King's Day (Koningsdag)
Every year on April 27th (April 26th if the 27th is a Sunday), the Dutch celebrate the birthday of their King, Willem-Alexander for Koningsdag. For 33 years, they celebrated Queen Beatrix on April 30th as part of Queen's Day, however, in 2013 she passed the throne to her son so the holiday changed dates, and Queen's Day became King's Day. It's a national holiday filled with outdoor concerts, lots of orange (the national color), plenty of drinking, and insane celebrations on the canals. It is one of the wildest national holidays I've ever celebrated.
3. Visit Edam
Edam is a popular cheese from the Netherlands. It's also a town just 21 kilometers (13 miles) north of Amsterdam. Edam is a picture-perfect Dutch town with iconic windmills, rolling farmland, and quaint houses. It's one of the most quintessential Dutch towns. You can explore the 18th-century cheese warehouses, go on a boat tour, or just come here to eat cheese and be as Dutch as possible!
4. Head to the Keukenhof
The Keukenhof is the largest flower garden in the world, boasting 79 acres of spectacular floral displays. Located between Amsterdam and The Hague, the garden is open between March and May of each year when the tulips are in season. More than 7 million bulbs are planted annually and the garden has around 800 different types of tulips. When you picture Holland, you picture flowers and there is no better place to see them than here! Admission is 19 EUR.
5. Bike through Hoge Veluwe National Park
Hoge Veluwe National Park is the largest national reserve in the Netherlands. Covering some 55 square kilometers (21 square miles), the park is composed of sand dunes and woodlands and is home to deer, wild sheep, foxes, badgers, boars, and more. You can rent bicycles to explore for 5 EUR. Don't miss the Kröller-Müller Museum while you're here. It has works by artists like van Gogh, Picasso, Rodin, and other masters. Admission to the park is 12.30 EUR.
6. Relax in Maastricht
One of the southernmost towns in the Netherlands, this city is famous for having the country's only "mountain." At 322 meters high (1,056 feet), Vaalserberg is really more of a hill and doesn't take long to climb. But this often-overlooked city is a great place to experience Dutch life away from the hordes of tourists who frequent Amsterdam.
7. Go cycling
As one of the most popular activities throughout the country, you would almost feel out of place not on a bike. The Netherlands is covered by over 20,000 kilometers (12,400 miles) of paths dedicated to two-wheeled transportation. Hoge Veluwe National Park is a particularly beautiful place to ride, but the entire landscape of the country is quite scenic as well. Other popular places to cycle are the Dunes of Texel National Park, Kinderdijk (to see the windmills), and Lauwersmeer National Park. Bike rentals cost around 10-12 EUR per day.
8. Tour Delft
This is a fascinating little town, making it the perfect destination for a day trip. The town is known for its blue pottery (Delftware), but has a handful of other worthwhile sights to see too, including a Gothic church in the old town with a leaning tower (the foundation developed problems during construction); the Oostpoort, a city gate from 1400 that remains from the original city wall; and the stout City Hall building, part of which dates to the 17th century. The town lies just 20 minutes from The Hague and Rotterdam so you can visit as a day trip from either.
9. Admire van Gogh's work
Open since 1973, this museum in Amsterdam is host to over 500 original works by Vincent van Gogh, in addition to works by some of his contemporaries and friends. The exhibits chronicle his life, showing the progress and development of his work, alongside Gaugain, Monet, and Toulouse-Lautrec. Van Gogh didn't earn fame in his lifetime and was actually constantly struggling with poverty, making his accomplishments all the more impressive and inspiring. Admission is 20 EUR. Note: Pre-book tickets online to avoid massive queues when you arrive.
10. Visit "Venice of the North"
Slow-paced Giethoorn, located east of Amsterdam, is a charming place with lots of picturesque canals. With no cars allowed in the city center, this peaceful town is a good change of pace from the busyness of the Netherlands' larger cities. Rent a small boat and spend the day floating by charming cottages and enjoying the slower pace of life.
11. Learn about the Netherlands' past
Opened in 1912, the Netherlands Open Air Museum is a sprawling 100-acre space that highlights what life was like in historic Netherlands. You can see traditional cabins and houses, learn about trades and crafts, and discover more about the country's history from the Middle Ages to the present. The museum is located in Arnhem and is a great place to visit with kids. Admission is 19.50 EUR.
12. Have fun at an amusement park
Efteling, in Kaatsheuvel, is one of the oldest theme parks in the world (it opened in 1952) and is the Netherlands' biggest amusement park. It has all the usual theme park attractions like rollercoasters, games, and performances and is open year-round (each season has different features like fairy lights and bonfires in the winter, and tulips and Dutch terraces in the spring). Admission costs 38 EUR (prices vary by day and season). You need a reservation as well as a ticket.

For more information on cities in the country, check out these guides:
The Netherlands Travel Costs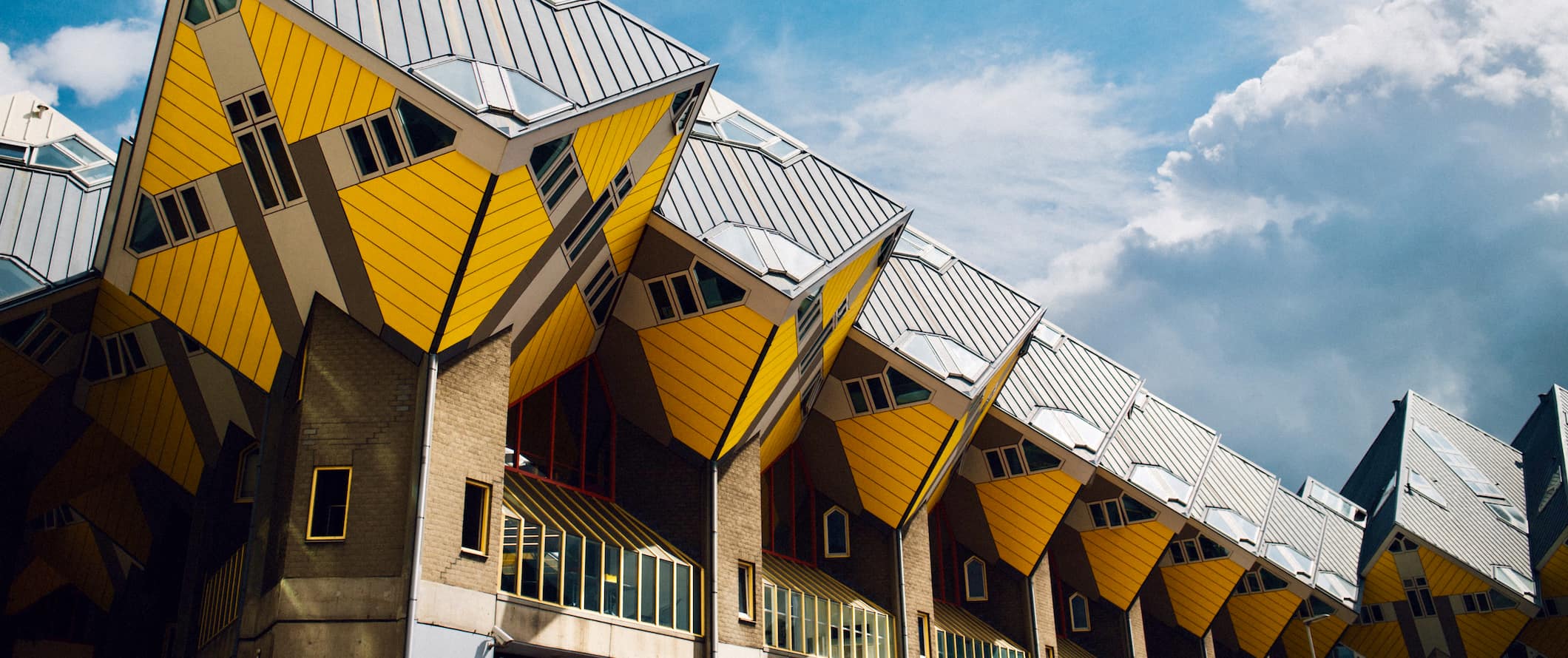 Accommodation – Hostels typically cost between 15-35 EUR per night for a bed in a dorm with 6-8 beds. The most popular hostels in Amsterdam can be closer to 50 EUR in the summer so avoid visiting in peak season if you're on a budget (and book early if you do). Private rooms in hostels cost at least 65 EUR per night for a room that sleeps two (closer to 115 EUR in Amsterdam). Free Wi-Fi is standard, and many hostels also have self-catering facilities. In some cities, the hostels close in winter.
Camping is available around the country, with campgrounds costing around 10-15 EUR per night for a basic plot without electricity.
Budget hotels with basic amenities such as free Wi-Fi, TV, and AC cost around 55-85 EUR per night. Expect to pay 10-20 EUR more in Amsterdam and The Hague.
Airbnb is also an option, with private rooms averaging around 50 EUR per night (it's more like 80 EUR in Amsterdam) and entire homes (including studio apartments) averaging around 100 EUR per night (but again, much higher in Amsterdam). Book early or prices can double.
Food – The Netherlands isn't famous for its food, but there's still good stuff to be had. Dutch cuisine typically involves lots of vegetables, bread, and cheeses (gouda originated here). Meat, while historically not as prominent, is a staple of dinner meals. Breakfast and lunch usually involve open-faced sandwiches, often with cheeses and cold cuts. Dinners are very much a "meat and potatoes" meal, with meat stews and smoked sausage being two popular choices. For those with a sweet tooth, the stroopwafel (a waffle cookie with a syrup filling) is the go-to choice, though apple tarts/pies are also local favorites.
Other things to try include poffertjes (fluffy mini-pancakes served with powdered sugar), gouda and edam cheeses, and patat (thick-cut fries with toppings).
Cheap meals at fast food joints or places like Maoz or Walk to Wok cost around 10-15 EUR. Casual restaurant meals average around 15-20 EUR for a main dish while a three-course meal at a mid-range restaurant costs around 30-35 EUR.
Chinese food costs between 10-15 EUR while a large pizza costs around the same. Beer costs 5 EUR while a latte/cappuccino is 3 EUR. Bottled water is around 2 EUR.
If you cook your meals, expect to pay around 40-65 EUR per week for groceries. This gets you basic staples like pasta, seasonal vegetables, rice, and some meat.
Backpacking the Netherlands Suggested Budgets
If you're backpacking the Netherlands, expect to spend around 65 EUR per day. This is a suggested budget assuming you're staying in a hostel, cooking most of your meals, using local transportation to get around, and doing mostly free activities like walking tours and lounging in the parks.
On a mid-range budget of about 160 EUR, you can stay in a private hostel room or Airbnb, enjoy some fast food and other cheap eats, have a few drinks, take the occasional taxi to get around or rent a bike, and do more paid activities like guided tours and museum visits.
On a "luxury" budget of 280 EUR or more per day, you can stay in a hotel, eat out anywhere you want, drink more, rent a car to explore, and do as many paid tours and activities as you want. This is just the ground floor for luxury though. The sky is the limit!
You can use the chart below to get some idea of how much you need to budget daily, depending on your travel style. Keep in mind these are daily averages – some days you spend more, some days you spend less (you might spend less every day). We just want to give you a general idea of how to make your budget. Prices are in EUR.
Accommodation
Food
Transportation
Attractions
Average Daily Cost
Backpacker
30
15
10
10
60
Mid-Range
70
45
20
25
150
The Netherlands Travel Guide: Money-Saving Tips
While not the most expensive country in Europe, the Netherlands isn't super cheap either. Here are some ways to help save money in the Netherlands so you don't blow your budget:
Limit your partying – Many people go to Amsterdam to party — and to smoke pot. While the city is cracking down on this, it's still an unnecessary expense that can add up quickly. Limit your smoking (and limit your expenses in the coffee shops; you don't need to buy something in every shop).
Get the Museumkaart (Museum Card) – Good for one month for non-residents, this card gets you into several museums for only 64.90 EUR. You get access to 400 museums throughout the Netherlands and it's good for repeat visits as well! If you're visiting multiple cities in the country, this is a must! Compare the price to the museums you want to visit to see if it's worth it for you.
Bike everywhere – Biking is the cheapest form of transportation. You can rent a bike for only a few euros a day. While most Dutch cities are easily walkable, cycling is what the locals do. It's the most bike-friendly country in the world so don't pass up the chance to explore on two wheels. Prices average around 10-15 EUR per day but can be as low as 5 EUR.
Attend a free festival – During the summer, everyone goes outside. Check local tourism boards for a list of free concerts, festivals, shows, and markets. Once the weather gets warm, the social calendar fills up!
Stay with a local – Couchsurfing is a service that lets travelers stay with locals for free. It's a fun cultural exchange platform that not only saves you money but connects you with a local who can share their insider tips. Since a lot of travelers use this service, make your requests for hosts early (especially in Amsterdam).
Cook your own food – Dutch food isn't going to win any culinary awards (sorry, my Dutch friends) so skip the restaurants and cook your own food. It saves you a ton!
Bring a water bottle – The tap water here is safe to drink so bring a reusable water bottle to save money and reduce your plastic use. LifeStraw is my go-to brand as their bottles have built-in filters to ensure your water is always clean and safe.
Where to Stay in the Netherlands
Here are some of my favorite places to stay in the Netherlands:
How to Get Around the Netherlands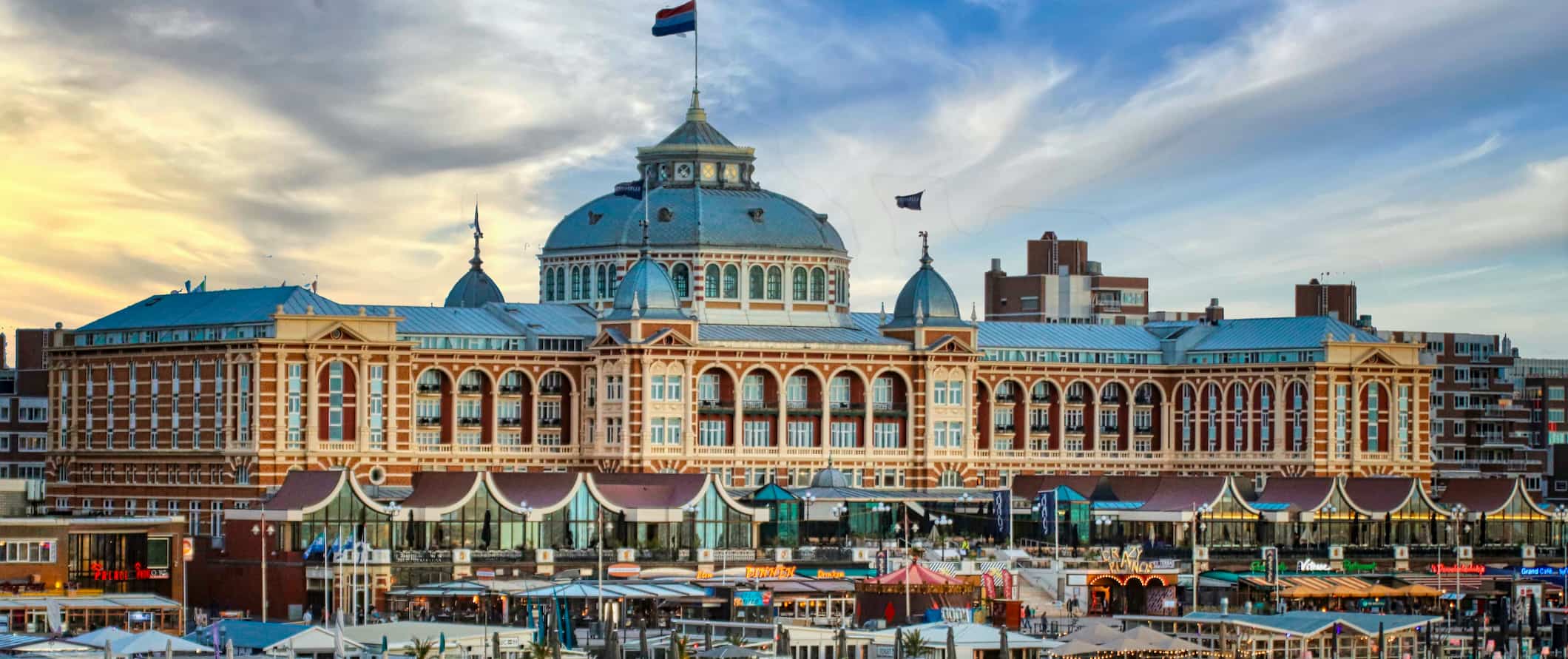 Public transportation – It's easy to use public transportation to get around the Netherlands' cities. One-way fares in major cities start at 4 EUR. All public transportation uses an OV-chipkaart, which you can load with money. You can also get a day travel pass (starting cost is 7-9.50 EUR).
Bus – Buses are an affordable way to get around the Netherlands, but they aren't as fast or efficient as the train. Flixbus is the cheapest bus operator. A trip from Amsterdam to Rotterdam costs as little as 3 EUR and takes just over 1 hour, while Amsterdam to The Hague can be done for the same cost and takes 40-50 minutes.
Train – The Netherlands is so small that all major tourist destinations in the country are within a 2.5-hour train journey from Amsterdam. The national rail system is Nederlandse Spoorwegen and their service is clean and efficient. Train travel in the Netherlands is a thing of beauty!
You can use the official rail site to look up itineraries and ticket prices. Intercity train tickets around Holland are cheap and cost between 10-20 EUR, though for super short distances, they can be as little as 5 EUR. Amsterdam to Rotterdam is 11 EUR and takes 40 minutes while Amsterdam to The Hague is also 11 EUR and takes 50 minutes.
The national rail service also has special tour programs for travelers. This gives you unlimited travel throughout a period of consecutive days (such as 3-8 days of unlimited travel in a 30-day period). There's also the Benelux Pass, which gives you access to public transportation like trams and buses for a certain number of days. Prices begin around 109 EUR and go up to 206 EUR depending on how many days you want (maximum is 8 days in a month).
Ridesharing – BlaBlaCar is a ridesharing website that lets you share rides with vetted local drivers by paying a small fee. You simply request a seat, they approve, and off you go! It's a cheaper and more interesting way to travel than by bus or train and is perfect for medium and long-distance trips.
Bike rental – The Netherlands is one of the best cycling countries in the world and bike rentals here are cheap. You can rent bikes starting for around 10-15 EUR per day (sometimes as little as 5 EUR).
Car Rental – Car rentals can be as low as 25 EUR per day, but the bus and train systems in the Netherlands are so excellent and affordable that you really don't even need to bother. For the best car rental prices, use Discover Cars.
Hitchhiking – Hitchhiking in the Netherlands is very safe, though it's not super common. HitchWiki is the best website for hitchhiking tips and info.
When to Go to the Netherlands
The Netherlands receives the most tourist traffic from mid-April to mid-October, but the real peak season is July and August. However, the weather is never very extreme, and visiting during the off-season or shoulder season is also worth your time. Prices are also a lot more affordable during the off-season, and if you come between mid-April and mid-May you can see the incredible tulip fields in bloom. Just bring a rain jacket.
The average daily summer temperature is around 19°C (67°F), but it can get a lot hotter than that during July and August. The average daily temperature in the winter is 2°C (35°F). Still, coming here during the Christmas season is always a good time as the cities light up with markets and festivities.
Since the Netherlands is located below sea level, you can expect to encounter a few days of fog or rain no matter when you visit. The winters can be damp as well. Be sure to pack a warm layer or two and a waterproof jacket if you're visiting in the shoulder season or the winter.
How to Stay Safe in the Netherlands
The Netherlands is an incredibly safe place to backpack and travel – even if you're traveling solo, and even as a solo female traveler. Violent attacks are rare, as is petty theft.
There are a few common scams around, however, such as people trying to sell you used public transit tickets or stolen bikes. Avoid interacting with them and you'll be fine.
If you're worried about other travel scams, you can read about the most common travel scams to avoid right here.
Solo female travelers should generally feel safe here, however, the standard precautions apply (never leave your drink unattended at the bar, never walk home alone intoxicated, etc.).
If you experience an emergency, dial 112 for assistance.
Always trust your gut instinct. If a taxi driver seems shady, stop the cab and get out. If your hotel is seedier than you thought, get out of there. Make copies of your personal documents, including your passport and ID. Forward your itinerary along to loved ones so they know where you are.
The most important piece of advice I can offer is to purchase good travel insurance. Travel insurance protects you against illness, injury, theft, and cancellations. It's comprehensive protection in case anything goes wrong. I never go on a trip without it as I've had to use it many times in the past. You can use the widget below to find the policy right for you:
The Netherlands Travel Guide: The Best Booking Resources
These are my favorite companies to use when I travel. They consistently have the best deals, offer world-class customer service and great value, and overall, are better than their competitors. They are the companies I use the most and are always the starting point in my search for travel deals.
Skyscanner – Skyscanner is my favorite flight search engine. They search small websites and budget airlines that larger search sites tend to miss. They are hands down the number one place to start.
Hostelworld – This is the best hostel accommodation site out there with the largest inventory, best search interface, and widest availability.
Booking.com – The best all around booking site that constantly provides the cheapest and lowest rates. They have the widest selection of budget accommodation. In all my tests, they've always had the cheapest rates out of all the booking websites.
HostelPass – This new card gives you up to 20% off hostels throughout Europe. It's a great way to save money. They're constantly adding new hostels too. I've always wanted something like this and glad it finallt exists.
Get Your Guide – Get Your Guide is a huge online marketplace for tours and excursions. They have tons of tour options available in cities all around the world, including everything from cooking classes, walking tours, street art lessons, and more!
The Man in Seat 61 – This website is the ultimate guide to train travel anywhere in the world. They have the most comprehensive information on routes, times, prices, and train conditions. If you are planning a long train journey or some epic train trip, consult this site.
Rome2Rio – This website allows you to see how to get from point A to point B the best and cheapest way possible. It will give you all the bus, train, plane, or boat routes that can get you there as well as how much they cost.
FlixBus – Flixbus has routes between 20 European countries with prices starting as low 5 EUR! Their buses include WiFi, electrical outlets, a free checked bag.
SafetyWing – Safety Wing offers convenient and affordable plans tailored to digital nomads and long-term travelers. They have cheap monthly plans, great customer service, and an easy-to-use claims process that makes it perfect for those on the road.
LifeStraw – My go-to company for reusable water bottles with built-in filters so you can ensure your drinking water is always clean and safe.
Unbound Merino – They make lightweight, durable, easy-to-clean travel clothing.
Top Travel Credit Cards – Points are the best way to cut down travel expenses. Here's my favorite point earning credit cards so you can get free travel!
BlaBlaCar – BlaBlaCar is a ridesharing website that lets you share rides with vetted local drivers by pitching in for gas. You simply request a seat, they approve, and off you go! It's a cheaper and more interesting way to travel than by bus or train!
The Netherlands Travel Guide: Related Articles
Want more info? Check out all the articles I've written on backpacking/traveling the Netherlands and continue planning your trip: