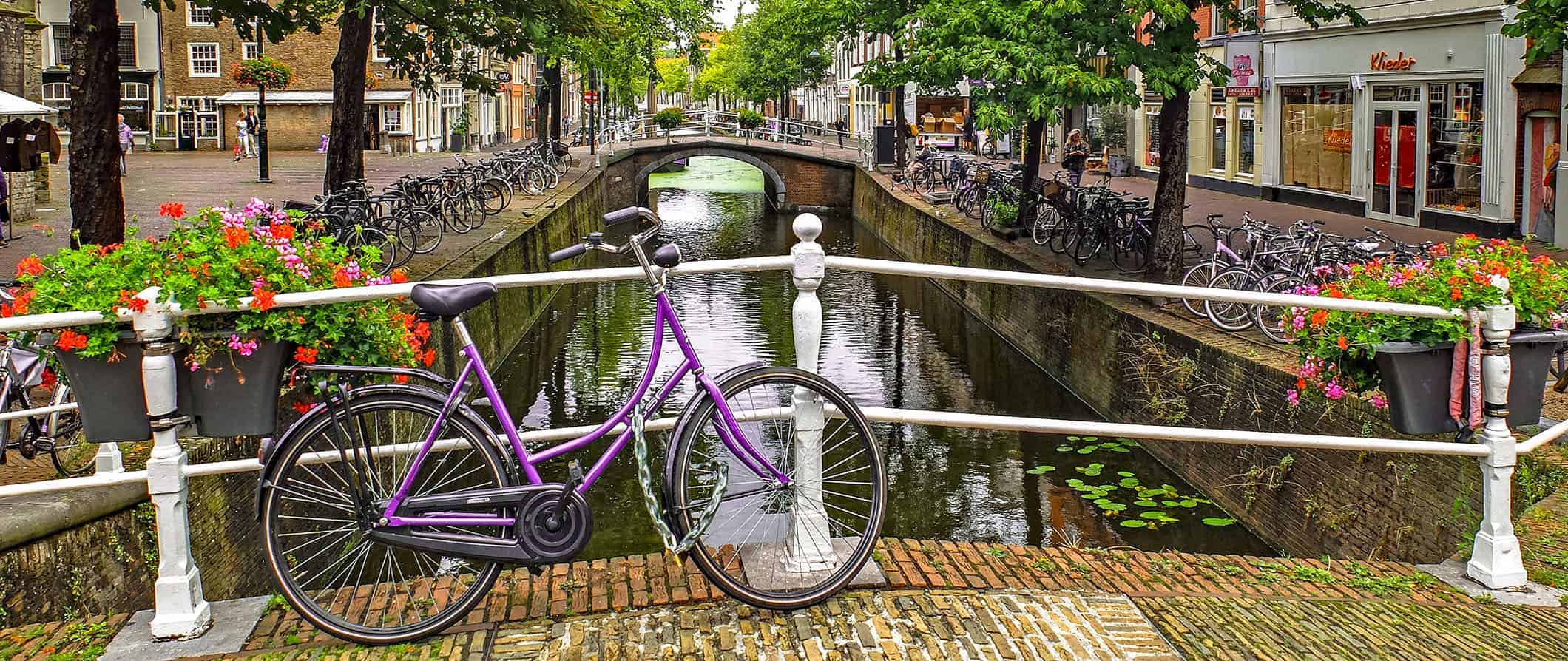 When most people think of the Netherlands travel, they think of Amsterdam with its famous red lights and "coffee" shops, windmills, and tulips.
But there is much more to the country than that.
The Netherlands is a tiny country filled with historic brick filled and cobblestone laned cities, an interconnected system of canals (you can travel most of the country just via the canals), beautiful and vast farmland, iconic windmills, and even some pleasant beaches. It's one of my favorite countries in the world.
Whether you are backpacking the Netherlands or just traveling on budget, the country's small size makes it easy to get around.
Most travelers come to the Netherlands and only party in Amsterdam for a few days, but by doing so, they miss much of what the country has to offer.
Spend time exploring get out of the cities and you'll discover the country that keeps me coming back every year.
I highly recommend heading north (especially in April or May when the tulips are in bloom) and also visiting Utrecht to see the country without the crowds!
This Netherlands travel guide can help you plan your trip!
Click Here for City Guides

The Netherlands
Top 5 Things to See and Do in the Netherlands
1. Visit Amsterdam
The capital and center of tourism in the country,
Amsterdam
is as beautiful and serene as it is crazy. There's the famous canals, beautiful and historic houses, tons of parks, museums, foodie scene, art, coffeeshops, and, of course, the infamous red light district.
2. Explore Rotterdam
Rotterdam
is one of the busiest shipping ports in all of the world. It may not get all the attention Amsterdam does but this city is a great place to go if you want good shops, great architecture (though most of the old building were bombed in WW2), and a chance to learn about the famous harbor locks.
3. Take a canal tour
Whether in Amsterdam or in another city, make sure you take a canal tour and see the canals that made the area famous and inhabitable. The Dutch practically perfected canal-building and it's such an integral part of life here, that you can't really understand the country until you spend time boating on the canals.
4. Leiden
Head to this small town and see where the Pilgrims lived before they left for America. It's a very historic city and filled with beautiful 17th-century buildings and parks. There's a small museum in the city that has sporadic opening hours but if you're nice, usually the owners let you roam through even if it's closed.
5. Explore The Hague
The Hague
is a hub of international life as it's a center of European justice. You can see the Queen's office here and visit the old castle and palace. Moreover, The Hague is also located right on the beach, so lounging on the sand and strolling the boardwalk are popular summer activities.
Other Things to See and Do in the Netherlands
1. Wander historic Haarlem
Take a stroll through the old, upper-class homes of the rich and famous and visit the old homes of the merchant class that helped build the city. This city is a short bike or train ride from Amsterdam. There's not much to do here but the town center has a good market, the central church is phenomenal and awe-inspiring, and it's a low-key alternative to the hustle and bustle of Amsterdam.
2. Celebrate King's Day
Every year on April 27th (April 26th if the 27th is a Sunday), the Dutch used to celebrate the birthday of their queen Juliana. However, in 2013, Queen Beatrix passed the throne to her son, Willem Alexander and Queen's Day became King's Day. It's a national holiday filled with outdoor concerts, lots of orange (the national color), lots of drinking, and insane celebrations on the canals. It is one of the wildest national holidays I've ever celebrated.
3. Visit Edam
A picture-perfect town with windmills, farmland, and quaint houses where the famous Dutch cheese gets its name from. It's one of the more quintessential Dutch towns. Basically, come here to eat and be as Dutch as possible!
4. Head to the Keukenhof
The Keukenhof is the largest flower garden in the world, with 32 hectares' worth of spectacular floral displays. The garden is open between March and May of each year when the tulips are in season. When you picture Holland, you picture flowers and there is no better place to see them than here.
5. Bike through Hoge Veluwe National Park
Hoge Veluwe National Park is the largest national reserve in the Netherlands. It is home not only for drift-sands, wild deer, and other animals but also to the Kröller-Müller Museum, the repository of Helene Kröller-Müller's art collection. You can rent white bicycles in three designated regions and hope you will never get lost in the sea of green.
6. Kick back in Maastricht
One of the southernmost towns in the Netherlands, this city is famous for having the country's only "mountain." It's really more of a hill though and doesn't take long to climb. But this hardly visited city is a great place to see Dutch life away from hoards of tourists who frequent the rest of the country.
7. Go cycling
As one of the most popular activities throughout the country, you would almost feel out of place not on a bike. The country is covered in over 20,000km of paths, dedicated to the two-wheeled transportation. Hoge Veluwe National Park is a particularly beautiful place to ride, but the entire landscape of the country is quite scenic as well.
8. Visit Delft
This is a fascinating little town, making it the perfect destination for a day trip. There are a few interesting sights here, including the Municipal Museum het Prinsenhof, Nieuwe Kerk, De Zeven Zonden, and of course, the trademark blue and white pottery. The town lies between The Hague and Rotterdam.
9. Visit the Van Gogh Museum
Open since 1973, this museum is host to over 500 original works by Vincent Van Gogh, in addition to several works by some of his contemporaries and beloved friends. The exhibits chronicle his life span, showing the progress and development of his work, alongside Gaugain, Monet, and Toulouse-Lautrec. The museum is open daily from 9am-5pm with extended hours on Fridays (until 10pm). Admission is €17 EUR ($19 USD). Note: Pre-book tickets online to avoid massive queues when you arrive.
10. Visit "Venice of the North"
Slow-paced Giethoorn is a charming place with lots of picturesque canals. With no cars allowed in the city center, this peaceful town is a good change of pace from the busyness of the Netherlands' bigger cities. Rent a small boat and spend the day floating by charming cottages.
11. See life in historic Netherland
At The Netherlands Open Air Museum, Themapark Archeon, and Zaanse Schans, you can see what life like in the low countries a few hundred years ago. With antique windmills, houses, farms, and shops, you can feel a part of Holland of old.
12. Try a multi-day bike tour
If you're going to bike somewhere, the Netherlands is it! But maybe a few hours or a day on your own isn't enough. With tons of bike companies, you have your pick of planned itineraries that'll take you to any region of the country. Whether it's self-guided or with a host, you can find an amazing bike tour in the Netherlands.
For more information on specific destinations, check out these guides!

The Netherlands Travel Costs
Accommodation – Hostels typically cost between €15-30 EUR ($17-34 USD) per night for a dorm room. The most popular hostels in Amsterdam can be close to €45 EUR/$51 USD (which, I think, is crazy expensive). Private rooms in hostels are around €60-80 EUR ($68-91 USD) per night for a room that sleeps two (but expect to pay about €20 EUR/$23 USD more in Amsterdam). You can find a room at a budget hotel for around €50-60 EUR ($57-68 USD) a night that offers a private bathroom and free WiFi (expect to pay more in Amsterdam during the busy season). Airbnb is also an option, with shared rooms averaging around €15 EUR ($17 USD) per night and entire homes (including studio apartments) averaging around €50-60 EUR ($57-68 USD) per night.
Food – The Netherlands isn't famous for its food, but there's still good stuff to be had. Make sure you try poffertjes (fluffy mini-pancakes served with powdered sugar), gouda and edam cheeses, patat (thick-cut fries with toppings) and stroopwafels (sweet Dutch waffles). Cheap meals at fast food joints or places like Maoz or Walk to Wok cost around €10 EUR ($11 USD). Restaurant meals average around €15-25 EUR ($17-29 USD) for a main dish with a drink. If you cook your meals, expect to pay €40-50 EUR ($46-57 USD) per week for groceries that will include pasta, vegetables, chicken, and other basic foods. Fast food like Febo, cheap Dutch food, is around €5-10 EUR ($6-11 USD).
Activities – Entrance into museums cost about €20 EUR ($23 USD) while churches are free to enter. Hiring your own boat for a canal tour is about €24 EUR ($27 USD). A harbor tour in Rotterdam costs €12 EUR ($24 USD).
Backpacking The Netherlands Suggested Budgets
If you're backpacking the Netherlands, your daily budget should be €45-60 EUR ($50-70 USD) per day. This is a suggested budget assuming you're staying in a hostel, cooking your meals or eating Dutch fast food, and using local transportation.
On a mid-range budget of about €120-135 EUR ($140-155 USD), you can stay in a private hostel room or stay in nicer dorms, enjoy fast food or food stalls, drink a lot more, take a tour here (like a canal boat tour), and visit more attractions.
If you want only private rooms in decent hotels, higher-end tours (including private tours and day tours), nicer transportation or eat out every meal, you can expect to pay up to €280+ EUR ($320+ USD) per day.
You can use the chart below to get some idea of how much you need to budget daily, depending on your travel style.
Accommodation
Food
Transportation
Attractions
Average Daily Cost
Backpacker
$17-34
$15
$10
$10-15
$50-70
Mid-Range
$57-68
$35
$20
$30
$140-155
Luxury
$130
$90
$30
$70-100
$320+
The Netherlands Travel Guide: Money Saving Tips
While note the most expensive country in Europe, the Netherlands isn't super cheap either. Accommodation will be the biggest thing that will eat into your budget. If you keep that cost down, you'll do OK. Hre are some other ways to save money in the Netherlands:
Avoid spending on the green – Many people go to Amsterdam to visit the coffee shops. If you choose to do this, don't think you have to buy "stuff" in each shop. Places will let you smoke as long as you buy a drink or food.
Get the Museumkaart (Museum Card) – Good for one month for non-residents, this card gets you into museums in Amsterdam and beyond for only €60 EUR ($68 USD). With the Museum Card, you get access to 32 museums in Amsterdam and more than 400 throughout the Netherlands. It's also good for repeat visits as well! If you're visiting multiple cities in the country, this is a must!
Bike – Biking is the cheapest form of transportation. You can rent a bike for only a few dollars a day. However, Dutch cities are also very small and easily walkable.
Attend a free festival – During the summer, everyone goes outside. Check local city boards for a list of free concerts, festivals, shows, and markets. Once the weather gets warm, the social calendar fills up.
Use Couchsurfing – It's a service that lets travelers stay with locals for free. Since a lot of travelers use this service, make your requests for hosts early.
Cook – Dutch food isn't going to win any awards. Try a few places and local dishes but cook often (or at least make lots of sandwiches) as your daily costs can shoot through the roof if you eat out a lot. Head to the supermarket, get some food, and save money! You're not missing out on anything. (Sorry, my Dutch friends!)
Where To Stay in the Netherlands
Here are some of my favorite places to stay in the Netherlands:
How to Get Around The Netherlands
Public Transportation – It's easy to use public transportation to get around the Netherlands' cities. One-way fares start at €2.50 EUR ($3 USD). All public transportation uses a OV-chipkaart. For a return trip, you'll use a throwaway card valued at €4.80 EUR ($5.50 USD) for two rides.
The Netherlands is notoriously one of the best cycling cities in the world, and bike rentals here are easy. You can rent bikes starting around €10 EUR ($11 USD) per day (but most places require a deposit that is returned to you when you return the bike).
Uber is available in Amsterdam.
Taking taxis is not advised – they're very expensive.
Train – The Netherlands is so small that all major tourist destinations in the country are within a 2.5 hour train journey from Amsterdam. The national rail system is Nederlandse Spoorwegen. You can also easily get to destinations like Rotterdam or Utrect directly from Amsterdam Schipol Airport, and you never have to wait very long. Train travel in the Netherlands is a thing of beauty!
You can use the official rail site to look up itineraries and ticket prices. Inter-city train tickets around Holland are cheap and cost between €12-30 EUR ($14-34 USD), though for super short distances they can be as little as €5 EUR ($6 USD). Amsterdam to Rotterdam is €26 EUR ($30 USD) and takes 40 minutes and Amsterdam to The Hague is €7 EUR ($8 USD) and takes 50 minutes.
The national rail service also has special tour programs for travelers. This will give you unlimited travel throughout a period of consecutive days (like unlimited 3-day travel over 10 consecutive days). A Summer Tour Plus will even give you access to public transportation like trams and buses. Prices begin around €65 EUR ($74 USD) up to €100 EUR ($114 USD).
Bus – Buses are another affordable way to get around the Netherlands, but it isn't as fast or efficient. Flixbus tends to deliver significantly cheaper prices. A trip from Amsterdam to Rotterdam will cost you just €6 EUR ($7 USD), or Amsterdam to The Hague is €5 EUR ($6 USD).
Car Rental – If you're renting a car, you'll need an International Driving Permit (IDP). It costs about €18 EUR ($20 USD) and is valid for one year after the date of issue (plus it's valid in 150 countries). Car rentals can sometimes be as low as €30 EUR ($35 USD) per day, but the bus and train systems in Netherlands is so excellent you really don't even need to bother.
Rideshare – BlaBlaCar is a ridesharing website that lets you share rides with vetted local drivers by pitching in for gas. You simply request a seat, they approve, and off you go! It's a cheaper and more interesting way travel than by bus or train!
Hitchhiking – Hitchhiking in Europe is very safe, but it's not for everyone. Hitching is quite common around the continent. HitchWiki is the best website for hitchhiking info.
When to Go to the Netherlands
The Netherlands receives the most tourist traffic from mid-April to mid-October, but the real peak season is July and August. However, the weather is never very extreme, and visiting during the off-season or shoulder season is also worth your time. Prices are also a lot more affordable during this time, and if you come between mid-April and mid-May you'll get to see the incredible tulip fields in bloom.
The average daily summer temperature in the Netherlands is around 67°F (19°C), but it can get a lot hotter than that during July and August. The average daily temperature in the winter is 35°F (2°C). Still, coming here during the Christmas season is always a good time as the cities light up with markets and festivities.
Since the Netherlands is located below sea level, you can expect to come up against a few days of fog or rain. The winters can be damp as well. Be sure to pack a warm layer or two and a waterproof jacket.
How to Stay Safe in the Netherlands
The Netherlands is an incredibly safe place to backpack and travel – even if you're traveling solo, and even as a solo female traveler. Violent attacks are rare. There are a few common scams around as well, such as people trying to sell you public transit tickets that actually have already been used. Be wary of purchasing a really cheap bike from someone off the street as well – it likely means it's already been stolen.
You can read about the 14 travel scams to avoid right here.
Always trust your gut instinct. If a taxi driver seems shady, stop the cab and get out. If your hotel is seedier than you thought, get out of there. Make copies of your personal documents, including your passport and ID. Forward your itinerary along to loved ones so they'll know where you are.
If you don't do it at home, don't do it in the Netherlands!
The most important piece of advice I can offer is to purchase good travel insurance. Travel insurance will protect you against illness, injury, theft, and cancellations. It's comprehensive protection in case anything goes wrong. I never go on a trip without it as I've had to use it many times in the past. You can use the widget below to find the policy right for you:
The Netherlands Travel Guide: The Best Booking Resources
These are my favorite companies to use when I travel to the Netherlands. They are included here because they consistently find deals, offer world-class customer service and great value, and overall, are better than their competitors. They are the ones I use the most and are always the starting points in my search for travel deals.
Momondo – This is my favorite booking site. I never book a flight without checking here first.
Skyscanner – Skyscanner is another great flight search engline which searches a lot of different airlines, including many of the budget carriers that larger sites miss. While I always start with Momondo, I use this site too as a way to compare prices.
Airbnb – Airbnb is a great accommodation alternative for connecting with homeowners who rent out their homes or apartments.
Hostelworld – This is the best hostel accommodation site out there, with the largest inventory, best search interface, and widest availability.
Couchsurfing – This website allows you to stay on people's couches or spare rooms for free. It's a great way to save money while meeting locals who can tell you the ins and outs of their city. The site also lists events you can attend to meet people (even if you're not staying with someone).
Booking.com – The best all around booking site that constantly provides the cheapest and lowest rates. They have a no money down policy, great interface, and the widest selection of budget accommodation. In all my tests, they've always had the cheapest rates out of all the booking websites.
Eurail – If you are going to Europe and taking a lot of high speed or long distance trains, get a rail pass. I've used a rail pass three times and saved hundreds of dollars each time. The math just works.
Intrepid Travel – If you want to do a group tour around Europe, go with Intrepid Travel. They offer good small group tours that use local operators and leave a small environmental footprint. If you go on a tour with anyone, go with them. And, as a reader of this site, you'll get a discount when you click the link!
The Man in Seat 61 – This website is the ultimate guide to train travel anywhere in the world. They have the most comprehensive information on routes, times, prices, and train conditions. If you are planning a long train journey or some epic train trip, consult this site.
Rome 2 Rio – This website allows you to see how to get from point A to point B the best and cheapest way possible. It will give you all the bus, train, plane, or boat routes that can get you there as well as how much they cost.
FlixBus – German based Flixbus has routes between 20 European countries with prices starting as low 5 EUR (6 USD)! Their buses include WiFi, electrical outlets, and up to three 3 free bags.
Bla Bla Car – BlaBlaCar is a ridesharing website that lets you share rides with vetted local drivers by pitching in for gas. You simply request a seat, they approve, and off you go! It's a cheaper and more interesting way travel than by bus or train!
Stoke Travel – If you're looking for a fun, young, party-focused tour company then check out Stoke. They have tons of amazing tours and festival trips all around the world aimed at the youth market. They're great and, if you use code NOMADICMATT, you can save 10% off your next trip!
World Nomads – I buy all my travel insurance from World Nomads. They have great customer service, competitive prices, and in-depth coverage. I've been using them since I started traveling in 2003. Don't leave home without it!
The Netherlands Gear and Packing Guide
If you're heading on the road and need some gear suggestions, here are my tips for the best travel backpack and for what to pack!
The Best Backpack for Travelers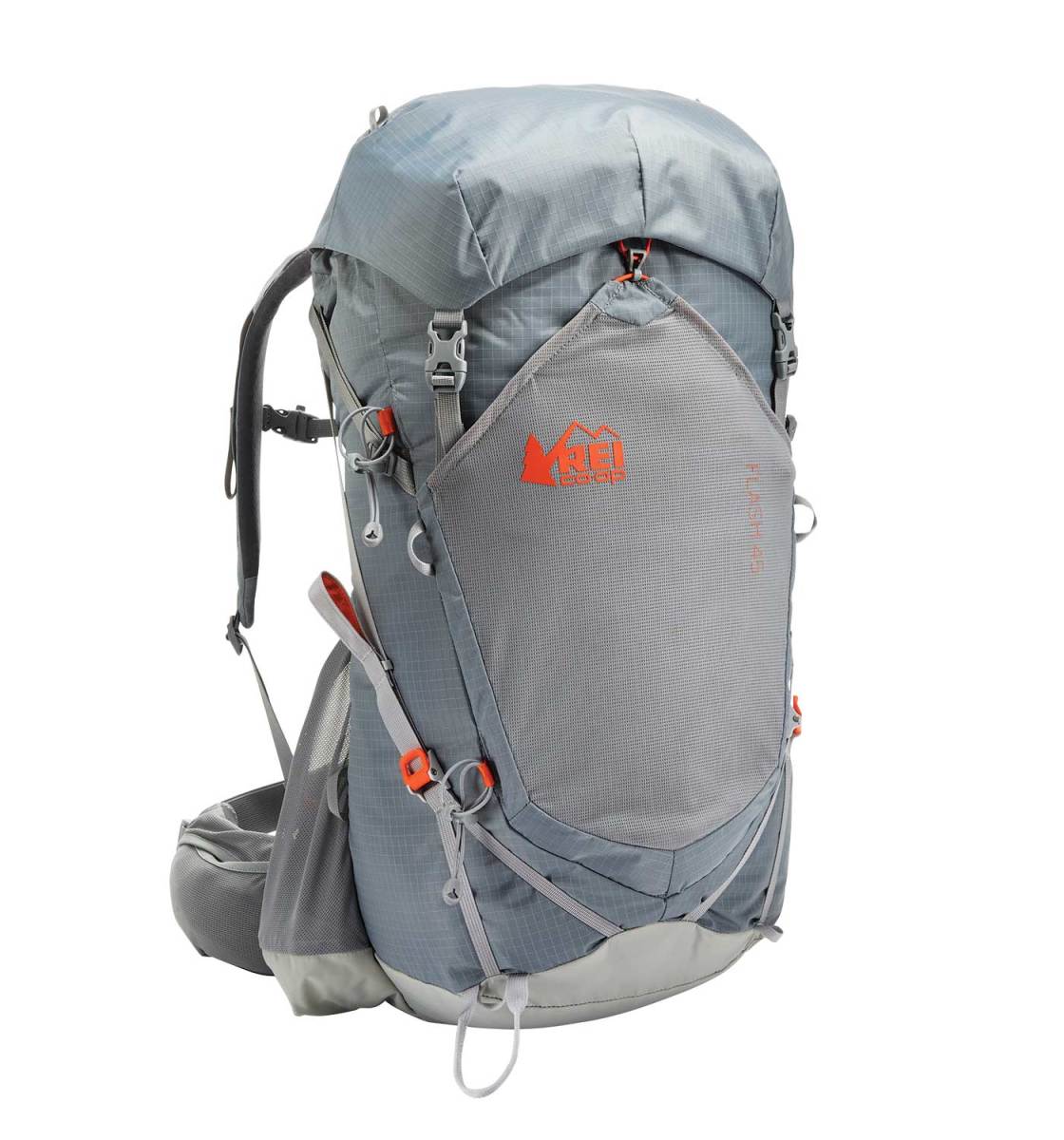 What's the best backpack for traveling long-term? I recommend the
REI Flash 45 Pack
. It's light and comfy, front loading, and fits perfectly in an airplane's overhead bin.
Size:
45-47L
Straps:
Thick and cushy with compression technology that pulls the pack's load up and inwards so it doesn't feel as heavy.
Features:
Removable top lid, large pocket at the front, hydration compatible, contoured hip belt
If you want something different, refer to my article on how to choose the best travel backpack for tips on picking a pack and other backpack suggestions.
What to Pack for Your Trip
Clothes
1 pair of jeans (heavy and not easily dried, but I like them; a good alternative is khaki pants)
1 pair of shorts
1 bathing suit
5 T-shirts (Unbound Merino is my preferred company. If you're a member of NM+, you can get 15% off your purchase)
1 long-sleeved T-shirt
1 pair of flip-flops
1 pair of sneakers
6 pairs of socks (I always end up losing half)
5 pairs of boxer shorts (I'm not a briefs guy!)
1 toothbrush
1 tube of toothpaste
1 razor
1 package of dental floss
1 small bottle of shampoo
1 small bottle of shower gel
1 towel
Deodorant
Small Medical Kit (safety is important!!!)
Miscellaneous
Female Travel Packing List
I'm not a woman, so I don't know what a woman wears, but Kristin Addis, our solo female travel guru, wrote this list as an addition to the basics above:
Clothing
1 swimsuit
1 sarong
1 pair of stretchy jeans (they wash and dry easily)
1 pair of leggings (if it's cold, they can go under your jeans, otherwise with a dress or shirt)
2-3 long-sleeve tops
2-3 T-shirts
3-4 spaghetti tops
1 light cardigan
Toiletries
1 dry shampoo spray & talc powder (keeps long hair grease-free in between washes)
1 hairbrush
Makeup you use
Hair bands & hair clips
Feminine hygiene products (you can opt to buy there too, but I prefer not to count on it, and most people have their preferred products)
For more on packing, check out these posts:
GO DEEPER: Nomadic Matt's In-Depth Budget Guide to Amsterdam!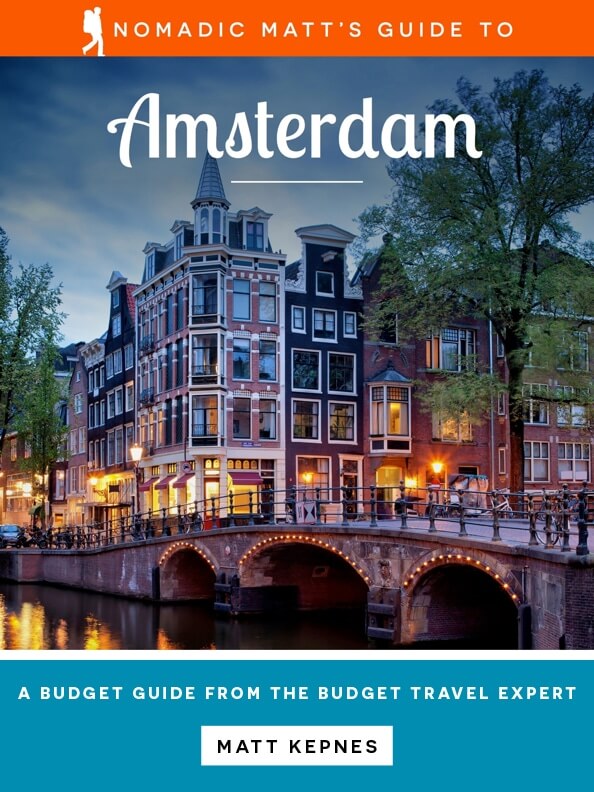 For more in-depth information, check out my guidebook to Amsterdam written for budget travelers like yourself! It cuts out the fluff found in other guides and gets straight to the practical information you need to travel and save money in one of the most beautiful and romantic cities in the world. You'll find suggested itineraries, budgets, ways to save money, on- and off-the-beaten-path things to see and do, and non-touristy restaurants, markets, and bars, plus much more! Click here to learn more and get started.
The Netherlands Travel Guide: Related Articles
Want more info? Check out all the articles I've written on backpacking/traveling the Netherlands and continue planning your trip: