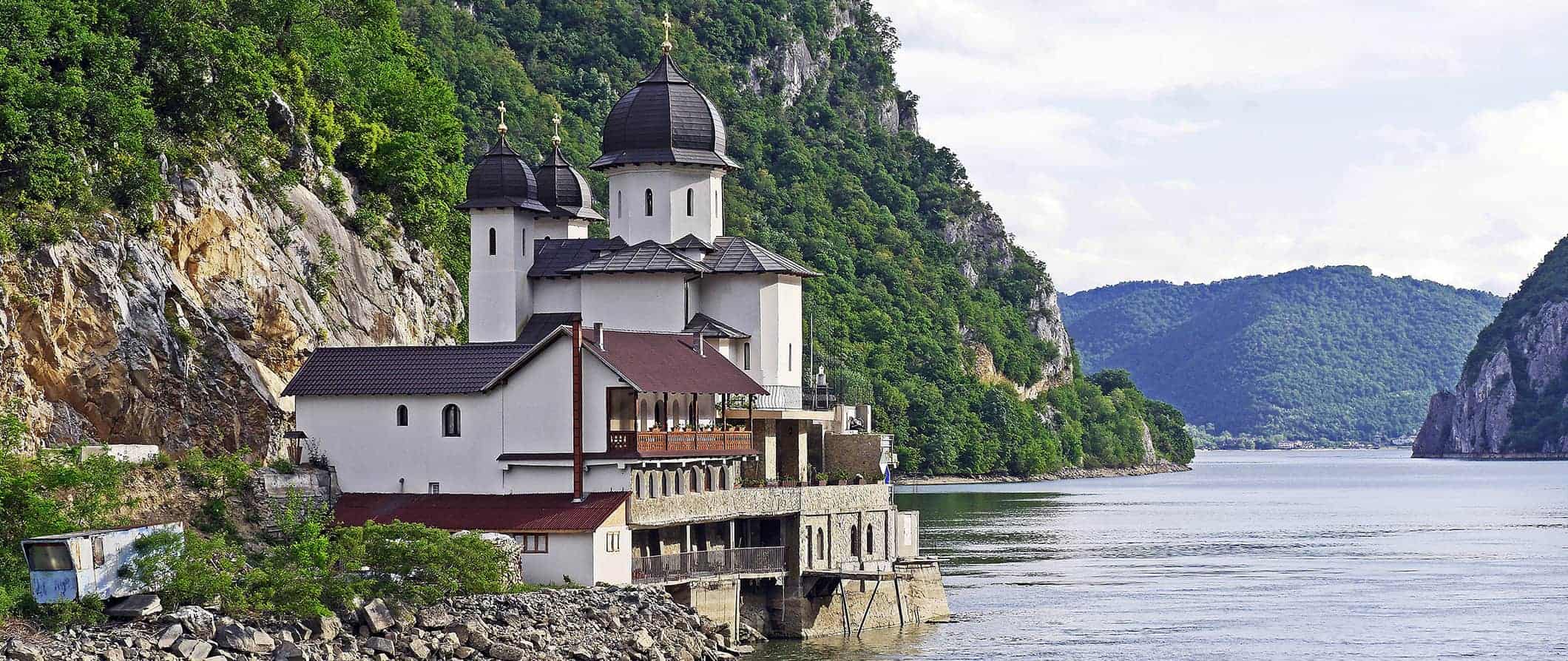 I had no idea what to expect when I first visited Romania. Beyond the stereotypical vampire myths and legends of Transylvania, I knew shockingly little about the country.
What I found on arrival was a budget-friendly destination brimming with hearty food, amazing natural landscapes, and a fraction of the tourists found elsewhere in Europe.
The country has a long (and turbulent) history stretching back thousands of years. It was annexed by numerous powers over the centuries, including the Romans, the Byzantines, the Holy Roman Empire, Hungary, and the Soviets (who left a particularly dark stain on the country's history).
While Romania used to be far off the beaten path, in recent years, the country's tourism numbers have been increasing. That said, it's still relatively undiscovered compared to countries in Western and Central Europe and its charming historic cities with cobblestone streets and medieval architecture is both affordable and rarely crowded.
I love Romania to bits and I strongly, strongly encourage you to take the country slowly and spend extra time here. It's a massive country perfect for road-tripping, hiking, and history buffs.
This travel guide to Romania can help you plan your trip, save money, and make the most of your visit.
Click Here for City Guides
Top 5 Things to See and Do in Romania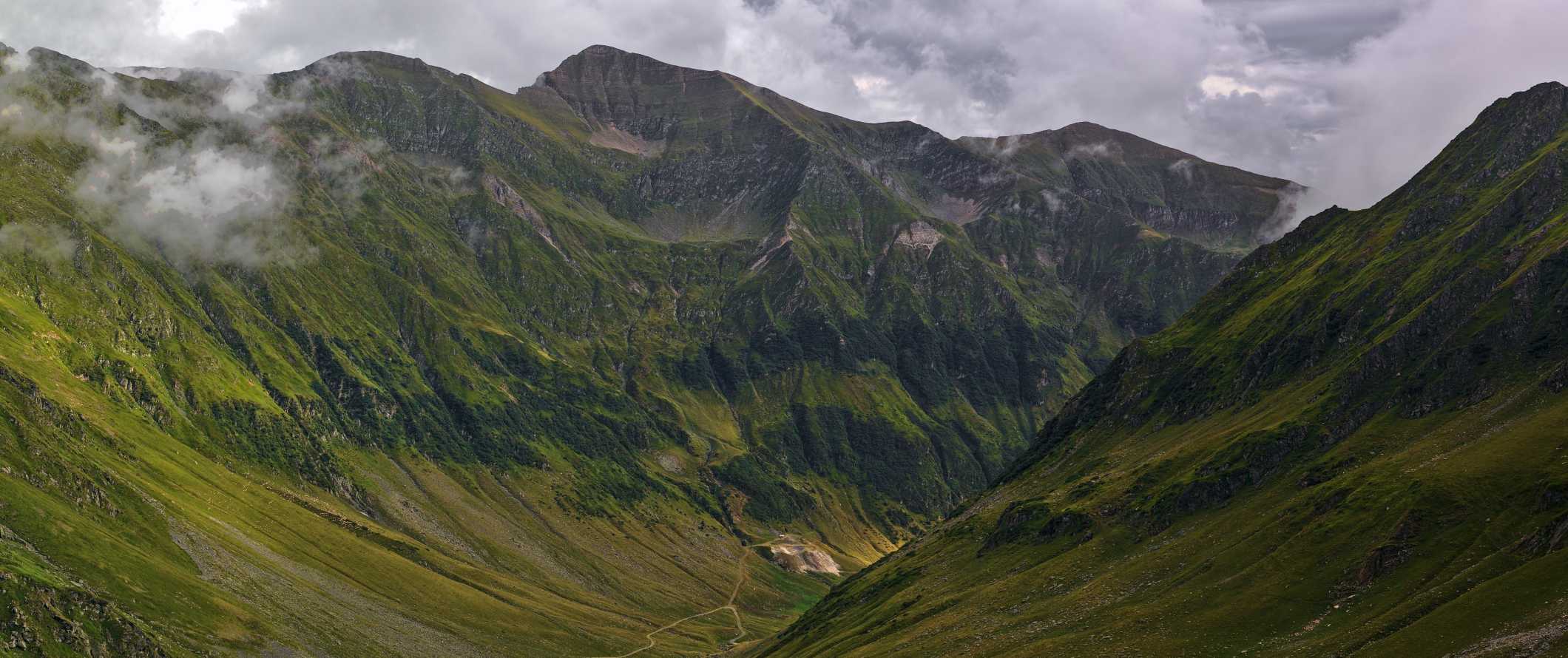 1. Explore Brasov
Located in the historical region of Transylvania and surrounded by the Carpathian Mountains, Brasov is one of the best-preserved cities in Romania. Due to its location in the center of the country, the city has long been a hub for commercial and cultural activities (it was even the birthplace of Romania's national anthem). Today, the city is best known to travelers as the launching pad for trips to "Dracula's castle" (which isn't actually his castle but is still a fun one to visit). There's a bit of everything here, including great hiking nearby, a beautiful historic center, and charming medieval streets. The city also offers a wide variety of food, from local Romanian fare to tasty international dishes. Stay awhile and really soak in this cultural capital.
2. Wander Bucharest
Bucharest boasts a healthy mix of Neoclassical and Beaux-Arts buildings and communist-style concrete blocks. By European standards, it's a relatively young city, and in recent years has become a tech hub for local and European startups as well as digital nomads. There are plenty of museums, cemeteries, historical sites, shopping centers, and architectural sights to check out here. Some of the main sights include the gigantic Palace of Parliament, the Romanian Patriarchal Cathedral, the ethnographic Village Museum, Revolution Square, and the Ceausescu Mansion.
3. Trek the Fagaras Mountains
The Fagaras Mountains are the highest mountains in the Southern Carpathians and one of the most popular places in the country to go hiking. You can go on an awesome multi-day trekking experience that takes you along the main ridge of the Fagaras. The route is one of the longest and most continuous high-mountain traverses in Europe. Hikers can trek over Moldoveanu, Negoiu, and Vista Mare — three of Romania's highest peaks that all tower over 2,500 meters (approximately 8,300 feet).
4. Visit Sibiu
Visiting Sibiu is like stepping back into the Middle Ages. Located in the historical region of Transylvania, the city was the capital of the region at various points throughout history. Cobblestone streets, ancient town squares, castle walls, and historic buildings — this city has everything you want in an old European city but without the crowds found elsewhere. It has a wonderful medieval charm, beautiful views of the surrounding landscapes, excellent food, and lots of green space. Don't miss the Brukenthal Museum, the Citadel, and the unique Baroque eyebrow dormers that earned the city the nickname "The City with Eyes."
5. See the painted monasteries in Bucovina
These Romanian Orthodox monasteries in the northeastern edge of the country are striking in that they have their exterior walls painted with elaborate 15th- and 16th-century frescoes featuring saints, prophets, Jesus, and other religious scenes. The walls are a masterpiece of Byzantine art and a pilgrimage destination for Romanian Orthodox believers. Eight of the monasteries have been designated a collective UNESCO World Heritage Site too.
Other Things to See and Do in Romania
1. See the Alexandru Borza Botanic Gardens
Located in Cluj-Napoca, this massive botanical garden features rolling green hills, an observation tower, a rose garden, and even a Japanese garden. Founded in 1872, the garden is home to over 10,000 plants and spans 35 acres. There are greenhouses, ponds, and a wide variety of regional gardens with plants from all around the world. Admission is 15 RON per person (RON when the greenhouses are closed).
2. Get a cultural immersion in Maramures
This medieval region of Romania is one of my favorites. The traditional culture here is thriving and there is an interesting blend of local music, hand-made wooden structures, and colorful textiles to experience. Each village has a large wooden church and intricate wooden gates that are hand-carved (woodworking is a tradition here that goes back centuries). There are unique cemeteries as well, stemming from their belief that the afterlife is a beginning, not an end. For example, instead of solemn words on stone tombstones, there are blue wooden crosses with funny verses about the deceased. Don't miss the Memorial Museum to the Victims of Communism & to the Resistance and the Elie Wiesel Memorial House (Wiesel was a famous Romanian-American who wrote the book Night about his experiences during the Holocaust.).
3. Hike at Mount Tampa
Towering above Brasov, this mountain is great for a quick hike if you're looking to get a view overlooking the city. The mountain also has a large sign similar to the white "Hollywood" sign in Los Angeles. While the hike is pretty easy and takes less than an hour (the mountain is just 1,000 meters/3,280 feet high), there is also a cable car you can ride to the summit for 18 RON (round trip).
4. Visit the Romanian Patriarchal Cathedral
This cathedral in Bucharest was completed in 1659 and still has all of its original interior paintings and icons, in addition to some beautiful frescoes (most of the frescoes are reconstructions). The exterior façade was designed in the Brancovenesc style and the interior is lavishly ornate, spacious, and colorful. The acapella choir is particularly impressive to listen to. Admission is free but dress conservatively as this is a place of ongoing worship.
5. See the wildlife in Northern Dobruja
Tucked away in the southeastern corner of the county, this region is home to over 400 species of birds as well as lots of wildlife. It's a hilly expanse with over a dozen lakes, and more to be found just over the border in Bulgaria. It's one of the best regions to explore by car as you can hop from town to town. Be sure to spend some time in the coastal city of Constanta, the oldest continuously inhabited city in Romania (it was founded in 600 BCE).
6. Visit the Danube Delta
Flowing over 3,000 kilometers (1,864 miles) from its source in Germany, this is Europe's second-largest and best-preserved delta (the Volga is the largest). The Danube stretches through 10 countries — more than any other river in the world — before draining into the Black Sea via Romania (and Ukraine). The entire region is a UNESCO World Heritage site, making it a great nature preserve to explore if you're looking to get away from the crowds. You can hike around the coastline or take a boat tour along the water for a better view. While the hiking is free, expect to pay around 210-300 RON for a full-day boat tour that includes lunch. A half-day tour without lunch is about 110-150 RON.
7. Celebrate Hora de la Prislop
Held every August, this festival is a celebration that brings together Transylvania, Moldova, and Maramures. Known more commonly as the Dance at Prislop, there is lots of traditional dancing and singing, beautiful costumes, parading, and awesome feasting. Dating back to the 1730s, the festival is a celebration of local and traditional culture and one not to be missed if you're in the area. The festival is held in the remote Prislop Pass in the north of the country, where up to 50,000 people gather each year.
8. Hunt for Dracula in Sighisoara
Founded during the 12th century, this town is one of the most beautiful and best-preserved medieval towns in Europe. One of the eight UNESCO World Heritage Sites in the country, there are many towers, ornate churches, and burgher houses (traditional houses from the Middle Ages and Renaissance) to see throughout the colorful cobbled streets. This is also the birthplace of Vlad Tepes, more commonly known as Vlad the Impaler (aka Dracula). Be sure to climb the clock tower for sweeping views of the city. Other highlights include the History Museum, the guild towers (part of the city's historic defenses), and the Scholar's Stairway (a 17th-century staircase that was used by schoolchildren).
9. Visit Peles Castle
Constructed for King Carol I in the 1870s as a getaway spot, this castle (which looks more like an elaborate palace or manor house) is lavishly decorated and serves as a great reminder of the luxurious lives these rulers enjoyed. It was also the first castle in Europe to have electricity. After touring the elaborate grounds and gardens you can head inside to look at the art and antique collection, which includes over 4,000 arms and armor. A visit to the ground floor of the castle costs 50 RON, a tour including the first floor costs 100 RON, and a tour of the ground, first, and the second floor costs 150 RON. The temporary exhibitions are free. Guided day trips from Bucharest cost around 100 RON and include Bran Castle.
10. Tour a salt mine
Salina Turda is a salt mine in Turda that has been converted into a subterranean museum. The mine dates back to antiquity and was used throughout the Middle Ages. Learn how the workers got the salt to the surface and how laborious the process was. There's a small underground lake at the bottom where you can rent a boat and paddle around and there are also games like bowling and mini-golf and even a Ferris wheel! It's a good place to visit with kids. There is also a spa if you want to treat yourself to some natural remedies. Admission is 50 RON on weekdays and 60 RON on weekends. Skip-the-line tickets (including a guide and ride from Bucharest) cost 500 RON.
11. Explore Cluj-Napoca
Cluj-Napoca is pleasant university town located in Romania's northwest and a big stopping point for people coming east from Hungary (it's a hub for cheap flights too). The city dates back centuries, and there are a lot of historical churches, museums, and ruins (especially on Cetatuia hill) to visit. Because of the university here, there are a lot of affordable restaurants and a very happening nightlife in the city. I really liked the days I spent here. While not as historic and medieval as many of Romania's other cities, if you're looking for a city with a cool atmosphere in Romania, this place is it.
12. Explore Hoia Forest
This infamous forest has been the site of numerous ghost and UFO sightings over the centuries (as well as other paranormal activities). In fact, it's often considered the creepiest forest in the world. Here, trees are warped and bent in unsettling ways that science hasn't been able to explain. Take a stroll through the woods during the day for free (lots of locals walk and jog here) or do a guided night tour to learn about the unsettling paranormal events that have occurred here! Night tours cost 250-475 RON per person.
13. Unwind at Balea Lake
Located 90 minutes from Sibiu, Balea Lake makes for a worthwhile day trip from the city. Part of the Fagaras Mountains (often called the "Transylvanian Alps"), many people come here to hike or to ski during the winter (there is even an ice hotel built here in the winter). There are marked trails if you want to hike, offering both five-hour and nine-hour routes to some of the nearby summits. Located about an hour from the city, you can take a bus here for around 90 RON.

For more information on specific cities in Romania, check out these guides:
Romania Travel Costs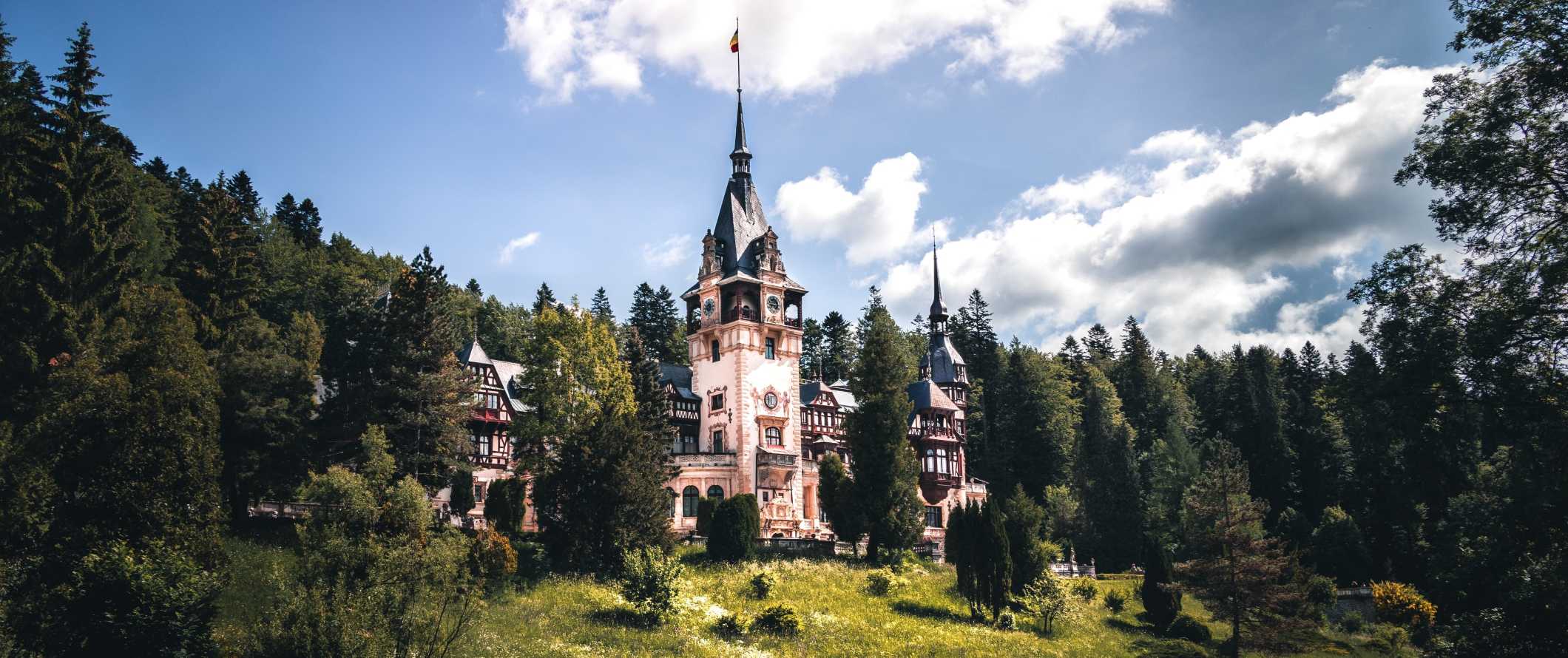 Accommodation – A bed in a 4-8-bed hostel dorm costs about 50-70 RON per night. A private room in a hostel costs at least 130 RON per night. Free Wi-Fi is standard and many hostels also have self-catering facilities if you want to cook your own food. Most hostels in the country don't include free breakfast.
A budget hotel costs around 150-175 RON per night. You can find rooms cheaper, however, you'll have to share a bathroom with other guests. Free Wi-Fi is common and many hotels also include a simple free breakfast as well.
Airbnb is available throughout the country with private rooms starting around 90 RON per night, while entire homes/apartments cost around 130-175 RON.
For those traveling with a tent, camping is possible around the country, though stick to dedicated campgrounds. Wild camping is legal, but theft is a bit common so it's much safer to camp in designated areas. It costs 25-40 RON per night for a basic tent plot.
Food – Romanian cuisine is hearty, influenced by nearby Hungary and other Eastern European neighbors. Stews and sausages are common staples, with garlic sausage being especially popular. Sour soup, lamb, meatballs, and meat pies are other popular traditional meals. Wine is the drink of choice here as Romania is one of the largest wine producers in the world.
Most cheap (yet filling) restaurant meals (such as schnitzel with mashed potatoes and salad) cost around 25-45 RON for dinner, and 10-20 RON for breakfast. Soup is a good option for saving money as it costs around 17-25 RON and is pretty hearty (it also typically comes with a side of bread).
At a mid-range restaurant, a three-course meal costs around 80 RON. A burger or pasta dish is 35-40 RON while seafood or steak dishes typically cost 75-130 RON. A six-course tasting menu starts at 110 RON.
Fast food is around 6-9 RON for a burger or hot dog, while a combo meal (think McDonald's) is around 30-40 RON. Takeaway sandwiches are around 20 RON.
A domestic beer out at a restaurant or bar costs around 8-10 RON, a glass of local wine is 7-18 RON while a bottle is 60-100 RON, and cocktails start at 20-35 RON. A cappuccino/latte is around 10-12 RON, a tea is 10 RON, and a bottle of water is 5-8 RON.
In tourist destinations like Brasov or Sighisoara, expect prices to be a little higher (but not too much).
If you buy your own groceries and cook your meals, expect to pay about 140-190 RON per week for groceries that include pasta, vegetables, chicken, and other basic staples. Save money by shopping at local markets or small roadside stands, which usually have the cheapest and freshest products. There are also several discount supermarkets in Romania, like Profi, Lidl, and Penny Market.
Backpacking Romania Suggested Budgets
On a backpacker budget of 140 RON per day, you can stay in a hostel, cook all of your meals, use local transportation to get around, take slow trains between cities, and do mostly free activities like hiking and free walking tours.
On a mid-range budget of about 265 RON per day, you can stay in an Airbnb, eat out for most meals, enjoy a few drinks out at the bar, take the occasional taxi, take buses or rideshares between cities, and do more paid activities such as museum and castle visits.
On a "luxury" budget of 440 RON or more per day, you can stay in a hotel, eat out for all your meals, drink more, rent a car to get around, and do whatever tours and activities you want. This is just the ground floor for luxury though. The sky is the limit!
Accommodation
Food
Transportation
Attractions
Average Daily Cost
Backpacker
55
55
10
20
140
Mid-Range
100
75
30
60
265
Luxury
160
135
45
100
440
Romania Travel Guide: Money-Saving Tips
Romania is already a very affordable country to visit. You'll be hard pressed to spend a lot of money here. You really have to go out of your way to do so. But, if you want some ways to lower your costs, here are ways to save money in the country:
Stay with a local – Nothing's cheaper than sleeping for free. Couchsurfing connects you with locals who give you not only a free place to stay but who can introduce you to all the great places to see and share their insider tips and advice. It's a great community to be a part of.
Eat lunch out – Although the food in Romania is inexpensive in general, you can save more money by cooking your own dinners and eating your lunches out. A lunch menu in Romania typically consists of three courses (soup, main, dessert), and can cost as little as 30 RON.
Rideshare – If you're flexible in your schedule, use the ridesharing service BlaBlaCar to catch rides with locals between cities (or countries). Drivers are verified and it's perfectly safe (though sometimes rides don't show up, which is why you need to be flexible). While buses might be cheaper, this is more fun and usually faster.
Shop at discount grocers – If you're going to cook or are just grabbing a snack, save money by shopping at discount supermarkets like Profi, Lidl, and Penny Market.
Stay at Balkan Backpacker Hostels – There are hostels all around Romania that are a part of the Balkan Backpacker network. Book directly with these hostels and tell them you're aware of the network to get 10% off your stay.
Hitchhike – Hitchhiking in Romania is safe and quite common. It's not the fastest way to get around but it works if you're on a budget. Just make sure you have a sign and that you trust your gut when accepting rides. It's a great way to connect with locals while also saving money.
Take the train – The trains in Romania are slow, but they are the cheapest way to get around. If you're not in a hurry, take the train. There are some night trains around the country as well if you're going long distances.
Bring a water bottle – The tap water here is generally safe so bring a reusable water bottle to save money and reduce your reliance on single-use plastic. I suggest a LifeStraw since their bottles have a built-in filter to ensure your water is always clean and safe.
Where to Stay in Romania
Romania has tons of budget-friendly hostels. Here are of my favorite places to stay in Romania:
How to Get Around Romania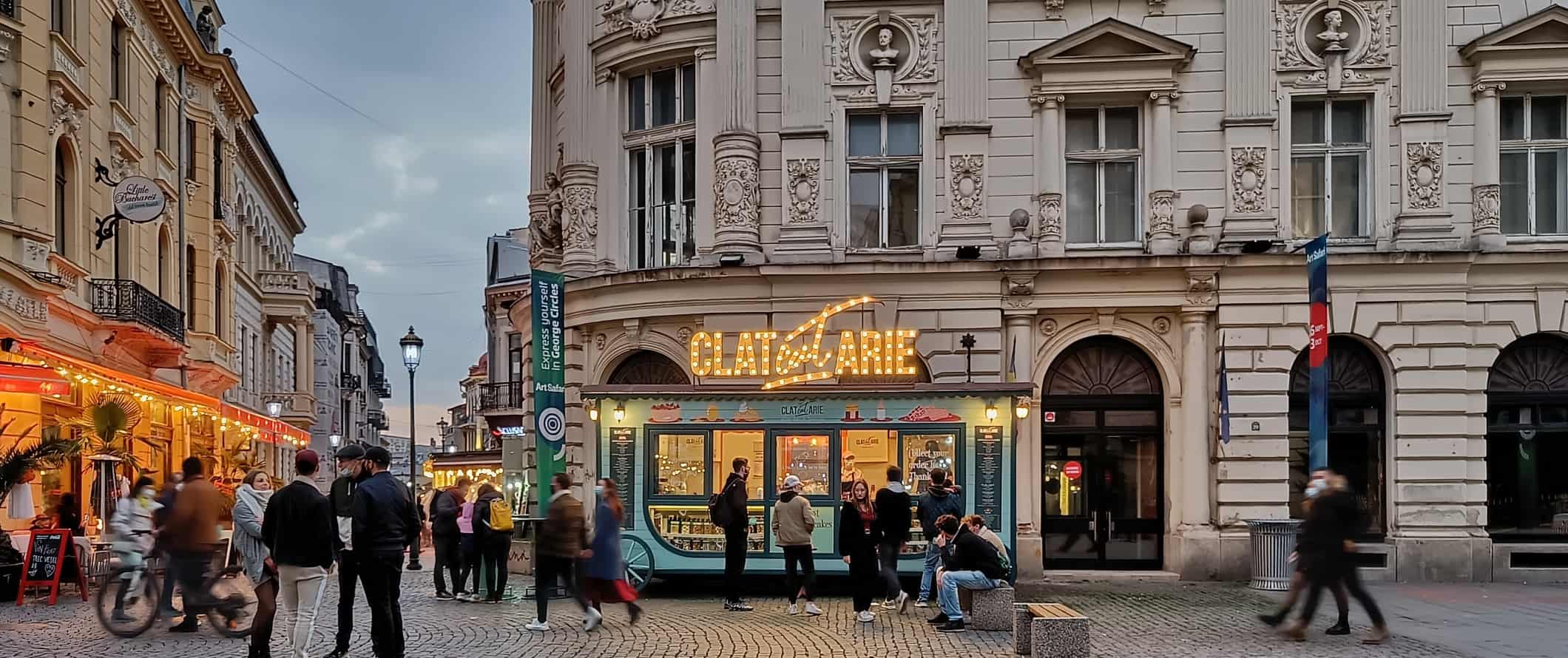 Public Transportation – Buses and trams in most towns cost as little as 2 RON for a single journey, though the vehicles are often crowded and in varying states of disrepair. In Bucharest, the metro is 3 RON, though a day-pass is only 8 RON making it a much better deal. Weekly metro passes are 30 RON, which is worthwhile if you're going to be using public transportation often (week passes are also available for the buses and trams but prices vary depending on your route).
In Brasov and Cluj, for comparison, a single-ticket ride on the public bus is 2-2.50 RON while a day pass is 12-14 RON.
Flights – Flying around Romania is an option if you're in a hurry. You can often find great deals if you plan ahead. From Bucharest, you can reach pretty much any airport in the country for under 400 RON.
Bucharest to Cluj or Timisoara, for example, can be done for under 170 RON one-way. Ryanair, Wizz, and Blue Air (the Romanian low-cost carrier) are the three airlines to check for the lowest prices.
Bus – Buses connect all the major cities in the country, though since Romania is a large country, the journeys can be quite long. For example, the journey from Bucharest to Cluj costs around 100 RON and takes 9 hours. The journey from Bucharest to Brasov takes around 4 hours and costs 50-65 RON.
Contrary to most countries, the trains here are a cheaper option in many cases. If you're on a budget, be sure to compare bus and train prices.
Train – Trains in Romania are a slow (but reliable) way of getting around. There are 3 different kinds of trains: InterCity (IC), InterRegional (IR), and Regional (R). The InterRegional trains are the fastest and nicest and likely the ones you'll be using to travel from city to city.
Standard seats (second class) are usually quite comfortable and adequate for even long journeys. Wi-Fi and catering are not available so bring your own entertainment and food if you have a long journey.
As for prices, the 9-hour journey from Bucharest to Timisoara is around 100 RON while the trip from Bucharest to Cluj-Napoca takes about the same amount of time and costs a little less at 90 RON.
Rideshare – Uber is available in Bucharest, Cluj-Napoca, Brasov, Timisoara, and Iasi. It's the cheapest option if you need to get somewhere and don't want to take public transit as the taxis in Romania charge an arm and a leg.
For longer distances, use BlaBlaCar. It's a great (and safe) ridesharing service for intercity travels. Just download the app, make a profile, and search for rides.
Car – Car rentals are about 70 RON per day for a multi-day rental. Always be sure to lock your rental car when leaving, as rentals are targeted for theft more often than local vehicles. Drivers need to be at least 21.
For the best rental car prices, use Discover Cars.
Hitchhiking – Hitchhiking in Romania is very easy. Just make sure you make it clear to the driver that you are hitchhiking, as some drivers will demand payment if it's not made clear. For more information about hitchhiking in Romania, use Hitchwiki.
When to Go to Romania
The best (and most popular) time to visit Romania is during the summer, from June to August. Temperatures are hot and rain is infrequent. Expect daily highs around 30°C (86°F) during this time. These are the busiest months of the year for tourism, though it's only noticeable in destinations like Brasov or Sibiu where tourism is the main draw. But even then, the crowds are much smaller than in Western Europe.
The shoulder seasons (late April-May and September-October) are great times to visit as well. You'll beat the crowds and have much milder temperatures, which are perfect for anyone looking to head into the hills for some hiking. There's more rain in the spring, but there are also stunning autumn colors in the fall which makes for a beautiful backdrop to your trip (especially if you're traveling through Transylvania).
Winter in Romania can be quite cold, with temperatures dropping below freezing. Snow is common though not abundant, which can affect conditions if you're traveling by car. While cities like Sighisoara and Brasov look quite charming in the winter, Bucharest has a much grimmer atmosphere due to the influence of Soviet architecture and their reliance on gray, bland concrete. In short, I wouldn't recommend a winter visit unless you have a specific desire to enjoy the cold and quiet cities.
How to Stay Safe in Romania
Romania is a very safe country and crime against tourists here is rare. It's a safe destination for solo travelers.
That said, petty theft can still occur so always keep your valuables secure and out of sight. Theft is most common when riding crowded city buses and trams (mostly in Bucharest) so take extra precautions when riding.
Additionally, take some extra precautions when renting a car. While the roads are safe, rental cars are targeted for theft more than local cars, so take precautions and lock your vehicle when you're not using it. When booking, make sure your insurance covers theft.
While scams are rare, if you're worried about getting ripped off you can read about common travel scams to avoid here.
Solo female travelers should feel comfortable exploring on their own, though the standard precautions apply (don't accept drinks from strangers, don't walk alone late at night, etc.). As in any city, never leave your drink unattended when out at the bar and never walk home alone if intoxicated.
If you experience an emergency, dial 112 for assistance.
Always trust your gut instinct. Avoid isolated areas at night and be aware of your surroundings at all times. Make copies of your personal documents, including your passport and ID.
The most important piece of advice I can offer is to purchase good travel insurance. Travel insurance will protect you against illness, injury, theft, and cancellations. It's comprehensive protection in case anything goes wrong. I never go on a trip without it as I've had to use it many times in the past. You can use the widget below to find the policy right for you:
Romania Travel Guide: The Best Booking Resources
These are my favorite companies to use when I travel. They consistently have the best deals, offer world-class customer service and great value, and overall, are better than their competitors. They are the companies I use the most and are always the starting point in my search for travel deals.
Skyscanner – Skyscanner is my favorite flight search engine. They search small websites and budget airlines that larger search sites tend to miss. They are hands down the number one place to start.
Hostelworld – This is the best hostel accommodation site out there with the largest inventory, best search interface, and widest availability.
Booking.com – The best all around booking site that constantly provides the cheapest and lowest rates. They have the widest selection of budget accommodation. In all my tests, they've always had the cheapest rates out of all the booking websites.
Get Your Guide – Get Your Guide is a huge online marketplace for tours and excursions. They have tons of tour options available in cities all around the world, including everything from cooking classes, walking tours, street art lessons, and more!
SafetyWing – Safety Wing offers convenient and affordable plans tailored to digital nomads and long-term travelers. They have cheap monthly plans, great customer service, and an easy-to-use claims process that makes it perfect for those on the road.
LifeStraw – My go-to company for reusable water bottles with built-in filters so you can ensure your drinking water is always clean and safe.
Unbound Merino – They make lightweight, durable, easy-to-clean travel clothing.
Top Travel Credit Cards – Points are the best way to cut down travel expenses. Here's my favorite point earning credit cards so you can get free travel!
BlaBlaCar – BlaBlaCar is a ridesharing website that lets you share rides with vetted local drivers by pitching in for gas. You simply request a seat, they approve, and off you go! It's a cheaper and more interesting way to travel than by bus or train!
Romania Travel Guide: Related Articles
Want more info? Check out all the articles I've written on backpacking/traveling Romania and continue planning your trip: