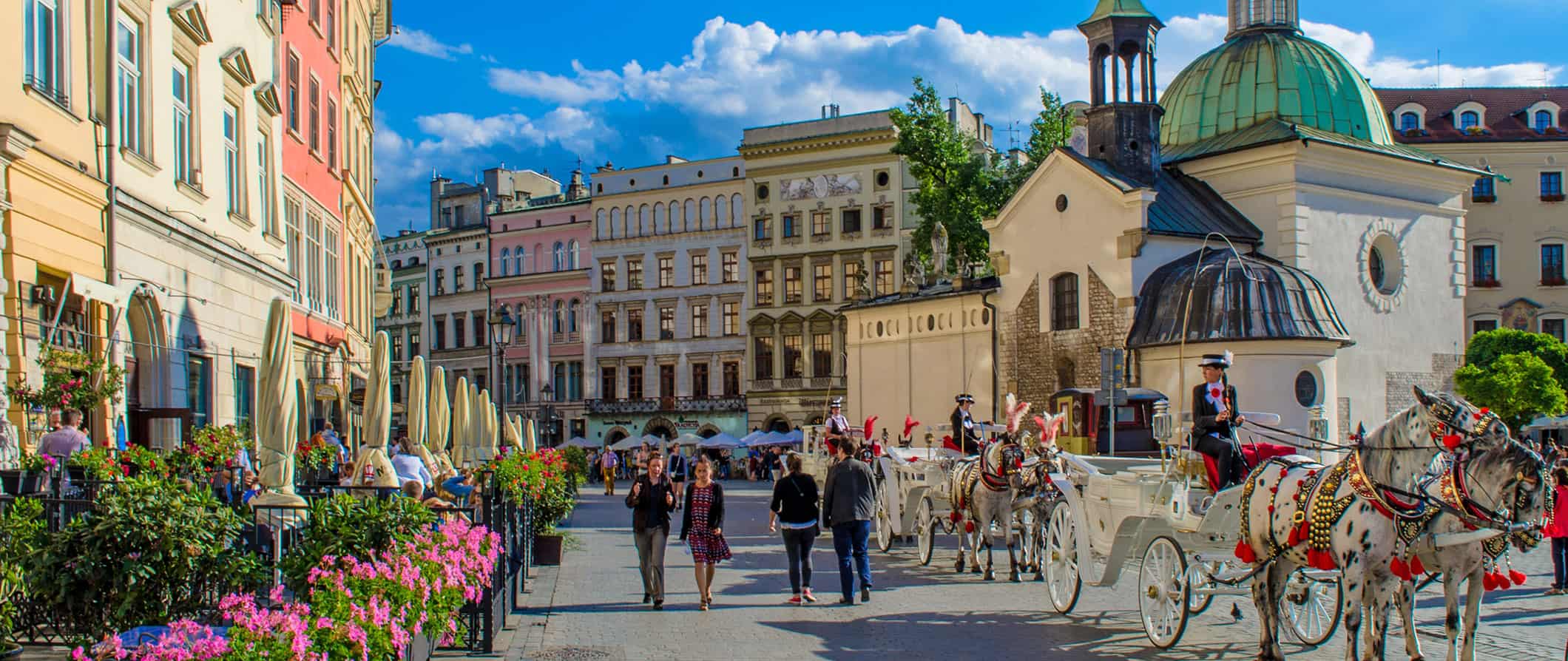 Krakow, Poland's student city, is one of the biggest tourist destinations in the country. Everyone comes here for the beautiful medieval architecture, castles, good food and cheap booze! This city is beautiful, inexpensive, and is filled with plenty to do. I personally like Warsaw better simply because it's less of a "tourist scene" but you can't deny Krakow is one truly amazing city (and far more beautiful). No visit to the country would be complete without a visit to this city.
Top 5 Things to See and Do in Krakow
1. Walk the entire Royal Road
The Royal Road stretches from St. Florian's Gate to Florianska, across the Rynek Glówny, and down Grodzka to the Wawel Castle. This was once the route king as they made their way through the city center and it incorporates some of the most important historical landmarks in Krakow.
2. Visit Auschwitz
Auschwitz-Birkenau was the largest German Nazi concentration camp and extermination center during World War II. Over 1.1 million people died here. As a visitor, you can tour the grounds, including the barracks and the gas chambers.
3. Explore Wawel Castle
Wawel Castle was constructed during the 14th century. It takes up an impressive spot atop a hill and was home to Polish monarchs from centuries. You can tour a number of rooms, which contain a fine collection of art and furniture. Admission is 4 PLN per person, though some of the exhibits will cost extra. Admission is free on Mondays from April to October.
4. Tour Schindler's Factory
Oskar Schindler's story was made famous by Steven Spielberg's 1993 film, Schindler's List. Located in the actual factory itself, this museum is an incredibly thorough trip through the history of WWII with only a small portion chronicling the years the factory existed. Make reservations online ahead of time.
5. Visit the Underground Museum
One of the more interesting spots in Krakow is actually right under the main Market Square. The museum traces Krakow's medieval past through well-preserved foundations, artifacts and city history. It incorporates 3D technology, videos, and simulations for a more interactive experience. It gives you an incredible overview of how the city "grew up."
Other Things to See and Do
(Click the title to expand the text)
1. Visit the District of Kazimierz
South of the center of town is the former Jewish ghetto. It was forgotten for many years but now is the center of a vibrant artist and student population. You can vist the Jewish cemetery or go on a free walking tours of the neighborhood. While it's a great place for a bite to eat, the real flavor of Kazimierz comes alive at night — check out the 4zl/8zl vodka bar or Alchemia around Plac Nowy for a guaranteed good time.
2. Visit the Salt Mines
The Wieliczka Salt Mines have been used since the Middle Ages to produce table salt, one of the city's largest industries, but has been maintained as a museum since 2007. It's pretty amazing down there as miners created statues, chandeliers, cathedrals and chapels carved from salt! Admission is 84 PLN for foreign visitors, with discounts available for families. A four-hour guided tour will cost in the neighborhood of 200 PLN with transportation to and from Krakow, as well as English speaking guide.
3. Shop at the flea markets
Go shopping early on Sundays at the open-air flea markets at Plac Nowy in Kazimierz or in the Jewish Quarter. If you go there on Saturday, expect an assortment of antiques. On Sunday there are mostly clothes for sale.
4. Go to mass at St. Mary's Church
As the home parish of Pope John Paul II, this is a landmark of Krakow and the faith of believers here will give you a renewed understanding of the importance of the religion in Polish society.
5. Stroll through Nowa Huta
Lose yourself in the forgotten communist era apartment blocks as you try to imagine what would have been if this Soviet town experiment had succeeded. In the years following the war, Nowa Huta was established as a separate town filled with industry workers and propaganda. Now, as an undeveloped neighborhood outside the center, it's interesting to see how much of the socialist influence remains.
6. Visit the MOCAK
The Museum of Contemporary Art is one of Krakow's most recent additions and has a collection of contemporary art. Admission is 14 PLN per person, with discounts available for students and seniors.
7. Visit Poland's oldest university building
Located in Jagiellonian University, the Collegium Maius has been a scientific hub for research and discovery for centuries. Copernicus was a student here and the museum has a vast collection of scientific instruments from the 16th century. Admission is free on Tuesdays between 3-6pm, otherwise, a single-entry ticket is 12 PLN.
8. Walk around The Planty
The Planty is a large park that surrounds the entire Old Town. It was once the moat encircling the medieval city walls but now a beautiful 4km park! It's a great escape from the busy center, and home to the location of one of our favorite restaurants, Pod Wawalem, serving up hearty, boisterous Polish cuisine.