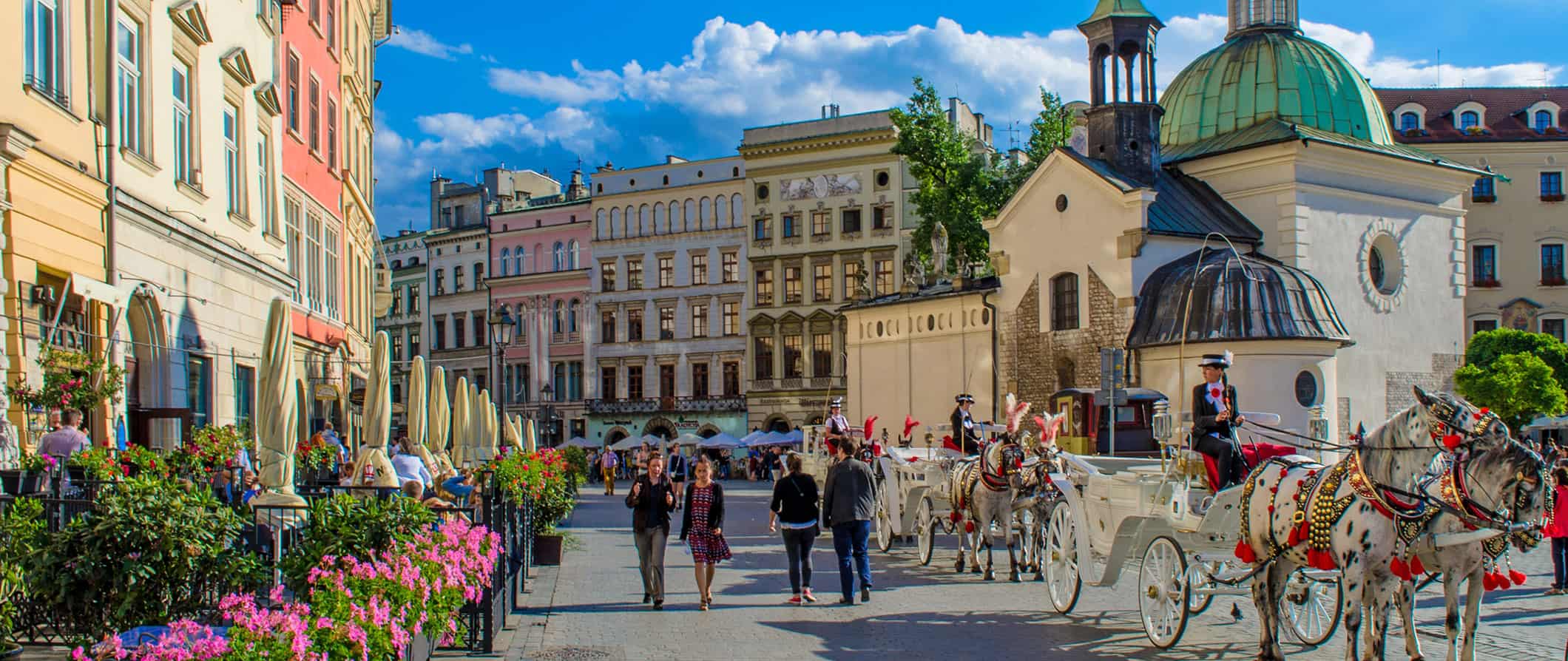 Krakow is Poland's student city and it is one of the biggest tourist destinations in the country.
Visiting Krakow is a must for most people coming to the country or backpacking around Europe. You have beautiful medieval architecture, castles, good food and cheap booze! I personally like Warsaw better simply because it's less of a "tourist scene" but you can't deny Krakow is one truly amazing city (and far more beautiful).
Be sure to visit the underground ruins. It's my favorite thing to do in the city.
This travel guide to Krakow can help you figure out how to plan your trip here and get the most out of your visit.
Top 5 Things to See and Do in Krakow
1. Walk the entire Royal Road
The Royal Road (sometimes called the Royal Route) stretches from the Old Town to Wawel Castle. This was once the route king as they made their way through the city center and incorporates some of the most important historical landmarks in Krakow.
2. Visit Auschwitz
Auschwitz-Birkenau is the site of a former concentration death camp used by the Nazis during World War II. Admission is free, but the experience is much more meaningful with a guide who can give you context. Expect to pay around 60 PLN for a guide.
3. Explore Wawel Castle
Built in the 13th century, this site is home to an art museum that has medieval tapestries, the former Polish crown jewels, and also Ottoman empire treasures. Admission ranges from 5-25 PLN. In the summer, free tickets are available on Mondays for the treasury & armory.
4. Tour Schindler's Factory
Oskar Schindler's story was made global by Steven Spielberg's 1993 film, Schindler's List. Located in the actual factory itself, this museum is a thorough trip through the history of WWII. Admission is 25 PLN though there are limited free tickets available on Mondays.
5. Visit the Underground Museum
The Rynek Underground traces Krakow's medieval past through well-preserved foundations and artifacts from the city's history. It incorporates 3D technology, videos, and simulations for a more interactive experience. It gives you an incredible overview of how the city "grew up." Admission is 21 PLN for adults. Audio guides are 5 PLN.
Other Things to See and Do in Krakow
1. Visit the District of Kazimierz
South of the center of town is the former Jewish ghetto. It was forgotten for many years but now is the center of a vibrant artist and student population. You can visit the Jewish cemetery or go on a free walking tour of the neighborhood. While it's a great place for a bite to eat, the real flavor of Kazimierz comes alive at night — check out the 4zl/8zl vodka bars or Alchemia around Plac Nowy for a guaranteed good time.
2. Visit the Salt Mines
This mine was first used in the Middle Ages as one of Krakow's main industries and produced table salt until 2007. Today, it is no longer in use and is a recognized UNESCO site for tourists to visit and marvel over the cavernous chambers, statues, chapels, chandeliers, and cathedrals, all carved out of salt by the miners! The mines reach depths of over 300 meters and are also home to contemporary works of art as well. Admission is 89 PLN for foreigners, with discounts available for families.
3. Shop at the flea markets
Go shopping early on Sundays at the open-air flea markets at Plac Nowy in Kazimierz or in the Jewish Quarter. If you go there on Saturday, expect an assortment of antiques. On Sunday, there are mostly clothes for sale. It's a fun way to do some people watching and get a feel for local life in the city (plus, you can grab some souvenirs if you want!).
4. See St. Mary's Basilica
As the home parish of Pope John Paul II, this is a landmark of Krakow and the faith of believers here will give you a renewed understanding of the importance of the religion in Polish society. The church itself is brick and designed in the Gothic style, looming over the Old Town. Every hour, a trumpeter plays from the tower in homage to a 13th-century trumpeter who was shot while sounding the alarm before a Mongol. If you enter, be sure you've dressed appropriately as it is a place of worship.
5. Stroll through Nowa Huta
In the years following the war, Nowa Huta was established as a separate town filled with industry workers and propaganda. Lose yourself in the forgotten communist-era apartment blocks as you try to imagine what would have been if this Soviet town experiment had succeeded. It was one of the largest examples of social engineering, built to be a "utopian" city example. Now, as a popular neighborhood outside the center, it's interesting to see how much of the Soviet influence remains.
6. Visit the MOCAK
The Museum of Contemporary Art is one of Krakow's most recent additions and has a vast and varied collection of contemporary art. Opened in 2011, it actually sits on a demolished section of Schindler's factory. It focuses almost exclusively on modern art from the past couple of decades, and while modern art isn't my favorite type of art, the museum is still worth a visit just to get a sense of the Polish art scene. Admission is 14 PLN per person, with discounts available for students and seniors.
7. Visit Poland's oldest university building
Located in Jagiellonian University, the Collegium Maius has been a scientific hub for research and discovery for centuries. Copernicus was a student here and the museum has a vast collection of scientific instruments from the 16th century. The building itself dating back to the 14th century. Hour-long guided tours cost 16 PLN, though you can do a self-guided tour on Saturdays for free between 10am-2pm.
8. Walk around The Planty
Planty Park is a large park that surrounds the entire Old Town. It was once the moat encircling the medieval city walls but now a beautiful 4km park that spans just over 5 acres. It's a great escape from the busy center, and home to the location of one of my favorite restaurants, Pod Wawalem, serving up hearty, boisterous Polish cuisine. In the summer, there are lots of stalls here to grab a snack or a drink as you lounge in the shade.
9. Take a free walking tour
One of the best things you can do when you arrive in a new city is to take a walking tour. It's a great way to get the lay of the land and learn about the culture, people, and history of the destination. Walkative offers free tours in English with a variety of different focuses (such as the Old Town, street art, WWII, and the Holocaust). These tours give you much more insight than any guidebook. Just be sure to tip your guides at the end!
10. Visit the Botanical Garden
The Botanical Garden of the Jagiellonian University is an 18th-century garden near the Old Town. Spanning over 24 acres, this is actually the oldest botanical garden in the country (it was founded in 1783). It's home to over 5,000 species of trees, shrubs, orchids, and other flowers. The garden is only open from April-October and makes for a nice place to go for a summer stroll. Admission is 9 PLN.
11. Explore the Polish Aviation Museum
This museum has been consistently ranked as one of the best in the world. Opened in 1964, it's situated at the former Kraków-Rakowice-Czyzyny Airport (which is no longer in operation). There are over 200 aircraft on display here, including 22 extremely rare planes that were taken from a museum in Germany during WWII. There are lots of interactive displays and insightful exhibits, making this a fun place for kids and adults alike. Admission is 14 PLN for adults and 7 PLN for kids.
12. Have fun at Aquapark (Park Wodny)
Park Wodny is a water park in Krakow and a great place to go if you're traveling with kids. There are 8 water slides, paddling pools for kids, a lazy river, rock climbing walls, and a handful of jacuzzis for adults. If you're looking to relax or have a bit of fun, this is the place! One-hour tickets start at 21 PLN while a full-day pass costs 62 PLN.
Krakow Travel Costs
Hostel prices – Most 8-bed dorm rooms cost about 45-65 PLN per night at a hostel. A private room in a hostel costs at least 150 PLN per night for a double bed. Free Wi-Fi is standard and most hostels also have self-catering facilities if you want to cook your own food. Lockers are available in most hostels too. Free breakfast is available at most hostels but not all (so just double check when booking).
Camping is possible outside the city (and there are plenty of campgrounds throughout the country as well). Expect to pay around 40 PLN per night for a basic tent plot. Wild camping is tolerated if you're in the mountains — as long as you are not in a national park (camping in national parks is strictly prohibited).
Budget hotel prices – A double bed in a budget hotel with free Wi-Fi costs at least 100 PLN per night. Free Wi-Fi is common and many hotels also include a simple free breakfast as well. For a hotel with a pool, expect to pay closer to 170 PLN per night.
Airbnb is available throughout the country with shared rooms starting around 50 PLN per night. For a private room, expect to pay at least 75 PLN per night while entire homes/apartments costs around 180 PLN.
Food – Polish meals are quite hearty, usually containing potatoes, meats, cabbage, and spices. The country also has lots of traditional desserts too, like Paczki (a Polish donut) and makowiec (poppy-seed cake).
Most cheap meals cost around 25 PLN while a meal at a mid-range restaurant costs closer to 50 PLN for a three-course meal. For fast food (think McDonald's), expect to pay around 20 PLN. A beer out at a restaurant or bar costs at least 9 PLN, while you can get it for less than half that price if you buy it in a store.
If you buy your own groceries and cook your meals, expect to pay around 140 PLN per week for groceries that includes pasta, vegetables, chicken, and other basic staples.
Backpacking Krakow Suggested Budgets
How expensive is a trip to Krakow? That depends on your budget and travel style!
On a backpacker budget, you can visit Krakow for 115-190 PLN ($30-40 USD) per day. On this suggested budget, you're staying in a cheap hostel or camping, cooking most of your meals, and using public transportation. Additionally, you'll have to stick to mostly free activities while occasionally paying to visit a museum or attraction. If you're drinking a lot, add another $10 per day.
On a mid-range budget of about 230-290 PLN ($60-75 USD), you'll be able to stay in a budget hotel or hostel private room, eat out all your mores, and see and do a few more paid activities per day, and drink with ease.
On a luxury budget of 540+ PLN ($140+ USD), you can stay in a luxury hotel, eat out at nicer restaurants, rent a car or just get around via taxi, and visit as many museums and attractions as you'd like. The sky is the limit here!
You can use the chart below to get some idea of how much you need to budget daily, depending on your travel style. Keep in mind these are daily averages — some days you'll spend more, some days you'll spend less (you might spend less every day). We just want to give you a general idea of how to make your budget. Prices are in USD.
Accommodation
Food
Transportation
Attractions
Average Daily Cost
Backpacker
$15
$5-10
$5
$5-10
$30-40
Mid-Range
$25
$15-20
$10
$10-20
$60-75
Luxury
$55
$40
$20
$25
$140+
Krakow Travel Guide: Money-Saving Tips
Krakow is a very affordable city so there aren't too many tips out there to help you save. Since this city is such a hot spot for partying, most people blow their budget on drinks. If you limit that and stick to more hole in the wall restaurants, you'll be able to visit without worrying about your budget too much. Here are some other ways to save money while you visit Krakow:
Eat at Milk Bars – You'll get a taste of Krakow at a Bar Mleczny (Milk Bar) hearty pierogis, homemade soups, plenty of meat, and a local beer makes a great meal for under 30 PLN. Expect no-frills and cafeteria-style where you order from a counter, but it's a great way to save money and take in the scene.
Get the KrakowCard – For 140 PLN, the three-day KrakowCard provides you with free public transportation and access to all of the city's main attractions (40 different sites are included). It's a great deal if you plan on seeing a lot and it also includes public transit to the salt mine and to Schindler's factory. There is also a two-day pass for 120 PLN.
Be sure to pre-game – Krakow is known for its partying, pub crawls, and long nights out. Start off by grabbing your favorites from a grocery store first whenever possible. You'll save more than 50% of the price that way.
Take a free walking tour – Free tours from companies like Walkative are a great way to explore the city while learning about the history, culture, and architecture. Just be sure to tip!
Use ridesharing apps – Ridesharing apps like BlaBlaCar are a great way to get around the country for cheapEveryone is rated and verified, and it's usually more convenient (and cheaper) than other forms of transportation. For travel within the city, use Uber. It's cheaper than the local taxis.
Stay with a local – While accommodation is not expensive in Poland, Couchsurfing is a great way to lower your accommodation costs. Not only will you save some money by getting a free place to stay, but you'll also be able to make a local friend and get insider knowledge about where you are!
Eat street food – Kielbasa, bagels, and zapiekanka (a sort of pizza-like baguette) can be found for cheap all around the city, usually, for under 15 PLN. They're cheap and filling!
Where To Stay in Krakow
Krakow has a few hostels in town and they're all pretty comfortable and sociable. These are my suggested and recommended places to stay in Krakow:
How to Get Around Krakow
Bus – Public buses and trams cost around 5 PLN for one-way ride with a ticket that lasts 50 minutes. 90-minute tickets are available for around 6 PLN and 20-minute tickets are available for 4 PLN.
A day pass for the buses and trams is 20 PLN while a 7-day pass is 80 PLN. The city also offers a tourism card called the KrakowCard. In addition to free activities, it includes free public transportation around the city and comes in both two- and three-day options. The three-day pass is 140 PLN while the two-day card is 120 PLN.
From the Krakow Airport, you can take a city bus for 5 PLN. The journey takes just under an hour.
Taxi – Taxis in Krakow start at 7 PLN and going up 2.30 PLN per kilometer. Just make sure you use official taxis as there are often illegal taxis that will try to take fares (and who will also overcharge you). Official taxis have the company logo and phone number on the car. They also use a meter.
To ensure you get a reputable company, have your hotel/hostel call a taxi before you go just to be safe.
Bicycle – Bike rentals start at 10 PLN per day for a basic bike. For a guided bicycle tour that lasts a few hours, expect to pay closer to 100 PLN per person.
Ridesharing – Uber is available in Krakow and it's the cheapest option if you need to get somewhere and don't want to take public transit. You can save $15 off your first Uber ride with this code: jlx6v.
When to Go to Krakow
The best (and most popular) time to visit Krakow is during the summer from June to August. Temperatures will be hot and rain will be infrequent. Expect temperatures around 25 C (77 F) during this time. These are also the busiest months of the year for tourism, though and you'll only really notice it in the main tourist sites in the city.
The shoulder season on late April-May and September-October are great times to visit as well. You'll beat the crowd and have much milder temperatures. You'll get more rain in the spring, but you'll get the stunning autumn colors in the fall which makes for a stunning backdrop to your trip.
Winter is Krakow can be quite cold, with temperatures dropping to zero (32 F) during the day and down to -5 C (23 F) overnight. Snow is common, which can affect conditions if you're traveling by car. In short, I wouldn't recommend a winter visit unless you plan on leaving the city to go skiing or take part in other winter activities.
How to Stay Safe in Krakow
While Poland is consistently ranked one of the safest countries in the world (it usually ranks in the top 20), you'll still want to take some precautions while you're here.
The risk of theft or getting pickpocketed is much lower here than it is in other parts of Europe, but you'll want to make sure you keep your valuables secure and out of sight when riding public transportation around the city and while you're in popular tourist areas (or any other places with a crowd).
Taxi scams in Krakow are rare, but always make sure your driver is using the meter. If they aren't ask them to stop and find a taxi that will.
Solo travelers (including solo female travelers) will find the city quite safe. However, you'll still want to make sure you take the standard precautions when you're out exploring (don't accept drinks from strangers, don't walk home alone at night while intoxicated, etc.).
ATM skimming can occur here, so always make sure you use verified ATMs. If you can, go into the bank to withdraw your money (as opposed to using outdoor ATMs that are easier to tamper with).
There is no risk of any real natural disasters or terrorism in Krakow, so as long as you pay attention to your surroundings and follow the tips above you should be able to have a fun and safe trip!
The most important piece of advice I can offer is to purchase good travel insurance. Travel insurance will protect you against illness, injury, theft, and cancellations. It's comprehensive protection in case anything goes wrong. I never go on a trip without it as I've had to use it many times in the past. You can use the widget below to find the policy right for you:
Krakow Travel Guide: The Best Booking Resources
These are my favorite companies to use when I travel to Krakow. They are included here because they consistently find deals, offer world-class customer service and great value, and overall, are better than their competitors.
Momondo – This is my favorite booking site. I never book a flight without checking here first.
Skyscanner – Skyscanner is another great flight search engine which searches a lot of different airlines, including many of the budget carriers that larger sites miss. While I always start with Momondo, I use this site too as a way to compare prices.
Airbnb – Airbnb is a great accommodation alternative for connecting with homeowners who rent out their homes or apartments. (If you're new to Airbnb, get $35 off your first stay!)
Hostelworld – This is the best hostel accommodation site out there, with the largest inventory, best search interface, and widest availability.
Couchsurfing – This website allows you to stay on people's couches or spare rooms for free. It's a great way to save money while meeting locals who can tell you the ins and outs of their city. The site also lists events you can attend to meet people (even if you're not staying with someone).
Booking.com – The best all-around booking site that constantly provides the cheapest and lowest rates. They have a no money down policy, great interface, and the widest selection of budget accommodation. In all my tests, they've always had the cheapest rates out of all bookers.
Intrepid Travel – If you want to do a group tour around Sweden, go with Intrepid Travel. They offer small group tours that use local operators and leave a small environmental footprint. If you go on a tour with anyone, go with them. And, as a reader of this site, you'll get exclusive discounts when you click the link!
Rome 2 Rio – This website allows you to see how to get from point A to point B the best and cheapest way possible. It will give you all the bus, train, plane, or boat routes that can get you there as well as how much they cost.
World Nomads – I buy all my travel insurance from World Nomads. They have great customer service, competitive prices, and in-depth coverage. I've been using them since I started traveling in 2003. Don't leave home without it!
EatWith – This website allows you to eat home cooked meal with locals. Locals post listings for dinner parties and specialty meals that you can sign up for. There is a fee (everyone sets their own price) but this is a great way to do something different, pick a local's brain, and make a new friend.
Krakow Gear and Packing Guide
If you're heading to Krakow, here are my suggestions for the best travel backpack and tips on what to pack for your trip.
The Best Backpack for Krakow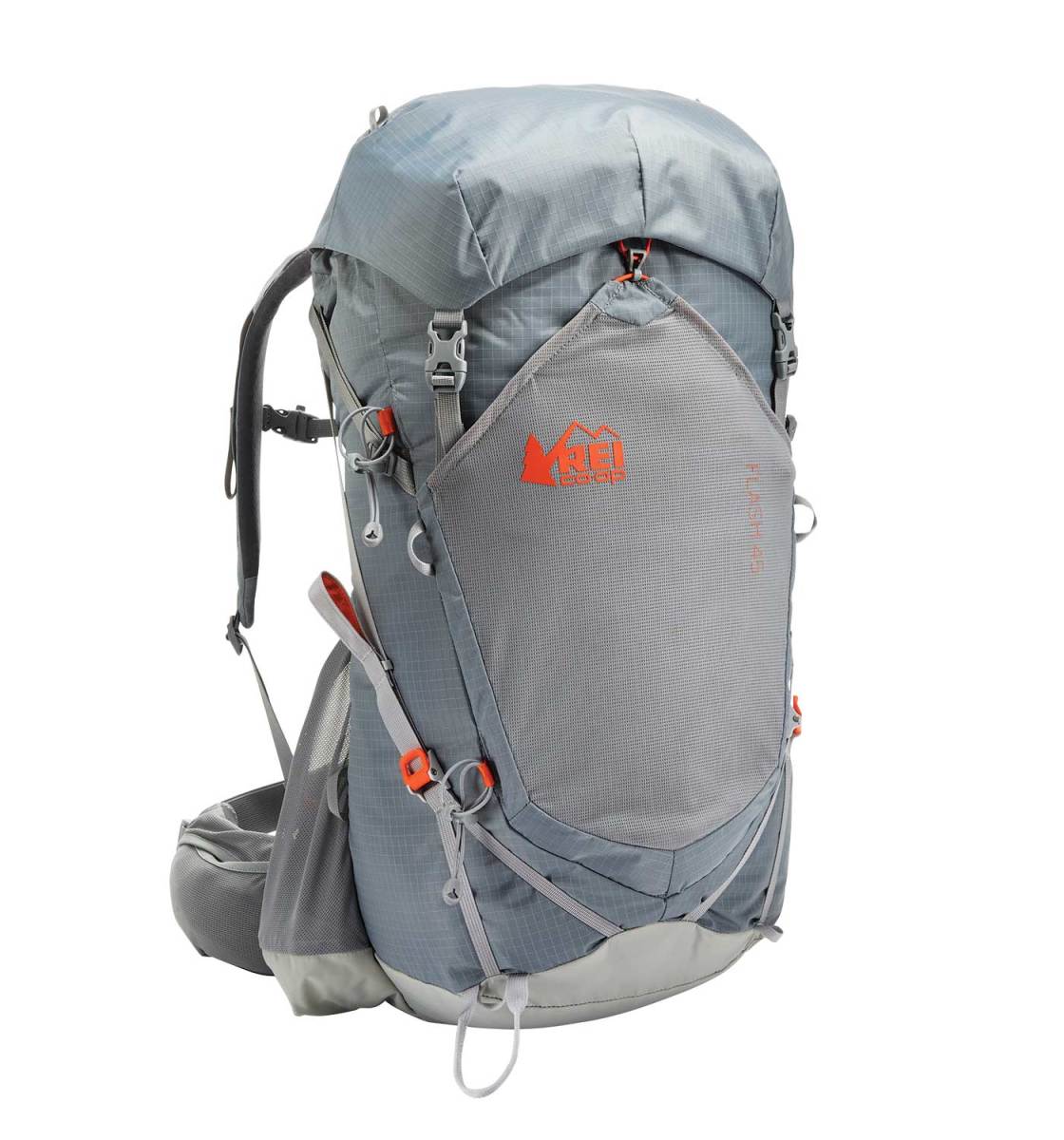 What's the best backpack for traveling around Krakow? I recommend the
REI Flash 45 Pack
. It's light and comfy, front loading, and fits perfectly in an airplane's overhead bin.
Size:
45-47L
Straps:
Thick and cushy with compression technology that pulls the pack's load up and inwards so it doesn't feel as heavy.
Features:
Removable top lid, large pocket at the front, hydration compatible, contoured hip belt
If you want something different, refer to my article on how to choose the best travel backpack for tips on picking a pack and other backpack suggestions.
What to Pack for Krakow
Clothes
1 pair of jeans (heavy and not easily dried, but I like them; a good alternative is khaki pants)
1 pair of shorts
1 bathing suit
5 T-shirts
1 long-sleeved T-shirt
1 pair of flip-flops
1 pair of sneakers
6 pairs of socks (I always end up losing half)
5 pairs of boxer shorts (I'm not a briefs guy!)
1 toothbrush
1 tube of toothpaste
1 razor
1 package of dental floss
1 small bottle of shampoo
1 small bottle of shower gel
1 towel
Deodorant
Small Medical Kit (safety is important!!!)
Miscellaneous
Female Travel Packing List
I'm not a woman, so I don't know what a woman wears, but Kristin Addis, our solo female travel guru, wrote this list as an addition to the basics above:
Clothing
1 swimsuit
1 sarong
1 pair of stretchy jeans (they wash and dry easily)
1 pair of leggings (if it's cold, they can go under your jeans, otherwise with a dress or shirt)
2-3 long-sleeve tops
2-3 T-shirts
3-4 spaghetti tops
1 light cardigan
Toiletries
1 dry shampoo spray & talc powder (keeps long hair grease-free in between washes)
1 hairbrush
Makeup you use
Hair bands & hair clips
Feminine hygiene products (you can opt to buy there too, but I prefer not to count on it, and most people have their preferred products)
For more on packing, check out these posts:
My Must Have Guides for Traveling to Krakow
Krakow Travel Guide: Related Articles
Want more info? Check out all the articles I've written on backpacking/traveling Europe and continue planning your trip:
Photo credits: 6