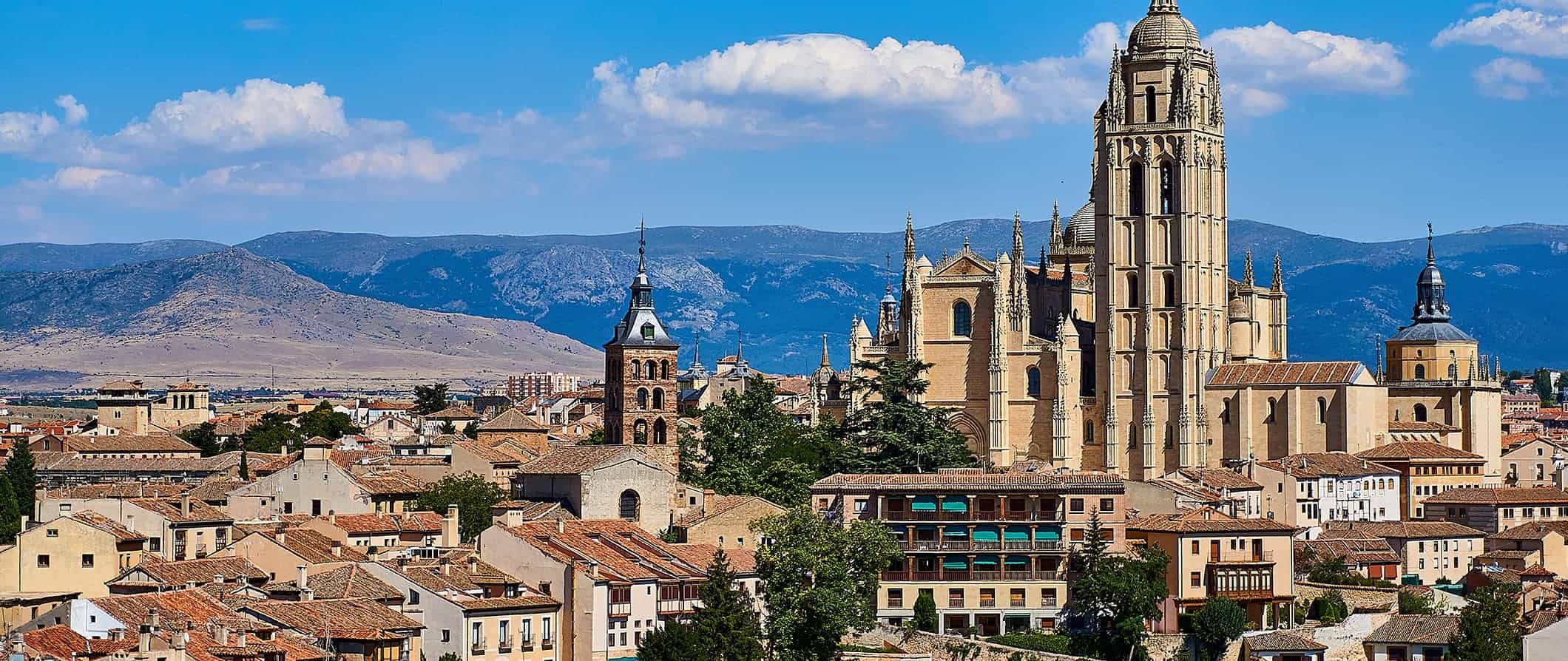 Spain is a country that moves slow. This is the land of the siesta. It's a place for foodies, night owls, history buffs, religious pilgrims, and anyone not in a rush to do just about anything!
It's a huge country with a lot of variety: Madrid and Barcelona are hip and energetic cities, Granada has a Moorish touch, Valencia has its own vibe, Catalonia has its own language and culture, and the Basque region (an autonomous community in northern Spain) feels like you're in an entirely different country.
And, as an added bonus, Spain is an incredibly affordable place to visit. I've been traveling to the country for over a decade and I never break the bank while I'm there. It's really easy to get by on a budget.
This budget travel guide to Spain can help you plan your trip, save money, and make the most of your time in this vibrant country.
Click Here for City Guides
Top 5 Things to See and Do in Spain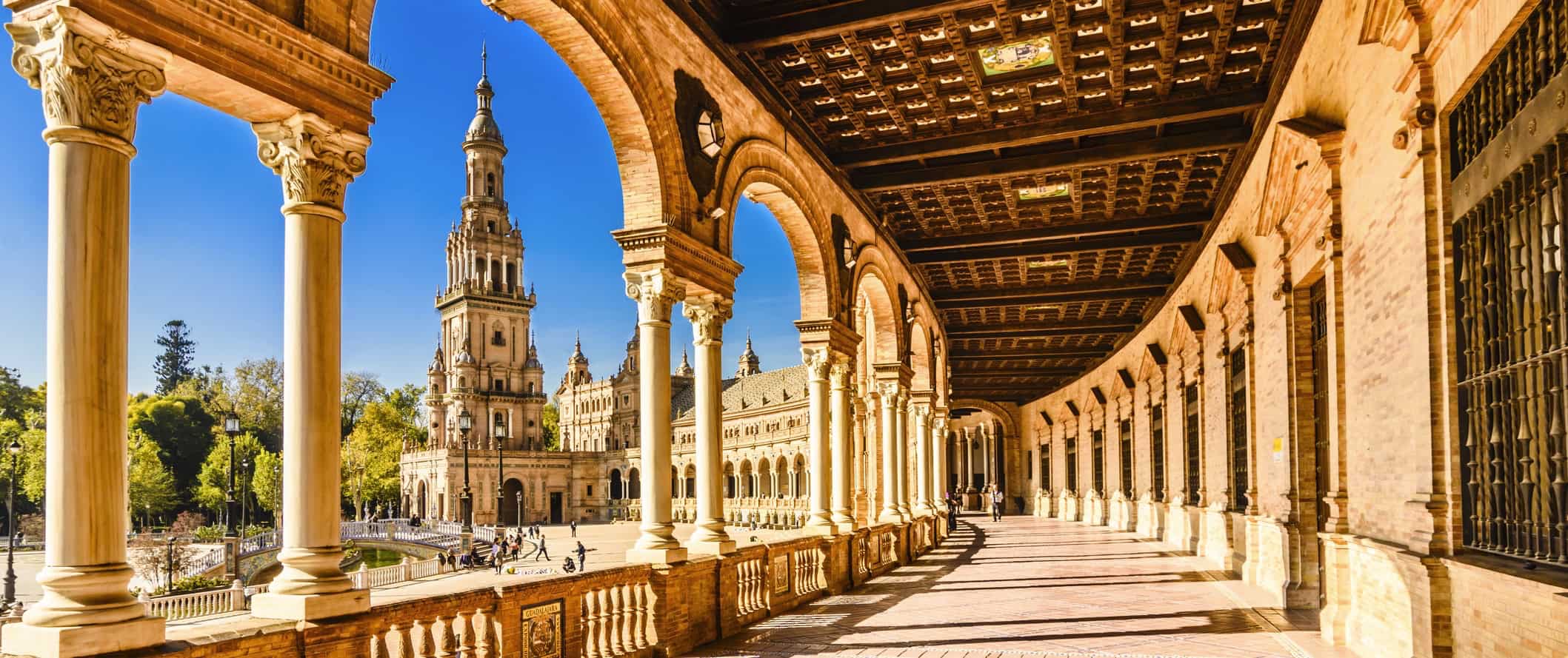 1. Enjoy Barcelona
Barcelona is famous for its partying, late-night eating, and historic streets. Embrace the midnight meals and all-night partying and you'll fit right in. Don't miss the Museu d'Història de la Ciutat — it's one of the best in Europe and contains the largest Roman excavation outside of Rome itself! Other highlights include the Picasso Museum (Museo Picasso), where you'll need some time to peruse 5,000 or so of the artist's works; the towering and iconic Basilica De La Sagrada Família, one of a number of striking buildings across the city by famous architect Antoni Gaudí; Barri Gòtic (the Gothic Quarter), where winding streets create a welcome maze built for wandering; and finding your way through the actual labyrinth that is the city's oldest green space, Parc del Laberint d'Horta.
2. Explore the history of Granada
Granada is one of my favorite cities in Spain. It's a place where culture and ideas from North Africa and Europe collide in a unique way, and no trip to the south of Spain is complete without a visit. Don't miss the Alhambra, a UNESCO World Heritage Moorish palace and fortress built in the 13th century, and the Fajalauza ceramic factory, which dates back to 1517 and still remains in same family. Be sure to watch a flamenco show while you're here (they're usually around 20 EUR) and visit a Moorish tearoom for mint tea (locals recommend it with plenty of sugar).
3. Wander Madrid
Madrid, the capital of Spain, is famous for its museums, tapas, and nightlife. Like Barcelona, this is a city that doesn't get going until midnight. Make sure you visit Museo Del Prado, one of the largest art museums in the world (get skip-the-line tickets from Get Your Guide), and the Royal Palace — with nearly 3,500 rooms, it's the largest palace in all of Western Europe! Other highlights include the Temple of Debod (an Egyptian temple from the 2nd century BCE), El Retiro Park (a UNESCO World Heritage Site), and the 15th-century Plaza Mayor, the city's central square.
4. Revel in La Tomatina
La Tomatina is an epic hour-long tomato fight that draws upwards of 20,000 people to the small town of Buñol (only 9,000 people live in the town itself). Started in 1945, this festival is held on the last Wednesday of August, and over 360,000 pounds of tomatoes are used during the event. It starts when water cannons fire, and it ends after exactly one hour. It's the most amazing festival I've ever been to! (Tip: Stay in Valencia for more overnight options.)
5. Discover Seville
Seville is an amazing city with gorgeous churches and historic palaces. I really liked the Jewish Quarter here (known as Barrio de Santa Cruz). It's recognizable for its many white houses and, one of my favorite stops, Alcázar (also referred to as al-Qasr al-Muriq), the oldest residential palace in Europe still in use today (it dates to the 14th century). Take in the entire city from the top of La Giralda tower, part of the Seville Cathedral, and don't miss the monument dedicated to the different regions of Spain. Seville is also known for its flamenco dancing so try to see a show here if you can. You can't visit southern Spain without spending a couple of days here!
Other Things to See and Do in Spain
1. Lounge on the Costa Del Sol
Hang out on the beach and enjoy the laid-back lifestyle for which Spain is famous. This slice of southern Spain is renowned for its beaches, nightlife…and tons of tourists. That said, it's still a fun place to eat great food in seaside restaurants (the region is famous for pescaito frito, or deep-fried fish), enjoy watersports in the clear Alboran Sea, drink sunset cocktails, and relax on beautiful beaches. Malaga is one of the go-to destinations on the coast, but I think there are better places further down, like El Bajondillo's white sand beach and the incredible seafood surrounding La Carihuela beach. To beat the crowds, visit during the shoulder season. The weather will still be warm, but it won't be as crowded.
2. See Valencia
Valencia is a pretty amazing town. Initially, I wasn't attracted to Valencia — I simply went for the tomato fight in nearby Buñol (most participants use Valencia as their base during the festival). However, Valencia grew on me as I explored the city. Originally a Roman colony and once the capital of Spain, it has delicious seafood, a unique local paella (rather than seafood, the recipe uses chicken, rabbit, and beans), and a popular soccer club (Valencia CF). It's a cool city that straddles the past and future with historic streets, futuristic museums — there's literally a museum focused on "enlightenment and modernity" —and an awesome seaside boardwalk that passes plenty of great tapas spots and the historic fishing district of Cabanyal.
3. Walk the Camino de Santiago
El Camino de Santiago, or The Way of St. James, is one of the most popular pilgrimage routes in the world. The path most people take, the French Way, runs from the border of France all the way to Santiago de Compostela in northwestern Spain. Stretching 800 kilometers (500 miles), you need around a month to complete the entire route. The mostly flat Camino is best done in May¬–June or September–October (July and August are both very busy and very warm). If you have the time, it's a really great way to see the country and some of the less-visited areas of Spain. Of course, you can also walk sections of it if you just want to see what it's like on a day hike.
4. Tour the islands
Spain has some of the most beautiful islands in all of Europe. Unsurprisingly, during July and August, they're crowded and expensive, so try to avoid peak season. If you love beaches, surfing, hiking, or cycling then be sure to hit up Gran Canaria, a UNESCO Biosphere Reserve filled with beautiful landscapes and wildlife, including dolphins. If you're coming to Spain to party, a stop in Ibiza is a must. Other islands worth checking out are Tenerife (home to Teide National Park and the highest peak in Spain), Majorca (for turquoise water and medieval architecture), and La Palma (a certified Starlight Reserve).
5. Visit Gibraltar
Bordering Spain on the Iberian peninsula, Gibraltar has actually been an overseas territory of the United Kingdom since 1713. It's known as "The Rock," owing to the 426-meter-high (1,397-foot) limestone ridge that dominates the island — you can ride a cable car to the top, or get great views by climbing the 18th-century Mediterranean Steps. There's an interesting mix of cultures here too, with influences from Britain, Spain, and North Africa. With sunny days year-round, views of two continents (Europe and Africa), wildlife galore (including Gibraltar monkeys, which are actually Barbary Macaques and the only population of wild monkeys in Europe), and lots of beaches and caves to explore (St Michaels Cave is probably the most popular), it's a small swatch of land with enough to see and do to make a short visit worthwhile.
6. Play in the Sierra Nevadas
This mountain range, located in southeastern Spain near the Mediterranean Sea, is the perfect place for summer hiking, winter skiing, and exploring small towns year-round. It's one of the prettiest and most rugged regions in Spain and one of the better areas for outdoor activities in the country. There are plenty of trails ranging in length and difficulty, as well as the possibility for guided tours. Popular hikes include Mulhacen (6 hours), El Chullo (4-5 hours), and Pico de Veleta (4-5 hours). Lift passes for skiing at Sierra Nevada resort in the winter cost around 50 EUR per day.
7. Visit San Sebastián
Known as Donostia in Basque, San Sebastián is at the center of the Basque area of Spain. This place has a killer nightlife and beach as well as loads of history to explore. It was founded way back in 1180 in the area that's now become the Old Quarter. Moreover, the architecture — a super cool mix of 16th-century Gothic churches, 19th-century mansions, and ultra-modern buildings — makes it one of the most beautiful and unique cities in all of Spain. It sees a fraction of the visitors that cities like Madrid and Barcelona get, too, so it's much less crowded (and cheaper!). The regional Basque cuisine here is delicious, so be sure to take a food tour while you're here.
8. Admire the Great Cathedral and Mosque
The Mezquita de Córdoba (Cathedral of Our Lady of the Assumption) is by far the most exquisite example of Muslim influence in Spain. Located in Córdoba just east of Seville, its giant arches, jasper columns, marble floors, richly gilded prayer niches, and the awe-inspiring domed shrine of Byzantine mosaics take you back to when Córdoba was under Muslim influence in the 12th century. Admission is 11 EUR and skip-the-line guided tours are 24 EUR.
9. Unwind in Salamanca
Salamanca seems to be in the middle of nowhere (it's 2.5 hours northeast of Madrid by car), yet it's a city with a rich history (it dates back to the Celtic era) and its historical Old Quarter has been recognized as a UNESCO World Heritage Site. This is a university town, but it's not huge, so you can expect a mix of small-town atmosphere, great nightlife, and plenty of backpackers. The main square, Plaza Mayor, is one of the largest in Spain and is great for soaking up the city and the nearby cathedral is gorgeous. It's actually two cathedrals —an Old, from the 12th and 13th centuries, and New, from the 16th — joined together.
10. Hike the Pyrenees
The majestic mountain chain that walls off France is laced with medieval villages, high mountain walking trails, and great skiing. It's also the traditional start of the Camino (see #3 above). You can hike through the Pyrenees on one of three established routes, but it takes most people almost two months to complete the entire trek. Of course, you can also just hop on the Camino for a single-day hike or weekend hiking trip. If you don't want to go solo, you can take a full-day hiking tour of the Pyrenees from Barcelona with Get Your Guide.
11. Visit the Guggenheim Museum
One of the most famous museums in the world, the Guggenheim Museum Bilbao (a port city in northern Spain) always has some interesting exhibitions on modern art (including a permanent sculpture, "Snake," that's made of hot-rolled steel and spans more than 100 feet long!). Even if you're not a modern art fan (I personally don't love it), it's still worth stopping by because the building is art itself. Frank Gehry, arguably one of the most famous living architects, designed it to have an eye-catching, undulating style, and the grand atrium is worth a visit in and of itself. Admission is 16 EUR.
12. Explore Basque Country
Basque Country is an autonomous region in Spain, a place with its own unique culture and heritage. (The Basque people inhabited the area before Spain became a nation.) Located in the northeast corner of the country, you'll notice the cultural and linguistic differences as soon as you step foot in the region. If you're into off-the-beaten-path locations, be sure to tour Basque Country. Don't miss the 153-year-old La Bretxa market in San Sebastian (open every day except Sunday), the Gothic-style St. Mary's Cathedral in Bayonne, and Le Grand Stroll in Biarritz while you're here. (The start of the Camino passes through the area as well.) La Rioja wine region can also be found in Basque Country — try its famous drink, a white wine called txakoli.

For more information on specific cities in Spain, check out these guides:
Spain Travel Costs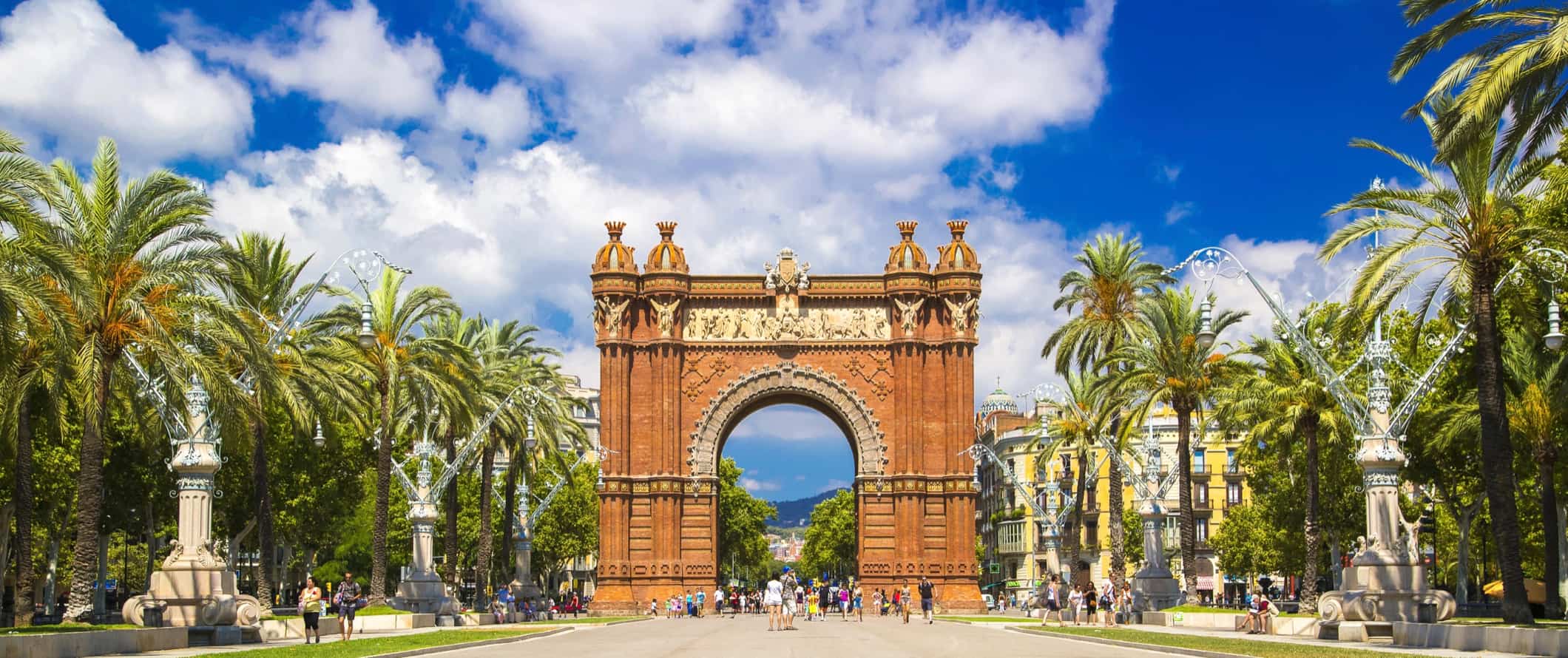 Accommodation – Accommodations in Spain are relatively cheap when compared to other Western European countries. Dorm beds in hostels typically begin around 15 EUR per night in the low-season and go as high as 30 EUR in major cities like Barcelona or Madrid during the summer. Hostel private rooms start at 45–60 EUR per night for a double. Free Wi-Fi is everywhere and most hostels serve breakfast too.
Budget hotels begin around 55 EUR for a twin or double and go up from there. Prices are slightly lower outside of the major cities and tourist areas but are about 20% higher during peak season. For larger cities, expect to spend 70 EUR or more a night.
Airbnb is common in most major cities, with a private room starting around 30 EUR per night. For an entire home or apartment, expect to pay at least 70 EUR per night (often double that in the big cities or during peak season).
For those traveling with a tent, there are hundreds of campsites across Spain. Campground costs around 10-20 EUR per night. They can be as low as 5 EUR for a basic tent plot without electricity, while other costlier sites (up to 40 EUR per site) often include extra luxuries like a pool, electricity, and Wi-Fi.
Food – Spain has a strong food culture. Meals can last for hours, and dinner often isn't served until after 8 p.m. Each region in the country has its own local dishes and food culture, but there are some common favorites, like paella, gazpacho, churros, jámon ibérico (cured pork), patatas bravas (fried potatoes with sauce), and tortilla (Spanish omelet).
You can get usually find tapas and sandwiches for 5–10 EUR. Cheap fast food (think McDonald's) costs around 8 EUR for a combo meal. Chinese food is around 10 EUR for a main dish, while pizza costs 9-12 EUR.
Beer is 3–4 EUR, while a latte/cappuccino is around 2 EUR. Bottled water is less than 1 EUR. (In general, tap water is safe to drink in Spain.)
A decent casual restaurant meal costs around 20 EUR with a drink. If you go out for paella, drinks, or appetizers, plan to spend around 30 EUR for a meal.
Spain has a lot of expensive restaurants if you want to splash out. Meals at finer establishments begin around 40 EUR.
If you plan on cooking your own food, groceries cost around 35-55 EUR per week. This gets you basic staples like pasta, rice, seasonal produce, and some meat or seafood. You can find the cheapest (and freshest) produce and meat at local markets.
Backpacking Spain Suggested Budgets
On a backpacking budget of 50 EUR per day, you can afford to stay in a hostel dorm, cook all of your meals, get around via public transportation, limit your drinking, and do mostly free activities like relaxing at the beach and doing walking tours.
On a mid-range budget of 130 EUR per day, you can stay in a private hostel room or Airbnb, cook some meals and eat cheap fast food, enjoy a couple drinks, take the occasional taxi to get around, uses buses to travel between cities, and do some paid activities such as visiting museums or taking a food tour.
A "luxury" budget of 240 EUR or more per day covers staying in a hotel, eating out anywhere you want, drinking more, renting a car to get around or taking high-speed trains, and doing whatever tours and activities you want. This is just the ground floor for luxury though. The sky is the limit!
Accommodation
Food
Transportation
Attractions
Average Daily Cost
Backpacker
20
10
10
10
50
Mid-Range
60
35
15
20
130
Spain Travel Guide: Money-Saving Tips
Overall, Spain is pretty affordable. While accommodation costs in most touristy as well as larger cities have risen in the last few years, everything else is pretty inexpensive. Individual city guides have more specific information on how to save for each city, but here are some general ways to save money while traveling around Spain:
Get the menu of the day – Most restaurants offer a cheap and filling "menu of the day" (menu del dia during lunch for around 10¬–15 EUR per person. They are a good way to save money while enjoying some delicious Spanish food. Wine or water are generally included, too. Look for more crowded spots — that's how you know the food is good. Skip eating out for dinner — it's too expensive!
Eat free tapas – In some cities (like Granada), you can find bars where free tapas are given out when you order drinks. Bounce around the bars to eat cheap while enjoying a few drinks.
Stay with a local – Couchsurfing is a great way to save money on accommodations while also getting some insights from locals. You might have better luck in the larger cities, but be sure to book early as the major cities also see the most requests.
Take the bus – While the train system is fast, it's expensive, with high speed trains double (or more) the cost of buses. If you have the time and want to save money, take buses to get around the country. It will take longer but, if you're on a budget, it will be worth it. And look at booking your tickets online and in advance — it can save you money.
Get a city pass – Most of the major cities have multiple museums, attractions, and activities worth checking out. Buying a city pass — like the Madrid City Card (from 8 EUR) or Malaga–Costa Del Sol Sightseeing Pass (starting at 14 EUR)— can save you money on these activities and also get you free transportation. These passes will save you a lot of money if you're going to sightsee a lot.
Use BlaBlaCar – This app connects you with drivers who have room in their cars for additional passengers. Drivers are vetted and verified, so it's a cool way to get out of stuffy trains and buses, meet interesting characters, and take a mini road trip. It's one of my preferred methods of travel for medium- and long-distance trips.
Bring a water bottle – The tap water here is safe to drink, so bring a reusable water bottle to save money and reduce your plastic use. LifeStraw is my go-to brand as their bottles have built-in filters to ensure your water is always clean and safe.
Where to Stay in Spain
Spain has plenty of budget-friendly hostels all around the country. Here are some of my recommended places to stay:
How to Get Around Spain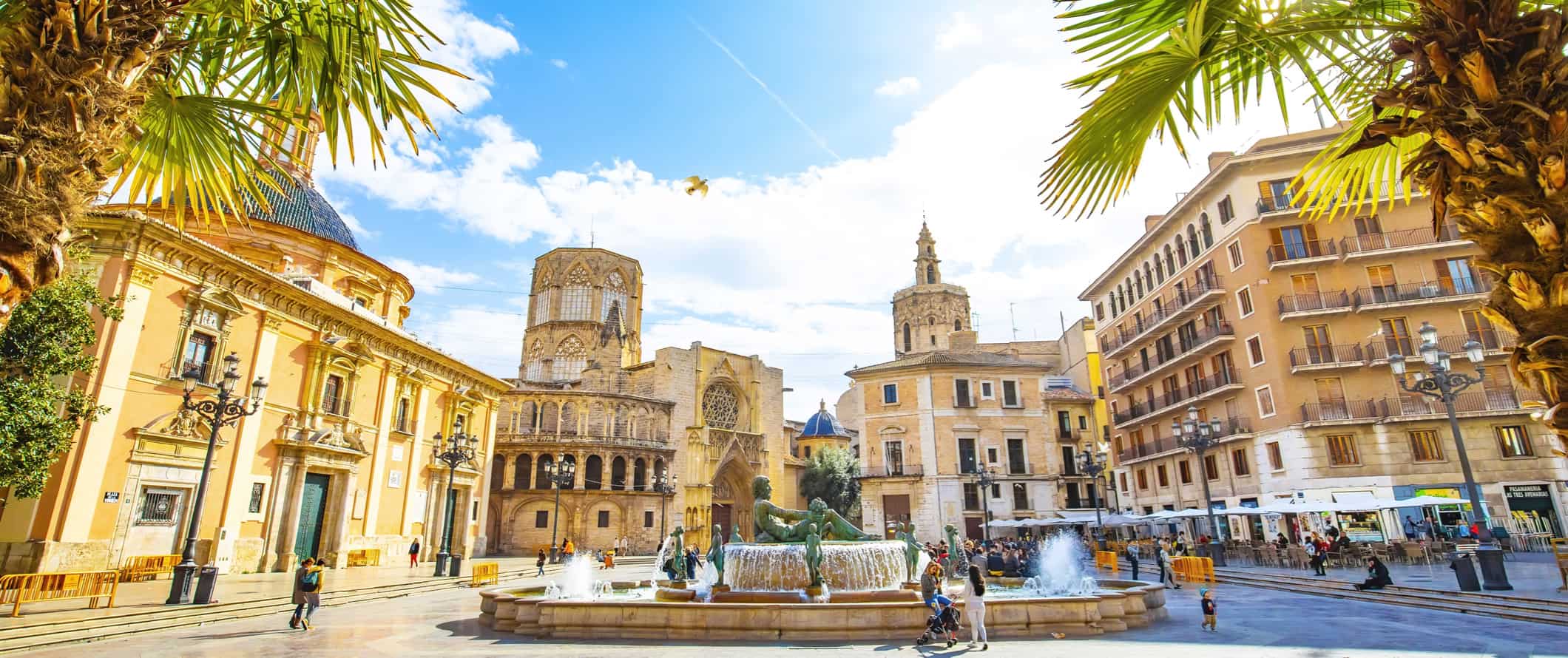 Public transportation – Madrid and Barcelona have extensive metro systems, while Valencia, Zaragoza, Bilbao, and Seville have limited but practical metro systems (or light rail). Most big cities have a comprehensive bus system as well. Single rides usually cost between 1–2 EUR. You can often buy day passes that save you money overall if you plan on using the metro system quite a bit. These usually cost around 8–15 EUR.
Bus – The bus is the cheapest option for getting between cities in Spain. FlixBus has tickets starting as low as 5 EUR. Most buses come with outlets and free Wi-Fi. A 9–hour trip from Madrid to Barcelona starts from about 30 EUR, while the 4–hour trip between Seville and Granada costs around 20 EUR. Alsa is another popular bus company for travel in the south.
Trains – RENFE is the national rail line in Spain. High-speed trains are more expensive, but you can travel between Madrid and Barcelona in just 2.5 hours. Even on the more expensive high-speed train, however, you can find tickets from Madrid to Barcelona for as low as 58 EUR. The trip from Madrid to Seville is around 2.5 hours and costs 30 EUR, while Madrid to Valencia is just under 2 hours and costs 25 EUR.
A Eurail Pass, which allows travelers to explore Europe by providing a set number of stops in a specific time period, might also be a good option depending on your plans. For more information, here's a detailed breakdown of how Eurail passes work and can save you money.
Flying – If you're pressed for time and are looking to hop from one city to the next, a budget airline. You can find really cheap fares on most routes.
However, be aware that you have to pay for all the extras on these cheap flights (such as checked baggage, picking your own seat, etc.) So, while flights are cheap (Madrid to Barcelona can be found for as little as 65 EUR round trip), the little expenses add up. And when you factor in getting to/from the airport, most flights really aren't much faster than the train.
Car rental – Car rentals can be found for as little as 25 EUR per day when booked in advance. Renters will need an International Driving Permit prior to book. The minimum age for renting a car is 21. For the best rental car deals, use Discover Cars.
Ridesharing – If your schedule is flexible, use a ridesharing service and catch rides with locals between cities. Drivers are verified and it's perfectly safe. BlaBlaCar is the biggest company.
Hitchhiking – Hitchhiking in Spain is very safe, but it's not for everyone as rides can be few and far between. HitchWiki is the best website for additional hitchhiking tips and info.
When to Go to Spain
Spain is lovely year-round, but the peak season — meaning, busiest and most expensive— is in the summer, from June to August. Popular destinations like Barcelona and Ibiza experience a massive influx of tourism — so much so that Barcelona's residents have started clamping down on overtourism. The weather is fabulous this time of year with high temperatures well into the 30s°C (90s°F)
The temperature in Spain doesn't often drop too low, with winter temps between 4-10°C (40-50°F) country-wide. However, Northern Spain does sometimes experience snowfall — especially in the mountainous areas. While I wouldn't aim to visit in the winter, if you're already in Europe, this is going to be one of the warmer destinations on the continent.
The shoulder seasons (spring and autumn) are great times to visit. Tourism is much less congested and prices are a bit cheaper. Temperatures are pleasant, although it's not exactly beach season. Beach destinations like Ibiza and Mallorca tend to get very quiet during this time, but there is still plenty to see and do around the rest of the country.
How to Stay Safe in Spain
Spain is pretty safe to visit. Violent attacks are uncommon. However, petty crime is frequent and pickpocketing is very common in the larger cities, especially near major tourist sites and on public transportation. Always keep your valuables secure and out of sight when on public transportation and when out and about. The thieves here are incredibly quick here!
Be extra careful in Barcelona where people may try to snatch your phone on the street or grab your stuff in crowded subways (pickpocketing is not as bad elsewhere in Spain). Also, never leave your backpack, phone, or laptop out and unsecured when at a cafe or restaurant. They can disappear in the blink of an eye.
Scams here aren't super common, but they can occur. Keep an eye out for kids in groups who might try to distract you before lifting your wallet as well as people who might offer to "help" carry your luggage only to expect a hefty tip as thanks. You can read about common travel scams to avoid here.
Solo female travelers should generally feel safe here. However, the standard safety precautions apply (always keep an eye on your drink at the bar, never walk home alone at night while intoxicated, etc.). For specific tips on staying safe, check out one of the many solo female travel blogs on Spain. They'll be able to provide specific advice that I, a man, can't.
If you experience an emergency, dial 122 for assistance.
Always trust your gut. Make copies of your personal documents, including your passport and ID, and keep them separate from your originals. When you're walking around, take minimal cash and one form of ID. Stash the rest somewhere safe wherever you're staying.
The most important piece of advice I can offer is to purchase good travel insurance. Travel insurance protects you against illness, injury, theft, and cancellations. It's comprehensive protection in case anything goes wrong. I never go on a trip without it as I've had to use it many times in the past. You can use the widget below to find the policy right for you:
Spain Travel Guide: The Best Booking Resources
These are my favorite companies to use when I travel. They consistently have the best deals, offer world-class customer service and great value, and overall, are better than their competitors. They are the companies I use the most and are always the starting point in my search for travel deals.
Skyscanner – Skyscanner is my favorite flight search engine. They search small websites and budget airlines that larger search sites tend to miss. They are hands down the number one place to start.
Hostelworld – This is the best hostel accommodation site out there with the largest inventory, best search interface, and widest availability.
Booking.com – The best all around booking site that constantly provides the cheapest and lowest rates. They have the widest selection of budget accommodation. In all my tests, they've always had the cheapest rates out of all the booking websites.
HostelPass – This new card gives you up to 20% off hostels throughout Europe. It's a great way to save money. They're constantly adding new hostels too. I've always wanted something like this and glad it finallt exists.
Get Your Guide – Get Your Guide is a huge online marketplace for tours and excursions. They have tons of tour options available in cities all around the world, including everything from cooking classes, walking tours, street art lessons, and more!
The Man in Seat 61 – This website is the ultimate guide to train travel anywhere in the world. They have the most comprehensive information on routes, times, prices, and train conditions. If you are planning a long train journey or some epic train trip, consult this site.
Rome2Rio – This website allows you to see how to get from point A to point B the best and cheapest way possible. It will give you all the bus, train, plane, or boat routes that can get you there as well as how much they cost.
FlixBus – Flixbus has routes between 20 European countries with prices starting as low 5 EUR! Their buses include WiFi, electrical outlets, a free checked bag.
SafetyWing – Safety Wing offers convenient and affordable plans tailored to digital nomads and long-term travelers. They have cheap monthly plans, great customer service, and an easy-to-use claims process that makes it perfect for those on the road.
LifeStraw – My go-to company for reusable water bottles with built-in filters so you can ensure your drinking water is always clean and safe.
Unbound Merino – They make lightweight, durable, easy-to-clean travel clothing.
Top Travel Credit Cards – Points are the best way to cut down travel expenses. Here's my favorite point earning credit cards so you can get free travel!
BlaBlaCar – BlaBlaCar is a ridesharing website that lets you share rides with vetted local drivers by pitching in for gas. You simply request a seat, they approve, and off you go! It's a cheaper and more interesting way to travel than by bus or train!
Take Walks – This walking tour company provides inside access to attractions and places you can't get elsewhere. Their guides rock and they have some of the best and most insightful tours in all of Spain.
Spain Travel Guide: Related Articles
Want more info? Check out all the articles I've written on Spain travel and continue planning your trip: