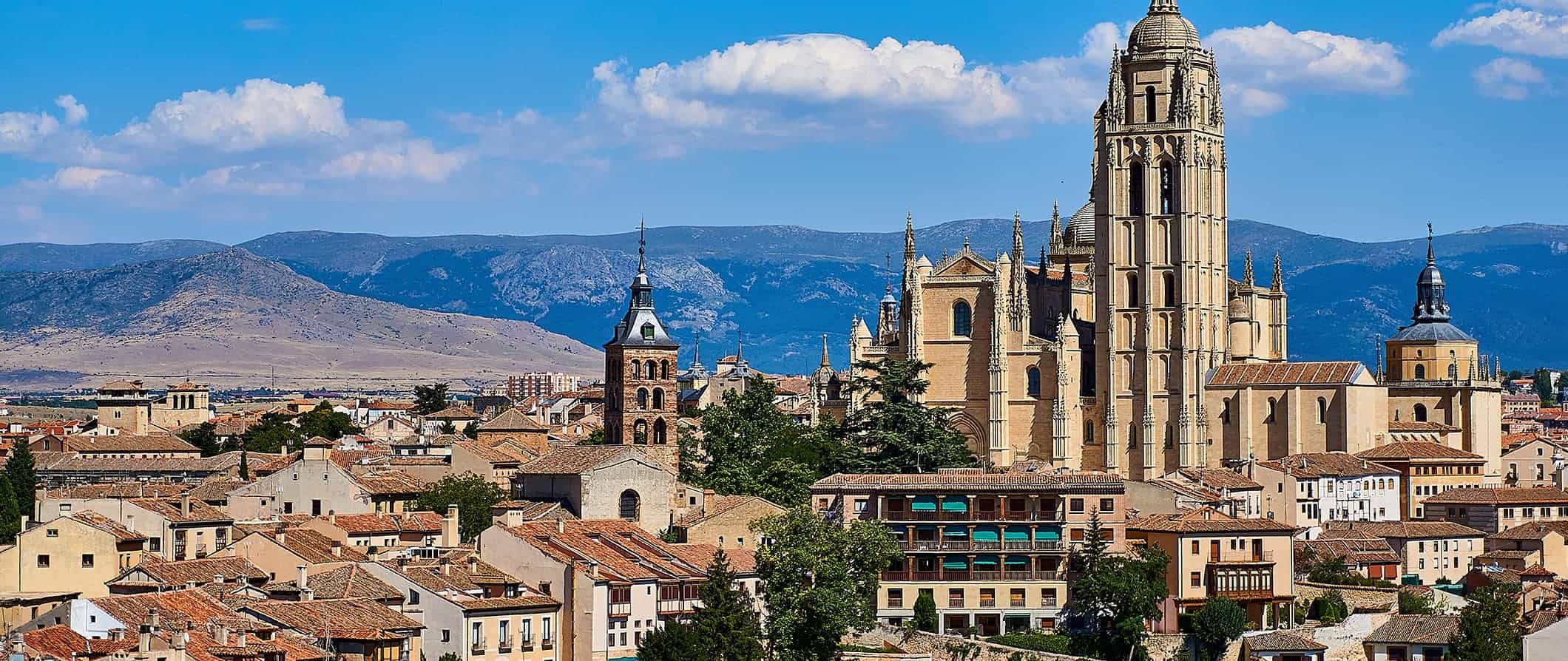 The land of the siesta, daily life in Spain moves slowly and runs late.
Everyone here is just enjoying life.
Which is why traveling and backpacking Spain is so much fun.
Spain is a beautiful, interesting, and dynamic country with a lot of regional uniqueness and variety. Madrid and Barcelona are hip and energetic cities, Granada has a Moorish touch, Basque Country up north contrast itself to Southern living.
The Spaniards love visitors, hosting strangers, drinking good wine, laughing at a good meal, and enjoying life. People aren't in a rush here.
And, as an added bonus, Spain is super cheap. It's a very inexpensive country to visit.
I've been visiting Spain for over a decade and have been throughout the country.
This budget and backpacking travel guide to Spain can help you figure out what to see, do, how to save money, stay safe, and everything in between!
Click Here for City Guides

Spain
Top 5 Things to See and Do in Spain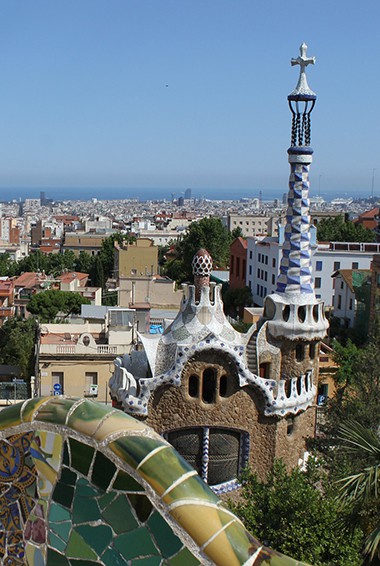 1. Enjoy Barcelona
Like Madrid,
Barcelona
is famous for its partying, late-night eating, and historic streets. You'll find a lot of history here, learn to sleep until 10 pm, and eat dinner at midnight just like the locals do. I highly suggest a visit to the history museum — it is one of the best in Europe.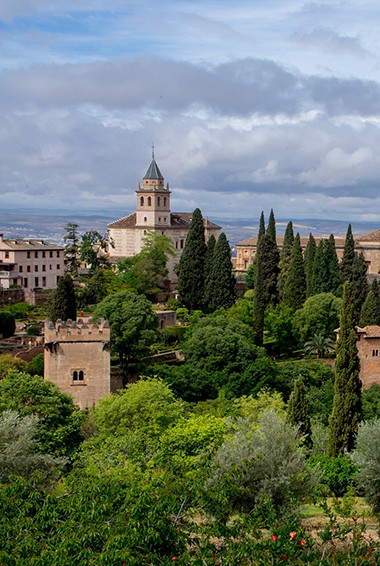 2. Explore the history of Granada
This ancient Moorish city
is one of my favorite in Spain. I love wandering the ancient streets in the center and relaxing in the old palace, the Alhambra. No trip to southern Spain is complete without a visit here.
3. Explore Madrid
The capital city
is famous for its museums, tapas, and great nightlife. This is a city that doesn't start until midnight. Make sure you see the Prado, one of the largest museums in the world, and the Royal Palace. You'll also want to spend some time strolling through the main square, Plaza Mayor.
4. Revel in La Tomatina
Held the last Wednesday in August in Buñol, tens of thousands of people descend on this small town in the morning to
throw tomatoes at each other
. It was the messiest, most fun hour of traveling I've ever had. Tickets for the festival cost 10 EUR.
Here is a taste.
5. Explore the islands
Whether you go to Ibiza to party or to the Canaries to relax, Spain has some of the most beautiful islands in all of Europe. Because of that, during the months of July and August, they are full and expensive so try to avoid peak season. If you love beaches, surfing, hiking, or cycling then be sure to hit up the islands (especially Gran Canaria). You won't be disappointed!
Other Things to See and Do in Spain
1. Join the Running of the Bulls
Held in July in Pamplona, the Running of the Bulls attracts both the brave and the stupid. While I'd never do the actual running, the multi-day celebration is still a good place to go drink sangria, eat good food, wear a red scarf, and celebrate the way only Spain can.
2. Lounge on the Costa Del Sol
Come hang out on the beach and enjoy the laid-back life for which Spain is famous. The sun coast in southern Spain is famous for its beautiful beaches, great nightlife (and tons of tourists). Malaga is one of the biggest places on the coast but I think there are better places further down.
3. Go to Valencia
Valencia is a pretty amazing town. Initially, I wasn't attracted to Valencia for any reason in particular — I came for the tomato fight in the nearby town of Bunol, which attracts thousands of people each August, most of whom use Valencia as their home base. However, Valencia grew on me. It has great seafood, paella, history, and a good soccer team. I would go back in a second. It's a wonderful city!
4. Walk The Camino
El Camino de Santiago, or The Way of Saint James, is a popular pilgrimage route stretching from the border of France all the way to Santiago de Compostela in North-Western Spain. Stretching 800km, this month-long walk takes a lot of dedication. Nevertheless, it's a great way to see the country and some of the less-visited areas of Spain.
5. Wander through Seville
Seville is an amazing city with great churches, palaces, and historic sites. They also have good shopping here. I really like the Jewish Quarter here and the monument dedicated to the different regions of Spain. This is also a big student town.
6. Visit Gibraltar
Bordering Spain on the Iberian peninsula, Gibraltar is actually an overseas territory of the United Kingdom. Here you'll encounter an interesting mix of cultures, with influences from Britain, Spain, and North Africa all colliding.
7. Hike in the Sierra Nevada
This mountain area is a great place for summer hiking, winter skiing, and exploring small towns. This area is one of the prettiest and most rugged in Spain and one of the better areas for outdoor activities in Spain. There are plenty of trails ranging in length and difficulty, as well as the possibility for guided tours.
8. Visit San Sebastián
The center of the Basque area of Spain, this place has a killer nightlife and beach. Moreover, the architecture makes it one of the most beautiful and unique cities in all of Spain.
9. Hike the Pyrenees
The majestic mountain chain that walls off France is laced with medieval villages, high mountain walking trails, and great skiing. It's also the traditional start of The Camino.
10. Great Cathedral and Mosque
The Mezquita de Cordoba is by far the most exquisite example of the Muslim fabric in Spain. Its giant arches, jasper columns, marble floors, richly gilded prayer niches, and the awe-inspiring domed shrine of Byzantine mosaics take you back to when Córdoba was under Muslim influence.
11. Unwind in Salamanca
Salamanca seems to be in the middle of nowhere, but it's got a huge amount of life to it. This is a university city, but it's not huge, so you can expect a mix of small-town atmosphere, great nightlife, and many backpackers.
12. Visit the Guggenheim Museum
One of the most famous museums in the world, the Guggenheim Museum in Bilbao always has some interesting exhibits on modern art. Even if you're not a modern art fan, you should stop by just to check it out. The architecture of this museum is something to marvel at. Frank Gehry, arguably one of the most famous living architects of today, designed it to have a very unique undulating style.
13. Explore Basque Country
Basque Country is an autonomous region in Spain, a place with its own unique culture and heritage. Located in the north-east corner of Spain, you'll notice the difference as soon as you step foot in the region. If you're into off-the-beaten-path locations, be sure to visit Basque Country.
For more information on specific cities, check out these guides!

Spain Travel Costs
Accommodation – Accommodation in Spain is pretty cheap when compared to other Western European countries. Dorm beds in hostels typically begin around 15 EUR (17 USD) per night and go as high as 30 EUR (35 USD) in major cities like Barcelona or Madrid. Hostel private rooms start around 40 EUR (45 USD) per night for a double. Free WiFi is standard, and it's not uncommon to find hostels with free breakfast, either. Budget hotels begin around 45 EUR (50 USD) for a twin/double and go up from there. Prices will be slightly lower outside of the major cities and tourist areas.
Airbnb is common in most major cities, with shared accommodation starting around 25 EUR (30 USD) per night. For a private home or apartment, expect to pay at least 80 EUR (90 USD) per night. There are also over 400 campsites across Spain offering basic facilities to those who travel with a tent. Campground prices start around 15 EUR (17 USD) per night.
Food – You can get cheap tapas and sandwiches meals for between 3-10 EUR (4-12 USD). If you want wine included, expect to spend about 10-15 EUR (11-17 USD) per meal. A good restaurant meal will set you back around 13 EUR. If you go out for paella, drinks, or appetizers, then you should plan to spend around 20 EUR (25 USD) for a meal. Spain has a lot of expensive restaurants, and meals there begin around 30 EUR (35 USD) with a drink.
Fast food like McDonalds and Maoz cost around 7 EUR. Groceries will cost around 25-30 EUR (30-35 USD) per week, especially if you stick to the copious local markets around the country. You'll find the cheapest (and freshest!) produce and meat at the local markets.
Activities – Museums and attractions in Spain cost between 2-14 EUR (3-15 USD). Diving on the islands will cost around 45 EUR (50 USD) per dive.
Backpacking Spain Suggested Budgets
So much does it cost to backpack or travel Spain?
The cost of traveling in Spain largely depends on where you visit. Popular cities like Barcelona and Madrid are much more expensive than smaller Spanish cities, like Seville and Valencia. In rural communities and townships or in less busy tourist places, prices can be very cheap!
A suggested daily backpacking budget for Spain is between 50-60 EUR ($55-65 USD). This will cover staying in a hostel bed, cooking most of your meals (or dining out cheap here and there), some nights out, using local transportation, and admission to a few attractions.
A mid-range budget of 85-115 EUR ($100-130 USD) per day will get you your own private room in a hostel or budget hotel, frequent meals outs, high speed trains, as many nights out as you want, more activities, and private tours. Think of this budget as being able to afford anything you want expect 5 star meals and hotels!
A luxury budget of 130-175 EUR ($150-250 USD) per day (or more) will afford you a big name hotel, travel on high-speed trains, private tours, luxury meals, and really anything you want! The sky is the limit here. On a luxury budget, you can do what you want!
Here's a table with a daily breakdown of average costs per day (some days you'll spend more, some days you'll spend less):
Accommodation
Food
Transportation
Attractions
Average Daily Cost
Backpacker
$20
$15
$10-15
$15
$50-65
Mid-Range
$30-40
$30+
$20
$20
$100-130
Luxury
$90
$40
$35
$40
$125-250
Spain Travel Guide: Money Saving Tips
While our individual city guides have more specific information for each place, here are some general ways to save money when you travel around Spain:
Get the menu of the day – Most restaurants have a cheap "menu of the day" during lunch around 7-9 EUR. They are a good way to save money on food and taste delicious Spanish food. Skip eating out for dinner — it's too expensive!
Couchsurf – Couchsurfing is a great way to save money on accommodation while also getting some insight from the locals. You'll have better luck in the larger cities, but be sure to request early as the major cities also see the most requests.
Take the bus – While the train system is fast, it's expensive. If you have the time and want to save money, take the buses.
Get city passes – Most travellers in Spain don't get city passes, but if you plan to do a lot of city sightseeing, they are a good investment. All the major cities have multiple museums, attractions, and activities. Getting a city pass can save you up to 20% on these activities and get you free transport. If you are going on a sightseeing binge, get the pass!
Camp – While Spain's rugged terrain isn't the best for camping, budget campgrounds with basic facilities can be found for as little as 15 EUR (17 USD) per night.
Use BlaBlaCar – A growing trend is to share rides with people. Drivers are vetted and verified and it's a much better way to get out of stuffy trains and buses, meet interesting characters, and take a mini-road trip. It's one of my preferred methods of travel. The biggest player in this space is BlaBlaCar, which is huge for getting around Europe and a couple other parts of the world.
Where to Stay in Spain
These are my recommended places to stay in Spain:
How to Get Around Spain
Spain is a very well connected country. You have plenty of affordable options for getting around.
Public Transportation – Madrid and Barcelona have extensive metro systems, while Valencia, Zaragoza, Bilbao, and Seville have limited but practical metro systems (or light rail). The same goes for public buses. Single rides usually cost between 1-2 EUR (2-3 USD). You can buy combo passes that will save you money overall if you plan on using the metro system quite a bit. Ten-trip tickets cost about 13 EUR (15 USD) in Madrid, and 10 EUR (12 USD) in Barcelona.
Taxis are prevalent in all major cities and you'll pay between 1-2 EUR (2-3 USD) per kilometer. Prices sometimes increase in the evenings.
Trains – RENFE is the national rail line in Spain, and the country has both high-speed trains and regular trains. High-speed trains are more expensive – but you can travel between Madrid and Barcelona in just 2.5 hours, which might be worth it depending on how much time you have. Even on the high-speed train, however, you can find tickets from Madrid to Barcelona for as low as 40 EUR (45 USD).
A Eurail Pass, which allows travelers to explore Europe by providing a set number of stops in a specific time period, might also be a good option. For more information, here's a detailed breakdown of how Eurail passes work and can save you money.
Bus – The bus is another cheap option, with prices on FlixBus starting as low as 5 EUR (6 USD). Most buses come with outlets and free WiFi! A 20+ hour trip from Madrid to Barcelona starts from about 30 EUR (35 USD) – but it's more worth your time to take the train for such a distance. Alsa is another popular bus company in Spain, with more routes in the south. A 4.5-hour trip between Seville and Granada will cost from 25 EUR (30 USD).
Budget Airlines – If you're pressed for time and are looking to jump from one city to the next, a budget airline might be the way to go. EasyJet and Ryanair are two big budget airlines in the area, but book in advance to keep costs down.
However, be aware that you'll have to pay to check your baggage on these cheap flights. It costs about 25-40 EUR (30-45 USD) for one checked bag. If you wait to pay for your luggage at the gate you'll end up paying almost double.
Car Rental – If you're driving, make sure to buy an International Driving Permit (IDP) – you'll need one for any car rental! It costs about 18 EUR (20 USD) and is valid for one year after the date of issue (plus it's valid in 150 countries). Car rentals can sometimes be as low as 25 EUR (30 USD) per day, but this certainly isn't the most economical way to get around.
Ride sharing/Car sharing – If your schedule is flexible, use a ridesharing service and catch rides with locals between cities. Drivers are verified and it's perfectly safe. BlaBlaCar is the biggest company.
Hitchhiking – Hitchhiking in Europe is very safe, but it's not for everyone. Hitching is quite common around the continent. HitchWiki is the best website for hitchhiking info.
When to Go to Spain
Spain is lovely year-round, but peak season is definitely in the summer months from June to the end of August. Popular destinations like Barcelona and Ibiza experience a massive influx of tourism – so much so that Barcelona's residents have started resisting visitors. Be mindful of your behavior, and respect the locals. That being said, the weather is fabulous this time of year, with high temperatures well into the 90s°F (30s°C).
The temperature in Spain doesn't often drop too low, with winter temps between 40-50°F (4-10°C) country-wide. However, Northern Spain does sometimes experience snowfall – especially in the mountainous areas.
Shoulder seasons (spring and autumn) are really great times to visit. This is typically the time between April to the end of May, and September to the end of October. Tourism traffic will be much less congested, and pricers are cheaper overall. Temperatures are pleasant, although it's not exactly beach season. Beach destinations like Ibiza and Mallorca tend to get very quiet during this time (and are overrun with rowdy holiday goers in the summer).
How to Stay Safe in Spain
Spain is very safe for backpacking and solo traveling, and violent attacks are uncommon. Petty crime is the most common type of crime, and you should always be vigilant about scams, which are common in the continent. There's a lot of travel scams and pickpockets in major tourist areas of the continent.
Be extra careful in Barcelona where people will try to snatch your phone on the street and pickpocket or grab your stuff in crowded subways (it's not as bad elsewhere in Spain).
You can read about the 14 travel scams to avoid here.
Always trust your gut instinct. If a taxi driver seems shady, stop the cab and get out. If your hotel is seedier than you thought, get out of there. Make copies of your personal documents, including your passport and ID.
If you don't do it at home, don't do it here!
The most important piece of advice I can offer is to purchase good travel insurance. Travel insurance will protect you against illness, injury, theft, and cancellations. It's comprehensive protection in case anything goes wrong. I never go on a trip without it as I've had to use it many times in the past. You can use the widget below to find the policy right for you: