Thanks to its newly relaxed visa rules, Belarus has become a lot more accessible to tourists. The country has emerged from dark times under strict Soviet control as a unique off-the-beaten-path destination.
Minsk, Belarus's capital, is a city of Stalinist architecture (blocky and grey) contrasted against antiquated churches and flower-filled city squares. Its cafe culture and busy nightlife will keep you grounded a few days before moving on to quieter cities like Brest and Hrodna, or into the countryside where rare European bison roam.
Over half of the country is forested, including Bialowieza, the oldest woodland in Europe, and the country is full of lakes and rivers where locals and intrepid travelers fish, canoe, kayak, or camp out in pristine nature untouched by the outside world.
Backpacking or traveling Belarus is not that popular but, with the new visa rules, I think the country will see a lot more visitors soon.
This comprehensive Belarus travel guide will help you plan your dream trip by giving you all the tips, tricks, and travel hacks you need. From things to do, costs, ways to stay safe, save money, get around, and more!

Belarus
Top 5 Things to See and Do in Belarus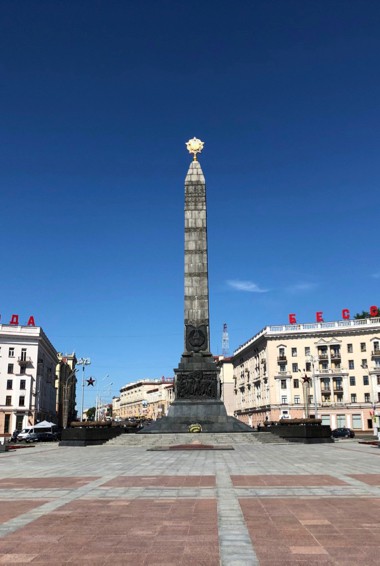 1. Visit Minsk
Minsk, the capital of Belarus, is the first stop for most visitors. Much of its original architecture was destroyed during WWII, but the city is progressive, exceptionally clean, and filled with bars and cafes. Visit the Museum of the Great Patriotic War, the Orthodox Church of St Mary Magdalene, and some of Minsk's many WWII memorials like the Road to the Future sculpture.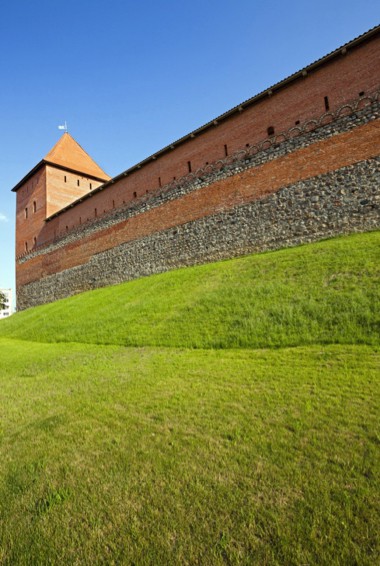 2. Check out Lida Castle
Head west from Minsk to reach the city of Lida, home of the 14th century Lida Castle, built to protect against crusaders. Its unique trapezium shape and ornate red brickwork are beautiful to see and visitors can watch theatrical knight performances. In the winter, the inner courtyard is used as a skating rink.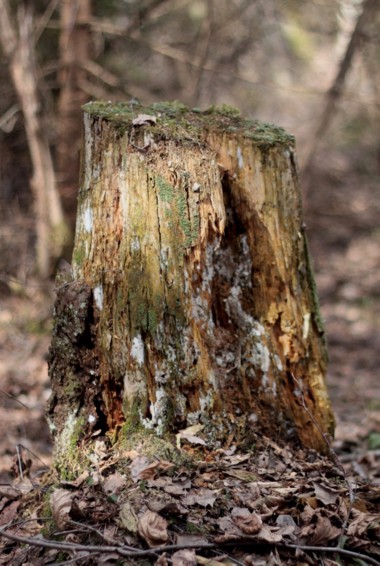 3. Explore Braslav Lake National Park
The 300 clean blue lakes in this area are enveloped by the countryside's thick forests, rolling hills, and giant boulders left behind from glaciers. Come here for fishing, bird watching, rock climbing, and bouldering.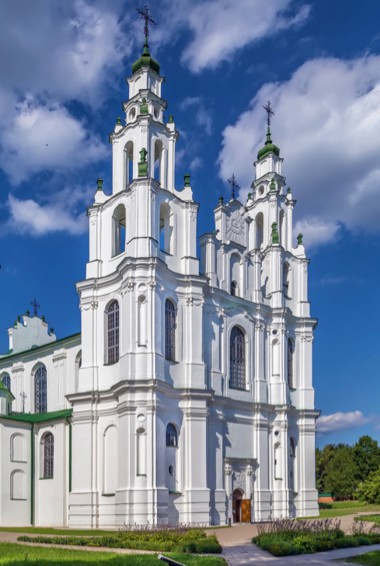 4. See Polotsk
Polotsk is the oldest city in Belarus, dating from 862. The many museums and historic sites here explore this city's extensive past, like the Saint Sophia Cathedral, the National Polatsk Historical Museum, and the medieval Boris Stones that is curiously inscribed with an image of Christ.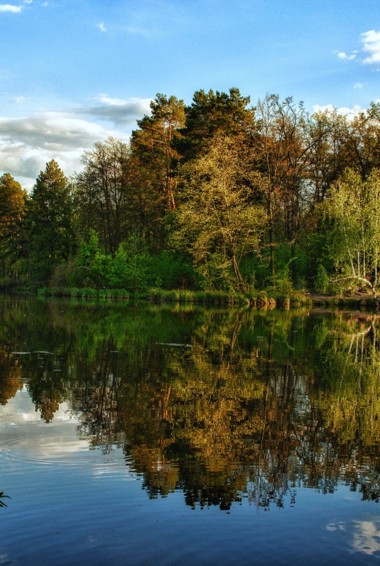 5. Visit Belovezhskaya Pushcha National Park
Spanning from Belarus to Poland, Belovezhskaya Pushcha National Park is one of the few places in the world that you can see European Bison in their natural habitat, as well as the Eurasian elk. There are numerous hiking and biking trails in the park; take the four-mile (six-kilometer) Dokudovo route for the best chance of seeing the bison.div>
Other Things to See and Do in Belarus
1. Visit Grodno
The city of Grodno sits on the western border of Belarus. Most people come here to see the 12th-century Kalozha Church, considered to be the oldest church in Belarus. While the outside is dull, the inside has colorful geometrical ornaments and crosses, and the floor is made up of brown, green, and yellow plates. Be sure to also spend a few hours in the Old Castle's Grodno History and Archeology Museum, which will walk you through the history of the region. You'll see mammoth tusks, neolithic spears, medieval armor, and a large collection of rare and antique books. Admission is 6.20 BYN s($3 USD).
2. Take a day trip to Dudutki
The Dudutki Ethnological Museum Complex is a "living museum" located outside of Minsk. The complex includes a courtyard with a creamery (where you can sample handmade cheese!), a pottery workshop, and an area where you can learn how people forged horseshoes and armor. You can also try Samorgon, which is a potent moonshine only made in the Dudutki territory. It's 10 BYN ($5 USD) to visit, and 3 BYN ($1.45 USD) to rent an audio guide (I suggest doing this, as English signage is limited).
3. Spend time in Pripyatsky National Park
Pripyatsky National Park is known as the "Lungs of Europe" for its natural landscape of swamps, floodplains, broad-leaf forests, and oak forests. There's a lot to do here from hiking, fishing, boat tours, and other guides hikes! You can book a stay in the forest lodging (which includes a guide) for around 75 BYN ($35 USD) a night. Most two-hour walks or a river cruises start at around 8 BYN ($4 USD).
5. Go to Brest Fortress
Brest Fortress (in Brest) was built between 1833-1842, and this heavily fortified structure immediately became a major target for European invaders. During World War II, thousands of German troops laid siege to the fortress. Belarusian soldiers and citizens kept back the attack for a month before the fortress finally fell, and there's now a memorial to honor them. You can explore the grounds' crumbling and bullet-riddled walls as well as the statues erected in memorial. There are some historical museums on site (including the Defence Museum and the Museum of War). Entrance to the fortress grounds is free, although you will need to pay to enter each of the individual museums (about 5 BYN/2.45 USD per museum).
6. Visit Mir Castle
The 16th-century Mir Castle is a favorite for Belarusians, and most locals consider it the most beautiful castle in the country. Its red-and-white brick exterior and towers cast a striking reflection in the castle's pond. The interior has been restored to show what life looked like back in the time of the wealthy Radziwills family who lived here from 1568 to the 1840s. The Radziwills were a powerful magnate family originating from the Grand Duchy of Lithuania (and then the Crown of the Kingdom of Poland) that owned a lot of property in Belarus and beyond. The meticulously manicured gardens are beautiful too. Admission is 14 BYN ($6.50 USD) for adults, 7 BYN ($3.50 USD) for students and it is 3 BYN ($1.50 USD) extra for an audio guide.
7. Visit Nesvizh Castle
This 17th-century fortress with a mix of Baroque and Renaissance architecture. Like the Mir Castle, this is another former home of the Radziwill family. Complete with traditional English rose gardens, visitors are free to explore the gardens and the castle interior. Inside is a picturesque central courtyard surrounded by the castle's yellow walls. Inside, you'll see antique furniture, reception rooms, bedrooms, family portraits, and the Radziwill family tombs in the adjoining Catholic church. Admission is 20 BYN ($10 USD).
8. Go kayaking
There are many options for kayaking just outside of Minsk. Stracha or Isloch are two popular rivers for kayaking, and they both have faster-flowing routes for the more experienced paddler. For a multi-day trip, you can paddle the river Saryanka in two days. There are some kayak rental shops in Minsk, but you will need to book in advance, especially during peak season. Expect to pay around 70 BYN ($33 USD) for a two-day (weekend) rental. The price includes paddles, life jackets, airtight bags, a pump, and free delivery in the Minsk area. Day tours cost about 150 BYN ($73 USD) from Minsk.
9. Learn how to bake
Belarusians love their bread — they even have a whole Museum of Bread in Botvinovo! The museum is an interactive, hands-on experience where you will not only learn about the process of traditional bread making, but you will also get to bake some yourself using a traditional wood stove. The cost to visit without a guide is 12 BYN ($7 USD), and with a guide, it is 17 BYN ($10 USD).
10. Take a walk through Hrodna's Old Castle
Hrodna's Old Castle was built in the 1580s as a residence for the Grand Dukes of Lithuania, as well as Polish kings. Although much of it was destroyed during the early 18th century, you can still visit the ruins and take in the scenic views from across the Neman River. There is also the Grodno State Museum of History and Archaeology on-site with highlights including a set of mammoth tusks, neolithic spears, and a set of arrowheads from the 3rd to 4th centuries BC. General admission to the grounds is free, but the museum admission is 6.20 BYN ($2.90 USD).
11. Visit the Belarusian State Art Museum
The Belarusian State Art Museum in Minsk contains works by Soviet social realists and Russian masters, including Valentin Volkov and Yudel Pen, Chagall's teacher. Chagall's works are often on rotating exhibit here as well. At the back of a museum is a section that features local art from the 1940s to 1970s. Admission is 8 BYN ($4 USD) for adults, and an audio guide is an extra 3 BYN ($1.50).
12. Visit the Stalin Line Museum
The Stalin Line covered 620 miles (1,000 kilometers) along the Soviet Union's western border and the site that the museum sits on formed part of that defensive line. Even if you're not into military history, there's a lot to do at the open-air Stalin Line Museum, from taking a ride in a tank to shooting live ammo. The complex also includes trenches, bunkers, and fortifications, as well as military technology like warplanes and weapons. Adult admission is 14 BYN ($6.50 USD), and it's 7 BYN ($3.50 USD) for students.
Belarus Travel Costs
Accommodation – Hostels are only available in Brest, Minsk, and Grodno, with prices starting around 18 BYN ($9 USD) per night for a six-eight bed dorm, or 27 BYN ($13 USD) for a four-bed dorm. For a private room, expect to pay at least 62 BYN ($30 USD) per night.
Budget hotels are all over the country and will start as low as 40 BYN ($20 USD) per night for a double or twin, but, expect 60 BYN ($30 USD) per night to be your average for something not super basic.
Airbnb is also available here, with shared accommodation (like a common room) starting at 26 BYN ($12 USD) per night. A private room averages around 70 BYN ($35 USD) per night, while outside of Minsk you can find private rooms for as low as 40 BYN ($20 USD) per night. The average price for an entire home or apartment in Belarus is 102 BYN ($50 USD) per night.
Camping is also available with campground prices around 12 BYN ($5 USD) per night for two people and a tent. Wild camping is also legally allowed in Belarus, and there are no restrictions on camping in public areas.
Food – Food is super affordable in Belarus. For an inexpensive meal at a local restaurant, expect to pay at least 7 BYN ($3.50 USD) for traditional food like draniki (potato pancakes) or sorrel soup. For a three-course meal at a higher-end restaurant, you'll pay more like 30 BYN ($15 USD).
Western fast food (like Burger King or McDonald's) will be closer to 15 BYN ($7 USD) for a combo meal. Street food like a pancake with sausage or a draniki with meat will cost less than 2 BYN ($1 USD). A beer with your meal will cost about 4 BYN ($2 USD).
If you are planning to cook your food, a week's worth of groceries will cost between 53-65 BYN ($25-30 USD).
Backpacking Belarus Suggested Budgets
If you are backpacking Belarus, you will spend about 82 BYN ($40 USD) per day. This budget will cover staying in a hostel dorm or a shared Airbnb accommodation, eating cheap food at local restaurants, cooking some of your meals, visiting a few attractions, and using local transportation to get around.
A mid-range budget of about 195 BYN ($95 USD) per day will get you a budget hotel or private Airbnb room, more (and nicer) restaurant meals, see attractions and take more guided tours, and opt for more comfortable transportation between cities.
If you want private rooms in four-star hotels, three-course meals, drinks, taxis, lots of intercity travel, and tours (including private tours and day tours), expect to pay around 440 BYN ($215 USD) per day.
Use the chart below to get some idea of how much you need to budget daily, depending on your travel style. Keep in mind these are daily averages – some days you'll spend more, some days you'll spend less (you might spend less every day). We just want to give you a general idea of how to make your budget. Prices are in USD.
Accommodation
Food
Transportation
Attractions
Average Daily Cost
Backpacker
$15
$10
$5
$10
$40
Mid-Range
$30
$20
$10
$35
$95
Luxury
$80
$40
$20
$75
$215
Belarus Travel Guide: Money Saving Tips
As Belarus is still a relatively new tourist destination, it's very affordable to travel here. With cheap food, transportation, and accommodations, you can do a lot on a little here! But, it's always good to try to save money where you can so, here are my tips to save money when you visit Belarus:
Take a free walking tour – Free Walking Tour Minsk is the best free walking tour in the capital city, and it's a great way to get familiar with the city and the culture.
Wild camp – If you want to save money in Belarus and are into camping, bring your tent as wild camping is legal. You can pitch your tent on public land throughout Belarus.
Stay with a local – Staying with a local via Couchsurfing is a great way to not only save money but its a great way to meet a knowledgeable local who can help you better understand the city and its people.
Walk everywhere – All of the major cities in Belarus are quite walkable, so skip the public transportation if you want to save a few extra dollars.
Enjoy the free spaces – There are plenty of free parks as well as many free hiking trails around the country. Save your budget and enjoy the outdoors for free!
Have an ISIC Card – To save 20-50% on the cost of admission to museums and other tourist attractions, be sure to present a valid student card. The ISIC is typically accepted in places where a foreign student ID is not.
Where To Stay in Belarus
The three main cities in Belarus have some great hostels. If you travel to the smaller towns and villages, you will only find private B&B style accommodation or campgrounds there. Here are some of my favorite places to stay in Belarus:
How to Get Around Belarus
Public Transportation – Public transportation prices will vary by city. In Minsk, expect to pay around 0.60 BYN ($0.30 USD) for the bus, trolleybus, or tram. Minsk also has the only metro system, with fares costing 0.65 BYN ($0.32 USD).
Almost every town and city have busses with comparable prices. There are also trolleybuses in Gomel, Mogilev, Vitebsk, Grodno, Brest, and Bobruisk. Other than Minsk, trams are available in Vitebsk, Mozyr, and Novopolotsk.
Taxis are available in most places. Prices start around 4.28 BYN ($2 USD) and cost around 0.60 BYN ($0.30 USD) per additional kilometer.
Trains – Traveling by train is one of the best ways to travel in Belarus. It has an extensive network that can get you to over 2,100 destinations. You can buy your tickets from the train station before you board or online, and then pick up your tickets at the station (you will have a deadline to pick up your ticket, so check this first). Keep in mind that most of the trains here are really old so it's not super comfy.
You can travel from Brest to Vitebsk in a reserved seat for around 13.80 BYN ($8 USD), or Minsk to Hrodna for about 6.25 BYN ($3 USD).
You can book trains on the rasp.rw.by official website (it's English-friendly).
Bus – Public bus is a lot slower than the train, however, and figuring out schedules online can be a pain as there are very few booking sites in English. Your best bet is to either show up at the station to purchase a ticket or use a site like rome2rio.com or checkmybus.com for better schedules. A bus ride from Minsk to Brest will cost about 14 BYN ($7 USD), while a bus from Minsk to Hrodna will cost about 20 BYN ($10 USD).
You can also travel by marshrutka, a fixed-route minibus. These minibusses are not as comfortable, but they're often a lot faster than other buses or trains. Journeys cost between 5-15 BYN ($2.45-7.35 USD), depending on the route.
Budget Airlines – There are no domestic flights in Belarus.
Hitchhiking – Hitchhiking in Belarus is pretty safe in the country, but it's not for everyone. HitchWiki is the best website for hitchhiking info.
When to Go to Belarus
The best time to visit Belarus is in the month of July for warm weather without the August crowds (peak season in Belarus). The highest daily average temperature is 74°F (23°C), and temperatures rarely drop below 62°F (17°C). Accommodations are also cheaper during this time.
Alternatively, if your main goal is hiking and outdoor adventure, come during September and October when temperatures are still warm but not too hot. November to February are the coldest months to visit, and you can expect snowfall and freezing temperatures.
How to Stay Safe in Belarus
Belarus is very safe and welcoming to travelers. Petty crime (like pick-pocketing) is the most common danger you'll face in the cities, especially around high traffic areas in Minsk. Another common issue for travelers is theft on public transport. If you are using public transport, keep your possessions close to you at all times.
You can read about the 14 travel scams to avoid right here.
Belarus is still an authoritarian state, so watch what you say and the questions you ask. Political unrest is not tolerated, so stay away from any political demonstrations or rallies. You could be fined or even imprisoned for taking part.
Always trust your gut instinct. If a taxi driver seems shady, stop the cab and get out. If your hotel is seedier than you thought, get out of there. Make copies of your personal documents, including your passport and ID.
If you don't do it at home, don't do it in Belarus!
The most important piece of advice I can offer is to purchase good travel insurance. Travel insurance will protect you against illness, injury, theft, and cancellations. It's comprehensive protection in case anything goes wrong. I never go on a trip without it as I've had to use it many times in the past. You can use the widget below to find the policy right for you:
Belarus Travel Guide: The Best Booking Resources
These are my favorite companies to use when I travel to Belarus. They are included here because they consistently find deals, offer world-class customer service and great value, and overall, are better than their competitors. They are the ones I use the most and are always the starting points in my search for travel deals.
Momondo – This is my favorite booking site. I never book a flight without checking here first.
Skyscanner – Skyscanner is another great flight search engline which searches a lot of different airlines, including many of the budget carriers that larger sites miss. While I always start with Momondo, I use this site too as a way to compare prices.
Airbnb – Airbnb is a great accommodation alternative for connecting with homeowners who rent out their homes or apartments.
Hostelworld – This is the best hostel accommodation site out there, with the largest inventory, best search interface, and widest availability.
Couchsurfing – This website allows you to stay on people's couches or spare rooms for free. It's a great way to save money while meeting locals who can tell you the ins and outs of their city. The site also lists events you can attend to meet people (even if you're not staying with someone).
Booking.com – The best all around booking site that constantly provides the cheapest and lowest rates. They have a no money down policy, great interface, and the widest selection of budget accommodation. In all my tests, they've always had the cheapest rates out of all the booking websites.
Intrepid Travel – If you want to do a group tour around Europe, go with Intrepid Travel. They offer good small group tours that use local operators and leave a small environmental footprint. If you go on a tour with anyone, go with them. And, as a reader of this site, you'll get a discount when you click the link!
The Man in Seat 61 – This website is the ultimate guide to train travel anywhere in the world. They have the most comprehensive information on routes, times, prices, and train conditions. If you are planning a long train journey or some epic train trip, consult this site.
Rome 2 Rio – This website allows you to see how to get from point A to point B the best and cheapest way possible. It will give you all the bus, train, plane, or boat routes that can get you there as well as how much they cost.
FlixBus – German based Flixbus has routes between 20 European countries with prices starting as low €5 EUR ($6 USD)! Their buses include WiFi, electrical outlets, and up to three 3 free bags.
World Nomads – I buy all my travel insurance from World Nomads. They have great customer service, competitive prices, and in-depth coverage. I've been using them since I started traveling in 2003. Don't leave home without it!
Belarus Gear and Packing Guide
If you're heading on the road and need some gear suggestions, here are my tips for the best travel backpack and for what to pack!
The Best Backpack for Travelers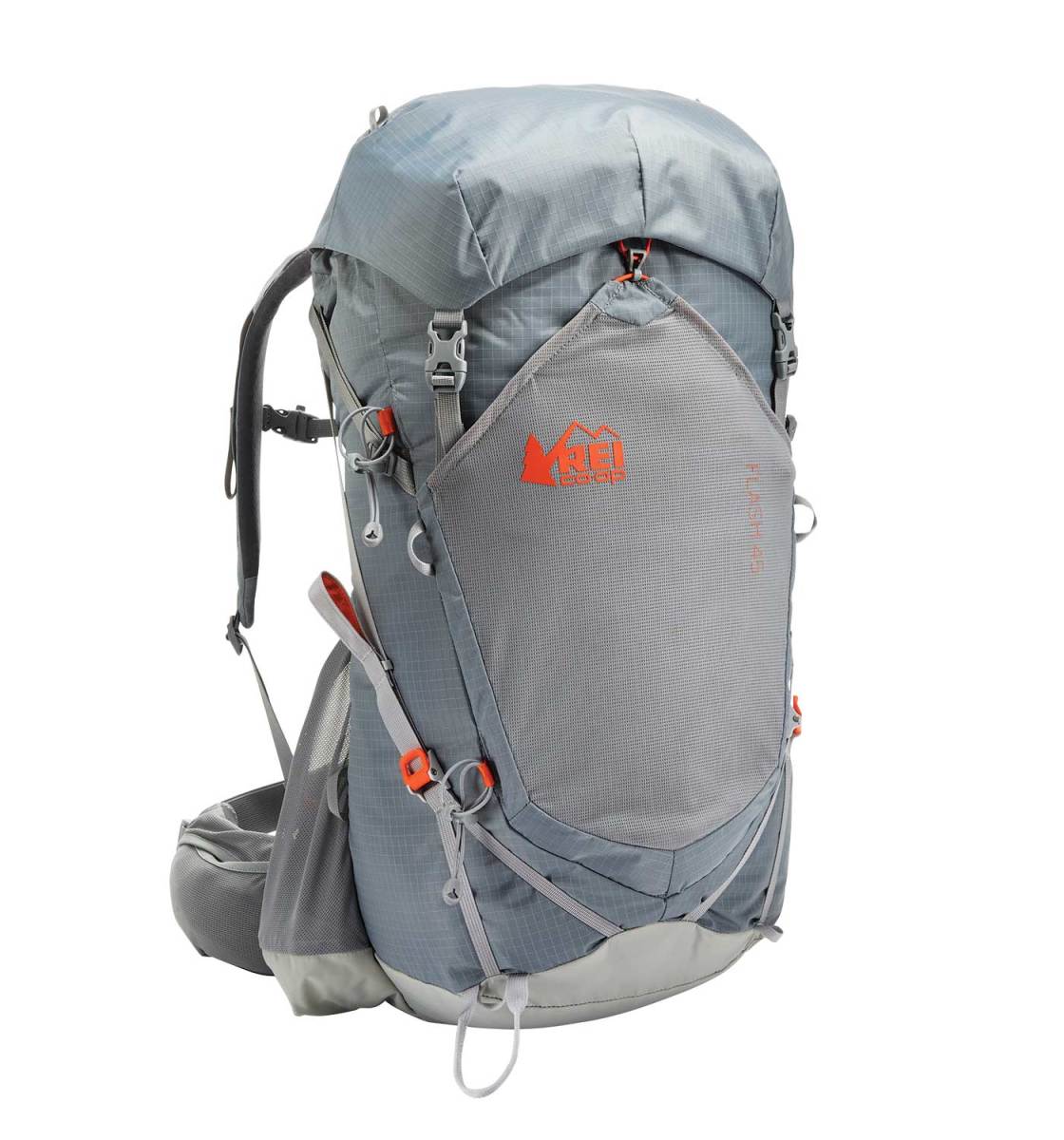 What's the best backpack for traveling long-term? I recommend the
REI Flash 45 Pack
. It's light and comfy, front loading, and fits perfectly in an airplane's overhead bin.
Size:
45-47L
Straps:
Thick and cushy with compression technology that pulls the pack's load up and inwards so it doesn't feel as heavy.
Features:
Removable top lid, large pocket at the front, hydration compatible, contoured hip belt
If you want something different, refer to my article on how to choose the best travel backpack for tips on picking a pack and other backpack suggestions.
What to Pack for Your Trip
Clothes
1 pair of jeans (heavy and not easily dried, but I like them; a good alternative is khaki pants)
1 pair of shorts
1 bathing suit
5 T-shirts (Unbound Merino is my preferred company. If you're a member of NM+, you can get 15% off your purchase)
1 long-sleeved T-shirt
1 pair of flip-flops
1 pair of sneakers
6 pairs of socks (I always end up losing half)
5 pairs of boxer shorts (I'm not a briefs guy!)
1 toothbrush
1 tube of toothpaste
1 razor
1 package of dental floss
1 small bottle of shampoo
1 small bottle of shower gel
1 towel
Deodorant
Small Medical Kit (safety is important!!!)
Miscellaneous
Female Travel Packing List
I'm not a woman, so I don't know what a woman wears, but Kristin Addis, our solo female travel guru, wrote this list as an addition to the basics above:
Clothing
1 swimsuit
1 sarong
1 pair of stretchy jeans (they wash and dry easily)
1 pair of leggings (if it's cold, they can go under your jeans, otherwise with a dress or shirt)
2-3 long-sleeve tops
2-3 T-shirts
3-4 spaghetti tops
1 light cardigan
Toiletries
1 dry shampoo spray & talc powder (keeps long hair grease-free in between washes)
1 hairbrush
Makeup you use
Hair bands & hair clips
Feminine hygiene products (you can opt to buy there too, but I prefer not to count on it, and most people have their preferred products)
For more on packing, check out these posts:
Belarus Travel Guide: Suggested Reading
The Reconstruction of Nations: Poland, Ukraine, Lithuania, Belarus, 1569–1999, by Timothy Snyder
This book has won a lot of awards, and for good reason. It handles a very complex history of 4 nations well, weaving together poetry, symbols, micro-histories, and relatable stories to draw you into the story of their paths to nationhood. Although it is a history book, it's engrossing and essential reading if you really want to understand the people and history of these countries that make up northeastern Europe.


Belarus – Culture Smart!: The Essential Guide to Customs & Culture, by Anne Coombes
Culture Smart provides a compact and informative insight into the customs and culture of Belarus. If you know nothing about Belarus and want to be as prepared as possible before you go it is a relatively quick and easy read that will prepare you well for your visit. The book offers you insight into how to behave, and how to establish a rapport with your hosts, especially handy if you are couchsurfing or planning to stay with host families.

The Burning Edge: Travels Through Irradiated Belarus, by Arthur Chichester
This book provides the perfect travel companion for anyone backpacking through Belarus. The author Arthur Chichester takes you on a magical journey to the most remote edges of Belarus. Making his way through relatively unknown towns and villages his account of his journey into the unknown is sure to inspire you to go on your own adventure off the beaten path in Belarus.



The Bielski Brothers: The True Story of Three Men Who Defied the Nazis, Built a Village in the Forest, and Saved 1,200 Jews, by Peter Duffy
The Bielski Brothers tell the story of three Jewish brothers who in 1941 bared witness to the abduction and murder of their parents and two siblings. Rather than being crushed by this devastating loss the brothers fought back waging a war of wits against the Nazis. Creating a hidden base camp using their intimate knowledge of the forest surrounding the Belarusan towns of Novogrudek and Lida they recruited other Jews to join their ranks. This book is a truly captivating story of resistance and triumph, perfect for long bus journeys.
Belarus Travel Guide: Related Articles
Want more info? Check out all the articles I've written on backpacking/traveling Europe and continue planning your trip: