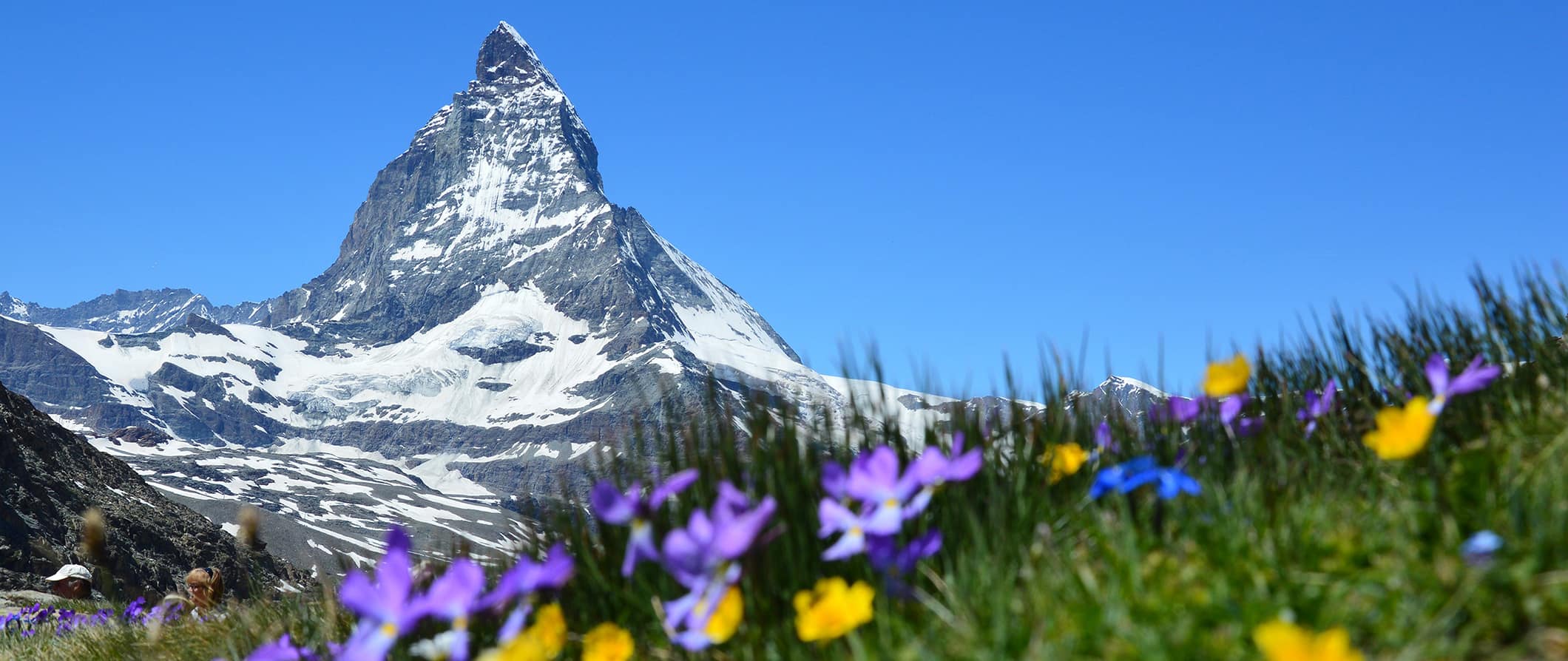 As one of the most expensive countries in Europe, Switzerland is often skipped over by budget travelers.
Visiting Switzerland is not cheaper. Before you even get out of the train station/airport, you'll begin to wonder "how the heck did I spend so much money already?!"
Even when I was backpacking Switzerland, I found myself constantly trying to find ways to save money.
Yet, while it is not a cheap destination, Switzerland is one of the most beautiful places on earth.
The country is home to shimmering lakes, picturesque mountains (hello Alps!), tiny walled medieval towns, soaring peaks, endless green fields you want to run through, delicious chocolate, incredible beer, and friendly, welcoming people.
Everything runs on time here, the country is safe, and everyone is super nice. I loved my time traveling around Switzerland.
The country rocks no matter what time of the year you visit (summer hiking, winter skiing).
To help lower your costs, use this travel guide to Switzerland to help you plan your trip and save money!
Click Here for City Guides
Top 5 Things to See and Do in Switzerland
1. Visit the capital, Bern
Bern has an amazing historic town center that you'll want to walk around all day long. This part of town is filled with medieval clocktowers, cobblestone streets, churches, and well-preserved sandstone homes. Be sure to walk the River Aare way, visit the History Museum and the Einstein Museum, and check out the bears at the Bear Park!
2. Ski the Matterhorn
The Matterhorn's sharp angular peak is one of Switzerland's most iconic attractions. You'll have to take a train or bus into the Zermatt area (the closest town to the mountain) as cars aren't allowed. Not only do you need to ski here, but you can come to admire what's truly a pollutant-free area. And, if you miss ski season, come hike the mountain in the summer.
3. Visit Zurich
Zürich
is also set on beautiful Zurich Lake, near the mountains, and is close to a lot of other cities (like Bern). I love the historic center that opens up on the lake – a perfect day is sitting in the parks, and drinking a beer on the lakefront. The city is also very arty and full of street art and museums.
4. Be adventurous in Interlaken
Interlaken
is one of the outdoor capitals of the country (though it's quite touristy during peak season). There is a lot to do here for the adrenaline-seeker: skydiving over a Swiss glacier, water-skiing, skiing, hiking, etc. This is also ground zero for backpackers since there are so many free outdoor activities.
5. Visit the Swiss Riviera
The "Swiss Riviera" is situated in Lavaux (Cantan of Vaud) and goes along Lake Geneva. You can visit unique terraced vineyards that overlook the lake, the 12th-century castle Château de Chillon built on the water, and the town of Montreux, which is famous for its annual jazz festival.
Other Things to See and Do in Switzerland
1. Join in the Fasnacht Spring Carnival
This festival in Basel is a three-day party that welcomes in the warm weather and takes place annually on the Monday following Ash Wednesday. It's something that's highly anticipated by both tourists and locals, and it's definitely Switzerland's most popular festival. Fasnächtlers dress in elaborate costumes to hide their identities and parade around town with "cliques" (bands playing basler drums and piccolos). All the bars and restaurants in town remain open throughout the entire three days. Everyone here is in a good mood!
2. Explore Geneva
As the third largest city in Switzerland, Geneva offers spectacular views of the city's lake (Lake Geneva), the world's largest fountain, the UN, a historic city center, and a collection of international restaurants to satisfy anyone's palate (thanks to the UN buildings in town). While you're here make sure you check out the Geneva's Art and History Museum or the Red Cross and Red Crescent Museum. There are 40 museums here in total!
3. Hike Mt. Pilatus
Located right outside the city of Lucerne, this beautiful mountain has breathtaking views of the alps. From the city, you can take a cable car to the top or (better yet) hike its trails to the top to look out over the Swiss Alps. There are some easier trails around the northern side of Pilatus, as well as other attractions in the summer months such as a ropes course.
4. Picnic at the Rhine Falls
Pack a picnic lunch and look out at your view of Europe's largest waterfall. If you hop on a boat tour you can get extra close to the giant rock in the middle of the falls, and you'll also experience the Rhine Falls Basin. Nearby in the town of Schaffhausen, you'll find a medieval castle which also houses a hostel for cheap but interesting accommodations.
5. Explore St. Gallen
The seventh largest city in Switzerland, St. Gallen boasts beautiful museums, colorful murals, and one-of-a-kind architecture. It doesn't receive as much tourist traffic as the other cities and regions around the country, but it's a fun town full of students and you're likely to befriend a few locals during your visit. Must-do: visit the Baroque cathedral and the Abbey Library, which is home to nearly 170,000 documents. Some are hand-written and over a thousand years old!
6. Visit the Old Villages
Visit the Graubunden area of the country, where you'll find villages with houses dating back to the 13th century. Here they also speak an ancient language called Romanch, which has died out everywhere else in the country and the locals take great pride in keeping the tradition alive. Of course, it's a haven for nature lovers – there are 615 lakes and 150 valleys in the region. Visiting here is a true Swiss Alpine experience.
7. Have a romantic time in Montreux
With a picturesque castle (Chateau de Chillo) lying at the edge of a lake, this area makes for a pretty romantic destination. Tour the castle, which dates all the way back to the 12th century and inspired the likes of Lord Byron, Mary Shelley, and more. The town was also the home of Freddie Mercury and there is a statue here in his honor. It costs 12.50 CHF ($12.55 USD) to visit the castle.
8. Discover rural culture in Appenzell
This small village of 7,000 lies in the canton of Appenzell Innerrhoden. There are no cars and the village has upheld much of its local traditions and culture, including dance and folk music. It's an incredibly picturesque little town, with frescoed buildings and narrow alleyways. Its location near the foot of the Alpstein mountains makes it a great gateway for participating in summer and winter outdoor activities, like hiking and skiing. Take the Appenzell Railway to Wasserauen, and explore the fascinating prehistoric Wildkirchli caves (inhabited around 40,000 years ago).
9. Visit Lucerne
You can't get much more of a typical Swiss destination than Lucerne. Located on the beautiful Lucerne Lake, the city offers a wonderful combination of urban life and nature. Spend some time in the old town, especially Weinmarkt, surrounded by medieval guildhalls and decorative buildings. Cross Chapel Bridge, the world's oldest surviving truss bridge, and pay attention to the 17th-century ceiling paintings showing events from Lucerne's history.
For more information on specific cities in Switzerland, check out these guides:
Switzerland Travel Costs
Accommodation – Hostel dorms average 30 CHF ($30 USD) per night, but in some major cities, they can run as high 50 CHF ($50 USD). Private hostels rooms range from 80-120 CHF ($81-121 USD) a night for rooms that sleep two. Most hostels offer free linens, WiFi, and some include breakfast. Hotels are super expensive. You should expect to spend between 90-120 CHF ($90-121 USD) per night for the most basic of rooms. For something a little nice and more spacious, look closer to 150-200 CHF ($151-202 USD) per night. A much better alternative to hotels is Airbnb, where a shared room in someone's house typically costs 30 CHF ($30 USD) a night and an entire apartment is about 60 CHF ($60 USD).
Food – Although eating out is very pricey (as an easy comparison: Starbucks coffee is 8 CHF/$8 USD while McDonald's is 15 CHF/$15 USD), you can keep your spending in check by going to the local supermarkets and buying your own groceries. You'll spend around 130 CHF ($131 USD) per week for basics like pasta, sandwich ingredients, sauce, rice, eggs, and fruits and vegetables. Supermarkets also sell pre-made meals for between 5-9 CHF ($5-9 USD). Bars and cafés are the cheapest food option, cost about 9-15 CHF ($9-15 USD) for a lunch special. Restaurants with table service are around 20 CHF ($20 USD) for lunch and 40 CHF ($40 USD) for dinner (starter, main, and drink) to start (prices go up from there and I saw some Italian restaurants asking 35 CHF ($35 USD) per main course!! That's expensive pasta!). You'll typically find pizzas for around 20 CHF ($20 USD) in a restaurant. If you're dining out (but still trying to stick to a budget), you'll spend an average of 45 CHF ($45 USD) a day on food. From there, the sky is the limit! For people who want to cook and eat the occasional meal out, expect to spend around 20 CHF ($20 USD) per day.
Activities – Most museums cost around 10 CHF ($10 USD) to enter (if you are a student, you'll save 2-4 CHF ($2-4 USD) off the price of your admission (be sure to have your student ID with you). All day hiking excursions or adventure activities begin around 70 CHF ($70 USD). Paragliding costs about 160 CHF ($161 USD) and a bit more in the winter. Ski and snowboard lift tickets can cost anywhere from 27-75 CHF ($27-75 USD) per day (depending on the mountain), and 6-day passes cost 4-5 times the price of the daily pass, so if you're staying for a while, buy that.
Backpacking Switzerland Suggested Budgets
For those backpacking through Switzerland, budget at least 70-108 CHF ($70-110 USD) per day. This is a suggested budget assuming you're staying in a hostel, cooking most of your meals or eating fast food, and using local transportation or mostly walking. This is also assuming you're enjoying plenty of free nature, or an occasional museum.
If you Couchsurf, cook all your food, and rideshare, you could probably do the country between $50-70 USD per day. It would be a tight budget but it would be doable.
For a mid-range budget of 230-270 CHF ($235-275 USD) per day, you'll get to eat mostly fast food meals, stay in private hostel rooms, do some intercity trips, and opt for a few outdoor excursions or other attractions.
For a luxury budget of 490+ CHF ($500+ USD) per day, you can afford to eat out at restaurants, stay in nice hostels, have more flexibility with intercity travel, and enjoy more expensive activities (like multi-day ski passes or tours).
Accommodation
Food
Transportation
Attractions
Average Daily Cost
Backpacker
$30-50
$20
$10
$10-30
$70-110
Mid-Range
$81-120
$60
$25
$70
$235-275
Luxury
$200
$100
$100
$100-200
$500+
Switzerland Travel Guide: Money Saving Tips
Switzerland is a very expensive country. There's no hiding that fact. But there are plenty of ways to save money in the country so you don't go bankrupt while visiting. Here are some helpful, high value ways I lowered my costs:
Have an ISIC Card – To save 20-50% on the cost of admission to museums and other tourist attractions, be sure to present a valid student card. The ISIC is typically accepted in places where a foreign student ID is not.
Use Couchsurfing – It's a service that lets travelers stay with locals for free. It was a lifesaver that allowed me to keep my costs down the most. Since a lot of travelers use this service, make your requests for hosts early.
Use BlaBlaCar – Transportation is very expensive, even more so than accommodation. Most intercity trains are around 50 CHF ($50 USD). That adds up too quickly! Instead, use the ride-sharing website BlaBlaCar to avoid the trains and meet locals. A word of caution: Be advised that many rides cancel. I had three rides cancel on me at the last minute (and one guy who just failed to even show up), so the service requires some flexibility. But when it works, it's awesome.
Use hotel points – Hotel reward points are a lifesaver in an expensive destination, where even hostels are expensive and the chance of getting a Couchsurfing host is small. Rack up a few hotel points by travel hacking before your trip and burn them while you stay in the country. Most hotel sign-up bonuses are around 60,000 points, which is worth about five nights at the chain hotels like Hilton, Marriott, or Starwood (just make sure you stay at their cheaper properties. Sorry, no W for you!).
Don't drink – Drinking is not cheap here. Most beers are around 8 CHF ($8 USD). (Plus, who wants to hike while hung over?) Most wines are between 10-25 CHF ($10-25 USD) a bottle. If you must drink, stick to hostel bars where you can enjoy 2-for-1 happy hours and cheap drinks for around 5 CHF ($5 USD) or buy your beers at grocery stores for as little was 2 CHF ($2 USD).
Cook – With sit-down restaurants costing around 40 CHF ($40 USD) per meal per person, eating out in Switzerland can be very costly, so buy your groceries. A week's worth of food (bread, pasta, rice, eggs, vegetables, cheese, deli meats for sandwiches, and some assorted fruit) will cost you 75-100 CHF ($75-101 USD). The major supermarkets are Migros, COOP, and Spar. COOP is the most expensive.
Go veggie – Meat is expensive in Switzerland. Every Swiss resident or expat I talked to told me about how they limit their meat consumption because it costs so much. Stick to veggies and avoid buying meat for your meals (especially beef). While I was trolling supermarkets and butchers for grocery prices (travel writing is glamorous, huh?!), I found a pound of meat was 12-14 CHF ($12-14 USD). At that price, stick to deli meats for protein!
Use lunch specials – If you are going to eat out, do so during lunch when most lunch specials at cafes and restaurants cost around 10-19 CHF ($10-19 USD). Moreover, stick to the ethnic restaurants like Chinese, Middle Eastern, Indian, or Thai for the best deals and biggest portions (and closer to that 10 CHF/$10 USD price). Lunch specials are a great way to get a lot of bang for your buck and to enjoy the dinner menu but at a cheaper set menu price.
Bring a refillable water bottle – At 2-4 CHF ($2-4 USD) a bottle, that's a lot of money spent on water after a few days. The water in Basel is safe to drink, so refill your bottle before you go out to save money.
Book your trains early – While a train ride is a cheaper way to travel than the plane, you can get even cheaper rates by booking your train ticket early. Swiss Rail also offers one-day and weekend group passes to look into.
Where To Stay in Switzerland
Hostels are the way to go in Switzerland! Fortunately there are plenty of clean, well-maintained hostels around. My suggested places are:
How to Get Around Switzerland
Public Transportation – Cities and towns in Switzerland are incredibly well connected with trams, buses, funiculars, trains, etc. Each mode of transportation is safe, clean, and reliable. A single fare will usually cost between 2.50-5 CHF ($2.50-5 USD) depending on the length of time and number of zones you travel.
Uber is available in Basel, Geneva, and Zurich. Otherwise, taxi fare is expensive!
The larger cities also have excellent public bike sharing and car sharing programs. PubliBike and Mobility let you rent bikes and cars via their app, starting at around 4.50 CH per 30 minutes for bicycles and 0.55 CH per kilometer for car rentals.
You should consider getting a Swiss Half Fare Card. It will allow you to travel by train, bus, boat, and most mountain railways at half the price for one full month, and it only costs 120 CHF ($121 USD). This will only be cost effective if you intend to spend more than 240 CHF ($242 USD) on public transportation.
If you're staying awhile and plan on cramming a LOT into your itinerary, you might want to look into getting a Swiss Travel Pass. It's steep in price – ranging from 225 CH ($227 USD) for 3 consecutive days to 485 CH ($490 USD) for 15 consecutive days (there are non-consecutive passes as well) – but it could be worth your time. It covers all public transit (train, boat, bus), free travel on panorama trains, admission to 500 museums, mountain excursions, and more. The card will also hold your Mobility and PubliBike memberships, and any MobilSki passes for the resorts.
If you're considering the Swiss Half Fare Card or the Swiss Travel Pass, use the sbb.ch website to figure out the full fares for some of the trips you plan to make. This is the best way to figure out if either card is cost effective for you.
Train – Train is the best way to travel in Switzerland, and is the most preferred method for locals. It's economical and efficient. For example, Bern to Geneva (a two-hour train) costs around 30 CHF ($30 USD). A two-hour trip from Zurich to Interlaken is about 35 CH ($35 USD), while a 1.5 hour trip from Zurich to Bern is around 25 CH ($25 USD). Expect to pay anywhere between 30-50 CHF ($30-50 USD) for a second-class train ticket between cities.
As mentioned above, if you plan on doing a lot of train travel, consider the Swiss Travel Pass or the Half Fare Card.
Bus – Flixbus offers a few routes around the country. A 90-minute ride from Zurich to Bern starts at 13 CH ($13 USD), while a 5-hour journey from Zurich to Geneva starts at 26 CH ($26 USD).
Flying – The country is so tiny, there's no need to fly. It's expensive and not worth the hassle. Take the train or bus!
Ridesharing – Using a ridesharing service like BlaBlaCar is one of the best ways to get around the country, although it does require some flexibility! It lets you share rides with vetted local drivers by pitching in for gas. You simply request a seat, they approve, and off you go! It's a cheaper and more interesting way travel than by bus or train!
Hitchhiking – Hitchhiking in Switzerland is a great way to get around, although it's legal to hitchhike on motorways (it's fine to do at gas stations though). It's a common practice in the mountain regions and country areas, where public transit isn't as readily available. Hitchwiki.org is a great resource.
When to Go to Switzerland
The right time to visit Switzerland depends entirely on what you'd like to do. Are you planning a ski trip? Sampling all the chocolate? Hiking the Alps?
Most visitors come in the summer season, from May to September (although in the mountains temperatures don't really start warming up until June). July and August has the warmest temperatures, with snow-free hiking trails and longer days. If you're around on August 1st, you'll witness tons of celebrations for Swiss National Day (fireworks!). Peak temperatures are 65°-82°F (18 to 28 °C), with almost no humidity.
The shoulder seasons are from around April to early May and late October to the end of November, which is known in Switzerland as Zwischenzeit – the "between time" for the ski and summer seasons. It's a good time for city hopping, but the ski resort towns are completely quiet and a lot of things are closed. The weather can also be unpredictable.
Ski season is from December to March, where resort towns get crowded and very expensive! If you're a skier, that probably won't matter much – Switzerland has some of the best skiing in the world. Conversely, cities like Zurich are quieter as everyone flocks to the mountains. The weather is cold – averaging 28°-45°F (-2-7°C) daily – so be sure to pack plenty of layers.
How to Stay Safe in Switzerland
Switzerland is one of the safest countries in the world, including for solo travelers and solo female travelers. The most common type of crime is pickpocketing in tourist-heavy areas. In some cities, like Geneva, petty crime is on the rise.
If you're traveling in the mountains, keep an eye on weather reports and forecasts. The weather can be extreme! If you're prone to altitude sickness you will also want to prepare accordingly.
You can read about the 14 travel scams to avoid right here.
Always trust your gut instinct. If a taxi driver seems shady, stop the cab and get out. If your hotel is seedier than you thought, get out of there. Make copies of your personal documents, including your passport and ID.
If you don't do it at home, don't do it in Switzerland!
The most important piece of advice I can offer is to purchase good travel insurance. Travel insurance will protect you against illness, injury, theft, and cancellations. It's comprehensive protection in case anything goes wrong. I never go on a trip without it as I've had to use it many times in the past. You can use the widget below to find the policy right for you: