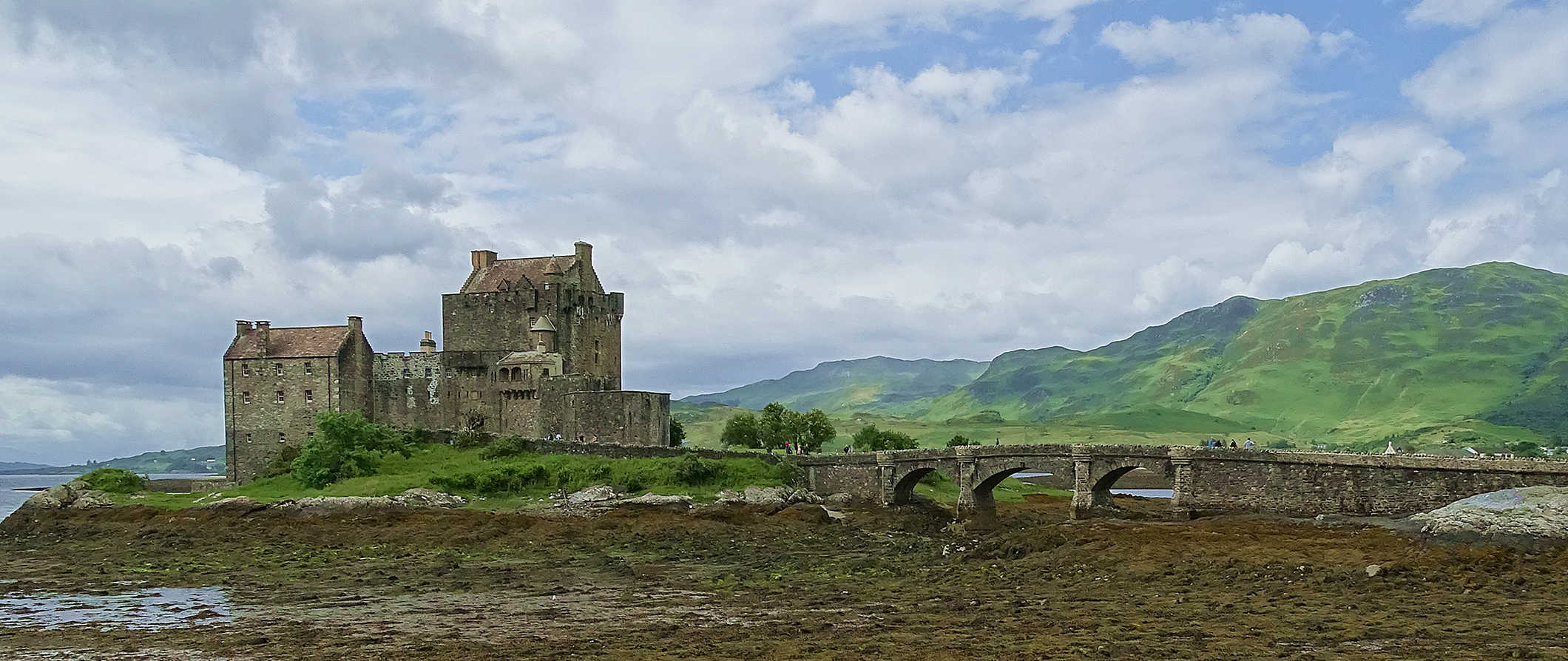 Scotland is not just the land of Braveheart, haggis, and sheep herders. It is filled with castles, stunning lochs and mountains, beautiful parks, whiskey, and welcoming locals. If you spend time in the bustling cities, you can visit the University of Glasgow, admire the view of Edinburgh from Arthur's Seat or walk through one of the country's many museums. But be sure to get out of the cities into the highlands with their rich rugged landscapes. Head west to the islands of Islay, Jura, and Mull. Wherever you are, you'll find yourself occupied with rich culture and history. Scotland is one of the most scenic and beautiful countries in the world!
Top 5 Things to See and Do in Scotland
1. Explore the Scottish Highlands
Visit the highlands of Scotland for gigantic mountains, rugged terrain, glaciers, lochs, and kilt-clad Scotsmen. For centuries, people have carved out a living here. While the land may be harsh and unforgiving, it's beautiful landscape and you haven't seen Scotland until you've been here.
2. Visit Edinburgh
Edinburgh
is a glorious city filled with beautiful cobblestone streets, parks, museums, history, a castle, and maybe even ghosts. There's a lot to do here and, after a long day of sightseeing, spend the evening in a pub, hanging out with great locals.
3. Celebrate Hogmanay like a true Scot
Hogmanay
is one of the largest New Year's celebrations in the world, attracting over 75,000 people for the two-day festival. Though the Scots have been celebrating this day for centuries, the modern iteration with musical acts, a torchlight procession, multiple fireworks displays, and a large street party dates back only to 1992.
4. Drink whisky in Islay
Whisky has a long history on Islay
. It's been made there since the 16th–century — first in backyards and then, starting in the 19th–century, in big distilleries. Over the years, whiskey from the island came to be considered a specialty and was used to flavor a lot of other blends on the mainland. There are also many good hikes and walks throughout the island.
5. Visit Inverness
Inverness is a beautiful, historic, and thriving city. Besides all of the historic buildings in the Old Town, there is a great selection of places to eat and drink, Inverness Castle, the Inverness Museum and Art Gallery, and a Victorian Market. Plus, it is close to Loch Ness (try to find Nessie), a bunch of distilleries, and a few golf courses.
Other Things to See and Do
(Click the title to expand the text)
1. Taste good pub food
Pub food is often the best in the country, which is why you see many locals eating lunch or dinner here. Since it's so affordable, it's also a good way to eat out. Pubs are a great place to try some good beer, food, and even haggis.
2. Try to find Nessie
Visit Loch Ness and try to find the famous monster that is said to be swimming in its' depths. When you get tired of that, simply cruise around this amazing lake. The hills nearby provide for good hiking too. The best way to get there is to travel to Inverness, from which Loch Ness is close enough to take a day trip to.
3. Visit Glasgow University
The university houses an art gallery, museum, and dates back all the way to 1451. You can take walking tours and marvel at the architecture.
4. Wander around Glasgow
Glasgow is a busy and growing area, with a university and the River Clyde finding spots at the heart of the city. It is the largest city in Scotland and the main source of Scotland's industrial needs. With plenty of parks, historical monuments and museums, there is plenty to do here for practically nothing. Don't forget to walk into a pub or two, if not for the great food, then simply to talk to a friendly local who will tell you the spots you have to hit before leaving town.
5. Puzzle over Rosslyn Chapel
Figure out the Da Vinci Code at this historic chapel with its intricate artwork and symbolism. The place raises a lot of questions: why is there corn on the wall if it wasn't discovered until centuries later? Admission to Rosslyn costs 9 GBP for adults, 7 GBP for concessions, or are free to people who are under 18 with their families. The price of admission includes a free tour.
6. See the Cathedrals
The cathedrals in Scotland are marvelous with their unique Gothic architecture and imposing heights. A few of the top cathedrals to visit are: Dunfermline Abbey and Palace in Fife, St. Magnus Cathedral in the Orkney Islands, and Melrose Abbey in the Borders. One of the best is Glasgow Cathedral, admission to which is free with an encouraged donation.
7. Try the local markets
Scotland is full of farmers markets where fresh produce lies at your fingertips. The bigger cities like Glasgow and Edinburgh have several of them, but you can usually find smaller markets in towns outside of the cities as well. Edinburgh has two farmer's markets on Saturday alone, located on the Castle Terrace and in Grassmarket.
8. Play golf
The Scottish invented golf. If you're not lucky enough to play around at St. Andrews, there are plenty of immaculate-kept greens to keep any golf player happy. Try to play during the low season (between November and March) if you want the lowest prices.
9. Visit Melrose Abbey
Robert the Bruce's heart is said to be buried here in the ruins of this Cistercian abbey. The abbey was repeatedly destroyed by the English in the 14th century. The ruins are surrounded by beautiful rivers and are also known for their decorative artwork. Admission costs 5.50 GBP for adults and 4.40 GBP for concessions.
10. See the Cuillins
This dramatic mountain range dominates Skye and has attracted walkers, climbers, and artists for centuries. There are two peaks (red and black) and this can be done as a day trip or a longer two-day hike.
11. Get your history fix in Dundee
Dundee is a bustling student city with a lot of interesting museums. It is known as Scotland's center of "jute, jam, and journalism." The jute museum is surprisingly interesting. You can also visit Discovery Point to learn about the famous Antarctic expedition that launched from here on the RSS Discovery, which you can actually board at the visitor center. Both attractions cost 9.25 GBP for an adult ticket, but you can get a joint ticket to both Discovery Point and Verdant Works (the jute museum) for 16 GBP.
12. Visit the Mystical Smoo Cave
The sleepy town of Durness is the access point for Smoo Cave, a coastline cave complex that can be explored on a tour. The cave is eerie and mysterious, and evidence from charcoal samples show that it may have been inhabited over 4000 years ago. It's not the most impressive cave in the world, but there's something about it that peaks your imagination. The cave is free to enter but guided tours are quite cheap at 5 GBP.
13. Head to the Isle of Arran
In the southwest of Scotland, this isle is a popular tourist destination for its charming scenery, good walking trails, and quaint villages. Visit Brodick Castle; go for a hike or a trail ride; keep a look out for seals and golden eagles, and just enjoy the scenery.