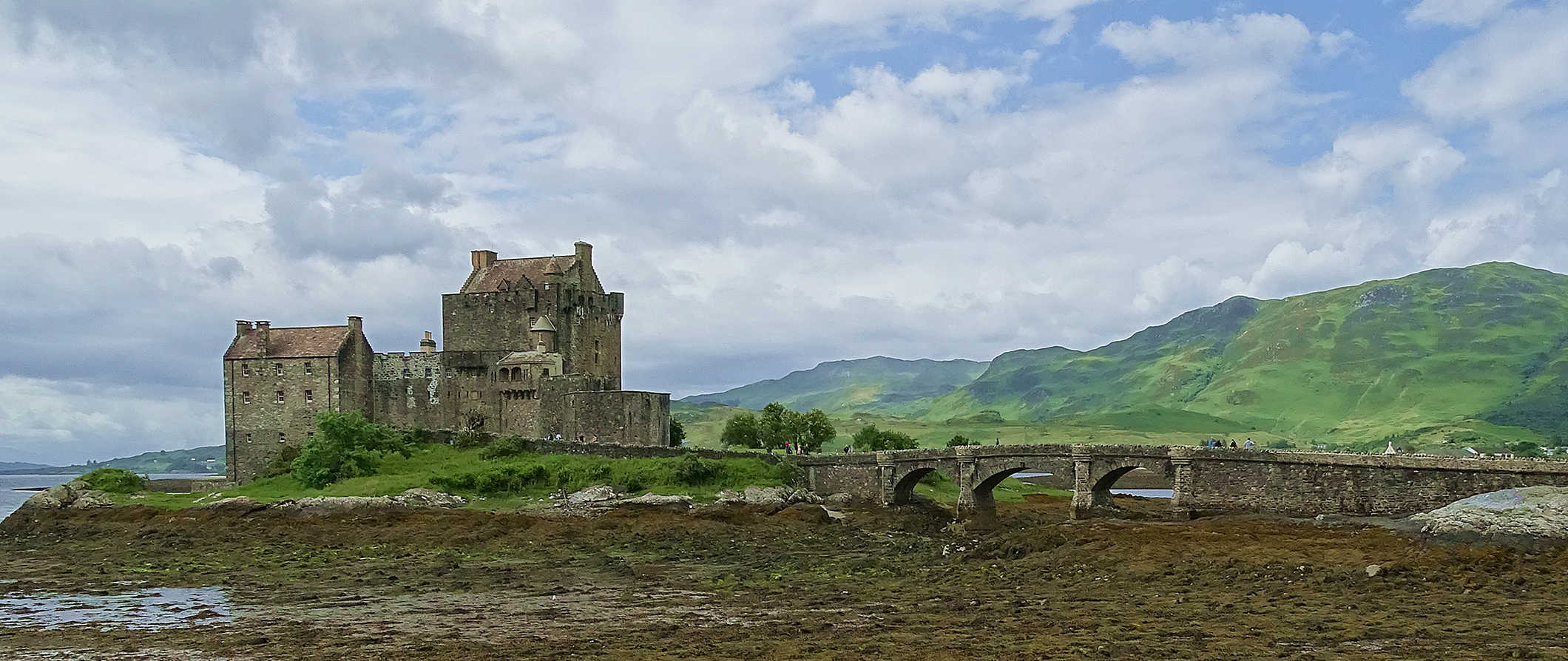 Contrary to popular belief, Scotland is not just the land of Braveheart, haggis, and whisky. It's a rugged country filled with towering castles, stunning lochs and mountains, beautiful parks, and incredible history.
Partially conquered by the Romans, Scotland is a land with a turbulent past. It was invaded countless times by the English during the Middle Ages before the Treaty of Union in 1707 united the continent (an unpopular move at the time). Since then, it's been a part of the United Kingdom (though there is a growing movement for independence).
While Scotland may be a small country (only 5.4 million people call it home), it's had a huge impact on the direction of the world. Economist Adam Smith, inventor of the telephone Alexander Graham Bell, novelist Robert Louis Stevenson (he wrote Treasure Island), philosopher David Hume, ecologist John Muir — the list of famous Scots goes on.
I love visiting Scotland. The people, the jovial spirit, the landscape, the booze — Scotland never disappoints (ok, maybe a little with the food). It's an incredible destination for road trips so make sure you get out of the cities and into the highlands with their rich jagged landscapes. And be sure to head west to the islands of Islay, Jura, and Mull.
This travel guide to Scotland can help you plan where to go, what to see, how to save money, and everything in between!
Click Here for City Guides
Top 5 Things to See and Do in Scotland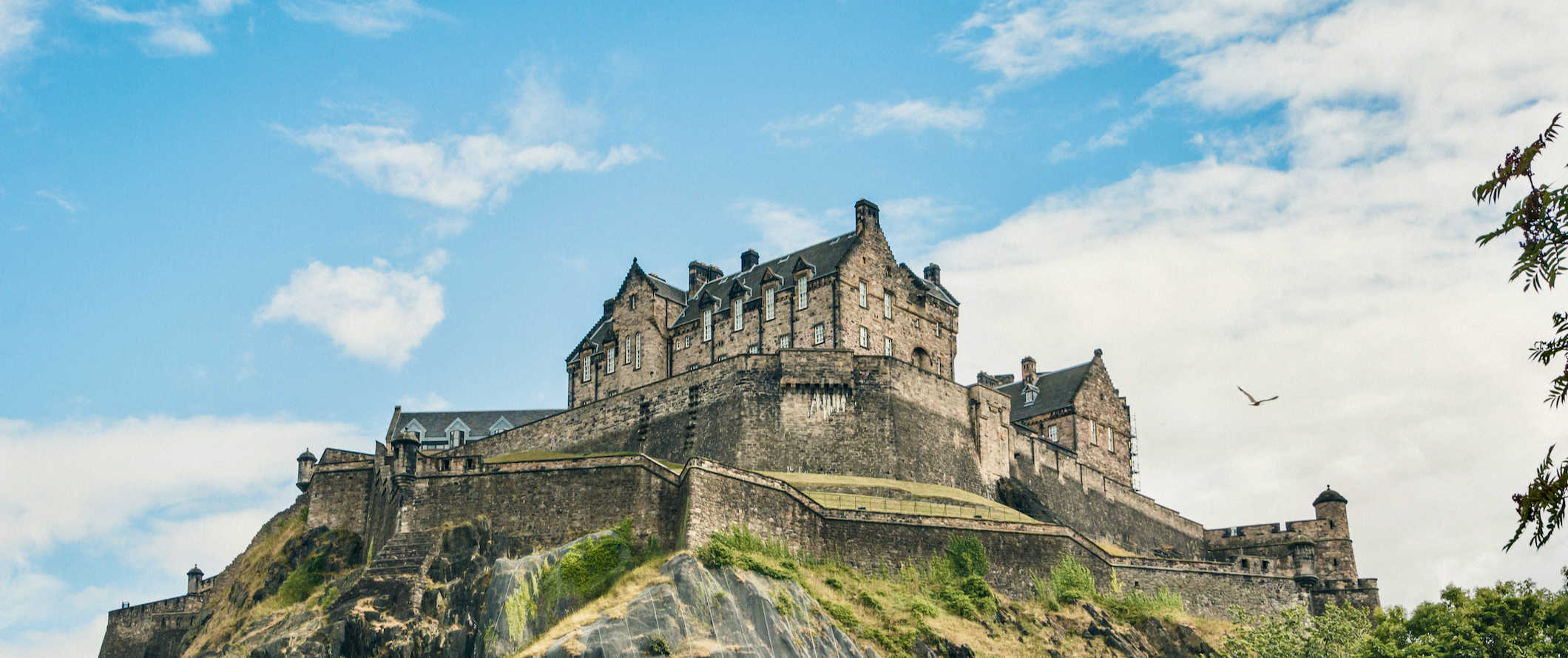 1. Explore the Scottish Highlands
Visit the highlands of Scotland for moody mountains, rugged terrain, glaciers, lochs, and kilt-clad Scotsmen. While the land may be harsh and unforgiving, you haven't really seen Scotland until you've been here. Don't miss Glencoe, Cairngorms National Park, Inverness, and the Isle of Skye.
2. Visit Edinburgh
Edinburgh is a glorious city filled with medieval cobblestone streets, lots of green space, free museums, a huge castle, and maybe even some ghosts. There's a lot to do here so be sure to spend a few days. It's an amazing place.
3. Celebrate Hogmanay
Hogmanay is one of the largest New Year's celebrations in the world, attracting over 100,000 people for the two-day festival. The modern iteration has musical acts, a torchlight procession, multiple fireworks displays, and a large street party.
4. Drink whisky in Islay
Whisky has a long history on Islay. It's been made there since the 16th–century — first in backyards and then, starting in the 19th-century, in big distilleries. Over the years, whisky from the island came to be considered a specialty and is famous around the world.
5. Visit Inverness
Besides the historic buildings in the Old Town, there is a great selection of places to eat and drink, Inverness Castle, the Inverness Museum and Art Gallery, and a Victorian Market. Plus, it is close to Loch Ness (it's less than a 30-minute drive away), a bunch of distilleries, and a few golf courses.
Other Things to See and Do in Scotland
1. Try to find Nessie
Loch Ness is one of the most famous lochs (lakes) in Scotland. It's the alleged home to Nessie, aka the Loch Ness Monster, a creature said to live in the loch. The first "sightings" date back to the 1870s, though there is no definitive proof that any such creature exists. Nonetheless, the myth perseveres, making Loch Ness a popular destination to visit. While here, you can take a cruise, hike in the nearby hills, and enjoy some of the smaller nearby towns and villages like Dores or the nearby ruins of Urquhart Castle. The best way to get here is to travel to Inverness, from which Loch Ness is close enough to take a day trip to (it's just a 25-minute drive from Inverness to Lochend, the top of Loch Ness).
2. Wander around Glasgow
Glasgow is a busy and bustling city, home to a youthful population (there is a university here) and a picturesque downtown. With plenty of parks, historical monuments, and museums, there is plenty to do here if you're on a budget. It's also a vegan and vegetarian hotspot too! Don't miss the Kelvingrove Art Gallery and Museum, relaxing in Glasgow Green, seeing the cathedral, and day-tripping to the nearby Loch Lomond and the Trossachs National Park.
3. See the cathedrals
The cathedrals in Scotland are marvelous with their unique Gothic architecture and imposing heights. A few of the top cathedrals to visit are Dunfermline Abbey and Palace in Fife, St. Magnus Cathedral in the Orkney Islands, St Giles in Edinburgh, and Melrose Abbey in the Borders. Also, don't miss the Glasgow Cathedral, which was built in 1136 and is the oldest building in Glasgow. Admission is free though donations are encouraged.
4. Puzzle over Rosslyn Chapel
This historic chapel near Edinburgh is ripe with intricate artwork and symbolism that has spawned many conspiracy theories (not to mention books). (Like why is there corn on the wall if corn wasn't discovered until centuries later?). it was featured heavily in The Da Vinci Code and is located just an hour outside Edinburgh. Admission costs 9.5 GBP.
5. Play golf
The Scottish invented golf in the 15th century. If you're not lucky enough to play a round at St. Andrews (the most famous course in the country) there are plenty of other immaculate and challenging courses to keep any golf player happy. Try to play during the low season (between November and March) if you want the lowest prices (St. Andrews, for example, costs 220 GBP to play in high season, versus 98 GBP in low season). Castle Stuart (Inverness), Royal Dornoch (Dornoch), and Muirfield (Gullane) are some other great courses worth playing.
6. See the Cuillin
This dramatic mountain range dominates the Isle of Skye. There are two main ridges (the red and the black), which can be visited as a day trip or a longer two-day hike. Much of the mountain range, which stretches 14 kilometers (8.6 miles), can be hiked, though some peaks require more technical climbing skills. There are campgrounds and a hostel nearby in Glenbrittle as well. Some of the most popular trails are Rubh' an Dùnain (3-5 hours, easy), Coire Lagan (2 hours, moderate), and Sgùrr Alasdair (6-8 hours, hard).
7. Visit Ruins of Melrose Abbey
Robert I (also known as Robert the Bruce) was the King of Scotland from 1306 until his death in 1329. Legend has it that his heart is buried in the ruins of Melrose Abbey. The abbey, founded in the 12th century and located in Melrose, was repeatedly destroyed by the English in the 14th century. You can still see marks on the surviving walls from cannonballs during the English Civil War. The abbey ruins (which is only a ruin of its former self, composed of several standing walls and arches) are decorated with intricate artwork carved into the remaining stone walls. Admission is 6 GBP.
8. Explore Dundee
Dundee is a lively student city along the coast with a lot of interesting museums. It's a UNESCO City of Design and is the sunniest spot in the country too. Don't miss a visit to Discovery Point to learn about the famous Antarctic expedition that launched from here in 1902 on the RSS Discovery (which you can board at the visitor center). Also, be sure to take in the great street art, the Vaults (a series of underground tunnels that date back to the 1750s), and The McManus Art Gallery as well.
9. Visit the Mystical Smoo Cave
The sleepy town of Durness, located 193 kilometers (120 miles) north of Inverness, is the access point for Smoo Cave, a coastline cave complex that can be explored independently or on a tour. Evidence from charcoal samples shows that it may have been inhabited over 4,000 years ago. The cave is free to enter but guided tours, which take you deeper into the cave, are 10 GBP. You get to see a lot more on the tour than you would if you just visit independently. Tours last around 20 minutes.
10. Head to the Isle of Arran
Located 2.5 hours west of Glasgow, this isle is a popular tourist destination for its charming scenery of jagged hills and rugged coasts, walking trails, and historic villages. Visit Brodick Castle, go for a hike, keep a lookout for seals and golden eagles, and enjoy the remote scenery. Don't miss the Machrie Moor Stone Circles (which are sort of like Stonehenge) — they date back almost 5,000 years!
11. Explore the Cairngorms
Cairngorms National Park is the largest national park in the UK, spanning 4,528 square kilometers (1,748 square miles). Located two hours from Edinburgh by car, it makes for a great getaway for anyone looking to get out and see the highlands. The park is dotted with beautiful B&Bs in historic stone buildings and there are several campgrounds available for anyone traveling in a camper van or with a tent. Wild camping is also permitted, providing you do so responsibly. The park offers lots of hiking trails too. Don't miss Ryvoan Pass (easy), Dalraddy to Ruthven (moderate), and Ben Macdui (difficult). If you visit in the winter, you can also go skiing on Cairn Gorm Mountain. If you're lucky, you may spot some of the reindeer that call the park home (it's the only herd in the British Isles). Admission to the park is free.
12. Attend the Edinburgh Fringe Festival
The Edinburgh Festival Fringe is the world's largest arts festival. It usually lasts three weeks and takes over the entire city of Edinburgh. There are tens of thousands of performances including plays, musicals, live music, puppet shows, and much more! There are literally thousands of different shows held and hundreds of venues around the city. It's a massive festival and brings in upwards of 3 million visitors. It's a zany, inspiring, and entertaining festival and one that shouldn't be missed. Just make sure you book your tickets and accommodation in advance as things fill up fast.
13. Tour the Isle of Skye
This popular island off the northwestern tip of the country is a scenic place to take a road trip. The island offers sweeping views over the rugged coastline, hiking trails, castles, waterfalls, and quaint villages and B&Bs. While most people just visit for a day, I suggest spending a few days driving around and getting off the beaten path. You can visit by bus if you don't have a car, however, having your own vehicle will give you much more freedom. Don't miss Dunvegan Castle, the Old Man of Storr rock formation, and brother's point.

For more information on cities in Scotland, check out these guides:
Scotland Travel Costs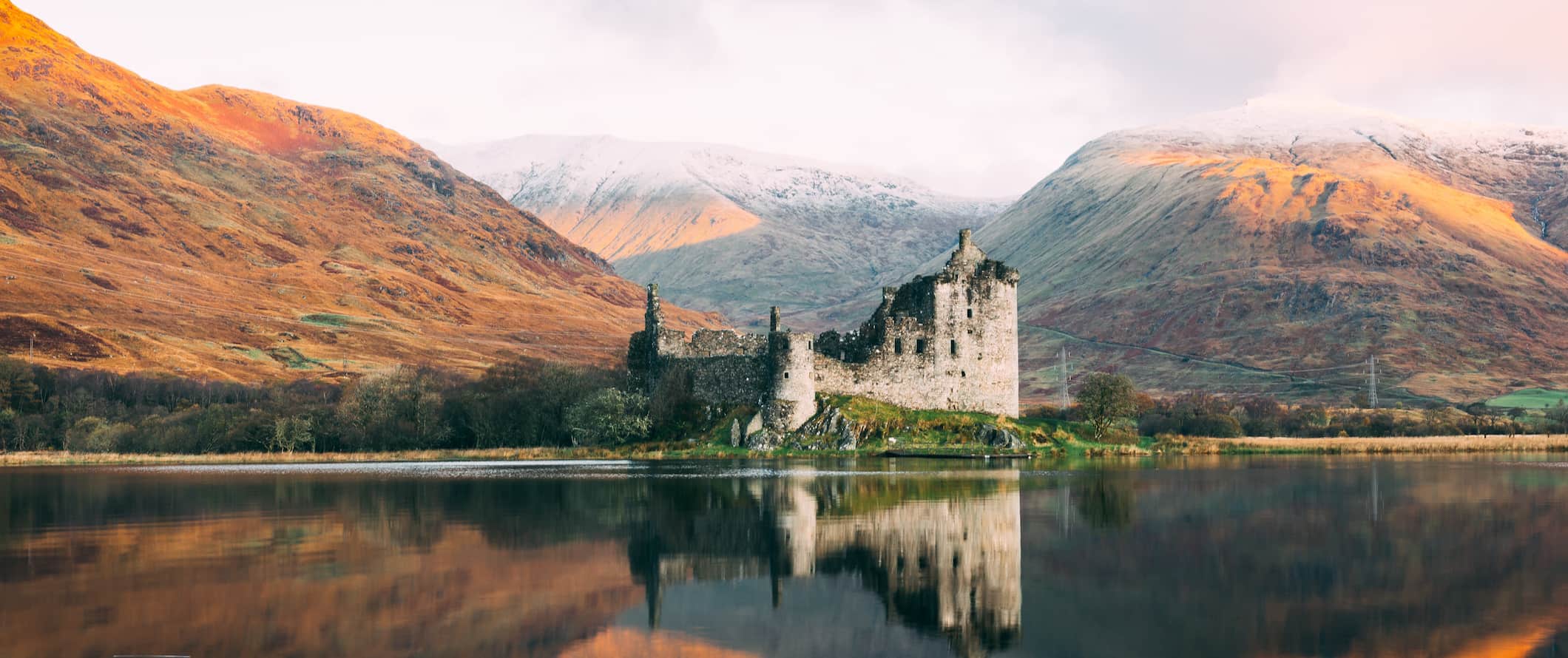 Accommodation – Most 6-8-bed dorms in Scotland cost 18-22 GBP per night, though prices rise a few pounds in the summer and drop a few in the winter (you can find hostels for as little as 12 GBP in the off-season). Free Wi-Fi and lockers are standard, and most hostels also have self-catering facilities. Private rooms in a hostel cost around 40-65 GBP per night.
Budget hotels cost around 55-75 GBP per night with standard amenities like free Wi-Fi, TV, and coffee/tea makers. Some include free breakfast.
Airbnb is widely available in Scotland and is especially useful in the smaller towns and villages where there are fewer traditional hotels and hostels. A private room generally costs 25-30 GBP per night while entire homes/apartments start at 55 GBP per night, though most options are 70 GBP and above.
If you want to camp, expect to pay around 17 GBP per night for a basic plot (a small flat space for a tent without electricity). Most campgrounds close for the winter so availability is limited come late October/early November. If you're in a car or campervan, you can use the app "park4night" to find paid overnight parking, free overnight parking, and campgrounds.
Food – Scottish food is hearty, heavy, and filling. Seafood is abundant, and popular traditional dishes include blood pudding, minced beef, fish and chips, smoked herring, neeps and tatties (turnips and potatoes), and of course haggis (a dish composed of minced sheep's organs and spices inside a sheep's stomach casing). Porridge is a common breakfast choice, though a larger breakfast of sausage, eggs, beans, and bread is not uncommon either. Sticky toffee pudding is a favorite dessert, and of course, you can't visit Scotland without sampling some scotch.
Expect to pay around 10-12 GBP for a basic meal (like a Scottish breakfast). For pub food like a burger or fish and chips, prices are usually between 12-20 GBP for a meal. For a full three-course meal at a mid-range restaurant, prices begin around 27 GBP.
A pint of beer is around 4 GBP while a glass of wine is around 5.50 GBP. A latte or cappuccino is around 2.70 GBP.
If you're looking for fast food (think McDonald's), expect a combo meal to cost around 6 GBP. A classic fish and chips from a no-frills takeaway spot is around 6 GBP, while Chinese takeaway is around 8-10 GBP. Street food (like from a food truck) costs around 6-8 GBP. Eat near the universities for the cheapest food options.
A week's worth of groceries costs around 40-60 GBP. This covers basic staples like pasta, rice, seasonal produce, and some meat. The cheapest supermarkets to look out for are Aldi, Lidl, Asda, and Tesco.
Backpacking Scotland Suggested Budgets
On a backpacker budget, you can visit Scotland for around 55 GBP per day. On this budget, you're staying in a dorm room or camping, cooking all of your meals, using local transportation, sticking to mostly free activities (like hiking, museums, or free walking tours), and limiting your drinking.
On a mid-range budget of about 105 GBP, you can stay in a private Airbnb room, eat out at cheap local restaurants for a few meals, enjoy a few drinks, take the occasional taxi to get around, and do more paid activities like visiting castles or doing a whisky tasting.
On a "luxury" budget of 210 GBP or more per day, you can stay in a hotel, eat out for every meal, drink what you want, take the train between cities or rent a car, and visit as many museums and attractions as you'd like. This is just the ground floor for luxury though — you can easily spend more if you want to splash out!
Accommodation
Food
Transportation
Attractions
Average Daily Cost
Mid-Range
35
35
10
20
105
Scotland Travel Guide: Money-Saving Tips
While Scotland is expensive, there are lots of ways to lower your costs. Here are some tips to help you save money in Scotland:
Get the Edinburgh City Pass – If you're planning to explore Edinburgh, get the City Pass. For 45 GBP, you get access to 22 attractions as well as free transportation to and from the airport. There is also a two-day pass for 55 GBP and a three-day pass for 65 GBP.
Eat in a pub – The best food is often in the pubs at a fraction of the price compared to a proper restaurant. Also, pubs generally give you a true taste of Scottish culture. Scotland is pub-land – they're everywhere.
Eat during lunch – Many cafes, bakeries, and chains offer lunch deals for as little as 3-5 GBP.
Visit the free museums – The public museums in Scotland are free so take advantage! Free museums include The National Museum of Scotland, Scottish National Gallery, Royal Botanic Garden Edinburgh, and the Scottish National Gallery of Modern Art.
Use buses – If you need to go anywhere, buses are by far the cheapest way to reach the widest range of places on a regular schedule. You can even find tickets for just 1 GBP from Megabus if you book far enough in advance.
Avoid eating and shopping in the city centers – Both Glasgow and Edinburgh get significantly more expensive the closer you get to the city center. There are plenty of good restaurants and quirky shops outside of the center, so go for those. Trust me, you won't be disappointed.
Use apps to get food deals – On the app Too Good to Go, participating eateries sell severely discounted meals/groceries/baked goods at the end of the day. You just sign up, see what is being offered near you, and pick up your cheap food at the end of the day. It has good coverage all across Scotland, particularly in Edinburgh. For discounts on takeout try the app Secret Takeaways which supports local restaurants in Edinburgh and Glasgow by cutting out the delivery app middleman (and their high fees).
Stay with a local – Couchsurfing is the best way to save on accommodation in Scotland. You'll not only save some money but get access to a knowledgeable local who can help point you to some of the country's hidden gems. It may not be fancy, but you'll get a unique experience and learn far more about the destination than if you stayed in a hotel!
Take a free walking tour – If you want to understand more about the history, architecture, and people of Scotland then be sure to take a free walking tour. They usually last a couple of hours and are a great introduction to the city. New Europe has a great free tour in Edinburgh and Visit Scotland offers one in Glasgow.
Cook your own meals – Eating out in the UK isn't cheap. Save yourself some money and cook a few meals for yourself. It may not be as fancy as eating out, but your wallet will thank you!
Rent a campervan – If you're planning to get out of the city, rent a camper van. You can get them for as little as 30 GBP per day. They come with basic self-catering facilities so you can cook your food and have somewhere cheap to stay. There are lots of free places to park around the country. Just use the app park4night to find them.
Use BlaBlaCar – BlaBlaCar is a ridesharing app you can use to travel in between cities. It's faster than the bus and usually just as cheap. You have to find a ride, which can sometimes be hit or miss, but the profiles are verified and reviewed so it's quite safe. Plus, it's a great way to connect with other locals/travelers.
Use discount websites – Groupon, Wowcher and Living Social have good deals on accommodation, attractions, and dining out.
Bring a water bottle – The tap water here is safe to drink so bring a reusable water bottle to save money and reduce your plastic use. LifeStraw is my go-to brand as their bottles have built-in filters to ensure your water is always clean and safe.
Where to Stay in Scotland
Accommodation in Scotland isn't cheap, but there are nevertheless lots of great hostels to stay at to help you meet people and save money. Here are my favorite hostels in Scotland:
How to Get Around Scotland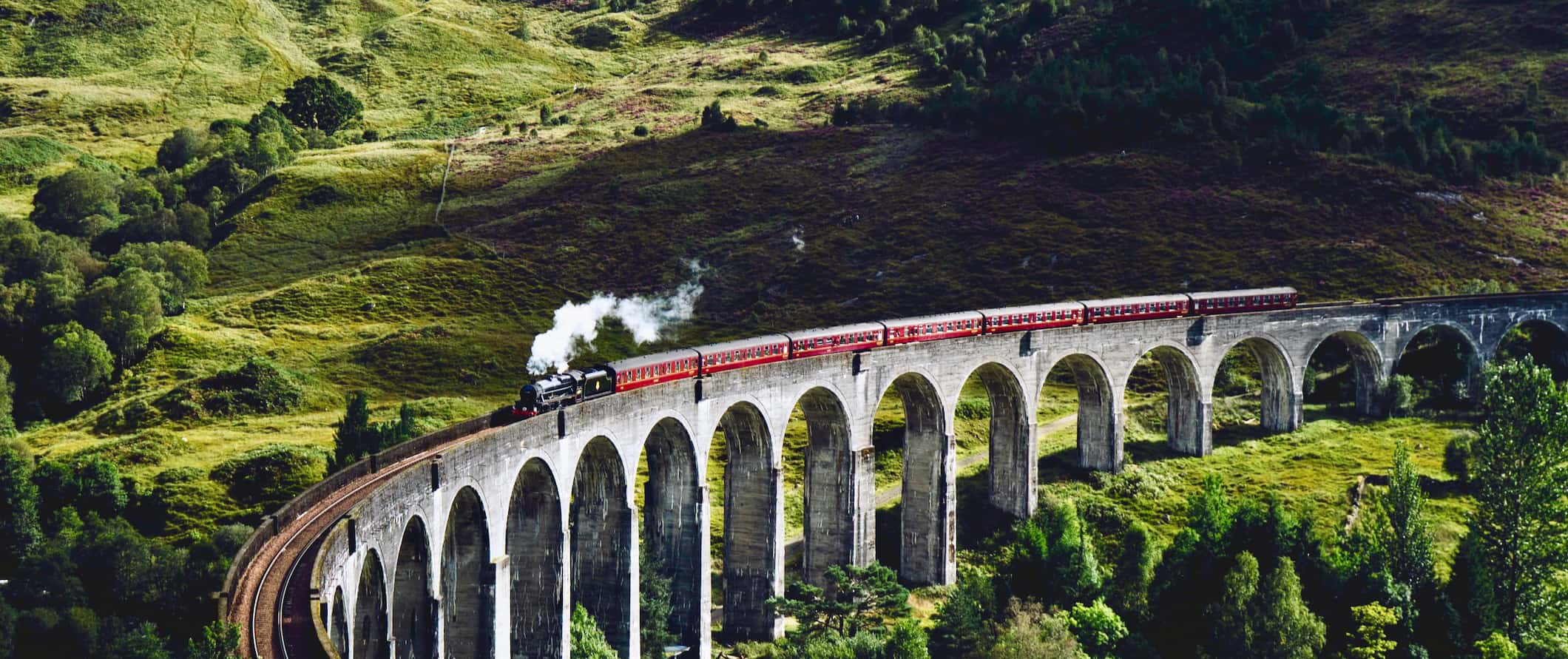 Public Transportation – Public buses and trams cost around 1.50-2 GBP for one-way ride. For a single-day pass, expect prices to start at 4 GBP per person. In Glasgow, a 7-day public transportation pass costs 17 GBP.
Only Glasgow has a subway system and the tickets for the bus and metro are not interchangeable as they are operated by two different companies (though prices between the two are comparable).
Airport shuttles cost around 6-8 GBP each way.
Flying – Flying around Scotland is both inconvenient and expensive. There are very few direct flights, making it slower to fly than to take the bus. I would avoid flying and just take the bus or train.
Bus – Buses are a popular and affordable way to get around the country as they link most destinations in the country. Scottish Citylink, Stagecoach, Megabus, and National Express are the four main companies that operate here. Tickets can be found for as little as 1 GBP via Megabus, though they're usually around 10-25 GBP.
Edinburgh to Glasgow, for example, is a one-hour bus ride that costs 8 GBP while the three-hour journey from Glasgow to Inverness costs around 20-30 GBP. The sooner you book your ticket, the lower the price, so always try to book in advance. The coaches here are modern and comfortable with bathrooms and Wi-Fi as well.
Train – Trains connect all the major cities in Scotland (as well as the towns and villages they pass through). When purchased in advance (12 weeks out is the sweet spot), tickets are only a little more expensive than the bus. For example, Inverness to Glasgow takes about as long as the bus and is only 30 GBP while Edinburgh-Glasgow is 30 minutes faster than the bus for just 1-2 GBP more. Just be sure to book early to get the best prices. Last-minute tickets can be expensive!
Car rental – Scotland is a great road trip destination. You can get cars for 20 GBP per day and campers for 30 GBP per day. Just remember that traffic flows on the left. Most vehicles are manual transmissions as well. Renters need to be at least 21 years of age.
Rideshare – Ridesharing apps like Uber are a reliable but expensive way to get around in cities like Glasgow and Edinburgh. Skip them if you can.
For longer distances, use BlaBlaCar. It's a ridesharing app that pairs you with drivers who are traveling to other cities. They have profiles and reviews (similar to Airbnb) so it's quite safe. It's usually not as cheap as the bus, but it's faster and more comfortable.
Hitchhiking – Hitchhiking in Scotland is generally considered to be much easier than in the rest of the UK, especially in the highlands or on the islands. As always, look presentable and make sure your plans are flexible as sometimes it can take a while for a ride to appear. For more information about hitchhiking in Scotland, check out Hitchwiki.
When to Go to Scotland
Summer is the most popular time to visit Scotland. In July and August, there's warm weather and minimal rain, with temperatures reaching highs of around 20°C (68°F). This is also the busiest time of the year, so expect crowds in the cities and lots of people out enjoying the national parks. The Edinburgh Fringe Festival takes place in August, which is a huge multi-week festival. Be sure to book your accommodation in advance if you're visiting during this time.
September is a rather wet month, though in October there's incredible fall foliage. Overall, October is a great time to visit — especially if you plan on renting a car or camper and heading into the Cairngorms (Scotland's biggest national park). Seasonal businesses and accommodations start to close in mid-October so be sure to keep that in mind when planning. Expect October temperatures to hover around 12°C (55°F) during the day.
The spring is a great time to visit, with April and May offering minimal rain and no crowds. There's still snow and cool temperatures in the highlands, but the cities are lively without being crowded.
Winters in Scotland are cold and dark. December is relatively dry, with temperatures dipping below 0°C (32°F). It's nevertheless a popular time to visit, with many tourists coming to Edinburgh for the huge Hogmanay New Year's Eve celebration (one of the biggest New Year's festivals in the world). Book your accommodation well in advance if you plan to attend.
By February, snow is common so keep that in mind if you plan on renting a vehicle. Unless you're coming to engage in winter sports, I'd avoid a winter visit unless you don't mind the grim and grey atmosphere of the country.
How to Stay Safe in Scotland
Scotland is a safe country, even for solo travelers, and even for solo female travelers. Like in all cities, stay vigilant when you're in crowded tourist areas or on public transportation as that is when pickpockets usually strike. If you keep your valuable secure, however, you shouldn't have any issues.
Additionally, solo female travelers don't need to worry in Scotland, however, women should take the standard precautions when traveling alone at night (don't travel alone intoxicated, keep an eye on your drink, etc.).
Keep in mind that traffic flows on the left here. Most vehicles are manual transmissions and have the gear shift on the left (which is opposite to most other countries). Driving might take some getting used to so drive carefully — especially in cities and when going through roundabouts.
If you are hiking, make sure you have the appropriate equipment and notify your accommodation of your plans just in case as the weather can change quickly in the highlands.
While scams here are rare, you can read about common travel scams to avoid here if you're concerned.
If you experience an emergency, dial 999 for assistance.
Always trust your gut instinct. Avoid isolated areas at night and be aware of your surroundings at all times. Make copies of your personal documents, including your passport and ID.
If you don't do it at home, don't do it in Scotland!
The most important piece of advice I can offer is to purchase good travel insurance. Travel insurance will protect you against illness, injury, theft, and cancellations. It's comprehensive protection in case anything goes wrong. I never go on a trip without it as I've had to use it many times in the past. You can use the widget below to find the policy right for you:
Scotland Travel Guide: The Best Booking Resources
These are my favorite companies to use when I travel. They consistently have the best deals, offer world-class customer service and great value, and overall, are better than their competitors. They are the companies I use the most and are always the starting point in my search for travel deals.
Skyscanner – Skyscanner is my favorite flight search engine. They search small websites and budget airlines that larger search sites tend to miss. They are hands down the number one place to start.
Hostelworld – This is the best hostel accommodation site out there with the largest inventory, best search interface, and widest availability.
Booking.com – The best all around booking site that constantly provides the cheapest and lowest rates. They have the widest selection of budget accommodation. In all my tests, they've always had the cheapest rates out of all the booking websites.
Get Your Guide – Get Your Guide is a huge online marketplace for tours and excursions. They have tons of tour options available in cities all around the world, including everything from cooking classes, walking tours, street art lessons, and more!
SafetyWing – Safety Wing offers convenient and affordable plans tailored to digital nomads and long-term travelers. They have cheap monthly plans, great customer service, and an easy-to-use claims process that makes it perfect for those on the road.
LifeStraw – My go-to company for reusable water bottles with built-in filters so you can ensure your drinking water is always clean and safe.
Unbound Merino – They make lightweight, durable, easy-to-clean travel clothing.
Top Travel Credit Cards – Points are the best way to cut down travel expenses. Here's my favorite point earning credit cards so you can get free travel!
BlaBlaCar – BlaBlaCar is a ridesharing website that lets you share rides with vetted local drivers by pitching in for gas. You simply request a seat, they approve, and off you go! It's a cheaper and more interesting way to travel than by bus or train!
Edinburgh Travel Guide: Related Articles
Want more info? Check out all the articles I've written on backpacking/traveling Scotland and continue planning your trip: