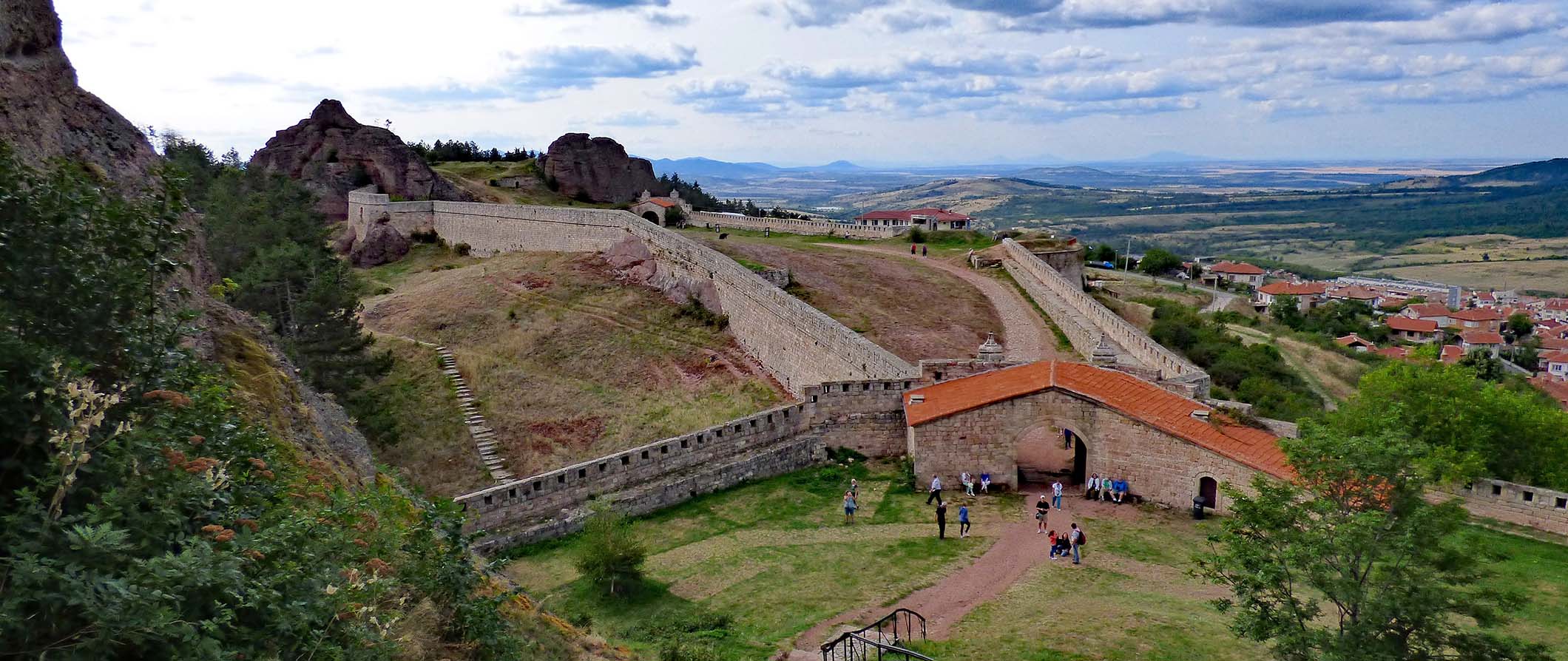 Bulgaria turned out to be one of my favorite countries in the world. I went with few expectations and was blown away by the country's affordability, amiable locals, incredible history, scenery, beaches, and nightlife. Everything about this country was a win. The country has a long history and it's location in the world has ensured that is has been a gateway for European and Turkish culture. It's a regional melting pot. As you roam the country, you'll see Roman ruins, stunning Black Sea beaches, incredible forests, and medieval cities. This country is very under the radar and doesn't get the full attention it deserves. But that works out for you as you'll run into few crowds as you travel around.
Top 5 Things to See and Do in Bulgaria
1. Sofia
Sofia
is Bulgaria's dynamic capital city. Come here for wonderful museums, beautiful Eastern Orthodox churches, a splash of communist architecture, and all the excitement that comes with a country's capital city. Spend an extra day or two getting to know the place.
2. Varna
Varna
is a major tourist destination during the summer when its beautiful beaches fill up with visitors. I had a lot of fun wandering the streets, meandering through the big central park, and sunning myself at the beach. At night, the bars and nightlife heave with tourists and locals looking to enjoy their summer holiday.
3. Plovdiv
Plovdiv
is the second-largest city in Bulgaria and is located in the middle of the country. It's famous for its Roman ruins and historical churches. I found the city a peaceful oasis with wonderful parks and ruins that lacked the crowds other places get.
4. Veliko Tarnovo
Once the capital of the Bulgarian empire,
Veliko Tarnovo
is now a charming university town located in the mountains. This quiet little town has a beautiful castle, nearby hiking trails, and monasteries worth exploring. It was one of the highlights of my visit to Bulgaria.
5. Rila Mountains
The highest point of the Balkans, Mount Musala (almost 10,000 feet), is situated in Rila. There's also the Seven Lakes Cirque, Skakavitsa Waterfall (the highest in Rila), Rila Monastery, and the area of Malyovitsa. It's a nature lover's paradise!
Other Things to See and Do
(Click the title to expand the text)
1. Rusenski Lom Nature Park and Ivanovo
This park has a nice hiking area and also contains a Rock Monastery with ancient frescoes, as well as a quaint village worth exploring.
2. Cross the Marvelous Bridges
The Marvelous Bridges are natural marble bridges that were formed by erosion in the Rhodope Mountains. The two bridges can be crossed on secure trails, and two tourist huts are located nearby. The site can be reached by an asphalt road and is about 20 miles from the closest town, Chepelare.
3. Visit Melnik and the Rozhen Monastery
The Rozhen monastery is a medieval Bulgarian monastery nearby, dating from 1259, with many intact frescos to view. Nearby, you can find a hiking area with sandstone 'pyramids' (rock formations from erosion). The region is also known for outstanding wine, wine that was preferred by Winston Churchill.
4. Step back in time in Old Plovdiv
This is a small, well-preserved area where visitors can take walks through different historical ages, see ancient buildings adapted to the modern way of life, and feel the spirit of this town dating back to Bulgarian Revival Period.
5. Check out the Museum of Socialist Art
This is a new museum which showcases art from the socialist period (1944-1989). A large outdoor sculpture park contains everything from the giant statue of Lenin that once stood in the center of the city, to the red star that topped the socialist party headquarters. Smaller pieces reveal a gentler side to the socialist ideals. The gallery inside has some excellent examples of 20th century modern art as well as the socialist realism genre we know from the period. Admission is 6 BGN and it's open daily (except Mondays) from 10am-5:30pm.
6. Hike the Balkan Mountains
This mountain chain lends its name to the Balkan Peninsula. It stretches all along the country and is popular among the fans of the long-distance hiking trips. One of the famous European Long Distance Routes (E3) follows its main ridge all the way from the western border of the country to the seaside. One of the three national parks in Bulgaria, Central Balkan National Park, is situated here.
7. Hit the beaches on the Black Sea
A 250-mile stretch of Bulgarian land lies along the Black Sea, and around a third of this is covered in nice sandy beaches. This is a very popular spot for resort packages, and can be crawling with tourists. I'm not a fan of Sunny Beach, but there are other more secluded beaches to check out as well.
8. Unwind in Balchik
This is a quaint town on the coast of the Black Sea. It's not a great beach location, but the area used to serve as the summer residence for the Queen of Romania. You can tour her palace and the botanical gardens which lie on the grounds.
9. Go skiing
If you come during the winter months, use the cold weather to your advantage, and hit the ski slopes. Bansko is one of the newer resorts in Bulgaria. Come to Bulgaria expecting an inexpensive ski holiday, not the quality of the Alps.
10. Stop and smell the roses in Kazanlak
Bulgaria is actually one of the biggest producers of rose oil in the world. Since 1903, Kazanlak has hosted the Festival of Roses. During the first weekend of June, the local community organizes this international event and thousands of tourists and guests celebrate the rose valley. Traditions include rose-picking rituals, learning the rose distillation process, a street procession, acapella choirs, folklore concerts, art shows, exhibitions, wine-tasting, shows, and more.
11. Visit the Varna Necropolis
This prehistoric archaeological site is home to the oldest processed gold, dating back 7,000 years. The gold was extracted from 62 graves (it was custom to bury people with gifts at that time). This fascinating exhibit can be found at the Archaeological and Historical Museum Varna. It's open daily (except Mondays) from 10am-5pm. In the summer, it's open every day. Admission is 10 BGN.
12. Grab a drink at Hotel Cherno More
The bar/restaurant on the top floor of this hotel offers the best view of Varna. Go here to watch an incredible sunset while sipping on a delicious drink.
Typical Costs
Accommodation
– Hostel dorms start around 15 BGN per night and average around 19 BGN a night throughout the country, while privates average around 52 BGN for a double room. Most hostels include linens, WiFi, and breakfast in the price. A budget hotel room with a private ensuite bathroom starts around 42 BGN. Hotels at this price range (2-star) typically come with free WiFi and many offer free breakfast. Shared rooms through Airbnb average around 20 BGN, while entire homes average around 50 BGN per night. My suggested places are:
Food – You can buy a hamburger for about 2.5 BGN or have a Mac menu for 9 BGN. If you want to eat something more local, try banica (made of dough, cheese, and butter) for just 1.5 BGN, banitza for 1 BGN (a breakfast food), some shopska salata for 5 BGN (a Bulgarian twist on the classic Greek salad), or a little bread with a weenie named krenvirshka. There are a lot of street pavilions where you can buy a kebab for around 5.5 BGN. There are also plenty places where you can buy a slice of pizza for a dollar or less. A hearty, good meal with a drink at a restaurant ranges from 15-30 BGN. Groceries are about 70 BGN per week for basic groceries like pasta, vegetables, chicken, and other basic foodstuffs. LIDL will have the cheapest groceries. Bulgaria has many different beers and great wines to offer. A very good bottle of wine costs between 6-10 BGN at the supermarket and beer is about 1-4 BGN (for a big bottle).
Transportation – When traveling across the country, opt for buses instead of trains. Train travel is the cheapest (and slowest) way to get from one city to another in Bulgaria. For example, a train ride from Sofia to Burgas only costs 11 BGN, but the ride can be 7-11 hours long depending on the type of the train. By bus, the same trip costs 28 BGN, but the ride only lasts about 5 hours. Use Sofia as your main hub for traveling via bus and you will have a lot of great options, with buses leaving hourly for the major cities in Bulgaria. A bus ride from Sofia to Varna is 32 BGN, to Plovdiv is 14 BGN, and Veliko Tarnovo is 22 BGN. Many of Bulgaria's cities are walkable, but most have good bus systems and are well-covered with taxis. Taxis have a starting price of around 1 BGN and are an affordable way to get around in a pinch.
Activities – Bulgaria is a very inexpensive country to visit. Many museums and attractions with entrance prices are between 7-18 BGN.
Suggested daily budget
65-85 BGN / 35-45 USD (Note: This is a suggested budget assuming you're staying in a hostel, eating out a little, cooking most of your meals, and using local transportation. Using the budget tips below, you can always lower this number. However, if you stay in fancier accommodation or eat out more often, expect this to be higher!)
Money Saving Tips
Avoid Sunny Beach – I don't understand the appeal of a beach that's so expensive and crowded with tourists. There are more beach chairs here than sand and it is way overpriced. Hit up one of the other coastal beaches instead.
Stay at Hostel Mostel – Staying at this hostel can lower your costs because not only do they offer free breakfast, but they also have free dinner (which also comes with a free beer). Basically, staying here gets you two meals a day. They have locations in Sofia, Plovdiv, and Veliko Tarnovo.
Eat at the bakeries – Bakeries in Bulgaria have a great, inexpensive range of pastries and foods which will fill you up in the morning. Two of my favorite snacks there are banica and krenvirshka.
Travel in winter – June-September is the peak summer season in Bulgaria when there is a large influx of tourists. Airfares, as well as accommodation costs, will be high during this period. Winters are an ideal time for Bulgarian budget travel when you can enjoy less-crowded destinations, plenty of scenic beauty, and good opportunities for skiing in the snow. The Christmas season should be avoided because it is also a popular time for tourists to visit.
Couchsurf – If you plan ahead, you can usually find really nice Couchsurfing hosts all throughout the country as there are a lot of them. This way, you not only have a free place to stay, but you'll have a local host that can tell you the best places to go and things to see.
My Other Must Have Guides For Traveling to Bulgaria