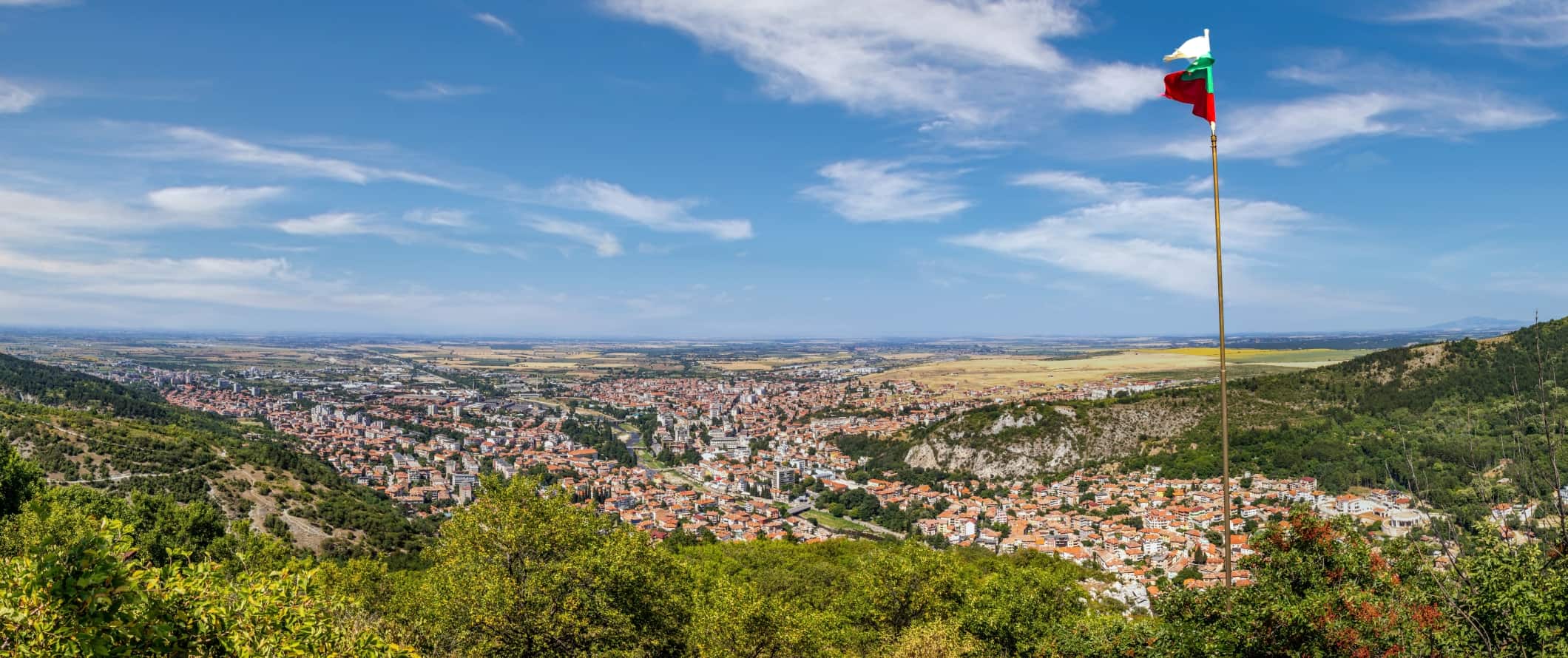 Often overlooked by travelers, Bulgaria is actually one of my favorite countries in Europe.
Because it's under the radar, here you'll find few crowds and plenty of affordable activities. I arrived with few expectations and was blown away by the country's affordability, incredible history, mountainous landscapes, Black Sea beaches, and wild nightlife.
Bulgaria's long history is evident everywhere, from ancient Neolithic settlements to mysterious Thracian tombs to fortresses left behind by powerful tsars. Even some of the smallest, most nondescript churches have elaborate religious artwork inside, including paintings of saints and vivid murals.
And, if you're a nature lover, there are several mountain ranges throughout the country offering all kinds of stunning hikes.
In short, Bulgaria is amazing and I can't speak its praises enough. Don't speed through the place. There's a lot to see and do here.
This travel guide to Bulgaria can help you plan your trip, save money, and make the most of your time here.
Click Here for City Guides
Top 5 Things to See and Do in Bulgaria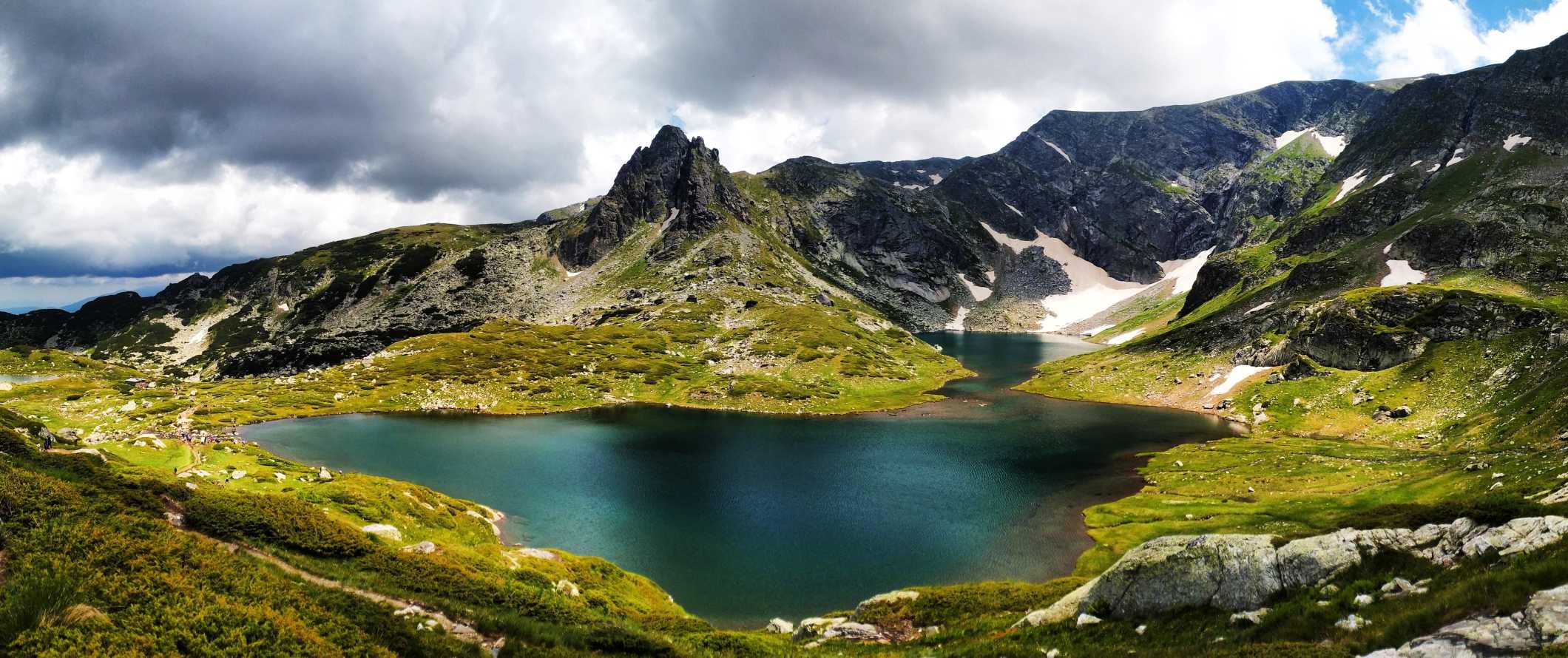 1. Explore Sofia
Sofia is Bulgaria's dynamic capital city full of museums, Eastern Orthodox churches, communist architecture, and trendy galleries, restaurants, and clubs. The city has thousands of years' worth of history and dates to the 8th century BCE when it was inhabited by the Serdi tribe. One of the oldest buildings is a brick rotunda that was built in the 4th century by the Romans. It was originally used as a bath but later became a church – and it's survived almost completely intact. Don't miss the Alexander Nevski Cathedral, built in the 1880s in the Neo-Byzantine style. It's massive and has enough room for 10,000 people inside (you can even explore the crypt which is full of unique religious icons). Museums like the National Art Gallery, the National Historical Museum, and the National Institute of Archeology are all worth a visit and feature unique cultural and historical exhibits.
2. Relax in Varna
Varna is a major tourist destination during the summer when its beaches fill up with visitors. Like most of Bulgaria, the area has a rich history. Archeological remains of early settlements have been uncovered at over 30 sites, the oldest of which dates back to the Stone Age. Modern Varna was established in the 6th and 7th centuries when the Slavic people gained power in the Balkans, and the city emerged as an important hub for trade due to its prominent location on the Black Sea. Now it's known as one of Bulgaria's most popular seaside resort towns thanks to its beautiful beaches. I had a lot of fun wandering the streets, visiting the Roman Baths, walking through the big central park, and relaxing by the beach. Make sure to check out Aladzha Monastery, which is one of the oldest in Bulgaria (it dates back to the 4th century) and offers stunning views of the city.
3. Visit Plovdiv
Plovdiv is the second-largest city in Bulgaria and is the oldest continuously inhabited city in Europe (archeologists have discovered evidence of settlements dating back to the Neolithic period in 6,000 BCE). Over the years, Plovdiv has been ruled by Greeks, Romans, Celts, Huns, Slavs, Bulgars, Thracians, and Ottomans. You can explore ruins spanning the centuries on a walk-through Old Town with cobblestone streets and architecture from the Middle Ages and the Bulgarian Revival. The city is the cultural hub of Bulgaria and was named the European Capital of Culture and is part of the UNESCO Global Network of Learning Cities. Be sure to visit the Roman Amphitheater, see the Archaeological Museum, and relax under the leafy trees in the Tsar Simeon Central Garden.
4. Go to Veliko Tarnovo
Once the capital of the Bulgarian Empire, Veliko Tarnovo is now a charming university town. Much of the city is perched on the cliffs with white houses and iconic red roofs spanning the hillsides. For excellent photo opportunities visit the Sky Walk which overlooks the city and the river winding through the cliffs. Not much happens here, but I loved the cobblestone streets, the historic castle ruins, the little cafes, and the nearby mountain hikes. Like any university town, there are some eclectic spots to grab a drink like the Hipster Art Bar which has a fun atmosphere and is a great place to meet people.
5. Explore the Rila Mountains
The Rila Mountains are the highest mountain range in the Balkans, with Mount Musala towering over 3,000 meters (10,000 feet). Most of the mountain is protected within Rila National Park and the rest falls within the Rila Monastery Nature preserve, so it's a hotspot for biodiversity and nature enthusiasts. You can trek to the top on a day hike or take on some of the less challenging hikes in the mountains. During the colder months, the Rila Mountains become packed with skiers, and if you want to treat yourself there are some luxurious spas around the area. Other highlights include the Seven Lakes route, Skakavitsa Waterfall, and the Rila Monastery. The monastery is the largest in Bulgaria and was established in the 10th century by Saint John of Rila. It's also a UNESCO World Heritage Site.
Other Things to See and Do in Bulgaria
1. Check out the Museum of Socialist Art
This museum in Sofia showcases art from when the country was under Communist rule (1944-1989). A large outdoor sculpture park contains everything from a giant statue of Lenin that once stood in the center of the city to the red star that topped the socialist party headquarters. Inside you'll find all kinds of propaganda, documentary videos, photos, and more. Admission is 6 BGN.
2. Hike the Balkan Mountains
This mountain chain is at the center of Bulgaria. It's part of the epic European Long Distance Route (E3) following the chain's main ridge to the Portuguese seaside, spanning a distance of 6,950 kilometers (4,320 miles). For shorter day hikes, find a base town like Apriltsi and trek from there. The Mount Botev summit and the hike to Vodnite Dupki are two popular hikes.
3. Hit the beaches on the Black Sea
This 402-kilometer (250-mile) stretch of Bulgarian coast lies along the Black Sea. About one-third of this coastline is covered in pristine, sandy beaches. Avoid Sunny Beach (it's tacky and crowded) and check out some of the quieter beaches instead, like Pomorie Beach or Sinemorets Veleka Beach.
4. Unwind in Balchik
Balchik is a small coastal town on the Black Sea. The area used to serve as the summer residence for Queen Marie of Romania (1875-1938). You can tour her Balchik Palace on the seaside promenade and admire the interesting blend of Gothic and Islamic architecture. There are not very many rooms, but they all contain original furnishings and paintings by Queen Marie herself. There's also a botanical garden with over 600 species of plants. Admission is 15 BGN.
5 Go skiing
Bansko, Borovets, and Pamporovo are the three biggest resort towns in Bulgaria. Most people prefer Bansko because its resort has the longest ski runs and it's doable as a day trip from Sofia. There are several hotels and budget accommodations within Bansko (although Bansko isn't the prettiest of towns). A one-day ski pass is 90 BGN in Bansko and 85 BGN in Borovets and Pamporovo.
6. Stop and smell the roses in Kazanlak
Bulgaria is one of the biggest producers of rose oil in the world and the town of Kazanlak has hosted the Festival of Roses since 1903. During the first weekend of June, the local community organizes this international event that attracts thousands of tourists. There are rose-picking rituals, events to learn about the rose distillation process, a street procession, acapella choirs, folklore concerts, art shows, exhibitions, and even wine-tasting. Best of all, most of the events are free!
7. Visit the Varna Archaeological Museum
The Varna Archaeological Museum is home to the Varna Necropolis, a prehistoric archaeological site that contains the oldest processed gold in the world (it's 7,000 years old). The gold was extracted from 62 graves (it was custom to bury people with gifts at that time). On display, you'll also find intricate jewelry and other artifacts, as well as oddities like Roman surgical tools and ancient Hellenistic headstones. Admission is 10 BGN.
8. Explore Stara Zagora
Stara Zagora is a smaller city located in the south of Bulgaria, famous for its annual linden-tree bloom (the whole city smells incredibly floral — like a combination of honeysuckle and jasmine). For me, the main attraction is Stara Zagora's historical significance. Other than once being an important crossroad for the Romans, Ottomans, and Thracians, Stara Zagora also contains some amazing prehistoric relics, including ancient burial mounds dating back 8,000 years. The Neolithic Dwellings Museum sits on one of these prehistoric mounds, along with the remains of a home. It's 5 BGN to visit and super informative!
9. Tour the Bachkovo Monastery
Just outside of Plovdiv is the Bachkovo Monastery, dating to 1083 (although most of it was built from the 17th century). The main attraction in the monastery is the Church of Sveta Bogoroditsa, which has an interior completely covered in colorful frescoes painted by Zahari Zograf in 1850. The refectory (dining hall) is also full of murals displaying the building's history. Pilgrims often come to the church to pray in front of the Madonna, which is encased in gold and silver. It's free to visit the monastery, but the onsite museum costs 2 BGN and the refectory is 6 BGN.
10. Visit the Etâr Ethnographic Open-Air Museum
The Etâr 19th-century ethno-village in Northern Bulgaria is a recreated Bulgarian town lined with cobblestone streets and dozens of traditional shops and workshops devoted to cobblers, furriers (someone who works with furs), glass workers, jewelers, leatherworkers, potters, bakers, and more. Costumed performers move between buildings, making it feel like you stepped back in time (or at least onto a movie set). You can poke around recreated traditional homes, and some of the workshops are still powered by running water. It's a bit cheesy, but you can pick up neat handmade souvenirs here. Admission is 5 BGN.
11. Hike at Emen Canyon
If you're visiting Veliko Târnovo, head west to Emen Canyon. Carved out by the Negovanka River between tall limestone cliffs, the canyon is home to deep creeks (perfect for swimming) and picturesque waterfalls. A two-hour hike on the Negovanka Ecotrail takes you along 90-meter-high (295-foot) bluffs, leading to viewpoints over the canyon and a 10-meter-tall (32-foot) waterfall. It's a beautiful region to explore on foot!
For more information on specific cities in Bulgaria, check out these guides:
Bulgaria Travel Costs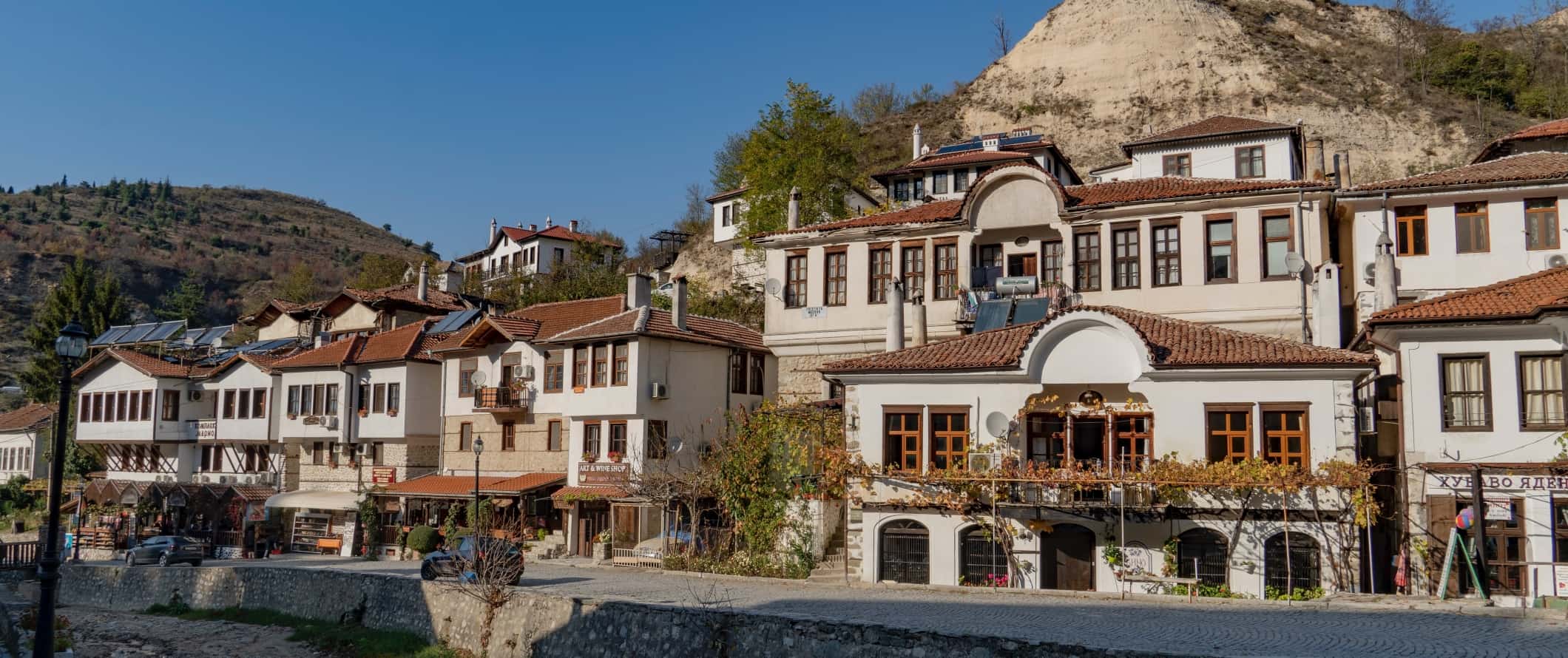 Accommodation – Hostel dorms with 5-8 beds cost between 15-25 BGN per night. Private hostel rooms cost 30-60 BGN per night. Free Wi-Fi is standard and most hostels also include self-catering facilities.
Budget two-star hotels range from 50-100 BGN per night. If you want to stay at one of the resort areas on the Black Sea, expect to pay double that amount during the summer.
Airbnb is available across Bulgaria, with private rooms ranging from 20-55 BGN per night. An entire home/apartment costs around 60-110 BGN.
For those traveling with a tent, there are also well-maintained campgrounds around the country, especially along the coast. Most tent sites start at 5-20 BGN per night for a basic pitch without electricity.
Food – Bulgarian cuisine is hearty and similar to that of its Balkan neighbors. Meaty stews with lamb, goat, or chicken are common, as are sausages and all kinds of yogurts (dairy products are big here). Popular dishes include kebapche (grilled mincemeat), shopska salad (a salad with tomato, cucumber, and cheese; similar to Greek salad), and moussaka.
Overall, food is very affordable throughout Bulgaria. Local street food eats like banica (cheese pastry) are as little as 1.50 BGN. You can pick up a hearty shopska or kebab for about 6 BGN.
For fast food (think McDonald's), you can get a combo meal for about 12 BGN. A casual meal at a restaurant serving traditional cuisine costs around 14 BGN. A large pizza also costs around 10 BGN.
If you want to splash out, a three-course meal with a drink costs around 30 BGN.
Beer is 4 BGN while a latte/cappuccino is 3.50 BGN. Bottled water is around 1.50 BGN.
Grocery shopping is very cheap here, costing about 45-65 BGN per week for basic staples like rice, pasta, seasonal produce, and some meat.
Backpacking Bulgaria Suggested Budgets
If you're backpacking Bulgaria, expect to spend about 55 BGN per day. On this budget, you'll be staying in a hostel dorm, cooking most of your meals, limiting your drinking, taking public transportation to get around, and sticking to mostly free activities like hiking and going to the beaches. If you plan on drinking, add 5-10 BGN to your daily budget.
On a mid-range budget of 135 BGN per day, you can stay in a private Airbnb, eat out for most meals at cheap fast food joints, have a couple of drinks, take the occasional taxi to get around, and do more activities and tours like visiting museums or going skiing.
On a "luxury" budget of 200 BGN per day or more, you can stay in a hotel, eat out for all your meals, drink more, rent a car or take more taxis, and do whatever tours and activities you want. This is just the ground floor for luxury though. The sky is the limit!
Accommodation
Food
Transportation
Attractions
Average Daily Cost
Backpacker
20
15
10
10
55
Mid-Range
50
35
25
25
135
Bulgaria Travel Guide: Money-Saving Tips
Bulgaria is one of the most affordable destinations in Europe. You can do a lot on a tight budget here as most of the country's attractions (such as museums and historical sites) are cheap. You'll find it hard to break the bank here unless you're spending your time on the Black Sea coast during peak season and intentionally trying to splurge. Here are some ways to save money in Bulgaria:
Avoid Sunny Beach – I don't understand the appeal of a beach that's overpriced and crowded with tourists. Hit up one of the other coastal beaches instead.
Stay at Hostel Mostel – Staying at this hostel chain can lower your costs because they include free breakfast and free dinner. They have locations in Sofia and Veliko Tarnovo.
Eat at the bakeries – Bakeries in Bulgaria have an inexpensive range of sweet and savory pastries that can fill you up. Two of my favorite snacks there are banica and krenvirshka.
Stay with a local – If you plan ahead, you can usually find Couchsurfing hosts all throughout the country. This way, you not only have a free place to stay but you'll connect with a local host that can share their insider tips and advice.
Take free walking tours – Walking tours are a great way to get familiar with a city and its culture. Sofia, Veliko Tarnovo, and Plovdiv all have free walking tours. Just be sure to tip your tour guide at the end.
Enjoy free events – Many of Bulgaria's festivals are free to attend, and during the summer many city parks have free scheduled events and concerts. Ask your hostel or host what's going on during your visit.
Bring a water bottle – The tap water here is safe to drink so bring a reusable water bottle to save money and reduce your plastic use. LifeStraw is my go-to brand as their bottles have built-in filters to ensure your water is always clean and safe.
Where to Stay in Bulgaria
Bulgaria has lots of fun, affordable hostels around the country. Here are my favorite and suggested places to stay:
How to Get Around Bulgaria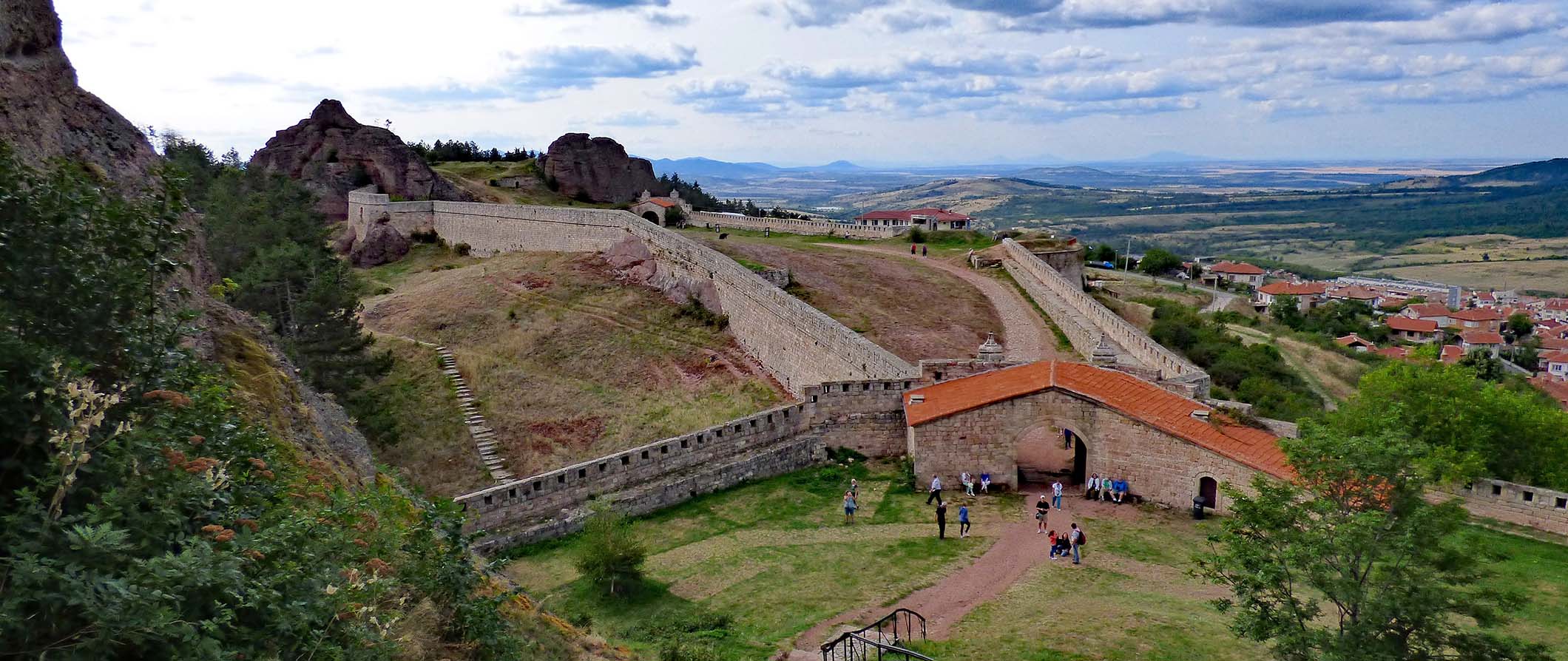 Public transportation – Public transportation in Bulgaria is very affordable. Sofia has a subway with two lines connecting the city center and the airport, as well as the central bus and train stations. Tickets are 1.60 BGN each.
In other cities, public buses are the most common mode of public transportation. Fares are usually between 1-2 BGN. Trolleybuses and trams are also common and generally cost the same.
Some cities, like Sofia, have a daily transportation pass for 4 BGN per day. A three-day pass is 10 BGN.
Taxi – Taxis are readily available everywhere, with rates starting at 2 BGN, costing an additional 1-2 BGN per kilometer. Always make sure your driver uses the meter so you avoid getting ripped off. Ridesharing like Uber is not available here.
Bus – Bulgaria has lots of private and public minibusses and coaches to get you between the smaller towns and cities. A bus from Sofia to Varna costs around 33 BGN and takes seven hours, while Varna to Plovdiv is 27 BGN and also takes seven hours. A three-hour journey from Sofia to Veliko Tarnovo shouldn't cost more than 30 BGN.
Train – Train travel in Bulgaria is often cheaper than taking the bus, but it's a lot slower. For example, the same Sofia to Veliko Tarnovo journey costs just 20 BGN but takes a little over four and a half hours by train (instead of three by bus). You can use the Bulgarian State Railways website (bdz.bg) to plan your trip.
Flying – There are limited domestic routes around Bulgaria, making this an inconvenient option for most travelers. That said, flying is affordable here. A one-way trip between Sofia and Varna costs about 160 BGN, while a one-way trip between Sofia and Burgas is about 106 BGN. Unless you're pressed for time, though, I'd stick to the bus.
Car rental – Car rentals are super affordable here, costing as little as 25 BGN per day. If you have someone to share the ride with, this could be an affordable and flexible way to get around the country. Drivers need to be 21 years old and have an IDP (International Driving Permit).
To find the best car rental prices, use Discover Cars.
Hitchhiking – Hitchhiking in Bulgaria is common among travelers and locals alike. HitchWiki is the best website for additional hitchhiking tips and info.
When to Go to Bulgaria
If you want hot weather and lots of time on the Black Sea coast, summer (June-August) is the best time to visit. Temperatures average 29-32°C (84-90°F) and the water is ideal for swimming. These temperatures are fairly consistent across the country, although the mountain regions can be cooler.
Spring and fall weather can change from day to day. Temperatures range between 5-21°C (41-70°F) in the spring and the weather can be quite foggy and cloudy, with not a lot of sunshine. But if you want fewer crowds and lower prices, this is the best time to come.
The fall months (September-October) are best for hiking as the autumn foliage is starting to show. Fall temperatures range from 2-21°C (36-71°F).
Winter can be frigid, with temperatures dropping as low as -5°C (23°F). The snow-capped mountains are beautiful during this time, and many people come here to hit the slopes. If you're not coming here to ski or do winter sports, however, I'd skip a winter visit.
How to Stay Safe in Bulgaria
Bulgaria is a very safe country to visit. Violent crime against visitors is very rare. Scams and petty crime like pick-pocketing are the most common danger you'll face when you're traveling the country, but even those are rare.
That said, it's always a good idea to keep your valuables secure and out of sight when out and about.
Solo female travelers should generally feel safe here, however, the standard precautions apply (never leave your drink unattended at the bar, never walk home alone intoxicated, etc.).
When taking taxis, always make sure the meter is on. A common scam is for taxi drivers to tell you that their meter is broken. Insist that you want a taxi with a working meter or negotiate the cost upfront.
You can read about common travel scams to avoid right here.
If you experience an emergency, dial 112 for assistance.
The most important piece of advice I can offer is to purchase good travel insurance. Travel insurance will protect you against illness, injury, theft, and cancellations. It's comprehensive protection in case anything goes wrong. I never go on a trip without it as I've had to use it many times in the past.
Bulgaria Travel Guide: The Best Booking Resources
These are my favorite companies to use when I travel. They consistently have the best deals, offer world-class customer service and great value, and overall, are better than their competitors. They are the companies I use the most and are always the starting point in my search for travel deals.
Skyscanner – Skyscanner is my favorite flight search engine. They search small websites and budget airlines that larger search sites tend to miss. They are hands down the number one place to start.
Hostelworld – This is the best hostel accommodation site out there with the largest inventory, best search interface, and widest availability.
Booking.com – The best all around booking site that constantly provides the cheapest and lowest rates. They have the widest selection of budget accommodation. In all my tests, they've always had the cheapest rates out of all the booking websites.
HostelPass – This new card gives you up to 20% off hostels throughout Europe. It's a great way to save money. They're constantly adding new hostels too. I've always wanted something like this and glad it finallt exists.
Get Your Guide – Get Your Guide is a huge online marketplace for tours and excursions. They have tons of tour options available in cities all around the world, including everything from cooking classes, walking tours, street art lessons, and more!
The Man in Seat 61 – This website is the ultimate guide to train travel anywhere in the world. They have the most comprehensive information on routes, times, prices, and train conditions. If you are planning a long train journey or some epic train trip, consult this site.
Rome2Rio – This website allows you to see how to get from point A to point B the best and cheapest way possible. It will give you all the bus, train, plane, or boat routes that can get you there as well as how much they cost.
FlixBus – Flixbus has routes between 20 European countries with prices starting as low 5 EUR! Their buses include WiFi, electrical outlets, a free checked bag.
SafetyWing – Safety Wing offers convenient and affordable plans tailored to digital nomads and long-term travelers. They have cheap monthly plans, great customer service, and an easy-to-use claims process that makes it perfect for those on the road.
LifeStraw – My go-to company for reusable water bottles with built-in filters so you can ensure your drinking water is always clean and safe.
Unbound Merino – They make lightweight, durable, easy-to-clean travel clothing.
Top Travel Credit Cards – Points are the best way to cut down travel expenses. Here's my favorite point earning credit cards so you can get free travel!
Bulgaria Travel Guide: Related Articles
Want more info? Check out all the articles I've written on backpacking/traveling Europe and continue planning your trip: