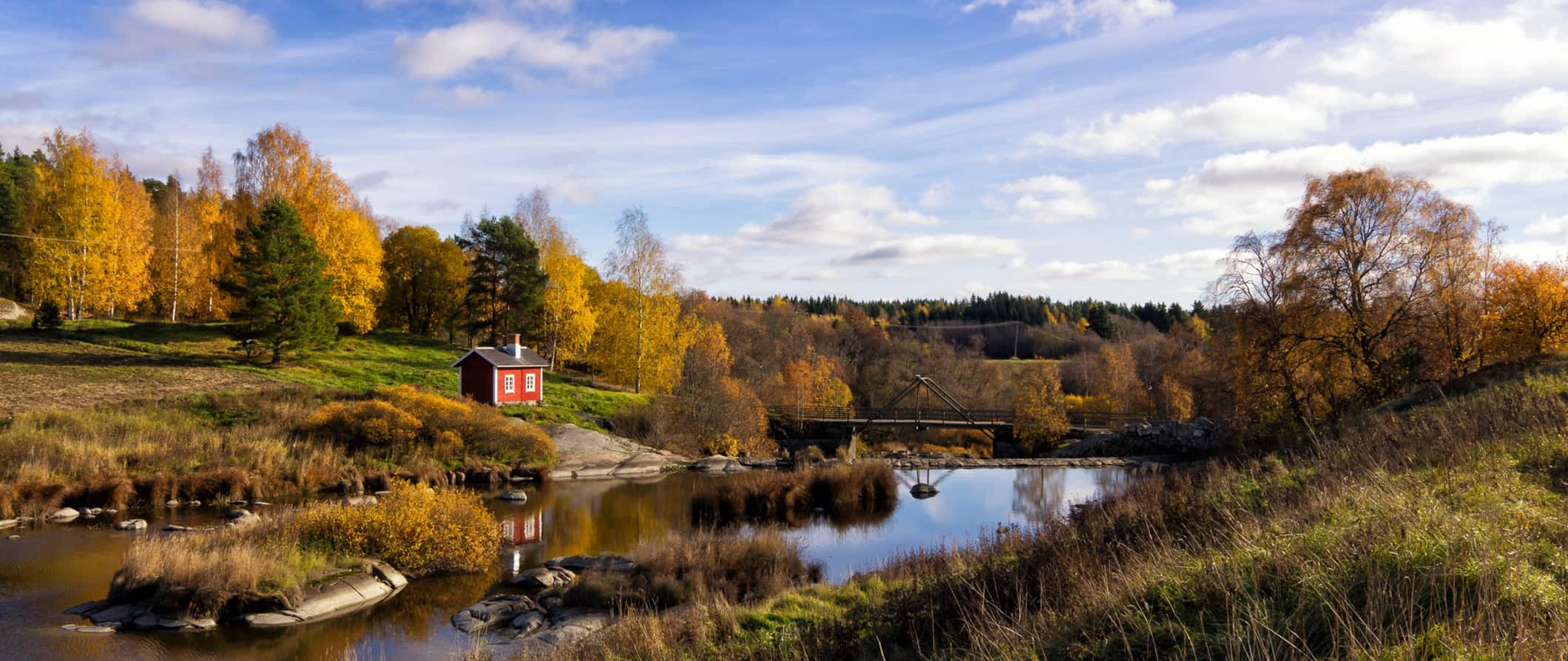 Finland itself is stunning, home to mountains, waterfalls, bays, and the area known as Lapland, where you can find Santa Claus and see reindeer! It's also one of the best places to see the Northern Lights in the winter, either during an epic outdoor excursion or while you relax in a sauna. If you love the outdoors, this is one of the best countries in mainland Europe to explore nature or go for a hike. Every season has something exciting to offer, however, keep in mind it's going to be VERY cold in winter. Due to its out-of-the-way location and the fact that Finland can be expensive, many people skip visiting here — but don't be one of those people! Finland has a lot to offer, and this guide will help you save some Euros and get the most out of your stay.
Top 5 Things to See and Do in Finland
1. Salla Reindeer Park
This park above the Arctic Circle has old forests and a chance to get up close with reindeers. The reindeer here are very tame. In fact, you can even go for a reindeer ride (or simply just feed them). There are also periodic reindeer competitions, husky sleigh rides, and midnight canoe trips. Admission is 8 EUR.
2. Northern lights
This is hands-down one of the most incredible sights in Europe, so make sure to research whether the weather is going to corporate for a great view. There are plenty of guided tours you can join, otherwise, venture out on your own. A three-hour tour snowmobile will cost around 125 EUR, while multi-day tours will be closer to 1,000 EUR.
3. Santa Claus Village in Rovaniemi
Here you will find year-round Christmas cheer! Children can visit with Santa one-on-one. Check out the snowshoe safaris that run both day and night. There's also an exhibition where you can learn about Finnish Christmas traditions. Admission is 17.50 EUR for adults and 15 EUR for kids.
4. Visit Helsinki
Historic, small, filled with green space, and set on the waterfront, Helsinki is an esthetically pleasing city filled with friendly people and few tourists. It's especially great if you love art as they have a ton of museums there. You'll definitely want to spend a few days!
5. Stay in an ice hotel
A very seasonal and very cool place to stay (pun intended). Everything in SnowHotel is made of ice — including your bed! Don't worry, you get very warm sleeping bags! A basic room with a double bed will cost around 130 EUR per night.
Other Things to See and Do
(Click the title to expand the text)
1. Try ice climbing
Finland is known for its impressive ice formations. For rock climbers, this is the perfect challenge, however, inexperienced climbers are welcome, too! There are several companies who will outfit you with the right gear and introduce you to ice climbing. Prices will vary but plan on spending around 80 EUR.
2. Rappel down the icefalls at Tajukangas
If you're not afraid of heights and a bit of a thrill seeker, I'd recommend checking this out – if anything, Google rappelling at Tajukangas to see what it's about. The best place to head is Pyhä with the team at Bliss Adventure. Expect to pay around 70 EUR.
3. Visit Pakasaivo, the "Hell of Lapland"
This lake is 60m at its deepest, and the steep cliff walls surrounding the lake reach up another 60m above water level. It is a Sámi holy place and a scenic place to hike or snowmobile.
4. Cycle The King's Road to the East
This route is an old postal route connecting Sweden and Russia. The 330km trail dates back to the 15th century, making for a great scenic trip for anyone looking to explore the country by bike!
5. Pyhä-Luosto Mine
Pyhä-Luosto means Amethyst in Finnish. During the mine tour, you actually learn how to mine this precious mineral. If you're visiting during the winter, the experience is even more incredible because you can ski, snowshoe or walk the last stretch of the 2.5 kilometer trek before you head through Santa Claus Village (which is included in the 63 EUR tour).
6. Ranua Wildlife Park
While you're in Finland, learn about the indigenous arctic animals in their natural habitats at the Northernmost zoo in the world. Admission is 17 EUR for adults, with discounts available for students, seniors, and families.
7. The Old Church
This is Finland's best-preserved wooden church. The steeple-less church was built from timber in 1689, commissioned by Charles XI, who granted 900 copper dollars to the building. Entry is free.
8. Sodankylä Museum of Local History
Built in 1906, the main building of the Sodankylä Local Heritage Museum is a Kuukkeli house from the village of Riesto, but it was moved to the museum site by voluntary labor in the 1960s. The museum also includes numerous other buildings from traditional Sodankylä industry, such as a workshop, an arctic house, a calving hut, a summer house, barns, and part of a reindeer fence. The museum is closed in the winter. Admission is free.
9. Suvanto village
Situated near Pelkosenniemi, Suvanto is one of the rare villages in Lapland that wasn't burned down by the Germans in the Lapland War (a spin-off conflict from WWII). When visiting Suvanto, you should check out the cafe-art gallery Säpikäs because it is housed in the yard of an idyllic 1930s country house and renovated barn.
10. The Ethnographic Museum
This museum tells the story of peasant lifestyles at the turn of the twentieth century. The main building has a farmhouse living quarter, maid's chamber, daughter-in-law's chamber, and living room. In addition to the house, the grounds accommodate a granary, a workshop, a smoke sauna, a barn, and a stable. A memorial to the founder of the Finnish Co-Operative Movement, Hannes Gebhard, is nearby at his birthplace. Admission is 4 EUR.
11. Commune with nature
There are almost 40 national parks in Finland, each with hiking trails and camping sites. In the winter, they make for great places to cross-country ski or go snowshoeing. Most are conveniently located in the southern half of the country, too. However, if you really want to get off the beaten path be sure to visit Pallas-Yllästunturi National Park in the north!
12. Air Guitar World Championship
Held every year at the Oulu Music Video Festival, this competition started out as a joke but has evolved into a major event. If you happen to be in Finland during the festival, be sure to check this quirky competition out!
13. Cruise around the Harbor Islands
If you don't spend a whole day hanging out and lounging around Suomenlinna, take a tour around some of the other islands in the harbor to get an idea about how important the harbor was to local lifestyle in the past. There are a ton of tours to choose from, and if you have a Helsinki card, most are 20% off.
Typical Costs
Accommodation
– Hostel dorm beds range from 25-35 EUR, with privates ranging from 50-80 EUR. Free WiFi is standard, and a few hostels also offer free breakfast. For those traveling with a tent, there are campgrounds scattered all throughout the country. For a basic plot, prices will be between 10-25 EUR. Wild camping is also an option, so long as you are respectful and use common sense. Budget hotels start around 50-80 EUR per night for single or double occupancy. Mid-range brand hotels will start closer to 100 EUR per night. You can find fairly cheap accommodation on Airbnb starting around 20-30 EUR for shared accommodation. For an entire home or apartment, prices start around 55 EUR per night (but average closer to 90 EUR). My suggested place is:
Food – Most everything on the cheap side will be around 8-11 EUR (pizza, kebabs, sandwiches). Many restaurants offer a lunchtime buffet that will cost around 12 EUR. Stockmann supermarket also has a wide variety of pre-made cheap meals for around 5-6 EUR. A meal at McDonald's (or a similar fast-food chain) will cost about 7 EUR. In terms of alcohol, beer (domestic or imported) will cost you between 6 and 8 EUR and a bottle of water will cost around 1.50 EUR. If you plan on cooking your own meals, a week's worth of basic staples will cost between 85-125 EUR per week.
Transportation – The best way to travel within Finland is by bus. A one-way ticket for a 100km journey on the regular bus is around 19 EUR. The express bus will charge a bit more, around 22 EUR. Local buses within the city will charge 2.50-3.50 EUR. If you're looking to take the train, a ticket from Helsinki to Tampere will cost between 25-35 EUR, one way. The train from Helsinki to Oulu will be closer to 60 EUR, and a one-way ticket to neighboring Saint Petersburg, Russia will be around 45 EUR. There is also a ferry from Helsinki to Stockholm, which costs between 50-150 EUR. Bicycles are available to rent in nearly every city and town, usually costing between 15-20 EUR for the day or 70 EUR for the week.
Activities – A sightseeing cruise in Helsinki will cost about 25 EUR. A tour through Lapland will start around 125 EUR and increase steeply from there (multi-day tours will be closer to 1,000 EUR). Most museums and major attractions will cost between 5 and 15 EUR. Bike rentals will cost between 10-20 EUR per day, and a day rental of cross-country skis will cost around 20 EUR.
Suggested daily budget
60-80 EUR (65-85 USD) (Note: This is a suggested budget assuming you're staying in a hostel, eating out a little, cooking most of your meals, doing lots of free activities, keeping your drinking to a minimum, and using local transportation. Using the budget tips below, you can always lower this number. However, if you stay in fancier accommodation or eat out more often, expect this to be higher!)
Money Saving Tips
Eat at the buffets – Many restaurants offer lunchtime buffets for about 8-12 EUR. Eat as much as you can to maximize your spending. This also gives you the opportunity to try all of the local cuisine!
Couchsurf – Couchsurfing is really popular in a country with such expensive hostels. There are a ton of hosts listed on the site that would be more than willing to house you for free, as well as offer an authentic, perspective of the country from a local. Be sure to buy them a beer!
Share a ride – If you want to save money on transportation around the country, try ridesharing. There are numerous apps, like Kyydit and Carpool World, that allow you to connect with drivers looking for extra passengers. While it isn't free, it might just be cheaper (and more convenient) than taking a bus or train.
Grocery shop – Bread, meat, and cheese for breakfast or a quick lunch on the go can save you quite a bit of cash. This will let you splurge on great local dinners to experience traditional culture.
Visit during off season – September-May is cold in Finland, but you'll find prices much more manageable during this time. You'll also find that the major cities will be much less crowded.
Take the free city tours – One of the great things about Europe is that you can find free walking tours in all the major cities. They can be a great way to see the city attractions, get history, and learn your bearings without spending any money. Freetours.com offers one in Helsinki, or you can ask the front desk of your hostel or hotel for ones that they recommend.
Get the Helsinki Card – If you are planning on doing a lot of sightseeing in the city, this card might be worth getting. It includes free public transportation, free entry to the top attractions, and free sightseeing tours (by bus and by boat). A 24-hour card is 43 EUR, while the 48 and 72-hour cards are 53 EUR and 63 EUR respectively.
Save money on rideshares – Uber is way cheaper than taxis and are the best way to get around a city if you don't want to wait for a bus or pay for a taxi. The Uber Pool option is where can you share a ride to get even better savings (though you can get your own car too). You can save $15 off your first Uber ride with this code: jlx6v.
My Must Have Guides For Traveling to Finland
Photo credits: 6