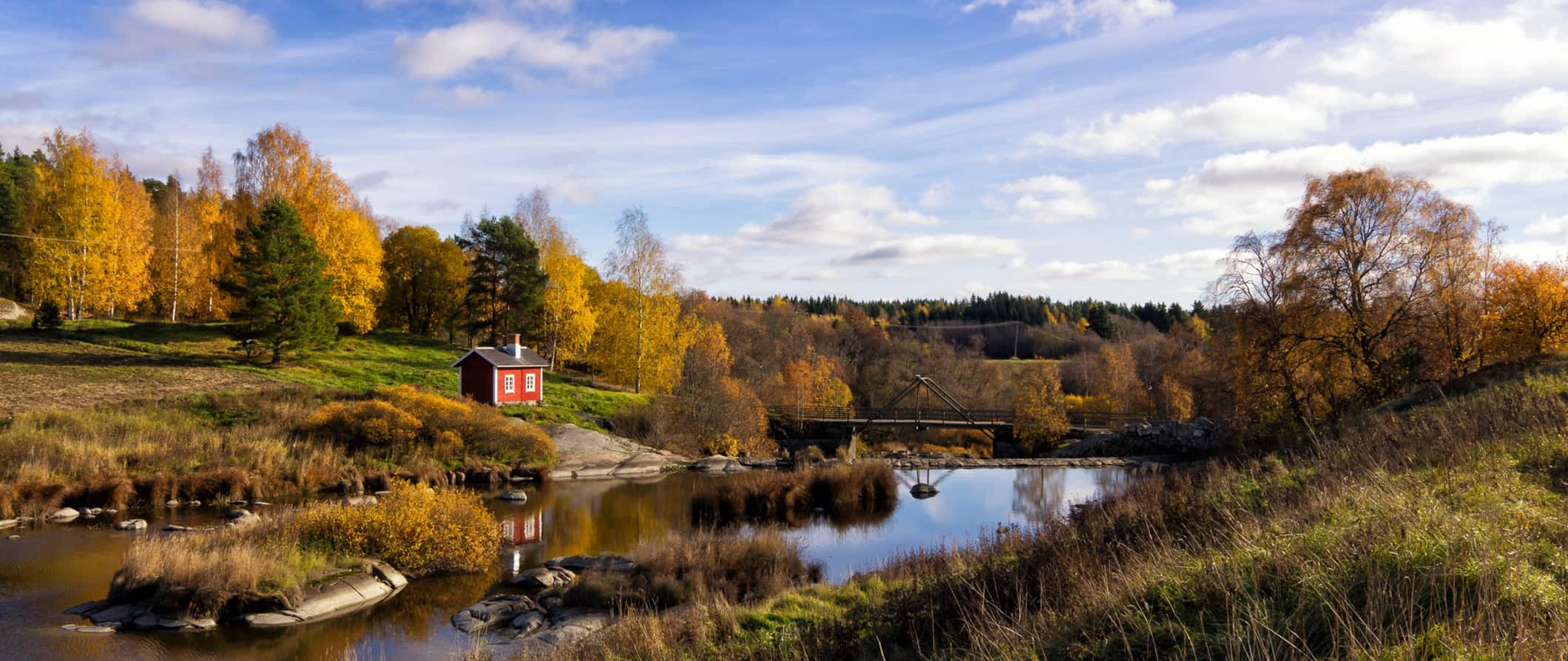 Finland is a stunning country. It's home to epics mountains, waterfalls, fjords, and is one of the best places to see the Northern Lights in the world! Visiting Finland is something you should do if you love the outdoors. Every season has something exciting to offer (and, in winter, you can visit Santa's village).
Due to its out-of-the-way location and the fact that Finland is expensive, many travelers skip visiting — but don't be one of those people! Finland has a lot to offer travelers and there are many ways to save money. I really, really love Finland and think it doesn't get enough attention when compared to its Scandinavian neighbors.
This travel guide to Finland will help you plan an affordable and off-the-beaten-path trip to one of my favorite places in the world.
Top 5 Things to See and Do in Bath
1. Explore the Salla Reindeer Park
This park above the Arctic Circle is the place to be. Feed the reindeer, visit the huskies, take a canoe trip or do some hiking, or trying snowshoeing and skiing. There are periodic reindeer competitions, husky sleigh rides, and midnight canoe trips. Admission is €9 ($10 USD), but tours have additional costs.
2. See the Northern Lights
This is hands-down one of the most incredible sights in Europe. There are plenty of guided tours you can join, otherwise, venture out on your own. A three-hour tour snowmobile will cost around €145 ($163 USD), while multi-day tours will be closer to €1,000 ($1,125 USD).
3. Visit Santa Claus Village in Rovaniemi
Here you will find year-round Christmas cheer! Children can visit with Santa one-on-one. Check out the snowshoe safaris that run both day and night. There's also an exhibition where you can learn about Finnish Christmas traditions. Admission to the village is free.
4. Visit Helsinki
Historic, small, filled with green space, and set on the waterfront, Helsinki is a scenic city that doesn't get huge tourist crowds like other European capitals. It's filled with world-class museums, restaurants, and historic sites. Spend a few days here before moving on to Finland's natural highlights.
5. Stay in an ice hotel or glass igloo
A very seasonal and very cool place to stay (pun intended) – everything in SnowHotel is made of ice — including your bed! Don't worry, you get very warm sleeping bags. There's even an ice restaurant. A basic room with a double bed will cost around €140 ($158 USD) per night. You can also stay in smaller more traditional igloos as well.
Other Things to See and Do in Finland
1. Go ice climbing
Finland is known for its impressive ice formations, including frozen waterfalls and tall ice walls inside deep canyons or valleys. There are several companies like Bliss Adventure that will outfit you with the right gear and introduce you to ice climbing in places like Tajukangas Falls and Korouoma Canyon. Prices will vary but plan to spend around €93 ($105 USD). If you're not afraid of heights and if you're a bit of a thrill-seeker, I'd recommend rappelling from the top of the Tajukangas Ice Falls (about 30 meters high), which involves no climbing. Bliss Adventure is the main company to offer this. Expect to pay around €82 ($92 USD).
2. Visit Pakasaivo Lake
This lake in the north of Finland is 60m at its deepest. It's a Sámi holy place. This is a meromictic lake, which means the water on the surface and at the bottom do not mix. Normal lakes mix at least once a year when the water at the surface cools off and becomes denser, causing it to sink. But, in meromictic lakes, the surface area of the lake is less than the depth of water, so it doesn't mix. This creates an oxygen-free environment where the contents at the bottom are perfectly preserved.
3. Cycle The King's Road to the East
This route is an old postal route running between Bergen, Norway through Oslo, Stockholm (Sweden), the former Finnish capital of Turku, and then across Finland to St. Petersburg, Russia. The 205 miles (330 kilometers) trail dates back to the 15th century and it follows the southern coast of Finland. It's accessible all year with well-paved roads and plenty of scenic stops along the way. You'll take in manor houses, medieval churches, tiny villages, and endless scenic countryside.
4. Visit the Pyhä-Luosto Mine
Pyhä-Luosto means "amethyst" in Finnish, and the amethysts in this area were created 6-million years ago in the ancient mountains. On a mine tour, you actually learn how to mine this precious mineral. If you're visiting during the winter, the experience is even more incredible because you can ski, snowshoe or walk the last stretch of the 1.5-mile (2.5 kilometer) trek before you head through Santa Claus Village (included in the tour). Tour prices vary from €65-95 ($73-107 USD) per person, depending upon your pick-up location.
5. Explore the Raanua Wildlife Park
While you're in Finland, learn about the arctic animals at the Northernmost nature reserve in the world. There are over 50 different animal species living in the reserve, including the only polar bears in Finland. Because it's a nature reserve, there is no artificial lighting and you need to bring your own torch or flashlight if visiting later in the day during the winters (when the sun sets early). Admission is €18.50 ($21 USD) for adults, with discounts available for students, seniors, and families.
6. See the Old Church of Sodankylä
Located in Lapland, this church is Finland's best-preserved wooden church. The steeple-less church was built from timber in 1689 and commissioned by Charles XI, who granted 900 copper dollars to the building. The exterior and interior are incredibly well-preserved, with dark timber inside and outside, resembling more of a log cabin than other European churches. There's a lovely woodsy scent throughout, and best of all, entry is free.
7. Learn Lapland history at the Sodankylä Local Heritage Museum
Built in 1906, this place is a living heritage site to showcase life in old Finland. The main building of the Sodankylä Local Heritage Museum is a Kuukkeli house from the village of Riesto, but it was moved to the museum in the 1960s. The site also includes numerous other buildings from the traditional Sodankylä industry, such as a workshop, an arctic house, a calving hut, a summer house, barns, and part of a reindeer fence. The museum is closed in the winter. Admission is free.
8. Learn Finnish cultural history
The ethnographic Museum of Local History in Kemijärvi tells the story of peasant life at the turn of the twentieth century. The main building has a farmhouse living quarters, maid's chamber, daughter-in-law's chamber, and living room. In addition to the house, the grounds accommodate a granary, a workshop, a smoke sauna, a barn, and a stable. A memorial to the founder of the Finnish Co-Operative Movement, Hannes Gebhard, is nearby at his birthplace. Admission is €5 ($6 USD).
9. Go hiking in one of the many national parks
There are almost 40 national parks in Finland, each with hiking trails and camping sites. In the winter, they make for great places to cross-country ski or go snowshoeing. Nuuksio National Park is only 45 minutes from Helsinki and is filled with calm lakes, green forests, and rocky trails. Archipelago National Park, in Southwestern Finland, has more islands than any archipelago in the world. With its calm islets and colorful villages, canoeing or kayaking this park is a must-do. If you want to get off the beaten path be sure to visit Pallas-Yllästunturi National Park in the north, where you can hike and stay in traditional Lappish villages.
10. Compete in the Air Guitar World Championship
Held every year at the Oulu Music Video Festival, this competition started out as a joke in 1996 but has evolved into a major event that attracts thousands. If you happen to be in Finland in the month of August, be sure to check this quirky competition. Anyone can enter as a "Dark Horse" contestant with a €35 ($40 USD) qualifying entry fee.
11. Cruise around the Harbor Islands
Take a tour around some of the islands in the Helsinki harbor. There are over 330 islands that make up the Helsinki city archipelago. Suomenlinna is the easiest to reach with regular municipal ferries you can take direct from Market Square, or you can look for other public ferries to different islands. Vallisaari and Kuninkaansaari are two islands worth visiting as well, as they used to be military bases closed off to the public. They've since been reclaimed by nature and turned into parks dotted with abandoned fortifications and buildings. The Helsinki Hop On Hop Off Bus tours offer boat and canal tours, as well, or combos with the bus route. Tours cost between €22.50—40 ($25.50-45 USD).
12. Ski at Levi
Levi is Finland's most beloved ski resort located in Lapland, and it's the location of the Alpine World Cup Race. There are 43 slopes here for all abilities and over 124 miles (200 kilometers) of trails for cross country skiing. There's even a dedicated area for snowboarders, plus dog sledding and a reindeer park. A one-day pass starts from €43 ($49 USD).
13. See Turun Linna (Turku Castle)
Make sure to stop by medieval Turun Linna (Turku Castle) on the Aura River, which dates back to the 1200s. It has two large dungeons and some ornate banquet halls, and you'll learn more about the history of the city through a guided tour. Tours take place all summer (June to August) and admission is €14 ($16 USD).
14. Visit Högberget Cave
Högberget Cave, near Helsinki, is known as the "Womb of Mother Earth." It's set in a rugged granite cliff that dates back to the Stone Age and resembles, well, a womb. It's not hard to see why this place was a site of pilgrimage for those who believed it to be the source of Earth's fertility. There are lots of hiking trails around the area that will take you through the Finnish countryside, eventually leading to the cave.
15. Visit the Sami
The Sami are the only indigenous people in the EU. Their language and culture is endangered, and so they're governed by an autonomous government in Inari. They're also famously known for their reindeer herding, which is at the core of their culture. Visit communities like Inari, Enontekiö and Utsjoki. In Inari, visit the Siida indoor and outdoor museum where you'll learn about culture, art, and nature through interactive exhibits. You can book a guided tour or handicraft workshop at the Sajos cultural centre in Inari as well. But if you want to really spend time with the Sami, come in spring when most of the Sami markets, concerts, and dances take place all over Northern Lapland. VisitLapland.com has a comprehensive list of activities and tours for getting to know the Sami people, including a visit to a traditional reindeer farm.
Finland Travel Costs
Hostel prices – In the peak season, large hostel dorms (8 or more beds) start from €29 ($33 USD), while a smaller dorm with 4-6 beds cost from €35 ($40 USD). In the off-season, prices are about €2-3 ($2.25-3.40 USD) cheaper per night.
A private double room in a hostel will be about €105 ($118 USD) in the peak season, while the same room is €93 ($105 USD) in the off-season.
Most hostels are in Helsinki, but you'll find a few in smaller cities and in the countryside. Prices are consistent all over the country.
Camping is available in lots of places, including around Helsinki, Rovaniemi, and Tornio. A camping site will cost you between €14-18 ($16-20 USD) for a pitch and basic facilities.
Budget hotel prices – A budget two-star hotel room with a private ensuite bathroom costs between €62-88 ($70-100 USD) during peak summer season. In the off-season, budget rooms start from about €53 ($60 USD).
There are lots of Airbnb options in Finland. A shared room, similar to a hostel dorm, is about €42 ($48 USD) per night while a private room is about €62 ($70 USD) per night. A full apartment averages about €120 ($136 USD) per night.
Food – Food will be one of your biggest expenses in Finland, especially if you eat out a lot. You can eat relatively cheap if you stick to basic meals like pizza, kebabs, and sandwiches, which cost between €7-10 ($8-11 USD). Stockmann supermarket also has a wide variety of pre-made cheap meals for between €5-6 ($6-7 USD). A meal at McDonald's (or a similar fast-food chain) will cost about €7 ($8 USD).
For mid-range dining, expect to pay about €20 ($22 USD) for a burger and fries. A soup or salad will cost from €11 ($12 USD), while a pan-fried fish with a side will cost from about €18 ($20 USD). A beer to wash it down with is from €6 ($7 USD).
Most high-end restaurants have set menus and a two-course meal with wine costs between €50–80 ($56-90 USD). A seven-course meal is about €105 ($118 USD).
If you plan on cooking your own meals, a week's worth of basic staples like bread, fruits, veggies, and pasta will cost between €85-125 ($96-142 USD). Lidl tends to have the cheapest prices but Sale and Alepa tend to have the best prices.
Backpacking Finland Suggested Budgets
If you're backpacking Finland, expect to spend between €78-83 ($88-93 USD) per day. This budget will cover a hostel dorm, public transit, mostly cooking your own meals, and about one attraction per day (like visiting a museum or historical site).
A mid-range budget of about €165 ($185 USD) will cover staying in a 2-star budget hotel or an Airbnb, eating out for most of your meals, public transit, and more activities (like a ski day pass).
On a luxury budget of about €338 ($380 USD) or more per day, you can get an excellent four-star hotel, eat out all the time at nice restaurants, have some drinks, take some flights, and take taxis everywhere. You'll also enjoy more outdoor adventures, like ice climbing and rappelling.
On a luxury budget, you'll be able to visit Finnish Lapland as well. You can likely do it on a mid-range budget as well, but you'll be limited to your options for things like hotels, tours, and dining.
You can use the chart below to get some idea of how much you need to budget daily, depending on your travel style. Keep in mind these are daily averages – some days you'll spend more, some days you'll spend less (you might spend less every day). We just want to give you a general idea of how to make your budget. Prices are in USD.
Accommodation
Food
Transportation
Attractions
Average Daily Cost
Backpacker
$33
$25
$10-15
$20
$88-93
Mid-Range
$70
$45
$20
$50
$185
Luxury
$140
$90
$50
$100
$380
Finland Travel Guide: Money Saving Tips
Finland isn't cheap – no matter what time of year you visit. Accommodations and food will be some of your biggest expenses. As will alcohol so limit that while you're here (it's heavily taxed). Here are some tips on how to save money when visiting Finland:
Eat at the buffets – Many restaurants offer lunchtime buffets for as little as €12 ($13.50 USD). Eat as much as you can to maximize your spending. This also gives you the opportunity to try all of the local cuisine!
Drink the tap water – It's perfectly safe and will save you from buying new water bottles all the time (and it cuts down waste)!
Couchsurf – Couchsurfing is really popular in a country with such expensive hostels. There are a ton of hosts listed on the site that would be more than willing to house you for free, as well as offer an authentic, perspective of the country from a local. Be sure to buy them a beer!
Grocery shop – Bread, meat, and cheese for breakfast or a quick lunch on the go can save you quite a bit of cash. This will let you splurge on great local dinners to experience traditional culture.
Take the free city tours – One of the great things about Europe is that you can find free walking tours in all the major cities. They can be a great way to see the city attractions, get history, and learn your bearings without spending any money. Freetours.com offers one in Helsinki, or you can ask the front desk of your hostel or hotel for ones that they recommend.
Get the Helsinki Card – If you are planning on doing a lot of sightseeing in the city, this card might be worth getting. It includes free public transportation, free entry to the top attractions, and free sightseeing tours (by bus and by boat). A 24-hour card starts from €44 ($49 USD), a 2-day card is from €52 ($58 USD). A 3-day card is €59 ($66 USD). You can pay extra to add more options to your card, including public transit and even regional transit. For example, a 1-day adult card with city transportation included is €51 ($58 USD), while a 1-day adult card with regional transportation is €55 ($62 USD) .
Get a HSL card – A HSL card is the cheapest way to get around a region, and is valid on all public transportation in most of Finland's cities. It's €5 ($6 USUD) for a new card, and you can either buy a season ticket or pay for your journeys with the amount you've topped up your card with (loading your card is the best option if you're not here for long).
Save money on rideshares – Uber is way cheaper than taxis and are the best way to get around a city if you don't want to wait for a bus or pay for a taxi. The Uber Pool option is where can you share a ride to get even better savings (though you can get your own car too). You can save $15 off your first Uber ride with this code: jlx6v.
Rideshare around the country – If you want to save money on transportation around the country, here are numerous apps, like Kyydit and Carpool World. They'll allow you to connect with drivers looking for extra passengers. While it isn't free, it might just be cheaper (and more convenient) than taking a bus or train.
Where To Stay in Finland
Most of the hostels are located in Helsinki, but you'll find some excellent places to stay all over the country. Here are some of my favorite hostels in Finland:
How to Get Around Finland
Public Transportation – Helsinki is the only city in Finland with a tram and metro system, but other cities and towns have public bus networks. They depart every 10-15 minutes. One way tickets for all public transportation cost between €2.50-3.50 ($2.80-3.95 USD).
Bus – Buses are the main form of intercity travel in Finland. In addition to the regular buses which make frequent stops, you can pay more money to take an express bus (although, weirdly, the time difference isn't significant). A bus from Helsinki to Turku is between €12-28 ($13.50-31 USD) for a journey that takes between 2-2.5 hours. You can even take the bus from Helsinki to Rovaniemi (Lapland) for €68 ($76 USD) for a 13-hour ride.
Use matkahuolto.fi/en to plan your journey.
OnniBus is another intercity bus service. Prices are pretty consistent with Matkahuolto but fares can be discounted by 50% if you book in advance rather than last minute.
Check both sites to compare prices.
Train – Trains are an excellent way to get around, and you rarely need to make a reservation ahead of time. You can book online at vr.fi. Trains are slightly more expensive than the bus. Helsinki from Turku will cost about €17 ($19 USD) for a 2-hour trip, while Helsinki to Tampere is from €14 ($15 USD).
If you wait last minute, you can often find "saver deals" listed on the website (typically the night before). For example, at the time of writing this, last minute fares for both the routes mentioned above are less than €8 ($9 USD). So, generally, you get them around 40-50% off the normal price.
Bicycle – Finland is incredibly bike-friendly. All cities have bike lanes and there are endless paths with very few hills. There's a bicycle rental service in almost every town, with prices starting from €15 ($17 USD) per day. You can often get discounts for multi-day or weekly rentals. For example, Bicyclean Helsinki has city bikes from €15 ($17 USD) per day, while a week's rental is €65 ($74 USD).
Flying – Finnair is the main domestic airline, with fares between Helsinki and Rovaniemi in Lapland costing about $196 ($220 USD) one way (no matter if it's summer or winter).
Taxis – Taxis are expensive in Finland. The starting rate is €3.90 ($4.40 USD) in Helsinki but can be higher elsewhere, and then it's €1.09 ($1.22 USD) per kilometer after that. The fare increases if there are more than four people, or if it's a night or weekend service. Avoid if possible!
Ridesharing – There's Uber in Helsinki. The Uber Pool option is where can you share a ride to get even better savings (though you can get your own car too). You can save $15 off your first Uber ride with this code: jlx6v.
Hitchhiking – Hitchhiking here is pretty safe and lots of people do it during the summer. HitchWiki is the best website for hitchhiking info.
When to Go to Finland
The best time to visit Finland is largely based on what you want to do. Fortunately, Finland isn't overly touristy, so although Christmas and summer are considered peak seasons, you still won't feel too overwhelmed by crowds.
If you want to experience Lapland at its peak awesomeness, come in December or January. Lapland is a Christmas dreamworld during December due to the holiday decorations, markets, and the Northern Lights. January is fantastic for Northern Lights and winter adventure, but without as many crowds. Keep in mind it gets extremely cold in Finland during this time, no matter where you are in the country. The average daily temperature in the winter months is about 19°F (-7°C).
Spring and autumn are the shoulder seasons, and temperatures are still pretty low. The average daily temperature in April is 38°F (3°C), while in October it's 41°F (5°C). Both seasons are beautiful, though. In spring, everything is in full blossom; in autumn, the fall colors come out.
Summer is a hive of activity around Finland, especially in Helsinki and the other cities. With longer days of sun, and warmer temperatures, Finnish people love enjoying the change in season. Parks are filled, and there are festivals all the time. It's a lot of fun. The average high is just 59°F (15°C), however, so you'll still want to pack lots of warm clothes.
How to Stay Safe in Finland
Finland is super safe and the risk of violent crime is incredibly low. Pick-pocketing can be an issue, but mostly in Helsinki and mostly in the summer season. Leave your valuables at home and be careful around ATM machines. Credit card skimming is on the rise in the city too. Avoid the Kaisaniemi Park area if you're alone at night as you have a higher chance of getting targeted for theft there. Be cautious around Central Station for the same reason.
However, outside the capital, your risk of crime drops substantially. Finland is one of the safest countries in the world.
Your biggest concern in rural areas is actually moose. Be careful when you're driving!
Always trust your gut instinct. If your hotel is seedier than you thought, get out of there. Make copies of your personal documents, including your passport and ID. Forward your itinerary along to loved ones so they'll know where you are.
As a general rule, if you don't do something at home, don't do it in Finland!
The most important piece of advice I can offer is to purchase good travel insurance. Travel insurance will protect you against illness, injury, theft, and cancellations. It's comprehensive protection in case anything goes wrong. I never go on a trip without it as I've had to use it many times in the past. You can use the widget below to find the policy right for you:
Finland Travel Guide: The Best Booking Resources
These are my favorite companies to use when I travel to Finland. They are included here because they consistently find deals, offer world-class customer service and great value, and, overall, are better than their competitors. They are the ones I use the most and are always the starting points in my search for travel deals.
Momondo – This is my favorite booking site. I never book a flight without checking here first.
Skyscanner – Skyscanner is another great flight search engline which searches a lot of different airlines, including many of the budget carriers that larger sites miss. While I always start with Momondo, I use this site too as a way to compare prices.
Airbnb – Airbnb is a great accommodation alternative for connecting with homeowners who rent out their homes or apartments.
Hostelworld – This is the best hostel accommodation site out there, with the largest inventory, best search interface, and widest availability.
Couchsurfing – This website allows you to stay on people's couches or spare rooms for free. It's a great way to save money while meeting locals who can tell you the ins and outs of their city. The site also lists events you can attend to meet people (even if you're not staying with someone).
Booking.com – The best all around booking site that constantly provides the cheapest and lowest rates. They have a no money down policy, great interface, and the widest selection of budget accommodation. In all my tests, they've always had the cheapest rates out of all the booking websites.
Intrepid Travel – If you want to do a group tour around Finland, go with Intrepid Travel. They offer good small group tours that use local operators and leave a small environmental footprint. If you go on a tour with anyone, go with them. And, as a reader of this site, you'll get a discount when you click the link!
The Man in Seat 61 – This website is the ultimate guide to train travel anywhere in the world. They have the most comprehensive information on routes, times, prices, and train conditions. If you are planning a long train journey or some epic train trip, consult this site.
Rome 2 Rio – This website allows you to see how to get from point A to point B the best and cheapest way possible. It will give you all the bus, train, plane, or boat routes that can get you there as well as how much they cost.
EatWith – This website allows you to eat home cooked meal with locals. Locals post listings for dinner parties and specialty meals that you can sign up for. There is a fee (everyone sets their own price) but this is a great way to do something different, pick a local's brain, and make a new friend.
World Nomads – I buy all my travel insurance from World Nomads. They have great customer service, competitive prices, and in-depth coverage. I've been using them since I started traveling in 2003. Don't leave home without it!
Finland Gear and Packing Guide
If you're heading on the road and need some gear suggestions, here are my tips for the best travel backpack and for what to pack!
The Best Backpack for Travelers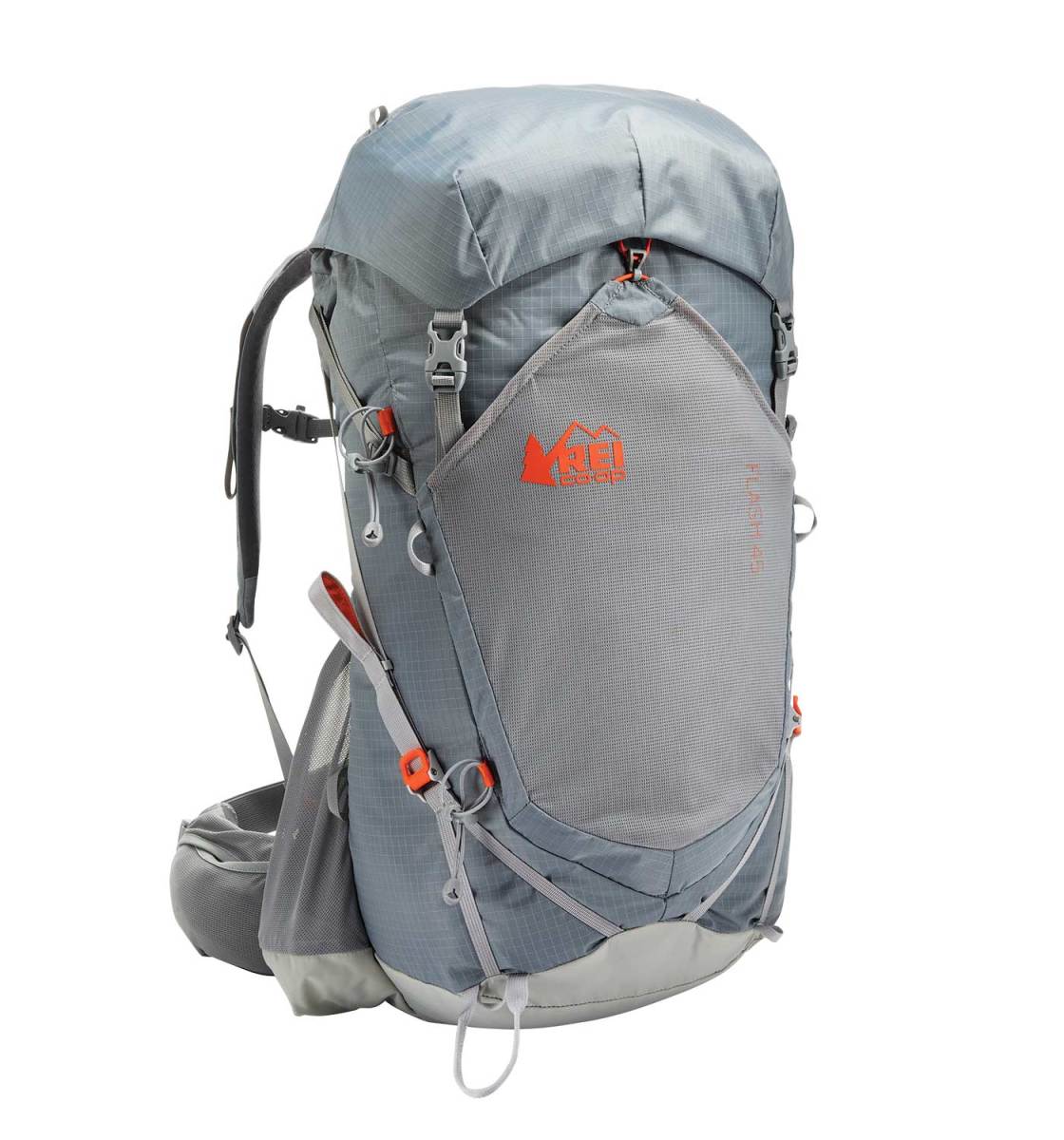 What's the best backpack for traveling long-term? I recommend the
REI Flash 45 Pack
. It's light and comfy, front loading, and fits perfectly in an airplane's overhead bin.
Size:
45-47L
Straps:
Thick and cushy with compression technology that pulls the pack's load up and inwards so it doesn't feel as heavy.
Features:
Removable top lid, large pocket at the front, hydration compatible, contoured hip belt
If you want something different, refer to my article on how to choose the best travel backpack for tips on picking a pack and other backpack suggestions.
What to Pack for Your Trip
Clothes
1 pair of jeans (heavy and not easily dried, but I like them; a good alternative is khaki pants)
1 pair of shorts
1 bathing suit
5 T-shirts
1 long-sleeved T-shirt
1 pair of flip-flops
1 pair of sneakers
6 pairs of socks (I always end up losing half)
5 pairs of boxer shorts (I'm not a briefs guy!)
1 toothbrush
1 tube of toothpaste
1 razor
1 package of dental floss
1 small bottle of shampoo
1 small bottle of shower gel
1 towel
Deodorant
Small Medical Kit (safety is important!!!)
Miscellaneous
Female Travel Packing List
I'm not a woman, so I don't know what a woman wears, but Kristin Addis, our solo female travel guru, wrote this list as an addition to the basics above:
Clothing
1 swimsuit
1 sarong
1 pair of stretchy jeans (they wash and dry easily)
1 pair of leggings (if it's cold, they can go under your jeans, otherwise with a dress or shirt)
2-3 long-sleeve tops
2-3 T-shirts
3-4 spaghetti tops
1 light cardigan
Toiletries
1 dry shampoo spray & talc powder (keeps long hair grease-free in between washes)
1 hairbrush
Makeup you use
Hair bands & hair clips
Feminine hygiene products (you can opt to buy there too, but I prefer not to count on it, and most people have their preferred products)
For more on packing, check out these posts:
Finland Travel Guide: Related Articles
Want more info? Check out all the articles I've written on backpacking/traveling Finland and continue planning your trip: