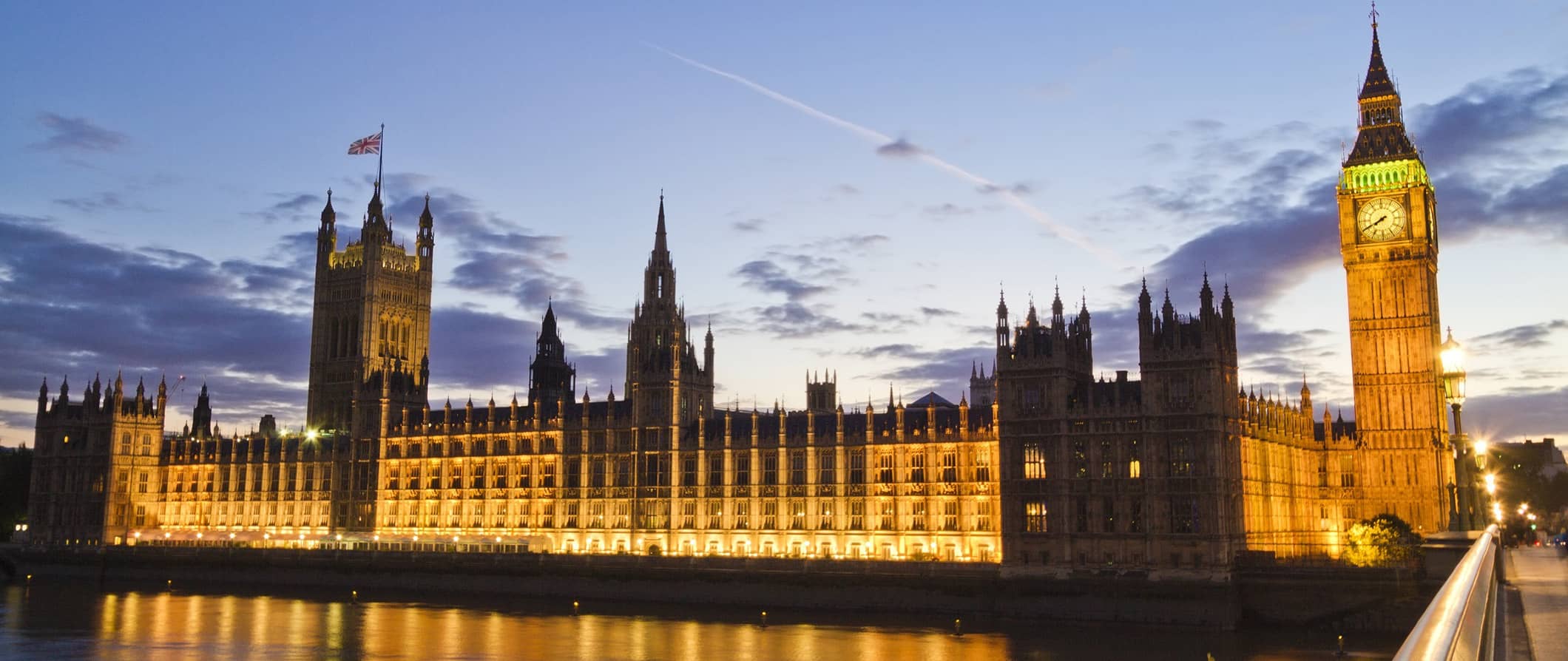 London is one of the largest and most densely populated cities in the world. It's also a common stop on most backpacking trips, European vacations, or two-week holidays. Everyone wants to come to London! People are drawn to it by images of pubs, museums, theater, and royalty. London is a cultural and fashion capital, a great place to go out, and an amazing place to eat. I love visiting this city (though I wouldn't live here). There's always something new to do! The only problem with London is that it's very, very expensive; it can eat away at your budget if you aren't careful. Luckily, there are tons of free or cheap things to do in London that can fill your time. But just be sure to budget extra for this city — you'll need it!
Top 5 Things to See and Do in London
1. Big Ben and the House of Parliament
Although you can't go up the bell tower, you can view this Gothic structure from the street and do tours of Parliament (get there early as the line can get very long). The best view of the tower is from the opposite side of the river near the London Eye. Tours of Parliament cost 25.50 GBP.
2. Tower of London and Tower Bridge
The Tower of London is a great place to spend the day. It is here you can view the Crown Jewels, see a fantastic view of the Tower Bridge and take a picture with a guard. Admission fee is 25 GBP, or 23.10 GBP if you purchase tickets online.
3. Buckingham Palace
Buckingham Palace can only be visited from the inside during the summer but you can join the crowds taking photos outside any time of year. You can watch the changing of the Guard at 11:30am from May until the end of July. Admission isn't cheap, however, with adult tickets costing 37 GBP.
4. Westminster Abbey
You can get into Westminster for free…but you have to cheat. Westminster will not charge you entrance if you're there for worship. (Maybe worshiping its beauty?) If you want to get in and not pay, say you are worshiping. Otherwise, it costs 20 GBP to visit. It is only open to worshipers on Sunday.
5. Trafalgar Square
In many ways, this is the heart of London. Spend some time avoiding the pigeons while looking at some of the famous monuments such Nelson's Column and people watching. Lots of people just hang out here so it makes for a good place to people watch. This is also a good starting point for a walk to Buckingham Palace too.
Other Things to See and Do
(Click the title to expand the text)
1. Visit a wide array of museums
London has more museums than you could see in one visit and they are all free. From the Tate to the City Museum to the National Gallery to the Historical Museum, you'll be able to spend days here without spending a penny!
2. Grab some food in Borough Market
With more food stalls than you can imagine, Borough Market has something for every eater. It is home to some of the best British and international produce and dishes. Come here hungry and leave satisfied. Already ate? Nibble the free samples being given out at most stalls. Open for lunch Mondays and Tuesdays, all day Wednesday-Saturdays and closed on Sundays. The crowds are terrible on Saturdays, but if that's the only day you can fit it in, I'd go anyway!
3. Take in the theater
London is known for its' famous theater. Attend a show while you're here and see some of the shows that make London famous. Tickets can be pretty cheap and there's something playing every night.
4. Brick Lane
On Sunday, this little street, and the car park becomes a great place for cheap food. You can get a wide variety of food here, spend the day at the outdoor market, or have some great local curry. It's a popular place with the locals and has some of the best food in London. This street is also a great place to bring a camera, as its' walls are basically a gallery for London's best graffiti artists.
5. Ride the London Eye
The London Eye is almost 500 feet tall. It has become the most popular paid-for UK visitor attraction. It's across the street from Parliament and gives you great views of London, especially on a clear day. But honestly, for 21.20 GBP you are better off spending that money on other attractions.
6. The London Dungeon
The London Dungeon calls itself "the world's most chillingly famous horror attraction." It covers 2,000 years of London's gruesome history. It's a morbid but interesting museum to see about England's past. After all, torture was a popular thing to do for awhile, especially in old England. They loved torturing people! Ticket prices are high at 25 GBP (at the door), but tickets can be found for 19.95 GBP online (ahead of time).
7. St. Paul's Cathedral
A great cathedral with a world-famous Dome. Inside you'll find glittering mosaics and elaborate stone carvings. You can also climb the Whispering Gallery or higher still to the Stone Gallery or Golden Gallery for the amazing views of surrounding London. Entrance is 18 GBP (cheaper than the London Eye and with similarly breathtaking views) with discounts available for students, seniors, families, and kids.
8. Covent Garden
A great place to just hang out: lots of quirky stalls, musicians busking, an artsy market and selection of more unusual pubs and coffee shops that break the Starbucks mold. Covent Garden is also walking distance to all the big musicals so is a great place to spend a few hours before catching a show.
9. Shakespeare's Globe
An integral part of England's history, the Globe Theatre is a must see for lovers of Shakespeare. The performances here are considered to be a near–perfect replica of Elizabethan staging practices. You can even sit in front where the groundlings did, for shouting and heckling! The theater is open-roofed so bundle up in the winter. Entrance is around 14 GBP.
10. Camden Market
For some great shopping and people watching, this market has consistently been a top attraction. It is busiest on the weekends, particularly Sunday, drawing crowds all the way from Camden Town. It is composed of many separate markets, so there's lots to check out.
11. Royal Observatory
Since its 17-million USD renovation, this observatory is now divided into two sections. The Northern half is intended for time, whereas the southern half is devoted to astronomy. In the Meridian Courtyard, you can actually stand on either side of the meridian line —straddling the two hemispheres of the Earth. The Peter Harrison Planetarium is also housed here.
12. The Strand
This area is considered to be one of the most prestigious places to live. First developed in the 12th century, this area is still seen as a grand display of wealth and beauty. It was dubbed "the finest street in Europe" by the Prime Minister Benjamin Disraeli in the 19th century.
13. Drink beer at Ye Olde Cheshire Cheese
This old pub has been around since the great fire of 1666 (and there has been a pub at this location since 1538). It's surprising large inside and in the winter, fireplaces keep pub goers warm. When you step into it, you feel like you've actually stepped back in time. Famous literary geniuses like Charles Dickens, R.L. Stevenson, Mark Twain, Oliver Goldsmith and others used to frequent (and write about) this particular pub.
14. Churchill War Rooms
This museum focuses on the life and legacy of Winston Churchill and also includes Churchill's secret WWII bunker. If you are like me and a huge history nerd, this is one of the best attractions in the city and I highly, highly encourage you to visit. It's worth the price!!! Admission is 17.25 for adults, with discounts available for children and families.
15. Hyde Park and Kensington Gardens
If you're looking to get away from the hustle and bustle of the city, head to Hyde Park or Kensington Gardens for some reprieve. Almost 250 acres are covered by the park and the gardens, so it's a wonderful place to get away and enjoy some of the city's green space.
16. London Wetland Centre
For some more green space, check out London's Wetland Centre. Here you can slow down and stroll along the water, relax at the cafe, or go bird watching. It's great for families and kids! Admission is 11 GBP and discounts are available for families and children.