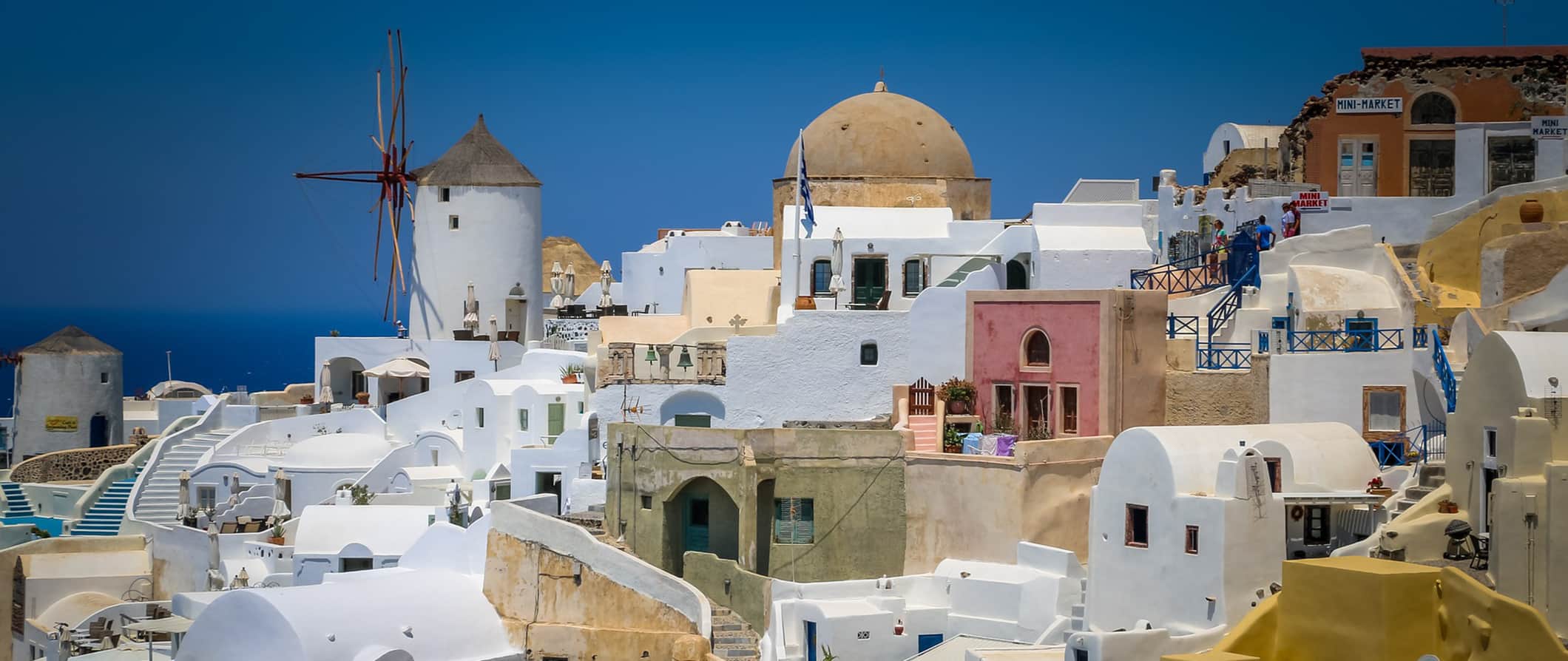 Santorini is the most-visited Greek island, famous for its white cliff-side homes with deep blue roofs (you've definitely seen it on Instagram!). It's known as a dreamy paradise perfect for honeymoons and romantic getaways.
From its iconic sunsets to its historical ruins to its numerous vineyards, Santorini is a picturesque island with plenty to see and do.
Unfortunately, the tourist hordes have also discovered the island and it gets overrun during the busy cruise season. Prices are higher than elsewhere in Greece and accommodation can be hard to find.
However, if you visit outside the hectic summer months and stay further afield from Oia you can still enjoy this postcard-perfect island without the huge crowds.
Even though Santorini is super popular, I think it's still worth a visit (I like it better than nearby Mykonos). This travel guide can help you plan your trip to Santorini ensure you make the most out of your time here without breaking the bank!

Corfu
Top 5 Things to See and Do in Santorini
1. Spend the day in Oia
This village is the main attraction on Santorini, famous for its white houses, blue-domed churches, and windmills. There's not much to do but wander around, snap pictures, enjoy an (expensive) drink or meal right on the caldera's edge, and watch the spectacular sunset.
2. Visit Akrotiri
Akrotiri is a 3,500-year-old Minoan town preserved by volcanic ash from an eruption in the 16th century BCE. Streets, buildings, stairs, and even second floors of buildings are still in perfect condition. The excavation site is covered by a roofing system which makes it comfortable to visit in the summer heat. Tickets are 12 EUR.
3. Explore Red Beach
Red Beach is famous for its vivid red volcanic cliff framing the bright blue Mediterranean Sea. I think Santorini's other beaches are much better suited for swimming and sunbathing (like Perissa), but Red Beach's natural beauty is definitely worth a quick visit.
4. Tour a winery
Santorini's fertile, volcanic landscape is perfect for growing grapes. The vineyards here are unique: to protect their crops against harsh winds, vine growers wrap the vines into a sort of wreath low to the ground. The best way to learn more and taste the wines is on a full-day tour (125 EUR).
5. See the Santorini Volcano
Santorini's volcanic eruption in the 16th century BCE was one of the biggest explosions in recorded history. It's responsible for giving the island its unique caldera shape. On a boat trip, you can walk the surface of the volcano and enjoy its hot springs. Tours begin at 20 EUR.
Other Things to See and Do in Santorini
1. Hang out on the beaches
As far as Greek beaches go, Santorini lacks the idyllic, white sandy beachfront that other islands have. Instead, they're beaches here are made up of volcanic rock and pebbles. They're still perfectly enjoyable though and you'll find most beaches full of people in the summer. Kamari and Perissa have the most action, especially since the bars and restaurants are right on the water. To escape the crowds, go to Monolithos. For the best swimming, head to Ammoudi Bay. It's not a beach but there are lots of rocks and cliffs you can jump from.
2. Go scuba diving
You probably won't see a great deal of marine life or coral around Santorini, but the island has tons of shipwrecks. You can dive down about 14 meters and see sunken ships, caves, and endless drop-offs around the caldera. Adiavatous Reef, The Caves, and White Island are some of the most popular dive sites. A two-tank dive costs 90 EUR.
3. See the Museum of Prehistoric Thira
Located in Fira, this museum is home to a massive collection of artifacts that were found in the ruins of Akrotiri. Its highlights include wall paintings, pottery, an intricately carved gold ibex) figurine (an ibex is a wild mountain goat), and fossilized olive tree leaves dating back to 60,000 BCE. My favorite is the frescoes of blue monkeys, although interestingly enough, there is no evidence of monkeys ever having lived on this island. Admission is 6 EUR.
4. Hike from Fira to Oia
The caldera hike from Fira to Oia is the most popular hike you'll do in Santorini. It follows the caldera's edge with sweeping views over the island and the volcano. It's an easy 6 miles (10km), but you'll want to give yourself time to stop and enjoy the viewpoints. Much of the trail is cobblestone or sidewalk, however, there are narrow dirt sections as well as some small elevation gains. Budget at least three hours for the hike and bring sunscreen and water.
5. Visit the Akrotiri Lighthouse
Built in 1892, the Akrotiri Lighthouse is located at the southern end of Santorini (it's close to the Akrotiri ruins). Standing 33-feet tall (10m), it's used by the Greek Navy so you can't enter it but it makes for a good photo opportunity with its whitewashed walls and its position perched precariously on the cliff's edge. It's also one of the best places to enjoy the sunset.
6. Hike up to Ancient Thera
Ancient Thera is an ancient city built on a steep ridge. The Dorians (one of the four historic Greek ethnic groups) first settled Thera in the 9th century BCE. The city's remains consist of Hellenistic, Roman, and Byzantine ruins at the top of a giant hill. You can visit houses, temples, a market, a theater, and even a gymnasium. You can drive to the top, but the most rewarding way to visit is via the footpath from Perissa. It's less than 2 miles (3km), but it's a steep climb with a visit to a lovely little chapel along the way. Bring water! Admission is 6 EUR.
7. Explore Pyrgos
If you want the full picturesque experience of Oia without the crowds, head to Pyrgos. This used to be the island's capital and it still has all whitewashed homes, pristine chapels, and narrow alleyways that you imagine when you think of Santorini — but without the chaos.
8. Take a sailing trip
On a sailing trip, you'll get unique views of Santorini's calderas and cliffside buildings you otherwise wouldn't see from shore. There are lots of sunset cruises available, and the best ones include a BBQ and drinks (and sometimes snorkeling too). They usually include pick-up and drop-off as well. Cruises start at 95 EUR and usually last a couple of hours.
9. Try a cooking class
Mediterranean food is some of the most popular in the world. If you're a foodie like me and want to learn more about the cuisine and culture behind it, try a cooking class. You'll get to try your hand at some traditional recipes (including favorites like tzatziki and moussaka) while learning about the importance of each dish directly from the local chef. Petra Kouzina has classes that last around 4 hours and cost 100 EUR.
10. Hike to the highest point on Santorini
Profitis Ilias is the tallest mountain on the island, standing 1,900 feet (565m) above sea level. Atop the mountain is a monastery that offers the best views of the island. The Prophet Elias Monastery was built in 1711 and you can drive to the top to enjoy the view. You can also hike if you want to stretch your legs. The monastery is in use so you can't explore it, however, there is a small chapel and a museum with relics from the Byzantine era. You can also purchase items the monks make, including their wine.
For more information on specific destinations in Greece, check out these guides:
Santorini Travel Costs
Hostel prices – During peak season, a bed in 4-6-bed dorm costs at least 45 EUR per night. A bed in a dorm with 8 or more beds costs 50-80 EUR per night. If you want to stay further away from the main town (like in Perissa), 10-bed dorms start as low as 20 EUR.
In the off-season, beds in dorms around Fira cost from 30-50 EUR per night while beds in hostel dorms further away from Fira start at 11 EUR.
In peak season, outside of Fira a private double room with a shared bathroom costs 35 EUR per night (30 EUR in the off-season). Prices are considerably higher in Fira (80 EUR more) and they don't change much between seasons.
B&Bs often have more reasonable prices for private rooms so be sure to check them out if you're on a budget.
Budget hotel prices – Budget two-star hotels start at 90 EUR everywhere except in Oia, where rooms are closer to 120 EUR, and Perissa where they start at 60 EUR. In the off-season, you'll find rooms for 30 EUR around Fira, 80 EUR in Oia, and 25 EUR in Perissa.
Airbnb is available everywhere on Santorini, however, prices for both private rooms and entire homes/apartments are expensive. I'd skip Airbnb while you're here as it's not a budget-friendly option. You'll get better value from B&Bs and hotels if you're looking for private accommodation.
Food – Greek cuisine has traditionally been focused on olive oil, wine, and wheat. Meat and fish are a staple at most meals, with chicken, pork, and lamb being the most popular choices (roasted lamb is very popular). Cheeses (especially feta) and yogurts are also super common. Filo pastries stuffed with meat or spinach and cheese are a local favorite, as are moussaka (a vegetable bake) and gyro (which is similar to shawarma).
You can find street food like gyros or souvlaki for around 5 EUR. A hearty pita or Greek salad costs around 7 EUR while a fast food like McDonald's (yes, there is a McDonald's here) costs around 8.50 EUR for a combo meal.
A large pizza costs between 10-14 EUR while Chinese food costs around 11-18 EUR for a main dish.
At a higher-end restaurant with table service, you can get a three-course meal and a drink or about 25 EUR.
Beer can be found for around 4 EUR while a latte/cappuccino is around 3.75 EUR. Bottled water is 1.50 EUR.
Supermarkets are few and far between on Santorini. If you cook for yourself, expect to spend around 45 EUR on groceries per week. This gets you basic staples like pasta, rice, bread, veggies, and some meat or fish.
Backpacking Santorini Suggested Budgets
If you're backpacking Santorini, expect to spend about 55 EUR per day. This is assuming you're staying in a hostel dorm, cooking some meals and eating cheap fast food, using the bus to get around, limiting your drinking, and doing mostly free activities like hanging out at the beach or hiking. Add 5-10 EUR to your budget per day if you plan on drinking.
On a mid-range budget of 140 EUR per day, you can stay in a private hostel room or B&B, eat out for all your meals, drink more, take the occasional taxi, and do more paid activities like visiting Akrotiri or touring the volcano.
On a "luxury" budget of 285 EUR per day, you can stay in a budget hotel, drink as much as you want, eat out anywhere you want, rent a scooter to get around, and do more tours and activities like scuba diving or a winery tour. This is just the ground floor for luxury though. The sky is the limit!
You can use the chart below to get some idea of how much you need to budget daily, depending on your travel style. Keep in mind these are daily averages – some days you'll spend more, some days you'll spend less (you might spend less every day). We just want to give you a general idea of how to make your budget. Prices are in EUR.
Accommodation
Food
Transportation
Attractions
Average Daily Cost
Mid-Range
80
25
15
20
140
Santorini Travel Guide: Money-Saving Tips
Santorini is Greece's most iconic island. That means it get super crowded in the summer and prices rise drastically. Fortunately, it's easy to save money here if you know a few tricks (or if you come off-season). Here are some of my best ways to cut your costs in Santorini:
Hit Happy Hour – Drinks get very expensive on Santorini. Drink your fill during happy hour, when they have 2 for 1 drinks and 1 EUR shots. Perissa beach is a popular nightspot.
Avoid Oia – The main town is the most expensive place on this relatively affordable island. Avoid staying and eating here and you'll find yourself cutting your costs down significantly.
Visit in the off-season – June-August are the most expensive months so if you can visit before June or after August you can cut your costs significantly.
Stay with a local – While there are not a lot of hosts on the island, if you look in advance on Couchsurfing you might be able to find a local to let you stay for free. Not only will you save money but you'll be able to connect with a local who can share their tips and insider advice!
Book in advance – Santorini gets a lot of tourism and things tend to fill up quickly (especially in the summer). If you want to secure that ultra-cheap hostel room, book in advance!
Book overnight ferries – Greece's inter-island ferries get expensive if you are bouncing around a lot. Taking the overnight ferries can save you up to half off the normal price plus save you a night of accommodation.
Book ferries early – If you book a ferry months in advance, you can save big on the price of your ticket.
Skip the cliffside restaurants – The restaurants along the caldera's edge are way more expensive than the restaurants away from the cliffside. Avoid them!
Go to museums on their free admission days – Most of the museums have some days when admission is free. Check the Odysseus Culture website for details as they vary from museum to museum.
Bring a water bottle – The tap water here is safe to drink so bring a reusable water bottle to save money and reduce your plastic use. LifeStraw is my go-to brand as their bottles have built-in filters to ensure your water is always clean and safe.
Where to Stay in Santorini
Santorini is a big island so if you're planning on spending more than a few days here it's a good idea to switch up your location. To help you plan, here are my suggested places to stay in Santorini:
How to Get Around Santorini
Bus – Buses are the best option for getting around Santorini, with prices ranging from 1.60-2.50 EUR depending on where you're going. Fira to Oia is 1.60 EUR, while Fira to Perissa is 2.20 EUR. Perissa to the port is 1.60 EUR.
Routes are limited in the off-season and shoulder season. Check ktel-santorini.gr for routes and fares.
Scooter – There are lots of scooter and quad rental shops in Santorini. Rentals start from 17 EUR per day in the off-season for scooters and 35 EUR per day for an ATV. In the peak season, scooter rentals start from 22 EUR and ATVs from 45 EUR. Fresh Rent and Moto Manos are two reputable rental companies.
Bicycle – eBike rentals start from 20 EUR per day from EcoBike. Regular bicycles cost around 20 EUR per day from Santorini Adventures. Their eBike rentals start from 40 EUR per day.
Taxi – Taxis are available everywhere but they're expensive. A taxi from the port to Fira costs about 20 EUR while Fira to Perissa costs the same. Fira to Oia is about 25 EUR. Avoid them if you can!
Hitchhiking – Hitchhiking is very safe and common in Santorini, but it may be hard to find rides in the off-season when traffic is less busy. Check Hitchwiki for more information.
When to Go to Santorini
Summer (June-August) is the most popular time to visit Santorini. Temperatures average 85°F (30°C), making the Mediterranean perfect for swimming and sunbathing. This is also when most of the cruise ships and tourists arrive, however, so the island gets busy and prices skyrocket.
Santorini's shoulder seasons (April-May and September-November) are the best times to visit the island. The Mediterranean weather is pleasant so you'll still get warm temperatures. The tourist crowds are much less oppressive and prices are less inflated. Expect daily highs around 64°F (18°C).
Winter in Santorini is chilly. The average daily low is 48°F (9°C), but sometimes it can dip even lower. Pack some sweaters if you're visiting between November to February. On the upside, you won't have to compete with tourists for hotel rooms during this time. Just keep in mind that many businesses and services shut down in the off-season so the island is dead. In short, I would avoid visiting in the winter unless you have no other choice.
How to Stay Safe on Santorini
Santorini is a very safe place to travel. Violent crime is rare so your only concern is petty theft/pickpocketing. Keep your valuables close at the beach or leave them in your hotel room when you go swimming. If you go out at night, only bring the cash and cards you need. Leave the rest in your accommodation.
Much of Santorini is exposed to the elements, so if you're visiting during the summer months and plan on spending lots of time outdoors, wear a hat, drink lots of water, and put on sunscreen.
If you're an inexperienced driver, you may want to pass on the scooter rental. Locals zip around chaotically and the hairpin turns and hills sometimes make for dangerous driving.
Solo female travelers should feel safe here, however, it's always smart to keep your wits about you. Avoid walking around alone at night if intoxicated and always keep an eye on your drink at the bar.
If you experience an emergency, dial 112 for assistance.
If you're worried about getting scammed, you can read about the 14 travel scams to avoid right here.
Always trust your gut instinct. If a taxi driver seems shady, stop the cab and get out. If your hotel is seedier than you thought, move somewhere else.
If you don't do it at home, don't do it in Santorini! Follow that rule, and you'll be fine.
The most important piece of advice I can offer is to purchase good travel insurance. Travel insurance protects you against illness, injury, theft, and cancellations. It's comprehensive protection in case anything goes wrong. I never go on a trip without it as I've had to use it many times in the past.
Santorini Travel Guide: The Best Booking Resources
These are my favorite companies to use when I travel to Santorini. They are included here because they consistently find deals, offer world-class customer service and great value, and overall, are better than their competitors.
Skyscanner – Skyscanner is my favorite flight search engine. They search small websites and budget airlines that larger search sites tend to miss. They are hands down the number one place to start.
Momondo – This is my other favorite flight search engine because they search such a wide variety of sites and airlines. I never book a flight without checking here too.
Airbnb – Airbnb is a great accommodation alternative for connecting with homeowners who rent out their homes or apartments.
Hostelworld – This is the best hostel accommodation site out there, with the largest inventory, best search interface, and widest availability.
Couchsurfing – This website allows you to stay on people's couches or in their spare rooms for free. It's a great way to save money while meeting locals who can tell you the ins and outs of their city. The site also lists events you can attend to meet people (even if you're not staying with someone).
Booking.com – The best all-around booking site that constantly provides the cheapest and lowest rates. They have a no money down policy, great interface, and the widest selection of budget accommodation. In all my tests, they've always had the cheapest rates out of all the booking websites.
Intrepid Travel – If you want to do a group tour around Greece, go with Intrepid Travel. They offer good small group tours that use local operators and leave a small environmental footprint. If you go on a tour with anyone, go with them. And, as a reader of this site, you'll get a discount when you click the link!
Rome2Rio – This website allows you to see how to get from point A to point B in the best and cheapest way possible. It gives you all the bus, train, plane, and boat routes that can get you there as well as how much they cost.
World Nomads – I buy all my travel insurance from World Nomads. They have great customer service, competitive prices, and in-depth coverage. I've been using them since I started traveling in 2003. Don't leave home without it!
EatWith – This website allows you to eat home-cooked meal with locals. Locals post listings for dinner parties and specialty meals that you can sign up for. There is a fee (everyone sets their own price), but this is a great way to do something different, pick a local's brain, and make a new friend.
Santorini Gear and Packing Guide
If you're heading on the road and need some gear suggestions, here are my tips for the best travel backpack and for what to pack!
The Best Backpack for Travelers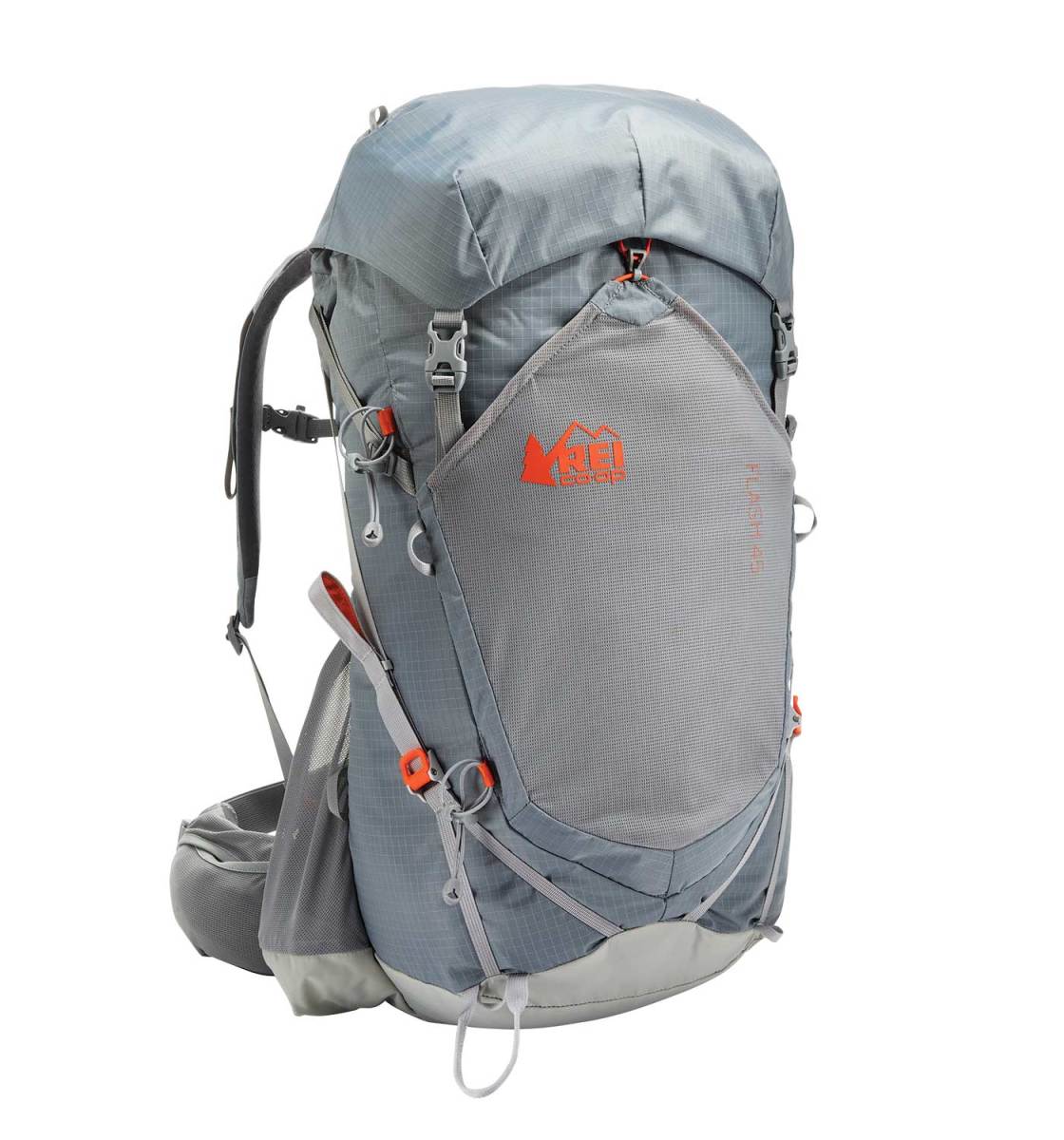 What's the best backpack for traveling long-term? I recommend the
REI Flash 45 Pack
. It's light and comfy, front loading, and fits perfectly in an airplane's overhead bin.
Size:
45-47L
Straps:
Thick and cushy with compression technology that pulls the pack's load up and inwards so it doesn't feel as heavy.
Features:
Removable top lid, large pocket at the front, hydration compatible, contoured hip belt
If you want something different, refer to my article on how to choose the best travel backpack for tips on picking a pack and other backpack suggestions.
What to Pack for Your Trip
Clothes
1 pair of jeans (heavy and not easily dried, but I like them; a good alternative is khaki pants)
1 pair of shorts
1 bathing suit
5 T-shirts (Unbound Merino is my preferred company. If you're a member of NM+, you can get 15% off your purchase)
1 long-sleeved T-shirt
1 pair of flip-flops
1 pair of sneakers
6 pairs of socks (I always end up losing half)
5 pairs of boxer shorts (I'm not a briefs guy!)
1 toothbrush
1 tube of toothpaste
1 razor
1 package of dental floss
1 small bottle of shampoo
1 small bottle of shower gel
1 towel
Deodorant
Small Medical Kit (safety is important!!!)
Miscellaneous
Female Travel Packing List
I'm not a woman, so I don't know what a woman wears, but Kristin Addis, our solo female travel guru, wrote this list as an addition to the basics above:
Clothing
1 swimsuit
1 sarong
1 pair of stretchy jeans (they wash and dry easily)
1 pair of leggings (if it's cold, they can go under your jeans, otherwise with a dress or shirt)
2-3 long-sleeve tops
2-3 T-shirts
3-4 spaghetti tops
1 light cardigan
Toiletries
1 dry shampoo spray & talc powder (keeps long hair grease-free in between washes)
1 hairbrush
Makeup you use
Hair bands & hair clips
Feminine hygiene products (you can opt to buy there too, but I prefer not to count on it, and most people have their preferred products)
For more on packing, check out these posts:
Santorini Travel Guide: Related Articles
Want more info? Check out all the articles I've written on backpacking/traveling Greece and continue planning your trip: