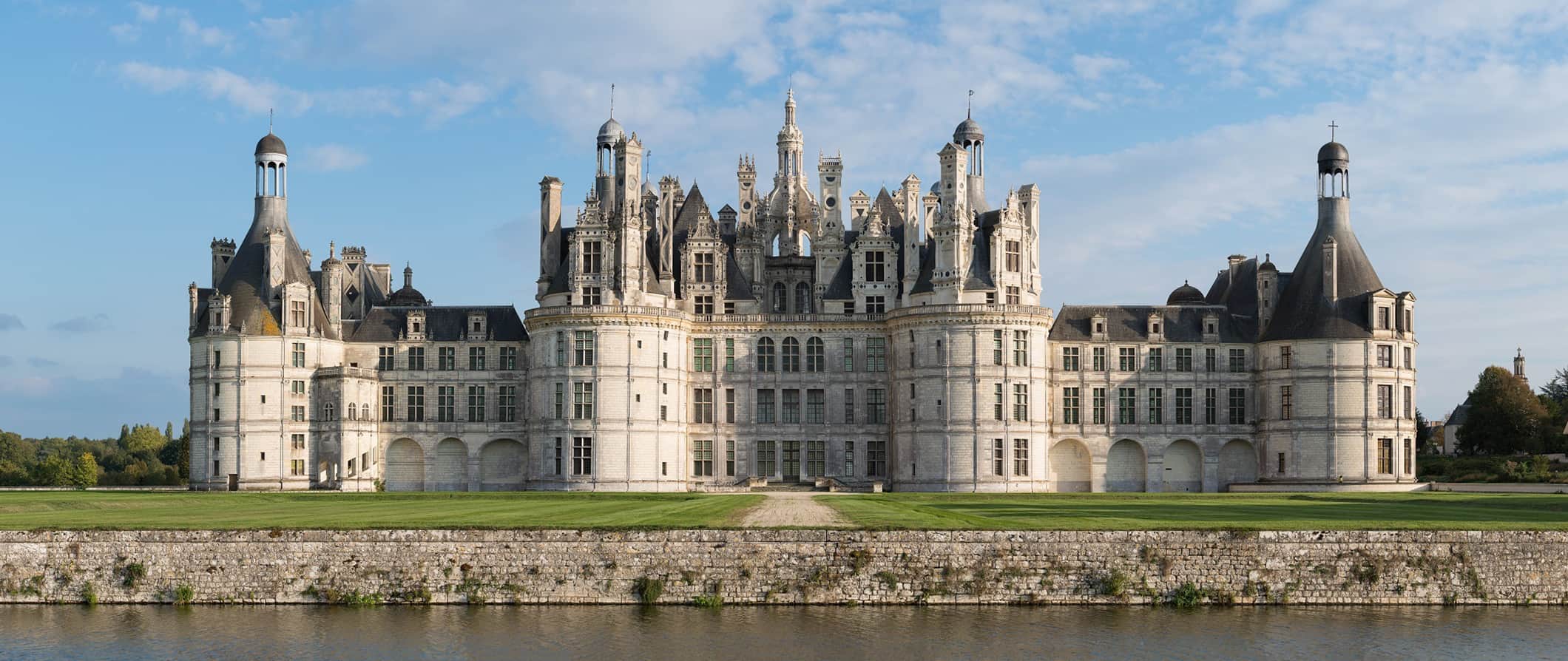 Wine, cheese, the Eiffel Tower, castles, beautiful beaches, snooty waiters – France is famous for a lot of things.
It's beautiful with stunning coastlines, valleys, wine country, forests, and beaches; has some of the best food and wine in the world; historic towns and chateaus, and a long and rich history.
And, despite what you might hear, the French are a wonderful people who love to stop and smell the roses.
I love backpacking around France.
There's nothing like a picnic along the Seine or a day through the French countryside to make life seem beautiful. France is everything that people make it out to be and then some. Its long history lends itself to beautiful ruins, castles, architecture, and culture.
Traveling France is a very expensive affair, second only to traveling through Italy Europe. Those on a super tight budget will find it hard (but not impossible thanks to three Euro bottles of wine) to experience everything France has to offer.
However, after having traveled around France multiple times, I've picked up a wide variety of money saving tips and off beat attractions to see.
While you should visit France with a few extra Euros in your pocket so you can soak in all the food, wine, and beauty you see, this travel guide can help you plan a trip to my favorite country in Europe that won't break the bank!
Click Here for City Guides

France
Top 5 Things to See and Do in France
1. Paris
Paris
has everything – the Louvre, impressionist museums, the Eiffel Tower, the Seine, magnificent parks, jazz, and great food. It's as magical as people say and, while it would take a lifetime to see it all, four or five days can give you a good idea. This is one of my favorite cities in the world, and I always find something new when I am here.
2. Explore the Loire Valley
The Loire is lovely and picturesque, with tons of vineyards and chateaus. You will find some of the best wine in the world, beautiful small towns, and great food. It's an area not to be missed (though often missed by solo travelers and backpackers. Tsk tsk.)
3. Go to Marseille
Marseille is a metropolitan city that also has a rich history filled with nightlife, great restaurants, theaters, museums, and even an international soccer stadium. While the city is a bit gritty and industrial, it's worth a visit for its beautiful waterfront and exciting mix of cultures.
4. Hang out in Nice
Nice
is nice (get it?). This seaside town in the south is a popular destination for budget travelers who want to soak up some sun but might not be able to afford Cannes or Monaco. I don't think the beach here is that great, but the central location makes it easy to explore the rest of the coast (and its better beaches).
5. Drink wine in Bordeaux
Some of the best wine in the world is made in
Bordeaux
. While an expensive destination, it's beautiful and worth all the Euros you'll spend! Bordeaux has one of the longest shopping streets in Europe, amazing seafood (eat at Le Petit Commerce), a historic center, and of course, wine. Next to Paris, it's my favorite place in France.
Other Things to See and Do in France
1. The D-Day beaches, Normandy
Learn about the WWII Allied forces D-Day landings along the beaches of northern France. There are memorials and museums detailing the history of the event. You can still see some of the old bunkers and fortifications.
2. The Palace of Versailles
Located very close to Paris, the old palace of the French kings was built by Louis XIV. This palace was constructed during the height of French power and seeks to show off the monarch's tremendous wealth. It's as awe-inspiring today as it was back then. It was used by the French Kings until the French Revolution in 1789. You definitely don't want to miss it!
3. Explore history in Lyon
The area around Lyon has wonderful castles and small villages. It's great for those looking to explore the French countryside. If you want a look at medieval France, this is where you should go. The whole place is a UNESCO World Heritage site and truly feels like you have stepped back into the past.
4. Hob nob with the rich in Monaco
This tiny kingdom is home to tiny streets, beautiful buildings, a world famous casino, and gigantic modern yachts. Hang out with society's well-heeled, those who flock to the Cote D'Azur from other parts of France during the summer.
5. Visit St. Tropez
If life in Marseilles is too mundane for you, catch a boat out to St. Tropez where you can relax in beautiful hillside towns, swim in azure blue water, and bump shoulders with the rich and famous.
6. See Alsace
This northeast region of France is a beautiful place to visit. Colmar is an old town and the main attraction. Some of the buildings date back to the 1300s. It's as picturesque a French town as one could ever want!
7. Wander through Parc de la Villette
This park is host to a science museum and some other odd attractions. There is a large collection of architectural follies, theme gardens, and open space for activity and exploration. It was designed for children as well as adults and is a neat place to check out.
8. Return to the trenches
France was ground zero during the First World War, and there are still many indicators of the damage caused during those years around the country. For example, two important battles took place at Vimy Ridge (which marked a huge success for Canadian forces) and Verdun. Both sites have set up excellent tourist centers and visiting facilities. It's a moving and educational experience.
9. Explore Roman ruins
France has some of the best Roman ruins outside of Italy. Orange, Nimes, and Arles all have beautiful Roman theaters, and Nimes also contains a well-preserved temple (I loved Nimes a lot). It's certainly a surprise to see so many indicators of Roman rule in the south of France, and these sites are definitely worth a visit.
10. Visit the Medieval town of Carcassonne
Carcassonne is a medieval walled city. Legend has it that the town survived a siege when one of the townswomen had the bright idea of feeding the remaining food to a pig. Once they fattened it up, they threw it over the fortifications so that it appeared that they were so well-fed that they were being wasteful and gluttonous. The attacking troops gave up and went home. That's probably not true but, no matter, this town still retains a lot of medieval character and offers plenty of interesting shops and alleys to explore.
11. Go skiing
The French Alps offer some of the best ski slopes in Europe. If you're in Europe in the winter months and at a loss for what to do, consider getting a group together and renting a ski chalet, or staying at one of the slope-side hotels or hostels. Bring plenty of beer and wine to warm you up after a long day on the hills! Note that skiing in France is not that cheap!
For more information on specific cities in France, check out these guides:
France Travel Costs
Accommodation – Dorm rooms will range from €15-40 EUR ($17-45 USD) per night, depending on where you're staying in the country, with Paris being on the higher end. Private rooms in hostels will cost around €75 EUR ($85 USD) or more. Budget hotels begin around €60 EUR ($68 USD) per night for a double room with free WiFi and air-conditioning. Accommodations are cheaper outside Paris, Bordeaux, and the French Riviera. Also look into renting rooms or apartments, through services like Airbnb. In an expensive city like Paris, this will be the best value. Airbnb rates start around €15 EUR ($17 USD) for a shared room and €45 EUR ($50 USD) for an entire apartment.
Food – Buying your own food in France can be very cheap and the best way to experience the country's cuisine. The market is your friend! There are many bread, cheese, and meat shops around – and it's how the French eat. They go to their local markets, buy food, and cook. You can make your own lunch for around €10 EUR ($11 USD) for two people (including wine if you're savvy enough). Pre-made sandwiches at cheap local shops will cost about €4-7 EUR ($5-8 USD). Conversely, eating at a restaurant will cost between €20-35 EUR ($23-40 USD) for a meal including a glass of wine. If you shop for all your food, you can expect to spend around €45-65 EUR ($50-75 USD) for a week's worth of groceries, but if you find a discount grocer like Aldi or Lidl, you'll pay way less.
Activities – Wine tours will be your priciest activity at around €90 EUR ($103 USD) per day. Most attractions and museum entrance fees cost between €9-20 EUR ($10-23 USD). Going up the Eiffel Tower will cost between €7-17 EUR ($8-20 USD). Visiting the Versailles Palace and Gardens will cost €25 EUR ($28 USD).
France Suggested Budgets
On a backpacker's budget, prepare to spend €45-77 EUR ($50-88 USD) per day. On this suggested budget, you'l staying in hostel dorms, eating out at cheap meals, cooking most of your meals (which is easy to do thanks to all the local markets), seeing a few paid attractions, ridesharing, and using local transportation/slow trains to get around.
For a more mid-range budget, you will need to budget between €135-150 EUR ($153-170 USD) per day. With this, you'll be able book private rooms or Airbnbs, eat out more often, see any attraction you want, and enjoy those beautiful high speed trains the country has.
On a luxury budget of €375+ EUR ($430 USD+) a day, you can stay in first rate hotels, eat all the time, do any activity you want, take private tours, and fly around the country. Since France can really break the bank, think of this as your floor. If you dial up the nice meals and fancy hotels, you'll probably spend a lot more (especially if you stay in big cities).
Accommodation
Food
Transportation
Attractions
Average Daily Cost
Backpacker
$17-45
$10-15
$10
$10-23
$50-88
Mid-Range
$68-85
$30
$25
$30
$153-170
Luxury
$160
$120
$50
$100
$430+
France Travel Guide: Money Saving Tips
France can destory your budget if you aren't careful. It's not naturally a cheap country. Yes, food and drink can be cheap if you eat at the markets but, generally, accommodation and transportation cost a lot and it takes a delicate balancing act to visit France on a budget. Here are some money saving tips to help you reduce your costs without ruining your good time:
Have a picnic – Eating out in France, especially in Paris, is an expensive affair. Restaurants can break a day's budget quickly. Thankfully, there's nothing more French than a picnic. Head to the local market; buy some wonderful cheese, bread, fruits, and meats, and have a picnic and watch people go by. You can have a great meal for less than €10 EUR ($11 USD).
Take the (slow) train – Train travel in Europe is really cheap, and it's the easiest way to get around France. The TGV line can be expensive, but if you get the slow train or have a Eurail pass, you'll save money.
Drink wine – In France, the wine is cheaper than water. While you shouldn't skip drinking water, drink wine over other forms of alcohol and save big. A nice bottle can cost as little as €3 EUR ($3.50 USD)!
Shop at the markets – Want great French cuisine? Do what the locals do, and head to the outdoor markets. Visit the cheese guy, the fish guy, the bread guy, and everyone else to get the best local ingredients to make yourself a perfect French meal. It will save you a lot of money as an alternative to eating out.
Pre-game your night out – Drinking in bars is incredibly overpriced, especially in Paris. Drink cheap wine before you go out and save on drinks a the bars.
Skip the clubs – Clubs in France are expensive and charge an entrance fee upwards of €23 EUR ($26 USD). Drinks cost €12 EUR ($14 USD) or more. If you don't want to spend a €90 EUR ($102 USD) in one night, skip the clubs.
Rideshare – If you're flexible in your schedule, use the ridesharing service BlaBlaCar and catch rides with locals between cities (or countries). Drivers are verified and it's perfectly safe (though sometimes rides don't show up, which is why you need to be flexible).
Eat a prix-fixe meal – It's a set menu that offers you a deal on a 2-3 course meal for about €20 EUR ($23 USD). To save even more money, consider lunch instead of dinner (which, in France, is still typically 2 courses), which costs about half the price.
Couchsurf – Nothing's cheaper than sleeping for free. Couchsurfing connects you with locals who will give you not only a free place to stay, but also a local tour guide who can introduce you to all the great places to see. There are a lot of hosts in this country. I highly recommend using the site at least once to lower your accommodation costs, make a friend, and have a kitchen to cook in!
Take advantage of being under 26 – France has EXTENSIVE discounts for people who are under 26 if they have the ISIC card so be sure to get one!!!
Where to Stay in France
Looking for the best hostel in France? There are tons of options in every city. Here are some of my favorite hosels in France:
How to Get Around France
Public Transit – Local transit systems are reliable and cost between €1-3 EUR ($1.15-3.50 USD) per trip. Most cities and towns have extensive train, bus, and tram systems! Transportation to and from the airport into the city center is generally affordable and user-friendly. Expect about €10 EUR ($11 USD) to get to Paris from Charles de Gaulle. Taxis will be tough on the budget, so avoid when you can.
Budget Airlines – France has several major airports, and budget airlines are popular. It's an affordable and easy way to get around the country if you're not big on time. These are just a few of the airlines that service France:
Norwegian
Ryanair
easyJet
Transavia France
Vueling Airlines
Paris to Nice averages €50 EUR ($57 USD) one way, and Paris to Marseille is also about €50 EUR ($50 USD) one way. Book at least a month early to scoop up great deals.
Buses – France has several bus operators, including:
Eurolines
Flixbus
Isilines
Ouibus
My recommended bus company is Flixbus.
A bus trip from Paris to Marseille, for example, will cost around €30 EUR ($34 USD) while a trip from Paris to Strasbourg costs €17-25 EUR ($19-28 USD). A 7.5-hour journey from Paris to Bordeaux starts around €13 EUR ($15 USD), while the 3-hour journey from Paris to Tours (in the Loire Valley) is around 10 USD (11 USD). A longer ride like 15 hours from Paris to Nice starts around €26 EUR ($30 USD).
While the bus is great, I generally prefer to travel by train in France as it's nicer, more comfortable experience.
Trains – France has regular trains as well as the world famous high-speed TVGV. SNCF is France's national railway, and you can buy tickets on their website. But even the regular train is much quicker than taking the bus!
If bought the day of or very close to departure, a train trip from Paris to Nice costs €160-180 EUR ($182-205 USD). But if you buy in advance, Paris-Nice is around €25 EUR ($28 USD) in 2nd class. A train trip from Paris to Strasbourg costs €75-85 EUR ($85-97 USD) but advance tickets in second class start around €25 EUR ($28 USD) as well. Shorter trips like Marseille to Nice start around €22 EUR ($25 USD), while you can get from Paris to Tours for €22 EUR ($20 USD). Good discounts on train travel exist for travelers under 26-years-old!
You may also want to consider getting a EuRail Pass, which allows travelers to explore Europe by providing a set number of stops in a specific time period. These passes are continent-wide, country specific, or regional.
Ride sharing/Car sharing – If your schedule is flexible, use a ridesharing service and catch rides with locals between cities. Drivers are verified and it's perfectly safe. BlaBlaCar is the most popular. I use this service to get around the country often. There's sometimes language barrier but, for the most part, it's easy to get use!
Hitchhiking – Hitchhiking in France is very safe, but it's not for everyone. Hitching is quite common around the continent, and I've met a number of travelers who have done it. HitchWiki is the best website for hitchhiking info.
When to Go to France
Peak season is summer time when France gets crazy crowded. Prices increase during this time as well. But the overall atmosphere and weather is great during this time, so it's still worth visiting during peak season. Temperatures average between 61-75° F (16-24°C).
Shoulder season is spring and fall (March to May and September to October, respectively). It's still warm during this time but there aren't as many crowds and prices are cheaper. This is my favorite time to visit France – the weather is good, the crowds fewer, and the prices lower.
Winter is from November to February. It gets cold, even in the south. Average winter temperatures range from 32-46° F (0-8°C). On the other hand, the Christmas season is fantastic – you'll find Christmas markets and festivals galore!
How to Stay Safe in France
Due to a high-profile terrorist attacks and riots across Europe and ongoing media coverage, I often get asked if it's safe to travel to Europe. Europe is no more dangerous (probably even less so) than any other place in the world. I wrote a whole article about how Europe is safe to visit right now. Check it out.
France is very safe for backpacking and solo traveling but there are scams and petty crime you should watch out for. Guard your stuff in crowded places and watch out for people offering you stuff. (Read about these 14 Major Travel Scams to Avoid!)
Always trust your gut instinct. If a taxi driver seems shady, stop the cab and get out. If your hotel is seedier than you thought, get out of there. Make copies of your personal documents, including your passport and ID. Forward your itinerary along to loved ones so they'll know where you are.
And, remember, if you wouldn't do it at home, don't do it here.
The most important piece of advice I can offer is to purchase good travel insurance. Travel insurance will protect you against illness, injury, theft, and cancellations. It's comprehensive protection in case anything goes wrong. I never go on a trip without it as I've had to use it many times in the past.
France Travel Guide: The Best Booking Resources
These are my favorite companies to use when I travel to France. They are included here because they consistently find deals, offer world-class customer service and great value, and overall, are better than their competitors. They are the ones I use the most and are always the starting points in my search for travel deals.
Momondo – This is my favorite booking site. I never book a flight without checking here first.
Skyscanner – Skyscanner is another great flight search engline which searches a lot of different airlines, including many of the budget carriers that larger sites miss. While I always start with Momondo, I use this site too as a way to compare prices.
Airbnb – Airbnb is a great accommodation alternative for connecting with homeowners who rent out their homes or apartments.
Hostelworld – This is the best hostel accommodation site out there, with the largest inventory, best search interface, and widest availability.
Couchsurfing – This website allows you to stay on people's couches or spare rooms for free. It's a great way to save money while meeting locals who can tell you the ins and outs of their city. The site also lists events you can attend to meet people (even if you're not staying with someone).
Booking.com – The best all around booking site that constantly provides the cheapest and lowest rates. They have a no money down policy, great interface, and the widest selection of budget accommodation. In all my tests, they've always had the cheapest rates out of all the booking websites.
Intrepid Travel – If you want to do a group tour around Europe, go with Intrepid Travel. They offer good small group tours that use local operators and leave a small environmental footprint. If you go on a tour with anyone, go with them. And, as a reader of this site, you'll get a discount when you click the link!
Grassroots Volunteering – For volunteering, Grassroots Volunteering compiles a list of good local volunteer organizations that keep the money within the community.
The Man in Seat 61 – This website is the ultimate guide to train travel anywhere in the world. They have the most comprehensive information on routes, times, prices, and train conditions. If you are planning a long train journey or some epic train trip, consult this site.
Rome 2 Rio – This website allows you to see how to get from point A to point B the best and cheapest way possible. It will give you all the bus, train, plane, or boat routes that can get you there as well as how much they cost.
FlixBus – German based Flixbus has routes between 20 European countries with prices starting as low 5 EUR! Their buses include WiFi, electrical outlets, and up to three 3 free bags.
Bla Bla Car – BlaBlaCar is a ridesharing website that lets you share rides with vetted local drivers by pitching in for gas. You simply request a seat, they approve, and off you go! It's a cheaper and more interesting way travel than by bus or train!
World Nomads – I buy all my travel insurance from World Nomads. They have great customer service, competitive prices, and in-depth coverage. I've been using them since I started traveling in 2003. Don't leave home without it!
France Gear and Packing Guide
If you're heading on the road and need some gear suggestions, here are my tips for the best travel backpack and for what to pack!
The Best Backpack for Travelers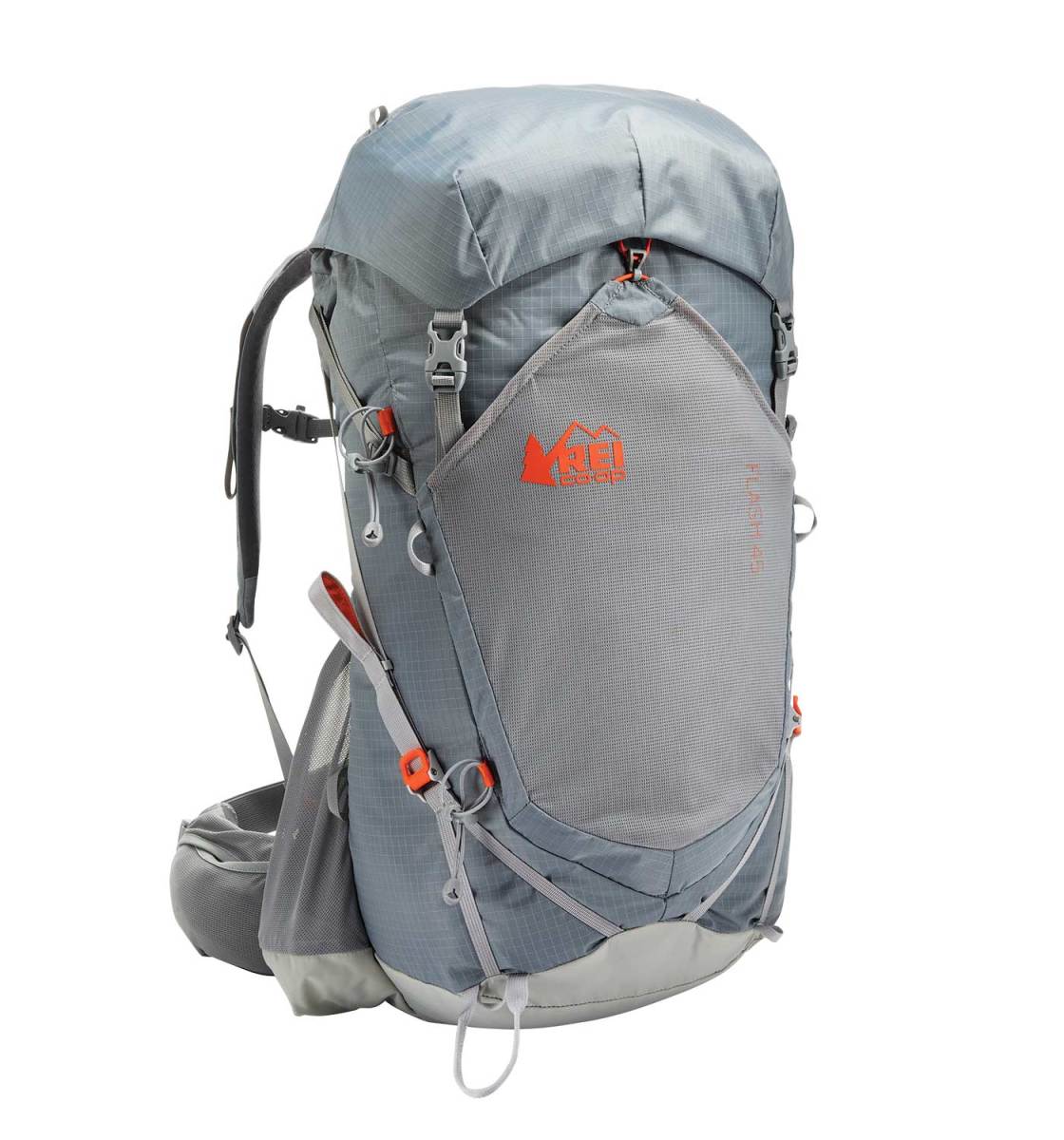 What's the best backpack for traveling long-term? I recommend the
REI Flash 45 Pack
. It's light and comfy, front loading, and fits perfectly in an airplane's overhead bin.
Size:
45-47L
Straps:
Thick and cushy with compression technology that pulls the pack's load up and inwards so it doesn't feel as heavy.
Features:
Removable top lid, large pocket at the front, hydration compatible, contoured hip belt
If you want something different, refer to my article on how to choose the best travel backpack for tips on picking a pack and other backpack suggestions.
What to Pack for Your Trip
Clothes
1 pair of jeans (heavy and not easily dried, but I like them; a good alternative is khaki pants)
1 pair of shorts
1 bathing suit
5 T-shirts (Unbound Merino is my preferred company. If you're a member of NM+, you can get 15% off your purchase)
1 long-sleeved T-shirt
1 pair of flip-flops
1 pair of sneakers
6 pairs of socks (I always end up losing half)
5 pairs of boxer shorts (I'm not a briefs guy!)
1 toothbrush
1 tube of toothpaste
1 razor
1 package of dental floss
1 small bottle of shampoo
1 small bottle of shower gel
1 towel
Deodorant
Small Medical Kit (safety is important!!!)
Miscellaneous
Female Travel Packing List
I'm not a woman, so I don't know what a woman wears, but Kristin Addis, our solo female travel guru, wrote this list as an addition to the basics above:
Clothing
1 swimsuit
1 sarong
1 pair of stretchy jeans (they wash and dry easily)
1 pair of leggings (if it's cold, they can go under your jeans, otherwise with a dress or shirt)
2-3 long-sleeve tops
2-3 T-shirts
3-4 spaghetti tops
1 light cardigan
Toiletries
1 dry shampoo spray & talc powder (keeps long hair grease-free in between washes)
1 hairbrush
Makeup you use
Hair bands & hair clips
Feminine hygiene products (you can opt to buy there too, but I prefer not to count on it, and most people have their preferred products)
For more on packing, check out these posts:
GO DEEPER: Nomadic Matt's In-Depth Budget Guide to Paris!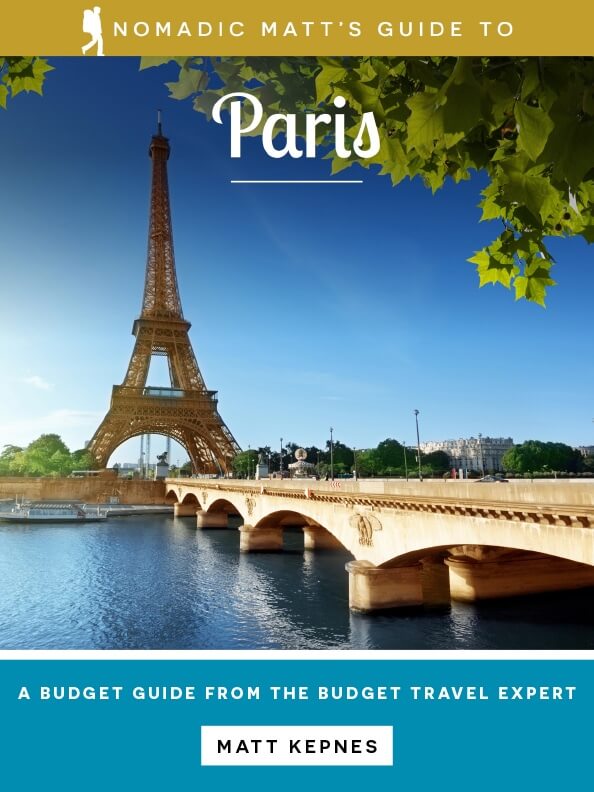 For more in-depth information, check out my guidebook to Paris written for budget travelers like yourself! It cuts out the fluff found in other guides and gets straight to the practical information you need to travel and save money in one of the most beautiful and romantic cities in the world. You'll find suggested itineraries, budgets, ways to save money, on- and off-the-beaten-path things to see and do, and non-touristy restaurants, markets, and bars, plus much more! Click here to learn more and get started.
France Travel Guide: Related Articles
Want more tips for your trip? Check out all the articles I've written on France travel and continue planning your trip: