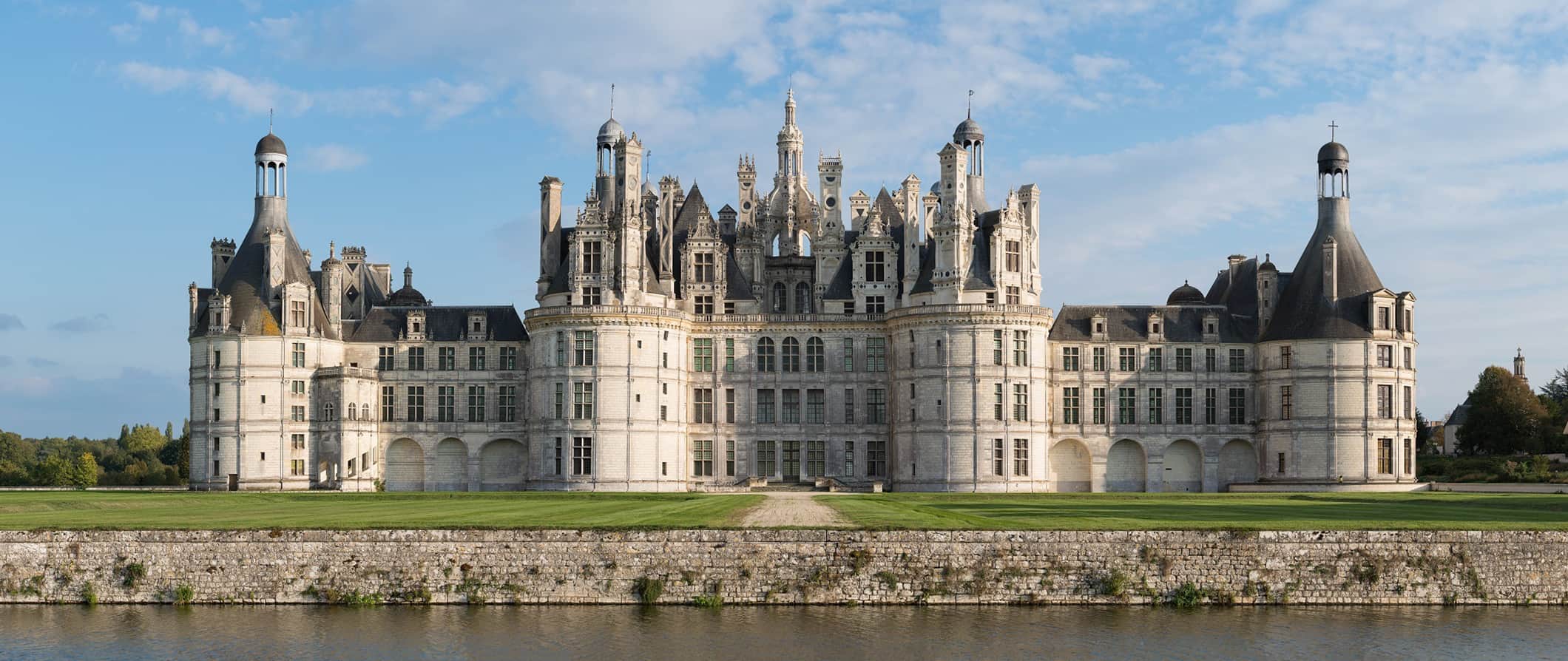 Wine, cheese, the Eiffel Tower, historic castles, beautiful beaches, snooty waiters — France is famous for a lot of things.
It's a beautiful country with stunning coastlines, picturesque valleys, world-class wine, and tons of history. And despite what you might hear, the French are a wonderful people who love to stop and smell the roses.
I love backpacking and traveling around France.
There's nothing like a picnic along the Seine or a spending day in the French countryside to make life seem beautiful. France is everything that people make it out to be and then some. Its long history means there are plenty of beautiful ruins, castles, and cathedrals worth exploring. There's something for every interest here.
Traveling France can be expensive and those on a super tight budget may find it hard to experience everything France has to offer.
However, having traveled around France multiple times, I've picked up a wide variety of money-saving tips and off-beat attractions to see. In short, it's possible to travel France without breaking the bank — and without missing out on what the country has to offer.
This travel guide can help you plan a trip, save money, and ensure you make the most out of your time in my favorite country in Europe!
Click Here for City Guides
Top 5 Things to See and Do in France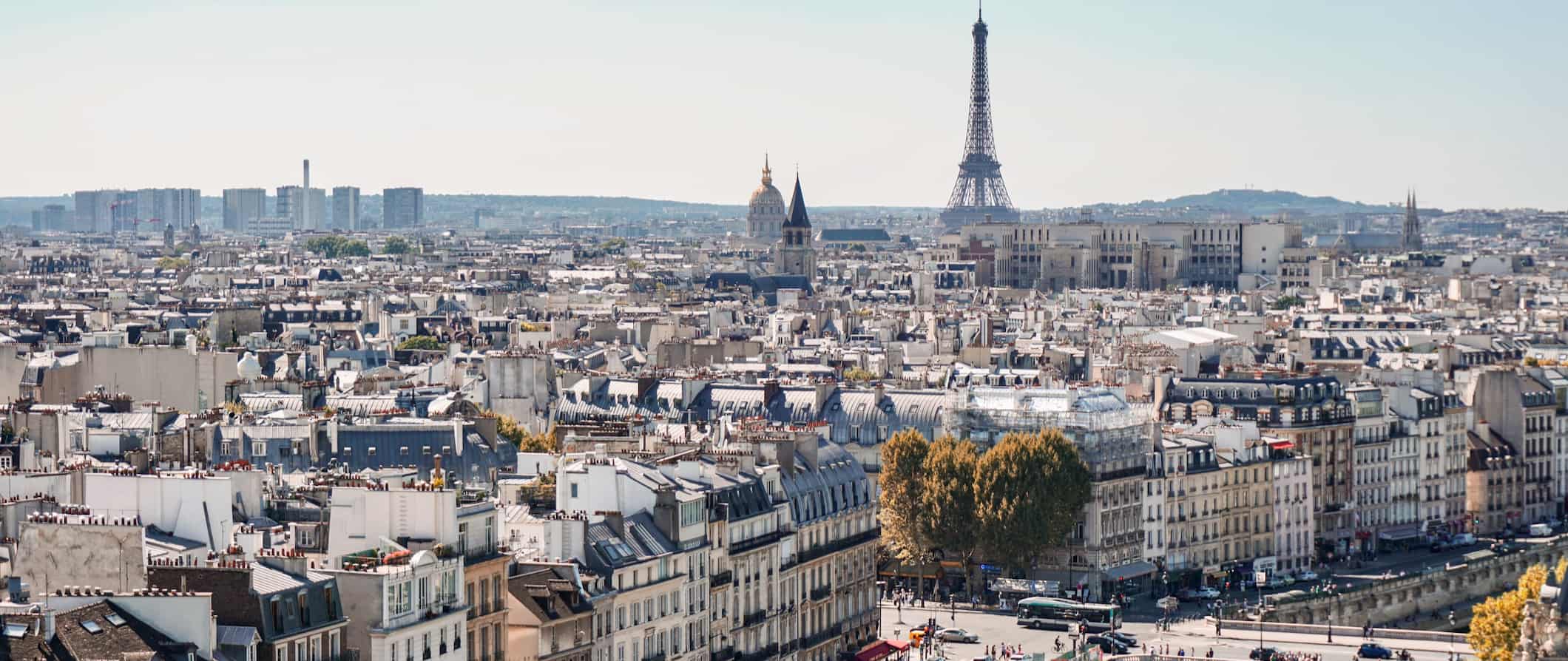 1. Spend time in Paris
Paris has everything – the Louvre, impressionist museums, the Eiffel Tower, the Seine, magnificent parks, jazz, and great food. It's as magical as people say and while it would take a lifetime to see it all, four or five days can give you a good idea. It's one of my favorite cities in the world. I've spent time living there and I think it lives up to all the hype. And, since most tourists stay in one little area, it's easy to get out and see the city free of crowds and filled with locals living their best life.
2. Explore the Loire Valley
The Loire is lovely and picturesque, with tons of vineyards and chateaus. The region is home to some of the best wines in the world, beautiful small towns (I love Orlean), and world renowned food. It's an area not to be missed. It's easy to get to from Paris and you can visit a lot of chateaus here. (Here's a list of my favorites.)
3. Tour Marseille
Marseille is a metropolitan city that also has a rich history filled with nightlife, great restaurants, theaters, museums, and even an international soccer stadium. While the city is a bit gritty and industrial, it's worth a visit for its beautiful waterfront and exciting mix of cultures. Visit the port, eat fresh seafood, head to Notre Dame de la Garde, and see Vieille Charite. Marseille will give you a totally different feel than the rest of France!
4. Hang out in Nice
Nice is nice (get it?). This seaside town in the south is a popular destination for budget travelers who want to soak up some sun but might not be able to afford Cannes or Monaco. I don't think the beach here is that great, but the central location makes it easy to explore the rest of the coast (and its better beaches).
5. Drink wine in Bordeaux
Some of the best wine in the world is made in Bordeaux. While an expensive destination, it's beautiful and worth every penny. Bordeaux has the longest shopping street in Europe, amazing seafood (eat at Le Petit Commerce), a historic center, and of course, wine. Next to Paris, it's my favorite place in France.
Other Things to See and Do in France
1. See the D-Day beaches in Normandy
On June 6th, 1944, the allies of World War II launched Operation Overlord, the largest seaborne invasion in history. Over 300,000 allied troops were involved in the operation, which took place in Normandy (some 20,000 troops died in this operation alone). Here you can learn about the D-Day landings along the beaches of northern France and see the memorials and museums detailing the history of the event. You can still see some of the old bunkers and fortifications too. Full-day guided tours of the D-Day Landings cost around 150 EUR.
2. Wander the Palace of Versailles
Located very close to Paris, this royal palace was completed by Louis XIV in 1715 and was used by the French kings until the French Revolution in 1789. Constructed at the height of French power, the complex sought to show off the monarch's tremendous wealth. Over 10 million people visit this extravagant palace each year. After the Eiffel Tower, it's the most popular attraction in the country. It's as awe-inspiring today as it was back then. Tickets to the entire complex cost 27 EUR. Plan to spend the entire day — you don't want to miss any part of this opulent place.
If you want to beat the crowds (which I highly recommend), skip-the-line tickets are available for 55 EUR. Since upwards of 10,000 people visit per day, skipping the line will save you a ton of time. The wait to get tickets can last hours.
And for a more in-depth experience, this Versailles tour is led by a local expert guide and includes round-trip transportation from Paris at a time that avoids most of the crowds.
3. Explore history in Lyon
Located around two hours south of Paris by train, this is the third-largest city in the country. The area around Lyon is home to wonderful castles and small villages. It's great for those looking to explore the French countryside and take a trip back to medieval France. The whole city is a UNESCO World Heritage Site and truly feels like you have stepped back into the past. Don't miss the relaxing 20-acre botanical garden, the Basilica of Notre-Dame de Fourvière (which dates to the 19th century), and touring the city's Old Quarter.
4. Hobnob with the rich in Monaco
The Principality of Monaco is a sovereign city-state on the French Riviera. This tiny kingdom is home to winding streets, beautiful buildings, a world-famous casino, gigantic modern yachts, and just 39,000 people (over 30% of whom are millionaires!). Hang out with society's well-heeled who flock to the Cote D'Azur from other parts of France during the summer. Spanning just a couple square kilometers, it's one of the smallest countries in the world. Be sure to stop by the famous Monte Carlo Casino (where several James Bone films as well as Ocean's Twelve was filmed), which is only open to foreigners.
5. See Alsace
This northeast region along the border with Germany is a beautiful place to visit. The mixing of Germanic and French influences characterizes the region (since it has been owned and annexed by both countries), with the old town of Colmar being the main attraction. The postcard-perfect downtown is lined with cobblestone streets and old half-timber houses — some of the which date back to the 1300s. Be sure to see the Goth 13th-century church. And if you love wine, drive the Alsace Wine Route, which you can explore over the course of a few days as you visit some of the region's best vineyards.
6. Wander through Parc de la Villette
This Parisian park — the third-largest in the city after the Bois de Vincennes and the Bois de Boulogne — is host to Europe's largest science museum and some other odd attractions. There is a large collection of architectural follies (buildings constructed for decoration), theme gardens, and open spaces for activity and exploration. It was designed for children as well as adults and is a neat place to check out. It's in the 19th arrondissement.
7. Visit the trenches of World War I
France was ground zero during World War I (1914-1918) and there are still many indicators of the damage caused during those years around the country. For example, two important battles took place at Vimy Ridge (which marked a huge success for Canadian forces) and Verdun (the longest battle of the war that saw over 700,000 people killed or wounded). Both sites have set up excellent tourist centers and visiting facilities. It's a moving and educational experience. You can reach Verdun from Paris in around three hours by car. Vimy Ridge is just over two hours away.
8. Explore Roman ruins
France has some of the best Roman ruins outside of Italy. Orange, Nimes, and Arles all have beautiful Roman theaters, and Nimes also contains one of the best-preserved Roman temples in the entire region of the former Empire, which dates back to around 2 CE. Personally, I loved Nimes a lot. It was an old Roman outpost and has an amazing double-tiered area that dates back to 70 CE. It's certainly a surprise to see so many indicators of Roman rule in the south of France, and these sites are definitely worth a visit. Half-day tours around the region (including admission) cost around 80 EUR.
9. Visit the Medieval town of Carcassonne
Carcassonne is a medieval walled city. Legend has it that the town survived a siege when one of the townswomen had the bright idea of feeding the remaining food to a pig. Once they fattened it up, they threw it over the fortifications so that it appeared that they were so well-fed that they were being wasteful and gluttonous. The attacking troops gave up and went home. That's probably not true, but this town still retains a lot of medieval character and offers plenty of interesting shops and alleys to explore. Don't miss a tour of the castle and ramparts while you're here!
10. Go skiing
The French Alps offer some of the best ski slopes in Europe. If you're in Europe in the winter months and at a loss for what to do, consider getting a group together and renting a ski chalet, or staying at one of the slope-side hotels or hostels. Bring plenty of beer and wine to warm you up after a long day on the hills. Note that skiing in France is not cheap (lift passes usually cost upwards of 75 EUR per day). Some of the most popular ski resorts include La Clusaz, Avoriaz, Val d'Isère, and Chamonix.
11. See Dune de Pyla
This sand dune is located an hour outside Bordeaux in Pyla Sur Mer, a resort town where many of France's well-to-do spend the summer. It's the largest sand dune in Europe and the result of winds eroding one shore of the bay and blowing sand over. The dune is nearly 3 kilometers (2 miles) long and up to 110 meters (360 feet) high in some places. Visit at dawn or dusk for the best views. You can walk along the entire dune in around 90 minutes.
12. Wander the Louvre
The Louvre is the biggest museum in the world, with thousands of square feet of space and millions of artifacts and works of art (including the Mona Lisa and the Venus de Milo). To see it all, you need at least two full days, but you can do the highlights in a full afternoon. Admission costs 17 EUR, while timed skip-the-line tickets are an additional 17 EUR. Due to capacity restrictions, you MUST get your ticket in advance. They sell out these days so if you don't get your ticket in advance, you run the risk of showing up and being denied entrance.
13. Go diving
Diving may not be the first thing that comes to mind when you think of France, but Marseille is making a name for itself as the country's diving capital. Take a trip out into the Mediterranean, where you can explore tunnels, caves, and admire colorful sea sponges, anemones, and sea fans. You can also spot moray eels and octopus as well as numerous of shipwrecks, such as Le Liban (1882) and Le Chaouen (1961). June to October, when the water is a bit warmer, are the best months for diving here. Prices start at 110 EUR.

For more information on specific cities in France, check out these guides:
France Travel Costs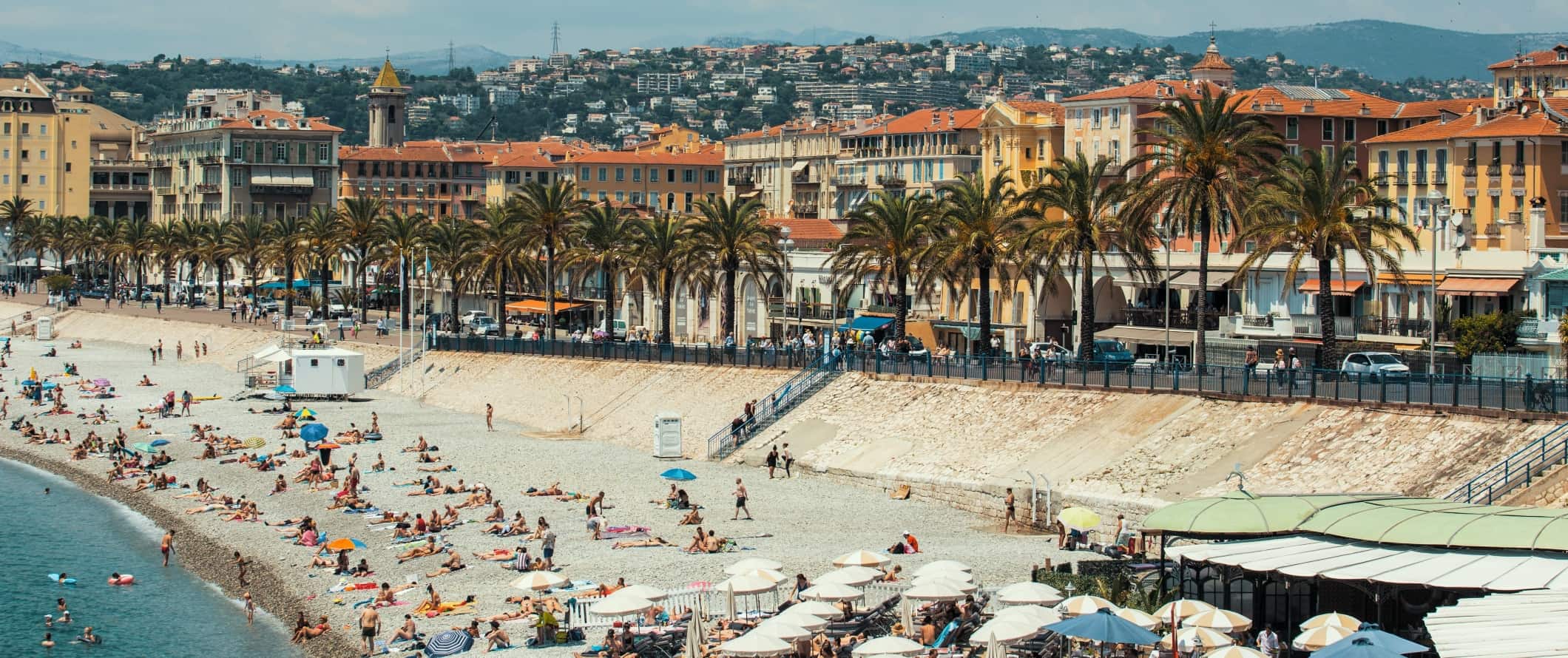 Accommodation – Dorm rooms in hostels with 8-10 beds range from 20-75 EUR per night. In Paris (and many other major cities), expect dorms to cost 40-75 EUR per night (even more in the summer). Private rooms in hostels cost between 100-150 EUR. Free Wi-Fi is standard and many hostels include self-catering facilities and breakfast.
Budget hotels begin around 85 EUR per night for a double room with free WiFi and air-conditioning. Accommodations are cheaper outside Paris, Bordeaux, and the French Riviera. Additionally, during peak summer months, expect prices to start at around 120 EUR per night. In Paris, expect to pay at least 150 EUR in the summer.
Airbnb is widely available around the country. Private rooms start around 45 EUR, though they average double that price. Entire homes/apartments start at 75 EUR (but usually cost at least triple that — especially in Paris).
For those traveling with a tent, camping is available around the country. A basic plot for two people without electricity costs around 25 EUR per night. Wild camping is illegal in France.
Food – Food in France has a long history and is intricately intertwined with the culture. Fresh bread (especially baguettes), tasty local cheeses, and plentiful wine may be stereotypical staples of the cuisine, but they really are some of the must-eat foods in the country. Be sure to also try croque monsieur (a hot ham and cheese sandwich), pot-au-feu (beef stew), steak frites (steak and fries), and if you're really adventurous you can sample traditional delicacies like frog legs, escargot (snails) or foie gras (a fattened duck or goose liver).
Buying your own food in France can be very cheap and the best way to experience the country's cuisine. There are many breads, cheese, and meat shops around – and it's how the French eat. They go to their local markets, buy food, and cook. You can make your own lunch for around 10-15 EUR for two people (including wine). Pre-made sandwiches at cheap local shops cost about 6-12 EUR.
Conversely, eating at a restaurant costs between 20-35 EUR for a meal including a glass of wine.
Fast food (think McDonald's) costs around 10 EUR for a combo meal. A cheap meal at a casual take-out place costs around 10-18 EUR.
Beer costs 6-7 EUR while a cappuccino/latte is around 3-4 EUR. Bottled water is 1-2 EUR.
If you plan on cooking your own meals, expect to spend between 45-60 EUR for a week's worth of groceries. This gets you basic staples like bread, pasta, seasonal produce, and some meat.
France Suggested Budgets
On a backpacker's budget, prepare to spend 70 EUR per day. On this suggested budget, you'll be staying in hostel dorms, cooking all of your meals, using public transportation to get around, limiting your drinking, and sticking to mostly free and cheap activities like free walking tours, parks and gardens, and free museums.
On a mid-range budget of 155 EUR per day, you can stay in a private Airbnb, eat out for most meals, enjoy a few drinks, take the train between cities, and do more paid activities like wine tours and a visit to Versailles.
On a "luxury" budget of 300 EUR or more a day, you can stay in hotels, eat out for all your meals, rent a car to get around, drink more, and tour whatever tours and activities you want. This is just the ground floor for luxury though. The sky is the limit!
Accommodation
Food
Transportation
Attractions
Average Daily Cost
Backpacker
30
20
10
10
70
Mid-Range
65
40
25
25
155
France Travel Guide: Money-Saving Tips
France can destroy your budget if you aren't careful. Accommodation is pricey, eating out can get expensive, and tours aren't always affordable. Fortunately, there are plenty of ways to save money while you are visiting France without sacrificing your experience. Here are some money-saving tips to help you reduce your costs:
Have a picnic – Eating out in France is an expensive affair. Restaurants can break a day's budget quickly. Thankfully, there's nothing more French than a picnic. Head to the local market; buy some wonderful cheese, bread, fruits, and meats, and have a picnic and watch the day go by. You can have a great meal for less than 10 EUR.
Take the (slow) train – Train travel in Europe is cheap and it's the easiest way to get around France. The TGV line can be expensive, but if you get the slow train or have a Eurail pass, you'll save money.
Drink wine – In France, the wine is cheaper than water (well, almost!). While you shouldn't skip drinking water, drink wine over other forms of alcohol to save big. A nice bottle can cost as little as 3 EUR!
Shop at the markets – Want great French cuisine? Do what the locals do and head to the outdoor markets. Visit the cheese guy, the fish guy, the bread guy, and everyone else to get the best local ingredients to make yourself a perfect French meal. It saves a lot of money compared to eating out.
Skip the clubs – Clubs in France are expensive and charge an entrance fee (it can be over 20 EUR!). Drinks cost 12 EUR or more. If you don't want to spend 90 EUR in one night, skip the clubs.
Rideshare – If you're flexible in your schedule, use the ridesharing service BlaBlaCar and catch rides with locals between cities (or countries). Drivers are verified and it's perfectly safe (though sometimes rides don't show up, which is why you need to be flexible).
Eat a prix-fixe meal – This is a set lunch menu where a 2-3 course meal costs about 15-20 EUR. This is a far more affordable option than just ordering off the menu. I always eat out for lunch and then cook for myself for dinners.
Stay with a local – If you want to save money and get some local insight into the country, use Couchsurfing. There are a lot of hosts in this country. I highly recommend using the site at least once to lower your accommodation costs, make a friend, learn local tips, and have a kitchen to cook in!
Take advantage of being under 26 – France has EXTENSIVE discounts for people who are under 26 if they have the ISIC card – be sure to get one!
Bring a water bottle – Since the tap water here is safe to drink you should bring a reusable water bottle to save money and reduce your plastic use. LifeStraw is my go-to brand as their bottles have built-in filters to ensure your water is always clean and safe.
Where to Stay in France
Looking for the best hostel in France? There are tons of options in every major city. Here are some of my favorite hostels in France:
For hostel suggestions in Paris, be sure to check out my list of the best hostels in Paris. And, to find out exactly where in the city you should stay, here's a post that breakdowns the best neighborhoods in Paris.
How to Get Around France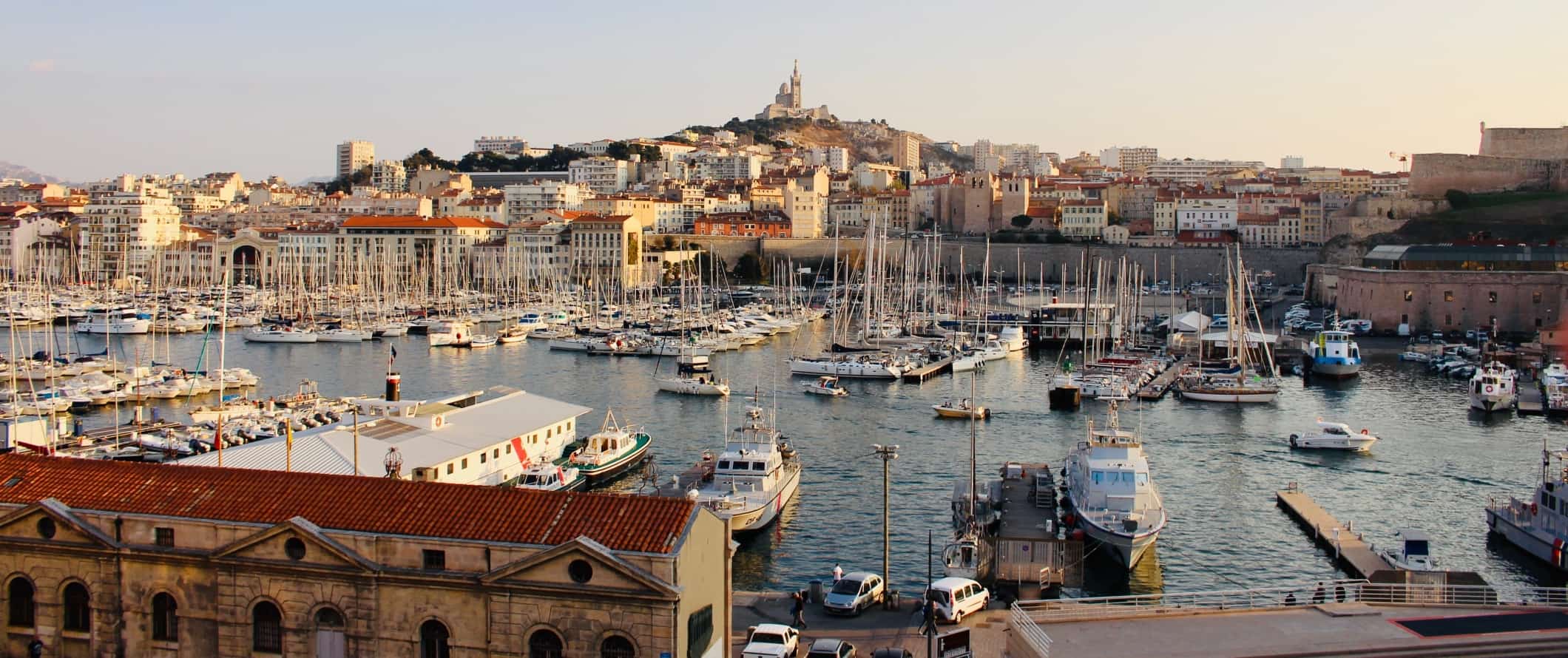 Public transportation – Local transit systems are reliable and cost between 1-3 EUR per trip. Most cities and towns have extensive train, bus, and tram systems. Transportation to and from the airport into the city center is generally affordable and user-friendly.
Paris has a "carnet" of 10 single-use tickets that costs 14.50 EUR. You can get a one-day to five-day pass (a ParisVisite) for all modes of public transportation (bus, metro, trams, and suburban trains called the RER) for between 13.20-42.20 EUR. It also gives you discounts on some major Parisian landmarks. You can buy tickets at any metro station.
Expect to pay around 12 EUR to get to Paris from Charles de Gaulle.
Budget Airlines – France has several major airports, and budget airlines are popular. It's an affordable and easy way to get around the country if you're not big on time.
Paris to Nice averages 50 EUR one way, and Paris to Marseille is also about 50 EUR one way. Book at least a month early to scoop up great deals. In the off and shoulder seasons, you can get these flights for as low as 15-25 EUR.
Just keep in mind that most budget airlines charge extra for checked baggage and often require you to print your ticket out in advance.
Buses – France has several bus operators, including:
Eurolines
Flixbus
Isilines
Ouibus
My recommended bus company is Flixbus.
A 10-hour bus trip from Paris to Marseille costs around 15-30 EUR while a trip from Paris to Strasbourg costs 17-25 EUR. A 7.5-hour journey from Paris to Bordeaux starts around 13 EUR, while the 3-hour journey from Paris to Tours (in the Loire Valley) is around 12 EUR. A longer ride like 15 hours from Paris to Nice starts around 35 EUR.
While the bus is great, I generally prefer to travel by train in France as it's a nicer, more comfortable experience.
Trains – France has regular trains as well as the world-famous high-speed TGV. SNCF is France's national railway, and you can buy tickets on their website. But even the regular train is much quicker than taking the bus!
If bought last-minute, a train trip from Paris to Nice costs 55-105 EUR. But if you buy in advance, Paris to Nice can cost as little as 25 EUR in 2nd class. A last-minute train trip from Paris to Strasbourg costs 70-80 EUR, but advance tickets in second class start around 19 EUR. Shorter trips like Marseille to Nice start around 36 EUR, while you can get from Paris to Tours for 19 EUR. Good discounts on train travel exist for travelers under 26-years-old!
You may also want to consider getting a Eurail Pass, which allows travelers to explore Europe by providing a set number of stops in a specific time period. These passes are continent-wide, country-specific, or regional.
Ridesharing – If your schedule is flexible, use a ridesharing service and catch rides with locals between cities. Drivers are verified and it's perfectly safe. It's usually cheaper than the bus too. BlaBlaCar is the most popular. There's sometimes a language barrier but, for the most part, it's easy to use and much more interesting than the bus or train!
Car rental – France is a great destination to rent a car and road trip (just avoid driving in cities like Paris; they can be a nightmare). Rentals start at around 30 EUR per day for a multi-day rental. Drivers need to be at least 21 years of age and usually need to have a credit card in their name.
Hitchhiking – Hitchhiking in France is very safe, but it's not for everyone. Make sure you have a sign and that you dress presentably. Be flexible too as wait times can be long outside major urban areas. HitchWiki is the best website for hitchhiking info.
When to Go to France
Peak season in France is the summer, when France gets incredibly crowded. Prices skyrocket during this time but the overall atmosphere and weather is great so it's still worth visiting during peak season. Temperatures average between 16-24°C (61-75°F), though they have often climbed much higher in recent years due to climate change, reaching well into the in the 30s°C (80s°F). In the south of France, daily highs hover around 30°C (80°F) and go up from there.
Just note that a lot of the country closes down in August when people go on holidays. Make sure to plan accordingly and double check opening/closing hours.
The shoulder season is spring and fall (April-May and September-October, respectively). It's still warm during this time but there aren't as many crowds and prices are cheaper. This is my favorite time to visit France. The weather is good, the crowds fewer, and the prices are lower. Just make sure to bring a light rain jacket.
Winter in France is from November to February. It gets cold, even in the south. Average winter temperatures range from 0-8°C (32-46°F). On the other hand, the Christmas season is fantastic — you'll find Christmas markets and festivals galore! While Paris is never empty, this is the quietest (and cheapest) time to visit the city.
How to Stay Safe in France
France is very safe for backpacking and solo traveling. Violent crime is rare so travelers should feel safe here, both day and night.
That said, scams and petty theft can occur (especially pickpocketing in Paris) so be on the lookout. Always keep your valuables secure and out of sight when on busy public transportation and in crowded tourist areas.
Solo female travelers should feel safe here, though the standard precautions apply (never leave your drink unattended at the bar, never walk home alone intoxicated, etc.).
One common scam in Paris is to get tourists to sign a petition against some common cause. Once you sign, they'll pester you for a donation. To avoid getting ripped off, simply decline anyone approaching you with a petition.
When using an outdoor ATM, always check to make sure a card skimmer has not been attached to the card reader. To be safe, only use indoor ATMs.
France has a history of protesting (mainly in Paris). These can turn violent so if a protest occurs during your visit, avoid taking part.
To avoid other potential scams, you can read about common travel scams to avoid here.
If you rent a car, don't leave any valuables in it overnight. Break-ins are rare but it's always better to be safe than sorry. Car break-ins are most common near the border with Spain as well as in Normandy around the D-Day sights.
If you experience an emergency, dial 112 for assistance.
Always trust your gut instinct. Make copies of your personal documents, including your passport and ID. Forward your itinerary along to loved ones so they'll know where you are.
The most important piece of advice I can offer is to purchase good travel insurance. Travel insurance will protect you against illness, injury, theft, and cancellations. It's comprehensive protection in case anything goes wrong. I never go on a trip without it as I've had to use it many times in the past.
France Travel Guide: The Best Booking Resources
These are my favorite companies to use when I travel. They consistently have the best deals, offer world-class customer service and great value, and overall, are better than their competitors. They are the companies I use the most and are always the starting point in my search for travel deals.
Skyscanner – Skyscanner is my favorite flight search engine. They search small websites and budget airlines that larger search sites tend to miss. They are hands down the number one place to start.
Hostelworld – This is the best hostel accommodation site out there with the largest inventory, best search interface, and widest availability.
Booking.com – The best all around booking site that constantly provides the cheapest and lowest rates. They have the widest selection of budget accommodation. In all my tests, they've always had the cheapest rates out of all the booking websites.
HostelPass – This new card gives you up to 20% off hostels throughout Europe. It's a great way to save money. They're constantly adding new hostels too. I've always wanted something like this and glad it finallt exists.
Get Your Guide – Get Your Guide is a huge online marketplace for tours and excursions. They have tons of tour options available in cities all around the world, including everything from cooking classes, walking tours, street art lessons, and more!
The Man in Seat 61 – This website is the ultimate guide to train travel anywhere in the world. They have the most comprehensive information on routes, times, prices, and train conditions. If you are planning a long train journey or some epic train trip, consult this site.
Rome2Rio – This website allows you to see how to get from point A to point B the best and cheapest way possible. It will give you all the bus, train, plane, or boat routes that can get you there as well as how much they cost.
FlixBus – Flixbus has routes between 20 European countries with prices starting as low 5 EUR! Their buses include WiFi, electrical outlets, a free checked bag.
SafetyWing – Safety Wing offers convenient and affordable plans tailored to digital nomads and long-term travelers. They have cheap monthly plans, great customer service, and an easy-to-use claims process that makes it perfect for those on the road.
LifeStraw – My go-to company for reusable water bottles with built-in filters so you can ensure your drinking water is always clean and safe.
Unbound Merino – They make lightweight, durable, easy-to-clean travel clothing.
Top Travel Credit Cards – Points are the best way to cut down travel expenses. Here's my favorite point earning credit cards so you can get free travel!
BlaBlaCar – BlaBlaCar is a ridesharing website that lets you share rides with vetted local drivers by pitching in for gas. You simply request a seat, they approve, and off you go! It's a cheaper and more interesting way to travel than by bus or train!
Take Walks – This walking tour company provides inside access to attractions and places you can't get elsewhere. Their guides rock and they have some of the best and most insightful tours in all of France.
GO DEEPER: Nomadic Matt's In-Depth Budget Guide to Paris!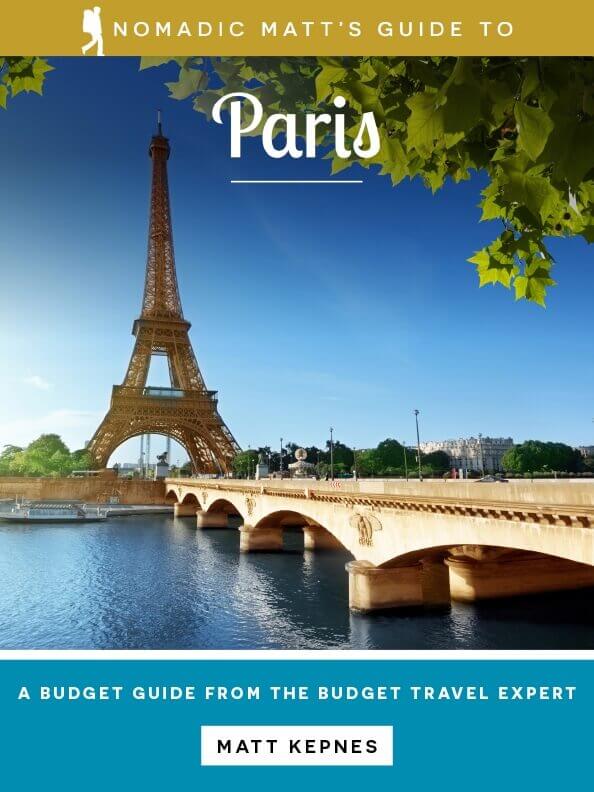 There's a lot of free information online but do you want to spend days searching for information? Probably not! That's why guidebooks exist.
While I have a lot of free tips on Paris, I also wrote an entire book that goes into great detail on everything you need to plan a trip here on a budget! You'll get suggested itineraries, budgets, even more ways to save money, my favorite restaurants, maps, prices, practical information (i.e. phone numbers, websites, prices, safety advice, etc.), and cultural tips.
I'll give the insider view of Paris that I got from living and running tours here! The downloadable guide can be used on your Kindle, iPad, phone, or computer so you can have it with you when you go.
France Travel Guide: Related Articles
Want more tips for your trip? Check out all the articles I've written on France travel and continue planning your trip: