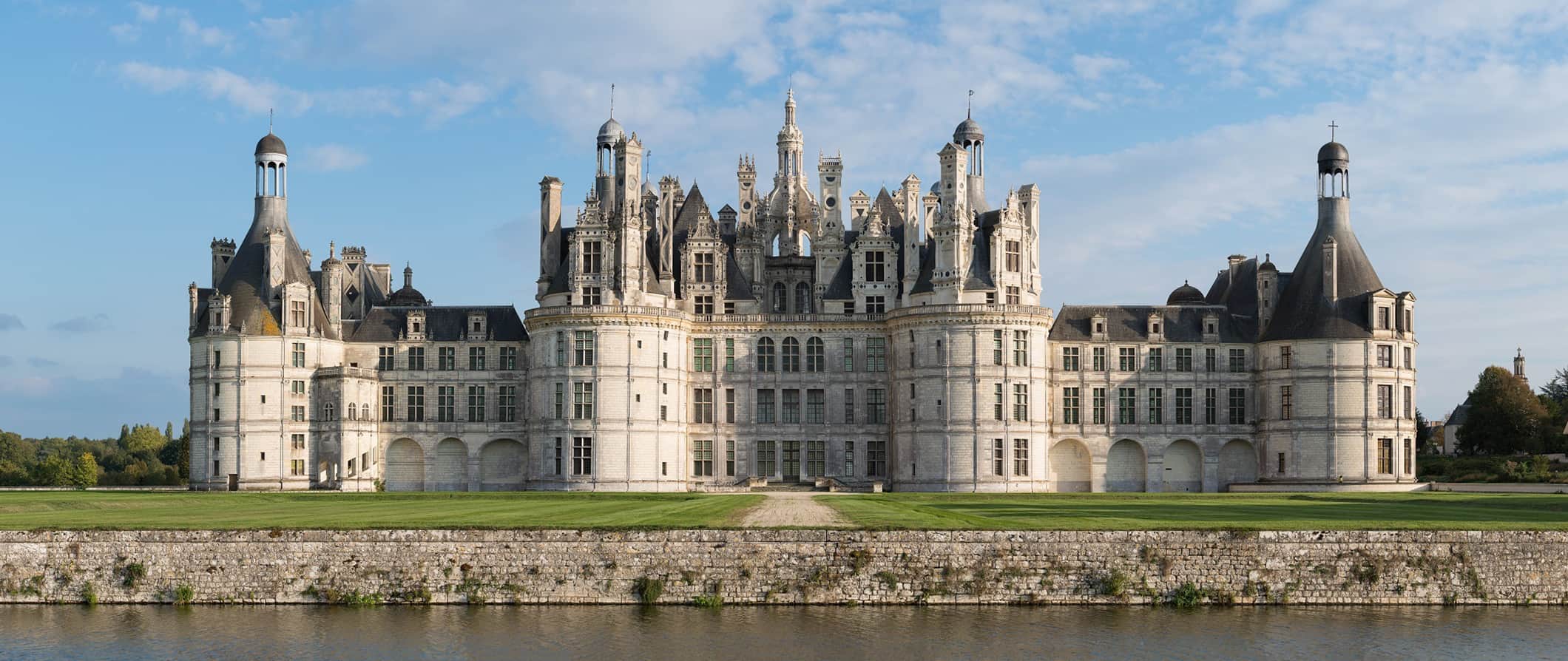 Wine, cheese, the Eiffel Tower, snooty waiters – France is famous for a lot of things and for good reason. It's beautiful with stunning coastlines, valleys, wine country, forests, and beaches; has some of the best food and wine in the world; historic towns and chateaus, and a long and rich history. And, despite what you might hear, the French are a wonderful people who love to stop and smell the roses. There's nothing like a picnic along the Seine or a day through the French countryside to make life seem beautiful. France is everything that people make it out to be and then some. Its long history lends itself to beautiful ruins, castles, architecture, and culture. Traveling France is a very expensive affair, second only to traveling through Italy in mainland Europe. Those on a super tight budget will find it hard (but not impossible thanks to three Euro bottles of wine) to experience everything France has to offer. Make sure you go to France with a few extra Euros in your pocket so you can soak in all the food, wine, and beauty you see but this guide will help you cut costs!
Top 5 Things to See and Do in France
1. Paris
Paris
has everything – the Louvre, impressionist museums, the Eiffel Tower, the Seine, magnificent parks, jazz, and great food. It's as magical as people say and, while it would take a lifetime to see it all, four or five days can give you a good idea. This is one of my favorite cities in the world, and I always find something new when I am here.
2. Explore the Loire Valley
The Loire is lovely and picturesque, with tons of vineyards and chateaus. You will find some of the best wine in the world, beautiful small towns, and great food. It's an area not to be missed (though often missed by solo travelers and backpackers. Tsk tsk.)
3. Go to Marseille
Marseille is a metropolitan city that also has a rich history filled with nightlife, great restaurants, theaters, museums, and even an international soccer stadium. While the city is a bit gritty and industrial, it's worth a visit for its beautiful waterfront and exciting mix of cultures.
4. Hang out in Nice
Nice
is nice (get it?). This seaside town in the south is a popular destination for budget travelers who want to soak up some sun but might not be able to afford Cannes or Monaco. I don't think the beach here is that great, but the central location makes it easy to explore the rest of the coast (and its better beaches).
5. Drink wine in Bordeaux
Some of the best wine in the world is made in
Bordeaux
. While an expensive destination, it's beautiful and worth all the Euros you'll spend! Bordeaux has one of the longest shopping streets in Europe, amazing seafood (eat at Le Petit Commerce), a historic center, and of course, wine. Next to Paris, it's my favorite place in France.
Other Things to See and Do
(Click the title to expand the text)
1. The D-Day beaches, Normandy
Learn about the WWII Allied forces D-Day landings along the beaches of northern France. There are memorials and museums detailing the history of the event. You can still see some of the old bunkers and fortifications.
2. The Palace of Versailles
Located very close to Paris, the old palace of the French kings was built by Louis XIV. This palace was constructed during the height of French power and seeks to show off the monarch's tremendous wealth. It's as awe-inspiring today as it was back then. It was used by the French Kings until the French Revolution in 1789. You definitely don't want to miss it!
3. Explore history in Lyon
The area around Lyon has wonderful castles and small villages. It's great for those looking to explore the French countryside. If you want a look at medieval France, this is where you should go. The whole place is a UNESCO World Heritage site and truly feels like you have stepped back into the past.
4. Hob nob with the rich in Monaco
This tiny kingdom is home to tiny streets, beautiful buildings, a world famous casino, and gigantic modern yachts. Hang out with society's well-heeled, those who flock to the Cote D'Azur from other parts of France during the summer.
5. Visit St. Tropez
If life in Marseilles is too mundane for you, catch a boat out to St. Tropez where you can relax in beautiful hillside towns, swim in azure blue water, and bump shoulders with the rich and famous.
6. See Alsace
This northeast region of France is a beautiful place to visit. Colmar is an old town and the main attraction. Some of the buildings date back to the 1300s. It's as picturesque a French town as one could ever want!
7. Wander through Parc de la Villette
This park is host to a science museum and some other odd attractions. There is a large collection of architectural follies, theme gardens, and open space for activity and exploration. It was designed for children as well as adults and is a neat place to check out.
8. Return to the trenches
France was ground zero during the First World War, and there are still many indicators of the damage caused during those years around the country. For example, two important battles took place at Vimy Ridge (which marked a huge success for Canadian forces) and Verdun. Both sites have set up excellent tourist centers and visiting facilities. It's a moving and educational experience.
9. Explore Roman ruins
France has some of the best Roman ruins outside of Italy. Orange, Nimes, and Arles all have beautiful Roman theaters, and Nimes also contains a well-preserved temple (I loved Nimes a lot). It's certainly a surprise to see so many indicators of Roman rule in the south of France, and these sites are definitely worth a visit.
10. Visit the Medieval town of Carcassonne
Carcassonne is a medieval walled city. Legend has it that the town survived a siege when one of the townswomen had the bright idea of feeding the remaining food to a pig. Once they fattened it up, they threw it over the fortifications so that it appeared that they were so well-fed that they were being wasteful and gluttonous. The attacking troops gave up and went home. That's probably not true but, no matter, this town still retains a lot of medieval character and offers plenty of interesting shops and alleys to explore.
11. Go skiing
The French Alps offer some of the best ski slopes in Europe. If you're in Europe in the winter months and at a loss for what to do, consider getting a group together and renting a ski chalet, or staying at one of the slope-side hotels or hostels. Bring plenty of beer and wine to warm you up after a long day on the hills! Note that skiing in France is not that cheap!
Typical Costs
Accommodation
– Dorm rooms will range from 15-40 EUR per night, depending on where you're staying in the country, with Paris being on the higher end. Private rooms in hostels will cost around 75 EUR or more. Budget hotels begin around 60 EUR per night for a double room with free WiFi and air-conditioning. Accommodations are cheaper outside Paris, Bordeaux, and the French Riviera. Also look into renting rooms or apartments, through services like Airbnb. In an expensive city like Paris, this will be the best value. Airbnb rates start around 15 EUR for a shared room and 45 EUR for an entire apartment. My suggested places are:
Food – Buying your own food in France can be very cheap and the best way to experience the country's cuisine. The market is your friend! There are many bread, cheese, and meat shops around – and it's how the French eat. They go to their local markets, buy food, and cook. You can make your own lunch for around 10 EUR for two people (including wine if you're savvy enough). Pre-made sandwiches at cheap local shops will cost about 4-7 EUR. Conversely, eating at a restaurant will cost between 20-35 EUR for a meal including a glass of wine. If you shop for all your food, you can expect to spend around 45-65 EUR for a week's worth of groceries, but if you find a discount grocer like Aldi or Lidl, you'll pay way less.
Transportation – The best way to get around France is via trains, but it can be expensive. Overnight trains cost the least, while the fast TGV lines (high-speed train) cost the most. Book ahead of time to get the best savings. Bought the day of or very close to departure, a train trip from Paris to Nice costs 160-180 EUR. A train trip from Paris to Strasbourg costs 75-85 EUR. But if you buy in advance, Paris-Nice is around 25 EUR in 2nd class and Paris-Strasbourg starts around 25 EUR as well. Good discounts on train travel exist for travelers under 26-years-old. A different option, which takes longer but costs less money, is Megabus/FlixBus. A bus trip from Paris to Marseille, for example, will cost around 30 EUR while a trip from Paris to Strasbourg costs 17-24 EUR. Local transit systems are reliable and cost between 1-3 EUR per trip. Transportation to and from the airport into the city center is generally affordable and user-friendly. Expect about 10 EUR to get to Paris from Charles de Gaulle. Taxis will be tough on the budget, so avoid when you can.
Activities – Wine tours will be your priciest activity at around 90 EUR per day. Most attractions and museum entrance fees cost between 9-20 EUR. Going up the Eiffel Tower will cost between 7-17 EUR. Visiting the Versailles Palace and Gardens will cost 25 EUR.
Suggested daily budget
45-75 EUR / $46-76 USD (Note: This is a suggested budget assuming you're staying in a hostel, eating out a little, cooking most of your meals, and using local transportation. Using the budget tips below, you can always lower this number. However, if you stay in fancier accommodations or eat out more often, expect this to be higher!)
Money Saving Tips
Have a picnic – Eating out in France, especially in Paris, is an expensive affair. Restaurants can break a day's budget quickly. Thankfully, there's nothing more French than a picnic. Head to the local market; buy some wonderful cheese, bread, fruits, and meats, and have a picnic and watch people go by. You can have a great meal for less than 10 EUR.
Take the (slow) train – Train travel in Europe is really cheap, and it's the easiest way to get around France. The TGV line can be expensive, but if you get the slow train or have a Eurail pass, you'll save money.
Drink wine – In France, the wine is cheaper than water. While you shouldn't skip drinking water, drink wine over other forms of alcohol and save big. A nice bottle can cost as little as 3 EUR!
Shop at the markets – Want great French cuisine? Do what the locals do, and head to the outdoor markets. Visit the cheese guy, the fish guy, the bread guy, and everyone else to get the best local ingredients to make yourself a perfect French meal. It will save you a lot of money as an alternative to eating out.
Pre-game your night out – Drinking in bars is incredibly overpriced, especially in Paris. Drink cheap wine before you go out and save on drinks a the bars.
Skip the clubs – Clubs in France are expensive and charge an entrance fee upwards of 23 EUR. Drinks cost 12 EUR or more. If you don't want to spend a 90 EUR in one night, skip the clubs.
Rideshare – If you're flexible in your schedule, use the ridesharing service BlaBlaCar and catch rides with locals between cities (or countries). Drivers are verified and it's perfectly safe (though sometimes rides don't show up, which is why you need to be flexible).
Eat a prix-fixe meal – It's a set menu that offers you a deal on a 2-3 course meal for about 20 EUR. To save even more money, consider lunch instead of dinner (which, in France, is still typically 2 courses), which costs about half the price.
Couchsurf – Nothing's cheaper than sleeping for free. Couchsurfing connects you with locals who will give you not only a free place to stay, but also a local tour guide who can introduce you to all the great places to see. There are a lot of hosts in this country. I highly recommend using the site at least once to lower your accommodation costs, make a friend, and have a kitchen to cook in!
Take advantage of being under 26 – France has EXTENSIVE discounts for people who are under 26 if they have the ISIC card so be sure to get one!!!
GO DEEPER: Nomadic Matt's In-Depth Budget Guide to Paris!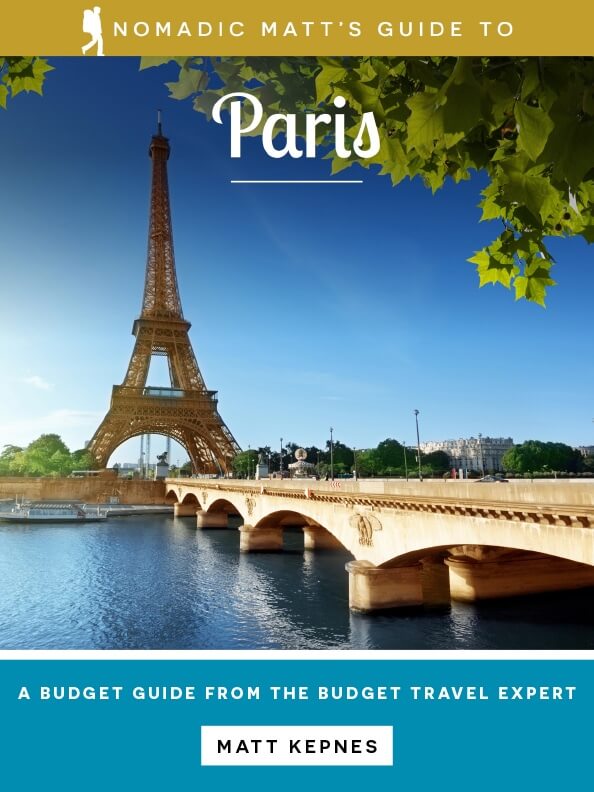 For more in-depth information, check out my guidebook to Paris written for budget travelers like yourself! It cuts out the fluff found in other guides and gets straight to the practical information you need to travel and save money in one of the most beautiful and romantic cities in the world. You'll find suggested itineraries, budgets, ways to save money, on and off the beaten path things to see and do, non-touristy restaurants, markets, and bars, and much more!! Click here to learn more and get started.
My MUST-HAVE GUIDES FOR EUROPE
Get one of our comprehensive destination guides featuring logistical tips, things to see and do, where to stay, eat, and much more!