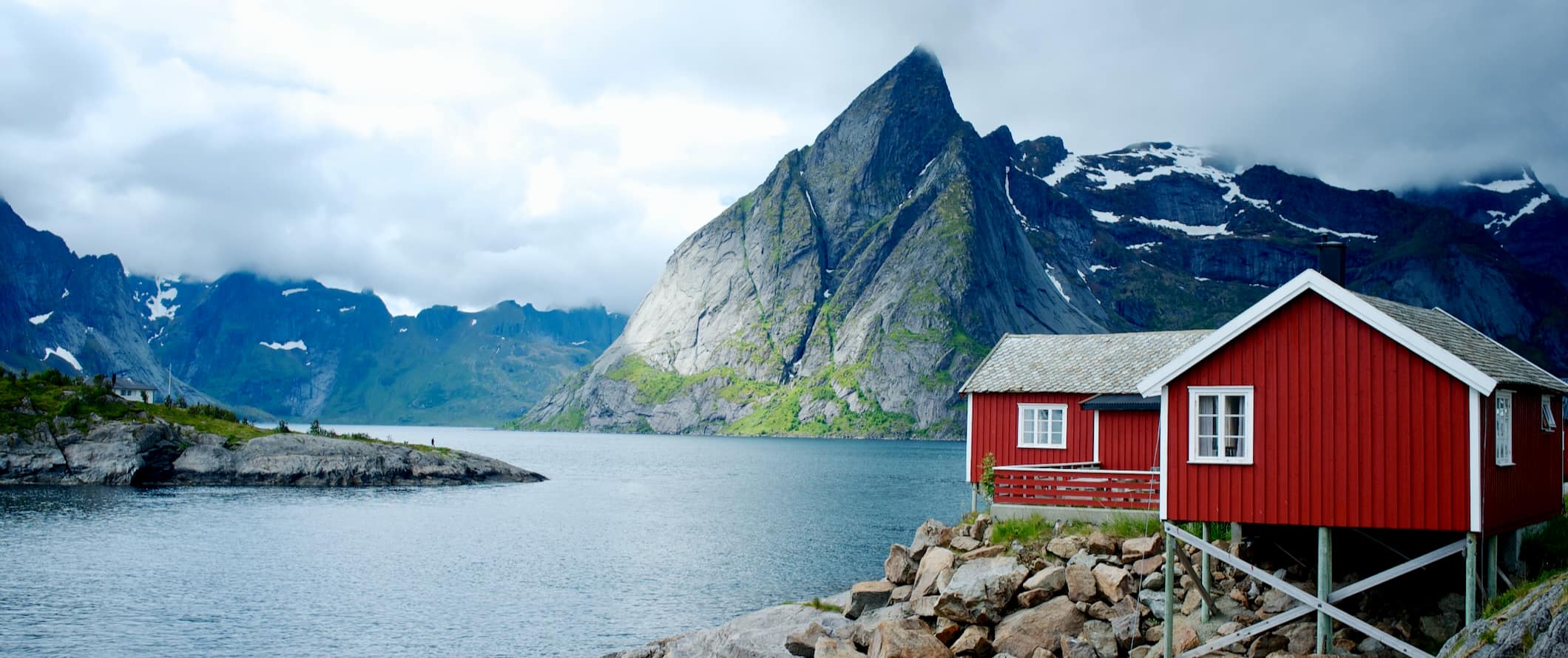 When traveling Europe, a lot of people skip visiting Norway because of how expensive it is. While it's true that Norway is not a budget-friendly destination, it is one of the most beautiful countries in the world, rivaling iconic destinations like New Zealand and Iceland when it comes to natural beauty.
To top it all off, Norwegians are wonderful people, almost everyone speaks fluent English so it's easy to navigate, and the scenic fjords are never far from sight.
And, since Norwegians love nature, there are a lot of free outdoor activities that can fill your days without emptying your wallet. Wild camping is also free here as well, making it the perfect destination for outdoorsy travelers.
I've loved all my visits to Norway. I am always blown away by the landscape, architecture, and friendly people. It's definitely not a country to be missed, even if you are on a budget.
Use this travel guide to Norway to plan your trip, save money, and make the most of your visit to this beautiful nation!
Click Here for City Guides
Top 5 Things to See and Do in Norway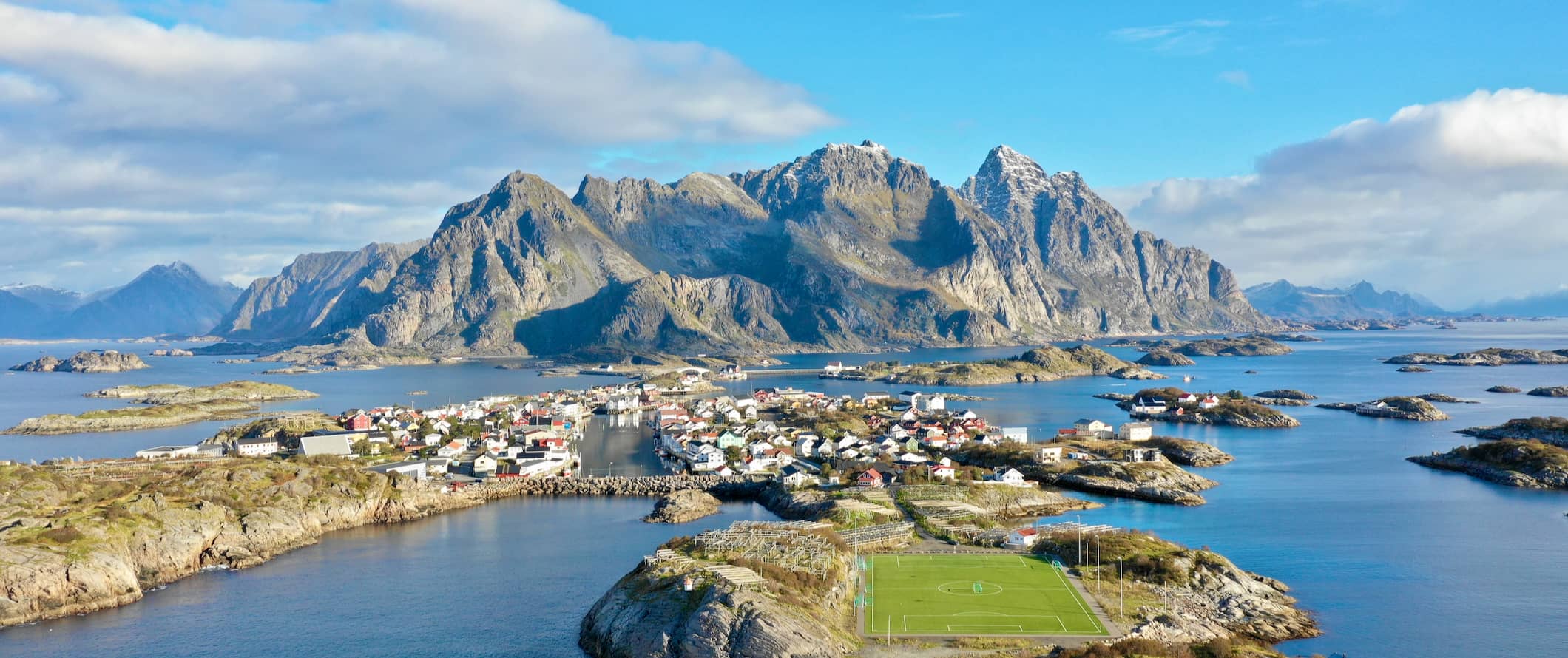 1. Check out the fjords
Surrounded by high cliffs, the fjords of Norway are world renowned and breathtakingly beautiful. Geirangerfjord and Nærøyfjord near Bergen are two of the most popular. Other fjords worth seeing include Aurlandsfjord (near Flåm), Lysefjord (near Stavanger), and Trollfjord (near Tromsø). There are tons of ways to experience Norway's natural beauty whatever your style is, from doing a fjord cruise, a kayaking tour, or going on a scenic hike to fully take in the unique landscapes.
2. Explore Oslo
Oslo is a beautiful small city of just under 700,000 people. Here you can browse the National Gallery, explore the Akerhus fortress, check out the Viking Ship Museum, see the Royal Palace, spend an afternoon strolling the Aker Brygge wharf, or sail around the city on a boat tour. Don't miss Vigeland Sculpture Park either, with its 200 unique statues. The city is also surrounded by wilderness, offering plenty of places to hike, bike, swim, and camp (and, of course, cross-country ski in the winter).
3. Visit Bergen
Bergen is home to tons of hiking trails as well as some of the most scenic fjords in the country. Check out the fish market, stroll through the historic Gamle Bergen, climb the medieval Rosenkrantz Tower, or hike up Mount Fløyen to get a picturesque view of the city below. Just two hours outside Bergen, you can enjoy the guided walks (suitable for all levels) on the Folgefonna Glaciers and marvel at the colors of the spectacular "blue-ice" hike. Folgefonna National Park, home to the massive golden eagle, is accessible by public transportation too.
4. See Lofoten
Lofoten is a picturesque scenic area in the far north well worth the effort (and cost) to get to. There are beautiful fjords to cruise, mountains, wildlife, and a slower pace of life that makes this place seem magical. Plus, there's no shortage of activities to take advantage of, from excellent fishing and plenty of opportunities for kayaking, photo tours, sailing trips, horseback riding, and more. This is also one of several spots to see the Northern Lights mirrored in the water of this unique archipelago. It's one of the most sought-after photography destinations in the world.
5. Tour Trondheim
Known for its bright and colorful buildings, Trondheim is a laid-back city filled with students. Located in the middle of the country, it's a fun destination to party and enjoy late nights out. Be sure to take a stroll through the Bakklandet neighborhood, see the Old Town Bridge, and visit the spectacular medieval Nidaros cathedral that has attracted pilgrims from Oslo for the last 400 years. The Rockheim culture center is a tribute to the history of Nordic rock music from 1950 to the present with interesting interactive exhibits and displays. If you visit in winter, don't miss the Ice Domes (an ice hotel that you can visit on a tour or stay at overnight — for a hefty price!).
Other Things to See and Do in Norway
1. Take a free walking tour
One of the best things you can do when you arrive in a new city is to take a walking tour. It's a great way to get the lay of the land and learn about the culture, people, and history of the destination. You can find free walking tours in Oslo and Bergen — tours that give you much more insight than any guidebook. Just be sure to tip your guides at the end!
2. Hike to the Preacher's Pulpit
Preikestolen (Preacher's Pulpit or Preacher's Chair) is one of the most famous landmarks in Norway (you've probably seen it on Instagram). An unusually flat and wide surface located atop a cliff, the iconic Preikestolen is only reachable by hiking a 4-kilometer (2.5-mile) trail. With around 200,000 visitors per year, you'll want to make sure you arrive early in order to take some photos without all the crowds. The hike is free and relatively easy though you'll need to pay 250 NOK to park your car. June-September is the best time to go. Guided hikes of Preacher's Pulpit (with transportation) start at 990 NOK.
3. See the stunning national parks
Norway is host to some of the most spectacular natural beauty in the world. With 47 national parks (and over 3,000 protected areas), Norway offers everything from waterfalls and glaciers to reindeer, lynx, and wolves — and much more! You can also enjoy all sorts of outdoor activities, from caving and canyoning to rafting and ziplining. Consider a visit to Jostedalsbreen National Park, home to the largest glacier in continental Europe; Blåfjella-Skjækerfjella National Park, which has tons of hiking and also lots of wild reindeer; or Jotunheimen National Park, which is home to over 200 mountains you can hike and climb. The national parks are all free to enter (though there are fees for parking).
4. Journey to the North Cape
The northernmost tip of Europe, Norway's North Cape is great for hiking, trekking, road trips, and more. Located almost 2,000 kilometers (1,242 miles) from Oslo, here you can explore the jagged coastline of Finnmark county, which includes six national parks. In the summer, the midnight sun shines for 2-3 months straight (May-July), while in the winter there are 2-3 months of complete darkness (November-January). You don't get more remote than this!
5. Explore Tromsø
Perfect for a 24-hour party, Tromsø in the summer is a city that doesn't sleep because the sun is up 24/7! Located in the Arctic Circle over 1,700 kilometers (1,056 miles) north of Olso, tourists come here to experience unbroken sunlight amidst the city's many pubs. Or, if you happen to visit in the dark and cold of winter, you can catch the vibrant northern lights. It's also a world-famous fishing destination and home to incredible, postcard-perfect fjords. Like Lofoten, this is one of the best destinations in the country for photography.
6. Enjoy some winter sports
Norway is one of the top ski destinations in the world. Rauland, Geilo, Skeikampen, and Hemsedal are all great options for snowboarding, telemark skiing (which mixes Alpine skiing and Nordic skiing), and 2,600 kilometers (1,615 miles) of cross-country skiing paths — and they're all just a few hours from Oslo. Lift tickets range from 300-450 NOK per adult. Expect to pay more on the weekends (the slopes are busier on the weekends too).
7. Eat at the Bergen Fish Market
Open daily, this market offers more than just fish. Come here for a glimpse into the local culture and history of the city (this market dates all the way back to 1200 CE). Explore the many stalls, snap some pictures, and check out the waterfront. It's just a short walking distance from many museums and galleries too (the Art Museum, the Hanseatic Museum, and the Leprosy Museum are all nearby). If you have access to a kitchen, grab some fish to take back for dinner. It's one of the more affordable places to buy fresh fish in the city.
8. See the Vigeland Sculptures
If you are in Oslo, don't miss these sculptures. Located in Frogner Park, this unique collection is the world's largest display of sculptures created by a single artist. Gustav Vigeland created all 212 statues in this 80-acre open-air "gallery." It's one of the most popular places in the summer to have a picnic, relax, people-watch, and enjoy the fleeting summer sun. It's free too.
9. Stroll around Gamle Stavanger
One of the oldest parts of Stavanger, this area is composed of narrow cobblestone streets lined with old wooden homes built during the 18th century. Taking a walk down here is like stepping back in time. After World War II, all of the city's wooden buildings were replaced with concrete and stone buildings — except for this section. Be sure to check out the various paintings, pottery, and other artisanal works by local artists in the area.
10. Check out the Royal Palace
Built during the first half of the 19th century, the Royal Palace in Oslo was the creation of King Charles III who ruled both Norway and Sweden at that time. Today, it's the official residence of the monarch (Norway is one of a dozen countries in Europe that still has a monarch). Be sure to see the changing of the guards at 1:30pm each day (it lasts around 40 minutes) and spend some time relaxing in the 54-acre park that surrounds the palace. The palace is open during the summer for guided tours (self-guided tours are not permitted) which cost 175 NOK. (Currently closed for guided tours until June 2023).
11. Wander the Ringve Music Museum & Botanical Garden
Located in Trondheim, this unassuming museum has an awesome collection of unique musical instruments from all around the world (there are over 2,000 in the collection). The museum is in the botanical gardens so there are 32 acres of plants and trees to see as you stroll around. The museum also has rotating exhibits from time to time so check the website to see if anything is on during your visit. Admission is 140 NOK and children under 15 enter free. Closed Mondays.
12. Visit the Norwegian Folk Museum
There are many museums throughout Oslo showcasing Norwegian history and Viking tales, but this is the most interesting. Home to over 150 buildings, this open-air museum lets you immerse yourself in the history of the country. The biggest attraction is the Gol Stave Church, which dates to 1200 CE. Other incredible sights to see are the 14th-century farmhouses and the 18th-century tenement buildings. This is a fun activity that blends entertainment and education, so it's a great choice for anyone traveling with children. Admission is 180 NOK in summer and 140 NOK in winter.
13. Attend Stavanger's jazz festival
Held every May, MaiJazz is a weekend-long festival featuring some of the most well-known jazz artists in the world. The city gets bustling and crowded so be sure to book your accommodation well in advance. The weather might be balmy as well so make sure you bring a coat too. Ticket prices vary for each performance (you pay per performance, not for a festival ticket). Most are between 450-750 NOK.
14. Hike Trolltunga
Located 4 hours from Bergen, this is one of Norway's most famous hikes. Trolltunga (which means "troll's tongue" in Norwegian) is a 12-hour hike that takes you to a long outcropping of narrow stone that towers over the landscape (the rock looks like an outstretched tongue, hence the name). The journey is challenging but the reward is one of the most scenic views in the entire country. You can only access the hike from June-September without a guide (you need a guide for the other times of the year). Parking is 600 NOK per vehicle but be aware there are also toll roads en route.

For more information on specific cities in Norway, check out these guides:
Norway Travel Costs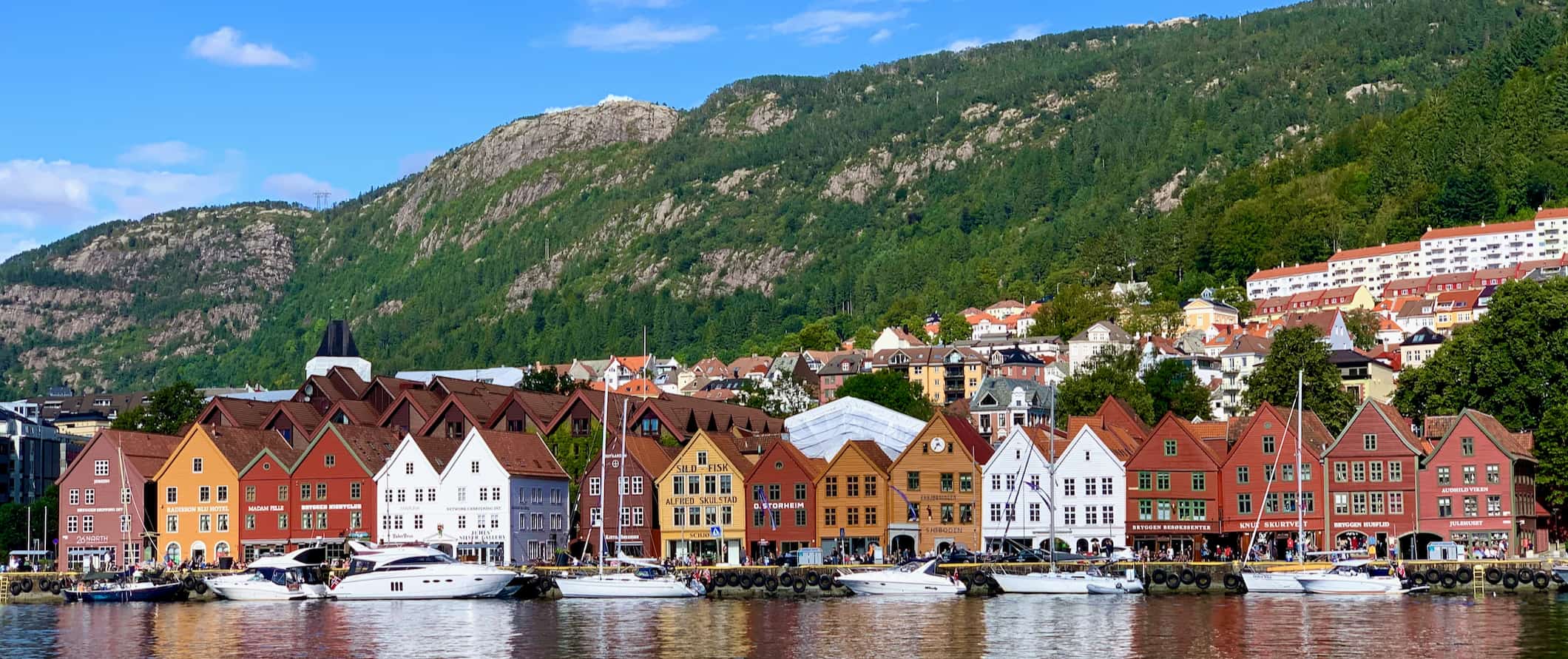 Accommodation – Accommodation (much like everything in Norway) is not cheap. Hostels start around 300 NOK per night for an 8-person dorm. Private rooms start at 700 NOK. Free Wi-Fi is standard and most hostels also have lockers and self-catering facilities if you want to cook your own food.
Most hostels charge a 50 NOK surcharge for linens, as is the custom in Scandinavia. You can bring your own but you cannot use a sleeping bag instead.
Budget hotels begin at around 700-900 NOK for a basic double room, however, budget hotels are also rare. Mid-range hotels (think 3-star hotels) are much more common, with prices starting around 800 NOK. For a hotel with a pool, expect to pay at least 1,200 NOK per night.
Private rooms on Airbnb can be found around 500 NOK per night while a whole apartment or house costs at least 750 NOK per night. Be sure to book early, otherwise prices can double (or even triple).
Wild camping is a budget-friendly option as it is legal (and free) to camp almost anywhere in the country. Norway has 'Freedom to Roam' laws (called "Allemannsretten") that allow anyone to camp anywhere for up to two nights as long as it's not on cultivated land. You'll need to make sure you are not camping near someone's house, that you take all trash with you when you leave, and that you aren't in a farmer's field or garden. But other than that, you can pretty much pitch your tent anywhere!
If wild camping is not your thing, campgrounds are also common though many require a Camping Key Europe card. You can purchase it for around 200 NOK. Most campsites have modern facilities, including toilets and showers. Expect most plots for two people without electricity to cost 150-350 NOK per night.
Food – Norwegian cuisine focuses heavily on seafood. Smoked salmon is a local favorite and one of the country's staples. Cod is also super popular, as are prawns and crab (locals host "crab parties" when they are in season). Lamb is the most popular meat, and open-faced sandwiches are the go-to choice for both breakfast and lunch (usually composed of dark bread, cheese, and either meat, seafood, or vegetable topping).
Overall, the food is expensive here. A lot of food has to be imported so anything that isn't grown here is going to be pricey. Street food like hot dogs cost 45 NOK and you can usually find "cheap" meals for under 200 NOK at inexpensive restaurants. For a multi-course meal with table service, expect to pay double that.
Fast food (think McDonald's) costs around 120 NOK for a combo meal while Chinese food starts at 150 NOK per main dish. A basic large pizza starts at 110 NOK (140 NOK for one with more toppings).
Beer at the bar costs around 95 NOK though you can get it for less than half that price if you buy it at the store. Lattes/cappuccinos cost around 45 NOK while bottled water is 30 NOK.
Grocery shopping here is the cheapest way to get by on a budget. Expect a week's worth of groceries to cost around 725 NOK. This includes basic staples like rice, pasta, vegetables, and some meat or fish.
Backpacking Norway Suggested Budgets
On a backpacking budget of 600 NOK per day, you can stay in a hostel dorm, cook all your meals, take public transportation to get around, limit your drinking, and do free activities like swimming and hiking. If you plan on drinking, add 50-150 NOK per day to your budget.
On a mid-range budget of 1,500 NOK per day, you can stay in a private hostel room or Airbnb, eat out for some meals, take the occasional taxi to get around, enjoy a couple of drinks, and do paid activities like museum visits or opera performances.
On a "luxury" budget of 2,600 NOK or more per day, you can stay in a hotel, eat out for all your meals, drink more, rent a car to get around, and do more paid activities and guided tours. This is just the ground floor for luxury though. The sky is the limit!
Accommodation
Food
Transportation
Attractions
Average Daily Cost
Backpacker
300
100
100
100
600
Mid-Range
500
400
200
225
1,325
Luxury
1,000
800
400
400
2,600
Norway Travel Guide: Money-Saving Tips
Norway is expensive. There's no two ways about it. It's one of the most expensive countries in the world and you will be hard pressed to save money if you aren't cooking all your meals or camping. Ultra-budget is not impossible, just difficult. Here are some tips to help you save money in Norway:
Cook your own food – Food is very expensive in Norway so the best thing you can do is cook your own meals. Go grocery shopping and stick to cheap local staples. Avoid eating out!
Eat cheap – If you do decide to eat out, your cheapest options are shawarma and pizza. They can be found all around the country.
Couchsurf – Use Couchsurfing to connect with locals and get free accommodation. It's the best way to save money and make new friends who can share their insider tips and advice.
Camp – Free public camping laws allow you to wild camp in the parks and public lands for free. You can generally stay 1-2 nights in an area as long as you are quiet and respectful. Make sure to leave the area as you found it!
Get a tourism card – The best way to afford all the attractions in a city is to get a city tourism card. Oslo and Bergen both have tourism cards that can save you money if you plan on seeing a lot (they include free public transportation too).
Book in advance – If you can plan your transportation in advance, you can save up to 50% off the cost of your train or bus tickets. Buying last-minute tickets means it's going to be more than any budget traveler can afford, especially if you want to visit a number of destinations in Norway. Book in advance and save money!
Stay sober – At 100 NOK per drink (or more!), going out for drinks destroys your budget. While Norwegians love to go out and have a good time, if you are on a tight budget, skip the booze!
Buy your drinks at the store – If you do plan on drinking, buy your drinks at the Vinmonopolet (the state-run chain of stores that sell alcohol). You'll save 50% or more doing this!
Travel with friends – If you rent a car (which is the best way to get around) try to find people to join you to share costs. You can use the Couchsurfing platform or just ask around in hostels to find people. This will help you save money on gas and rental prices — which can eat into your budget quickly!
Take advantage of free activities – While Norway is expensive, there are plenty of free activities to be enjoyed. Check out the festivals and free concerts held in Bergen's church areas that attract many international musicians. Take advantage of free admission to the national parks and spend your days hiking outdoors in the fresh Nordic. Oslo might be an expensive capital but you can still wander around Ekebergparken park, the Intercultural museum, or visit some art galleries and ruins without breaking the bank.
Bring a reusable water bottle – The tap water in Norway is super clean, so bring a reusable water bottle to save money and lower your plastic usage. LifeStraw makes a bottle with a built-in filter so you can always ensure your water is clean and safe.
Where to Stay in Norway
Hostels are not all that plentiful across Norway (they're usually just in the larger cities) so be sure to plan accordingly. Here are my suggested places to stay while you're in Norway:
How to Get Around Norway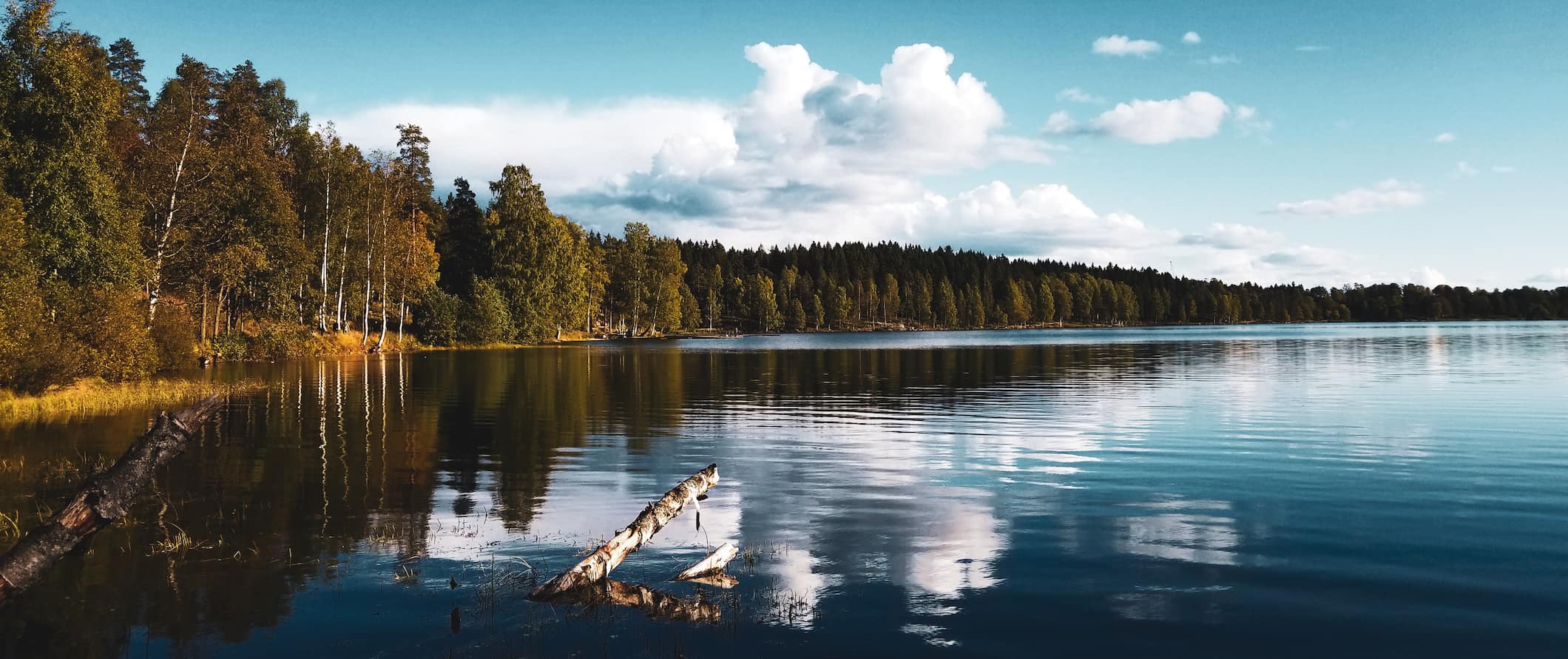 Public transportation – Public transportation in Norway is modern, clean, and reliable. Buses and trams are common in each city; only Oslo has a metro system. Single tickets cost around 39 NOK and are usually valid for one hour. You can get a 24-hour pass in Oslo for 117 NOK and a 7-day pass for 323 NOK.
You are able to get on most buses and trams without showing a ticket, however, patrols are common and the fines are heavy if you get caught without a ticket. Don't risk it — always buy a ticket!
Bus – Buses are a cheap way to get around the country, though they are slow and rather limited since the distances between cities can be large. For example, the 8-hour journey from Oslo to Stavanger costs around 115-450 NOK each way while the bus from Oslo to Trondheim takes around 9 hours and costs around 780 NOK. Prices can double when not booked in advance.
Vy Buss is the most common bus company, though you can also find deals with Nor-Way Bussekspress and Flixbus.
Train– Trains are the best way to get around Norway (unless you're on a road trip). They are often faster than buses without costing much more — and they are much more comfortable. The 7-hour trip from Oslo to Trondheim costs as little as 360 NOK while the 6.5-hour trip to Bergen from Oslo can cost as little as 290 NOK. The trip from Oslo to Gothenburg, Sweden takes under 4 hours and can be done for less than 250 NOK.
Reservations should be made in advance as you can often find great deals that way. Last-minute tickets can be double what I quoted above!
Flying – Flying around Norway isn't super cheap, but it's also not that expensive. From Oslo, you can reach most destinations in the country (as well as destinations in Sweden) for as little as 500 NOK (one way) if you book early and are flexible. Norwegian Air is the main domestic carrier, though SAS also flies several major routes.
Car Rental – Renting a car is the best way to explore the country, however, it's not cheap if you're a solo traveler. Expect to pay 470-900 NOK per day for a vehicle if you rent for at least a week. Most rental vehicles are manuals as well, so keep that in mind when renting (you usually have to pay more for an automatic). If you don't have someone to travel with to keep costs low, check at the local hostels or on Couchsurfing to find people to travel with so you can split costs.
For the best car rental prices, use Discover Cars.
Hitchhiking – Hitchhiking here is possible in Norway though it's not very common. Make sure you're near a main road and be prepared for the weather to change rapidly. Also, try to look presentable and have a sign. Wait times can be long so make sure you have flexible plans. HitchWiki is the best website for additional hitchhiking info.
When to Go to Norway
The ideal time to visit Norway is from June to August when the weather is warm and the days are long. The country is at its liveliest during this time and locals take advantage of the good weather at every opportunity. The parks are always full, and there are usually fun events happening on the weekends. Temperatures are often in the 20s°C (60s and 70s°F) during the summer. Not too hot, but warm enough to swim, hike, and lounge about.
The downside to visiting then is that, since Norway has a very short summer, the cities can get busy so be sure to book your accommodation in advance. That being said, "busy" in Norway is a far cry from "busy" in cities like Paris or London.
The shoulder season (May-June and August-September) makes for a good time to visit as well, with temperatures ranging from 4-10°C (40-50°F). May typically has decent weather with occasional rain, while September gives you cooler temperatures and changing leaves. You'll beat the crowds and still be able to explore on foot without the weather getting in your way (too much).
Attractions begin to close around September/October (including some hiking trails). The days get dark early in October and temperatures start dropping around this time too. However, prices also decrease and you're likely to find cheaper airfares and accommodations during this time. Be sure to pack layers (and rain gear) if you plan on visiting during this time of year as it can be quite cool — even during the day.
The winter is very cold and sees a lot of snow and darkness. Temperatures plummet below freezing. The plus side of traveling during the winter is that accommodation is cheaper and fees for certain attractions are lower. This is also the prime time to see the northern lights or go skiing, so there is still plenty to do if you plan on visiting during the winter.
How to Stay Safe in Norway
Norway is one of the safest countries in the world. In fact, it ranks 17th on the ranking of the world's safest countries! However, in cities like Oslo, it's still good to keep an eye out for pickpockets, especially around the train station and on public transportation. Incidents are very rare, but it never hurts to be aware of your surroundings.
Solo female travelers should generally feel safe here. However, the standard precautions apply (never leave your drink unattended at the bar, never walk home alone intoxicated, etc.) but it's unlikely anything will occur. Check out one of the solo female travel blogs on the web for more specific information on safety.
If you go hiking, always bring water and sunscreen. Be sure to check the weather before you go as well.
If you rent a car, don't leave any valuables in it overnight. While break-ins are rare, it's better to be safe than sorry.
Scams here are rare here but you can read about common travel scams to avoid here.
If you experience an emergency, dial 112 for police, 110 for fire, and 113 for ambulance services.
At the end of the day, always trust your gut instinct.Make copies of your personal documents, including your passport and ID as well. It never hurts to be prepared!
The most important piece of advice I can offer is to purchase good travel insurance. Travel insurance will protect you against illness, injury, theft, and cancellations. It's comprehensive protection in case anything goes wrong. I never go on a trip without it as I've had to use it many times in the past. You can use the widget below to find the policy right for you:
Norway Travel Guide: The Best Booking Resources
These are my favorite companies to use when I travel. They consistently have the best deals, offer world-class customer service and great value, and overall, are better than their competitors. They are the companies I use the most and are always the starting point in my search for travel deals.
Skyscanner – Skyscanner is my favorite flight search engine. They search small websites and budget airlines that larger search sites tend to miss. They are hands down the number one place to start.
Hostelworld – This is the best hostel accommodation site out there with the largest inventory, best search interface, and widest availability.
Booking.com – The best all around booking site that constantly provides the cheapest and lowest rates. They have the widest selection of budget accommodation. In all my tests, they've always had the cheapest rates out of all the booking websites.
HostelPass – This new card gives you up to 20% off hostels throughout Europe. It's a great way to save money. They're constantly adding new hostels too. I've always wanted something like this and glad it finallt exists.
Get Your Guide – Get Your Guide is a huge online marketplace for tours and excursions. They have tons of tour options available in cities all around the world, including everything from cooking classes, walking tours, street art lessons, and more!
The Man in Seat 61 – This website is the ultimate guide to train travel anywhere in the world. They have the most comprehensive information on routes, times, prices, and train conditions. If you are planning a long train journey or some epic train trip, consult this site.
Rome2Rio – This website allows you to see how to get from point A to point B the best and cheapest way possible. It will give you all the bus, train, plane, or boat routes that can get you there as well as how much they cost.
FlixBus – Flixbus has routes between 20 European countries with prices starting as low 5 EUR! Their buses include WiFi, electrical outlets, a free checked bag.
SafetyWing – Safety Wing offers convenient and affordable plans tailored to digital nomads and long-term travelers. They have cheap monthly plans, great customer service, and an easy-to-use claims process that makes it perfect for those on the road.
LifeStraw – My go-to company for reusable water bottles with built-in filters so you can ensure your drinking water is always clean and safe.
Unbound Merino – They make lightweight, durable, easy-to-clean travel clothing.
Top Travel Credit Cards – Points are the best way to cut down travel expenses. Here's my favorite point earning credit cards so you can get free travel!
Norway Travel Guide: Related Articles
Want more info? Check out all the articles I've written on Norway travel and continue planning your trip: