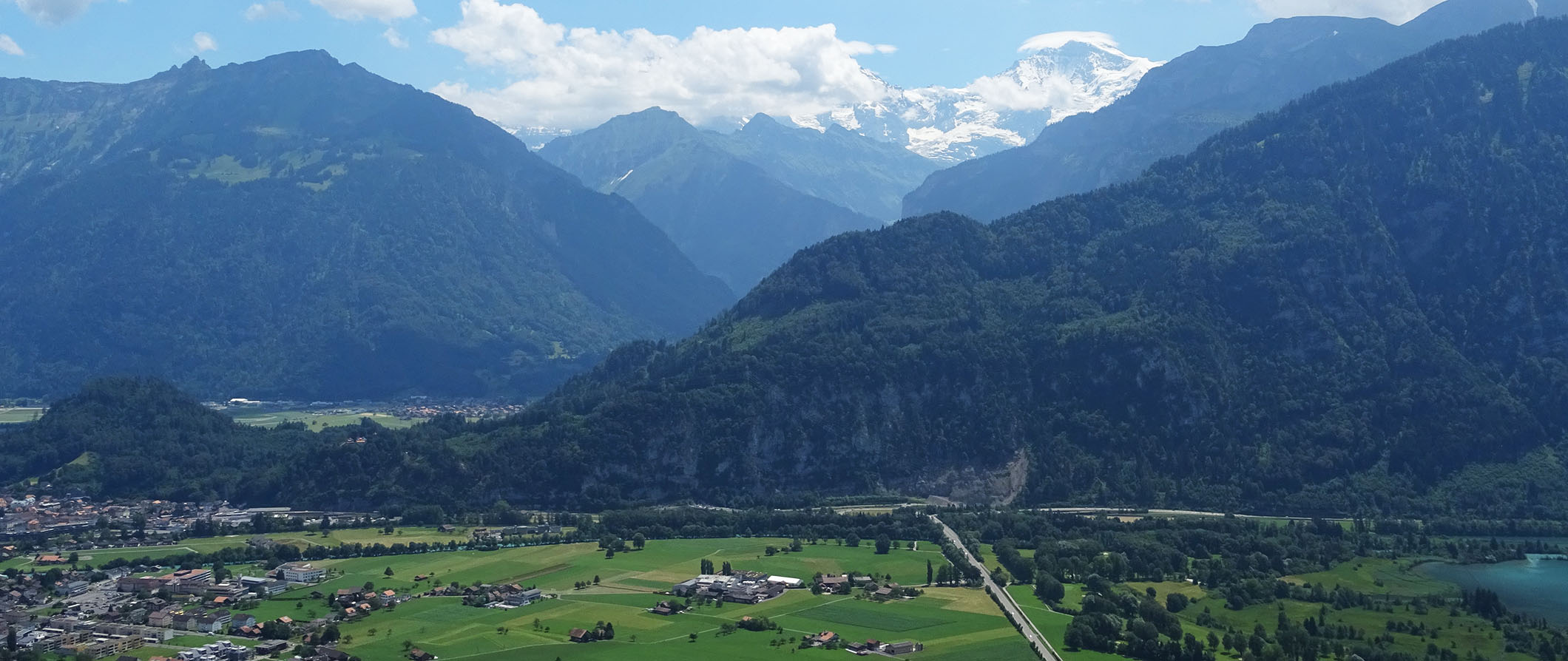 Located in the beautiful Alps, Interlaken is a wonderful spot for mountain-related sports. The beautiful scenery and the number of pubs make it also a popular backpacker destination during the summer. If you come here during the winter, expect snowy roads, ice-topped mountains, and lots of fondue cafes with outdoor seating that comes fully-equipped with warm blankets to keep you warm.
A small town, there's really not much to do here if you aren't outdoors. You come here to be on the lake or in the mountains and that's about it.
This guide to Interlaken can help you plan your visit there without spending lots of money.

Geneva
Top 5 Things to See and Do in Interlaken
1. Go to St Beatus Caves
The St. Beatus Caves are a network of caves andtunnels above Lake Thun. Legend has it that St. Beatus took refuge in the caves in the 2nd century and drove out the dragon that lived there. You can take guided tours of the caves and visit the little museum they have set up there.
2. See the Giessbach Waterfalls
Rent a bike, and cycle to the beautiful cascading Giessbach Waterfalls. On your way back, ride around Lake Brienz for an added treat. You can rent a bike from Flying Wheels starting at 25 CHF ($26.50 USD) for 2 hours or 40 CHF ($42 USD) for 4 hours.
3. Visit the lakes
Interlaken is full of lakes (hence, the name). Spend a day at Lake Thun, Lake Brienz, or Aare River – go for a swim, have a picnic, get a tan, hike the surrounding trails, or do one of the many water activities available to you. On a nice, hot day, there's no place better place to be. Keep in mind the water is fairly cold!
4. Ride the Jungfraujoch Railway
This mountain railway takes passengers up Kleine Scheidegg to the Jungfraujoch – the highest train station on the continent. The amount of snow in these mountains is just incredible, and the ride offers stunning views. A round-trip journey costs 235 CHF ($247 USD).
5. Try an adventure sport
Interlaken is filled with outdoor activities. Choose from hiking, rock climbing, and cycling to bungee jumping, skydiving, river rafting, and paragliding. This is a place to be active when you are traveling around Europe, especially during the summertime.
Other Things to See and Do in Interlaken
1. Visit the Weisseanau Nature Preserve
The Weisseanau Nature Preserve is a popular spot with locals and is home to over 200 bird species. It also has around 18 types of orchids. You will also find the ruins of Weissenau Castle in the reserve. A 13th-century castle, this was once home to the Freiherr of Weissenau before becoming a prison and eventually falling into disrepairs in the 16th-century.
2. Ride to Schynige Platte Railway
Built in 1893, the train was originally steam-powered until 1914 when it was electrified. Today, you can ride in the original train cars and take in the mountains, Thun and Brienz lakes, and alpine pastures. The journey takes about 1 hour, and trains leave Wilderswil every 40 minutes. The last train from Schynige Platte is at 5:30pm. The train operates June to the end of October. Tickets cost around 88 CHF ($93 USD).
3. Enjoy the nightlife
Interlaken is a big destination for backpackers to enjoy nature, relax, and drink big steins of beer. During the summer, this place is booked far in advance, and people spend their days exploring the mountains and their nights exploring how much they can drink. Funny Farm is a hostel known for its bar, summertime bonfires and Guinness tent. Hüsi Bierhaus is one of the most popular bars in Interlaken. Johnny's Pub and Grill is always a good time, with live DJs and bands, plus it's open until 3am (5am on Fridays and Saturdays).
4. Go for a wine tasting at Rebbau Genossenschaft Spiez
Spiez is a charming town located along Lake Thun, known for its picturesque views, and vineyards. Rebbau Genossenschaft Spiez is one of the highest vineyards north of the Alps. The vineyard has its own sensory adventure trail which includes stations where you can test your senses, view 60 different grape varieties in their Vine Garden, and enjoy a picnic. Wines shop and tastings are April-Jun on Saturdays 9am-11:30am, and on Wednesdays 5pm-7pm the remainder of the year. wine tasting will cost around 15 CHF ($16 USD) and includes bread and local cheese.
5. Walk across Sigriswil panoramic bridge
This bridge is suspended 182 meters (597 feet) above Gummischlucht gorge and is one of seven suspension bridges on the Lake Thun Panoramic Circular Trail (a breathtaking 56 km / 35 mi hiking trail). The bridge is 340 m (1,115 ft) long and the view of the gorge is beautiful. It costs 8 CHF ($8.50 USD) for a day ticket, and the funds are used to maintain the bridge.
6. Go to the Ballenberg Open-Air Museum
This open-air museum features a hundred houses and buildings from all over Switzerland. The oldest house dates back to 1336. There are secluded barbecue areas and picnic tables for taking a break, and you can check out handicraft demonstrations with locals. It's a good family activity. The cost is 28 CHF ($29.50 USD).
7. Immerse yourself in the world of Sherlock Holmes
The town of Meiringen is around 2.7 mi (4.3 km) from Reichenbach Falls, where Sherlock Holmes fell to his death in Sir Arthur Conan Doyle's book, The Final Problem. Since its publication in 1893, visitors have arrived from around the world to see the famous waterfall. Today, the town has fully embraced Conan Doyle's famous detective, making it a fun and slightly quirky destination. The Sherlock Holmes Museum (5 CHF / $5.30 USD) is located inside an English church and chronicles the life of Sir Arthur Conan Doyle, as well as the fictional world of Sherlock Holmes. A life-size bronze statue of the detective can be found in the main square. If you look closely, you'll see clues about Holmes, and the books etched into the statue. Sherlock Lounge is a fun bar for drinks and live music. Ride up to Reichenbach Falls in a wooden funicular carriage for 12 CHF ($12.75 USD) return.
8. Zip through the trees
Seilpark is a ropes adventure park is filled with wooden bridges, Tarzan swings, and zip lines. They have nine different courses to pick from. It's is 42 CHF ($44 USD) for the day, and includes equipment. They have a barbecue area if you want to bring your lunch and have a picnic.
9. Go Hiking
There are loads of free hiking trails around Interlaken. Trails running along lakesides leading to beautiful waterfalls, through serene nature reserves, and up to beautiful mountain summits. No matter your skill level, there are beautiful walking trails and hikes to enjoy. If you're feeling hot, swimming in the lakes is a perfect way to cool off. Harder Kulm is a steep 2.5-hour climb, but it's worth the climb for the views at the top. From there you can continue on towards Roteflue, through and the woods and along the mountain ridgeline. In Jungfrau, several hikes will take you to viewpoints over the Aletsch Glacier – you might be able to see all the way to the Vosges Mountains at the top.
For more information on specific cities in Switzerland, check out these guides:
Interlaken Travel Costs
Hostel prices – There are a handful of hostels to choose from in Interlaken. Prices for a dorm cost between 20-55 CHF ($21-58 USD) per night for a 10-bed dorm room. Private rooms start at around 100 CHF ($105 USD) per night. Pretty much all hostels offer free linens and free wifi.
Budget hotel prices – A night in a 2-star budget hotel, in a room that sleeps two, starts around 130 CHF ($137 USD).
On Airbnb, most rooms start around 82 CHF ($86.50 USD). A better option may be renting an entire home, which start around 140 CHF ($147.50 USD) per night. Roughly the same price as a hotel room in town, renting an entire home provides more space and freedom, as well as a kitchen where you can cook most of your meals.
Average cost of food – Dining out in Interlaken can be expensive, but there are a few restaurants where you can find affordable meals. The food scene here is a mixture of traditional Swiss cuisine, and global influences such as Thai, Lebanese, Irish, Italian. Try places like Balmers Biergarden, Layaly Beirut, and Xport pizzeria for meals that are under 20 CHF ($21 USD).
For traditional Swiss food such as fondue, schnitzel, älpler makkaroni, raclette, and goulasch, expect to pay anywhere from 20-40 CHF ($21-42 USD) for a meal.
A beer will cost at least 6 CHF ($6.50 USD) in a restaurant, however, if you buy it in a shop you can expect to pay about 2 CHF ($2.15 USD).
Migros is located near the train station which sells ready-made meals that are tasty, and affordable on any budget. Expect to pay 130-150 CHF ($137-158 USD) per week for groceries if you're cooking for yourself. This will get you fresh fruit and vegetables, milk, eggs, cheese, and chicken. Beef can be expensive.
Backpacking Interlaken Suggested Budgets
If you're backpacking Interlaken, my suggested budget is about 90 CHF ($95 USD) per day. This budget will cover staying in a hostel dorm, cooking most of your meals, drinking a few beers, and walking everywhere.
A mid-range budget of about 142 CHF ($150 USD) will cover a room at a two-star budget hotel or a private Airbnb room, eating out on the cheap, and a couple of paid attractions per day.
If you're dining out for lunch and dinner, you'll spend an average of 45 CHF ($48 USD) a day on food. For people who want to cook and eat the occasional meal out, expect to spend around 20 CHF ($21 USD) per day.
For a luxury budget of 285 ($315 USD) or more, you will stay in a four-star hotel, eat at restaurants for all your meals, and enjoy plenty of activities. The sky is your limit!
You can use the chart below to get some idea of how much you need to budget daily. Keep in mind these are daily averages – some days you'll spend more, some days you'll spend less (you might spend less every day). We just want to give you a general idea of how to make your budget. Prices are in USD.
Accommodation
Food
Transportation
Attractions
Average Daily Cost
Backpacker
$36
$25
$15
$19
$95
Mid-Range
$60
$50
$15
$25
$150
Luxury
$290
$100
$20
$60
$470
Interlaken Travel Guide: Money Saving Tips
Interlaken is pretty expensive but it's a popular backpackers town so you can find lots of cheap things to do. Like everywhere in Switzerland, nature is free so if you stick to that, you can save a lot of money. If you want to lower your costs, here are some ways to save money in Interlaken:
Visit in the summer – During the summertime, there are a lot of free activities to do here. There's hiking, climbing, running, swimming, going to the lakes, and much more. Switzerland is very expensive, so the best time to come is in the summer when you don't have to pay for much. Plus, Interlaken is small enough that you can pretty much walk everywhere!
Use Couchsurfing – It's a service that lets travelers stay with locals for free. It was a lifesaver that allowed me to keep my costs down the most. Since a lot of travelers use this service, make your requests for hosts early.
Don't drink (or limit your drinking) – Drinking is not cheap here. Most beers are around 6 CHF ($6.30 USD). (Plus, who wants to hike while hung over?) Most wines are between 10-25 CHF ($10.50-26.50 USD) a bottle. If you must drink, stick to hostel bars where you can enjoy 2-for-1 happy hours and cheap drinks for around 5 CHF ($5.25 USD) or buy your beers at grocery stores for as little was 2 CHF ($2.15 USD).
Cook – With sit-down restaurants costing around 40 CHF ($42 USD) per meal per person, eating out can be very costly, so buy your groceries. A week's worth of food (bread, pasta, rice, eggs, vegetables, cheese, deli meats for sandwiches, and some assorted fruit) will cost you 85-135 CHF ($89-142 USD).
Bring a refillable water bottle – At 2-4 CHF ($2.15-4.25 USD) a bottle, that's a lot of money spent on water after a few days. The water here is safe to drink, so refill your bottle before you go out to save money.
Take a free walking tour – In the warmer months, Interlaken Walking Tours offers free tours. Learn about the city, kill a few hours, and meet some people too. (Just be sure to tip your guide!)
Where To Stay in Interlaken
There are a handful of hostels in Interlaken. Here are my recommended places to stay in Marseille:
How to Get Around Interlanken
Interlaken is small enough to walk or ride a bicycle anywhere you need to go. You don't need to pay for transportation around town.
Bike – You can rent a bike from Daniel's Fun Rental for 16 CHF ($17 USD) for 3 hours or 30 CHF ($31.50 USD) for the full day. You can rent a bike from Flying Wheels starting at 25 CHF ($26.25 USD) for 2 hours or 40 CHF ($42 USD) for more than 4 hours.
Train – Train travel between towns and villages outside Interlaken is the best way to get around. A trip from Interlaken to Meiringen is about 35 mins and costs 6.50 CHF ($7 USD). Most tickets will cost between 6.50-14 CHF ($7-14.75 USD).
When to Go to Interlaken
The best time to visit Interlaken is June-October when the weather is warm enough for exploring on foot, as well as adventure activities such as rock climbing, sailing, hiking, and cycling. During this time, temperatures reaching an average of 68°F (20°C). This is the busiest time to visit Interlaken, so expect prices to be at least 15% higher.
In summer, check out the Greenfield Festival in June for performances by rock bands throughout the world. Free open-air concerts take place every Thursday night, and Thunerseespiele is another music festival that is not to be missed. August 1st is Swiss National Day, and the perfect time for watching folklore performances, alphorn blowing, yodelling, fireworks, and more!
In winter, Interlaken can be quite cold, and the crowds are considerably less. The scenery is still breathtaking, but your choice of activities is limited to skiing and snowboarding in the mountains nearby. Temperatures generally start at 28ºF (-2ºC) and plummets from there.
In November and December, the Christmas market is open and filled with Swiss treats, handicrafts, and mulled wines. Touch the Mountains is the big New Year's festival with fireworks, open-air concerts, and Swiss performers. The after-show parties are pretty good too. Harder-Potschete takes place January 2nd. This is when the town is haunted by the Hardermannli (spirit for Harder Kulm mountain), his wife, and their children (Potschen). In celebration, there is a traditional procession and masked Potschen run around spreading terror.
How to Stay Safe in Interlaken
Interlaken is very safe, and the risk of violent crime is very low. It's such a small town that you're unlikely to get into any trouble.
If you're planning to go hiking, make sure you choose trails that meet your skill/fitness level. This is not the time to try difficult trails for the first, especially if you plan to hike alone. Ask locals for advice on the best trails, wildlife concerns, and which ones may be closed at the time.
If you plan to hike alone, be sure to let someone at your hostel or hotel know which trail you plan to do, especially if it is considered intermediate or difficult. This way, if something happens and you don't return, they know where to start looking for you.
People are generally friendly and helpful, and you're unlikely to get into trouble.
Always trust your gut instinct. Make copies of your personal documents, including your passport and ID.
If you don't do it at home, don't do it in Interlaken! Follow that rule, and you'll be fine.
The most important piece of advice I can offer is to purchase good travel insurance. Travel insurance will protect you against illness, injury, theft, and cancellations. It's comprehensive protection in case anything goes wrong. I never go on a trip without it as I've had to use it many times in the past.
Interlaken Travel Guide: The Best Booking Resources
These are my favorite companies to use when I travel to Interlaken. They are included here because they consistently find deals, offer world-class customer service and great value, and overall, are better than their competitors. They are the ones I use the most and are always the starting points in my search for travel deals.
Momondo – This is my favorite booking site. I never book a flight without checking here first.
Skyscanner – Skyscanner is another great flight search engline which searches a lot of different airlines, including many of the budget carriers that larger sites miss. While I always start with Momondo, I use this site too as a way to compare prices.
Airbnb – Airbnb is a great accommodation alternative for connecting with homeowners who rent out their homes or apartments.
Hostelworld – This is the best hostel accommodation site out there, with the largest inventory, best search interface, and widest availability.
Couchsurfing – This website allows you to stay on people's couches or spare rooms for free. It's a great way to save money while meeting locals who can tell you the ins and outs of their city. The site also lists events you can attend to meet people (even if you're not staying with someone).
Booking.com – The best all around booking site that constantly provides the cheapest and lowest rates. They have a no money down policy, great interface, and the widest selection of budget accommodation. In all my tests, they've always had the cheapest rates out of all the booking websites.
Eurail – If you are going to Europe and taking a lot of high speed or long distance trains, get a rail pass. I've used a rail pass three times and saved hundreds of dollars each time. The math just works.
Intrepid Travel – If you want to do a group tour around Europe, go with Intrepid Travel. They offer good small group tours that use local operators and leave a small environmental footprint. If you go on a tour with anyone, go with them. And, as a reader of this site, you'll get a discount when you click the link!
Grassroots Volunteering – For volunteering, Grassroots Volunteering compiles a list of good local volunteer organizations that keep the money within the community.
The Man in Seat 61 – This website is the ultimate guide to train travel anywhere in the world. They have the most comprehensive information on routes, times, prices, and train conditions. If you are planning a long train journey or some epic train trip, consult this site.
Rome 2 Rio – This website allows you to see how to get from point A to point B the best and cheapest way possible. It will give you all the bus, train, plane, or boat routes that can get you there as well as how much they cost.
World Nomads – I buy all my travel insurance from World Nomads. They have great customer service, competitive prices, and in-depth coverage. I've been using them since I started traveling in 2003. Don't leave home without it!
Interlaken Gear and Packing Guide
If you're heading on the road and need some gear suggestions, here are my tips for the best travel backpack and for what to pack!
The Best Backpack for Travelers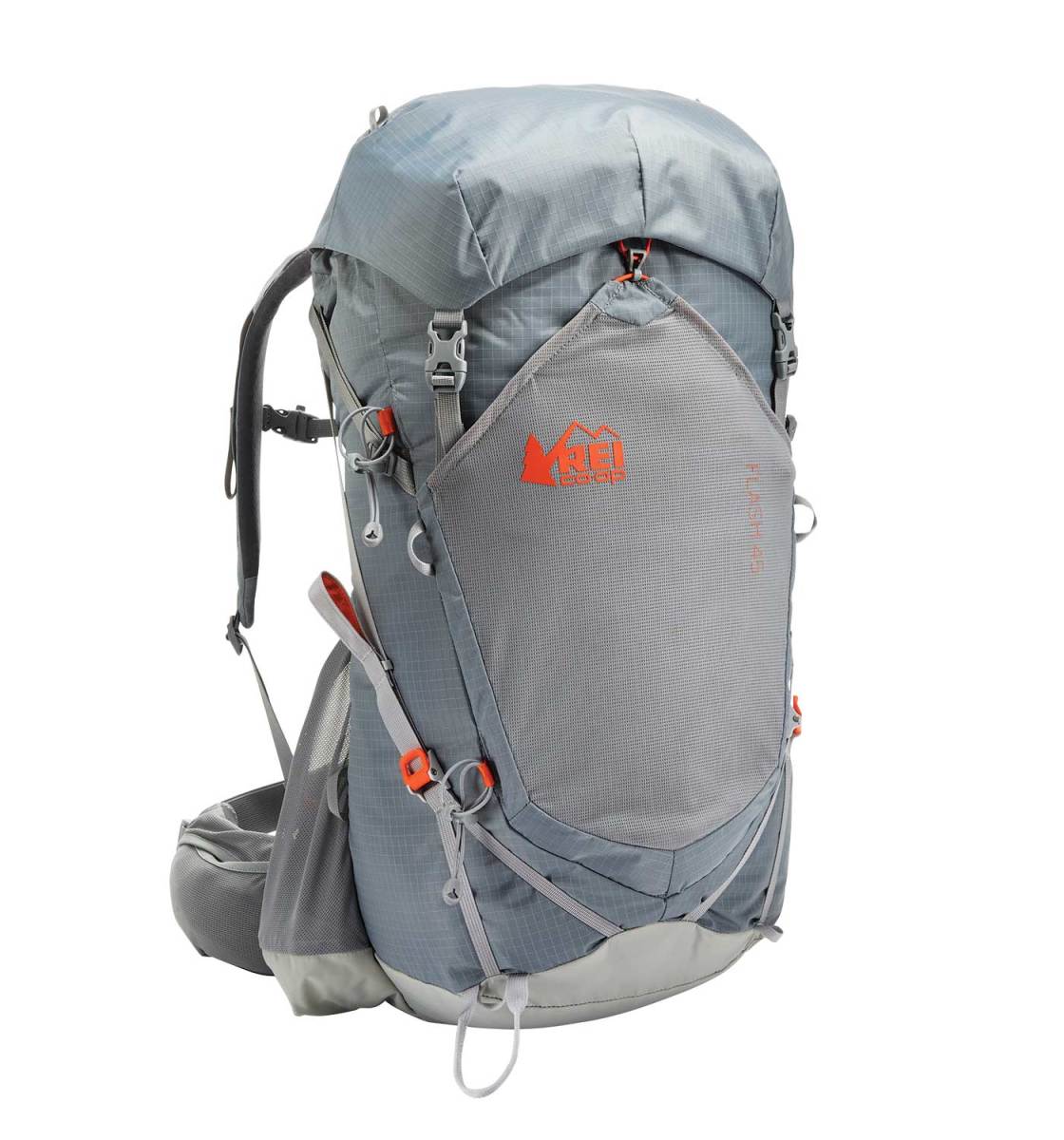 What's the best backpack for traveling long-term? I recommend the
REI Flash 45 Pack
. It's light and comfy, front loading, and fits perfectly in an airplane's overhead bin.
Size:
45-47L
Straps:
Thick and cushy with compression technology that pulls the pack's load up and inwards so it doesn't feel as heavy.
Features:
Removable top lid, large pocket at the front, hydration compatible, contoured hip belt
If you want something different, refer to my article on how to choose the best travel backpack for tips on picking a pack and other backpack suggestions.
What to Pack for Your Trip
Clothes
1 pair of jeans (heavy and not easily dried, but I like them; a good alternative is khaki pants)
1 pair of shorts
1 bathing suit
5 T-shirts (Unbound Merino is my preferred company. If you're a member of NM+, you can get 15% off your purchase)
1 long-sleeved T-shirt
1 pair of flip-flops
1 pair of sneakers
6 pairs of socks (I always end up losing half)
5 pairs of boxer shorts (I'm not a briefs guy!)
1 toothbrush
1 tube of toothpaste
1 razor
1 package of dental floss
1 small bottle of shampoo
1 small bottle of shower gel
1 towel
Deodorant
Small Medical Kit (safety is important!!!)
Miscellaneous
Female Travel Packing List
I'm not a woman, so I don't know what a woman wears, but Kristin Addis, our solo female travel guru, wrote this list as an addition to the basics above:
Clothing
1 swimsuit
1 sarong
1 pair of stretchy jeans (they wash and dry easily)
1 pair of leggings (if it's cold, they can go under your jeans, otherwise with a dress or shirt)
2-3 long-sleeve tops
2-3 T-shirts
3-4 spaghetti tops
1 light cardigan
Toiletries
1 dry shampoo spray & talc powder (keeps long hair grease-free in between washes)
1 hairbrush
Makeup you use
Hair bands & hair clips
Feminine hygiene products (you can opt to buy there too, but I prefer not to count on it, and most people have their preferred products)
For more on packing, check out these posts:
Interlaken Travel Guide: Related Articles
Want more info? Check out all the articles I've written on backpacking/traveling Switzerland and continue planning your trip:
Photo Credit: 6 – Felix Haller