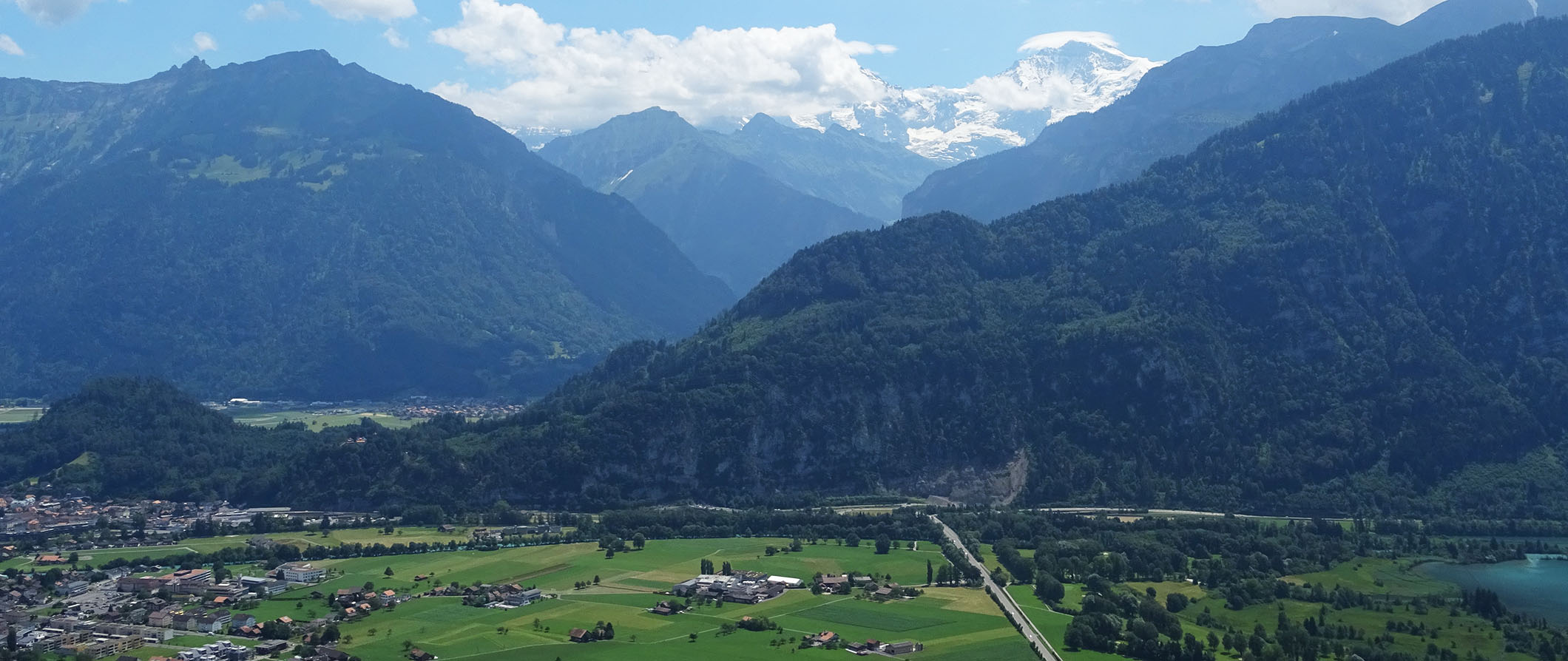 Located in the beautiful Alps, Interlaken is a small town surrounded by towering mountains with a lake at each end (hence the name, which means "between lakes"). It's a wonderful spot for mountain-related sports and the beautiful scenery and the number of pubs make it a popular backpacker destination in the summer.
The first settlement here was established in the Middle Ages. A monastery was built in 1133, with a nearby village being established shortly after. Over the centuries, the monastery prospered and its influence expanded over dozens of surrounding churches and villages. But it wasn't until around 1800 that the area gained popularity as a tourist destination after being painted by Swiss artists. When people saw how pretty it was, they started visiting.
Today, Interlaken is still a small town so there's really not much to do here if you aren't spending time outdoors. You come here to be on the lake or in the mountains and bask in Switzerland's incredible beauty.
This guide to Interlaken can help you plan your visit, save money, and ensure you make the most of your time here!
Top 5 Things to See and Do in Interlaken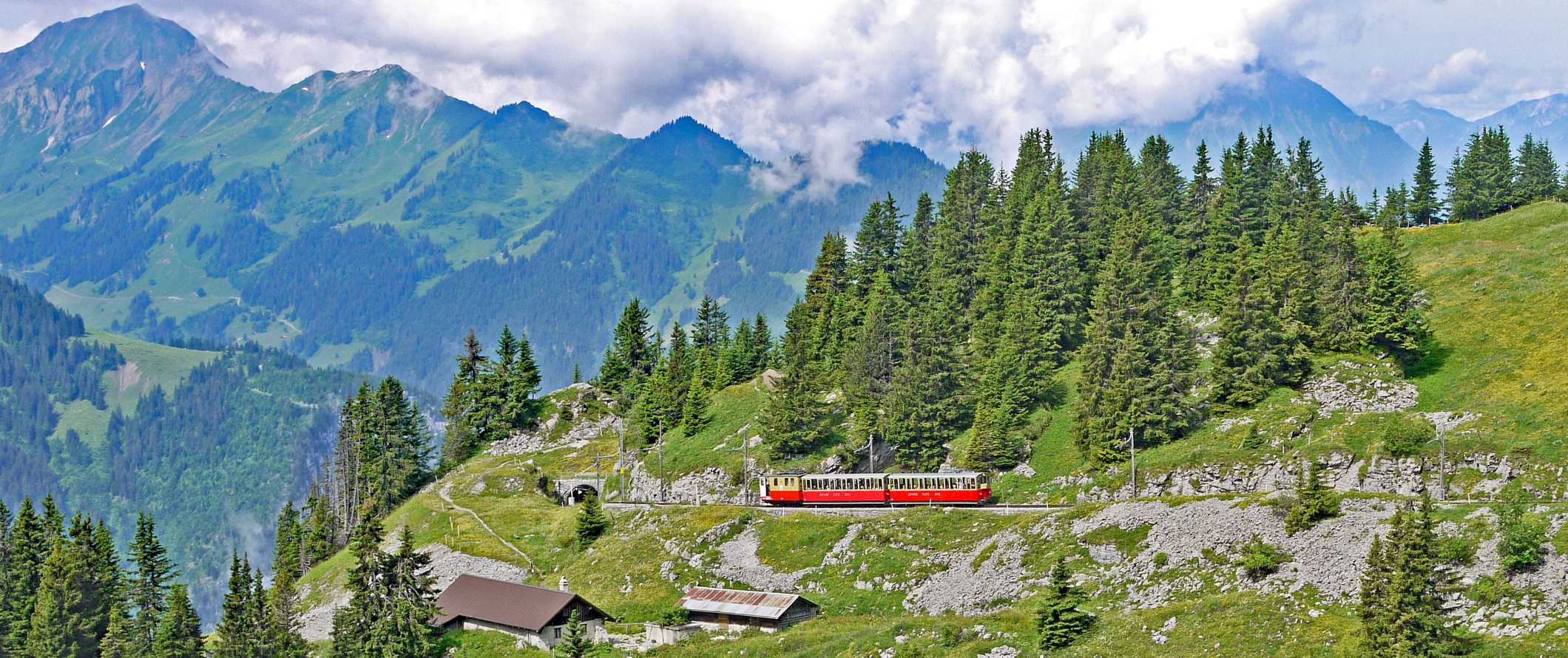 1. Visit the St. Beatus Caves
The St. Beatus Caves are a network of caves and tunnels above Lake Thun. Legend has it that St. Beatus took refuge in the caves in the 6th century and drove out the dragon that lived there. You can take guided tours of the caves and visit the little museum they have set up there. Open March-October, admission costs 15 CHF.
2. See the Giessbach Waterfalls
Rent a bike and cycle to the beautiful cascading Giessbach Waterfalls. On your way back, ride around Lake Brienz for an added treat. You can rent a bike from Flying Wheels starting at 10 CHF.
3. Tour the lakes
Interlaken is full of lakes (hence, the name). Spend a day at Lake Thun, Lake Brienz, or Aare River and swim, picnic, tan, hike the surrounding trails, or do one of the many water activities available to you. On a nice, hot day, there's no place better place to be. Keep in mind the water is fairly cold!
4. Ride the Jungfraujoch Railway
This mountain railway takes passengers up Kleine Scheidegg to the Jungfraujoch, the highest train station on the continent. The amount of snow in these mountains is just incredible, and the ride offers stunning views. A round-trip journey costs 211 CHF.
5. Try an adventure sport
Interlaken is filled with outdoor activities. Choose from hiking, rock climbing, and cycling to bungee jumping, skydiving, river rafting, and paragliding. This is a place to be active when you are traveling around Europe, especially during the summertime.
Other Things to See and Do in Interlaken
1. Visit the Weissenau Nature Preserve
The Weissenau Nature Preserve is a popular spot with locals and is home to over 200 bird species. It also has around 18 types of orchids. You can also find the ruins of Weissenau Castle in the reserve. This 13th-century castle was once home to the Freiherr of Weissenau before becoming a prison and eventually falling into disrepair in the 16th-century.
2. Ride to Schynige Platte Railway
Built in 1893, the train was originally steam-powered until 1914 when it became electrified. Today, you can ride in the original train cars for a scenic ride through the mountains, Thun and Brienz lakes, and alpine pastures. The journey takes about 1 hour and trains leave Wilderswil every 40 minutes. The last train from Schynige Platte is at 5:30pm and the train operates June-October. Tickets cost around 93 CHF.
3. Enjoy the nightlife
Interlaken is a big destination for backpackers to enjoy nature, relax, and drink huge steins of beer. During the summer, the town is booked up far in advance as people spend their days exploring the mountains and their nights exploring how much they can drink. Funny Farm is a hostel known for its bar, summertime bonfires, and Guinness tent. Hüsi Bierhaus is one of the most popular bars in Interlaken. Johnny's Pub and Grill is always a good time, with live DJs and bands (plus it's open late if you want to party until sunrise).
4. Go for a wine tasting at Rebbau Genossenschaft Spiez
Spiez is a charming town located along Lake Thun, known for its picturesque views and vineyards. Rebbau Genossenschaft Spiez is one of the highest vineyards north of the Alps. The vineyard has its own sensory adventure trail which includes stations where you can test your senses, view 60 different grape varieties in their Vine Garden, and enjoy a picnic. Opening hours vary by season so check the website for details. The standard wine tasting costs around 25 CHF and includes bread and local cheese.
5. Walk across Sigriswil panoramic bridge
This bridge is suspended 182 meters (597 feet) above the Gummischlucht gorge and is one of seven suspension bridges on the Lake Thun Panoramic Circular Trail (a breathtaking 56-kilometer/35-mile hiking trail). The bridge is 340 meters (1,115 feet) long and the view of the gorge is beautiful. It costs 8 CHF for a day ticket, and the funds are used to maintain the bridge.
6. Wander the Ballenberg Open-Air Museum
Founded in 1978, this open-air museum features one hundred traditional houses and buildings from all over Switzerland (they aren't replicas either; they were moved here from their original locations). The oldest house dates back to 1336 and there are secluded barbecue areas and picnic tables for taking a break. You can also check out handicraft demonstrations with locals (including cheesemaking demonstrations). There are also some farm animals here too that you can visit. Open April-October, it's a good family activity and costs 28 CHF.
7. Immerse yourself in the world of Sherlock Holmes
The town of Meiringen is around 4.3 kilometers (2.5 miles) from Reichenbach Falls, where Sherlock Holmes fell to his death in Sir Arthur Conan Doyle's book, The Final Problem. Since its publication in 1893, visitors have arrived from around the world to see the famous waterfall. Today, the town has fully embraced Conan Doyle's famous detective, making it a fun and slightly quirky destination. The Sherlock Holmes Museum (5 CHF) is located inside an English church and chronicles the life of Sir Arthur Conan Doyle, as well as the fictional world of Sherlock Holmes. A life-size bronze statue of the detective can be found in the main square. If you look closely, there are clues about Holmes, and the books etched into the statue. Sherlock Lounge is a fun bar for drinks and live music. Ride up to Reichenbach Falls in a wooden funicular carriage for 12 CHF return.
8. Do a Zipline
Open from April-October, Seilpark is a ropes adventure park is filled with wooden bridges, Tarzan swings, and zip lines. They have nine different courses to pick from with a total of 160 tasks. It's 42 CHF for the day and includes equipment. There's a barbecue area if you want to bring your lunch and have a picnic too
9. Go hiking
There are loads of free hiking trails around Interlaken. Trails run along lakesides leading to beautiful waterfalls, through serene nature reserves, and up to beautiful mountain summits. No matter your skill level, there are beautiful walking trails and hikes to enjoy. Harder Kulm is a steep 2.5-hour climb, but it's worth the climb for the views at the top. From there you can continue on towards Roteflue, through the woods and along the mountain ridgeline. In Jungfrau, there are several hikes that take you to viewpoints over the Aletsch Glacier (on a clear day, you can see all the way to the Vosges Mountains at the top).
10. Sample the local beers
Interlaken is home to a few local breweries including Haarige Kuh Brauerei, Barrel Brauhaus and Brew Café, and Rugenbräu. A couple of them offer brewery and distillery tours that take a couple of hours. On the tours, you learn about all the stages of production for beer and spirits. The Barrel Brauhaus one is a bit more expensive (39 CHF) but it includes a tasting of 4 beers and some light snacks. Prices start at 25 CHF.
11. Explore Unspunnen Castle
Just five minutes from Interlaken, the beautiful village of Wilderswil is home to the ruins of a 13th-century castle. The central round tower walls, some of the ring walls, and the two residential wings are still intact. There is also an observation point with lovely views of the village as well as the Jungfrau massif. If you have time, there's a little museum in Wilderswil called Rothenfluh that you can visit too.
12. Take a quad bike tour
Daniel's Fun Tours offers 8 different quad bike tours including a Lake Brienz tour and one of Interlaken. They even offer a winter one that includes a fondue meal. It's a great way to see the surrounding area. Prices start at 105 CFH.

For more information on other cities in Switzerland, check out these guides:
Interlaken Travel Costs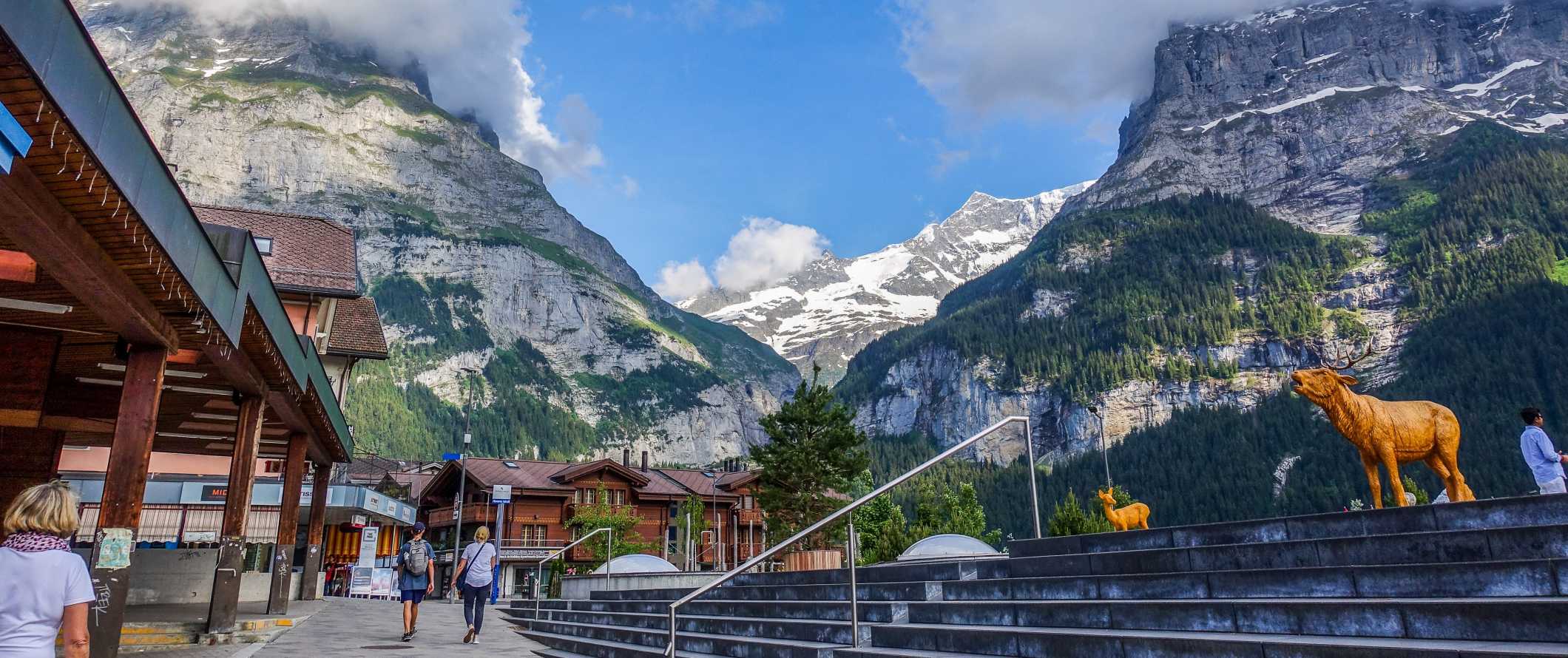 Hostel prices – There are a handful of hostels to choose from in Interlaken. Prices for a dorm cost 25-45 CHF per night for a 6-10-bed dorm room. Private rooms start around 35 CHF per night but expect to pay closer to 80 CHF. Pretty much all hostels offer free linens and free Wi-Fi. Some hostels include free breakfast.
For those traveling with a tent, there are a few campsites around Interlaken. Prices cost around 30 CHF per night for a basic plot for two people without electricity.
Budget hotel prices – Budget hotels start around 70 CHF per night but averages 120 CHF. Expect basic amenities like free Wi-Fi, TV, and coffee/tea makers.
On Airbnb, most private rooms start around 75 CHF per night. Entire homes/apartments start around 140 CHF per night.
Average cost of food – With strong French, German, and Italian influences, Swiss cuisine is a mix of meat and potato-based dishes along with plenty of local cheeses. Popular dishes include veal and mushrooms, fondue (with bread or potatoes), rösti (fried grated potatoes), and quiche. Naturally, Swiss cheese and chocolate should not be missed either. When it comes to breakfast, muesli is a go-to healthy choice.
Dining out in Interlaken can be expensive, but there are a few restaurants where you can find affordable meals. Try places like Layaly Beirut, and Xport pizzeria for meals that are under 20 CHF.
For traditional Swiss food such as fondue, schnitzel, älpler makkaroni, raclette, and goulasch, expect to pay anywhere from 20-40 CHF for a meal.
Inexpensive meals at casual restaurants serving traditional Swiss cuisine cost around 25 CHF. If you want to splash out, a three-course meal costs around 50 CHF.
Fast food (think McDonald's) costs around 15 CHF for a combo meal. A large pizza is 15-21 CHF.
Beer is around 7 CHF while a latte/cappuccino is around 6 CHF.
If you cook your meals, expect to pay 100 CHF per week for groceries. This gets you basic staples like pasta, vegetables, chicken, and other basic foodstuffs. The major supermarkets are Migros, COOP, and Spar. COOP is the most expensive.
Backpacking Interlaken Suggested Budgets
If you're backpacking Interlaken, my suggested budget is about 95 CHF per day. This covers staying in a hostel dorm, cooking all of your meals, limiting your drinking, walking everywhere, and doing mostly free activities like hiking.
A mid-range budget of about 210 CHF per day covers a private Airbnb, eating out for a few meals, enjoying a few drinks, taking the taxi a few times, and doing some paid activities like rock climbing or paragliding.
On a "luxury" budget of 400 CHF per day or more, you can stay in a hotel, eat out for all your meals, drink more, rent a car for day trips, and do whatever tours and activities you want. This is just the ground floor for luxury though. The sky is the limit!
Accommodation
Food
Transportation
Attractions
Average Daily Cost
Backpacker
40
25
15
15
95
Mid-Range
90
65
25
25
205
Interlaken Travel Guide: Money-Saving Tips
Interlaken is expensive but it's a popular backpacker's town so you can find lots of cheap things to do. Like everywhere in Switzerland, nature is free so if you stick to that, you can save a lot of money. Here are some other ways to save money in Interlaken:
Visit in the summer – During the summer, there are a lot of free activities to do here. There's hiking, climbing, running, swimming, going to the lakes, and much more. Switzerland is very expensive, so the best time to come is in the summer when you can enjoy the outdoors for free. Plus, Interlaken is small enough that you can pretty much walk everywhere!
Stay with a local – Couchsurfing is a service that lets travelers stay with locals for free. It was a lifesaver that allowed me to keep my costs down the most. Since a lot of travelers use this service, make your requests for hosts early.
Don't drink (or limit your drinking) – Drinking is not cheap here. Skip the alcohol if you're on a budget! If you do drink, look for happy hours and drink at the hostels to save money.
Cook your meals – Cooking your own meals can save you a fortune. It's not glamorous, but it's affordable!
Take a free walking tour – In the summer, Interlaken Walking Tours offers free tours around town. You'll learn about the city and connect with a local guide who can answer all your questions. Just remember to tip at the end!
Bring a water bottle – The tap water here is safe to drink so bring a reusable water bottle to save money and reduce your plastic use. LifeStraw is my go-to brand as their bottles have built-in filters to ensure your water is always clean and safe.
Where to Stay in Interlaken
There are a handful of hostels in Interlaken (although not all of them are open in winter months). Here are my recommended places to stay in Interlaken:
How to Get Around Interlaken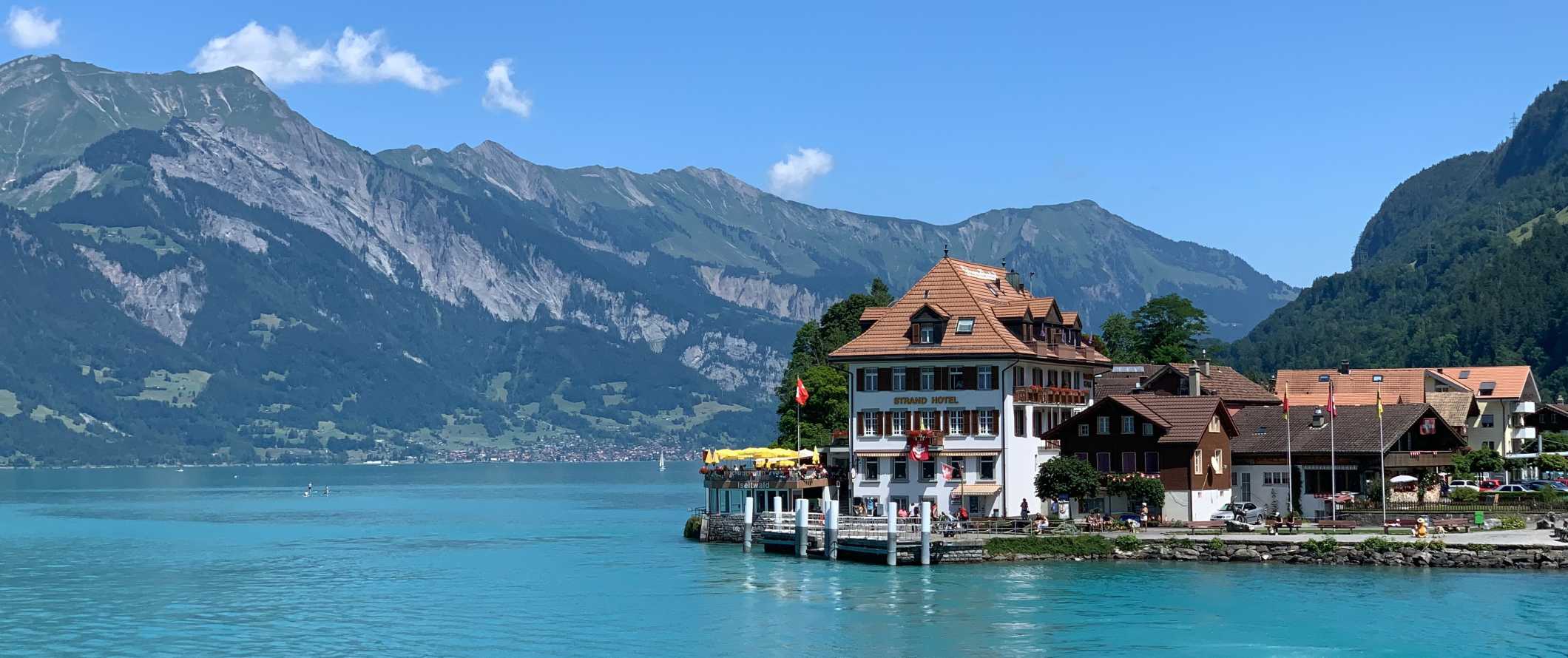 Interlaken is small enough to walk or ride a bicycle anywhere you need to go. You don't need to pay for transportation around town.
Public transportation – Interlaken has a public bus service with fares costsing around 2.30 CHF, however, there are only 5,000 people in town so you can easily walk everywhere without much effort.
Bike – Biking is a fun way to get to know Interlaken. You can rent a bike from Flying Wheels starting at 19 CHF for one hour or 39 CHF for an entire day.
Taxi – Taxis here are expensive, costing 8 CHF to start and then 4 CHF per kilometer. Skip them to save your budget!
Ridesharing – There are no ridesharing apps like Uber here (it's too small for them).
Car rental – Car rentals start around 40 CHF per day for a multi-day rental. You won't need a car to get around the city, though they can be helpful for exploring the region. Drivers need to be at least 21 years of age. An International Driving Permit (IDP) is required for non-European renters.
When to Go to Interlaken
The best time to visit Interlaken is between June and October when the weather is warm enough for exploring on foot, as well as adventure activities such as rock climbing, sailing, hiking, and cycling. During this time, temperatures average 20°C (68°F). This is the busiest time to visit Interlaken, so expect prices to be a little higher.
In the summer, check out the Greenfield Festival in June for performances by rock bands from around the world. Free open-air concerts take place every Thursday night, and Thunerseespiele is another music festival that is not to be missed. August 1st is Swiss National Day, and the perfect time for watching folklore performances, alphorn blowing, yodeling, fireworks, and more!
In winter, Interlaken can be quite cold, but the crowds are considerably thinner. Temperatures generally hover below freezing. In November and December, the Christmas market is open and filled with Swiss treats, handicrafts, and mulled wines. Touch the Mountains is the big New Year's festival with fireworks, open-air concerts, and Swiss performers.
Harder-Potschete takes place on January 2nd. This is when the town is haunted by the Hardermannli (spirit for Harder Kulm mountain), his wife, and their children. There is a traditional procession and masked kids run around spreading terror.
How to Stay Safe in Interlaken
Interlaken is super safe and the risk of violent crime here is very low. It's such a small town that you're unlikely to experience any trouble.
Solo female travelers should feel safe here, though the standard precautions apply (don't leave your drink unattended at the bar, don't walk home alone at night if intoxicated, etc.)
If you're planning to go hiking, make sure you choose trails that meet your skill/fitness level. This is not the time to try difficult trails for the first, especially if you plan to hike alone. Ask locals for advice on the best trails, wildlife concerns, and which ones may be closed at the time.
If you plan to hike alone, be sure to let someone at your hostel or hotel know which trail you plan to do, especially if it is considered intermediate or difficult. This way, if something happens and you don't return, they know where to start looking for you.
While scams here are rare, if you're worried about getting ripped off you can read about common travel scams to avoid here.
If you plan on hiking or spending some time skiing in the mountains, pay careful attention to weather reports. Heed avalanche warnings, and stay off the trails if you're told to do so.
If you experience an emergency, dial 117.
Always trust your gut instinct. Make copies of your personal documents, including your passport and ID. Forward your itinerary along to loved ones so they'll know where you are.
The most important piece of advice I can offer is to purchase good travel insurance. Travel insurance protects you against illness, injury, theft, and cancellations. It's comprehensive protection in case anything goes wrong. I never go on a trip without it as I've had to use it many times in the past.
Interlaken Travel Guide: The Best Booking Resources
These are my favorite companies to use when I travel. They consistently have the best deals, offer world-class customer service and great value, and overall, are better than their competitors. They are the companies I use the most and are always the starting point in my search for travel deals.
Skyscanner – Skyscanner is my favorite flight search engine. They search small websites and budget airlines that larger search sites tend to miss. They are hands down the number one place to start.
Hostelworld – This is the best hostel accommodation site out there with the largest inventory, best search interface, and widest availability.
Booking.com – The best all around booking site that constantly provides the cheapest and lowest rates. They have the widest selection of budget accommodation. In all my tests, they've always had the cheapest rates out of all the booking websites.
Get Your Guide – Get Your Guide is a huge online marketplace for tours and excursions. They have tons of tour options available in cities all around the world, including everything from cooking classes, walking tours, street art lessons, and more!
SafetyWing – Safety Wing offers convenient and affordable plans tailored to digital nomads and long-term travelers. They have cheap monthly plans, great customer service, and an easy-to-use claims process that makes it perfect for those on the road.
LifeStraw – My go-to company for reusable water bottles with built-in filters so you can ensure your drinking water is always clean and safe.
Unbound Merino – They make lightweight, durable, easy-to-clean travel clothing.
Top Travel Credit Cards – Points are the best way to cut down travel expenses. Here's my favorite point earning credit cards so you can get free travel!
Interlaken Travel Guide: Related Articles
Want more info? Check out all the articles I've written on backpacking/traveling Europe and continue planning your trip: