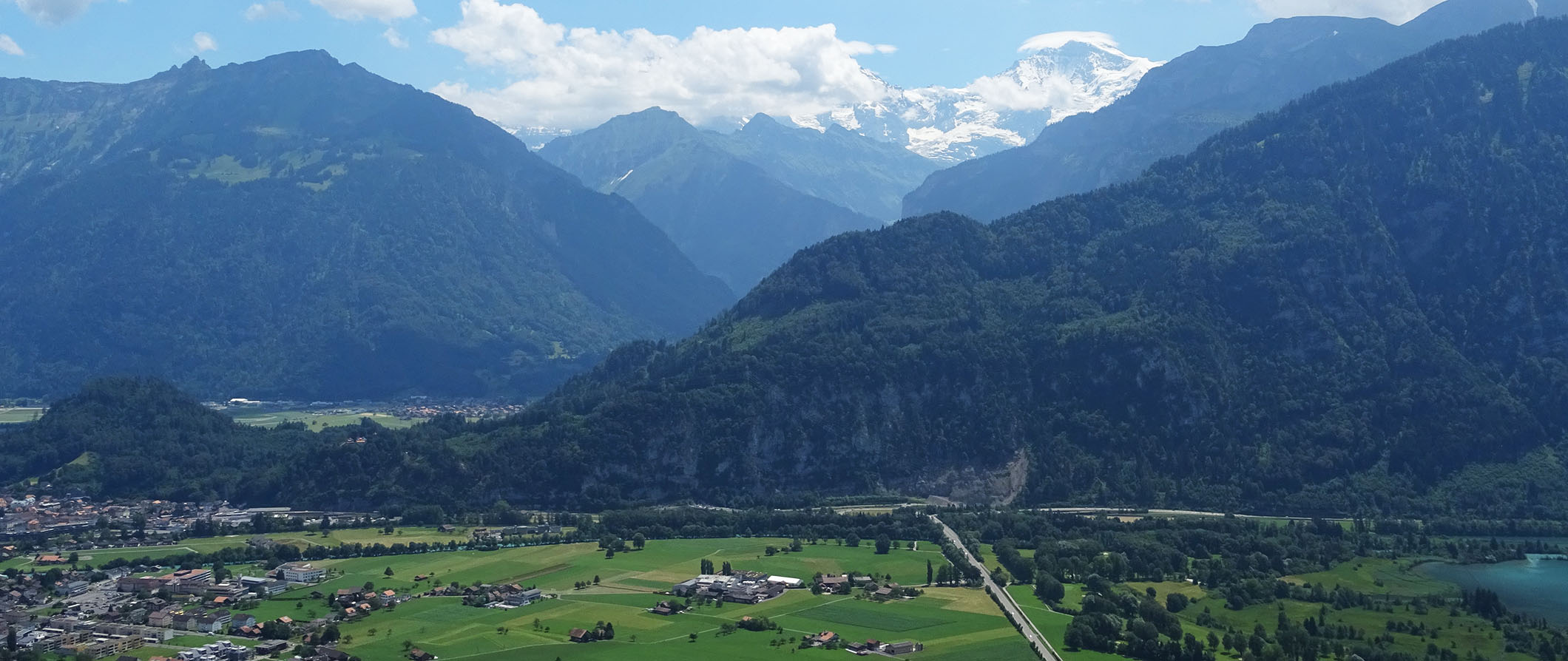 While it's not one of Switzerland's busiest area, this place is full of adventure. Interlaken is a great place for mountain-related sports. The beautiful scenery and number of pubs make this a popular backpacker destination during the summertime. If you come here during the winter, expect snowy roads, ice-topped mountains, and lots of fondue cafes with outdoor seating that comes fully-equipped with warm blankets to keep you warm.
Top 5 Things to See and Do in Interlaken
1. Go caving
The St. Beatus Caves are a network of caves above Lake Thun. Legend has it that St. Beatus took refuge in the caves in the 6th century and drove out the dragon that lived there. You can take guided tours of the caves and visit the little museum they have set up there. It costs 18 CHF to visit the caves and guide tours leave every 30 minutes.
2. See waterfalls
Rent a bike, and cycle to the beautiful cascading Giessbach Waterfalls. On your way back, ride around Lake Brienz for an added treat. You can rent a bike from Flying Wheels starting at 25 CHF for 2 hours or 40 CHF for more than 4 hours.
3. Visit the lakes
Interlaken is full of lakes (hence, the name). Spend a day at Lake Thun, Lake Brienz, or the Aere River – go for a swim, have a picnic, get a tan, hike the surrounding trails, or do one of the many water activities available to you. On a nice, hot day, there's no place better place to be. Keep in mind the water is fairly cold!
4. Ride the Jungfrau Railway
This mountain railway takes passengers up Kleine Scheidegg to the Jungfraujoch – the highest train station on the continent. The amount of snow in these mountains is just incredible, and the ride offers stunning views. A round-trip journey costs 204 CHF.
5. Try an adventure sport
Interlaken is filled with outdoor activities. Other than the ordinary, they also have bungee jumping, skydiving, rock climbing, river rafting, and paragliding. This is a place to be active when you are traveling around Europe, especially during the summer time.
Other Things to See and Do
(Click the title to expand the text)
1. Get outside
Basically, this is a place you visit to get in touch with nature. Hike, sit in the sun, relax on the lake, whatever! Get into the mountains and enjoy yourself! Just don't sit inside!
2. Take a boat trip
Boats traveling the Thunersee allow you to see many of the surrounding towns and the epic countryside. A boat trip makes for a beautiful day. Plus, the boat is free if you have the Swiss rail pass.
3. Enjoy the nightlife
Interlaken is a big destination for backpackers to enjoy nature, relax, and drink big steins of beer. During the summer, this place is booked far in advance, and people spend their days exploring the mountains and their nights exploring how much they can drink.
4. Visit Bönigen
This tiny village is quiet and has some great bakeries and chocolate shops. Stop by the museum to see exhibits with household items and furnishings from the 18th and 19th centuries.
5. Watch a folk music concert
If you're in town during the summer, head down to the lakeside to catch a concert. Choirs dressed in traditional clothing sing or perform music, and are sometimes even accompanied by alphorns and yodelers.
6. Go night sledding
For something fun and different, book a night sledding excursion. At 90 CHF, prices aren't cheap, but the excursion includes a fondue dinner at a restaurant after the dinner. Have fun and unleash your inner child. If you need a more budget option, simply rent a wooden sled for about 7 CHF, and head out on your own.
Typical Costs
Hostel prices
– Prices for a dorm cost between 20-35 CHF per night for a 6-bed dorm room. Pretty much all hostels offer free linens and free WiFi. My suggested places are:
Balmers does run a "tent city" hostel off-site that is open from May-September. There's a bar, jacuzzi, and a 6-bed tent for between 15-25 CHF per person.
Budget hotel prices – A night in a 2-star budget hotel in a room that sleeps two starts around 90 CHF. On Airbnb, most shared rooms start around 50 CHF (a few start around 35-40 CHF). A better option may be renting an entire home, which start around 140 CHF per night.
Average cost of food – Dinner is usually 25 CHF at a decent restaurant. Consider going to Migros next to the train station for local and cheap dishes at a fraction of the cost. You can get a small meal for 11 CHF, and Balmers Hostel has a restaurant/bar and meals start at around 14 CHF. If you cook your meals, expect to pay around 130-150 CHF per week for groceries that will include pasta, vegetables, chicken, and other basic foodstuffs. If you're dining out (but still trying to stick to a budget), you'll spend an average of 45 CHF a day on food. From there, the sky is the limit! For people who want to cook and eat the occasional meal out, expect to spend around 20 CHF per day.
Transportation costs – Interlaken is small enough to walk or ride a bicycle anywhere you need to go. You don't need to pay for transportation around town. You can rent a bike from Daniel's Fun Rental for 16 CHF for 3 hours or 30 CHF for the full day. You can rent a bike from Flying Wheels starting at 25 CHF for 2 hours or 40 CHF for more than 4 hours.
Suggested daily budget
80 CHF / 78 USD (Note: This is a suggested budget assuming you're staying in a hostel, eating out a little, cooking most of your meals, and using local transportation. Using the budget tips below, you can always lower this number. However, if you stay in fancier accommodation or eat out more often, expect this to be higher!)
Money Saving Tips
Visit in the summer – During the summertime, there are a lot of free activities to do here. There's hiking, climbing, running, swimming, going to the lakes, and much more. Switzerland is very expensive, so the best time to come is in the summer when you don't have to pay for much. Plus, Interlaken is small enough that you can pretty much walk everywhere, as long as you have nice weather!
Use Couchsurfing – It's a service that lets travelers stay with locals for free. It was a lifesaver that allowed me to keep my costs down the most. Since a lot of travelers use this service, make your requests for hosts early.
Don't drink – Drinking is not cheap here. Most beers are around 8 CHF. (Plus, who wants to hike while hung over?) Most wines are between 10-25 CHF a bottle. If you must drink, stick to hostel bars where you can enjoy 2-for-1 happy hours and cheap drinks for around 5 CHF or buy your beers at grocery stores for as little was 2 CHF.
Cook – With sit-down restaurants costing around 40 CHF per meal per person, eating out in Switzerland can be very costly, so buy your groceries. A week's worth of food (bread, pasta, rice, eggs, vegetables, cheese, deli meats for sandwiches, and some assorted fruit) will cost you 75-100 CHF. The major supermarkets are Migros, COOP, and Spar. COOP is the most expensive.
Use lunch specials – If you are going to eat out, do so at lunch. Lunch specials are a great way to get a lot of bang for your buck and to enjoy the dinner menu but at a cheaper set menu price.
Ride a bike – You can find bicycles for rent at most places you'll stay. This is a very, very small town with very little traffic. If there's no snow on the ground, this is the perfect place to cruise around on your bike.
Bring a refillable water bottle – At 2-4 CHF a bottle, that's a lot of money spent on water after a few days. The water in Basel is safe to drink, so refill your bottle before you go out to save money.
Take a free walking tour – In the warmer months, Interlaken Walking Tours offers free strolls through this lovely town with a local guide. This is a budget way to find out the inner working of the town's history and hidden gem spot.
My Must Have Guides For Traveling to Interlaken