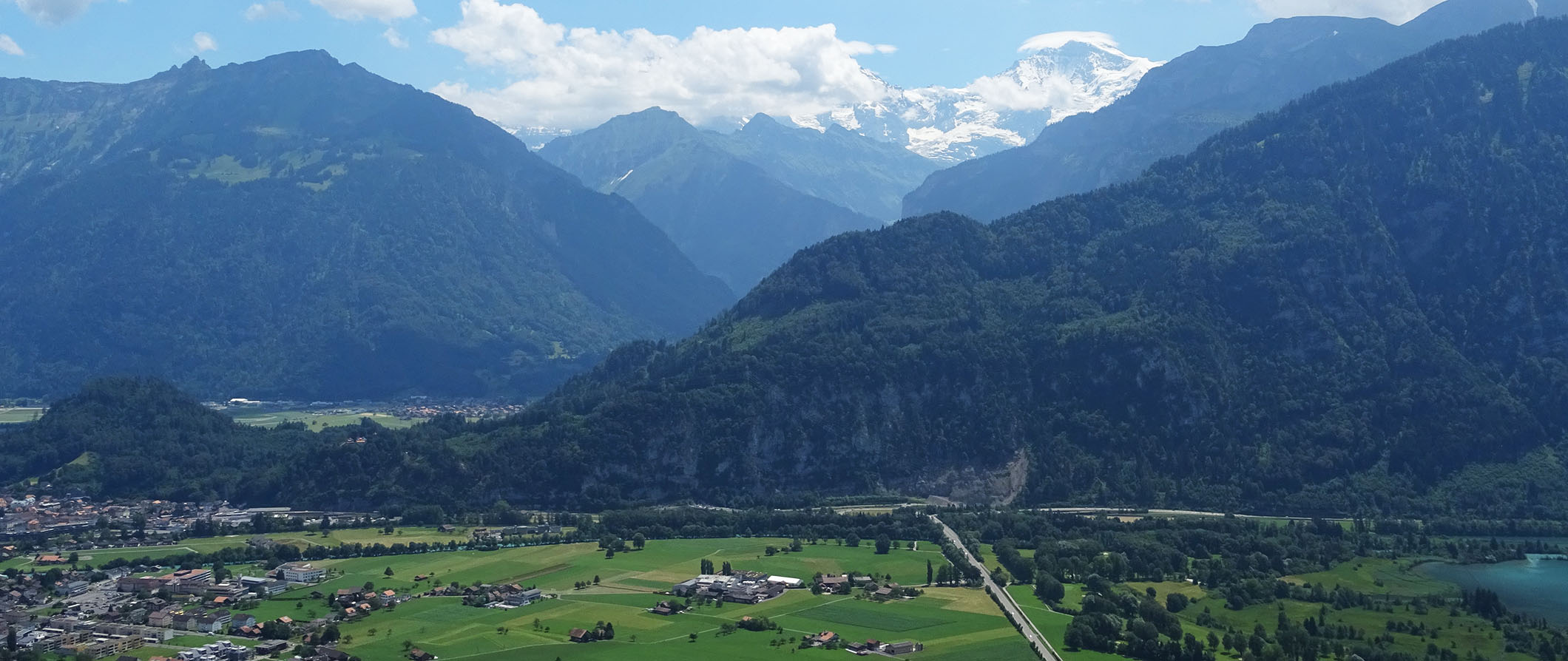 While it's not one of Switzerland's busiest area, this place is full of adventure. Interlaken is a great place for mountain-related sports. The beautiful scenery and number of pubs make this a popular backpacker destination during the summertime. If you come here during the winter, expect snowy roads, ice-topped mountains, and lots of fondue cafes with outdoor seating that comes fully-equipped with warm blankets to keep you warm.
Top 5 Things to See and Do in Interlaken
1. Go caving
The St. Beatus Caves are a network of caves above Lake Thun. Legend has it that St. Beatus took refuge in the caves in the 6th century and drove out the dragon that lived there. You can take guided tours of the caves and visit the little museum they have set up there. It costs 18 CHF to visit the caves and guide tours leave every 30 minutes.
2. See waterfalls
Rent a bike, and cycle to the beautiful cascading Giessbach Waterfalls. On your way back, ride around Lake Brienz for an added treat. You can rent a bike from Flying Wheels starting at 25 CHF for 2 hours or 40 CHF for more than 4 hours.
3. Visit the lakes
Interlaken is full of lakes (hence, the name). Spend a day at Lake Thun, Lake Brienz, or the Aere River – go for a swim, have a picnic, get a tan, hike the surrounding trails, or do one of the many water activities available to you. On a nice, hot day, there's no place better place to be. Keep in mind the water is fairly cold!
4. Ride the Jungfrau Railway
This mountain railway takes passengers up Kleine Scheidegg to the Jungfraujoch – the highest train station on the continent. The amount of snow in these mountains is just incredible, and the ride offers stunning views. A round-trip journey costs 204 CHF.
5. Try an adventure sport
Interlaken is filled with outdoor activities. Other than the ordinary, they also have bungee jumping, skydiving, rock climbing, river rafting, and paragliding. This is a place to be active when you are traveling around Europe, especially during the summer time.
Other Things to See and Do
(Click the title to expand the text)
1. Get outside
Basically, this is a place you visit to get in touch with nature. Hike, sit in the sun, relax on the lake, whatever! Get into the mountains and enjoy yourself! Just don't sit inside!
2. Take a boat trip
Boats traveling the Thunersee allow you to see many of the surrounding towns and the epic countryside. A boat trip makes for a beautiful day. Plus, the boat is free if you have the Swiss rail pass.
3. Enjoy the nightlife
Interlaken is a big destination for backpackers to enjoy nature, relax, and drink big steins of beer. During the summer, this place is booked far in advance, and people spend their days exploring the mountains and their nights exploring how much they can drink.
4. Visit Bönigen
This tiny village is quiet and has some great bakeries and chocolate shops. Stop by the museum to see exhibits with household items and furnishings from the 18th and 19th centuries.
5. Watch a folk music concert
If you're in town during the summer, head down to the lakeside to catch a concert. Choirs dressed in traditional clothing sing or perform music, and are sometimes even accompanied by alphorns and yodelers.
6. Go night sledding
For something fun and different, book a night sledding excursion. At 90 CHF, prices aren't cheap, but the excursion includes a fondue dinner at a restaurant after the dinner. Have fun and unleash your inner child. If you need a more budget option, simply rent a wooden sled for about 7 CHF, and head out on your own.