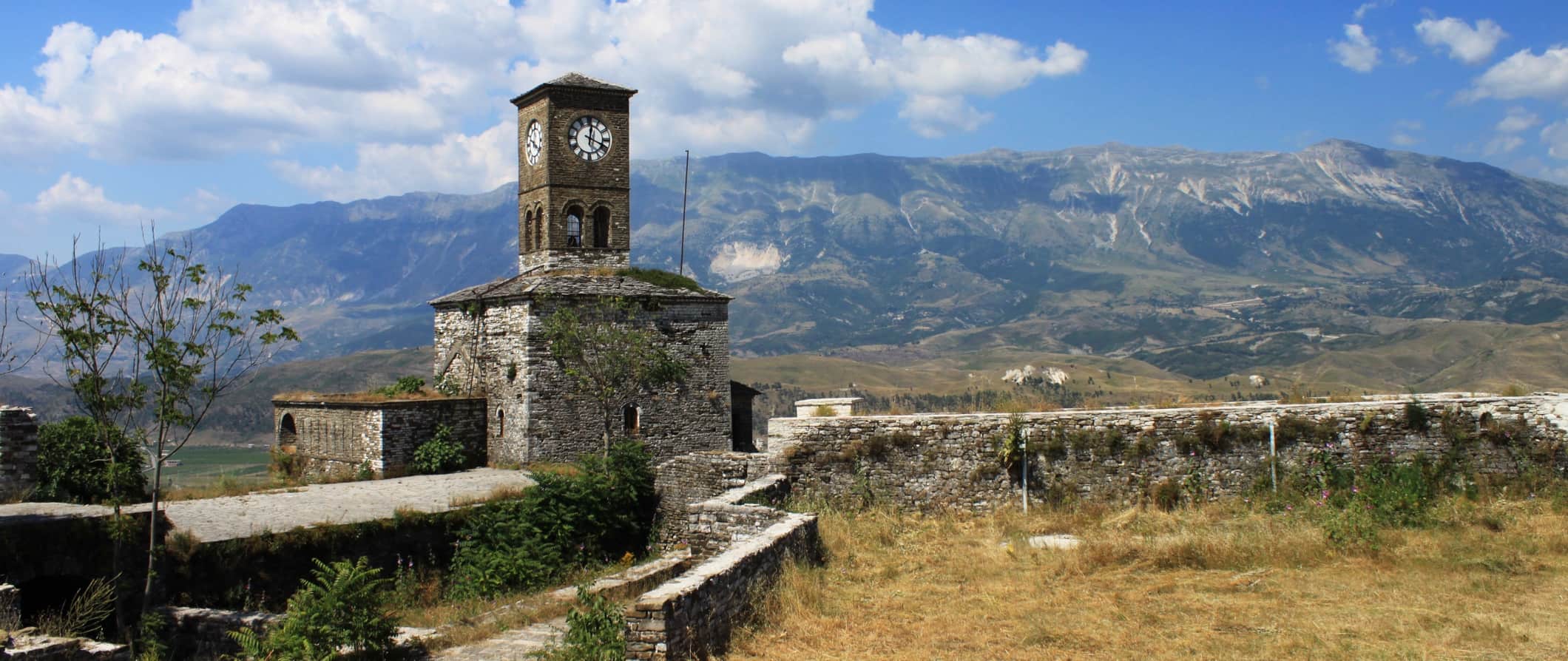 Albania is one of Europe's best-kept secrets. Though it increases in popularity each year, the country is largely ignored by tourists; many still think of it as a post-communist backwater (as if the world hasn't changed in the last 30 years).
Yet this is a land of untouched natural beauty, with a rich history dating back to the ancient Illyrians and Greeks. It has become a solid favorite of backpackers looking for an affordable, off-the-beaten-path destination to explore.
I absolutely loved my time visiting Albania. It's a country full of good food and welcoming people. I enjoyed it so much that I extended my stay.
Hikers and nature lovers can partake of all the hiking and trekking here, beach lovers have the Albanian Riviera along the Ionian coast, and history buffs can marvel at the country's uncrowded UNESCO sites in Butrint (an ancient Roman city), Berat, and Gjirokastër.
Albania is on the up and up, with more tourists visiting each year. I think it will become as popular (and expensive) as Croatia in the next couple of years, so visit now before the crowds come!
This travel guide to Albania can help you plan your trip, save money, and make the most of your time in this underrated destination!
Top 5 Things to See and Do in Albania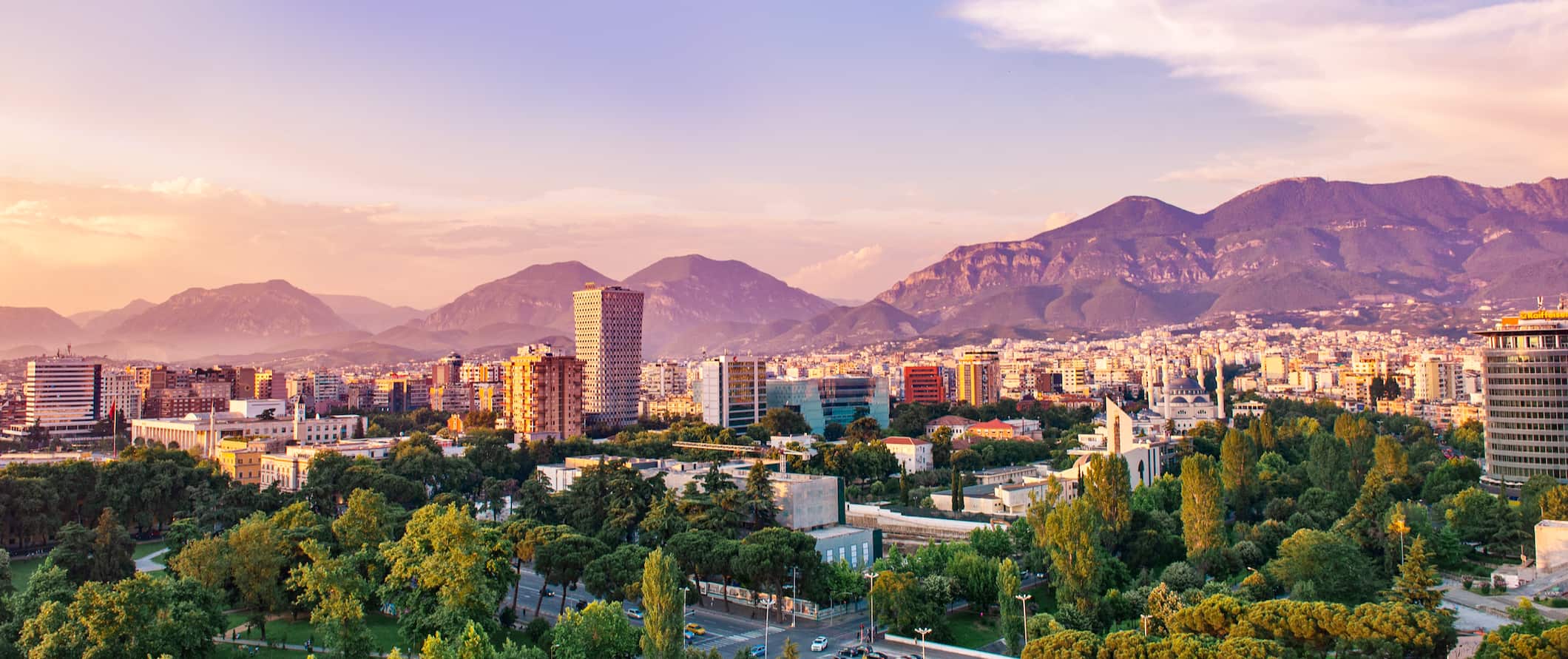 1. Explore Tirana
Albania's capital is rapidly transforming into a vibrant, cosmopolitan city. Sip coffee at the many espresso bars, enjoy its booming nightlife, dive into the developing digital nomad scene, and soak up history in Skanderbeg Square. If you're in town for more than a couple of days, take the Dajti Ekspres to the top of the nearby mountain, check out the cave of Pellumbas, or go and explore the Roman and Byzantine ruins in nearby Durrës.
2. Visit the historic town of Berat
A city that's been around for 2,400 years, Berat is a UNESCO World Heritage Site. It's also known as "the City of a Thousand Windows" because of its unique white-walled Ottoman homes characterized by their many windows. These wind their way up around the hill to Kalaja, a 14th-century castle, and the Byzantine Church of St. Mary of Blachernae. There's also an Ethnographic museum here and another one on Byzantine art plus loads more historic mosques and churches to admire.
3. Drive the Llogara Pass
The Llogara Pass is a steep (at times the incline is 11%), winding road that rises over a thousand meters (3,500 feet) into the mountains and overlooks the Ionian coast, which has been nicknamed the Albanian Riviera. This road goes from Orikum to Dhërmi and there's lots of scenic stops along the way. The road used to be dangerous and narrow but was repaved in 2009. Although it's still a tricky route, it's worth it — it's the best scenic drive in the country.
4. Hike from Valbona to Theth
This hike, one of the most famous day hikes in Albania, is an old mule trail and it leads you across the Accursed Mountains. This section is moderately challenging and takes around eight hours in total. There are fresh water springs along the way as well as some cafes on the route but make sure you bring plenty of water just in case. It's a stunning area with an abundance of flora, fauna, and wildlife to see. In Theth, there are some other hikes as well.
5. Wander around Gjirokastër
Also protected by UNESCO, Gjirokastër is famous for its stonework. Wander the cobblestone streets, hike and explore the castle, swim in nearby waterfalls, and visit the best examples of Ottoman-era architecture in the area. There's a cold war museum here that's housed in an old 800-meter-long (2,624-foot) bunker from the 1970's. Close to the nearby village of Muzinë is a stunning natural spring called the Blue Eye. Gjirokastër, for me, is one of the best spots in the country.
Other Things to See and Do in Albania
1. Relax on the Albanian Riviera
Pristine beaches, turquoise water, cheap and delicious seafood — the Albanian coast has all the beauty and wonders of Croatia without the high prices and crowds (for now). Dhërmi and Ksamil are considered to have the best beaches in the country, with miles of white, sandy beachfront. If you want a busier beach destination, go to Himarë, where the beach has a promenade lined with cafés and bars. For something more off the beaten path, make your way to Gjipe Beach. For a bustling, developed beach town, visit Sarandë, which is packed with hotels, restaurants, and nightlife.
2. Enjoy the view from Rozafa Castle
Situated near Shkodër in northwestern Albania, the 4th-century Rozafa Castle has panoramic views of the area, including the Buna and Drin Rivers. The fortifications here originally date to the 10th century BCE, when the Illyrians lived in the area (the current castle replaced those fortifications). Legend has it that a young woman sacrificed her life to imbue the castle walls with longevity. There isn't a whole lot to see here, but the ruins are impressive, and it's a good spot from which to watch the sunset. The Shkodër History Museum provides
a great overview of the castle's past, including the background of the medieval families who lived here. Admission is 150 ALL.
3. Visit the National Museum of History
The National Museum of History in Tirana offers a view of the country's rich history and is divided into eight sections: antiquity, the Middle Ages, the Renaissance, independence, iconography, the National Liberation Anti-Fascism War, the Communist Terror, and Mother Teresa (who was born in Albania). There's a remarkable collection of ancient Greek and Roman mosaics, columns, and statues unearthed in Albania as well. The collection is extensive, so give yourself around three hours here. Admission is 500 ALL.
4. Explore the ancient ruins of Butrint
Greeks from nearby Corfu settled Butrint in the 6th century BCE. It quickly became a large trading city that was still prosperous when the Romans took over in 167 BCE. Nowadays, you can wander the pathways between what's left of the city, including well-preserved arches and colonnades. In 2003, Butrint was awarded UNESCO World Heritage status. It makes for an ideal day trip from Sarandë. I took my time there and spent about three hours exploring the ruins. The entrance fee is 700 ALL and the 45-minute bus ride costs 100 ALL.
5. Admire the art at Bunk'Art
Bunk'Art 1 and 2 are former bunkers that have been turned into museums and galleries underneath Tirana. Built in the 1970s for Albania's elite, the bunkers' 100 rooms have now been transformed into a museum and art space. Bunk'Art 1, located on the outskirts of Tirana, focuses on Albania's communist past and the lives of average people under communism. Bunk'Art 2, the more recent addition, is located right in Tirana; it focuses more on the secret police that were used by the regime to terrorize the population and maintain order. Admission is 500 ALL.
6. See the ancient ruins at Apollonia
Like Butrint, Apollonia was one of the most important cities in the ancient world. The Greeks founded it in 588 BCE, and it fast grew into a city-state with a huge slave trade (just like Butrint). The Romans took over in 229 BCE, when it became a cultural center with an important philosophy school. Even Julius Caesar sent his nephew (Octavius, who became Emperor Augustus) to study there. Today you can visit the ruins (a UNESCO Heritage Site), which include a theater and the restored façade of the administrative center. Admission is 300 ALL.
7. Visit Shkodër
As the largest town in the north (and home to the Rozafa Castle), it plays host to many of the country's biggest festivals like Carnival, Lake Day, and the Shkodra Jazz Festival. The city's Old Town is filled with picturesque, pastel-colored homes and buildings. A lot of people breeze through Shkodër on their way to Montenegro from Tirana, but I recommend spending a day or two here.
8. Cruise Lake Komani
Most people see the lake as part of the Valbonë-to-Theth hike, since you cruise the lake to get to Valbonë. If you don't want to do that, there are day trips available. You can spend a couple of hours on the lake before going up the Shala River, where you can eat lunch, rent a kayak, or chill on the "beach" (the rocky embankment). The mountain water of the Shala is super clear and clean; it looks almost tropical. The restaurants here also rent rooms (or let you camp for free) if you want to stay the night.
9. Go hiking
Albania has lots of incredibly scenic hikes. If you spend most of your time in the south, you'll get your pick of coastal hikes along the Ionian Sea, including Mount Çika and through the Ceraunian Mountains. Routes vary in length and difficulty and trekking information isn't readily available — large parts of these hikes are still undeveloped, so hire a guide if you want to explore. Outdoor Albania has lots of options to help you get started.
10. Take a wine tour
Albania has one of the oldest winemaking traditions in all of Europe. Albanian wine makes use of incredibly rare grapes, and some of the traditional practices date back to the Bronze Age. You can take wine tours from Berat, Lezhë, and Tirana, on which you can sample some of the country's finest. Expect to pay at least 6,500 ALL for a day trip.
11. Get spooked at Sazan
The "ghost" island of Sazan is a 30-minute boat ride from the southern port town of Vlorë. It served as a Soviet military base and chemical weapons facility for many years before being abandoned. In 2017, the government opened it for tourism, although officially it remains a military base. The rooms in this vast network of nuclear bunkers and tunnels are still stocked with beds and kitchen supplies, and you can still find abandoned gas masks in the valley nearby. Tours don't run all the time, so you need to ask in the tourist information office in Vlorë. They can book you onto a tour if they are running. Expect to pay 3,500 ALL or more for a day tour to the island.
12. Hike Osumi Canyon
This gorgeous river canyon in southern Albania makes for the perfect day trip from Berat. It is over three million years old, stretches for 40 kilometers (25 miles), and towers 40 meters (131 feet) above the river. The most popular way to see it up close is with a rafting tour. Tours are available February-June and start at 7,000 ALL per person, which includes transportation from Berat, lunch, and 2-4 hours on the water.
13. Visit the House of Leaves
The Museum of Secret Surveillance, aka the House of Leaves, is an award-winning museum in Tirana located in the old Sigurimi building (the Sigurimi were the secret police). The building was originally used by the Gestapo during the German occupation, continuing as a base of operations for the secret police until 1991. The exhibitions highlight what life was like under German and then communist rule, shedding light on the methods used to spy on, prosecute, and execute enemies of the regime. It's sobering but incredibly insightful. Admission is 700 ALL.
Albania Travel Costs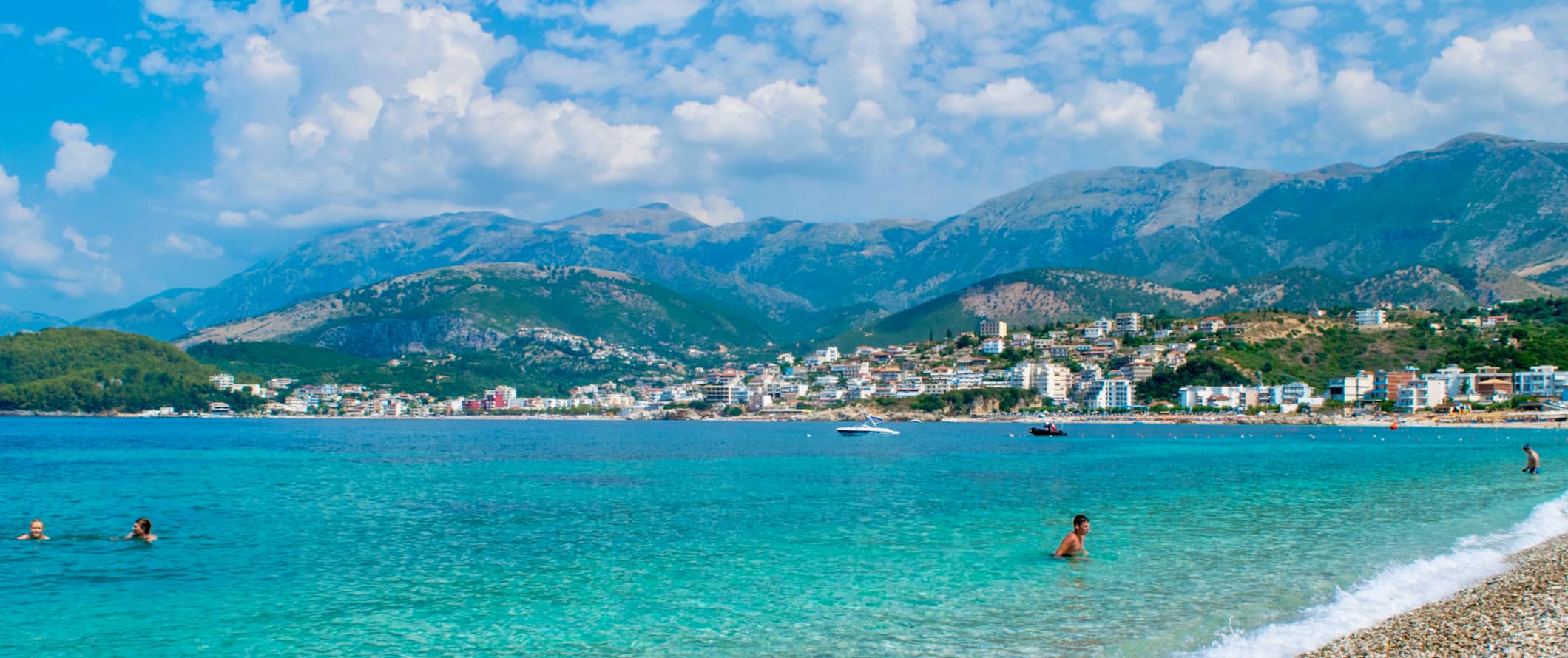 Accommodation – There's a growing hostel scene in Albania so there are a lot of options here. Dorm rooms start at 950 ALL per night but usually cost 1,220-1,340 ALL. For a private room in a hostel, expect to pay 2,450-3,050 ALL per night, though, at some of the nicer, more upscale ones in Tirana, it can be as high as 5,000 ALL. Most hostels include breakfast and have kitchen facilities.
Budget hotels can be as cheap as 2,500 ALL per night for a double or twin with a private bathroom and A/C. More realistically, expect to pay around 3,500 ALL or more per night. Most hotels offer a fairly large breakfast too.
Airbnb is a great budget option here. Private rooms start at 1,800 ALL per night although they average about 3,600 ALL. Expect to pay at least 5,800 ALL for a full apartment or home. Prices double when not booked in advance.
For anyone traveling with a tent, camping is available around the country, and it is perfectly legal to wild camp (i.e., pitch your tent anywhere on public land). If you prefer sticking to campsites, prices are usually around 1,200 ALL per night for a basic plot for two people and a tent without electricity.
Food – Like its Mediterranean neighbors, Albanian cuisine relies heavily on fish, olive oil, and local produce (especially onions). Breakfast is usually bread, cheese, and yogurt. Lunch is the biggest meal of the day. Meat stew, grilled sausage, meat pies, and fresh salads are some of the more traditional dishes. Beef, trout, calamari, and sea bass are all popular staples. Goulash is also popular, though mostly in the mountain regions.
For a meal at a sit-down restaurant, expect to pay 500-700 ALL for an appetizer, wine, and main course. For a really "nice" restaurant (or maybe one serving fish or sushi), you're likely to spend 1,400-2,000 ALL. The most expensive meal I had in Albania was at this high-end fish restaurant in Tirana — it cost me 3,500 ALL, which is only $31 USD. That included fish, oysters, and wine!
Pizza starts at 550 ALL, while non-European food like Indian, Thai, or Chinese food costs around 600-900 ALL for a main dish. Fast food (think McDonald's) costs around 600 ALL for a combo meal.
Expect to pay around 150 ALL for a beer, 150-250 ALL for a glass of wine, 70 ALL for a bottle of water, and 140 ALL for a coffee.
If you are planning to cook your own food, a week's worth of groceries cost 2,500-3,500 ALL. This gets you basic staples like pasta, rice, vegetables, and some meat.
Backpacking Albania Suggested Budgets
If you are backpacking Albania, expect to spend about 4,400 ALL per day. This budget covers a hostel dorm, cooking your meals, limiting your drinking, using public transportation to get around, and sticking to free and cheap activities like hiking and free tours. If you plan on drinking a lot (Sarandë and Tirana are big party spots), add another 500-1,000 ALL to your daily budget.
On a mid-range budget of around 9,000 ALL per day, you can stay in a private hostel room or private Airbnb, eat out for most meals, enjoy a few drinks at the bar, see more museums and palaces, do a day trip or two, and take the occasional taxi to get around.
On a "luxury" budget of around 15,000 ALL per day, you can stay in a hotel, eat out for all your meals, see all the sites you want, do lots of day tours, and take taxis where you want. This is just the ground floor for luxury. The sky is the limit!
Accommodation
Food
Transportation
Attractions
Average Daily Cost
Backpacker
1,300
1,100
1,000
1,000
4,400
Mid-Range
3,000
2,500
1,500
2,000
9,000
Luxury
5,000
5,000
2,000
3,000
15,000
Albania Travel Guide: Money-Saving Tips
Albania is an affordable country to visit. You'll be hard-pressed to spend a lot of money, even if you're staying in private rooms or hotels. You really have to go out of your way to spend money here. But, if you are looking to travel cheap, here are some tips on how to save mney:
Take a free walking tour – Tirana Free Tour offers a free walking tour that highlights the city and its sites. There are also free walking tours in Berat and Shokdër. Just be sure to tip your guide at the end!
Cook your own meals – Many hostels here include kitchen facilities, so if you want to save money, cook your own meals. Groceries are cheap here and there are a lot of farmer's markets around where you can pick up fresh produce.
Stay with a local – Staying with a local via Couchsurfing is a great way to save money and connect with a knowledgeable local who can share their insider tips and advice.
Walk everywhere – Most towns and cities in Albania are walkable, so skip the public transportation and taxis to save money.
Enjoy the outdoors – There are plenty of free hiking trails and outdoor activities around the country that can fill your days.
Take advantage of wild camping – As it is legal to camp anywhere in Albania, traveling with a tent, or in a camper van, is the perfect way to save money on accommodation.
Bring a water bottle – The tap water here usually isn't safe to drink, so bring a reusable water bottle to save money and reduce your plastic use. LifeStraw is my go-to brand, as their bottles have built-in filters to ensure that your water is always clean and safe.
Where to Stay in Albania
You won't find many hostels outside of the main tourist cities, but private guesthouses are pretty cheap in the countryside anyway. Here are some of my favorite places to stay in Albania:
How to Get Around Albania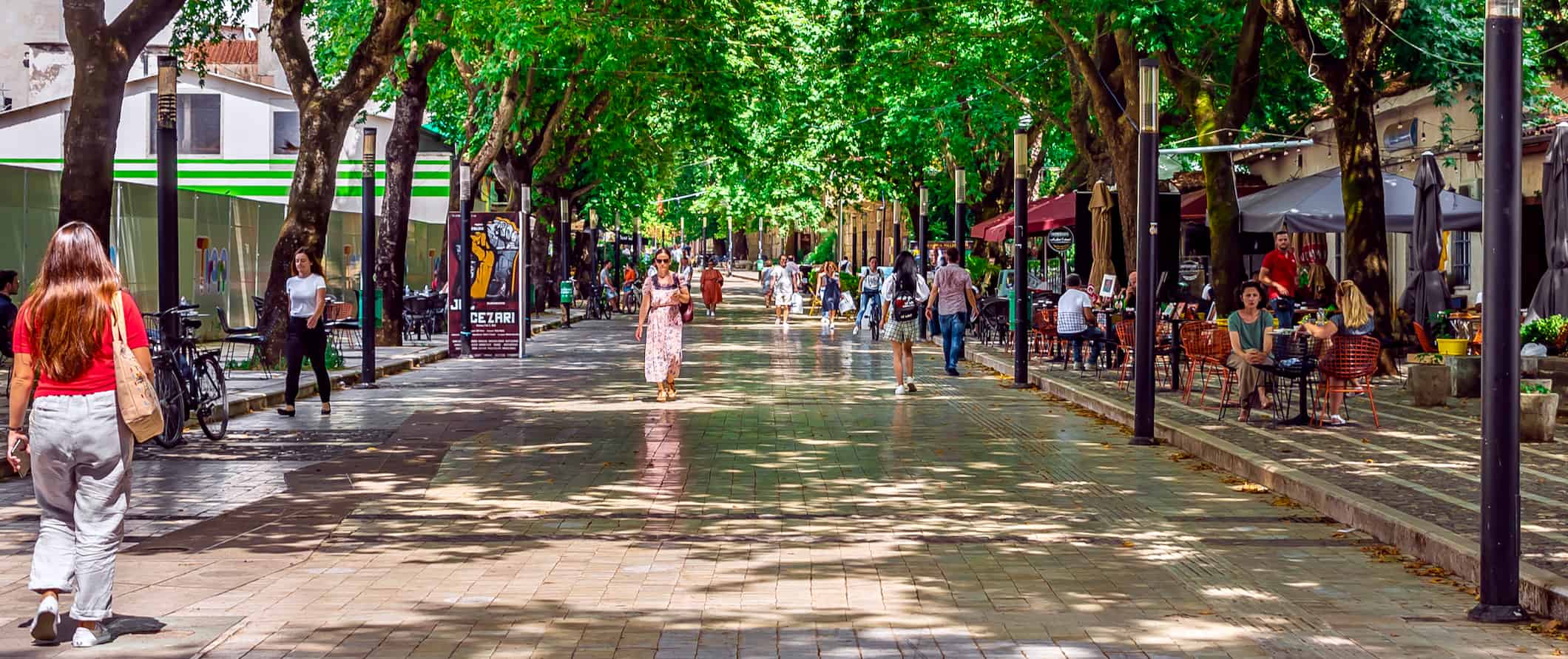 Public transportation – In most towns and cities, almost everywhere is accessible on foot. Otherwise, take the bus. The fares cost around 40 ALL per ride.
To get from the airport to Tirana, the cheapest way is via the airport shuttle. It runs from 6am until 6pm and drops you off near the National Museum of Tirana. It costs 400 ALL (one-way) and takes around 30 minutes. Alternatively, you can take a taxi for around 2,500 ALL.
Taxi – Taxis are readily available in all the major cities. Expect to pay 300 ALL to turn on the meter plus another 300 ALL for every kilometer. A lot of taxis will try to quote you a price instead of using the meter, which is almost always overly inflated. Make sure they put on the meter to avoid getting ripped off.
Train – Albania has a small rail network, but I never saw or heard of anyone taking it. The locals I talked to say it is too unreliable and slow. Buses are much faster, cheaper, and more reliable so use them instead.
Bus – Buses are the main form of inter-transportation in the country. They loosely follow a timetable. From major cities and starting points, they tend to leave on time but after that don't count on it. But getting to your destination? Add an hour buffer just to be safe. The roads are always jammed and aren't in great shape, so on-time arrivals are rare.
Buses cost from 300 ALL to over 1,000 ALL depending on how far you go. A bus from Sarandë to Tirana takes about 5 hours and costs about 1,700 ALL, while Berat to Tirana costs about 400 ALL and takes under three hours. The two-hour journey from Vlorë to Berat is around 400 ALL.
Pre-booking is never necessary. Just show up at the bus station and grab your ticket.
Car Rental – Car rentals start at 1,500 ALL per day. The roads are in bad shape, so be sure to drive carefully. Drivers need an International Driving Permit (IDP) to rent a car here.For the best car rental prices, use Discover Cars.
Hitchhiking – Hitchhiking is generally safe in Albania. It's very common, and there are lots of travelers doing it. It's pretty easy to find a ride here. HitchWiki is the best website for more hitchhiking info.
When to Go to Albania
Albania has a Mediterranean climate, which means super-hot summers (July-August), with a daily temperature averaging over 32°C (90°F), mild winters on the coast, and cold winters in the mountains (November-February).
The best time to visit Albania is during the spring (May-June) or fall (September-October). During this time, the weather is mild, with average daily temperatures around 21°C (70°F), making it perfect for hiking and other outdoor activities.
Of course, if you want to enjoy Albania's incredible coastline, the best time to come is during the summer. Albania is not yet a huge tourism draw in Europe, so it is rare to find sites and attractions overly crowded, and prices don't inflate much during peak season. It's sweltering at that time of year, however, so come prepared for hot weather!
How to Stay Safe in Albania
Albania is generally a safe country to visit. Violent crime is rare but petty crime can be an issue so don't flaunt your possessions and always make sure your valuables are out of reach while on crowded buses.
Solo female travelers should generally feel safe here, however, the standard precautions apply (never leave your drink unattended at the bar, never walk home alone intoxicated, etc.).
Locals are really proud of their country, and Albanian culture has a long tradition of guest hospitality. Moreover, Albania is a "nighttime" country (i.e., people stay out late), so there are always eyes and ears out, keeping would-be criminals in check. (Many of the women I met there told me they feel very safe walking around at night for that reason.)
The main danger in Albania is reckless driving. Albania has some of the highest road fatality rates per capita in all of Europe, so be sure to pay extra attention when driving or while walking near busy roads.
Near the border with Kosovo, landmines can still be found. Avoid hiking off the marked trails there, and keep an eye out for signs and warnings.
Scams aren't super common, but they do occur. You can read about common travel scams to avoid here.
If you experience an emergency, dial 112 for assistance.
The most important piece of advice I can offer is to purchase good travel insurance. This protects you against illness, injury, theft, and cancelations. It's comprehensive protection in case anything goes wrong. I never go on a trip without it, as I've had to use it many times in the past. You can use the widget below to find the policy right for you:
Albania Travel Guide: The Best Booking Resources
These are my favorite companies to use when I travel. They consistently have the best deals, offer world-class customer service and great value, and overall, are better than their competitors. They are the companies I use the most and are always the starting point in my search for travel deals.
Skyscanner – Skyscanner is my favorite flight search engine. They search small websites and budget airlines that larger search sites tend to miss. They are hands down the number one place to start.
Hostelworld – This is the best hostel accommodation site out there with the largest inventory, best search interface, and widest availability.
Booking.com – The best all around booking site that constantly provides the cheapest and lowest rates. They have the widest selection of budget accommodation. In all my tests, they've always had the cheapest rates out of all the booking websites.
HostelPass – This new card gives you up to 20% off hostels throughout Europe. It's a great way to save money. They're constantly adding new hostels too. I've always wanted something like this and glad it finallt exists.
Get Your Guide – Get Your Guide is a huge online marketplace for tours and excursions. They have tons of tour options available in cities all around the world, including everything from cooking classes, walking tours, street art lessons, and more!
The Man in Seat 61 – This website is the ultimate guide to train travel anywhere in the world. They have the most comprehensive information on routes, times, prices, and train conditions. If you are planning a long train journey or some epic train trip, consult this site.
Rome2Rio – This website allows you to see how to get from point A to point B the best and cheapest way possible. It will give you all the bus, train, plane, or boat routes that can get you there as well as how much they cost.
FlixBus – Flixbus has routes between 20 European countries with prices starting as low 5 EUR! Their buses include WiFi, electrical outlets, a free checked bag.
SafetyWing – Safety Wing offers convenient and affordable plans tailored to digital nomads and long-term travelers. They have cheap monthly plans, great customer service, and an easy-to-use claims process that makes it perfect for those on the road.
LifeStraw – My go-to company for reusable water bottles with built-in filters so you can ensure your drinking water is always clean and safe.
Unbound Merino – They make lightweight, durable, easy-to-clean travel clothing.
Top Travel Credit Cards – Points are the best way to cut down travel expenses. Here's my favorite point earning credit cards so you can get free travel!
Albania Travel Guide: Related Articles
Want more info? Check out all the articles I've written on backpacking/traveling Europe and continue planning your trip: