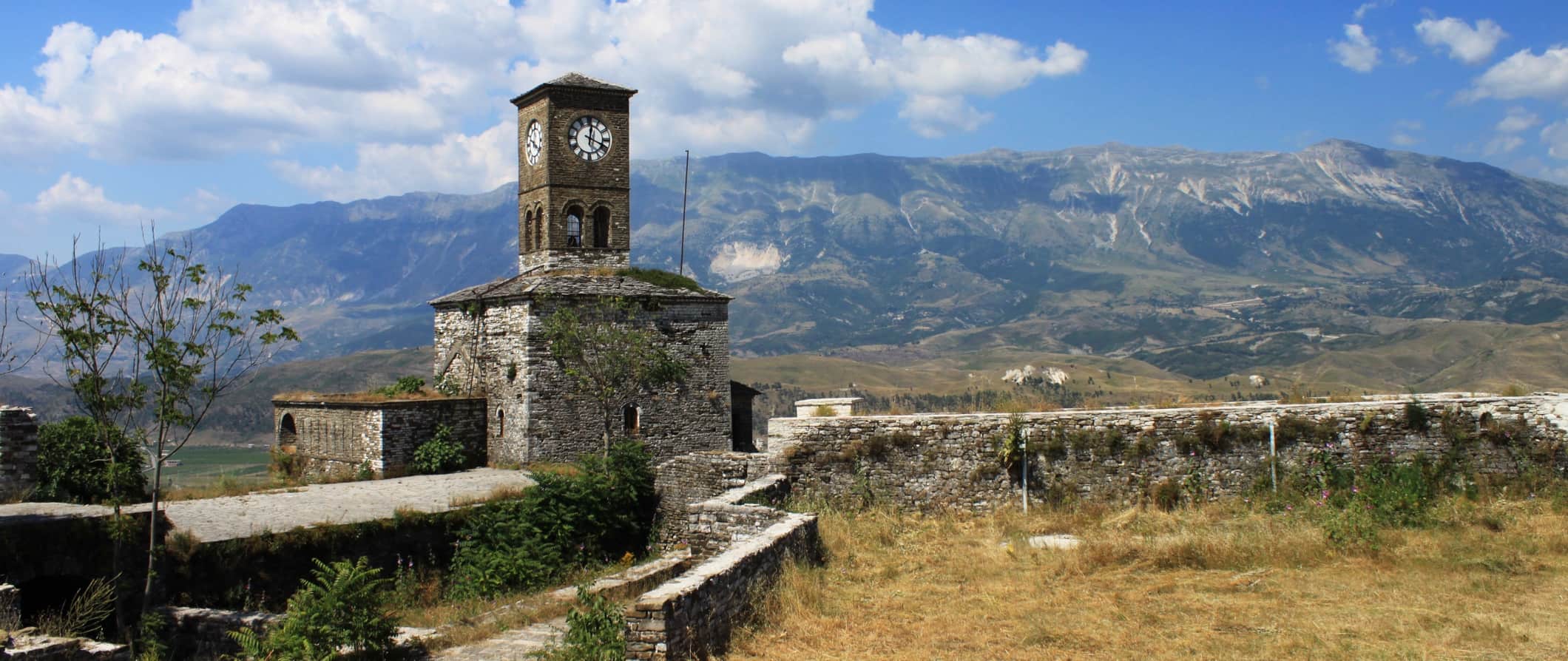 Albania is one of Europe's best-kept secrets. The country is mostly ignored by tourists who still think of it as some post-communist backwater (as if the world hasn't changed in the last 30 years).
Yet this is a land of untouched natural beauty, a rich history dating back to the ancient Illyrians and Greeks, and rock bottom prices. It's fast becoming a solid favorite of backpackers.
For hikers and nature lovers, there are the Accursed Mountains, with their slate-grey jagged peaks and deep green valleys. For beach lovers, the resort-dotted Albanian Riviera along the Mediterranean Coast. For history buffs, the uncrowded UNESCO World Heritage Sites of Butrint, an ancient Greek (and later Roman) city, and Gjirokastra, an Ottoman-era village. And for city lovers, there is the up and coming city of Tirana, where the café culture and busy nightlife around Blloku will give you the social fix you need after exploring Albania's quieter countryside.
This Albania travel guide can help you plan an excellent trip by showing you what to see and do, how to save money, expected costs, suggested places to stay, and everything you need to know about visiting this under the radar country.

Albania
Top 5 Things to See and Do in Albania
1. Visit Tirana
Albania's capital city is rapidly transforming from a Communist concrete jungle to a vibrant cosmopolitan city. Sip coffee at the many espresso bars, visit the Palace of Brigades, soak up the history in Skanderbeg Square, or enjoy a glass of rakija at one of the city's many bars.
2. Visit the historic town of Berat
Berat is also known as the 'City of a Thousand Windows' because of its unique, white-walled Ottoman homes characterized by many windows. These homes wind their way up around the hill to Kalaja, a 14th-century castle, and the Byzantine Church of St. Mary of Blachernae.
3. Drive the Llogara Pass
One of the best ways to take in Albania's natural beauty is to drive along the coastal road from Orkum to Dhermi. It is a winding road that rises up to over 1,000 meters into the mountains to overlook the Lonian coast.
4. Explore Saranda
Saranda is a sleepy little coastal town with great restaurants, budget accommodations, and sandy beaches. Nearby is ancient Butrint (a Greek, then Roman, city), Lekuresi Castle, and the Blue Eye (a crystal-clear water spring with unknown depths).
5. Wander around Gjirokastër
Gjirokastër is known as the city of stone. Its old town was built in the 4th century AD and is a rare example of architecture from the Ottoman era. With castles, mosques, and museums to explore, there are plenty of things to do here for history and culture buffs. Be sure to visit the restored Skenduli House for one of the best examples of Ottoman-era architecture in the area.
Other Things to See and Do in Albania
1. Relax in The Albanian Riviera
Pristine beaches, turquoise water, cheap, delicious seafood – the Albanian coast has all the beauty and wonders of Croatia without the prices and crowds. Dhërmi and Ksamil are considered to have the best beaches in Albania, with miles of white sandy beachfront. If you want a busier beach destination, go to Himara, where the beach has a promenade lined with cafes and bars. For something more off-the-beaten-path, make your way to Gjipe Beach. It's not the easiest beach to access, but it is worth the extra effort to get there for its secluded location between two high cliffs. If you are lucky, you will have it all to yourself. The easiest way is to get there is by boat from Jala beach; you will need to ask around at one of the beach bars and make a deal with a local to take you. Alternatively, you can travel by car and then hike down the coastal path past the abandoned bunkers (This should take around 30 minutes).
2. Admire the view from Rozafa Castle
Situated in northwestern Albania, the fourth-century Rozafa Castle has panoramic views of the area, including the Buna and Drin rivers. The castle dates back to the 10th century BC when the Illyrians lived in the area. It's home to one of Albania's "legend of Rozafa," which is about a young woman who sacrificed her life to keep the castle walls from crumbling. There isn't a whole lot to see here, but the ruins are impressive, and the walls are still standing strong after all these years. The Castle of Shkodra Museum gives a great overview of the castle's history, including the background of the medieval families who lived here. Admission is 200 LEK ($2 USD).
3. Visit the National Museum of History
The National Museum of History in Tirana offers a view of the country's rich history and is divided into eight sections: Antiquity, Middle Ages, Renaissance, Independence, Iconography, National Liberation Anti-fascism War, Communist Terror, and Mother Teresa (who was born in Albania). There's a remarkable collection of fantastic ancient Greek and Roman mosaics, columns, and statues unearthed in Albania. The collection is extensive, so it's wise to give yourself around three hours here. Admission is 200 LEK ($2 USD).
4. Explore the ancient ruins of Butrint
Greeks from nearby Corfu settled Butrint in the sixth century BC, and then it quickly became a large trade city that remained prosperous even when the Romans took over in 167 BC. Nowadays, you can wander the pathways between what's left of the city, including well-preserved arches and collonades. It makes for an ideal day trip from Saranda. The entrance fee to Butrint is 700 LEK ($6.50). It makes for an ideal day trip from Saranda, and the bus only costs 100 LEK ($0.92 USD). The entrance fee to Butrint is 700 LEK ($6.50).
5. Admire the art at Bunk'Art
Bunk'Art is an amazing contemporary art gallery in a huge nuclear bunker underneath Tirana. Built in the 1970s for Albania's elite, the bunker's 100 rooms have now been transformed into a museum and art space. Bunk'Art also contains exhibitions about Albania's modern history in an attempt to confront some of the more taboo parts of Albania's communist past. Admission is 500 LEK ($5 USD). Bunk'Art is only open in the summer, but it's possible to arrange a private tour at other times of the year by contacting the organization directly.
6. See the ancient ruins at Apollonia
Like Butrint, Apollonia was one of the most important ancient cities in the world. The Greeks founded the city in 588 BC, from where it grew fast into a city-state with a slave trade (just like Butrint). The Romans took over in 229 BC, when it became a cultural center with an important philosophy school. Even Julius Caesar sent his nephew (Octavius, to become Emperor Augustus) to study there! Today you can visit the ruins, like the theater and the restored facade of the administrative center. Entrance fee is 300 LEK ($3.70 USD).
7. Absorb the culture in Shkodra
Shkodra is Albania's unofficial capital of culture. As the largest town in the north of the country (home to the Rozafa Castle), it plays host to many of the countries biggest festivals like Carnival, Lake Day, and Shkodra Jazz Festival. The city's Old Town is filled with picturesque pastel-colored homes and buildings. A lot of people breeze through Shkodra on their way to Montenegro from Tirana, but I recommend spending a day or two here relaxing and getting to know the welcoming locals.
8. Cruise Lake Koman
To best see Lake Koman, take a boat ride connecting Koman and Fierzë, and prepare to be amazed. You'll cruise through the towering peaks of the Accursed Mountains on shimmering turquoise waters, sailing past isolated mountain villages and farmsteads hugging the hills. You can also opt for a multi-day trip, with stops in Valbona and Theth. Most hotels in Shkodra will help you organize multi-day trips for about 2,000 LEK ($18 USD). Otherwise, take the ferry! One-way fare is 800 LEK ($7.40 USD).
9. Go hiking
Albania has lots of incredibly scenic hikes. One of the most popular routes is from Valbona to Theth, across the Accursed Mountains. It's part of a longer Peaks of the Balkans trek that takes you along an old mule track, crossing over into Kosovo and Montenegro in parts. This section of the hike is moderately challenging, coming in at just under 12.4 miles (20 kilometers), which should take you around eight hours in total. If you're spending most of your time in the south of Albania, you'll have your pick of coastal hikes along the Mediterranean, including Mount Çika and through the Ceraunian Mountains. Routes vary in length and difficulty, and trekking information isn't readily available — large parts of these hikes are still undeveloped. If you're inexperienced, hire a guide! Outdoor Albania has many options.
10. Take a wine tour
You may be surprised to learn that Albania has one of the oldest wine-making traditions in all of Europe. Albanian wine makes use of some incredibly rare grapes, and some winemaking practices date back to the Bronze Age. You can take wine tours from Berat, Lezhë, and Tirana where you'll sample some of the country's finest. Expect to pay 6500 LEK ($60 USD) for a day trip.
11. Get spooked at Sazan
The "ghost" island of Sazan is a half-hour boat ride from the port town of Vlorë. It served as a Soviet military base and chemical weapons facility for many years before being abandoned. In 2017, the government opened it for tourism, although officially it remains a military base. The rooms in this vast network of nuclear bunkers and tunnels are still stocked with beds and kitchen supplies! The tours don't run all of the time, just in the busy summer months. You will need to ask in the tourist information office in Vlorë, and they will be able to book you onto a tour if they are running. Tours start around 2,486 LEK ($20 USD).
12. Visit the Durrës Archaeological Museum
As the largest archaeological museum in Albania, this museum is worth checking out if you are visiting Durrës. The museum is divided into two sections: Greek and Roman, with highlights including small coins, sculptures, amphoras (large vessels) found on the ocean floor, giant tombstones, and fine gold jewelry. Admission is 300 LEK ($3 USD).
13. Watch the sunset at Bunec beach
Often overshadowed by nearby Saranda, Bunec is a pebbled beach situated in a small cove divided by a river running down from the mountains. The main draw to this beach, apart from the fact it is relatively quiet and unspoiled, is the incredible sunset you will find here. For those traveling with a tent, there are several nearby campsites.
14. Visit Theth National Park
Located in the north of the country, high in the Albanian Alps, Theth National Park is one of the most beautiful places in Albania. Snow-capped mountains and deep, green valleys provide excellent hiking trails, while the turquoise Shala River is perfect for boating or kayaking. Highlights include the 30-meter-high Grunas Waterfall and the Lock-in Tower. The Lock-in Tower is also known as the "Blood Feud" tower, where feuding men from different families would lock themselves to try to resolve their issues (the resolution usually cost someone's life). This tower is one of the few remaining in Albania, and you can visit for about 120 LEK ($1.10 USD). There's not much left inside to see, but if you're on tour, a local guide will tell you some of the tower's most interesting stories (like how a baby was once locked in here so that two families could quickly resolve their differences).
Albania Travel Costs
Accommodation – Hostel dorms will be your cheapest option in Albania, with prices starting about 756 LEK ($7 USD) per night. Rooms in busier destinations, like Saranda or Tirana, average about 1,080 LEK ($10 USD) per night. For a private room in a hostel, expect to pay at least 2,162 LEK ($20 USD), although the average is more around 3,243 LEK ($30 USD). Free wifi is standard, and breakfast is often included.
Budget hotels can be as cheap as just 2,162 LEK ($20 USD) per night for a double or twin, but the average in more touristy spots like Saranda and Tirana is between 2,702-3,783 LEK ($25-35 USD). Airbnb is another great budget option, with shared accommodation (like a hostel dorm or common area) starting at 1000 LEK ($9 USD) per night. A private room averages about 3,783 LEK ($35 USD) per night, while it averages 4,864 LEK ($45 USD) for a full apartment or home.
For anyone traveling with a tent, camping is available around the country, and it is perfectly legal to wild camp (i.e., pitch your tent anywhere on public land)! If you prefer sticking to campsites, prices are around 2200 LEK ($20 USD) per night for two people and a tent.
Food – Food is really inexpensive in Albania. Takeaway food like souvlaki costs about 180 LEK ($1.70 USD). For a meal at a sit-down restaurant, expect to pay at least 550 LEK ($5 USD) for a traditional filling dinner. A meal with three courses at a restaurant serving non-Albanian food shouldn't cost more than 1,621 LEK ($15 USD).
Fast food like McDonald's will cost between 500-700 LEK ($4.50-6.50 USD). Expect to pay between 150 LEK ($1.50 USD) for a beer.
If you are planning to cook your own food, a week's worth of groceries will cost about 3,243 LEK ($30 USD).
Backpacking Albania Suggested Budgets
If you are backpacking Albania, expect to spend about 4,865 LEK ($45 USD) per day, which will cover a hostel dorm, eating cheap meals like souvlaki and/or cooking some of your meals, visiting only a few paid attractions, and using local transportation to get around.
On a mid-range budget of about 9,730 LEK ($90 USD), you'll be able to stay in a two-star budget hotel or a private Airbnb room, eat out a lot more at sit-down restaurants, drink a lot more, take some guided tours, and visit more attractions.
If you want luxury, expect to spend at least 16,215 LEK ($150 USD) per day for a four-star hotel, all the food and drink you want, private transportation, and any attraction or tour you want to take. Albania is one of the cheapest places in Europe, so your money will go far here.
You can use the chart below to get some idea of how much you need to budget daily. Keep in mind these are daily averages – some days you'll spend more, some days you'll spend less (you might spend less every day). We just want to give you a general idea of how to make your budget. Prices are in USD.
Accommodation
Food
Transportation
Attractions
Average Daily Cost
Backpacker
$10
$15
$10
$10
$45
Mid-Range
$35
$20
$15
$20
$90
Luxury
$70
$30
$20
$30
$150
Albania Travel Guide: Money Saving Tips
Take a free walking tour – Tirana Free Tour offers a free walking tour, which is a great way to get familiar with the city, sites, history, and the culture.
Cook your own meals – Many hostels here don't include kitchen facilities, so if you want to save money make sure you book accommodation that does.
Stay with a local – Staying with a local via Couchsurfing (or similar sharing economy site) is a great way to not only save money but it's a great way to meet a knowledgeable local who can help you better understand the city and its people.
Walk everywhere – All of the towns and cities in Albania are quite walkable, so skip the public transportation if you want to save a few extra LEK.
Enjoy the outdoors – There are plenty of free hiking trails around the country. Save your budget and enjoy the outdoors!
Have an ISIC Card – You can save 20-50% on museums and other tourist attractions if you have a valid student card. The ISIC is typically accepted in places where a foreign student ID is not.
Take advantage of wild camping – As it is legal to camp anywhere in Albania traveling with a tent, or in a camper van, is the perfect way to save money on accommodation.
Where To Stay in Albania
Accommodation in Albania is cheap. You won't find many hostels outside of the main cities but private guesthouses are pretty cheap in the countryside anyways. Here are some of my favorite places to stay in Albania:
How to Get Around Albania
Most people who enter Albania by plane come through the international airport in Tirana. To get from the airport to the city center, the cheapest way is on the airport shuttle. It runs from 6am until 6pm and will drop you off in the city center by the National Museum of Tirana. The cost is 250 LEK ($2.50 USD) one way and takes around 30 minutes.
Alternatively, you can take a taxi for 2300 LEK ($21 USD), which will take 25 minutes.
Public Transportation – Within the towns and cities almost everywhere is accessible on foot; otherwise, some cities have public bus networks (including Tirana, Durrës, Shkodra, and Berat). They're not overly reliable, but they're cheap, costing no more than 40 LEK ($0.40 USD) per ride.
Taxis are also readily available at reasonable prices. Expect to pay 300-400 LEK ($3-4 USD) during the day and 500-600 LEK ($5-6 USD) at night for a journey within Tirana and elsewhere in Albania. Many towns (and their accommodations) have bicycle rentals starting from 1,945 LEK ($18 USD) per day.
Trains – Albania has a small rail network, but it is slow and not connected internationally. I'd skip it and use the bus network instead as it has a far bigger reach, is faster, cheaper, and more reliable.
Bus – Buses loosely follow a timetable, but these can be difficult to find (also be warned Albania's roads aren't in the best condition, and the ride is bumpy). A Furgon is a minibus; they don't stick to a timetable. Instead, they depart once they are full. However, they are very cheap and plentiful.
A bus from Saranda to Tirana costs about 1,513 LEK ($14 USD) and takes five hours, while Berat to Tirana costs about 400 LEK ($4 USD) and takes under three hours. A two-hour journey from Vlore to Berat is only 300 LEK ($2.80 USD). For international bus travel, you can find buses to or from Sofia in Bulgaria to Tirana from as little as 2180 LEK ($20 USD), and Montenegro from 2000 LEK ($18 USD).
Ridesharing – You can also try the ride-sharing app, BlaBlaCar. You can usually find rides for popular routes here, and you'll split the cost of fuel.
Car Rental – If you're driving, make sure to buy an International Driving Permit (IDP) as you'll need one for any car rental. Car rentals start at 2200 LEK ($20 USD) per day.
Hitchhiking – Hitchhiking is safe in Albania, although some people may expect a small payment in return. You shouldn't have to wait more than 20 minutes for a ride on average. HitchWiki is the best website for hitchhiking info.
When to Go to Albania
Albania has a Mediterranean climate, which means hot summers (late June-August) with a daily temperature averaging around 90°F (32°C), mild winters on the coast and cold winters in the mountains (November-February).
The best time to visit Albania is during the spring (April-early June) or fall (September-October). During this time the weather is mild, with average daily temperatures around 70°F (21°F), making it perfect for hiking and other outdoor activities.
Of course, if you want to enjoy Albania's incredible coastline, the best time to come is during the summer. Albania is not yet a huge tourism draw in Europe, so you'll rarely find sites and attractions too crowded, and prices don't inflate much during peak season.
How to Stay Safe in Albania
Albania is generally a very safe country but don't flaunt your possessions and take the usual precautions against petty theft that you would in any other country and you shouldn't have any problems.
You can read about the 14 travel scams to avoid right here.
Always trust your gut instinct. If a taxi driver seems shady, stop the cab and get out. If your hotel is seedier than you thought, get out of there. Make copies of your personal documents, including your passport and ID.
If you don't do it at home, don't do it in Albania!
The most important piece of advice I can offer is to purchase good travel insurance. Travel insurance will protect you against illness, injury, theft, and cancellations. It's comprehensive protection in case anything goes wrong. I never go on a trip without it as I've had to use it many times in the past. You can use the widget below to find the policy right for you:
Albania Travel Guide: The Best Booking Resources
These are my favorite companies to use when I travel to Europe. They are included here because they consistently find deals, offer world-class customer service and great value, and overall, are better than their competitors. They are the ones I use the most and are always the starting points in my search for travel deals.
Momondo – This is my favorite booking site. I never book a flight without checking here first.
Skyscanner – Skyscanner is another great flight search engline which searches a lot of different airlines, including many of the budget carriers that larger sites miss. While I always start with Momondo, I use this site too as a way to compare prices.
Airbnb – Airbnb is a great accommodation alternative for connecting with homeowners who rent out their homes or apartments.
Hostelworld – This is the best hostel accommodation site out there, with the largest inventory, best search interface, and widest availability.
Couchsurfing – This website allows you to stay on people's couches or spare rooms for free. It's a great way to save money while meeting locals who can tell you the ins and outs of their city. The site also lists events you can attend to meet people (even if you're not staying with someone).
Booking.com – The best all around booking site that constantly provides the cheapest and lowest rates. They have a no money down policy, great interface, and the widest selection of budget accommodation. In all my tests, they've always had the cheapest rates out of all the booking websites.
Intrepid Travel – If you want to do a group tour around Europe, go with Intrepid Travel. They offer good small group tours that use local operators and leave a small environmental footprint. If you go on a tour with anyone, go with them. And, as a reader of this site, you'll get discounts when you click the link!
Rome 2 Rio – This website allows you to see how to get from point A to point B the best and cheapest way possible. It will give you all the bus, train, plane, or boat routes that can get you there as well as how much they cost.
World Nomads – I buy all my travel insurance from World Nomads. They have great customer service, competitive prices, and in-depth coverage. I've been using them since I started traveling in 2003. Don't leave home without it!
Albania Gear and Packing Guide
If you're heading on the road and need some gear suggestions, here are my tips for the best travel backpack and for what to pack!
The Best Backpack for Travelers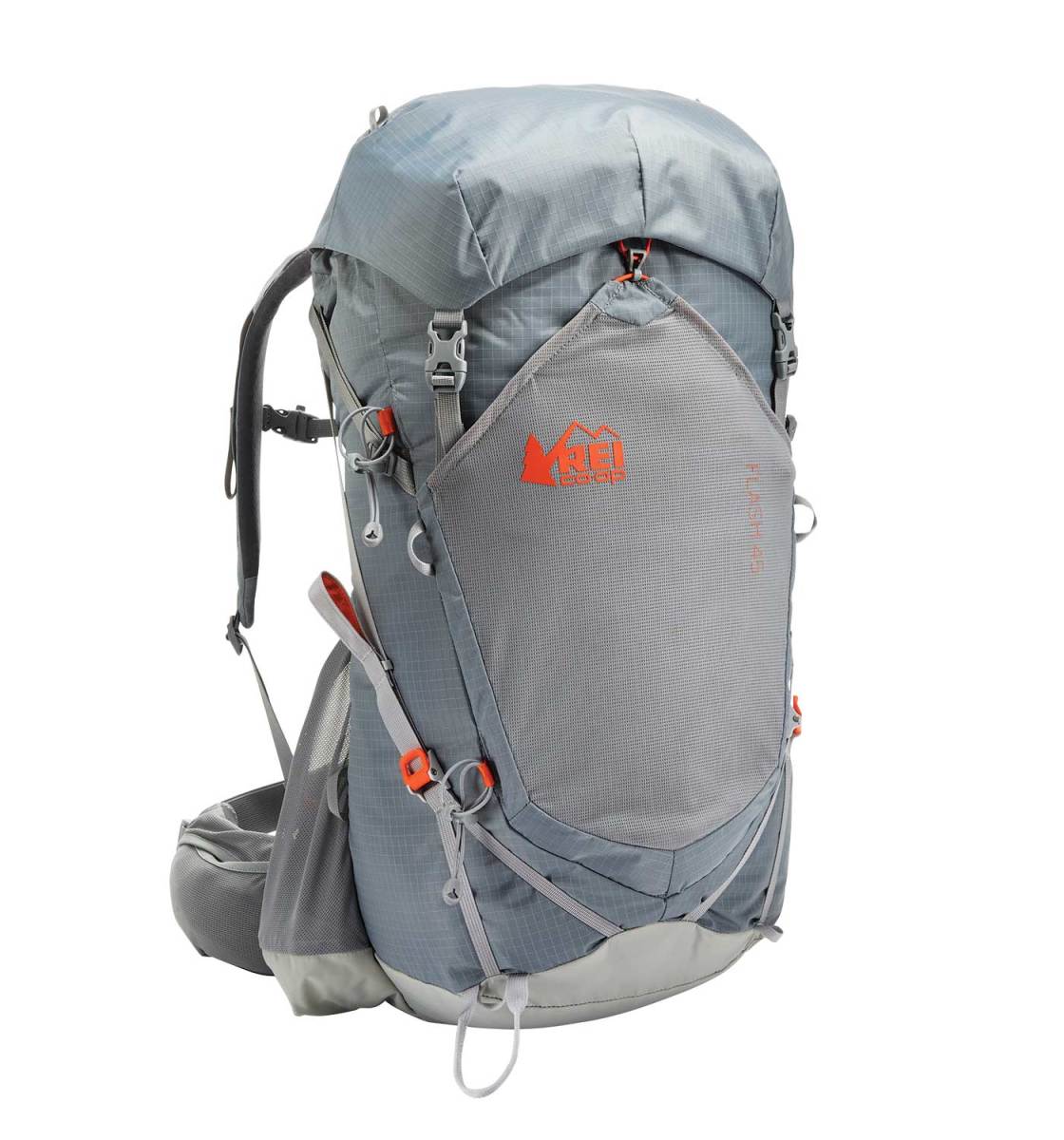 What's the best backpack for traveling long-term? I recommend the
REI Flash 45 Pack
. It's light and comfy, front loading, and fits perfectly in an airplane's overhead bin.
Size:
45-47L
Straps:
Thick and cushy with compression technology that pulls the pack's load up and inwards so it doesn't feel as heavy.
Features:
Removable top lid, large pocket at the front, hydration compatible, contoured hip belt
If you want something different, refer to my article on how to choose the best travel backpack for tips on picking a pack and other backpack suggestions.
What to Pack for Your Trip
Clothes
1 pair of jeans (heavy and not easily dried, but I like them; a good alternative is khaki pants)
1 pair of shorts
1 bathing suit
5 T-shirts (Unbound Merino is my preferred company. If you're a member of NM+, you can get 15% off your purchase)
1 long-sleeved T-shirt
1 pair of flip-flops
1 pair of sneakers
6 pairs of socks (I always end up losing half)
5 pairs of boxer shorts (I'm not a briefs guy!)
1 toothbrush
1 tube of toothpaste
1 razor
1 package of dental floss
1 small bottle of shampoo
1 small bottle of shower gel
1 towel
Deodorant
Small Medical Kit (safety is important!!!)
Miscellaneous
Female Travel Packing List
I'm not a woman, so I don't know what a woman wears, but Kristin Addis, our solo female travel guru, wrote this list as an addition to the basics above:
Clothing
1 swimsuit
1 sarong
1 pair of stretchy jeans (they wash and dry easily)
1 pair of leggings (if it's cold, they can go under your jeans, otherwise with a dress or shirt)
2-3 long-sleeve tops
2-3 T-shirts
3-4 spaghetti tops
1 light cardigan
Toiletries
1 dry shampoo spray & talc powder (keeps long hair grease-free in between washes)
1 hairbrush
Makeup you use
Hair bands & hair clips
Feminine hygiene products (you can opt to buy there too, but I prefer not to count on it, and most people have their preferred products)
For more on packing, check out these posts:
Albania Travel Guide: Suggested Reading
Who the hell is Albania, by E.L. Bono
Who the hell is Albania is an honest depiction of the real Albania. Contrary to popular belief, Albania is not the dangerous country it is so often portrayed as. This book is the perfect accompaniment for anyone wanting to learn a bit more about the people, country, traditions, and culture before your trip.
Enver Hoxha: The Iron Fist of Albania, by Peter Vergo
While the rest of Europe let go of Stalinism upon the death of Stalin in 1953 one country stood firm, Albania. In fact it remained virtually unscathed, thanks to the Albanian dictator Enver Hoxha, until the 1990's. Five years after his death. The isolation from the rest of the world caused by decades of Communist rule has left its mark on the country. Three decades after his death, still little is known about Hoxha. This book is the first biography about him available in English and is essential reading for anyone interested in learning more about this time in Albania's past.
Modern Albania: From Dictatorship to Democracy in Europe, by Fred C. Abrahams
Modern Albania brings to live the history of the Communist regime's fall in Albania. From the Communists' last Politburo meetings and first student revolts, to the fall of the Stalinist regime and the refuge crises that followed. Abrahams weaves together his 20 year personal experience from working in Albania along with interviews from people who played a role in the country's politics. What is great about this book is that it is narrative driven and rich in detail that paints a very vivid picture of how Albania became the country it is today.
No Greater Love, by Mother Teresa
Mother Teresa is quite possibly Albania's most well known export. As one of the world's most iconic spiritual leaders, she has inspired millions with her compassionate and selfless work with people in need. Her book No Greater Love offered the most accessible and inspirational collection of her teachings published to date. So if you want to get to know at little bit more about this Albanian treasure while working on your compassion it is worth a read.
Albania Travel Guide: Related Articles
Want more info? Check out all the articles I've written on backpacking/traveling Europe and continue planning your trip: