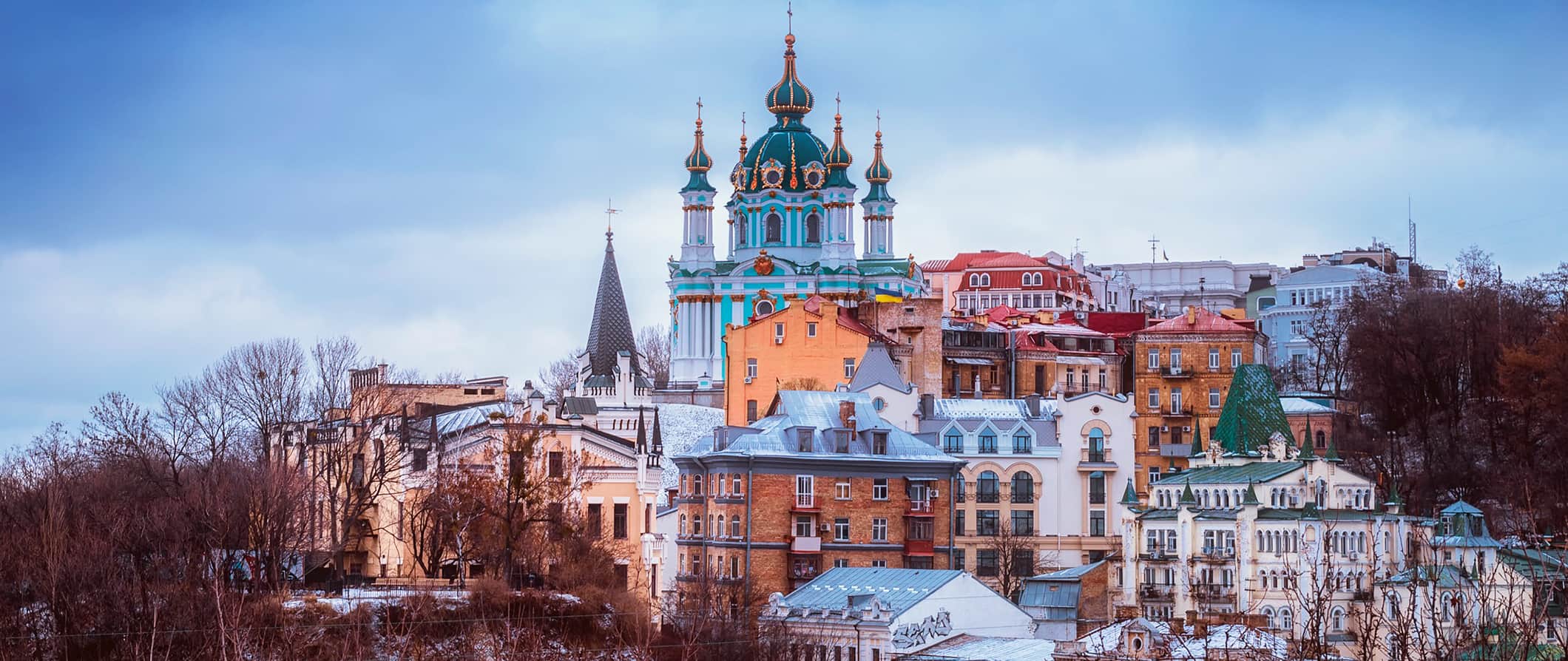 Ukraine isn't an easy country to visit. Few people speak English, it's really hard to get around, and the country's political troubles don't make things easy. The country doesn't see many tourists, but the challenge makes for a fun adventure, and since the country is so off the beaten track, it's one of the most unique places in Europe. I didn't have many expectations for the country but I loved my visit there. It was different and a ton of fun. The people are really welcoming of tourists, the country is inexpensive, and there's a real sense of stepping back in time as you explore the cities and countryside. I can't speak highly enough of Ukraine and urge you to visit! It's amazing! Utterly amazing!
Top 5 Things to See and Do in Ukraine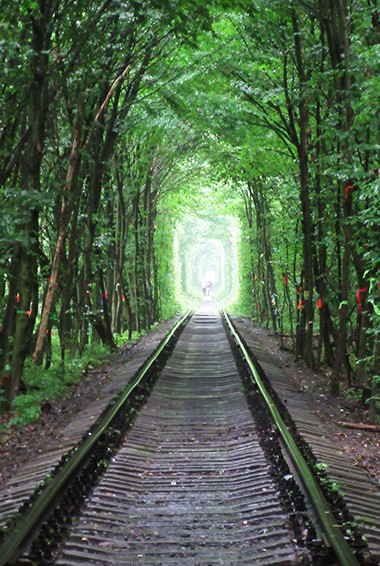 1. Visit the Tunnel of Love in Klevan
About 7km from the city of Klevan, a private railway has turned their railroad track into a natural tunnel by lining it with trees. The tunnel is at its lushest during the spring and summer when the green leaves form a seemingly impenetrable barrier. It's also beautiful during the fall as the leaves change color. It's very beautiful and romantic.
2. Visit Vorontsov Palace
Located inside a park reserve in Alpuka, this 150 room palace is an amazing piece of history to explore. It was built from 1830-1848 and there is a treasure trove of architectural and artistic discoveries to see. Admission is 210 UAH.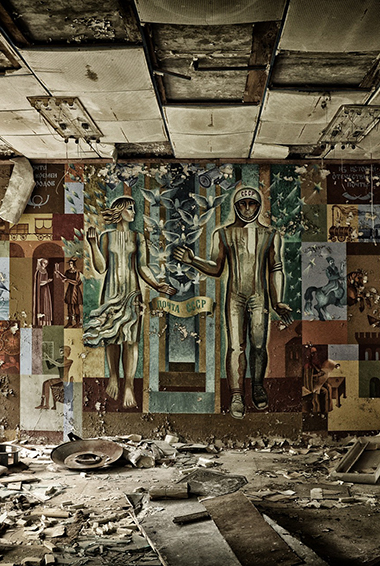 3. Visit the Chernobyl Power Complex
Lying 130 km north of Kiev,
this nuclear plant
had a critical meltdown in 1986. It was one of the worst nuclear disaster in human history. The radiation is weak enough now that people can take short trips to visit the complex and the abandoned, ghost like town nearby. Tours cost about 2,400-4,000 UAH and last a full day.
4. Explore Kiev
The capital of Ukraine, this bustling city is home to nearly three million people. There's an odd mix of Soviet area communist housing and baroque buildings and cobblestone streets. It's a beautiful town! For theater lovers, the Kiev Opera House is host to world-class operas and ballets or the Ivan Franko Theater for dramas, comedies, and musicals.
5. Hike the Carpathian Mountains
One of the most popular destinations in the country, these mountains are a magical collection of forests, meadows, and quaint villages. There are lakes for swimming and good trails for hiking.
Other Things to See and Do
(Click the title to expand the text)
1. Lounge at the city beaches
If you are looking for a quick sunbathing or water sports fix, heading down to a river island might be the thing for you. In Kiev, the Dnipro River is riddled with islands, and on most of them you can buy food and drinks, enjoy some beach, and even work out. Hydropark is host to an outdoor gym.
2. Ski at Drahobrat
This snowy resort is 4,300 feet above sea level and boasts perfect skiing and boarding conditions year-round. The place is somewhat remote, lying 18km outside of Yasinya, and it is a site best suited for the experienced winter sports enthusiast.
3. Olympic/Respublikansky Stadium
If you are wanting to catch some local sports, this is a popular place for various European matches. The stadium holds up to 100,000 people and can be thrilling when full. The final match of the Euro 2012 football championships was held here.
4. Chernivsti University
Founded in 1875, this university is the most fascinating piece of architecture in Chernivsti. Constructed from a mass of beautifully-laid, red bricks, and decorated with thousands of colored tiles, it sticks out like a sore thumb. The various wings are striking and seem to be influenced by a pseudo-Byzantine-Hanseatic-Moorish style.
5. Unwind at Akadia beach
Many of the beaches in Odessa are crowded and dirty in the summer time, but this hotspot is a great place to check out the ocean while staying out of the sand and water. There are a multitude of bars, clubs, cafes here too.
6. Drink Coffee at Dyzha
This is a dual café-art gallery in Lviv, and a local hotspot for youthful, alternative types. This is a great place to grab a coffee, a postcard, and relax for an hour or three. There are often musicians playing here.
7. Visit Chufut-Kale
This 200m high bluff and cave system is the highlight for many people that travel to Bakhysaray. For centuries, many people took refuge here, leaving behind them, burial chambers and casemates. Admission is 50 UAH and it's open daily from 9am-6pm.
8. Dance on the Dnipro Party Boat
If you are feeling really adventurous and a little goofy, this is probably the thing for you. These boat rides are about an hour and a half long, and all about having drinks and dancing to disco-tech, Russian-pop music.
9. Bohdan & Varvara Khanenko Arts Museum
Located in Kiev, this museum has an impressive collection of European art. The interior of the museum is decadently coated in frescoes, intricately carved woodwork, priceless antique furniture, and an array of masterful art. It's open daily (except Mondays and Tuesdays) from 10:30am-5:30pm. Admission is 30 UAH (entry is free the last Wednesday of the month; it closes earlier that day).
10. Hang out in Ploshcha Svobody
The second-largest square in the world and Kharkiv's most unique sight, this is an awesome place to check out. At the western end stands the first Soviet skyscraper, complete with geometrically-set concrete and glass blocks and bridges.
11. Spot wildlife at Askania-Nova Reserve
This vast plain is home to a plethora of animal life: buffalo, deer, antelope, horses, zebras, camels, gnus, rare Central Asian Saiga antelopes, and a huge array of birds.
12. Visit Lutsk Castle
One of many Ukrainian fortresses, this one lies in Lutsk's old quarter and dates back to the 14th century. It is 13 meter-high and is topped with three tall towers. The structure is in fairly decent shape and there are even archeological remains dating back to the 12th century nearby. Admission is 10 UAH and it's open daily (except Mondays) from 10am-7pm.
Typical Costs
Accommodation
– Hostel dorm beds in Ukraine average between 160-210 UAH per night. Private rooms in hostels costs around 500 UAH per night. Most hostels offer free linens, free towels, and free WiFi. You can book your hostel with
Hostelworld
. You can find a room in a 2-star budget hotel starting at 200 UAH a night. Expect to pay at least 100 UAH more in larger cities like Kiev or Lviv. Use
Booking.com
as they consistently return the cheapest rates. Ukraine does have
Airbnb
(though there are not many listings) and you can find shared rooms starting at 265 UAH per night and entire homes (including studio apartments) starting around 525 UAH.
Food – Some typical Ukrainian dishes to try are borsh (a bright beet-focused soup containing veggies and meat), varenyky (filled dumplings, similar to pierogies), holubtsi (stuffed cabbage), kovbasa (sausage), and deruny (potato pancakes). Food in Ukraine is really cheap. You can get a decent local meal for 85 UAH. A more mid-scale meal with a drink in a restaurant will cost around 315 UAH. A combo meal at a place like McDonald's will set you back around 105 UAH. Plan on cooking your meals? For a week of groceries that include pasta, vegetables, chicken, and other basic foods, expect to pay 550 UAH.
Transportation costs – Train travel in Ukraine is slow but its reliable and cheap. For example, Kiev to Lviv takes 5 hours but only costs 180 UAH. You can make the slow trains work in your favor by traveling around the country via overnight trains. Intercity buses here are outdated and are best used for short-haul trips. They can also be expensive. For instance, that same journey (Kiev to Lviv) via bus takes double the time and costs double the money. On all forms of transportation, you will probably be asked to show your passport when buying a ticket. Most intracity metros and buses cost 2 UAH for single ticket costs just 2 UAH, and can be bought using tokens, which are obtainable at the ticket office or from the machines.
Activities – Sightseeing in the Ukraine is cheap. Most activities cost between 105-215 UAH.
Suggested daily budget
915 UAH / $35 USD (Note: This is a suggested budget assuming you're staying in a hostel, eating out a little, cooking most of your meals, and using local transportation. You can always go higher or lower depending on how you travel, how often you eat out, and if you drink a lot. This number is just a basic guideline.)
Money Saving Tips
Head out of Kiev – The country is substantially cheaper outside of Kiev.
Eat local – By only eating at local cuisine at restaurants like Puzata Khata in Kiev, you'll keep your food prices down as low as you can. A typical meal here cost me about 85 UAH. Non-Ukrainian dishes are very in vogue and a lot more expensive.
Buy beer at the supermarkets – You can buy 2.5-liter bottles of beer in supermarkets and corner shops for 20-45 UAH. It's incredibly good value and is the way to party on the cheap.
Couchsurf – Meet awesome people, get a local perspective, and get a place to stay for free. Couchsurfing is amazing. I used it while I was in the country and met a lot of great people through it. The community here is pretty small though.
Book overnight trains – Take advantage of the slow and cheap trains in Ukraine by taking overnight trains. You'll save one night's accommodation as well as the best exploring hours by doing this.
Save money on rideshares – Uber is way cheaper than taxis and are the best way to get around a city if you don't want to wait for a bus or pay for a taxi. The Uber Pool option is where can you share a ride to get even better savings (though you can get your own car too). Currently, Uber is available in Kiev, Odessa, Lviv, Kharkiv, and Dnipro. You can save $15 off your first Uber ride with this code: jlx6v.
My Must Have Guides For Traveling to Ukraine
Photo credits: 2