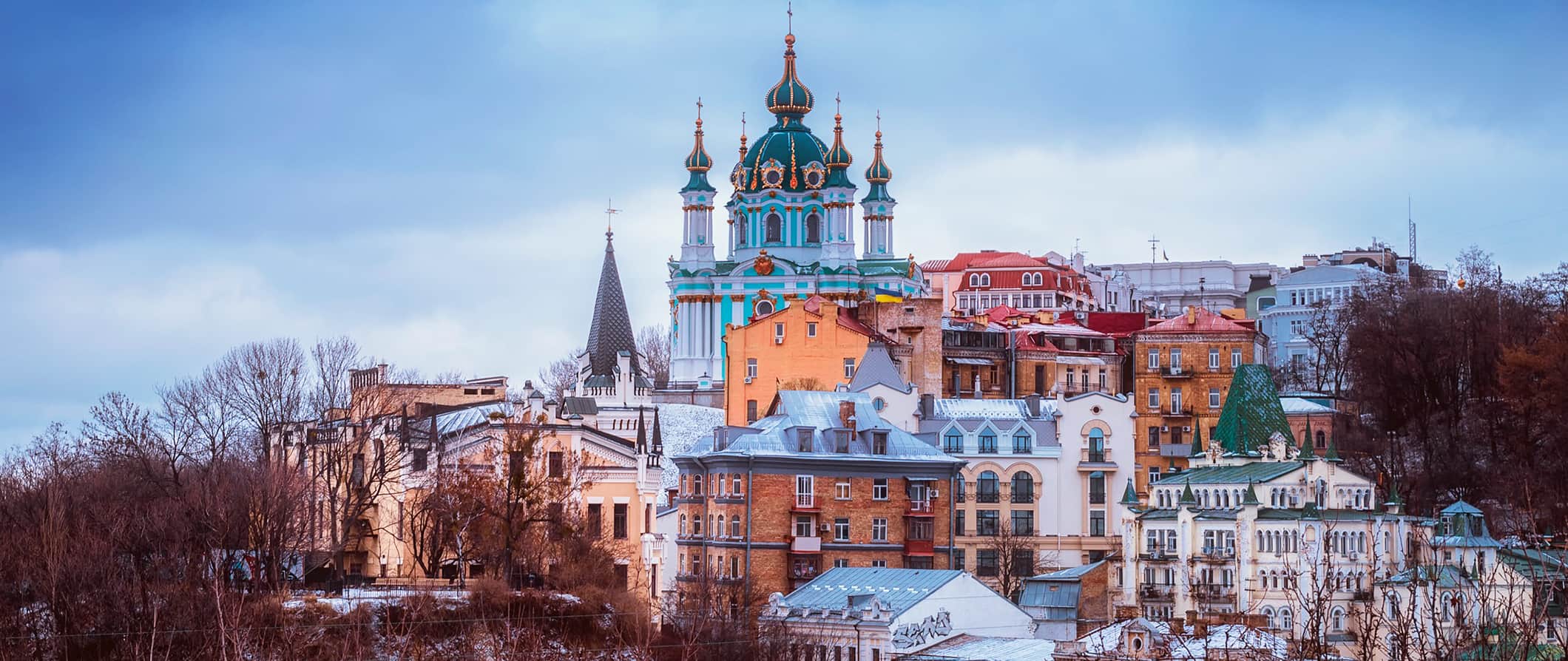 In recent years, Ukraine has evolved into a popular budget travel destination. While it might not have the polish and attractions you find in Western Europe, it more than makes up for that with cheap prices, beautiful landscapes, historic buildings, and sparse crowds.
Ukraine gained independence after the collapse of the Soviet Union in 1991 and is actually Europe's second-largest country, after Russia. Its history includes domination by various countries other than USSR including Poland, Lithuania, Romania, Czechoslovakia, and Russia.
Ukraine is home to the deepest metro station in the world, one of the world's most visited McDonald's, and some of Europe's oldest coffee houses. There are seven places here that have been recognized by UNESCO, it has tons of ghost towns here and you can also find the famous Tunnel of Love. While the recent annexation of Crimea by Russia means you'll want to be careful around the borders with Russia, the country itself is still safe to travel.
Personally, I didn't have many expectations for when I arrived — but I absolutely loved my time here. It's affordable, fun, and has a lot to offer if you step off the beaten path. The people are really welcoming, the country is inexpensive, and there's a real sense of stepping back in time as you explore the cities and countryside. I can't praise it enough.
This travel guide to Ukraine can help you plan your trip there while helping you stay on budget.
Click Here for City Guides
Top 5 Things to See and Do in Ukraine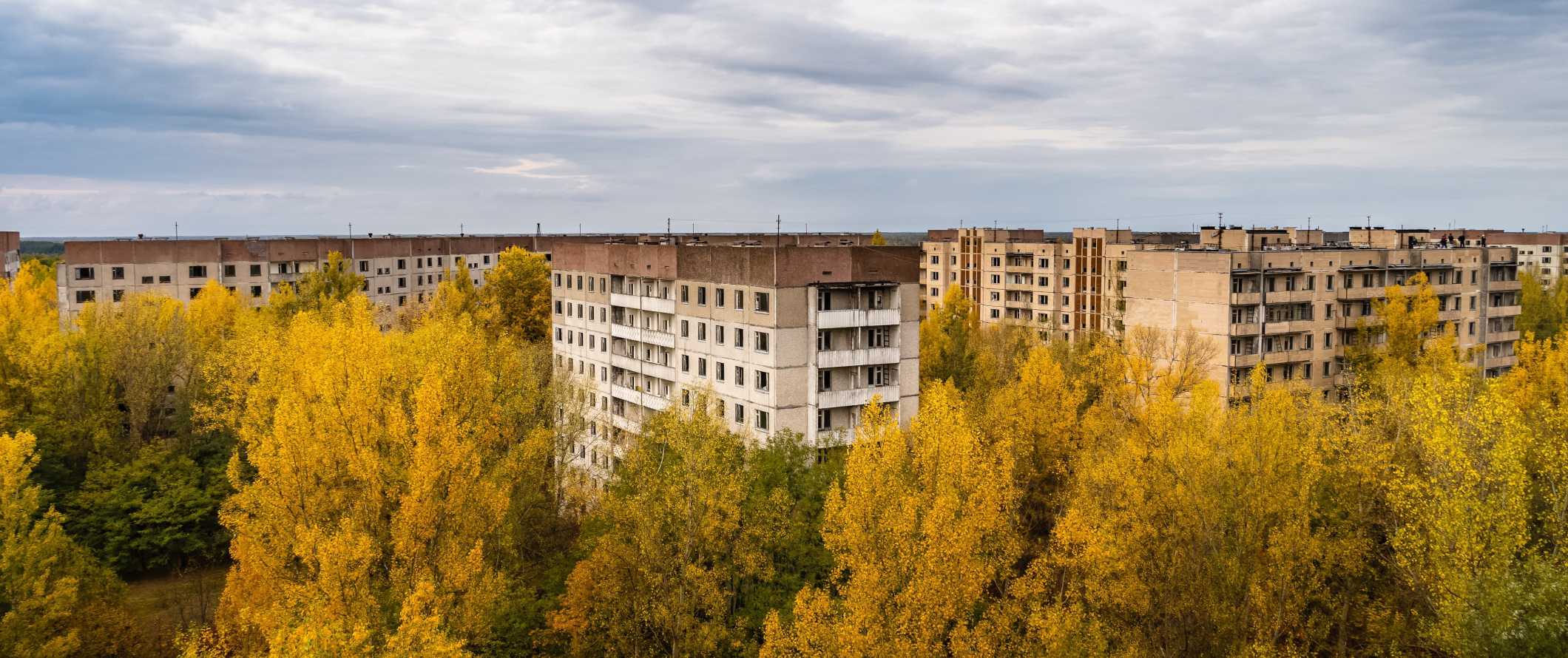 1. Visit the Tunnel of Love in Klevan
Just outside of Klevan, an old railway line has been turned into a natural tunnel lined it with trees. The tunnel is at its lushest during the spring and summer when the green leaves form a seemingly impenetrable barrier. It's very beautiful and romantic (and Insta-worthy). Plus, it's free!
2. Go skiing
Ukraine has cold, snowy winters that make it the perfect destination for budget-friendly winter sports. There are several resorts dotting the Carpathians with lift tickets starting at just 350 UAH. It's one of the cheapest places to ski in Europe!
3. Explore Chernobyl
This nuclear plant had a critical meltdown in 1986. It was one of the worst nuclear disaster in human history. The radiation is weak enough now that people to visit the complex and the abandoned, ghost-like town nearby. Tours cost about 2,900 UAH and last a full day.
4. Visit Kyiv
The capital of Ukraine is home to an odd mix of Soviet-area communist housing, Baroque buildings, and cobblestone streets. For theater lovers, the Kyiv Opera House is host to world-class operas and ballets and the Ivan Franko Theater hosts dramas, comedies, and musicals.
5. Hike the Carpathian Mountains
One of the most popular destinations in the country, this 1,500-kilometer (932-mile) chain of mountains are a magical collection of forests, meadows, and villages. There are lakes for swimming and plenty of trails for hiking. For a full-day hike, climb to the peak of Hoverla.
Other Things to See and Do in Ukraine
1. Visit Chernivtsi University
Founded in 1875, this university is the most fascinating piece of architecture in Chernivtsi, a city in western Ukraine. It's constructed from beautifully-laid red bricks and decorated with thousands of colored tiles. The design of the building was influenced by a pseudo-Byzantine-Hanseatic-Moorish style. You can book guided tours from the university for 80 UAH.
2. Relax at Arcadia Beach
This is the country's most famous beach. Located in Odessa, it was created to be the country's main summer getaway spot so there's a multitude of bars, clubs, resorts, and cafes here, making it a popular place to visit during the warmer summer months (May-September). The main beach has a waterslide and plenty of space to swim and lounge. Just be sure to arrive early to get a good spot as it does get crowded in the summer.
3. Wander the Odessa catacombs
This is the largest catacomb system in the world. There are over 2,500 kilometers (1,553 miles) of catacombs under the city, created in the 17th century and expanded when the city mined for limestone in the early 19th century (the limestone was used to build the city). The catacombs were used by Soviet rebels during World War II after the Germans forced them to retreat. While dangerous to explore alone (people still get lost and die down here), you can join a 2-4-hour tour to show you around. Prices start at 350 UAH. For Star Wars fans, be sure to check out the nearby statue that was originally a tribute to Lenin and which has been transformed into a replica of Darth Vader! The Odessa Opera and Ballet is worth a visit too as it is super cheap and in a beautiful historic building.
4. See the Bohdan & Varvara Khanenko Arts Museum
Located in Kyiv, this museum hosts an impressive collection of European art. The interior is decadently coated in frescoes, intricately-carved woodwork, priceless antique furniture, and boasts an array of masterful art. Expect to see paintings from Western Europe (including works by Peter Paul Rubens, Gentile Bellini, Jacob Jordaens, and Luis de Morales), artifacts, and works from Egyptian and Greek antiquity, Persian Ceramics, Chinese paintings, and much more! Admission is 120 UAH and free on the first Wednesday of the month.
5. Hang out in Ploshcha Svobody
Located in Kharkiv in northeastern Ukraine, this massive city square is one of the largest in the world. At the western end stands the first Soviet skyscraper, complete with geometrically-set concrete and glass blocks and bridges. Renamed Freedom Square after Ukrainian independence, it spans a massive 30 acres. Don't miss the empty pedestal where the statue of Lenin used to be (it was toppled during protests in 2014).
6. Spot wildlife at Askania-Nova Reserve
Established in 1898, this vast reserve spans over 333 square kilometers (128 sq mi)and is home to a plethora of animal life like buffalo, deer, antelope, horses, zebras, camels, gnus, the rare Central Asian Saiga antelope, and a huge array of birds. Within the reserve, there are a few small villages and one town which you can reach by bus. From April to November you can take a safari for around 150 UAH.
7. See Lutsk Castle
This fortress is located in Lutsk's old quarter and dates back to the 14th century. The castle walls stand 13 meters (42 feet) high and are between 1-3 meters (3-10 feet) thick. It's topped with three broad towers that have repelled several sieges, including attacks by Casimir the Great (1349), Jogaila (1431), and Sigismund K stutaitis (1436). During the Nazi occupation, over 1,000 Jews were murdered here (though there sadly is no monument or marker to commemorate the tragedy). Today, there are archeological remains dating back to the 12th century preserved and on display. The castle is featured on the 200 UAH bill and you can walk the ramparts and tour the three towers that make up the main defensive fortifications. Admission is 10 UAH.
8. Visit the National Chernobyl Museum
Located in Kyiv, this small museum is a good prelude to a trip to Chernobyl. There are three exhibits on display that highlight the accident, the aftermath, and the lessons we need to learn to avoid this happening again. It's equally sobering and educational. Admission is 10 UAH or 60 UAH with an audio guide.
9. Visit the Museum of the Great Patriotic War
This is one of the largest museums in Ukraine and highlights the story of the German-Soviet conflict during World War II. Located in Kyiv, the museum contains over 300,000 exhibits as well as several monuments and memorials spanning over 25 acres overlooking the Dnieper River (including the 62-meter-tall Motherland statue). This museum offers a sobering and unique look at the war's Eastern conflict. Admission is 50 UAH.
10. Tour St. Sophia's Cathedral
Built in the 11th century in Kyiv, this UNESCO World Heritage Site has an elaborate Baroque exterior with 13 golden domes. Inside the cathedral, there are beautiful murals, mosaics, and centuries-old frescoes. The cathedral was used as a burial place for Kyivan rulers during the Middle Ages. Named after Hagia Sophia in Turkey, the cathedral offers some stunning views over Kyiv from the bell tower. Admission to see the cathedral's museum is 20 UAH while access to the bell tower is 60 UAH.
11. Visit Lviv
Lviv is the cultural capital of Ukraine. Located 540 kilometers (335 miles) west of Kyiv, it has a Central European vibe and is full of history and incredible architecture. Don't miss wandering the Old Town (another place that has made UNESCO's World Heritage List), visiting the Lviv Historical Museum, and enjoying the view from High Castle. For a glimpse at the city's past, visit the Museum of Folk Architecture and Rural Life (it's an outdoor museum with all kinds of traditional wooden buildings). As a university town, it's a youthful city and hosts many of the country's foreign students from around Europe!
12. Take a walking tour
One of my favorite things to do when I arrive anywhere new is to take a walking tour. It's the best way to get your bearings and you might even meet and make some new friends. Kyiv Walking Tours, Guru Walk, and Free Tour all offer free walking tours in Kyiv covering most of the main points of interest. If you do take a free tour, be sure to tip your guide at the end! Get Your Guide also has a ton of tours around the country, including museum tours and trips to Chernobyl!
13. Go to a unique museum
Ukraine has to be home to some of the most interesting museums in the world. There's a museum dedicated to the Ukrainian Easter egg in Kolomyya, a Museum of Unnecessary Things in Kyiv, a Micro Miniature Museum in Kyiv, and a Toilet History Museum in Kyiv. While we're looking at random places and things, check out the giant crossword in Lviv, the brass Beer Belly of Ukraine (also in Lviv), and the statues of Peeing Colors in Kyiv.
14. Check out the sunflower fields
Sunflower oil is one of Ukraine's largest exports. Reportedly with enough fields of sunflowers to cover Slovenia, it isn't too hard to find one. Go in late July for the best views (the season lasts from July to mid-August).
Ukraine Travel Costs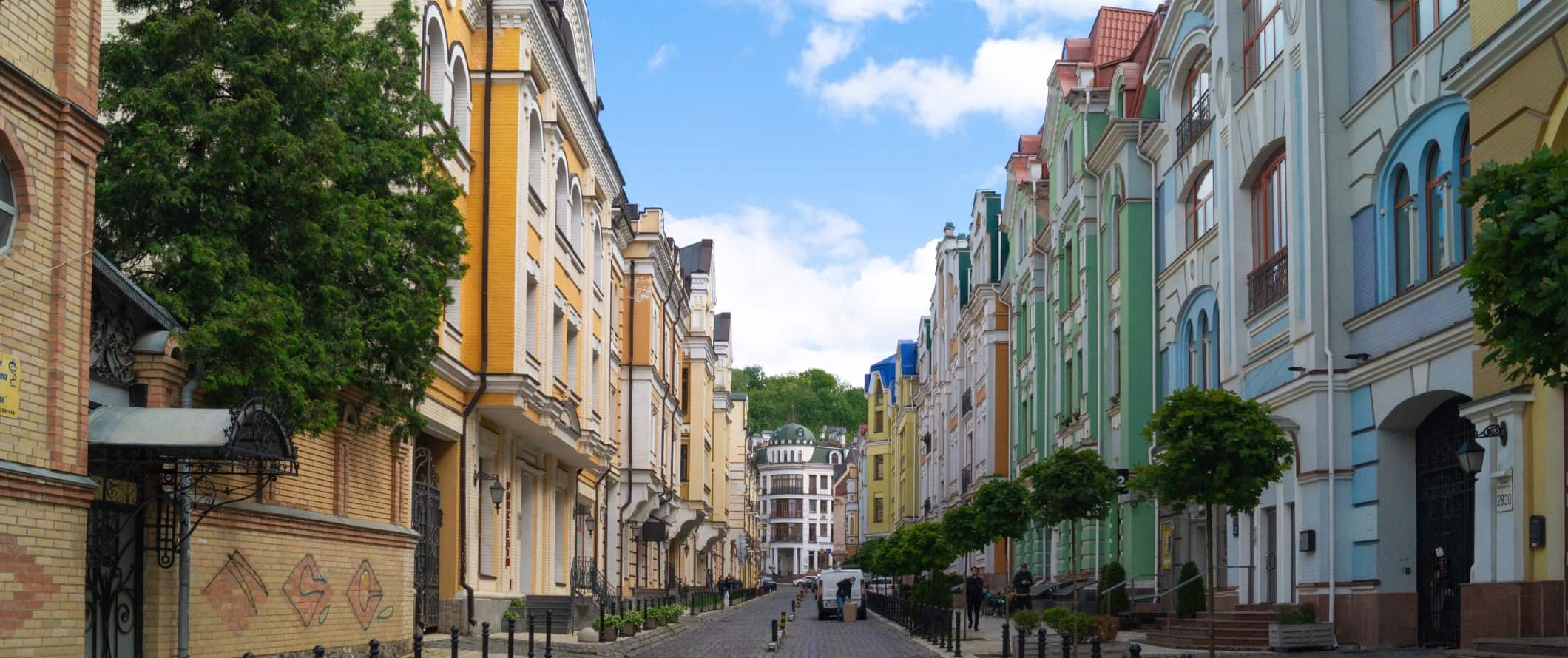 Accommodation – Hostels start at 130-250 UAH for a bed in a 6-10-bed dorm. Free Wi-Fi is standard and most hostels also have a kitchen. For a private room, prices start at 260 UAH.
Budget hotels start at 560 UAH per night. You can find cheaper options but they tend to be pretty gross places. Most budget hotels are a little outdated when it comes to decor. Don't expect many amenities either.
Airbnb is available in larger cities throughout the country. Private rooms start at 520 UAH per night while an entire home/apartment costs at 1,000 UAH.
Wild camping is allowed in Ukraine, as long as you aren't in nature preserves or near highways. There are also plenty of campgrounds around the country with a basic plot (without electricity) costing from 60-600 UAH per night.
Food – Food in Ukraine is similar to that in neighboring Eastern Europe and Russia. Borscht (beetroot soup), varenyky (pierogies), holubtsi (stuffed cabbage rolls), kovbasa (sausage), and deruny (potato pancakes) are some of the most popular and most common dishes.
For a meal of traditional cuisine, expect to pay 145 UAH or less. Portions are filling and hearty too. Fast food (like McDonald's) can be found in the larger cities around the country and costs around 120 UAH for a combo meal. For Thai or Indian food, main dishes cost around 200 UAH. Expect to pay around 180 UAH for a large pizza.
If you want to splash out, a three-course meal of traditional cuisine costs around 300 UAH. Beer can be found for just 30 UAH while a latte or cappuccino costs around 35 UAH.
For a week of groceries that includes pasta, vegetables, chicken, and seasonal produce, expect to pay around 750 UAH.
Activities – Museums and other sites generally cost around 60 UAH. Lift passes for skiing cost around 350 UAH, as does a catacomb tour in Odessa. For a trip to Chernobyl, expect to pay closer to 3,000 UAH. A safari tour in Askania-Nova Reserve costs around 150 UAH.
Backpacking Ukraine Suggested Budgets
If you are backpacking Ukraine, my suggested budget is 885 UAH per day. This assumes you're staying in a hostel dorm, cooking all of your meals, doing free activities like walking tours and hiking, limiting your drinking, visiting some cheap attractions like museums or galleries, and using local transportation to get around.
On a mid-range budget of 2,425 UAH per day, you can stay in a budget hotel or Airbnb, eat out for all your meals at cheap restaurants serving traditional cuisine, go out for some drinks, take some guided tours, take the occasional taxi to get around and take the bus between cities, and tour of Chernobyl.
On a "luxury" budget of 3,950 UAH or more per day, you can stay in a hotel, eat out at any restaurant you want, rent a car or take taxis everywhere, take higher-end guided tours, drink as much as you want, go skiing, take domestic flights to get around the country, and see as many castles and museums as you can handle. This is just the ground floor for luxury though — the sky is the limit!
Accommodation
Food
Transportation
Attractions
Average Daily Cost
Backpacker
250
175
150
250
825
Mid-Range
550
325
850
700
2,425
Luxury
850
900
1,000
1,200
3,950
Ukraine Travel Guide: Money-Saving Tips
Ukraine is an affordable country to visit. You're going to be hard-pressed to spend a lot of money unless you go out of your way to do so. That said, it's always good to make sure you get the best deals so here are some money-saving tips for Ukraine:
Eat local – By eating at restaurants serving traditional cuisine, you keep your food expenses low. Skip the western food.
Buy beer at the supermarkets – If you plan on drinking, buy your beer at the supermarket. Beer at the bar is cheap, but this is even cheaper!
Stay with a local – Use Couchsurfing to meet awesome people, get a local perspective, and get a place to stay for free. I used it while I was in the country and met a lot of great people through it. The community here is pretty small so be sure to make your requests in advance.
Book overnight trains – Take advantage of the slow and cheap trains in Ukraine by taking overnight trains. You save one night's accommodation by doing this.
Save money on rideshares – Uber is way cheaper than taxis and is the best way to get around a city if you don't want to wait for a bus or pay for a taxi. Currently, Uber is available in Kyiv, Odessa, Lviv, Kharkiv, Vinnytsia, Zaporizhia, and Dnipro.
Get the Kyiv PASS – If you're planning on being in Kyiv for a few days, the Kyiv PASS gets you free admissions to certain attractions, discounts to partner restaurants, free Metro trips (offline cards only), and an audio guide. It's available for 24, 48, and 72 hours and costs 447 UAH, 746 UAH, and 1,045 UAH respectively.
Bring a reusable water bottle – The tap water in Ukraine is not safe to drink. Avoid single-use plastic by bringing a reusable water bottle with a filter with you. LifeStraw makes reusable bottles that also filter your water so it's safe and clean to drink — no matter where you are in the world!
Take a free walking tour – Kyiv Walking Tours offers a free tour around the city. It's the best way to see the main sights on a budget. Just be sure to tip your guide!
Where to Stay in Ukraine
Ukraine has a growing hostel scene and you can now find hostels in most of the larger cities. Here are my favorite places to stay around the country:
How to Get Around Ukraine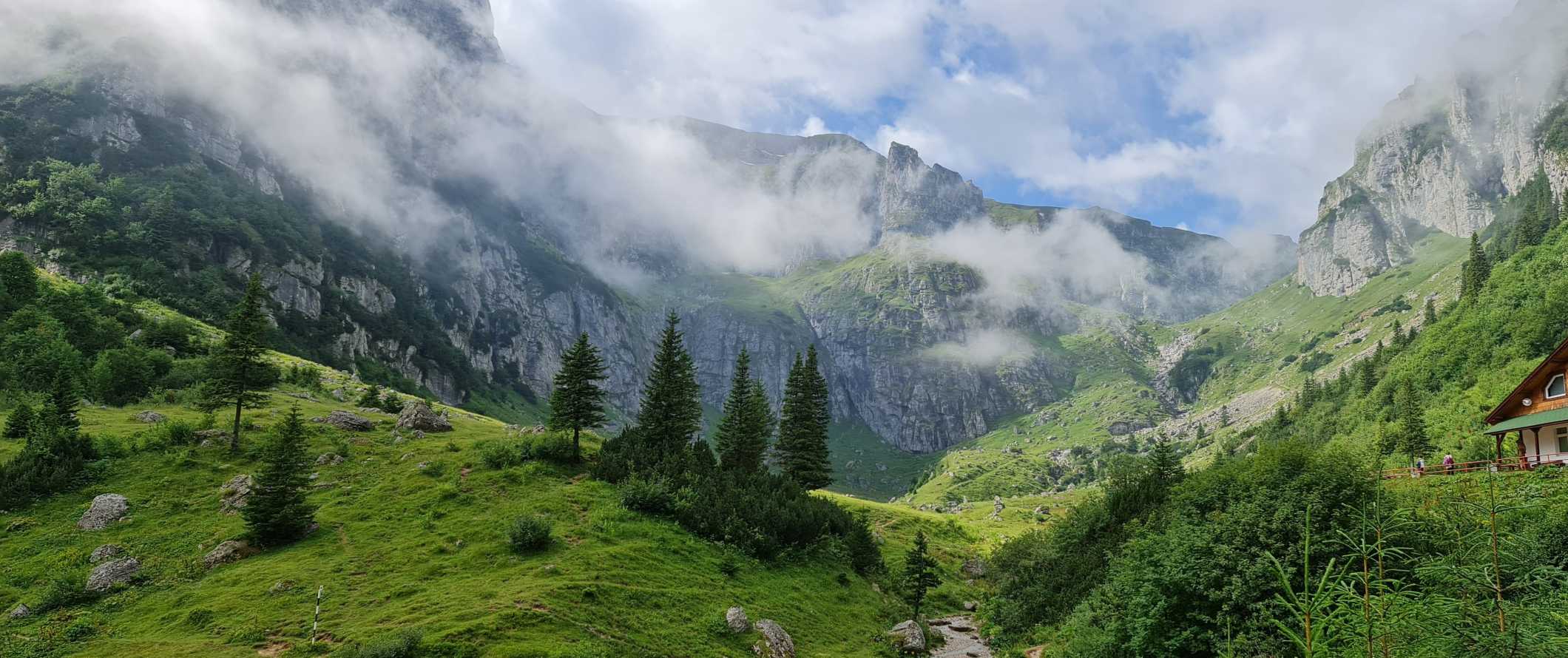 Bus – Ukraine has a mix of small, crowded, and outdated buses as well as larger, more modern coaches. FlixBus is your best choice here, as their buses are clean, reliable, and cheap.
You can take a bus pretty much anywhere in the country for under 700 UAH although if you're prepared to change busses mid-way, the price can be half that.
Trains – Trains are perfect for longer journeys around the country. Many of the trains have an old, Soviet feel to them but they are safe, reliable, and cheap. And, because there are lots of overnight options, you can usually take an overnight train to save yourself a night of accommodation.
First-class couchettes, private and shared sleepers, and regular seats are all available. Most clerks do not speak English so buy your ticket online or have your hostel/hotel write down what you need/where you're going.
The 9-hour trip from Kyiv to Odessa can cost as little as 300 UAH. The 7-hour trip from Kyiv to Lviv costs about the same while the 13-hour journey from Kyiv to Loskutivka (near Luhansk) costs 340 UAH.
Air – Ukraine International Airlines is the main domestic carrier here. Flights are relatively affordable, with most domestic flights costing as little as 1,000 UAH.
Car Rental – Car rentals in Ukraine can be found for as little as 575 UAH per day for a multi-day rental. The roads here are in rough shape, however, so drive carefully. Additionally, you need an International Driving Permit (IDP) to rent a vehicle here.
Hitchhiking – While hitchhiking here has become more difficult since the Crimean conflict with Russia, it's still possible though I wouldn't really recommend it based on my experience but you might be more adventurous than I am. Hitchwiki is the best resource for additional information.
When to Go to Ukraine
The summer is the most popular time to visit Ukraine. June-August offers plenty of warm, sunny days with temperatures ranging from 18-24°C (64-75°F). This is also the busiest time of year as well. However, the country only sees around 14 million tourists each year (that's a fraction of the 90 million visitors a popular destination like France receives) so don't expect massive crowds.
If you want to avoid the peak summer season, consider visiting in May or September/October. It won't be as warm, but you can see the flowers blossom in the Carpathians or watch the leaves change in the autumn. It's chilly at night, but the days are still perfect for sightseeing and hiking.
The winters in Ukraine are cold, with temperatures well below 0°C (32°F). Unless you're here to ski or do winter sports, I'd avoid visiting in the winter.
How to Stay Safe in Ukraine
Crime and petty theft in Ukraine are on par with much of Europe. Most crimes are crimes of opportunity so as long as you keep your valuables out of reach when in crowded areas and on public transportation, you can avoid the most common issues. Don't flash your valuables when out and about and avoid walking alone at night in the larger cities just to be safe.
Solo female travelers should feel safe here, though they should take the standard precautions (not leaving their drink unattended at the bar, not walking home alone intoxicated, etc.).
Credit card fraud is a concern in Ukraine so stick to using ATMs inside of banks (and not random ATMs on the street).
The roads here are pretty terrible, so be extra careful if renting a car. Follow all the rules of the road, obey the speed limits, and wear a seatbelt. Drivers here are aggressive so be prepared. Also, don't leave your valuables in your vehicle overnight. Break-ins are rare, but it's always better to be safe than sorry.
With the rise of the far-right and Russian interference, attacks against people of color have been on the rise. Travelers of color need to take extra precautions and avoid traveling alone at night.
The war with Russia in Crimea is localized to the region (for now) so as long as you avoid visiting Crimea (which you need a special permit for) you won't have to worry. While it is possible to visit Crimea (and there is a lot to see there), most governments have issued warnings and don't provide assistance should an issue arise. In short, avoid visiting Crimea for now.
If you're worried about getting ripped off you can read about common travel scams to avoid here.
If you experience an emergency, dial 102 for assistance.
Always trust your gut instinct. Make copies of your personal documents, including your passport and ID. Forward your itinerary along to loved ones so they know where you are.
The most important piece of advice I can offer is to purchase good travel insurance. Travel insurance protects you against illness, injury, theft, and cancellations. It's comprehensive protection in case anything goes wrong. I never go on a trip without it as I've had to use it many times in the past. You can use the widget below to find the policy right for you:
Ukraine Travel Guide: The Best Booking Resources
These are my favorite companies to use when I travel. They consistently have the best deals, offer world-class customer service and great value, and overall, are better than their competitors. They are the companies I use the most and are always the starting point in my search for travel deals.
Skyscanner – Skyscanner is my favorite flight search engine. They search small websites and budget airlines that larger search sites tend to miss. They are hands down the number one place to start.
Hostelworld – This is the best hostel accommodation site out there with the largest inventory, best search interface, and widest availability.
Booking.com – The best all around booking site that constantly provides the cheapest and lowest rates. They have the widest selection of budget accommodation. In all my tests, they've always had the cheapest rates out of all the booking websites.
Get Your Guide – Get Your Guide is a huge online marketplace for tours and excursions. They have tons of tour options available in cities all around the world, including everything from cooking classes, walking tours, street art lessons, and more!
SafetyWing – Safety Wing offers convenient and affordable plans tailored to digital nomads and long-term travelers. They have cheap monthly plans, great customer service, and an easy-to-use claims process that makes it perfect for those on the road.
LifeStraw – My go-to company for reusable water bottles with built-in filters so you can ensure your drinking water is always clean and safe.
Unbound Merino – They make lightweight, durable, easy-to-clean travel clothing.
Top Travel Credit Cards – Points are the best way to cut down travel expenses. Here's my favorite point earning credit cards so you can get free travel!
BlaBlaCar – BlaBlaCar is a ridesharing website that lets you share rides with vetted local drivers by pitching in for gas. You simply request a seat, they approve, and off you go! It's a cheaper and more interesting way to travel than by bus or train!
Ukraine Travel Guide: Related Articles
Want more info? Check out all the articles I've written on backpacking/traveling Europe and continue planning your trip: