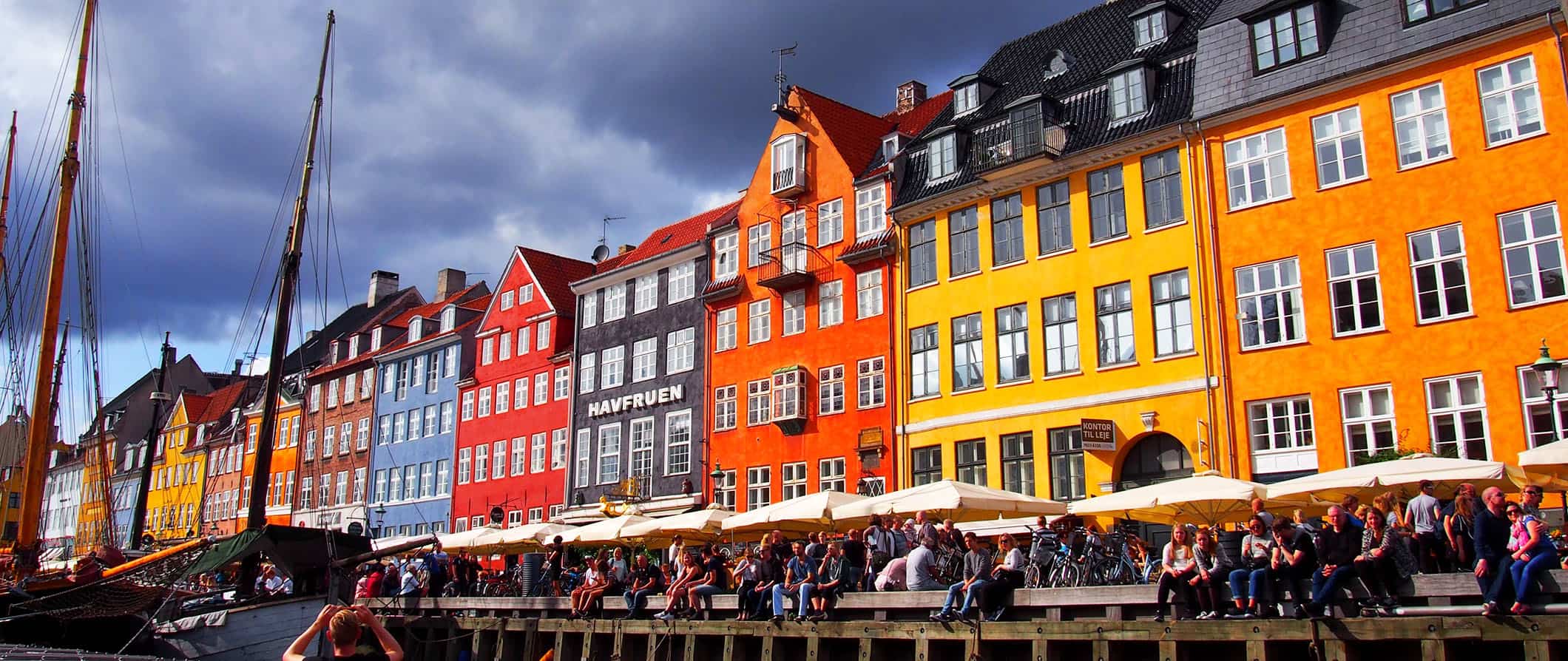 As the capital of Denmark, Copenhagen (København in Danish) has a long and rich history. It was the center of the Danish empire for hundreds of years, and, as such, it is home to many palaces, historic buildings, and cultural relics. But modern Copenhagen is not a city steeped in the past. The town's classic architecture and canals are juxtaposed by modern infrastructure, new buildings, and a high tech transit system. But more than that, Copenhagen one of my favorite cities in the world. I've been here countless times and never get tired of my visits. The city is beautiful, clean, scenic, historic, and the locals always fun to hang out with. There is just a spirit and vibe that screams "Life is good here". It's infectious and will have you wondering why more places are like this. Use this travel guide to learn how to save money in the city and spend a few extra days here. You won't regret it!
Top 5 Things to See and Do in Copenhagen
1. Christiania
This hippie enclave has been around since the 1970s. Most people come to hang out and smoke the weed openly sold here. In recent years, the government has cracked down so it's not as open anymore. If weed isn't your thing, come anyway for the cool beer gardens, people watching, and colorful wall murals.
2. Take a bike tour
Renting a bike is the easiest way to explore the city — it's how the locals travel! Bikes can be rented all around the city, with prices per hour (25 DKK) or per day (around 120 DKK). For guided bike tours, expect to pay 100 DKK. Most tours last 2-3 hours.
3. Take a boat tour
The canals and harbor of Copenhagen are very beautiful (And super clean. You can actually see the bottom of canals). Hour long boat tours leave from Nyhavn and, while "touristy," you will find a surprising amount of locals on them drinking a beer on a sunny day.
4. Tivoli
Tivoli is an amusement park in the center of the city. While it may not be the most popular place for everyday travelers, I had a blast here, especially playing bumper cars with my friends and drinking beer. I love this place. Admission is 110 DKK on weekdays and 120 DKK during the week.
5. Hang out in Nørrebro
This is one of the city's hottest quarters, with an interesting multicultural vibe as well as an influx of young locals. Trendy bars and shops sit right next to dive bars and cheap kebab shops, so spend some time strolling the streets and taking in the eclectic sights.
Other Things to See and Do
(Click the title to expand the text)
1. Experience the "Morning Bars"
There's actually more than one morning bar in Copenhagen. "Morning Bar" is a term for the late, late (early morning) bars that open after the clubs close. Danes like to drink and tend to stay out at these bars until about 9am The most famous is Louise's.
2. Experience the nightlife
Copenhagen has a variety of pubs, lounges, and clubs. This city doesn't start pumping until about 1 am and goes very late (see above morning bars). I would try to spend at least one night out.
3. Christiansborg Palace Ruins
Underneath this palace in the middle of the city, you can see the ruins of Bishop Absalon's fortress, which dates back to 1167. It's dark and damp down there, giving it a very crypt-like and ancient feel. I was really impressed with the detailed information provided about the fortress and its path to the current palace. Adult admission is 150 DKK, however it's free with the Copenhagen Card.
4. Round tower
Rundetaarn is the oldest functioning observatory in Europe. And through a long, tiring walk to the top, it provides a sweeping view of the old part of Copenhagen. Admission is 25 DKK.
5. Church of Our Saviour
Located near Christiania, this church is worth seeing for its giant spiralling bell tower. The interior of the church is basic and features a few interesting paintings, but the winding tower is what makes it worthwhile. It has always been regarded as something of a test of manhood to climb up and touch the globe on the summit, nearly 350 feet up in the air.
6. Hans Christian Andersen Museum
While this is really "made for children" and features Disney-like displays and sets, I really liked this museum. Inside, you get to read all of Andersen's children's tales, which were a lot shorter and darker than I had thought. It was quite the eye-opener. Disney lied to me all these years. Admission is 60 DKK for adults, 40 DKK for children.
7. The Historical Museum
The national history museum has many exhibits relating to Danish history and Viking weapons. Skip the Museum of Copenhagen, though. It was awful and didn't cover much. The national museum is much better. Admission is 75 DKK.
8. Danish National Gallery
The Danish National Gallery (free entry!) has great art from the likes of Rembrandt, Picasso, and Matisse. There are also a number of paintings by Danish artists from the "Golden Age." Admission is 110 DKK, and free for anyone under 18.
9. Little Mermaid
It may be small, but this statue makes for some excellent pictures. And, since it is near a park that is very much worth visiting, there's no reason not to head over and snap a photo. Watch out for hordes of tourists trying to get into your shot, though.
10. Kastellet Park
Kastellet used to be a fortress guarding the city, but is now a public park, a cultural-historical monument, and is also used for military purposes. The park has great gardens, trees, and ponds surrounding it. It's right near the Little Mermaid and is a wonderful place to relax on a warm day.
11. Shop at a flea market
In the summer months there are numerous flea markets around the city that are great to browse. Many are open just on the weekends and offer an assortment of odds and ends. Nørrebro Flea Market is Denmark's longest and narrowest, stretching 333 metres near Assistens Cemetery on Nørrebrogade.
12. Travel to Malmö
For a day trip, consider visiting Malmö, Sweden's third largest city. It's under an hour away, and you can spend some time strolling the historic city center. You'll also get to cross the famous Øresund bridge, a landmark made famous by the hit Scandinavia crime drama The Bridge (Broen in Danish).
13. Enjoy Roskilde
Known as the ancient city of Denmark, Roskilde was Denmark's capital from 960 to 1536. This is an amazing city to view the country's history, whether it be at the various churches, brick building lined streets, or the Viking-influenced museums. This small city is close to Copenhagen so it's easy to get to. The Roskilde Cathedral is the most famous in the country. It is also host to Europe's largest music festival every June.
Typical Costs
Hostel prices
– Hostel dorms begin at 150 DKK per night but are more often than not around 200-250 DKK. Private double rooms with a shared bathroom cost 700-1400 DKK per night. Free WiFi is standard, as are cooking facilities, but you should always double check before booking. Also, keep in mind prices drop a lot during the winter time. While many hostels will include sheets, some don't and will charge you an extra 65 DKK. Make sure you read the fine print! There are also many HI hostels in the city, so be sure to get a Hostelling International card if you will be staying in HI hostels throughout the city. My suggested place is:
Budget hotel prices – Guesthouses and budget hotels are widespread throughout the city and their prices on par with a hostel's private room. Furnished apartments cost 500-800 DKK per night. If you are just looking for a single room in someone's apartment, check Airbnb. You can find rooms for as little as 300 DKK (even less in the winter). Full apartments or homes on Airbnb will be closer to 760 DKK per night.
Average cost of food – If you are going to eat out in a restaurant, be prepared to pay around 80 DKK for a cheap meal. You can find cheap outdoor hotdog and sandwich vendors for around 30-35 DKK. Groceries will cost around 340 DKK per week. In Denmark, it's substantially cheaper to cook your own food than eat out. If you are craving a bite out, stick to pizza and kebab places as they are the budget options in Scandinavia.
Transportation costs – The train from the airport to city center is 40 DKK (and is very quick and easy to figure out). Local trains and buses are around 24 DKK for a two-zone (regular) ticket. The city is very easy to get around on foot, and even better for cycling. Bike rentals are around 130 DKK for a 24-hour period and are a great way to experience Copenhagen — it's how most of the locals get around!
Suggested daily budget
350-425 DKK / 50-60 USD (Note: This is a suggested budget assuming you're staying in a hostel, eating out a little, cooking most of your meals, and using local transportation. Using the budget tips below, you can always lower this number. However, if you stay in fancier accommodation or eat out more often, expect this to be higher!)
Money Saving Tips
Go Orange – The Danish rail system offers cheap tickets via their online website called "Orange tickets." They are only available via their website and you have to print out the ticket before you board the train. These tickets though offer cheap seats a third of the cost of what you can buy at the railway station.
Get a Copenhagen Card – If you are going to see a lot of sights, use a lot of public transportation, and/or are traveling with kids under 10 then this card might save you money. It will give you free access to over 70 museums, discounts at shops and restaurants, as well as free public transportation throughout the city. The 24-hour card is 380 DKK, and the 72-hour card is 635 DKK.
Cook your meals – Eating out in Denmark is not cheap and since Danish food isn't going to win any great culinary awards, you won't miss much by cooking your own food. Netto and Lidl are the budget grocery stores you'll want to seek out.
Refill your water bottle – The water in Denmark is safe to drink and is held to very high standards. Skip buying bottled water here and refill your bottle. You'll safe money and help the environment at the same time!
Eat cheap on the street – Street stalls, such as hot dogs, sausages, and sandwiches, cost only 25-35 DKK and can save you a lot of money on food if you choose not to cook. Pizza and kebab are you next cheapest options, both of which you can find for under 75 DKK.
Eat at the buffet or during lunch – If you have to eat at a restaurant, do so during lunch when lunch specials (as well as buffets) are only about 67-100 DKK. It's much cheaper than going for dinner when you'll pay double the price.
Stay with a local – If you truly want to save the most money you can and don't mind where you sleep, you have to Couchsurf because free accommodation is the only way to save big in Copenhagen. Keep in mind, because the city is so expensive many travelers rely on couchsurfing (or similar exchanges) and as a consequence you'll need to book in advance in order to secure a host.
Rent a bike – Bikes can be rented all around the city, as it's the most common mode of transportation. You can rent them per hour (around 25 DKK) or for an entire day (120 DKK).
Walk around – Copenhagen is a very small city. It's possible to walk everywhere you'll need to go, as you can cross the entire city in under two hours! Save your money from taxis and enjoy a nice stroll along the parks and canals!
Take a free walking tour – There are numerous free walking tours available in city, including tours of Christiania. Most tours last a few hours and are, of course, free! It's a great way to see the local sights while having someone there to answer all your questions.
Camp out – There are a couple campsites near the city (along the Mølleå river) where you can get away staying 1-2 nights for free, if you are on a budget or do not have a Camping Key Europe card. They are very basic and include no facilities, but free is free! There are several other official campgrounds near the city as well which have proper facilities, however those require a Camping Key Europe card (110 DKK).
Save money on rideshares – Uber is way cheaper than taxis and are the best way to get around a city if you don't want to wait for a bus or pay for a taxi. The Uber Pool option is where can you share a ride to get even better savings (though you can get your own car too). You can save $15 off your first Uber ride with this code: jlx6v.
My Must Have Guides For Traveling to Denmark
Photo credits: 2