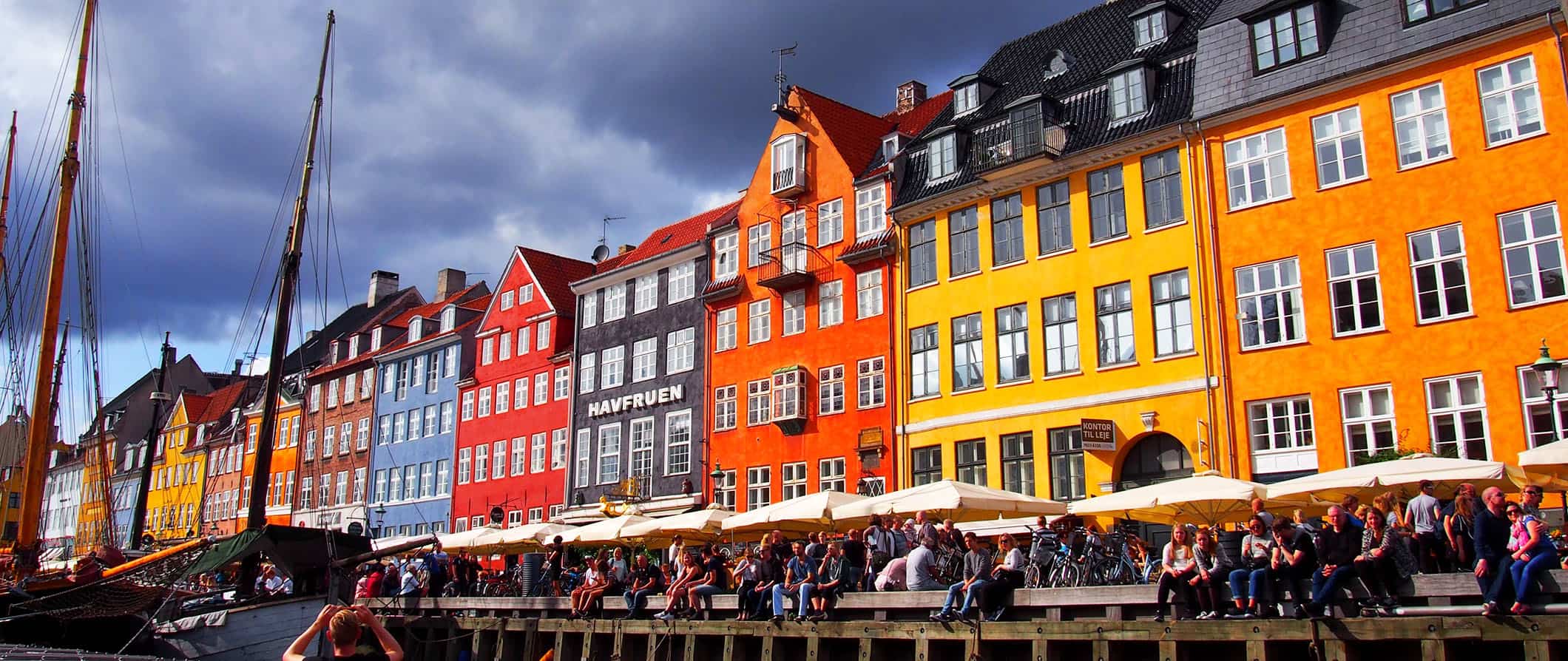 As the capital of Denmark, Copenhagen (København in Danish) has a long and rich history. It was the center of the Danish empire for hundreds of years, and, as such, it is home to many palaces, historic buildings, and cultural relics.
But modern Copenhagen is not a city steeped in the past. The town's classic architecture and canals are juxtaposed by modern infrastructure, new buildings, and a high-tech transit system.
But more than that, Copenhagen one of my favorite cities in the world. I've been here a dozen times and never get tired of my visits. The city is beautiful, clean, scenic, historic, and the locals always fun to hang out with. There is just a spirit and vibe that screams "life is good here." It's infectious and will have you wondering why more places aren't like this.
Use this travel guide to Copenhagen to learn how to save money in the city and spend a few extra days here. You won't regret it!
Top 5 Things to See and Do in Copenhagen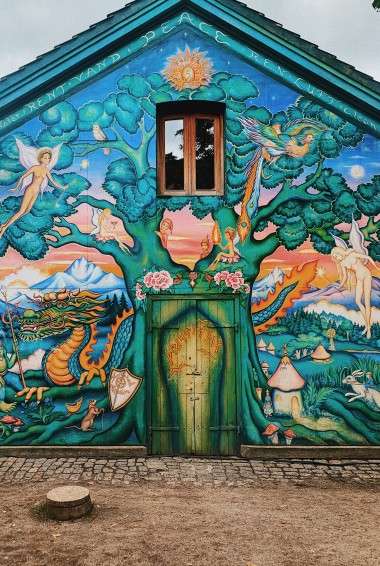 1. Explore Christiania
This hippie enclave has been around since the 1970s. Most people come to hang out and smoke the weed openly sold here (though in recent years, the government has cracked down so it's not as open anymore). Come for the cool beer gardens, people-watching, and colorful murals. Photography is strictly discouraged by its locals.
2. Cycle around the city
Renting a bike is the easiest way to explore the city — it's how the locals travel! Bikes can be rented all around the city, with prices per hour (25 DKK) or per day (around 120 DKK). For guided bike tours, expect to pay 100 DKK. Most tours last 2-3 hours.
3. Take a boat tour
The canals and harbor of Copenhagen are very beautiful (and super clean. You can actually see the bottom of the canals). Hour-long boat tours leave from Nyhavn and, while "touristy," you will find a surprising number of locals on them drinking a beer on a sunny day. Tours range from 99-200 DKK per person.
4. Have fun at Tivoli
Tivoli is an amusement park in the center of the city. While it may not be the most popular place for everyday travelers, I had a blast here, especially playing bumper cars with my friends and drinking beer. I love this place. Weekday admission is 135 DKK and weekend admission is 145 DKK.
5. Hang out in Nørrebro
This is one of the city's coolest areas. Trendy bars and shops sit right next to dive bars and cheap kebab shops, so spend some time strolling the streets and taking in the eclectic sights. Grab a cocktail at The Barking Dog, or check out the music venues/nightclub Rust.
Other Things to See and Do in Copenhagen
1. See the Christiansborg Palace Ruins
Christiansborg Palace is the home of Denmark's parliament and the Prime Minister's office. Located underneath the parliamentary palace are the ruins of Bishop Absalon's fortress, which dates back to 1167. It's dark and damp down there, giving it a very crypt-like and ancient feel. I was really impressed with the detailed information provided about the fortress and its evolution to its current palace form. Adult admission is 150 DKK, however, it's free with the Copenhagen Card.
2. Visit Round Tower
Rundetaarn (The Round Tower) is a 17th-century tower that was built as an observatory. It's actually the oldest functioning observatory in Europe. And through a long, tiring walk to the top, it provides a sweeping view of the old part of Copenhagen. The stairs are actually equestrian stairs, which means they are built in such a way that horses and mules can navigate them (probably to bring up equipment to the top). Admission is 25 DKK.
3. See the Church of Our Saviour
Located near Christiania, this church is worth seeing for its giant spiraling bell tower. The interior of the church is basic and features a few interesting paintings, but the winding tower is what makes it worthwhile. It has always been regarded as something of a test of manhood to climb up and touch the globe on the summit, nearly 350 feet up in the air. The view from the top is worth the effort. Admission is 35 DKK.
4. Visit the Hans Christian Andersen Museum
While this place is designed for children and features Disney-like displays and sets, I really enjoyed this museum. Inside, you get to learn about his life and read all of Andersen's children's tales, which were a lot shorter and darker than I had thought (he wrote classics like The Little Mermaid, The Princess and the Pea, The Ugly Duckling, and more). It was quite an eye-opener. Disney lied to me all these years. Admission is 60 DKK for adults, 40 DKK for children.
5. See the National Museum
Established in 1807, this museum covers over 14,000 years of history in Denmark, from the Ice Age and the Vikings all the way to the present. There are all kinds of cool artifacts from the Viking era and lots of neat historical tidbits. Exhibitions cover prehistory, the Middle Ages and Renaissance, coins and metals, indigenous art, ancient Greece and Rome, and more. The museum has rotating exhibitions as well. Admission is 100 DKK.
6. Explore the Danish National Gallery
The Danish National Gallery has an incredible collection of art from the likes of Rembrandt, Picasso, and Matisse. There are over 9,000 paintings in their collection, and several hundred thousand other works. Established in 1896, there are also a number of paintings by Danish artists from the "Golden Age." Some 40,000 items from the collection are available online in their virtual museum as well. Admission is 120 DKK and free for anyone under 18.
7. Experience the nightlife
Copenhagen has a variety of pubs, lounges, and clubs. This city doesn't start pumping until about 1am and goes very late. I would try to spend at least one night out. For nightclubs, definitely check out Culture Box, which has three different rooms playing separate genres of music to dance to. If dancing isn't your thing and you'd much rather sip some delicious drinks, try K-Bar, Lidkoeb, and Gensyn Bar.
8. See the Little Mermaid
A homage to one of Hans Christian Andersen's most beloved characters, this bronze statue may be small, but it's worth taking the time to see. Expect there to be a crowd — it's a popular attraction! Also, don't miss the nearby Gefion Fountain. It features a sculpture of the Norse goddess Gefion plowing the land with oxen (Norse mythology states that she created the land that is Denmark after plowing it with her oxen).
9. Relax in Kastellet Park
Kastellet fortress was built in 1664 to guard the city. It's one of the best-preserved fortresses in Europe. The citadel was built in a pentagon and is still an active military installation. Inside there were numerous barracks as well as a windmill, church, and other outbuildings. Today, it's a public park and cultural historical monument. The park has great gardens, trees, and ponds surrounding it. It's a popular spot for locals to walk and jog as you can also walk along the ramparts. It's right near the Little Mermaid and is a wonderful place to relax on a warm day with a book and a picnic.
10. Shop at a flea market
In the summer months, there are numerous flea markets around the city that are great to browse. Many are open just on the weekends and offer an assortment of odds and ends. Nørrebro Flea Market is Denmark's longest and narrowest, stretching 333 metres near Assistens Cemetery on Nørrebrogade. Other markets worth checking out are Frederiksberg Loppemarked, Gentofte Loppemarked, and Ritas Blå Lopper.
11. Daytrip to Malmö
For a day trip, consider visiting Malmö, Sweden's third-largest city. It's under an hour away, and you can spend some time strolling the historic city center. You'll also get to cross the famous Øresund bridge, a landmark made famous by the hit Scandinavia crime drama The Bridge (Broen in Danish). Don't miss the Stortorget market (which is over 500 years old) and Malmö Castle.
12. Explore Roskilde
Known as the ancient city of Denmark, Roskilde was Denmark's capital from 960 to 1536. Located just 40 minutes from the city by car (30 minutes by train), this is an amazing city to view the country's history, whether it be the 12th century Roskilde Domkirke cathedral; Sankt Laurentius, the 16th-century bell tower, or the Viking Ship Museum, which has five original Viking longships on display. It plays host to Europe's largest music festival every June and the Roskilde Cathedral is the most famous in the country and is a UNESCO World Heritage Site.
13. Relax at the botanical gardens
These gardens span over 10 hectares right in the middle of the city. The greenhouses date back to the 1870s and are home to over 13,000 plants and flowers (some of which are over 200 years old). Don't miss the Arctic "greenhouse" which uses air conditioning to simulate conditions in the arctic so its arctic plants can thrive. There's also a butterfly house with hundreds of butterflies you can visit. Admission to the gardens is free, while some of the buildings cost 40-60 DKK to access (free with the Copenhagen Card).
14. Visit Rosenborg Castle
This Renaissance castle was built by Christian IV at the start of the 17th century. The palace was the official royal residence until 1710 and has all kinds of royal artifacts on display, such as the Danish crown, the crown jewels, three life-sized lion statues, and the coronation throne. The interior is incredibly lavish with all kinds of ornate designs, murals, tapestries, and art. It has a very over-the-top feel similar to places like Versailles in France. Admission is 120 DKK and free with the Copenhagen Card.
15. Take a canal tour
One of the best ways to take in the city is by boat. Cruise around the city's canals and learn about Copenhagen's past and the important role the canals played in its development. Most include stops at Copenhagen's main sights, including The Copenhagen Opera House, Christiansborg Palace, and the Little Mermaid. Tours cost around 100 DKK and are free with the Copenhagen Card.
For more destinations in Denmark, check out these other city guides:
Copenhagen Travel Costs
Hostel prices – Dorms with 6-8 beds cost around 200 DKK per night. Free Wi-Fi is standard and most hostels have self-catering facilities if you want to cook your own food. Only a couple of hostels include free breakfast so be sure to book those hostels in advance if that's a priority for you. Private rooms begin at 675 DKK.
There are several campgrounds outside of the city with prices starting at 85 DKK per night for a basic plot (a flat space for a tent, usually without electricity; there is an additional charge for these amenities).
Budget hotel prices – For a budget two-star hotel, prices start at 500 DKK per night for one person, with a twin bed and shared bathroom. For a room with a private bathroom, expect to pay around 800 DKK. These usually include free Wi-Fi.
Airbnb is available but expensive when not booked early. Expect to pay an average of 500 DKK per night for a private room (though if you book early you can find them for 350 DKK), while entire homes/apartments cost you around 800 DKK.
Food – Danish cuisine leans heavily on meat and seafood. Cod, herring, and beef are never far from any meal. Dark bread and open-faced sandwiches (smørrebrød) are a staple for both breakfast and lunch. Liverpaste is a local favorite, as is shrimp on bread. Most traditional dinner meals revolve around meat and potatoes.
A meal out at a restaurant serving traditional cuisine costs around 125 DKK. Cheap sandwich shops cost 70 DKK while a fast food combo (think McDonald's) is around 80 DKK. For a three-course meal and a drink, expect to pay at least 300 DKK. Chinese food and Thai food can be found for as little as 75 DKK while Italian cuisine ranges from 110-140 DKK. A large pizza costs around 75 DKK.
Beer is 45 DKK while a cappuccino/latte is around 40 DKK. Bottled water is 20 DKK.
If you are going to cook your own food, expect to pay around 350-400 DKK per week for basic stapes like vegetables, pasta, rice, and some meat.
Backpacking Denmark Suggested Budgets
On a backpacker budget of 450 DKK, you'll stay in a hostel dorm or camp, cook all of your meals, use local transportation to get around, avoid drinking, and do free activities. If you want to eat out or drink, you'll need to add at least another 100-200 DKK per day.
On a mid-range budget of about 975 DKK, you'll be able to stay in a private Airbnb, have an occasional cheap meal out (cheap sandwiches, Chinese/Thai food), enjoy a couple of drinks here and there, do some intercity bus travel, and do some paid activities like visiting museums and castles.
On a "luxury" budget of 2,150 DKK or more, you can stay in a hotel, eat out for all your meals, take the train between cities, drink more, do as many activities as you'd like, and take taxis (or rent a car) to get around when you need to. This is just the ground floor for luxury though. The sky is the limit after that!
Here are some suggested budgets to help you plan your trip. Prices are in DKK.
Accommodation
Food
Transportation
Attractions
Average Daily Cost
Backpacker
200
120
80
50
450
Mid-Range
400
300
125
150
975
Luxury
1,000
650
250
250
2,150
Copenhagen Travel Guide: Money-Saving Tips
Copenhagen is an expensive city in an expensive country. You'll spend a lot here if you aren't careful. That said, if you find cheap accommodation, stick to happy hours, and cook your meals, you'll be able to cut your costs a lot without limiting too much of what you do in the city. Here are some quick tips to help you save money in Copenhagen:
Get the Copenhagen Card – If you plan to do a lot of sightseeing and visit a lot of attractions then I highly recommend you get the Copenhagen Card. It offers discounts and free admission to museums and attractions and includes free transportation. Cards are offered for 24 hours (419 DKK), 48 hours (619 DKK), 72 hours ( 759 DKK), 96 hours (889 DKK), and 120 hours (999 DKK).
Take a free walking tour – One of my favorite ways to start a trip is with a free walking tour. You get to see all the main sites while chatting with an expert local guide. Copenhagen Free Walking Tours offers a comprehensive free tour that serves as an excellent intro to the city. Just be sure to tip your guide!
Refill your water bottle – The water in Denmark is safe to drink and is held to very high standards. Skip buying bottled water here and refill your bottle instead. LifeStraw makes a reusable bottle with a built-in filter so you can always be sure your water is clean and safe.
Eat on the street – Street stalls, such as hot dogs and sausages cost around 35 DKK. If you want to eat cheap, stick to them.
Get a Hostelling International card – Danhostel.dk is the national accredited Hostelling International network. They operate 60+ hotels throughout the country so you'll want to get an HI card if you plan on staying at their hostels during your stay. If purchased in Denmark, HI cards are 160 DKK.
Stay with a local – Accommodation in Copenhagen is pricey. If you plan ahead, you can usually find really nice Couchsurfing hosts. This way, you not only have a place to stay but you'll have a local host that can tell you the best places to go and things to see.
Cook your food – Eating out in Copenhagen is not cheap, and since Danish food isn't going to win any great culinary awards, you won't miss much by cooking your own food. If you must eat out, do so during lunch when specials and buffet deals make restaurants reasonably priced.
Book in advance – When leaving the city, book your train and bus tickets a month in advance to save you up to 50%.
Where To Stay in Copenhagen
Copenhagen has a lot of hostels. They're all pretty comfortable and sociable. These are my recommended places to stay in the city:
How to Get Around Copenhagen
Public transportation – In Copenhagen, the Rejsekort ticket system gives you access to the metro, bus, and train. Ticket prices are based on different zones with a two-zone ticket costing 24 DKK.
Period tickets are also available, offering unlimited travel for set periods. They cost 80 DKK for 24 hours, 150 DKK for 48 hours, and 200 DKK for 72 hours. But if you purchase the Copenhagen Card (city tourism card), public transportation is free.
A ticket from downtown Copenhagen to the airport is 36 DKK each way.
Taxi – Taxis are expensive and should be avoided. Rates start at 50 DKK and go up 15 DKK per kilometer. There are no rideshares here like Uber and Lyft so taxis are your only option in a pinch. I suggest avoiding them as much as possible since they are pricey!
Bicycle – Renting a bike is the easiest way to explore the city. Bikes can be rented all around the city, costing 120 DKK per day. Helmets are not included and cost 40 DKK extra. Bycyklen (the city's bike-share program) costs 1 DKK per minute and has over 130 stations around the city. Other companies are Copenhagen Bicycles, Baisikeli, and WeCycle Copenhagen which all offer rentals.
When to Go to Copenhagen
Since Copenhagen is a coastal town, its temperature is heavily influenced by the sea. The city has mild summers and cold winters, with lots of daylight hours in the summer and significantly less in the winter.
Winters average to about 0°C (32°F), so dress accordingly. Sunset is around 3pm, so pack in as many outdoor activities as you can during the day if you plan on going then! There won't be nearly as many people visiting during the winter and prices will be lower.
In contrast, summers in Copenhagen are quite nice, with highs in July and August are about 22°C (72°F) and the sun doesn't set until 9pm. July and August are the most popular months to visit so expect higher prices and larger crowds.
Late spring and early fall are the best times to visit if you want to beat the crowds and save money since most accommodations will be a little cheaper (and less busy). Spring sees cooler temperatures, settling around 16°C (61°F) in May, and in autumn, Copenhagen is cool, cloudy, and sometimes rainy.
How to Stay Safe in Copenhagen
Copenhagen is a safe place to backpack and travel – even if you're traveling solo. Denmark is the 5th safest country in the world so incidents are rare. Your only real concern is petty theft but even that is super rare. Keep your valuables secure and don't wave around wads of cash or jewelry and you'll be fine.
While cannabis used to be openly sold in Freetown Christiana, ever since a shooting in 2016 the trade has been more or less forced out of sight. Avoid buying drugs here and make sure you do not take photos of anyone using or selling drugs either.
If you plan on cycling through the city, be sure to wear a helmet and always lock your bike with the back wheel lock so it does not get stolen when parked outside.
In an emergency, dial 112. It is the number for police, ambulance, and fire departments.
The most important piece of advice I can offer is to purchase good travel insurance. Travel insurance protects you against illness, injury, theft, and cancellations. It's comprehensive protection in case anything goes wrong. I never go on a trip without it as I've had to use it many times in the past. You can use the widget below to find the policy right for you:
Copenhagen Travel Guide: The Best Booking Resources
These are my favorite companies to use when I travel. They consistently have the best deals, offer world-class customer service and great value, and overall, are better than their competitors. They are the companies I use the most and are always the starting point in my search for travel deals.
Skyscanner – Skyscanner is my favorite flight search engine. They search small websites and budget airlines that larger search sites tend to miss. They are hands down the number one place to start.
Hostelworld – This is the best hostel accommodation site out there with the largest inventory, best search interface, and widest availability.
Booking.com – The best all around booking site that constantly provides the cheapest and lowest rates. They have the widest selection of budget accommodation. In all my tests, they've always had the cheapest rates out of all the booking websites.
HostelPass – This new card gives you up to 20% off hostels throughout Europe. It's a great way to save money. They're constantly adding new hostels too. I've always wanted something like this and glad it finallt exists.
Intrepid Travel – If you want to do group tours, go with Intrepid. They offer good small group tours that use local operators and leave a small environmental footprint. And, as a reader of this site, you'll get exclusive discounts with them too!
Get Your Guide – Get Your Guide is a huge online marketplace for tours and excursions. They have tons of tour options available in cities all around the world, including everything from cooking classes, walking tours, street art lessons, and more!
Eurail – If you are going to Europe and taking a lot of high speed or long distance trains, get a rail pass. I've used a rail pass three times and saved hundreds of dollars each time. The math just works.
The Man in Seat 61 – This website is the ultimate guide to train travel anywhere in the world. They have the most comprehensive information on routes, times, prices, and train conditions. If you are planning a long train journey or some epic train trip, consult this site.
Rome2Rio – This website allows you to see how to get from point A to point B the best and cheapest way possible. It will give you all the bus, train, plane, or boat routes that can get you there as well as how much they cost.
FlixBus – Flixbus has routes between 20 European countries with prices starting as low 5 EUR! Their buses include WiFi, electrical outlets, a free checked bag.
SafetyWing – Safety Wing offers convenient and affordable plans tailored to digital nomads and long-term travelers. They have cheap monthly plans, great customer service, and an easy-to-use claims process that makes it perfect for those on the road.
Copenhagen Gear and Packing Guide
If you're heading on the road and need some gear suggestions, here are my tips for the best travel backpack and for what to pack!
The Best Backpack for Travelers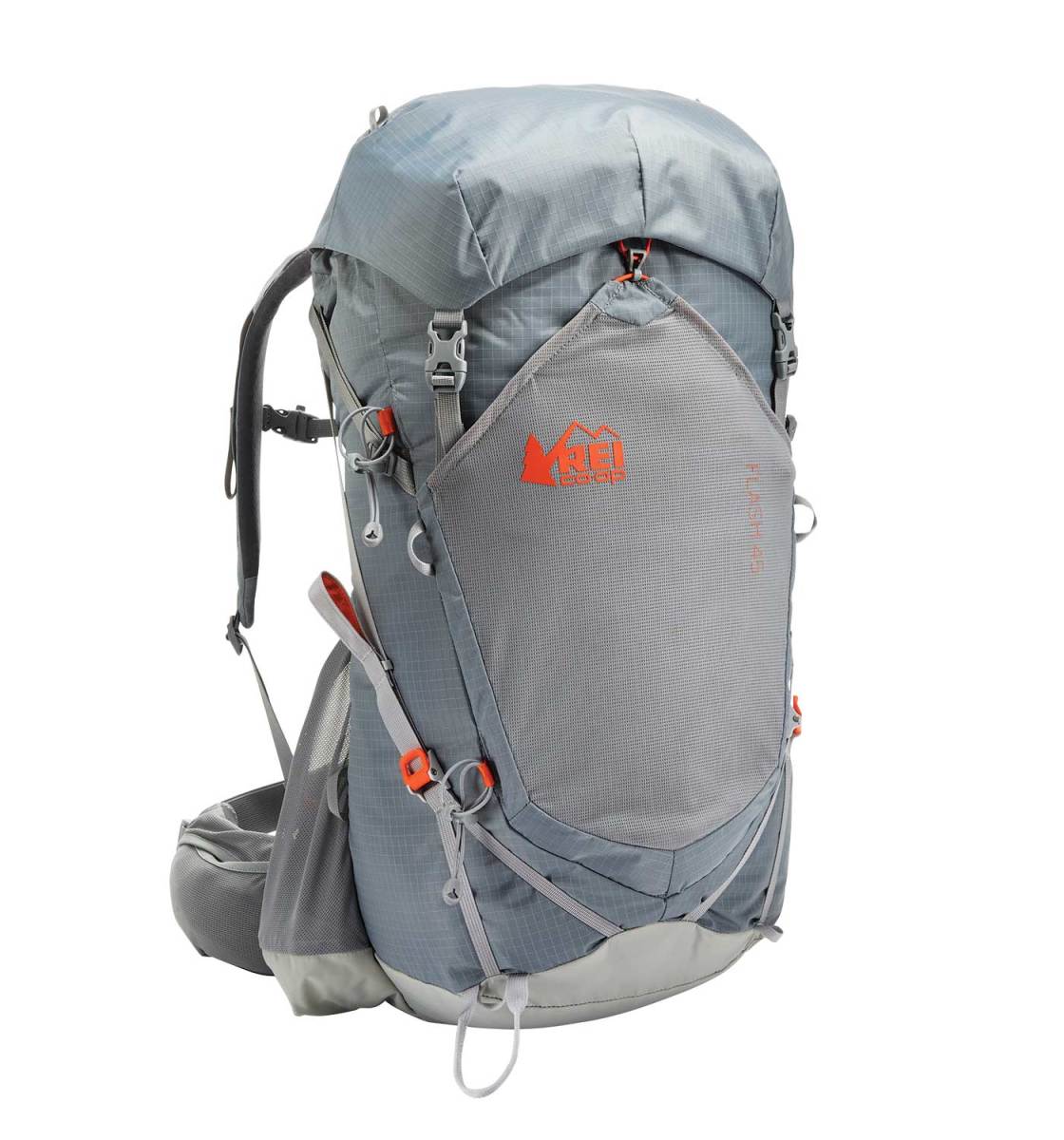 What's the best backpack for traveling long-term? I recommend the
REI Flash 45 Pack
. It's light and comfy, top loading, and fits perfectly in an airplane's overhead bin.
Size:
45-47L
Straps:
Thick and cushy with compression technology that pulls the pack's load up and inwards so it doesn't feel as heavy.
Features:
Removable top lid, pocket at the front, hydration compatible, contoured hip belt
If you want something different, refer to my article on how to choose the best travel backpack for tips on picking a pack and other backpack suggestions.
What to Pack for Your Trip
Clothes
1 pair of jeans (heavy and not easily dried, but I like them; a good alternative is khaki pants)
1 pair of shorts
1 bathing suit
5 T-shirts (Unbound Merino is my preferred company. If you're a member of NM+, you can get 15% off your purchase)
1 long-sleeved T-shirt
1 pair of flip-flops
1 pair of sneakers
6 pairs of socks (I always end up losing half)
5 pairs of boxer shorts (I'm not a briefs guy!)
1 toothbrush
1 tube of toothpaste
1 razor
1 package of dental floss
1 small bottle of shampoo
1 small bottle of shower gel
1 towel
Deodorant
Small Medical Kit (safety is important!!!)
Miscellaneous
Female Travel Packing List
I'm not a woman, so I don't know what a woman wears, but Kristin Addis, our solo female travel guru, wrote this list as an addition to the basics above:
Clothing
1 swimsuit
1 sarong
1 pair of stretchy jeans (they wash and dry easily)
1 pair of leggings (if it's cold, they can go under your jeans, otherwise with a dress or shirt)
2-3 long-sleeve tops
2-3 T-shirts
3-4 spaghetti tops
1 light cardigan
Toiletries
1 dry shampoo spray & talc powder (keeps long hair grease-free in between washes)
1 hairbrush
Makeup you use
Hair bands & hair clips
Feminine hygiene products (you can opt to buy there too, but I prefer not to count on it, and most people have their preferred products)
For more on packing, check out these posts:
Copenhagen Travel Guide: Related Articles
Want more info? Check out all the articles I've written on backpacking/traveling Europe and continue planning your trip: