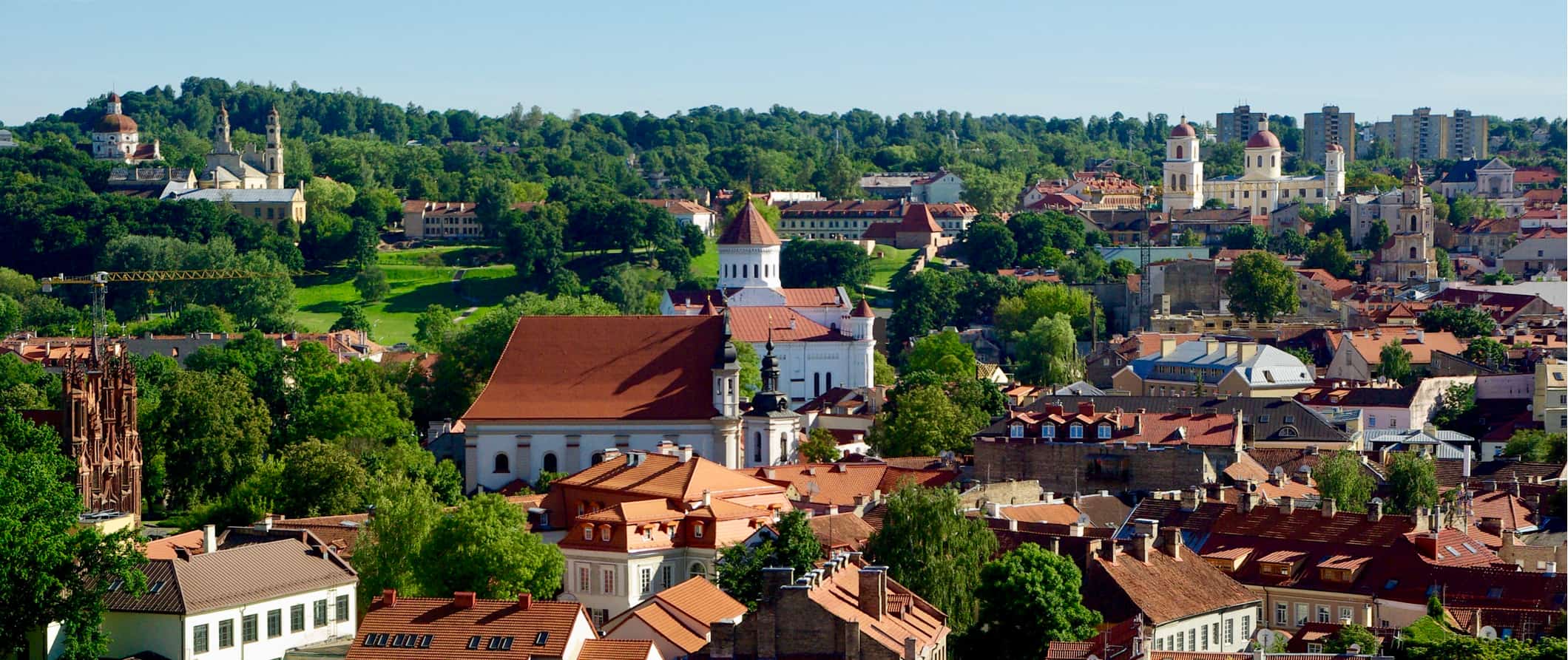 Lithuania is the southernmost Baltic state. It's also the biggest. Like the rest of the Baltics, I think Lithuania is an underrated destination, especially by American tourists who don't know much about it or its charming (and affordable) neighbors.
Home to just under 3 million people, Lithuania has blossomed from its drab past into a fun, lively, and affordable budget destination.
It offers a mix of history (you can trace it back to 2,000 BCE), beautiful nature (it has flatlands, abundant forests, lakes, beaches, and dunes), and impressive historic architecture.
The crowning jewel of the country is Vilnius, the country's capital. In addition to its old town being a UNESCO World Heritage Site, the city is home to a wild and affordable nightlife popular with the backpacker crowd.
In short, Lithuania punches well above its weight and shouldn't be glossed over by budget travelers.
This travel guide to Lithuania can give you the tips and tricks you need to plan the ultimate adventure to this inexpensive and underrated gem!
Top 5 Things to See and Do in Lithuania
1. Explore Vilnius
Lithuania's capital city has a historic old town, tons of street art, chill cafes, lots of Gothic and medieval architecture, and a wild nightlife. Visit the Genocide Museum to learn about the city's dark past, explore the castle complex, and hike up the Hill of Three Crosses for a panoramic view of the city.
2. Visit Kaunas
Kaunas' student population gives this city a young and fresh vibe. Wander Freedom Avenue (the main shopping street) and see the Ninth Fort, a genocide memorial and museum. There's also a World War II museum in an old nuclear bunker and a scenic monastery overlooking the sea.
3. Hit the beach in Palanga
Located on the western coast, Palanga boasts long and wide sandy beaches where locals and tourists alike come to relax. The city's main avenue is filled with bars for those looking to enjoy the nightlife and there's also tons of green space nearby that's perfect for hiking and cycling.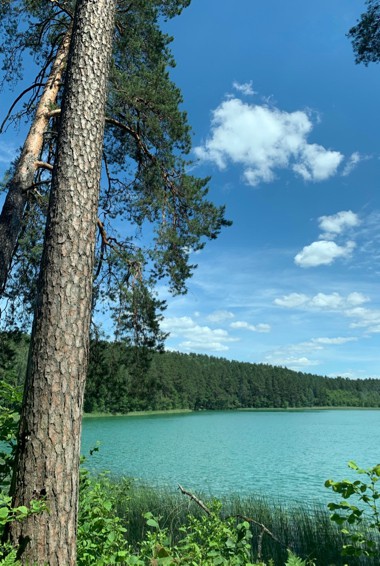 4. Hike in Trakai Historical National Park
Opened in 1992, there are over 32 lakes in this park, which is just 30km from Vilnius. It makes a perfect day trip for nature lovers. Be sure to visit Trakai Castle, Lithuania's iconic 14th-century castle, built on an island in the middle of a lake.
Get Your Guide
offers a tour from Vilnius (including an audio guide).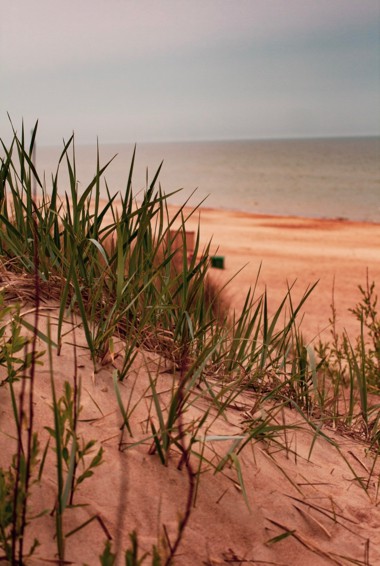 5. See the tallest sand dunes in Europe
Lithuania is home to the tallest shifting sand dunes in Europe. Thanks to the specific winds that occur here, the dunes can move at a rate of 15km per year and in the past have covered entire villages. It's incredible to see up close!
Other Things to See and Do in Lithuania
1. Visit Kernave
Located 35km from Vilnius, Kernave was the old medieval capital of Lithuania. The area has all kinds of forts, burial sites, and historical and cultural monuments dating back to the late Paleolithic Period. Though the town was destroyed by the Teutonic Knights (a Catholic military order) in the Middle Ages, you can still wander the ruins and learn more about the region's history. Don't miss the nearby Kernave Archaeology and History Museum. Admission is 3 EUR.
2. See the Hill of Witches
The Hill of Witches is an outdoor sculpture trail of wooden folk art in Juodkrante, a small town on the Curonian Spit. This art installation brings the forest to life with its creations, taking visitors on a trip through Lithuania's most popular folk tales and legends. Each of the 80 wooden sculptures was hand-carved by local artists and each sculpture depicts a different character from folk and pagan traditions. Plan to spend around an hour seeing all the sculptures. Admission is free.
2. Visit the Palace of the Grand Dukes
Located in Vilnius, this 17th-century Baroque palace was built for the country's Grand Dukes. Today, it's a history and art museum. You can tour stately and ornate ceremonial rooms, see traditional weaponry and armor, and learn about the palace's history. Most of the palace is a reconstruction as it was first damaged by fire and then later destroyed by the Russians. However, it still does a good job of showing how the ruling class lived during the 17th century and the descriptions are really informative. Admission is 7 EUR.
3. Drink traditional mead
Lithuanians are proud of their traditional beer brewing and there are numerous microbreweries throughout the country. In addition to craft beer, there's also locally-produced mead, a traditional alcoholic beverage made from fermenting honey. Mead is the oldest alcohol in the world and it's been said that the mead was so popular in Lithuania in the middle ages that noble families consumed upwards of 30 barrels of it each week. Like beer, expect to pay a few euros for a glass.
4. See the Hill of Crosses
Located 12km from Siauliai are over 100,000 crosses and religious statues covering an entire hill (93% of the country is Christian and most identify as Catholic). The crosses are believed to have originally been placed there by local Catholics as early as 1831. As the years went by, more and more crosses appeared. The site slowly became a popular place of pilgrimage for Lithuanian Catholics. During the Soviet occupation, the Hill of Crosses became a symbol of national defiance as the Soviets bulldozed the hill three times. The Lithuanian people continued to re-erect the crosses each and every time. These days, visitors often leave a cross, adding to the collection. Admission is free.
5. Visit the Museum of Illusions
This museum opened in 2016 in Vilnius and has some 70 exhibits, including optical illusions and virtual reality. It's a fun and quirky place to visit, especially if you're visiting with kids. You can ask the staff to explain the science behind each illusion and exhibit too. Admission is 11 EUR.
6. Explore Anyksciai Regional Park
Easily accessed as a day trip from Kaunas or Vilnius, Anyksciai Regional Park was created in 1992 and spans an incredible 38,000 acres. There are hiking and biking trails, archeological sites, and a super cool 300-meter treetop walking path. The path stands 35 meters above the forest and offers scenic views of the surrounding landscape. There are taller viewing platforms as well that provide 360° panoramic views of the park. Entry is just 1 EUR.
7. Visit the Museum of the Ninth Fort
Like much of Eastern Europe, Lithuania has had a challenging past. In the Museum of the Ninth Fort, you'll learn about that violent history, from Lithuania's part in World War I to their 20th-century hard-labor prison camps to the mass killings during World War II. The museum focuses on the atrocities of the wars and their aftermath — and how those atrocities shaped the country and its people. Outside in the museum grounds, there's a massive 32m-tall memorial to the 50,000 Lithuanian Jews who were murdered by the Nazis during the Holocaust. Admission is 3 EUR and guided tours are an additional 15 EUR
8. Go birdwatching in Curonian Spit National Park
Located along Lithuania's coast near Klaipeda, this UNESCO World Heritage Site is one of the best locations in Lithuania for birdwatching. Expect to see mergansers, egrets, cormorants, and more here. The best time to visit is in September during the migration season. Admission to the park is 5 EUR per vehicle in the off-season and 20-30 EUR per vehicle during the summer (depending on the size of the vehicle). Be sure to visit the nearby spa town of Neringa while you're here.
9. Visit the Devil's Museum
For something unconventional and off the beaten path, visit the Devil's Museum in Kaunas. It boasts a spooky collection of over 3,000 paintings, sculptures, and other works of art of the devil. From traditional religious figurines to political works of social commentary, there's a lot to see here. The collection began in 1966 and has grown as more and more people donate items. Admission is 5 EUR.
10. Explore Uzupis
If you are looking for Lithuania's art scene, head to the bohemian neighborhood of Uzupis. When the Soviet Union left the country, a group of artists came together to form the 'Republic of Angels.' They consider themselves an independent country, set on 148 acres of land. With 120 residents, they even have their own president, bishop, churches, and a grand total of four official flags. It's sort of Lithuania's version of Denmark's Freetown Christiania. Most walking tours stop here, show you around, and highlight the "country's" history and evolution.
11. Visit the Museum of Occupations and Freedom Fights
Also known as the Museum of Genocide Victims, this museum was opened in 1992 in Vilnius. It's situated in the building where the KGB operated between 1940-1991. The building is the former prison and the place where death sentences were implemented by the regime. Today, it has exhibitions where you can learn about Lithuania's loss of independence, the Soviet occupation, and the country's fight for independence. Admission is 6 EUR.
12. Explore Aukštaitija National Park
North of Vilnius, Aukštaitija National Park is 400 square kilometers (250 square miles) of pine and spruce trees and tons of wildlife (including wild boars). The park has lots of rivers and lakes (30 and 100 respectively) and numerous hiking trails. There are also a couple of archaeological sites from the 9th-12th centuries here. There's no fee to enter but there are a few strictly controlled areas that you need a permit to visit or you need to be accompanied by a park employee.
Lithuania Travel Costs
Accommodation – Hostel dorms start around 8 EUR per night for a 8-12 bed dorm. For a 4-8 bed dorm, expect to pay 12 EUR. Free Wi-Fi and self-catering facilities are standard and most of the party hostels run pub crawls, which often includes a free drink. For a private room, expect to pay at least 17 EUR per night.
For anyone traveling with a tent, wild camping is perfectly legal and safe (and even encouraged). If you prefer to camp in a formal campground, they are available around the country and cost from 8 EUR per night for a basic two-person plot without electricity.
Budget hotels start around 30 EUR per night for a double or twin. Expect basic amenities like TV, free Wi-Fi, and a coffee/tea maker. Some include free breakfast.
Airbnb is widely available in the country, with private rooms starting at 30 EUR per night. For an entire home or apartment, prices start at 40 EUR but generally average almost double that.
Food – Lithuanian cuisine is heavily influenced by traditional rural fare. Mushrooms (and other foraged foods), beetroot soup, smoked sausages, and herring are all common staples. Pickled foods and potatoes are also super popular. Be sure to try cepelinai, the national dish, which are dumplings made from potatoes with a bacon sauce and sour cream. Potato pancakes and fried cheese curd are two other popular dishes to keep an eye out for as well.
When eating out, expect to pay 7 EUR for an inexpensive meal of local cuisine. Fast food (think McDonald's) costs around 5 EUR for a combo meal. A pizza costs between 7-9 EUR. For Thai or Chinese food, expect to pay between 7-12 EUR for a main course.
If you want to splash out, a three-course meal of local cuisine including a drink costs around 20 EUR at a more mid-range restaurant.
Expect to pay around 3.50 EUR for a beer. A latte or cappuccino costs around 2.50 EUR while a bottle of water costs 1.25 EUR.
If you are planning to cook your own food, a week's worth of groceries costs between 30-35 EUR for basic staples like potatoes, meat, pasta, and seasonal produce.
Activities – There are plenty of free activities to do in Lithuania, especially in the cities that have free walking tours and free entrance to many of the popular museums. For paid museums and attractions, expect to pay between 5-10 EUR. Outside of the city, you can hike, mountain bike, kayak, or windsurf. Most rentals cost around 10-20 EUR per day.
Backpacking Lithuania Suggested Budgets
On a backpacker budget of 40 EUR a day, you can stay in a hostel dorm, cook all your meals, limit your drinking, take public transportation to get around, and do mostly free activities like hiking and free walking tours. Add 5-10 EUR to your daily budget if you plan on drinking.
On a mid-range budget of 100 EUR per day, you can stay in an Airbnb or private hostel room, eat out for most meals, enjoy a couple of drinks, take the occasional taxi to get around, and do more paid activities like visiting museums.
On a "luxury" budget of 220 EUR or more per day, you can stay in a hotel, eat out for all your meals, drink as much as you'd like, rent a car to get around, and do whatever tours and activities you want. This is just the ground floor for luxury though. The sky is the limit!
You can use the chart below to get some idea of how much you need to budget daily, depending on your travel style. Keep in mind these are daily averages – some days you'll spend more, some days you'll spend less (you might spend less every day). We just want to give you a general idea of how to make your budget. Prices are in EUR.
Accommodation
Food
Transportation
Attractions
Average Daily Cost
Backpacker
10
10
10
10
40
Mid-Range
40
25
15
20
100
Lithuania Travel Guide: Money-Saving Tips
Like the rest of the Baltics, Lithuania isn't that expensive. As long as you don't splash out on upscale accommodation and fine dining, it's hard to overspend here. That said, if you do want to save some extra money, here are my suggestions:
Take a free walking tour – Vilnius offers a handful of free walking tours to get you familiar with the city. I always take one when I get to a new city to learn about the history and culture. Just be sure to tip your guide at the end!
Take the bus – FlixBus is a budget-friendly way to get around the country. They have Wi-Fi, electrical outlets, and decent seats for overnight and long-haul journeys.
Cook your own meals – Many hostels include kitchen facilities, so if you want to save money make sure you book accommodation with a kitchen. Buying your own groceries may not be as glamorous as going out to eat, but it definitely saves you money.
Wild camp – If you really want to save money in Lithuania, wild camping is perfectly legal and safe on public land.
Stay with a local – Staying with a local via Couchsurfing is a fun way to not only save money but you'll get to meet a knowledgeable local who can help you better understand the city and its people.
Walk everywhere – All of the major cities in Lithuania are quite walkable, so skip the public transportation if you want to save a few euros. Definitely skip the taxis too!
Enjoy the free spaces – There are plenty of free parks as well as many free hiking trails around the country. Save your budget and enjoy the outdoors!
Bring a water bottle – The tap water here is safe to drink so bring a reusable water bottle to save money and reduce your plastic use. LifeStraw is my go-to brand as their bottles have built-in filters to ensure your water is always clean and safe.
Where to Stay in Lithuania
Lithuania has lots of clean, fun, and affordable hostels (there are lots of great party hostels here too). Here are my favorite places to stay in Lithuania:
How to Get Around Lithuania
Public Transportation – Public transportation in Lithuania is safe, clean, and reliable. Prices vary by city, but e-tickets in Vilnius cost 0.65 EUR for 30 minutes and 0.90 EUR for 60 minutes. You can get 1-,2-, and 10-day passes for 5 EUR, 8 EUR and 15 EUR respectively. If you pay the driver directly, a one-way fare costs 1 EUR.
Taxis – The starting fares for taxis is 1 EUR and then it is 0.60 EUR per kilometer. Skip the taxis if you can as they add up fast!
Trains – Trains in Lithuania are fast and convenient. You can easily reach all the main cities in the country via train. The 70-minute ride from Vilnius to Kaunas costs around 6 EUR while the four-hour ride from Vilnius to Klaipeda costs 22 EUR.
Bus – Buses in Lithuania are the most budget-friendly choice for traveling around the country and into neighboring countries. A bus from Vilnius to Kaunas takes just under 90 minutes and costs around 6 EUR. From Vilnius to Klaipeda takes just under four hours and costs 18 EUR. The journey from Vilnius to Riga, Latvia takes 4.5 hours costs 13 EUR.
Budget Airlines – There are no domestic flights within Lithuania.
Car Rental – Roads in Lithuania are well maintained and car rentals are affordable. Rentals begin at 20 EUR per day for a multi-day rental. While not necessarily cheaper than taking the bus, having a car offers much more freedom. Just make sure you have an International Driving Permit (IDP) as you need one for any car rental in the country.
Hitchhiking – Hitchhiking in Lithuania is safe and relatively easy. Having a sign and looking presentable goes a long way towards finding a ride. Just avoid hitchhiking at night. HitchWiki is the best website for additional hitchhiking trips and info.
When to Go to Lithuania
Like their Nordic and Baltic neighbors, Lithuania has short summers and long winters. If you are wanting to get in some beach time then you need to visit between June and August. Even during this time, the temperatures can cool in the evenings so make sure you pack a sweater. Expect daily highs of 20-22°C (68-71°F) during the summer.
To save a bit of money and beat the summer crowds, visit during the shoulder months of April-May or September-October. During these months, it's still warm enough to spend time outdoors. The national parks are particularly pretty during the autumn.
Regardless of the time of year, rain is common in Lithuania so be sure to always keep a raincoat handy. If you plan on hiking be sure to bring a waterproof jacket.
How to Stay Safe in Lithuania
In Lithuania, violent crime is rare. Scams and pick-pocketing are common enough, though, so you'll want to be vigilant in high-traffic areas in Vilnius, such as bus stations and on crowded public transportation.
If someone strikes up a conversation with you trying to sell something on the street or if young children suddenly approach you, be on alert — someone may be reaching for your wallet while you're distracted.
As in any destination, never leave your drink unattended at the bar and never walk home alone if intoxicated. Also, only bring as much cash as you need to the bar. Leave your wallet at home save for your ID and what you need for the night.
If you rent a car, don't leave any valuables in it overnight. Break-ins are rare but it's best to be safe than sorry.
You can read about common travel scams to avoid right here.
If you experience an emergency, dial 112 for assistance.
Always trust your gut instinct. If a taxi driver seems shady, stop the cab and get out. If your hotel is seedier than you thought, get out of there. Make copies of your personal documents, including your passport and ID.
If you don't do it at home, don't do it in Lithuania!
The most important piece of advice I can offer is to purchase good travel insurance. Travel insurance protects you against illness, injury, theft, and cancellations. It's comprehensive protection in case anything goes wrong. I never go on a trip without it as I've had to use it many times in the past. You can use the widget below to find the policy right for you:
Lithuania Travel Guide: The Best Booking Resources
These are my favorite companies to use when I travel. They consistently have the best deals, offer world-class customer service and great value, and overall, are better than their competitors. They are the companies I use the most and are always the starting point in my search for travel deals.
Skyscanner – Skyscanner is my favorite flight search engine. They search small websites and budget airlines that larger search sites tend to miss. They are hands down the number one place to start.
Hostelworld – This is the best hostel accommodation site out there with the largest inventory, best search interface, and widest availability.
Booking.com – The best all around booking site that constantly provides the cheapest and lowest rates. They have the widest selection of budget accommodation. In all my tests, they've always had the cheapest rates out of all the booking websites.
HostelPass – This new card gives you up to 20% off hostels throughout Europe. It's a great way to save money. They're constantly adding new hostels too. I've always wanted something like this and glad it finallt exists.
Intrepid Travel – If you want to do group tours, go with Intrepid. They offer good small group tours that use local operators and leave a small environmental footprint. And, as a reader of this site, you'll get exclusive discounts with them too!
Get Your Guide – Get Your Guide is a huge online marketplace for tours and excursions. They have tons of tour options available in cities all around the world, including everything from cooking classes, walking tours, street art lessons, and more!
Eurail – If you are going to Europe and taking a lot of high speed or long distance trains, get a rail pass. I've used a rail pass three times and saved hundreds of dollars each time. The math just works.
The Man in Seat 61 – This website is the ultimate guide to train travel anywhere in the world. They have the most comprehensive information on routes, times, prices, and train conditions. If you are planning a long train journey or some epic train trip, consult this site.
Rome2Rio – This website allows you to see how to get from point A to point B the best and cheapest way possible. It will give you all the bus, train, plane, or boat routes that can get you there as well as how much they cost.
FlixBus – Flixbus has routes between 20 European countries with prices starting as low 5 EUR! Their buses include WiFi, electrical outlets, a free checked bag.
SafetyWing – Safety Wing offers convenient and affordable plans tailored to digital nomads and long-term travelers. They have cheap monthly plans, great customer service, and an easy-to-use claims process that makes it perfect for those on the road.
Lithuania Gear and Packing Guide
If you're heading on the road and need some gear suggestions, here are my tips for the best travel backpack and for what to pack!
The Best Backpack for Travelers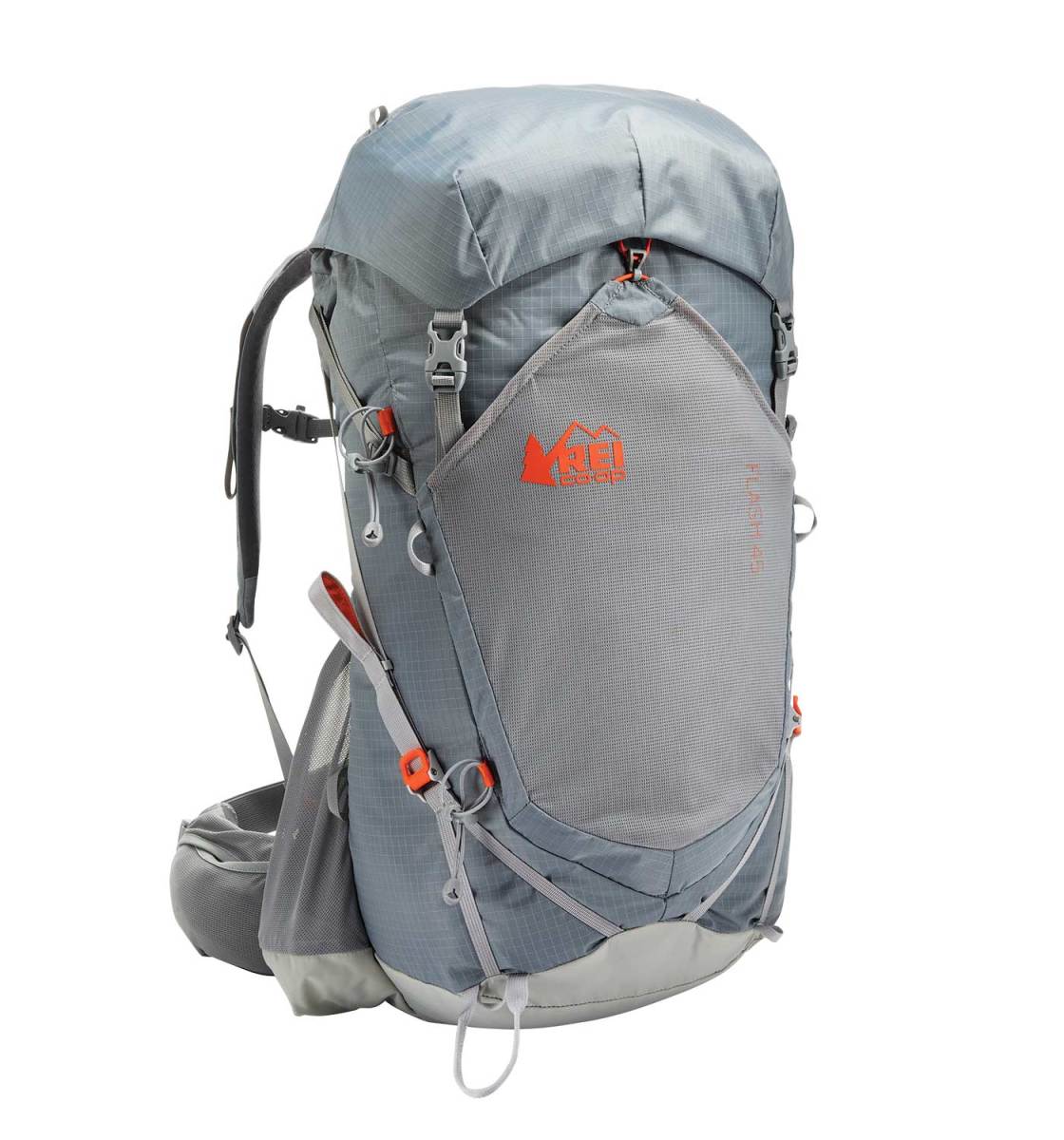 What's the best backpack for traveling long-term? I recommend the
REI Flash 45 Pack
. It's light and comfy, top loading, and fits perfectly in an airplane's overhead bin.
Size:
45-47L
Straps:
Thick and cushy with compression technology that pulls the pack's load up and inwards so it doesn't feel as heavy.
Features:
Removable top lid, pocket at the front, hydration compatible, contoured hip belt
If you want something different, refer to my article on how to choose the best travel backpack for tips on picking a pack and other backpack suggestions.
What to Pack for Your Trip
Clothes
1 pair of jeans (heavy and not easily dried, but I like them; a good alternative is khaki pants)
1 pair of shorts
1 bathing suit
5 T-shirts (Unbound Merino is my preferred company. If you're a member of NM+, you can get 15% off your purchase)
1 long-sleeved T-shirt
1 pair of flip-flops
1 pair of sneakers
6 pairs of socks (I always end up losing half)
5 pairs of boxer shorts (I'm not a briefs guy!)
1 toothbrush
1 tube of toothpaste
1 razor
1 package of dental floss
1 small bottle of shampoo
1 small bottle of shower gel
1 towel
Deodorant
Small Medical Kit (safety is important!!!)
Miscellaneous
Female Travel Packing List
I'm not a woman, so I don't know what a woman wears, but Kristin Addis, our solo female travel guru, wrote this list as an addition to the basics above:
Clothing
1 swimsuit
1 sarong
1 pair of stretchy jeans (they wash and dry easily)
1 pair of leggings (if it's cold, they can go under your jeans, otherwise with a dress or shirt)
2-3 long-sleeve tops
2-3 T-shirts
3-4 spaghetti tops
1 light cardigan
Toiletries
1 dry shampoo spray & talc powder (keeps long hair grease-free in between washes)
1 hairbrush
Makeup you use
Hair bands & hair clips
Feminine hygiene products (you can opt to buy there too, but I prefer not to count on it, and most people have their preferred products)
For more on packing, check out these posts:
Lithuania Travel Guide: Related Articles
Want more info? Check out all the articles I've written on backpacking/traveling Europe and continue planning your trip: