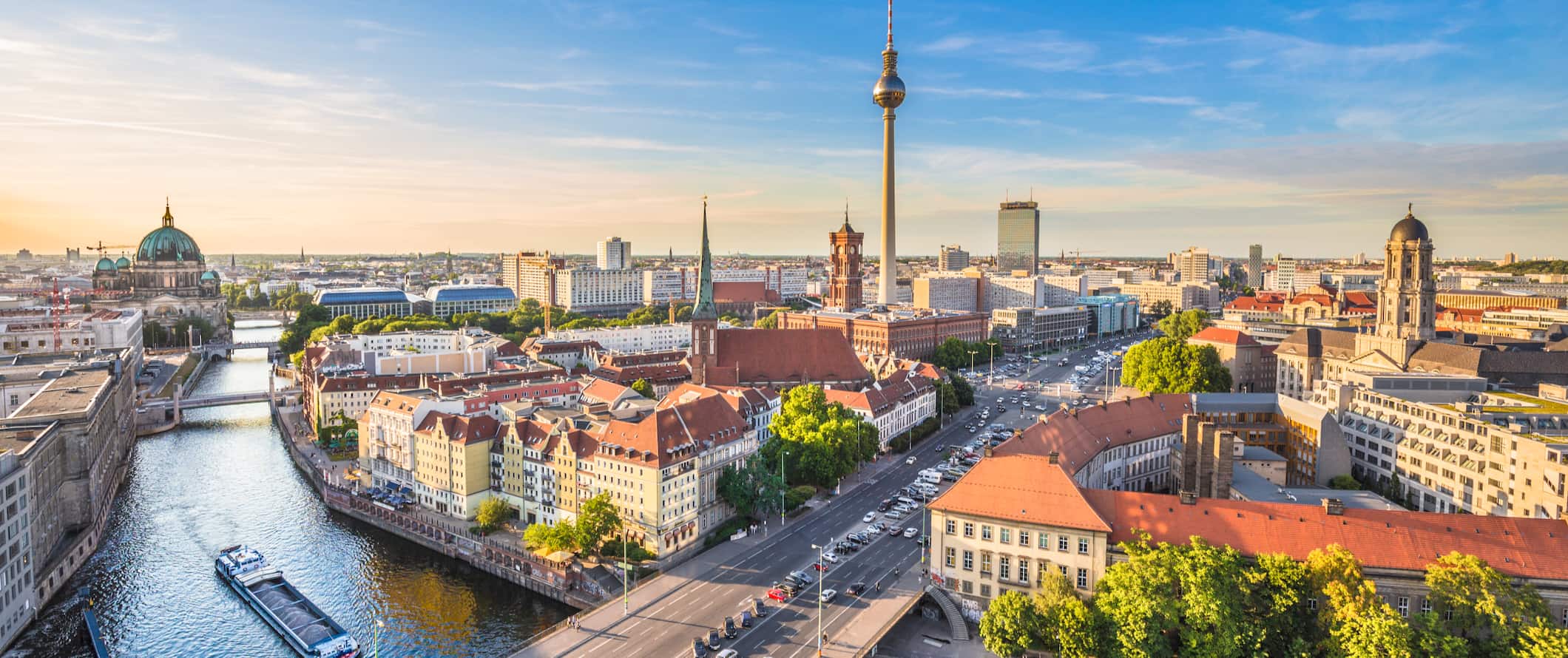 As Germany's capital and the largest city in the country, almost everyone who visits "The Land of Poets and Thinkers" visits Berlin. While I at first disliked the "industrial" look of the city, its gritty feel, art, history, and nightlife grew on me as I explored. Today, it's one of my favorite cities in Europe!
Over the past decade, Berlin has become incredibly popular with students, artists, writers, and creatives. They've been drawn to the city's cheap rent and anything-goes spirit. There's a constant sense of motion in Berlin.
This city is one of the most vibrant on the continent. It's also huge, so don't try to see it in just a couple of days. Extend your stay, take your time, rent a bike, and don't rush. There's a lot to see.
This travel guide to Berlin can help you plan your trip, save money, and ensure you have an amazing time in this lively metropolis.
Top 5 Things to See and Do in Berlin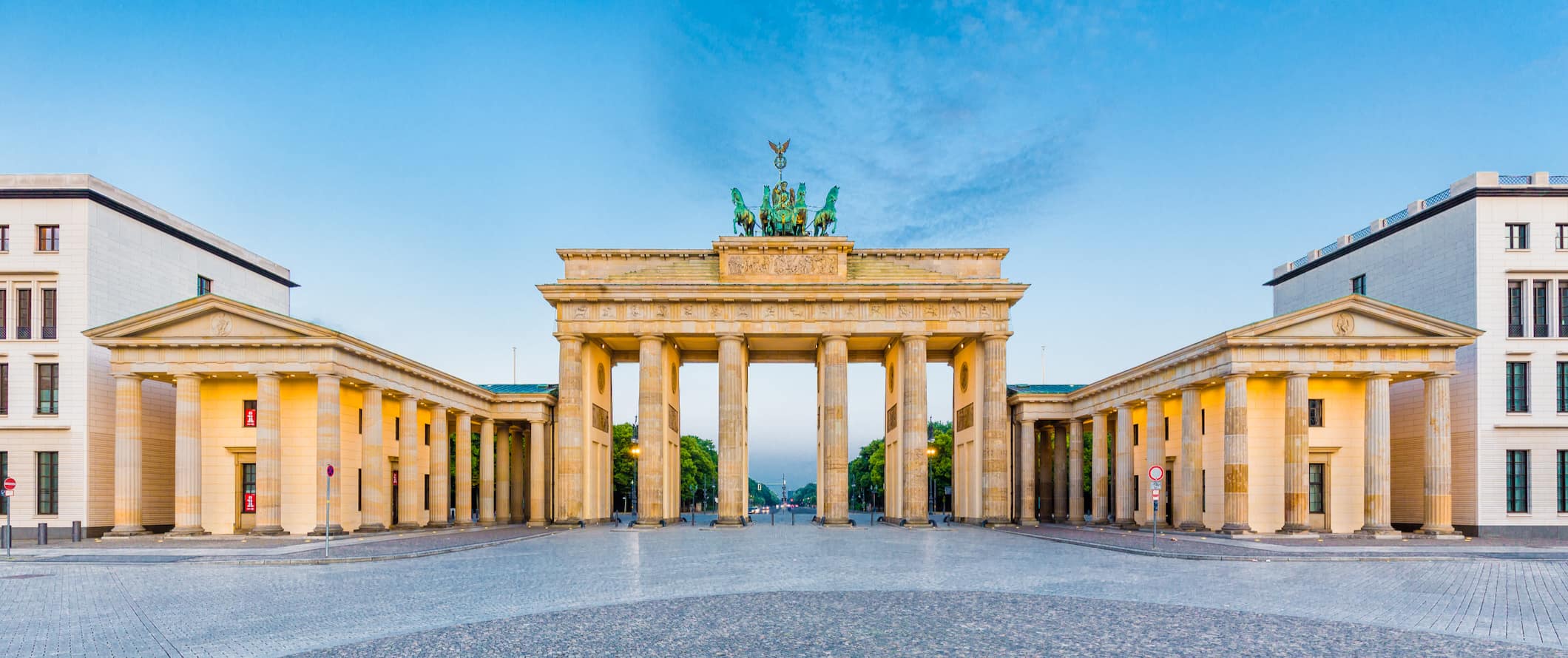 1. Visit the Memorial to the Murdered Jews of Europe
This outdoor memorial is a tribute to the millions of Jews that died during World War II. It's made up of 2,711 large rectangular stones, which are all different sizes. You can walk between the stones and reflect on the Holocaust and the millions of lives that it claimed.
2. See the Brandenburg Gate
Built in 1791, Brandenburg Gate is the city's best-known landmark. During the Cold War, the Brandenburg Gate was in no man's land behind the Berlin Wall. When the Wall fell, everyone came to celebrate here and it has remained a symbol of a unified Germany ever since.
3. See the Berliner Dom
The Berlin Cathedral was originally built in 1905 as a royal court church, but now it's also a museum and concert hall. While most visitors just stop by for photos, the ornate interior is decked in marble and onyx, with a 7,269-pipe organ and royal sarcophagi. Admission is 9 EUR.
4. Visit the East Side Gallery
This open-air art gallery features 105 paintings by artists from all over the world on a section of the Berlin Wall in Friedrichshain-Kreuzberg. Most of the paintings are political in nature. Signs fill in the history along the way so you can learn about the wall and art too.
5. Hang out in Treptower Park
This park is near an abandoned amusement park. Bike, relax in one of the beer gardens, or rent a boat and paddle down the Spree River. It's my favorite park in the city. Visit the Inselgarten beer garden with its giant bar swings and random tango classes.
Other Things to See and Do in Berlin
1. Hang out in Potsdamer Platz
In the 1920s, Potsdamer Platz was the busiest square in Europe but it was destroyed during World War II and then divided by the Berlin Wall. After German reunification, it became the largest building site in Europe. It was transformed into a showpiece for the "new Berlin," with modern architecture like skyrises, hotels, cinemas, shopping centers, and the massive central plaza.
2. See the famous Reichstag
The seat of the German Parliament is one of Berlin's most historic landmarks. It has a clear dome (to promote "transparency" in the government) and draws some of the biggest crowds in Berlin. You can visit the dome (it's free), but you have to make a reservation ahead of time. From the dome, you can enjoy panoramic views over the city and learn about the parliament's history from the interior exhibitions. (Bring your passport as it's required for entry!).
3. Enjoy the view from Fernsehturm TV Tower in Alexanderplatz
Germany's main city square contains the iconic 368-meter-high Fernsehturm TV Tower. You can visit the tower's observation deck for dazzling views of the city. Tickets start from 25.50 EUR. Otherwise, Alexanderplatz is an exciting hub of activity as people come to shop, eat, and hang out.
4. Tour the German Historical Museum
This museum covers everything from prehistory right up to the present day. There are numerous in-depth exhibits here, so schedule a few hours to see it all. It's one of my favorite history museums in the world because it is very, very detailed. Highlights include a 3.5-meter-tall coat of arms column from 1486, Napoleon's hat from the battle of Waterloo in 1815, and a personal computer from East Germany. Admission is 8 EUR. Note: the permanent exhibitions are closed for renovations until 2025. Temporary exhibitions are still accessible.
5. Head to Grunewald Forest
If you are looking to escape from the city, the grand expanse of Berlin's largest forest is the perfect destination for hiking, picnicking, and biking. On hot summer days, head to Kuhhorn Badestrand, which has a cove and beach where Berliners come to swim and lounge. In the northernmost part of the forest, you'll find Teufelsberg, a man-made hill standing 120 meters high. You can hike up here for views over the city as well as to see the abandoned tower that was used as a listening station by the US during the Cold War. Admission to Teufelsberg is 8 EUR. Guided tours in English are 15 EUR and take place on Sundays at 3pm.
6. Go to Zoologischer Garten and Aquarium
First opened in 1841, this is Germany's oldest — and Europe's most popular — zoo. There are giraffes, elephants, gorillas, and Germany's only giant pandas, as well as nearly 1,300 other species. The aquarium is equally as impressive and is home to fish, coral, jellyfish, sharks, and more. A combination ticket for the zoo and aquarium is 23 EUR.
7. Visit the Deutsche Kinemathek
More commonly referred to as the Film Museum, this museum hosts festivals throughout the year. However, it's also worth visiting for its fascinating interactive exhibits on German film. You can learn about German movie history, try out historical filmmaking instruments, explore the ins and outs of cinematic storytelling, watch Nazi propaganda films, and play your own role in front of a green screen in the museum's studio. The museum theater also offers regular showings of foreign and historic films. Admission to the museum is 9 EUR with a free audio guide available and tickets to see a film are 8 EUR. Entrance is free on the first Sunday of the month.
8. Check out Mauerpark's market
This enormous flea market is held every Sunday, with vendors selling all sorts of vintage furniture, antiques, artwork, books, and more. Local artists also set up shop to sell their paintings and handicrafts, and there's no shortage of food and beer to go around. Don't forget to join the karaoke session in the outdoor theater.
9. Relax in Tempelhof Field
Located in the southern part of the city, this park is actually the site of an old airport that was used during the Berlin Airlift (when the Soviets tried to blockade the city). While the airport closed in 2008 and was transformed into a park, there are still a lot of plaques where you can learn about the old airport. The 951-hectare park is a favorite with Berliners, with lots of people running, working out, and cycling here. In the summer, people take over the barbecue pits. The entrances are open from sunrise to sunset.
10. See the DDR Museum
This museum focuses on life in East Berlin during Communist rule. Exhibits are interactive and divided to cover the various aspects of daily life in East Berlin. There's even a section dedicated to how the East Germans rebelled against Communist rule by flocking to nude beaches to be "free." Tickets are 12.50 EUR.
11. Visit Checkpoint Charlie
Dividing Berlin's most well-known post-war border crossing was Checkpoint Charlie. The original border post on Friedrichstraße between former East and West Berlin remains, complete with a soldier's post and border crossing sign. The museum has exhibits on the history of the Berlin Wall along with displays about people who attempted to escape to the West. Admission is 14.50 EUR. Audio guides and photo permits are an extra 5 EUR.
12. Take a bike tour
Berlin is a great city to explore by bicycle. There are plenty of themed tours run by operators like Fat Tire Tours that showcase the city, highlighting its history, food, and culture. Prices vary depending on the tour but expect to pay 30-70 EUR per person.
13. Go underground with the Berliner Unterwelten-Museum
This is not a museum in the traditional sense (though there is an exhibition), but rather a guided tour into bunkers, air raid shelters, and tunnel systems beneath the city, in Gesundbrunnen U-Bahnhof. You'll see East Germany escape tunnels, ammunition findings, and even archaeological treasures. You can also descend into the basement of the BerlinerKindl brewery and sample some of the beers after the tour. Tours cost 15 EUR.
14. Explore the Jewish History Museum
This museum traces the arrival of Jews in Germany, and their contributions throughout German history, hardships faced as a people, and Jewish culture in general. Like most museums in Germany, the museum is huge and requires a few hours to properly explore. It doesn't go too much depth on the Holocaust, as there is a separate museum for that (The Topography of Terror). Admission is free, with temporary exhibition tickets costing 8 EUR. Due to COVID, they ask that you book a time slot in advance.
15. Visit the Topography of Terror
This museum is on the spot where the SS and the Reich Security Main Office were located during World War II. It documents the terror and horror of the Nazi regime with harrowing video interviews with survivors, historical documents, photographs, and more. It also consists of excavated prison cells that were located under a remaining stretch of the Berlin Wall. Admission is free.
16. Relax in Tiergarten
Berlin's central park is one of the most beautiful city parks in all of Europe. Founded in 1527 as a private hunting ground for Germany's ruling class, Tiergarten first opened to the public in 1740. Unfortunately, the park was significantly damaged during World War II; most monuments and bridges were destroyed, thousands of trees were cut down to use for firewood, and war debris piled up. Today, the park covers 520 acres and visitors can visit war monuments, grab a beer in the beer garden, and go out on the lakes in a pedal boat (or ice-skate in the winter).
17. Take a boat tour
The Spree River flows through Berlin, meaning there are lots of canals and waterways on which you can take a boat tour. It's quite relaxing on a warm day and provides a new perspective of the city. Tours start at 19 EUR for a one-hour cruise.
18. Hang out in Friedrichshain's Markthalle Neun
If you've had your fill of Berliner currywurst and döner kebap and you're looking for more variety, this huge food hall is a cool place to hang out during the day as it carries fresh produce, deli items, and handmade bread, pasta, and more. There are also various international-themed eateries as well. The regular weekly market is open Tuesday to Sunday until 6pm. Thursdays they have special street food where you can get Tibetan momos, British pies, tacos, Kässpatzen (dumplings with cheese), and more. They even have a selection of craft beer, wines, coffee, and other items to drink.
19. Rent a DDR Trabant Car
At Trabiworld, you can rent one of the old DDR gear shift Trabant cars and take a spin around Berlin on a "Trabi Safari" (the cars were manufactured in East Germany). Cruise around on a planned route by the sites of the East Side Gallery part of the former Berlin Wall. Plus, you even get to keep your "Trabi license" as a souvenir at the end. Rides cost 59 EUR for and last 75 min.
For more information on other cities in Germany, check out these guides:
Berlin Travel Costs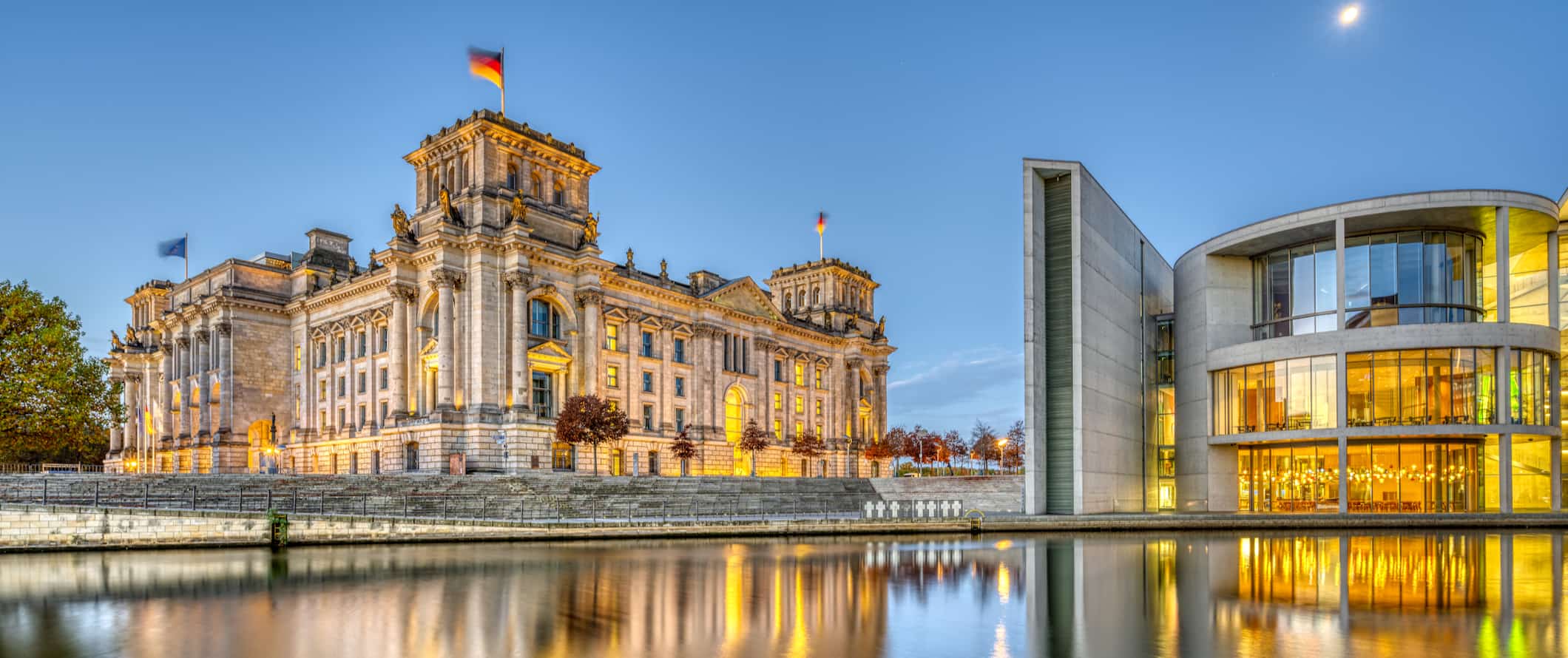 Hostel prices – Dorms cost 17-25 EUR per night while private rooms for two cost around 45-56 EUR per night. Free Wi-Fi and lockers are standard in all hostels in Berlin. Most hostels also offer free coffee/tea and have a kitchen and bar on site. Only a few hostels offer free breakfast, but many offer a breakfast buffet for an additional 5-8 EUR.
Many hostels also offer bike rentals for 10-15 EUR per day and some offer free walking tours. In a sign of the times, a few hostels even offer free COVID-19 testing.
Budget hotel prices – Budget hotels cost between 50-65 EUR per night. Free Wi-Fi, flat-screen TVs, and private bathrooms are standard, while free breakfast is not. Many hotels offer a breakfast buffet for 8-12 EUR.
Airbnb is available everywhere in Berlin, with private rooms costing about 30-45 EUR per night while full apartments start around 75-100 EUR per night in spring and 50-90 EUR in winter.
Food – Food in Germany is very cheap (and hearty). Meat is a staple of most meals, especially sausages; there are over 1,500 different kinds of sausages in Germany (sausages here are known as "wurst"). Stews are also a popular traditional choice, as are potato dumplings and sauerkraut. Breakfast is usually composed of bread, cold cuts, cheese, and boiled eggs.
Generally, eating out in Berlin is incredibly affordable. Currywurst, kebabs, and quick pizzas are all under 5.50 EUR. For the best kebabs, go to Mustafas. You'll get a filling, delicious meal for around 5 EUR.
Eating out at one of the many Indian, Thai, or Turkish restaurants is the cheapest way to enjoy a sit-down meal in Berlin. A lunch meal at a Vietnamese restaurant is about 5.50 EUR while a main dish at an Indian restaurant is around 6.50-9 EUR.
For more cheap eats, check out Thai Park (Preußen Park). During the summer, Thai locals come to the park to cook up delicious and affordable Thai food. It started as just a small Thai community gathering but now it's a huge food market with awesome eats for under 10 EUR.
At fast-casual eateries, a plate of schnitzel is around 6-8 EUR, pizza is 8-10 EUR, and a burger is 5-8 EUR. A combo meal at McDonald's costs 9 EUR.
Expect to pay around 35 EUR for dinner for two. A meal at a higher-end restaurant costs about 15-17 EUR for a pasta entree, while a steak is around 23 EUR.
For drinks, a beer costs about 4 EUR at any bar or beer garden, a glass of wine is around 4.50 EUR, a cocktail is 7-10 EUR, and a cappuccino is 3.50 EUR.
Some of my favorite places to eat are Mustafa's Gemuse Kebap, Konnopke's Imbiss, Cocolo Ramen, Burgeramt, Markthalle Neun, MOM'S, and Nah am Wasser.
If you cook for yourself, you can spend as little as 45-50 EUR on groceries per week. This gets you basic staples like bread, eggs, rice or pasta, seasonal produce, and some meat. The cheapest places are Lidl, Penny, Netto, and Aldi.
Backpacking Berlin Suggested Budgets
If you're backpacking Berlin, expect to spend about 55 EUR per day. This assumes you're staying in a hostel, limiting your drinking, cooking all your meals, using public transportation to get around, and doing mostly free activities like walking tours and relaxing in the parks.
On a mid-range budget of 110 EUR per day, you can stay in a private Airbnb room, eat out for a few meals, rent a bike to get around or take the occasional taxi, enjoy a couple of drinks, and visit more attractions, such as the Berliner Dom or the Reichstag.
On a "luxury" budget of 200 EUR per day or more, you can stay in a budget hotel, eat out for all your meals, drink as much as you want, take taxis to get around, and do all the tours you want! This is just the ground floor for luxury though. The sky is the limit!
Accommodation
Food
Transportation
Attractions
Average Daily Cost
Backpacker
20
15
10
10
55
Mid-Range
45
35
10
20
110
Berlin Travel Guide: Money-Saving Tips
Berlin is an incredibly affordable city, which is why so many people try to move here. You can easily visit the city on a budget without doing much work. Things just don't cost a lot of money unless you try to splash out. If you want to save even more money, here's how to cut costs in Berlin:
Use your student card – Student ID cards can come in handy to purchase meals, drinks, accommodation, and visit museums at a discount. Always ask if there is a student discount.
Eat the street food – Berlin's street food scene is epic. There is a currywurst stand or fast-food stall on every corner, especially around markets and parks. You can get filling sausages and burgers for just a few euros, especially at busy places like Mauerpark, Markthalle Neun, and the Turkish Market.
Eat Asian/Turkish food – You can get a kebab or falafel for as little as 3 EUR. On weekends, Thai Park (at Preußen Park) offers the best cheap Thai food outside of Thailand!
Take a free walking tour – New Europe Tours run daily walking tours that cover the main highlights. They also run tours around various historic themes (communism, Nazism, Jewish history, etc.) for great low prices, if you have a more specific interest. You can also take the Alternative Berlin tour, which showcases the artsy side of Berlin.
Get the lunch specials – There are lunchtime specials during the week in Oranienburgerstr. For example, you can get a starter and main course in very nice restaurants for around 6 EUR. It's a great deal if you want to eat out.
Stay at a hostel that includes breakfast – If you want to cut costs, stay at one of the city's hostels that includes breakfast. You can expect different kinds of fresh bread, müesli, cheeses, cold cuts (like ham, turkey, and salami), maybe a boiled egg, and fresh fruit and coffee. It's filling and will save you money.
Get a transportation pass – A day ticket with unlimited travel in city center zones costs 8.80 EUR, and a week pass is 36 EUR — much cheaper than paying per ride. You can use your tickets across the train, tram, and bus network, saving you a fortune if you plan on seeing a lot of the city.
Get the Berlin Welcome Card – The Berlin Welcome Card offers free public transportation, discounts on over 200 attractions, and free entry into many of the paid museums. It can be a good deal if you're going to a lot of museums. A two-day card is 24 EUR, while a three-day card is 39 EUR. You can get a card for up to six days for 50 EUR.
Grab a beer on the go – You can enjoy a beer just about anywhere in Berlin. Pick up a large beer from the supermarket or Späti (a corner store) for as little as 0.80 EUR and head to the park to lounge the day away.
Stay with a local – If you want to cut down your travel costs while also getting some local insight into the city, use Couchsurfing. Not only will you save money but you'll meet locals who can help get you off the beaten path. Since Berlin is a popular city, be sure to send your requests in advance (especially in the summer!).
Bring a water bottle – The tap water here is safe to drink so bring a reusable water bottle to save money and reduce your plastic use. LifeStraw is my go-to brand as their bottles have built-in filters to ensure your water is always clean and safe.
Where to Stay in Berlin
Berlin has hostels all over the city, so it's really a matter of finding a neighborhood that suits you best. These are my suggested and recommended places to stay in Berlin:
How to Get Around Berlin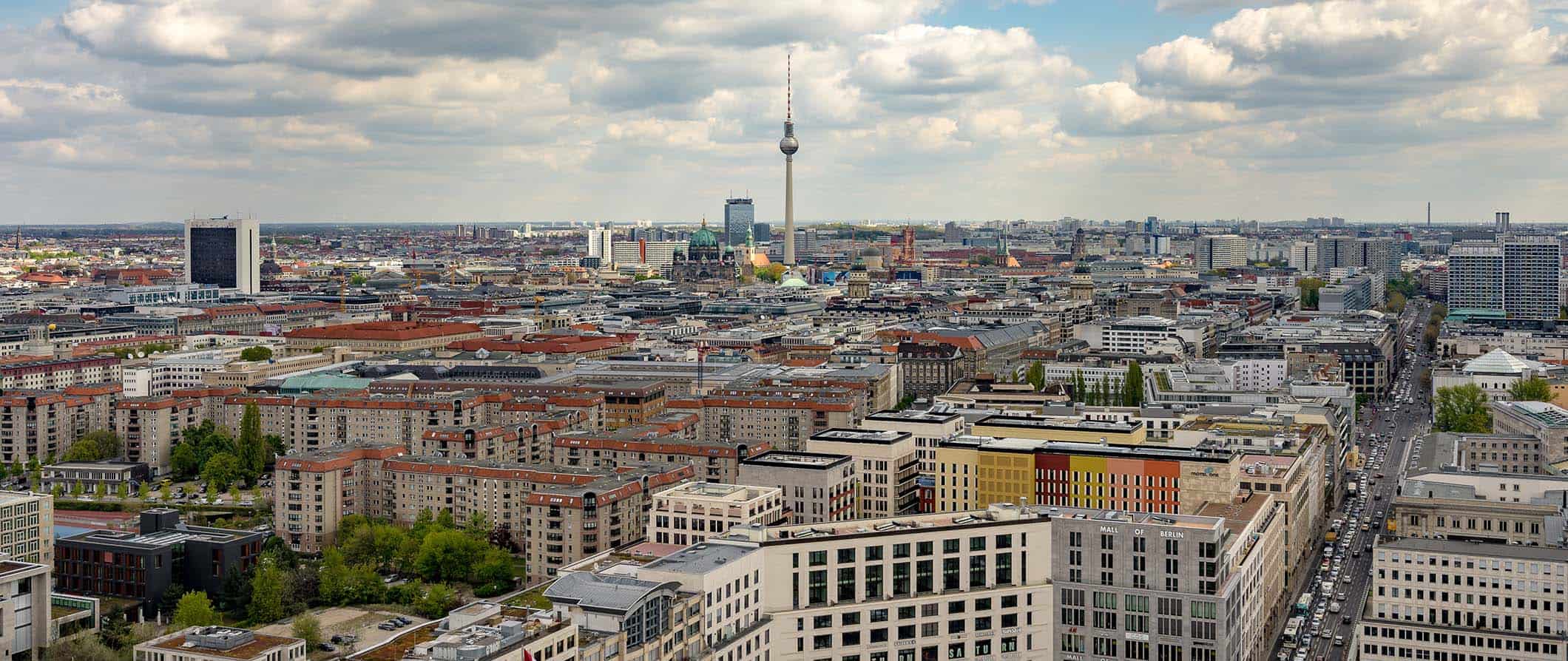 Public transportation – Berlin is a sprawling city, but it's incredibly well connected by its subway (U-Bahn) and above-ground train system (S-Bahn). You can even get to the outlying neighborhoods quickly. A single ticket is 3 EUR and is good for up to 90 minutes. If you're outside the AB zone, the ticket price increases. For example, a ticket to Brandenburg Airport is 3.80 EUR.
You can purchase tickets on the platform or via the BVG app. Always keep your ticket on you as random checks on the train are common.
A day ticket with unlimited travel in Zones AB (Berlin city proper) costs 8.80 EUR, and a week pass is 36 EUR. You can use your tickets across the train, tram, and bus network, but be sure to check your route ahead of time.
There are a handful of tram lines around Berlin's central neighborhoods, but they're not as fast or efficient as the trains. Ticket prices are the same as the train.
There are also over one hundred bus lines around Berlin that get you anywhere you need to go, especially on weeknights after the trains shut down. Ticket prices are the same as the trains and trams.
Bicycle – Berlin is incredibly easy to cycle around, with well-marked bicycle lanes. Most bicycle rentals start at 5 EUR per day. Bike-sharing programs like Donkey Republic, nextbike and Call a Bike offer rentals for 1 EUR per 30 minutes or 9 EUR for the day. Nextbike also offers day passes for 3 EUR with which you get the first 30 minutes of each rental free. A week pass offering the same is 15 EUR.
Taxi – Taxis are not cheap here, but you'll rarely need to use one. The base rate is 4 EUR, and it's an additional 2 EUR per kilometer afterward. Skip them if you can.
Ridesharing – Uber is available in Berlin, but you shouldn't need to use it much, if at all, as the public transportation here is fast and reliable.
Car rental – Car rentals start at 30 EUR per day for a multi-day rental, however, you won't need one unless you're leaving the city. Even then, the bus and train system can likely get you where you need to go for cheaper. Renters need to be at least 21 years old.
For the best car rental prices, use Discover Cars.
When to Go to Berlin
Spring and summer are peak seasons in Berlin (especially May-September). The whole city comes alive as people get out to enjoy temperatures in the 30s°C (high 80s°F). This is really when Berlin's parks and markets come alive so I'd try to visit during this time if you can. Just book your accommodation in advance.
While winters are dark and cold with temperatures dropping to 0°C (32°F), Berlin doesn't get a lot of snowfall and the Christmas season is magical — mostly due to the city's many Christmas markets. You avoid the tourist crowds during this time as well.
How to Stay Safe in Berlin
Berlin is pretty safe, but like all big cities, there is petty crime (such as pickpocketing). Be careful on busy public transit and around crowded tourist attractions, especially in Alexanderplatz. ATM scams are unfortunately also a problem here. Whenever possible, withdraw money from inside a bank where you know there are security cameras and/or guards.
Violent crime is rare but avoid certain areas of town like Kottbusser Tor, Görlitzer Park, Neukölln, and Volkspark Hasenheide after dark if you're traveling alone. The area around Warschauer Straße station is a natural nightlife hub where ridiculously drunk people always end up. Be mindful of your whereabouts and your belongings, as this place is a hotspot for pickpocketing and sometimes even assault.
It's no secret that drugs are big in Berlin. Much of the drug exchange happens at Kottbusser Tor – if you're walking through here, do so with caution.
When out at the bar, always keep an eye on your drink and never leave it unattended. Additionally, never walk home alone if intoxicated, especially if leaving a club late at night.
If you're worried about getting scammed you can read about common travel scams to avoid here.
If you experience an emergency, dial 112 for assistance.
The most important piece of advice I can offer is to purchase good travel insurance. Travel insurance will protect you against illness, injury, theft, and cancellations. It's comprehensive protection in case anything goes wrong. I never go on a trip without it as I've had to use it many times in the past.
Berlin Travel Guide: The Best Booking Resources
These are my favorite companies to use when I travel. They consistently have the best deals, offer world-class customer service and great value, and overall, are better than their competitors. They are the companies I use the most and are always the starting point in my search for travel deals.
Skyscanner – Skyscanner is my favorite flight search engine. They search small websites and budget airlines that larger search sites tend to miss. They are hands down the number one place to start.
Hostelworld – This is the best hostel accommodation site out there with the largest inventory, best search interface, and widest availability.
Booking.com – The best all around booking site that constantly provides the cheapest and lowest rates. They have the widest selection of budget accommodation. In all my tests, they've always had the cheapest rates out of all the booking websites.
HostelPass – This new card gives you up to 20% off hostels throughout Europe. It's a great way to save money. They're constantly adding new hostels too. I've always wanted something like this and glad it finallt exists.
Get Your Guide – Get Your Guide is a huge online marketplace for tours and excursions. They have tons of tour options available in cities all around the world, including everything from cooking classes, walking tours, street art lessons, and more!
The Man in Seat 61 – This website is the ultimate guide to train travel anywhere in the world. They have the most comprehensive information on routes, times, prices, and train conditions. If you are planning a long train journey or some epic train trip, consult this site.
Rome2Rio – This website allows you to see how to get from point A to point B the best and cheapest way possible. It will give you all the bus, train, plane, or boat routes that can get you there as well as how much they cost.
FlixBus – Flixbus has routes between 20 European countries with prices starting as low 5 EUR! Their buses include WiFi, electrical outlets, a free checked bag.
SafetyWing – Safety Wing offers convenient and affordable plans tailored to digital nomads and long-term travelers. They have cheap monthly plans, great customer service, and an easy-to-use claims process that makes it perfect for those on the road.
LifeStraw – My go-to company for reusable water bottles with built-in filters so you can ensure your drinking water is always clean and safe.
Unbound Merino – They make lightweight, durable, easy-to-clean travel clothing.
Fat Tire Tours – For bike tours, use this company! They have fun, interactive tours led by expert local guides. You'll get to see all the main sights without breaking the bank!
BlaBlaCar – BlaBlaCar is a ridesharing website that lets you share rides with vetted local drivers by pitching in for gas. You simply request a seat, they approve, and off you go! It's a cheaper and more interesting way to travel than by bus or train!
Berlin Travel Guide: Related Articles
Want more info? Check out all the articles I've written on backpacking/traveling Germany and continue planning your trip: