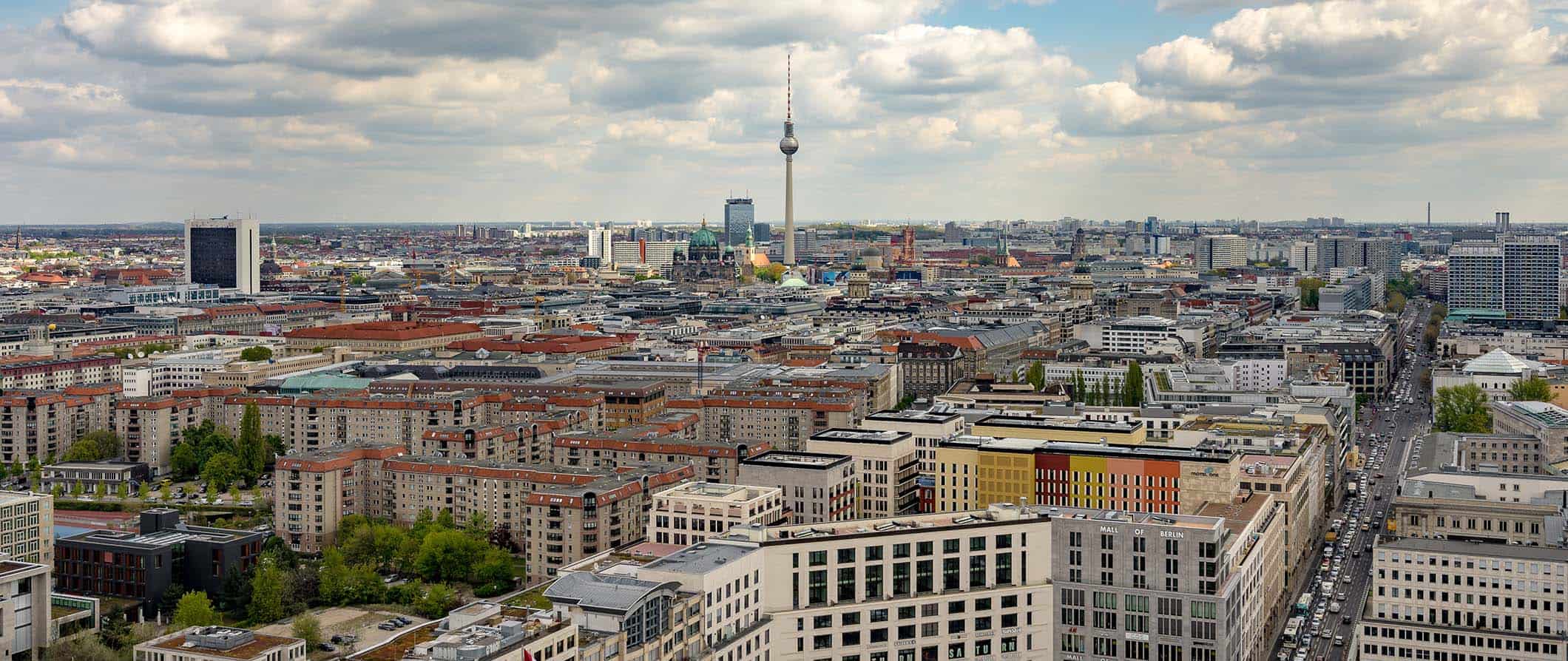 Berlin is Germany's capital and the largest city in the country. Berlin has become very popular with students and young artists, writers, and creatives who have become the city's new immigrants.
While I dislike the "industrial" look of the city, the art, history, and nightlife cannot be beaten. Berlin is an old city with a young heart and one of the most fun, coolest, diverse. and eclectic cities in Europe. There's a constant sense of motion here.
I didn't like my first visit to Berlin but the city has really grown on me. This is a city where "things are happening" and it's probably the most vibrant city on the continent.
This travel guide to Berlin will help point the way by giving you tips on what to see, costs, suggested budgets, ways to save money, and everything else you need to plan a great trip!

Berlin
Top 5 Things to See and Do in Berlin
1. Visit the Memorial to the Murdered Jews of Europe
This memorial is made up of 2,711 large rectangular stones as a tribute to the Jews that died during WWII. The stones are all different sizes so that you can walk through the memorial and reflect on the Holocaust. Visit the museum too. It's powerful.
2. See the Brandenburg Gate
Built in 1791, Brandenburg Gate is the city's best known landmark. During the Cold WAR, the Brandenburg Gate was located in no man's land behind the Berlin Wall. When the Wall fell, everyone came to celebrate at the gate and it has remained a symbol of unified Germany ever since.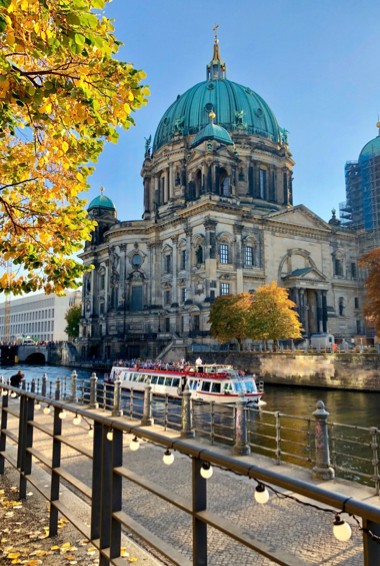 3. See the Berliner Dom
The Berlin Cathedral was built in 1905 originally as a royal court church, but now it's also a museum and concert hall. While most visitors just stop by for photos and to relax on the grass, the interior architecture is decked out in marble and onyx, with a 7,269-pipe organ and royal sarcophagi. Admission is €7 EUR ($8 USD), while the audio guide is €3 EUR ($3.30 USD).
4. Visit the East Side Gallery
This open-air art gallery features 105 paintings by artists from all over the world on a section of the Berlin Wall in Friedrichshain-Kreuzberg. Most of the paintings are political in nature. It's a beautiful site and itneresting use of the wall and makes for an awesome walk. Signs fill in the history along the way.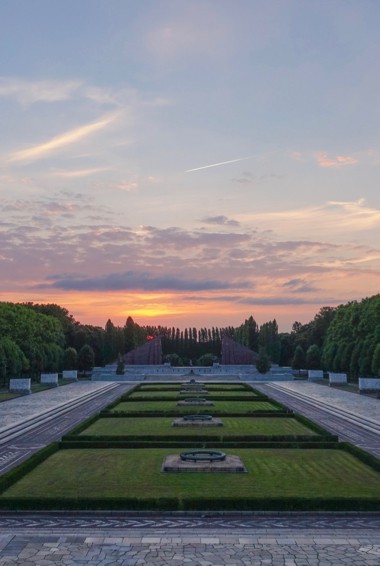 5. Hang out in Treptower Park
This park is near an old, abandoned amusement park. Bike, relax in one of the beer gardens, or rent boats and canoes and paddle down the Spree River. It's my favorite park in the city for its nooks and crannies, especially the Inselgarten beer garden with its giant bar swings and random tango classes.
Other Things to See and Do in Berlin
1. Hang out in Potsdamer Platz
In the 1920s, Potsdamer Platz was the busiest square in Europe, but it was destroyed in World War II and divided by the Berlin Wall. After German reunification, it became the largest building site in Europe as it was transformed into a showpiece for the "new Berlin," with modern architecture like skyrises, hotels, cinemas, shopping centers, and the massive central plaza, the Sony Center. Frankly, it's not the most interesting part of Berlin — but if you want to experience a bit of the city's business district after all the grittiness elsewhere, this is a good place to do it.
2. See the famous Reichstag
The seat of the German Parliament is one of Berlin's most historic landmarks. It now has a new clear dome (to promote "transparency" in the government) and draws some of the biggest crowds in Berlin. You can visit the dome (it's free!), but you have to make a reservation ahead of time. From up there, you'll get panoramic views over the city, and the dome has an interior exhibition on the parliament's history. (Bring your passport!)
3. Visit Alexanderplatz and Fernsehturm TV tower
Germany's most famous city square contains the 368-meter high Fernsehturm TV tower. You can visit the tower's observation deck for dazzling views of the city. Tickets start from €16.50 EUR ($18 USD). Otherwise, Alexanderplatz is an exciting hub of activity as people come to shop, eat, and hang out.
4. Spend time at the Deutsches Historisches Museum
The German Historical Museum covers everything from prehistory right up to the present day. There are so many in-depth exhibits here you'll want to schedule a few uninterrupted hours to see it all. It's one of my favorite history museums in the world! Highlights include a 3.5-meter tall coat of arms column from 1486, Napoleon's hat from the battle of Waterloo in 1815, and a personal computer from the GDR times. Admission is €8 EUR ($8.80 USD).
5. Head to Grunewald Forest
If you are looking to escape from the city, the grand expanse of Berlin's largest forest is the perfect destination for hiking, horseback riding, picnicking, or biking. On hot summer days, head to Kuhhorn Badestrand where you'll find a cove and beach where Berliners come to swim and lounge around. There's even an ice cream boat! In the northernmost part of the forest, you'll find Teufelsberg, a manmade hill standing at 120 meters high. You can hike up here for views over the city as well as to see the abandoned US tower that was used as a listening station during the Cold War.
6. Go to Zoologischer Garten and Aquarium
First opened in 1841, this is now Germany's oldest and Europe's most popular zoo. Here you'll find giraffes, elephants, gorillas, and Germany's only giant pandas — as well as nearly 1,300 other species. The aquarium is equally as impressive and is home to fish, coral, jellyfish, and even sharks. A combination ticket for the zoo and aquarium is €21 EUR ($23 USD) for adults, and discounts are available for children and families.
7. Visit the Deutsche Kinemathek
More commonly referred to as the Film Museum, this is one of the most interesting museums in Berlin. Every June, the Berlin Jewish Film Festival is held here. During the rest of the year, there are exhibits that showcase the history of German movies as well as German actors and actresses. There is even a section on Nazi propaganda films. Adult admission is €8 EUR ($9 USD).
8. Check out Mauerpark
An enormous flea market is held every here Sunday to sell all sorts of vintage furniture, antiques, artwork, books, and more. Local artists also set up shop here to sell their paintings and handicrafts, and there's no shortage of food and beer to go around. Don't forget to join the karaoke session in the outdoor theater.
9. Relax in Tempelhof Park
Located in the southern part of the city, this park is actually the site of the old airport that was used during the Berlin Airlift (when the Soviets tried to blockade the city). You'll find a lot of plaques and information about the old airport now. You'll see lots of people running and working out here, and in the summer months, people take over the barbecue pits.
10. Enjoy the music
Berlin is one of the musical centers of Europe and features some of the best DJs, musicians, singers, and bands on the continent. No matter your musical tastes, you'll find something here. For DJs and electronic music, check out clubs like Watergate, Tresor, and Salon Zur Wilden Renate. You'll see street performers everywhere, especially at Mauer Park and Warschauer. Don't miss the David Bowie walking tour!
11. See the DDR Museum
This museum focuses on life in East Berlin during Communist rule. Exhibits are interactive and separated into the various aspects of daily life. There's even a section dedicated to how the East Germans rebelled against Communist rule by flocking to nude beaches to be "free." Tickets start from €5.50 EUR ($6 USD).
12. Visit Checkpoint Charlie
Dividing Berlin's most well-known border crossing was Checkpoint Charlie. The original border post on Friedrichstraße between former East and West Berlin remains, complete with a soldier's post and border crossing sign. The museum exhibits on the history of the Berlin Wall along with displays about people who attempted to escape to the West. Admission to the museum is €14.50 EUR ($16 USD).
13. Take a bike tour
Berlin is a great city to explore by bicycle. There are plenty of themed tours run by operators like Fat Tire Tours that will show you the city while highlighting its history, food, and culture. Prices will vary depending on the tour, but you can expect to pay between 25-50 EUR ($27-55 USD) per person.
14. Visit an air raid shelter
These air raid shelters were designed to protect German citizens from nuclear fallout during the Cold War. Tours are available to show you just what it was like to take shelter underground, with prices starting around €11 EUR ($12 USD) per person. Free Tours by Foot is a great company to go with.
15. Visit the Berliner Unterwelten-Museum
Keeping with the underground theme, be sure to visit Berlin's Unterwelten-Museum. This museum will lead you into bunkers and tunnel systems beneath the city, in Gesundbrunnen U-Bahnhof. You'll see East Germany escape tunnels, ammunition findings, and even archaeological treasures. You can also descend into the basement of the BerlinerKindl brewery, and sample some of the beers after the tour. Tours start from €12 EUR ($13 USD).
For more information on specific cities in Germany, check out these guides:
Berlin Travel Costs
Hostel prices – Four to eight bed dorms cost between €32-36 EUR ($35-40 USD) per night while dorms with ten beds or more costs about €27 EUR ($30 USD) per night.
A standard twin private room in one of the hostels starts from about €82 EUR ($90 USD) per night for two people.
Budget hotel prices – A room with a private ensuite bathroom in a two-star hotel will start at about €73 EUR ($80 USD) in the center of the city.
Airbnb is available everywhere in Berlin, with shared accommodation (like a bed in a dorm) starting at €32 EUR ($35 USD) per night, although those rooms are rare. For a private room, expect to pay about €36 EUR ($40 USD) per night, while a full apartment averages about €148 EUR ($163 USD) per night.
Food – You can judge a city on how cheap it is by the food, and the food in Berlin is incredibly affordable. You'll find currywurst, kebabs, and quick pizzas all for under €5.50 EUR ($5 USD). For the best kebabs, go to Mustafas. You'll get a filling, incredibly delicious meal for €10 EUR ($11 USD).
For another cheap eat, check out Thai Park (Preußen Park). During the summer, Thai locals will come to the park and cook up some delicious and affordable Thai food. It started as just a small Thai community gathering, but it's now a huge food market where you can get awesome eats for under €10 EUR ($11 USD).
A meal at McDonald's will cost about €7 EUR ($8 USD). A meal of chicken red curry lunch at a Vietnamese restaurant is about €4.50 EUR ($5 USD). A beer will cost about €3.50 EUR ($4 USD) at any bar or beer garden. A meal at a higher-end restaurant will cost you about €15 EUR ($16 USD) for a pasta entree, while a steak will cost more like €23 EUR ($25 USD).
Some of my favorite places to eat are Mustafa's Gemuse Kebap, Konnopke's Imbiss (currywurst), Cocolo Ramen, Burgeramt, Markthalle Neun, MOM'S (Vietnamese), and Nah am Wasser.
If you cook for yourself, you can spend as little as €45 EUR ($50 USD) on groceries per week, which would include some meat, bread, eggs, rice/pasta, some veggies, and fruit.
Backpacking Berlin Suggested Budgets
If you're backpacking Berlin, expect to spend about €57 EUR ($63 USD) per day. This is assuming you're staying in a hostel, eating lots of cheap and fast food, cooking some meals, using public transportation to get around, and visiting about one attraction per day (like a museum).
On a mid-range budget of €135 EUR ($148 USD) per day, you can stay in a two-star hotel room or an Airbnb private room, eat at mid-range restaurants, get a bicycle rental, and visit more attractions.
On a luxury budget of €187 EUR ($205 USD) per day in Berlin, you'll stay in a four-star hotel, eat at nicer restaurants, enjoy some drinks, take some taxis, and do all the tours you want!
You can use the chart below to get some idea of how much you need to budget daily, depending on your travel style. Keep in mind these are daily averages – some days you'll spend more, some days you'll spend less (you might spend less every day). We just want to give you a general idea of how to make your budget. Prices are in USD.
Accommodation
Food
Transportation
Attractions
Average Daily Cost
Backpacker
$30
$15
$8
$10
$63
Mid-Range
$80
$30
$13
$25
$148
Luxury
$100
$50
$20
$55
$205
Berlin Travel Guide: Money Saving Tips
Berlin is an incredibly affordable city, which is why so many expats set up here. You can easily visit the city here on a budget without doing much work. Things don't cost a lot of money. If you want to save even more money, here are some of my favorite ways to cut your costs in Berlin:
Use your student card – In this student city, your identification card will come in handy to purchase meals, drinks, accommodation, and visit museums at a discount.
Eat the street food – Berlin's street food scene is epic, and you'll find a currywurst stand or fast-food stall on every corner, especially around markets and parks. You can get filling sausages and burgers for just a few euros, especially at busy places like Mauerpark, Markthalle Neun, and the Turkish Market.
Eat the ethnic food – This city is hugely multicultural, especially when it comes to Asian and Turkish influences. You can get a kebap or falafel for as little as €3 EUR ($3.30 USD), while the weekend Thai Park (at Preußen Park) offers the best cheap Thai food outside of Thailand!
Take a free walking tour – New Berlin Tours run daily, informative (but long) walking tours that begin at the Brandenburg Gate and continue through the hot spots in town for about 4 hours. It takes you through the center of the city, shows you all the highlights, gives you some history, and will help you orientate yourself. They also run tours around various historic themes (communism, Nazism, Jewish history, etc.) for great low prices, if you have a more specific interest. You can also take the Alternative Berlin tour, which showcases the artsy side of Berlin. It's run by New Europe Tours. Find them meeting at the Starbucks in Alexanderplatz at 11 am each morning.
Get the lunch specials – There are lunchtime specials during the week in Oranienburgerstr. For example, you can get a starter and main course in very nice restaurants for around €6 EUR ($7 USD). It's a great deal.
Get a transportation pass – When you buy a transportation pass for Berlin's public transit, you save money. A day ticket with unlimited travel costs €7 EUR ($8 USD), and a week pass is €30 EUR ($33 USD). You can use your tickets across the train, tram, and bus network, but be sure to check your route ahead of time.
Get the Berlin Welcome Card – The Berlin Welcome Card offers free public transportation, discounts on over 200 attractions, and free entry into many of the paid museums. It can be a good deal if you're going to a lot of museums! A two-day card is €20 EUR ($22 USD), while a three-day card is €29 EUR ($32 USD). You can get a card for up to six days for €43 EUR ($47 USD).
Grab a beer on the go – You can enjoy a beer just about anywhere in Berlin, and you can pick up a large beer from the supermarket or Späti (a corner store) for as little as €0.80 EUR ($0.90 USD). Grab one and head to the park.
Couchsurf – If you want to cut down your travel costs while also getting some local insight into the city, you should couch surf. Not only will you save money, but you'll meet locals who can help get you off the tourist trail and into the city as the locals experience it. Since Berlin is a popular city, be sure to send your requests in advance (especially in the summer!).
Where To Stay in Berlin
Berlin has hostels all over the city, so it's really a matter of finding a neighborhood that suits you best. These are my suggested and recommended places to stay in Berlin:
For more hostel suggestions be sure to check out my list of my 11 favorite hostels in Berlin.
How to Get Around Berlin
Train – Berlin is a sprawling city, but it's incredibly well connected by its subway (the U-Bahn) and its above-ground train system (the S-Bahn). You can even get to the outlying neighborhoods quickly. A single ticket is €2.80 EUR ($3.10 USD) and is good for up to 90 minutes. You can purchase tickets on the platform or via the BVG app. Always keep your ticket on you as random checks on the train are very common.
A day ticket with unlimited travel costs €7 EUR ($8 USD), and a week pass is €30 EUR ($33 USD). You can use your tickets across the train, tram, and bus network, but be sure to check your route ahead of time. If you're outside the AB zone, the ticket price increases. For example, a ticket to Tegel Airport is €3.10 EUR ($3.40 USD), and it's €3.40 EUR ($3.75 USD) to Schönefeld.
Tram – There are a handful of tram lines around Berlin's central neighborhoods, but they're not as fast or efficient as the trains. Ticket prices are the same for the train system, and you'll have to buy onboard.
Bus – There are over one hundred bus lines around Berlin that will get you anywhere you need to go, especially on weeknights after the trains shut down. Ticket prices are the same as the trains and trams.
Bicycle – Berlin is incredibly easy to cycle around, with well-marked bicycle lanes. Most bicycle rentals start at about €12 EUR ($13 USD) per day. Try a company like Donkey Republic. Public bike sharing programs like nextbike and LIDL Bike offer rentals for about €1.50 EUR ($1.66 USD) for every 30 minutes.
Taxi – Taxis are not cheap here, and you'll rarely need to use one. The base rate is €3.90 EUR ($4.30 USD), and it's an additional €2 EUR ($2.20 USD) per kilometer afterward. A five-kilometer drive shouldn't cost more than €14 EUR ($15.50 USD).
Ridesharing – Uber is available in Berlin. You can save $15 off your first Uber ride with this code: jlx6v.
When to Go to Berlin
There's no bad time to visit Berlin. While winters are cold with temperatures dropping to 32°F (0°C), Berlin doesn't get a lot of snowfall, and the Christmas season is magical — mostly due to the city's many Christmas markets. You'll avoid the tourist crowds during this time as well.
Spring and summer are peak season in Berlin (especially between May to September), and the whole city vibe changes as people get out to enjoy temperatures in the high 80s°F (30s°C). This is really when Berlin's parks and markets come alive.
How to Stay Safe in Berlin
Berlin is pretty safe, but like all big cities, there is petty crime like pick-pocketing to be wary of. Be careful on public transit and around crowded tourist attractions, especially in Alexanderplatz. ATM scams are unfortunately also a problem here. Whenever possible, withdraw money from inside a bank where you know there are security cameras or guards.
Violent crime is rare but avoid certain areas of town like Kotbusser Tor, Görlitzer Park, and Volkspark Hasenheide after dark if you're traveling alone. The area around Warschauer Straße station is a natural nightlife hub where ridiculously drunk people always end up. Be mindful of your whereabouts and your belongings, as this place is a hotspot for pick-pocketing and sometimes even assault.
It's no secret that drugs are big in Berlin. Much of the drug exchange happens at Kotbusser Tor – if you're walking through here, avoid eye contact or conversation with people who approach you. Watch your drink at busy clubs and bars.
If you're worried about getting scammed, you can read about the 14 travel scams to avoid right here.
Always trust your gut instinct. If a taxi driver seems shady, stop the cab and get out. If your hotel is seedier than you thought, move somewhere else.
If you don't do it at home, don't do it in Berlin! Follow that rule, and you'll avoid being the victim of petty crime.
The most important piece of advice I can offer is to purchase good travel insurance. Travel insurance will protect you against illness, injury, theft, and cancellations. It's comprehensive protection in case anything goes wrong. I never go on a trip without it as I've had to use it many times in the past.
Berlin Travel Guide: The Best Booking Resources
These are my favorite companies to use when I travel to Berlin. They are included here because they consistently find deals, offer world-class customer service and great value, and overall, are better than their competitors.
Momondo – This is my favorite booking site. I never book a flight without checking here first.
Skyscanner – Skyscanner is another great flight search engine which searches a lot of different airlines, including many of the budget carriers that larger sites miss. While I always start with Momondo, I use this site too as a way to compare prices.
Airbnb – Airbnb is a great accommodation alternative for connecting with homeowners who rent out their homes or apartments.
Hostelworld – This is the best hostel accommodation site out there, with the largest inventory, best search interface, and widest availability.
Couchsurfing – This website allows you to stay on people's couches or spare rooms for free. It's a great way to save money while meeting locals who can tell you the ins and outs of their city. The site also lists events you can attend to meet people (even if you're not staying with someone).
Booking.com – The best all around booking site that constantly provides the cheapest and lowest rates. They have a no money down policy, great interface, and the widest selection of budget accommodation. In all my tests, they've always had the cheapest rates out of all the booking websites.
Intrepid Travel – If you want to do a group tour around Canada, go with Intrepid Travel. They offer good small group tours that use local operators and leave a small environmental footprint. If you go on a tour with anyone, go with them. And, as a reader of this site, you'll get a discount when you click the link!
Rome 2 Rio – This website allows you to see how to get from point A to point B the best and cheapest way possible. It will give you all the bus, train, plane, or boat routes that can get you there as well as how much they cost.
Fat Tire Tours – If you're looking for a fun way to explore the city and see all the sights, check out Fat Tire Tours. They offer a few different tours all run by expert local guides. Their tours are the perfect way to see the highlights without breaking the bank.
World Nomads – I buy all my travel insurance from World Nomads. They have great customer service, competitive prices, and in-depth coverage. I've been using them since I started traveling in 2003. Don't leave home without it!
Berlin Gear and Packing Guide
If you're heading on the road and need some gear suggestions, here are my tips for the best travel backpack and for what to pack!
The Best Backpack for Travelers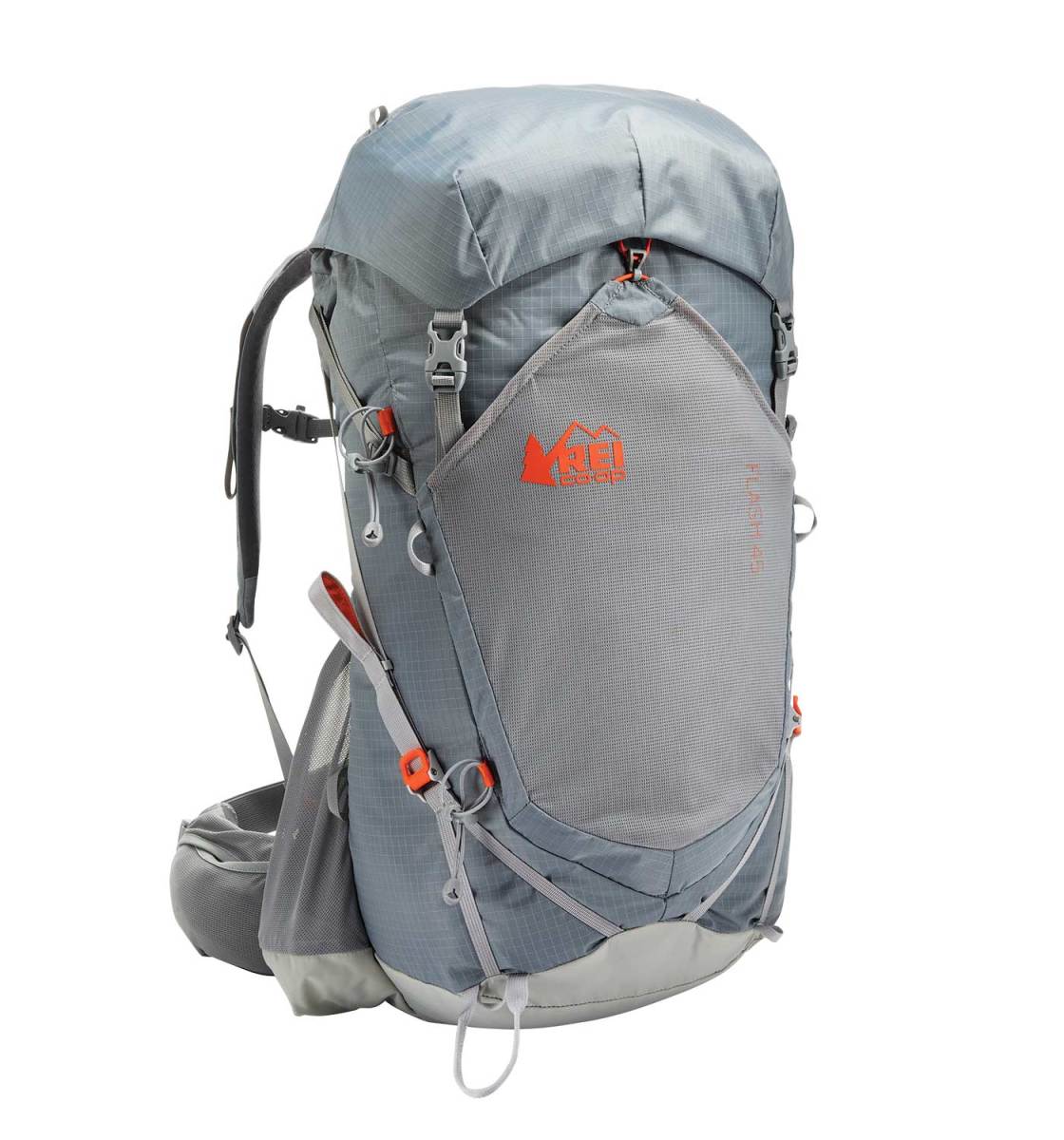 What's the best backpack for traveling long-term? I recommend the
REI Flash 45 Pack
. It's light and comfy, front loading, and fits perfectly in an airplane's overhead bin.
Size:
45-47L
Straps:
Thick and cushy with compression technology that pulls the pack's load up and inwards so it doesn't feel as heavy.
Features:
Removable top lid, large pocket at the front, hydration compatible, contoured hip belt
If you want something different, refer to my article on how to choose the best travel backpack for tips on picking a pack and other backpack suggestions.
What to Pack for Your Trip
Clothes
1 pair of jeans (heavy and not easily dried, but I like them; a good alternative is khaki pants)
1 pair of shorts
1 bathing suit
5 T-shirts (Unbound Merino is my preferred company. If you're a member of NM+, you can get 15% off your purchase)
1 long-sleeved T-shirt
1 pair of flip-flops
1 pair of sneakers
6 pairs of socks (I always end up losing half)
5 pairs of boxer shorts (I'm not a briefs guy!)
1 toothbrush
1 tube of toothpaste
1 razor
1 package of dental floss
1 small bottle of shampoo
1 small bottle of shower gel
1 towel
Deodorant
Small Medical Kit (safety is important!!!)
Miscellaneous
Female Travel Packing List
I'm not a woman, so I don't know what a woman wears, but Kristin Addis, our solo female travel guru, wrote this list as an addition to the basics above:
Clothing
1 swimsuit
1 sarong
1 pair of stretchy jeans (they wash and dry easily)
1 pair of leggings (if it's cold, they can go under your jeans, otherwise with a dress or shirt)
2-3 long-sleeve tops
2-3 T-shirts
3-4 spaghetti tops
1 light cardigan
Toiletries
1 dry shampoo spray & talc powder (keeps long hair grease-free in between washes)
1 hairbrush
Makeup you use
Hair bands & hair clips
Feminine hygiene products (you can opt to buy there too, but I prefer not to count on it, and most people have their preferred products)
For more on packing, check out these posts:
Berlin Travel Guide: Related Articles
Want more info? Check out all the articles I've written on backpacking/traveling Germany and continue planning your trip: