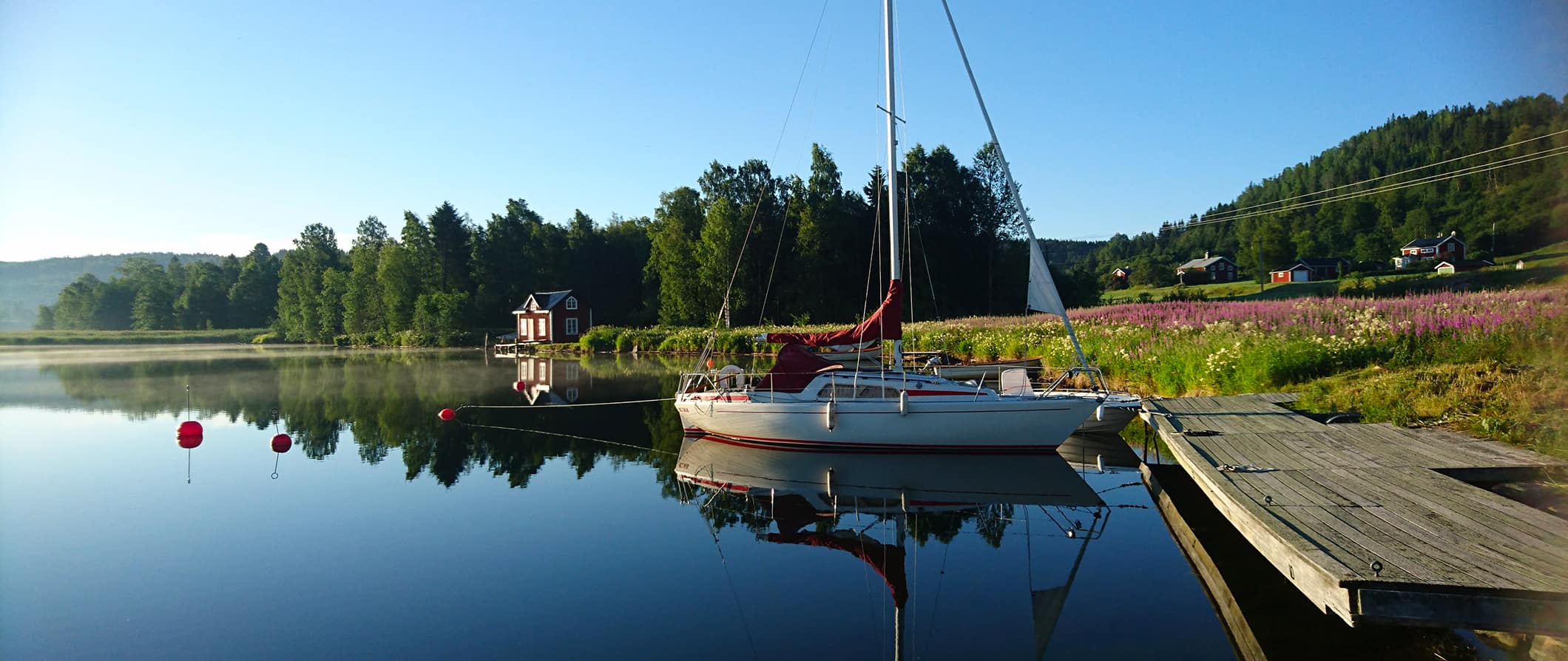 From the frozen lands up north to the rugged west coast to the picturesque islands of Stockholm, Sweden is one of my favorite countries in the world. (I love it so much I even spent time living here!)
While the country's high prices scare budget travelers, Sweden is a country worth exploring. There are medieval cities, beautiful islands, tons of castles, the Northern Lights, a growing foodie scene, friendly people, incredible art, amazing hiking opportunities, and a super high quality of life.
When most people visit, they hit the major cities for a couple days and then head onwards to cheaper destinations. Few people spend extended time here — which is a huge mistake. There's a lot to do here and the people are really welcoming of tourists. It's also a lot cheaper than you think (especially if you embrace the outdoors).
The country isn't the cheapest but this travel guide to Sweden will help you plan your visit, save money, and ensure you make the most of your time in this Scandinavian gem!
Click Here for City Guides
Top 5 Things to See and Do in Sweden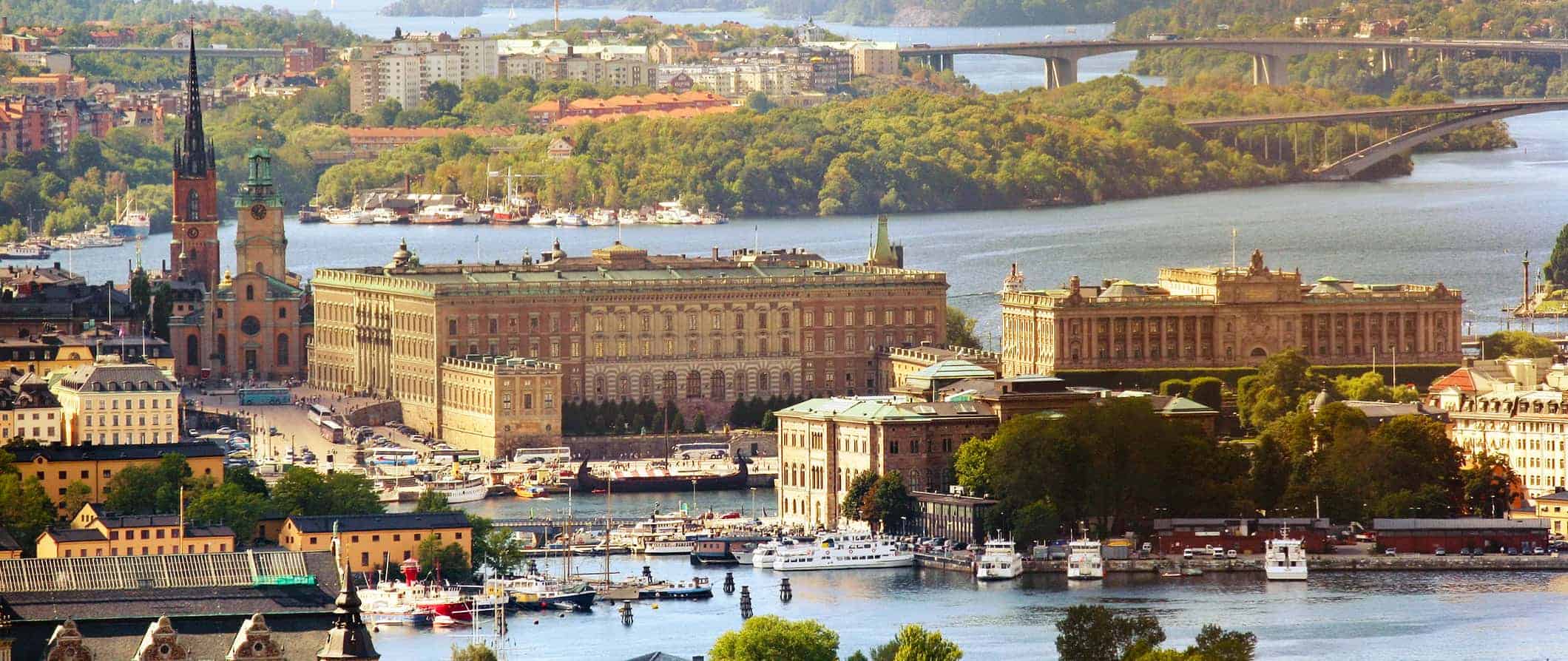 1. Explore Stockholm
From the museums to nightlife, there's so much to do in Stockholm that you'll never get bored. Enjoy the picturesque harbor, charming Old Town, beautiful parks, and everything in between. I recommend spending at least 3 days here.
2. Catch the Midsummer Festival
Swedes celebrate the summer solstice with a giant party. They dance around a maypole, eat, drink, and enjoy nature. Every municipality in the country organizes events, so be sure to find some locals who can show you around. It's the biggest party of the year!
3. Visit Gotland
Gotland is a popular place for Swedes to visit during the summer. The main town, Visby, is a medieval walled city that is incredibly beautiful to wander around. July is the most popular month so book accommodation in advance.
4. Hike the Kungsleden (King's Trail)
This 440-kilometer (273-mile) trail stretches through some of the most remote and pristine landscapes in the country. It takes around one month to hike the entire trail, though it is broken up into week-long or day-hike sections.
5. Brave the cold in Lapland
Lapland, in the far north, is where the Sami, Sweden's indigenous people, continue to make their home and where you can see reindeer (and eat), do some skiing, and experience the Arctic north. Head here for an unexplored part of the country with a lot of cultural significance.
Other Things to See and Do in Sweden
1. Partake in fika
Like "teatime" in the UK, fika is Sweden's way of slowing down. Coffee, conversation, and a few baked goods (often cinnamon buns) are an important part of the social fabric in Sweden, allowing friends and colleagues to take a break from the day to day and just relax.
2. Stay in the Ice Hotel
Located up north in Jukkasjärvi, the Ice Hotel is a hotel built during the winter months out of (you guessed it) ice. There's an ice bar, an ice dining room, and an ice bed (with big fur blankets!). Be prepared to pay the price for a unique stay like this, as nights cost upwards of 5,500 SEK! The hotel is also open for tours, allowing visitors to explore the impressive construction and design. A day pass to the hotel complex costs 295-349 SEK depending on the season. (The hotel has "regular" rooms as well in an adjacent building, which "only" cost 1,500-1,900 SEK per night.)
3. Tour the Stockholm Archipelago
Take a boat around different islands that surround Stockholm (there are thousands!). During the summer, they become big attractions for locals as they boat around and spend nights on the tiny islands. You can take a day tour or just spend a few nights on some of the islands. It's super peaceful and relaxing and one of my top things to do during the summer!
4. Visit Gothenburg
Gothenburg is Sweden's second-largest city. It sees a fraction of tourists compared to Stockholm so come here to beat the crowds, walk along the cobblestone pedestrian streets of Haga, window shop along the Avenyn, and visit Liseberg, one of the biggest theme parks in Scandinavia. The city has a much more laid-back vibe than Stockholm and offers plenty of nearby hiking, swimming, and other outdoor activities.
5. Explore the Bohuslän Coast
This beautiful coast is home to over 8,000 islands and almost 300 kilometers (185 miles) of coastline. The region is known for its fishing, swimming, and hiking and is one of the best spots in the country to get fresh seafood (don't miss lobster season from late September until the end of November). There is also a UNESCO rock-carving site in Tanumshede with carvings and paintings dating back to the Bronze Age and Iron Age.
6. Go skiing
Scandinavians love their winter sports. One of the most popular ski resorts in the region is Åre, which lies 80 kilometers (50 miles) from Östersund (and around 600 kilometers/375 miles north of Stockholm). The highest peak at the resort is over 1,400 meters (4,590 feet). Daily trains run to the area from Stockholm. Lift tickets are generally around 600 SEK. Other areas that are great for skiing are Sälen, Vemdalen, and Branäs (Sälen and Branäs are the two southernmost options, though all are still several hours north of Gothenburg and Stockholm).
7. Kick back in Uppsala
Uppsala is a quiet university town about 25 minutes from the Arlanda Airport and an hour away from Stockholm by train. It's filled with quirky shops, picturesque waterways, lovely parks, and beautiful bike trails. A lot of what's here is centered around the university — from the vast library, home to more than 5 million volumes; to the Museum of Evolution, which boasts over 5 million zoological, botanical, and fossil specimens; to the Linnaean Gardens. You should definitely tour the university when you visit too.
8. Celebrate Valborg Day
Held on April 30th, this annual festival serves to welcome spring. It's characterized by huge bonfires, even bigger parties, and is a tradition dating back to the Middle Ages. Municipalities organize events — including the massive bonfires — and many locals also host their own parties.
9. Check out Wallander's Ystad
Wallander is one of Sweden's most popular fictional characters. A detective in the city of Ystad, Wallander is the main character in a dozen novels and their corresponding TV episodes — all set in or around Ystad (there was even a UK adaptation of the series starring Kenneth Branagh). Located in Skåne, the town is quite picturesque and full of history. If you're a big fan of Wallander, you can arrange a tour at the tourist office, but even if you're not, the town itself has a lot of character and is worth exploring. It's only one hour from Malmö and makes for a nice day trip.
10. Visit Kosterhavet National Park
Kosterhavet is a marine park located on and around the Koster Islands, which are located two hours north of Gothenburg. It's the country's first marine park and home to Sweden's only coral reef as well as over 6,000 marine species (many of which don't exist anywhere else in the country). The park spans almost 400 square kilometers (248 miles), and the islands are beautiful. Rent some bikes to get around and enjoy the rugged landscape and the wildlife that call it home (there's a large seal colony here too). You can access the islands via the local ferry. Return tickets are 136 SEK.
11. Visit the Vasa Museum
This is hands-down a must-see museum in Stockholm. It houses the famous Vasa ship, which sank right as it set sail in the harbor in 1628 due to being too heavy to float. The cold sea kept the ship intact (so much so that it even has the original paint). The museum does a wonderful job of putting the ship into the historical context of the 17th century and Sweden's Golden Age. There are English guided tours too. Admission is 170-190 SEK. Get your ticket in advance here.
12. Let loose at Liseberg
Located in Gothenburg, this is the biggest amusement park in Scandinavia. There are rollercoasters, a haunted house, tons of rides for kids, and a giant Ferris wheel with stunning views of the city. Concerts by popular artists are common here too and it gets a huge transformation for Halloween and Christmas! Admission is 95 SEK while admission and unlimited rides are 255 SEK.
13. Explore the Universeum
If you're traveling with kids (or just want to act like a kid) head to Universeum in Gothenburg. It's an interactive science center that opened in 2011, offering an indoor rainforest, a chemistry lab, dinosaur exhibits, and much more. It's a great way to have fun and learn a thing or two along the way. Admission is 225 SEK for adults and 175 SEK for kids under 16.
14. See the Northern Lights
The Northern Lights, also known as the aurora borealis, light up the skies of Scandinavia each winter, drawing thousands of visitors to witness the spectacle. The best time to see the lights is from late September to late March, from around 9pm-2am. You'll want to travel north to the sparsely populated Lapland for the best chance to see the lights (you can't really see them in southern Sweden).
15. See Stockholm's stunning subway art
Stockholm's subway system also doubles as the world's longest art gallery. Since 1957, artists have been invited to decorate the subterranean stations with their work, and today over 90 out of 100 stations feature public art. Kungsträdgården is one of the most famous stations and features a colorful abstract garden complete with sculptures formerly housed at the palace. If you don't want to do it solo, you can book a guided tour to ensure you don't miss anything!
16. Visit Drottningholm Palace
Located just 30 minutes outside of Stockholm, this 17th-century palace is the most well-preserved palace in all of Sweden. Modeled after the Palace of Versailles, the UNESCO-listed complex includes ornate gardens, a theater, a Chinese Pavilion, and elaborately decorated interiors. It is the official private residence of the Swedish royal family and is only open on weekends. Admission is 140 SEK or 170 SEK including a guided tour in English.
17. Experience the Göta Canal
This 19th-century waterway connects a system of lakes and rivers from the Baltic Sea in the east to Gothenburg in the west. The canal is 190 kilometers (120 miles) long and has 47 bridges and 58 locks. You can enjoy the canal via guided tour, by renting your own boat, or by cycling down the towpaths lining the banks. The canal is open from May to the end of September.
18. Get outside in the national parks
Spending time in nature is an integral part of Swedish life and culture. In 1909, Sweden was the first country to establish a national parks system. Today, there are 30 national parks to enjoy – all with free entry. One of the most popular parks is Abisko National Park in Lapland, where visitors come to hike, ski, and snowshoe, as well as view the midnight sun and aurora borealis. Wild camping is legal in Sweden, making it a great destination to travel if you have a tent and want to experience the untamed outdoors.

For more information on specific cities in Sweden, check out these guides:
Sweden Travel Costs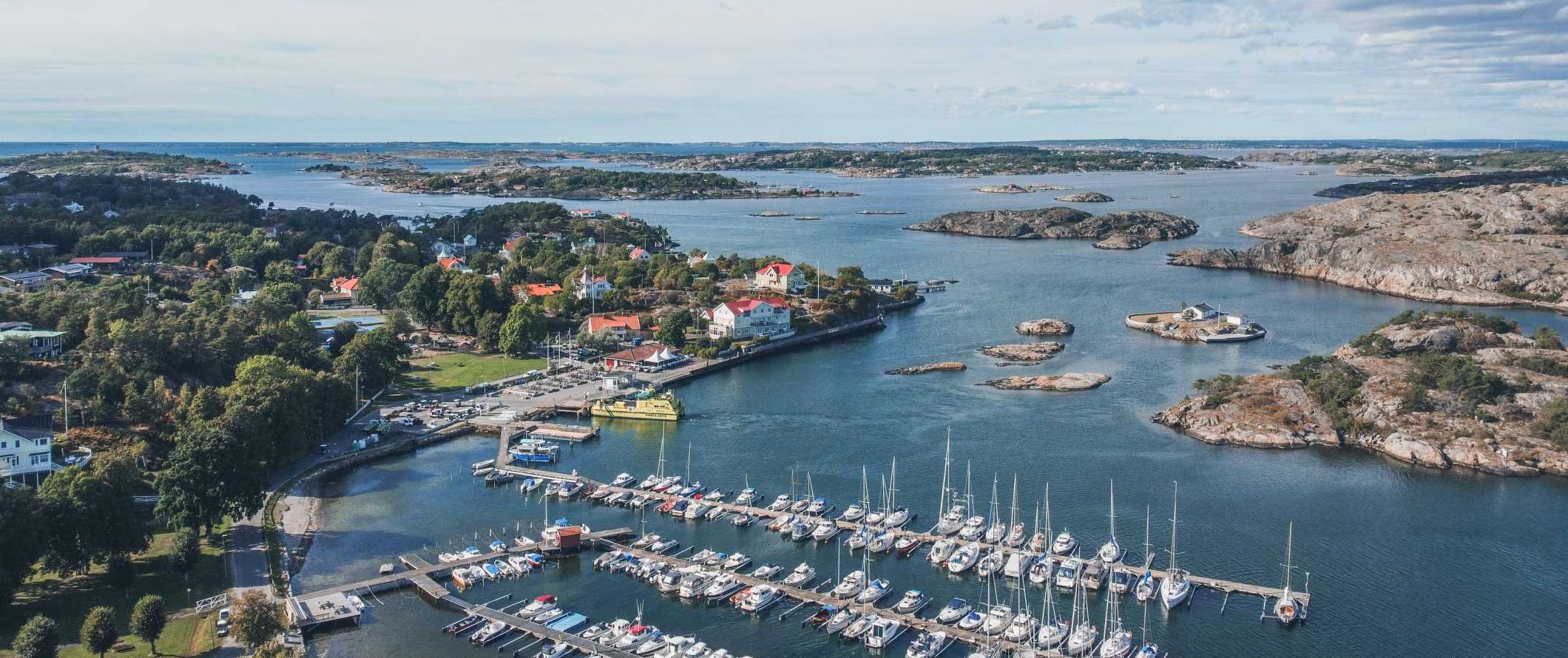 Accommodation – Accommodation, like everything in Sweden, is not cheap. Hostels start around 250 SEK per night for a dorm and about 650 SEK for a private room. Most hostels in Sweden also add a 30-80 SEK surcharge for bed linen to offset the cost of cleaning (you can bring your own sheets, but sleeping bags are not permitted).
Budget hotels cost around 700-900 SEK per night. Cheaper options are available however they usually necessitate sharing a bathroom with other guests. Read the fine print so you're not surprised. Expect free Wi-Fi, a TV, and a coffee/tea maker in most budget hotels.
Wild camping is a good budget option as it is legal (and FREE!) to camp almost anywhere in Sweden. Sweden has 'Freedom to Roam' laws that allow anyone to camp anywhere for 1 night (even if it's private property). You need to make sure you are not camping near someone's house, that you take all trash with you when you leave, and that you aren't in a farmer's field or garden. But other than that, you can pretty much throw your tent anywhere!
If wild camping is not your thing, campgrounds are also common though many require a Camping Key Europe card. You can purchase it at your campsite or online for 160 SEK. Most campsites have modern facilities, including toilets and showers. Expect most plots to cost around 200 SEK per night.
Food – Food in Sweden is hearty and based heavily on meat, fish, and root vegetables. One of the most iconic and popular dishes is meatballs and a creamy sauce with potatoes and lingonberry jam. Crayfish, shrimp, mushrooms, and fresh summer berries are other popular staples. For breakfast, Swedes usually eat dark bread with cheese and vegetables. For fika, cinnamon buns are the go-to choice for many.
Eating out is expensive in Sweden. You can get cheap food from outdoor street vendors starting at 50 SEK, though they are few and far between. You can get hot dogs for around 30 SEK at places like 7-Eleven and Pressbyran.
Your best bet for cheap food (when it comes to restaurants) is Thai and Middle Eastern restaurants. You can usually find meals for around 65 SEK. Thai restaurants have large portions too, which means you can sometimes get an extra meal from the leftovers. Lunch buffets are another good budget-friendly option. Buffet prices are around 100 SEK but you can fill up and get your money's worth.
Many convenience stores and cafes offer pre-packaged sandwiches and meals for 50-100 SEK if you're on the go and want a quick bite. Whole pizzas cost around 65-95 SEK and most nice sit-down restaurant meals begin at 200 SEK for a main dish. The cheapest grocery store chain is Willy's, though ICA and Lidl also have good deals as well.
If you're looking for a drink, beer can be as cheap as 40 SEK, though 65-75 SEK is more common. Wine costs around 55-75 SEK at your average restaurant, and cocktails set you back around 100 SEK. If you're on a budget and want to drink, stick to beer. You can buy your own alcohol at the government-run Systembolaget for even greater savings.
Grocery shopping here costs around 600-700 SEK per week, however, if you cut down on your meat and cheese intake (some of the most expensive food items in Sweden) you can lower your costs significantly.
Backpacking Sweden Suggested Budgets
On a backpacking budget, you should plan to spend around 775 SEK per day. On this budget, you're staying in a hostel dorm or camping, cooking your own meals, using public transportation, and participating in cheap activities like visiting museums, hiking, or taking free walking tours.
On a mid-range of budget of 1,600 SEK per day, you can stay in private hostel rooms, eat out more, drink a bit, take guided tours, and visit a wider range of activities!
On a "luxury" budget of 2,200 SEK or more per day, you can afford to stay in a hotel, hire a rental car, eat out for every meal, and do as many activities as you want.
Accommodation
Food
Transportation
Attractions
Average Daily Cost
Backpacker
250
225
150
150
775
Mid-Range
4750
3375
250
225
1,600
Luxury
900
450
400
450
2,200
Sweden Travel Guide: Money-Saving Tips
Sweden is expensive. There are just no two ways about it. But, while it may not be the most budget-friendly destination, there are still plenty of ways to save while you're here. It takes some work, and you won't be able to eat or drink out a lot, but it can be done! Here are some tips to save money in Sweden:
Drink beer – Alcohol isn't cheap in Sweden as it is heavily taxed. However, beer is quite affordable. If you stick to beer, you can save yourself a lot of money when you go to the bars. To save even more, buy your beer from the Systembolaget (the government-run store that sells alcohol) and save even more (as much as 50%).
Book in advance – My trip to the Stockholm train station taught me that travel around Sweden is expensive when you are booking only a day or two beforehand. Booking trains or buses three to four weeks in advance can get you around 40-50% off. Flixbus, SJ, and MTR are the major companies to consider, with MTR being the cheapest train company. Flixbus is a budget-friendly option as well if you'd rather take the bus over the train.
Bring a refillable water bottle – The tap water in Sweden, as in all of Scandinavia, is perfectly drinkable. In fact, tap water in Sweden is often cleaner than bottled water! Bring a refillable water bottle and save your money — and the environment! To make sure your water is extra safe, bring a LifeStraw. They have built-in filters and are perfect for traveling!
Purchase a city tourism card – These tourist passes give you access to a city's public transportation system and free entrance into 99% of the museums and attractions. If you plan on seeing the majority of attractions and museums, one of these cards will save you money. (Savings will vary depending on how much you use the card.) The Stockholm Pass, for example, includes access to 60 attractions for just 669 SEK for a 1-day pass and 989 SEK for a 2-day pass (which is the much better choice as there is a lot to see!).
Skip the restaurants – Eating out in Sweden is very expensive, especially if you are going to a sit-down restaurant. If you want to eat out, stick to the outside food vendors you see on the street. You can find a decent variety and they are only about 65 SEK per meal. You can also get cheap hotdogs and sausages for about 30 SEK. If you're craving take-out, stick to Thai and Middle Eastern food, as they are usually the cheapest.
Go for the buffet – Lunch is the best time to eat out in Sweden. Buffets and restaurants have set meals for around 105 SEK. It's the best deal you can find and one utilized a lot by locals. Don't miss Hermitage in Stockholm for a cozy, home-cooked meal!
Avoid clubs – Most clubs have a 250 SEK (or more) cover. Don't waste your money.
Get a metro card – Each region of Sweden has its own public transportation operator, and transportation cards will include buses, trams, subways, and boats. Prices will vary for each region, so be sure to enquire when you arrive. If you will be in a city for a few days, be sure to grab a tourist pass. At 415 SEK for a week's worth of train rides in Stockholm or 210 SEK for 3 days of buses in Gothenburg, these cards definitely save you money.
Check for deals – When you're shopping for groceries, check the flyer first and pay attention to what's on sale. It's not a "cool" way to save, but by paying attention to what's on sale you can likely save yourself a few kronor (and a few kronor can make a difference here!).
Where to Stay in Sweden
Hostels are not all that plentiful across Sweden, mostly available in the three main cities of Stockholm, Gothenburg, and Malmo. Outside the big cities, you'll likely need stay in budget guesthouses or use Airbnb. Here are my recommended places to stay while you're in Sweden:
How to Get Around Sweden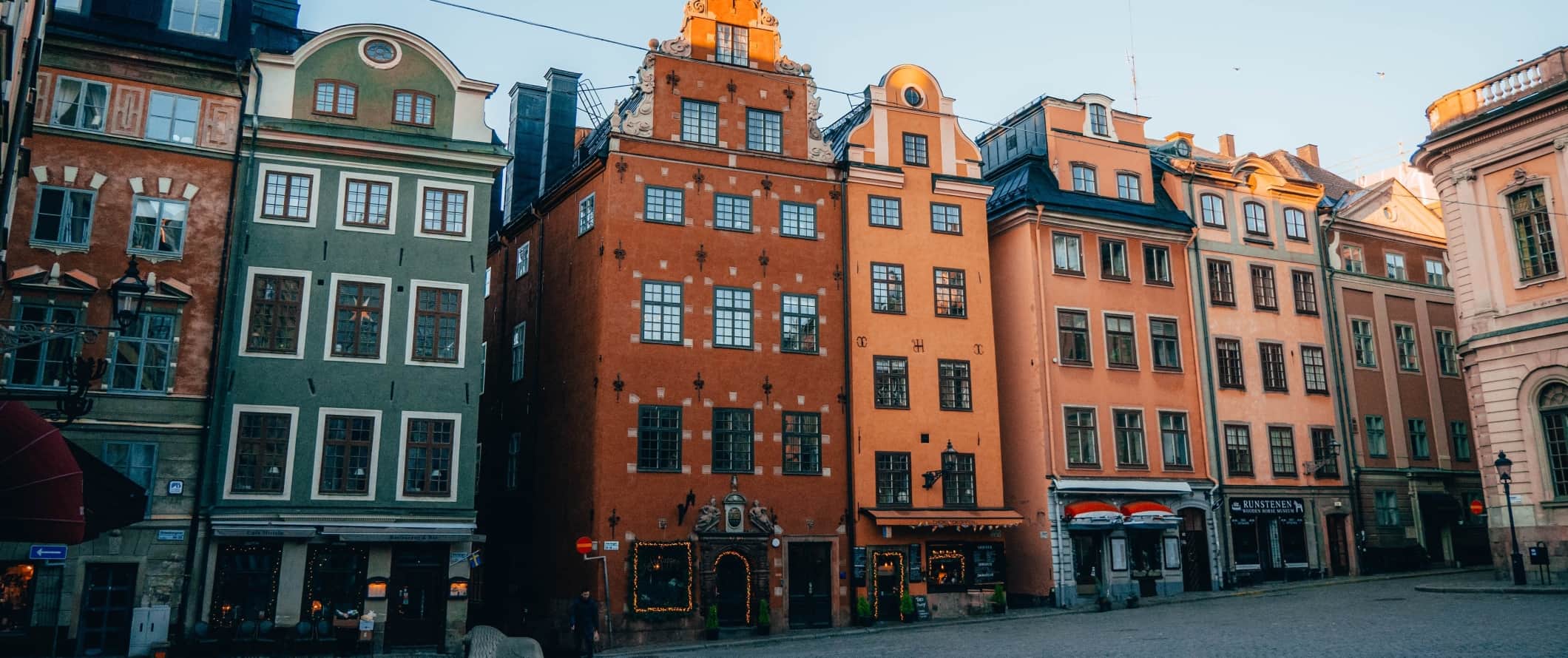 Public Transportation – Public transportation in Sweden is incredible. You can not only use it to explore the cities but also the countryside and less-visited towns and villages as well. Tickets vary in each region and are usually based on how far you travel. A single-fare ticket in Gothenburg costs around 28 SEK, though you can also take a public bus (and then a ferry) from Gothenburg out to many of the nearby islands for around 120 SEK (some of which are 2-3 hours away!)
The public transportation in Stockholm is 38 SEK per ticket, making the day pass (or multi-day pass) your best choice. Most cities have an app you can download to manage and pay for your tickets. No one will inspect your ticket when you board but there are roaming ticket checks and, if you get caught without paying, you'll be fined hundreds of dollars.
Intercity Buses – Buses booked a month or more in advance can be found for as cheap as 80 SEK. However, those tickets are limited in number, and typically buses cost 225–405 SEK. The 8-hour trip from Stockholm to Malmö generally costs 280-370 SEK while the 6.5-hour trip from Stockholm to Gothenburg is around 250-340 SEK. For the cheapest prices, use Flixbus.
If you are arriving at an airport, Flygbussarna is the main shuttle company, with tickets around 119 SEK from major airports to the nearest downtown (Stockholm, Gothenburg, Malmö). Flixbus also manages some airport shuttles though they are much less frequent (they are cheaper, however).
Train – Most intercity trains cost 350–700 SEK, though tickets for as low as 185 SEK can be found for routes between Stockholm and Gothenburg (a journey which takes between 3-4 hours) when booked in advance.
Overnight trains, like the fifteen-hour trip from Stockholm to Luleå, cost between 700–1,215 SEK per person.
The Arlanda Express, the train from Stockholm's Arlanda Airport to the central station, is 299 SEK for a one-way ticket. The journey takes around 20 minutes, while the bus takes closer to 45 minutes and costs 119 SEK.
Flying – While distances in the south are short enough for comfortable train and bus rides, if you're heading up north a plane is more convenient. Flights from Stockholm to Kiruna start at around 700 SEK for the 4-hour flight (the train takes over 15 hours).
If you're short on time, the flight from Stockholm to Gothenburg takes just under an hour and usually costs around 400 SEK.
Car Rental – You can rent a car in Sweden for around 500 SEK per day. Just keep in mind that the majority of the cars here are manual so you need to be able to drive stick. With efficient public transportation and plenty of intercity bus and train options, I would suggest against renting a car unless you're planning to do a road trip. Driving in the cities isn't the most fun and parking is very expensive.
Hitchhiking – Hitchhiking isn't really common in Sweden, though foreigners can get away with it as long as they stick to major highways (such as the E4). Most Swedes speak English, so communication isn't an issue. If you can, have a small flag from your home country so you stand out as a tourist. That increases your chances of getting picked up. HitchWiki is the best website for more hitchhiking tips and information.
When to Go to Sweden
The ideal time to visit Sweden is between June to August, when the weather is warm and the days are (really) long. The country is at its liveliest during this time, and you will find locals taking advantage of the good weather at every opportunity. The parks are always full, and there are always fun events happening around town. Temperatures are often in the 20s Celsius (60s and 70s Fahrenheit) during the summer months.
The downside to visiting then is that, since Sweden has a very short summer, the cities can get busy so be sure to book your accommodation in advance. This is especially true if you are visiting during Midsommar, the big Swedish holiday at the end of June. It's a great time to experience Swedish traditions (which involve a lot of drinking).
May typically has great weather with occasional rain, while September offers cooler temperatures and changing leaves. You'll beat the crowds and still be able to explore the city on foot without the weather getting in your way (too much).
Attractions begin to close around late September, and the days get dark early in October. Temperatures start dropping around this time too. However, prices also decrease, and you're likely to find cheaper airfares and accommodations during this time. Be sure to pack layers if you plan on visiting during this time of year.
The winter is very cold and sees a lot of snow and darkness. In the depths of the winter, you only get a few hours of light each day and temperatures plummet below 0ºC (32ºF). The plus side of traveling during the off-season, however, is that you'll get the cheapest accommodations and fees for certain attractions will be lower as well. While Stockholm is particularly beautiful in winter, you won't want to be walking around as much in the cold. Since it's a great city to explore on foot, you will potentially be missing out so I'd skip a winter visit unless you're coming to enjoy winter sports.
How to Stay Safe in Sweden
Sweden is one of the safest countries in the world. In fact, it ranks 15th on the ranking of the world's safest countries! It's a great destination for solo travelers — including solo female travelers.
Taxis are quite safe and crime is rare against travelers. But keep your wits up and never travel alone at night if you've been drinking, just to be safe.
As in any larger city, it's a good idea to keep an eye out for pickpockets, especially around the train stations and on public transportation. And as always, never leave your drink unattended when out at the bar.
Scams here are virtually non-existent, but if you're worried about getting ripped off you can read about common travel scams to avoid here.
If you do experience an emergency, dial 112 for assistance.
Always trust your gut instinct. Make copies of your personal documents, including your passport and ID. Forward your itinerary along to loved ones so they'll know where you are.
The most important piece of advice I can offer is to purchase good travel insurance. Travel insurance will protect you against illness, injury, theft, and cancellations. It's comprehensive protection in case anything goes wrong. I never go on a trip without it as I've had to use it many times in the past. You can use the widget below to find the policy right for you:
Sweden Travel Guide: The Best Booking Resources
These are my favorite companies to use when I travel. They consistently have the best deals, offer world-class customer service and great value, and overall, are better than their competitors. They are the companies I use the most and are always the starting point in my search for travel deals.
Skyscanner – Skyscanner is my favorite flight search engine. They search small websites and budget airlines that larger search sites tend to miss. They are hands down the number one place to start.
Hostelworld – This is the best hostel accommodation site out there with the largest inventory, best search interface, and widest availability.
Booking.com – The best all around booking site that constantly provides the cheapest and lowest rates. They have the widest selection of budget accommodation. In all my tests, they've always had the cheapest rates out of all the booking websites.
HostelPass – This new card gives you up to 20% off hostels throughout Europe. It's a great way to save money. They're constantly adding new hostels too. I've always wanted something like this and glad it finallt exists.
Get Your Guide – Get Your Guide is a huge online marketplace for tours and excursions. They have tons of tour options available in cities all around the world, including everything from cooking classes, walking tours, street art lessons, and more!
The Man in Seat 61 – This website is the ultimate guide to train travel anywhere in the world. They have the most comprehensive information on routes, times, prices, and train conditions. If you are planning a long train journey or some epic train trip, consult this site.
Rome2Rio – This website allows you to see how to get from point A to point B the best and cheapest way possible. It will give you all the bus, train, plane, or boat routes that can get you there as well as how much they cost.
FlixBus – Flixbus has routes between 20 European countries with prices starting as low 5 EUR! Their buses include WiFi, electrical outlets, a free checked bag.
SafetyWing – Safety Wing offers convenient and affordable plans tailored to digital nomads and long-term travelers. They have cheap monthly plans, great customer service, and an easy-to-use claims process that makes it perfect for those on the road.
LifeStraw – My go-to company for reusable water bottles with built-in filters so you can ensure your drinking water is always clean and safe.
Unbound Merino – They make lightweight, durable, easy-to-clean travel clothing.
Top Travel Credit Cards – Points are the best way to cut down travel expenses. Here's my favorite point earning credit cards so you can get free travel!
Stockholm Travel Guide: Related Articles
Want more info? Check out all the articles I've written on backpacking/traveling Sweden and continue planning your trip: