Lisbon, Portugal's hilly and scenic capital, is one of my favorite cities in the world. The winding streets, ocean views, and flowing wine entice me at every turn.
Situated along the south of the country's west coast, Lisbon (Lisboa in Portuguese) boasts an incredible mix of museums, historic buildings, eclectic music, a wild nightlife, charming plazas, and laid-back cafés where you can watch the world go by.
In recent years, Lisbon has become a lot more popular thanks to its inexpensive cost of living and lovely year-round weather. While it's not the hidden gem it used to be, I don't think it's lost its magic — especially if you visit during the shoulder season when the weather is still great and the crowds have thinned out.
This Lisbon travel guide will give you everything you need to plan your trip and save money in the process.
Top 5 Things to See and Do in Lisbon
1. Walk around the Old Town
Alfama, the historic area of Lisbon, is filled with narrow, winding streets lined with shops, cafes, and restaurants. The name, meaning "hot springs," comes from the Moors who conquered here in the 8th century.
2. See the Belem Tower
Built in 1515, this tower was used as both a fortress and a lighthouse during the height of Portuguese power. The tower is open for self-guided tours where you can wander the halls, peek out the various portholes, and visit the pit where prisoners were kept. Admission is 8.5 EUR.
3. Walk through the Jardim Botanico
This massive 10-acre garden is a haven from the hustle and bustle of the city. Completed in 1873 and home to some 18,000 species of plants, it's one of the best green spaces in Lisbon and perfect for relaxing. Admission is 2 EUR.
4. Hit the beaches
Lisbon has several beaches that are perfect for soaking in the city's beautiful summer weather. Some of the best beaches are Guincho (best swimming area), Meco (peaceful atmosphere), Tamariz (easy to reach from the city center), and Morena (has a fun vibe).
5. Explore the Castle of St. George
St. George (São Jorge) Castle is a massive medieval castle overlooking Lisbon. You can tour the castle and the towers (they offer a beautiful view of the city) and visit the small archeological museum inside. There is also a small garden you can relax in as well as a restaurant. Admission is 10 EUR.
Other Things to See and Do in Lisbon
1. Take a free walking tour
The first thing I do in a new destination is to take a free walking tour. They're the best way to see the main sights and connect with a local guide who can answer all your questions. New Europe is my go-to free walking tour company as their tours are detailed and their guides know their stuff. Just be sure to tip at the end!
2. See the Berardo Collection Museum
The Berardo Museum of Modern and Contemporary Art has a wide selection of works by Warhol, Picasso, Dali, Duchamp, Bacon, Pollock, and many other masters. Its permanent and temporary exhibits have works representing dozens of modern movements from the past century. While I'm not a huge fan of modern or contemporary art, this is an excellent museum if you are. Admission is 5 EUR.
3. Ride the "elevator"
For a sweeping view of Lisbon's skyline, ride the Elevador de Santa Justa. It's a century-old elevator located in the city that connects to a 45-meter-tall viewing platform. The elevator was originally steam-powered and offers a gorgeous view of the city. It has a small restaurant at the top where you can eat too. A ride costs 5.30 EUR but is free if you have a Lisboa Card (the city's tourist pass).
4. Visit the Praça do Comércio
Commerce Square is Lisbon's biggest and most popular square. Located along the riverfront, it's the former location of the royal palace (which was destroyed in an earthquake in 1755). Two marble columns from the palace are still standing and the square is now home to lots of small shops. The people-watching here — when accompanied with a book or some refreshing gelato — is excellent.
5. Check out Se de Lisboa Cathedral
Constructed on the grounds of a former mosque, this Roman Catholic cathedral was built to celebrate the defeat of the Moors in the mid-1100s (a conflict that came about after a failed Crusade to the Holy Land). It's been partially rebuilt over the years due to earthquakes and is now an amalgamation of Romanesque, Gothic, and Baroque architectural styles. While I'm not a huge fan of 12th-century Romanesque construction, the cathedral was very peaceful and beautiful. Be sure to dress appropriately as it is a place of ongoing worship. It's free to enter.
6. Ride the trams
To get a sense of what life in Lisbon was like in the 20th century, hop on one of the yellow "Remodelado" trams. These old-fashioned trams are a fun way to explore the city and see the historic Old Town. While the city also has modern trams, enjoying the charm of the old-fashioned trams is a cheap and easy way to add some character to your visit. Tickets are free with the Lisbon Card.
7. See a Fado show
Fado is a local type of music that originated in Lisbon. It's a rather haunting, mournful style often focused on the hardships of the poor or life at sea. The music first appeared in the 19th century and was popular with the working class (especially sailors). The word "fado" likely stems from the Latin word for fate, which is why many of the songs focus on the inevitability of misfortune and suffering. While melancholic, the music is also beautiful and poetic. To enjoy some traditional fado music, head to Clube de Fado, Tasca do Chico, Parreirinha de Alfama, or Senhor Vinho.
8. Visit the Mosteiro dos Jerónimos
This UNESCO World Heritage site is a must-see when visiting Portugal's capital. The monastery took over 100 years to build and was designed in the Manueline style (also known as Late Portuguese Gothic). The monks were primarily involved with helping sailors and mariners who anchored offshore, which is why there are many maritime designs and influences in the architecture. While it is no longer an active monastery, you can still tour the massive buildings and grounds. Admission is 10 EUR.
9. Check out the Discoveries Monument
The Monument to the Discoveries was inaugurated in 1960 during celebrations of the 500-year anniversary of the death of Henry the Navigator (an important figure in the early Portuguese Empire). At 52 meters tall, it depicts Henry holding a small caravel alongside other heroes of Portuguese history. The monument is shaped like a ship's bow and projects out above the water across the Tagus River. Within the monument is a museum with small historical and cultural exhibitions. On the seventh floor, you can look out to the Atlantic. Admission is 6 EUR.
10. Tour Batalha Monastery
Batalha is a town located just 90 minutes by car from Lisbon. The town is home to Batalha Monastery, officially known as the Monastery of Saint Mary of the Victory. Built in 1388, it's one of Europe's greatest Gothic masterpieces and makes for a popular day trip from Lisbon. The monastery took 131 years to build and is now a UNESCO World Heritage Site. Walking through the gigantic gothic doorway and seeing the towering interior (which is lined with 16th-century stained-glass windows) is absolutely breathtaking. Admission is 6 EUR, but you can also purchase a combo ticket to see The Convent of Christ in Tomar and The Abbey of Santa Maria for 15 EUR.
11. Enjoy a pastéis de nata
This delicious custard-filled pastry is a Portuguese staple. You can find them all over the city — usually for around 1 EUR or less. They're traditionally served warm and with cinnamon, paired with a coffee or hot drink. If you're looking for an authentic experience, check out Pastelaria Versailles. They've been around since the 1920s and make some of the best in the city.
12. Take a day trip to Sintra
Lord Byron, writing in the 18th century, said that Sintra was "perhaps in every respect the most delightful [place] in Europe." If you are visiting Lisbon, be sure to visit Sintra. It's a wonderful town with cobblestone streets and traditional painted buildings filled with family-run cafes and unique shops. Wander the town on foot and check out the historic town hall, the bustling shopping street of Rua das Padarias, and the church of Igreja de Santa Maria (which dates to the 15th century and is a National Monument). Don't miss the brightly colored Pena Palace and the Moors Castle. They offer wonderful views of the city. The train from Lisbon takes about 40 minutes and costs around 4 EUR.
13. Visit MAAT
The Museum of Art, Architecture, and Technology is one of Lisbon's newest museums. Its mission is to showcase contemporary artists, architects, and thought leaders via traditional exhibits and workshops while also revitalizing the waterfront neighborhood. They have rotating exhibits on music, philosophy, contemporary art, and much more. The building is a massive and futuristic-looking structure located beside an old industrial power plant (which you can also tour). Admission is 5 EUR.
14. Take a food tour
To learn more about the history and culture behind Lisbon's cuisine, take a food tour. It's the best way to eat your way around the city sampling the best eats Lisbon has to offer while learning what makes the cuisine unique. Devour Tours runs in-depth food tours led by expert local guides that will introduce you to the food culture and its history. If you're a foodie like me who wants to learn more about the history and culture behind each dish, this tour is for you! Tours from 79 EUR.
For more information on other cities in Portugal, check out these guides:
Lisbon Travel Costs
Hostel prices – Prices for a dorm with 6-8 beds range from 15-25 EUR per night. Free Wi-Fi and lockers are standard, and most hostels have kitchens too. For a private room in a hostel, expect to pay 45-75 EUR per night.
For those traveling with a tent, camping is available outside of the city. A basic plot for one person without electricity starts at 14 EUR per night.
Budget hotel prices – Two-star budget hotels range from 50-88 EUR per night. Expect basic amenities like free Wi-Fi, TV, and coffee/tea makers.
Airbnb is also available around Lisbon, with prices for an entire apartment starting at 70 EUR per night (but averaging double that). Private rooms average 55 EUR per night.
Food – Fish and seafood form the backbone of Portuguese cuisine (Portugal eats the most seafood per capita in Europe). Cod, sardinhas assadas (grilled sardines), sea bass, and shellfish are some of the most common staples. Other popular dishes include Cozido à portuguesa (boiled stew), Peixinhos da horta (breaded and fried vegetables), and cured ham. Be sure to also try the prego (beef sandwich) or the bifana (pork sandwich). You can find them at local cafes for just 5 EUR.
If you want a traditional meal with drinks at a casual restaurant, you're looking at spending around 20 EUR (prices are higher in the touristy downtown area). Outside downtown, there are many local places where you can find meals for around 14 EUR with a drink.
A basic fast-food meal (think McDonald's) costs around 6.5 EUR while a large pizza starts at 11 EUR. Chinese food costs 10-13 EUR for a main dish.
Beer is around 3 EUR while a latte/cappuccino costs around 2.50 EUR. Bottled water is less than 1 EUR.
For a week's worth of groceries, expect to pay 35-40 EUR. That includes basic staples like pasta, vegetables, fruit, bread, cheese, and some meat.
Backpacking Lisbon Suggested Budgets
On a backpacker budget, you can visit Lisbon for around 40 EUR per day. On this budget, you'll be staying in a dorm room, cooking all of your meals, limiting your drinking, using public transportation to get around, and sticking to free activities like free walking tours, enjoying the beaches, and exploring the Old Town. If you plan on drinking, add 5-15 EUR per day to your budget.
On a mid-range budget of 115 EUR per day, you'll stay in a private Airbnb or private hostel room, eat at cheap local restaurants and cook some meals, use public transportation and take the occasional taxi, visit paid attractions like the botanic gardens and Belem Tower, and enjoy some drinks at the bar.
On a "luxury" budget of 220 EUR or more a day, you can stay in a hotel, eat out for every meal, drink what you want, rent a car, and visit as many museums and attractions as you'd like. This is just the ground floor for luxury though — you can easily spend more if you really want to splash out!
You can use the chart below to get some idea of how much you need to budget daily, depending on your travel style. Keep in mind these are daily averages — some days you'll spend more, some days you'll spend less (you might spend less every day). We just want to give you a general idea of how to make your budget. Prices are in EUR.
Accommodation
Food
Transportation
Attractions
Average Daily Cost
Mid-Range
50
35
15
15
110
Lisbon Travel Guide: Money-Saving Tips
Lisbon is the most expensive city in the country — but it's still quite affordable compared to other European capitals. It's hard to spend a ton here unless you are splashing out. If you find cheap accommodation, cook most of your meals, and stick to mostly free activities, you're going to be able to keep your budget intact. Here are some quick tips to help you save money in Lisbon:
Pick up a Lisbon Card – If you're planning to visit lots of attractions, get the Lisbon Card. It offers free or discounted entry to several attractions as well as unlimited public transportation. Prices start at 20 EUR for a 24-hour card and there is also a 48-hour card for 34 EUR and a 72-hour card for 42 EUR.
Get a bus pass – If you don't get the Lisbon Card but still plan on using a lot of public transportation, buy a day pass. They are just 6.40 EUR and will save you a lot of money if you're using the bus/tram/metro often.
Cook your own meals – Restaurants are cheap here, but eating out all the time can still be costly. If you're on a tight budget, save yourself some by cooking your own meals.
Take a free walking tour – If you want to understand more about the history, architecture, and culture of Lisbon then take a free walking tour. They usually last a couple of hours and are a great introduction to the city. Just be sure to tip your tour guide at the end!
Stay with a local – Couchsurfing is the best way to save on accommodation in Lisbon. By staying with a local you'll not only save money but you'll get to spend time with someone who can show you the city's hidden gems and teach you more about the culture and history of Lisbon.
Skip the taxis – Taxis are expensive, often adding fees for luggage and airport pickups. Simply use the metro or bus to get where you need to. You'll save a ton.
Say "no" to bread – When eating out, you'll often be offered bread and olives. They will be brought to your table before your meal. These aren't free, so politely decline the offer if you're not interested in paying for them.
Use BlaBlaCar – BlaBlaCar is a ridesharing app you can use to travel in between cities. It's faster than the bus and usually just as cheap. You'll have to find a ride, which can sometimes be hit or miss, but the profiles are verified and reviewed so it's quite safe. Plus, it's a great way to connect with other locals/travelers.
Visit the Berardo Collection Museum on Saturdays – Tourists can get a glimpse of Portuguese businessman Jose Berardo's personal collection of contemporary art, which makes up the permanent exhibits at the museum. Even if you aren't a fan of contemporary art, the building itself is great to walk through. The museum is free on Saturdays.
Bring a water bottle – The tap water here is safe to drink so bring a reusable water bottle to save money and reduce your plastic use. LifeStraw is my go-to brand as their bottles have built-in filters to ensure your water is always clean and safe.
Where to Stay in Lisbon
Lisbon has lots of hostels. In fact, it's one of the best cities in the world for hostels. Here are my suggested places to stay in Lisbon:
For more hostel suggestions be sure to check out my list of the best hostels in Lisbon!
How to Get Around Lisbon
Public transportation – Buses are the most common way to get around the city (and the cheapest). The buses in Lisbon are clean and efficient. Tickets cost 1.50 EUR for a single ride, or you can get a 24-hour pass for 6.40 EUR that you can use on the bus, subway, and tram.
There are two tram lines in the city: the modern Siemens "Articulado" trams and the historic "Remodelado" trams. Trams start operating from about 5am-10pm and a single ride ticket costs 1.50 EUR.
The metro offers a fast way to get from one corner of the city to another. There are four lines and 55 stations. They are very accessible and the information and maps are provided in English so it's easy to navigate. Prices are the same as the tram and bus.
Bicycle – If you're an avid cyclist who likes a challenge, then biking in Lisbon can be fun. For the non-cyclist, it will likely be unpleasant. The city is filled with steep hills and cobblestone streets — hardly ideal for a leisurely ride. Bike rentals start at 6 EUR per hour and go up to 30 EUR per day. You can also try Gira, the city's bike-sharing system (you can buy a 24-hour pass for just 10 EUR).
Taxi – Taxis in Lisbon start at 3.25 EUR and increase 0.47 EUR for every kilometer traveled. Most drivers speak English but showing them the address on your smartphone will help. If you're on a budget, skip the taxis. They get expensive fast!
Ridesharing – Uber is available in Lisbon but it's not much cheaper than the taxis. Bolt and FreeNow are two other ridesharing apps that are usually cheaper than Uber, but I'd still skip ridesharing altogether if you're on a budget.
Car rental – You won't need to rent a car to get around the city as public transportation is reliable and efficient. If you plan to go on a day trip, you can rent a car to have more flexibility. It will be more expensive than taking the bus or train but will give you more freedom. Expect to pay 15-20 EUR per day for a small rental car.
When to Go to Lisbon
Peak season in Lisbon is during the summer months of June-August. Temperatures during that time soar to 25-30°C (77-86°F). This is also the busiest time to visit the city so expect crowds and slightly higher. The overall atmosphere during this time is lively and there are lots of places to swim or relax on the beach so it's still worth visiting during peak season.
If you're on a budget, the best time to visit Lisbon is during the shoulder season. March-May and September-October are still warm so you can enjoy the outdoors without as many crowds, with temperatures hovering between 12-25°C (53-77°F). It may be a bit rainy, but you can still enjoy the city without much inconvenience.
Winter is from November to February. It gets cold, and tourist crowds have thinned out considerably. Temperatures vary but overall temperature hovers around 10°C (50°F). It's still warmer than much of Europe, so if you're on the continent and are looking to avoid the worst of the weather, head to Lisbon (or even further south to Faro).
How to Stay Safe in Lisbon
Lisbon is very safe for travelers — including solo female travelers. Violent attacks here are uncommon and petty crime is rare. Pickpocketing is the most common crime so just be aware of your surroundings when you're in busy markets or when using public transportation.
Additionally, young backpackers here may be approached and offered drugs as Portugal has decriminalized drug use. However, you can still face hefty charges or jail time if you're caught with drugs so always decline the offer politely but firmly and continue on your way.
You won't find a lot of travel scams in the city but read this article on 14 major travel scams to avoid just in case.
When out at the bar, always keep an eye on your drink and never walk home alone at night if intoxicated.
The emergency number in Lisbon is 112.
Remember, if you don't do it at home, don't do it in Lisbon!
The most important piece of advice I can offer is to purchase good travel insurance. Travel insurance will protect you against illness, injury, theft, and cancellations. It's comprehensive protection in case anything goes wrong. I never go on a trip without it as I've had to use it many times in the past. You can use the widget below to find the policy right for you:
Lisbon Travel Guide: The Best Booking Resources
These are my favorite companies to use when I travel. They consistently have the best deals, offer world-class customer service and great value, and overall, are better than their competitors. They are the companies I use the most and are always the starting point in my search for travel deals.
Skyscanner – Skyscanner is my favorite flight search engine. They search small websites and budget airlines that larger search sites tend to miss. They are hands down the number one place to start.
Hostelworld – This is the best hostel accommodation site out there with the largest inventory, best search interface, and widest availability.
Booking.com – The best all around booking site that constantly provides the cheapest and lowest rates. They have the widest selection of budget accommodation. In all my tests, they've always had the cheapest rates out of all the booking websites.
HostelPass – This new card gives you up to 20% off hostels throughout Europe. It's a great way to save money. They're constantly adding new hostels too. I've always wanted something like this and glad it finallt exists.
Intrepid Travel – If you want to do group tours, go with Intrepid. They offer good small group tours that use local operators and leave a small environmental footprint. And, as a reader of this site, you'll get exclusive discounts with them too!
Get Your Guide – Get Your Guide is a huge online marketplace for tours and excursions. They have tons of tour options available in cities all around the world, including everything from cooking classes, walking tours, street art lessons, and more!
Eurail – If you are going to Europe and taking a lot of high speed or long distance trains, get a rail pass. I've used a rail pass three times and saved hundreds of dollars each time. The math just works.
The Man in Seat 61 – This website is the ultimate guide to train travel anywhere in the world. They have the most comprehensive information on routes, times, prices, and train conditions. If you are planning a long train journey or some epic train trip, consult this site.
Rome2Rio – This website allows you to see how to get from point A to point B the best and cheapest way possible. It will give you all the bus, train, plane, or boat routes that can get you there as well as how much they cost.
FlixBus – Flixbus has routes between 20 European countries with prices starting as low 5 EUR! Their buses include WiFi, electrical outlets, a free checked bag.
SafetyWing – Safety Wing offers convenient and affordable plans tailored to digital nomads and long-term travelers. They have cheap monthly plans, great customer service, and an easy-to-use claims process that makes it perfect for those on the road.
BlaBlaCar – BlaBlaCar is a ridesharing website that lets you share rides with vetted local drivers by pitching in for gas. You simply request a seat, they approve, and off you go! It's a cheaper and more interesting way to travel than by bus or train!
Lisbon Gear and Packing Guide
If you're heading on the road and need some gear suggestions, here are my tips for the best travel backpack and for what to pack!
The Best Backpack for Travelers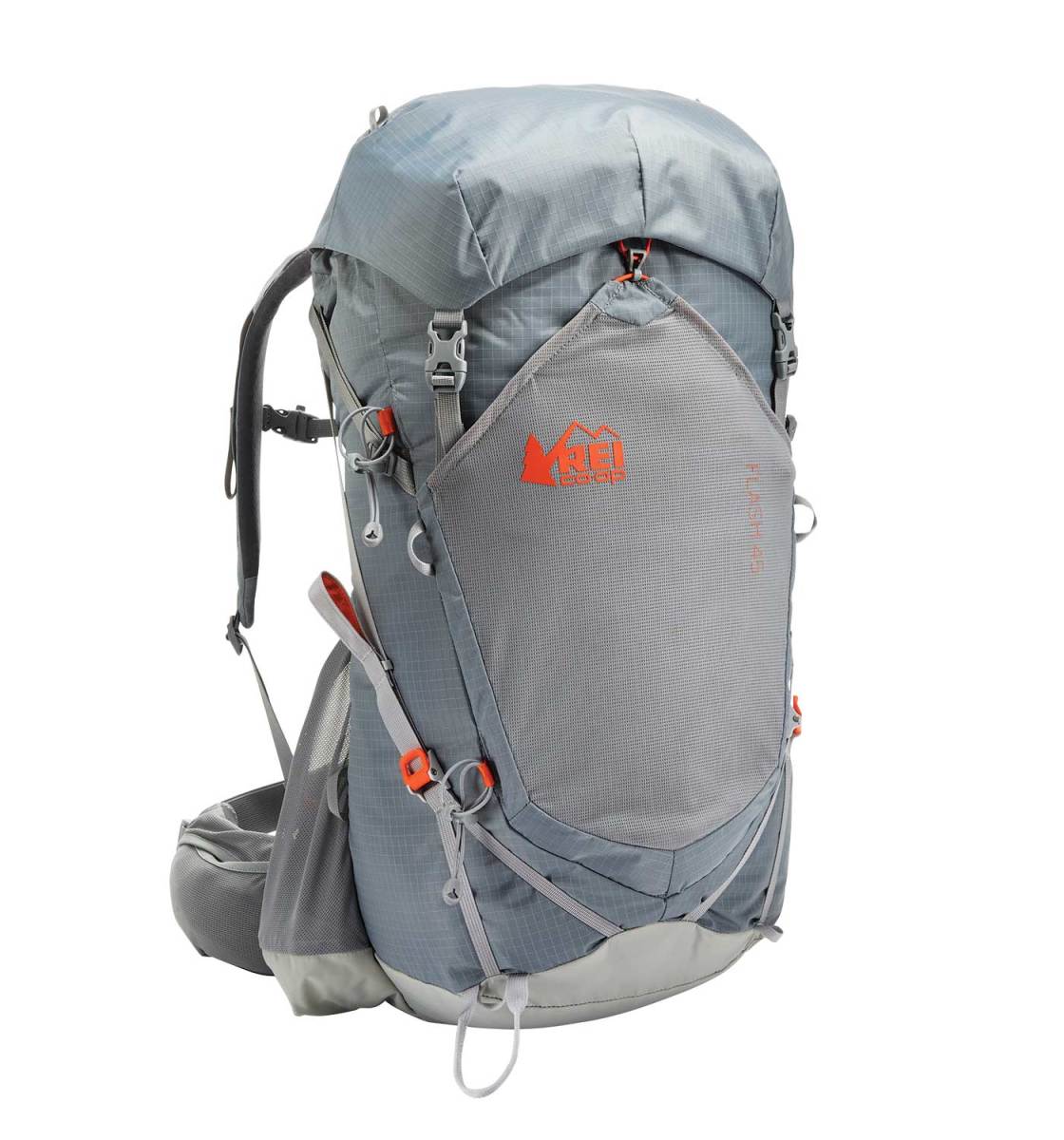 What's the best backpack for traveling long-term? I recommend the
REI Flash 45 Pack
. It's light and comfy, top loading, and fits perfectly in an airplane's overhead bin.
Size:
45-47L
Straps:
Thick and cushy with compression technology that pulls the pack's load up and inwards so it doesn't feel as heavy.
Features:
Removable top lid, pocket at the front, hydration compatible, contoured hip belt
If you want something different, refer to my article on how to choose the best travel backpack for tips on picking a pack and other backpack suggestions.
What to Pack for Your Trip
Clothes
1 pair of jeans (heavy and not easily dried, but I like them; a good alternative is khaki pants)
1 pair of shorts
1 bathing suit
5 T-shirts (Unbound Merino is my preferred company. If you're a member of NM+, you can get 15% off your purchase)
1 long-sleeved T-shirt
1 pair of flip-flops
1 pair of sneakers
6 pairs of socks (I always end up losing half)
5 pairs of boxer shorts (I'm not a briefs guy!)
1 toothbrush
1 tube of toothpaste
1 razor
1 package of dental floss
1 small bottle of shampoo
1 small bottle of shower gel
1 towel
Deodorant
Small Medical Kit (safety is important!!!)
Miscellaneous
Female Travel Packing List
I'm not a woman, so I don't know what a woman wears, but Kristin Addis, our solo female travel guru, wrote this list as an addition to the basics above:
Clothing
1 swimsuit
1 sarong
1 pair of stretchy jeans (they wash and dry easily)
1 pair of leggings (if it's cold, they can go under your jeans, otherwise with a dress or shirt)
2-3 long-sleeve tops
2-3 T-shirts
3-4 spaghetti tops
1 light cardigan
Toiletries
1 dry shampoo spray & talc powder (keeps long hair grease-free in between washes)
1 hairbrush
Makeup you use
Hair bands & hair clips
Feminine hygiene products (you can opt to buy there too, but I prefer not to count on it, and most people have their preferred products)
For more on packing, check out these posts:
Lisbon Travel Guide: Related Articles
Want more info? Check out all the articles I've written on backpacking/traveling Portugal and continue planning your trip: