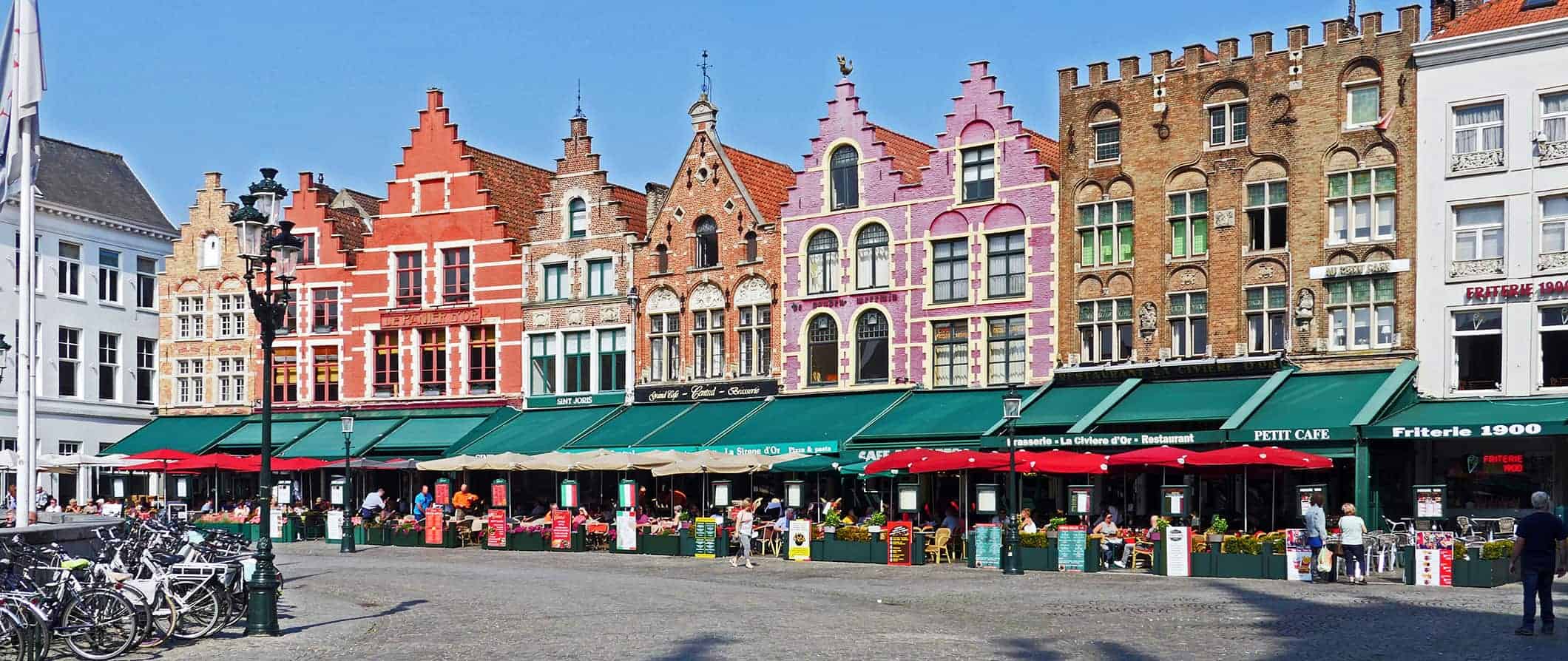 Belgium may be small but when it comes to things to see and do it punches well above its weight.
The country boasts over 1,000 breweries and Belgium brewers were some of the first in the world to perfect the beer-brewing process. And the country's chocolate rivals that of Switzerland, offering decadent sweets that will have you gaining a few pounds during your visit. On top of that, the country's mouth-watering frites will make you look at French fries differently for the rest of your life.
If you're a history buff, Belgium has countless sites to keep you busy during your visit, including the famous grounds of the Battle of Waterloo, a bloody conflict that shaped the face of modern Europe.
More often than not, Belgium gets glossed over by travelers who spend a day in Brussels, Bruges, and maybe a trip to Ghent before they travel onward. However, if you look deeper, you'll see this country has plenty of medieval towns, historical sites, and parks worth sticking around for.
This travel guide to Belgium will help you plan your trip, save money, and make the most of your time in this incredible country.
Click Here for City Guides
Top 5 Things to See and Do in Belgium
1. Brussels
Brussels
is the administrative center of the European Union — and an awesome city to visit. See the Musées Royaux des Beaux-Arts for its paintings, the magnificent Grand Place and historic Town Hall, sample amazing beer, and more. Spend a few days to soak it all in. It's worth it!
2. Eat and drink
Though it's a small country, Belgium has a few culinary aces up its sleeve. Waffles, chocolate, and frites shops dot every street. Beer is produced in massive quantities (there are over 1,000 breweries here). Forget the health food, Belgium is a place to indulge in tasty food and hearty brews.
3. Admire Bruges
Bruges
is a city not to be missed. Don't miss the 14th-century town hall, the Belfry Tower, the Cathedral of the Holy Saviour, its market squares, and canals. While touristy, it's one of the best medieval towns in Europe.
4. Tour Ghent
Ghent is often overlooked compared with other cities in the country, but this university town is charming. To visit the city at its liveliest, come in July when the largest cultural outdoors festival in Europe — known as "Gentse Feesten" — takes place, boasting food, music, and live street entertainment.
5. See Flanders Field
Flanders was the site of half a million deaths during World War I. There are numerous military cemeteries and 'Missing Memorials' commemorating those of all nationalities who fell in battle. At the museum in Ypres, visitors can learn about the harsh realities of what it was like to be a soldier in the trenches.
Other Things to See and Do in Belgium
1. Visit the castles
There are more castles per square mile in Belgium than anywhere else in the world. With over 3,000 to explore, it can be hard to know where to start. The Castle of Bouillon in the Ardennes is one of the most interesting ones as it was built in the 11th century. Other must-sees are Beersel, which was built in the 14th century and is one of the best-preserved in the country; Gravensteen, built in the 12th century and centerpiece of the 1913 World's Fair in Ghent; the 16th-century Gaasbeek, with its lavish rooms and art collection; and 15th-century Freÿr, which is often described as a smaller Versailles.
2. Visit Waterloo
The Battle of Waterloo took place in 1815 and brought a decisive end to the Napoleonic Wars. The battle lasted a full day and involved some 200,000 combatants — tens of thousands of whom died. At the site of the famous battle, there is a memorial in the form of a statue of a lion (looking towards France) on a hill, with 226 stairs, called La Butte du Lion (Lion's Knoll), which represents the Allied victory. While here, you can visit the Wellington Museum (admission is free). It's located in the building where Wellington spent the night before the battle and houses maps, an overview of the battle, artifacts, and more. There's also a nearby visitor center where you can watch films which explain the battle and what it meant for world history (admission is 21 EUR).
3. Explore Ardennes Forest
Ardennes Forest covers an area of over 11,000 square kilometers and is the place to go skiing and hiking. The area is also famous for wild game like boar and venison, smoked ham, paté, and the world-renowned Trappist beers. Some popular hiking trails are the Vieilles-Forges Lake Loop (easy, 11 kilometers), The Hautes-Rivières – La Semoy (moderate, 13 kilometers), and Crêtes de la Meuse (hard, 14 kilometers). There are also several multi-day hikes here as well.
4. Visit Cathédrale Notre-Dame
Built in the 12th century, the Cathedral of Our Lady in Tournai is one of the most striking examples of Romanesque architecture in Europe and is designated as a UNESCO World Heritage Site. The cathedral has five towers, reaching as high as 83 meters (272 feet), and magnificent stained-glass windows as well as paintings by Rubens and Jacob Jordaens.
5. See Manneken Pis & Jeanneke Pis
These two iconic sculptures can be found in Brussels and are considered by many as a 'must see' (there is always a group of people admiring them and taking photos). They are simple, nude male and female children's figures that are peeing water into a fountain. The male is often dressed up in costumes (and the costumes are saved so you can view previous ones from years past). They are pretty odd tourist attractions but worth a quick photo.
6. Explore the Antwerp Zoo
Located in the center of Antwerp, this zoo is a full afternoon attraction. Open since 1843, it's one of the oldest and most famous zoos in the world (part of the 1920 Olympics were hosted here). There are several exhibits and unusual garden features to be seen, including crazy animal sculptures. Some of the wildlife here includes sloths, lizards, penguins, elephants, zebras, lions, primates, and more! It's a great place to take the kids. Admission is 31 EUR.
7. Sample the catch of the day
Ostend Fish Market Visserskaai is an open-air market where the Ostend fishing fleet sells their daily catch (Ostend is just 45 minutes from Ghent, located on the coast). If you're a fan of seafood, this is an awesome place to check out to eat and take in the local flavor of life on the North Sea. There are numerous restaurants along the seafront and you are guaranteed to get a fresh meal.
8. Wander Parc du Cinquantenaire
Also known as Jubelpark, this park and museum complex opened in 1880 and covers over 74 acres. Located on the southeast side of Brussels, it's home to the Army Museum, the AutoWorld Museum, an art museum, gardens, and more. It's a nice place to come in the summer to relax and admire the views.
9. See the Basilique de Koekelberg
The Basilica of the Sacred Heart in Brussels is one of the largest Roman Catholic churches in the world. In addition to its amazing architecture and impressive art deco, the height offers beautiful views of the city and the surrounding area. Completed in 1970, the church is very close to the center of town and is free to see (just dress respectfully as it is a place of worship).
10. Take a canal tour in Bruges
Bruges is one of the most picturesque medieval towns in Europe. A half-hour boat trip on the waterway takes you around secret gardens, charming bridges, and ornately designed medieval buildings. This is a perfect way to capture the magic of the city and it only costs around 10 EUR.
11. Explore Antwerp
The country's second-largest city, Antwerp offers an extraordinary variety of local food and beer for visitors to enjoy. For those interested in art, the Royal Fine Arts Museum houses the world's best collection of the Flemish Masters' works, including the largest group of Rubens masterpieces in existence. You can also see Brabo Fountain (a fountain with a weird sculpture of a man throwing his severed arm), the Art Nouveau Little Boat building, and the Whisperer statue (it's a statue that lets you leave a message that someone else can listen to if they input the right code).
For more information on specific cities in Belgium, check out these guides:
Belgium Travel Costs
Hostel prices – For a dorm bed in a hostel, prices range from 22-28 EUR per night for dorms with 6-8 beds. Largers dorms with 10 or more beds start at 18 EUR. Private rooms cost between 50-120 EUR per night. Free Wi-Fi is standard and some hostels include self-catering facilities. Only a few include free breakfast.
Camping is available around the country for those traveling with a tent. Expect to pay around 13-17 EUR per night for a basic plot without electricity.
Budget hotel prices – Budget hotels start between 55-90 EUR for a basic double room. Expect basic amenities like free Wi-Fi, TV, and a coffee/tea maker.
Airbnb is popular throughout the country and you can get a private room for as little as 30-60 EUR per night if you book early. An entire apartment costs between closer to 150-200 EUR.
Food – Belgian cuisine has been strongly influenced by its European neighbors over the centuries, specifically France, Germany, and the Netherlands. Food here is hearty with chocolate, waffles, fries, and beer being the most famous cultural staples. Steak and fries, mussels (often with fries), smoked ham, stew, and sausages are just some of the common dishes you'll find here. Portions are large and filling too (the saying goes that Belgian food takes the portions of German cuisine but adds the quality and delicacy of French cuisine).
Meals at cafes (like sandwiches, salads, crepes, or soup) cost between 5-12 EUR. Fast food (such as McDonald's) costs around 8.50 EUR. For cheap and delicious sandwiches under 6 EUR, check out the nationwide chain Panos. A meal in a sit-down restaurant with a drink will cost about 20 EUR. Frites (French fries), which is extremely popular around the country, costs around 4 EUR.
If you want to cook your meals, there are some great markets throughout the country. Expect to pay around 65-70 EUR for a week's worth of groceries.
Activities – Museums and attractions vary in cost between 4-21 EUR. A student card will get you about 20-50% off. City cards will get you into museums and attractions for heavily discounted rates. In Brussels, there is a 24-hour pass for 29 EUR, a 48-hour pass for 37 EUR, and a 72-hour pass for 45 EUR. In Bruges, the only options are a 48-hour pass for 35 EUR, and a 72-hour pass for 40 EUR.
Backpacking Belgium Suggested Budgets
If you're backpacking Belgium, expect to spend around 60 EUR per day. This budget covers a hostel dorm, cooking most of your meals, taking public transportation and walking everywhere, limiting your drinking, and doing most free activities like free walking tours and visiting the markets.
On a mid-range budget of about 150 EUR per day, you can stay in a private Airbnb or private hostel room, enjoy a few drinks, eat out for some meals, take the occasional taxi to get around, rent a bike, and do more paid activities like visiting museums, taking a canal cruise, and visiting castles.
On a "luxury" budget of 270 EUR or more per day, you can stay in a hotel, eat out for all your meals, drink as much as you want, take more taxis, and do whatever activities you want. This is just the ground floor for luxury though. The sky is the limit!
You can use the chart below to get an idea of how much you need to budget daily. Keep in mind these are daily averages – some days you'll spend more, some days you'll spend less (you might spend less every day). We just want to give you a general idea of how to make your budget. Prices are in EUR.
Accommodation
Food
Transportation
Attractions
Average Daily Cost
Backpacker
25
15
10
10
60
Mid-Range
75
40
15
20
150
Belgium Travel Guide: Money-Saving Tips
Belgium is not a cheap country to visit. Accommodation is expensive and food and drink can really add up. While it will never be the cheapest country in the world, there are a few ways to cut costs. Here are my tips on how to save money in Belgium:
Drink beer – This country has so many breweries (the most per capita in the world!) that beer is the cheapest form of alcohol. A beer will set you back just a few euros so if you're going to drink, stick to beer.
Stay with a local – Couchsurfing connects you with locals who can give you a free place to share and share their insider tips and advice. It's the best way to save money and have a more local experience.
Eat cheap – If you're going to eat out, stick to things like sandwiches, kebabs, and frites. These meals cost between 5-7 EUR and are your cheapest options (unless you cook your own meals).
Take the bus – Budget bus companies like Flixbus can take you across the country for cheap. It isn't glamorous, but for tickets starting at 5 EUR, you really can't complain!
Go on a free walking tour – This is a great way to learn the history behind the places you are seeing and to avoid missing any must-see stops. You can find them in Brussels, Bruges, Ghent, and Antwerp.
Get a city tourist card – Local tourism offices have a tourist card for all their attractions, tours, and restaurants. Available in cities like Brussels or Bruges, this card gives you free entry and substantial discounts on all the attractions and tours, free local public transportation (a huge plus), and discounts at a few restaurants and shopping malls. They save a ton of money if you're planning to see and do a lot and you can choose between 24-hour, 48-hour, and 72-hour passes.
Rideshare – If you're flexible in your schedule, use the ridesharing service BlaBlaCar and catch rides with locals between cities (or countries). Drivers are verified and it's perfectly safe and affordable. It's usually faster than the bus — and much more interesting!
Have an ISIC Card – To save up to 50% on the cost of admission to museums and other tourist attractions, be sure to present a valid student card. The ISIC is typically accepted in places where a foreign student ID is not.
Bring a water bottle – The tap water here is safe to drink so bring a reusable water bottle to save money and reduce your plastic use. LifeStraw is my go-to brand as their bottles have built-in filters to ensure your water is always clean and safe.
Where to Stay in Belgium
Looking for budget-friendly accommodation? Here are some suggested places to stay in Belgium:
How to Get Around Belgium
Public transportation – Belgium's cities and towns have excellent public transportation. Brussels has the only metro system in the country but there are trams in all major cities. Public buses also run everywhere. Tickets cost between 2.50-3 EUR.
Most cities have transportation passes too. Brussels has a STIB-MIVB pass that gives you unlimited rides for 24 hours for just 7.50 EUR. In Antwerp, you can purchase a day pass for 7 EUR. Multi-day options are also available.
Taxis – Taxis are generally quite expensive, and seeing as how you can get around on foot or by public transit, they're not recommended. Fares start at 2.98 EUR but they can also start as high as 8.50 EUR in some places (like Ghent). Each kilometer starts costs between 2-2.50 EUR, depending on the city. Skip them if you can!
Train – Travel around the country by train isn't that expensive as the country is relatively small. Brussels to Bruges via train costs about 10 EUR for the one-hour trip. Brussels to Antwerp via train costs about 6 EUR for the 45-minute ride.
You can track schedules and fares on the SNCB website.
A Eurail Pass, which allows travelers to explore Europe by providing a set number of stops in a specific time period, might also be a good option if you're doing some country hopping. For more information, here's a detailed breakdown of how Eurail passes work and can save you money.
But if you're staying within Belgium, the SNCB also has some great value passes:
Rail Pass Ten – This pass gives you 10 one-way trips anywhere in the country if you're over 26 years old. The 2nd-class pass is 86 EUR, and it's 131 EUR for the first-class pass. It's valid for one year, and if you don't use the whole thing, you can hand it off to someone else.
Go Pass 10 – This is the same as the Rail Pass but for people under 26 years old. It costs 55 EUR.
Go Unlimited – For people under 26 years old, you can get a week of unlimited travel during school holidays for 18 EUR, or a month of unlimited travel in July or August for 29 EUR.
Bus – Intercity bus tickets are often under 10 EUR for most journeys. Getting to and from most of the major airports is easy, with buses and trains readily available. Expect to pay 10 EUR (usually less) for a one-way ticket.
There are a few major bus companies servicing Belgium, including:
Eurolines
STIB-MIVB
DeLijn
Flixbus
I recommend Flixbus for the cheapest rates and most comfortable buses. You can get from Brussels to Antwerp for as little as 4 EUR, or Brussels to Bruges for 6 EUR. Research the schedule ahead of time, however, as buses tend to not run every day. You may also need to use a service like STIB-MIVB if you're venturing off the tourist trail.
Hitchhiking – Hitchhiking in Belgium is very safe, though not very common. HitchWiki is the best website for hitchhiking info and tips for Belgium.
Car rental – Car rentals can be found for 35 EUR per day for a multi-day rental. However, with trains and buses so cheap, I'd only rent a car here if you want to get off the beaten path. Drivers need to be at least 21 years old.
When to Go to Belgium
The peak season in Belgium is from July to August, when tourism traffic is at its highest (especially in coastal areas). It's always warm and pleasant, with temperatures rarely going above 22°C (72°F). Rainfall increases slightly during the summer months, so bring some rain gear just in case. Expect crowds and higher prices during this period.
Personally, I think May-June and September-October are the best times to visit. In the spring, the entire countryside blossoms. Temperatures are pleasant, around 14-18°C (57-64°F), and there are fewer crowds. The same goes for autumn, when the fall colors in the countryside become a photographer's dream. Fall temperatures range from 5-19°C (41-66°F). You'll get a lot of sunshine and better prices everywhere. Just bring a sweater and rain jacket.
The low season is during the winter, from November to March. The average daily temperature is 3.5°C (38.5°F), but it can go a lot lower than that as well. It can be very cold during these months but Belgium doesn't get very much snow. Bruges and Ghent are particularly beautiful during this time of year and you can't beat a mug of hot Belgian chocolate at a Christmas market!
How to Stay Safe in Belgium
Belgium is an incredibly safe place to travel — even if you're traveling solo and even if you're a solo female traveler. Violent crime here is very rare, though petty theft and pickpocketing can occur in crowded areas so always keep your valuables secure and out of reach.
Scams here are rare, but watch out for random people offering you stuff as this often is done to distract you while someone else swipes your belongings.
You can read about other travel scams to avoid here if you're worried about getting ripped off.
Solo female travelers should feel safe here, however, the standard precautions apply (never leave your drink unattended at the bar, never walk home alone intoxicated, etc.).
If you experience an emergency, dial 112 for assistance.
Always trust your gut instinct. Make copies of your personal documents, including your passport and ID. Forward your itinerary along to loved ones so they'll know where you are.
If you wouldn't do it at home, don't do it in Belgium!
The most important piece of advice I can offer is to purchase good travel insurance. Travel insurance will protect you against illness, injury, theft, and cancellations. It's comprehensive protection in case anything goes wrong. I never go on a trip without it as I've had to use it many times in the past. You can use the widget below to find the policy right for you:
Belgium Travel Guide: The Best Booking Resources
These are my favorite companies to use when I travel. They consistently have the best deals, offer world-class customer service and great value, and overall, are better than their competitors. They are the companies I use the most and are always the starting point in my search for travel deals.
Skyscanner – Skyscanner is my favorite flight search engine. They search small websites and budget airlines that larger search sites tend to miss. They are hands down the number one place to start.
Hostelworld – This is the best hostel accommodation site out there with the largest inventory, best search interface, and widest availability.
Booking.com – The best all around booking site that constantly provides the cheapest and lowest rates. They have the widest selection of budget accommodation. In all my tests, they've always had the cheapest rates out of all the booking websites.
Intrepid Travel – If you want to do group tours, go with Intrepid. They offer good small group tours that use local operators and leave a small environmental footprint. And, as a reader of this site, you'll get exclusive discounts with them too!
Get Your Guide – Get Your Guide is a huge online marketplace for tours and excursions. They have tons of tour options available in cities all around the world, including everything from cooking classes, walking tours, street art lessons, and more!
SafetyWing – Safety Wing offers convenient and affordable plans tailored to digital nomads and long-term travelers. They have cheap monthly plans, great customer service, and an easy-to-use claims process that makes it perfect for those on the road.
BlaBlaCar – BlaBlaCar is a ridesharing website that lets you share rides with vetted local drivers by pitching in for gas. You simply request a seat, they approve, and off you go! It's a cheaper and more interesting way to travel than by bus or train!
Belgium Gear and Packing Guide
If you're heading on the road and need some gear suggestions, here are my tips for the best travel backpack and for what to pack!
The Best Backpack for Travelers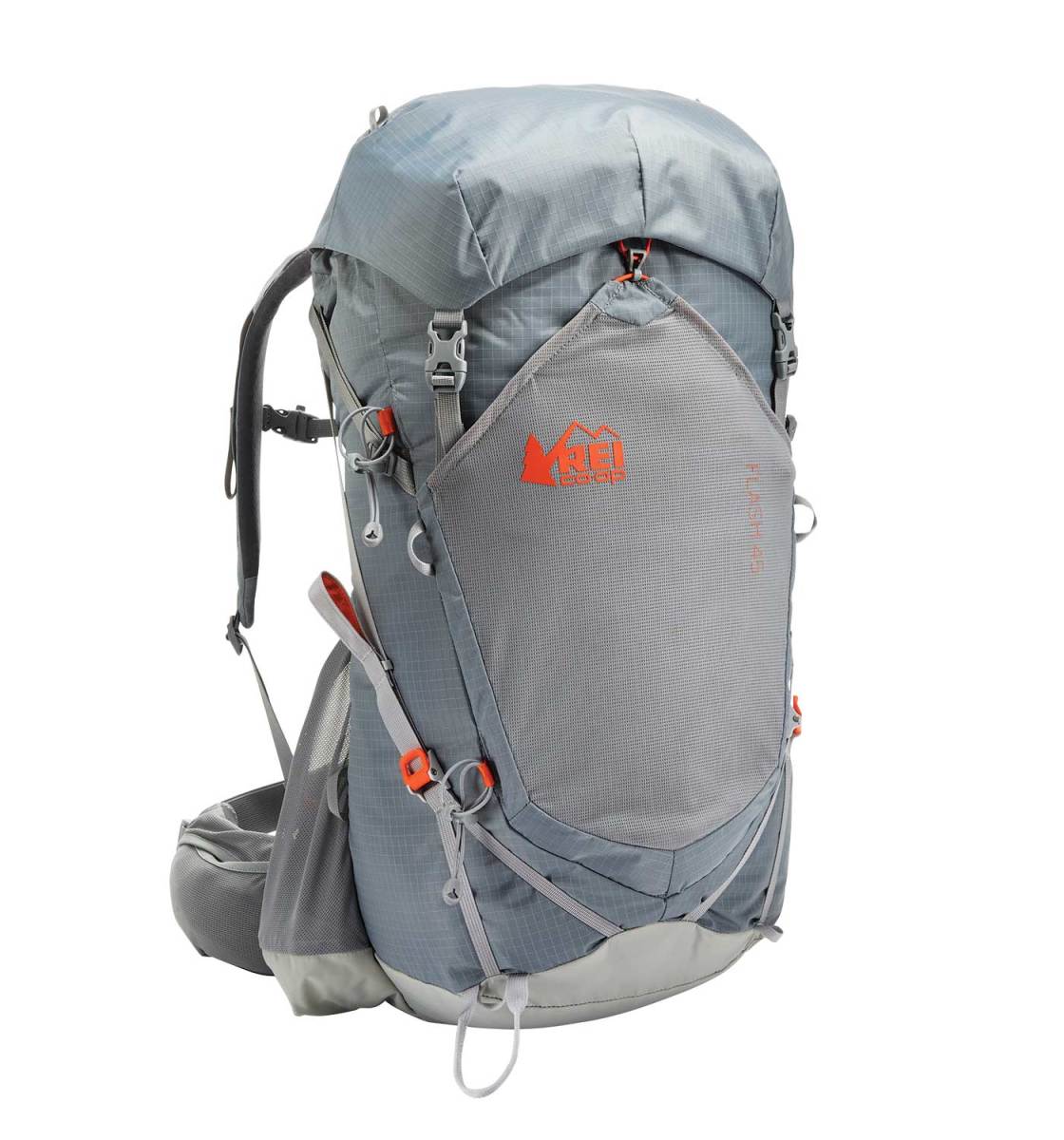 What's the best backpack for traveling long-term? I recommend the
REI Flash 45 Pack
. It's light and comfy, top loading, and fits perfectly in an airplane's overhead bin.
Size:
45-47L
Straps:
Thick and cushy with compression technology that pulls the pack's load up and inwards so it doesn't feel as heavy.
Features:
Removable top lid, pocket at the front, hydration compatible, contoured hip belt
If you want something different, refer to my article on how to choose the best travel backpack for tips on picking a pack and other backpack suggestions.
What to Pack for Your Trip
Clothes
1 pair of jeans (heavy and not easily dried, but I like them; a good alternative is khaki pants)
1 pair of shorts
1 bathing suit
5 T-shirts (Unbound Merino is my preferred company. If you're a member of NM+, you can get 15% off your purchase)
1 long-sleeved T-shirt
1 pair of flip-flops
1 pair of sneakers
6 pairs of socks (I always end up losing half)
5 pairs of boxer shorts (I'm not a briefs guy!)
1 toothbrush
1 tube of toothpaste
1 razor
1 package of dental floss
1 small bottle of shampoo
1 small bottle of shower gel
1 towel
Deodorant
Small Medical Kit (safety is important!!!)
Miscellaneous
Female Travel Packing List
I'm not a woman, so I don't know what a woman wears, but Kristin Addis, our solo female travel guru, wrote this list as an addition to the basics above:
Clothing
1 swimsuit
1 sarong
1 pair of stretchy jeans (they wash and dry easily)
1 pair of leggings (if it's cold, they can go under your jeans, otherwise with a dress or shirt)
2-3 long-sleeve tops
2-3 T-shirts
3-4 spaghetti tops
1 light cardigan
Toiletries
1 dry shampoo spray & talc powder (keeps long hair grease-free in between washes)
1 hairbrush
Makeup you use
Hair bands & hair clips
Feminine hygiene products (you can opt to buy there too, but I prefer not to count on it, and most people have their preferred products)
For more on packing, check out these posts:
Belgium Travel Guide: Related Articles
Want more info? Check out all the articles I've written on backpacking/traveling Belgium and continue planning your trip: