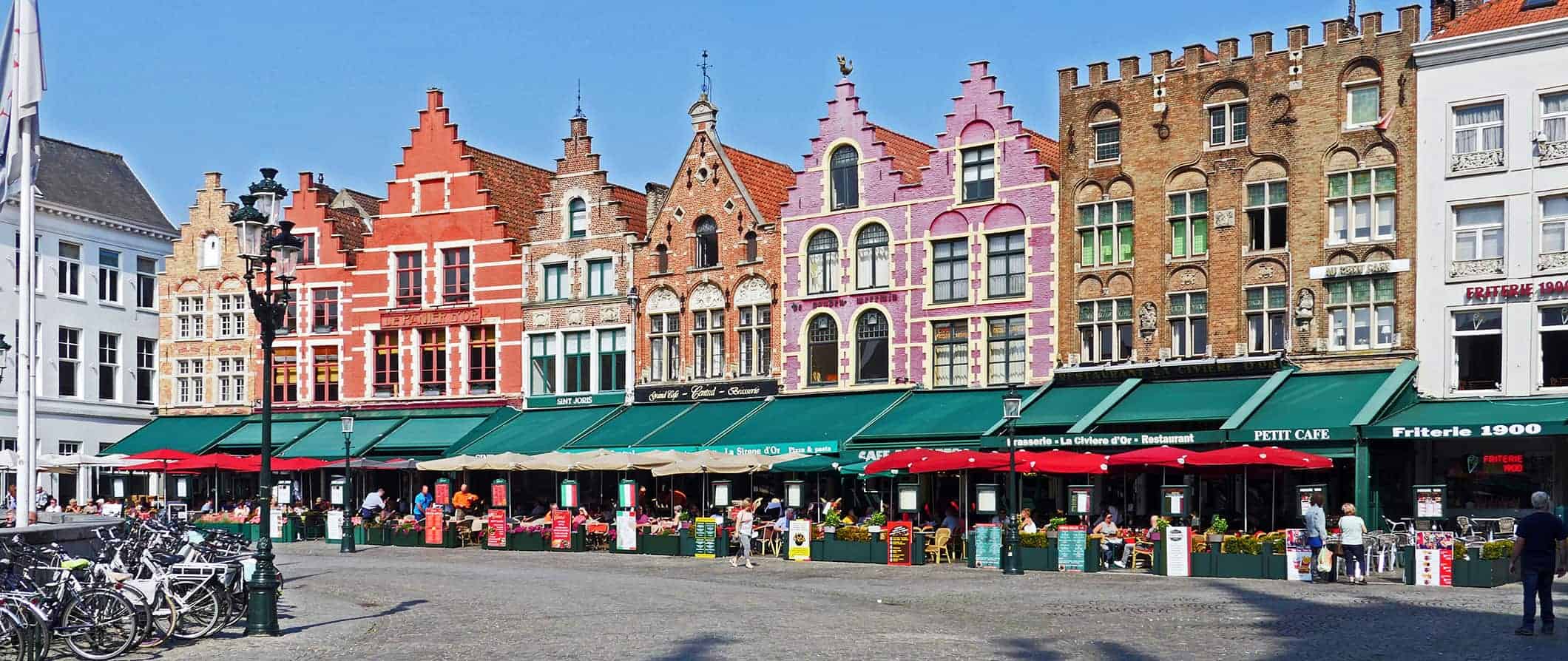 Belgium is a small nation that plays a big role in European life — and an equally big role in world history.
If you're a history buff interested in either of the World Wars, Belgium has a million sites to keep you busy during your visit. And if you want to learn about government or politics of the EU, it's the home to the European Union itself.
But what most travelers come for is beer, chocolate, and fries.
There are over 1,000 breweries in this small country and Belgium brewers were some of the first to perfect the beer-brewing process. And the country's chocolate rivals that of Switzerland, offering decadent sweets that will have you gaining a few pounds during your visit.
On top of that, the frites will make you look at french fries differently for the rest of your life.
This country usually just gets glossed over by travelers who spend a day in Brussels, Bruges, and maybe a trip to Ghent before they travel onward. However, if you look deeper, you'll see this country has a great many medieval towns, historical sites, and parks worth sticking around for.
This travel guide to Belgium will help point the way by giving you tips on what to see, costs, suggested budgets, and ways to save money. It's the ultimate planning tool!
Click Here for City Guides
Top 5 Things to See and Do in Belgium
1. Brussels
Brussels
is the administrative center of the European Union — and an awesome city to visit. See the Musées Royaux des Beaux-Arts for its paintings, the magnificent Grand Place, historic Town Hall, cafes, expansive parks, cobblestone streets, amazing beer, and more. Spend a few days to soak it all in.
2. Eat and drink
Though it's a small country, Belgium certainly has a few culinary aces up its sleeve. Waffles, chocolate, and frites shops dot every street. Beer is produced in massive quantities (there are over 1,000 breweries here). Forget the health food, Belgium is simply the place to indulge in tasty food and hearty brews.
3. Bruges
Bruges
is not to be missed. Key attractions include the 14th-century town hall, the Belfry Tower, the Cathedral of the Holy Saviour, its market squares, and canals. It's beautiful. Go visit, though keep in mind it is a bit touristy and can be boring if you are there alone for a few days!
4. Ghent
Ghent is often overlooked compared with other cities in the country, but this university town is charming. To visit the city at its liveliest you should go in July when the largest cultural outdoors festival in Europe, the "Gentse Feesten", takes place with food, music, and street entertainment.
5. Flanders Field
Flanders was the site of half a million deaths during World War I. There are numerous military cemeteries and 'Missing Memorials' commemorating those of all nationalities who fell in battle. At the museum in Ypres, visitors can discover the harsh realities of what it was like to be a soldier in the trenches.
Other Things to See and Do in Belgium
1. Visit the castles
There are more castles per square mile in Belgium than anywhere else in the world. With over 3,000 to explore, it can be hard to know where to start. Castle of Bouillon in the Ardennes is one of the most interesting ones as it was built in the 11th century! Other must-sees are Beersel (built in the 14th century) and Gravensteen (built in the 12th century).
2. See Waterloo
The Battle of Waterloo took place in 1815 and brought a decisive end to the Napoleonic Wars. At the site of the famous battle, there is a memorial in the form of a statue of a lion (looking towards France) on a hill, with 226 stairs, called La Butte du Lion. Other attractions related to the battle are the Wellington Museum and the Roman Catholic Church of St. Joseph. If you're a student of history, a visit here is a must.
3. Explore Ardennes Forest
Ardennes Forest covers an area of over 11,000 square kilometers and is the place to go for skiing or hiking. Aside from sporting pursuits, there is a lot of good meat here too: wild game like boar and venison, smoked ham, the region's famous paté, as well as the world-renowned Trappist beers. Between the meat and the beer, you'll be in good hands after a long hike or a day of skiing!
4. Visit Cathédrale Notre-Dame
Built in the 12th century, the Cathedral of Our Lady in Tournai is one of the most striking examples of Romanesque architecture in Europe and is designated as a UNESCO World Heritage site. The cathedral has five towers, reaching as high as 83 meters. It also has some magnificent stained-glass windows and paintings by Rubens and Jacob Jordaens as well.
5. See Manneken Pis & Jeanneken Pis
These two iconic sculptures can be found in Brussels and are considered by many as a 'must see.' There is always a group of people checking them out. They are simple, nude male and female children's figures, peeing. The male is often dressed up in costumes. They are pretty weird tourist attractions but worth seeing with your own eyes — even if it's just to snap a quick photo of the quirky statues.
6. Explore the Antwerp Zoo
Located in the center of Antwerp next to the train station, this zoo is a full afternoon attraction. Open since 1843, it is one of the oldest and most famous zoos in the world. There are several exhibits and unusual garden features to be seen, including crazy animal sculptures. It's a great place to take the kids. Admission is €24 EUR ($27 USD). It's open daily from 10am-5:30pm.
7. Sample the catch of the day
Oostende Fish Market Visserkaai is where the Ostend fishing fleet sells its daily catch. If you're a fan of seafood, this is an awesome place to check out. There are numerous restaurants along the seafront and you are guaranteed to get a fresh meal.
8. Wander Parc du Cinquantenaire
Also known as Jubelpark, this park and museum complex opened in 1880 and covers over 30 hectares. Located on the Southeast side of Brussels, it has continued to expand over the past several years. It is home to the Army Museum, the Auto World Museum, an art museum, gardens, and more!
9. See the Basilique de Koekelberg
The Basilica of the Sacred Heart is one of the largest Roman Catholic churches in the world. In addition to its amazing architecture and impressive art deco, the height offers beautiful views of the city and the surrounding area. Completed in 1970, the church is very close to the center of town and inexpensive to see.
10. Take a canal tour in Bruges
Take a canal trip down the arteries of Bruges. A half hour boat trip on the waterway takes you around secret gardens, picturesque bridges, and ornately designed medieval buildings. This is a perfect way to capture the magic of the city and it only costs around €8 EUR ($9 USD).
11. Explore Antwerp
The country's second largest city, Antwerp is an excellent shopping location and offers an extraordinary variety of local food and beer for visitors to enjoy. For those interested in art, the Royal Fine Arts Museum houses the world's best collection of the Flemish Masters' works, including the largest group of Rubens masterpieces in existence.
Be sure to visit our city travel guides for more detailed information about what to see and do in each place:
Belgium Travel Costs
Accommodation – A night in a hostel dormitory room starts around €20 EUR ($23 USD). Private rooms in a hostel with an ensuite bathroom start around €50 EUR ($57 USD) per night. In this country, most hostels come with breakfast, which is usually just meat, cheese, hard boiled eggs, juice, and bread. Budget hotels start at around €50 EUR ($57 USD) per night for a single room with basic amenities and WiFi included. Airbnb is popular throughout the country and you can get a shared room (i.e., a couch) for €16 EUR ($18 USD) while prices for an entire apartment start around €50 EUR ($57 USD).
Food – Meals at cafes and fast food restaurants cost around €12 EUR ($14 USD). A meal in a sit-down restaurant with a drink will cost about €25 EUR ($28 USD). Frites (french fries), which is extremely popular around the country, costs around €4 EUR ($5 USD). If you want to cook your meals, there are some great markets throughout the country. Expect to pay around €55-60 EUR ($63-68 USD) for a week's worth of groceries. Panos is a nationwide chain serving cheap and delicious sandwiches.
Activities – Museums and attractions vary in cost between €5-15 EUR ($6-17 USD). A student card will get you discounted entry – about 20-50% off. City cards (like the Brussels Card or the Bruges Card) will get you into museums and attractions for heavily discounted rates. You can buy cards that are good for 1-3 days. It's about €22 EUR ($25 USD) per 24 hours.
Backpacking Belgium Suggested Budgets
If you're backpacking Belgium, my suggested budget is €50-60 EUR ($55-65 USD) per day. This is a suggested budget assuming you're staying in a hostel dorm, cooking the vast majority your meals (and splurging on frites here and there), skipping sit down restaurants, and using local transportation but mostly walking everywhere, avoiding a lot of the expensive tours and attractions. Belgium is hard to do on a budget so you really have to watch your spending, especially when it comes to food.
On a mid-range budget of about €110 EUR ($126 USD) per day, you can stay in a private hostel room or a budget hotel, enjoy fast food or cafe dining (and maybe a splurge meal or two), take the bus or 2nd class trains between cities, and purchase a city card to do all the activities and tours you want!
Belgium can do luxury well. This is the home to the EU and a popular destination for honeymooners so they know luxury. From hotels to restaurants, it's easy to find things to splurge on here. With a luxury budget of €280+ ($320+ USD) per day, you can afford a 3-star hotel, 1st class train travel between cities, eating out at fancy restaurants, private tours, and anything you want. The sky is the limit here!
You can use the chart below to get some idea of how much you need to budget daily, depending on your travel style.
Accommodation
Food
Transportation
Attractions
Average Daily Cost
Backpacker
$25
$10
$5-10
$15-20
$55-65
Mid-Range
$50-60
$40
$10-15
$25
$125-135
Luxury
$155
$85
$20
$60
$320+
Belgium Travel Guide: Money Saving Tips
Belgium is not a cheap country. Yes, it can be done on a budget but it's a tight budget. There's just a lot of high costs here and food and drink can really add up. While it will never be the cheapest country in the world, there are a few ways to cut costs and avoid spending all your money. Here are my tips on how to save money in Belgium:
Drink beer – If you want to drink, this country has so many breweries (the most per capita in any country in the world!) that beer is the cheapest form of alcohol. A beer will set you back just a few Euros.
Couchsurf – Nothing's cheaper than sleeping for free. Couchsurfing connects you with locals who will give you not only a free place to stay but also a local tour guide who can introduce you to all the great places to see.
Eat cheap – Eat at a little sandwich, kebab, or frites shops to save money on food. These meals cost between €5-7 EUR ($6-8 USD).
Camp in a garden – A very good camping service specific is Campspace, which allows you to pitch a tent in someone's backyard for free or a nominal fee (around €4-10 EUR/$4.50-11 USD). This is a new service that started in 2010 but more and more people are signing up for it each day. All of the garden owners have profiles that tell you what services and facilities they offer.
Take the bus – Budget bus companies like Flixbus can take you across the country for cheap. It isn't glamorous, but for tickets starting at €5 EUR ($6 USD) you really can't complain!
Go on a free walking tour – This is a great way to learn the history behind the places you are seeing and to avoid missing any must-see stops.
Get a city tourist card – Local tourism offices issue a tourist card for all their attractions, tours, and restaurants. This card gives you free entry and substantial discounts on all the attractions and tours in a city, free local public transportation (a huge plus), and discounts at a few restaurants and shopping malls. They save a ton of money.
Rideshare – If you're flexible in your schedule, use the ridesharing service BlaBlaCar and catch rides with locals between cities (or countries). I used this service and, not only did I save a lot of money, but I got to meet interesting people to and learn about local culture and life. Drivers are verified and it's perfectly safe (though sometimes rides don't show up, which is why you need to be flexible).
Have an ISIC Card – To save 20-50% on the cost of admission to museums and other tourist attractions, be sure to present a valid student card. The ISIC is typically accepted in places where a foreign student ID is not.
Where To Stay in Belgium
Here are some of my favorite places to stay in Belgium for your next trip:
How to Get Around Belgium
Public Transportation – Belgium's cities and towns have excellent public transportation options. Although Brussels has the only metro system in the country, you can also travel by tram in Brussels, Antwerp, Ghent, and Charleroi. Public buses also run everywhere. Tickets per one direction are roughly €2-3 EUR ($2.30-3.40 USD).
Most cities have transportation passes to help you keep your budget intact. For example, Brussels has a STIB-MIVB pass that will give you unlimited rides for 24 hours (including to and from the airport) for just €7.50 EUR ($8.50). In Antwerp you can purchase a day pass for €6-8 EUR ($7-9 USD). Multi-day options are also available.
Taxis are generally quite expensive, and seeing as how you can get around on foot or by public transit, they're not recommended. Fares start at €3 EUR ($3.40 USD) but they can also start as high as €8 EUR ($9 USD) in some places (like Ghent). Each kilometer starts at €1.80 EUR ($1.15 USD). Tips are built into the metered fare; you are not expected to tip your driver. But even still, that's expensive!
Train – Travel around the country by train isn't that expensive as the country is relatively small. Most intercity train tickets cost around €15 EUR ($17 USD) for a second class fare. Brussels to Bruges via train costs €9-14 EUR ($10-16 USD). Brussels to Antwerp via train costs €6-9 EUR ($7-10 USD).
You can track schedules and fares on the SNCB website.
A Eurail Pass, which allows travelers to explore Europe by providing a set number of stops in a specific time period, might also be a good option if you're doing some country hopping. For more information, here's a detailed breakdown of how Eurail passes work and can save you money.
But if you're staying within Belgium, the SNCB also has some great value passes:
Rail Pass Ten – This pass gives you 10 one-way trips anywhere in the country if you're over 26 years old. The 2nd class pass is €77 EUR ($88 USD), and it's €118 EUR ($134 USD) for first class. You can transfer en route, but you're not allowed to stopover. It's valid for one year, and if you don't use the whole thing, you can hand it off to someone else.
Go Pass 10 – This is the same as the Rail Pass but for people under 26 years old. It costs €52 EUR ($59 USD).
Go Unlimited – For people under 26 years old, you can get a week of unlimited travel during school holidays for $15 EUR ($17 USD), or a month of unlimited travel in July or August for €25 EUR ($28 USD).
Bus – Intercity bus tickets are also quite cheap, often under €10 EUR ($11 USD) for most journeys. Getting to and from most of the major airports is easy, with buses and trains readily available. Expect to pay €10 EUR/$11 USD (usually less) for a one-way ticket.
There are a few major bus companies servicing Belgium, including:
Eurolines
STIB-MIVB
DeLijn
Flixbus
I recommend Flixbus for the cheapest rates and most comfortable buses. You can get from Brussels to Antwerp for as little as €4 EUR ($4.50 USD), or Brussels to Bruges for €6 EUR ($7 USD). Research the schedule ahead of time, however, as buses tend to not run everyday. You may also need to use a service like STIB-MIVB if you're venturing off the tourist trail.
Hitchhiking – Hitchhiking in Belgium is very safe, but it's not for everyone. HitchWiki is the best website for hitchhiking info.
When to Go to Belgium
Belgium is a year-round destination thanks to its moderate temperatures. It never gets too hot or too cold here. The peak season is from July to August, when tourism traffic is at its highest (especially in coastal areas). It's always warm and pleasant, with temperatures rarely going above 72°F (22°C). Rainfall increases slightly during the summer months, so bring some rain gear just in case.
Low season is during the winter months, from November to March. The average daily temperature is 38.5°F (3.5°C), but it can go a lot lower. It can be very cold during these months, but there are always carnivals and special events going on (especially around Christmas and Lent). Bruges and Ghent are particularly beautiful during this time of year. You can't beat a mug of hot Belgian chocolate at a Christmas market!
Spring (April to June) and autumn (September to October) are the best times to visit. In the spring, the entire countryside blossoms. Temperatures are nice, and there are fewer crowds. The same goes for the autumn months – the fall colors in the countryside are a photographer's dream, and the winter chill hasn't yet set in. You'll get a lot of sunshine and better prices everywhere.
How to Stay Safe in Belgium
Belgium is an incredibly safe place to travel. Due to a few high-profile terrorist attacks in Europe, and ongoing media coverage, I often get asked if it's safe to travel to Europe. Europe is no more dangerous (probably even less so) than any other place in the world. I wrote a whole article about how Europe is safe to visit right now. Check it out.
Belgium is very safe for backpacking and solo traveling but there are scams and petty crime you should watch out for. Guard your stuff in crowded places and watch out for people offering you stuff. You can read about the 14 travel scams to avoid right here.
Always trust your gut instinct. If a taxi driver seems shady, stop the cab and get out. If your hotel is seedier than you thought, get out of there. Make copies of your personal documents, including your passport and ID. Forward your itinerary along to loved ones so they'll know where you are.
If you don't do it at home, don't do it in Belgium!
The most important piece of advice I can offer is to purchase good travel insurance. Travel insurance will protect you against illness, injury, theft, and cancellations. It's comprehensive protection in case anything goes wrong. I never go on a trip without it as I've had to use it many times in the past. You can use the widget below to find the policy right for you: