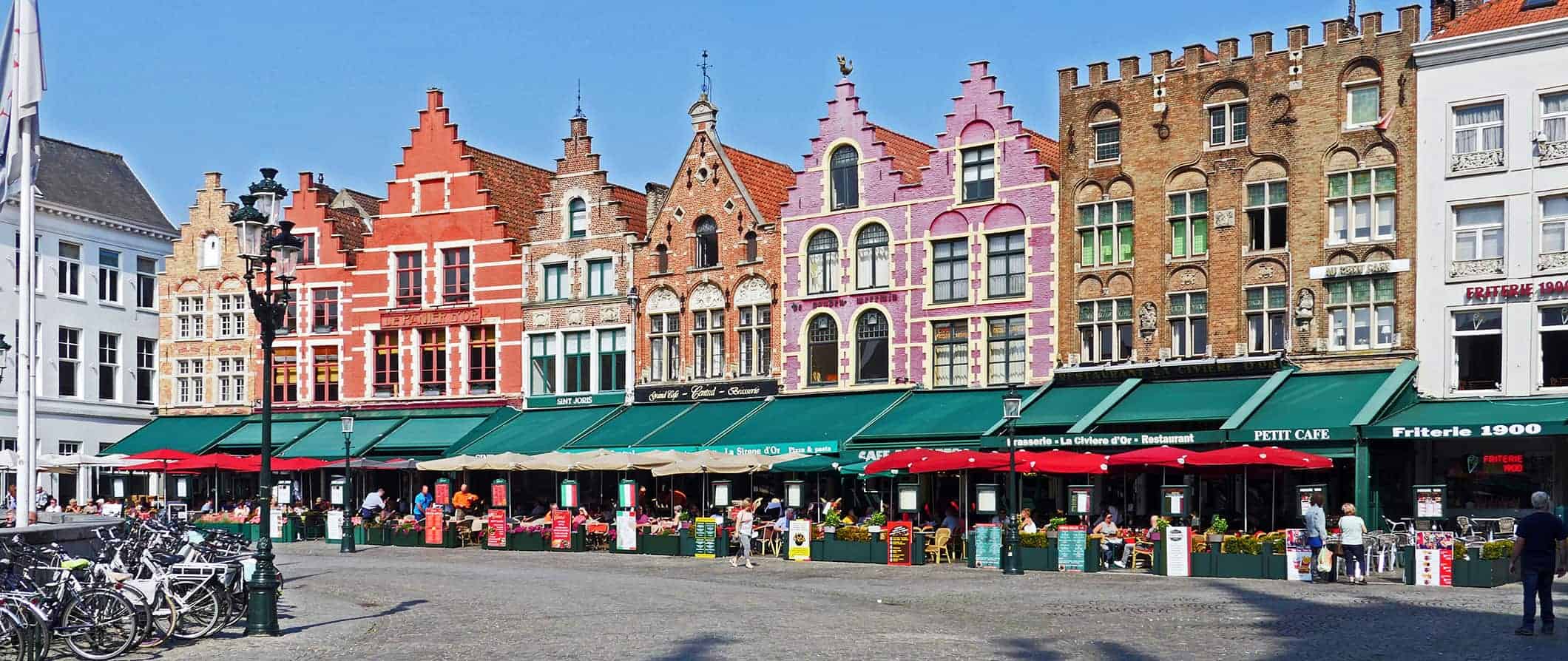 Belgium is a small nation with a big role to play in European life and world history. If you are interested in either of the world wars, Belgium has a million sites to keep you busy during your visit. If you want to learn about government, it's the home to the European Union. But what most travelers come for is the beer, chocolate, and fries. There are over 1,000 breweries in this little country and Belgium brewers were some of the first to perfect beer brewing. Belgium's chocolate rivals the Swiss, and the frites will make you look at french fries differently for the rest of your life. This country usually just gets glossed over as travelers – a day in Brussels, Bruges, and maybe a trip to Ghent – and then onward, but, when you look deeper, you see this country has a great many medieval towns, historical sites, and parks worth sticking around for. This travel guide to Belgium will help point the way.
Top 5 Things to See and Do in Belgium
1. Brussels
Brussels
is the administrative center of the European Union – and an awesome city. Visit the Musées Royaux des Beaux-Arts for its paintings, the magnificent Grand Place, historic Town Hall, cafes, expansive parks, cobblestone streets, amazing beer, and more.
2. Eat and drink
Though a small country, Belgium certainly has a few culinary aces up its sleeve. Waffles, chocolate, and frites shops dot every street. Beer is produced in massive quantities (there are over 1000 breweries here). Belgium is simply the place to indulge in food and beer.
3. Bruges
Bruges
is not to be missed. Key attractions include the 14th-century town hall, the Belfry Tower, the Cathedral of the Holy Saviour, its market squares, and canals. It's beautiful. Go visit, though keep in mind it is a bit touristy and can be boring if you are there alone for a few days!
4. Ghent
Ghent is often overlooked compared with other cities in the country, but this university town is charming. To visit the city at its liveliest you should go in July when the largest cultural outdoors festival in Europe, the "Gentse Feesten", takes place with food, music, and street entertainment.
5. Flanders Field
Flanders was the site of half a million deaths during World War I. There are numerous military cemeteries and 'Missing Memorials' commemorating those of all nationalities who fell in battle. At the museum in Ypres, visitors can discover what it was like to be a soldier in the trenches.
Other Things to See and Do
(Click the title to expand the text)
1. Visit castles
There are more castles per square mile in Belgium than anywhere else in the world, and with over 3000 to explore, it's hard to know where to start. Castle of Bouillon in the Ardennes is one of the most interesting ones. Other must-sees are Beersel and Gravensteen.
2. Waterloo
At the site of the famous battle, there is a memorial in the form of a statue of a lion (looking towards France) on a hill, with 226 stairs, called La Butte du Lion. Other attractions related to the battle are the Wellington Museum and the Roman Catholic Church of St. Joseph.
3. Ardennes Forest
Ardennes Forest is the place to go for skiing or hiking. Aside from sporting pursuits, there is a lot of good meat here: game, wild boar, venison, smoked ham, the region's famous paté, as well as the world-renowned Trappist beers.
4. Cathédrale Notre-Dame
The Cathedral of Our Lady in Tournai is one of the most striking examples of Romanesque architecture in Europe and is designated as a UNESCO World Heritage site. The cathedral has five towers, magnificent stained-glass windows, and paintings by Rubens and Jacob Jordaens.
5. Manneken Pis & Jeanneken Pis
These two iconic sculptures can be found in Brussels and are considered by many as a 'must see'. There is always a group of people checking them out. They are simple, nude male and female children's figures, peeing. The male is often dressed up in costumes. They are pretty weird tourist attractions.
6. Antwerp Zoo
Located in the center of Antwerp next to the train station, this zoo is a full afternoon attraction. Open since 1843, it is one of the oldest and most famous zoos in the world. There are several exhibits and unusual garden features to be seen, including crazy animal sculptures. Admission is 24 EUR. It's open daily from 10am-5:30pm.
7. Oostende Fish Market Visserkaai
This is where the Ostend fishing fleet sells their catch. If you're a fan of seafood, this is an awesome place to check out. There are numerous restaurants along the seafront, and you are guaranteed to get a fresh meal.
8. Cinquantenaire
This museum complex started in 1880 and has continued to expand over the past several years. It lies on the Southeast side of Brussels and is host to the Army Museum, the Auto World Museum, an art museum, and more.
9. Basilique de Koekelberg
The Basilica of the Sacred Heart is the 5th largest church in the world. In addition to its amazing architecture and impressive art deco, the height offers beautiful views of the city and the surrounding area. The church is very close to the center of town and inexpensive to see.
10. Take a canal tour in Bruges
Take a canal trip down the arteries of Bruges. A half hour boat trip on the waterway takes you around secret gardens, picturesque bridges, and ornately designed medieval buildings. This is a perfect way to capture the magic of the city, which costs around 8 EUR.
11. Antwerp
The country's second largest city, Antwerp is an excellent shopping location and offers an extraordinary variety of local food and beer for visitors to enjoy. For those interested in art, the Royal Fine Arts Museum houses the world's best collection of the Flemish Masters' works, including the largest group of Rubens masterpieces in existence.
Typical Costs
Accommodation
– A night in a hostel dormitory room starts around 20 EUR for 6 beds. Private rooms in a hostel with an ensuite bathroom start around 52 EUR per night. In this country, most hostels come with breakfast, which is usually just meat, cheese, hard boiled eggs, juice, and bread. Budget hotels start at around 50 EUR per night for a single room with basic amenities and WiFi included. Airbnb is popular throughout the country and you can get a shared room (i.e., a couch) for 16 EUR while prices for an entire apartment start around 50 EUR. My suggested places are:
Food – Meals at cafes and fast food restaurants cost around 12 EUR. A meal in a sit-down restaurant with a drink will cost about 25 EUR. Frites (french fries), which is extremely popular around the country, costs around 4 EUR. If you want to cook your meals, there are some great markets throughout the country. Expect to pay around 55-60 EUR for a week's worth of groceries. Panos is a nationwide chain serving cheap and delicious sandwiches.
Transportation – City metro tickets are roughly 2-3 EUR per ride. Travel around the country isn't expensive as the country is small and easy to get around. Most intercity train tickets cost around 15 EUR for a second class fare. Brussels to Bruges via train costs 9-14 EUR. Brussels to Antwerp via train costs 6-9 EUR. Intercity bus tickets are also quite cheap, often under 10 EUR for most journeys. Getting to and from most of the major airports is quite easy, with buses and trains readily available. Expect to pay 10 EUR (usually less) for a one-way ticket.
Activities – Museums and attractions vary in cost between 5-15 EUR (A student card will get you discounted entry – about 20-50% off.) City cards (like the Brussels Card or the Bruges Card) will get you into museums and attractions for heavily discounted rates. You can buy cards that are good for 1-3 days. (It's about 22 EUR for 24-hours.)
Suggested daily budget
50 EUR / 52 USD (Note: This is a suggested budget assuming you're staying in a hostel, eating out a little, cooking most of your meals, and using local transportation. Using the budget tips below, you can always lower this number. However, if you stay in fancier accommodation or eat out more often, expect this to be higher!)
Money Saving Tips
Drink beer – If you want to drink, this country has so many breweries (the most per capita in any country in the world!) that beer is the cheapest form of alcohol. A beer will set you back just a few Euros.
Couchsurf – Nothing's cheaper than sleeping for free. Couchsurfing connects you with locals who will give you not only a free place to stay, but also a local tour guide who can introduce you to all the great places to see.
Eat cheap – Eat at a little sandwich, kebab, or frites shops to save money on food. These meals cost between 5-7 EUR.
My Other Must Have Guides For Traveling to Belgium