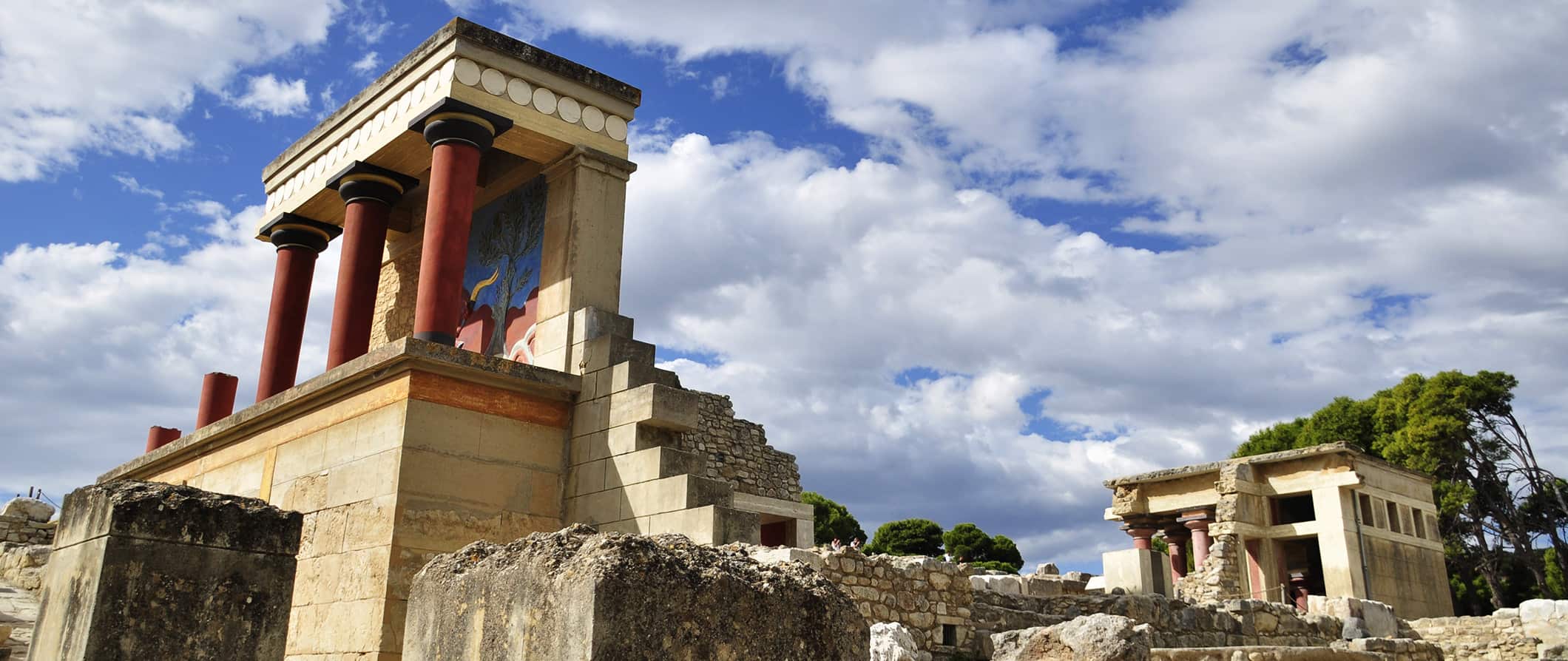 The island of Crete has an extensive, important history. It was once home to the ancient Minoan civilization, a Bronze Age civilization that predated even the Greeks. Growing up, I was fascinated by the Minoans – I even did a special history report on them in 9th grade! Visiting Crete always held a special place in my heart.
When I finally got to Crete, it exceeded all my expectations. Because there's a lot to love about Crete beyond its ancient ruins: a beautiful variety of stunning beaches, excellent hiking, quaint historic towns, and incredible (and affordable) food and wine.
Plus, it's cheap, making it an excellent budget destination to visit. And the island's size ensures you can explore freely and escape the crowds that flock here during the busy summer months.
This travel guide to Crete can help you plan the perfect visit to this ancient island and ensure you save money in the process!
Top 5 Things to See and Do in Crete
1. Visit the Archaeological Museum of Heraklion
This is Greece's second-largest archaeological museum. The collection here spans over 5,500 years of history. The museum houses elaborate pottery, jewelry, sarcophagi, colorful frescoes from Knossos, and more. It's incredibly detailed and should not be missed. Tickets are 12 EUR.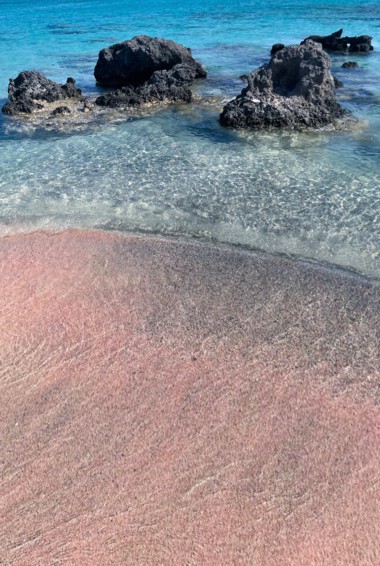 2. Go to the Pink Beach
Elafonisi Beach is located in the southwest corner of Crete. The waters are crystal clear and the beach has rose-colored sand (hence the name). It is super popular in the summer (so get here early). There are plenty of secluded coves nearby if you want to get away from the crowds.
3. Explore Chania
The second-largest city in Crete, Chania has a scenic Venetian quarter and harbor front lined with tavernas (small Greek restaurants), cafes, and shops. While here, check out the historic Firka Fortress (built in 1620) as well as the Maritime Museum located inside the fortress walls.
4. Visit Knossos
Knossos was the ancient capital of the Minoan empire and its ruins are some of the oldest in Greece (it's considered the oldest city in Europe). You need a few hours here to roam the rebuilt courtyards, private apartments, baths, and more. Admission is 15 EUR.
5. Hike Samaria Gorge
This ten-mile (16km) trek offers wonderful views of the White Mountains and finishes at the beach town of Agia Roumeli. Grab a beer at one of the seaside tavernas when finished. Try to avoid mid-summer as temps can reach up to 104°F (40°C) and there's no shade.
Other Things to See and Do in Crete
1. Take a trip to Spinalonga Island
Located in northeastern Crete, here the Venetians built a large fortress in 1579 to protect Mirabello Bay and Elounda Bay from the Ottomans. The defenses held strong until 1715, when the Ottomans sieged the island. When the Ottomans left in the late 19th century, the island became a leper colony and remained that way for decades. Visitors can now take a boat there and walk a short trail that takes you through the ruined church, a leper disinfection room, a hospital, and a cemetery. Admission is 8 EUR.
2. Explore Koules Fortress
Located in Heraklion, Koules Fortress was built in the 13th century when Crete was under Venetian rule. It was designed to protect the city from invasion and, at its height, housed a mill, bakery, prison, barracks, and more. Nowadays, you can walk through the tunnels and visit the various rooms. There are a lot of informative exhibits explaining the history of the castle and area too. Admission is 2 EUR and it's closed on Tuesdays.
3. Visit Aptera
This ancient 12th-century monastery is located outside of Chania. During your visit, you can see the restored monastery as well as the remains of the original fortified tower, city gate, monastic walls, Roman cisterns, and an amphitheater. There was also a Turkish fortress built here in 1872 that overlooks Souda Bay. Admission to the site is 4 EUR.
4. See the Lassithi Plateau
The Lassithi Plateau in eastern Crete stands 900 meters above sea level. To get there, you have to drive up winding mountain roads overlooking the Dikti mountain range (which is dotted by white windmills). You can visit Psychro, home to the Dikteon Cave that, according to Greek mythology, is the birthplace of Zeus and the place where he was hidden as an infant to be protected from his father. It's 6 EUR to visit the cave, or you can combine it with a full-day ATV experience across the plateau for 34 EUR.
5. Wander Rethymnon
Located in northwestern Crete, this city is famous for its spectacular seven-mile (11km) long beach and Venetian fortress. I love getting lost in the streets here, exploring the fortress, and eating all the good food the city has to off. It has a phenomenal food scene!
6. Tour the Historical Museum of Crete
If you're interested in the more modern history of Crete (from early Byzantine to modern-day), this museum in Heraklion is awesome. It's small, but there's a lot to see, including two stunning paintings by El Greco: The Baptism of Christ and View of Mt. Sinai and the Monastery of St. Catherine. There's also a giant model of the city from the Venetian era (around 1650 CE) before its Turkish occupation, and a re-creation of author Nikos Kazantzakis's study where he wrote Zorba the Greek. Admission is 5 EUR.
7. Hit Balos Beach
Balos Beach in the northwest corner of Crete offers a nice mix of white and pink sand. It's a peaceful place to hang out and soak up the sun. The lagoon is a warm place for a swim. You can get here by car (and then hike down to the beach), ferry (though it doesn't leave a lot of time at the beach), or private boat. There are no places to buy food here so you'll need to bring your own.
8. Take a wine tour
Crete is one of the oldest wine-producing areas in Europe, with a history that dates back 4,000 years. There are some 30 wineries around the island and you can explore many of them as day trips from Chania or Heraklion. If you don't have a car, there are several wine tours that leave from both cities, including Chania Wine Tours and Made in Crete (Heraklion). Tours start from 75 EUR per person.
9. Wander Chrissi Island
Located off the coast of southeastern Crete, this Caribbean-looking island with deep blue waters and white sand beach is a popular spot to spend a day. Ferries leave from the mainland in the morning and come back starting around 3pm in the afternoon. There's not any kind of services on the island so bring everything you need (you can buy food and drinks on the ferries if you need to). The round-trip ferry costs around 25 EUR.
10. Visit Plakias
Located in the southern part of the island, this little town is popular with older tourists looking for a quiet time. I don't really love the beach here (too rocky for me) but you get some phenomenal sunsets and there are a few nearby hikes that make it worth a visit. It's a good base to visit nearby beaches (a boat taxi hops between a bunch of them).
11. Relax at Preveli Beach
Located close to Plakias, this beach is famous for its palm trees and swimmable river. It starts a few kilometers up and runs through a gorge before emptying out into the sea. Legend says the palm trees were brought here by pirates. It's one of the nicer beaches and the river is super nice to swim in. You can sometimes hike through the gorge depending on trail and river conditions. Be sure to check beforehand. It's a hugely popular day-trip destination so expect crowds.
For more information on other destinations in Greece, check out these guides:
Crete Travel Costs
Hostel prices – Dorms with 6-8 beds start at 15 EUR per night regardless of size. Prices drop by a couple of euros per night in the shoulder season. A standard twin private room starts at 44 EUR per night in peak season. In the off-season, you can find privates for around 34 EUR per night. Free Wi-Fi is standard and a couple of hostels also include free breakfast.
For those traveling with a tent, basic plots without electricity for one person start at 13.50 EUR per night in the summer and 11 EUR per night off-season.
Budget hotel prices – Budget two-star hotels start at 25 EUR in any of the main cities during the summer. In the off-season, prices start around 20 EUR per night.
Airbnb is available everywhere in Crete. For a private room, expect to pay about 40 EUR, while an entire home/apartment averages closer to 100 EUR per night.
Food – Traditional Greek cuisine is very healthy with a lot of fresh vegetables, olive oil, lamb, fish, pork, cheeses (especially feta), and yogurts are also super common. Filo pastries stuffed with meat or spinach and cheese are a local favorite as are souvlaki and gyros.
Crete also has its own unique dishes, such as snails in cracked wheat (kohli bourbouristi), slow-cooked pork with potatoes (psitos), Cretan dakos (Crete's version of the Greek salad), and horta (wild greens).
Street food like gyros or souvlaki costs about 4.50 EUR each, or less. A hearty Greek salad also costs about 4.50 EUR, while a warm cheese pie (called kalitsounia) is about 2 EUR. A combo meal at McDonald's costs about 11 EUR.
If you stick mostly to traditional Greek dishes, you can eat very well on a budget in Crete. A plate of pork souvlaki is around 9 EUR while calamari is about 7.50 EUR. A hearty dish of moussaka starts at 7 EUR, while a platter of grilled chicken or beef costs between 8-11 EUR. A beer to go with it costs from 3.50 EUR.
At a higher-end restaurant, you can get an appetizer and a seafood or steak entree for about 25 EUR. Pasta dishes are about 16 EUR, while a vegetarian main starts from about 12 EUR. A glass of local wine is another 4.50 EUR.
If you're cooking your own meals, expect to spend around 45-50 EUR on groceries per week. This gets you basic staples like pasta, veggies, eggs, cheese, and some meat.
Backpacking Crete Suggested Budgets
If you're backpacking Crete, expect to spend about 50 EUR per day. This budget covers staying in a dorm, cooking some meals and eating some cheap fast food, limiting your drinking, taking public transportation to get around, and mostly sticking to free activities like hanging out on the beach and hiking.
On a mid-range budget of 110 EUR per day, you can stay in a budget hotel, eat out for all your meals, get a scooter rental, drink more, and do some paid activities like visiting the Archeological Museum and Knossos.
On a "luxury" budget of 195 EUR or more per day, you can stay in a hotel, eat out anywhere you want, enjoy some drinks, get a scooter rental, take the occasional taxi, and do all the tours and activities you want. This is just the ground floor for luxury though. The sky is the limit!
You can use the chart below to get some idea of how much you need to budget daily, depending on your travel style. Keep in mind these are daily averages – some days you spend more, some days you spend less (you might spend less every day). We just want to give you a general idea of how to make your budget. Prices are in EUR.
Accommodation
Food
Transportation
Attractions
Average Daily Cost
Backpacker
15
15
10
10
50
Mid-Range
30
40
15
25
110
Crete Travel Guide: Money-Saving Tips
Crete, like the rest of Greece, is very budget-friendly. But if you're looking to cut down your expenses even more, here are some of my favorite ways to save money in Crete:
Use the Greek salad/bread rule – If the bread cover is .50 EUR or a Greek salad is less than 7 EUR, the restaurant is cheap. If the cover is around 1 EUR and a salad is 7-8.50 EUR, the prices are average. Anything more than that and the place is expensive. use this rule to figure out how to eat at cheap restaurants.
Travel in the off-season – Crete is one of the rare Greek islands that has a sizeable year-round tourist population, so hotels and attractions are almost always open (unlike places like Santorini and Mykonos). If you come during the shoulder season or off-season, you can find lower accommodation rates and tour prices while still getting the best of what the Greek islands has to offer.
Stay with a local – If you plan ahead, you can usually find a Couchsurfing host that can host you for your stay. This way, you not only have a free place to stay but you'll get access to a local that can share their insider tips and information. Just be sure to send your requests early as there are not a lot of hosts here.
Go to museums on their free admission days – Most museums have some days when admission is free. Check the Odysseus Culture website for details as they vary from museum to museum.
Bring a water bottle – The tap water here is safe to drink so bring a reusable water bottle to save money and reduce your plastic use. LifeStraw is my go-to brand as their bottles have built-in filters to ensure your water is always clean and safe.
Eat super cheap – Gyros (and other street snacks) usually only cost a few euros. They are quick and easy and can keep you full for less than 10 EUR per day!
Where to Stay in Crete
Crete's a big island and you'll likely book a few different places if you're planning on exploring the full extent of the island. These are my recommended places to stay while you're here:
How to Get Around Crete
Bus – Buses make up Crete's only public transportation. You can search for bus routes and schedules on e-ktel.com or ktelherlas.gr. While buses around the heavily populated north coast of the island are frequent, buses to the south or southeast are often few and far between (and even less common during the low season). It makes it difficult to get around without a lot of planning.
Most buses cost between 4-10 EUR per trip. For example, a 90-minute trip from Heraklion to Rethymnon costs around 6 EUR, while a three-hour trip from Heraklion to Chania is about 10 EUR.
Scooter Rental – If you want more flexibility in getting around, a scooter rental is the way to go. They cost as little as 14 EUR per day. There are lots of rental companies, but I recommend Greenways.
Bicycle – Daily rentals start from about 40 EUR per day for a mountain bike or road bike but decrease the longer you rent them for. Joyride is an excellent company to rent from, though since scooters are cheaper you might as well get one of them instead!
Taxi – Taxis in Crete charge about 1.20 EUR per kilometer and have a 1.80 EUR starting charge. A five-kilometer journey costs 7-8 EUR, and there is usually a surcharge to and from the airport. In short, skip the taxis if you can as they add up!
Car rental – Car rentals can be found for as little as 20 EUR per day for a multi-day rental when booked in advance. Drivers must be at least 21 years old and have had their license for at least one year. An International Driving Permit (IDP) is required.
Hitchhiking – Hitchhiking is pretty safe in Crete, though you are most likely to get a ride in the smaller villages where transportation is scarce and people are more likely to stop and help. Check out Hitchwiki for everything you need to know about hitchhiking in Crete.
When to Go to Crete
Crete has lovely weather year-round, with temperatures rarely dropping below 61°F (12°C) in the coldest months and averaging 79°F (26°C) daily during the summer.
May to the end of September are the busiest tourist months, so if you want to avoid the crowds and inflated prices, come during the shoulder seasons (spring and autumn). October is a particularly nice time to visit, as the average daily temperature is still pleasant (79°F (21°C), and the crowds are virtually gone.
That said, it's a big island so there are always places here during peak season without crowds if you don't mind getting off the beaten path.
Unlike other Greek islands, Crete has a large year-round population. While some businesses are seasonal, you won't have any problem finding a place to stay, and most museums and attractions are open all year.
How to Stay Safe on Crete
Crete is a very safe place to travel. Violent crime is rare, and petty crime like pick-pocketing in the bigger cities is your only real concern (and even that is uncommon). Keep your valuables close at tourist attractions and while on the beach and you should be fine.
If you're driving, be extra cautious on Crete's winding roads. Locals drivers can be erratic. Moreover, some of the roads are under-developed and there's no real signage. Drive cautiously.
If you're going hiking, bring lots of water and always wear sunscreen and bring a hat too. It can get sweltering in the summer!
If you're worried about getting scammed, you can read about common travel scams to avoid here .
Always trust your gut instinct. If a taxi driver seems shady, stop the cab and get out. If your hotel is seedier than you thought, move somewhere else.
If you don't do it at home, don't do it in Crete! Follow that rule, and you'll be fine.
The most important piece of advice I can offer is to purchase good travel insurance. Travel insurance protects you against illness, injury, theft, and cancellations. It's comprehensive protection in case anything goes wrong. I never go on a trip without it as I've had to use it many times in the past.