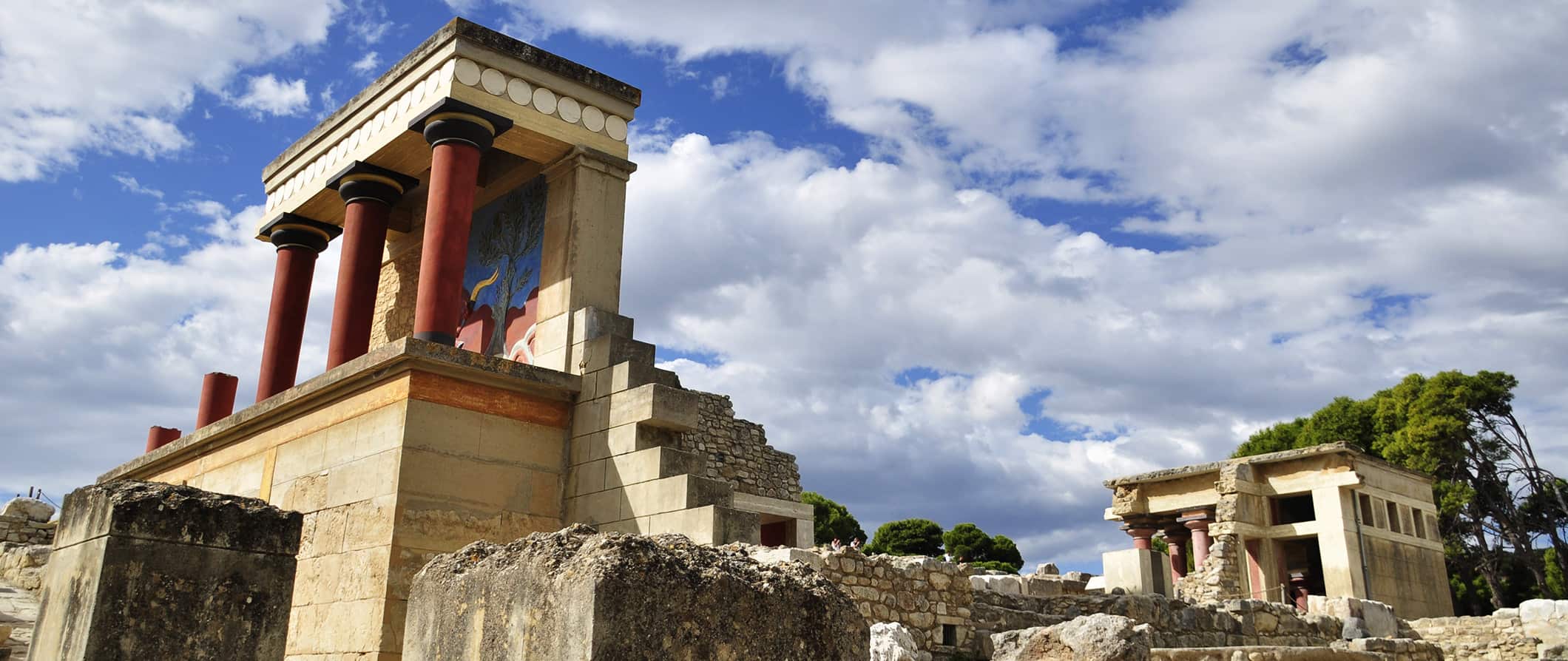 The island of Crete has a long, long history. It was once home to the ancient Minoan civilization (they predate the Greek civilization). Growing up, I was fascinated by the Minoans – I even did a special history report on them in 9th grade! As such, visiting Crete always held a special place in my heart.
However, more than ancient ruins, there's a lot to love about Crete: beautiful beaches, excellent hiking, quaint little historic towns, delicious food and wine, and friendly, and welcoming and jovial locals.
There island's size ensures you can visit and find little places to escape the crowds that especially flock here during the summer months.
This travel guide to Crete can help you plan the perfect visit to this ancient island.

Crete
Top 5 Things to See and Do in Crete
1. Visit the Archaeological Museum of Heraklion
This is Greece's second largest archaeological museum. The collection here spans over 5,500 years of history. You'll see elaborate pottery, jewelery, sarcophagi, and colorful frescoes from Knossos. It's incredibly detailed. Tickets are €10 EUR ($11 USD).
2. Go to Loutro
On the south of Crete, this village is only accessible by boat and its pebbly beach is one of the more relaxing villages on the island. There's not much to do here other than hang out on the beach, visit one of the seaside tavernas, and visit the local church — but that's kind of the point!
3. Visit Chania Town
The second largest city in Crete, Chania Town has a scenic Venetian quarter and harborfront lined with tavernas, cafes, and shops. While here, check out the historic Firka Fortress dating from 1620, as well as the Maritime Museum located inside the fortress walls. Admission to the museum is €3 ($3.30 USD); the fort is free.
4. Visit Knossos
Knossos was the ancient capital of the Minoan empire, and its ruins are some of the oldest in Greece. This palace complex is wonderfully preserved, with the original frescoes still intact. You'll need a few hours here to roam the courtyards, private apartments, baths, and more. Admission is €15 EUR ($16.55 USD).
5. Hike Samaria Gorge
Take a walk through the Samaria Gorge from the Omalos plateau to the Libyan Sea. This ten mile (16-kilometer) trek has wonderful views of the White Mountains and finishes at the beach town of Agia Roumeli. Be sure to grab a beer and hang out at one of the seaside tavernas. Try to avoid mid-summer, as the heat is tough to bear at times.
Other Things to See and Do in Crete
1. Take a trip to Spinalonga Island
Venetians built a large fortress on this island in 1579 to protect Mirabello Bay and Elounda Bay from the Ottomans. The defenses held strong until 1715, when the Ottomans sieged the island. When they eventually moved out in the late 19th century, the island became a leper colony and remained that way for decades. Visitors can now take a boat there for about €16 EUR ($18 USD – from there you'll walk the 20-meter tunnel to the start of a short trail that will take you through the ruined church, a disinfection room, a hospital, and a cemetery. While a lot of the Venetian and Ottoman architecture has crumbled, you can still explore the old fortress.
2. Visit the Koules Fortress
Located in Heraklion, this castle was built in the 13th century when Crete was under Venetian rule and designed to protect the city from invasion. At its height, it housed a mill, bakery, prison, barracks, and more. Nowadays, you can walk through the tunnels and visit the various rooms. There are a lot of good exhibits explaining the history of the castle and area. Admission is €2 EUR ($2.20 USD).
3. Visit Aptera
This ancient 12th-century monastery is located outside of Chania. During your visit, you'll get to see the restored monastery as well as the remains of the fortified tower, the city gate, and the monastic wall, as well as Roman cisterns and an amphitheater. There's also a Turkish fortress built in 1872 that overlooks Souda Bay. You'll have to arrange your own transportation to get here, but admission to the site is just €2 ($2.20 USD).
4. See the Lassithi Plateau
The Lassithi Plateau in eastern Crete is 900 meters above sea level. To get there, you'll have to drive up winding mountain roads overlooking the Dikti mountain range covered in white windmills. You can visit Psyhro where you'll find the Dikteon Cave that, according to Greek mythology, is the birthplace of Zeus and the place where he was hidden as an infant to be protected against his father. It's €6 EUR ($6.60 USD) to visit the cave, or you can combine it with a full-day ATV experience across the plateau for about €90 EUR ($100 USD).
5. Visit Rethymnon
Located in northwestern Crete, this city is famous for its spectacular seven-mile (11-kilometer) long beach and Venetian fortress – one of the largest built in the Venetian era. After a long day soaking up the sun on the beach, be sure walk around the city's Venetian quarter with its maze of alleys and cobblestone streets. You can visit the fortress ruins too, though much of it was destroyed in WWII. Admission is €4 EUR ($4.40 USD).
6. Hang out on Elafonissi Beach
This beach in the southwest corner of Crete is often considered the most beautiful beach in Greece due to its pinkish sand and clear Mediterranean water. It gets really crowded here, but you can wade across the mainland's adjoining lagoon to a small, abandoned island where there's a lighthouse, church, and over 100 native plant species. The mile-long island is classified as a reserve, and since beach chairs and umbrellas are not permitted, not as many people hang around here. You'll find whole stretches of sandy beach and even sheltered coves all to yourself (and maybe a nude sunbather or two).
7. Check out the Historical Museum of Crete
If you're interested in the more modern history of Crete (like from the early Byzantine times of 330-1453 CE to modern-day), this museum in Heraklion is awesome. It's small, but there's a lot to see, including two stunning paintings by El Greco: the Baptism of Christ and View of Mt. Sinai and the Monastery of St. Catherine. There's also a giant model of the city from the Venetian era (around 1650) before its Turkish occupation, and a recreation of author Nikos Kazantzakis's study where he wrote Zorba the Greek. Admission is €5 EUR ($5.50 USD).
8. Balos Beach
Balos Beach in the northwest corner of Crete is a fine mixture of white and pink sand. It's a peaceful place to hang out and soak up the sun and the lagoon is a warm place for a swim. Although you can get here by car, you can also hike the six miles (10-kilometer) here from Kaliviani. Go early in the morning as there's little shade to protect you against the sun!
9. Take a wine tour
Crete is one of the oldest wine-producing areas in Europe, with a history that dates bak to 4,000 years ago. There are about 30 wineries around the island, and you can explore many of them from Chania or Heraklion. If you don't have a car, there are several wine tours that leave from both cities, including Chania Wine Tours and Made in Crete (Heraklion). You'll spend the day touring vineyards and learning about the island's wine and grape varieties while sampling up to 15 different types of wine. In most cases, you'll also get a delicious meal. Tours start from about €90 EUR ($100 USD).
For more information on specific destinations in Greece, check out these guides:
Crete Travel Costs
Hostel prices – Dorms cost about €13.50 EUR ($15 USD) per night regardless of size. Prices are consistent year-round, with most hostels being located around Heraklion, Chios, and Rethymno.
A standard twin private room with an ensuite bathroom in one of the hostels starts from about €82 EUR ($90 USD) per night for two people in peak season. In the off-season, you can standard twin privates for €45 ($50 USD) per night.
Budget hotel prices – A room with a private ensuite bathroom in a two-star hotel will start at about €54 EUR ($60 USD) in any of the main cities during the off-season. The same room will be about €45 EUR ($50 USD) during the off-season.
Airbnb is available everywhere on Crete, with shared accommodation (like a bed in a dorm) starting at €13.50 EUR ($15 USD) per night, but those rooms are rare. For a private room, expect to pay about €32 EUR ($36 USD) per night, while a full apartment averages about €100 EUR ($111 USD) per night.
Food – Street food like gyros or souvlaki will cost about €4.50 EUR ($5 USD) each, or less. A hearty Greek salad will also cost about €4.50 EUR ($5 USD), while a warm cheese pie is about €2 EUR ($2.25 USD). A meal at McDonald's will cost about €8 EUR ($9 USD)
If you stick mostly to traditional Greek dishes, you can eat very well on a budget in Crete. You'll find a plate of pork souvlaki for €7 EUR ($8 USD), while calamari is about €8 EUR ($9 USD). A hearty dish of moussaka is from €6 EUR ($7.70 USD), while a platter of grilled chicken or beef costs between €7-10 EUR ($7.80-11 USD). A beer to go with it will cost from €4.50 EUR ($5 USD).
At a higher-end restaurant, you can get an appetizer and a seafood or steak entree for about €25 EUR ($28 USD). Pasta dishes are about €14 ($15.50 USD), while a vegetarian main starts from about €10 ($11 USD). A glass of local wine is another €5.50 EUR ($6 USD).
If you're cooking your own meals, you'll spend around €50 EUR ($56 USD) on groceries per week, which will get you basics like meat, eggs, pasta, some veggies, cheese, and fruit.
Backpacking Crete Suggested Budgets
If you're backpacking Crete, expect to spend about €56 EUR ($50 USD) per day. On this budget, you'll be staying in a dorm, eating lots of cheap and fast food, cooking some meals, visiting a limited amount of paid attractions, taking advantage of lots of free activities like hanging out on the beach, and sticking to public transportation.
On a mid-range budget of €110 EUR ($122 USD) per day, you can stay in a private Airbnb room, eat out for all your meals, get a scooter rental, and do more activities each day. You'll be able to do whatever you want within reason and in semi-comfort.
On a luxury budget of €238 EUR ($265 USD) or more per day in Crete, you'll stay in a four-star hotel or resort, eat at high-end restaurants, enjoy some drinks, get a scooter rental, take taxis, and do all the tours you want!
You will save about €9-18 ($10-20 USD) per day if you travel during the shoulder or off-season.
You can use the chart below to get some idea of how much you need to budget daily, depending on your travel style. Keep in mind these are daily averages – some days you'll spend more, some days you'll spend less (you might spend less every day). We just want to give you a general idea of how to make your budget. Prices are in USD.
Accommodation
Food
Transportation
Attractions
Average Daily Cost
Backpacker
$15
$15
$10
$10
$50
Mid-Range
$60
$25
$17
$20
$122
Luxury
$80
$55
$30
$100
$265
Crete Travel Guide: Money Saving Tips
Crete, like the rest of Greece, is very budget friendly. It's pretty easy to travel here on a budget and you can get a lot of value for your money here. If you're looking to cut down your expenses even more, here are some of my favorite ways to cut your costs:
Travel in the off-season – Crete is one of the rare Greek islands that has a big year-round population, so hotels and attractions are almost always open (unlike places like Santorini and Mykonos). If you come during the shoulder season or off-season, you'll find lower accommodation rates and tour prices, while still getting the best of what the Greek islands has to offer.
Show up without reservations – If you're traveling off-season, you don't necessarily need to make room reservations — show up and negotiate your room price. Sometimes owners can be quite flexible with their prices!
Take a free walking tour – Free Walking Tour Heraklion will give you a feel for the city and learn some history. Exploring a city on foot is the best way to understand it, and if you love architecture and history then this is a must!
Couchsurf – If you plan ahead, you can usually find really nice Couchsurfing hosts all throughout the island. This way, you not only have a place to stay, but you'll have a local host that can tell you the best places to go and things to see.
Where To Stay in Crete
Crete's a big island and you'll likely book a few different places if you're planning on exploring the full extent of the island. These are my suggested and recommended places to stay while you're here:
How to Get Around Crete
Bus – Buses make up Crete's only public transportation. You can search for bus routes and schedules for getting around Western Crete on e-ktel.com, while you can use ktelherlas.gr for everywhere else.
A 90-minute trip from Heraklion to Rethymnon costs €8.30 EUR ($9.35 USD), while a three-hour trip from Heraklion to Chania is €15 EUR ($17 USD).
Scooter Rental – If you want more flexibility in getting around, a scooter rental is the way to go. They cost as little as €15 EUR ($17 USD) per day. There are lots of rental companies, but I recommend Greenways and Crete Bike Rentals.
Bicycle – Daily rentals start from about €25 EUR ($28 USD) per day for a mountain bike or road bike. Joyride and Crete Bikes are two excellent companies to rent from.
Taxi – Taxi services in Crete charge about €1.20 EUR ($1.35 USD) per kilometer. A five-kilometer journey will cost about €6.75 EUR ($7.50 USD), but you'll probably pay a surcharge to and from the airport.
Hitchhiking – Hitchhiking is very safe in Crete. Check out Hitchwiki for everything you need to know about hitchhiking in Crete.
When to Go to Crete
Crete has lovely weather year-round, with temperatures rarely dropping below 61°F (12°C) in the coldest months, and averaging about 79°F (26°C) daily during the summer months.
May to the end of September are the busiest tourist months, so if you want to avoid the crowds and inflated prices, come during the shoulder seasons (spring and autumn). October is a particularly nice time to visit, as the average daily temperature is still a pleasant (79°F (20.6°C). (But it's a big island so there are still places here during peak season without crowds!)
Unlike other Greek islands, Crete has a large year-round population. While some businesses are seasonal, you won't have any problem finding a place to stay, and most museums and attractions will be open, even in the winter months.
How to Stay Safe on Crete
Crete is a very safe place to travel. Violent crime is rare, and petty crime like pick-pocketing in the bigger cities is your only real concern (and even that is uncommon). Keep your valuables close at tourist attractions and especially on the beach.
If you're driving, be cautious on Crete's winding roads. Driving around here can be erratic! Also some of the roads are under-developed and there's no real signage. If you're going to be hiking, bring lots of fresh water and proper hiking gear.
If you're worried about getting scammed, you can read about the 14 travel scams to avoid right here.
Always trust your gut instinct. If a taxi driver seems shady, stop the cab and get out. If your hotel is seedier than you thought, move somewhere else.
If you don't do it at home, don't do it in Crete! Follow that rule, and you'll be fine.
The most important piece of advice I can offer is to purchase good travel insurance. Travel insurance will protect you against illness, injury, theft, and cancellations. It's comprehensive protection in case anything goes wrong. I never go on a trip without it as I've had to use it many times in the past.
Crete Travel Guide: The Best Booking Resources
These are my favorite companies to use when I travel to Crete. They are included here because they consistently find deals, offer world-class customer service and great value, and overall, are better than their competitors.
Momondo – This is my favorite booking site. I never book a flight without checking here first.
Skyscanner – Skyscanner is another great flight search engline which searches a lot of different airlines, including many of the budget carriers that larger sites miss. While I always start with Momondo, I use this site too as a way to compare prices.
Airbnb – Airbnb is a great accommodation alternative for connecting with homeowners who rent out their homes or apartments.
Hostelworld – This is the best hostel accommodation site out there, with the largest inventory, best search interface, and widest availability.
Couchsurfing – This website allows you to stay on people's couches or spare rooms for free. It's a great way to save money while meeting locals who can tell you the ins and outs of their city. The site also lists events you can attend to meet people (even if you're not staying with someone).
Booking.com – The best all around booking site that constantly provides the cheapest and lowest rates. They have a no money down policy, great interface, and the widest selection of budget accommodation. In all my tests, they've always had the cheapest rates out of all the booking websites.
Intrepid Travel – If you want to do a group tour around Europe, go with Intrepid Travel. They offer good small group tours that use local operators and leave a small environmental footprint. If you go on a tour with anyone, go with them. And, as a reader of this site, you'll get a discount when you click the link!
Rome 2 Rio – This website allows you to see how to get from point A to point B the best and cheapest way possible. It will give you all the bus, train, plane, or boat routes that can get you there as well as how much they cost.
Bla Bla Car – BlaBlaCar is a ridesharing website that lets you share rides with vetted local drivers by pitching in for gas. You simply request a seat, they approve, and off you go! It's a cheaper and more interesting way travel than by bus or train!
World Nomads – I buy all my travel insurance from World Nomads. They have great customer service, competitive prices, and in-depth coverage. I've been using them since I started traveling in 2003. Don't leave home without it!
EatWith – This website allows you to eat home-cooked meal with locals. Locals post listings for dinner parties and specialty meals that you can sign up for. There is a fee (everyone sets their own price), but this is a great way to do something different, pick a local's brain, and make a new friend.
Crete Gear and Packing Guide
If you're heading on the road and need some gear suggestions, here are my tips for the best travel backpack and for what to pack!
The Best Backpack for Travelers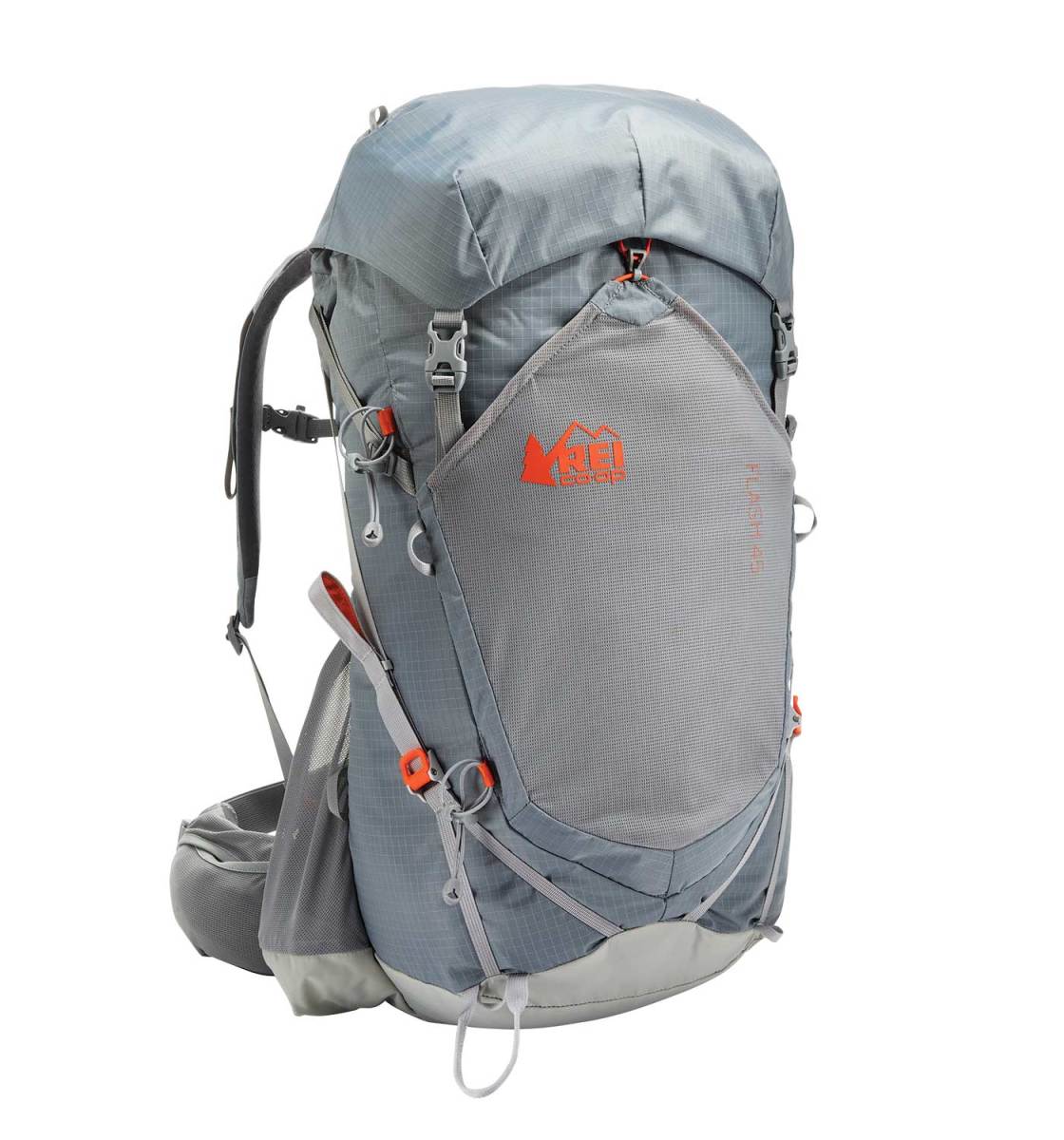 What's the best backpack for traveling long-term? I recommend the
REI Flash 45 Pack
. It's light and comfy, front loading, and fits perfectly in an airplane's overhead bin.
Size:
45-47L
Straps:
Thick and cushy with compression technology that pulls the pack's load up and inwards so it doesn't feel as heavy.
Features:
Removable top lid, large pocket at the front, hydration compatible, contoured hip belt
If you want something different, refer to my article on how to choose the best travel backpack for tips on picking a pack and other backpack suggestions.
What to Pack for Your Trip
Clothes
1 pair of jeans (heavy and not easily dried, but I like them; a good alternative is khaki pants)
1 pair of shorts
1 bathing suit
5 T-shirts (Unbound Merino is my preferred company. If you're a member of NM+, you can get 15% off your purchase)
1 long-sleeved T-shirt
1 pair of flip-flops
1 pair of sneakers
6 pairs of socks (I always end up losing half)
5 pairs of boxer shorts (I'm not a briefs guy!)
1 toothbrush
1 tube of toothpaste
1 razor
1 package of dental floss
1 small bottle of shampoo
1 small bottle of shower gel
1 towel
Deodorant
Small Medical Kit (safety is important!!!)
Miscellaneous
Female Travel Packing List
I'm not a woman, so I don't know what a woman wears, but Kristin Addis, our solo female travel guru, wrote this list as an addition to the basics above:
Clothing
1 swimsuit
1 sarong
1 pair of stretchy jeans (they wash and dry easily)
1 pair of leggings (if it's cold, they can go under your jeans, otherwise with a dress or shirt)
2-3 long-sleeve tops
2-3 T-shirts
3-4 spaghetti tops
1 light cardigan
Toiletries
1 dry shampoo spray & talc powder (keeps long hair grease-free in between washes)
1 hairbrush
Makeup you use
Hair bands & hair clips
Feminine hygiene products (you can opt to buy there too, but I prefer not to count on it, and most people have their preferred products)
For more on packing, check out these posts:
Crete Travel Guide: Related Articles
Want more info? Check out all the articles I've written on backpacking/traveling Greece and continue planning your trip: