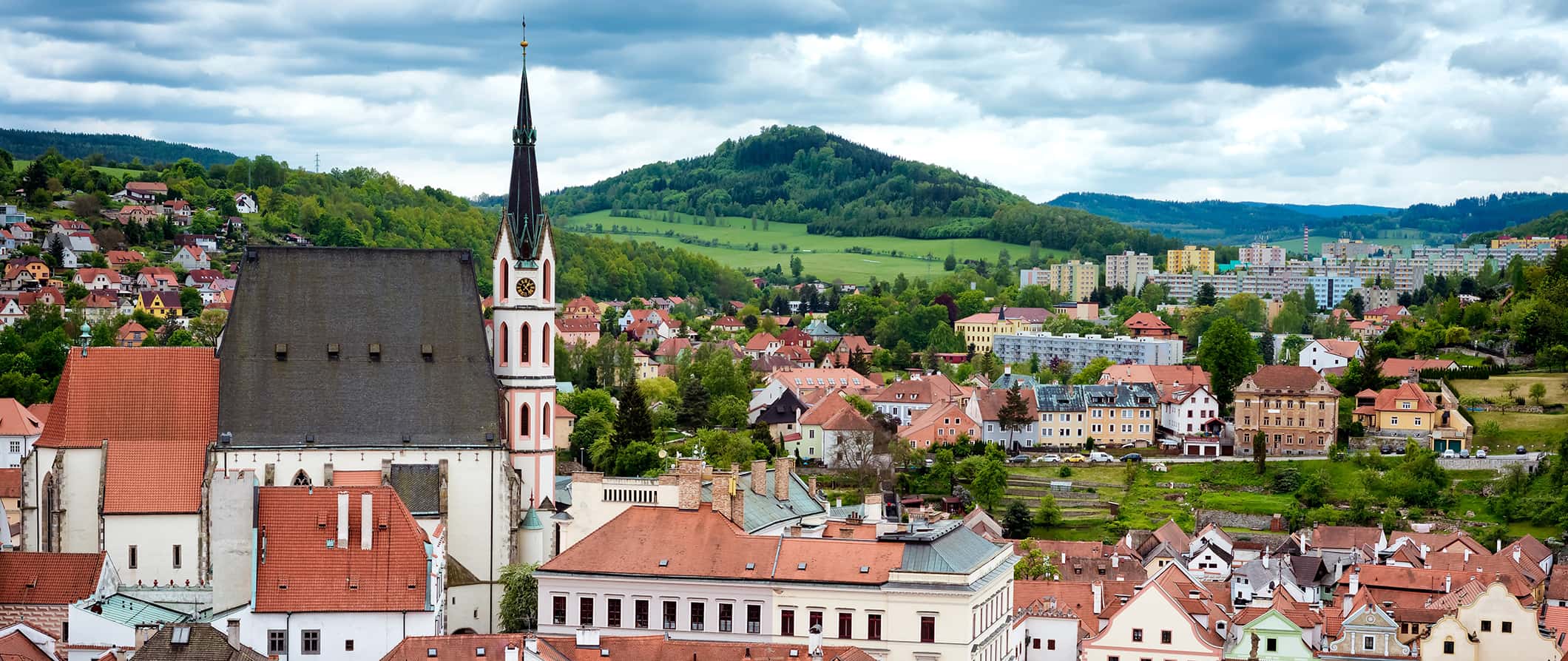 Nestled in the center of Europe, The Czech Republic (also known by its short name Czechia) is a country steeped in history. It's a land dotted with castles, medieval towns, beautiful mountains, ancient ruins, and world-class wineries.
Every year, more and more people visit this wondrous place but, sadly, they mostly stick to the capital, Prague, leaving the rest of the country unvisited. However, once you escape that beautiful (but crowded) city, you'll find an inexpensive country with some of the most striking and rugged landscapes in Europe. I love taking the train from place to place and just staring out the window at the rolling countryside.
This travel guide to the Czech Republic will help figure out what to see, how to save money, and help you plan a trip of the lifetime.
Click Here for City Guides
Top 5 Things to See and Do in Czechia
1. Explore Prague
Wind through the medieval streets, climb the hill to visit Prague Castle, gaze up at the Astronomical Clock, explore historical buildings and cobblestone streets, and enjoy the wild nightlife (or a more relaxed beer garden). Prague is a city that lives up to all the hype.
2. See Ceský Krumlov
Situated on the Vltava River in the south of the country, this is a smaller, more picturesque version of Prague. The medieval architecture and red-roofed buildings make for beautiful pictures and a casual stroll through the streets is a great way to slow down and enjoy the slower pace of life.
3. Drink up in Moravian Wine Region
Although you might only think of beer when you head to the Czech Republic, the Moravian Region is actually very famous for its wine. It's a great experience to drive, bike, or wander through the vineyards here. Many tours offer options for tastings while visiting the area.
4. Visit Kutná Hora
This historical town is home to the famous Sedlec Ossuary, aka the Bone Church. It's a Roman Catholic chapel, built in the 13th century and adorned with over 40,000 human bones. Admission is 60 CZK. For more information (and photos),
read about my visit
.
5. Hike the Adršpach-Teplice Rocks
Hike around these natural sandstone cloisters. With names like 'Giant's Armchair' and 'Sugar Cone,' you can't go wrong. There are two clusters of formations: Adršpach Rock Town and Teplice Rock Town. A train here from Prague costs around 275 CZK and takes just under 3 hours.
Other Things to See and Do in Czechia
1. Try some pilsner in Pilsen
Pilsen is the birthplace of the Pilsner and the home of the original Pilsner Urquell Czech beer. A visit to the town makes a great day trip from Prague. During your visit, make sure to not only tour the Pilsner factory but also check out the beer spas where you can soak in a tub of beer. Expect to pay around 900 CZK for a soak. Don't miss the 13th-century Gothic cathedral Saint Bartholomew and the botanical gardens while you're here also.
2. Tour Karlstein Castle
This castle is just a quick train ride from Prague. Founded in 1348 by Charles IV of the Holy Roman Empire, this Gothic castle safeguarded Bohemia's crown jewels and holy relics. Due to warfare in the 15th century and fire damage in the 17th century, the castle underwent several reconstructions. The last reconstruction took place from 1887-1899, reviving the castle's signature Gothic appearance. Attractions at the castle include an original 14th-century wall decoration and a replica of the royal crown of Bohemia. Admission with a tour is 220 CZK.
3. Adventure in Krkonoše
This beautiful mountain range — called the Giant Mountains — runs along the Czech-Polish border. It's home to the highest peak in the country (Sn?žka Peak, 1,600m). There are single-day and multi-day hiking trails as well as cycling path if you come in the summer. The winter offers skiing for as little as 550 CZK for a lift pass.
4. Head to Telc
Telc, with its winding cobblestone streets, is one of the most picture-perfect examples of a Renaissance town in Europe. After a fire in 1530, the town was rebuilt. Medieval arcades with their gabled houses surround the picturesque town square and it's just two hours south of Prague by car. The historic Renaissance and Baroque homes are a UNESCO Heritage Site. Don't miss the colorful stained glass in St. James Church as well as the historic underground tunnels, which you can tour for 30 CZK.
5. Visit Olomouc
Olomouc is a small university town noted for its parks, churches, sculptures, and fountains. Located just north of Brno, it's also home to the Holy Trinity Column, a Baroque monument that was built between 1716-1754, and a grand astronomical clock — both of which are UNESCO World Heritage Sites. Outside the Olomouc Art Museum, see if you can spy "The Thief," a sculpture erected in 2017 of a man dangling from the eaves of the building. Made from metal and fiberglass, the sculpture moves every hour and shouts down to passers-by on the street as he hangs from the edge! 
6. Enjoy the Šumava National Park
Šumava is the country's largest national park. It is a region full of densely forested hills along the border with Austria. Enjoy scenic lakes, trout streams, swaths of virgin forest, and important historic monuments. There is also tons of wildlife here, including lynx, owls, and elk. Admission to the park is free.
7. Visit a nuclear bunker
Located 5 stories under Prague, this museum is full of Cold War paraphernalia. The bunker was designed to house civilians during a nuclear attack, after which they would then flee into the countryside. You'll learn about life behind the Iron Curtain and get to explore the bunker yourself. There are gas masks, clothing, and newspapers from the period inside. It's a neat snapshot of the past. Tours last two hours and cost 700 CZK.
9. Go rafting
Just 20 minutes from Prague is a white-water rafting course touted as the ultimate hangover blaster. Spend a day on the water battling the waves, followed by a barbecue lunch and a soak in a hot tub. There are Grade 2 and Grade 3 rapids, which take around two hours to navigate. Prices vary but expect to pay around 1,600 CZK per person.
10. Explore Macocha Gorge
Located near Brno, this sinkhole is an impressive 138m deep. It's part of the Moravian Karst cave system and is a popular tourist site, suitable for both casual visitors and those who have more advanced technical caving experience. The nearby Punka caves can be explored from April-September, with admission costing 180 CZK.
11. Visit the Austerlitz Battlefield
The Battle of Austerlitz was one of the most decisive battles of the Napoleonic Wars and is widely considered to be one of Napoleon's greatest victories. It was here where he defeated the combined forces of Russia and the Holy Roman Empire, which led to the dissolution of the Holy Roman Empire. Over 16,000 people died in the battle, only 1,300 of which were from Napoleon's army. Periodically there are reenactments held here, perfect for fellow history buffs. There's a large memorial as well as well as a small museum (admission is 125 CZK). If you want to hire a guide, expect to pay 2,400 CZK for a day trip.
12. Wander Bohemian Switzerland National Park
This national park is located in the northwest part of the country and is full of pine forests and deep valleys, majestic rock towers, and ravines. There are several nature trails lead into the surrounding gorges. For hiking, one of the most popular nature trails is the Gabriel Trail. You can reach the park in just over an hour from Prague by car.
13. Visit the Terezin Concentration Camp
Terezín was used during World War II as a Jewish ghetto and concentration camp. Although it was "only" a work camp and many Holocaust victims were then transported to extermination camps such as Auschwitz, 33,000 people died in the ghetto due to its abhorrent living conditions. Don't miss a visit to the monument dedicated to the victims of the Holocaust. There is a museum in the ghetto area as well as a museum in the camp's fortress. Self-guided visits are permitted and tickets start at 180 CZK. Expect to spend 4-6 hours to see everything.
Czechia Travel Costs
Accommodation – – Hostel dorms in the country at 200 CZK per night for a 8-10 bed dorm (though 250-300 CZK is more common). Expect to pay double that for a bed ina 4-6-bed dorm. Free Wi-Fi is standard and most hostels have kitchens. It's rare for hostels to include breakfast in the country. For a private room, expect to pay at least 1,000 CZK per night.
Budget hotels start at 900 CZK per night for a basic double room with standard amenities (TV, AC, coffee/tea maker).
Airbnb is a budget-friendly option widely available around the country with private rooms starting at 300 CZK per night. For an entire home or apartment, expect to pay at least 700 CZK per night.
Camping is possible all around the Czech Republic. Wild camping is forbidden. Expect to pay at least 200 CZK per night for a basic tent plot with electricity at a campground.
Food – Czech cuisine is very hearty, heavily influenced by its neighbors Poland and Germany.  When going to a local restaurant, expect a lot of soups/stews, sauerkraut, potatoes, breaded meats, and dumplings. One of the most famous dishes is goulash, a pork stew flavored with paprika and served with knedliky (bread dumplings). 
For an inexpensive meal of traditional Czech cuisine, expect to pay at least 200 CZK. Fast food (think McDonald's) costs closer to 150 CZK for a combo meal. Asian food such as Thai and Indian can be found in a couple of the larger cities in the country and costs around 230 CZK for a main dish.
A three-course meal of traditional cuisine costs around 800 CZK, including a drink. Expect to pay around 50 CZK for a beer and 60 CZK for a latte/cappuccino.
If you are planning to cook your own food, a week's worth of groceries costs around 1,100 CZK for basic staples like pasta, rice, seasonal produce, and some meat.
Activities – In Prague, check out the free historic walking tours (this is a great way to meet fellow travelers) or rent a row boat on the Vltava River (for an hour boat rental, its 350 CZK, with a maximum of four people per boat). There are also art museums and castles around the country to explore, most of which cost between 200-350 CZK per person.
If you want to head into the great outdoors, check out Bohemian Switzerland, a breathtaking national park in the north, which features the largest sandstone arch in Europe, and doesn't fall short on the stunning views of the mountains and forests. Admission to all the national parks is free, however, there may be a fee for parking your car and staying overnight.
Backpacking Czechia Suggested Budgets
On a backpacker budget, expect to spend at least 710 CZK per day. On this budget, you will stay in a hostel dorm, take public transportation, need to limit your drinking, do free hikes, take free walking tours, and cook most of your own meals. If you plan to go out and drink more, expect to spend closer to 1,000 CZK per day.
On a mid-range budget, expect to spend at least 1,800-2,100 CZK per day. On this budget, you can stay in an Airbnb or private room at a hostel, take the occasional taxi or Uber to get around, do some larger activities like a wine tour or rafting, eat out for most meals and restaurants, and enjoy a few drinks.
On a "luxury" budget of around 4,600 CZK per day you can stay in a four-star hotel, do any activities you want, eat out anywhere you want, go out for drinks, and rent a car or take flights to get around. This is just the ground-floor for luxury though — the sky is the limit!
This chart can give you a rough idea of day to day costs (prices are in CZK):
Accommodation
Food
Transportation
Attractions
Average Daily Cost
Backpacker
250
250
110
200
810
Mid-Range
500
500
200
500-800
1,700-2,000
Luxury
1,200
2,000
500
1,000
4,700
Czechia Travel Guide: Money-Saving Tips
The Czech Republic has risen in price over the last few years but still remains an affordable destination for travelers, especially when you get outside Prague, which is the most expensive part of the country. Here are some ways to save money when you visit the Czech Republic:
Buy in advance – If traveling through the country or the continent by train or bus, check online or head to the train station in advance to take advantage of the student or discount prices.
Get a City Pass – The Prague City Pass offers free admission to over 15 of the city's main sights, including Prague Castle and the Palace. It costs 1,390 CZK per person but will save you money if you plan on seeing a lot. Brno also has a pass worth getting as well.
Eat local – Belly up to the local bar for a plate of goulash and a pint and have a great meal for under 250 CZK, which is pretty cheap!
Bring your student ID – Many Czech cities, especially Prague, are student cities. Because of this, you'll find tons of deals for those studying at a university. Show your student ID at museums and shops to save money.
Take free walking tours – The country has plenty of free walking tours. These offer great introductions to the country and its history, so enjoy the stories and make sure to give your guide a tip at the end! Free Walking Tour Prague have the best tours in the capital.
Bring a reusable water bottle – The tap water here is safe to drink so bring a reusable water bottle so you can save money and lower your reliance on single-use plastic. LifeStraw makes a reusable bottle with a built-in filter so you can always ensure your water is clean and safe!
Stay with a local – If you plan ahead, you can usually find really nice Couchsurfing hosts throughout the country. This way, you not only have a place to stay but you'll have a local host that can tell you the best places to go and things to see.
Explore the outdoors – There are plenty of free hiking trails all around the country for anyone looking to get outside. Czech Tourist's Club, a hiking organization, produces maps for all the major routes in the country.
Where To Stay in Czechia
I've been a backpacker here for ages and have accumulated a long list of places to stay. Here are some of my favorite places to stay in Czechia:
How to Get Around Czechia
Public transportation – In Prague, ticket fares are based on time and tickets range from 30 minutes (24 CZK), 90 minutes (32 CZK), 1 day pass (110 CZK) or 3-day pass (130 CZK). There are 4 lines which run from 4:45am until a little after midnight. 
Prices are comparable in other cities around the country as well, usually costing around 30 CZK. In Brno, buses operate 24/7.
Air Travel – Domestic flights are available but they are usually expensive compared to the train and bus — and not much faster. A round-trip flight from Prague to Brno takes around 1 hour and costs over 3,300 CZK. However, by the time you factor in getting to/from the airport, the bus or train is likely just as fast.
Bus – Traveling by bus is the most affordable way to get around the country. The journey from Prague to Brno is just 180 CZK for the 2.5-hour journey. From Prague to Karlovy Vary, the ride is 3 hours and costs 280 CZK. From Prague to Berlin, Germany the 4.5-hour bus ride starts at 270 CZK. Tickets sell out fast (especially in the summer) so book early if you can.
Train – Trains are more expensive than buses and don't reach as many destinations in the country. However, they're a lot quicker. Prague to Pilsen takes around 1 hour and 25 minutes and costs as little as 120 CZK. The 3.5-hour journey to Ostrava costs 230 CZK. The 6.5-hour trip from Prague to Budapest, Hungary is a lot pricier, with tickets starting at 1,400 CZK while the 6-hour ride to Nuremberg, Germany costs around 745 CZK.
Car rental – Car rentals can be found for as low as 450 CZK per day. To rent a car, you must be at least 21 years old and a surcharge might be added for drivers under the age of 25.
Hitchhiking – Hitchhiking in the Czech Republic is safe and you can usually pick up a ride quickly. Note that hitchhiking is prohibited on major highways and motorways. Also, keep in mind that while many younger Czechs speak English, older folks generally speak only Czech. HitchWiki is the best website for additional hitchhiking info.
When to Go to Czechia
The Czech Republic has four distinct seasons. The summers are warm and dry while the winters are cold, snowy, and also get pretty windy. Temperatures average 0°C (32°F).
Unless you are planning on skiing, the most popular time to visit Czechia is from May to September, but this is also peak tourist season so everything will be busy (especially in Prague) and prices will be higher. If you visit in the summer, expect highs of 25°C (77°F).
During the shoulder season, you'll avoid both the heat and the crowds. March-May and September-October are perfect for hiking and exploring as you'll have cooler temperatures and get to see the leaves change. Expect temperatures around 14°C (59°F).
How to Stay Safe in Czechia
The Czech Republic is a very safe country to visit, ranking in the top 25 safest countries in the world. Violent crime against tourists is virtually nonexistent.
Petty crimes like theft and pick-pocketing can occur, however, especially in high traffic areas such as the city center in Prague. Keep your valuables safely tucked away when in public just to be safe. This is going to be your biggest problem so watch out.
If someone strikes up a conversation with you trying to sell something or if young children approach you, be on alert — their friend may be reaching for your wallet while you're distracted. If a stranger approaches you and offers to exchange your money for Czech currency, just decline and keep walking away, they're goal is to give you counterfeit currency.
Always be aware of your surroundings and keep your guard up when in large crowds and you'll be just fine.
There are tourist scams in the country so be on the look out! Here is a list of 14 scams to avoid while you travel.
If you experience an emergency, dial 150 for the fire department, 155 for ambulance, and 158 for police.
The most important piece of advice I can offer is to purchase good travel insurance. Travel insurance will protect you against illness, injury, theft, and cancellations. It's comprehensive protection in case anything goes wrong. I never go on a trip without it as I've had to use it many times in the past. You can use the widget below to find the policy right for you:
Czechia Travel Guide: The Best Booking Resources
These are my favorite companies to use when I travel. They consistently have the best deals, offer world-class customer service and great value, and overall, are better than their competitors. They are the companies I use the most and are always the starting point in my search for travel deals.
Skyscanner – Skyscanner is my favorite flight search engine. They search small websites and budget airlines that larger search sites tend to miss. They are hands down the number one place to start.
Hostelworld – This is the best hostel accommodation site out there with the largest inventory, best search interface, and widest availability.
Booking.com – The best all around booking site that constantly provides the cheapest and lowest rates. They have the widest selection of budget accommodation. In all my tests, they've always had the cheapest rates out of all the booking websites.
HostelPass – This new card gives you up to 20% off hostels throughout Europe. It's a great way to save money. They're constantly adding new hostels too. I've always wanted something like this and glad it finallt exists.
Intrepid Travel – If you want to do group tours, go with Intrepid. They offer good small group tours that use local operators and leave a small environmental footprint. And, as a reader of this site, you'll get exclusive discounts with them too!
Get Your Guide – Get Your Guide is a huge online marketplace for tours and excursions. They have tons of tour options available in cities all around the world, including everything from cooking classes, walking tours, street art lessons, and more!
Eurail – If you are going to Europe and taking a lot of high speed or long distance trains, get a rail pass. I've used a rail pass three times and saved hundreds of dollars each time. The math just works.
The Man in Seat 61 – This website is the ultimate guide to train travel anywhere in the world. They have the most comprehensive information on routes, times, prices, and train conditions. If you are planning a long train journey or some epic train trip, consult this site.
Rome2Rio – This website allows you to see how to get from point A to point B the best and cheapest way possible. It will give you all the bus, train, plane, or boat routes that can get you there as well as how much they cost.
FlixBus – Flixbus has routes between 20 European countries with prices starting as low 5 EUR! Their buses include WiFi, electrical outlets, a free checked bag.
SafetyWing – Safety Wing offers convenient and affordable plans tailored to digital nomads and long-term travelers. They have cheap monthly plans, great customer service, and an easy-to-use claims process that makes it perfect for those on the road.
BlaBlaCar – BlaBlaCar is a ridesharing website that lets you share rides with vetted local drivers by pitching in for gas. You simply request a seat, they approve, and off you go! It's a cheaper and more interesting way to travel than by bus or train!
Czechia Gear and Packing Guide
If you're heading on the road and need some gear suggestions, here are my tips for the best travel backpack and for what to pack!
The Best Backpack for Travelers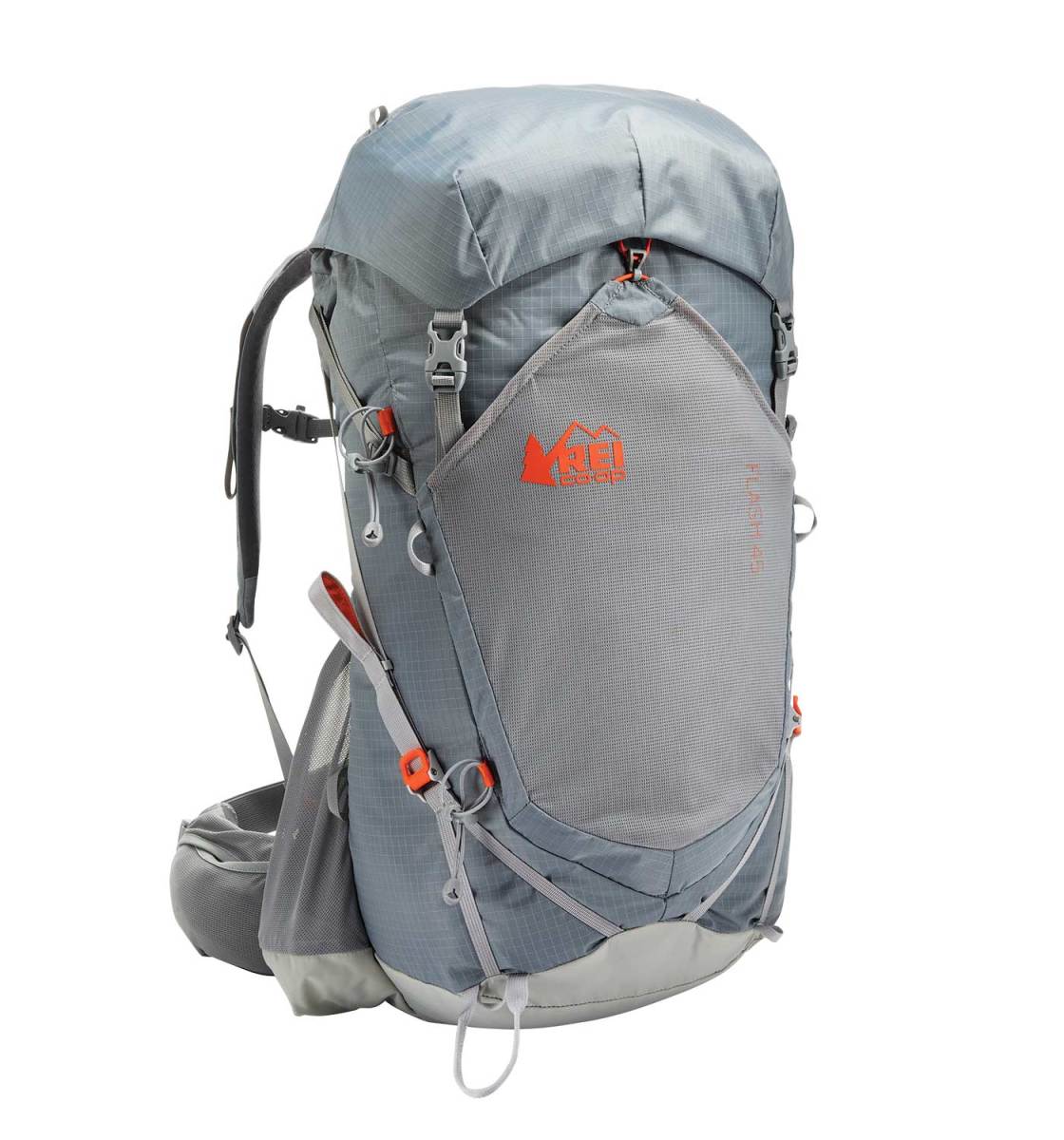 What's the best backpack for traveling long-term? I recommend the
REI Flash 45 Pack
. It's light and comfy, top loading, and fits perfectly in an airplane's overhead bin.
Size:
45-47L
Straps:
Thick and cushy with compression technology that pulls the pack's load up and inwards so it doesn't feel as heavy.
Features:
Removable top lid, pocket at the front, hydration compatible, contoured hip belt
If you want something different, refer to my article on how to choose the best travel backpack for tips on picking a pack and other backpack suggestions.
What to Pack for Your Trip
Clothes
1 pair of jeans (heavy and not easily dried, but I like them; a good alternative is khaki pants)
1 pair of shorts
1 bathing suit
5 T-shirts (Unbound Merino is my preferred company. If you're a member of NM+, you can get 15% off your purchase)
1 long-sleeved T-shirt
1 pair of flip-flops
1 pair of sneakers
6 pairs of socks (I always end up losing half)
5 pairs of boxer shorts (I'm not a briefs guy!)
1 toothbrush
1 tube of toothpaste
1 razor
1 package of dental floss
1 small bottle of shampoo
1 small bottle of shower gel
1 towel
Deodorant
Small Medical Kit (safety is important!!!)
Miscellaneous
Female Travel Packing List
I'm not a woman, so I don't know what a woman wears, but Kristin Addis, our solo female travel guru, wrote this list as an addition to the basics above:
Clothing
1 swimsuit
1 sarong
1 pair of stretchy jeans (they wash and dry easily)
1 pair of leggings (if it's cold, they can go under your jeans, otherwise with a dress or shirt)
2-3 long-sleeve tops
2-3 T-shirts
3-4 spaghetti tops
1 light cardigan
Toiletries
1 dry shampoo spray & talc powder (keeps long hair grease-free in between washes)
1 hairbrush
Makeup you use
Hair bands & hair clips
Feminine hygiene products (you can opt to buy there too, but I prefer not to count on it, and most people have their preferred products)
For more on packing, check out these posts:
Czechia Travel Guide: Related Articles
Want more info? Check out all the articles I've written on Europe travel and continue planning your trip: