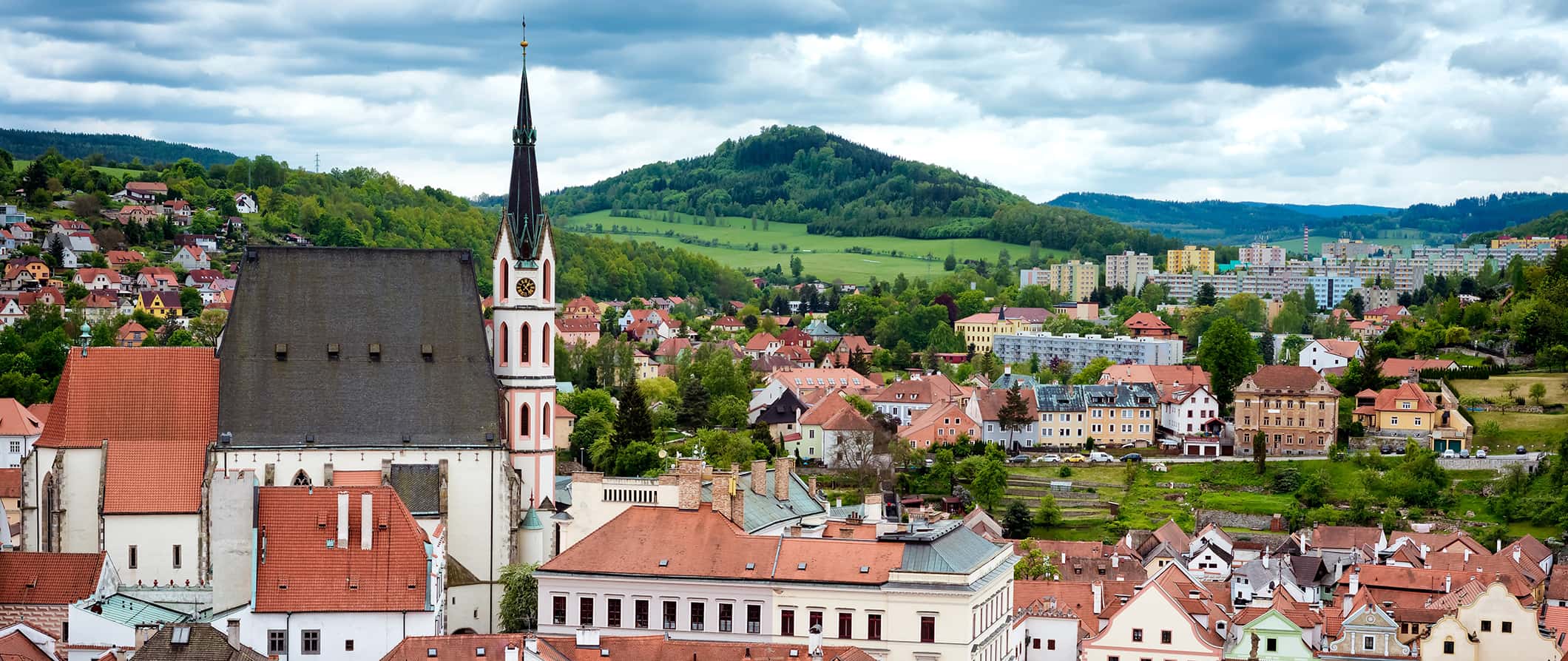 Nestled in the center of Europe, the Czech Republic is a country steeped in history. It's been populated for thousands of years and is a land dotted with castles, medieval towns, beautiful mountains, ancient ruins, and world-class wineries. The country sees more and more tourists each year but they mostly stick to Prague. Once you escape that beautiful (but crowded) city you'll find an inexpensive country with some of the most beautiful and rugged landscape in this part of Europe. I love taking the train from place to place and just staring out the window. If you visit, you'll probably be coming to Prague but be sure to leave the city and see the rest of what the country has to offer! It's too often overlooked!
Top 5 Things to See and Do in Czech Republic
1. Czech out Prague
Wind through the medieval streets, climb the hill to visit Prague Castle, gaze up at the Astronomical Clock, and get ready for an eccentric nightlife that is unparalleled. Prague is a city that lives up to all the hype and will leave you spellbound. Spend an extra day or two here. You need more time than you think.
2. See Ceský Krumlov
Situated on the Vltava River, this town is a smaller, more picturesque version of Prague. The medieval architecture and red-roofed buildings make for beautiful pictures and a casual stroll through the streets is a great way to slow down during a whirlwind trip.
3. Drink up in Moravian Wine Region
Although you might only think of beer when you head to the Czech Republic, the Moravian Region is actually very famous for their wine. It's a great experience to drive, bike or wander through the vineyards here. Many tours offer options for tastings while visiting the area. Prices will vary based on whether you visit a single vineyard or many, and whether you organize the tour yourself or hire a guide.
4. Visit Kutná Hora
This historical town is home to the famous St. Barbara Cathedral that is adorned with thousands of human bones. While perhaps a bit creepy, it's really something you should see for yourself. Admission is 60 CZK for adults and 40 CZK for students.
5. Hike the Adršpach-Teplice Rocks
Hike around these natural sandstone cloisters. With names like 'Giant's Armchair' and 'Sugar Cone,' you can't go wrong. There are two clusters of formations: Adršpach Rock Town and Teplice Rock Town. A train here from Prague costs around 275 CZK and takes just under 3 hours.
Other Things to See and Do
(Click the title to expand the text)
1. Try some pilsner in Pilsen
You guessed it: Pilsen is the birthplace of the Pilsner and the home of the original Pilsner Urquell Czech beer. Heading here makes a great day trip from Prague via bus or train. During your visit, make sure to not only tour the Pilsner factory but also check out the beer spas where you soak in a tub of beer. Expect to pay around 800 CZK for a soak in the beer tub.
2. Tour Karlstein Castle
Everyone wants to have their very own fairytale, and this castle is a great stop during your tour of the country, just a quick train ride from Prague. Admission is 270 CZK for adults, with discounts available for students, seniors, and families.
3. Adventure outdoors in Krkonoše
Summer or winter, a trip to Krkonoše is a must. This beautiful mountain range, which runs along the Czech-Polish border, is the highest peak in the country. There is great hiking and cycling during the summer and skiing during the winter.
4. Head to Telc
Telc, with its winding cobblestone streets, is one of the most picture-perfect examples of a Renaissance town in Europe. It's also a UNESCO World Heritage Site. After a fire in 1530, the town was rebuilt, so medieval arcades with their gabled houses surround the picturesque town square.
5. Visit quaint Olomouc
Olomouc is a small university town noted for its parks, churches, sculptures, and fountains. The Holy Trinity Column and grand astronomical clock are UNESCO sites.
6. Relax at the Karlovy Vary spa
Karlovy Vary is a relaxing spa which offers hot mineral springs, fine baroque and Gothic architecture, forest walks and a lively cultural scene. There is also a castle at nearby Loket, overlooking the River Ohre.
7. Enjoy the Šumava National Park
Pack your trekking gear and head to Šumava, the country's largest national park. It is a region full of densely forested hills along the border with Austria. Feast your eyes on the scenic lakes, trout streams, areas of virgin forest, and important historic monuments. Admission to the park is free.
8. Visit a nuclear bunker
Located 5 stories under Prague, this museum is full of Cold War paraphernalia. The bunker was designed to house civilians during a nuclear attack, after which they would then flee into the countryside. Tours last a couple hours and cost 600 CZK for adults (500 CZK for students).
9. See the Spanish Synagogue
The outside of this building may not be anything special, but the inside is incredibly ornate. Admission 330 CZK for adults, and includes entry into a few other synagogues, as well.
10. Go rafting
Just 20 minutes from Prague is a white water rafting course touted as the ultimate hangover blaster. Spend a day on the water battling the waves, followed by a barbecue lunch and a soak in a hot tub. Not a bad way to spend a day! Prices vary but expect to pay around 1,600 CZK per person.
11. Explore Macocha Gorge
Located near Brno, this sinkhole is an impressive 138m deep. It's a popular tourist site in the area, suitable for both casual visitors and those who have more advanced technical caving experience. The nearby Punka caves can be explored from April-September, with admission costing 180 CZK for adults.
12. Visit the Austerlitz Battlefield
The Battle of Austerlitz was one of the most decisive battles of the Napoleonic Wars and is widely considered to be one of Napoleon's greatest victories. It was here where he crushed the combined forces of Russia and the Holy Roman Empire, which led to the dissolution of the Holy Roman Empire. Periodically there are reenactments held here, perfect for the history buff!
13. Bohemian Switzerland National Park
This national park is a landscape full of pine forests and deep valleys, majestic rock towers, ravines, and labyrinths. There are several nature trails lead into the surrounding gorges. For hiking, one of the most popular nature trails is the Gabriel Trail.
14. Visit the Terezin Concentration Camp
Terezín was built by Josef II and was supposed to be used for defense but became a prison, and, later during World War Two, a Jewish ghetto and concentration camp. You can also visit the monument dedicated to the victims of the Holocaust. Tickets start at 180 CZK.
15. Visit Vila Tugendhat
The Villa of Greta and Fritz Tugendhat was built between 1929–1930 and is for its modern architecture. Between 2010 and 2012, the villa and the adjoining gardens were restored to their original appearance. The interiors have been equipped with exact replicas of the original furnishings. It's open from 10am-6pm Tuesday-Sunday. Admission is 300 CZK.