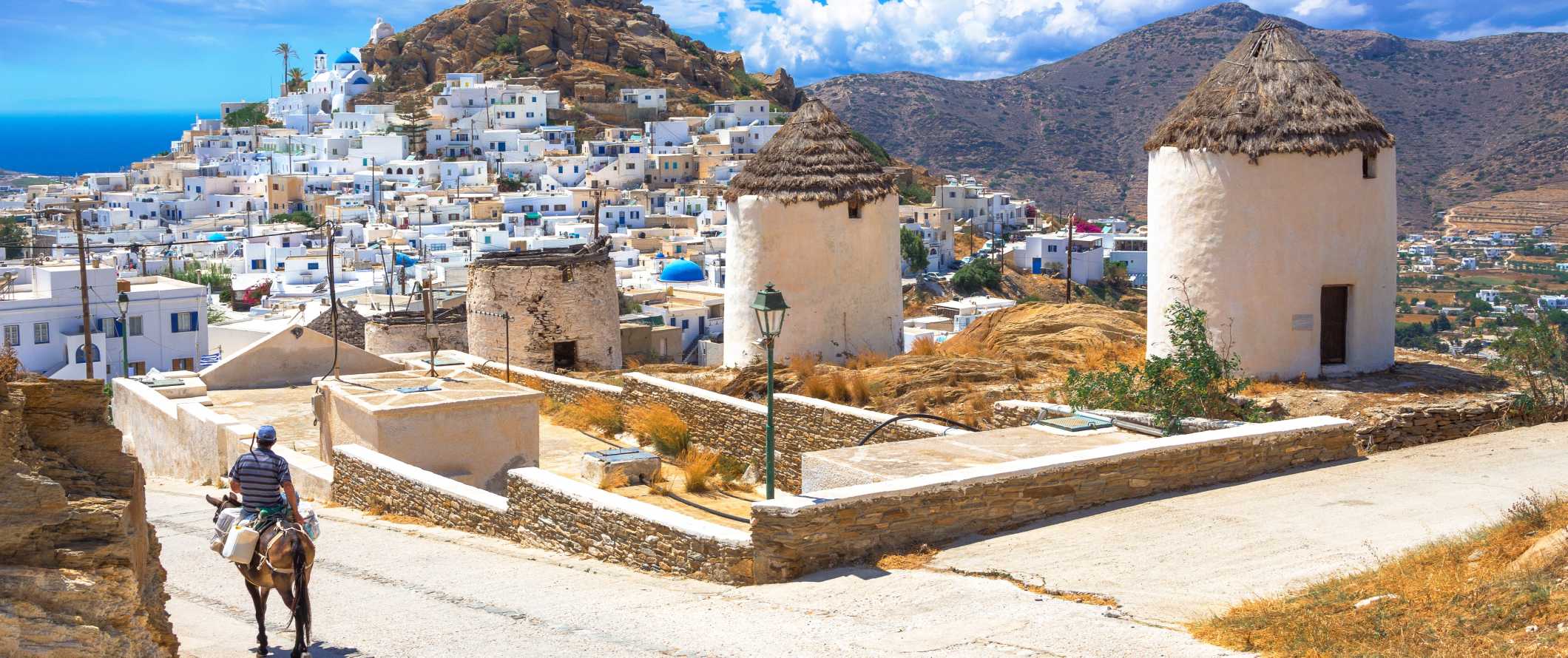 Located in the Cyclades Islands, Ios has some the wildest nightlife out of all the Greek islands. It is the summer party hub where days are spent hungover on the beach and nights spent eating cheap food and drinking until the sun comes up.
During the summer, backpacking through Ios is a rite of passage for young travelers exploring Europe. While there's a lot to do on the island, it always seems like 95% of people come here to party (and the average age of visitors seems to be 22).
That said, don't let Ios' party reputation deter you from visiting – it's a beautiful island and only busy between June-August. Outside those months, it's a quiet island perfect for relaxing. Go swimming, explore ruins, eat seafood, hike, and lay on the beach. There is a lot to enjoy.
I've been to Ios three times and, even with my party days behind me, it's still a fun and relaxing place to visit
This travel guide to Ios will give you the low down on everything you need to know to plan a budget-friendly trip!
Top 5 Things to See and Do in Ios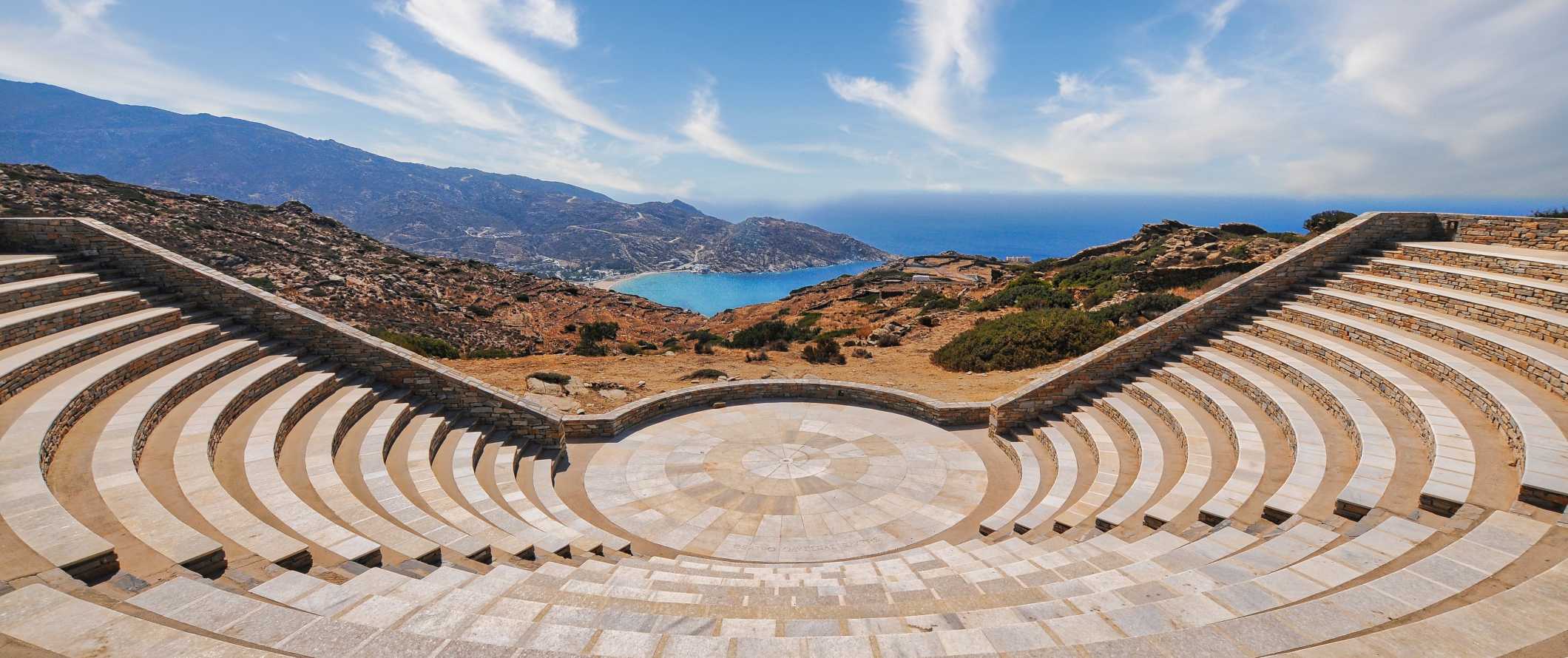 1. Hang out on Mylopotas Beach
As one of Ios' most popular beaches, Mylopotas' white sand stretches for about 1 kilometer (.6 miles) and is lined with cabanas, beach chairs, bars, and restaurants. It doesn't get busy until about 1pm so if you arrive early, you can stake your claim to some of the best spots. If you prefer doing something a little more active, you can also rent equipment to go snorkeling, windsurfing, or sea-kayaking. Mylopotas is located around 3 kilometers (1.8 miles) from the main village on the island, Chora.
2. Party
Ios is famous for its nightlife. It's the main reason people come to the island during the summer and it has a much more casual bar scene compared to places like Mykonos. The bars get busy around midnight and stay busy until 7-8am. For epic parties on the beach, head to Far Out Beach Club, which has swimming pools, DJs, beach bars, and more (you can also stay at the next door Far Out Village).
3. Admire the Odysseas Elytis Theatre
Named after the famous modern Greek poet, Odysseas Elytis, this open-air amphitheater was built in 1997 to represent the style of an ancient Greek theater. All of the island's cultural events take place here, from musical performances to the Homeria festival honoring the Greek poet Homer. Even if nothing is taking place during your time on the island, it's worth a visit to see the sweeping views looking out over the sea. It's just a short walk from Chora.
4. See Homer's Tomb
Homer, the ancient Greek epic poet and writer of the Iliad and the Odyssey, died on Ios, and his "tomb" is said to be just 30 minutes outside Chora. It's really just a headstone on a rocky outcrop overlooking the Mediterranean but you get panoramic views of the surrounding area. It's free to visit. ATV rentals to get there start at 25 EUR per day.
5. Explore Paleokastro
The ruins of this Byzantine castle are accessible by walking 15-20 minutes up a paved hill path on the eastern side of Ios. The castle was originally constructed in 1397 and contains a small church. There's not a lot to look at but you get sweeping views of the island from the top. It's about 17 kilometers (10.5 miles) from Chora.
Other Things to See and Do in Ios
1. Visit the Archeological Museum
This itty-bitty museum is so small that you might have to actually ask around to see whether or not it's open. Inside are ancient artifacts unearthed from the archaeological site of Skarkos and the village of Chora, including pottery, artwork, coins, marble statues, burial columns, and jewelry. It's just 2 EUR to visit.
2. Take a boat tour
A boat tour is one of the best ways to see Ios, especially as some of the beaches around the island are only accessible by water. Most tours also have stops at the Koumbara caves and include drinks and a BBQ lunch. Some tours also include a winery visit on the nearby Sikinos Island. A 4-hour tour with Meltemi Water Sports (including snorkeling and lunch) starts at 49 EUR.
3. Eat in the harbor
The main port in Ios has lots of little cafes and restaurants where you can relax and take in all the activity as the ferries come and go. You can grab a quick cocktail or a plate of delicious fresh seafood and watch the day go by. Hanging out by the port also affords you stunning sunset views every evening!
4. Lounge at Maganari Beach
If you want a break from the young party crowd, head to Maganari Beach (which is actually composed of 5 smaller beaches) for seclusion. Located on the south side of Ios, the beach is pristine and sheltered from high winds, making it ideal for swimming and snorkeling. There are also several tavernas along the waterfront so you can have lunch or dinner here as well. You can take one of the regular buses here from Chora, which is 23 kilometers (14 miles) away.
5. Explore Skarkos
This early Bronze Age settlement is pretty much the only archaeological site on the island. The walled terraces guide you through the ruins of several historic buildings. There is also a collection of old utensils made from stone, metal, and bone to see, as well as some old pottery and tools. To get there, you can walk the stone footpath from the back of the main town (it takes less than 20 minutes to get there). Admission is 2 EUR.
6. Go diving
Diving has become increasingly popular in Ios due to its crystal-clear waters and relatively calm waves. It's an ideal place for beginners. Mylopotas Watersports has shore dives from Mylopotas Beach, as well as boat tours to dive locations where you can see shipwrecks and colorful coral. A shore dive is just 40 EUR, while a two-tank dive on a boat is 90 EUR. You can also take a beginner discovery course for 55 EUR or a variety of PADI courses starting at 280 EUR.
7. See the Church of Agia Irini
From the port, a short walk leads you to the 17th-century Church of Agia Irini (Church of Saint Irene). If you keep walking the path past the church, you'll get to one of the island's most secluded beaches, only accessible by foot (or boat). It is said that there are 365 churches on Ios, one for each day of the year. I didn't count them all but there were a lot of them!
8. Go hiking
Ios has a handful of scenic hiking trails that loop around the coast and occasionally into the mountains (the latter tend to have more difficult routes). Five trails start in Chora, with the longest stretching over 7 kilometers (4 miles). There is signage around town or you can simply ask around for directions to the nearest trailhead. Just keep in mind that most of Ios is exposed to the elements so bring lots of water, a hat, and sunscreen!
9. See the windmills
Windmills are an iconic feature in the Cyclades and Ios has 12 of them overlooking Chora. The windmills used to produce the energy used to grind grains, and thus were a large part of the agricultural economy of the island. Three of the windmills have been nicely restored and are worth a visit if you are in Chora. Just walk east out of the village and you can admire the views of the Aegean Sea while you're there.
10. Hit the beach
Ios' beaches aren't the best in Greece but they're still pretty good. While many are only accessible by boat, there are a few popular ones that you can get to by road. Mylopoatas Beach (mentioned above) is close to Chora and most of the restaurants have sun loungers and umbrellas for rent. Lorentzena Beach is more basic — you need to take your own food and drinks — but being on the west coast of Ios, it offers some spectacular sunsets. Manganari Beach (also mentioned above) is the most popular beach because it is clean and well-maintained.

For more information on other destinations in Greece, check out these guides:
Ios Travel Costs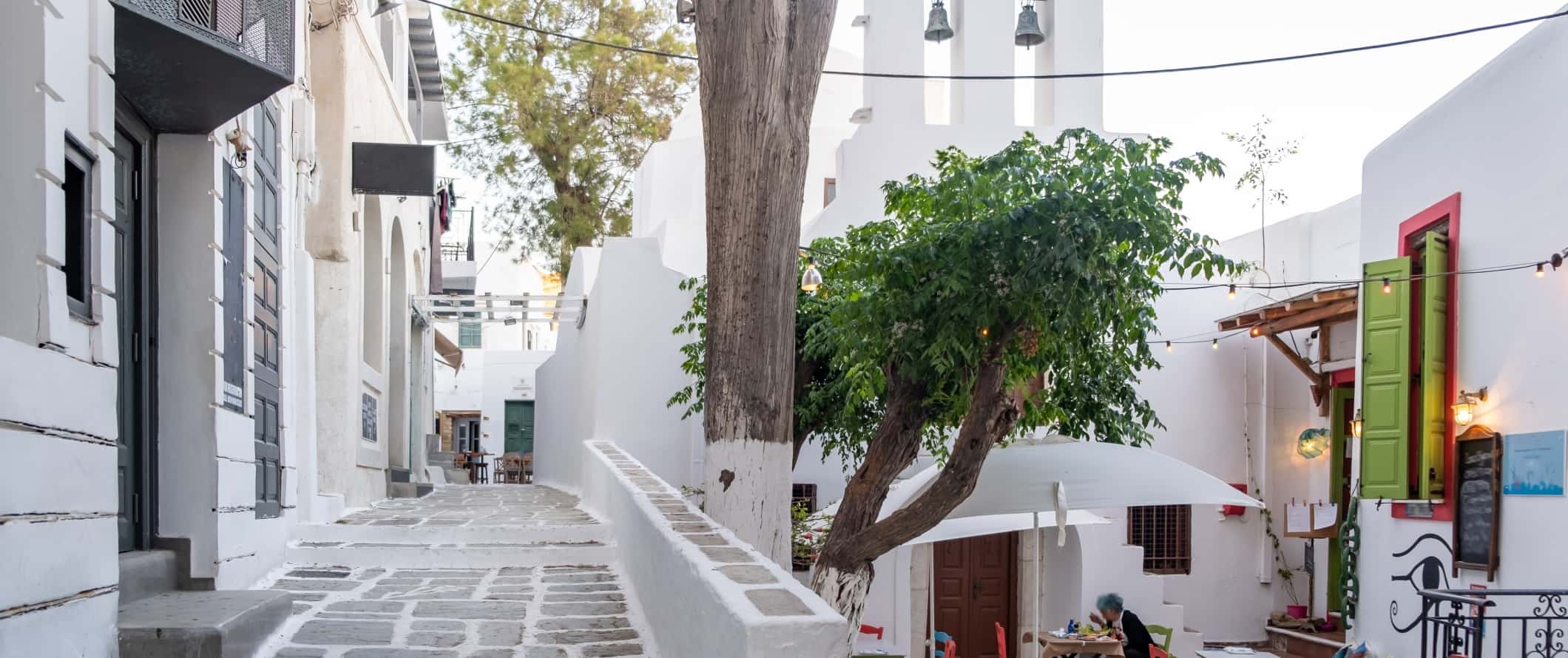 Hostel prices – Hostels in Ios aren't as cheap as in other areas of Greece, and there aren't that many of them on the island. A bed in a 4-6-bed dorm costs about 20 EUR per night during peak season, while a basic twin or double private room costs 35-50 EUR. Most hostels close for the off-season but you can find some very reasonable rooms in pensions and bed and breakfasts for around 20 EUR.
If you're camping, a basic tent plot at FarOut Camping is about 16 EUR per night in peak season and drops to 10 EUR in the shoulder season. FarOut also offers rooms, huts, and glamping tents.
Budget hotel prices – Budget two-star hotels start at 55 EUR per night in peak season and 30 EUR in the low season. You get a lot of value for this price, including properties with pools and free breakfast.
Most of the Airbnb accommodations on Ios are actually hotels. For a private room, expect to pay from 25 EUR per night in the low and shoulder seasons and 45 EUR during peak season. A full apartment averages about 75 EUR per night.
Average cost of food – Traditional Greek cuisine is very healthy with a lot of fresh vegetables, olive oil, lamb, fish, pork, cheeses (especially feta), and yogurts. Filo pastries stuffed with meat or spinach and cheese are a local favorite as are souvlaki and gyros.
You can find gyros at tiny fast-food spots in the main town for about 5 EUR or fries for around 3.80 EUR. A burger with fries costs around 8 EUR, while a pizza is 8-10 EUR.
At a typical Greek taverna, dishes like moussaka and souvlaki cost 9-14 EUR, salads cost 6-9 EUR, and lamp chops cost around 12 EUR. Fresh seafood dishes start around 17 EUR. For the freshest seafood, head to the restaurants in the port.
At finer dining establishments, a 5-course tasting menu costs 65-120 EUR.
A beer or glass of wine will set you back around 3 EUR, while a cocktail is 7-9 EUR. A cappuccino costs between 3-4 EUR.
My two favorite places to eat are The Nest and Moonlight Cafe.
If you cook for yourself, you can spend as little as 40 EUR per week on groceries, which include basic staples like pasta, bread, cheese, veggies, and some meat.
Backpacking Ios Suggested Budgets
If you're backpacking Ios, expect to spend about 50 EUR per day. This budget covers a hostel dorm, a few bus rides each day, cooking most of your meals, limiting your drinking, and doing free activities like hiking and lounging on the beach. If you're here to party, add another 20 EUR or more per day for drinks.
A mid-range budget of 110 EUR covers staying in a private room at a hostel or Airbnb, eating out for all your meals at cheap food stalls, having a few drinks, taking the occasional taxi to get around, and doing paid activities like boat tours and visiting some museums.
On a "luxury" budget of about 220 EUR or more per day, you can stay in a hotel, eat any meal you want, drink and party as much as you want, rent a scooter or car to get around, and do more activities like scuba diving. A luxury budget in Ios gets you a lot, even in peak season!
Accommodation
Food
Transportation
Attractions
Average Daily Cost
Mid-Range
50
30
10
20
110
Ios Travel Guide: Money-Saving Tips
Although Ios is one of the most popular Greek islands, it's way more budget-friendly than places like Santorini and Mykonos since it caters to younger travelers and backpackers. As long as you can find a budget place to stay and don't drink too much, you're set. But it never hurts to save more! Here are some suggested ways to save money in Ios:
Take advantage of all the free stuff – Beaches, ruins, and Homer's Tomb — they're all free. You can have an incredible time in Ios just by taking advantage of all the free activities and attractions.
Eat super cheap – Gyros (and other street snacks) usually only cost a few euros. They are quick and easy and can keep you full for less than 10 EUR per day!
Travel in the shoulder season – Accommodations and even scooter/ATV rentals are cheaper in the shoulder season. If you're not here to party, visiting during the shoulder season can save you lots of money.
Stay with a local – If you plan ahead, you can usually find a Couchsurfing host that can let you stay with them for free. This way, you not only have a free place to stay but you get a local host that can share their insider tips and advice.
Buy your own alcohol – Ios is a place where people drink. You can end up spending a lot of money if you aren't careful. Drink your own alcohol before heading out and then stick to the 1 EUR shot bars. Otherwise, you could find yourself spending close to 45 EUR per night!
Book overnight ferries – Greece's inter-island ferries can get quite expensive if you are visiting a lot of them. Taking overnight ferries can save you up to half off the normal price plus save you a night of accommodation.
Get a ferry pass – Eurail/Interrail has a ferry pass that has 4- and 6-trip options. The only caveat is that you can only take Blue Star and Hellenic Seaways ferries. Those tend to be the larger, slower ferries and, depending on the islands, might require you to connect somewhere. You'll need to research routes in advance to see if the pass is worth it. I would search routes on FerryHopper to see if it works for you. You can purchase your pass on Eurail (non-EU residents) or Interrail (EU residents).
Use the Greek salad/bread rule – To see if a restaurant is cheap or expensive, use this rule: if the bread cover is .50 EUR or a Greek salad is less than 7 EUR, the restaurant is cheap. If the cover is around 1 EUR and a salad is 7-8.50 EUR, the prices are average. Anything more than that, the place is expensive.
Rent a car – Car rentals can be incredibly cheap in Ios (especially if you can split the cost). Prices start at just 25 EUR per day for a multi-day rental when booked in advance. Drivers need to be at least 21 and have had their license for one year. An International Driving Permit is also required.
Use points if you can – If you're a travel hacker and have points that can be used for cash, using them to book accommodation will be better if you're staying at cheaper properties (anything less than 100 EUR). For only a few thousand points per night, you can save a ton of money. This post has more information on how to get started.
Bring a water bottle – The tap water here is safe to drink so bring a reusable water bottle to save money and reduce your plastic use. LifeStraw is my go-to brand as their bottles have built-in filters to ensure your water is always clean and safe.
Where to Stay in Ios
You basically have two main areas to stay on Ios: in Chora (the main town), or on Mylopotas Beach. Here are some of my suggested places to stay in Ios:
How to Get Around Ios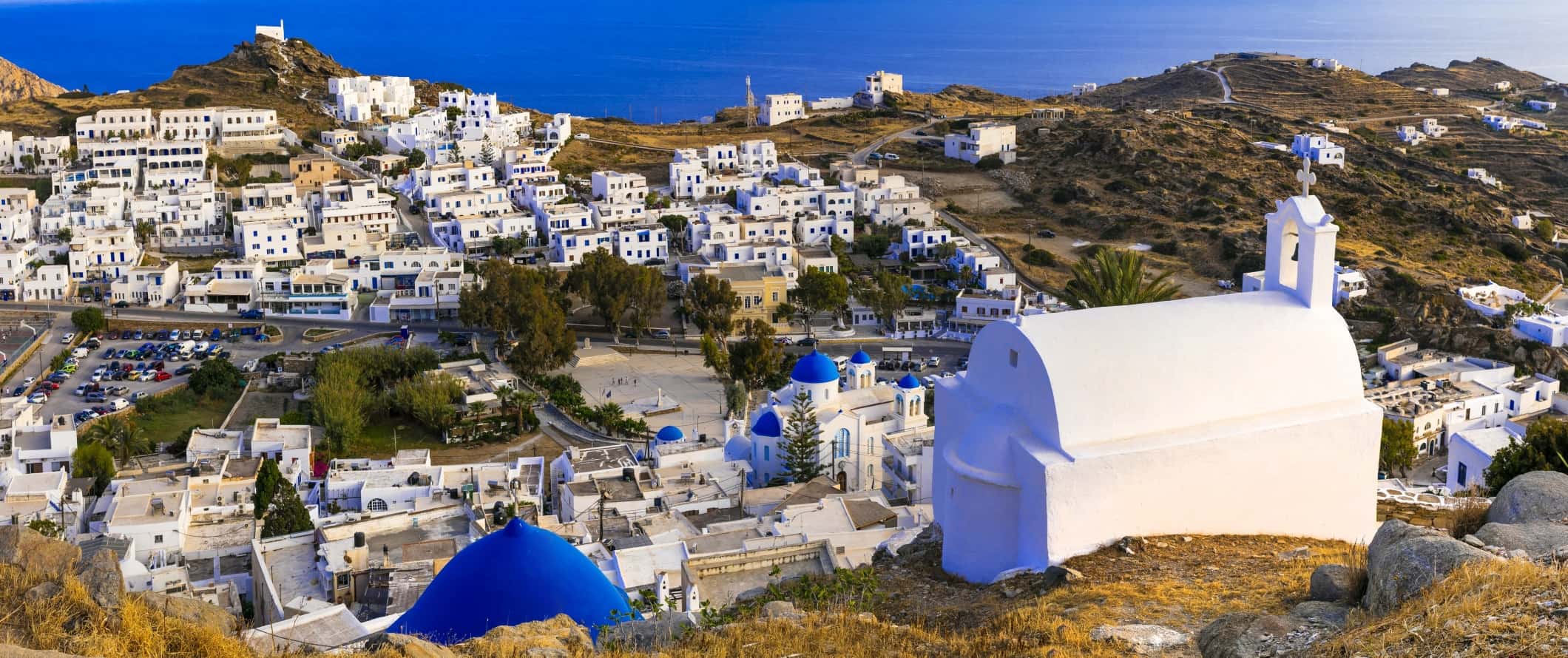 Bus – In the summer months, buses run between Chora, Ormos, and Mylopotas Beach every 20 minutes or so. All fares are 2 EUR each way. (Note: the buses get CROWDED!) There are also buses from Chora to Koubara and infrequent buses to beaches like Manganari and Agia Theodoti.
Scooter/ATV Rentals – Renting a scooter or ATV is one of the best ways to enjoy the island at your own pace. You can get a scooter for 20 EUR per day in the high season and 15 EUR per day in the low season. An ATV rental in the high season costs 55 EUR per day for two people and 40 EUR in the low season. Vangelis Rentals is the best company to go with for consistent prices and excellent service.
Taxi – Taxis have set fares of 5 EUR from the port to Chora and 5 EUR from Chora to Mylopotas. Prices can add up if you use them to get around though so skip them if you can.
Car rental – Cars can be rented for 35 EUR per day in peak season and 25 EUR per day in the off-season. Drivers must be at least 21 years and must have had their license for at least 1 year. An International Driving Permit (IDP) is required. For the best rental car deals, use Discover Cars
When to Go to Ios
Ios is at its best in the summer between June and September. July is the hottest month, with temperatures averaging about 27°C (81°F) each day.
Summer is definitely the best time to be here if you want to soak up the sun and hang out with all the other backpackers. Prices are highest then too and accommodation becomes hard to find so book in advance.
However, the shoulder seasons (fall and spring) offer cheaper prices, fewer crowds, and just as much fun. Temperatures are still warm, with the average high being 24°C (75°F) in September and 18°C (64°F) in April.
I think May, early June, and September right before the season ends are the best time to visit.
Ios is very much a seasonal place and the island pretty much shuts down in the winter months. Most restaurants and accommodations close during this time so I'd avoid coming in the winter.
How to Stay Safe in Ios
Ios is an incredibly safe island. The island is very small and everyone knows each other. Even the risk of petty crime like pick-pocketing is low. No one is going to scam you here either.
Solo female travelers should generally feel safe here, however, the standard precautions apply (never leave your drink unattended at the bar, never walk home alone intoxicated, etc.)
If you're driving a scooter or ATV, always wear a helmet and drive with caution. The roads are winding and drivers can be unpredictable. Most accidents here involve scooters or people doing something stupid when they get drunk, so try not to do that.
If you go hiking, wear a hat, bring water, and wear sunscreen.
If you experience an emergency, dial 112 for assistance.
Always trust your gut instinct. Avoid isolated areas at night, be aware of your surroundings at all times, and make copies of your personal documents, including your passport and ID. Forward your itinerary along to loved ones so they'll know where you are.
The most important piece of advice I can offer is to purchase good travel insurance. Travel insurance protects you against illness, injury, theft, and cancellations. It's comprehensive protection in case anything goes wrong. I never go on a trip without it as I've had to use it many times in the past. You can use the widget below to find the policy right for you:
Ios Travel Guide: The Best Booking Resources
These are my favorite companies to use when I travel. They consistently have the best deals, offer world-class customer service and great value, and overall, are better than their competitors. They are the companies I use the most and are always the starting point in my search for travel deals.
Skyscanner – Skyscanner is my favorite flight search engine. They search small websites and budget airlines that larger search sites tend to miss. They are hands down the number one place to start.
Hostelworld – This is the best hostel accommodation site out there with the largest inventory, best search interface, and widest availability.
Booking.com – The best all around booking site that constantly provides the cheapest and lowest rates. They have the widest selection of budget accommodation. In all my tests, they've always had the cheapest rates out of all the booking websites.
HostelPass – This new card gives you up to 20% off hostels throughout Europe. It's a great way to save money. They're constantly adding new hostels too. I've always wanted something like this and glad it finallt exists.
Get Your Guide – Get Your Guide is a huge online marketplace for tours and excursions. They have tons of tour options available in cities all around the world, including everything from cooking classes, walking tours, street art lessons, and more!
The Man in Seat 61 – This website is the ultimate guide to train travel anywhere in the world. They have the most comprehensive information on routes, times, prices, and train conditions. If you are planning a long train journey or some epic train trip, consult this site.
Rome2Rio – This website allows you to see how to get from point A to point B the best and cheapest way possible. It will give you all the bus, train, plane, or boat routes that can get you there as well as how much they cost.
FlixBus – Flixbus has routes between 20 European countries with prices starting as low 5 EUR! Their buses include WiFi, electrical outlets, a free checked bag.
SafetyWing – Safety Wing offers convenient and affordable plans tailored to digital nomads and long-term travelers. They have cheap monthly plans, great customer service, and an easy-to-use claims process that makes it perfect for those on the road.
LifeStraw – My go-to company for reusable water bottles with built-in filters so you can ensure your drinking water is always clean and safe.
Unbound Merino – They make lightweight, durable, easy-to-clean travel clothing.
Top Travel Credit Cards – Points are the best way to cut down travel expenses. Here's my favorite point earning credit cards so you can get free travel!
Ferry Hopper – If you're looking to book your ferries, this website is an easy way to search the various companies, piece together routes, and book your tickets.
Ios Travel Guide: Related Articles
Want more info? Check out all the articles I've written on Greece travel and continue planning your trip: