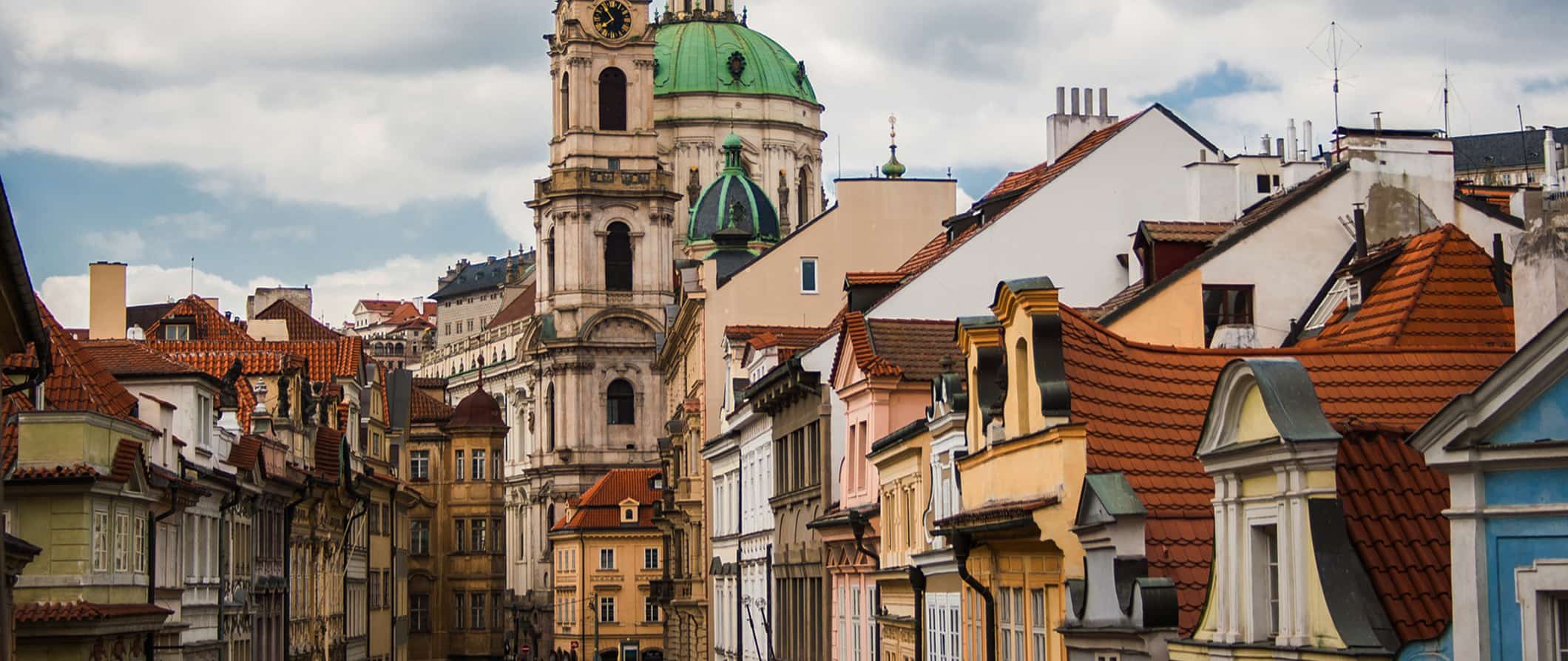 Prague is one of my favorite cities in the world. With its winding cobblestone streets, medieval buildings, and spacious squares, the city is photographers dream come true! Much of the architecture dates to the middle ages. Over the last decade, the city has become one of the most visited destinations in Europe as people seek cheap prices and such a visually appealing city. In the last few years, though, the city has also become a digital nomad hub and the city residents have become more international with more international food offerings. Despite the crowds, I can't help but fall in love with Prague every time I visit — the city itself, the parks, the history, the cheap beer, and the wonderful people. This travel guide to Prague will show you how to fall in love with the city like I have while also saving you money!
Top 5 Things to See and Do in Prague
1. Visit Prague Castle
Built around 870 AD, Prague Castle dominates the city skyline. Once the seat of the ancient Czech Kings. You can explore the castle gardens and much of the grounds is free! The St. Vitus Cathedral is the most famous building at Prague Castle, which is also home to the tombs and remains of some of the most notorious saints and rulers in Czech history.
2. Stroll through the Old Town Square
This square contains many historic churches, the astronomical clock, cafes, tourist shops, and the occasional football (soccer) game. Despite being the biggest tourist area of Prague, Old Town square has virtually remained untouched since the 10th century.
3. Cross the Charles Bridge
Originally constructed in 1357, this is one of the oldest standing bridges in the world. Along the bridge, you'll find street artists, musicians, dancers, and other entertainers. It's almost always a sea of people, so if you want to miss the crowds get there early in the morning or late at night. All the statues on the bridge are replicas — the originals are in the national museum.
4. See the John Lennon Wall
Since John Lennon's death in 1980, his face (and lyrics and political graffiti) have been painted on the plain wall opposite the French Embassy. Although it was painted over a number of times, the graffiti was always re-posted and so they have "let it be." The wall is now a symbol of love and peace.
5. Peruse the National Museum
The was founded in 1818 by Kašpar Maria Šternberg. Historian František Palacký was also strongly involved. At present, the National Museum houses almost 14 million items relating to natural history, history, art, music, and librarianship. These are all scattered among a handful of buildings, each with their own admission (around 50 CZK per person, with discounts available).
Other Things to See and Do
(Click the title to expand the text)
1. See the astronomical clock
Built in the 15th century, this intricate clock is one of the city's most popular attractions. Every hour, on the hour, people gather in front of the clock to watch the Procession of the Twelve Apostles. It's a bit anticlimactic and I wouldn't go out of the way to see it but since you'll probably pass through the square often you might as well check it out.
2. Riegrovy Sady Beer Garden
Spend an afternoon at a beer garden — any beer garden! Drink cheap local Czech beer, meet some locals, and have an awesome time. This particular beer garden attracts a younger crowd and usually has live music. Go to Riegrovy Sady for food, friends, drinks and then and sit on the nearby hill for a spectacular view of Prague during sunset!
3. Visit the Josefov (the Jewish Quarter)
Located in the Old Town, this small area dates back to the 10th century. It was the birthplace of Franz Kafka and is home to some of the city's less-visited attractions such as the Old Jewish Cemetery and the synagogue. Today 6 synagogues and a historical Jewish cemetery remain and are worth checking out. You can purchase a ticket that will give you access to the synagogues for 330 CZK, including the ornate Spanish Synagogue.
4. Ride a boat on the Vltava River
The Vltava River is the main river that runs through Prague. There are several activities that you can do on the river, such as renting a paddleboat, taking a river cruise, or going on a nightly booze cruise. Price will vary, but a two-hour cruise will cost around 450 CZK.
5. Shop in Wenceslas Square
This is the main shopping area and the center of business and cultural communities. Many bars, hotels, retail stores, offices, shops and delicious fast food vendors are located here. Over the years the square has been the setting for many large gatherings and demonstrations, which means many historical events have taken place here (specifically during the Velvet Revolution in 1989).
6. Climb Petrin Hill
This 327-meter hill lies along the Vltava River and is one of the greenest places in Prague. There are always people here chilling with their friends, drinking beers, or having a picnic. This is where you can visit Prague's mini Eiffel Tower. Also, the Church of St. Michael, a 17th-century wooden building (relocated to Prague from a village in Ukraine), is located on this hill.
7. Kutna Hora
Located a few miles outside of Prague and often referred to as "the bone church," Kutna Hora contains over 40,000 bones arranged to decorate a Roman Catholic church. There are strings of skulls and bones hanging from the ceiling, a skull candelabra, and a display case showing skulls with wounds inflicted by various medieval weapons. Admission is 60 CZK for adults and 40 CZK for students. Children enter free…though I don't know if this is really a place for kids!
8. Powder Tower
Be sure to check out this medieval tower, one of the original 13 city gates. Construction began in 1475 and, during the 17th century, the tower used to store gunpowder. It was heavily damaged in 1757 and most of the sculptures on it were replaced in 1876. Admission is 90 CZK, with discounts available.
9. Explore Vyšehrad
While Prague Castle gets all the love, Vyšehrad, located in the southern part of the city, was also one of the original castles of the kings of Prague. It was built around the 10th century and contains Prague's oldest surviving building, the Rotunda of St Martin. Few tourists ever come here, so you'll get the castle and its views of Prague to yourself. It also offers good upriver views of the city. Admission is free!
10. Take the underground tour
Prague Underground Tours runs an underground tour of the medieval houses in the city center. There are many catacombs in Prague, and this tour, though short, provides detailed history about medieval Prague. Tours cost around 400 CZK for adults and 350 CZK for students.
11. Take in a classical show
Prague is famous for its classical performances. Whether you're interested in ballet, opera, or classical music you'll be able to find something to your liking in Prague. Prices will vary but expect to pay anywhere from 100-1,000 CZK.
12. Go rafting
Just 20 minutes outside the city is a white water rafting course touted as the "ultimate hangover blaster." Spend a day on the water battling the waves, followed by a barbecue lunch and a soak in a hot tub. Not a bad way to spend a day! Prices vary but expect to pay around 1,600 CZK per person.
13. Visit the Franz Kafka Museum
If you're a fan of Kafka this is an obvious place to stop. And if you're not familiar with his work, a visit is a must. He is regarded as one of the most important writers of the 20th century. Admission is 200 CZK for adults and 120 for seniors and students.
14. Take an Alternative Prague Tour
This fun tour is one of the best guided tours in the city. It's made by artists and musicians who take you to Prague's non-touristy neighborhoods. You'll discover famous local contemporary art, hidden street art and graffiti, cool markets, crypto houses, and beer gardens. Tours start at 500 CZK.
Typical Costs
Hostel prices
– Hostel dorm rooms start around 225 CZK per night, though the better hostels charge closer to 350 CZK. Prices rise on the weekends, and you'll likely pay closer 400 or 450 CZK per night. Private hostel rooms will run you about 950 CZK, though you can find them for less during the low season. Only a handful of hostels offer free breakfast, however, so if that's a priority be sure to book in advance! For those traveling with a tent, camping is available outside the city, though it's not very convenient. For a basic plot, expect to pay around 200 CZK per night. My favorite hostel is
Miss Sophie's
. If you are looking for a party hostel,
The MadHouse
can't be beaten.
For more hostel suggestions, here's a list of my 14 favorite hostels in Prague!
Budget hotel prices – Budget hotels will range from 1,000-2,500 CZK for a basic twin or double. Prices will be highest during the busy summer months as that is when most tourists come to the city. Airbnb is a great option for the city, as prices can be a bit lower than hotels. Entire homes average around 1,500 CZK during the low season and closer to 2,200 CZK during the summer.
Average cost of food – Food is pretty cheap in Prague! You can do a budget lunch by buying items at the grocery store (bread, cheese, etc.) for only about 50-150 CZK. If you are looking for standard pub fare, it can run you about 125-150 CZK. There is also lots of great street food, where you can pick up a sausage on the run for as cheap as 70 CZK! If you're looking for fast food (think McDonald's) expect to pay around 130 CZK per meal. For a meal at a mid-range restaurant, expect to spend around 300 CZK. If you plan on cooking your own food, expect to spend 1,000-1,200 CZK per week on groceries. Some of my favorite places to eat are the Prague Beer Museum, Kravin, U Medvídku, Las Adelitas, and VinoGraf. For great cocktails, check out Hemingway Bar
Transportation – Public transportation is pretty straightforward in Prague. A 30-minute bus ticket will cost you 24 CZK while a 90-minute tickets cost 32 CZK. If you plan on using the public transit often, consider buying the 24-hour pass for 110 CZK. You can also get a 3-day pass for 310 CZK. As for intercity travel, there are plenty of train and bus options to get you around the country or into neighboring lands. A train to Brno, for example, can be found for under 250 CZK. You can find bus tickets to Vienna for 440 CZK, while a train all the way to Warsaw is only 550 CZK.
Suggested daily budget
1,025 CZK/40 USD (Note: This is a suggested budget assuming you're staying in a hostel, eating out a little, cooking most of your meals, doing lots of free activities, keeping your drinking to a minimum, and using local transportation. Using the budget tips below, you can always lower this number. However, if you stay in fancier accommodation or eat out more often, expect this to be higher!)
Money Saving Tips
Don't eat near the Charles Bridge – Restaurants near the Charles Bridge will be considerably more expensive —nearly twice the price — as spots that the locals may inhabit. Ask around, see where the locals dine, and enjoy a cheap and hearty meal of pork, sauce, dumplings and a beer for only 120 CZK!
Take a free walking tour – Explore Prague's many winding streets and breathtaking architecture as part of a free tour. You'll find a plethora of walking tours in the city, such as New Europe Tours. They generally start in front of the tourism office at 10:45am and 2pm in the old town square. While the tours are free, the guides rely on tips so be generous!
Visit the parks and churches – There are lots of beautiful parks, gardens, and churches that you can explore for free. The Wallenstein Gardens in Valdštejnský palace are gardens lined with fountains, trees, and numerous bronze statues. There are also many free concerts and performances taking place here so make sure to check out the schedule. Saint Vitus Cathedral, Saint Nicholas' Church, and The Church of Our Lady Before Tyn are beautiful free churches to visit.
Take public transportation – With a series of affordable transportation options, taking public transportation is a cheap and convenient choice. A 30-minute ticket is only 24 CZK.
Eat cheap – If you want to save money on your food you can take the tram to the city outskirts to find restaurants. Prices here will be significantly cheaper than in the city. Otherwise, stick to outdoor vendors in the city for cheap eats.
Save money on rideshares – Uber is way cheaper than taxis and are the best way to get around a city if you don't want to wait for a bus or pay for a taxi. The Uber Pool option is where can you share a ride to get even better savings (though you can get your own car too). You can save $15 off your first Uber ride with this code: jlx6v.
My Must Have Guides For Traveling to Prague
Photo credits: 6