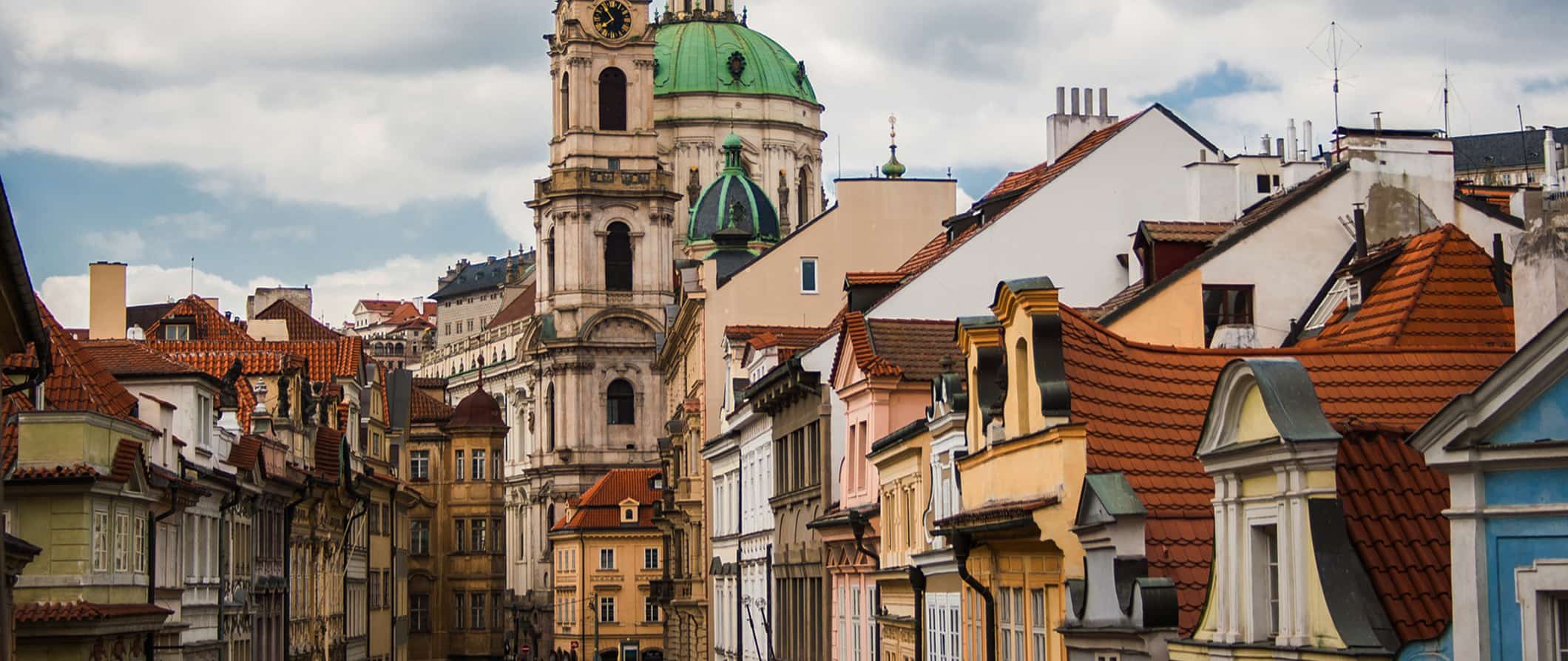 Prague is one of my favorite cities in the world. (I love visiting here so much that I even run tours here!) With its winding cobblestone streets, medieval buildings, and spacious squares, the city is a photographer's dream come true. Much of the architecture dates to the middle ages, giving the city an unrivaled historic charm.
Over the last decade, Prague has become one of the most visited destinations in Europe. When I first visited in 2006, it was popular but still "off the beaten path." Today, it's a huge tourist destination and, now, a big spot for people to move to thanks to its growing digital nomad scene.
Despite the crowds, I can't help but fall in love with Prague every time I visit — the city, the parks, the history, the cheap beer, and the wonderful people. It's all wonderful! Just try to visit outside the peak summer months or you'll risk wall-to-wall tourists clogging the ancient city's arteries.
This travel guide to Prague will help you plan your trip, save money, and make the most of your time in this beautiful and historic city.
Top 5 Things to See and Do in Prague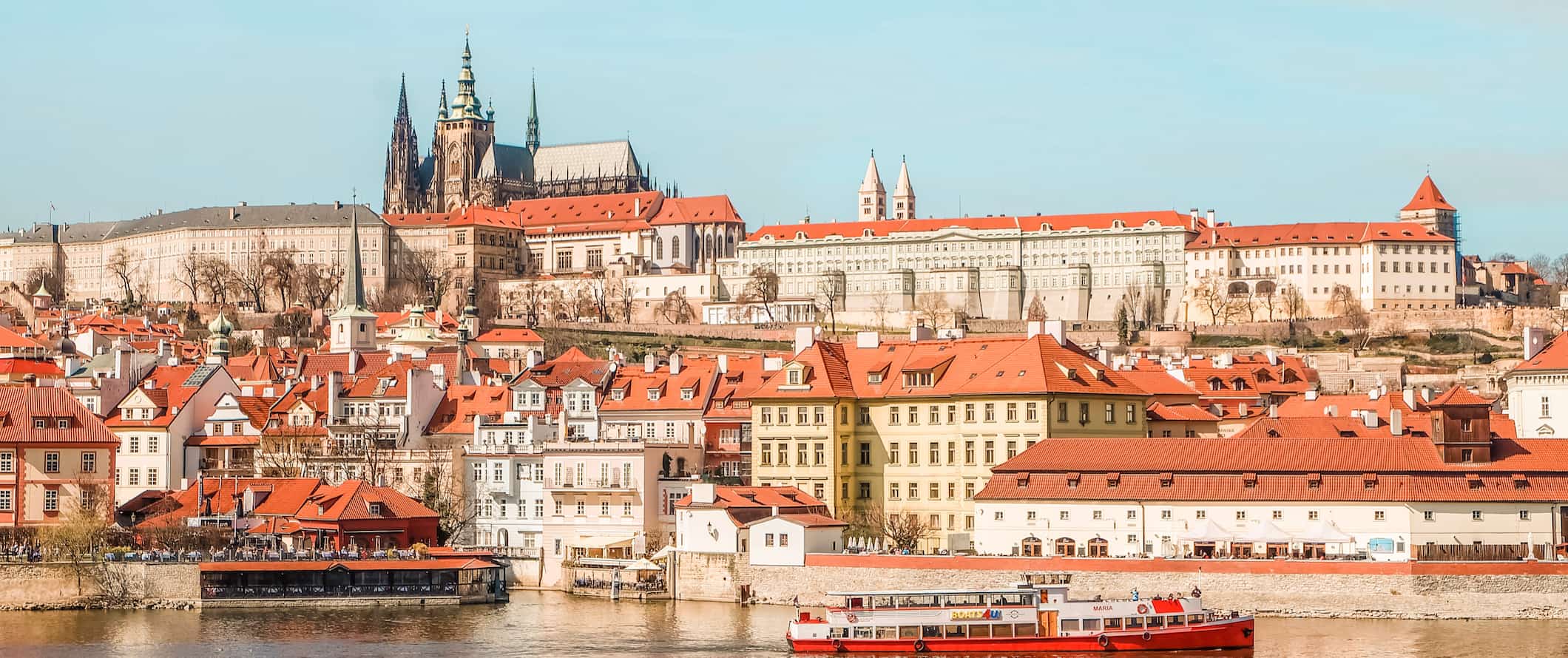 1. Visit Prague Castle
Built around 870 CE by Prince Borivoj, Prague Castle dominates the city skyline. Once the seat of Czech Kings, here you can explore the castle gardens and much of the grounds for free. The St. Vitus Cathedral is the most famous building here and is home to the tombs of saints and rulers in Czech history. Today, the castle remains the official residence of the Czech President. During your visit, you can view the Czech crown jewels along with precious historic artifacts from the Bohemian kings who once ruled the region. Tickets are 250 CZK while in-depth guided tours (including admission) are 846 CZK.
2. Stroll through the Old Town Square
This square is home to historic churches, the astronomical clock, cafes, tourist shops, and the occasional football (soccer) game. The area was once a bustling marketplace and an important crossroads on European trade routes. You can enjoy centuries worth of architecture, such as the Gothic Church of Our Lady before Týn or the Baroque St. Nicholas Church. An astronomical clock is perched on the Old Town Hall. Originally installed in 1410, it is the oldest operational astronomical clock in the world. Despite being the biggest tourist area of Prague, Old Town square has virtually remained untouched since the 10th century and remains the historical center of Prague.
3. Cross the Charles Bridge
Originally constructed in 1357 by King Charles IV, this is one of the oldest standing bridges in the world. For hundreds of years, until the 1840s, the bridge that connects the Castle District to Old Town was the only way to cross the Vltava River. Along the bridge, you'll find street artists, musicians, dancers, and other entertainers. Take in the incredible statues that line the bridge, including the bronze statue of John Nepomuk. Locals believe that touching the statue brings good luck. There's almost always a sea of people here so if you want to beat the crowds get there early in the morning or late at night.
4. See the John Lennon Wall
Since John Lennon's death in 1980, his face (and lyrics and political graffiti) has been painted on the plain wall opposite the French Embassy. Created by the Czech youth, the wall represented freedom of speech and non-violent resistance in what was then communist Czechoslovakia. Although it was painted over a number of times, the art was always re-posted and so they have "let it be." It's now the only place in the city where graffiti is legal, and you can often catch street performers singing Beatles songs nearby. The wall serves as both a memorial for John Lennon as well as an iconic symbol of love and peace.
5. Peruse the National Museum
This museum was founded in 1818 and houses over 2,000 exhibits and 14 million items relating to natural history, art, music, and librarianship. Located in Wenceslas Square, the main building, a 19th-century Neo-Renaissance masterpiece, reopened in 2019 after an 8-year reconstruction. Tickets are 260 CZK for the main museum. In addition to the main building, there are exhibitions scattered amongst over a dozen other buildings in Prague, each with its own admission (50–170 CZK per person).
Other Things to See and Do in Prague
1. See the astronomical clock
Built in the 15th century, this intricate clock in the main square is one of the city's most popular attractions. Every hour, on the hour, people gather in front of the clock to watch the Procession of the Twelve Apostles. It's a bit anticlimactic and I wouldn't go out of the way to see it but since you'll probably pass through the square often you might as well check it out since it's free.
2. Relax at a Beer Garden
Spend an afternoon at a beer garden — any beer garden! Drink cheap local beer, meet some locals, and have an awesome time soaking in the city. I like Riegrovy Sady Beer Garden. Stop by for food, meet some locals, then sit on the nearby hill for a spectacular view of Prague during sunset. If you'd rather do a guided craft beer tasting, visit the Czech Beer Museum for a tasting. It's just 415 CZK.
3. Visit the Josefov (the Jewish Quarter)
Located in the Old Town, this small area dates back to the 10th century. It was the birthplace of Franz Kafka and is home to some of the city's less-visited attractions such as the Old Jewish Cemetery and the synagogue. Today, 6 synagogues and a historical Jewish cemetery remain and are worth checking out. You can purchase a ticket that will give you access to all the synagogues for 200 CZK.
4. Ride a boat on the Vltava River
The Vltava River is the main river that runs through Prague. There are several activities that you can do on the river such as riding a paddle boat, taking a river cruise, or going on a nightly booze cruise. Prices vary, but a two-hour cruise costs around 465 CZK. It's touristy but a nice way to have fun and see the city from a new perspective. Paddle boats rentals cost around 300 CZK per hour.
5. Shop in Wenceslas Square
This is the main shopping area and the center of business and cultural communities. Many bars, hotels, stores, offices, shops, and delicious fast-food vendors are located here. Over the years, the square has been the setting for many protests and demonstrations, which means all kinds of historical events have taken place here (specifically during the Velvet Revolution in 1989, which helped transform the country from a one-party system to a parliamentary republic).
6. Climb Petrin Hill
This 327-meter hill lies along the Vltava River and is one of the greenest places in Prague. There are always people here chilling with their friends, drinking beers, or having a picnic. This is where you can visit Prague's iconic Petrin Tower (which looks like a mini Eiffel Tower). Also, the Church of St. Michael, a 17th-century wooden building (relocated to Prague from a village in Ukraine), is located on this hill.
7. Visit Kutna Hora
Located a few miles outside of Prague is "the bone church," a Roman Catholic chapel home to over 40,000 bones. There are strings of skulls and bones hanging from the ceiling, a skull candelabra, and a display case showing skulls with wounds inflicted by various medieval weapons. Admission is 200 CZK. Children enter free…though I don't know if this is really a place for kids! You can read about my visit here.
8. See Powder Tower
Be sure to check out this Gothic medieval tower, one of the original 13 city gates. Construction began in 1475 and, during the 17th century, the tower was used to store gunpowder. It was heavily damaged in 1757 during the Seven Years' War (a conflict involving most of Europe's powers) and most of the sculptures on it were replaced in 1876. Inside, you'll find a small museum with information about the tower as well as a spiral staircase offering spectacular views over the city. Admission is 150 CZK.
9. Explore Vyšehrad Castle
While Prague Castle gets all the love, Vyšehrad, located in the southern part of the city, was also one of the original castles of the kings of Prague. It was built around the 10th century and contains Prague's oldest surviving building, the Rotunda of St Martin. It offers picturesque views of the city from the hill. General admission to the castle is free, but you need to pay if you want to visit some of the rooms inside the castle: The Old Burgrave's Residence is 60 CZK, Vysehrad Gallery is 20 CZK, The Brick Gate and Casemate is 60 CZK, and The Gothic Celler is 50 CZK. Guided tours cost 850 CZK.
10. Take the underground tour
Located 5 stories under Prague, this museum is full of Cold War paraphernalia. The bunker was designed to house civilians during a nuclear attack, after which they would then flee into the countryside. You'll learn about life behind the Iron Curtain and get to explore the bunker yourself. Tours with Prague Underground Tours last about two hours and cost 750 CZK.
11. Enjoy a classical show
Prague is famous for its classical performances. Whether you're interested in ballet, opera, or classical music you'll be able to find something to your liking in Prague. Prices vary but expect to pay anywhere from 100-1,000 CZK per performance. Check out venues like the Karlin Music Theatre, the National Theatre, and the Black Light Theatre Srnec.
12. Visit the Franz Kafka Museum
If you're a fan of Kafka, this is an obvious place to stop. And if you're not familiar with his work, a visit is a must. Born in Prague in 1883, he is regarded as one of the most important writers of the 20th century. The museum displays the first editions of some of his most famous short stories (such as The Metamorphosis), photos, diary entries, and drawings. The museum also includes audiovisual pieces as well as a soundtrack composed especially for the exhibit. Admission is 240 CZK.
13. Take an Alternative Prague Tour
This fun tour is one of the best guided tours in the city. It's organized by artists and musicians who take you to Prague's non-touristy neighborhoods. You'll discover famous local contemporary art, hidden street art and graffiti, cool markets, crypto houses, and beer gardens. Tours start at 650 CZK.
Prague Travel Costs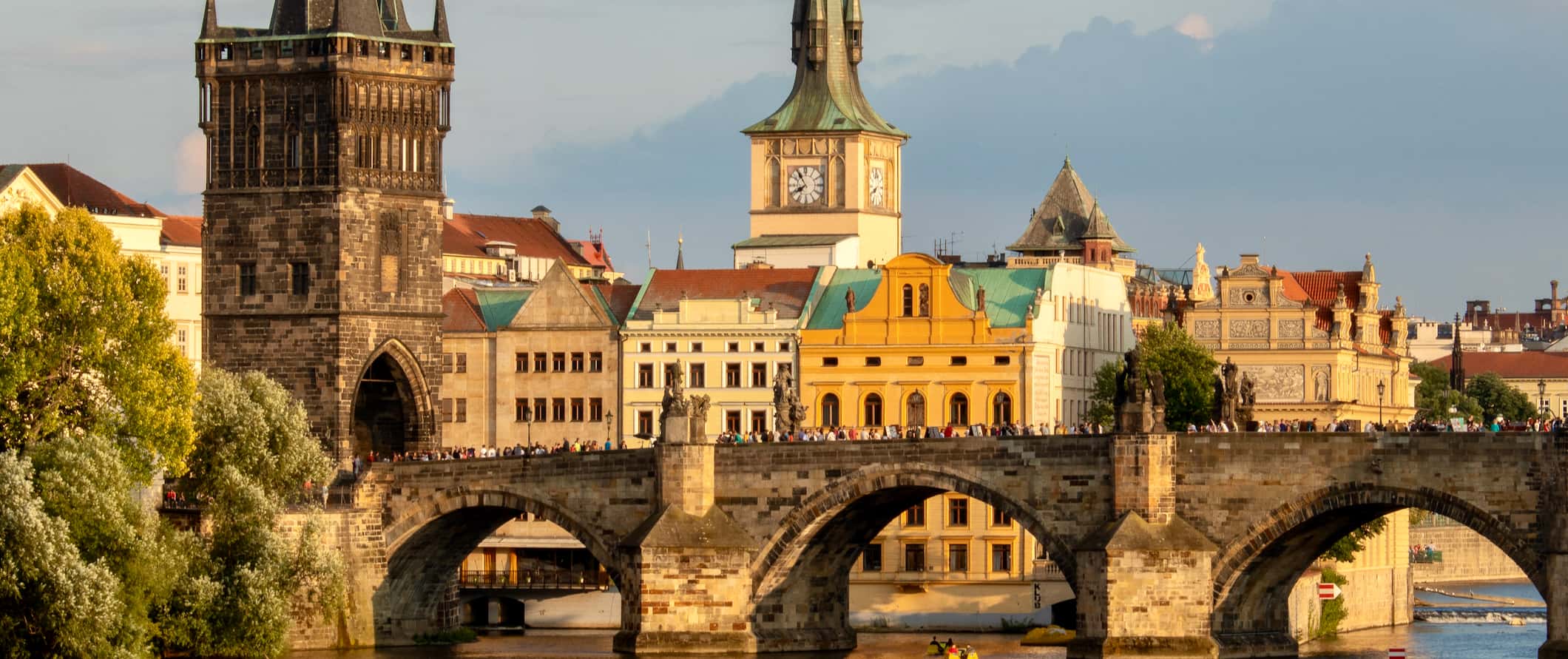 Hostel prices – Hostel dorms start at 350 CZK per night for a 6-8-bed dorm. Free Wi-Fi is standard and some hostels have kitchens. A couple of hostels in the city also include free breakfast. For a private room, expect to pay at least 1,400 CZK per night.
Camping is available outside the city with basic plots without electricity costing around 130 CZK per night. Expect to pay double that for a plot with electricity. Wild camping is illegal so you'll need to stick to official campgrounds.
Budget hotel prices – Budget hotels start at 930 CZK per night for a basic double room. Expect standard amenities like TV, AC, and a tea/coffee maker. Many budget hotels also include free breakfast. Prices are higher in the summer (and availability is slim) so be sure to book early if you're visiting then.
Airbnb is a budget-friendly option available around the city with private rooms starting at 550 CZK per night. For an entire home or apartment, expect to pay at least 1,000 CZK per night.
Food – Czech cuisine is hearty and heavily influenced by neighboring Poland and Germany. Expect a lot of soups/stews, sauerkraut, potatoes, breaded meats, and dumplings. One of the most famous dishes is goulash, a pork stew flavored mainly with paprika and served with knedliky (bread dumplings). Be sure to try buchty, a sweet bun, if you've got a sweet tooth.
For an inexpensive meal of traditional cuisine, expect to pay at least 265 CZK. Fast food (think McDonald's) costs closer to 174 CZK. For Indian food, expect to pay around 300 CZK for a main dish and for pizza, expect to pay around 325 CZK for a large.
A three-course meal of traditional cuisine costs around 800 CZK, including a drink. Expect to pay around 50 CZK for a beer or 64 CZK for a latte/cappuccino.
If you're looking to eat out, some of my favorite places in the city are Vinograf (wine bar), Country Life (vegetarian), Prague Beer Museum (beer/traditional food), and Pivovar U Medvídku (traditional cuisine). For good cocktails, check out Hemmingway Bar.
If you are planning to cook your own food, a week's worth of groceries costs around 600-900 CZK for basic staples like bread, cheese, seasonal produce, and some meat.
Backpacking Prague Suggested Budgets
On a backpacker budget, expect to spend at least 1,000 CZK per day. On this budget, you can stay in a hostel dorm, take public transportation to get around, limit your drinking, do free hikes, take free walking tours, and cook most of your meals. If you plan to go out and drink more, expect to spend closer to 1,150 CZK per day.
On a mid-range budget, expect to spend around 1,900 CZK per day. On this budget, you can stay in an Airbnb or private room at a hostel, take the occasional taxi or Uber to get around, do some larger activities like a wine tour or rafting, eat out for most meals and restaurants, and enjoy a few drinks.
On a "luxury" budget of around 4,700 CZK per day you can stay in a hotel, do any activities you want, eat out anywhere you want, go out for drinks, take a booze cruise, and rent a car for some day trips. This is just the ground floor for luxury though — the sky is the limit!
Accommodation
Food
Transportation
Attractions
Average Daily Cost
Backpacker
350
250
200
200
1,000
Mid-Range
700
550
250
400
1,900
Luxury
1,500
2,000
500
700
4,700
Prague Travel Guide: Money-Saving Tips
While Prague has become incredibly popular in recent years, it's still pretty affordable. Nothing is too overpriced and restaurants and beer remain pretty inexpensive compared to neighboring destinations. That said, it never hurts to save a little extra when you can. Here are some tips to help you save money when you visit:
Don't eat near the Charles Bridge – Restaurants near the Charles Bridge are considerably more expensive than spots further afield. Ask around, see where the locals dine and enjoy a cheap meal for a fraction of the price. You'll need to walk a few blocks but you'll save a ton and the food will be better.
Take a free walking tour – Explore Prague's many winding streets and breathtaking architecture as part of a free tour. You'll find a plethora of walking tours in the city, such as Free Walking Tour Prague. Their tours cover all the highlights and give you a solid intro to the city. Just be sure to tip your guide at the end!
Visit the free parks and churches – There are lots of beautiful parks, gardens, and churches that you can explore for free. The Wallenstein Gardens in Valdštejnský palace are gardens lined with fountains, trees, and numerous bronze statues. There are also many free concerts and performances taking place here so make sure to check out the schedule. Saint Vitus Cathedral, Saint Nicholas' Church, and The Church of Our Lady Before Tyn are beautiful free churches to visit.
Eat cheap – If you want to save money on your food you can take the tram to the city outskirts to find restaurants. Prices here are significantly cheaper than in the city. Otherwise, stick to outdoor vendors in the city for cheap eats.
Bring a reusable water bottle – The tap water here is safe to drink so bring a reusable water bottle so you can save money and lower your reliance on single-use plastic. LifeStraw makes a reusable bottle with a built-in filter so you can always ensure your water is clean and safe!
Stay with a local – Prague has an active Couchsurfing community so if you're on a budget and love meeting locals, stay with one to save money and get insider tips! Just be sure to send your requests in advance since it is a popular destination.
Where to Stay in Prague
Prague has a lot of hostels. They're all pretty comfortable but there are a few standouts that I love the best. These are some of my favorite places to stay in the city:
For more hostel suggestions, check out my complete list of the best hostels in Prague!
How to Get Around Prague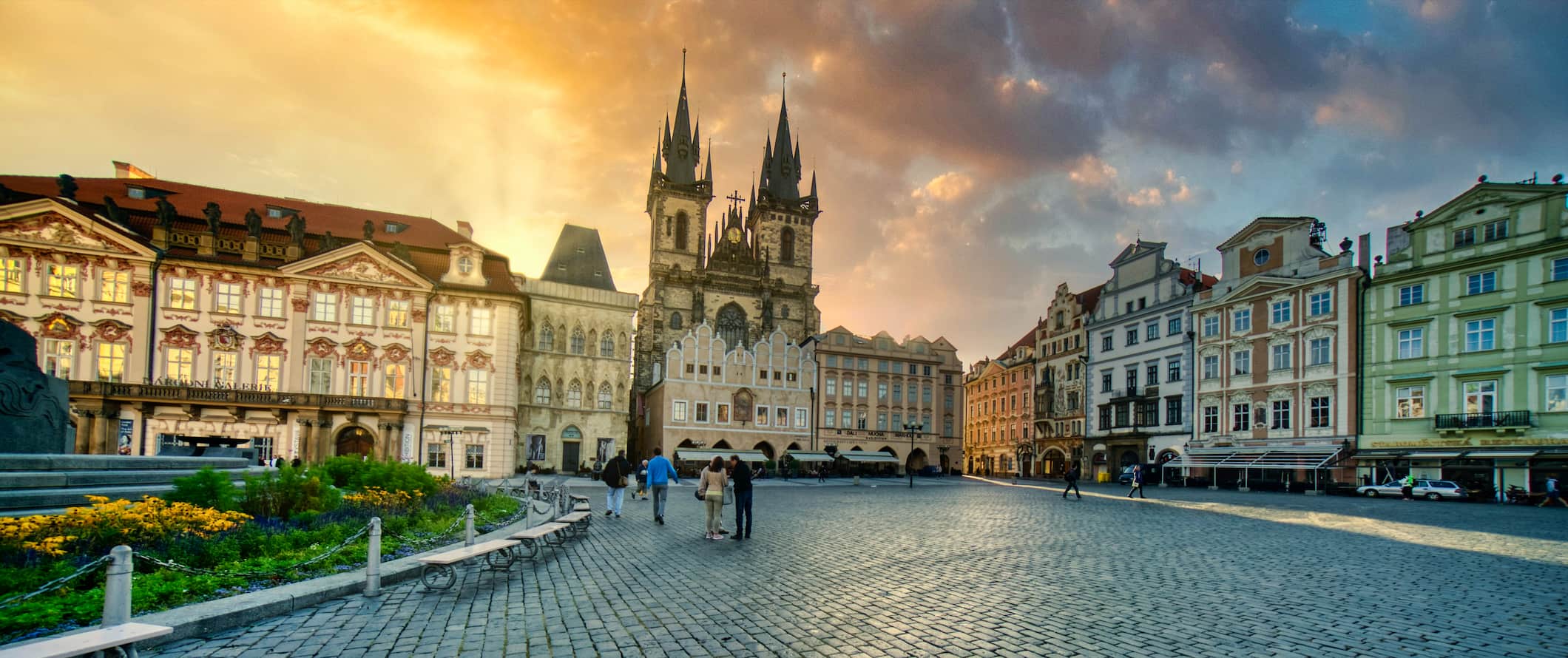 Public transportation – Metro fares are based on time and tickets range from 30 minutes (30 CZK), 90 minutes (40 CZK), 1 day pass (120 CZK) or 3-day pass (330 CZK). There are 4 lines (A, B, C, and D) that run from 4:45am until a little after midnight.
The bus lines in Prague operate in areas not reachable by the metro, but if you are at a bus station marked with an "M" it means you can exit the bus and continue your trip on the metro.
Tickets work the same way as the metro and buses run every 6-8 minutes during peak hours and every 10-20 minutes during off-peak hours. The wait time for buses is a little longer on the weekends, around 15-30 minutes. There are also night buses that run from midnight until 4:30am.
Bicycle – Biking is a fun way to see the city also while getting some exercise. There are lots of different bike rentals in Prague. Places like Okolo, in the heart of Prague's Old Town neighborhood, offer accessories like helmets and bike locks for no extra charge with your rental. Prices start at 200 CZK for 1 hour while a full 24 hours is 400 CZK.
Taxis – The starting fare for taxis in Prague is 40 CZK, with an additional 24 CZK per kilometer. Skip the taxis if you're on a budget. The city is walkable and the trams go everywhere.
Rideshare – For a cheaper alternative to taxis, use Uber.
Car rental – Car rentals can be found for around 450 CZK per day. However, I would only suggest renting one if you're heading outside the city for a day trip. You don't need one to get around Prague. Drivers need to be 21 or older to rent a vehicle.
For the best car rental prices, use Discover Cars.
When to Go to Prague
Prague has four distinct seasons. The summers are warm and dry while the winters are cold and snowy and can also get pretty windy too. Temperatures hover around freezing so dress appropriately.
The most popular time to visit Prague is from May to September, but this is also peak tourist season. If you visit in the summer, expect highs in August to be around 25°C (77°F). June and July aren't as hot, with temps averaging to 21°C (70°F).
If you can, avoid visiting in July and August; that's when the city is overflowing with tourists. Prices are higher and accommodation is scarce. There are wall-to-wall tourists in the Old Town during this time as well.
During the shoulder seasons, you'll avoid both the heat and the crowds. The best months to visit are between March-May and September-October, especially if you're hiking. You'll have cooler temperatures and, in the fall, you'll get to see the leaves change. Expect temperatures around 14°C (59°F).
How to Stay Safe in Prague
Violent crime against tourists in Prague is virtually nonexistent. Petty crimes like theft and pick-pocketing occur pretty often, especially in high-traffic areas. Pickpockets tend to target tourists on big walking tours so always be aware of your surroundings and keep your guard up when in large crowds. Keep your valuables safely tucked away when in public just to be safe.
With so many visitors, scams against tourists can occur. Keep an eye out for people with fake petitions who will demand money, as well as taxi drivers that won't use the meter. For other scams, here's a list of the most common travel scams to avoid.
Solo female travelers should generally feel safe here. The standard safety precautions apply (never leave your drink unattended at the bar, never walk home alone intoxicated, etc.). For specific safety tips, check out one of the many solo female travel blogs in the city.
If you experience an emergency, dial 150 for the fire department, 155 for an ambulance, and 158 for the police.
When in doubt, always trust your instincts. If a taxi driver seems shady, get out. If your hotel or accommodation is seedier than you thought, go somewhere else. Make copies of your personal documents, including your passport and ID, in case of an emergency.
The most important piece of advice I can offer is to purchase good travel insurance. Travel insurance protects you against illness, injury, theft, and cancellations. It's comprehensive protection in case anything goes wrong. I never go on a trip without it as I've had to use it many times in the past. You can use the widget below to find the policy right for you:
Prague Travel Guide: The Best Booking Resources
These are my favorite companies to use when I travel. They consistently have the best deals, offer world-class customer service and great value, and overall, are better than their competitors. They are the companies I use the most and are always the starting point in my search for travel deals.
Skyscanner – Skyscanner is my favorite flight search engine. They search small websites and budget airlines that larger search sites tend to miss. They are hands down the number one place to start.
Hostelworld – This is the best hostel accommodation site out there with the largest inventory, best search interface, and widest availability.
Booking.com – The best all around booking site that constantly provides the cheapest and lowest rates. They have the widest selection of budget accommodation. In all my tests, they've always had the cheapest rates out of all the booking websites.
HostelPass – This new card gives you up to 20% off hostels throughout Europe. It's a great way to save money. They're constantly adding new hostels too. I've always wanted something like this and glad it finallt exists.
Get Your Guide – Get Your Guide is a huge online marketplace for tours and excursions. They have tons of tour options available in cities all around the world, including everything from cooking classes, walking tours, street art lessons, and more!
The Man in Seat 61 – This website is the ultimate guide to train travel anywhere in the world. They have the most comprehensive information on routes, times, prices, and train conditions. If you are planning a long train journey or some epic train trip, consult this site.
Rome2Rio – This website allows you to see how to get from point A to point B the best and cheapest way possible. It will give you all the bus, train, plane, or boat routes that can get you there as well as how much they cost.
FlixBus – Flixbus has routes between 20 European countries with prices starting as low 5 EUR! Their buses include WiFi, electrical outlets, a free checked bag.
SafetyWing – Safety Wing offers convenient and affordable plans tailored to digital nomads and long-term travelers. They have cheap monthly plans, great customer service, and an easy-to-use claims process that makes it perfect for those on the road.
LifeStraw – My go-to company for reusable water bottles with built-in filters so you can ensure your drinking water is always clean and safe.
Unbound Merino – They make lightweight, durable, easy-to-clean travel clothing.
Top Travel Credit Cards – Points are the best way to cut down travel expenses. Here's my favorite point earning credit cards so you can get free travel!
BlaBlaCar – BlaBlaCar is a ridesharing website that lets you share rides with vetted local drivers by pitching in for gas. You simply request a seat, they approve, and off you go! It's a cheaper and more interesting way to travel than by bus or train!
Prague Travel Guide: Related Articles
Want more info? Check out all the articles I've written on backpacking/traveling Europe and continue planning your trip: