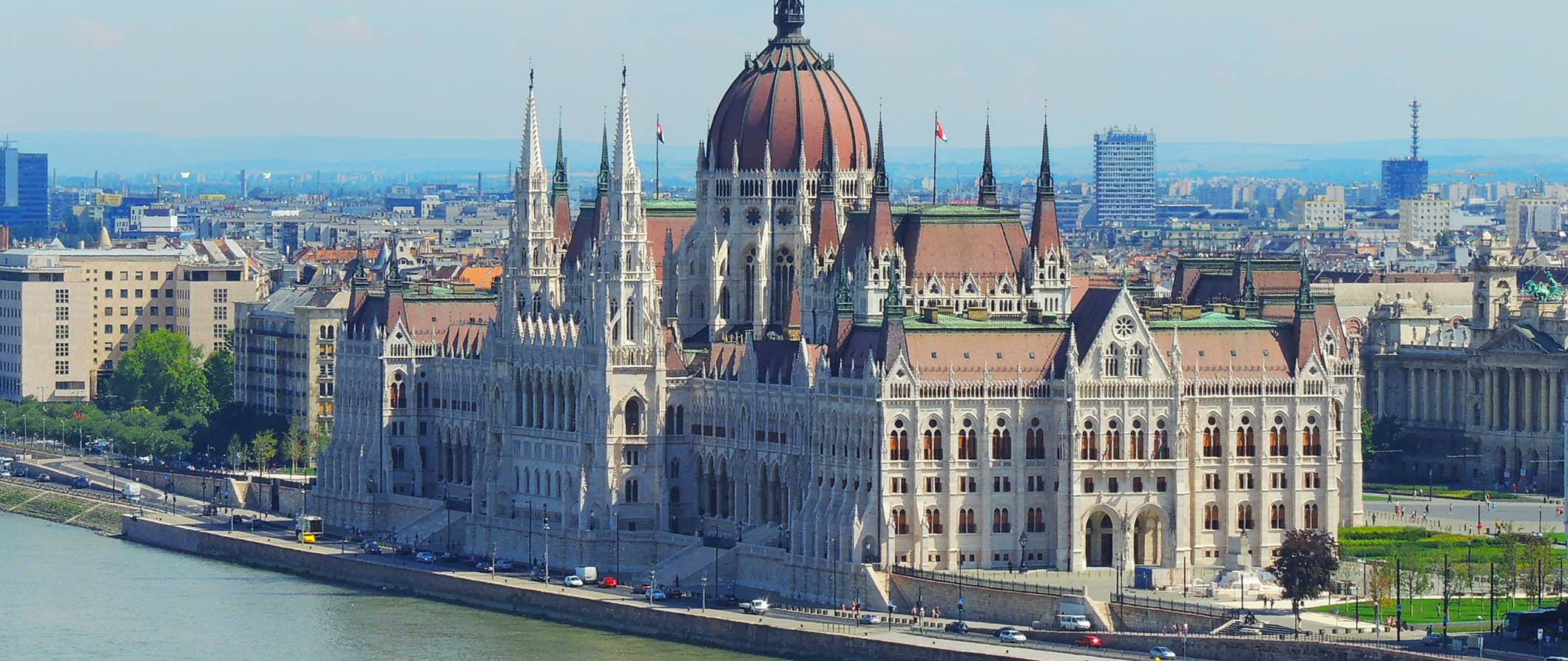 Budapest, with its stunning architecture, fascinating history, and rocking nightlife is located on a beautiful stretch of the Danube River.
This vibrant city is home to beautiful parks and buildings, bustling food halls, cool underground bars, and centuries-old thermal baths.
The city is popular with budget backpackers on their European tour, as well as European vacationers and river cruisers looking to explore beyond the confines of Western Europe.
No matter how you travel to this city, you're going to love it.
I love how Budapest's drab exterior hides an inner warmth. It's hip. It's cool. There is so much more to the city if you can look beyond its concrete façade. Do that, and you'll have an amazing time in one of the best destinations on the continent.
The city is packed with great accommodation and cheap food, and it fits quite nicely into even the tightest budgets.
It is hands down one of the most exciting cities in Europe!
This travel guide to Budapest can help you plan your trip. Trust me when I say you should add an extra day more than you plan. You're not going to want to leave!
Top 5 Things to See and Do in Budapest
1. Gaze at the Parliament
This massive building on the Danube is where the Hungarian legislature meets. There are free tours throughout the day that give you a fascinating look at the history of Budapest. If you do go, make sure to bring your passport as they will ask for it! Tours cost 2,400 HUF ($9 USD) for adult EU citizens and 6,000 HUF ($22 USD) for non-EU citizens.
2. Admire the National Gallery
Located in the Royal Palace, the National Gallery is home to works from prominent Hungarian and European artists. There are a lot of treasures here: besides the paintings and sculptures, you can see a collection of altarpieces from the 1400s and tour the building's dome.
3. Visit the baths
Budapest is famous for its hot springs. Szechenyi is the most famous of them all, with indoor and outdoor pools, saunas and dunk baths. Others, such as Lukacs, Rudas, and Gellert are also worth a peek. Weekday admission is around 5,800 HUF ($21 USD) per person.
4. Cruise the Danube
Many hostels organize weekly boat parties that cruise the Danube (the Budapest Party Hostel group is famous for theirs). Whether it's your scene or not, it's definitely worth it to see the city lit up from the water. Other boat tours are available with or without dinner and drink options as well. Prices vary, but expect to pay at least 5,000 HUF ($18 USD).
5. Hit the Ruin Pubs
After WW2, many buildings in the city were abandoned. Squatters, then artists, and now hipsters moved into the forgotten areas and have turned them into eclectic
"ruin bars"
that even the locals love. They are a must do!
Other Things to See and Do in Budapest
1. Visit the House of Terror
Hungary is infamous for the brutality of its leaders under the Nazi and Soviet regimes. This building is both a museum and a memorial paying homage to the thousands of people who were tortured and brutally killed here. It's not a light way to spend your afternoon, but you'll get some insight into Hungary's complex history. Adult admission is 3,000 HUF ($11 USD).
2. Dive underground
While half the city has hot thermal springs underground, the other half has a network of caves waiting to be explored. Put on a jumpsuit and hard hat, and spend time crawling through these winding caverns. Check out the company Caving Under Budapest for great guided tours with English speaking guides. They even do Adventure Caving, where you can climb up walls and through incredibly narrow spaces within the 19-mile (30-kilometer) cave system. Tours start from 7,000 HUF ($25 USD) for adults and 6,000 HUF ($22 USD) for kids.
3. Wander through the Great Market Hall
At the head of Vaci Utca, the kitschy shopping street in town, is the Great Market Hall. Built in 1897, this is the oldest and largest indoor market in the country. Its incredible exterior also covered in the same ceramic tiles as are on the roof of Matthias Church on the top of Buda Hill. Walk aisle to aisle and check out local crafts, aromatic spices, and delicious food stalls. This is a great place to people watch, have lunch, or pick up souvenirs.
4. Visit the Royal Palace (Buda Castle)
They call it a castle, but it's more of a palace complex than anything else. Though it was originally constructed in the 13th century, the huge Baroque complex you see today was built between 1749 and 1769. The palace's days of being a luxurious living space ended in World War II, though, when Nazi (and then Russian) troops looted it. Today, it's home to a collection of museums. Beneath the castle there is a labyrinth that tourists used to be able can explore, though it's now closed (which is too bad because Vlad the Impaler — who we know colloquially as Count Dracula — was imprisoned down in the labyrinth for 14 years!).
5. Take a free walking tour
There are daily tours available in the city with companies like Free Budapest Walking Tours, Strawberry Tours, Trip to Budapest, and Generation Tours. These are a great way to learn about the city's history, culture, and architecture. Be sure to take a tour if you want to get below the surface of Budapest! (And be sure to tip your guide!)
6. Relax on Margaret Island
This popular island is smack in the middle of the Danube, connected by the Margaret and Árpád Bridges. Visitors mainly tour the park, visit the swimming pools, and watch the Musical Fountain, which sprays water high into the air in sync with music. There are also some dance clubs (which are especially busy on the weekends).
7.Take a day trip to Lake Balaton
For 6,000 HUF ($22 USD) you can get a round-trip train ticket from the city to Lake Balaton. This is the largest lake in Central Europe (often called the "Hungarian Sea"), and a hub for outdoor activities, especially cycling. Hike an extinct volcano in the Tapolca Basin, walk through lavender fields, and look for wildlife in the Balaton Uplands National Park.
8. Visit the Cave Church
You can find this odd little church on the Buda side of the city. In the 1920s, monks built this church in a cave that had been previously used by a hermit monk. It was used as a hospital during World War II, and the Communist government barricaded entrance after the war and executed the head monk. While much of it has been remade with concrete, there are lots of interesting relics to be seen, including a replica of the Black Madonna from Poland. Rumor has it that the church is connected to an underground network of tunnels, too! It's quite small, so it only takes half an hour to explore. Admission is 600 HUF ($2.50 USD) which includes an audio guide.
9. See the Shoes on the Danube
This small monument is located on the Pest side of the city. During World War II, fascist militiamen would round up Jewish citizens and execute them on the shores of the Danube. This monument, a collection of leftover shoes, was created as a memorial for those murders.
10. Hike Gellért Hill
Named after Saint Gerard, this hill overlooks the entire city. The climb up isn't too taxing, and the view makes it worth the effort. At the peak, you'll find a few vendors selling snacks and drinks, as well as a handful of locals and tourists all enjoying the view! Look for the Szent Gellért Monument dedicated to Saint Gerard, who was the first Bishop of Csanád in what was the Kingdom of Hungary in 1030 CE.
11. Visit the Budapest History Museum
his museum covers four floors of Buda Castle and will really give you a comprehensive overview of the city's entire history (plus the views across town are amazing!). It has some rooms that date back to the 15th century, and you can also explore the old cellar, which also dates to the 15th century. Personally, I really liked the "1,000 Years of Budapest" area. Admission varies by season (2,000-2,400 HUF/$7.20-8.65 USD).
12. Go to Matthias Church
This neo-Gothic Roman Catholic church is not what you might expect. I've seen hundreds of churches and cathedrals across Europe, and this one is unique. The colorful roof almost looks like it was built from Legos. The original church was built in the 11th century, though nothing remains of it. The current building was constructed in the 14th century, though it saw significant renovations in the 19th century. Once inside, you'll notice the vaulted ceilings and ornate décor. It was a mosque for a while, which explains its vibrant colors and painted designs that aren't the norm in European churches.
13. Gaze at St. Stephen's Basilica
This is the largest church in Hungary and can't be missed. It is beautiful inside and out, with ornate architecture, gorgeous artwork, sparkling marble, and a tall dome. No wonder it took 50 years to build! If you go inside, check out all the little chapels and St. Stephen's mummified hand. If you're there on a Monday, you can go to an organ concert. Entry is by donation, but it costs 600 HUF ($2.15 USD) to visit the tower.
14. Hungarian Presidential Palace
This is the home of the Hungarian president. The palace is called Sándor-palota (Alexander Palace), and while it's not terribly eye-catching compared to the surrounding buildings, you can see the changing of the guard ceremony at the top of each hour (from 9am to 5pm, excluding Sundays). If you're really lucky, in the summer the palace will be open for tours, though this rarely happens. Admission to the changing of the guard is free. There is an additional fee for palace admission (when available).
15. See the Hungarian State Opera House
Step inside this neo-Renaissance masterpiece if you're an opera fan, or just view it from outside (since the auditorium is being renovated, I suggest the latter). If there are performances while you are in town, definitely try to attend one — it may even cost less than a tour! Tour admission is 2,900 HUF for adults and 1,900 HUF for students.
16. Tour Heroes' Square
Located at the end of Andrássy Avenue, this is actually the largest square in the country. Its centerpiece is the Millennial Memorial and the statues of Hungarian kings (as well as other historical figures). The monument was built in 1896 to celebrate Hungary's 1,000th anniversary. At this time, Hungary was part of the Austro-Hungarian Empire ruled by the Hapsburgs, and space was left for statues of future Hapsburg leaders.
Budapest Travel Costs
Accommodation – Budapest is famous for its hostel culture so you'll find dozens of options here. Most dorm beds are 2,500-3,500 HUF ($9-$13 USD). A private room will cost around 8,000 HUF ($29 USD) per night, though they can be found for as little as 5,500 HUF ($20 USD). Free WiFi is standard, and a couple of hostels also offer free breakfast. Most hostels have a kitchen, as well, if you need to prepare your own meals.
For those traveling with a tent, camping is available around the city. Expect to pay around 5,500 HUF ($20 USD) (for a plot and admission for 2 people).
If you want more privacy, budget hotels and renting from locals in Budapest will be your best option. Several hostels also operate private apartments that give you a sense of community, but with nicer accommodations. Expect this type of situation to average around 8,000 HUF ($29 USD) per night. Double budget hotel rooms will start at 10,000 HUF ($36 USD). This will usually include free WiFi and free breakfast. For a hotel with a pool, prices start around 12,000 HUF ($42 USD) per night.
Airbnb is also available in the city, with shared accommodation starting at 4,000 HUF ($15 USD) per night. For an entire home or apartment, prices begin around 5,500 HUF ($20 USD) per night (though they average closer to 16,000 HUF($58 USD).
Food – If you're on a budget, you can easily eat for under 3,000 HUF ($11 USD) a day. Whether it's a slice of pizza for less than 300 HUF $1.25 USD) a slice, goulash for 1,400 HUF ($5 USD) or a langos for as little as 280 HUF ($1 USD), there are plenty of cheap options available.
As for fast food, it can be found for as little as 1,500 HUF ($6 USD). Conversely, gastropubs and unique food concepts are popping up throughout town, so Budapest is becoming a mecca for foodies. This type of meal will cost about 2,200 HUF ($8 USD) with a drink — still cheap!
For a mid-range restaurant with table service, expect to pay around 4,000 HUF ($15 USD). A beer at the bar will cost around 400 HUF($1.50 USD), while buying it at a store will be half that price.
ABC stores or convenience stores are a great place to stock up on snacks and alcohol — most are open 24 hours. For a week's worth of groceries, expect to pay around 8,000-9,000 HUF ($29-$33 USD).
Activities – There are a lot of free activities you can take advantage of in Budapest, including most of Buda Castle and visiting Margaret Island. Admissions for attractions like museums and historical sites vary but typically start from 600 HUF ($2.50 USD) for churches up to 6,000 HUF ($22 USD) for more popular spots, like the parliament.
Tours and day trips will run you a little more money, starting from 7,000 HUF ($25 USD) for a cave adventure or 6,000 HUF ($22 USD) to get to Lake Balaton for a day of relaxation.
Backpacking Budapest Suggested Budgets
If you are backpacking Budapest, my suggested budget is 10000 HUF ($35 USD). This is assuming you're staying in a hostel dorm, eating cheap meals, cooking some food, visiting a few attractions, and using local transportation.
On a mid-range budget of about 28000 HUF ($100 USD), you can stay in a nicer hostel or budget hotel, eat out a lot more, drink a lot more, take some guided tours, and visit more attractions. On this budget, you'll want for nothing but won't over due it.
If you want luxury hotels, upgraded transportation options (like rental cars), higher-end private tours, fancy restaurant meals with wine, the best cocktails, and luxury spas and baths, expect to pay 85000 HUF ($300 USD) or more per day. At this price point, the sky is the limit! Really, you can do anything you want in Budapest if this is your daily budget.
You can use the chart below to get some idea of how much you need to budget daily, depending on your travel style.
Accommodation
Food
Transportation
Attractions
Average Daily Cost
Backpacker
$9-14
$11
$5
$10-15
$35-45
Mid-Range
$50
$40
$20
$60
$100
Luxury
$100
$70
$20
$110
$300
Budapest Travel Guide: Money Saving Tips
Budapest isn't an expensive place to visit. If you stick to local food markets, dorm rooms, and public transportation, it's really hard to break the bank.
My one piece of advice is to limit your drinking. This is where travelers go wrong. Sure the beer is cheap but twenty of them add up! Watch your drinking, stay in dorms or with Couchsurfing hosts, stick to the markets, and the daily free walking tour, and you'll be hard pressed to spend a lot here! Here are some high-impact ways to save money in Budapest without sacrificing your trip:
Take a free walking tour – There are plenty of free walking tours available, making for a great introduction to the city. This is the best (and cheapest!) way to explore while getting a detailed overview of the city and its culture and history. Just be sure to tip!
Stay with a local – While accommodation is cheap here, staying with a local will make it free. Not only will you save some money, but you'll get firsthand knowledge from someone who lives here!
Cook your own meals – While eating out isn't too expensive here, if you're on a budget it will be cheaper if you cook your own meals. Head to a local grocery store and save your budget!
Walk everywhere – If you don't mind walking, this is the easiest and cheapest way to explore the city. Most of the main sights are well within walking distance, and the city is quite easy to explore on foot.
Have an ISIC Card – To save 20-50% on the cost of admission to museums and other tourist attractions, be sure to present a valid student card. The ISIC is typically accepted in places where a foreign student ID is not.
Get the Budapest Card – The Budapest Card is a travel pass that will give you big discounts and deals on attractions and activities in the city. You also get a lot of FREE stuff, including access to public transport, entry to the Lukács thermal baths, and entry to 17 museums. A 24-hour card costs 6,945 HUF ($25 USD), a 48-hour card costs about 10,418 HUF ($37.52 USD), and 72-hour card costs 21,127 HUF ($76 USD). There are also 96-hour and 120-hour cards available. The more days you purchase, the lower the daily price.
See some entertainment – Even Budapest's most prestigious forms of entertainment are cheap. State Opera tickets start from as little as 500 HUF ($1.80), and if you come during rehearsal performances, you can find seats starting from 200 HUF ($0.72 USD)!
Take advantage of the water fountains – Free water is the best water! There are water fountains all over the city, and they're safe, clean, and free to use.
Where To Stay in Budapest
Lookig for a place to rest your head? Here are some of my favorite places to stay in Budapest:
How to Get Around Budapest
Public transportation – The inner city bus network in Budapest is vast, with over 200 routes serving the city. As well as busses, Budapest has a large network of yellow streetcars/trams servicing much of the city (the trams actually carry more people than the metro!). In the area of Pest, you will also find trolley buses with 13 available routes and there is a modern metro system running along 4 lines too:
M1 services the northeast side of the city from Pest to City Park.
M2 services east to west from Örs vezér tere on the city's east side. It also provides a connection between two of the cities main railway stations Keleti and Déli.
M3 services the northwest from Kobánya-Kispest through the city center to Újpest.
M4 provides a link between the southwest and the northeast beginning at Kelenföld vasútállomás in Újbuda traveling through the city center to Keleti pályaudvar.
Tickets are valid on the bus, metro, trams, and trolley buses, and can be purchased at any metro station with a single ride costing only 350 HUF ($1.50 USD). If you want to avoid standing the the queues at the stations you can also buy tickets at most newsstands, street stands, and ticket vending machines. One standard ticket is good for one trip. That means if you need to transfer, you will need a new ticket unless you have bought a transfer ticket.
Just having a ticket does not mean you are ok to travel, you need to validate the ticket on entering the transport to validate it. If you are caught using public transport without a validated ticket you are liable for an on the spot fine.
If you know you are going to be using public transport while in Budapest then it may be worth purchasing a 24-hour transit costing around 1,650 HUF ($6 USD). You can also get a 72-hour card for around 4,150 HUF ($15 USD). More information is available about tickets by visiting www.bkv.hu.
Remember: if you have a Budapest Card, public transportation is free.
For intercity travel there are overnight buses running to and from cities such as Prague each night, costing around 10,000 HUF ($35 USD). A bus to Vienna, Austria will cost around 4,800 HUF ($17 USD).
Trains – There are three main railway stations in Budapest that connect the capital with other cities in Hungary as well as to other capital cities such as Vienna.
Keleti Pályaudvar (Eastern Railway Station) is the main internationl and inter-city railway station in Budapest. It is located in district 8 and can be accessed by M2 on the subway or bus 5 or 7. From Keleti, you can take a train to other cities in Hungary such as Hatvan, Gyor and Békéscsaba.
Déli Pályaudvar (Southern Railway Station) is the main railway station in Buda, located in District 1. To get here you can take M2 on the subway or street car 18, 59 and 61. Déli station predominantly serves towns and cities in the Transdanubia area. From here you can take a train to Balaton (2 hours), the train will take you along the scenic Lake Balaton (the largest lake in Central Europe). You can also stop off at Siofolk on this route, one of Hungary's top bathing resorts.
Nyugati Railway Station (Western Railway Station) is located in District 6 and can be accessed by M3 on the subway or by streetcars 4 and 6. From Nyugati, you can take a train to other cities within Hungary such as Danube Bend, Vác, and Esztergom, or you can take a direct train to Kiev.
Ferry – There are two forms of public water transport, the Danube River Ferry Service and the Riverboats (only operate from May-September). The Danube River Ferry Service runes between Újpest and Millenniumi Városközpont. While the Riverboats operate the services between Boráros tér and Pünkösdfürdo. The Riverboats depart every 1.5 hours between 8am and 8pm with ticket prices ranging from 250-1,000 HUF ($1-$4 USD).
When to Go to Budapest
Peak season is from June and August during the Summer where temperatures rise to 86ºF (30ºC), and Budapest experiences a huge influx of visitors. Prices increase during this time as well. But the overall atmosphere and weather is great during this time, so it's still worth visiting during peak season.
However, I think the best time to visit Budapest is shoulder season in the spring and fall (April to May and September to October, respectively). It's still warm during this time but there aren't as many crowds and prices are cheaper. It's also easier to meet locals!
Winter is from November to March. During this time there is a lot of rain and snow, with many tourist attractions shutting down. Temperatures can drop to 37°F (3°C) in Budapest. On the other hand, November to December are fantastic – you'll find Christmas markets and festivals galore, plus you can always warm up in one of Budapest' 100 thermal baths!
How to Stay Safe in Budapest
In Hungary, scams and pick-pocketing are a common danger you'll face, especially in Budapest around high traffic areas like on tramline 4-6 and the yellow metro line. Other hotspots in Budapest are Matthias Church, Fishermen's Bastion and Parliament. All of these areas are crowded and popular with tourists.
Other things to be aware of are large bar and restaurant bills. It is mostly solo male travelers who become the target of the large bar bill scam. be He will approached by a group of women who will ask for a light or directions. They will then ask if he wan't to come for a drink in a nearby bar. When the bill comes it will be very expensive and they will be unable to pay their share. This is a very common scam and the women are woking for the bar. If you aren't sure if it is a scam or not then try suggesting you all go to a different bar than the one they suggest.
The large restaurant bill scam is common around Vaci Utca where you will be persuaded to visit a bar or restaurant by a street tout. The restaurant will not be on street level, it will normally have to ride an elevator to get to the restaurant. You will be pressured to order from a menu with no prices and then presented with a huge bill at the end. To avoid this always check the prices before ordering.
You can read about the 14 travel scams to avoid right here.
Always trust your gut instinct. If a taxi driver seems shady, stop the cab and get out. If your hotel is seedier than you thought, get out of there. Make copies of your personal documents, including your passport and ID.
If you don't do it at home, don't do it in Budapest!
The most important piece of advice I can offer is to purchase good travel insurance. Travel insurance will protect you against illness, injury, theft, and cancellations. It's comprehensive protection in case anything goes wrong. I never go on a trip without it as I've had to use it many times in the past. You can use the widget below to find the policy right for you:
Budapest Travel Guide: The Best Booking Resources
These are my favorite companies to use when I travel to Europe. They are included here because they consistently find deals, offer world-class customer service and great value, and overall, are better than their competitors. They are the ones I use the most and are always the starting points in my search for travel deals.
Momondo – This is my favorite booking site. I never book a flight without checking here first.
Skyscanner – Skyscanner is another great flight search engline which searches a lot of different airlines, including many of the budget carriers that larger sites miss. While I always start with Momondo, I use this site too as a way to compare prices.
Airbnb – Airbnb is a great accommodation alternative for connecting with homeowners who rent out their homes or apartments. (If you're new to Airbnb, get $35 off your first stay!)
Hostelworld – This is the best hostel accommodation site out there, with the largest inventory, best search interface, and widest availability.
Couchsurfing – This website allows you to stay on people's couches or spare rooms for free. It's a great way to save money while meeting locals who can tell you the ins and outs of their city. The site also lists events you can attend to meet people (even if you're not staying with someone).
Booking.com – The best all around booking site that constantly provides the cheapest and lowest rates. They have a no money down policy, great interface, and the widest selection of budget accommodation. In all my tests, they've always had the cheapest rates out of all bookers.
Intrepid Travel – If you want to do a group tour around Europe, go with Intrepid Travel. They offer good small group tours that use local operators and leave a small environmental footprint. If you go on a tour with anyone, go with them. And, as a reader of this site, you'll get exclusive discounts when you click the link!
STA Travel – A good company for those under 30 or for students, STA Travel offers discounted airfare as well as travel passes that help you save on attractions.
Rome 2 Rio – This website allows you to see how to get from point A to point B the best and cheapest way possible. It will give you all the bus, train, plane, or boat routes that can get you there as well as how much they cost.
FlixBus – German based Flixbus has routes between 20 European countries with prices starting as low $6! Their buses include WiFi, electrical outlets, and up to three 3 free bags.
Bla Bla Car – BlaBlaCar is a ridesharing website that lets you share rides with vetted local drivers by pitching in for gas. You simply request a seat, they approve, and off you go! It's a cheaper and more interesting way travel than by bus or train!
Context Tours – One of my favorite walking tour companies, Context offers in-depth history, food, and cultural tours through cities in the world, with a speciality in Europe. This company gets experts to lead tours (i.e. a chef to lead a food tour).
World Nomads – I buy all my travel insurance from World Nomads. They have great customer service, competitive prices, and in-depth coverage. I've been using them since I started traveling in 2003. Don't leave home without it!
EatWith – This website allows you to eat home cooked meal with locals. Locals post listings for dinner parties and specialty meals that you can sign up for. There is a fee (everyone sets their own price) but this is a great way to do something different, pick a local's brain, and make a new friend.
Budapest Gear and Packing Guide
In this section, I'll give you my suggestion for the best travel backpack and tips on what to pack for your trip to Budapest.
The Best Backpack for Budapest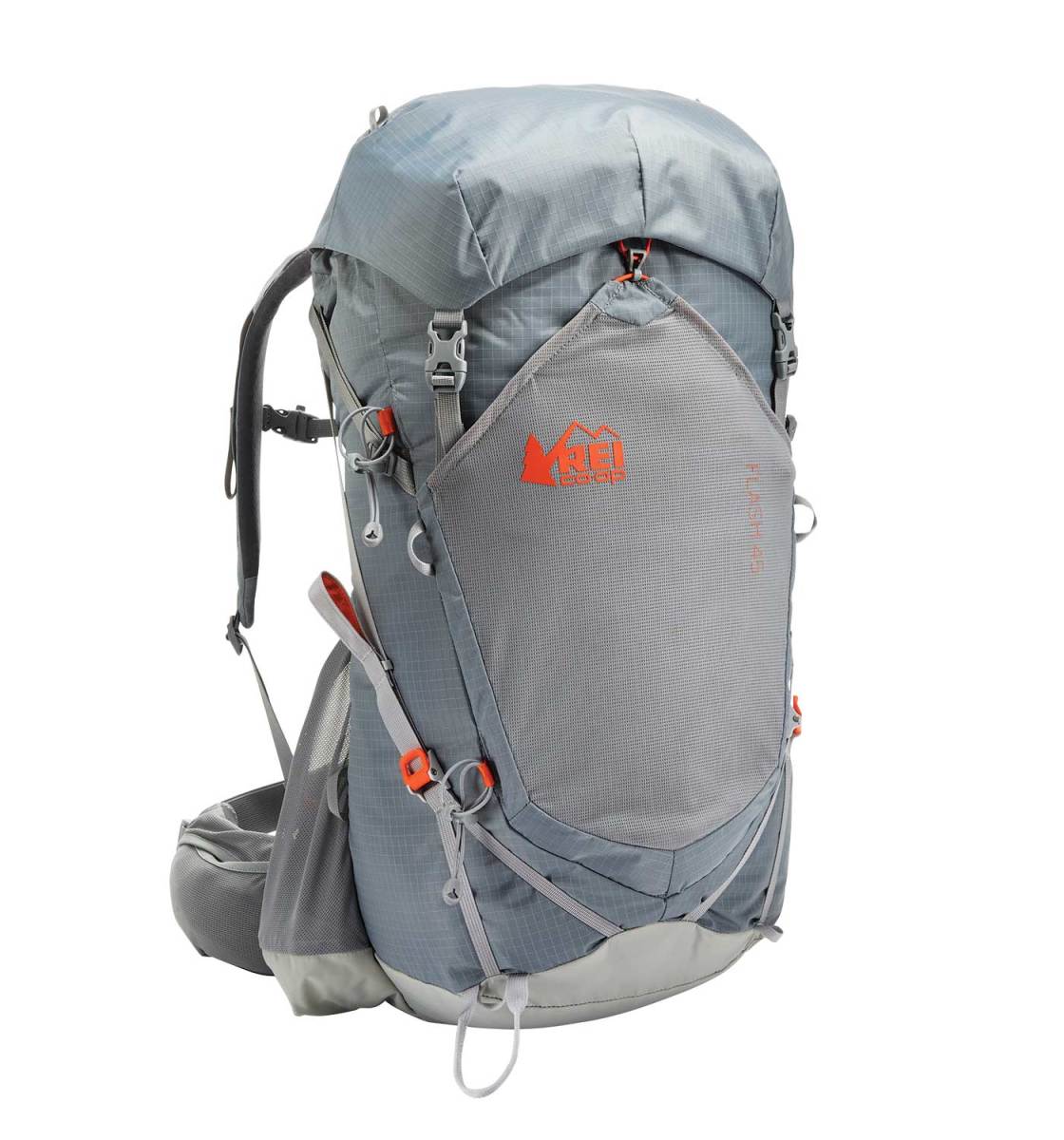 What's the best backpack for traveling around Budapest? I recommend the
REI Flash 45 Pack
. It's light and comfy, front loading, and fits perfectly in an airplane's overhead bin.
Size:
45-47L
Straps:
Thick and cushy with compression technology that pulls the pack's load up and inwards so it doesn't feel as heavy.
Features:
Removable top lid, large pocket at the front, hydration compatible, contoured hip belt
If you want something smaller or different, refer to my article on how to choose the best travel backpack for more tips and tricks on how to pick a backpack – as well as more pack suggestions!
What to Pack for Budapest
Clothes
1 pair of jeans (heavy and not easily dried, but I like them; a good alternative is khaki pants)
1 pair of shorts
1 bathing suit
6 T-shirts
1 long-sleeved T-shirt
1 pair of flip-flops
1 pair of sneakers
8 pairs of socks (I always end up losing half)
5 pairs of boxer shorts (I'm not a briefs guy!)
1 toothbrush
1 tube of toothpaste
1 razor
1 package of dental floss
1 small bottle of shampoo
1 small bottle of shower gel
1 towel
Deodorant
Small Medical Kit (safety is important!!!)
Miscellaneous
Female Travel Packing List
I'm not a woman so I don't know what a woman wears, but Kristin Addis, our solo female travel guru, wrote this list as an addition to the basics above:
Clothing
1 swimsuit
1 sarong
1 pair of stretchy jeans (they wash and dry easily)
1 pair of leggings (if it's cold, they can go under your jeans, otherwise with a dress or shirt)
2-3 long-sleeve tops
2-3 T-shirts
3-4 spaghetti tops
1 light cardigan
Toiletries
1 dry shampoo spray & talc powder (keeps long hair grease free in between washes)
1 hairbrush
Makeup you use
Hair bands & hair clips
Feminine hygiene products (you can opt to buy there too, but I prefer not to count on it, and most people have their preferred products)
For more on packing, check out these posts:
Budapest Travel Guide: Suggested Reading
Will to Survive: A History of Hungary, by Bryan Cartledge
Will to Survive goes into detail about Hungarys survival in the face of adversity. Surrounded by hostile neighbors for most of it's existence it has survived some of the most powerful empires in history. Hungary still occupies the territory the Magyar tribes claimed in the ninth century, despite falling victim to The Mongol, Ottoman, Habsburg, Nazi and Soviet empires. And being on the losing side in every war it has fought. If you want to really understand Hungary's history then this is the perfect read. Bryan Cartledge, traces Hungary's story from the arrival of the Magyars to Hungary's success in gaining membership of NATO and the European Union.
The Bridge at Andau, by James A. Michener The Bridge at Andau tells the story of the 1956 Hungarian Revolution. Although some of the political commentary is slightly dated it is a gripping account of the doomed uprising. The uprising only lasted for five short days. During this time the Hungarian people were offered a glimpse of a different future. Then early one morning the citizens of Budapest were woken by the sound of Russian tanks marking the end of the revolution. It was only thanks to a small footbridge at Andau that people were able to flee to the safety of Austria. Michener doesn't sugarcoat details making some parts difficult to read but if you are visiting Budapest then reading this book is going to make your trip a lot more interesting.
The Essential Guide to Being Hungarian: 50 Facts & Facets of Nationhood , by István Bori
Although Hungary is situated in the heart of Europe many Hungarians feel that the rest of the world just doesn't understand them. The Essential Guide to Being Hungarian is a collection of 50 short candid articles written by twelve Hungarian authors. Subjects covered in the witty easy to read articles include: the the stereotypical Magyar man and woman, foods, folk customs, livestock, literature, film, philosophy, politics, scientists, and sports. It's a compacting and irresistible little book, that proclaims to teach anyone how to be Hungarian, even if they already are. It is well worth a read to help you understand a little more about the Hungarian people.
I Kiss Your Hands Many Times: Hearts, Souls, and Wars in Hungary, by Marianne Szegedy-Maszak
I Kiss Your Hands Many Times is an epic, yet intimate, wartime love story set in Hungary during the 1940's. Based on the true story of the forces that brought the author's parents Hanna and Aladár together when they first met in Budapest, and those that almost pulled them apart. Woven together by their letters written between 1940 and 1947, the authors family memoir tells the story, of the complex relationship between Hungary and its Jewish population during this time. If you prefer to learn history through more more intimate stories then this is the perfect read to accompany you on those long Hungarian train rides.
Budapest: A History of Grandeur and Catastrophe, by Joe Hajdu
Budapest: A History of Grandeur and Catastrophe is a easy read for those who want to learn about Budapest's history, without feeling like you are reading a history text book. Hajdu brings the history and locations to life as he switches back and forth in time to put the past into context. This is the book you will wish you had read before your trip to Budapest!
My Must Have Guides for Traveling to Budapest
Budapest Travel Guide: Related Articles
Want more info? Check out all the articles I've written on backpacking/traveling Hungary and continue planning your trip:
Photo credits: 6