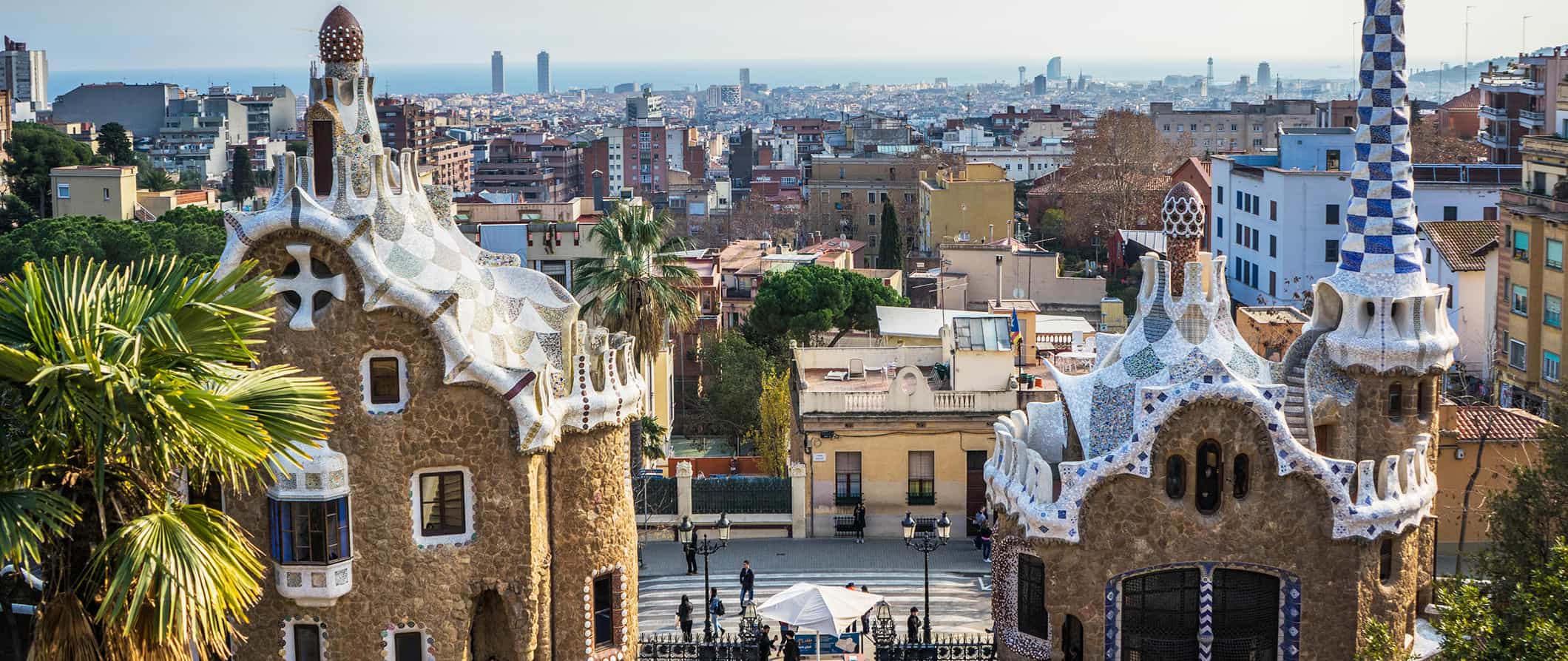 Barcelona is the second-largest city in Spain and one of the most popular tourist destinations in the country (if not the world). From family travelers to the cruise ship crowds to the hordes of young travelers that descend upon this city during the summer months, Barcelona has a little bit of everything for everyone. It is a city steeped in history (the Barri Gothic dates back to Roman times), architecture (Gaudi is everywhere), unique food (try some Catalan dishes and copious amounts of fish), and a wild nightlife that doesn't even begin until 2 AM. I first came here in 2006 and have found myself drawn back here year after year, digging deeper into the food, culture, and history of this special place. I can never get enough of the city – it has an electricity that just animates your body. Its energy is infectious, its historic streets intoxicating, and its people full of life.
Top 5 Things to See and Do in Barcelona
1. Wander Gaudi's Architecture
Gaudi is Barcelona's most famous architect. His unique style, use of nature, and catalog of work is legendary. If you like unique architecture, take a tour of Gaudi's works. Don't miss Park Güell (7 EUR), Sagrada Familia (22 EUR), Casa Batlló for its skeletal appearance, Casa Milà, and so many others! There's Gaudi everywhere in the city.
2. See the Picasso Museum
Picasso was a great artist. While I'm not a huge fan of most of his later work, it's still interesting to learn about the life and work of one of the most influential artists in the 20th century. With over 3,000 pieces of art, there is a lot to see here. Admission is 11 EUR, with discounts available for students and seniors.
3. Enjoy the beach
Barcelona has a wide and long beach that is incredibly popular year round. The water is good to swim in and there are a lot of good restaurants on the boardwalk. Also, don't just stick to one beach (there are a few right next to each other), if you're there for a couple days, hop around!
4. Visit the Barcelona History Museum
Barcelona has one of the best city history museums I've ever been too. There are 4,000 square meters of roman ruins located beneath the museum that you can walk through. There is a free, detailed audio guide and meticulous explanations of what you are seeing. They do a great and thorough job. This is a must-see. Admission is 7 EUR.
5. Get lost in the Barri Gotic
This is the name given to the old area of Barcelona, which is filled with windy streets and historic buildings. Spend a few hours getting lost through this area, stumbling upon old buildings, churches, and plazas. The deeper you go into this area, the more local and interesting it becomes.
Other Things to See and Do
(Click the title to expand the text)
1. Enjoy contemporary art
The Barcelona Museum of Contemporary Art has hundreds of exhibits, especially from Spanish artists. If you love modern art, be sure to add this to your itinerary. Admission is 10 EUR, with discounts available. It's free for anyone under 14.
2. Walk La Rambla
This famous street in Barcelona where all the tourists go. You'll find overpriced shops, restaurants, and camera-toting tourists all over this long street. However, despite that, there is a great energy throughout the street. It's a great place to people watch; it's central, and it is filled with the best street performers in Europe.
3. Take a food tour
Barcelona has some of the best food in Spain, and there's no better way to spend your morning than learning about the food culture of the city. Context Tours offer a great tour, and while it isn't cheap you certainly get your money's worth.
4. Visit the Gothic Cathedral
Located in the heart of the Bari Gotic, this Gothic cathedral was built on the top of an 11th-century church. There is a cool cloister in which to walk around. The real highlight of this church is the roof. You can take an elevator up to the top where you can get stunning views of the surrounding area.
5. See the Gaudi Fountain
Gaudi out did himself with this huge fountain located in the Parc de la Ciutadella. It's a huge tribute to the god Neptune. There are huge griffins spouting water, Neptune on his chariot, and a gold statue on top. With benches and an ice cream place nearby, it's a good place to relax.
6. Learn to cook
Since Barcelona is such a food-centric city, if the normal sights and activities bore you, take a food class. There are many classes, with most going the entire day and costing around 65 EUR.
7. Ride the harbor cable car
The 1450-meter long harbor aerial tramway with red cars connects Montjuic and Barceloneta. It starts in Barceloneta on the top of 78-meter Torre San Sebastian tower, which has also a restaurant on its top that's accessible by an elevator. It has an intermediate stop at Torre Jaume I tower (close Columbus monument), which can be reached by elevator from ground–107-meter tower, the second tallest aerial tramway support tower in the world. Round-trip tickets cost 16.50 EUR.
8. Explore Montjuic Hill
When you arrive on the hill from the cable car, you'll be able to enjoy a good view of the city and visit the Castell de Montjuïc (a large 18th-century fortress), as well as gardens, a Spanish village, and some Olympic stadiums. There's a lot to do here, so you'll have plenty of choices.
9. Visit the aquarium
Perfect for a rainy day, the Barcelona Aquarium consists of 35 different tanks, showcasing species from a variety of underwater ecosystems. The walk-through tunnel is the best part. Entrance costs 20 EUR, or 18 EUR if you book online.
10. Day trip to Girona
This ancient city is definitely worth a day trip. Located just 100km from Barcelona, here you can climb along the city walls, wander the narrow lanes of the Jewish Quarter, and soak up the city at one of the many cafes. If you need a break from hectic Barcelona, this is a great place to visit.
11. Walk through the Raval
Barcelona's old literary district is known as the Raval. It used to have a bit of a dark, edgy feel in the '20s but is now filled with businesses and some trendy shops. It's worth taking a stroll around the area.
12. Catch an outdoor film
If you're in Barcelona in July or August, consider going up to Montjuïc castle to catch an outdoor film around the moat. Screenings take place on Mondays, Wednesdays, and Fridays, and are preceded by some cool live music.
13. Head out to Montserrat
The Montserrat mountain range is just outside of the city and makes for a great day-trip. You can reach the area by taking a one-hour train ride. Once there, walk around the natural park area, and pay a visit to the famous shrine of the Black Madonna. It's a beautiful area and is a nice getaway from the urban atmosphere. Return tickets are around 20 EUR.
Typical Costs
Hostel prices
– Dorm rooms can vary dramatically in price here. They start at 10 EUR per night, but 20-35 EUR is closer to average. At the more popular hostels, expect to spend around 30 EUR per night. Private rooms start at around 55 EUR per night for a double. Free WiFi is standard, and free breakfast isn't uncommon. If camping is your thing, there are a few campsites around the city which offer cheap campsites and basic facilities. Most are close to 15km from the city center, with prices between 5-15 EUR per night. Some offer bike rentals for as little as 2 EUR per day, making getting to the city that much easier if you don't have a vehicle. My suggested places are:
Budget hotel prices – Hotels in Barcelona aren't cheap unless they are far away from the center. Double rooms start at 60 EUR per night and go up from there. Unfortunately, Airbnb doesn't offer too much in savings here in Barcelona either. Shared accommodation costs around 30 EUR per night, while a private apartment or home will cost close to 120 EUR. Unless you're traveling as a group (or need your privacy) hostels and hotels are the better choice.
Average cost of food – You can get cheap tapas and meals for around 6-13 EUR. That will include about 3 or 4 tapas. If you want wine included, expect to spend about 18 EUR per meal. A good restaurant meal will set you back around 25 EUR. If you go out for paella, drinks, appetizers, etc. then you should plan to spend around 35 EUR for a meal. Cheap food like McDonalds and Maoz cost around 7 EUR per meal. If you buy your own food, expect to spend about 30-40 EUR for a week's worth of groceries. For some great food, be sure to check out Les Quinze Nits, La Fonda, and Pinotxo (one of the best/cheapest tapas and bar experiences in Barcelona).
Transportation – A bus or metro ticket costs 2.15 EUR per journey and if you get the 10 pack of tickets, you can save quite a bit. A pack of 10 tickets costs 9.95 EUR, provided you stay within one zone. A one-zone transfer from the airport costs 4.50 EUR. The Barcelona Travel Card can be bought for 2-5 day durations, allowing unlimited public transportation for only 14-32 EUR. Getting around on foot is a great choice for the city center, as there is so much to see. Renting a bike is another great budget option, with daily rentals costing around 12 EUR (or as little as 2 EUR if you're at a hostel that offers this).
Suggested daily budget
50 EUR / 52 USD (Note: This is a suggested budget assuming you're staying in a hostel, eating out a little, cooking most of your meals, and using local transportation. Using the budget tips below, you can always lower this number. However, if you stay in fancier accommodation or eat out more often, expect this to be higher!)
Money Saving Tips
Get the Barcelona Card – The Barcelona Card offers free public transportation and all sorts of discounts at museums, nightclubs, entertainment facilities, shops, and tourist restaurants. The Barcelona Card covers the Metro or bus and unlimited travel on all public transport. It comes as either a 3, 4, or 5-day card and costs 45, 55, or 60 EUR respectively.
See the free sights – Many museums in Barcelona are open to the public for free. All city museums are free on the first Sunday of each month, except the City History Museum, which is free on the afternoon of the first Saturday of the month. Museums are also free to groups using the visit for students on Wednesday afternoons, and many are free after 3pm on Sundays.
Eat seafood for lunch – Head down to the beaches during the day for seafood. The restaurants in this area are really expensive but, during the day, you can get a good plate of food for 9-13 EUR.
Shop at the local markets – Fresh foods can be bought for super cheap at some of the daily markets in the city. Buy your produce and meats here to save some cash. La Boqueria Food Market is one of the biggest in the city, with a rich history and a convenient location (right next to La Rambla).
Take a free bike tour – Free Bike Tour Barcelona offers free tours around the city everyday at 10am and 2pm. The tours last about 3 hours and cover all the major sights. Just be sure to tip your guides!
Couchsurf – There are plenty of hosts throughout the city, so if you plan ahead you shouldn't have a hard time finding someone to host you. This is the best way to save a few euros during your stay and has the potential to better connect you to the local scene.
Drink in your hostel – One of the cheapest ways to enjoy a drink (and meet other travelers) is to drink at the hostels. Many hostels have their owns bars, and you don't even need to be staying there to take advantage of their prices and activities. If you're looking for a fun, cheap hostel bar, St. Christopher's is one of the best in the city!
Get a Hola Hostel card – Hola Hostels is a network of hostels predominantly in South and Central America, though they also have locations in Europe. They give a 10% discount to their members, as well as other discounts for local restaurants and activities. Joining the network is free, and their hostels are also committed to environmentally sustainable practices.
My Must Have Guides For Traveling to Barcelona