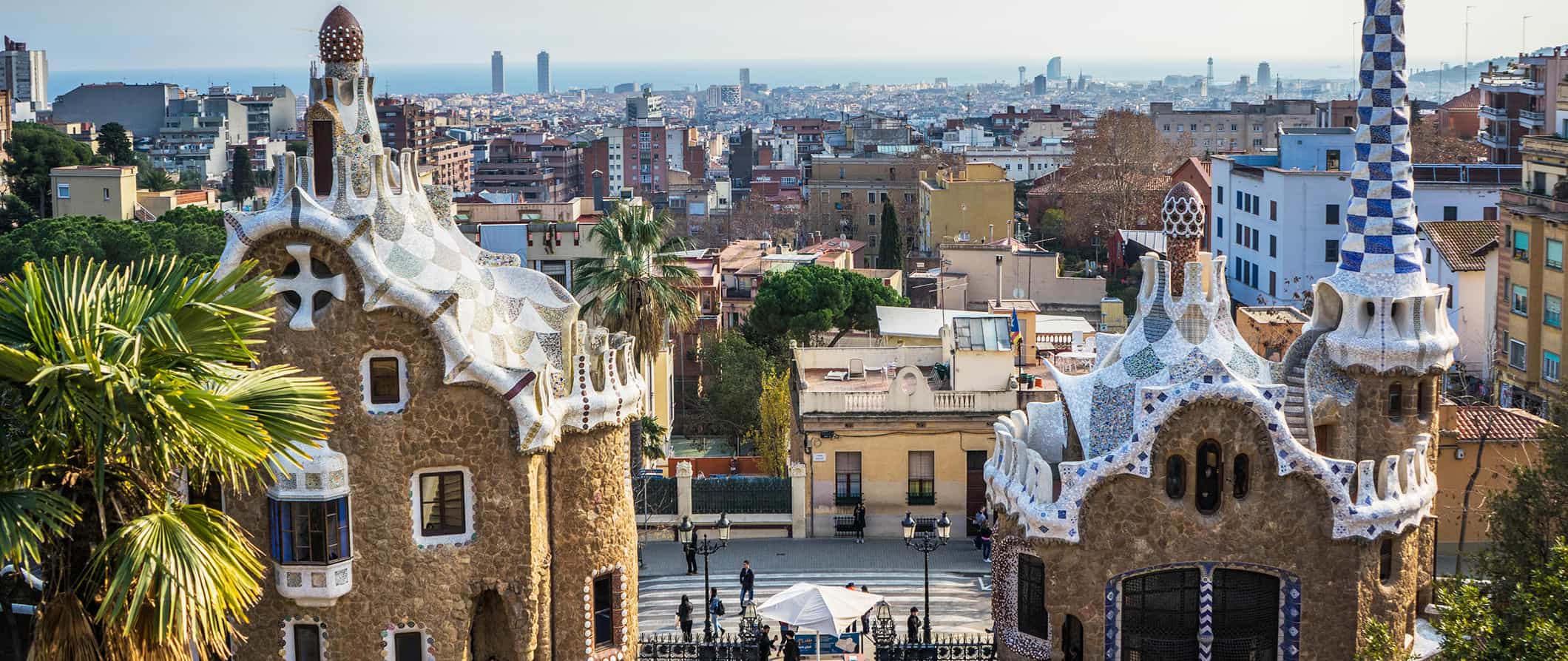 Barcelona is the second-largest city in Spain and one of the most popular tourist destinations in Europe. From family travelers to cruise ship crowds to partying budget backpackers, Barcelona sees all types of tourists.
With its delicious sangria and gin, mouthwatering food, stunning beaches, warm weather, rich history and culture, and unique architecture, it's no surprise that this city attracts a wide swatch of travelers (and thereby struggles with overtourism).
Despite the crowds, I love visiting Barcelona. Every visit makes me fall in love with the city even more. It's a city steeped in history (its Barri Gothic dates to the Roman Empire and you can see Gaudí's architecture from the 19th and 20th centuries in almost every district) and the nightlife here is virtually unrivaled. People party late here!
I can never get enough of the city. It has an infectious energy, its historic streets are intoxicating, and its people are full of life.
This travel guide to Barcelona will help you travel cheaper, better, and smarter during your visit to this lively city.
Top 5 Things to See and Do in Barcelona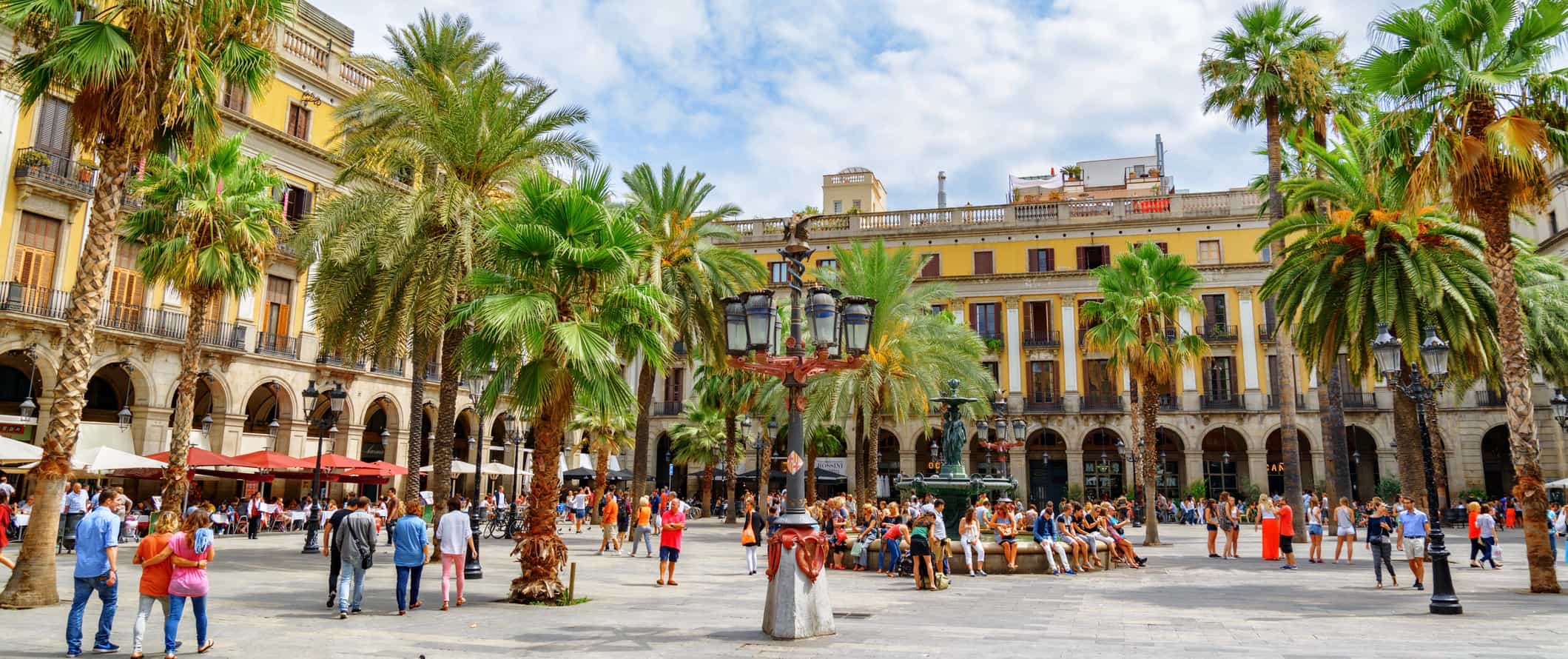 1. Wander Gaudí's Architecture
Antoni Gaudí (1852-1926) is Barcelona's most famous architect. His work is everywhere in the city. His quirky method of blending Gothic and Art Nouveau is iconic and recognized around the world. The highlights for me are Park Güell (10 EUR), a 45-acre garden complex designed and built between 1900-1914; Sagrada Familia (26 EUR), which has been under construction for over 100 years, Casa Batlló (35 EUR), a project heavily influenced by the Art Nouveau style, and Casa Milà (25 EUR), also known as "La Pedrera" (the Stone Quarry) as the building has a facade of limestone. For more information on the specifics of his work in the city, here's a guide to Gaudí's Barcelona. And for behind-the-scenes tours, check out Get Your Guide.
2. See the Picasso Museum
Pablo Picasso was a Spanish artist, and his sculptures and paintings are some of the most famous and iconic in the world. While I'm not a huge fan of much of his later work, a visit to this museum is worthwhile. It was super interesting to learn about the life and craft of one of the most influential artists of the 20th century. His works varied from cubism to surrealism to neoclassical so there is likely an art style here you'll enjoy. With over 4,000 pieces of art, this is one of the biggest Picasso museums in the world. Admission is 12 EUR.
3. Enjoy the beach
Stretching over 1 kilometer (.6 miles), Barceloneta Beach is a wide and long stretch of sand that is within walking distance from the city center and has a lot of restaurants along the boardwalk. If you walk further along the shore, you'll get to some quieter beaches (I recommend Nova Icaria and St. Pol de Mar). If you're visiting in the summer, try to get here early and avoid the weekends as the crowds are huge. Also, don't leave any valuables here as petty theft is common.
4. Visit the Barcelona History Museum
Barcelona has one of the best city history museums I've ever visited. It contains 4,000 square meters of Roman ruins beneath the city that you can see up close. There is a free (and detailed) audio guide and meticulous explanations of all the mosaics, frescoes, graves, ancient documents, and more. It's the best intro to the city and its past and is a must for history buffs. Admission is 7 EUR.
5. Get lost in the Barri Gotic
Barcelona's old Gothic Quarter is my favorite part of town. It's where you'll find the oldest parts of the city — including ancient Roman walls and medieval buildings all connected by narrow, winding streets. Today, the neighborhood is filled with bars, clubs, and restaurants. You can easily spend a few hours getting lost in this district. it's my favorite place to wander in the city.
Other Things to See and Do in Barcelona
1. Take a walking tour
The first things I do in a new city is take a walking tour. It's the best way to see the main sights, learn some history and culture, and connect with a local expert who can answer your questions. For free walking tours, check out New Europe. If you're looking for more in-depth and specific tours, go with Take Walks. They are my go-to walking tour company because they use expert local guides and run insightful, in-depth tours. Just make sure to tip your guide at the end!
2. Enjoy contemporary art
The Barcelona Museum of Contemporary Art has hundreds of exhibits, with a large collection of Spanish and international artists, including Tàpies, Klee, Saura, and others. While it's not really my favorite style of art, if you love modern art, be sure to add this to your itinerary. Admission is 11 EUR and entry is free on Saturdays from 4pm-8pm.
3. Stroll down La Rambla
This famous street in Barcelona is where all the tourists go. There are overpriced shops, restaurants, and camera-toting tourists all over this traffic-free promenade. However, despite that, there is an upbeat energy here and there are many beautiful buildings to see, including the Gran Teatre del Liceu (the city's opera house) and a mosaic by Joan Miró (a Spanish painter, sculptor, and ceramicist from Barcelona). While I wouldn't shop or eat here, it's a great place to take in the city and people-watch.
4. Take a food tour
To learn more about the history and culture behind Barcelona's cuisine, take a food tour. It's the best way to eat your way around the city sampling the best eats Barcelona has to offer while learning what makes the cuisine unique. Devour Tours runs in-depth food tours led by expert local guides that will introduce you to the food culture and its history. If you're a foodie like me who wants to learn more about each dish, this tour is for you! Tours start at 99 EUR.
5. Visit the Barcelona Cathedral
Located in the heart of the Barri Gotic, this Gothic cathedral (officially named The Cathedral of the Holy Cross and Saint Eulalia) was built on the top of an 11th-century church. Walk around the beautiful cloister (built between the 14th and 15th centuries) and see Saint Eulalia's Crypt (Eulalia was a 13-year-old Christian martyr from Barcelona). Be sure to go up to the roof to enjoy the incredible panoramic view of the city. Admission is 9 EUR for tourists (free for worshipers).
6. See the Gaudí Fountain
Gaudí outdid himself with this huge fountain located in the Parc de la Ciutadella. It's a huge tribute to the god Neptune. There are huge griffins spouting water, Neptune on his chariot, and a gold statue on top. With plenty of benches and an ice cream place nearby, it's a good place to relax after a lot of walking around. It's one of my favorite parks in the entire city. Bring a book and watch the world go by.
7. Learn to cook Spanish food
Since Barcelona is such a food-centric city, taking a cooking class is a great way to immerse yourself in the local culture. Learn how to cook paella, Catalan tapas, and much more. Some tours even begin in the market where your chef helps you select fresh produce and ingredients for your meal. There are different classes based on what you want to cook, with most lasting 3-4 hours and costing around 70 EUR. Check out BCNKitchen for more information.
8. Ride the port cable car
The 1,450-meter-long (4,757 ft) harbor aerial tramway connects Montjuïc Hill and Barceloneta. It starts in Barceloneta on the top of the 78-meter (255 ft) Torre San Sebastian tower and has an intermediate stop at Torre Jaume I tower (close to the Columbus monument), which can be reached by elevator from the ground. The Torre Jaume I tower is 107 meters (351 ft) and is the second tallest aerial tramway support tower in the world. Taking the cable car is one of the best ways to soak in the view of the city. Round-trip tickets cost 16.50 EUR.
9. Explore Montjuïc Hill
Here you can enjoy the view of the city and visit the Castell de Montjuïc, a large 17th-century fortress. There are also gardens, a huge replica of a historic Spanish village, and an Olympic stadium from the 1992 Olympics. There's a lot to do here so be sure to spend a few hours exploring. Round-trip cable car tickets are 13 EUR.
10. Stroll through the Raval
Barcelona's old literary district is known as the Raval. It used to have a bit of a dark, edgy feel in the 20s but is now filled with cool businesses and trendy shops. Take a stroll around the area, especially along El Raval's mini-La Rambla, which is a popular meeting place for dining and nightlife.
11. Catch an outdoor film
If you're in Barcelona in July or August, consider heading up to Montjuïc Hill to catch an outdoor film around the castle moat. Screenings take place on Mondays, Wednesdays, and Fridays, and the evening usually starts out with some cool live music. You can buy food and drinks here too. Tickets are 7.50 EUR or 10.50 EUR with a chair.
12. Day trip to Montserrat
The Montserrat mountain range is just outside of the city and makes for a great day trip. You can reach the area by taking a one-hour train ride. Once there, walk around the natural park area and pay a visit to the famous shrine of the Black Madonna (it dates to the Middle Ages). It's a scenic area and is a nice getaway from the urban atmosphere of Barcelona. There's also a local market here where you can buy artisanal foods and crafts and there are lots of hikes and rock climbing in the area as well. Return train tickets cost around 27 EUR.
13. Explore La Boquería
Located near La Rambla is La Boquería (Mercat de Sant Josep de la Boquería). It's a huge public market that's hundreds of years old (the first mention of a market being here dates to 1217). La Boquería has a range of food stalls and restaurants selling seafood as well as nuts, candy, wine, and tapas. It's a cheap place to grab a snack as you explore the city and well worth a visit. It does get incredibly busy, though, so arrive early to avoid the crowds.
14. Have fun at an old-school amusement park
Tibidabo Barcelona was built in 1899 and is one of the oldest amusement parks in the world. There are rides, games, and restaurants here and because it is on a tall mountain in the Serra de Collserola, you also get some stunning views of Barcelona and the coastline. It's a fun place to come with kids. Admission is 35 EUR.
15. Watch a soccer match
The first "football" game I ever saw was in Barcelona (I still have the shirt I bought on the day). If a match is going on, try to get a ticket (they're generally quite affordable) as it's an amazing and boisterous spectacle. Locals are obsessed with the sport and you'll make a lot of good friends while you're there! If you can't make a game, you can tour the stadium and the FCB (or Barça) Museum for 15-30 EUR.
16. Admire Barcelona's free public art
There's public art all over Barcelona. There are lots by Gaudí so be sure to check out the huge Cascada Fountain in the Parc de la Ciutadella, lampposts in Plaça Reial and Pla de Palau, and the Miralles gate and wall on Passeig de Manuel Girona. Joan Miró also has some great art around the city including the "Woman and Bird" sculpture at Parc de Joan Miró and the mosaics on La Rambla and at the airport.
17. Day trip to Girona
Located just 100 kilometers (62 miles) from Barcelona, Girona is one of my favorite cities in Spain. Here you can climb along the medieval city walls, wander the narrow lanes of the Jewish Quarter, and soak up the city at one of the many cafes. Don't miss the many museums in the city, such as the Jewish History Museum or the Archaeology Museum of Catalonia. Also, don't forget to visit the lion statue at the base of Sant Feliu and kiss its bottom – doing so apparently means you will return to Girona. You can also take a Game of Thrones tour here too (scenes from King's Landing and Braavos were filmed here). If you need a break from hectic Barcelona, this is a great place to visit.
18. Take a bike tour
Fat Tire Tours offers guided bike tours around the city that cover all the main sights. They cost as little as 30 EUR and are a great way to experience Barcelona from a new perspective while getting to learn about the city and its history. There are several different tours to choose from, so there is something for every interest. Their tours go at a leisurely pace too so they are good for all ages.
19. See Güell Palace
Palau Güell is another one of Gaudí's masterpieces — but it doesn't jump out at you like other Gaudí structures. Gaudí designed it between 1886-1888 for his patron Eusebi Güell. The home is centered around a central party room. The room has a high ceiling with small holes near the top where lanterns were hung at night to give the appearance of a starlit sky. There are colorful tree-like chimneys on top. It's a bit creepy and gothic but it's one of my favorites! Admission is 12 EUR.
For more information on other cities in Spain, check out these guides:
Barcelona Travel Costs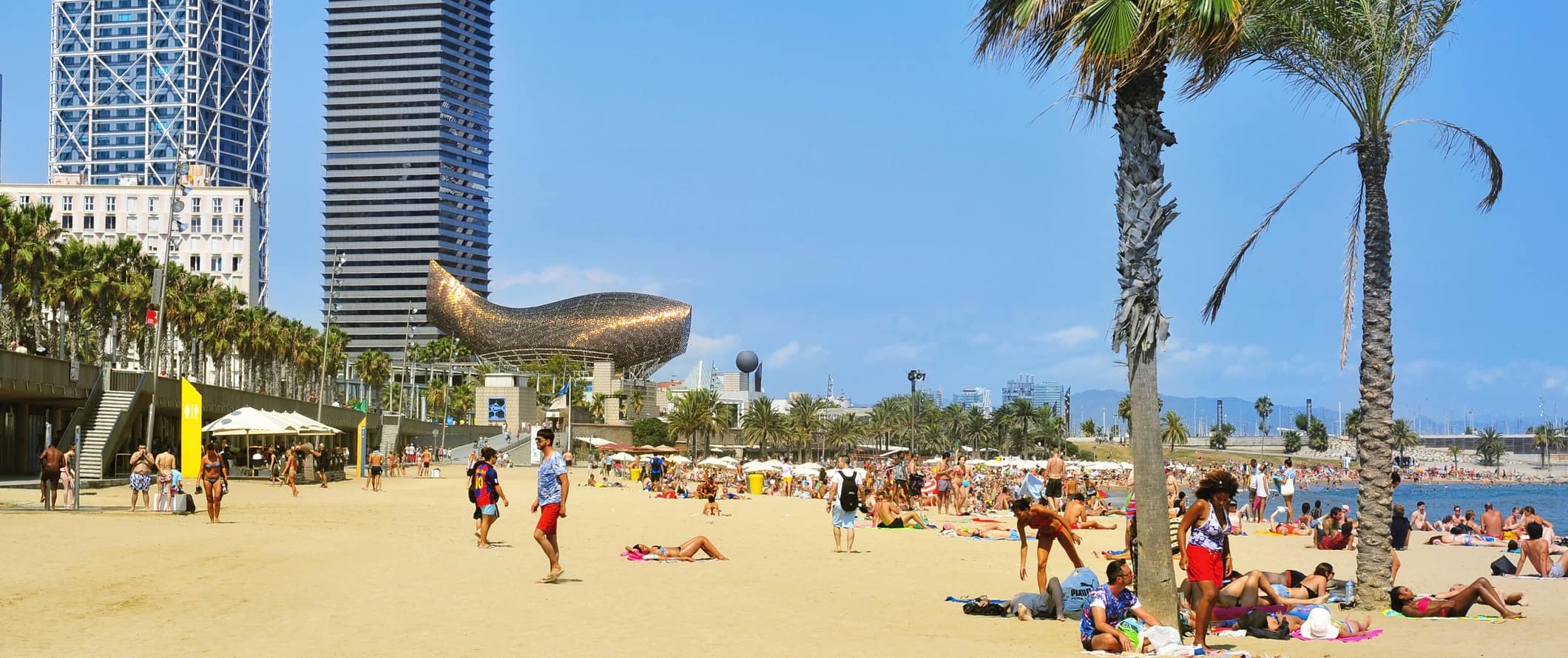 Hostel prices – A bed in a 10-12 bed hostel dorm starts at around 19 EUR per night, while beds in a 4-6-bed dorm start from 25 EUR. Private rooms start at 45 EUR per night. Free Wi-Fi is standard and most hostels have self-catering facilities so you can cook your own food. A handful also include free breakfast.
There are a few campsites outside the city for those traveling with a tent. Prices start around 15 EUR per night for a basic plot for one person without electricity.
Budget hotel prices – Two-star hotels with basic amenities like TV, AC, and a coffee/tea maker start at 55 EUR per night. Expect to pay around double that for a hotel close to the city center.
Airbnb is available all around the city as well. Private rooms start around 30 EUR per night while an entire home/apartment costs at least 95 EUR if you book early (but expect to pay at least double that).
Airbnb has caused a lot of problems in Barcelona, however, as it has pushed locals out of the city center and authorities are clamping down on illegal listings. Be sure yours has listed its tax id number and avoid staying with hosts who have multiple listings (they are corporate housing disguised as Airbnb).
Average cost of food – Spain has a strong food culture, where meals can last hours and dinner often isn't served until after 8pm. Each region in the country has its own local dishes and food culture. In Catalonia, be sure to try local favorites such as cod soup, cured pork, escudella (meat and vegetable stew), grilled snails, and Catalan cream (a local version of Crème brûlée).
You can get cheap tapas and meals for around 10-15 EUR. If you want wine included, expect to spend about 20 EUR per meal. If you go out for paella, drinks, appetizers, etc. then you should plan to spend around 25-35 EUR for a meal.
Cheap fast food (think McDonald's) costs around 9 EUR for a combo meal. Chinese food is around 10 EUR for a main dish while pizza costs 9-11 EUR.
Beer costs 3-4 EUR while a latte/cappuccino is around 2.25 EUR. Bottled water is less than 1 EUR.
If you buy your own food, expect to spend about 40-50 EUR for a week's worth of groceries. This gets you basic staples like pasta, rice, seasonal produce, and some meat.
Some of my favorite restaurants include Cervecería Vaso de Oro, Tapeo, La Alcoba Azul, Cervesería Catalana, and Quimet & Quimet.
Backpacking Barcelona Suggested Budgets
If you're backpacking Barcelona, expect to spend around 50 EUR per day. This budget covers a hostel dorm, cooking all of your meals, limiting your drinking, taking public transportation to get around, and doing mostly free activities like hitting the beach and taking a free walking tour. Add 10-20 EUR per day to your budget if you plan on drinking or partying a lot.
On a mid-range budget of about 140 EUR per day, you can stay in a private Airbnb or private hostel room, eat out at cheap restaurants for most meals, have a few drinks, take the occasional taxi, and do more paid activities like cooking classes and museum visits.
On a "luxury" budget of 275 EUR or more per day, you can stay in a hotel, eat out anywhere you want, drink as much as you'd like, take more taxis, and do as many guided tours as you want. This is just the ground floor for luxury though. The sky is the limit!
Accommodation
Food
Transportation
Attractions
Average Daily Cost
Backpacker
20
10
10
10
50
Mid-Range
65
40
15
20
140
Barcelona Travel Guide: Money-Saving Tips
Barcelona is an incredibly popular destination and, as such, pretty expensive. Accomodation prices have risen a lot. Moreover, food, drinks, and tours can really add up if you aren't watching your spending. If you want to save money in Barcelona, here are some suggestions:
Get the Barcelona Card – The Barcelona Card offers free public transportation and all sorts of discounts at museums, nightclubs, entertainment facilities, shops, and restaurants. The Barcelona Card includes unlimited travel on all public transport and comes as either a 3-, 4-, or 5-day card costing 46 EUR, 56 EUR, or 61 EUR respectively.
See the free sights – Many museums in Barcelona are open to the public for free. All city museums are free on the first Sunday of each month. Check their websites to confirm as some have specific times or require reservations.
Eat seafood for lunch – Head down to the beaches during the day for seafood. The restaurants in this area are really expensive but, during the day you can get a good plate of food for under 20 EUR. (It's double that during dinner).
Shop at the local markets – Fresh foods can be bought for super cheap at some of the daily markets in the city. Buy your produce and meats here to save some cash. La Boquería is one of the biggest in the city, with a rich history and a convenient location (right next to La Rambla).
Take a free walking tour – Free walking tours are fantastic for getting oriented in a new city and learning lots of interesting history. New Europe's free walking tour is the best one to get you started. Just be sure to tip at the end!
Stay with a local – There are plenty of Couchsurfinghosts throughout the city, so if you plan ahead you shouldn't have a hard time finding someone to host you. This is the best way to save a few euros during your stay and has the potential to better connect you to the local scene.
Drink in your hostel – One of the cheapest ways to enjoy a drink (and meet other travelers) is to drink at the hostels. Many hostels have their owns bars and offer extended happy hours so they are a good way to drink cheap. You don't even need to be staying there to take advantage of them either. If you're looking for a fun, cheap hostel bar, St. Christopher's is one of the best in the city!
Bring a water bottle – The tap water here is safe to drink so bring a reusable water bottle to save money and reduce your plastic use. LifeStraw is my go-to brand as their bottles have built-in filters to ensure your water is always clean and safe.
Where to Stay in Barcelona
Barcelona has lots of hostel options. The hostel scene here is one of the biggest in Europe. You have tons of choices! Here are my recommended places to stay in Barcelona:
For more hostel suggestions, check out my complete list of the best hostels in Barcelona, and to figure out what area of the city you should stay in, check out this guide to the best neighborhoods in the city.
How to Get Around Barcelona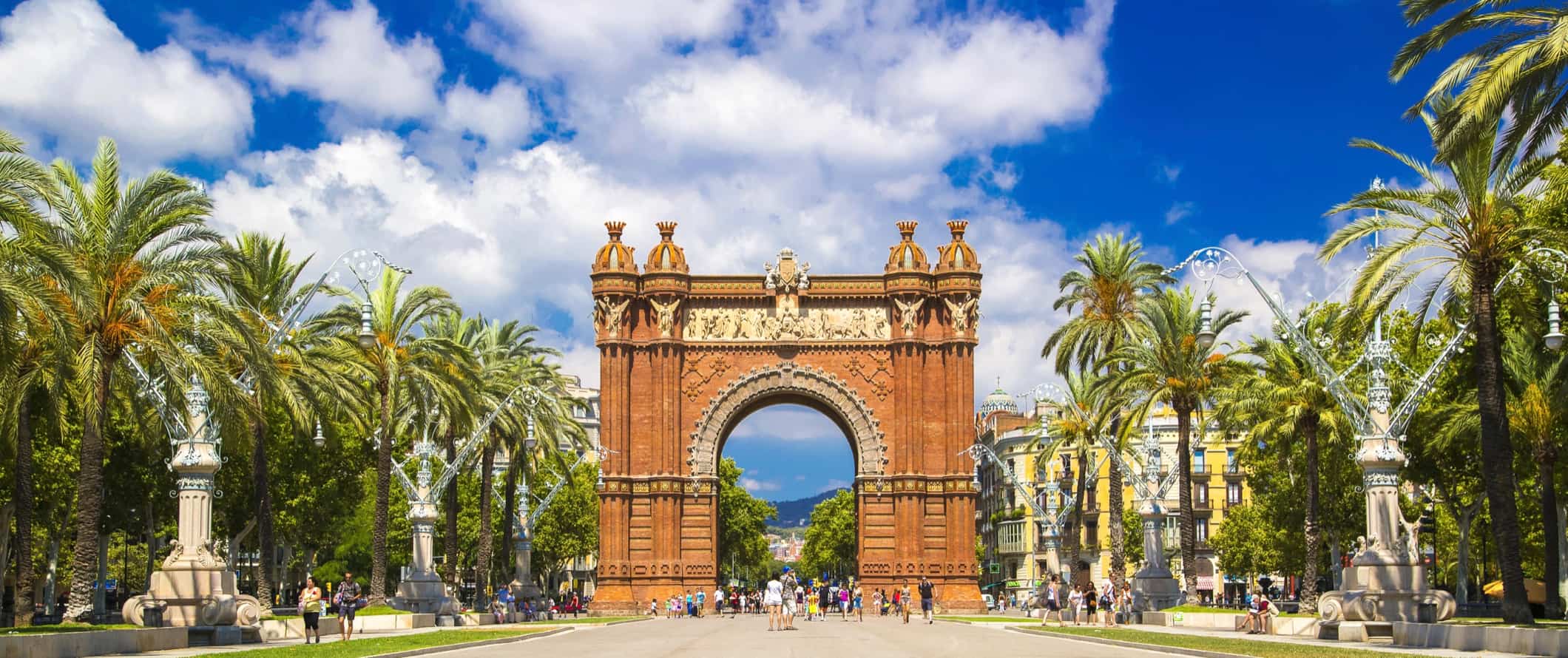 Public transportation – There are over 100 bus routes around the city and a single ticket costs 2.40 EUR and is good for 75 minutes. There are also tram lines in Barcelona that service the city's industrial areas, shopping centers, and a few residential zones. The ticketing system works the same as the bus and subway ticketing system.
A 10-journey travel card is 11.35 EUR while a 48-hour unlimited pass (known as a Hola Barcelona card) is 16.40 EUR. The 72-hour/3-day pass is 23.80 EUR (there's also a 4-day and 5-day pass too).
Barcelona currently has 8 subway lines that can take you anywhere you need to go in the city. There's also an urban rail network known as the Ferrocarrils de la Generalitat (FGC) which takes you to the suburbs as well. The ticketing system works the same as the bus ticketing system.
Bicycle – You can easily rent a bicycle to get around the city. Daily rentals start around 5-10 EUR. Donkey Republic, a bike rental app with locations all over Europe, has bikes in Barcelona for just a few euros an hour. However, renting from a place like Mattia 46 or Ajo Bike is cheaper if you want a full-day rental.
Taxis – Taxis are expensive in Barcelona and I don't recommend taking one unless absolutely necessary. Rides start at 3 EUR and charge 2 EUR per kilometer. It costs over 30 EUR to go from the airport to the city center, so skip the taxis if you can!
There is no Uber in the city.
Car rental – Car rentals can be found for as little as 25 EUR per day for a multi-day rental. However, you definitely don't need one to get around the city. Unless you are exploring the region, I'd skip the rental. Renters need to be a least 21 and have an International Driving Permit. For the best rental car deals, use Discover Cars.
When to Go to Barcelona
Barcelona is a year-round destination, although late spring/early summer (May/June) and fall (September/October) are my favorite times to visit. The weather is always nice, there are endless blue skies, and tourist traffic is at a slight lull. Spring boasts temperatures around 20°C (68°F) and the autumn offers highs of around 23°C (73°F).
July and August are the hottest months to visit, with daily temperatures over 28°C (85°F). It can be really humid, but at least you can cool off at the beach. However, this is peak tourism season and the city is oversaturated with travelers, especially vacationers from Europe and those coming on cruise ships.
Barcelona's summer months are definitely upbeat and fun, but all those crowds can be hard to handle. Travel in the shoulder season to get the most out of the city.
The winter in Barcelona doesn't get super cold, with daily highs between 10-15°C (50-60°F). The city isn't quite as lively, but the tourist hordes have dispersed so things are quieter. While it's not the best time to visit, there's still lots you can see and do.
How to Stay Safe in Barcelona
Barcelona is pretty safe to visit as violent crime here is rare. That said, Barcelona is known for its extensive petty crime and pickpocketing problem. The pickpockets here are incredibly skilled so keep your valuables safe and secure at all times. It's rampant, especially on the metro, so be on guard.
If you go out to the bar, only take the money you need for the night.
Scams are prevalent here too. Keep an eye out for groups of kids trying to distract you, as they're probably trying to take your money. Also, be wary of people offering to carry your luggage. They may try to charge you a large fee for the "service." You can read about common travel scams to avoid here.
Solo female travelers should feel safe here. However, the standard precautions apply (don't leave your drink unattended at the bar, don't walk around intoxicated at night, etc.). You can visit any one of the numerous solo female travel blogs for specific tips as they will be able to provide advice.
If you experience an emergency, dial 112 for assistance.
Always trust your gut instinct. Make copies of your personal documents, including your passport and ID.
The most important piece of advice I can offer is to purchase good travel insurance. Travel insurance protects you against illness, injury, theft, and cancellations. It's comprehensive protection in case anything goes wrong. I never go on a trip without it as I've had to use it many times in the past. You can use the widget below to find the policy right for you:
Barcelona Travel Guide: The Best Booking Resources
These are my favorite companies to use when I travel. They consistently have the best deals, offer world-class customer service and great value, and overall, are better than their competitors. They are the companies I use the most and are always the starting point in my search for travel deals.
Skyscanner – Skyscanner is my favorite flight search engine. They search small websites and budget airlines that larger search sites tend to miss. They are hands down the number one place to start.
Hostelworld – This is the best hostel accommodation site out there with the largest inventory, best search interface, and widest availability.
Booking.com – The best all around booking site that constantly provides the cheapest and lowest rates. They have the widest selection of budget accommodation. In all my tests, they've always had the cheapest rates out of all the booking websites.
HostelPass – This new card gives you up to 20% off hostels throughout Europe. It's a great way to save money. They're constantly adding new hostels too. I've always wanted something like this and glad it finallt exists.
Get Your Guide – Get Your Guide is a huge online marketplace for tours and excursions. They have tons of tour options available in cities all around the world, including everything from cooking classes, walking tours, street art lessons, and more!
The Man in Seat 61 – This website is the ultimate guide to train travel anywhere in the world. They have the most comprehensive information on routes, times, prices, and train conditions. If you are planning a long train journey or some epic train trip, consult this site.
Rome2Rio – This website allows you to see how to get from point A to point B the best and cheapest way possible. It will give you all the bus, train, plane, or boat routes that can get you there as well as how much they cost.
FlixBus – Flixbus has routes between 20 European countries with prices starting as low 5 EUR! Their buses include WiFi, electrical outlets, a free checked bag.
SafetyWing – Safety Wing offers convenient and affordable plans tailored to digital nomads and long-term travelers. They have cheap monthly plans, great customer service, and an easy-to-use claims process that makes it perfect for those on the road.
LifeStraw – My go-to company for reusable water bottles with built-in filters so you can ensure your drinking water is always clean and safe.
Unbound Merino – They make lightweight, durable, easy-to-clean travel clothing.
Fat Tire Tours – For bike tours, use this company! They have fun, interactive tours led by expert local guides. You'll get to see all the main sights without breaking the bank!
BlaBlaCar – BlaBlaCar is a ridesharing website that lets you share rides with vetted local drivers by pitching in for gas. You simply request a seat, they approve, and off you go! It's a cheaper and more interesting way to travel than by bus or train!
Take Walks – This walking tour company provides inside access to attractions and places you can't get elsewhere. Their guides rock and they have some of the best and most insightful tours in all of Spain.
Barcelona Travel Guide: Related Articles
Want more info? Check out all the articles I've written on backpacking/traveling Barcelona and continue planning your trip: