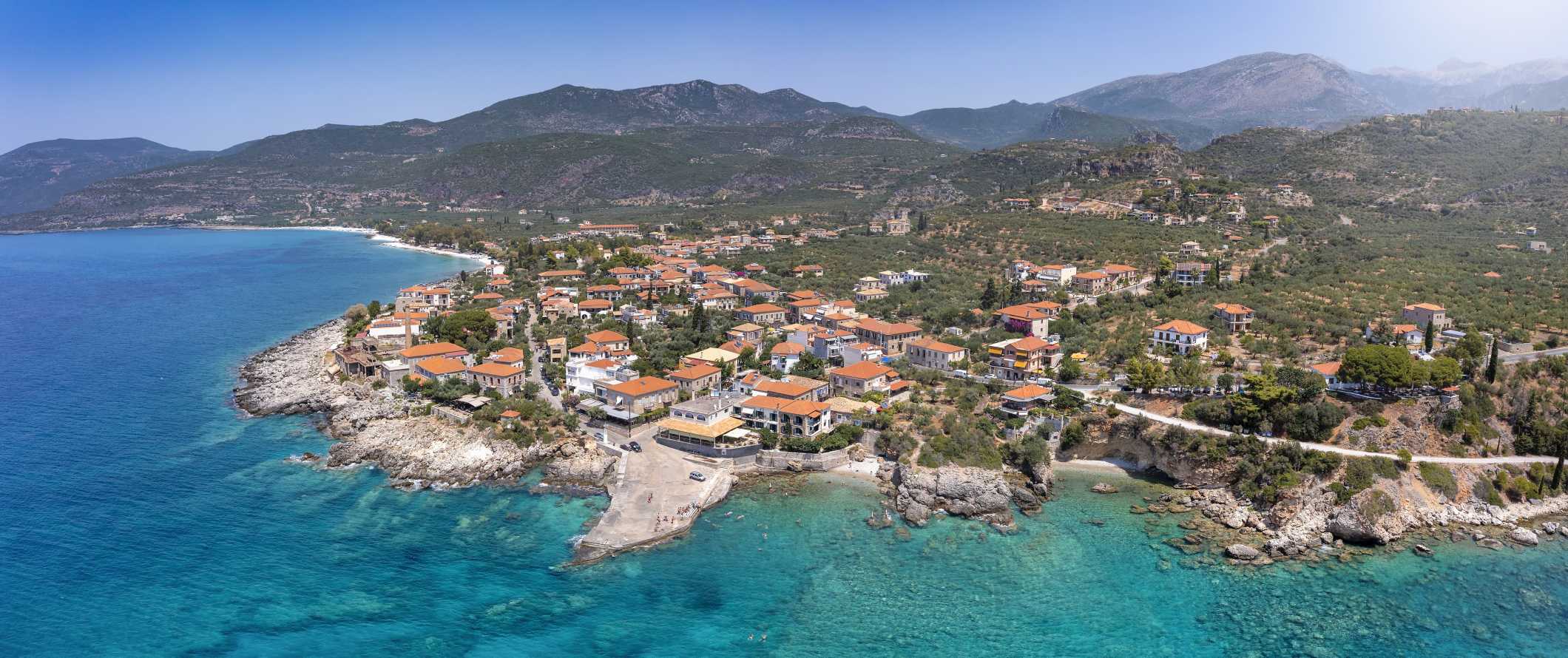 Greece is one of Europe's most beautiful destinations, home to picturesque islands, delicious food, thousands of years of history, and wonderful people.
It's also super affordable.
You can travel around Greece for a fraction of what you'd spend in Western Europe, which is just one of the many reasons why I absolutely love visiting Greece.
I've been to Greece four times and have spent months exploring this country. I cannot say enough good things about it.
Visiting Greece is always the highlight of my summer European travels. There's just something magical about this country. There's an energy in the air and you can't help but think, "Maybe I should never leave?" It sucks you in.
And, while the Greek islands get the most attention, the interior of the country — with its small towns, historic ruins, and mountain hikes — is too often overlooked and underappreciated.
So, while you may have a strong desire to stick to the islands, try to get to some of the places in the interior if you can. You won't regret it.
This Greece travel guide combines all my knowledge and experience to help you plan an epic, affordable trip!
Click Here for Island and City Guides
Top 5 Things to See and Do in Greece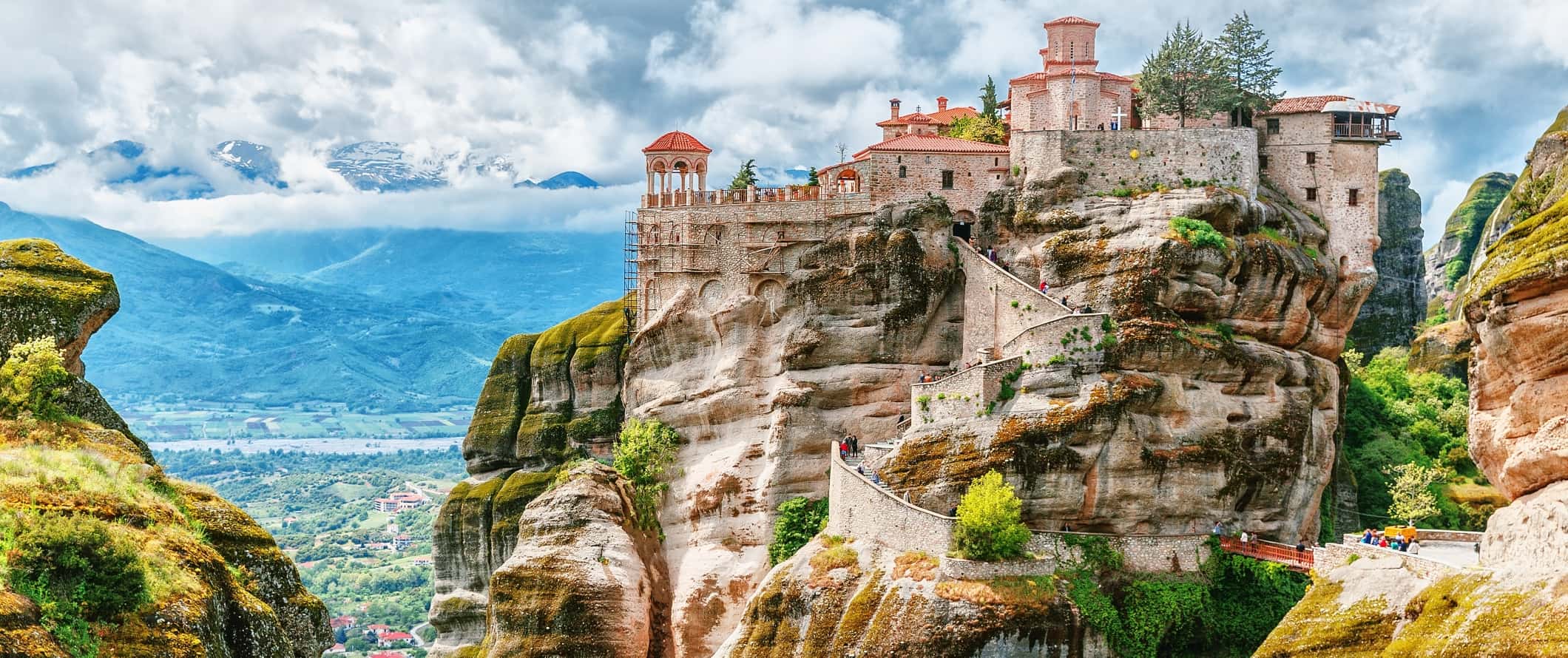 1. Visit the Acropolis
Located in Athens, this magnificent hilltop complex from the 5th century BCE includes ancient buildings and ruins like the temple to Athena and the famous Parthenon. A UNESCO World Heritage Site, this is an excellent place to learn about the city's history. You'll also get to enjoy an expansive view of the skyline and the nearby ruins. During the summer, it's swarming with tourists so get there early. Admission is 20 EUR, or for 30 EUR you can get a 5-day combined ticket that includes many other archaeological sites in Athens. For a guided tour, Athens Walking Tours runs guided tours for around 50 EUR (including admission) that skip the line.
2. Discover historic Crete
Crete has a long, long history. It was once home to the ancient Minoan civilization (which predated Greek civilization), and you can still visit the Bronze Age ruins of Knossos, the ancient capital of the Minoan empire (also considered the oldest city in Europe). The island is the largest in all of Greece and has beautiful beaches (including a beach with pink sand), plentiful hiking, quaint towns, and delicious food and wine. It's affordable and because of the island's size, you can still escape the summer crowds. Don't skip this island!
3. Hike up Mount Olympus
Mount Olympus is the legendary home of the Greek gods. Any climb to Mount Olympus starts from the town of Litochoro, 150 kilometers (93 miles) south of Thessaloniki. At 2,917 meters (9,570 feet) high, it's the tallest mountain in Greece. The hike up is both strenuous and mystical. As you climb, it becomes abundantly clear why Greeks thought it was this mountain from which the gods ruled!
4. See Meteora's monasteries
Meteora is famous for its monasteries that sit atop sheer rock mountains. They are a stunning sight to see and worth the steep trek up to the top. The monasteries date back to the 9th-10th centuries when Orthodox Christian hermit monks isolated themselves on the cliffs and in the many caves in the area. In the 12th century, the monastic community became more organized and in the 14th century the Great Meteoron Monastery was constructed (one of the ones that you can visit today). Although more than twenty monasteries used to perch on these sandstone cliffs, only six remain today. They are still active, with around 50 nuns and 17 monks living here. It's a 3 EUR entrance fee per monastery.
5. Explore the islands
The Greek islands are some of the best and most popular in the world. Soak in the sun, admire the white sand and blue-roofed houses, see the windmills (an iconic feature of the Cyclades) and just relax. Some highlights are Milos, Santorini, Ios, Mykonos, Naxos, Zakynthos, Rhodes, and Kos. During the summer, the islands fill up so book early!
Other Things to See and Do in Greece
1. Learn some history
Greece is where western civilization began and everywhere you turn you'll find ruins that are thousands of years old. Start in Athens with the museums, the Acropolis and surrounding ruins in the Agora, and then set off to explore the ruins of Delphi, Sparta, Corinth, and Crete. There are also great archaeological museums everywhere to see artifacts up close and learn even more. This country is a history lover's dream!
2. Explore Sparta
Sparta was the ancient rival of Athens and known for its fierce warriors (the entertaining but historically-inaccurate film 300 was based on the Spartans). The city has a long history and plenty of ruins to explore. There is no shortage of things to do, museums to visit, excursions to take, and places to eat when you visit the city. It's an often-overlooked city even though it's only a 2.5-hour drive southwest of Athens. It's a great place to learn some history without the crowds.
3. Attend the Athens Epidaurus Festival
Every summer, the Athens Epidaurus Festival hosts concerts and performance theater, including reenactments of famous Greek plays. Started in 1955, it's one of the country's top cultural events and runs for the whole summer (May-October). If it coincides with your visit, you'll see just how proud the Greeks are of their past. Tickets for each performance cost as little as 10 EUR.
4. Soak up the sun in Corfu
The Cyclades Islands may get all the press but sunny Corfu on Greece's west coast is also a good place to enjoy the beach too. It's a popular destination for young backpackers, but once you get out of the main town, you can avoid them and their partying ways and get the island to yourself! There are plenty of quiet beaches, ancient ruins, and beautiful villages to explore. You're just a stone's throw away from Albania too.
5. Explore the Delphi Ruins
Delphi was a place of spiritual significance to the ancient Greeks. Located around 2.5 hours northwest of Athens, this UNESCO World Heritage Site is where the omniscient Oracle would contact the god Apollo and give his advice to those seeking good fortune. Although the eternal flame no longer burns inside the temple, a visit to the Temple of Apollo is obligatory if you're nearby. Admission is 12 EUR and includes entry to the museum as well as the archaeological site itself (which includes far more than just the Temple of Apollo).
6. Explore Melissani Cave
This otherworldly cave grotto can be accessed by a short yet postcard-worthy boat tour. Located on the island of Kefalonia on the western side of Greece, here you can admire the seemingly magical ultramarine waters and the monumental walls that envelope you as you make your way through this hidden underground landscape. Admission is 8 EUR and includes the boat ride.
7. Hike the Samaria Gorge
Samaria Gorge in beautiful Crete is one of Greece's National Parks and a UNESCO World Biosphere Reserve. For outdoor enthusiasts, this is considered one of the best hikes in Greece. While it isn't the shortest or easiest trek (it's 16 kilometers/10 miles), the gorge does promise beautiful landscapes, fantastic photo opportunities, and a great workout. Make sure you bring water, sunscreen, and a hat as the heat can be overwhelming. The views are worth it though!
8. Experience the Patras Carnival
Every year in mid-January, the city of Patras (located 2.5 hours west of Athens) hosts what is basically a month-and-a-half-long party that starts on January 17th and runs to the beginning of Lent. There's a slew of events both major and minor, increasingly crazy weekends, treasure hunts, and various costume parades (which even feature floats). It's a lively time and as the largest such festival in Greece, attracting tons of revelers. If you want to attend, it's a good idea to make hotel reservations well in advance as things fill up.
9. Tour the Archaeological Museum of Heraklion
The number one attraction in Crete, this museum also happens to be Greece's second-largest archaeological museum (the museum in Athens is the largest). There is a stunning collection here that highlights the Cretan civilization (dating back from Neolithic times through to the Roman empire), with ancient pottery, jewelry, sarcophagi, colorful frescoes from Knossos, and more. Its Minoan collection is the most extensive in the world. You could easily spend hours here — especially if you love history like me. Admission is 12 EUR in the summer and 6 EUR in the winter.
10. Party on Ios
Ios has the wildest nightlife out of all the Greek islands. It is the summer party island where days are spent hungover on the beach and the nights are spent eating cheap food and drinking. If you don't want to do that but still want to see Ios, it's best to go to the eastern part of the island where it's quieter. Don't let Ios' party reputation deter you from visiting though, it's a beautiful, rugged island (and home to the grave of Homer, who wrote The Iliad and The Odyssey). It's only busy from June-August so you can visit in the shoulder season to escape the party crowd.
11. Visit Thessaloniki
With more than 1 million inhabitants, Thessaloniki is Greece's second-largest city after Athens. Although it dates back to 315 BCE, a lot of the city was destroyed by fire in 1917 and then by bombing during World War II. The result is a combination of more modern European city urban planning alongside Early Christian, Roman, and Byzantine monuments. In fact, Thessaloniki has more UNESCO World Heritage Sites (15!) than any other city in Europe. Be sure to visit the White Tower, the Rotunda, the Arch of Galerius, and Galerius Palace as well as the many churches (such as the Hagia Sofia and Hagios Demetrios). There are also several great museums here, including the Archaeological Museum, the Museum of Byzantine Culture, the Jewish Museum, and the Olympic Museum.
12. Go to Zakynthos
Just south of Kefalonia in the Ionian Sea is Zakynthos, one of Greece's most popular islands. With its soft, sandy beaches and charming villages, it's easy to see why this island is a fan favorite. It can be busy, particularly in the summer, so head away from the main tourist area (go north, west or inland) or visit in the off-season to escape the crowds. Zakynthos is also a breeding area for loggerhead turtles and you can see them on Lagana Beach or on Turtle Island but take care to do so responsibly. Other activities include seeing the Blue Caves, Marathonisi Islet, and Shipwreck Beach (you'll need to take a boat tour to get there). There are also tons of churches, monasteries, and ruins to check out too.
13. Visit Monemvasia
Monemvasia is a medieval castle town in Laconia, around 90 kilometers (56 miles) southeast of Sparta. It's a spectacular island to visit as it is built into the side of a huge rock! Monemvasia's a quiet town perfect for relaxing on the beach before dining under the stars at seaside taverns or on cobbled streets in the town. If you're into hiking, there are some trails that will take you past chapels and settlements up to hilltops to admire the view or down to secluded beaches.
14. Explore Ioannina
Next to Lake Pamvotida in northwestern Greece, Ioannina is a castle town that is bursting with museums. Don't miss the Byzantine Museum, the Ethnographic Museum, the Archaeological Museum, and the Silversmithing Museum (the area is well-known for its beautiful jewelry). Head to the castle at sunset for a peaceful end to your day. You can use the town as a base for exploring the nearby Pindus National Park, the Tzoumerka mountain chain, the Cave of Perama, and the Byzantine town of Arta as well. You won't need more than a couple of days here but it is well worth stopping if you are passing through.
15. Go wine tasting
While Greece isn't as internationally renowned for wine as other European countries such as France or Spain, it should be. The Greek wine-making tradition goes back at least 6,500 years and is still going strong. Wine regions are spread across the country, but Crete has one of the oldest wine-making traditions (and over 30 wineries to visit around the island), while the wineries of Santorini make for an interesting tour due to the way that grape vines must be grown here (to protect against harsh winds). Wine tours generally are around 85-125 EUR for a full-day tour.
16. Take a cooking class
Greek food is legendary. If you're a foodie like me and want to learn more about the cuisine and culture behind it, try a cooking class. Bring a taste of your trip home by learning how to make some traditional recipes (including favorites like tzatziki and moussaka) while learning about the importance of each dish directly from a local chef. Cooking classes generally last 3-4 hours and cost 90-120 EUR.
17. Take a boat tour
A boat tour is one of the best ways to see the islands, especially as some beaches are only accessible by water. Most tours also have stops for snorkeling and lounging on the beach, and many include drinks and lunch. Half-day tours start at 50 EUR, while full-day tours are around 100 EUR.
18. Go diving
Diving has become increasingly popular in the Greek Islands. On Mykonos, Paradise Reef has a large variety of marine life, including sponges, barracuda, octopus, and starfish. Ios is popular with beginners due to its crystal-clear waters and relatively calm waves. On the other hand, Santorini has less marine life but tons of shipwrecks. Shore dives are generally 40-50 EUR, while a two-tank dive on a boat is 90-120 EUR. You can also take a beginner discovery course for 55 EUR or a variety of PADI courses starting at 280 EUR.
19. Tour an olive oil farm
Greek olive oil is considered the best in the world and has been central to the country's culture for tens of thousands of years (the Olive Oil Museum in Sparta has fossilized olive oil leaves from 60,000 years ago!). Dive deep into the country's olive oil tradition by visiting a farm and taking a tour to learn more about this iconic staple. Tours are generally a couple of hours and cost 40-45 EUR.

For more information on specific destinations in Greece, check out these guides:
Greece Travel Costs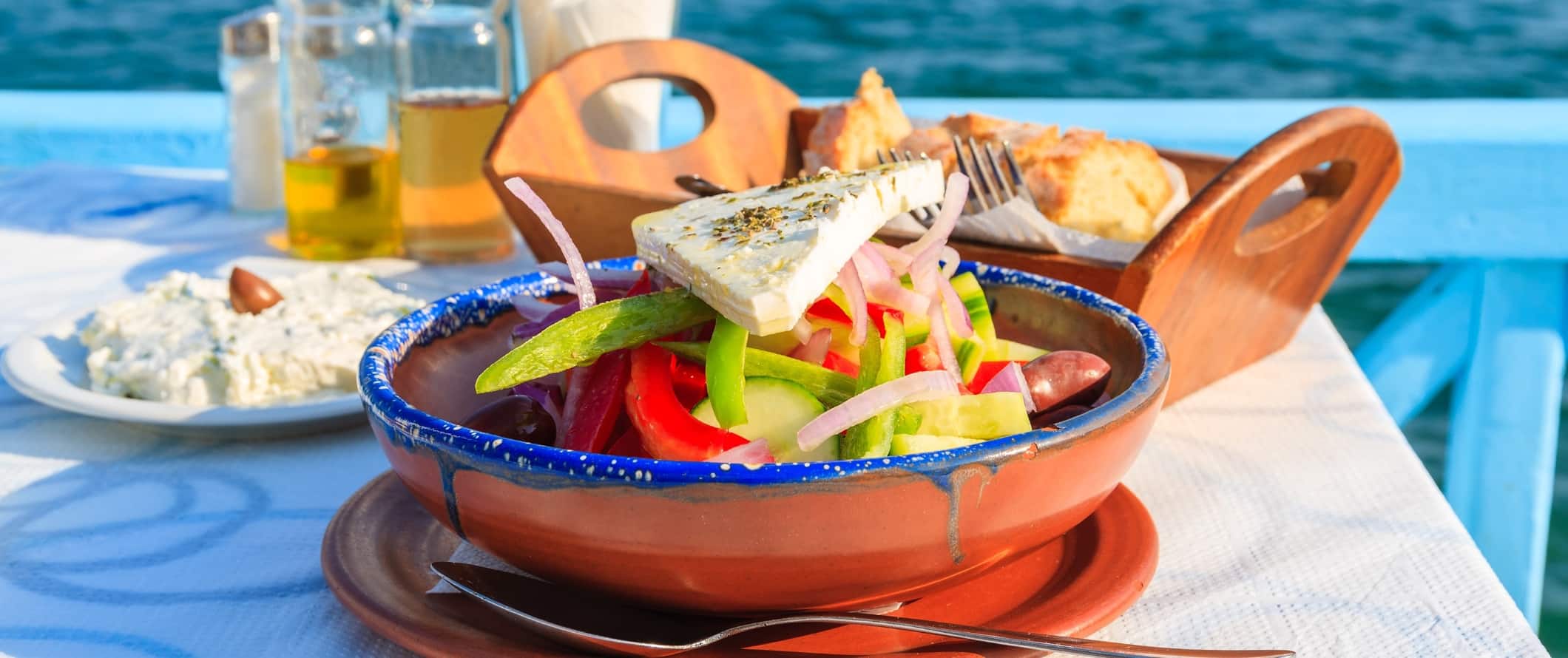 Accommodation – Depending on the area of Greece you are traveling to, hostels start at 15-20 EUR for dorms in the off-peak season, though these can rise to 30-40 EUR in peak season in more expensive destinations. Expect anything from 30-60 EUR per night for private rooms (less in Athens, more on expensive islands like Mykonos or Santorini).
A room in a budget hotel that sleeps two can be found for 40-60 EUR (expect much higher prices — up to 50% higher — during the summer). Amenities at these hotels typically include free Wi-Fi, TV, a private bathroom, AC, and sometimes breakfast as well.
On Airbnb, you can find private rooms for 25-45 EUR in many cities and entire homes (including studio apartments) start at around 70 EUR per night.
Food – Greece is known for its food. Think seasonal vegetables (like olives), seafood, grilled meats, bread, feta cheese, and yogurt — all the staples of a fresh Mediterranean diet. To eat cheap, stick with eating gyros, souvlaki, and kebabs. These cost 2-5 EUR and easily fill you up. If you're on a budget, you can live off these for as little as 10 EUR per day.
At a casual restaurant that serves traditional cuisine, expect to pay around 8-12 EUR for a main dish like moussaka and about 2-4 EUR for a glass of wine. A Greek salad costs between 6-8 EUR. Fish is more expensive, costing around 17-22 EUR for the catch-of-the-day.
Most restaurants charge for bread. The price is between .50-1.50 EUR. A bottle of water is about 2 EUR.
Fast food (think McDonald's) costs around 7 EUR for a combo meal. A large pizza costs 8-10 EUR while Indian/Middle Eastern/Chinese food can be found for around 6 EUR for a main dish.
If you're going out for dinner at a traditional taverna, expect to spend between 12-20 EUR depending on how much food you get. After that, the prices go up depending on how fancy the restaurant is!
Beer is 2-4 EUR while a latte/cappuccino is 3-4 EUR. Bottled water from the supermarket is 0.50 EUR.
If you cook your meals, expect to pay 30-50 EUR per week for groceries including pasta, vegetables, chicken, and other basic staples. It's easy to eat on the cheap in Greece.
Backpacking Greece Suggested Budgets
If you're backpacking Greece, my suggested budget is 40-60 EUR per day. This assumes you're staying in a hostel, eating cheap food, cooking some of your meals, doing only free activities like hiking and relaxing on the beach, limiting your drinking, and using local transportation to get around. If you're visiting the Greek islands or traveling during peak season, expect to spend on the higher amount of that. If you plan on drinking, add 5-15 EUR per day to your budget.
On a mid-range budget of 100-130 EUR per day, you can visit some museums and ruins, stay at a private hostel room or Airbnb, eat out more, enjoy some drinks, take the occasional taxi, and rent a bike or scooter to get around.
If you keep your drinking and costly activities down, you can easily do this closer to 100 EUR per day. On the other hand, if you're staying on one of the more expensive islands like Mykonos or Santorini and drinking a lot, expect to spend closer to 150-180 EUR.
On a "luxury" budget of 235 EUR or more per day, you can stay in a hotel, eat out anywhere you want, drink as much as you want, do paid tours and more expensive activities (like diving), rent a car to get around, and generally enjoy the finer things in life! This is just the ground floor for luxury though. Expect to pay upwards of 50 EUR more per day on the islands.
Accommodation
Food
Transportation
Attractions
Average Daily Cost
Backpacker
15-25
10-15
10
5-10
40-60
Mid-Range
40-50
25-40
15
20-25
100-130
Greece Travel Guide: Money-Saving Tips
Greece is affordable. Sure, islands like Santorini and Mykonos are expensive but, for the most part, if you are "keeping it local" you aren't going to spend a lot of money here. Here are my favorite ways to save money when you travel to Greece:
Use the Greek salad/bread rule – If the bread cover is .50 EUR or a Greek salad is less than 7 EUR, the restaurant is cheap. If the cover is around 1 EUR and a salad is 7-8.50 EUR, the prices are average. Anything more than that and the place is expensive. use this rule to figure out how to eat at cheap restaurants.
Eat super cheap – Gyros and other street snacks only cost a few euros and can keep you full for 10 EUR per day if you're on a tight budget.
Rent a moped – It's cheaper than a car and a fun way to see the various towns and cities — especially on the islands. You can usually rent a moped for around 15 EUR per day. Just drive carefully as Greek drivers tend to be aggressive.
Get off the beaten path – Greece is a cheap country and even cheaper when you get away from the touristy islands or popular destinations. Head off the beaten path and you usually see prices drop by 30% or more.
Book overnight ferries – Greece's inter-island ferries can get expensive if you are visiting a lot of islands. Taking the overnight ferries can save you up to half off the normal price. Plus, it saves you a night of accommodation. Moreover, if you book the ferries around two months in advance, you can save up to 25% off the cost of your ticket.
Get a ferry pass – Eurail has a ferry pass that has 4- and 6-trip options. The only caveat is that you can only take Blue Star and Hellenic Seaways ferries. Those tend to be the larger, slower ferries and, depending on the islands, might require you to connect somewhere. You'll need to research routes in advance to see if the pass is worth it. I would search routes on FerryHopper to see if it works for you. You can purchase your pass on Eurail (non-EU residents) or Interrail (EU residents).
Take public transportation – Buses, while sometimes running on inconvenient schedules, are the best way to get around Greece. Taxis are very expensive so minimize their use whenever you can and stick with the buses.
Visit in the off-season – July and August are the most expensive months, so skip the middle of summer if you're on a budget. Prices will be significantly cheaper.
Stay with a local – Couchsurfing is a great way to get a free place to stay and meet locals. There are a ton of hosts throughout the country (I stayed with one in Athens) and it's my favorite way to get to know the "real" Greece.
Buy wine at the store – You can buy a great bottle of wine for around 4 EUR at the store. It's a lot cheaper than drinking at the bar.
Have an ISIC Card – To save on the cost of admission to museums and other tourist attractions, be sure to present a valid student card. The ISIC is typically accepted in places where a foreign student ID is not.
Go to museums on their free admission days – Most museums have some days when admission is free. Check the Odysseus Culture website for details as they vary from museum to museum.
Get combined tickets – Historical attractions in Greece are often priced so that it's always a better deal to buy a combined ticket. If the sites you are going to offer one, buy it. It will save you money.
Use points if you can – If you're a travel hacker and have points that can be used for cash, using them to book accommodation will be better if you're staying at cheaper properties (anything less than 100 EUR). For only a few thousand points per night, you can save a ton of money. This post has more information on how to start travel hacking
Rent a car – Car rentals can be incredibly cheap in Greece. Prices start at just 20 EUR per day when booked in advance. Drivers need to be at least 21 and have had their license for one year. An International Driving Permit is also required.
Bring a water bottle – The tap water here is generally safe to drink so bring a reusable water bottle to save money and reduce your plastic use. LifeStraw is my go-to brand as their bottles have built-in filters to ensure your water is always clean and safe.
Where to Stay in Greece
Greece has something for everything and you can often find small family-run operations on the islands. It's not hard to even find budget accommodations with nice extra like pools either! Here are my suggested places to stay in Greece:
How to Get Around Greece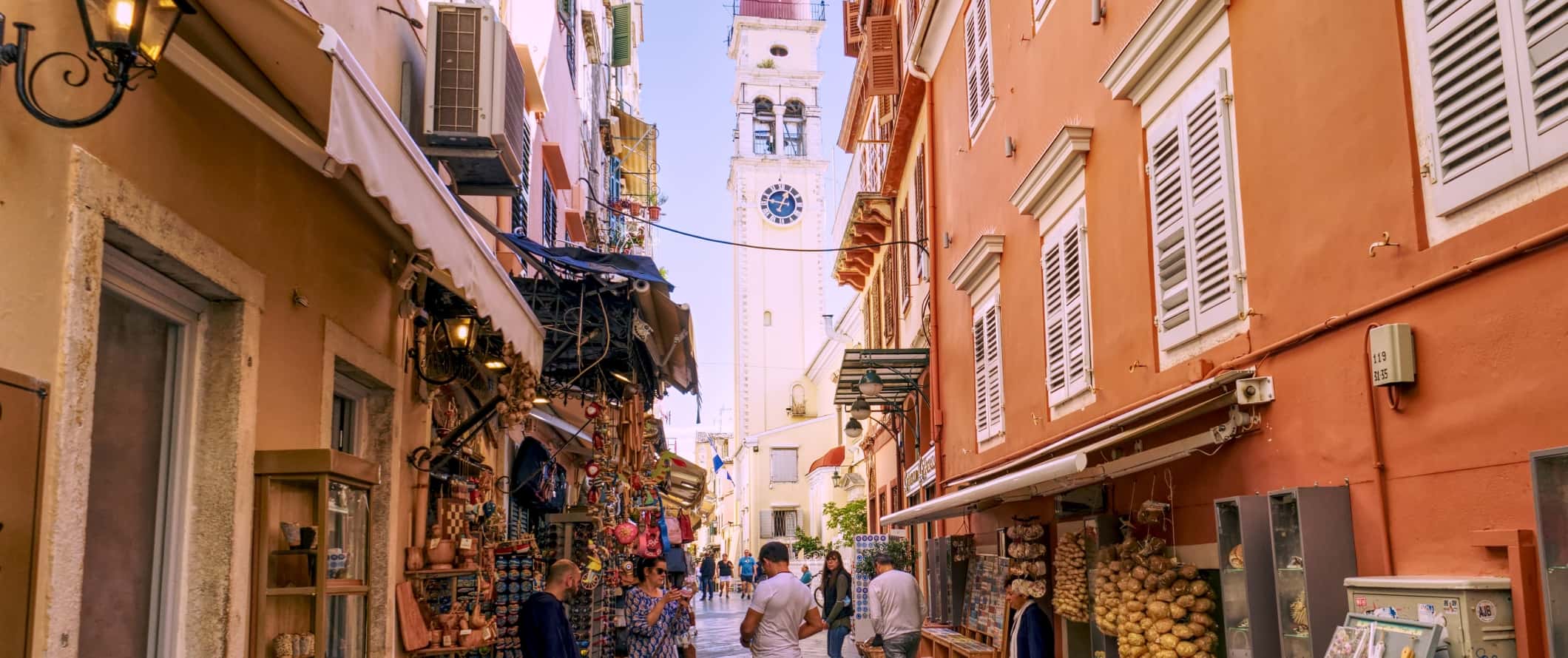 Public transportation – In the larger cities, public transportation is widely available. For example, Athens has a fantastic subway system starting at 1.20 EUR per ride. There's also an extensive tram and bus system in Athens as well. In smaller cities, buses are the primary mode of transportation and prices vary by distance, usually starting at 1.20 EUR.
Buses – KTEL is the main bus operator in Greece. You can look up schedules and prices online, but their website is pretty outdated and you're better off booking tickets at the actual bus station. Getting from Athens to Sparta takes around 3.5 hours and costs around 20 EUR, while Athens to Thessaloniki takes around 5.5 hours and costs around 35 EUR. Thessaloniki to Ioannina takes 3.5 hours and is just 13 EUR.
Trains – Train travel in Greece isn't great. Trains are unreliable and slow and there are only a few routes in the country between Athens and other major cities, like Thessaloniki and Patras. You're better off driving or taking the bus. However, if you do get the train, a trip from Athens to Thessaloniki takes about 4.5 hours and costs at least 20 EUR.
Ferries – Because Greece has a lot of islands, you have to deal with taking ferries to get around. Expect to spend an average of 35 EUR per trip, though you could spend as little as 12 EUR if the islands are really close together. From Athens, most ferries to the Cyclades cost around 70 EUR.
Taking the overnight ferries can save you up to half off the normal price plus save you a night of accommodation so if you're not in a rush, book those!
There are many different ferry companies, and most are created equal. High speed ferries or catamarans cost a lot more (book in advance). You can research routes and ticket prices using FerryHopper and gtp.gr.
If you're ok traveling on the slower ferries and your routes match the available routes, the Eurail/Interrail ferry pass is worth considering as you'll get discounts with this pass. Search routes on FerryHopper to see if it works for you.
Flying – Flying is a quick and affordable way to get around Greece and between islands (though not all islands have airports). A one-way flight from Athens to Santorini or Mykonos takes less than one hour and costs around 25-35 EUR. Flights can dip to as little as 10 EUR when booked in advance.
Scooter/Quad rentals – Renting a scooter or ATV is a really popular way to discover many parts of Greece, particularly the islands. It lets you explore at your own pace and is quite affordable. Scooter rentals cost between 15-25 EUR per day depending on the location and if it is peak season or off-season. ATVs cost around 30-45 EUR per day.
Car rental – Car rentals here are super affordable, starting at just 20 EUR per day for a multi-day rental. Expect manual transmissions. Drivers need an International Driving Permit before renting as well and need to be at least 21 years old. For the best rental car deals, use Discover Cars
Hitchhiking – Hitchhiking is safe and common in many parts of Greece, especially on the islands. That said, it may be hard to find rides in the off-season when traffic is less busy. Check Hitchwiki for more information.
When to Go to Greece
Peak season in Greece is from June-August. Temperatures hover around 33°C (92°F) and popular destinations like Santorini and Mykonos experience a huge influx of visitors. Prices increase during this time as well. But the overall atmosphere and weather are great during this time, so it's still worth visiting during peak season.
Personally, I think the best time to visit Greece is shoulder season (March-May and September-October). It's still warm during these times but there aren't as many crowds and prices are cheaper. It's also easier to meet locals during this time. Overall, it's a particularly great time to hang out in the Mediterranean.
Winter is from November to February. It gets cold and tourist crowds thin out considerably. Temperatures vary quite a bit from north to south, with it sometimes dropping to 11°C (52°F) in some places (Athens sometimes gets snow). Many of the islands — particularly Santorini and Mykonos — almost shut down entirely during the off-season. In short, I'd skip a winter visit unless you're only planning to visit museums.
How to Stay Safe in Greece
Greece is very safe for backpacking and solo travel. Violent attacks are uncommon. Petty crime is about the worst that could happen to you, specifically pickpocketing in Athens, where it is prevalent. Fortunately, Greek police have really cracked down on perpetrators. Nevertheless, be aware of your surroundings and keep your valuables out of sight when you're in markets, on busy streets, or when using public transportation.
Solo female travelers should generally feel safe here, however, the standard precautions apply (never leave your drink unattended at the bar, never walk home alone intoxicated, etc.).
You won't find a lot of travel scams in the country but read this article on common travel scams to avoid if you're worried about getting ripped off.
If you go out hiking, always check the weather first. Bring sunscreen, water, and a hat. It can get incredibly hot here!
Be careful when driving as Greek drivers tend to be on the aggressive side and some of the roads aren't very well maintained.
If you experience an emergency, dial 112 for assistance.
Always trust your gut instinct. Make copies of your personal documents, including your passport and ID. Forward your itinerary along to loved ones so they know where you are.
The most important piece of advice I can offer is to purchase good travel insurance. Travel insurance protects you against illness, injury, theft, and cancellations. It's comprehensive protection in case anything goes wrong. I never go on a trip without it as I've had to use it many times in the past. You can use the widget below to find the policy right for you:
Greece Travel Guide: The Best Booking Resources
These are my favorite companies to use when I travel. They consistently have the best deals, offer world-class customer service and great value, and overall, are better than their competitors. They are the companies I use the most and are always the starting point in my search for travel deals.
Skyscanner – Skyscanner is my favorite flight search engine. They search small websites and budget airlines that larger search sites tend to miss. They are hands down the number one place to start.
Hostelworld – This is the best hostel accommodation site out there with the largest inventory, best search interface, and widest availability.
Booking.com – The best all around booking site that constantly provides the cheapest and lowest rates. They have the widest selection of budget accommodation. In all my tests, they've always had the cheapest rates out of all the booking websites.
HostelPass – This new card gives you up to 20% off hostels throughout Europe. It's a great way to save money. They're constantly adding new hostels too. I've always wanted something like this and glad it finallt exists.
Get Your Guide – Get Your Guide is a huge online marketplace for tours and excursions. They have tons of tour options available in cities all around the world, including everything from cooking classes, walking tours, street art lessons, and more!
The Man in Seat 61 – This website is the ultimate guide to train travel anywhere in the world. They have the most comprehensive information on routes, times, prices, and train conditions. If you are planning a long train journey or some epic train trip, consult this site.
Rome2Rio – This website allows you to see how to get from point A to point B the best and cheapest way possible. It will give you all the bus, train, plane, or boat routes that can get you there as well as how much they cost.
FlixBus – Flixbus has routes between 20 European countries with prices starting as low 5 EUR! Their buses include WiFi, electrical outlets, a free checked bag.
SafetyWing – Safety Wing offers convenient and affordable plans tailored to digital nomads and long-term travelers. They have cheap monthly plans, great customer service, and an easy-to-use claims process that makes it perfect for those on the road.
LifeStraw – My go-to company for reusable water bottles with built-in filters so you can ensure your drinking water is always clean and safe.
Unbound Merino – They make lightweight, durable, easy-to-clean travel clothing.
Top Travel Credit Cards – Points are the best way to cut down travel expenses. Here's my favorite point earning credit cards so you can get free travel!
Ferry Hopper – If you're looking to book your ferries, this website is an easy way to search the various companies, piece together routes, and book your tickets.
Take Walks – This walking tour company provides inside access to attractions and places you can't get elsewhere. Their guides rock and they have some of the best and most insightful tours in all of Greece.
Greece Travel Guide: Related Articles
Want more info? Check out all the articles I've written on Greece travel and continue planning your trip: