Greece is not only a beautiful destination with its ocean landscapes, distinct architecture, and delectable food, it's also incredibly affordable.
You can travel around Greece for a fraction of the price you can other countries in Europe.
People from around the world travel Greece for its famous islands for the sun and its the cities for the history.
I love visiting Greece.
It's warm; cheap; has delicious food; rugged, windswept but relaxing islands; and lively and friendly locals.
Visiting Greece is always the highlight of my summer European travels.
And, while the islands get the most attention, the interior of the country with its little towns and mountains, are overlooked and underappreciated destinations in the country to visit!
This Greece travel guide combines years of visits to the country to help you plan your backpacking or budget travel trip easily and affordably!
Click Here for Island and City Guides

Greece
Top 5 Things to See and Do in Greece
1. Visit the Acropolis
Located in Athens, this magnificent temple is a great place to learn about Athen's history while you get a expansive view of the city and the nearby ruins. During the summer, the place is swarming with tourists and sadly, the Parthenon is always under construction. Admission is 12 EUR.
2. Visit historic Crete
The island of
Crete
in Greece has a long, long history. It was once home to the ancient Minoan civilization (which predates Greek civilization). The capital of Knossos has some impressive ruins. Crete has beautiful beaches, hiking, quaint towns, delicious food and wine, and friendly, welcoming locals. I love the island!
3. Walk up Mount Olympus
Mount Olympus is the home of ancient gods. From here the gods would control the lives of mortal men. Any climb to Mount Olympus starts from the town of Litochoro. A walk up this mountain will be strenuous and mystical and you'll see why Greeks thought it was this mountain from which the gods ruled.
4. Meteora
Meteora is famous for its monasteries that sit atop sheer rock mountains. They are a stunning sight to see and worth the steep trek up to the top. Although more than twenty monasteries used to perch on the steep rocks, only six remain today. They were a highlight of my visit to Greece.
5. Explore the beaches
The Greek islands are some of the best in the world. Soak in the sun, admire the white sand and blue-roofed houses and just relax. Santorini is famous for couples, while
Ios is great for parties
. Some off the beaten path islands include Rhodes, Kos, or the ones in the far east. During the summer, most of the islands are full so book early.
Other Things to See and Do in Greece
1. Explore the past
Greece is where western civilization began and everywhere you turn, you will find ruins that are thousands of years old. Start in Athens with the museums, the Acropolis and surrounding ruins (the Agora is wonderful), and then set off to explore the ruins of Delphi, Sparta, and Crete. If you love history, you'll love Greece.
2. Remember the Spartans
Sparta was the ancient rival of Athens and known for her fierce warriors. The city has a long history and ruins to explore. There is no shortage of things to do, excursions to take, and places to eat when you visit the city. It's an often overlooked city, but you can get all the history of Greece without the tourists of Athens if you visit. I wouldn't suggest skipping Sparta!
3. Attend the Hellenic Festival
Every summer, the Hellenic Festival in Athens has concerts and performance theater, including reenactments of Greek tragedy. It's one of the country's top cultural events and if it coincides with your visit, you'll see just how proud the Greeks are of their past.
4. Take in the sun in Corfu
The Greek Islands may get all the press but sunny Corfu on Greece's west coast is also a good place to enjoy the beach too. It's a popular destination for young backpackers, but once you get out of the main town, you avoid them and their partying ways and get the island to yourself!
5. Explore the Delphi Ruins
Delphi has always been a place of historic and spiritual significance. This is where the omniscient Oracle would contact Apollo and give advice to those seeking good fortune. Although the eternal flame no longer burns inside, a visit to the Temple of Apollo is obligatory.
6. Melissani Cave
A boat tour will take you into these caves, where you can admire the magical quality of ultramarine water and monumental walls that surround you.
7. Go to Santorini
Although it is but one of the numerous Greek islands, many consider Santorini to be the most spectacular. Aside from the beautiful landscape and volcanic presence, it is an amazing place for beachside camping, winery tours, scuba diving, and more. The ruins on the southern part of the island were some of the best I saw.
8. Hike the Samaria Gorge
For the outdoor enthusiasts out there, this is considered one of the best hiking experiences in Greece. While it isn't the shortest or easiest trek, the Samaria Gorge does promise beautiful landscapes, fantastic photo opportunities, and a great workout.
9. Experience the Patra Carnival
Every year in mid-January, the city of Patra is host to what is basically a month-and-a-half-long party. There's a slew of events, both major and minor; increasingly crazy weekends; and various costume parades, which even feature floats. It's usually a good idea to make hotel reservations well in advance.
10. Archaeological Museum of Heraklion
The number one attraction on Crete, this museum also happens to be Greece's second largest archaeological museum next to the museum in Athens. There is a stunning collection here, which highlights the Cretan civilization (dating back from Neolithic times, through to the Roman empire). It's open daily 8:30am-5pm, except Mondays when it opens at 12pm. It does have abbreviated hours December-February. Admission is 6 EUR.
11. Party on the island of Ios
Ios has the wildest nightlife out of all the Greek islands. It is the summer party island where days are spent hungover on the beach while nights are spent eating cheap food and drinking. If you don't want to do that but still want to see Ios, it's best to go to the eastern part of the island where it's quieter. Don't let Ios' party reputation deter you from visiting, it's a beautiful, rugged island (and home to the grave of Homer) and only busy June-August!
12. Temple of Olympian Zeus
While you are walking about Athens, this is a incredible archaeological site to stop at. This temple is massive and took over 700 years to construct (dating back to the sixth century). There are a number of Corinthian columns still standing, though many have fallen. It's quite an impressive sight. Admission is 2 EUR/3 USD (it's free if you already have admission to the Acropolis). It's open daily from 8am-8pm with abbreviated hours in the winter.
For more information on specific destinations in Greece, check out these guides:

Greece Travel Costs
Accommodation – Depending on the area of Greece you are traveling to, hostels will cost 10-35 EUR (11-40 USD) for dorms and 25-40 EUR (30-45 USD) for private rooms per night (less in Athens, more on expensive islands like Mykonos). A room in a budget hotel that sleeps two can be found for 25-45 EUR/30-50 USD (expect much higher prices – up to 50% higher – during the busy season).
Amenities at these hotels typically include free WiFi, a private bathroom, air-conditioning, a television, a mini-fridge, and sometimes breakfast is included as well. On Airbnb, you can find shared rooms for as low as 10 EUR (11 USD) in many cities and entire homes (including studio apartments) can be rented on the low-end for 25-50 EUR (30-60 USD).
Food – Greece is known for its food. Think fresh vegetables (like olives), seafood, grilled meats, bread, feta cheese, yogurt – all the staples of a fresh Mediterranean diet. Restaurants will cost about 20 EUR (25 USD) for a nice dinner, even in the tourist area. If you add wine, expect to pay about 30 EUR (35 USD). A meal at a very luxurious restaurant will begin at 30 EUR (35 USD). A whole fish is about 20 EUR (21 USD).
If you really want to eat cheap, eat gyros (like kebabs). A Gyro is around 3 EUR (4 USD) and will easily fill you up. Most cafes will cost you around 10 EUR (11 USD) for a meal. If you cook your meals, expect to pay 35-45 EUR (40-50 USD) per week for groceries that will include pasta, vegetables, chicken, and other basic foods. It's easy to eat on the cheap in Greece.
Activities – Visiting the ancient sites around the country will cost between 12-25 EUR (15-30 USD) for a ticket. Island activities (kayaking, parasailing, banana boats) will cost between 22-45 EUR (25-50 USD). You can rent ATVs for a day for around 20 EUR (25 USD) and diving trips begin around 55 EUR (65 USD).
Backpacking Greece Suggested Budgets
Greece is a very budget friendly destination.
If you're backpacking Greece, my suggested budget is 40-60 EUR / 45-65 USD per day. This is assuming you're staying in a hostel, eating cheap food, cooking some of your meals, not taking a lot of tours and using local transportation. If you're visiting the Greek islands or traveling during peak season, you'll spend on the higher amount of that. (But, for the most part, you'll be able to travel on the lower end of that number.)
For a mid-range budget, I suggest 60-90 EUR (70-100 USD) per day. This will cover more attractions and tours, staying at a budget hotel, eating a lot of fancier meals, and drinking as much wine as you want!
If you want luxury hotels, lots of fancy meals, fancy activities and tours, and just want to spend like it's going out of style, I would budget around 170 EUR (200 USD) per day. At that price point, you can do anything you want in Greece!
You can use the chart below to get some idea of how much you need to budget daily in Greece.
Accommodation
Food
Transportation
Attractions
Average Daily Cost
Backpacker
$10-40
$15
$12
$30
$45-70
Mid-Range
$30-45
$35
$40
$25-50
$70-100
Luxury
$60-100
$70
$70
$65-100
$200
Greece Travel Guide: Money Saving Tips
Eat super cheap – Gyros and other street snacks only cost a few Euros and can keep you full for less than 10 EUR (11 USD) per day.
Rent a moped – When you can't ride the train, rent a moped. It's cheaper than a car and a fun way to see the various towns and cities. You can usually rent a moped for around 14 EUR (16 USD) per day.
Get off the beaten path – Greece is a cheap country and even cheaper when you get out of the touristy Greek islands or popular destinations. Head off the beaten path and you will usually see prices drop by 30% or more.
Book overnight ferries – Greece's inter-island ferries can get quite expensive if you are visiting a lot of them. Taking the overnight ferries can save you up to half off the normal price plus save you a night of accommodation. Moreover, if you book the ferries around two months in advance, you can save up to 25% off the cost of your ticket.
Avoid Mykonos – Mykonos gets a lot of hype. It's a cool island and deserves it but it is also Greece's most expensive with hardly any budget accommodation, 12 EUR (14 USD) drinks, and 40 EUR/46 USD meals (don't even try ordering the fish!). The island caters to upscale honeymooners so if you are on a tight budget, I would avoid this island.
Visit in the off-season – August is the most expensive month, so if you can arrange for a visit before June which would really cut down your accommodation and flight costs by up to half.
Rideshare – If you're flexible in your schedule, use the ridesharing service BlaBlaCar and catch rides with locals between cities (or countries). Drivers are verified and it's perfectly safe (though sometimes rides don't show up, which is why you need to be flexible).
Couchsurf – Couchsurfing is a great way to get a free place to stay and meet locals. There are a ton of hosts throughout the country (I stayed with one in Athens) and it's my favorite way to get to know the "real" Greece.
Camp in a garden – A very good camping service specific is Campspace, which allows you to pitch a tent in someone's backyard for free or a nominal fee (around 4-10 EUR). This is a new service that started in 2010 but more and more people are signing up for it each day. All of the garden owners have profiles that tell you what services and facilities they offer.
Buy lots of wine – You can buy a great bottle of wine for 4 EUR (4.58 USD). It's a lot cheaper than drinking at the bar.
Rideshare – If you're flexible in your schedule, use the ridesharing service BlaBlaCar and catch rides with locals between cities (or countries). I used this service and, not only did I save a lot of money, but I got to meet interesting people to and learn about local culture and life. Drivers are verified and it's perfectly safe (though sometimes rides don't show up, which is why you need to be flexible).
Have an ISIC Card – To save 20-50% on the cost of admission to museums and other tourist attractions, be sure to present a valid student card. The ISIC is typically accepted in places where a foreign student ID is not.
Where To Stay in Greece
Greece caters really well to backpackers, and you can often find small family-run operations on the islands. It's not hard to find accommodations with nice extra touches, like pools! Here are my suggested places to stay:
How to Get Around Greece
Buses and trains around the mainland are around 20 EUR (23 USD). It's less than 2 EUR for a single ride on the Athens train system and most bus tickets cost about the same. For cities without public transportation, there are usually scooter, moped, or ATV rentals (they average around 20-40 EUR/23-46 USD per day).
Public Transportation – In the larger cities, public transportation is widely available. Athens has a fantastic subway system starting at 1.40 EUR (1.60 USD) per ride. There's also an extensive tram and bus system. In smaller cities, like Thessaloniki, buses are the primary mode of transportation. This is also true of the islands, like Santorini, where buses will carry you all over the island starting at 1.80 EUR (2.06 USD) per ride.
On small islands you can also rent scooters, mopeds, or ATVs starting from 20-40 EUR (23-45 USD) per day.
Ferries – Because Greece has a lot of islands, you will be dealing with lots ferries and boats. Expect to spend an average of 35 EUR (40 USD) per a trip, though you could spend as little as 12 EUR (14 USD) if the islands are really close together. If you book the ferries around two months in advance, you can save up to 25% off the cost of your ticket. From Athens, most ferries to the islands cost around 60 EUR (70 USD).
Greece's inter-island ferries can get quite expensive if you are visiting a lot of them. Taking the overnight ferries can save you up to half off the normal price plus save you a night of accommodation. Slow, overnight island ferries begin at 13 EUR (15 USD).
There are many different ferry companies, and most are created equal. You'll pay a lot more for high speed ferries or catamarans (book in advance!). You can research routes and ticket prices using ferryhopper.com and gtp.gr.
Buses – KTEL is the main bus system in Greece, connecting cities and villages all over the mainland and even in the islands. You can look up schedules and prices online, but the website is pretty outdated and you're better booking tickets at the actual bus station. A single journey costs about 5 EUR (6 USD) per 100 kilometers.
Trains – Trains in Greece aren't really recommended. They're unreliable, dirty, and slow compared to trains in other European countries. But there are routes between Athens and other major cities, like Thessaloniki and Patras. (Note: at the time of writing this, the official railway website osenet.gr was not working properly. Financial instability means schedules and prices fluctuate frequently.)
When to Go to Greece
Peak season in Greece is during the summer months of June – August, where temperatures are around 33ºC (92ºF), and popular destinations like Santorini and Mykonos experience a huge influx of visitors. Prices increase during this time as well. But the overall atmosphere and weather is great during this time, so it's still worth visiting during peak season.
However, I think the best time to visit Greece is shoulder season in the spring and fall (March to May and September to October, respectively). It's still warm during this time but there aren't as many crowds and prices are cheaper. It's also easier to meet locals! This is a particularly great time to hang out on the Mediterranean.
Winter is from November to February. It gets cold, and tourist crowds have thinned out considerably. Temperatures vary quite a bit from north to south, with it sometimes dropping to 11 °C (52 °F) in some places. Many of the islands – particularly Santorini and Mykonos – almost shut down entirely during the off-season.
How to Stay Safe in Greece
Due to a high-profile terrorist attacks and riots across Europe and ongoing media coverage, I often get asked if it's safe to travel to Europe. (For more information about this, read my article on why Europe is safe to visit right now.)
Europe is perfectly safe – and Greece even more so.
Greece is very safe for backpacking and solo travel. Violent attacks are uncommon. Petty crime is about the worst that will happen to you. The financial crisis in the country has led to an increase in pickpocketing, although Greek police have really cracked down on perpetrators. Be aware of your surroundings when you're in markets, on busy streets, or when using the metro.
You won't find a lot of travel scams in the country but read this article on 14 major travel scams to avoid right here while you're in Greece.
And, while Greece is often in the news for political turmoil, protests and riots are far away from any tourist area and confinded to Athens. I've been in Greece during political turmoil and, once I left Athens, it was business as usual.
As a tourist, you're safe.
Rememver always trust your gut instinct. If a taxi driver seems shady, stop the cab and get out. If your hotel is seedier than you thought, get out of there. You have every right to remove yourself from the situation. Make copies of your personal documents, including your passport and ID. Forward your itinerary along to loved ones so they'll know where you are.
Remeber iff you wouldn't do it at home, don't do it in Greece!
The most important piece of advice I can offer is to purchase good travel insurance. Travel insurance will protect you against illness, injury, theft, and cancellations. It's comprehensive protection in case anything goes wrong. I never go on a trip without it as I've had to use it many times in the past. You can use the widget below to find the policy right for you:
Greece Travel Guide: The Best Booking Resources
These are my favorite companies to use when I travel to Greece. They are included here because they consistently find deals, offer world-class customer service and great value, and overall, are better than their competitors. They are the ones I use the most and are always the starting points in my search for travel deals.
Momondo – This is my favorite booking site. I never book a flight without checking here first.
Skyscanner – Skyscanner is another great flight search engline which searches a lot of different airlines, including many of the budget carriers that larger sites miss. While I always start with Momondo, I use this site too as a way to compare prices.
Airbnb – Airbnb is a great accommodation alternative for connecting with homeowners who rent out their homes or apartments.
Hostelworld – This is the best hostel accommodation site out there, with the largest inventory, best search interface, and widest availability.
Couchsurfing – This website allows you to stay on people's couches or spare rooms for free. It's a great way to save money while meeting locals who can tell you the ins and outs of their city. The site also lists events you can attend to meet people (even if you're not staying with someone).
Booking.com – The best all around booking site that constantly provides the cheapest and lowest rates. They have a no money down policy, great interface, and the widest selection of budget accommodation. In all my tests, they've always had the cheapest rates out of all the booking websites.
Intrepid Travel – If you want to do a group tour around Europe, go with Intrepid Travel. They offer good small group tours that use local operators and leave a small environmental footprint. If you go on a tour with anyone, go with them. And, as a reader of this site, you'll get a discount when you click the link!
The Man in Seat 61 – This website is the ultimate guide to train travel anywhere in the world. They have the most comprehensive information on routes, times, prices, and train conditions. If you are planning a long train journey or some epic train trip, consult this site.
Rome 2 Rio – This website allows you to see how to get from point A to point B the best and cheapest way possible. It will give you all the bus, train, plane, or boat routes that can get you there as well as how much they cost.
Bla Bla Car – BlaBlaCar is a ridesharing website that lets you share rides with vetted local drivers by pitching in for gas. You simply request a seat, they approve, and off you go! It's a cheaper and more interesting way travel than by bus or train!
World Nomads – I buy all my travel insurance from World Nomads. They have great customer service, competitive prices, and in-depth coverage. I've been using them since I started traveling in 2003. Don't leave home without it!
Greece Gear and Packing Guide
If you're heading on the road and need some gear suggestions, here are my tips for the best travel backpack and for what to pack!
The Best Backpack for Travelers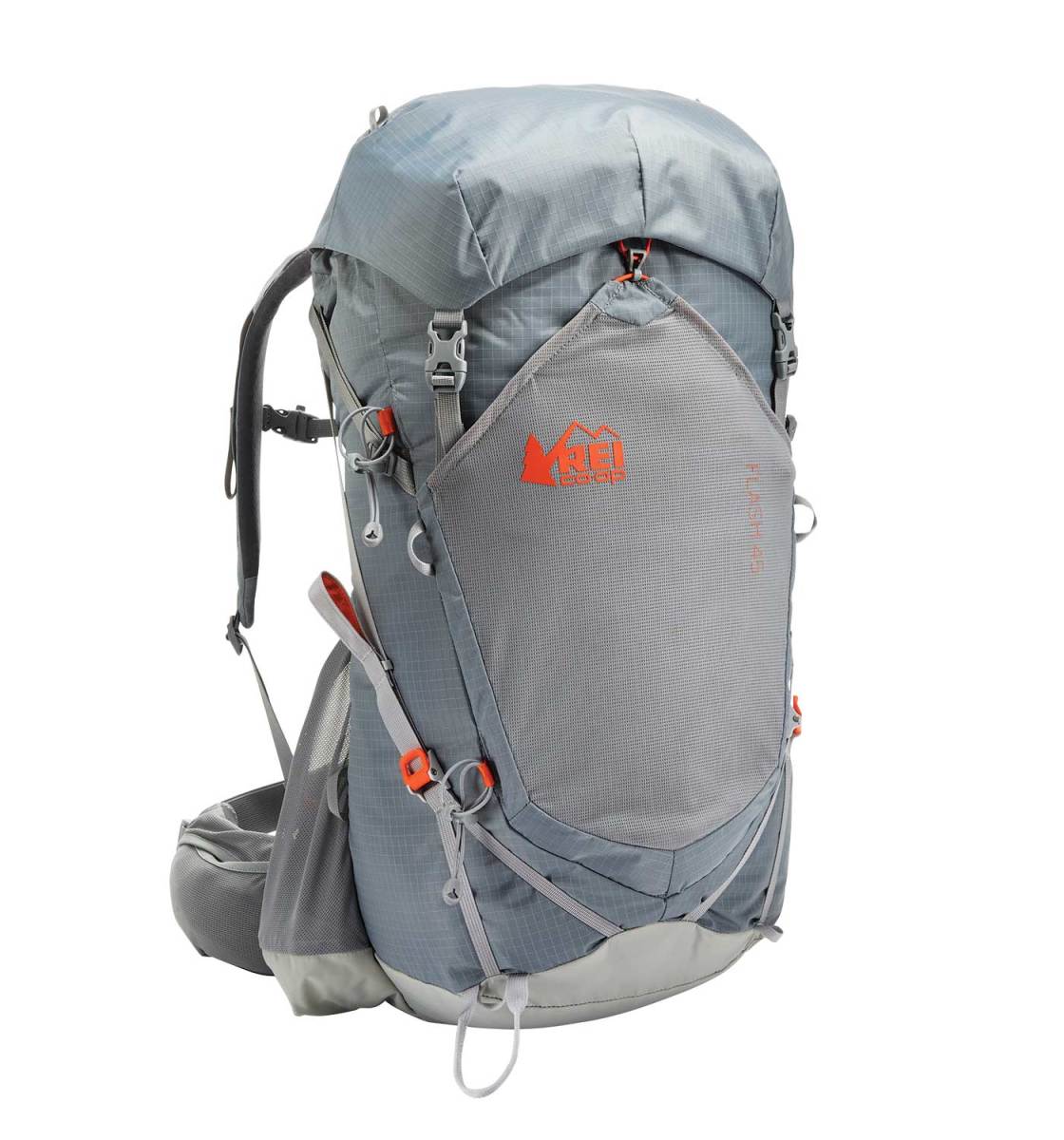 What's the best backpack for traveling long-term? I recommend the
REI Flash 45 Pack
. It's light and comfy, front loading, and fits perfectly in an airplane's overhead bin.
Size:
45-47L
Straps:
Thick and cushy with compression technology that pulls the pack's load up and inwards so it doesn't feel as heavy.
Features:
Removable top lid, large pocket at the front, hydration compatible, contoured hip belt
If you want something different, refer to my article on how to choose the best travel backpack for tips on picking a pack and other backpack suggestions.
What to Pack for Your Trip
Clothes
1 pair of jeans (heavy and not easily dried, but I like them; a good alternative is khaki pants)
1 pair of shorts
1 bathing suit
5 T-shirts (Unbound Merino is my preferred company. If you're a member of NM+, you can get 15% off your purchase)
1 long-sleeved T-shirt
1 pair of flip-flops
1 pair of sneakers
6 pairs of socks (I always end up losing half)
5 pairs of boxer shorts (I'm not a briefs guy!)
1 toothbrush
1 tube of toothpaste
1 razor
1 package of dental floss
1 small bottle of shampoo
1 small bottle of shower gel
1 towel
Deodorant
Small Medical Kit (safety is important!!!)
Miscellaneous
Female Travel Packing List
I'm not a woman, so I don't know what a woman wears, but Kristin Addis, our solo female travel guru, wrote this list as an addition to the basics above:
Clothing
1 swimsuit
1 sarong
1 pair of stretchy jeans (they wash and dry easily)
1 pair of leggings (if it's cold, they can go under your jeans, otherwise with a dress or shirt)
2-3 long-sleeve tops
2-3 T-shirts
3-4 spaghetti tops
1 light cardigan
Toiletries
1 dry shampoo spray & talc powder (keeps long hair grease-free in between washes)
1 hairbrush
Makeup you use
Hair bands & hair clips
Feminine hygiene products (you can opt to buy there too, but I prefer not to count on it, and most people have their preferred products)
For more on packing, check out these posts:
Greece Travel Guide: Related Articles
Want more info? Check out all the articles I've written on Greece travel and continue planning your trip: