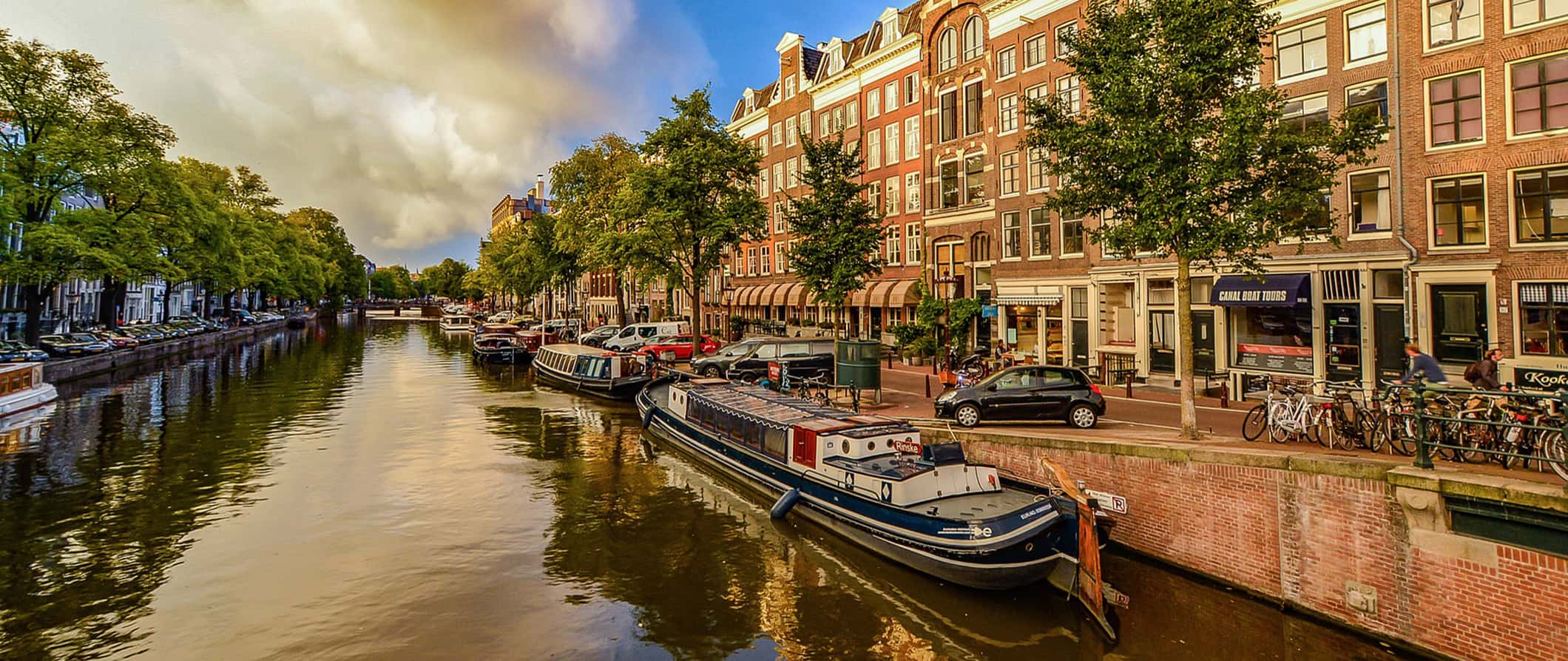 Amsterdam is a city famous for its coffee shops, canals, houseboats, historic architecture, and its Red Light District. Founded in 1275 (supposedly by two fishermen and their dog), the city grew in importance and wealth as Dutch colonies were set up around the world via the Dutch East India Company. Today, it's one of the most popular destinations in Europe.
While the Red Light District put the city on the map, travelers have since realized that there is much more to Amsterdam than meets the eye. Here you'll find dozens of art museums, beautiful parks, wonderful outdoor cafes, lots of history, and a love of life here. This city is by far one of the most beautiful in the world. There's nothing like cruising around the canals on a sunny day or relaxing in Vondelpark with a good book!
I briefly lived in Amsterdam years ago and I can tell you the best of Amsterdam is found outside the city center in the smaller neighborhoods with their quiet charm and canal-side cafes. Don't hesitate to wander and get lost in this city. You'll be pleasantly surprised by what you discover.
This Amsterdam travel guide can help you plan your trip to what remains one of my favorite cities in the world.
Top 5 Things to See and Do in Amsterdam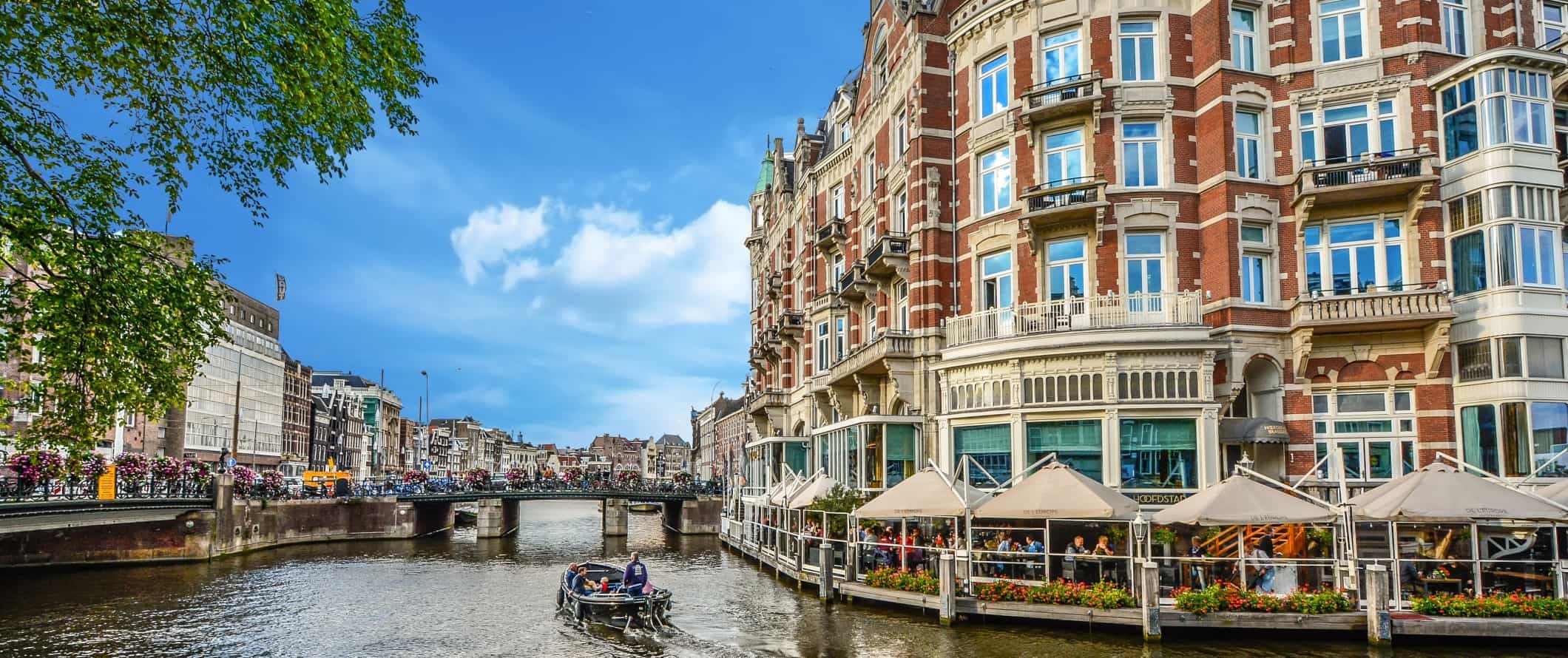 1. Visit the Van Gogh Museum
This museum is home to hundreds of incredible Van Gogh paintings alongside an excellent biography of his life. I can spend hours just staring at the paintings as Van Gogh is one of my favorite artists. It also has paintings by other famous masters of the period like Monet, Manet, and Matisse. It's one of the best museums in the city. Get your ticket online before you go to avoid waiting in the massive line that always forms. Admission is 20 EUR.
2. Take a canal tour
One of the best ways to see the city is from the canals. Standard canal tours usually cost around 20-25 EUR and cruise around the canals for an hour or two so you can see the sights. There are lots of specialty tours too, such as pizza cruises, wine and cheese cruises, and even booze cruises with unlimited drinks.
If you can though, I suggest you rent your own boat. Eco Boats Amsterdam has small, open-air boats that give you a more intimate experience while still being affordable when shared with friends or other travelers. Prices start at 50 EUR per hour.
3. Explore the Jordaan
This former working-class district is now a maze of trendy cafes, cool shops, and hip restaurants. It's peaceful place to wander while avoiding the mass of tourists crowding the main streets just a few blocks away. During the summer, it's a popular spot where locals eat. I absolutely love wandering around here, people-watching while dining, and visiting the weekend farmer's market. While in the area, be sure to eat at Moeders (traditional Dutch food) and Winkel 43 (get the apple pie).
4. Visit Anne Frank House
This is where Anne Frank and her family hid during World War II. It showcases her childhood, life in the attic, as well as other information about the Holocaust. There's also a display of her real handwritten diary. It's a sad and moving place. Admission is 16 EUR. Tickets are only available online and sell out quickly. Every first Tuesday of the month, all tickets for the following month become available, so be sure to snag yours as soon as possible (there's no waiting list). The museum is usually quite crowded, so if you'd like a more in-depth experience, take this Anne Frank walking tour, which is an excellent alternative option, as you get to learn about Anne Frank's life, the Dutch Resistance, and Jewish life during World War II from an expert local guide.
5. Hang out in Vondelpark
Vondelpark was created in 1865 and spans over 48 hectares (120 acres). Amsterdam's largest and most popular park, it's a great place to walk, bike, people-watch, or relax, especially after a visit to a local coffee shop. There's a playground as well as places to play sports. Bring a book, pack some food, and lounge the day away.
Other Things to See and Do in Amsterdam
1. Take a free walking tour
One of the first things I do in a new city is take a walking tour. They're the best way to orient yourself to the city, learn some history, and find out where the major sights are. I think free walking tours are a wonderful first activity in any city. In Amsterdam, I recommend Free Walking Tours Amsterdam and New Europe. They both run great tours that can get you started on the right foot. Just be sure to tip your guide!
2. Visit the Amsterdam Museum
This museum features a comprehensive history of Amsterdam. It's big so you need 3–4 hours to really go through it in detail. There are a lot of relics, maps, paintings, and audio-visual displays throughout the museum that bring the city's history to life. My favorite is the video that shows the growth and construction of the city over time. The museum is located in a former monastery that was also once an orphanage. I can't recommend this museum enough. It's one of the best history museums I've ever visited. Admission is 20 EUR.
3. See the Tulip Museum
Located in a room inside a tulip shop, this small museum does an interesting job of telling the history of tulips in Holland, including the infamous tulip craze (in the 17th century, tulips became a popular luxury item and cost a fortune…until the bubble burst and they became worthless overnight). It only takes 30–60 minutes and, best of all, it's never crowded. Admission is just 5 EUR.
4. Tour the Jewish Historical Museum
Located near Waterlooplein and often overlooked for the Anne Frank House, the Jewish Historical Museum tells the history of the prominent and influential Jewish people in Amsterdam. It also has an excellent section on World War II, the Holocaust, and how the Dutch dealt with the guilt of mass deportations after the war. Around 80% of the Jewish population in Amsterdam was killed in the Holocaust, making this an eye-opening museum worth spending time to see. Admission is 17 EUR.
5. See photography at FOAM
This photography museum houses wonderful pictures and sees few crowds despite being in the main part of the city. I really enjoyed all the black and white photographs and the outdoor garden. They change the exhibits all the time so you never know what is going to be on display (but it's guaranteed to be good). I visit each time I'm in the city. You can check the website to see what's on during your visit. Admission is 12.50 EUR.
6. Squeeze into the Houseboat Museum
This decorated houseboat provides an interesting glimpse into what living on the canals is like. I walked away with one impression of life on the canals: super neat, but super cramped. With admission at 4.50 EUR, it's the cheapest museum in town and is worth a quick visit.
7. Explore Oost
The area east of the city has an amazing park, a zoo, and lots of good eateries. Wandering around here, you'll be hard-pressed to find more than a handful of tourists, most of whom are probably lost. It's off-the-beaten-path and an underrated part of the city. Also, spend some time hanging out in Oosterpark. I enjoy coming here because it's far quieter and more peaceful than Vondelpark.
8. Relax in Rembrandt Park
Not to be confused with Rembrandtplein in the city center, this park west of the city is a leisurely place to wander. The area around it is more modern than elsewhere in Amsterdam; it's a nice contrast to the historic center. You know you are there when signs suddenly stop being printed in English and are only in Dutch!
9. Try the Heineken Experience
While I find this experience to be overpriced and commercial, it's nevertheless an interesting stop for beer fans. Here you'll get an overview of the company, a few samples, and some silly games to play. Note that this isn't an actual working brewery, just a place where you can learn a lot about one of the world's most popular beer brands. Admission is 21 EUR and the price includes two beers. You can also get a joint ticket online for both the Heineken experience and a canal cruise.
10. See the windmills
The Dutch are famous for their windmills and setting out on an adventure to visit the windmills surrounding Amsterdam is a great way to take in the city. There are eight in total – most of which are in Amsterdam West. De Gooyer is the closest to the city center and also happens to be a brewery, making it the perfect place to start (and maybe never leave). It's just a quick 20-minute train ride from Amsterdam Centraal. Another windmill worth seeing is Sloten Mill, which is a reconstructed mill from 1847 that's open to the public. Tours last 45 minutes and cost 7.50 EUR. You can also take guided tours to Zaanse Schans, an open-air living history museum that is often known as the windmill town, and where you not only learn about the inner-workings of the windmills but other traditional Dutch crafts, like clog- and cheese-making.
11. Stroll through the Plantage
This district in Amsterdam is comprised of tree-lined boulevards, quintessential canal scenes, several gardens and parks, and the Artis Royal Zoo. It's a beautiful place to stroll and there's a lot to see and do if you're traveling with kids. Beyond the main zoo area, Artis is also host to a zoological museum, a planetarium, and an aquarium. Tickets start at 25 EUR.
12. Drink at the House of Bols
This is one of the most underrated attractions in Amsterdam. Run by the Bols distillery, this is a Dutch gin museum. The self-guided interactive tour takes about an hour and will tickle your senses. Of course, it includes a cocktail at the end as well. It's a must for gin drinkers and cocktail snobs! Admission is 16 EUR.
13. Visit the Rijksmuseum
The Rijksmuseum is located next to the Van Gogh Museum and, after years of renovation, it's now beautifully remodeled. The museum features an extensive Rembrandt collection, including the famous painting "The Night Watch." Besides Rembrandt, there's also a robust collection of other classic Dutch painters, like Frans Hals and Johannes Vermeer. Over one million works of art, craftworks, and historical objects are kept in the collection so be sure to budget a few hours. Admission is 22.50 EUR. You can book your tickets online in advance to save time and avoiding waiting in the long ticket line.
14. Wander the Museum Van Loon
The Museum Van Loon is a double-sized canal house located on the Keizersgracht canal. Built in 1672, the house was owned by the wealthy Van Loon merchant family who curated a beautiful art collection. Their home is now a museum with period furniture, art, and family portraits. There's a beautiful garden here too. This off-beat museum is not to be missed. Admission is 12.50 EUR.
15. Shop at the Waterlooplein Flea Market
This open-air market is a giant flea market; everything can be found here. There are around 300 stalls and people sell secondhand clothes, hats, antiques, gadgets, gems, bikes, and more. You can find new items here too. If there's something you want, it's probably here. It's open Monday-Saturday.
16. Take a day trip to Haarlem
Just a quick train (or long bike) ride from Amsterdam, Haarlem is a quiet Dutch town that has a picturesque central church, great outdoor market, and all the beauty of historic Amsterdam with fewer crowds (there are really fun canal cruises to be had here too that I recommend taking). The train costs between 4-8 EUR and takes about 15 minutes. It's the perfect place to escape for an afternoon.
17. Visit Noord
Leave the city center, take the ferry across the IJ, and visit the up-and-coming area of Noord Amsterdam. In the last few years, a lot of people have moved here (it's cheap), cool markets and restaurants have opened, and a lot of old industrial land has been reclaimed for public use. It's the new hip place to be. If you're into obscure cinema, be sure to visit the famous Eye, Amsterdam's film museum. Admission is 11.50 EUR.
18. Read at the Amsterdam Library
The city's library is a beautiful modern building built in 2007. It's gigantic, overlooks the IJ, and has a wonderful top-floor cafe for impressive views of the city. It's one of my favorite places to relax in the city. It's quiet, peaceful, and there's nothing like reading a good book with a great view!
19. Eat your way around Foodhallen
Located in Amsterdam West, this place is what the name implies — a food hall! Located in a refurbished tram depot, this indoor food hall has various vendors serving a variety of delicious food. Bring an appetite!
20. Explore the Red Light District
Unsurprisingly, Amsterdam's Red Light District is one of the city's main draws. Though much tamer than in previous years, the Red Light District manages to balance sex and seediness with being a major international tourist attraction. While it's worth seeing, I'd keep your time here brief. It's quite calm and quiet during the day, but at night the area is bursting with drunken revelers and gawking tourists that clog the sidewalks. Even if it's not your scene, I'd still make sure to see the area with your own eyes at least once. It's certainly unique!
21. See the Erotic Museum and the Amsterdam Sex Museum
Tucked away in an old warehouse in the Red Light District, the Erotic Museum (7 EUR) highlights eroticism in all its various forms throughout the ages. It has sculptures, paintings, drawings, photographs, and other artwork. And, of course, there is a gift shop if you want a more unique souvenir from the city. The Amsterdam Sex Museum (9 EUR) is the more serious museum and is much more informative than the Erotic Museum (but also a little less fun). It was the world's first sex museum, having opened in 1985. It highlights the history of sexual views and norms, as well as the lives of some of the world's most sexually famous individuals (like the Marquis de Sade).
22. Take a Food Tour
One of the highlights of any trip for me is getting to eat my way around a new city. Food is an important part of every culture, and it's something I'm always happy to splash out on when given the chance. If you're looking to learn more about Amsterdam's food scene and sample some of the city's best offerings then I suggest taking a food tour. Not only do you get to try amazing foods but you learn a ton about their history, how they're made, and how the food culture here has evolved. Two companies worth checking out are Hungry Birds and Secret Food Tours. Tours with both companies are around 90 EUR.
23. See the Museum Amstelkring
Hidden inside a 17th-century canal house, this is one of the most interesting churches I've ever been to. Ons' Lieve Heer op Solder ("Our Lord in the Attic") is a clandestine Catholic church that was secretly built during Protestant rule on the 3rd floor of a regular house (it was never really a secret, but since it was out of sight the authorities didn't crack down on them too harshly). Built in the 1660s, the church has a beautiful drawing room and the furnishings and artifacts make this one of the best 17th-century rooms still intact. Admission is 14 EUR.
24. Learn About Drugs at the Hash, Marihuana & Hemp Museum
No trip to Amsterdam is complete without learning a little bit about drugs. This museum (which has a sister museum in Barcelona) is full of information about the historical and modern use of cannabis. It covers all the medicinal, religious, and cultural uses of the plant and focuses on how hemp can be used for all sorts of beneficial agricultural, consumer, and industrial products. It's actually really educational! Admission is 9 EUR.
25. Do a bike tour
Bikes are to Amsterdam like wine is to Bordeaux. The locals love to bike everywhere and there are supposedly more bikes than people in the city. Bike usage has skyrocketed in the past two decades and locals collectively cycle over 2 million kilometers every day! If you want to explore the way the locals do, take a bike tour. Mike's Bike Tours is the best company to use, whether for a tour or to rent a bike on your own. Not only do they offer city tours but they also offer bike tours of the surrounding countryside as well. Tours start at 34 EUR and last around 3 hours.
26. Browse the Stedelijk Museum
I'll be honest: I don't like modern art. It's just not my cup of tea. But if you do, this is the place in the city to see it. Opened in 1874, the museum is home to over 90,000 items including works by Jackson Pollock and Andy Warhol. The exhibitions cover paintings, drawings, graphic design, sculptures, sound, and installations. To be fair, there is a ton of variety here — it's just not my favorite style. But definitely check it out if you're an art fan! Admission is 20 EUR.
27. Take an Alternative Art Tour
Amsterdam is home to some incredible street art. You'll see it all over while you explore, but if you really want to appreciate it and learn about the alternative art scene in Amsterdam then take a tour. Alltournative Amsterdam runs an amazing, insightful tour where you can learn all about the alternative arts while getting to see the best murals in the city. All the people I took on the tour loved it! Tours start at 20 EUR.
28. Explore Micropia
Micropia is a "zoo" home to all sorts of microbes and bacteria. It's super educational as you can learn about all the invisible microbes that we interact with day to day (you can also scan yourself to see what actual bacteria and microbes are on you right then and there). It's a neat place to visit with kids. Admission is 17.50 EUR.
29. Visit Museum Vrolik
This quirky museum is home to one of the largest collections of human (and animal) deformities. The collection dates back to the 19th century and the first quarter of the 20th century and has around 150 different items, including creepy jars holding fetuses, human and animal skeletons, and even the remains of a pair of conjoined twins. It's one of the weirdest offbeat things to do in Amsterdam. Admission is 7.50 EUR.

For more information on other cities in The Netherlands, check out these guides:
Amsterdam Travel Costs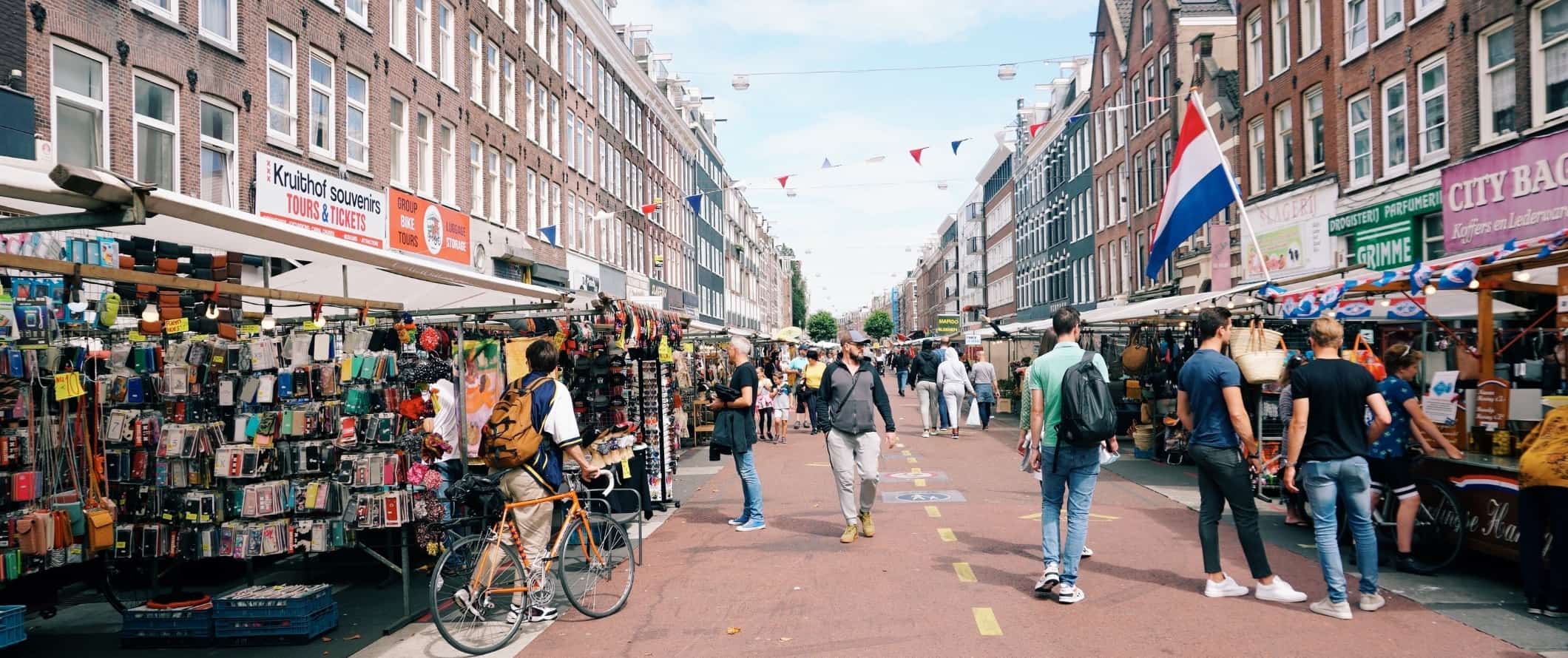 Hostel prices – If you want a centrally-located hostel, expect to pay between 18-30 EUR per night for a bed in a dorm with eight or more beds. A 4-6-bed dorm costs upwards of 30-50 EUR per night. Prices are fairly consistent all year round.
A private twin room with an en suite bathroom starts at 85-115 EUR per night. Free Wi-Fi is standard but only a few hostels have self-catering facilities. Only a couple offer free breakfast.
Budget hotel prices – Budget two-star hotels start at 80 EUR per night (most average around 125 EUR), though there are a few new pod hotels in Amsterdam where you can get a single pod for around 60 EUR. Expect basic amenities like free Wi-Fi, a TV, and a coffee/tea maker.
Airbnb is available around the city, although it has become more tightly regulated in recent years. A private room starts at 80 EUR per night while an entire apartment averages around 175 EUR per night (though you can find plenty of apartments under 150 EUR per night if you book early).
Food – Dutch cuisine typically involves lots of vegetables, bread, and cheeses (gouda originated here). Meat, while historically not as prominent, is a staple of dinner meals. Breakfast and lunch usually involve open-faced sandwiches, often with cheeses and cold cuts. Dinners are very much a "meat and potatoes" meal, with meat stews and smoked sausage being two popular choices. For those with a sweet tooth, the stroopwafel (a waffle cookie with a syrup filling) is the go-to choice, though apple tarts/pies are also local favorites.
Cheap food (like burgers and fries) at the famous FEBO costs around 5-6 EUR, but don't expect anything fancy (FEBO is Dutch drunk food). Other street food like pizza slices, shawarma, and falafel costs between 3-8 EUR.
There are plenty of budget-friendly fast-food restaurants in Amsterdam, ranging from McDonald's to Maoz to Wok to Walk (which is by far the best). Combo meals (think McDonald's) here cost around 9-10 EUR. Many cafes in the city offer prix-fixe lunch specials for between 10-15 EUR.
Mid-range restaurant meals start around 35-40 EUR for a three-course meal with a drink. Vegetarian and pasta dishes start from 12 EUR, and a beer to go with it costs about 5 EUR.
In a high-end restaurant, a five-course or seven-course menu costs around 80-100 EUR, while a glass of wine to go with it is about 6 EUR.
A cappuccino/latte is 3.50-4 EUR and a bottle of water is around 2 EUR.
For restaurants, I love Cafe de Jaren, Pancakes, Modoers, Café Papeneiland, and Burger Bar.
If you cook your meals, expect to pay 50-60 EUR per week for groceries that include pasta, vegetables, chicken, and other basic foodstuffs.
Backpacking Amsterdam Suggested Budgets
If you're backpacking Amsterdam, expect to spend about 60 EUR per day. This budget covers staying in a hostel dorm, taking public transit, cooking most of your meals, limiting your drinking, and doing free activities like walking tours and lounging in the parks. If you plan on drinking, add at least 5-10 EUR per day to your budget.
A mid-range budget of about 165 EUR covers staying in a budget hotel or private Airbnb, eating out at cheap local restaurants, having a few drinks, taking the occasional taxi to get around, and doing more paid activities like visiting museums or taking a food or art tour.
On a "luxury" budget of about 280 EUR or more per day, you can stay in a hotel, eat out whenever you want, drink as much as you'd like, take more taxis, rent a bike or car for exploring outside the city, and do whatever tours and activities you want. This is just the ground floor for luxury though. the sky is the limit!
Accommodation
Food
Transportation
Attractions
Average Daily Cost
Backpacker
25
15
10
10
60
Mid-Range
75
45
20
25
165
Amsterdam Travel Guide: Money-Saving Tips
Amsterdam is one of the most popular tourist destinations in Europe — and one of the most expensive. Every year prices go up, especially now, post-COVID. Fortunately, a visit here doesn't have to break the bank because there are a lot of ways to save money in Amsterdam:
Get the I Amsterdam Pass – This pass offers free entrance to most of the major museums and attractions as well as free public transportation. If you're going to be bouncing between museums a lot, get this card. The pass starts from 65 EUR per day.
Drink in hostels – Hostels have the best drink deals in the cities. Even if you aren't staying at them, most have bars open to the public where you can get 2 EUR beers and other drink specials. Belushi's Bar at The Winston is very popular among locals too.
Get the Museumkaart (Museum Card) – Good for an entire year, this card gets you into museums in Amsterdam and beyond for only 64.90 EUR. With the Museum Card, you get access to dozens of museums in Amsterdam and hundreds throughout the Netherlands. You can buy it in select museums, and it's a good option if you plan on spending an extended amount of time in the Netherlands.
Take a free walking tour – If you want an overview of the city, take one of the free walking tours. The biggest one is offered by New Europe Tours and will give you a solid introduction and overview. Just be sure to tip!
Grab an Amsterdam Nightlife Ticket – This ticket is valid for two days or seven days and costs 10-20 EUR. It gets you unlimited access to eight clubs, a welcome drink at five of the clubs, access to the Holland Casino, discounts on your Uber ride, and more. If you're going to party in Amsterdam, this nightlife ticket definitely cuts down the cost.
Hire your own boat – Instead of taking an expensive canal cruise, hire your own boat. If you have three or four people, it works out to be about 20 EUR a piece and you can bring alcohol, food, or smoke on it. Boaty Rentals (also known as Amsterdam Rent A Boat) has great options.
Eat on the cheap – Febo, Walk to Wok, and Maoz are all cheap places to get food. Moreover, cafes in the city offer prix-fixe lunch specials for between 10-15 EUR. If you're going to eat out, lunch is the best time to do it in Amsterdam!
Cook your own food – Dutch food isn't going to win any culinary awards and eating out in the city isn't cheap. Head to the supermarket instead and cook your meals. You're not missing out on anything and you'll save a ton.
Stay with a local – Couchsurfing is a service that lets travelers stay with locals for free. Not only do you get a free place to stay, but you also get to connect with a local who can share their insider tips and advice. Since a lot of travelers use this service, make your requests for hosts early.
Save money on rideshares – Uber is cheaper than taxis and is the best way to get around a city if you don't want to wait for a bus or pay for a taxi.
Attend a free festival – During the summer, everyone stays outside all day and there are tons of events happening. Check the local tourism office for a list of free concerts, festivals, shows, and markets. Once the weather gets warm, the social calendar fills up and much of it is free!
Bring a water bottle – The tap water here is safe to drink so bring a reusable water bottle to save money and reduce your plastic use. LifeStraw is my go-to brand as their bottles have built-in filters to ensure your water is always clean and safe.
How to Get Around Amsterdam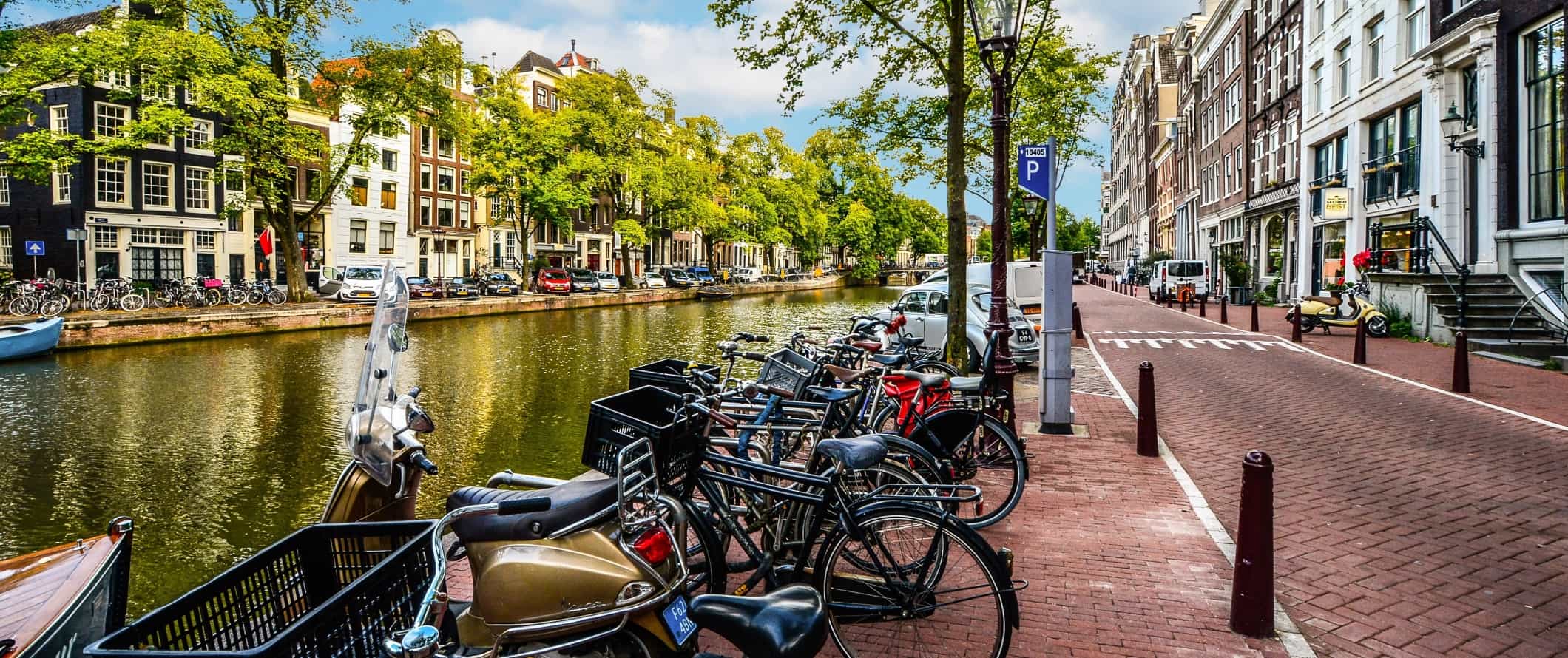 Public transportation – Amsterdam has an efficient system of buses, trams, and a metro that can get you anywhere in the city. Getting around the city is easy — you just need a ticket card (cash fares are not available). You can buy disposable ticket cards for single trips or reloadable cards that you can refill as needed.
Single fares start at 3.20 EUR, though day passes are a much better idea. You can get unlimited travel around the city with the GVB Transportation Multi-Day Ticket. It's the best way to explore Amsterdam on a budget!
Tickets are available from drivers and ticket sellers, tourist offices, and kiosks. If you download the GVB app it saves you from going to a ticket machine or a counter.
You can also get unlimited access to local public transportation with the I Amsterdam City Card. I highly recommend this card if you're going to be seeing a lot of museums.
Bicycle – Amsterdam is one of the best cycling cities in the world and bike rentals here are plentiful and affordable. You can rent bikes starting around 10-15 EUR per day.
Taxi – Don't take taxis here. They are way too overpriced and the city is small enough to walk around. And, if you don't feel like walking, public transportation goes everywhere. If you do need a taxi, prices start at 5.25 EUR and go up by 2.40 EUR per kilometer.
Ridesharing – Uber is available in Amsterdam but, again, public transportation goes everywhere and is cheaper.
Car rental – You don't need a car to get around the city, however, if you want to explore the region outside Amsterdam you can find rentals for as little as 35 EUR per day for a multi-day rental. For the best car rental prices, use Discover Cars.
When to Go to Amsterdam
Amsterdam is busy year-round but its peak season is July and August. The average daily summer temperature in Amsterdam is around 22°C (72°F), but it can get a lot hotter than that. This is when the city is packed so expect crowds, waits, and full hostels and hotels. If you're visiting during this time, book your stay in advance.
If you come between mid-April and mid-May, you can see the tulip fields in bloom just beyond the city. The weather during this time is still nice, though you might get a bit of rain so bring a rain jacket.
Overall, I think late spring and early fall are the best times to visit as you beat the heat and the crowds so there's no mad dash to book everything early. The weather is temperate so you can still walk everywhere too.
The average daily temperature in the winter is 7°C (45°F), though the Christmas season is a really lovely time to visit as the city lights up with markets and festivities. Beyond that, I wouldn't suggest visiting in the winter.
How to Stay Safe in Amsterdam
Amsterdam is an incredibly safe place to visit. Pick-pocketing is going to be your biggest concern and it frequently happens on crowded public transit. Keep your possessions secure at all times and make sure your valuables are tucked away just to be safe. Don't flaunt your valuables either.
As a notorious party city, it's also easy for thieves to take advantage of drunk tourists at night. Keep your belongings close and always keep an eye on your drink. Don't accept drinks from strangers and try not to get super drunk just to be safe.
The Red Light District has become more dangerous in recent years, with illegal drugs and violent crime on the rise. Keep an extra eye out while you are there.
There are a few common scams in Amsterdam, such as people trying to sell you public transit tickets that have already been used. Be wary of purchasing a really cheap bike from someone off the street as well as it likely means it's stolen. You can read about other common travel scams to avoid here.
Solo female travelers should generally feel safe here. However, the standard precautions apply (never leave your drink unattended at the bar, never walk home alone at night intoxicated, etc.), especially as this is a party city. Definitely watch your drinks. There are a lot of solo female blogs out there that can provide more specific tips based on their experience.
If you experience an emergency, dial 112 for assistance.
Always trust your gut instinct. Make copies of your personal documents, including your passport and ID. Forward your itinerary along to loved ones so they'll know where you are.
The most important piece of advice I can offer is to purchase good travel insurance. Travel insurance protects you against illness, injury, theft, and cancellations. It's comprehensive protection in case anything goes wrong. I never go on a trip without it as I've had to use it many times in the past. You can use the widget below to find the policy right for you:
Amsterdam Travel Guide: The Best Booking Resources
These are my favorite companies to use when I travel. They consistently have the best deals, offer world-class customer service and great value, and overall, are better than their competitors. They are the companies I use the most and are always the starting point in my search for travel deals.
Skyscanner – Skyscanner is my favorite flight search engine. They search small websites and budget airlines that larger search sites tend to miss. They are hands down the number one place to start.
Hostelworld – This is the best hostel accommodation site out there with the largest inventory, best search interface, and widest availability.
Booking.com – The best all around booking site that constantly provides the cheapest and lowest rates. They have the widest selection of budget accommodation. In all my tests, they've always had the cheapest rates out of all the booking websites.
Get Your Guide – Get Your Guide is a huge online marketplace for tours and excursions. They have tons of tour options available in cities all around the world, including everything from cooking classes, walking tours, street art lessons, and more!
SafetyWing – Safety Wing offers convenient and affordable plans tailored to digital nomads and long-term travelers. They have cheap monthly plans, great customer service, and an easy-to-use claims process that makes it perfect for those on the road.
LifeStraw – My go-to company for reusable water bottles with built-in filters so you can ensure your drinking water is always clean and safe.
Unbound Merino – They make lightweight, durable, easy-to-clean travel clothing.
Top Travel Credit Cards – Points are the best way to cut down travel expenses. Here's my favorite point earning credit cards so you can get free travel!
BlaBlaCar – BlaBlaCar is a ridesharing website that lets you share rides with vetted local drivers by pitching in for gas. You simply request a seat, they approve, and off you go! It's a cheaper and more interesting way to travel than by bus or train!
Amsterdam Travel Guide: Related Articles
Want more info? Check out all the articles I've written on backpacking/traveling the Netherlands and continue planning your trip: