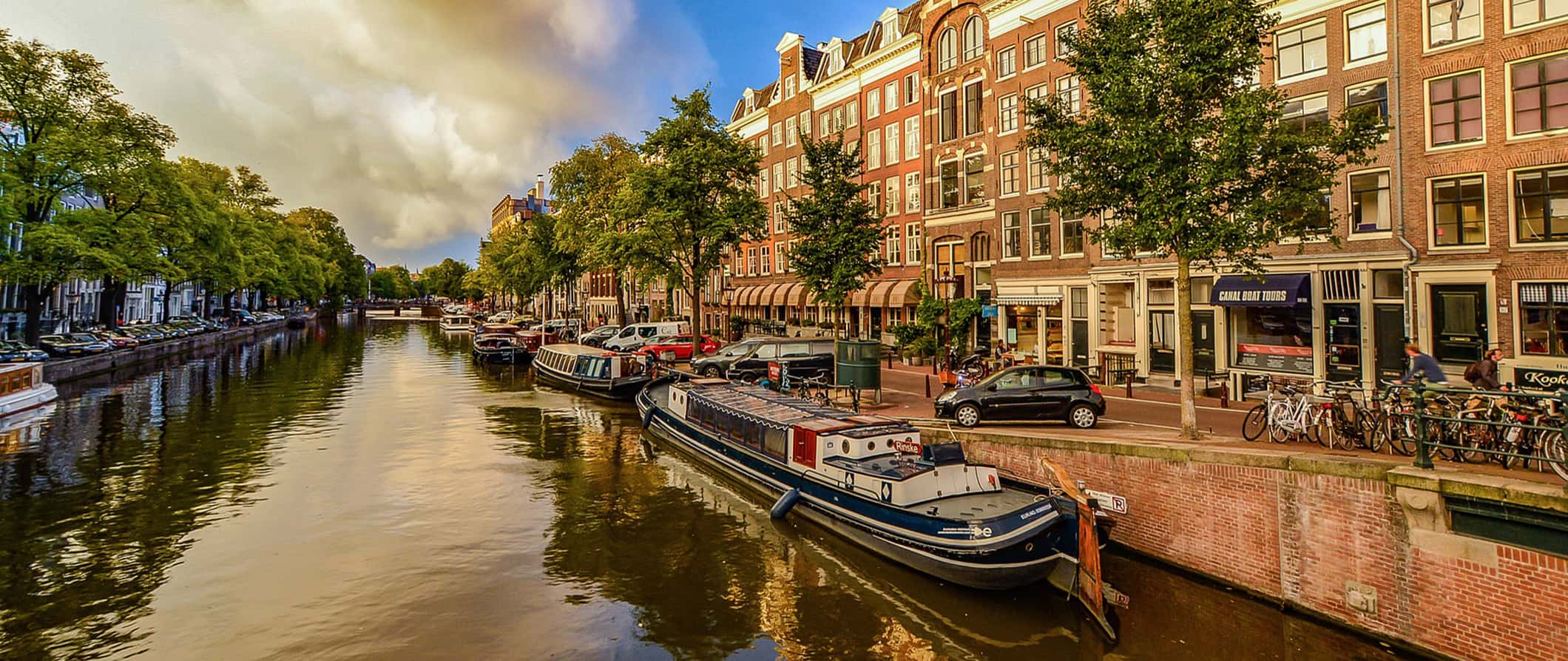 Amsterdam is famous for its coffee shops, red lights, houseboats, historic architecture, and famous canals. Founded in 1275 (supposedly by two fishermen and their dog), the city grew in importance and wealth as Dutch colonies were set up around the world, and companies like the Dutch East India Company (VOC) controlled trade around the world.
Everyone visits or backpacks Amsterdam as they come through Europe and the city has become so crowded during peak season, locals are trying to limit the number of visitors! (So try to avoid the busy summer months!)
There is more to Amsterdam travel than its infamous dark side. Here you'll find dozens of art museums (from the eclectic to the traditions), beautiful parks, wonderful outdoor cafes, lots of history, and love of life here. This city is by far one of the most beautiful in the world. There's nothing like cruising around the canals on a sunny day or lying in Vondelpark reading a book!
I used to live in Amsterdam, and I can tell you the best of Amsterdam is found outside the city center in the smaller neighborhoods with their canal-side cafes.
This Amsterdam travel guide can help you plan your trip to what remains one of my favorite countries in the world.
Click Here for City Guides

Amsterdam
Top 5 Things to See and Do in Amsterdam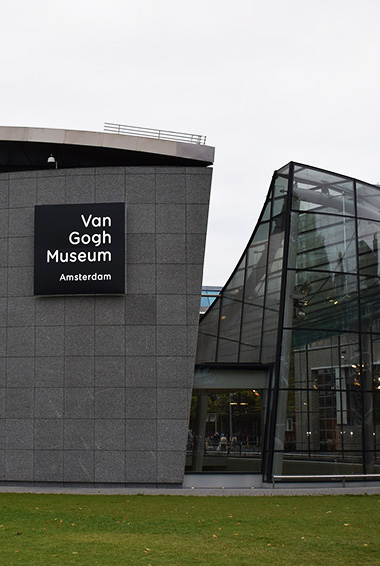 1. Visit the Van Gogh Museum
This museum is home to hundreds of Van Gogh paintings as well as work from other contemporary painters. It's one of the best museums in the city! Book your ticket ahead of time online or go in the afternoon to avoid massive lines. The museum is open daily from 9am-5pm. Admission is €19 ($21 USD).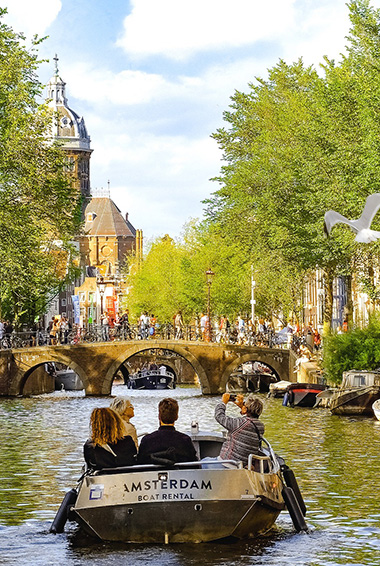 2. Take a canal tour
One of the best ways to see the city is from the canals. You can take one of the tours with a big boat or hire your own guide. However, if you can't go with your own boat, skip those massive long touristy boats and take the Eco Tour boat. It's a small, open-air boat that gives you a more intimate experience.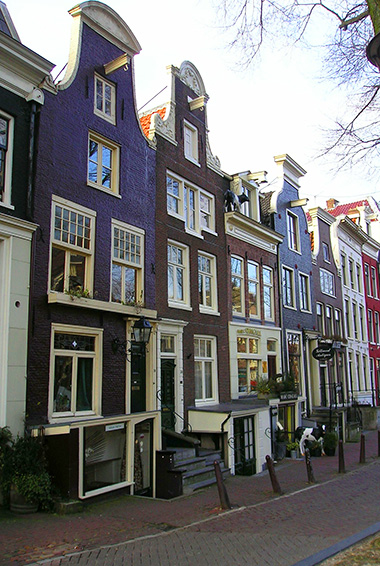 3. Explore the Jordaan
This former working-class district is now a maze of trendy cafes, little shops, and restaurants. During the summer, it is a popular spot for locals to eat. I absolutely love wandering around here, visiting the weekend farmer's market, and sampling Dutch apple pie.
4. The Anne Frank House
This is where Anne Frank and her family hid during WW2. It showcases her childhood, life in the attic, as well as other information on the Holocaust. There's also a display of her real handwritten diary. It's a sad and moving place. Book tickets online to avoid the lines. Admission is €10 ($11 USD).
5. Hang out in Vondelpark
Amsterdam's largest and most popular park is a great place to walk, bike, people-watch, or relax, especially after a visit to a local coffee shop. There's a playground as well as places to play sports. During the summer, Vondelpark is filled with people, especially locals who hang out at the café Blauwe Theehuis for drinks in the center.
Other Things to See and Do in Amsterdam
1. Visit the Amsterdam History Museum
This museum features a comprehensive history of Amsterdam. It's big, and you'll need 3–4 hours to really go through it in detail. There are a lot of relics, maps, paintings, and audio-visual displays throughout the museum. My favorite is the computer graphic at the entrance showing the growth and construction of the city over time. I can't recommend this museum enough. It's one of the best history museums I've ever visited. Admission is €15 ($17 USD), and it's open daily from 10am-5pm.
2. The Tulip Museum
Located in a room inside a tulip shop, this little place does an interesting job of telling the history of tulips in Holland and the infamous tulip craze. Best of all: you'll never find a crowd. It's pretty off the beaten path! And at €5 ($5.55 USD), it's the cheapest museum in town.
3. See the Jewish History Museum
Located near Waterlooplein and often overlooked for the Anne Frank House, the Jewish Historical Museum tells the history of the Jews' prominent and influential position in Amsterdam. It also has an excellent section on World War 2, the Holocaust, and how the Dutch dealt with the guilt of mass deportations after the war. Admission is €17 ($19 USD), and it's open daily from 10am-5pm.
4. See photography at FOAM
The photography museum houses wonderful pictures and sees few crowds despite being in the main part of the city. I really enjoyed all the black and white photographs and the outdoor garden. They change the exhibits all the time, so you never know what is exactly going to be there (but it's guaranteed to be good). I visit each time I'm in the city. Admission is €15.50 ($17.20 USD), and it's open daily from 10am-6pm, except Thursdays and Fridays when it's open until 9pm.
5. Squeeze into the Houseboat Museum
Not much of a museum, but this decorated houseboat gives you an interesting glimpse into what living on the canals is like. I walked away with one impression of life on the canals: a bit cramped. Admission is €4.50 ($5 USD), and it's open daily from 10am-5pm.
6. Explore Oost
The area east of the city has an amazing park, a zoo, and lots of good Muslim eateries. Wandering around here, you'll be hard-pressed to find more than a handful of tourists, most of whom are probably lost. It's an off-the-beaten-path and underrated part of the city. Also, spend some time hanging out in Oosterpark — I enjoy coming here because it's far quieter and more peaceful than Vondelpark.
7. Relax in Rembrandt Park
Not to be confused with Rembrandtplein in the city center, this park west of the city is a leisurely place to wander. The area around it is built for the working class and is more modern than elsewhere in Amsterdam – a good contrast to the historic center. You'll know you are there when signs suddenly stop being printed in English and are only Dutch.
8. Take in the Heineken Experience
I find it to be overpriced and commercial, but the Heineken Experience will give you an overview of the company, a few drinks, and some silly games to play. Note that this isn't an actual working brewery. Admission is €18 ($20 USD), and it's open daily from 11am-7:30pm with an extended hour on the weekends (last entry is 2 hours before close).
9. See the windmills
Setting out on an adventure to visit the windmills surrounding the city is another great way to tour. There are eight in total – most of which are in Amsterdam West. De Gooyer is the closest to the city center and also happens to be a brewery, making it the perfect place to start (and maybe never leave). It's just a quick 20-minute train ride from Amsterdam Centraal!
10. Stroll through the plantage
The is an entire district in Amsterdam, comprised of green neighborhoods, tree-lined boulevards, quintessential canal scenes, several gardens and parks, and the Artis Royal Zoo. Beyond the main zoo area, Artis is also host to a Zoological Museum, a Planetarium, and an Aquarium. Tickets start from €20 ($22 USD).
11. Drink at the House of Bols
This is one of the most underrated attractions in Amsterdam. Run by the Bols distillery, this is a Dutch gin museum. The self-guided tour takes about an hour and includes the promise of a cocktail and an interesting smelling test. Admission is €16 ($18 USD), and it's open daily from 1pm-6:30pm, except on Fridays and Saturdays when it closes at 9pm.
12. Visit the Rijksmuseum
The Rijksmuseum is located right next to the Van Gogh Museum, and after years of renovation, it's now beautifully remodeled. The museum still features an extensive Rembrandt collection, and you'll be able to see the famous painting "The Night Watch." Besides Rembrandt, there's also an incredible and robust collection of other classic Dutch painters, like Frans Hals and Johannes Vermeer. Over one million works of art, craftworks, and historical objects are kept in the collection, and around 8,000 objects are on display in the museum, so be sure to budget a few hours! Admission is €19 ($21 USD), and it's open daily from 9am-5pm.
13. Wander the Museum Van Loon
The Museum Van Loon is a double-sized canal house (built in 1672) located on the Keizersgracht canal in Amsterdam. The house was owned by the wealthy Van Loon merchant family who set up a beautiful art collection. Now it's a museum with period furniture, art, and family portraits. There's a beautiful garden here too. This is definitely a place not to miss. Admission is €10 ($11 USD), and it's open daily from 10am-5pm.
14. Shop at the Waterlooplein Flea Market
This open-air market is like a giant flea market — everything and everyone can be found here. People sell secondhand clothes, hats, antiques, gadgets, and much more. You can also find new and unused items. If there's something you want, you'll probably find it here. Open Monday to Saturday from 9:30am-6pm.
15. Take a day trip to Haarlem
Just a quick train (or bike) ride from Amsterdam, Haarlem is a quiet Dutch town that has a beautiful central church, great outdoor market, and all the beauty of historic Amsterdam with fewer crowds. The train costs between €4-8 ($4.45-9 USD) and takes about 15 minutes.
16. Visit Noord
Leave the city center, take the ferry across the IJ, and visit the up and coming area of Noord Amsterdam. In the last few years, a lot of people have moved here (it's cheap), cool markets and restaurants have opened, and a lot of old industrial land has been reclaimed for public use. It's the new hip place to be! If you're into obscure cinema, be sure to visit the famous EYE, Amsterdam's film museum. Admission is €11 ($12 USD).
17. Read at the Amsterdam Library
The city's library is a beautiful modern building built in 2007. It's gigantic, overlooks the IJ, and has a wonderful top floor cafe for impressive views of the city. It's one of my favorite to relax in the city. It's quiet, peaceful, and there's nothing like reading a good book with a great view!
18. Take a food tour
Located in Amsterdam West, this place is what the name implies – a food hall! This indoor food market has various vendors serving a variety of delicious food. It's like food trucks in one location. Personal favorites include Viet View, Le Big Fish, and Friska.
19. Take a walking tour
A great way to orient yourself to the city is with a walking tour. You'll learn some history, find out where the major sites are, and explore all those winding canals. I think free walking tours are a wonderful first activity in any city. I recommend Free Walking Tours Amsterdam and New Europe. For paid tours, go with Walks. They offers in-depth history, food, and cultural tours through cities in the world, with a specialty in Europe. This company gets experts to lead tours (i.e., a chef to lead a food tour)!
For more information on specific cities in the Netherlands, check out these guides!
Amsterdam Travel Costs
Hostel prices – Dorms in Amsterdam cost a lot. This isn't a cheap city. If you want something centrally located, expect to pay between €20-40 ($22-44 USD) per night for a bed in a dorm with eight or more beds. A four to six bed dorm will cost up to €54 ($60 USD) per night. In the off-season, dorms with eight or more beds cost about €23 ($25 USD) per night. Dorms with four to six beds will cost between €27-32 ($30-35 USD) per night.
A basic private room with an ensuite bathroom costs from €90 ($100 USD) per night during peak season. In the off-season, private rooms are between €68-77 ($75-85 USD) per night.
Budget hotel prices – Nightly rates for a budget two-star hotel room start at about €113 ($125 USD) in peak season. In the off-season, budget rooms start from €95 ($105 USD).
Amsterdam has lots of Airbnb options, although it has become more tightly regulated in recent years. A shared room (like a bed in a dorm) averages about €53 ($59 USD) per night, while a private room is about €73 ($81 USD) per night. An entire apartment averages about 119,993 CRC ($205 USD) per night, but you can find plenty of apartments under €145 ($160 USD) per night.
Food – Cheap Dutch food (like fries and burgers) at the famous FEBO is between €2-7 ($2.20-7.75 USD), but don't expect anything fancy for vending machine food (FEBO is Dutch drunk food!). Other street food like pizza slices or falafel will cost between €3-5 ($3.30-5.55 USD).
There are plenty of budget-friendly fast-food restaurants in Amsterdam, ranging from McDonald's to Maoz to Wok to Walk (which is by far the best). Combo meals here will cost you between €8-15 ($9-17 USD). Cafes in the city for many prix-fixe lunch specials for between €10-15 ($11-16 USD).
Mid-range restaurant meals average between €20-25 ($22-28 USD) for a main dish with a drink. Vegetarian and pasta dishes start from €15 ($17 USD), and a beer to go with it will cost about €5 (5.55 USD).
In a high-end restaurant, a five to seven-course menu will cost between €70-80 ($76-89 USD), while a wine to go with it is about €6 ($6.65 USD).
For restaurants, I love Cafe de Jardin, Pankcakes!, Modoers, and Burger Bar. There's also Foodhallen, located in Amsterdam West. This indoor food market has various vendors serving a variety of delicious food. Personal favorites include Viet View, Le Big Fish, and Friska.
If you cook your meals, expect to pay €55 ($61 USD) per week for groceries that will include pasta, vegetables, chicken, and other basic foodstuffs.
Backpacking Amsterdam Suggested Budgets
If you're backpacking Amsterdam, expect to spend about €70 ($77 USD) per day. This budget covers staying a hostel dorm, public transit, cooking some of your meals, cheap local eats, free tours, and limited attractions.
If you plan on drinking a lot and smoking a lot of weed, I'd add about €20 more per day. You can lower this number with some of the tops below.
A mid-range budget of about €203 ($225 USD) will cover staying in a private hostel room or a budget hotel, eating out all of your meals, a few attractions per day, a bicycle rental, and some drinks.
On a luxury budget of about €343 ($380 USD) or more per day, you can get an excellent four-star hotel, any meal you want, drinks, tours, and a few Uber rides. If you want to spread out your budget, you can take a tour every other day and reduce your daily spend by about €23 ($25 USD). The sky is the limit!
If you come in the low season, you'll pay about 50% less for accommodation.
You can use the chart below to get some idea of how much you need to budget daily, depending on your travel style. Keep in mind these are daily averages – some days you'll spend more, some days you'll spend less (you might spend less every day). We just want to give you a general idea of how to make your budget. Prices are in USD.
Accommodation
Food
Transportation
Attractions
Average Daily Cost
Backpacker
$22
$25
$10
$20
$77
Mid-Range
$125
$50
$10
$40
$225
Luxury
$200
$100
$30
$50
$380
Amsterdam Travel Guide: Money Saving Tips
Amsterdam is one of the most popular tourist destinations in the world – and also one of the most expensive in Europe. There is limited space so prices, especially for accommodation, is really high. Accommodation will probably be the biggest thing that will eat into your budget. If you keep that cost down, you'll do OK. Here are some other ways to save money in Amsterdam:
Get the I Amsterdam Pass – This offers free entrance to most of the major museums and attractions as well as free public transportation. If you're going to be bouncing between museums a lot, get this card. The pass starts from €60 ($66 USD) per day.
Drink in hostels – Hostels have the best drink deals in the cities. Even if you aren't staying at them, most have bars open to the public where you can get €2 ($2.20 USD) beers and other drink specials. Belushi's Bar at The Winston is very popular among locals too.
Get the Museumkaart (Museum Card) – Good for one month for non-residents, this card gets you into museums in Amsterdam and beyond for only €60 ($66 USD). With the Museum Card, you get access to 32 museums in Amsterdam and more than 400 throughout the Netherlands. It's also good for repeat visits as well!
Take a free walking tour – If you want an overview of the city, take one of the free walking tours. This way you'll get to learn about the city without spending money. The biggest one is offered by New Europe Tours.
Grab an Amsterdam Nightlife Ticket – This ticket is valid for two days or seven days and costs €10-20 ($11-22 USD). It gets you unlimited access to eight clubs, a welcome drink at five of the clubs, access to the Holland Casino, discounts on your Uber ride, and more. If you're going to party in Amsterdam, this nightlife ticket will definitely cut down the cost of partying in the city.
Hire your own boat – Instead of taking an expensive canal cruise, you can hire your own boat. If you have three or four people, it works out to be about €10 ($11 USD) a piece and you can bring alcohol, food, or smoke on it. Boaty Rentals has great options.
Eat on the cheap – Febo, Walk to Wok, Maoz are all cheap places to get food. Moreover, cafes in the city for many prix-fixe lunch specials for between €10-15 ($11-16 USD). If you're going to eat out, lunch is the best time to do it in Amsterdam!
Cook – Dutch food isn't going to win any awards. Try a few places but cook often (or at least make lots of sandwiches). Eating out in the city isn't cheap and if you're paying a lot for your accommodation, your daily costs can shoot through the roof. Head to the supermarket and get some food to cook! You're not missing out on anything.
Use Couchsurfing – It's a service that lets travelers stay with locals for free. Since a lot of travelers use this service, make your requests for hosts early.
Save money on rideshares – Uber is way cheaper than taxis and are the best way to get around a city if you don't want to wait for a bus or pay for a taxi. The Uber Pool option is where can you share a ride to get even better savings (though you can get your own car too). You can save $15 off your first Uber ride with this code: jlx6v.
Avoid spending on the green – Many people go to Amsterdam to visit the coffee shops. If you choose to do this, don't think you have to buy "stuff" in each shop. Places will let you smoke as long as you buy a drink or food.
Attend a free festival – During the summer, everyone goes outside. Check local city boards for a list of free concerts, festivals, shows, and markets. Once the weather gets warm, the social calendar fills up.
(Hey there! Wait one second! Did you know I also wrote an entire guidebook to Amsterdam filled with – not only even more detailed information on the things included on this page but also itineraries, practical information (i.e. hours of operation, phone numbers, websites, prices, etc), cultural insights, and so much more? It has everything you want in a guidebook – but with a focus on budget and cultural travel! If you want to go into more depth and have something to take on your trip, click here for more about the book!)
Where To Stay in Amsterdam
Amsterdam is a big city, and there are TONS of hostels listed on booking sites. Choosing where to stay can make or break your trip. Here are some of my favorite places to stay in Amsterdam:
For more hostel suggestions be sure to check out my list of my 14 top hostels in Amsterdam.
How to Get Around Amsterdam
All public transportation uses a OV-chipkaart. A single journey up to an hour is €3.20 ($3.55 USD), but it's a lot cheaper to buy a pass.
Travelers looking to use public transport for the duration of their stay can use passes that are valid from one to seven days. Prices range from €8-36.50 ($9-40 USD). These tickets are available from drivers and ticket sellers (only the 24-hour ticket), GVB outlets, tourist offices and kiosks.
Note: you can't buy a ticket with cash!
You can also get unlimited access on local public transportation with the I Amsterdam City Card, combined with free entry to many attractions. They're considerably more expensive, starting from €60 ($66 USD) for one day, but it's worth the money if you're trying to fit a lot into a few days.
Bicycle – Amsterdam is notoriously one of the best cycling cities in the world, and bike rentals here are easy. You can rent bikes starting around €10 ($11 USD) per day (but most places require a deposit that is returned to you when you return the bike).
Taxi – Don't take taxis here. They are way to overpriced and the city is small enough to walk around. And, if you don't feel like walking, public transportation goes everywhere.
Uber – Uber is available in Amsterdam but again public transportation goes everywhere. You can save $15 off your first Uber ride with this code: jlx6v.
When to Go to Amsterdam
Amsterdam is busy year-round, but its peak season is July and August. However, the weather is always pretty mild (even in the winter months), and visiting during the off-season or shoulder season is much more affordable. If you come between mid-April and mid-May, you'll get to see the tulip fields in bloom just beyond the city.
The average daily summer temperature in Amsterdam is around 72°F (22°C), but it can get a lot hotter than that during July and August. The average daily temperature in the winter is 45°F (7°C). The Christmas season is a really lovely time to visit as the city lights up with markets and festivities.
Amsterdam can get days of fog and rain at a time, even in the winter. Be sure to pack a warm layer or two and a waterproof jacket.
(Hey there! Wait one second! Did you know I also wrote an entire guidebook to Amsterdam filled with – not only even more detailed information on the things included on this page but also itineraries, practical information (i.e. hours of operation, phone numbers, websites, prices, etc), cultural insights, and so much more? It has everything you want in a guidebook – but with a focus on budget and cultural travel! If you want to go into more depth and have something to take on your trip, click here for more about the book!)
How to Stay Safe in Amsterdam
Amsterdam is an incredibly safe place to backpack and travel – even if you're traveling solo. Pick-pocketing is your biggest concern and it frequently happens on public transit. And, as a notorious party city, and it's easy for thieves to take advantage of drunk tourists at night. Keep your belongings close!
The Red Light District has become more dangerous in recent years, with illegal drugs and violent crime on the rise so keep an extra eye out while you are there.
There are a few common scams around as well, such as people trying to sell you public transit tickets that actually have already been used. Be wary of purchasing a really cheap bike from someone off the street as well as it likely means it's already been stolen.
You can read about the 14 travel scams to avoid right here.
Due to some high profile terrorist attacks in Europe in recent years, it's reasonable to be nervous about visiting. I wrote a whole article about why Europe is safe to visit right now.
Always trust your gut instinct. If your hotel is seedier than you thought, get out of there. Make copies of your personal documents, including your passport and ID. Forward your itinerary along to loved ones so they'll know where you are.
The most important piece of advice I can offer is to purchase good travel insurance. Travel insurance will protect you against illness, injury, theft, and cancellations. It's comprehensive protection in case anything goes wrong. I never go on a trip without it as I've had to use it many times in the past. You can use the widget below to find the policy right for you:
Amsterdam Travel Guide: The Best Booking Resources
These are my favorite companies to use when I travel to Amsterdam. They are included here because they consistently find deals, offer world-class customer service and great value, and overall, are better than their competitors. They are the ones I use the most and are always the starting points in my search for travel deals.
Momondo – This is my favorite booking site. I never book a flight without checking here first.
Skyscanner – Skyscanner is another great flight search engline which searches a lot of different airlines, including many of the budget carriers that larger sites miss. While I always start with Momondo, I use this site too as a way to compare prices.
Airbnb – Airbnb is a great accommodation alternative for connecting with homeowners who rent out their homes or apartments.
Hostelworld – This is the best hostel accommodation site out there, with the largest inventory, best search interface, and widest availability.
Couchsurfing – This website allows you to stay on people's couches or spare rooms for free. It's a great way to save money while meeting locals who can tell you the ins and outs of their city. The site also lists events you can attend to meet people (even if you're not staying with someone).
Booking.com – The best all around booking site that constantly provides the cheapest and lowest rates. They have a no money down policy, great interface, and the widest selection of budget accommodation. In all my tests, they've always had the cheapest rates out of all the booking websites.
Rail Europe – If you are going to Europe and taking a lot of high speed or long distance trains, get a rail pass. I've used a rail pass three times and saved hundreds of dollars each time. The math just works.
Intrepid Travel – If you want to do a group tour around Europe, go with Intrepid Travel. They offer good small group tours that use local operators and leave a small environmental footprint. If you go on a tour with anyone, go with them. And, as a reader of this site, you'll get a discount when you click the link!
The Man in Seat 61 – This website is the ultimate guide to train travel anywhere in the world. They have the most comprehensive information on routes, times, prices, and train conditions. If you are planning a long train journey or some epic train trip, consult this site.
Rome 2 Rio – This website allows you to see how to get from point A to point B the best and cheapest way possible. It will give you all the bus, train, plane, or boat routes that can get you there as well as how much they cost.
FlixBus – German based Flixbus has routes between 20 European countries with prices starting as low €5 ($5.50 USD)! Their buses include WiFi, electrical outlets, and up to three 3 free bags.
Bla Bla Car – BlaBlaCar is a ridesharing website that lets you share rides with vetted local drivers by pitching in for gas. You simply request a seat, they approve, and off you go! It's a cheaper and more interesting way travel than by bus or train!
EatWith – This website allows you to eat home cooked meal with locals. Locals post listings for dinner parties and specialty meals that you can sign up for. There is a fee (everyone sets their own price) but this is a great way to do something different, pick a local's brain, and make a new friend.
Stoke Travel – If you're looking for a fun, young, party-focused tour company then check out Stoke. They have tons of amazing tours and festival trips all around the world aimed at the youth market. They're great and, if you use code NOMADICMATT, you can save 10% off your next trip!
World Nomads – I buy all my travel insurance from World Nomads. They have great customer service, competitive prices, and in-depth coverage. I've been using them since I started traveling in 2003. Don't leave home without it!
GO DEEPER: Nomadic Matt's In-Depth Budget Guide to Amsterdam!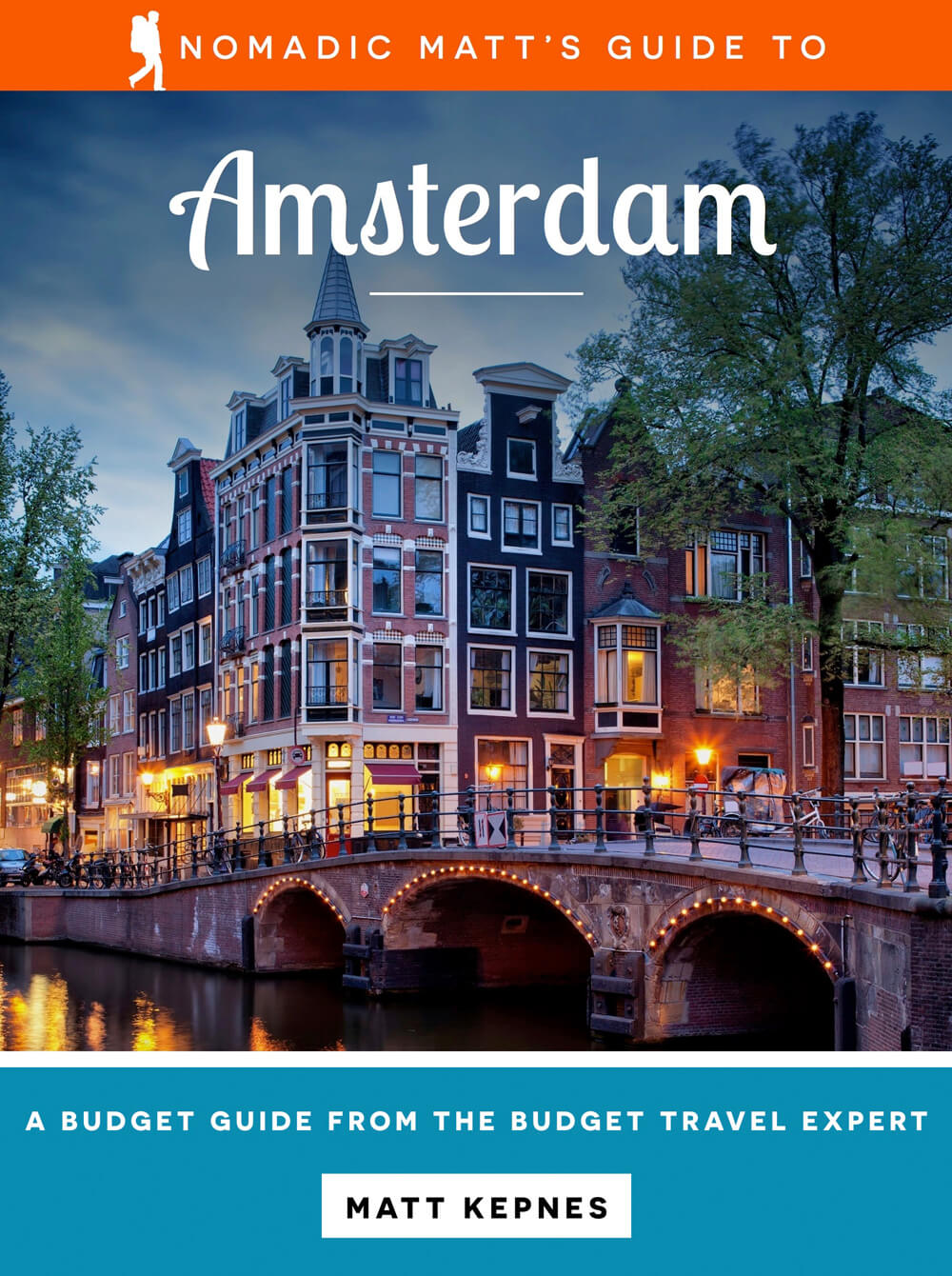 There's a lot of free information online but do you want to spend days searching for information? Prob not! That's why guidebooks exist.
While I have a lot of free tips on Amsterdam, I also wrote an entire book that goes into great detail on everything you need to plan a trip here on a budget! You'll get suggested itineraries, budgets, even more ways to save money, my favorites restaurants, prices, practical information (i.e. phone numbers, websites, prices, safety advice, etc etc), and cultural tips.
I'll give the insider view of Amsterdam that I got from living here! The downloadable guide can be used on your Kindle, iPad, phone, or computer so you can have it with you when you go.
Amsterdam Gear and Packing Guide
If you're heading on the road and need some gear suggestions, here are my tips for the best travel backpack and for what to pack!
The Best Backpack for Travelers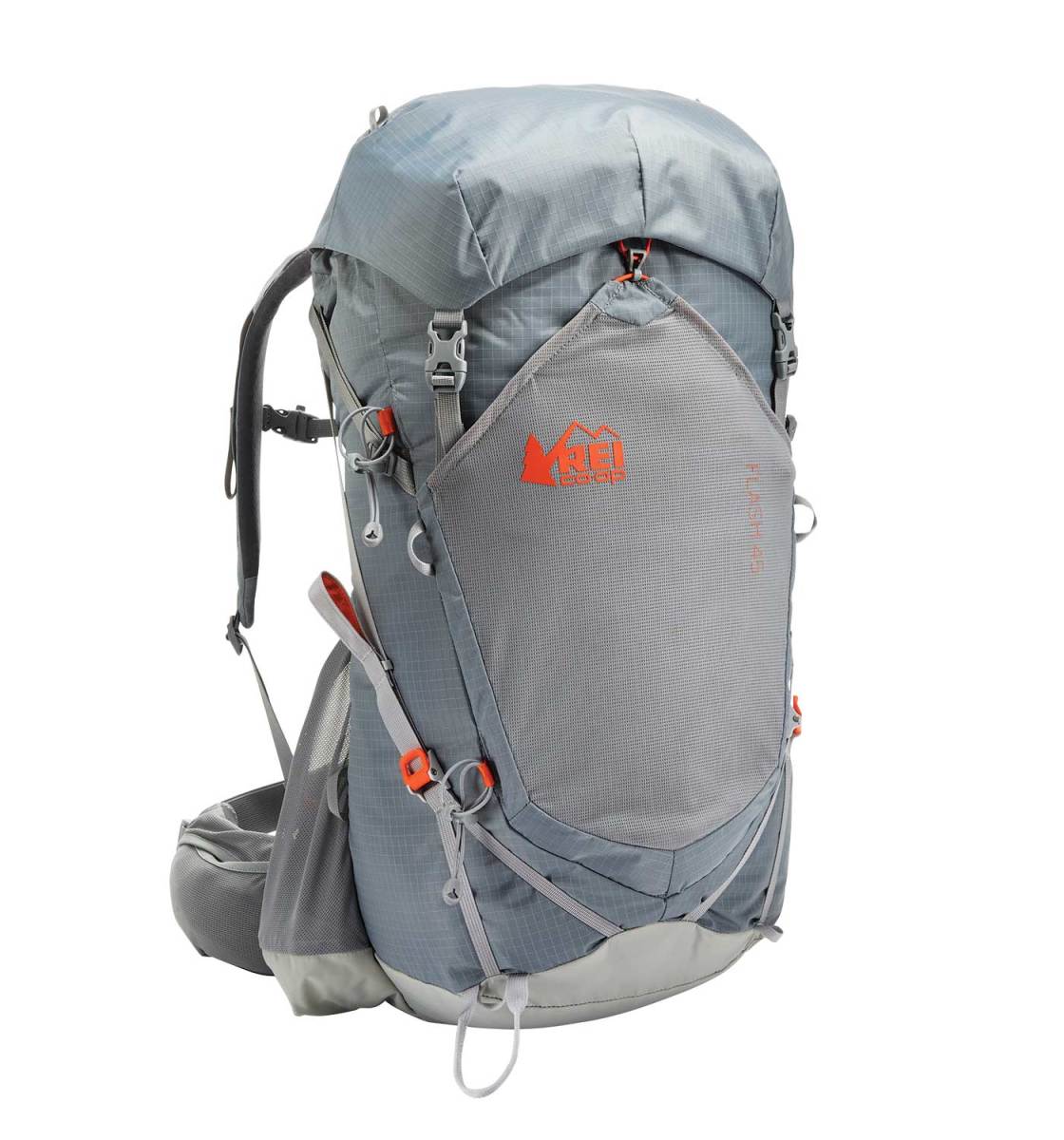 What's the best backpack for traveling long-term? I recommend the
REI Flash 45 Pack
. It's light and comfy, front loading, and fits perfectly in an airplane's overhead bin.
Size:
45-47L
Straps:
Thick and cushy with compression technology that pulls the pack's load up and inwards so it doesn't feel as heavy.
Features:
Removable top lid, large pocket at the front, hydration compatible, contoured hip belt
If you want something different, refer to my article on how to choose the best travel backpack for tips on picking a pack and other backpack suggestions.
What to Pack for Your Trip
Clothes
1 pair of jeans (heavy and not easily dried, but I like them; a good alternative is khaki pants)
1 pair of shorts
1 bathing suit
5 T-shirts (Unbound Merino is my preferred company. If you're a member of NM+, you can get 15% off your purchase)
1 long-sleeved T-shirt
1 pair of flip-flops
1 pair of sneakers
6 pairs of socks (I always end up losing half)
5 pairs of boxer shorts (I'm not a briefs guy!)
1 toothbrush
1 tube of toothpaste
1 razor
1 package of dental floss
1 small bottle of shampoo
1 small bottle of shower gel
1 towel
Deodorant
Small Medical Kit (safety is important!!!)
Miscellaneous
Female Travel Packing List
I'm not a woman, so I don't know what a woman wears, but Kristin Addis, our solo female travel guru, wrote this list as an addition to the basics above:
Clothing
1 swimsuit
1 sarong
1 pair of stretchy jeans (they wash and dry easily)
1 pair of leggings (if it's cold, they can go under your jeans, otherwise with a dress or shirt)
2-3 long-sleeve tops
2-3 T-shirts
3-4 spaghetti tops
1 light cardigan
Toiletries
1 dry shampoo spray & talc powder (keeps long hair grease-free in between washes)
1 hairbrush
Makeup you use
Hair bands & hair clips
Feminine hygiene products (you can opt to buy there too, but I prefer not to count on it, and most people have their preferred products)
For more on packing, check out these posts:
Amsterdam Travel Guide: Related Articles
Want more info? Check out all the articles I've written on backpacking/traveling the Netherlands and continue planning your trip: