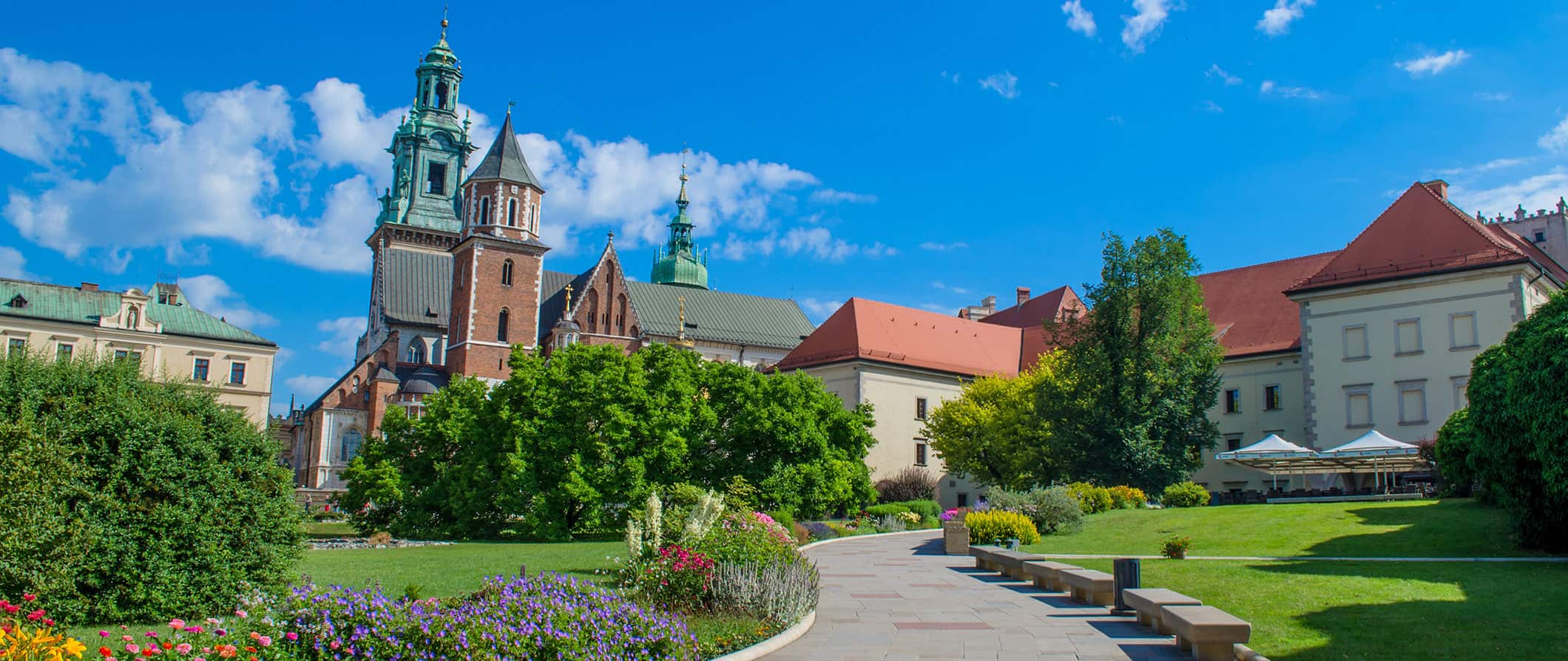 Poland, with its incredible history and fourteen UNESCO World Heritage Sites, is a wonderful – and too often overlooked – destination. Most travelers come visit Krakow, maybe spend a day or two in Warsaw, and then go somewhere else. Over the years, I've encountered very few people who have really explored this country in its entirety. That's a real shame because Poland has a lot to offer – from beautiful parks to old historic cities to cheap beer to empty coastlines. The country is still finding its way politically and economically but Poland is a country on the move and the new generation is global, educated, and loves a good party! Give Poland the time it deserves.
Top 5 Things to See and Do in Poland
1. Auschwitz Concentration Camps
Auschwitz is the site of a former concentration death camp used by the Nazis during World War II. The site has been preserved as a museum and is open to the public. Admission is free, but the experience is much more meaningful with a guide who can give you context. Tickets include the Birkenau camp across the street.
2. Visit Krakow
Krakow is one of the biggest tourist destinations in the country. Everyone comes here for the beautiful medieval architecture, castles, good food and cheap booze! This city is beautiful, inexpensive, and is filled with plenty to do. No visit to the country would be complete without a visit to this city.
3. Explore Wroclaw
Wroclaw is one of Poland's less-known destinations but it can definitely compete when it comes to amazing architecture. This small city is beautiful, inexpensive, and free of crowds! Be sure to see the Raclawice Panorama, which depicts the Battle of Raclawice that took place during the Kosciuszko Uprising in the 1790s.
4. Wander through Bialowieza National Park
This national park on the Belarus border is a World Heritage site and contains the last remains of a primeval forest that once covered most of Europe. It's also the only place where European Bisons still live in the wild. Admission is 6 PLN per person, though if you want a guided tour, expect to pay around 250 PLN.
5. Explore Warsaw
Explore the old and new towns, and focus your visit on the city's museums where you can learn about the heroic struggles of the Warsaw Uprising and the ghettoization of the Jews during WW2! The castle is also beautiful, though it is a recent construction as the original was destroyed during the war. I love the mix of old and new in this city.
Other Things to See and Do
(Click the title to expand the text)
1. Tour the Szczecin underground tunnels
These concrete tunnels lie beneath the city of Szczecin and were designated as a bomb shelter in the 1940s, and then used as a fallout shelter thereafter. Tours follow either a WWII or a Cold War theme. Entry is 25 PLN, though you can pay extra for a guide.
2. Visit a national park
Although national parks only cover 1% of the country's territory, there are 23 that you can visit within Poland. Ojcowski National Park is a very small (12 km) park filled with stunning caves and castles while Slowinski, Biebrzanski, Narwianski, and Poleski parks offer great bird watching. Entry to the parks is usually less than 10 PLN per person.
3. Climb up to Wawel Castle
This site in Krakow may be one of the finest examples of a medieval castle and possibly the most historically important site in Poland. There is an art museum inside that has medieval tapestries, the former Polish crown jewels, and Ottoman empire treasures. Basic admission is 4 PLN, though there are extra costs for some of the exhibits.
4. Visit the Wooden Churches
The Wooden Churches of Southern Lesser Poland are listed by UNESCO as World Heritage sites and consist of six Roman Catholic churches that reflect the periods of religious architecture in Poland: from Medieval to Gothic, Rococo, Baroque, as well as the occasional onion dome or Greek cross.
5. Tour the Wieliczka Salt Mine
This mine was first used in the Middle Ages as one of Krakow's main industries and produced table salt until 2007. Today, it is no longer in use and is a recognized UNESCO site for tourists to visit and marvel over the cavernous chambers, statues, chapels, chandeliers, and cathedrals, all carved out of salt by the miners! Admission is 84 PLN for foreigners, with discounts available for families.
6. Stroll through Gdansk
Formerly known as Danzig, Gdansk is a beautiful old city with a delicate past. Much of the city had to be rebuilt after the war, but you can still find plenty of history here. As it's located in the north along the Baltic sea, it's a good jumping-off point for further exploring.
7. Admire Kalwaria Zebrzydowska
Yet another UNESCO site, this is a monastery and important pilgrimage site. It dates back to the 17th century and is still in excellent condition, representing the Mannerist architectural style. Tours are free (though they must be booked in advance) but donations are welcome.
8. Head to Lublin
Lublin is eastern Poland's main city and was an important trading and military center during the Middle Ages. Lublin developed its own architectural style which has become known as the Lublin renaissance. Be sure to visit the castle, the monastery, and the old city gates.
9. Visit the world's tallest pope statue
Located in Czestochowa, this statue of Pope John Paul II (who was Polish) stands 13.8 meters tall and is made of fiberglass. There really isn't much else to see here, but it makes for a quirky photo op if you're in the area!
10. Visit the Exploseum
This abandoned Nazi explosive plant, founded by the inventor of dynamite, is now a museum open to the public. Here visitors learn about Alfred Nobel, his company, life for Polish residents during the German occupation, weapons used during the war, and about modern weapons of war. It's an interesting, if not sober, museum. It's tucked away in Bydgoszcz and the museum takes 1-2 hours to explore and costs 15 PLN.
11. Visit the Churches of Peace
These are the biggest timber-framed churches in Europe and are located in Jawor and Swidnica. They were built in the mid-17th century as the first Lutheran churches constructed in Roman Catholic Poland. These are also another feature on the UNESCO World Heritage Sites list. Admission is 10 PLN.
Typical Costs
Accommodation
– Twelve-bed hostel dorms can be found for as little as 25 PLN per night, while 4-6 bed dorms will cost closer to 45 PLN. Private rooms generally cost 100-150 PLN, although this price varies by city. Free wifi is pretty much standard, though only a few hostels include free breakfast. Most hostels will have a kitchen so you can cook your own food. For those traveling with a tent, there are plenty of campgrounds all around the country. You can expect to pay 25-60 PLN per night for a basic plot. Budget hotels range from 110-250 PLN for a room with either single or double occupancy. Airbnb is an option in the larger cities (though selection is usually limited). For shared accommodation, you can expect prices to average around 95 PLN per night. An entire apartment will cost around 150 PLN per night. My suggested places are:
Food – While almost everything in Poland is incredibly affordable, eat with the locals at a milk bar (bar mleczny) for the best value. These restaurants were popular during communism as an affordable way to push nutrition on residents. They serve up cheap traditional fare in a cafeteria style atmosphere for around 25 PLN per meal. In my opinion, they are the best place to get a good meal in the country! If you're looking for fast food, pizza calzones or burgers, expect to pay under 20 PLN. A more mid-range meal in a sit-down restaurant with table service will cost about 60 PLN for a meal with a drink. For a week's worth of groceries, expect to pay 80-100 PLN for basic food stuffs (i.e. chicken, pasta, rice, veggies, bread, etc).
Transportation – Poland is serviced by an incredibly affordable (if not old) train system. A three-hour ride from Krakow to Warsaw will cost around 45 PLN, while a five-hour train from Warsaw to Gdansk can be found for as little as 65 PLN. For local buses, a single-fare ticket in the central zone will average 4 PLN. Major cities offer one-day tickets for 20 PLN. In general, taxis start at around 6-8 PLN and are incredibly affordable to get around town quickly. However, expect to pay double during the night or during trips out to the suburbs.
Activities – Sights and activities vary in price, but you can expect to pay 10-40 PLN for most sites and museums. Auschwitz is free to enter, but if you're coming in a group, you'll need to hire a guide (and will also have a much better experience). For individual visitors, a guide costs around 30-40 PLN. Poland also has over 20 national parks, most of which cost under 10 PLN per person to visit.
Suggested daily budget
120 – 180 PLN (30-45 USD) (Note: This is a suggested budget assuming you're staying in a hostel, eating out a little, cooking most of your meals, limiting your adventure activities, and using local transportation. Using the budget tips below, you can always lower this number. Remember, if you stay in fancier accommodation or eat out more often, expect your budget to be higher!)
Money Saving Tips
Eat at Milk Bars – You'll get a taste of Poland at a Bar Mleczny (Milk Bar) hearty pierogies, homemade soups, plenty of meat, and a local beer makes a great meal for under 30 PLN. Expect no-frills and cafeteria-style where you order from a counter, but it's a great way to save money and take in the scene.
Get a tourist card – Certain cities, like Krakow, offer tourist cards which give unlimited access to public transportation (normally for one or three days) and free or discounted access to museums. If you plan to see lots sites, be sure to go to the local tourism office and pick up one of these cards!
Watch your drinking – Poland is one of the cheapest destinations in Europe, especially if you stick to an everyday routine. However, cities like Krakow are known for their partying, and big pub crawls and long nights out are the norm. These can add up quickly, so watch how much you drink. Start off by grabbing your favorites from a grocery store first whenever possible.
Take a free walking tour – Free tours from companies like Free Walking Tours can be found in some of Poland's larger cities, like Krakow, Gdansk, and Warsaw. They are a great way to explore the city while learning about the history, culture, and architecture. Just be sure to tip!
Use ridesharing apps – Ridesharing apps like BlaBlaCar are a great way to get around the country for cheap. You simply download the app, find someone looking for passengers, and go! Everyone is rated and verified, and it's usually more convenient (and cheaper) than other forms of transportation.
Stay with a local – While accommodation is not expensive in Poland, Couchsurfing is a great way to lower your accommodation costs. Not only will you save some money by getting a free place to stay, you'll be able to make a local friend and get insider knowledge about where you are!
My Must Have Guides For Traveling to Poland