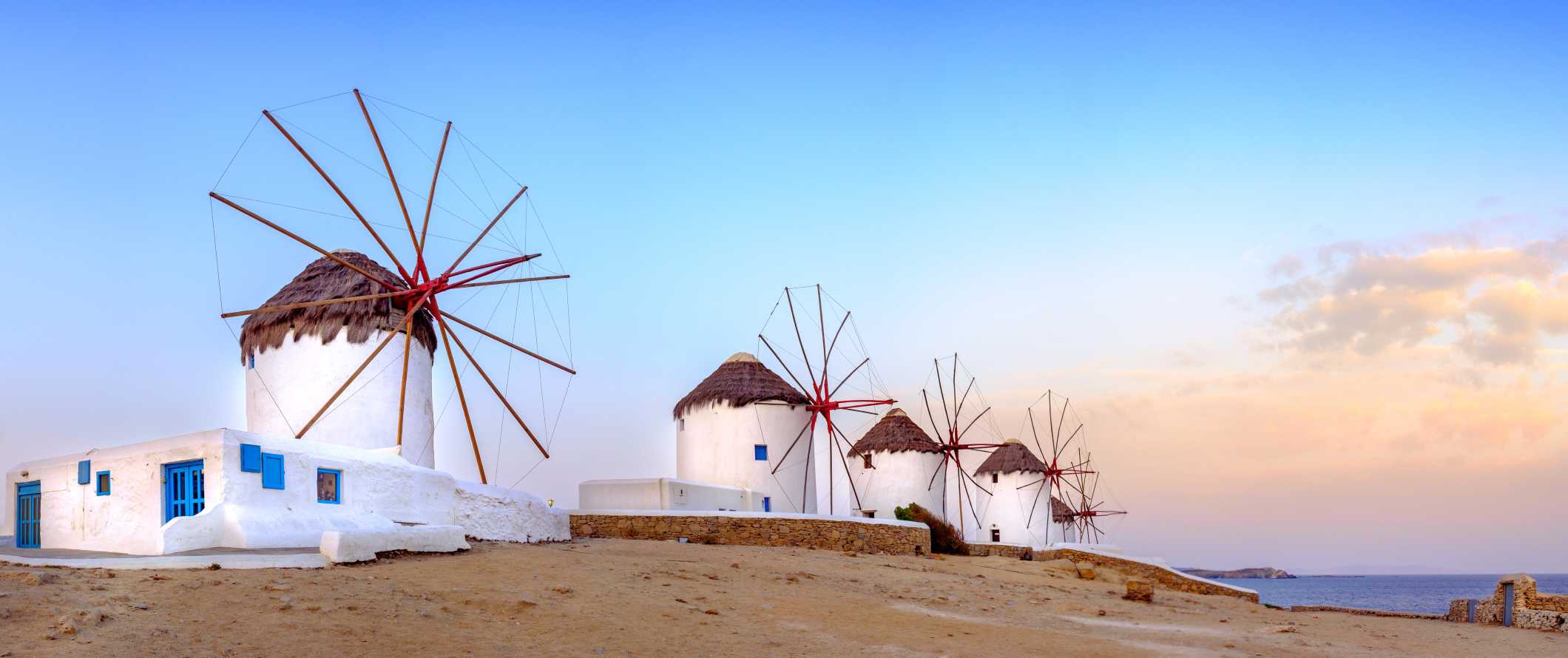 One of the biggest tourist destinations in Greece (and one of the prettiest), Mykonos predominantly attracts cruisers, partiers, and honeymooning couples. It is the most expensive island in the Cyclades, but it's tough to resist with its winding streets, small alleys lined with whitewashed houses overlooking a beautiful harbor, centuries-old windmills, beautiful beaches, amazing restaurants, and out of control nightlife.
The party lasts all night here, as world-class DJs blast thumping music across the beach well into the morning hours. It's an energetic island, especially in the summer when it's bursting to the seams with visitors. Prices skyrocket during this time, however, making a few days in paradise a costly affair.
While I loved my time in Mykonos, I wouldn't suggest visiting during July or August — especially if you're a budget traveler. Come during the shoulder season instead, when prices are a bit lower and the tourist hordes aren't as thick.
This travel guide to Mykonos can help you plan your trip, save money, and have an epic visit!
Top 5 Things to See and Do in Mykonos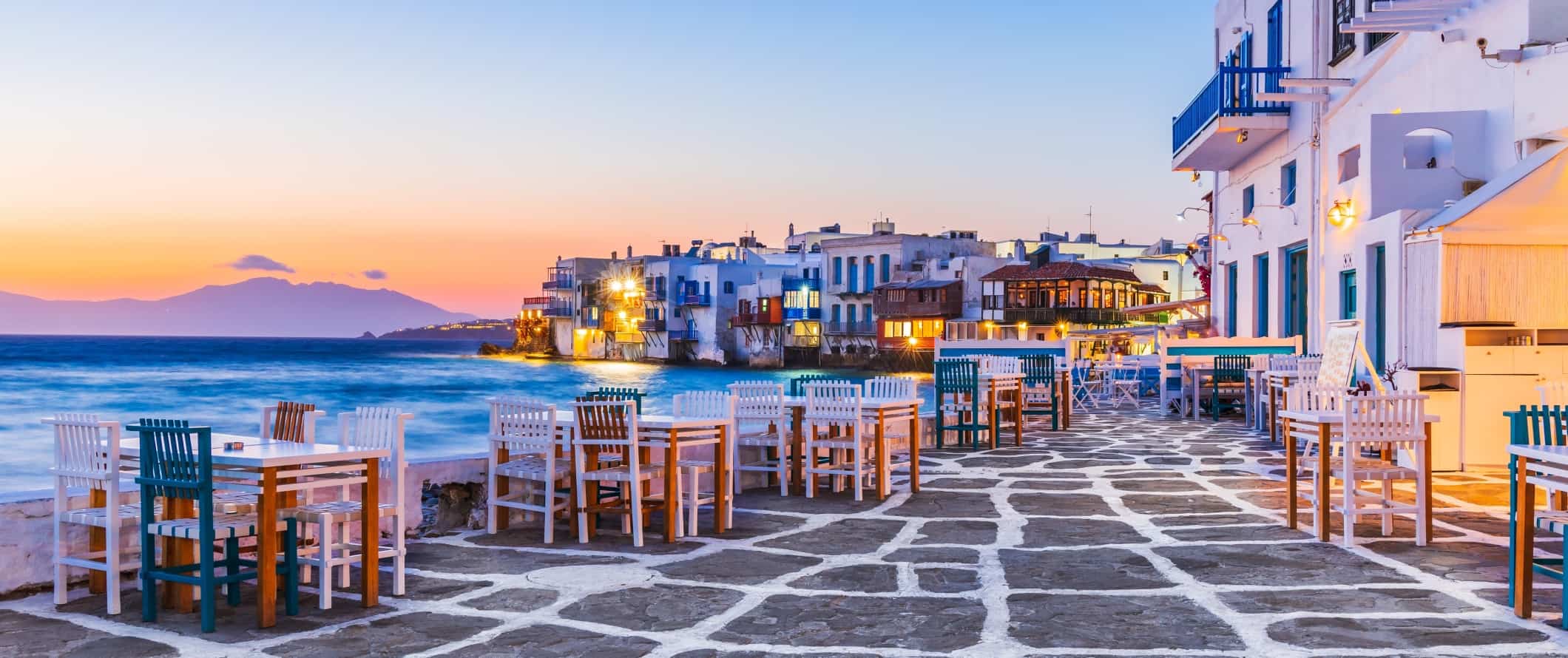 1. Go beach hopping
The beaches here are gorgeous. Paranga, Paradise, and Super Paradise are the most popular beaches here. Personally, I think Platys Gialos Beach is the most stunning (it's a wide, sandy beach). Psarou Beach is more laid-back while Elia Beach is the quietest and tame. For wild nights, head to Paradise Beach.
2. Relax in Little Venice
Because of the houses on the water, this neighborhood is referred to as Little Venice. It's a nice place to spend some time eating a meal, having a coffee, or browsing one of the many art galleries. During the late afternoon, lots of people file in to have a drink and watch the sunset. There's a great view of the windmills here too.
3. Wander Mykonos Town
Mykonos Town, or Chora (which means simply "town" in Greek), is the biggest village on the island. It has those iconic whitewashed homes, picturesque windmills, and narrow footpaths leading to churches and boutique shops. All the cobbled streets are pedestrian-only. There are lots of cafes, restaurants, and bars to discover here so spend some time strolling around.
4. Explore Delos Island
Delos is a tiny island off the coast of Mykonos and is a site of huge archaeological importance. Today, the entire island is a UNESCO World Heritage Site, with extensive archaeological work still ongoing. The supposed birthplace of the Greek gods Artemis and Apollo, the ruins here include temples, statues, a theatre, and sanctuaries. Boats leave from Mykonos daily for around 20 EUR round-trip. Admission to the site and museum is 12 EUR. A half-day tour from Get Your Guide (including pick-up, boat transportation, and skip-the-line admission) is around 60 EUR.
5. Visit Panagia Paraportiani
This Byzantine church in the Kastro section of Mykonos Town dates back to 1425 and took around two centuries to complete. It's part of a larger building composed of five separate churches that are all connected. These five churches, each dedicated to a different saint, were built over the centuries, with the last one completed in the 17th century. Admission is free. Just be sure to dress respectfully.
Other Things to See and Do in Mykonos
1. Hang out at Elia Beach
The longest stretch of white sands in Mykonos, this beach also has clear waters ideal for snorkeling. It's about 10 kilometers (6 miles) from Mykonos Town, which makes for an ideal day trip away from the bustling tourist spots. It's lined with restaurants and bars, as well as watersports kiosks advertising water-skiing, parasailing, and windsurfing. (Note: Nudists love hanging out here!)
2. Go scuba diving
There's excellent scuba diving all around Mykonos. You won't find a lot of coral, but there are lots of fish and a few wrecks. Paradise Reef has a large variety of marine life, including sponges, barracuda, octopus, and starfish. There's also Dragonisi, an island off the coast of Mykonos, with its unique underwater rock formations. A two-tank dive with Mykonos Diving Center costs around 140 EUR.
3. Visit the Archaeological Museum
This museum won't take you long to visit as it's very small, but it contains some treasures, such as a headless statue of Hercules from the 2nd-century BCE, carved beautifully out of Parian marble. There are also a lot of artifacts from nearby Delos, including pottery and funerary monuments too. It's 4 EUR to visit.
4. Explore Lena's House
This is a traditional 19th-century Mykonian house-turned-folk-museum. It contains the original owner's antique furnishings as well as artwork like paintings, tapestries, and woodcarvings, all laid out to resemble how the house would have looked in the 1800s. Be sure to also check out the display case of 18th-century Mykonian women's clothing, as well as the two courtyards and dovecote (a building for holding doves or pigeons). Admission is 2 EUR.
5. Watch the sunset at the windmills
The 16 windmills on the hills around Mykonos Town are an iconic symbol of the island (you've probably seen them on Instagram). They also happen to be the most popular place to watch the sunset. There will be crowds, so get there early to secure a good spot!
6. Go snorkeling
If you're not a diver, you can still check out some of the underwater activity by renting snorkeling equipment. Paranga Beach has the island's best snorkeling conditions with calm weather and clear waters, but you can also hop on a boat tour for some deep-water snorkeling. A boat tour costs about 50-65 EUR per person and lasts a few hours. Renting gear costs around 20 EUR.
7. Take a boat tour
Although this may not be a budget-friendly option, it's a relaxing way to spend an afternoon or evening. There are cruises for all interests here, from party cruises to more scenic-themed trips. Many cruises go to Delos or the Rhenia Islands (with lots of time for swimming) or let you hang out at Paradise Beach for a bit before having a BBQ back on the boat. Tours start from 49 EUR, while all-inclusive trips with food and drink start at 90 EUR.
8. Visit the Aegean Maritime Museum
The Aegean Maritime Museum covers everything from ancient Greece to the modern-day. Its exhibits include amphorae and pottery, old nautical maps, navigational instruments, and incredibly detailed models of sailing ships and steamers. Don't miss the giant Fresnel lighthouse in the courtyard before you leave! Admission is 4 EUR.
9. Tour a vineyard
Mykonos Vioma is a family-run historic vineyard and organic farm that offers tours and tastings. It's a complete farm-to-table experience, as the farm also produces a variety of products that you'll also get to sample, including different kinds of vinegar, vine leaves, grape molasses, and honey. You'll also learn about the wine-making traditions of Mykonos and the processes the farm uses today. If you're there at the end of September, don't miss the end-of-season grape harvesting, stomping, and merry-making!
10. See the sunset at Armenistis Lighthouse
This 19th-century, 19-meter-high (62-feet) lighthouse stands on top of a hill on the northeast side of the island. While you can't go inside, it makes a spectacular spot for sunsets. Just keep in mind that the road to get up here is quite steep!
For more information on other destinations in Greece, check out these guides:
Mykonos Travel Costs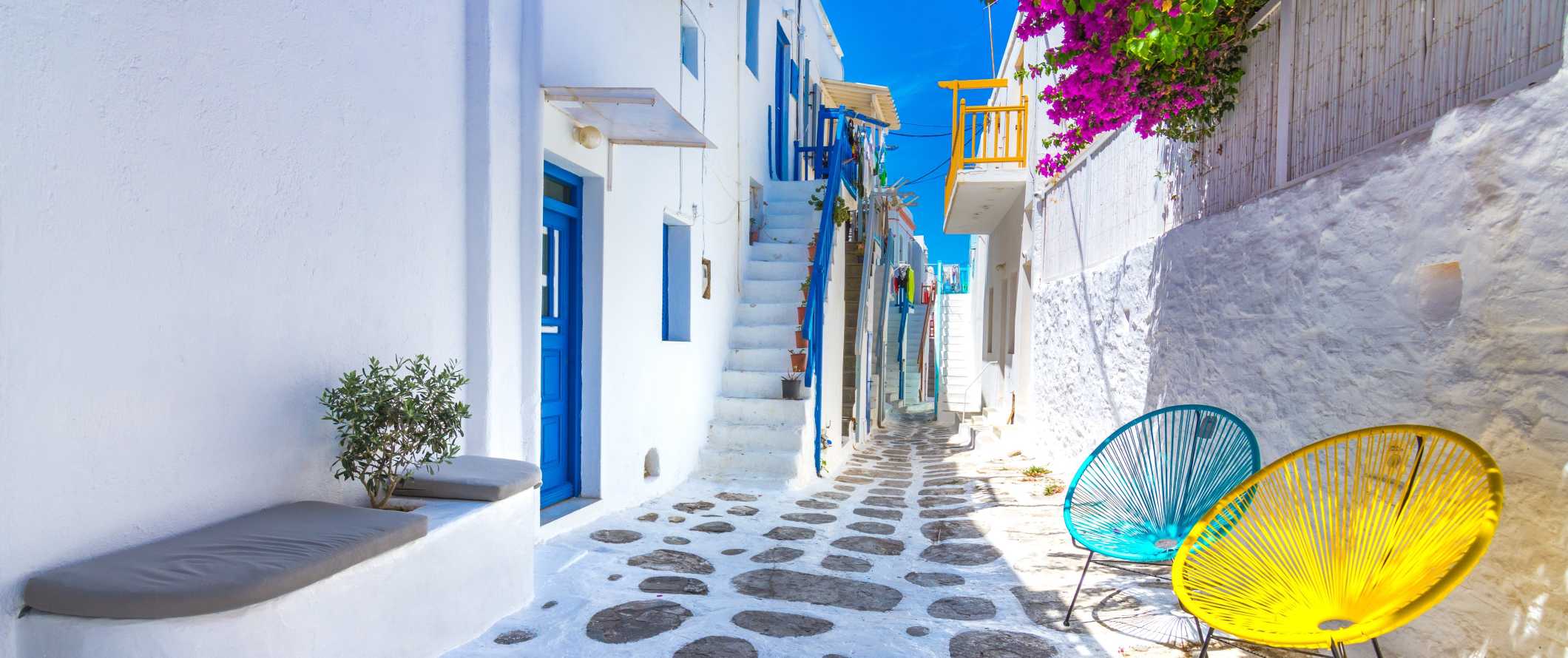 Hostel prices – There are not many hostels in Mykonos as this is more of a luxury destination. During the peak season, a bed in a dorm with 8-10 beds costs at least 25 EUR, though prices can jump all the way up to 65 EUR! In the shoulder season or off-season, some hostels close so be sure to check in advance before you book.
Camping is your cheapest option on Mykonos. At Paradise Beach, you can get a campsite for 15 EUR during peak season, or 10 EUR in the shoulder season. They also have single cabins and prices range on a sliding scale from 24 EUR in April to 66 EUR in July and August. Paradise Beach is closed during the off-season.
Budget hotel prices – Budget two-star hotels start at 150 EUR in peak season, although you can usually find small locally-owned guesthouses that are cheaper. In the off-season, single rooms start at 35 EUR per night.
Mykonos also has lots of Airbnb accommodations. For a private room in peak season, prices start at 110 EUR per night and escalate steeply from there. Entire apartments start from 160 EUR, but average around 300 EUR (and can be as high as 750 EUR per night).
Prices are significantly cheaper in the off-season. A private room ranges from 40-100 EUR per night while an entire apartment averages about 300 EUR per night (but you can find studio apartments for 80 EUR).
Average cost of food – Traditional Greek cuisine is very healthy, using a lot of fresh seasonal vegetables, olive oil, lamb, fish, pork, and cheeses (especially feta). Yogurts are also super common. Filo pastries stuffed with meat or spinach and cheese are a local favorite as are souvlaki and gyros.
To eat cheap, stick with eating gyros, souvlaki, and kebabs. These cost 3-5 EUR and easily fill you up. If you're on a tight budget, you can live off these for as little as 10-15 EUR per day.
Restaurants cost more here than elsewhere in Greece. At one that serves traditional cuisine, expect to pay around 15 EUR for a main dish like moussaka and about 4-5 EUR for a glass of wine. A Greek salad costs 10-12 EUR.
Fish is more expensive, costing around 25 EUR for a fillet and a way too expensive price per kilo, so just avoid ordering per kilo. After that, prices really go up the nicer and more luxurious the restaurant.
All restaurants charge for bread. The price is between .50-1.50 EUR.
Beer is 5 EUR while a latte/cappuccino is around 3 EUR. Cocktails are expensive, however, usually costing 12-20 EUR. Bottled water from the supermarket is 0.50 EUR.
If you cook your meals, expect to pay 50-60 EUR per week for groceries including pasta, vegetables, chicken, and other basic staples.
Backpacking Mykonos Suggested Budgets
If you're backpacking Mykonos, expect to spend at least 60 EUR per day. This budget covers a hostel dorm, taking the bus the get around, cooking most of your meals, eating cheap street food like gyros, limiting your drinking, and doing mostly free activities like hanging out at the beach. If you want to take part in the party scene, you need to add at least another 30 EUR per day. If you travel during peak season, expect to spend closer to 100 EUR per day.
On a mid-range budget of 150 EUR per day, you can stay in an Airbnb during the shoulder season, eat out for all your meals, have a few drinks, take the occasional taxi to get around, and do more paid activities like cruises or snorkeling trips. if you visit during the summer, expect to spend closer to 200 EUR per day for this budget.
On a "luxury" budget of 300 EUR or more per day in the shoulder season, you can stay in a hotel, eat out anywhere you want, drink as much as you'd like, party the nights away, take more taxis or rent a car, and do whatever activities and guided tours you want. This is just the ground floor for luxury though. The sky really is the limit!
Accommodation
Food
Transportation
Attractions
Average Daily Cost
Backpacker
25
15
10
10
60
Mid-Range
65
45
15
25
150
Mykonos Travel Guide: Money-Saving Tips
Mykonos is by far the most expensive island in Greece. It's a tricky place to visit on a budget. There's not a lot you can do here to cut your costs. If you stick to cheap eats, only see a few attractions, and limit your drinking, you'll spend less but still more than you would elsewhere. Here are some suggested ways to save money in Mykonos:
Avoid peak season – If you can, come here before June when the beaches get overcrowded and prices triple. The shoulder season is a must if you're on a budget.
Take advantage of free attractions – You can still enjoy Mykonos to the fullest if stick to the free attractions, like visiting the windmills, hanging out on the beaches, and walking around Little Venice and Mykonos Town. You don't have to take tours and cruises to have fun!
Curb your drinking – It's easy to blow a LOT of cash on partying in Mykonos. If you do want to experience the nightlife, keep it minimal or have a few drinks in your hotel room first.
Don't stay in Mykonos Town – Accommodation prices in the town are the most expensive on the island. The further you go from the town, the cheaper things get. There is a decent bus system to get you to and from town so you won't be isolated.
Book overnight ferries – Greece's inter-island ferries can get quite expensive if you are visiting a lot of them. Taking the overnight ferries can save you up to half off the normal price plus save you a night of accommodation.
Get a ferry pass – Eurail/Interrail has a ferry pass that has 4- and 6-trip options. The only caveat is that you can only take Blue Star and Hellenic Seaways ferries. Those tend to be the larger, slower ferries and, depending on the islands, might require you to connect somewhere. You'll need to research routes in advance to see if the pass is worth it. I would search routes on FerryHopper to see if it works for you. You can purchase your pass on Eurail (non-EU residents) or Interrail (EU residents).
Go to museums on their free admission days – Most museums have some days when admission is free. Check the Odysseus Culture website for details as they vary from museum to museum.
Bring a water bottle – The tap water here isn't safe to drink so bring a reusable water bottle to save money and reduce your plastic use. LifeStraw is my go-to brand as their bottles have built-in filters to ensure your water is always clean and safe.
Where to Stay in Mykonos
Despite its popularity, Mykonos doesn't have a whole lot of hostels. Here are some of my suggested places to stay in Mykonos that don't cost a fortune:
How to Get Around Mykonos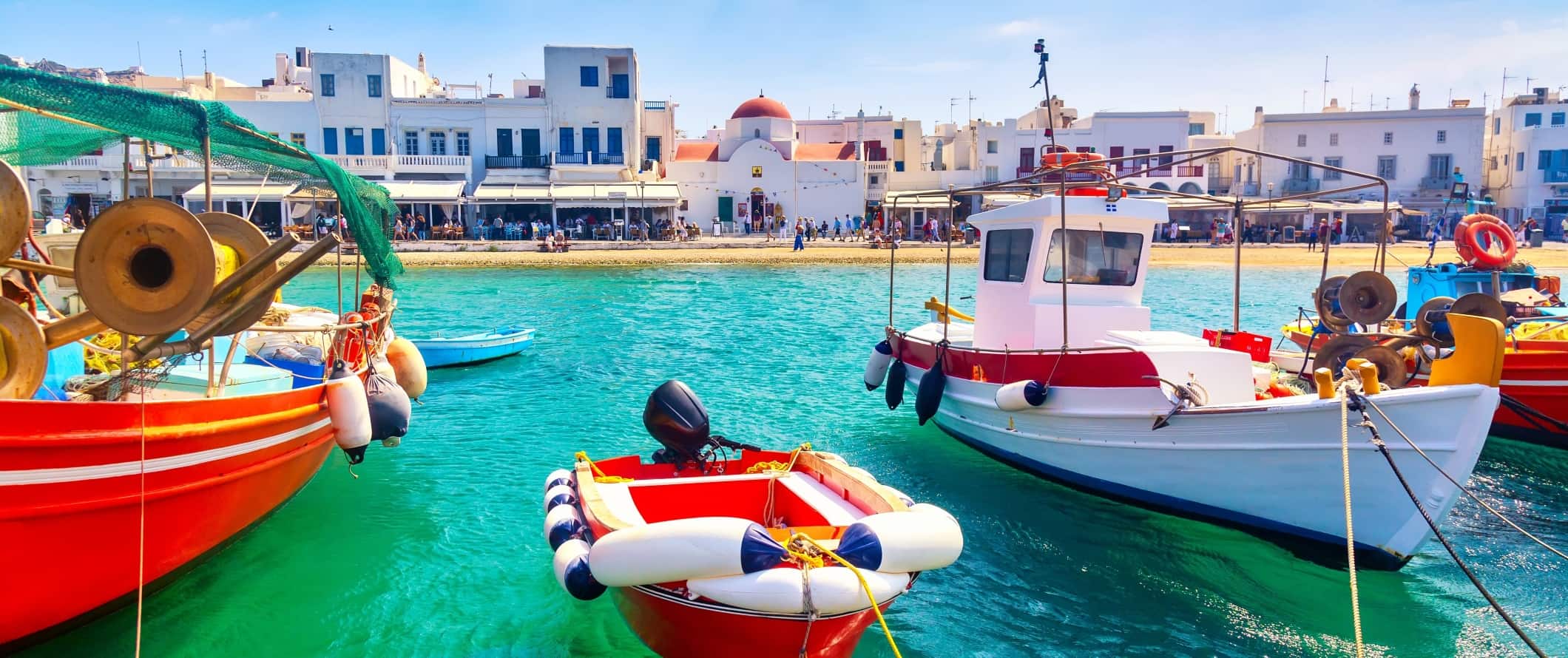 Bus – The KTEL Mykonos bus network covers Mykonos, and its two main terminals are in Mykonos Town. The Old Port Bus Station can take you to the east and northwest of the island (including Agios Stefanos, Elia, and Kalafatis), while buses leaving Fabrika Bus Station service the southwest of the island (including the airport, Paraga, and Paradise Beach).
The fare for the bus is between 1.60-2.40 EUR, depending on where you're going. Mykonobus.com offers you a breakdown of routes and schedules. Keep in mind that routes are drastically reduced in the shoulder season and the off-season.
Boat – Mykonos Sea Transfer and Mykonos Seabus are two groups of boat taxi operators that can take you to all of the island's best beaches, including Paraga, Paradise, Super Paradise, and Elia. It's an excellent way to do some beach hopping throughout the day. Return trips cost 4-7 EUR.
Scooter/ATV rental – There are lots of scooter and ATV rental shops all around the island. You can usually find a scooter rental for about 20 EUR per day for one person, while ATVs start from 40 EUR per day for two people. In the off-season, some shops rent out their vehicles for about one-third of that price.
Taxi – You won't have to go far to find a taxi on Mykonos but wait times can be long during the peak season. Prices are high too. It costs around 14 EUR from Mykonos Town to Platys Gialos, and 22 EUR from Mykonos Town to Kalafatis or Elia. Skip the taxis if you're on a budget!
Car rental – Car rentals start at 75 EUR per day in the peak season and 20 EUR per day in the shoulder season. Drivers need an International Driving Permit and must be at least 21 years old. For the best rental car deals, use Discover Cars
Hitchhiking – Hitchhiking on Mykonos is relatively easy in the summer. There are far fewer cars around in the shoulder season and low season, so avoid hitchhiking then as waits can be long. Use Hitchwiki for more information.
When to Go to Mykonos
The peak season in Mykonos is from June to August. Temperatures average in the mid-30s°C (mid-90s°F) each day and this is when the island is busiest (some might even say overcrowded). All the clubs, restaurants, and bars are jam-packed and prices are high.
The shoulder season (April-May and September-October) is my favorite time to visit. There's still enough action to keep you busy, and you can still meet plenty of people, but it's not nearly as crowded. Prices are lower and the weather is beautiful, especially during the fall when the average daily high temperature is 26°C (79°F).
Winters in Mykonos are mild, but many businesses close, and the island is virtually deserted. If that doesn't bother you, then visiting Mykonos during this time can be very enjoyable for its slower pace of life. Expect daily highs around 14°C (57°F).
How to Stay Safe in Mykonos
Mykonos is very safe to visit, but like most busy destinations, there's a risk of pickpocketing and petty crime around tourist attractions. Don't bring your valuables to the beach and definitely don't leave them unattended. When you go out to the bar, only take the money you need. Leave your wallet at home.
Solo female travelers should generally feel safe here, however, the standard precautions apply (never leave your drink unattended at the bar, never walk home alone intoxicated, etc.).
And because this is a party island, really everyone should be mindful of drinking too much or taking their eyes off their drink. Avoid drugs at all costs, or you may face huge fines or even jail time.
If you rent a car, drive carefully. Greeks drive aggressively so you'll want to make sure you take extra care on the roads.
If you go out hiking, always bring water and sunscreen and wear a hat. The heat can be taxing!
Scams here aren't very common but if you're worried about getting ripped off you can read about common travel scams to avoid here.
If you experience an emergency, dial 112 for assistance.
Always trust your gut instinct. Avoid isolated areas at night, and be aware of your surroundings at all times. Make copies of your personal documents, including your passport and ID, and don't keep a lot of valuables on you. Forward your itinerary along to loved ones so they'll know where you are.
The best piece of advice I can give is to purchase good travel insurance. Travel insurance protects you against illness, injury, theft, and cancellations. It's comprehensive protection in case anything goes wrong. I never go on a trip without it as I've had to use it many times in the past. You can use the widget below to find the policy right for you:
Mykonos Travel Guide: The Best Booking Resources
These are my favorite companies to use when I travel. They consistently have the best deals, offer world-class customer service and great value, and overall, are better than their competitors. They are the companies I use the most and are always the starting point in my search for travel deals.
Skyscanner – Skyscanner is my favorite flight search engine. They search small websites and budget airlines that larger search sites tend to miss. They are hands down the number one place to start.
Hostelworld – This is the best hostel accommodation site out there with the largest inventory, best search interface, and widest availability.
Booking.com – The best all around booking site that constantly provides the cheapest and lowest rates. They have the widest selection of budget accommodation. In all my tests, they've always had the cheapest rates out of all the booking websites.
HostelPass – This new card gives you up to 20% off hostels throughout Europe. It's a great way to save money. They're constantly adding new hostels too. I've always wanted something like this and glad it finallt exists.
Get Your Guide – Get Your Guide is a huge online marketplace for tours and excursions. They have tons of tour options available in cities all around the world, including everything from cooking classes, walking tours, street art lessons, and more!
The Man in Seat 61 – This website is the ultimate guide to train travel anywhere in the world. They have the most comprehensive information on routes, times, prices, and train conditions. If you are planning a long train journey or some epic train trip, consult this site.
Rome2Rio – This website allows you to see how to get from point A to point B the best and cheapest way possible. It will give you all the bus, train, plane, or boat routes that can get you there as well as how much they cost.
FlixBus – Flixbus has routes between 20 European countries with prices starting as low 5 EUR! Their buses include WiFi, electrical outlets, a free checked bag.
SafetyWing – Safety Wing offers convenient and affordable plans tailored to digital nomads and long-term travelers. They have cheap monthly plans, great customer service, and an easy-to-use claims process that makes it perfect for those on the road.
LifeStraw – My go-to company for reusable water bottles with built-in filters so you can ensure your drinking water is always clean and safe.
Unbound Merino – They make lightweight, durable, easy-to-clean travel clothing.
Ferry Hopper – If you're looking to book your ferries, this website is an easy way to search the various companies, piece together routes, and book your tickets.
Mykonos Travel Guide: Related Articles
Want more info? Check out all the articles I've written on Greece travel and continue planning your trip: