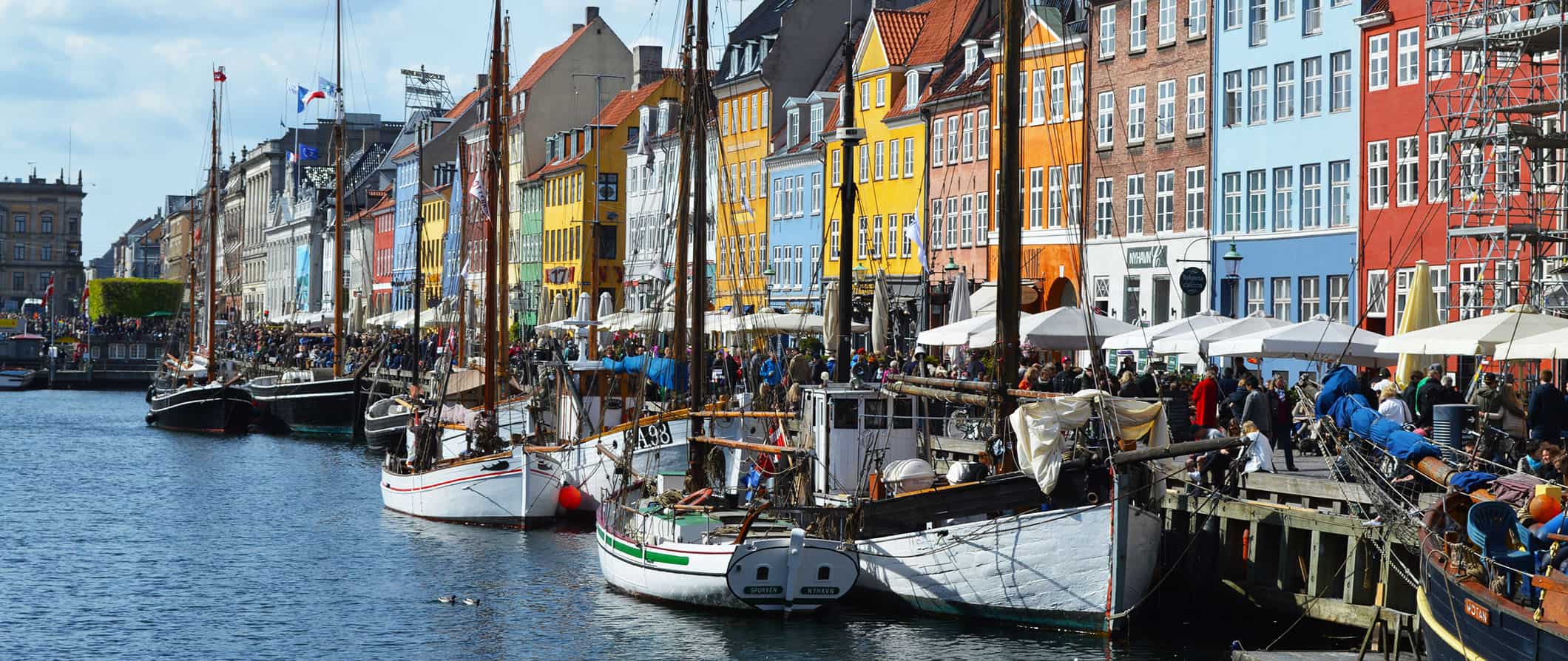 Denmark is one of my favorite countries in the world — its landscape is beautiful, it's clean, eco-friendly, still has a medieval Viking charm to it, and the locals love to have a good time (Danes frequently stay out until dawn). So long as you don't get in the wrong bike lane, they are very welcoming to tourists and, each time I visit the country, I make new local friends. The Danes have a very ordered but happy lifestyle. To them, life is meant to be lived not spent in an office. Everyone who comes to visit wants to go back. Most tourists only spend a few days in Copenhagen before the high costs of Scandinavia force them to move on. However, though the country more expensive than, the countryside (especially Jutland), with its rolling hills, lakes, and jagged coastline are worth extending your stay just a little longer. This guide can help you save money on your trip so you can make that an affordable option!
Top 5 Things to See and Do in Denmark
1. Copenhagen
One of my favorite cities in the world is
Copenhagen
, the capital of Denmark. It's beautiful, the architecture is amazing, there is a great nightlife, and the locals are friendly. It's also the largest city in Denmark. It may be expensive, but it is worth every penny. Make sure you cruise on the harbor and visit the Tivoli Amusement Park.
2. Explore Aarhus
Denmark's
second largest city
is known for its art and culture. Beyond the many museums and galleries are unique amusement parks, such as Legoland and the Tivoli Friheden. Check out the Aarhus Festival at the end of August. This is a major college town and has an active nightlife and good budget restaurants.
3. Roskilde
Roskilde was Denmark's capital from 960 to 1536. This is an amazing city to view the country's history, whether it be at the various churches, brick building lined streets, or the Viking-influenced museums. The cathedral is the most famous in the country. It hosts to Europe's largest music festival every June.
4. Go hiking
Like their Scandinavian counterparts, Danes love the outdoors. There are plenty of hiking trails all throughout the country, many of which are interconnected. Whether you want a short day hike from the city or something more challenging, Denmark has it all. You can find many of the trails at waymarkedtrails.com.
5. Go to the beach
With 7,400km of coastline, Denmark has its fair share of beaches. In the summer months, there is a huge influx of tourists (mostly German) who own summer homes around the country. While the weather can be tricky, a sunny day on the beach in Denmark is a wonderful way to unwind.
Other Things to See and Do
(Click the title to expand the text)
1. Visit Kronberg Castle
This castle is where Shakespeare set his play, Hamlet, though you don't need to be a fan of the Bard to enjoy it. Located along the coast in Helsingør, the castle was declared a UNESCO World Heritage Site in 2000. It's a great place to wander and explore, and it's only an hour from Copenhagen. Tickets are 90 DKK.
2. Go wild in Dyrehaven
Known commonly as 'The Deer Park', this park is located just outside Copenhagen in a city called Klampenborg. Both locals and tourists enjoy cycling, trekking, and horseback riding throughout the park. Be sure to check out the Bakken Amusement Park also within the park — admission is free!
3. Learn at the Skagen Museum
This is the Skagen artists' museum, featuring the culmination of the artistic inspiration of the area. Transformed into an artist colony during the 1880s, many paintings from the time are on permanent display here. Admission is 100 DKK.
4. Randers
A small town located in the harbor of the Kolding fjord, this is a quaint place to enjoy some time hiking, bird watching, or cycling. The cobbled streets and crooked alleys will charm you and the Clausholm Castle is one of the country's last remaining castles.
5. Borreby Castle
The oldest renaissance-style construction in Denmark, this castle is a stunning sight located outside of Zealand. It often appears in fairy-tale movies. As a fan of castles, I love this one.
6. Visit Svendborg
Located on the island of Funen in southern Denmark, Svendborg is a town entrenched in history. Be sure to visit Vlademars Slot, a palace that was constructed by King Christian IV for his son, Vlademar. His son died before ever living in the place, but the palace-turned-manor is still inhabited. Some parts of the grounds, including three museums and a lovely cafe, are open to the public. Also, you should spend some time wandering around Svendborg and taking in the historical architecture.
7. Meander through Tivoli Garden
Just adjacent from Copenhagen Central Station, the Tivoli Garden is a beautiful amusement park. It's tons of fun, even if you aren't a little kid. (There's a beer garden here too!) Complete with a Ferris wheel, roller coaster, the Peacock Theatre, and a concert hall, this is an awesome place to spend an afternoon. It's not cheap but it's certainly fun. Avoid the weekend and school holidays when the place is overflowing with families. Weekday admission is 110 DKK, while it is 120 DKK Friday-Sunday.
8. Head over to North Zealand
Just a train ride away from Copenhagen, North Zealand features an idyllic coastline, the beautiful landscapes, and the Shakespearean setting of Kronborg Castle. If you are looking to get away from the city for a day or maybe more, this is an awesome place to head to and one not often visited by tourists.
9. Visit the Jelling stones
The Jelling stones are massive runestones dating all the way back to the 10th century. They were declared a UNESCO Heritage Site in 1994, and are worth checking out if you are in the area. You can reach Jelling by train from Aarhus. The ride takes just over an hour.
10. Hans Christian Anderson Parade
Famous for his fairy-tales, this parade is a performance featuring over 30 characters from Hans C. Anderson's literary works. Held every day during the summer behind the Anderson Museum in Funen, this is a neat event to check out, especially for children.
11. Attend a music festival
Roskilde is the Danish music festival with the biggest international reputation (more than 80,000 tickets sold at this annual rock music event), but it only offers a taste of the music scene in Denmark. Other big events include the Skanderborg Festival (August – rock music), Copenhagen Jazz Festival (July), Tønder Festival(August – folk and country), and the Skive Festival (Danish music).
12. Den Japanske Have
This beautiful and sophisticated Japanese garden includes a tea house, shop, café, several sub-gardens, and a Japanese house. It is particularly beautiful during summer and autumn.
Typical Costs
Accommodation
– Hostel dorms begin at 200 DKK per night and that usually gets you a 12 person or more dorm room. Smaller dorms are around 240 DKK. Hotels in Denmark aren't cheap and expect to pay around 685 DKK per night or more for a hotel. Hotels outside major cities start around 450 DKK. Shared rooms on Airbnb can be found for around 325 DKK, while an entire apartment or home will cost closer to 900 DKK. Again, prices will be lower outside of the larger cities. If you're on a budget, campsites cost between 55-95 DKK per night. To stay at any campsite you will need the Camping Key Europe card. The card costs around 110 DKK. If you only plan to camp one night, you can get a transit card, for 35 DKK. My suggested places are:
Average cost of food – Food in Denmark is pretty expensive. If you are going to eat out in a restaurant, be prepared to pay around 75-115 DKK for a cheap meal during lunch time. Dinner time meals will be closer to 135-205 DKK, which adds up quickly. You can find cheap hot dog vendors for around 25-35 DKK. Kebab and pizza shops will be your cheapest bet when it comes to eating out. As for groceries, expect to spend around 320 DKK per week. Netto and Lidl are the budget grocers, so stick to them if you can.
Transportation costs – Train travel across Denmark (Jutland to Copenhagen) costs around 550 DKK. Buses start around 308 DKK. The closer you get to the travel date the higher the cost so be sure to book in advance if you can — it makes a huge difference! The train from the airport to Copenhagen center is 40 DKK. Local trains and buses are 24 DKK for a two-zone ticket. Budget flights to and from Denmark are easy to find as the airport is one of the major hubs in Scandinavia. Buses and trains connect to every nearby country, as well, making it a very easy country to get in and out of.
Activities – Museums typically cost 70 DKK. There are a number of full day activities to do in this region and most involve going out and exploring the beautiful countryside. Most day trips cost 340 DKK or more.
Suggested daily budget
350-425 DKK / 50-60 USD (Note: This is a suggested budget assuming you're staying in a hostel, eating out a little, cooking most of your meals, and using local transportation. Using the budget tips below, you can always lower this number. However, if you stay in fancier accommodation or eat out more often, expect this to be higher!)
Money Saving Tips
Go orange – The Danish rail system offers cheap tickets via their online website called "Orange tickets." They are only available online, and you have to print out the ticket before you board the train. These tickets are a third of the cost of what you can buy at the railway station.
Get a city tourism card – If you plan to do a lot of sightseeing and visit a lot of attractions then I highly recommend you get one of the city passes that offer discounts and free admission to museums and attractions. They also come with free transportation, a great bonus.
Refill your water bottle – The water in Denmark is safe to drink and is held to very high standards. Skip buying bottled water here and refill your bottle. You'll save money and help the environment at the same time!
Eat on the street – Street stalls, such as hot dogs, sausages, and sandwiches cost only 27-35 DKK and can save you a lot of money on food if you choose not to cook. In fact, they are your best bet at saving money on food outside of kebabs and pizza.
Share a ride into Denmark – Ride-sharing websites like Blablacar operate all around Europe and are a great way to find a ride into Denmark. While they don't operate in the country (yet) you will likely be able to find rides from many nearby countries.
Get a Hostelling International card – Danhostel.dk is the national accredited Hostelling International network. They operate 95 hotels throughout the country, and so you'll want to get an HI card if you plan on staying at hostels during your stay. If purchased in Denmark, HI cards are 160 DKK.
Stay with a local – If you truly want to save the most money you can and don't mind where you sleep, you have to Couchsurf because free accommodation is the only way to save big. Accommodation is super expensive in Denmark. Couchsurfing is very popular amount locals and you'll find a lot of hosts, even in small rural communities up near the Arctic. However, travelers rely heavily on Couchsurfing (or other hospitality exchanges) as a consequence so I would advise you to send out your requests far in advance of your actual arrival date.
Hitchhike – Hitchhiking in Denmark, like the rest of Scandinavia, is easy (albeit slightly uncommon). Since most of the population speaks English you won't have a hard time communicating. Having your destination written on a sign will go a long way to help you secure a ride, as will showing a flag of where you're from (people are more likely to pick up visitors). Like in many countries, it's illegal to hitchhike on the highways so stick to on and off ramps.
Cook your food – Eating out in Denmark is not cheap, and since Danish food isn't going to win any great culinary awards, you won't miss much by cooking your own food. Groceries cost about 240 DKK per week, which is cheaper than a few meals out combined. If you must eat out, do so during lunch when specials and buffet deals make restaurants reasonably priced.
Book in advance – Booking train and bus tickets a month in advance can save you up to 50%. The major operators are DSB and Abildskou.
My Must Have Guides For Traveling to Denmark