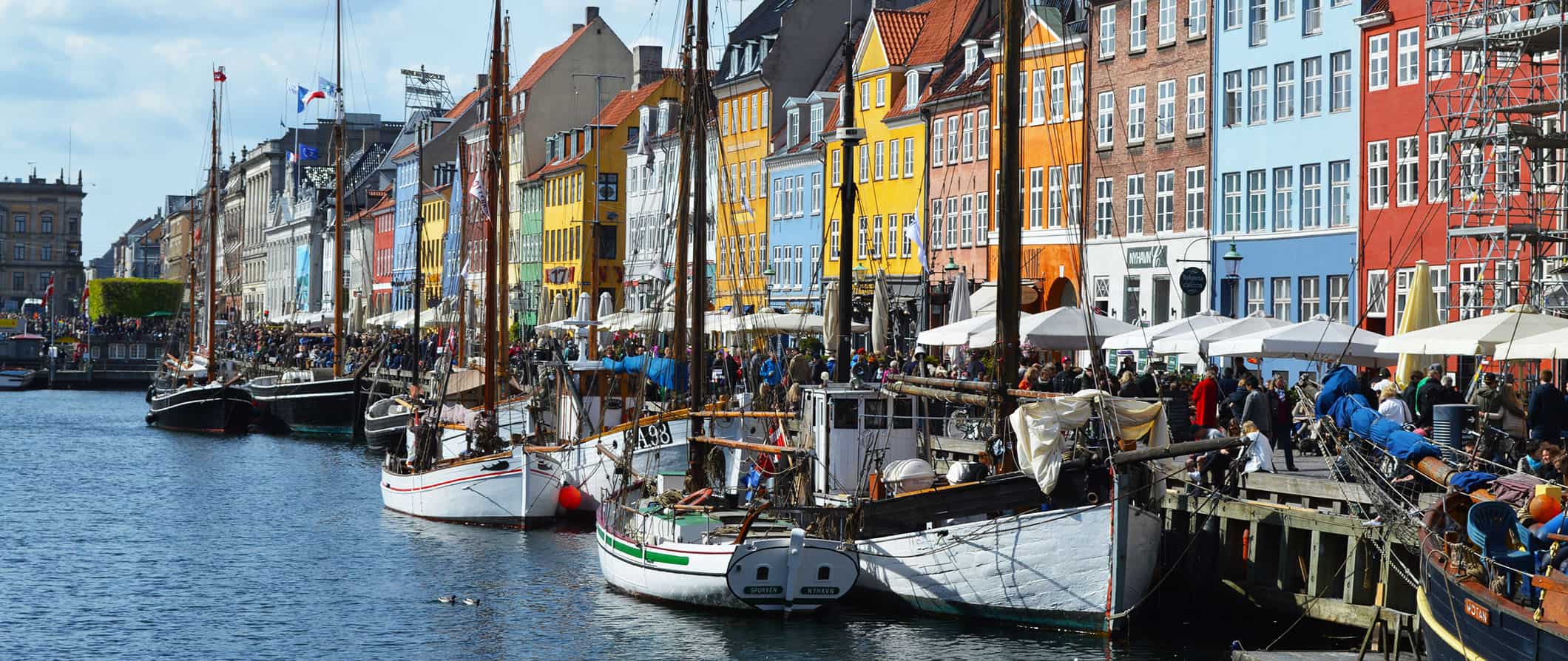 Denmark is one of my favorite countries in the world. With its beautiful landscape, charming medieval-like towns, clean air, bike-friendly cities, and locals who love to have a good time (Danes frequently stay out until dawn), I can never visit Denmark enough.
The Danes have a very ordered but happy lifestyle. To them, life is meant to be lived — not spent in an office. Most tourists only spend a few days in Copenhagen before the high costs of the country make them move on.
However, those people miss out on what the country has to offer. Besides, there are plenty of ways to save money here too!
So, don't just go to Copenhagen! Be sure to explore the coastlines, tiny cities, and beautiful parks that fill this small but wonderful place. There is a lot to see and do and very few tourists take the time to travel beyond the capital. That means you'll have much of the country to yourself as you explore.
This travel guide to Denmark can help you plan your trip, save money, and make the most of your time in this charming country!
Click Here for City Guides
Top 5 Things to See and Do in Denmark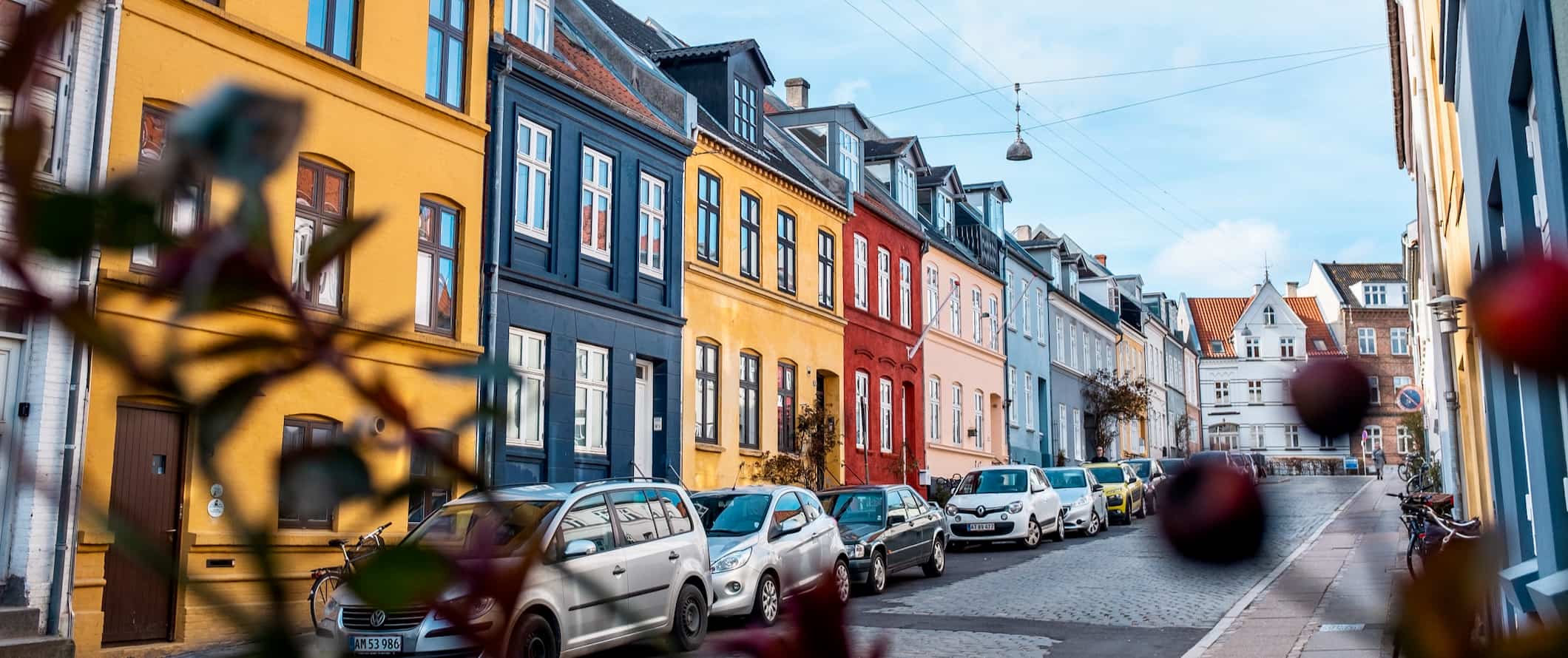 1. Visit Copenhagen
One of my favorite cities in the world is Copenhagen, the capital of Denmark. It's beautiful, the architecture is amazing, there is a great nightlife, and the locals are friendly. Explore the stunning Rosenborg Castle which dates back to 1606 and is filled with artifacts that belonged to Scandinavian royals. Check out unique museums like Cisternerne, a venue and exhibition space located in an underground cistern. Be sure to cruise the colorful 17th-century Nyhavn harbor and visit Tivoli Park as well.
2. Explore Aarhus
Denmark's second largest city is known for its art and culture. Enjoy plenty of fascinating museums like Den Gamle By, which features 75 historic buildings and offers a glimpse into daily life during the 18th, 19th, and 20th centuries. Don't skip a visit to ARoS either – it's one of the biggest t art museums in Europe and has an incredible rooftop platform that offers the best panoramic views in the city. Beyond the many museums and galleries are unique amusement parks, such as Legoland and the Tivoli Friheden. This is a major college town and has an active nightlife and good budget restaurants too.
3. See Roskilde
Roskilde was Denmark's capital from 960 to 1536. It hosts Europe's largest music festival every June. This is an amazing city to view the country's history, whether it be at the various churches, brick building-lined streets, or the Viking-influenced museums. You can set sail aboard a real Viking ship, explore museums, or visit the nearby national park, Skjoldungernes Land. The cathedral, dating to the 17th century, is a UNESCO World heritage Site and is the most famous in the country.
4. Go hiking
Like their Scandinavian counterparts, Danes love the outdoors. Whether you want a short day hike from the city or something more challenging, Denmark has it all. Some beautiful trails to hike are the Camønoen Trial (174km/108mi) and the Gendarmstien Trial (84km/52mi). You can find more of the trails at hiking.waymarkedtrails.org and alltrails.com.
5. Hit the beach
With 7,400 kilometers (4,600 miles) of coastline, Denmark has its fair share of beaches. While the weather can be tricky, a sunny day on the beach in Denmark is a wonderful way to unwind. Check out Hornbæk Beach (in the north near Hornbæk), Bøgebjerg Beach (near Odense in the center of the country), and Blokhus Beach (near Blokus in the north). For swimming in Copenhagen, check out Amager Beach Park and Svanemølle Beach.
Other Things to See and Do in Denmark
1. Visit Kronborg Castle
Located along the coast in Helsingør and built between 1220-1230, the castle was declared a UNESCO World Heritage Site in 2000. It is also the castle where Shakespeare set his play, Hamlet, in 1609. It's a great place to wander and explore, and it's only an hour from Copenhagen. You can tour the castle and see the royal apartments (which date to 1576) as well as the dining hall (home to 40 tapestries depicting 100 different Danish kings) and the chapel (which was inaugurated in 1582). Tickets are 125 DKK.
2. Go wild in Dyrehaven
Known commonly as The Deer Park, this park was built in 1669 and is just outside Copenhagen. Spanning over 11 kilometers (7 miles), you can cycle, hike, and horseback ride here. Be sure to check out the Bakken Amusement Park also within the park, which has all kinds of rides (there are five roller coasters as well as classics like bumper cars and a Ferris wheel), carnival games, and slot machines. Admission to both the park and amusement park is free.
3. Explore the Skagens Museum
This museum features an extensive collection of works by the Skagen Painters, a group of artists who lived in Skagen in the late 19th and early 20th centuries. Opened in 1908, the collection has almost 2,000 works of art (predominantly paintings) and also features a rotating list of temporary exhibitions as well. Admission is 120 DKK.
4. Visit Randers
A small town located in the harbor of the Kolding fjord on the Jutland peninsula, this is a nice place to base yourself if you want to hike, bird watch, or cycle. The cobbled streets and crooked alleys will transport you back in time. Clausholm Castle is one of the country's last remaining castles. It was built in the 1690s and is one of the oldest Baroque estates in Denmark. Many of the rooms remain in their original condition. The surrounding grounds are home to 1,000 linden trees and it's the perfect place for a picnic on a warm sunny day after exploring the castle. Admission to just the grounds is 50 DKK, while access to the park and the castle is 150 DKK. The main tourist attraction here is the Randers Rainforest Zoo (the largest artificial rainforest in Northern Europe), which houses native plants and free-roaming animals from the rainforests of South America, Asia, and Africa. Admission to the zoo is 195 DKK.
5. Visit Svendborg
Located on the island of Funen in southern Denmark, Svendborg is a town entrenched in history. You can visit Valdemars Slot, a palace that was constructed by King Christian IV for his son, Valdemar. Some parts of the grounds, including three museums and a lovely cafe, are open to the public (admission is 110 DKK; temporarily closed for COVID). While you're in Svendborg, don't miss Naturama, a wildlife museum with tons of interactive exhibits (admission is 158 DKK), as well as the Forsorgs museum, a 'welfare' museum in the city's former poorhouse. It highlights the horrific working conditions of the city's poor prior to Denmark becoming the equitable welfare state it is today. Be sure to also spend some time wandering around Svendborg and taking in the historical architecture. There are all kinds of charming narrow lanes and historic houses and shops in town.
6. Meander through Tivoli
Just adjacent to Copenhagen Central Station, Tivoli is the city's famous amusement park. Complete with a Ferris wheel, games, roller coasters, and a concert hall, this is an awesome place to spend an afternoon. It's not cheap but it's certainly fun. Avoid the weekend and school holidays when the place is overflowing with families. Weekday admission is 145 DKK and weekends cost 155 DKK.
7. Head over to North Zealand
Just a train ride away from Copenhagen, North Zealand features an idyllic coastline, beautiful landscapes, and the Shakespearean setting of Kronborg Castle. The region is often called "The Danish Riviera" due to its plentiful sandy beaches and numerous cultural icons. Don't miss Tisvildeleje, Dronningmølle, and Gudmindrup beach if you're looking to lounge and enjoy the sunshine. If you are looking to get away from the city for a day or maybe more, this is an awesome place to head to and one not often visited by tourists. Visit the 17th-century Frederiksborg Castle in Hillerød, which is considered Denmark's Versailles (admission is 90 DKK). The Maritime Museum of Denmark (125 DKK) and the Louisiana Museum of Modern Art (145 DKK) can be found in North Zealand as well. Helsingør and Hillerød make for good bases in the region if you plan on exploring.
8. Visit the Jelling stones
The Jelling stones are massive runestones (raised stones with runic inscriptions) dating all the way back to the 10th century. They were declared a UNESCO Heritage Site in 1994 and are worth checking out if you are in the area (they are located in Jelling, which is just 25 minutes by car from Legoland). The oldest runestone was raised by King Gorm the Old in memory of his wife and the largest stone was left by Harald Bluetooth to celebrate his conquest of Denmark and Norway (wireless Bluetooth is named after Harald). You can reach Jelling by train from Aarhus. The ride takes just over an hour. Admission is free.
9. Watch the Hans Christian Andersen Parade
Famous for his fairy tales, this parade is a performance featuring over 30 characters from Hans C. Andersen's literary works. Held every day during the summer behind the Andersen Museum in Odense (Andersen's hometown) on the southwestern island of Funen, this is a neat event to check out, especially for children.
10. Attend a music festival
Roskilde is the Danish music festival with the biggest international reputation (80,000 people take part), but it only offers a taste of the music scene in Denmark. Other big events include the Smukfest (August), Copenhagen Jazz Festival (July), Tønder Festival (August), and the Skive Festival (September). Danes love a good festival so be sure to book your tickets and accommodation early as things sell out fast.
11. See Den Japanske Have (Japanese Gardens)
Located in the town of Aarhus, this beautiful and sophisticated Japanese garden includes a tea house, shop, café, several sub-gardens, and a Japanese house. The garden took two years to construct and is designed in the "kaiyu" style, with circular walking paths to take in the scenery of waterfalls, native Japanese trees and flowers, koi ponds, and miniature mountains. And best of all, the garden is free!

For more information on specific cities in Denmark, check out these guides:
Denmark Travel Costs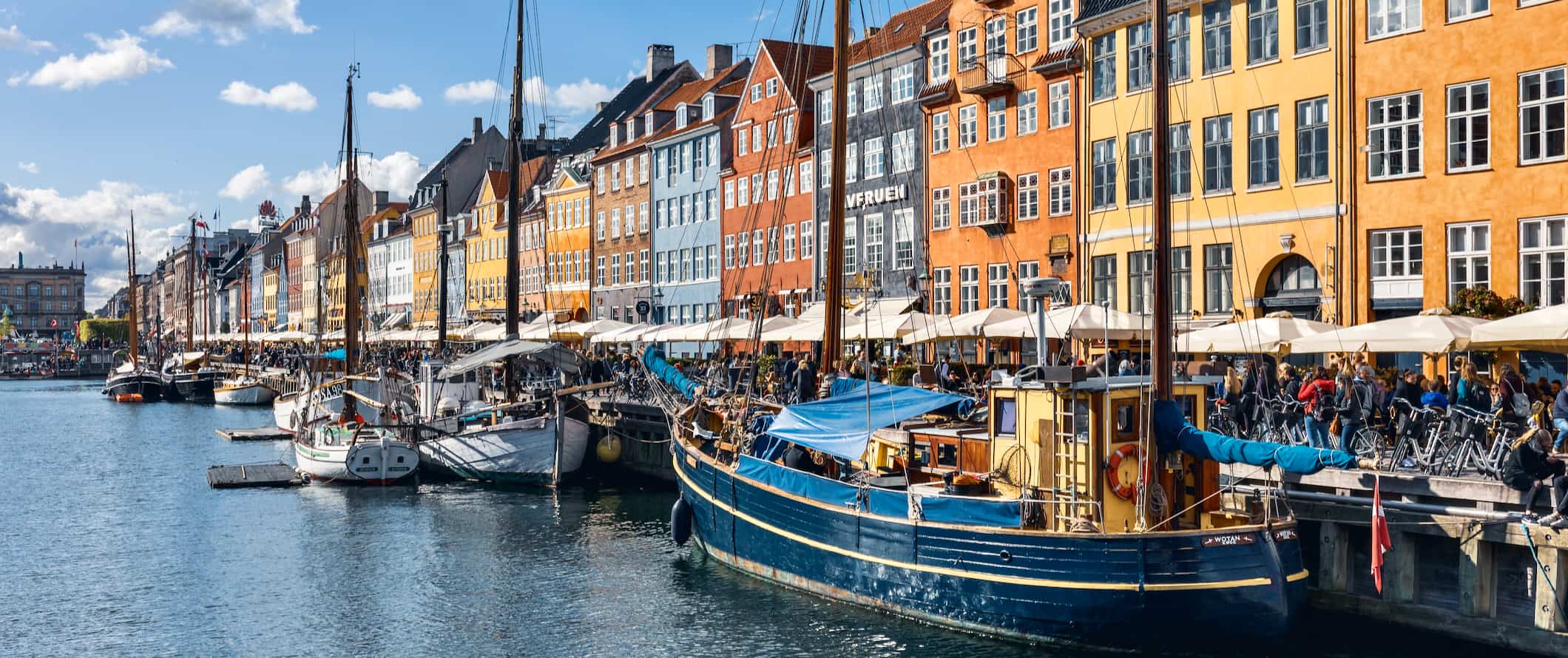 Accommodation – Rates vary a lot depending on what city you're staying in (prices are higher in Copenhagen). On average, you'll wind up paying about 200 DKK for a dorm room at a hostel with 6-8 beds. For a private room, prices start around 675 DKK per night. Free Wi-Fi is standard and most hostels also have self-catering facilities. Free breakfast isn't that common here though.
For a budget hotel room, expect to pay around 600 DKK per night for a two-star hotel. Free Wi-Fi, TV, and a coffee/tea maker are usually included.
Airbnb is pretty expensive when not booked early (especially in Copenhagen). Expect to pay an average of 500 DKK per night for a private room (though if you book early you can find them for 300 DKK), while entire homes/apartments cost around 700 DKK.
If camping is your thing, you'll have plenty of options all across the country. Wild camping is illegal, but you can look for "free-tenting" zones in public forests and pitch a tent there! The only catch is that you can only stay one night per camp spot. For paid campsites, expect to pay between 60-100 DKK for a basic plot without electricity. Many of the major campgrounds sell out early so be sure to book in advance during the peak season (June-August).
Food – Danish cuisine leans heavily on meat and seafood. Cod, herring, and pork are never far from any meal. Dark bread and open-faced sandwiches known as smørrebrød are a staple for both breakfast and lunch. Liverpaste is a local favorite, as is shrimp on bread. Most traditional dinner meals revolve around meat and potatoes.
Eating out — like everything in Denmark — is pricey. A meal out at a restaurant serving traditional cuisine costs around 125 DKK. Cheap takeaway sandwich shops cost 85 DKK while a fast-food combo (think McDonald's) costs around 85 DKK.
For a three-course meal and a drink, expect to pay at least 350 DKK. Chinese food and Thai food can be found for as little as 85-80 DKK. Expect to pay around 60-80 DKK for a pizza.
Food trucks and food halls are popular in the country's larger cities. Don't miss Torvehallerne and Tivoli Food Hall in Copenhagen, which offers everything from tapas and drinks to fresh produce and local cheeses. Expect to spend at least 100 DKK for a meal. In Aarhus, head to Aarhus Street Food, where a collection of food trucks offer everything from Turkish and Korean food to fish and chips to sweet treats.
Beer is 50 DKK while a cappuccino/latte is around 42 DKK. Bottled water is 20 DKK.
If you are going to cook your own food, expect to pay around 400 DKK per week for basic staples like vegetables, pasta, rice, and some meat or fish.
Backpacking Denmark Suggested Budgets
On a backpacker budget of 505 DKK, you can stay in a hostel dorm, cook all your meals, use public transportation to get around, limit your drinking, and do free activities like free walking tours and hiking. If you want to eat out or drink, you'll need to add another 100-200 DKK per day at least.
On a mid-range budget of about 1,275 DKK, you'll be able to stay in a private Airbnb, have an occasional cheap meal out (cheap sandwiches, Chinese/Thai food), enjoy a couple of drinks here and there, do some intercity bus travel, and do some paid activities like museums and castles.
On a "luxury" budget of 2,300 DKK or more per day, you can stay in a hotel, eat out for all your meals, take the train between cities, drink more, do as many activities as you'd like, and take taxis (or rent a car) to get around when you need to. This is just the ground floor for luxury though. The sky is the limit after that!
Accommodation
Food
Transportation
Attractions
Average Daily Cost
Backpacker
250
100
80
75
505
Mid-Range
600
400
125
150
1,275
Luxury
1,000
800
250
250
2,300
Denmark Travel Guide: Money-Saving Tips
Denmark can be an expensive country to visit. If you aren't careful, you'll blow through your entire budget in no time. There's no way to make this country a "cheap" place to visit but here are some ways to save money when you're here:
Go orange – The Danish rail system offers cheap tickets via their website called "Orange tickets." They are only available online, and you have to print out the ticket before you board the train. These tickets are up to 60% cheaper than what you can buy at the railway station.
Get a city tourism card – If you plan to do a lot of sightseeing and visit a lot of attractions then I highly recommend you get one of the city passes that offer discounts and free admission to museums and attractions. They also come with free transportation. If you plan on seeing a lot, these can save you money (especially in Copenhagen).
Refill your water bottle – The water in Denmark is safe to drink and is held to very high standards. Skip buying bottled water here and refill your bottle instead. LifeStraw makes a reusable bottle with a built-in filter so you can always be sure your water is clean and safe.
Eat on the street – Street stalls selling hot dogs and sausages are cheap and plentiful. Fill up on them if you're on a budget.
Get a Hostelling International card – Danhostel.dk is the national accredited Hostelling International network. They operate 60+ hotels throughout the country so you'll want to get an HI card if you plan on staying at their hostels during your stay. If purchased in Denmark, HI cards are 160 DKK.
Stay with a local – Accommodation in Denmark is pricey. If you plan ahead, you can usually find Couchsurfing hosts throughout the country. This way, you not only have a place to stay but you'll have a local host that can share their insider tips and advice.
Hitchhike – Hitchhiking in Denmark, like the rest of Scandinavia, is easy (albeit slightly uncommon). Since most of the population speaks English you won't have a hard time communicating. Having your destination written on a sign will go a long way to help you secure a ride, as will showing a flag of where you're from (people are more likely to pick up visitors). Use Hitchwiki for more information.
Cook your food – Eating out in Denmark is not cheap. If you're on a budget, cook your own meals. it won't be glamorous but it will save you money!
Eat out for lunch – If you must eat out, do so during lunch when specials and buffet deals make restaurants reasonably priced.
Book in advance – Booking train and bus tickets a month in advance can save you up to 50%.
Where to Stay in Denmark
Denmark has lots of fun, affordable, and social hostels. Here are some of my suggested places to stay in Denmark:
How to Get Around Denmark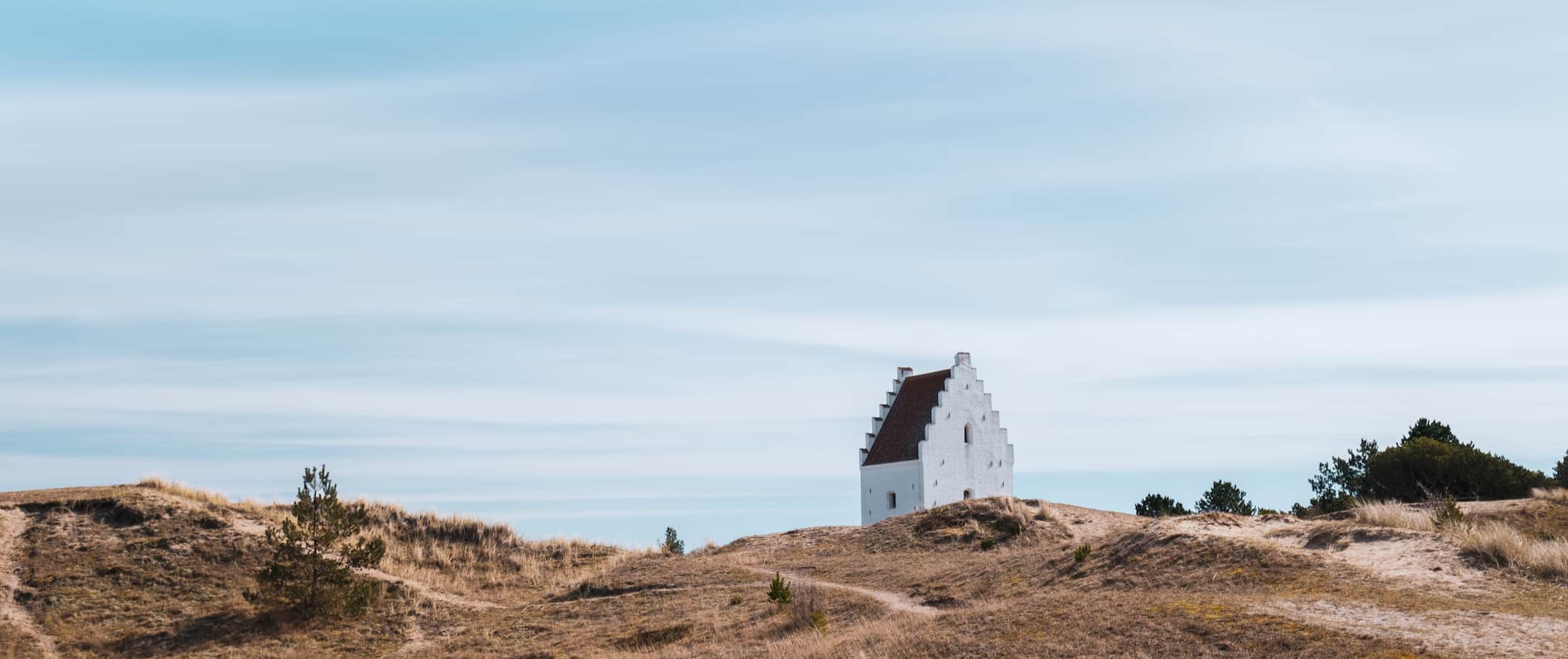 Public transportation – Public transportation in Denmark is clean, reliable, and safe. Tickets for public transportation cost around 24 DKK for a single fare. Unlimited tickets are also available, usually costing around 80 DKK for 24 hours, 150 DKK for 48 hours, and 200 DKK for a 72-hour pass.
A ticket from downtown Copenhagen to the airport is 36 DKK each way.
Bus – Flixbus is the most common way to travel around Denmark on a budget. A bus ride from Copenhagen to Aarhus starts at 142 DKK and takes 4 hours. A ride from Copenhagen to Odense starts around 270 DKK and takes just a little under two hours. A bus ride from Roskilde to Hamburg, Germany starts at 670 DKK and takes a little over 7 hours. Book early to secure a seat — especially in the summer.
Train – The train is a bit more expensive than the bus but will take less time. A train ride from Copenhagen to Aarhus starts at 440 DKK and takes 3 hours and 15 minutes, while the ride from Aarhus to Aalborg starts at 500 DKK and takes about 2 hours. From Copenhagen to Berlin, the 7-hour ride starts at around 1,000 DKK.
Flying – Denmark is a small country so domestic flights are unnecessary. You can travel by train from Copenhagen to Aarhus in 3 hours. A flight will be just 35 minutes, however, once you add on getting to and from the airport it doesn't save any time (and a flight will cost you over 1,200 DKK — four times more expensive than the train!).
Car rental – If you're staying a while in Denmark and doing a lot of city-hopping, a car is likely a cheaper alternative to buses and trains. You can find rentals for as little as 130 DKK per day. To rent a car in Denmark, you need to be 19 and have had your license for at least one year. For the best car rental prices, use Discover Cars.
Bicycle – Cycling is huge in Denmark. Bikes can be rented for around 120 DKK per day. Helmets are not included and cost 40 DKK extra. In Copenhagen, Bycyklen (the city's bike-share program) costs 1 DKK per minute and has over 130 stations around the city. Every city has bike lanes and is cyclist-friendly.
Hitchhike – Hitchhiking in Denmark is easy (albeit uncommon). Since most of the population speaks English you won't have a hard time communicating. Having your destination written on a sign will go a long way to help you secure a ride, as will showing a flag of where you're from (people are more likely to pick up visitors). Check out Hitchwiki for more information.
When to Go to Denmark
Since Denmark is a peninsula and also has a few islands, the temperature is heavily influenced by the sea. Summers are mild and winters are cold. As with the rest of Scandinavia, expect long days in the summer and extra darkness in winter.
Winters hover around 0°C (32°F), so dress warmly. Sunset is around 3pm so pack in as many outdoor activities as you can during the day if you plan on going then. While not the best time to visit, there is still plenty to do and prices will be cheap.
July and August are the most popular times to visit. Temperatures sit around 22°C (72°F) so the weather is perfect for outdoor activities and urban exploring. Book in advance if you visit during this time (especially in Copenhagen) as things can sell out. Expect prices to be a little higher during the summer as well.
The best time to visit is in the shoulder season. The late spring and early autumn both offer decent weather with fewer crowds. It might rain a little, but you'll find prices to be cheaper.
How to Stay Safe in Denmark
Denmark is a safe place to backpack and travel — even if you're traveling solo. Denmark is the 5th safest country in the world so violent incidents are rare. Your only real concern is petty theft – and that is also really uncommon. Keep your valuables secure and out of reach just to be safe though (it's good to do that anywhere).
Solo female travelers should feel safe here for all those reasons. However, the standard precautions you take anywhere apply here too (never leave your drink unattended at the bar, never walk home alone intoxicated, etc.). There are numerous solo female travel blogs that can provide more specific tips.
While cannabis used to be openly sold in Freetown Christiania, an intentional community in Copenhagen, since a shooting in 2016, the trade has been more or less forced out of sight. Avoid buying drugs here and make sure you do not take photos of anyone using or selling drugs either. You'll get your camera broken by angry locals if you do.
Scams here are rare, however, if you're worried about getting ripped off you can read about common travel scams to avoid here.
If you experience an emergency, dial 112 for assistance.
Remember to always trust your gut instinct. Avoid isolated areas at night, and be aware of your surroundings at all times. Make copies of your personal documents, including your passport and ID.
The most important piece of advice I can offer is to purchase good travel insurance. Travel insurance will protect you against illness, injury, theft, and cancellations. It's comprehensive protection in case anything goes wrong. I never go on a trip without it as I've had to use it many times in the past. You can use the widget below to find the policy right for you:
Denmark Travel Guide: The Best Booking Resources
These are my favorite companies to use when I travel. They consistently have the best deals, offer world-class customer service and great value, and overall, are better than their competitors. They are the companies I use the most and are always the starting point in my search for travel deals.
Skyscanner – Skyscanner is my favorite flight search engine. They search small websites and budget airlines that larger search sites tend to miss. They are hands down the number one place to start.
Hostelworld – This is the best hostel accommodation site out there with the largest inventory, best search interface, and widest availability.
Booking.com – The best all around booking site that constantly provides the cheapest and lowest rates. They have the widest selection of budget accommodation. In all my tests, they've always had the cheapest rates out of all the booking websites.
HostelPass – This new card gives you up to 20% off hostels throughout Europe. It's a great way to save money. They're constantly adding new hostels too. I've always wanted something like this and glad it finallt exists.
Get Your Guide – Get Your Guide is a huge online marketplace for tours and excursions. They have tons of tour options available in cities all around the world, including everything from cooking classes, walking tours, street art lessons, and more!
The Man in Seat 61 – This website is the ultimate guide to train travel anywhere in the world. They have the most comprehensive information on routes, times, prices, and train conditions. If you are planning a long train journey or some epic train trip, consult this site.
Rome2Rio – This website allows you to see how to get from point A to point B the best and cheapest way possible. It will give you all the bus, train, plane, or boat routes that can get you there as well as how much they cost.
FlixBus – Flixbus has routes between 20 European countries with prices starting as low 5 EUR! Their buses include WiFi, electrical outlets, a free checked bag.
SafetyWing – Safety Wing offers convenient and affordable plans tailored to digital nomads and long-term travelers. They have cheap monthly plans, great customer service, and an easy-to-use claims process that makes it perfect for those on the road.
LifeStraw – My go-to company for reusable water bottles with built-in filters so you can ensure your drinking water is always clean and safe.
Unbound Merino – They make lightweight, durable, easy-to-clean travel clothing.
Top Travel Credit Cards – Points are the best way to cut down travel expenses. Here's my favorite point earning credit cards so you can get free travel!
Denmark Travel Guide: Related Articles
Want more info? Check out all the articles I've written on Europe travel and continue planning your trip: