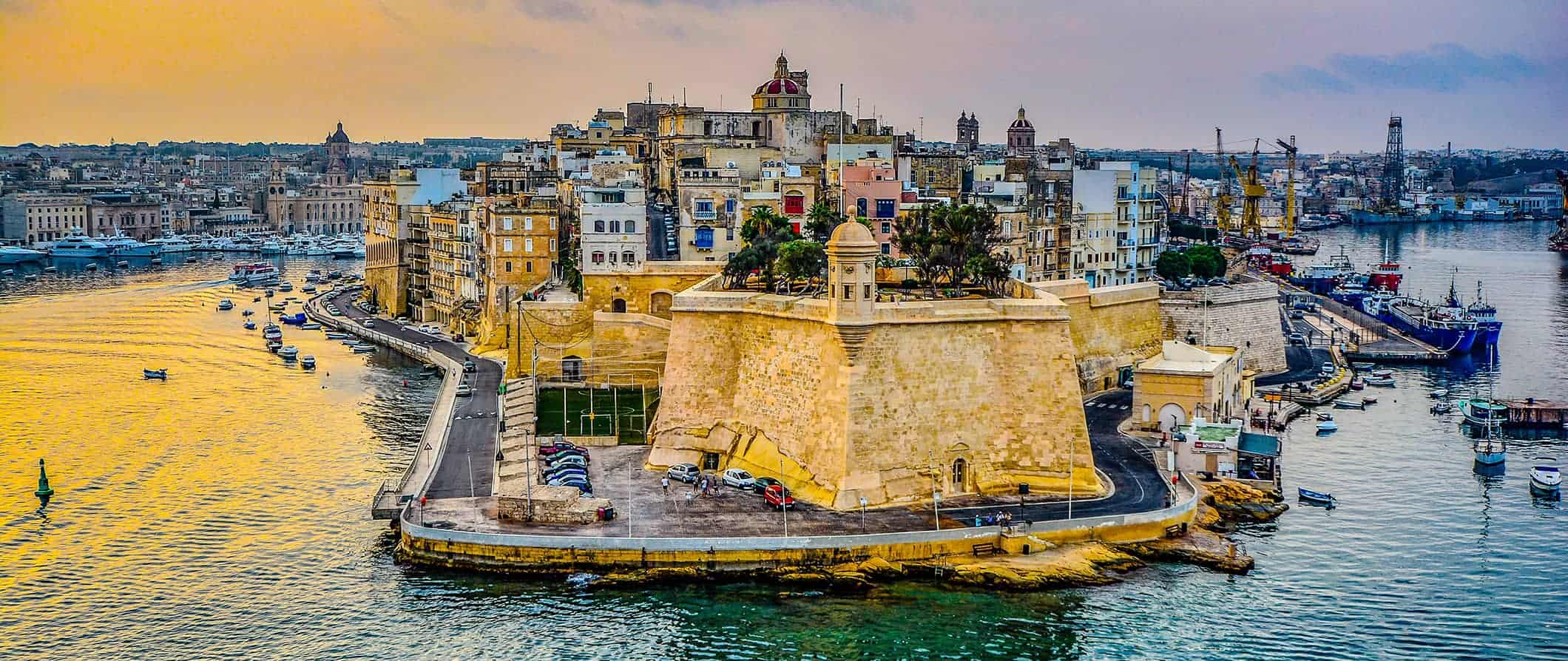 Malta is one of those countries that usually gets passed over, often because most people forget that it exists! Having been annexed by countless other countries, Malta offers visitors an interesting cultural blend. As you explore, you'll notice the Italian, English, and North African elements in the food, language, culture, and architecture. The country has seen a resurgence in tourism in the last few years (those British retirees were on to something!) thanks to amazing warm weather and crazy cheap prices. I loved my time in Malta – the friendly people, medieval cities and castles, weather, and decaying but charming cities. With easy flights from the mainland, this is country not to be missed!
Top 5 Things to See and Do in Malta
1. Explore Valletta
Walk the fortifications, visit St. John's Co-Cathedral, the history museum, a plethora of churches, the National War Museum, wander the narrow roads and alleys, or relax at one of the many cafes. There's also an underground tour where you can explore catacombs that were turned into a secret military base during WW2 and the Cold War!
2. Wander Mdina
Mdina is a fortified city, surrounded by towering walls, and served as the original capital of the country. The city is small so it won't take long to wander around. There's a great wine bar in town too. Be sure to visit the nearby catacombs and ancient Roman house. And don't miss the Knights of Malta museum if you want a weird (but interesting) experience!
3. Hike a coastal trail in Gozo
It has a few different routes around the island, including their difficulty and approximate duration. If you can only do one, hike from Marsalforn to the (sadly now gone) Azure Window. You'll get to pass all the traditional salt pans that line the coast. You can get a map from the tourist office in Rabat/Victoria.
4. The Tarxien Temples
Located near Valletta, this UNESCO heritage site dates back to 3150 BCE. The temples were used for rituals, which may have included animal sacrifices and cremations. While mostly ruins and rubble, it's a wonderful way to learn about the history of the island. Admission is 6 EUR for adults and 4.50 EUR for students and seniors.
5. Relax on a beach
If you're visiting in the summer, be sure to schedule in some time for the beaches. Golden Bay, Mellieha Bay, Peter's Pool, and Paradise Bay are all great places to soak up some rays under the hot Maltese sun.
Other Things to See and Do
(Click the title to expand the text)
1. Attend the Carnival
Malta throws its own version of Carnivale every February. Celebrations are held all around the island, with parades, dancing, and costumes. Much of the population heads to Gozo for the weekend, so be sure to plan ahead as public transportation during that time can be a nightmare (more so than usual!).
2. Cruise around the island
If you want to get a different view of the island take a ride around the coast. You can hire a boat to show you around for about 25 EUR.
3. Explore the Citadel
This fort was built by the British in Rabat/Victoria. It's free to enter and explore, with lots of little shops hidden down the alleys. The fort offers a great view of the city and surrounding area, making it a good place to come at sunset.
4. Go diving
Malta isn't known as a diving destination, yet the island is surrounded by a plethora of shipwrecks that make for great explorations. The water in many places is also incredibly clear, making it a prime diving hub. A single tank boat dive will cost around 45 EUR.
5. Hit the road
If your driving chops are up to par, try renting a car and getting off the beaten path. There are lots of winding and remote places to explore, and a car will give you the absolute freedom to do as you please. Considering the island is so small, you can just spend the day exploring the aging and decrepit towns that dot the island. Just know that drivers here tend to be on the aggressive side!
6. Lower and Upper Barrakka Gardens
Located in Valletta, I love these gardens. They overlook the harbor, make a great place to watch the comings and goings of people and boats, and are relaxing. Bring a book or a snack, grab a spot on a bench, and watch the world go by. The lower gardens are a lot quieter and the ones I prefer the most! Plus it has a cool temple in the center!
7. St. Paul's Catacombs
Located near Mdina, these underground tunnels were used by the Romans as cemeteries up until the 4th century. Here you'll find the earliest evidence of Christianity on Malta, making the catacombs a great activity for any history buff. Admission is 5 EUR for adults and 3.50 EUR for students and seniors.
8. Visit the Hypogeum
While it's presently closed for renovations, this is one of Malta's most popular historical attractions. A UNESCO World heritage site, the Hypogeum was carved over 5,000 years ago and is an ancient temple/burial site. It is so popular during the summer time you need to book your tickets up to 4 weeks in advance! Admission is 30 EUR for adults and worth every penny.
9. Visit the Blue Lagoon
This is arguably the best (and most popular) beach in Malta. It's situated between Comino and Cominotto (which is between the main island and Gozo). There is regular ferry service from Malta, however, if you want to visit from Gozo you will need to take a private boat. It can get incredibly busy here on the weekend, so be sure to come early to stake out a good spot. There's plenty of other beaches around the island you can visit without a crowd though!
10. Marsaxlokk fish market
This market happens every Sunday morning. It's a bit touristy and gets quite crowded but it's the best place for freshly caught fish. You can find lots of other items such as fresh produce, honey, and other local goods here too. There are plenty of restaurants around too.
11. Explore Popeye Village
What started out as the film set for the 1980 Popeye musical is now a large tourist attraction. You can explore the village, watch a documentary about its creation, and even play mini golf. When the weather is nice they offer boat rides around the area. Admission is 10.50 EUR.
12. Gozo Salt Pans
Lining the coast of Gozo, these salt pans have been in use for over 350 years. The traditional methods of harvesting salt have been passed down for generations, and even to this day, you'll find locals engaged in harvesting the crystals.
13. Visit the Three Cities
These cities are largely unvisited, making them great places to soak up regular life in Malta. Vittoriosa, Senglea, and Cospicua have been inhabited more or less since people arrived on the island. The Three Cities were also the original home of the Knights Hospitallers. If you're there during Easter, don't miss their incredible parade!
Typical Costs
Accommodation
– Hostels can be found just outside the capital in St. Julian's and Sliema. Expect to pay between 9-18 EUR per night for a basic 8-10 bed dorm. Free WiFi is standard, and a few hostels also offer free breakfast. You can book your hostel with
Hostelworld
. If you want a private room, you're better to book a budget hotel or Airbnb as you'll get more value for your money. Budget hotels start around 40 EUR per night for a twin or double. In addition to basic amenities like free WiFi, many budget hotels also offer free airport shuttles or have pools. Use
Booking.com
as they consistently return the cheapest rates.
Airbnb
is a great option all around the island, as you can find entire homes/apartments for as little as 35 EUR. During the high summer months, expect prices to be about 50-100% higher, especially in July!
Food – It's easy to find cheap food in Malta, whether from small restaurants or the grocery store. You can find pastizzi's (a savory, filled pastry) everywhere for around 2 EUR. You can find fresh bread, cheese, and meats at the grocery stores for just a few euro's. A simple meal at a restaurant or cafe will cost around 12 EUR, while a nicer meal at a mid-range place with a drink will cost closer to 25 EUR. Some of my favorite restaurants were Rising Sun, Loli, The Grassy Hopper, and Suruchi. Keep in mind that the water isn't potable in Malta (it won't kill you but it's very treated so tastes terrible), so you'll need to buy water during your stay. A pack of 6 1L bottles usually costs around 2 EUR. If you plan on cooking your own food, expect to spend between 40-60 EUR per week on groceries.
Transportation – Public buses go everywhere, and a single fare is 1.50 EUR in the winter and 2 EUR in the summer. Just keep in mind that they fill up fast, so it's very likely that you will have to stand for your trip. They also can be infrequent and pass by stops without warning, so if you are taking the bus make sure you have lots of extra time! The hop on, hop off bus is 10 EUR in the off-season and closer to 20 EUR in the summer. Car rentals will cost around 40 EUR per day. Taxis start at 10 EUR. The ferry to Gozo is around 5 EUR, while the ferry from Malta to Italy is 74 EUR for adults, 54 EUR for children (one way).
Activities – There are lots of free activities in Malta, such as hitting the beach, exploring the churches, or going for a hike. You can also hire a boat to take you around the island for 25 EUR. Most museums are around 5 EUR. There is actually some pretty great diving in Malta. A single dive will cost around 45 EUR. If you want to explore the island by bicycle, you can rent a bike for 15 EUR per day.
Suggested daily budget
30-50 EUR (35-55 USD) (Note: This is a suggested budget assuming you're staying in a hostel, eating out a little, cooking most of your meals, doing lots of free activities, keeping your drinking to a minimum, and using local transportation. Using the budget tips below, you can always lower this number. However, if you stay in fancier accommodation or eat out more often, expect this to be higher!)
Money Saving Tips
Visit during the off-season – Malta gets very crowded in the summer, and prices tend to rise. If you want to save money and have a less hectic visit, come during the off-season.
Cook your own meals – While restaurants aren't overly expensive, eating out every day will add up. Try cooking your own meals to save some money. There are plenty of small shops and larger supermarkets where you can grab basic staples for cheap.
Get the Malta Pass – This tourism card will give you free entry to the top 40 attractions, making it worthwhile for anyone who plans on visiting a lot of sites. It also includes a free sightseeing bus (which is worth 20 EUR itself) You can get a 1, 2, or 3-day pass for 25, 40, and 50 EUR respectively.
Take a free walking tour – There are a few tour companies in Valletta, such as Colour My Travel, who offer free walking tours. You'll get to explore the area and learn about the local culture, history, and architecture. It's a great introduction to Malta and definitely worth doing. Just be sure to tip!
My Must Have Guides For Traveling to Malta