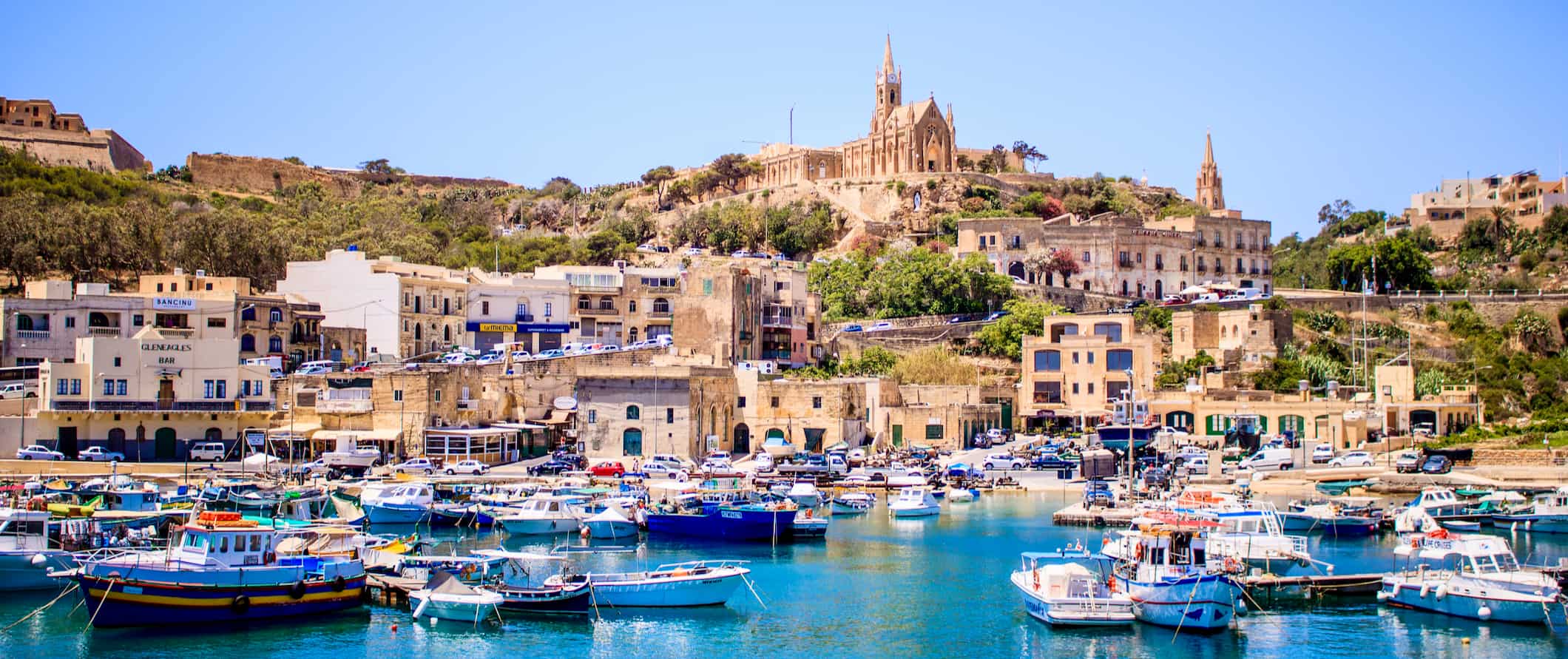 Malta is one of those countries that usually gets passed over by travelers. It's a popular summer destination for Europeans but, for everyone else, it's mostly ignored for other places in Europe.
While the country has seen a surge in tourism in the last few years (those British retirees were on to something!), it's still pretty under the radar for most people.
Those folks are missing out. I loved my time in Malta. The tiny island nation boasts friendly people, ancient medieval towns and castles, warm weather, awesome food. and charming (if a bit dated) cities.
Owing to its unique position between Africa and Europe, Malta offers visitors an interesting cultural blend. As you explore, you increasingly notice the Italian, English, and North African elements in the food, language, culture, and architecture.
To top it all off, it's relatively cheap compared to mainland Europe and the beaches and seafood here are excellent.
This travel guide to Malta can help you save money and plan an epic trip here.
Top 5 Things to See and Do in Malta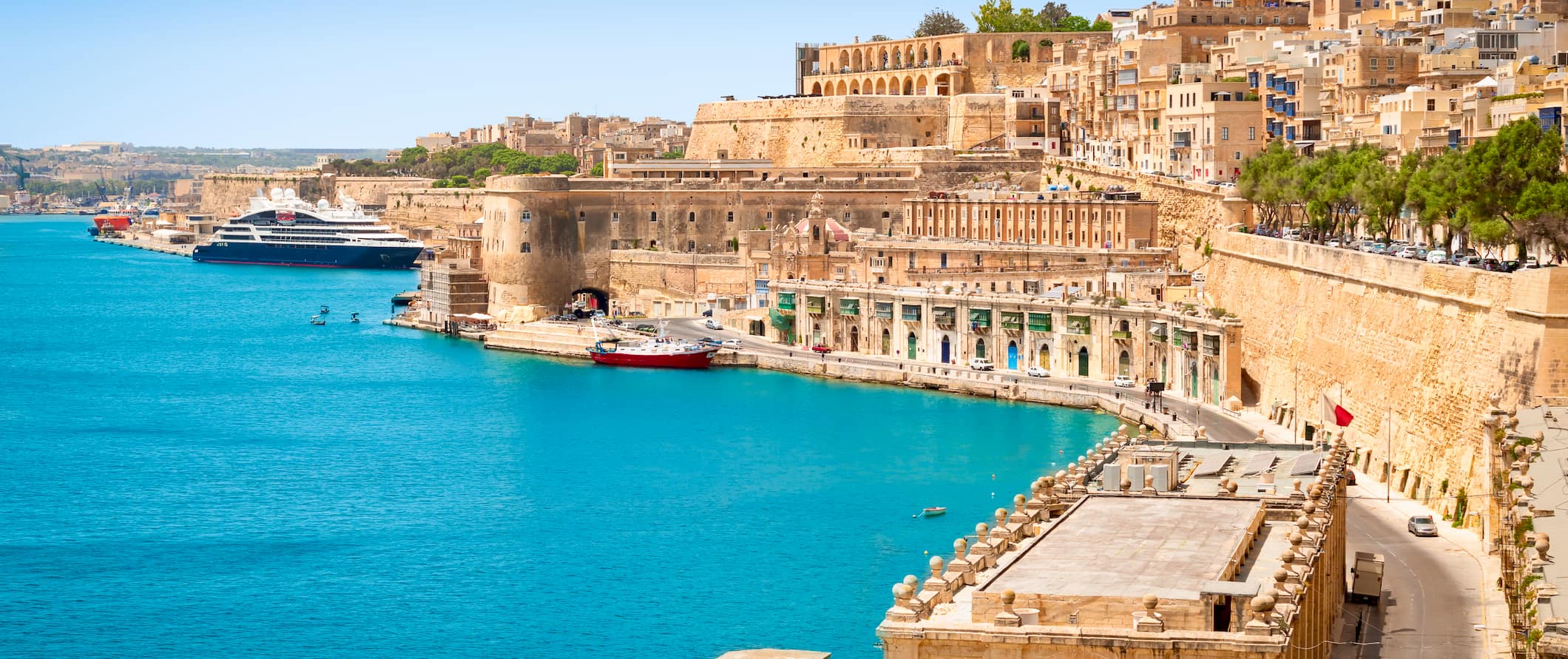 1. Explore Valletta
For Europe's smallest capital, Valletta packs a big punch: it's a UNESCO World Heritage Site with over 300 monuments. Needless to say, there's plenty to see here! Walk the fortifications, wander around St. John's Co-Cathedral, visit the history museum and the National War Museum, admire the plethora of churches, and dine out on the historical waterfront. Don't miss the catacombs that were turned into a secret military base during World War II and the Cold War. Walking tours of Valletta last 3 hours and cost 18 EUR. One of the best things to do though is to just to stroll the narrow roads and alleys and let yourself get lost.
2. Wander Mdina
Mdina is a fortified city and served as the original capital of the country. Like Valletta, it has a beautiful cathedral to visit and lots of old backstreets and passageways to explore. Be sure to visit the nearby catacombs and ancient Roman houses while you're here. And don't miss the Knights of Malta museum if you want a quirky and outdated experience (I don't think this museum has been updated in decades!). For a super unique experience, there's also the Dungeons Museum where they have recreated scenes from Malta's long history (note: some of the scenes depict episodes of torture and crucifixion). Admission is 5 EUR. To learn more about the city, take a walking tour of Mdina. They last two hours and cost 15 EUR.
3. Hike a coastal trail in Gozo
The coastal trails in Gozo offer a few different routes around the island for anyone looking to stretch their legs while enjoying the stunning panoramic views. All of the walks combine getting back to nature with a bit of exploring history as they take you through some amazing flora and fauna as well as charming towns and villages. If you can only do one, hike from Marsalforn to the (sadly now gone) Azure Window. Keep your eyes peeled for all the traditional salt pans in Xwejni that have been used to harvest salt over the centuries.
4. See the Tarxien Temples
Located near Valletta, this complex is made up of 4 megalithic structures. It's a UNESCO World Heritage Site and dates back to 3150 BCE. The temples were used for rituals, which may have included animal sacrifices and cremations and some of the walls still have prehistoric artwork on them including bas-relief sculptures and friezes depicting animals and spirals. While mostly ruins and rubble, it's one of the best ways to learn about the history of the island. Admission is 6 EUR and the Tarxien Temples App has audio guides you can use to navigate your way around. You can also splash out on a private archeology tour if you really want to learn more.
5. Relax on the beach
If you're visiting in the summer, be sure to schedule some time for the beaches. Golden Bay, Mellieha Bay, and Peter's Pool are all great places to soak up some rays. Paradise Bay and Armier, on the northern tip, have great views of the island of Gozo. If you have time to get there, the beaches in Gozo are great and don't get quite as busy as the main beaches in Malta. There's not always much shade so take plenty of sunscreen and water (although most have at least one place you can buy drinks and snacks). Whichever beach you go to, be sure to arrive early so you can beat the crowds.
Other Things to See and Do in Malta
1. Attend the Carnival
Malta throws its own version of Carnival every February — and has been doing so for over 500 years! Celebrations are held all around the island during the week leading up to Ash Wednesday, with parades, dancing, and costumes. Much of the population heads to Gozo for the weekend, so be sure to plan ahead as public transportation during that time can be a nightmare (more so than usual). Book your accommodation in advance too!
2. Cruise around the island
If you want to get a different view of the island, take a ride around the coast. Tours usually stick to a certain region of the island and the more expensive trips include lunch. They cost from 20-30 EUR, last between 4-8 hours, stop off at a few beaches, and highlight some of the many shipwrecks around the country. Get Your Guide has a great full-day tour that covers all the highlights.
3. Explore the Citadel
This fort was built by the British in Rabat/Victoria (this is the Rabat on the island of Gozo, not to be confused with Rabat on the main island of Malta). Known as the Cittadella or the Castello, it was built in the 16th century, though fortifications that have been found in this spot go back over 2,000 years (the area was settled in the Bronze Age). It's free to enter and explore, with lots of little shops hidden down the alleys. The fort offers a great view of the city and surrounding area, making it a good place to come at sunset.
4. Go diving
Malta isn't known as a diving destination, yet the island is surrounded by a plethora of shipwrecks that make for some great diving expeditions. The water in many places is incredibly clear so you have excellent visibility as you explore. Some of the most popular dive sites are the Um El Faroud oil tanker (it was sunk intentionally to act as a reef), the Double Arch cave in Gozo, and the Blue Hole (also in Gozo). You can also dive to see the fallen Azure Window (a famous rock formation that collapsed in 2017). A two-dive package starts around 90-120 EUR per person.
5. Hit the road
Most tourists who visit Malta never stray far from Valletta. If you want to really see the country, rent a car. There are lots of remote places to explore in Malta and a car gives you the freedom to do so. Considering the island is so small, you can just spend the day exploring the aging and decrepit towns that dot the island. You can find car rentals for as little as 20 EUR per day so it's an affordable choice if you want to get away from the crowds and see the country beyond Valletta.
6. Relax in the Lower and Upper Barrakka Gardens
I love these gardens. Located in Valletta, they overlook the harbor and make a great place to watch the comings and goings of people and boats. They were created in 1661 as the private grounds for some of the knights that resided here. They were opened to the public in 1824 and are a relaxing nook of the city. Bring a book or a snack, grab a spot on a bench, and watch the world go by. Don't miss the Siege Bell Memorial, which was built in 1992 to commemorate the 7,000 people who lost their lives during the Siege of Malta in World War II (the bells chime daily at noon).
7. Explore St. Paul's Catacombs
Located near Mdina, these underground tunnels were used by the Romans as cemeteries up until the 4th century (and possibly as late as the 7th century). They were built in the 3rd century and are composed of over 30 different areas, 20 of which are open to the public. In the Middle Ages, the catacombs were used for religious worship, though they later just became storage areas until their re-discovery in the 1980s. Admission is 6 EUR.
8. Visit the Hypogeum
This is one of Malta's most popular historical attractions. A UNESCO World Heritage Site, the Hypogeum was carved over 5,000 years ago and was an ancient temple/burial site in the Neolithic Age (over 7,000 bodies have been found here). It's really cool and the displays provide lots of detailed descriptions and context. It is so popular during the summertime (and into the autumn) you need to book your tickets up to four weeks in advance. Admission is 35 EUR and includes a guided tour. It's one of the best-preserved historical sites in the country and worth every penny. It's just 15 minutes south of Valletta by car.
9. Visit the Blue Lagoon
The Blue Lagoon is situated between Comino and Cominotto (i.e. between the main island and Gozo) and is the most iconic beach in the country. It can get incredibly busy here on the weekend, so be sure to come early to stake out a good spot. There is a regular ferry service from Malta, however, if you want to visit from Gozo you need to take a private boat. It takes about 45 minutes to drive to the ferry from Valletta. Half-day catamaran trips to the Blue Lagoon cost from 40 EUR.
10. See the Marsaxlokk fish market
This market happens every Sunday morning. It's a bit touristy and gets quite crowded but it's the best place to buy fresh fish. You can find lots of other items such as fresh produce, honey, and other local goods here too. There are plenty of restaurants around (though you should expect to pay tourist prices here). Marsaxlokk is on the southern tip of the main island, about 25 minutes away from Valletta by car.
11. Explore Popeye Village
What started out as the film set for the quirky 1980 Popeye musical starring Robin Williams is now a large tourist attraction. You can explore the village, watch a documentary about its creation, and even play mini-golf. When the weather is nice they offer boat rides around the area. Off-peak admission is 14 EUR while peak-season admission is 20 EUR.
12. See the Gozo Salt Pans
Lining the coast of Gozo, these salt pans have been in use for over 350 years. The traditional methods of harvesting salt have been passed down for generations, and even to this day you can find locals engaged in harvesting the crystals. There is salt for sale in shops all around the island (it's a great souvenir to take home).
13. Visit the Three Cities
Vittoriosa, Senglea, and Cospicua trace their origins back to the Middle Ages and have been inhabited more or less since people arrived on the island. The Three Cities were also the original home of the Knights Hospitallers (a Catholic military order known as the Knights of Malta) and feature a lot of wonderful architecture and history. They aren't as visited as other destinations on the island so it can be a good way to get away from the crowds. They're just across the water from Valletta. Half-day tours of the Three Cities cost 35 EUR.
Malta Travel Costs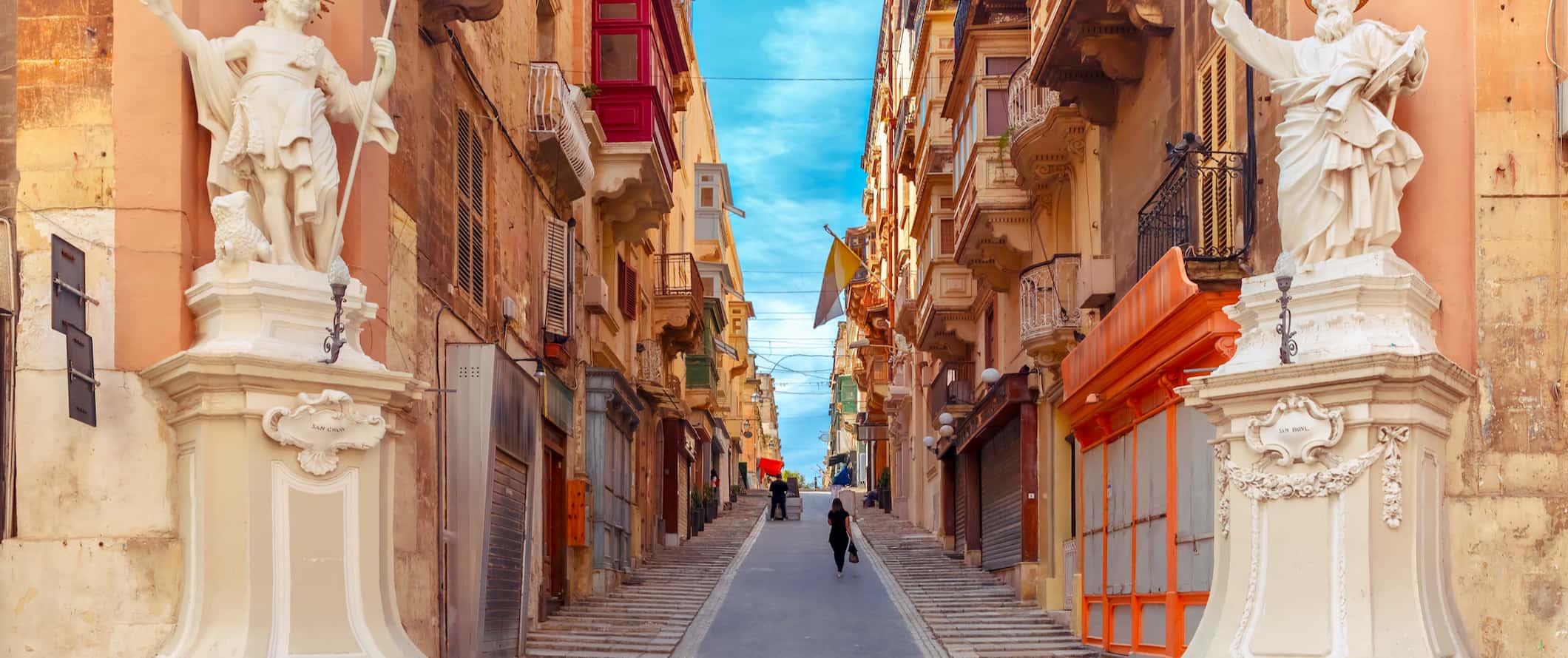 Accommodation – Hostels outside the capital in St. Julian's and Sliema cost 10-20 EUR per night for an 8-10-bed dorm. In Valletta, they cost around 25 EUR per night. Free Wi-Fi is standard, and a few hostels also offer free breakfast. If you want a private room, you're better to book a budget hotel or Airbnb as you get more value for your money.
Budget hotels start at 35 EUR per night for a twin or double. In addition to basic amenities like free Wi-Fi, offer free airport shuttles or have pools. Some include free breakfast as well.
Airbnb is available all around the island and you can find entire homes/apartments for as little as 35 EUR (although there are more options in the 60-80 EUR range). Private rooms start at around 25 EUR. Most listings are around Valletta, Sliema and St Julian's and in the south of Gozo. During the high summer months, expect prices to be about 50-100% higher, especially in July. If you're visiting in the summer, book early.
Food – Malta has been conquered by many different countries over the centuries so it has a rather unique culinary history. Most of the food has strong Italian influences, though North Africa and Britain also play a culinary role. Rabbit stew (stuffat tal-fenek) is considered the national dish. Seafood is also common (it's an island after all), with lampuki (mahi-mahi) being one of the main staples. Fish pie is a popular dish, as is kapunata, a Maltese version of ratatouille.
For food on the go, you can find pastizzi (a savory filled pastry) everywhere for less than 1 EUR. Fresh bread, cheese, and meats at the grocery store cost just a few euros if you want to make a simple lunch on the fly.
A meal of traditional cuisine at a restaurant or cafe costs around 15 EUR, while a multi-course meal at a mid-range restaurant with a drink and table service costs closer to 35 EUR. Fast food (think McDonald's) costs around 8.75 EUR for a combo meal (yes, there are McDonald's here).
Beer costs around 3 EUR (half that if you buy it at a grocery store) while a bottle of water costs 1.20 EUR. A latte/cappuccino is around 2.30 EUR.
If you plan on cooking your own food, expect to spend between 30-50 EUR per week on groceries. This gets you basic staples like pasta, rice, seasonal vegetables, and some meat or seafood.
Two of my favorite restaurants were Rising Sun and Suruchi.
Backpacking Malta Suggested Budgets
On a backpacker budget of 45 EUR per day, you can stay in a hostel dorm, cook all your meals, use public transportation to get around, limit your drinking, and do free or cheap activities like hitting the beach or visiting a museum.
On a mid-range budget of 115 EUR per day, you can stay in a private Airbnb, cook most meals and eat out occasionally at cheap fast food joints, enjoy a few drinks, rent a car to get around, and do more paid activities like boat tours or museum visits.
On a "luxury" budget of 245 EUR per day you can stay in a hotel, drink as much as you'd like, eat out anywhere you want, rent a car to get around, and do more activities like scuba diving and visiting Popeye Village. This is just the ground floor for luxury though. The sky is the limit!
You can use the chart below to get some idea of how much you need to budget daily. Keep in mind these are daily averages – some days you spend more, some days you spend less (you might spend less every day). We just want to give you a general idea of how to make your budget. Prices are in EUR.
Accommodation
Food
Transportation
Attractions
Average Daily Cost
Backpacker
15
10
10
10
45
Mid-Range
50
25
20
20
115
Malta Travel Guide: Money-Saving Tips
Malta is one of the more affordable destinations in Europe but, during the summer months, it gets really expensive. To help you stick to your budget, here are some money-saving tips and tricks for visiting Malta:
Visit during the off-season – Malta (or at least Valletta) gets crowded in the summer and prices tend to rise (cruises stop here). If you want to save money and have a less hectic visit, visit during the off-season.
Cook your own meals – While restaurants aren't overly expensive, eating out every day adds up. Try cooking your own meals to save some money. There are plenty of small shops and larger supermarkets (like Lidl) where you can grab basic staples for cheap.
Avoid supermarket produce – A lot of produce at the supermarket is imported (and thus more expensive). Search out local vendors who sell their produce at the side of the road or at small stalls in town. It's cheaper and fresher!
Get the Malta Pass – This tourism card provides free entry to Malta's top 40 attractions, making it worthwhile for anyone who plans on visiting a lot of sites. It also includes a free sightseeing bus (which is worth 20 EUR itself). You can get a 1-, 2-, or 3-day pass for 50 EUR, 80 EUR, or 100 EUR respectively. Buy it online before you go for the best price.
Take a free walking tour – There are a few tour companies in Valletta, such as Colour My Travel, who offer free 1.5-hour walking tours. You get to explore the area and learn about the local culture, history, and architecture from a local expert. It's a great introduction to Malta and definitely worth doing. Just be sure to tip!
Skip the taxis – Taxis in Malta are not cheap. Avoid them as much as possible. If you do need to use them, get the eCab app. It ensures you get a reputable and reliable taxi (they are good for short distances while taxis are likely cheaper for longer journeys).
Bring a water bottle – The tap water here is safe to drink (though it tastes a little off). Bring a reusable water bottle to save money and reduce your plastic use. LifeStraw is my go-to brand as their bottles have built-in filters to ensure your water is always clean and safe.
Where to Stay in Malta
While hostels aren't plentiful, you can find them around Valletta. Here are my recommended places to stay:
How to Get Around Malta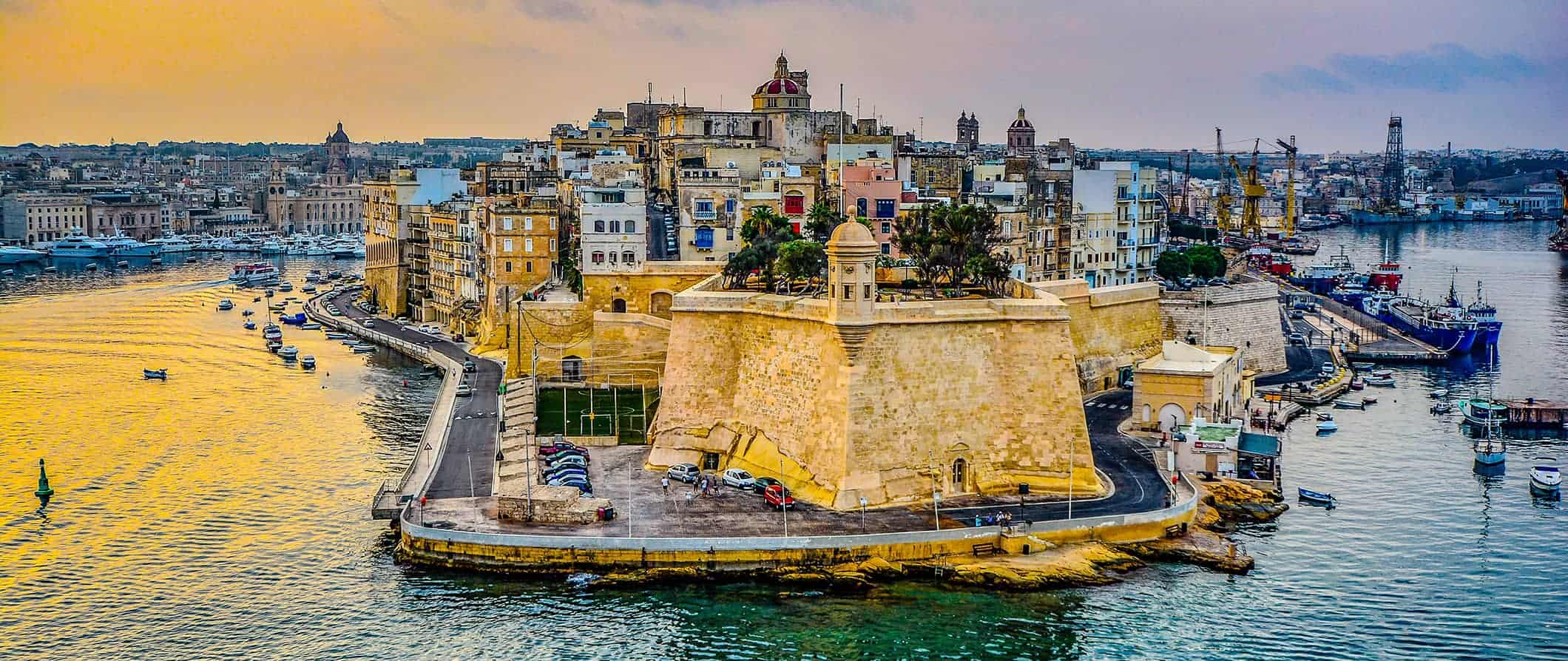 Public transportation – Public buses go pretty much everywhere in Malta (albeit not regularly). A single fare is 2 EUR during the day and 3 EUR at night. Just keep in mind that they fill up fast so you might have to stand for your trip. They also can be infrequent and pass by stops without warning if they're full, so if you are taking the bus make sure you have lots of extra time!
In addition to the public buses, there are also hop-on/hop-off buses that have different routes around the country. These routes cover all the major sites on both islands (Valletta, St. Julian's, Popeye Village, the former Azure Window, etc.). A day pass for a single route costs 22 EUR with Hello Malta or 15 EUR with City Sightseeing. I'd skip this and just use the public bus.
Ferry – The ferry to Gozo costs 4.65 EUR and takes 25 minutes. Be sure to arrive in advance as it fills up fast. The ferry from Malta to Italy takes less than 2 hours and costs 50-80 EUR (depending on the time of year) EUR for a one-way ticket to Sicily.
Bike – You can rent bikes for around 12 EUR per day, though I'd be extra careful cycling outside of Valletta. Drivers here are aggressive and the roads are quite narrow.
Taxi – Taxis start at 5 EUR and cost around 2 EUR per kilometer. There are no Uber or Lyft here but you can download the eCab app as an alternative. It's usually cheaper than taxis for short distances. However, if you're on a budget, it's best to just avoid taking them.
Flying – Flights from Malta to and from mainland Europe can be found for as little as 45 EUR if you book early. Ryanair is the most budget-friendly airline that flies to Malta so they are your best choice if you're on a budget. Flights to and from Morocco and North Africa can be found for as little as 55 EUR per person (again, if you book early and are flexible). There are no domestic flights around Malta.
Car rental – Car rentals cost between 20-25 EUR per day for a small car. Just keep in mind that the cheapest rentals are manual transmissions so you need to be able to drive stick if you want to get around. The drivers here are also very aggressive and tend to see the rules of the road as suggestions rather than laws. Renters need to be at least 21 years old.
For the best car rental prices, use Discover Cars.
Hitchhiking – Hitchhiking in Malta is not recommended, simply because people just don't stop. If you do want to try your hand at it, check out Hitchwiki for tips and information.
When to Go to Malta
The best time to visit Malta is from June to August. The weather is the warmest then, with daily temperatures around 31°C (88°F). Not surprisingly, this is also the busiest time of the year so expect crowds and higher prices.
In August, as in much of Europe, many locals leave for their own summer holidays. A lot of shops and restaurants close, which can crowd the remaining places even more. But the weather is perfect and most tourist attractions stay open.
The shoulder months of April-May and September-October offer a nice compromise of decent weather and fewer crowds. Expect temperatures around 25°C (77°F).
The winter in Malta is chilly, with temperatures dropping to 10-15°C (48-60° F) — sometimes colder. Aside from attractions closing for Christmas, everything is open though some bus schedules change to reflect the lower number of visitors in the country. In short, it's a perfect time to visit as long as you aren't looking to hit the beach and don't mind some windy sweater weather.
How to Stay Safe in Malta
Malta consistently ranks as one of the safest countries in the world. Crime is rare, though it's always a good idea to keep your wits about you. Petty theft can still occur so always keep your valuables tucked away and be mindful of your things while on crowded public transportation or while swimming at the beach.
When swimming, make sure you only swim in areas where there are other swimmers around. Riptides are common so it's best to avoid secluded beaches unless you can be sure that it's safe. Never swim when the sea is rough and never swim alone.
Drivers in Malta are on the aggressive side so take extra precautions when crossing roads, cycling, or renting a car. When taking a taxi, always wear your seatbelt.
Solo female travelers should generally feel safe here, however, the standard precautions apply (never leave your drink unattended at the bar, never walk home alone intoxicated, etc.).
If you're out hiking in the spring or autumn, be aware that it is hunting season (just for small birds).
If you rent a car, don't leave any valuables in it overnight. Break-ins are rare but it's always better to be safe than sorry.
Scams here are very rare here but you can read about common travel scams to avoid here.
If you experience an emergency, dial 112 for assistance.
The most important piece of advice I can offer is to purchase good travel insurance. Travel insurance protects you against illness, injury, theft, and cancellations. It's comprehensive protection in case anything goes wrong. I never go on a trip without it as I've had to use it many times in the past. You can use the widget below to find the policy right for you:
Malta Travel Guide: The Best Booking Resources
These are my favorite companies to use when I travel. They consistently have the best deals, offer world-class customer service and great value, and overall, are better than their competitors. They are the companies I use the most and are always the starting point in my search for travel deals.
Skyscanner – Skyscanner is my favorite flight search engine. They search small websites and budget airlines that larger search sites tend to miss. They are hands down the number one place to start.
Hostelworld – This is the best hostel accommodation site out there with the largest inventory, best search interface, and widest availability.
Booking.com – The best all around booking site that constantly provides the cheapest and lowest rates. They have the widest selection of budget accommodation. In all my tests, they've always had the cheapest rates out of all the booking websites.
HostelPass – This new card gives you up to 20% off hostels throughout Europe. It's a great way to save money. They're constantly adding new hostels too. I've always wanted something like this and glad it finallt exists.
Get Your Guide – Get Your Guide is a huge online marketplace for tours and excursions. They have tons of tour options available in cities all around the world, including everything from cooking classes, walking tours, street art lessons, and more!
The Man in Seat 61 – This website is the ultimate guide to train travel anywhere in the world. They have the most comprehensive information on routes, times, prices, and train conditions. If you are planning a long train journey or some epic train trip, consult this site.
Rome2Rio – This website allows you to see how to get from point A to point B the best and cheapest way possible. It will give you all the bus, train, plane, or boat routes that can get you there as well as how much they cost.
FlixBus – Flixbus has routes between 20 European countries with prices starting as low 5 EUR! Their buses include WiFi, electrical outlets, a free checked bag.
SafetyWing – Safety Wing offers convenient and affordable plans tailored to digital nomads and long-term travelers. They have cheap monthly plans, great customer service, and an easy-to-use claims process that makes it perfect for those on the road.
LifeStraw – My go-to company for reusable water bottles with built-in filters so you can ensure your drinking water is always clean and safe.
Unbound Merino – They make lightweight, durable, easy-to-clean travel clothing.
Malta Travel Guide: Related Articles
Want more info? Check out all the articles I've written on Malta travel and continue planning your trip: