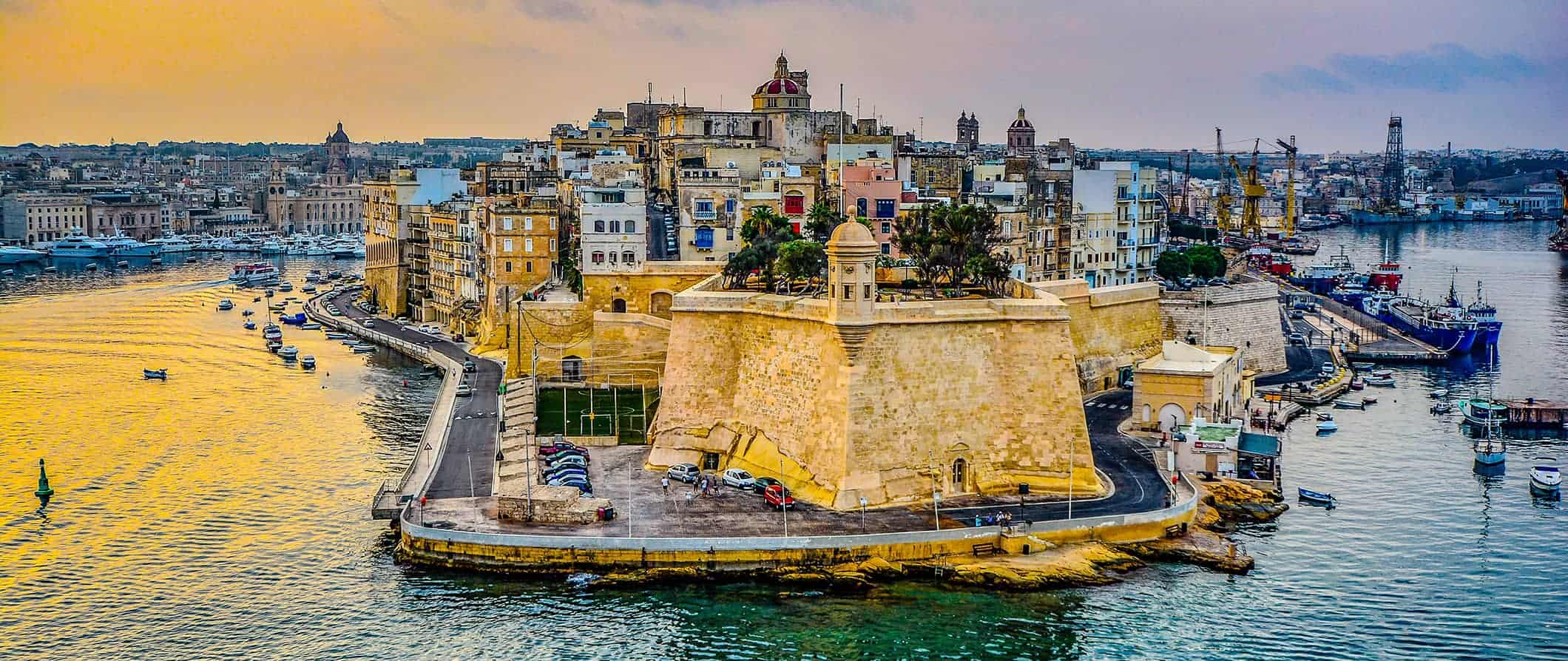 Malta is one of those countries that usually gets passed over by travelers. It's a very popular summer destination for Europeans but, for everyone else, it's a destination mostly ignored.
The country has seen a resurgence in tourism in the last few years (those British retirees were on to something!) thanks to amazing warm weather and crazy cheap prices.
But it's still pretty under the radar for most people.
I loved my time in Malta – the friendly people, medieval cities and castles, weather, and crumbling but charming cities. Malta offers visitors an interesting cultural blend. As you explore, you'll notice the Italian, English, and North African elements in the food, language, culture, and architecture.
Plus, it's super cheap (outside peak season) and the beaches and seafood here are just excellent!
This travel guide to Malta can help you plan your perfect trip. I've included everything you need to know on how visit here like a pro!

Malta
Top 5 Things to See and Do in Malta
1. Explore Valletta
Walk the fortifications, visit St. John's Co-Cathedral, visit the history museum and the National War Museum, see a plethora of churches, wander the narrow roads and alleys. Don't miss the catacombs that were turned into a secret military base during WW2 and the Cold War.
2. Wander Mdina
Mdina is a fortified city and served as the original capital of the country. Be sure to visit the nearby catacombs and ancient Roman house while you're here. And don't miss the Knights of Malta museum if you want a quirky and outdated experience (I don't think this museum has been updated in decades!)
3. Hike a coastal trail in Gozo
The coastal trails in Gozo offer a few different routes around the island for anyone looking to stretch their legs. If you can only do one, hike from Marsalforn to the (sadly now gone) Azure Window. You'll get to pass all the traditional salt pans on the coast.
4. The Tarxien Temples
Located near Valletta, this UNESCO World Heritage Site dates back to 3150 BCE. The temples were used for rituals, which may have included animal sacrifices and cremations. While mostly ruins and rubble, it's one of the best ways to learn about the history of the island. Admission is 6 EUR for adults.
5. Relax on a beach
If you're visiting in the summer, be sure to schedule in some time for the beaches. Golden Bay, Mellieha Bay, Peter's Pool, and Paradise Bay are all great places to soak up some rays. Be sure to arrive early so you can beat the crowds.
Other Things to See and Do in Malta
1. Attend the Carnival
Malta throws its own version of Carnivale every February. Celebrations are held all around the island, with parades, dancing, and costumes. Much of the population heads to Gozo for the weekend, so be sure to plan ahead as public transportation during that time can be a nightmare (more so than usual!). Book your accommodation in advance too!
2. Cruise around the island
If you want to get a different view of the island, take a ride around the coast. You can hire a boat to show you around for about 30 EUR per person. The trip will include lunch and lasts between 7-8 hours. It stops off at a few beaches and highlights some of the many shipwrecks around the island.
3. Explore the Citadel
This fort was built by the British in Rabat/Victoria (this is the Rabat on the island of Gozo; not to be confused with Rabat on the main island of Malta). It's free to enter and explore, with lots of little shops hidden down the alleys. The fort offers a great view of the city and surrounding area, making it a good place to come at sunset.
4. Go diving
Malta isn't known as a diving destination, yet the island is surrounded by a plethora of shipwrecks that make for some great diving expeditions. The water in many places is also incredibly clear so you have excellent visibility as you explore. A two-dive package will cost around 55 EUR per person.
5. Hit the road
Try renting a car and getting off the beaten path. There are lots of winding and remote places to explore, and a car will give you the absolute freedom to do as you please. Considering the island is so small, you can just spend the day exploring the aging and decrepit towns that dot the island. You can find car rentals for as little as 10 EUR per day so it's an affordable choice if you want to get away from the crowds.
6. Relax in the Lower and Upper Barrakka Gardens
I love these gardens. Located in Valletta, they overlook the harbor and make a great place to watch the comings and goings of people and boats. It's a relaxing nook of the city so bring a book or a snack, grab a spot on a bench, and watch the world go by. The lower gardens are a lot quieter and the ones I prefer the most. Plus, it has a cool temple in the center!
7. St. Paul's Catacombs
Located near Mdina, these underground tunnels were used by the Romans as cemeteries up until the 4th century (and possibly as late as the 7th century). They were built in the 3rd century and are composed of over 30 different areas, 20 of which are open to the public. In the Middle Ages, the catacombs were used for religious worship, though they later just because storage areas until their re-discovery in the 1980s. Admission is 5 EUR per person.
8. Visit the Hypogeum
Recently renovated, this is one of Malta's most popular historical attractions. A UNESCO World Heritage site, the Hypogeum was carved over 5,000 years ago and was an ancient temple/burial site. It's really cool and the blurbs give a lot of good descriptions and context for the site. It is so popular during the summertime (and into the autumn) you need to book your tickets up to 4 weeks in advance! Admission is 35 EUR for adults bit its worth every penny.
9. Visit the Blue Lagoon
It's situated between Comino and Cominotto (which is between the main island and Gozo), this is the most iconic beach in the country. It can get incredibly busy here on the weekend, so be sure to come early to stake out a good spot. There's plenty of other beaches around the island you can visit without a crowd though! There is a regular ferry service from Malta, however, if you want to visit from Gozo you will need to take a private boat.
10. Marsaxlokk fish market
This market happens every Sunday morning. It's a bit touristy and gets quite crowded but it's the best place for fresh fish. You can find lots of other items such as fresh produce, honey, and other local goods here too. There are plenty of restaurants around too (though you should expect to pay tourist prices here).
11. Explore Popeye Village
What started out as the film set for the 1980 Popeye musical is now a large tourist attraction. You can explore the village, watch a documentary about its creation, and even play mini-golf. When the weather is nice they offer boat rides around the area. Admission is 15 EUR for adults and 12 EUR for children and seniors.
12. Gozo Salt Pans
Lining the coast of Gozo, these salt pans have been in use for over 350 years. The traditional methods of harvesting salt have been passed down for generations, and even to this day, you'll find locals engaged in harvesting the crystals. You'll find salt for sale in shops all around the island (it's a great souvenir to take home).
13. Visit the Three Cities
Vittoriosa, Senglea, and Cospicua trace their origins back to the Middle Ages and have been inhabited more or less since people arrived on the island. The Three Cities were also the original home of the Knights Hospitallers and feature a lot of wonderful architecture and history. They aren't as visited as other destinations on the island so it can be a good way to get away from the crowds.
Malta Travel Costs
Accommodation – Hostels can be found just outside the capital in St. Julian's and Sliema. Expect to pay between 15-25 EUR per night for a basic 8-10 bed dorm. Free Wi-Fi is standard, and a few hostels also offer free breakfast. If you want a private room, you're better to book a budget hotel or Airbnb as you'll get more value for your money.
Budget hotels start around 50 EUR per night for a twin or double. In addition to basic amenities like free Wi-Fi, many budget hotels also offer free airport shuttles or have pools. Many include free breakfast as well. You'll find there are more apartments available than hotels, so be sure to book accordingly based on the amenities you're looking for.
Airbnb is a great option all around the island, as you can find entire homes/apartments for as little as 35 EUR. Apartments can be found all around the country, though most listings are around Valletta and in the south of Gozo. During the high summer months, expect prices to be about 50-100% higher, especially in July! If you're visiting in the summer, book early.
Food – It's easy to find cheap food in Malta. You can find pastizzi's (a savory, filled pastry) everywhere for under 1 EUR. You can find fresh bread, cheese, and meats at the grocery stores for just a few euros. A simple meal at a restaurant or cafe will cost around 15 EUR, while a nicer meal at a mid-range place with a drink will cost closer to 28 EUR. Domestic beer will cost around 2.50 EUR (1.50 if you buy it at a grocery store) while a bottle of water will cost around 1 EUR (less when bought in bulk).
If you plan on cooking your own food, expect to spend between 40-60 EUR per week on groceries.
Some of my favorite restaurants were Rising Sun, Loli, The Grassy Hopper, and Suruchi.
Keep in mind that the water isn't that good in Malta (it won't kill you but it's very treated so tastes terrible), so you'll need to buy water during your stay. A pack of 6 1L bottles usually costs just a few euros.
Activities – There are lots of free activities in Malta. You can also hire a boat to take you around the island for 30 EUR. Most museums are around 5-10 EUR. There is actually some pretty great diving in Malta too. A two-dive package will cost around 55 EUR. If you want to explore the island by bicycle, you can rent a bike for 15 EUR per day.
Backpacking Malta Suggested Budgets
How much does it cost to visit Malta? Well, that depends on your travel style and preferences! To help you plan, here are some suggested budgets. Just keep in mind that prices will go up during the busy summer months!
On a backpacking budget, you should plan to spend 40-55 EUR ($45-60 USD) per day. On this budget you're staying in a hostel dorm, eating cheap food but mainly cooking your own meals, using public transportation, limiting your drinking, and doing as many free or cheap activities as possible.
On a mid-range of budget of 85-115 EUR ($95-130 USD) per day, you can stay in budget hotels, take buses between destinations, eat fast food, and do more excursions.
For a luxury budget of at least 205 EUR ($225 USD) per day, you can afford to stay in nice hotels, hire a rental car, do some guided tours, and eat out for every meal.
You can use the chart below to get some idea of how much you need to budget daily. Keep in mind these are daily averages – some days you'll spend more, some days you'll spend less (you might spend less every day). We just want to give you a general idea of how to make your budget. Prices are in USD.
Accommodation
Food
Transportation
Attractions
Average Daily Cost
Backpacker
$25
$10
$5-10
$5-15
$45-60
Mid-Range
$50
$25-40
$10-15
$10-25
$95-130
Luxury
$120
$55-75
$15-20
$35-55
$225+
Malta Travel Guide: Money-Saving Tips
Malta is one of the more affordable destinations in Europe, though it can still get pricey, especially during the busy summer months. To help you stick to your budget, here are some money-saving tips and tricks:
Visit during the off-season – Malta gets very crowded in the summer, and prices tend to rise. If you want to save money and have a less hectic visit, come during the off-season.
Cook your own meals – While restaurants aren't overly expensive, eating out every day will add up. Try cooking your own meals to save some money. There are plenty of small shops and larger supermarkets (like Lidl) where you can grab basic staples for cheap.
Avoid supermarket produce – A lot of produce at the supermarket will be imported (and thus more expensive). Search out local vendors who sell their produce at the side of the road or at small stalls in town. It will be cheaper and fresher!
Get the Malta Pass – This tourism card will give you free entry to the top 40 attractions, making it worthwhile for anyone who plans on visiting a lot of sites. It also includes a free sightseeing bus (which is worth 20 EUR itself) You can get a 1, 2, or 3-day pass for 28, 43, and 54 EUR respectively. Buy it online before you go for the best price.
Take a free walking tour – There are a few tour companies in Valletta, such as Colour My Travel, who offer free walking tours. You'll get to explore the area and learn about the local culture, history, and architecture. It's a great introduction to Malta and definitely worth doing. Just be sure to tip!
Skip the taxis – Taxis in Malta are not cheap. Avoid them as much as possible. If you do need to use them, get the eCab app. It's like Uber but specifically for Malta and will ensure you get a reputable and reliable taxi (they are good for short distances while taxis are likely cheaper for longer journeys).
Where To Stay in Malta
While Airbnb provides the best value for travelers, hostels are still an option for travelers looking for a budget-friendly stay. While they aren't plentiful, you can find them around Valletta. Here are my recommended places to stay:
How to Get Around Malta
Public Transportation – Public buses go everywhere, and a single fare is 1.50 EUR in the winter and 2 EUR in the summer. Just keep in mind that they fill up fast, so it's very likely that you will have to stand for your trip. They also can be infrequent and pass by stops without warning, so if you are taking the bus make sure you have lots of extra time!
In addition to the public buses there is also a hop on, hop off bus that has 3 different routes around the country. These routes cover all the major sites on both islands (Valletta, St. Julian's, Popeye Village, the former Azure Window, etc.) A ticket for a single route costs 20 EUR for a single-day pass and 37 EUR for a two-day pass. I'd skip this and just use the public bus (or walk if it's a short distance — it's a small country after all!)
Car Rental – Car rentals will cost between 10-25 EUR per day for a small car. Just keep in mind that the cheapest rentals will be manual transmissions so you'll need to be able to drive stick if you want to get around.
Ferry – The ferry to Gozo will cost you around 5 EUR. Be sure to arrive in advance as it fills up fast. The ferry from Malta to Italy will cost around 82 EUR for a one-way ticket to Sicily.
Taxis – Taxis start at 6 EUR and cost around 2.25 EUR per kilometer. There is no Uber or Lyft here, but you can download the eCab app as an alternative. It's usually cheaper than taxis for short distances. However, if you're on a budget, it's best to just avoid taking them.
Flying – Flights from Malta to and from mainland Europe and the Middle East can be found for as little as 25 EUR, round trip. Ryanair is the most budget friendly airline that flies to Malta so they will be your best choice if you're on a budget.
Flights to and from Morocco and North Africa can be found for as little as 120 EUR per person, round trip.
Hitchhiking – Hitchhiking in Malta is not recommended, simply because people just don't stop.
When to Go to Malta
The best time to visit Malta is from June-August. The weather will be the warmest then, with daily temperatures around 31° C (88 F) and there's little rain. Not surprisingly, this is also the busiest time of the year so expect crowds and higher prices. (So be sure to book your accommodation in advance.)
In August, as in much of Europe, many locals leave for their own summer holidays. A lot of shops and restaurants will close, which can crowd the remaining places even more. But the weather is perfect in August and most tourist attractions stay open.
The shoulder months of May and September/October will offer a nice compromise of decent weather and fewer crowds. Expect temperatures around 25° C (77 F)
The winter in Malta is relatively mild, with temperatures dropping to a daily average between 15°-20° C (59-68 F). Aside from attractions closing for Christmas, everything will remain open though some bus schedules will change to reflect the lower number of visitors in the country.
How to Stay Safe in Malta
Malta has been consistently ranked one of the safest countries in the world. Crime is rare here, though you'll still want to take your standard travel precautions. Always keep your valuables secure while traveling in crowds or tourist areas. Additionally, make sure your belongings are secured while riding public transportation as well. Theft is rare, but it never hurts to be prepared!
When swimming, make sure you only swim in areas where there are other swimmers around. Riptides are common so it's best to avoid secluded beaches unless you can be sure that it's safe. Never swim when the sea is rough.
Drivers in Malta are on the aggressive side, so take extra precaution when crossing roads, cycling, or renting a car. When taking a taxi, always wear your seatbelt as well!
If you're out hiking in the spring or autumn, be aware that it is hunting season (just for small birds).
Worried about travel scams? Read about these 14 major travel scams to avoid.
The most important piece of advice I can offer is to purchase good travel insurance. Travel insurance will protect you against illness, injury, theft, and cancellations. It's comprehensive protection in case anything goes wrong. I never go on a trip without it as I've had to use it many times in the past. You can use the widget below to find the policy right for you:
Malta Travel Guide: The Best Booking Resources
Below are my favorite companies to use when I travel around Malta. They consistently turn up the best deals, offer world-class customer service and great value, and overall, are better than their competitors. They are always my starting point when I need to book a flight, hotel, tour, train, or meeting people!
Momondo – This is my favorite flight search engine because they search such a wide variety of sites and airlines. I never book a flight without checking here first.
Skyscanner – Skyscanner is another great flight search engine which searches a lot of different airlines, including many of the budget carriers that larger sites miss. While I always start with Momondo, I use this site too as a way to compare prices.
Airbnb – Airbnb is a great accommodation alternative for connecting with homeowners who rent out their homes or apartments. The big cities have tons of listings!
Hostelworld – This is the best hostel accommodation site out there, with the largest inventory, best search interface, and widest availability.
Booking.com – The best all around booking site that constantly provides the cheapest and lowest rates. They have a no money down policy, great interface, and the widest selection of budget accommodation. In all my tests, they've always had the cheapest rates out of all the booking websites.
Priceline – I like this website because it allows you to bid on hotels and save a lot more money than by booking directly. When used in conjunction with the bidding site Better Bidding, you can substantially lower the cost of your hotels — by as much as 60%.
World Nomads – I buy all my travel insurance from World Nomads. They have great customer service, competitive prices, and in-depth coverage. I've been using them since I started traveling in 2003. Don't leave home without it!
LifeStraw – Since the water in Malta isn't potable you'll need a way to purify your drinking water. Instead of buying tons of plastic bottles and polluting the local environment, get a LifeStraw. It will purify the tap water so you can drink it safely and prevent all that unwanted plastic from going to the landfill.
Malta Gear and Packing Guide
If you're heading on the road and need some gear suggestions, here are my tips for the best travel backpack and for what to pack!
The Best Backpack for Travelers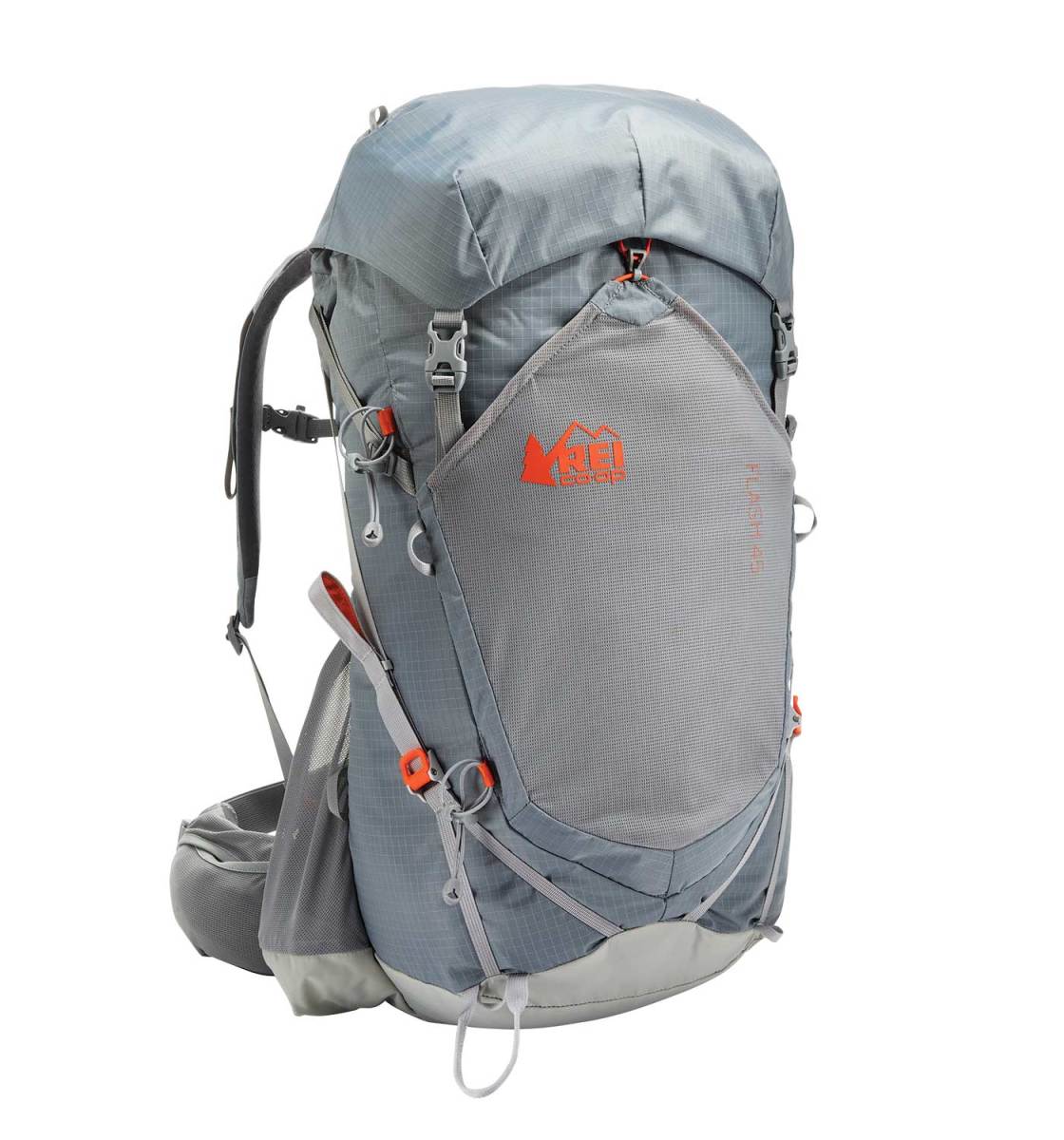 What's the best backpack for traveling long-term? I recommend the
REI Flash 45 Pack
. It's light and comfy, front loading, and fits perfectly in an airplane's overhead bin.
Size:
45-47L
Straps:
Thick and cushy with compression technology that pulls the pack's load up and inwards so it doesn't feel as heavy.
Features:
Removable top lid, large pocket at the front, hydration compatible, contoured hip belt
If you want something different, refer to my article on how to choose the best travel backpack for tips on picking a pack and other backpack suggestions.
What to Pack for Your Trip
Clothes
1 pair of jeans (heavy and not easily dried, but I like them; a good alternative is khaki pants)
1 pair of shorts
1 bathing suit
5 T-shirts
1 long-sleeved T-shirt
1 pair of flip-flops
1 pair of sneakers
6 pairs of socks (I always end up losing half)
5 pairs of boxer shorts (I'm not a briefs guy!)
1 toothbrush
1 tube of toothpaste
1 razor
1 package of dental floss
1 small bottle of shampoo
1 small bottle of shower gel
1 towel
Deodorant
Small Medical Kit (safety is important!!!)
Miscellaneous
Female Travel Packing List
I'm not a woman, so I don't know what a woman wears, but Kristin Addis, our solo female travel guru, wrote this list as an addition to the basics above:
Clothing
1 swimsuit
1 sarong
1 pair of stretchy jeans (they wash and dry easily)
1 pair of leggings (if it's cold, they can go under your jeans, otherwise with a dress or shirt)
2-3 long-sleeve tops
2-3 T-shirts
3-4 spaghetti tops
1 light cardigan
Toiletries
1 dry shampoo spray & talc powder (keeps long hair grease-free in between washes)
1 hairbrush
Makeup you use
Hair bands & hair clips
Feminine hygiene products (you can opt to buy there too, but I prefer not to count on it, and most people have their preferred products)
For more on packing, check out these posts:
Malta Travel Guide: Related Articles
Want more info? Check out all the articles I've written on Malta travel and continue planning your trip: