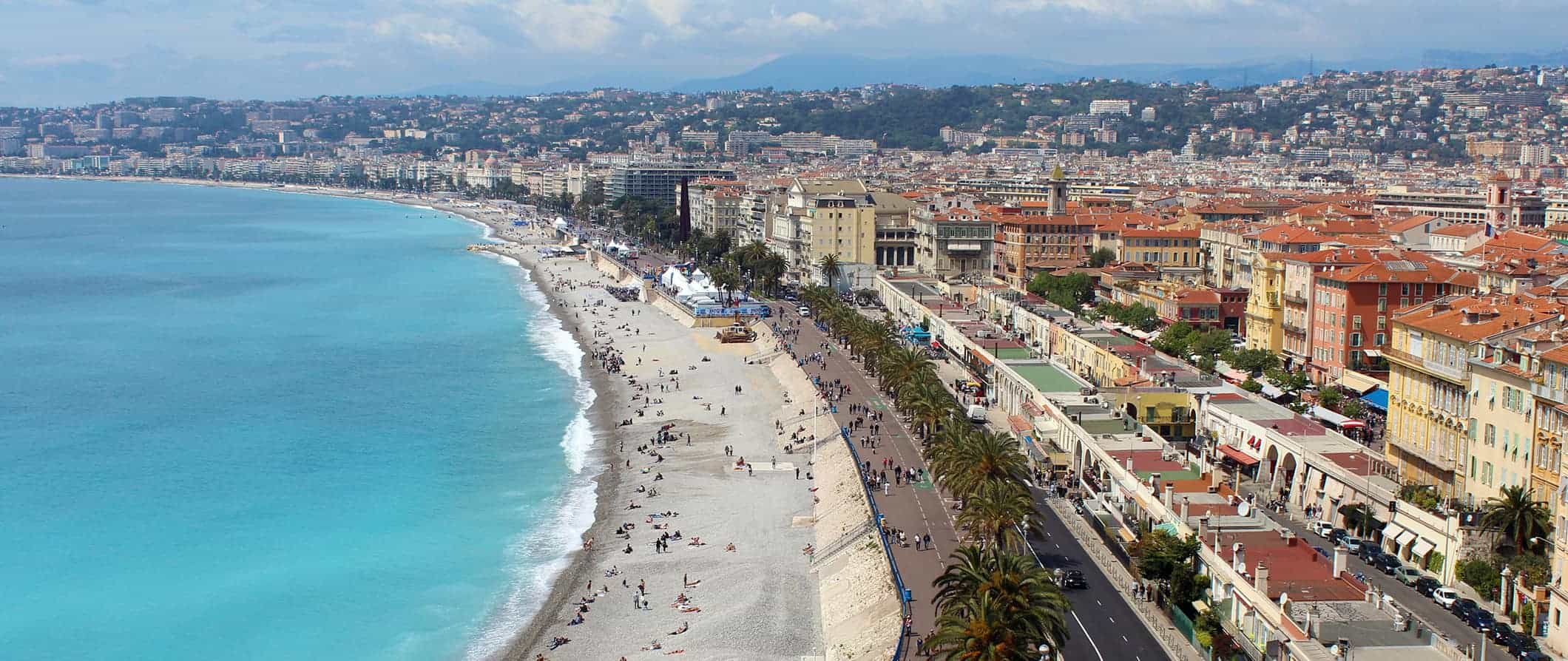 Visiting Nice is, to use the old joke, nice. Located on the French Riviera, it's the second biggest tourist destination in the country. I've been to Nice a few times and have found the city a lovely place to stop on the way to even nicer and more quant smaller riveria towns. Nice has wonderful hilltop lookouts, restaurants, glamor, tons of scenery, and beautiful beaches.
The city's glitz means that there are very few budget options but it's worth a night or two but, beyond that, head down to the nearby beach towns of the Cote d'Azur.
This travel guide to Nice can help you plan your upcoming trip there without spending a lot of money.

Nice
Top 5 Things to See and Do in Nice
1. Promenade des Anglais
This is one of the main hubs of the city. Vendors sell fresh-made crepes and, best of all, there are nice (get it?) restaurants on the beach. Try Le Koudou for seafood or Les Jardins du Capitole for French classics such as tartare.
2. Matisse Museum
Henri Matisse moved to Nice at 48, and remained in the city until his death in 1954. It was during this time that Matisse painted The Sheaf, Nu bleu, Sorrow of the King, and others. Open 10am-6pm (closed on Tuesdays). Admission is €10 ($11 USD) and good for 24 hours.
3. Relax on beautiful beaches
The beaches of Nice aren't great when compared to the surrounding area but ya do what ya can. La Réserve is known as one of the best beaches in Nice. Plage Beau Rivage, and Coco Beach are quite nice as well. Most consist of large flat stones so wear sandals/shoes and be sure to bring a towel.
4. Vieux Nice
Below the hill of the main city, the old town is a maze of streets and tight alleyways. There are many boutiques, markets, crêperies, and cafés. Nice was Italian until the signing of the Treaty of Turin in 1860, which is why Vieux Nice has a very Italian feel to it.
5. Nice Port
The Nice Port is often forgotten by travelers. Around the corner from Old Nice and the Quai des Etats Unis, the port is a great spot to watch boats coming and going. Moreover, some of the hippest bars are located here. Boston Bar and Ma Nolan's are both excellent choices.
Other Things to See and Do in Nice
1. Cours Saleya Flower Market
Nice is known for its flowers. This market is lined with cafes, shops, and aisles upon aisles of fresh flowers. It is open six days a week, with the exception of Monday and Sunday afternoons, when there's a flea and antique market instead (which is also cool to visit). Mornings are the best time to visit as the flowers are the freshest.
2. Head to Le Chateau
The Castle of Nice (Château de Nice) was built in the 11th century and remained an active citadel until the 18th-century when it was destroyed in 1706 at the command of King Louis XIV. Today, the area where the Chateau once stood is a popular green space and look-out with one of the best panoramic views of Nice and the sea. You have the option to take an elevator or hike up the stairs, but it's a long, long walk. I usually take the elevator up and hike down. You can walk up from the promenade or via the town. (I prefer walking up via the old town as it's more scenic.)
4. Museum of Asian Art
Located beside a man-made lake in Phoenix Park, the museum was designed by Kenzo Tange, and opened its doors in 1998. It has a brilliant collection of Indian, Chinese, Southeast Asian, and world art. The India exhibit is exceptional good. Open from 10am-5pm (closed on Tuesdays). A guided tour is €5 ($5.50 USD).
5. Museum of Modern and Contemporary Art
Opening its doors in 1990, the MAMAC focuses on postwar pieces, with more than 1,300 works of art in its collection. The museum has four connected wings, each featuring modern and contemporary art. There is a great collection of sculptures, conceptual installations, and paintings. Open from 10am-6pm (closed on Mondays). Admission is €10 for a ticket that's good for 24 hours.
6. Take a day trip to Monaco
Even if you can't afford to stay in this luxurious city, you have to go for the day. You can catch an easy train or a bus between the cities, and spend your day exploring the casinos, yachts, and chic restaurants that line the water. Definitely visit the Palace of Monaco. The castle was built in 1191. You can do a tour of the palace for €10 ($11 USD). To get here, take bus 100 from the city. It's 45 minutes and costs €1.50 ($1.65 USD). The train takes 30 minutes and is €10-15 ($11-16.50 USD).
7. St. Nicholas Russian Orthodox Cathedral
One of Tsar Aleksandr II's sons died in Nice at the beginning of the 20th century after coming down with tuberculosis and this cathedral was dedicated to him. The cathedral is built in the Russian Revival style and has teal and green tiled domes topped with silver crosses. Inside there's a golden altar and vibrantly painted walls. A dress code is strictly enforced so don't wear shorts if you want to enter. Note: cameras are not allowed inside either.
8. Musée National Marc Chagall
Located north of Vieux-Nice, in the neighborhood of Cimiez, Musée National Marc Chagall features the artist's religious works, particularly pieces depicting the resurrection, the sacrifice of Isaac, Adam and Eve. A Russian-French artist of Belarusian Jewish descent, Chagall is known for his cubism and expressionism pieces. The Fiddler, and Bella with White Collar among his more popular pieces. Built in 1973, Chagall was active in the museum up until his death in 1985. Admission is €8 ($8.75 USD).
For more information on specific cities in France, check out these guides:
Nice Travel Costs
Hostel prices – You can find a number of centrally located hostels within walking distance to the beach starting at €14 ($15 USD) for a 6-bed dorm. Private rooms with ensuite bathrooms run start at €50 ($54 USD) per night.
Budget hotel prices – You can find two-star hotels located in the city center with free WiFi and air-conditioning starting at €35-40 ($38-43 USD) per night for a double room.
On Airbnb, you can find shared rooms for around €25 ($27 USD) per night and entire apartments starting at €55 ($60 USD) per night.
Average cost of food – Eating out in Nice can be expensive. Expect €9-13 ($10-14 USD) for starters, €14-30 ($15-32 USD) for the main dish, desserts €5-10 ($6-11 USD), and wine €4-9 ($5-10 USD) a glass. To save money, try doing a prix-fixe meal. It's a set menu that offers you a deal on a 2-3 course meal. It's the cheapest at lunch at about €15 ($16.50 USD). La Rossettisserie in Vieux-Nice is a carnivore's dream with a menu filled with red meat and poultry dishes, all under €17 ($19 USD). Illia Pasta on rue Droite in Old Nice is also a delicious choice, with dishes under €15 ($16.50 USD). In the neighborhood of Jean-Médecin, Le Vingt4 is a vibrant Mediterranean and French restaurant with tapas for €6-19 ($6.50-21.50 USD).
There is always fast food or ready-made sandwiches for about €6 ($6.50 USD) to help keep your budget low.
You can buy groceries for a week for €45 ($49 USD) (and they're even cheaper if you find a discount grocer like Aldi or Lidl). Sometimes having a picnic with charcuterie, cheese, a baguette, and fresh fruit is always a good idea on a sunny day.
Backpacking Nice Suggested Budgets
If you're backpacking Nice, my suggested budget is about €69 EUR ($77 USD) per day. This budget will cover staying in a hostel dorm, cooking most of your meals, eating prix-fixe lunches, walking around, free tours, and taking public transit everywhere.
A mid-range budget of about €130 EUR ($145 USD) will cover a room at a two-star budget hotel or a private Airbnb room, eating out all your meals, cheap restaurants, a few glasses of wine each day, an occasional Uber, and a couple of paid attractions per day.
For a luxury budget of €285 EUR ($315 USD) or more, you will stay in a four-star hotel, eat at gourmet restaurants for all your meals, and enjoy plenty of wine. The sky is your limit!
You can use the chart below to get some idea of how much you need to budget daily. Keep in mind these are daily averages – some days you'll spend more, some days you'll spend less (you might spend less every day). We just want to give you a general idea of how to make your budget. Prices are in USD.
Accommodation
Food
Transportation
Attractions
Average Daily Cost
Backpacker
$36
$25
$6
$10
$77
Mid-Range
$60
$50
$15
$20
$145
Luxury
$145
$100
$20
$50
$315
Nice Travel Guide: Money Saving Tips
Nice is definitely built for the luxury traveler. Being on the French Riviera and so close to many expensive destinations, it's a city people visit to spend money. The summer crowds only increase prices further. If you want to lower your costs, here are some ways to save money in Nice:
Do the free stuff – Take advantage of all of the free sights including the beach, Vieux Nice, Jardin Albert I (the city's central park), and the Promenade des Anglais, which fills up at night with music and street performers.
French Riviera Pass – Available at the Nice Tourism office and the Congress Centre, the French Riviera Pass is good for unlimited travel in a 24, 48, or 72-hour period. Passes are €30-68 ($34-76 USD). The pass also includes an Old Nice guided tour, free entry into museums, and Lascaris Palace.
Get the set lunch menu – If you eat out, do so at lunch and get the prix-fixe menu (two- or three-course set menu). Restaurants throughout town offer this set menu during lunch, and with prices €10-20 ($11-22 USD), it's a way better deal than the regular dinner menu!
Take the free walking tours – Nice has a free walking tour of the old city that starts at Massena Square Fountain at 11:25am, and lasts for about 2 hours. At the end of the tour, you pay-what-you-can based on your budget.
Couchsurf – Nothing's cheaper than sleeping for free. Couchsurfing connects you with locals who will give you not only a free place to stay, but also a local tour guide who can introduce you to all the great places to see.
Save money on rideshares – Uber is way cheaper than taxis and are the best way to get around a city if you don't want to wait for a bus or pay for a taxi. The Uber Pool option is where can you share a ride to get even better savings (though you can get your own car too). You can save $15 off your first Uber ride with this code: jlx6v.
Where to Stay in Nice
There is a handful of fun hostels in Nice to choose from, most of which are quite close to the city center. Here are my recommended places to stay in Nice:
How to Get Around Nice
Bus and Tram – Tickets for the bus and the tram can be bought from machines near tram stops. A solo ticket costs €1 ($1.10 USD). You can also purchase 1-day and 7-day passes.
Nice has 5 night-time bus routes which run from 9:10 pm to 10:10 am each day, making it easier to get around if your out late at night.
Bicycle – Vélobleu is a public bike sharing system that lets you use bicycles around the city. There are 175 stations in the region, and over 1,700 bikes. To register the cost is €3 ($3.25 USD), after that it is €1.50 ($1.70 USD) per 30 minutes.
Taxi – Taxis are expensive in Nice, with a base rate of €3 ($3.25 USD) plus about €2.08 ($2.25 USD) per kilometer. This rate may increase in the evenings.
Ride-Sharing – Uber is available in Nice. You can save $15 off your first Uber ride with this code: jlx6v. For getting around the area (and the country!) you can also use the ride-sharing app BlaBlaCar. It is a great way to travel around Europe on a budget.
When to Go to Nice
The months between June and August are the hottest time for visiting Nice, with temperatures reaching an average of 86°F (30°C). This is when the south of France is packed with locals and tourists who want to soak up the sun and ambiance of Nice. Prices here are also the highest and you'll need to book well in advance for things.
The crowds in summer can be quite large at times, especially close to the beaches, and Old Nice. Prices in restaurants and hotels increase as well. To avoid crowds, venture into some of the local neighbourhoods, such as Jean-Médecin or Carabacel.
In September and October, the average high temperature is 75°F (24°C), and an ideal time to visit Nice. The crowds are considerably less, making it an ideal time to relax on the beach and wander through the streets of Old Nice and other popular areas.
December to April is considered the winter season and temperatures average around 55ºF (12ºC). Carnaval de Nice takes place for 14 days each February/March. A tradition since 1873, this is one of the best carnivals in Europe, known for its over-the-top colorful float parades during the day and parade of lights at night, as well as a beautiful flower parade. Prices during this time are lower, and the streets are quieter, it is an ideal time to visit Nice.
Of course, one cannot forget the Nice International Film Festival each May when the city is flooded with celebrities and more glitz and glamor than one can handle.
How to Stay Safe in Nice
Nice is very safe, and the risk of violent crime is very low. Like anywhere else, avoid walking through unfamiliar areas alone at night and beware of pick-pocketing and petty theft. Pick pocketing is common in markets, on buses and trains and other crowded areas. Thieves have been known to rob people by reaching into stopped cars or while riding by on motorcycles.
There's also a number of tourist scams here. Avoid bringing valuables to the beach, as theft while you're in the water is a popular scam. Grabbing valuables from chairs on a sidewalk café. The petition scam is quite popular, where someone asks you to sign a paper and while you're distracted with the clipboard, they'll pick your pockets.
If you're worried about getting scammed, you can read about the 14 travel scams to avoid right here.
People are generally friendly and helpful, and you're unlikely to get into trouble.
Always trust your gut instinct. Avoid isolated areas at night, and be aware of your surroundings at all times. Make copies of your personal documents, including your passport and ID.
If you don't do it at home, don't do it in Nice! Follow that rule, and you'll be fine.
The most important piece of advice I can offer is to purchase good travel insurance. Travel insurance will protect you against illness, injury, theft, and cancellations. It's comprehensive protection in case anything goes wrong. I never go on a trip without it as I've had to use it many times in the past.
Nice Travel Guide: The Best Booking Resources
These are my favorite companies to use when I travel to Nice. They are included here because they consistently find deals, offer world-class customer service and great value, and overall, are better than their competitors. They are the ones I use the most and are always the starting points in my search for travel deals.
Momondo – This is my favorite booking site. I never book a flight without checking here first.
Skyscanner – Skyscanner is another great flight search engline which searches a lot of different airlines, including many of the budget carriers that larger sites miss. While I always start with Momondo, I use this site too as a way to compare prices.
Airbnb – Airbnb is a great accommodation alternative for connecting with homeowners who rent out their homes or apartments.
Hostelworld – This is the best hostel accommodation site out there, with the largest inventory, best search interface, and widest availability.
Couchsurfing – This website allows you to stay on people's couches or spare rooms for free. It's a great way to save money while meeting locals who can tell you the ins and outs of their city. The site also lists events you can attend to meet people (even if you're not staying with someone).
Booking.com – The best all around booking site that constantly provides the cheapest and lowest rates. They have a no money down policy, great interface, and the widest selection of budget accommodation. In all my tests, they've always had the cheapest rates out of all the booking websites.
Rail Europe – If you are going to Europe and taking a lot of high speed or long distance trains, get a rail pass. I've used a rail pass three times and saved hundreds of dollars each time. The math just works.
Intrepid Travel – If you want to do a group tour around Europe, go with Intrepid Travel. They offer good small group tours that use local operators and leave a small environmental footprint. If you go on a tour with anyone, go with them. And, as a reader of this site, you'll get a discount when you click the link!
The Man in Seat 61 – This website is the ultimate guide to train travel anywhere in the world. They have the most comprehensive information on routes, times, prices, and train conditions. If you are planning a long train journey or some epic train trip, consult this site.
Rome 2 Rio – This website allows you to see how to get from point A to point B the best and cheapest way possible. It will give you all the bus, train, plane, or boat routes that can get you there as well as how much they cost.
FlixBus – German based Flixbus has routes between 20 European countries with prices starting as low €5 ($6 USD)! Their buses include WiFi, electrical outlets, and up to three 3 free bags.
Bla Bla Car – BlaBlaCar is a ridesharing website that lets you share rides with vetted local drivers by pitching in for gas. You simply request a seat, they approve, and off you go! It's a cheaper and more interesting way travel than by bus or train!
World Nomads – I buy all my travel insurance from World Nomads. They have great customer service, competitive prices, and in-depth coverage. I've been using them since I started traveling in 2003. Don't leave home without it!
EatWith – This website allows you to eat home cooked meal with locals. Locals post listings for dinner parties and specialty meals that you can sign up for. There is a fee (everyone sets their own price) but this is a great way to do something different, pick a local's brain, and make a new friend.
Nice Gear and Packing Guide
If you're heading on the road and need some gear suggestions, here are my tips for the best travel backpack and for what to pack!
The Best Backpack for Travelers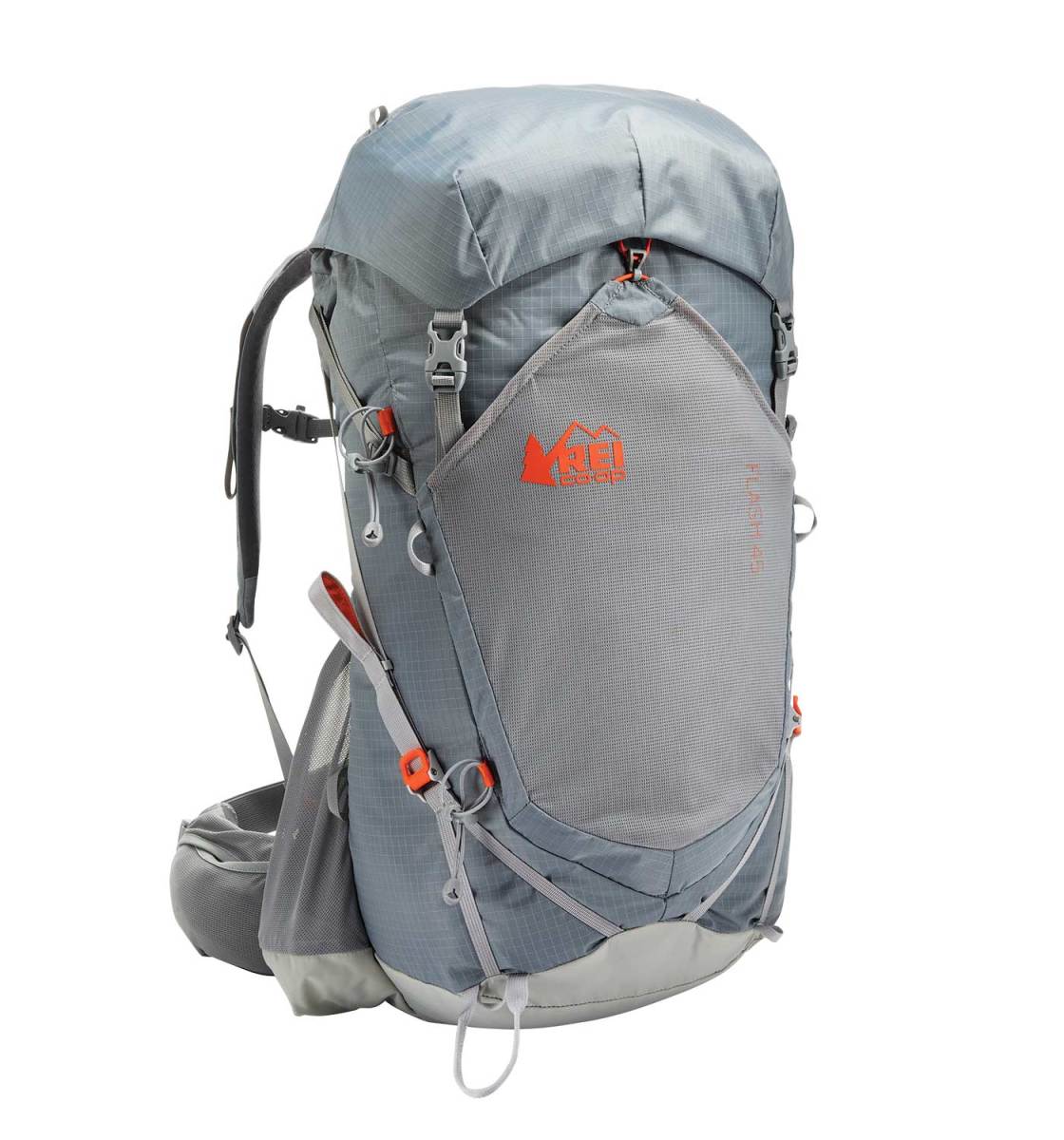 What's the best backpack for traveling long-term? I recommend the
REI Flash 45 Pack
. It's light and comfy, front loading, and fits perfectly in an airplane's overhead bin.
Size:
45-47L
Straps:
Thick and cushy with compression technology that pulls the pack's load up and inwards so it doesn't feel as heavy.
Features:
Removable top lid, large pocket at the front, hydration compatible, contoured hip belt
If you want something different, refer to my article on how to choose the best travel backpack for tips on picking a pack and other backpack suggestions.
What to Pack for Your Trip
Clothes
1 pair of jeans (heavy and not easily dried, but I like them; a good alternative is khaki pants)
1 pair of shorts
1 bathing suit
5 T-shirts (Unbound Merino is my preferred company. If you're a member of NM+, you can get 15% off your purchase)
1 long-sleeved T-shirt
1 pair of flip-flops
1 pair of sneakers
6 pairs of socks (I always end up losing half)
5 pairs of boxer shorts (I'm not a briefs guy!)
1 toothbrush
1 tube of toothpaste
1 razor
1 package of dental floss
1 small bottle of shampoo
1 small bottle of shower gel
1 towel
Deodorant
Small Medical Kit (safety is important!!!)
Miscellaneous
Female Travel Packing List
I'm not a woman, so I don't know what a woman wears, but Kristin Addis, our solo female travel guru, wrote this list as an addition to the basics above:
Clothing
1 swimsuit
1 sarong
1 pair of stretchy jeans (they wash and dry easily)
1 pair of leggings (if it's cold, they can go under your jeans, otherwise with a dress or shirt)
2-3 long-sleeve tops
2-3 T-shirts
3-4 spaghetti tops
1 light cardigan
Toiletries
1 dry shampoo spray & talc powder (keeps long hair grease-free in between washes)
1 hairbrush
Makeup you use
Hair bands & hair clips
Feminine hygiene products (you can opt to buy there too, but I prefer not to count on it, and most people have their preferred products)
For more on packing, check out these posts:
Nice Travel Guide: Related Articles
Want more info? Check out all the articles I've written on backpacking/traveling France and continue planning your trip: