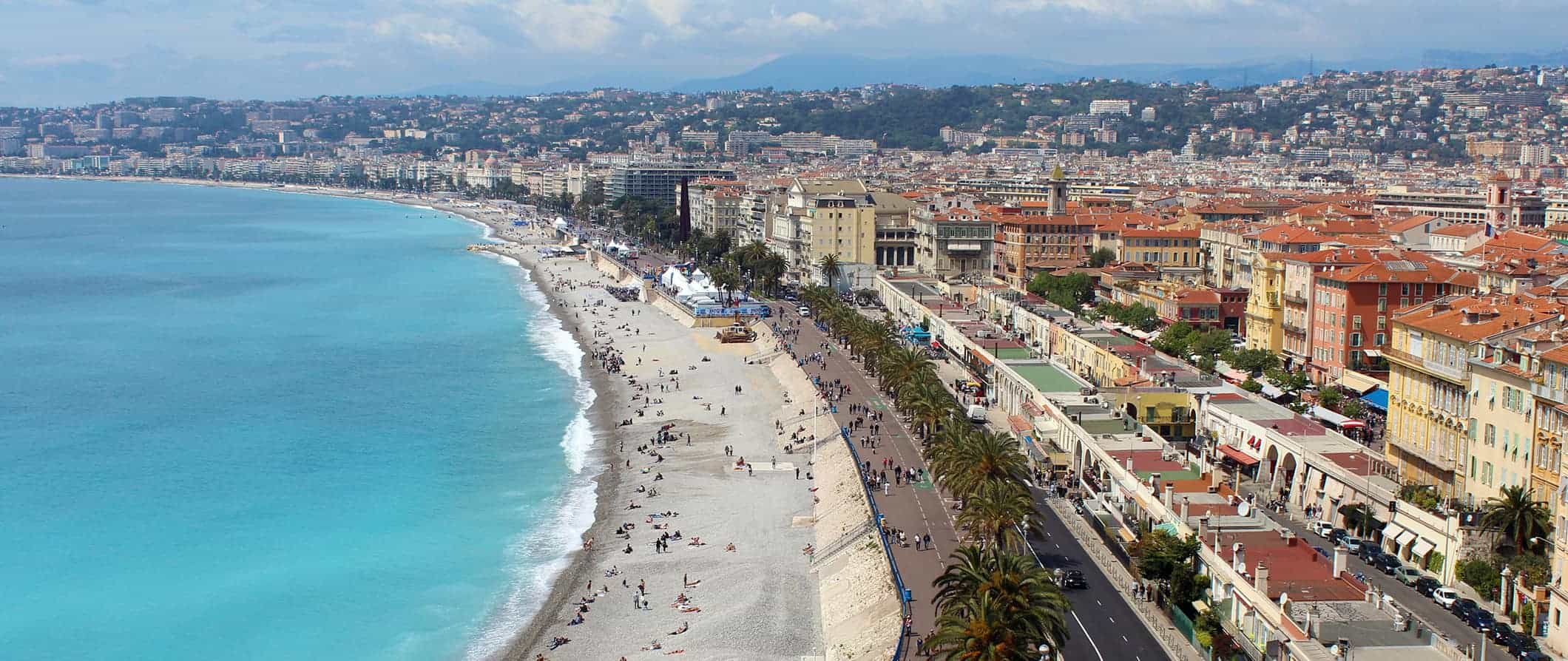 Nice has plenty to offer travelers of the French Riviera, as it's the second largest tourist destination in the country. It is filled with wonderful hilltop lookouts, restaurants, glamor, tons of scenery, and the beautiful beaches of the Mediterranean coast. Sun seekers sip cocktails on the parasol-ed terraces that line the pebbled shores and rollerbladers cruise the curved Baie des Anges that flanks the promenade. Nice is used as a jumping-off point to many of the nearby beach towns of the Cote de Azur. I loved Nice (though not as much as I did some of the nearby cities), but be prepared to spend a lot of money here. Its' glitz mean that there are very few budget options.
Top 5 Things to See and Do in Nice
1. Promenade des Anglais
Tourists relaxing along the shore, people rollerblading, biking, walking, and jogging – this is a lively place. Vendors in the background sell fresh-made crepes and, best of all, there are nice (get it?) restaurants on the beach.
2. Matisse Museum
Matisse spent a lot of time in this region. An very important impressionist artist, this museum is a must see. You can also buy prints of the artist's work. Open 10am-6pm (closed on Tuesdays). Admission is 10 EUR for a ticket that's good for 48 hours.
3. Relax on beautiful beaches
The beaches of Nice aren't that great when compared to beaches in the surrounding area but the water is still beautiful. Be aware that the public areas consist almost entirely of large flat stones so wear sandals/shoes and be sure to bring a mat or towel. There are free showers on all beaches too.
4. Vieux Nice
This is the 'old town'. Below the hill of the main city lies a maze of streets and tight alleyways, lined with amazing architecture. There are many boutiques here, as well as, the Cours Saleya—a daily fruit and flower market.
5. Nice Port
The Nice Port is often forgotten by travelers, but it is definitely worth venturing to. Around the corner from Old Nice and the Quai des Etats Unis, the port is a great spot to watch the Corsica ferries lift off. Also, if you are going to check out the nightlife in this city, the hippest nightclubs are located here.
Other Things to See and Do
(Click the title to expand the text)
1. Cours Saleya Flower Market
Nice is known for all of its beautiful flowers so this is a market you can't miss. The market is lined with cafes, shops, and aisles and aisles of fresh flowers. It is open six days a week, with the exception of Monday, when there's a flea and antique market in its place.
2. Head to Le Chateau
You must visit the Chateau for the best panoramic view of the city and the sea. You have the option to take an elevator or hike up the stairs, but it's a long, long walk.
3. Go cycling
Nice and the surrounding area are a great place to go cycling. There are many tour operators here who will take you to some of the surrounding towns and lookouts or you can just grab a map and go yourself. Guided bike tours start at 30 EUR. You can rent city bikes, called Velo Bleu, at convenient locations throughout the city. They're free for the first 30 minutes. Otherwise, you can rent a bike for the day at a rental shop starting at 15 EUR.
4. Museum of Asian Art
This museum has an excellent collection of art of Indian, Chinese, southeast Asian, and world influence. The architecture of the building is also quite beautiful, and the museum is situated on a lake. Open from 10am-5pm (closed on Tuesdays). Admission is 10 EUR.
5. Museum of Modern and Contemporary Art
The MAMAC has four connected tours, each featuring modern and contemporary art. There is a great collection of sculptures, conceptual installations, and paintings. The view from the top is amazing. Open from 10am-6pm (closed on Mondays). Admission is 10 EUR for a ticket that's good for 48 hours.
6. Take a day trip to Monaco
Even if you can't afford to stay in this luxurious city, there's no reason why you can't make it a day trip. Catch either the train or a bus between the cities, and spend your day exploring the casinos, yacht culture, and chic restaurants that line the water. You can take a bus that takes 45 minutes for 2 EUR or a train that takes 20 minutes for 10-15 EUR.
7. St. Nicholas Russian Orthodox Cathedral
One of Tsar Aleksandr II's sons died in Nice at the beginning of the 20th century after coming down with tuberculosis. The St. Nicholas Russian Orthodox cathedral was constructed in his memory. The architecture is impressive and seems very out of place. A dress code is strictly enforced, so don't wear shorts if you want to enter.