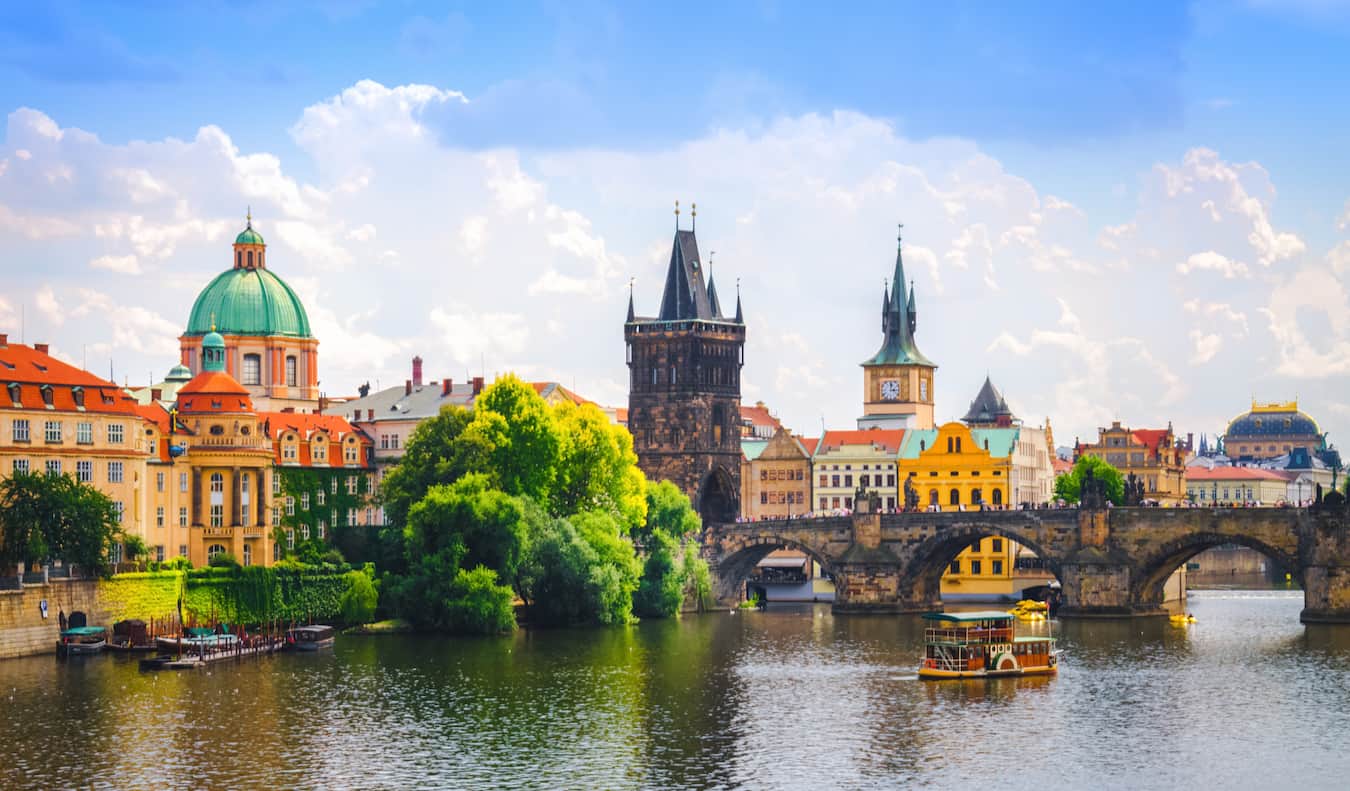 Last Updated: 8/4/2023 | August 4th, 2023
Prague is a destination that always seems to be in vogue.
It's been on the tourist map for decades, and the crowds show no signs of abating, especially as it becomes a center for digital nomads and tech workers.
It's a gorgeous, well-preserved medieval city with a rich history, expansive parks, Vegas-style nightlife, and a hint of romance. It holds a special place in my heart: it was the first city I backpacked through on my round-the-world trip in 2006. It was where I stayed at my first genuine hostel, the first place I was on my own, and the first place I went to where signs weren't in English. I grew as a traveler in this city.
I've been back over a dozen times since that first visit.
Over the years, a lot has changed: there are more tourists, prices are higher, the food is more international, and more foreigners live there. But its essence — all the clichéd stuff (cobblestone streets, quaint medieval houses, incredible charm) that makes Prague…well, Prague — is still there.
There's a reason why so many people visit Prague each year.
There is just so much to see and do in Prague that you aren't going to be short of things to choose from as you plan your trip.
To really see Prague, it's best to visit for four to five days. That will allow you to see all the main sites and get a sense of the city's culture — without rushing (something a lot of tourists do).
Prague Itinerary: Day 1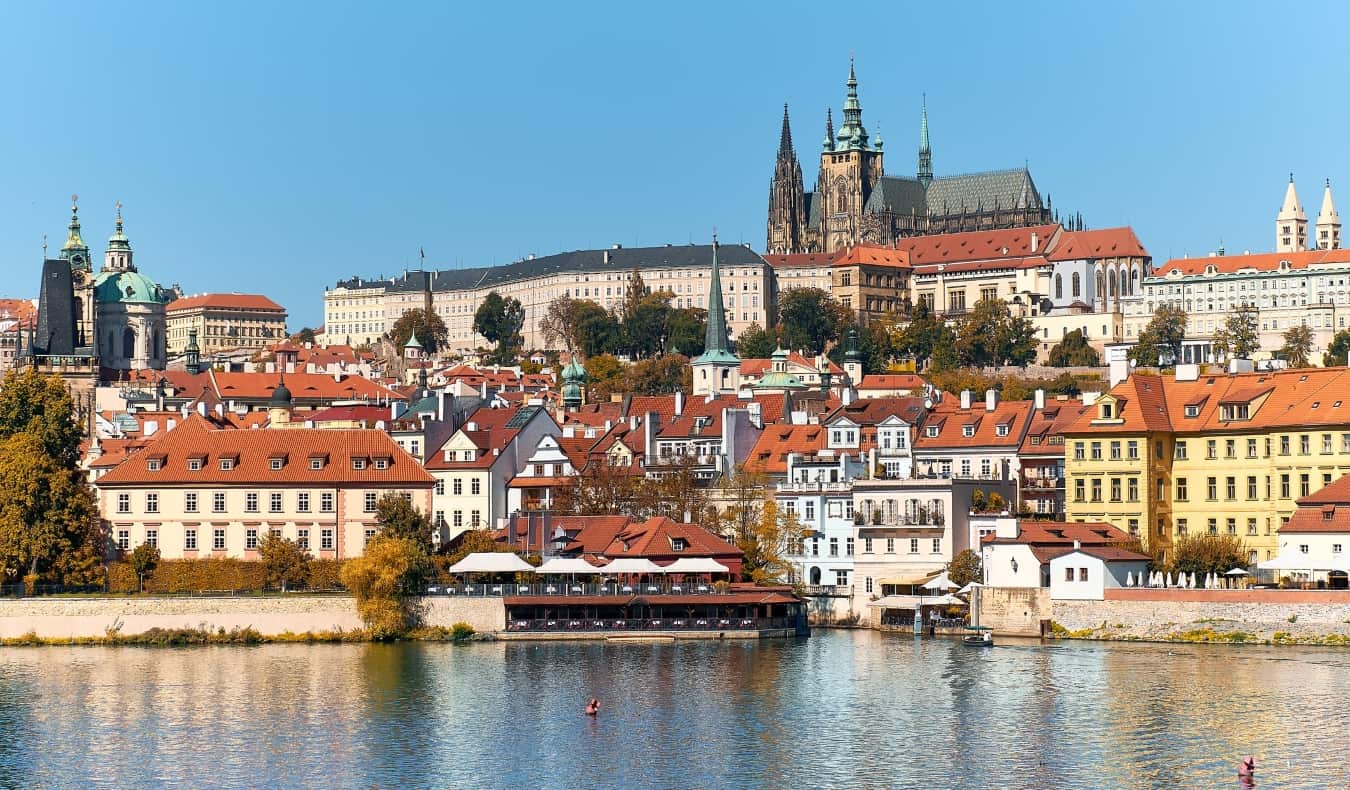 Take a free walking tour
Walking tours are a smart way to orient yourself to a new city, learn some history, and hear about the main attractions. There are a TON of free walking tours in Prague, so you'll have plenty of options. Most tour companies meet near the astronomical clock in the Old Town Square and last 2-3 hours. They will give you an overview of the main sites, like the Old Town Square, Charles Bridge, Prague Castle, the Jewish Quarter, and more.
My favorite company is New Europe. It operates free tours around Europe and tends to have upbeat guides and lots of historically accurate information. Free Tours by Foot is another great option.
If you are looking for a paid tour, check out Prague Alternative Tours, which runs amazing alternative art and history tours throughout town, run by local artists. The Prague: Ghosts and Legends Tour is another alternative tour option for those who want a more niche-focused (and spooky) tour. It's really fun. I highly recommend it.
Visit Prague Castle
The famous Prague Castle is the next logical place to visit, since all the walking tours end near this popular sight. The castle, which lords over the city, consists of multiple sections: St. Vitus Cathedral, the Old Royal Palace, The Story of Prague Castle, St. George's Basilica, Golden Lane with Daliborka Tower, the Powder Tower, and Rosenberg Palace. You can buy a ticket to any or all of these sights from the box office. The most famous structure is St. Vitus Cathedral — this is the large building you see when you look up at the castle from outside the city walls.
119 08 Prague 1, +420 224 373 368, hrad.cz. Open daily 6am-10pm. Tickets are 150-250 CZK while in-depth guided tours (including admission) cost 830 CZK.
Walk around Petrín Park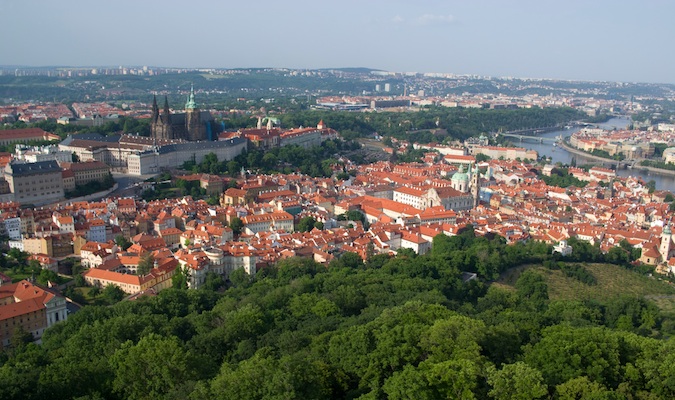 Petrín Park is the city's biggest and most beautiful park, offering sweeping views of Prague. You'll find a garden, a maze, and a lookout tower that looks like the Eiffel Tower. You can climb the 299 steps to the top of the tower and get an awesome view of Prague (on a clear day, you can see the Czech Republic's highest point, Snezka, some 150 kilometers away).
What I love about this expansive park is how easy it is to get lost among the trees. Paths meander throughout, and it's a relaxing contrast to the crowds of the historic center. Keep in mind that this park is on a big hill and walking to the top can be strenuous. There is a funicular that can take you down (or up) the hill if you don't feel like making the trek.
Petrínské sady 417/5. The park is open 24 hours and admission is free. Admission to the tower and maze is 272 CZK (get your tickets in advance here and skip the line).
Visit the John Lennon Wall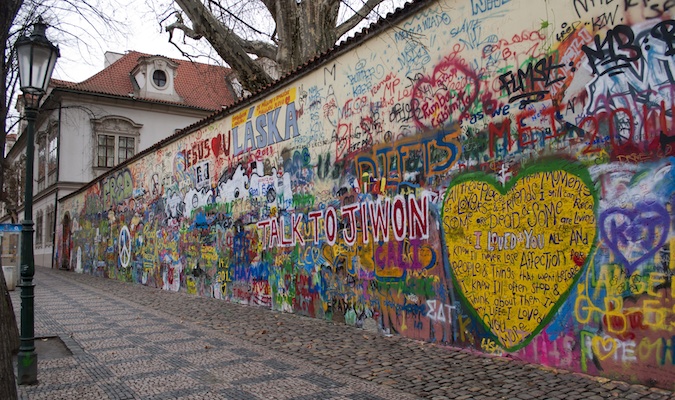 After Petrín Park, head down towards Kampa, a neighborhood by the river, and visit the John Lennon Wall. Toward the end of Communism in the 1980s, students started writing John Lennon lyrics on this wall as a way to air their grievances. Today, the wall represents love and peace. Tourists are allowed to write or paint on it too.
Velkoprevorské námestí. The wall is free to visit.
Relax on the waterfront
It's been a long day, so relax in Kampa with a satiating drink, some food, or a coffee. There are a number of appealing restaurants and cafés in the area. To get here, just keep walking toward the river from the John Lennon Wall. You'll cross a little bridge and there you are! You'll find lots of places to eat, sit, and relax, and when you're done, you can walk across the famous Charles Bridge back toward the city center.
Suggested restaurant: Kampa Park Restaurant.

Prague Itinerary: Day 2
Explore the Old Town Square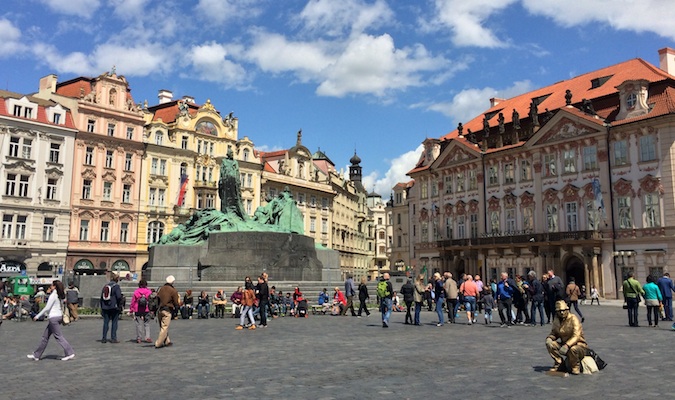 Though you got an overview of the Old Town Square during your walking tour, today you can savor the square's attractions in detail. Some of the highlights include:
Hang out in the square — The people-watching is unbeatable as tourists, families, students, and touts pass through the square. Sit on one of the benches, eat a sandwich, and enjoy! Moreover, there are a number of talented musicians — ranging from jazz musicians to Scottish bagpipe players, and everything in between — that perform in the square.
See the Astronomical Clock — Watch the most overhyped attraction in all of Prague! While the hourly chime that people line up for is anticlimactic, the detail and artistry of the clock make it one of the most beautiful in Europe.
Visit the churches — The beautiful Tyn and St. Nicholas churches line the square. St. Nicholas is open all day, but Tyn is only open in the mornings and late afternoons.
Explore the catacombs — Under the Old Town Hall, you'll find a series of catacombs worth exploring. They were the first level of the medieval houses that used to be in the square. Now, they are an exhibit showcasing medieval life (enter through the tourism office).
Explore the Jewish Quarter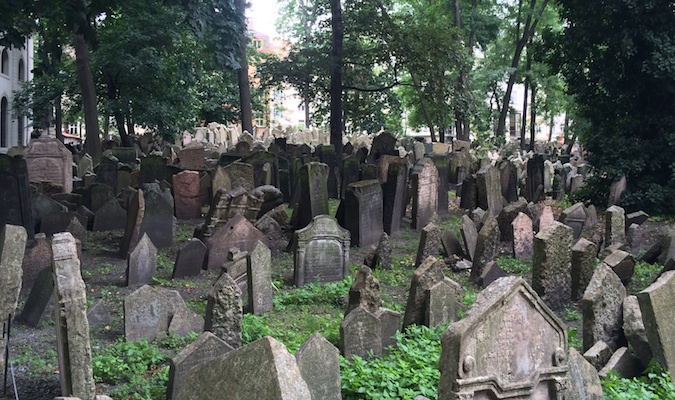 The Jewish Quarter in Prague is located between the Old Town Square and the Vltava River and has six synagogues, a Jewish Ceremonial Hall, and the Old Jewish Cemetery. It is one of the most popular attractions in Prague. Hitler saved it from Nazi destruction because he wanted to make the area a museum to the lost Jewish race. Now, the museums, synagogues, and historic graveyard in the area honor the history of what was one of the largest Jewish communities in Europe.
Explore Letenské sady (Letná Park)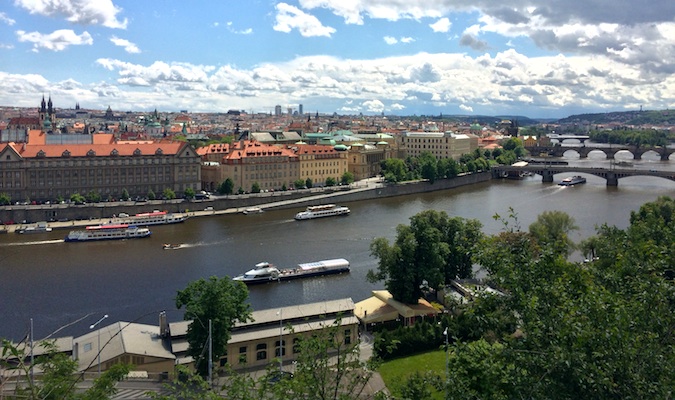 This park, across the river from the Jewish Quarter, features several walking trails, a café, and expansive views of the city. You'll see a lot of art students painting the cityscape. Crossover to Chotkovy sady for beautiful gardens and rear views of the Prague Castle. It's quiet, with secluded paths that make for an intimate romantic stroll.
170 00 Praha 7. The park is open 24 hours and admission is free.
Take an underground Prague tour
Prague Underground Tours runs an underground tour of the medieval houses in the city center. There are many "catacombs" in Prague, which are basically the first couple of levels of old houses below the Prague that has risen on the rubble of many centuries. This tour may be short, but it provides a detailed history of medieval Prague and is super interesting!
Malé nám 459/11, +420 777 172 177, prague-underground-tours.com. The tour costs 500 CZK and lasts about 75 minutes.
Prague Itinerary: Day 3
Take a day trip to Kutná Hora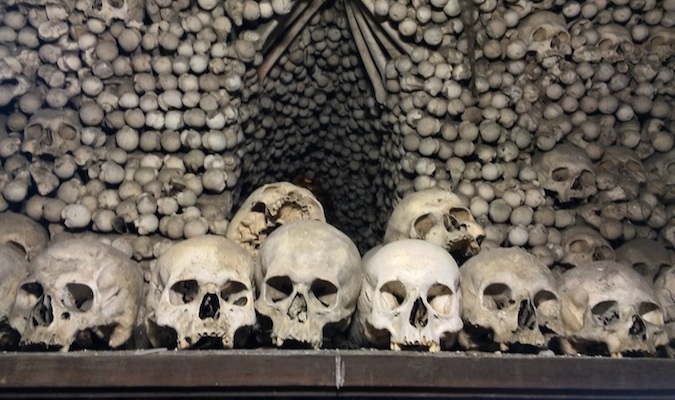 Kutná Hora was an important center for silver mining in medieval Bohemia. It helped keep the kings of Prague rich. Now the town is famous for its creepy bone church, Sedlec Ossuary, which contains 40,000-70,000 bones. Since the church takes only about 15 minutes to see, head into the historic city center to see some of Kutná Hora's other attractions, including marvelous medieval churches, overlooks, well-preserved streets, and a large town square. It's a small and quiet town that feels like Prague without the crowds.
You can take a half-day tour from Prague for 1,652 CZK or visit on your own (if you visit without a tour, skip-the-line tickets with an audio guide cost 200 CZK.
Trains for Kutná Hora leave regularly and the journey takes about an hour. It costs around 105-139 CZK each way.
Prague Itinerary: Day 4
Explore Vyšehrad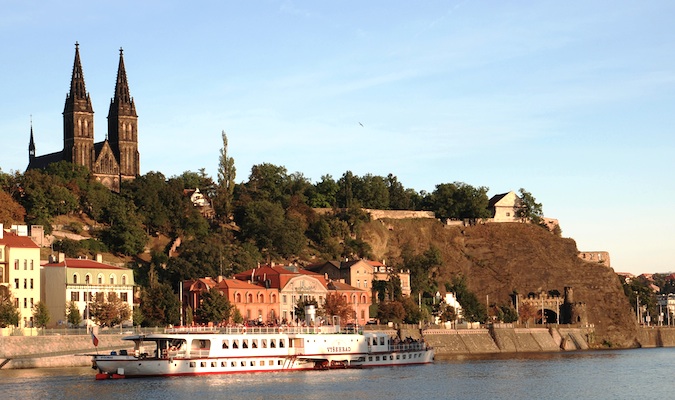 While Prague Castle gets all the love, Vyšehrad, located in the southern part of the city, was also one of the original castles of the kings of Prague. It was built around the 10th century and contains Prague's oldest surviving building, the Rotunda of St. Martin. Few tourists ever come here, so you'll get the castle and its views of Prague to yourself. It also offers good upriver views of the city.
V Pevnosti 159/5b, Praha 2, +420 241 410 348, praha-vysehrad.cz. Open daily 10am-6pm. Guided tours cost 830 CZK. I'd recommend a guided tour if you can as there's not a lot of signage here so it will help add context to what you're seeing.
Walk up the river back into town
From the castle, you can take a nice walk along the river back into the center of town. There are walking and bike paths, as well as places to stop, sit, and maybe read a book. It's mostly locals around here, despite it being about 20 minutes from the city center.
Visit the Powder Tower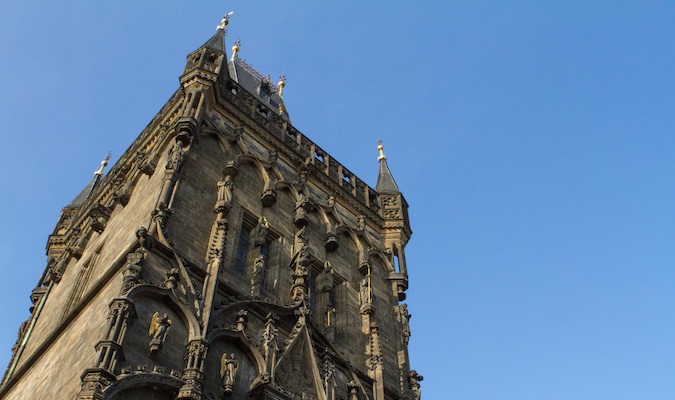 Back in town, be sure to check out this medieval tower, one of the original 13 city gates. Construction began in 1475 and, during the 17th century, the tower used to store gunpowder. It was heavily damaged in 1757, and most of the sculptures on it were replaced in 1876.
Namesti Republiky, 5, Stare Mesto, +420 725 847 875, prague.eu/en/object/places/102/powder-gate-tower-prasna-brana. Open daily 9am-9pm in the summer (check website for hours in other seasons). Admission is 190 CZK (get your tickets in advance and skip the line).
Wander the streets of Prague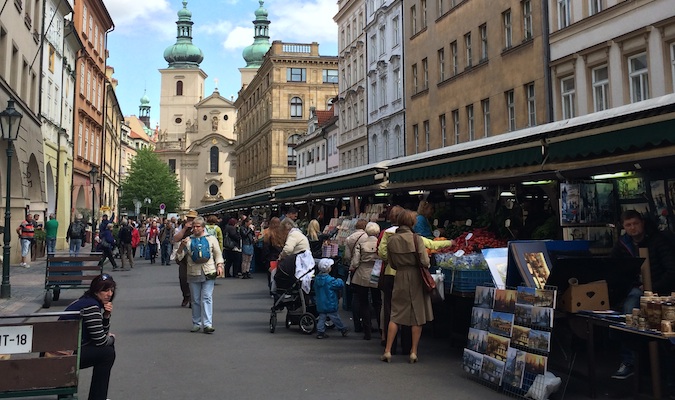 Prague is a stunningly beautiful and historic city. Meander its winding streets. Find random restaurants, markets, and churches. Sit and watch the people go by. Get happily lost and find your own offbeat attractions and things to do while you're here! Travel is, after all, an act of discovery!
Other activities while in Prague:
Take in a concert — Prague is famous for its classical music, and there are beautiful venues and concert halls throughout the city with nightly performances. There are a variety of shows to choose from, from a performance of Mozart's classics in a historic theatre over a 3-course dinner to the Prague Symphony Orchestra performing in the Spanish Synagogue.
Visit the Franz Kafka Museum — Love Kafka? Great! Then you know Kafka was from Prague. There is a museum dedicated to his life and work on the banks of the river. Admission is 300 CZK. kafkamuseum.cz.
Visit the National Monument at Vitkov Park — This hill has played an important role in the development of Prague and has a gigantic statue of Jan Žižka, who defeated the Catholic King Sigismund and his forces in 1420 on this very hill! You'll also find the Ceremonial Hall here, which has an exhibit on the history of the country during the 20th century (it's really good and detailed) and the Tomb of the Unknown Soldier. The high vantage point gives you incredible views of the city, and the park is popular for running.
***
Prague has been one of my favorite cities in the world since I first visited in 2006. It's gorgeous and brimming with fun things to see and do (especially if you love history).
Though there is a constant horde of tourists, Prague's magnificence will always make it worth visiting — just avoid coming in the middle of summer when the city is at its most crowded!
Get Your In-Depth Budget Guide to Europe!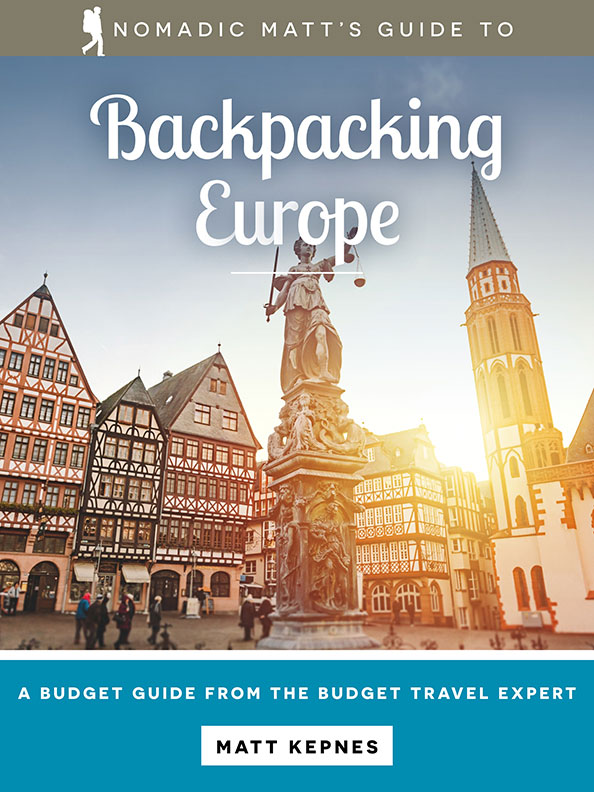 My detailed 200+ page guidebook is made for budget travelers like you! It cuts out the fluff found in other guides and gets straight to the practical information you need to travel while in Europe. It has suggested itineraries, budgets, ways to save money, on and off the beaten path things to see and do, non-touristy restaurants, markets, bars, safety tips, and much more! Click here to learn more and get your copy today.
Book Your Trip to Prague: Logistical Tips and Tricks
Book Your Flight
Use Skyscanner to find a cheap flight. They are my favorite search engine because they search websites and airlines around the globe so you always know no stone is left unturned!
Book Your Accommodation
You can book your hostel with Hostelworld as they have the biggest inventory and best deals. If you want to stay somewhere other than a hostel, use Booking.com as they consistently return the cheapest rates for guesthouses and cheap hotels. Tow of my favorite places to stay are:
If you're looking for more places to stay, here are all my favorite hostels in Prague!
Don't Forget Travel Insurance
Travel insurance will protect you against illness, injury, theft, and cancellations. It's comprehensive protection in case anything goes wrong. I never go on a trip without it as I've had to use it many times in the past. My favorite companies that offer the best service and value are:
Looking for the Best Companies to Save Money With?
Check out my resource page for the best companies to use when you travel. I list all the ones I use to save money when I'm on the road. They will save you money when you travel too.
Want More Information on Prague?
Be sure to visit our robust destination guide on Prague for even more planning tips!