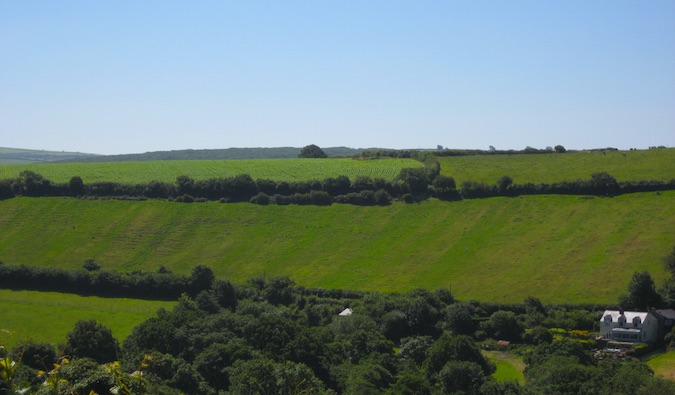 Last Updated: 02/04/20 | February 4th, 2020
The Cornwall region is the farthest west you can go in England. The county is filled with farms, small towns (I stayed in Lostwithiel, population 3,000), and tiny fishing villages. The area has been populated since the Neolithic and Bronze Age. Eventually, the Britons (who were Celtic in origin) claimed the region, with the first written account of the region dating all the back to the 4th century BCE. It's been an important maritime region for centuries, though these days the area isn't held in high regard.
Cornwall is usually referred to as the backwater of England and its residents as rubes. Its image in England is like that of Kentucky or Tennessee in the United States. And, just like those two states, the stereotype of Cornwall is anything but true.
This simple lifestyle is what gives Cornwall its charms and is one of the reasons it's been the best place I've been in England. I could have easily spent the whole summer here relaxing, boating, biking, and gardening.
Life around London is busy. People in the street rarely acknowledge each other, it's all business, and everyone is rushing somewhere. You keep your head down and go your own way. In Cornwall, everyone was friendly, life was slower, the kids could stay out at night, and there are a plethora of outdoor activities to keep you busy during the day. Though this difference could be said about any rural/city comparison in the world, the analogy certainly applies here and is why so many couples and families move here from the Big Smoke.
I was out here visiting Cornwall to see my friends Mat and Kat. I'd met them while traveling Vietnam in 2006. They had been cycling around Southeast Asia, and I was taking the easier train/bus route. We met up occasionally and even biked the Mekong Delta together (though that turned out to be a disaster). When I told them I was coming to England, they were happy to have me and were amazing hosts who tirelessly showed me all Cornwall had to offer.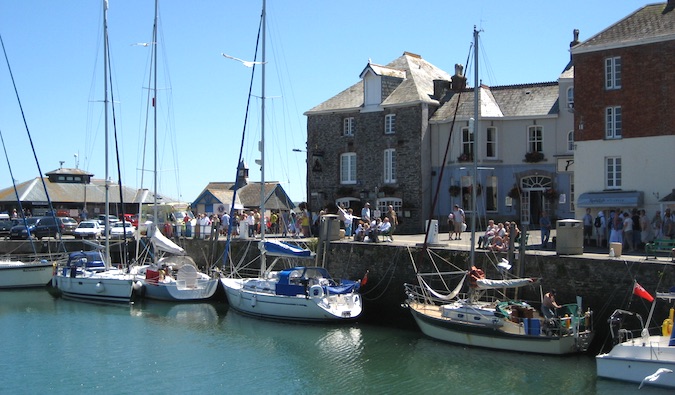 Visiting Cornwall, as it turns out, is very much like New England. On my first night there, we went to this riverside restaurant for dinner. I had fish and chips (the best I've had so far), and a few of their friends came down and we spent the night chatting away. The restaurant was located on the banks of a river dotted with little sailboats. Looking out over the river, I felt like I was in the Hudson Valley in New York, with only the accents of the locals giving the location away.
That feeling stayed with me throughout my time in Cornwall.
The following day we woke up early and headed to the Camel Trail. The Camel Trail is a 12-mile bike trail from Bodmin to the small coastal town of Padstow. The trail takes you along the Camel River through woods, estuaries, and eventually up the coast. It was a beautiful, easy ride, though by the end of the return trip I was a little tired since I'm pretty out of shape. Biking along, we stopped at the Camel Valley Vineyards, one of the few wineries in England to actually make something drinkable. (Though I didn't like their reds, their white wine was tasty.)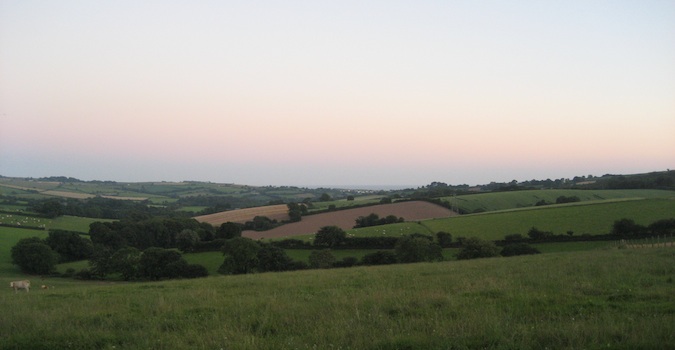 From the hill they're on, you can see the surrounding farmland. Farms dot the rolling hills, and cows and sheep can be seen for miles. The hilly area reminded me of Vermont with its farms, wineries, and dairy producers.
After a while, we ended in Padstow, and I felt like I'd returned home. All around me people were sitting at the marina, snacking on fried seafood and French fries as the seagulls circled overhead waiting for their meal. Tourists flooded in and out of the restaurants, and kids snacked on ice cream and fudge. Candy stores selling rock candy and taffy lined the streets, and adults sat outside with a beer. In the water, people sailed, wakeboarded, or swam while some boats headed out to sea.
Yes, I had returned home to Rockport, or Gloucester, or the fishing villages of Maine, where all the locals go in the summer to escape the city.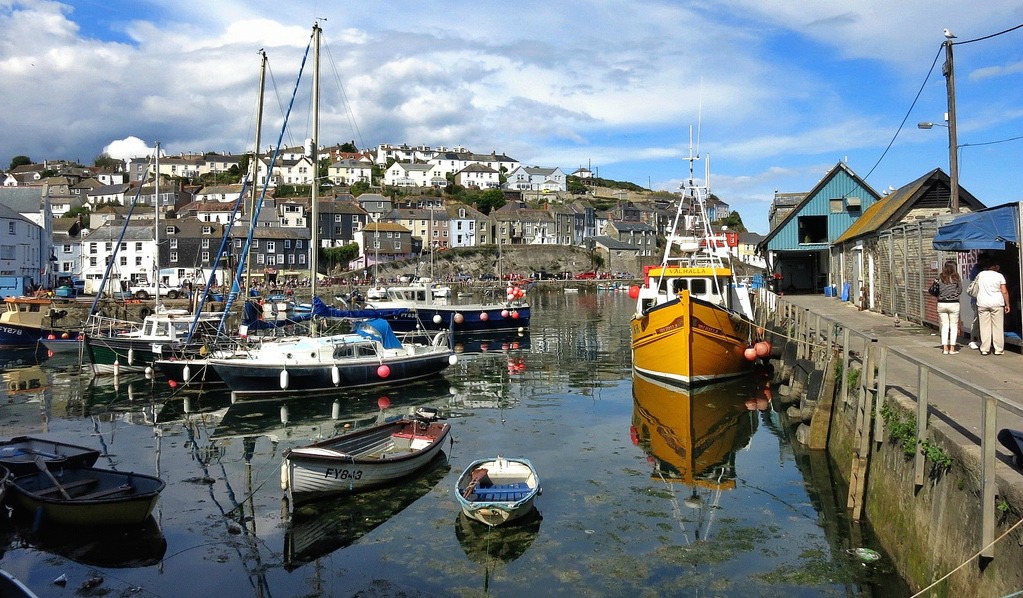 We spent lunchtime there and, after digesting our meal, headed back home—but not before stopping off at the winery to pick up a few bottles of their white. That night, a BBQ erupted among the locals in the town center. Families kept showing up, and before you knew it, it seemed like half the town's children were playing in the stream while the parents kept a watchful eye. It was a real, friendly, small-town atmosphere, and it's part of the reason my friends fell in love with the place. Again, it was like being in New England. All around New England, small towns have a similarly close and cozy feel.
I always had a soft spot for the outdoors, and though I'm a city guy, I could easily spend a few months enjoying the area, with all those bike trails, rivers, woods, and fishing villages.
And, especially, the impromptu barbecues.
More Things to See and Do in Cornwall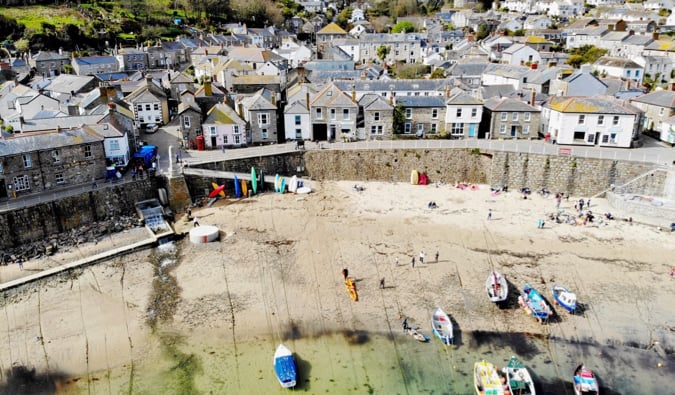 To help you make the most of your trip, here are some highlights from the area you'll want to check out:
1. Chygurno Gardens
This beautiful, unique, three-acre garden overlooks Lamorna Cove. It is a maze of steep pathways and terraces that have been carved into the rocks. It's a great place to bring your own picnic and go for a stroll. You can easily spend a couple hours walking around here and taking in the view.
1 Lamorna Cove, +44 1736 732153. Opening days and times vary so be sure to check in advance. Admission is 5 GBP for adults but children enter free!
2. Minack Theatre
The Minack Theatre is Cornwall's world famous open-air theatre. It is carved into a granite cliff and overlooks Porthcurno Bay and offers performances from May- September. The area was first used for performances in the 1930s, with the venue growing in size over the years. These days, over 100,000 people visit the theatre each year.
Porthcurno, +44 1736 810181, minack.com. Prices vary depending on the event. See the website for performance information.
3. Chysauster Ancient Village
This Iron Age settlement is 2,000 years old and is one of the best examples of a settlement in the country. Archaeological investigations have revealed that these people were mostly farmers and might have also had pigs and goats. It's a great snapshot of the past and worth checking out if you're a fan of history.
New Mill, +44 0370 333 1181, english-heritage.org.uk/visit/places/chysauster-ancient-village. Closed from November 5, 2018 to March 31, 2019. Adult tickets are 4.80 GBP, with discounts for students, seniors, and children.
4. Hike or bike the Camel Trail
This was my favorite thing to do here. It's one of the most popular bikes routes in the country and runs from Padstow to Wenford Bridge. The 28km trail passes through wooded countryside, estuaries, across wineries, and through small towns. It's extremely flat and easy to do and can be done in a day! It's a great way to get a sense for the region while getting some exercise!
5. Visit St. Mawes Castle
Built between 1539-1545, St Mawes Castle is among the best-preserved of Henry VIII's coastal artillery fortresses and the most elaborately decorated of them all. The castle was designed to sink passing enemy ships (primarily from nearby Catholic France and Spain). It's amazing, huge, and the displays are quite informative!
Castle Drive, St. Mawes, +44 370 333 1181, english-heritage.org.uk/visit/places/st-mawes-castle. Open daily from 10am-6pm but check the website before your visit to confirm. Admission is 6 GBP for adults with discounts available for children and families.
6. Visit Tintagel Castle
Legend says this is the birthplace of King Arthur. Explore the grounds, the castle, and you can even visit nearby "Merlin's Cave." Set high on the rugged North Cornwall coast with dramatic views and fascinating ruins, even if Arthur was never born here, it's one of the prettiest castles in the area and definitely worth a visit.
Castle Road, Tintagel, +44 8407 70328, english-heritage.org.uk/visit/places/tintagel-castle. The castle is closed until spring 2019. Admission is 9.50 GBP for adults, with discounts available for children and families.
7. Walk to St Michael's Mount
While you can take the ferry over, walking to the island during low tide is much more fun. Located on the island are a castle and chapel which likely date back to a monastery from the 8th century. While much smaller than the Mont Saint-Michel in France, it definitely evokes the same feeling.
8. The Tate St Ives
This is one of 4 Tate galleries in the UK, home to an incredible modern art collection (if modern art is your thing). It's located right by the ocean and offers some great views in addition to some impressive art. Check the website for the most up-to-date list of exhibitions and events.
Porthmeor Beach, +44 0173 679 6226, tate.org.uk/visit/tate-st-ives. Open Tuesday-Sunday from 10am-4pm. Admission is 10.50 GBP for adults, with free entry to anyone under 18. You can also get 1 GBP off your ticket price if you get there by public transportation.
How to Get to Cornwall
Flights from London to Cornwall (Newquay airport) operate daily and are just over an hour. Tickets can usually be purchased for 30-120 GBP. Depending on where exactly you go, the journey by train will take just over 5 hours and cost between 100-200 GBP. If you want to take the bus, expect to pay around 20 GBP for the 7-hour journey. If you're going by car, the trip will take around 5hrs 30 minutes (again, depending on where in the region you want to go).
Get Your In-Depth Budget Guide to Europe!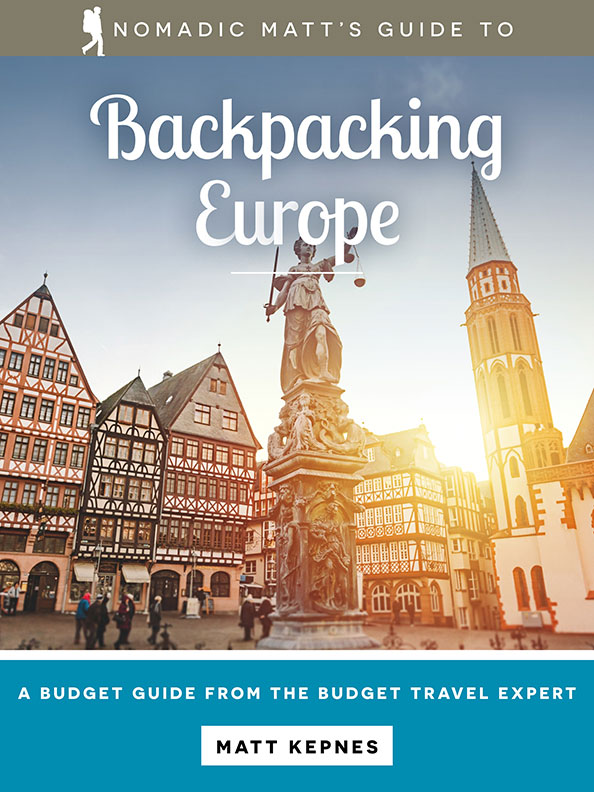 My detailed, 200+ page guidebook is made for budget travelers like you! It cuts out the fluff found in other guidebooks and gets straight to the practical information you need to travel and save money while backpacking around Europe. You'll find suggested itineraries, budgets, ways to save money, on and off the beaten path things to see and do, non-touristy restaurants, markets, and bars, and much more! Click here to learn more and get started!

Book Your Trip: Logistical Tips and Tricks
Book Your Flight
Use Skyscanner or Momondo to find a cheap flight. They are my two favorite search engines because they search websites and airlines around the globe so you always know no stone is left unturned. Start with Skyscanner first though because they have the biggest reach!
Book Your Accommodation
You can book your hostel with Hostelworld as they have the biggest inventory and best deals. If you want to stay somewhere other than a hostel, use Booking.com as they consistently return the cheapest rates for guesthouses and cheap hotels.
Don't Forget Travel Insurance
Travel insurance will protect you against illness, injury, theft, and cancellations. It's comprehensive protection in case anything goes wrong. I never go on a trip without it as I've had to use it many times in the past. My favorite companies that offer the best service and value are:
Looking for the Best Companies to Save Money With?
Check out my resource page for the best companies to use when you travel. I list all the ones I use to save money when I'm on the road. They will save you money when you travel too.
Want More Information on England?
Be sure to visit our robust destination guide on England for even more planning tips!