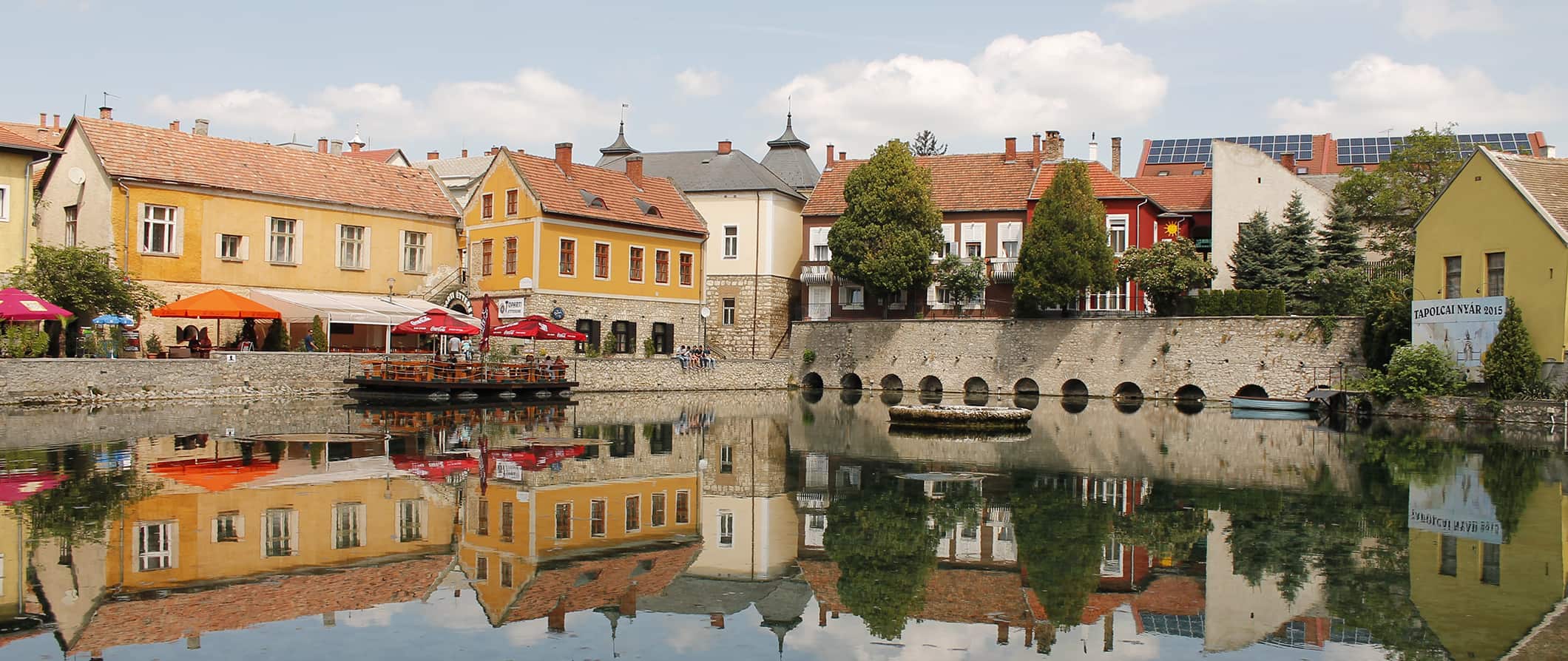 Hungary is one of the many underrated gems of Europe. Compared to pricey Western Europe, Hungary offers incredible value. It boasts beautiful landscapes, rich history, hearty food, and affordable nightlife (Budapest is one of the best nightlife spots on the continent).
You'll also find fewer crowds, cheaper prices, beautiful national parks, historic city centers, and friendly people.
It's one of my favorite places to explore in Europe!
While most visitors only visit Budapest, there is so much to see elsewhere around the country. It always surprises me that, for a country in the middle of Europe, so few people actually bother to explore it!
This travel guide to Hungry can help you visit the country on a budget and ensure you have an epic trip without breaking the bank.
Click Here for City Guides
Top 5 Things to See and Do in Hungary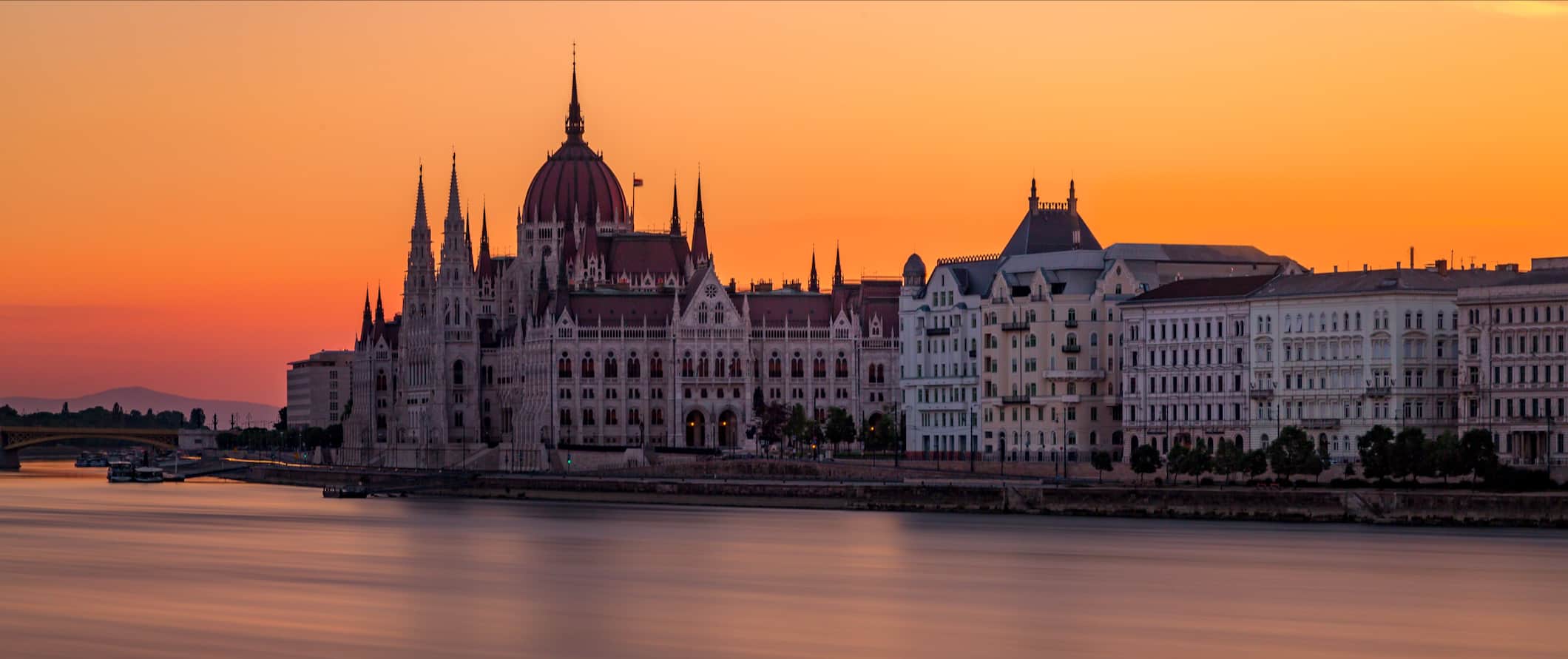 1. Explore Budapest
With its cheap accommodation, a multitude of thermal baths, and historic castles, Budapest is always a big hit with travelers. On a visit to Hungary's capital city, you can explore underground caves, marvel at the stunning architecture, and enjoy the incredible nightlife. Cruise the river Danube on a riverboat to check out the views during the day, and then dance the night away when the boats turn into some of the city's best late-night clubs. It has lots to do, cheap food, and a lively atmosphere. It's one of my favorite cities in the world!
2. Visit the ruin bars
After World War II, many buildings in the city were left ruined and abandoned. Squatters, then artists, and now hipsters moved into them and have turned them into eclectic "ruin bars" that even the locals love. The atmosphere is grungy and unique with rundown exteriors that open into hip spaces for dancing, performance art, and theater. Decorated with reclaimed materials and quirky antiques, the ruin bars are an iconic part of Hungary's nightlife. Szimpla Kert and Fogasház are among my favorites.
3. Soak in the largest thermal lake in the world
Hévíz is located near Lake Balaton and is home to the largest swimmable thermal lake in the world, Lake Hévíz. Whatever the season, the lake remains a perfect temperature for taking a dip in the therapeutic waters which are rich in minerals like magnesium, calcium, sulfur, and hydrogen carbonate (Hungary's thermal waters have been used for thousands of years for their health benefits). In the early 1900s the area became a popular spa resort destination, with visitors flocking from all around Europe. There isn't much to the town beyond this, but it makes for a neat day trip if you're in the area. Single entry tickets are 3,500 HUF for three hours and there is a range of spa services available too.
4. Hike Gulács Hill
This inactive volcano stands around 400 meters (1,312 feet) high and makes for a wonderful hike. The path is rugged and often covered in dense forests or fallen trees, so it's not ideal for children. Various trails snake up the mountain, and on the way, you can visit other landmarks like an old, abandoned quarry. Mysterious paths continuously intersect and lead to nowhere, so it's easy to get a little lost, and dense woods add to the mystique of the hike. From the first observation point, you can see all the way to Lake Balaton. You'll get stunning views of the entire area and it's only a 3-kilometer (2-mile) trek. It makes for an easy day trip from Budapest.
5. Take a trip to Eger
Tucked away in northern Hungary near the Bükk Mountains, this town dates all the way back to the 10th century. It is known for its historic castle, which was originally a manor house and chapel that overlooked the valley. Throughout the 11th and 12th centuries, the castle suffered major damage and was rebuilt and fortified multiple times until the church began to demolish the structure in the late 1700s. Luckily, the demolition was stopped, and archeological digs and excavations began in the 20th century. Today, visitors can explore the remains of the medieval bishop's castle for 2400 HUF. Eger is also famous for its stunning Baroque and architecture and Turkish ruins, thermal baths, and the best red wine in the country. You can buy wine directly from those who make it, so this is a good place for souvenirs — or to stock up for yourself!
Other Things to See and Do in Hungary
1. Dance at the Sziget Music Festival
The Sziget Music Festival is one of the largest music festivals in Europe. It takes place every August for one week on Margaret Island in Budapest, right on the Danube River. Because of its size and international popularity, tourists and locals alike flock to Budapest to take in the scene. With over 1,000 performances, there is something for most musical tastes. You can book tickets online. Prices start around 132,000 HUF for a full festival pass.
2. Relax at Lake Balaton
Lake Balaton is the biggest freshwater lake in Central Europe and is known affectionately as the Hungarian inner sea. It's a popular tourist destination both for visitors and nationals thanks to its beaches and volcanic hills. In Tihany, you can visit a Benedictine Abbey that dates to 1065 CE (admission is 2,200 HUF). Towards the north of the lake is a wine-growing region, wetlands, and some epic hiking trails. For those looking for more relaxation, you'll find over 1,000 hot springs famed for their medicinal properties here. One of the most popular is Héviz Lake (mentioned above) which also offers visitors a whole range of different spa treatments. Treatments start from 3,900 HUF for a 35-minute massage.
3. Cruise along the Danube
The Danube is the second-longest river in Europe (the Volga is the longest). The river runs through the entire country and you can visit many of the small towns that line its coast by taking a boat cruise (you can even cruise into Germany if you have time). Expect to pay around 22,000 HUF for a full-day cruise that includes lunch. For a shorter 4-hour cruise without food included, prices start at 4,000 HUF.
4. Visit the Necropolis in Pécs
Located just a couple hours from Budapest, this UNESCO World Heritage Site dates to the 4th century. It's the largest necropolis in Europe, with several burial chambers open to the public, including multi-level chambers. Admission is 1,700 HUF. It's currently closed for renovations and expected to reopen in early 2023.
5. Take a food tour
Hungarian cuisine is both delicious and hearty. If you're a foodie like me and want to sample the country's most popular dishes (while learning about their cultural importance), take a food tour. Food Tour Budapest runs in-depth guided tours around Budapest that can introduce you to the region's best dishes and teach you how they came to be. Tours last a few hours and start at 18,200 HUF.
6. Admire the National Gallery
Established in 1957 and located in the Royal Palace in Budapest, the National Gallery is home to works from prominent Hungarian and European artists. There are a lot of paintings and sculptures here, as well as a collection of altarpieces from the 1400s. You can also tour the building's dome for views of the city. It's not a huge gallery, so you only need a few hours to take it in. Admission to the gallery is 3,400 HUF per person and an audio guide is 1,100 HUF.
7. Go birdwatching
Hungary is home to a surprising number of bird species. Hot spots for birding include Hortobágy, Lake Ferto, Kiskunság, Lake Tisza, Bükk, and the Zemplén Mountains. In these places, you have a fair chance of seeing great bustards, sakers, imperial eagles, pygmy cormorants, woodpeckers, and even Ural owls. There are several companies that can arrange small group trips to these places (often combined with other activities, like wine tastings). Tours aren't cheap, though — multi-day tours cost upwards of 240,000 HUF — so consider a self-guided trip if you're on a budget.
8. Visit the House of Terror museum
Hungary is infamous for the brutality of its leaders under the Nazi and Soviet regimes. This building is both a museum and a memorial paying homage to the thousands of people who were tortured and brutally killed here. It's not a light way to spend your afternoon, but you'll get heaps of insight into Hungary's complex history. Admission is 4,000 HUF.
9. Cycle the countryside
There are over 2,000 kilometers (1,243 miles) of cycling paths in the Hungarian countryside (and 200 kilometers/125 miles around Budapest). Lake Balaton has a popular cycling route that runs all the way around its perimeter. For those looking to go further afield on a multi-day excursion, the paths in Hungary also connect with routes in Germany and Austria. The routes are easy to navigate, though if you prefer to take a guided tour there are plenty available. A one-day guided tour costs between 22,220-55,550 HUF per person. If you are traveling with a bicycle, it can be transported by train within Hungary.
10. Explore Tengerszem Nature Preserve
This nature preserve is in an old stone mine, which closed in 1907. Nature has slowly reclaimed the area and water has filled the massive gorge. The site was declared the most beautiful area in all of Hungary in 2011. It's a unique location to spend the day as its protected status means there are all kinds of incredible flora and fauna to be seen. The preserve is near Sarospatak in the northeast of the country (it's just 20 minutes from the border with Slovakia).
11. Soak in the baths
Thermal baths are a big part of Hungarian culture. Whether you're relaxing in the famous Szechenyi Baths in Budapest or checking out a small hot pool in the countryside, you can't leave Hungary without partaking in this local pastime (there are over 1,300 thermal baths in the entire country). Weekday admission is around 3,800 HUF per person, with prices rising slightly on the weekend.
12. Visit the Royal Palace (Buda Castle)
They call it a castle, but the Royal Palace in Budapest is more of a palace complex than a proper 'castle.' Though it was originally constructed in the 13th century, the huge Baroque complex you see today was built between 1749 and 1769. The palace's days of being a luxurious living space ended in World War II when Nazi (and then Russian) troops looted it. Today, it's home to a collection of museums. Beneath the castle, there is a spooky labyrinth that tourists can explore for 3,000 HUF.
13. Wander the Great Market Hall
At the head of Budapest's Vaci Utca, the kitschy shopping street in town, is the Great Market Hall. Built in 1897, this is the oldest and largest indoor market in the country. Its incredible exterior is covered in the same ceramic tiles as are on the roof of Matthias Church on the top of Buda Hill. Walk the aisles and check out local produce and artisanal crafts, buy local spices like paprika, and sample the tasty food stalls. This is the perfect place to people-watch, have lunch, and pick up souvenirs. Food tours are also available at 11am every Saturday and cost around 13,300 HUF for a two-hour tour. The market is open Monday-Saturday.
14. Soak in the Cave Bath
If you enjoy spas and are in need of some pampering, the Cave Bath at Miskolctapolca is a must. Located within a natural cave system two hours east of Budapest, here the water is rich in natural minerals and is said to contain healing properties. The water is a relaxing 30°C (86°F) and there are several different pools to enjoy as well as reasonably priced spa treatments available. The baths are open year-round (except January) and admission starts at 3,500 HUF.
15. Attend the Busójárás Festival
This slightly scary festival happens annually in the lead-up to Ash Wednesday in the town of Mohács. During this time, locals parade through the town dressed in traditional clothing and wearing demonic face masks. No one is 100% certain where the tradition comes from as there are two very different stories, so it really depends on who you ask. One story is that it stems from an attempt to frighten off the Ottoman invaders. The other is that it's part of a pagan tradition to frighten away the winter. Either way, it's an interesting festival to witness. The dates of the festival change each year to coincide with Easter.
16. Tour the wine region
If you are a wine fan, the region of Eger in northern Hungary is where you'll find the country's best wines. There are many vineyards here where you can take a tour as well as sample and buy wine. A private wine tour and tasting costs upwards of 60,000 HUF so if you are on a tight budget keep an eye out for special wine-tasting evenings. Here you can tour the cellars and enjoy plenty of samples at a discount. Two of the most popular wineries to visit are the Gál Tibor winery and Bolyki Pincészet.
17. Explore the Caves of Aggtelek Karst
The Caves of Aggtelek Karst are part of Aggtelek National Park, one of the only UNESCO World Heritage Sites in the country. There are 712 caves spread out over 138,000 acres that run along the border of Hungary and Slovakia. The site is made up of seven areas with five in Hungary and two in neighboring Slovakia. Within the caves, you can see some of the largest stalactites and stalagmites in Europe. You can also book a tour that takes you across the border to see the caves in Slovakia. To enter the caves, you must be part of a guided tour. Admission is 2,200 HUF. For more information on tour times check the official website.
18. Go hiking in Hortobágy National Park
Located in the eastern part of Hungary, this is the largest protected landscape in the country. The park was created in the 1970s and became a UNESCO World Heritage Site in 1999. The grassy plains (also known as a steppe) are home to all sorts of domestic animals, including cattle, horses, and water buffalo tended to by traditional herdsmen. Some of the rarest animal breeds can be found here, including great bustards, lesser white-fronted geese, white-tailed eagles, and falcons. The landscape is incredibly stunning.
19. See the Bokod Floating Houses
Bokod and Oroszlány are two towns located outside Budapest. The towns are home to a collection of cottages and cabins on stilts that line the coast of Lake Bokodi. The cabins and cottages are popular with the locals in the summer months, though there are some fishermen who spend time here in the winter as well (the lake is famous for almost never freezing, even though Hungary has cold winters). It's an off-the-beaten-path destination that few tourists visit.
20. Visit the Hungarian Versailles
Eszterháza is a vast palace located near the border with Austria and is often considered the Hungarian version of France's Versailles. Constructed in the late Baroque style, the palace was built throughout the 18th century after being commissioned by Prince Nikolaus Esterházy, who wanted a palatial getaway for his hunting expeditions. There are 126 rooms in the palace and the library houses over 22,000 books. Daily tours are available in English if you want to see this decadent getaway with your own eyes. Admission is 6,000 HUF and guided tours are 7,300 HUF.
For information on specific cities in Hungary, check out these guides:
Hungary Travel Costs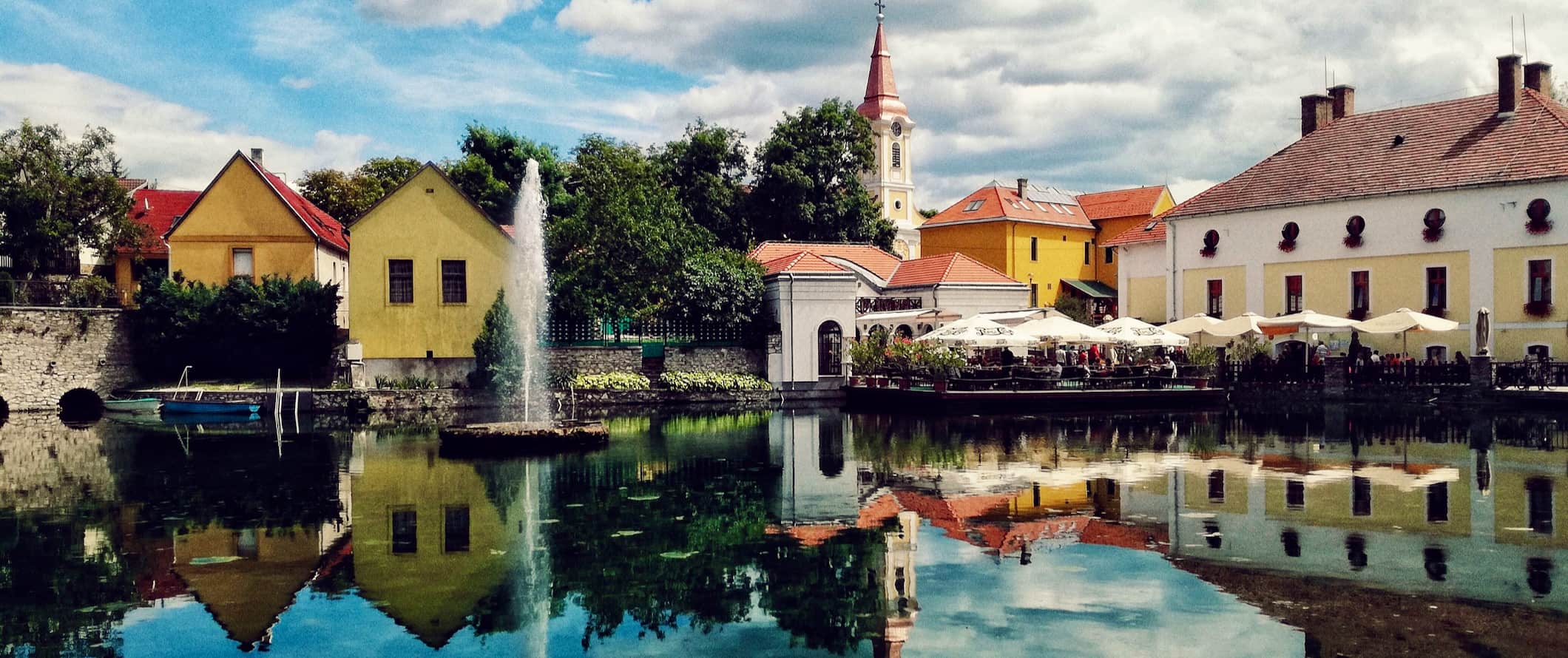 Accommodation – Hostels are incredibly affordable in Hungary, costing around 3,200 HUF per night for a bed in a dorm with 6-8 beds. Private rooms can be found for as little as 9,000 HUF per night. Free Wi-Fi is common, and a few hostels also offer free breakfast. Most hostels have kitchens if you plan on cooking your own meals.
Campsites can be found around the country, usually costing 3,500 HUF for a basic tent plot for two people without electricity. Wild camping is not legal.
Budget hotels can be found for as little as 9,800 HUF per night. For a double room with Wi-Fi and free breakfast, expect to pay closer to 15,300 HUF.
Airbnb is available around the country, with private rooms starting at 7,000 HUF per night (though they average 15,000 HUF). For an entire home or apartment, expect to pay closer to 15,000-20,000 HUF.
Food – Traditional Hungarian food is inexpensive and hearty. It's very much a "meat and potatoes" country, with popular dishes being meat stew, smoked meats, casseroles, and dumplings. Túró is a popular local cheese and fruit pastries are a popular (and traditional) dessert. Be sure to try halászlé, a hot and spicy fish soup with paprika.
A meal at a restaurant serving traditional cuisine costs around 2,000 HUF. For a multi-course meal and a drink at a restaurant with table service, expect to pay closer to 6,000 HUF. In the larger cities, fast food (think McDonald's) can be found for around 2,200 HUF.
You can find pizza for around 2,100 HUF for a medium while Chinese food costs around 2,900 HUF. Beer costs around 500 HUF while a latte/cappuccino is 450 HUF. Bottled water is 275 HUF.
If you plan on cooking your own meals, a week's worth of groceries costs around 12,000 HUF. This gets you basic staples like rice, pasta, seasonal produce, and some meat.
Backpacking Hungary Suggested Budgets
On a backpacking budget of 11,500 HUF per day, you can stay in a hostel dorm, cook most of your meals and eat a little fast food, limit your drinking, use public transportation to get around, and do mostly free activities like walking tours and hiking. If you plan on drinking, add another 600-1,200 HUF to your daily budget.
On a mid-range budget of 29,500 HUF per day, you can stay in a private hostel room or Airbnb, eat out at cheap restaurants serving traditional cuisine, have a few drinks, take the occasional taxi to get around, and do more paid activities like visiting museums and lounging in the thermal baths.
On a "luxury" budget of 48,000 HUF per day, you can stay in a hotel, eat out anywhere you want, drink as much as you want, rent a car for day trips, and do more guided tours and paid tours. This is just the ground floor for luxury though. The sky is the limit!
Accommodation
Food
Transportation
Attractions
Average Daily Cost
Backpacker
3,000
3,500
2,000
3,000
11,500
Mid-Range
10,000
8,000
4,000
7,500
29,500
Luxury
14,000
16,000
8,000
10,000
48,000
Hungary Travel Guide: Money-Saving Tips
Hungary is a very affordable destination. It's hard to spend money here unless you're out partying all the time or splashing out to visit spas. That said, it never hurts to save more money! Here are some tips to help you make the most of your budget in Hungary:
Take a free walking tour – Free walking tours are available in Budapest and are the best way to get the lay of the land for cheap. You'll learn a lot about the city and get access to an expert local guide who can answer your questions. Be Original Tours runs an interesting tour to get you started. Just be sure to tip your guide!
Stay with a local – Staying with a local via Couchsurfing is a great way to save money and meet a knowledgeable local who can share their insider tips and advice.
Cook your own meals – While eating out isn't too expensive here, if you're on a budget it's cheaper if you cook your own meals. Head to a local grocery store and save money!
Rideshare – Ridesharing apps like BlaBlaCar allow you to share rides with locals in order to get around the country (it's best for medium and long distances). Everyone is registered and verified so it's quite safe, and while it isn't free it's likely more interesting (and faster) than taking a train or bus.
Walk everywhere – Most cities in Hungary are quite walkable (even Budapest). Plan your days strategically so you can limit your use of public transportation and capitalize on the opportunity to explore on foot.
Get the Budapest Card – The Budapest Card is a travel pass that provides discounts and deals on attractions and activities in the city. You get free public transport, entry to the Lukács thermal baths, and entry to 17 museums. A 24-hour card costs 11,870 HUF, a 48-hour card costs 17,600 HUF, and a 72-hour card costs 23,000 HUF.
Bring a water bottle – The tap water here is safe to drink so bring a reusable water bottle to save money and reduce your plastic use. LifeStraw is my go-to brand as their bottles have built-in filters to ensure your water is always clean and safe.
Where to Stay in Hungary
Hungary has lots of hostels in its major cities. Here are some of my suggested places to stay in Hungary:
How to Get Around Hungary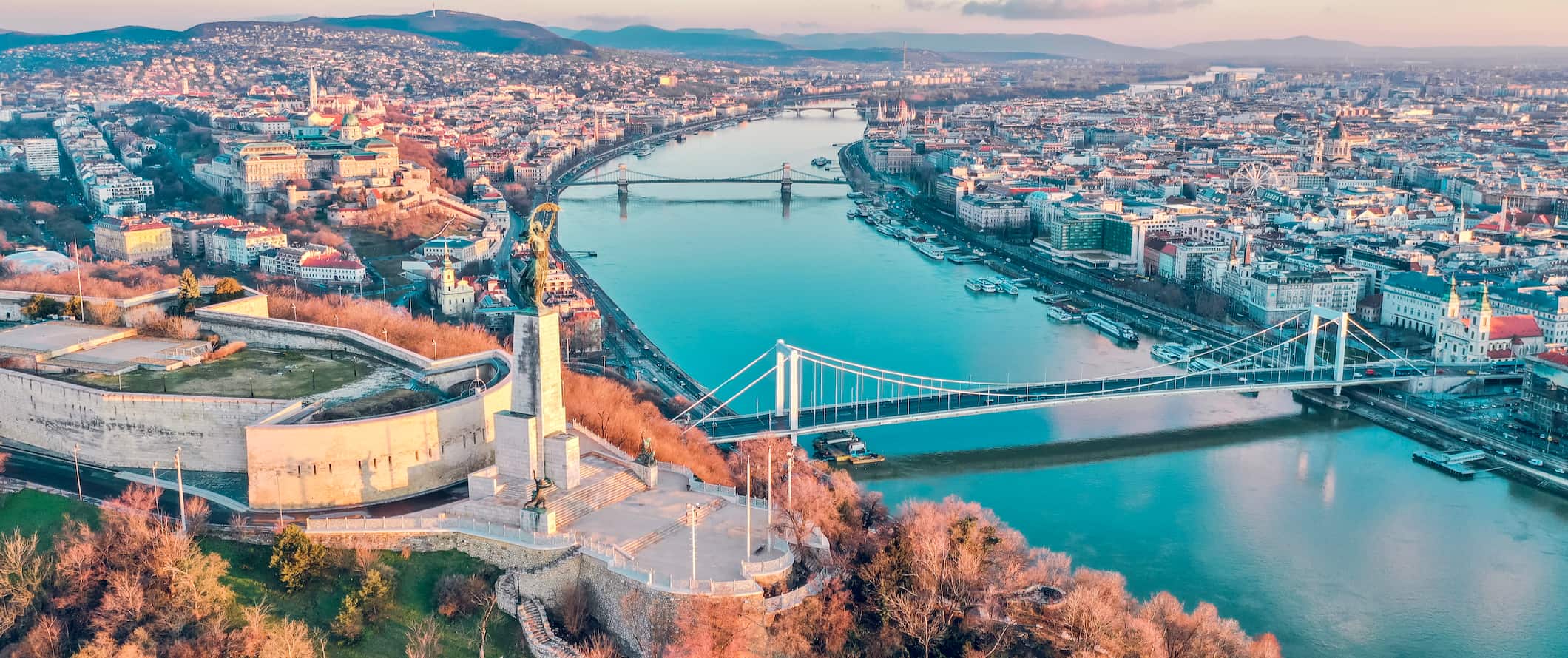 Public transportation – Public transport is well developed in Hungary. Most cities have buses and trams, and Budapest has an underground. Single-journey tickets vary by city but expect to pay around 350 HUF, while a day pass costs around 1,650 HUF.
When using the local public buses in Hungary, you need to validate your ticket when you board. Traveling without a ticket is a fineable offense so be sure to validate your ticket before you ride.
Train – Hungary's train network is still being modernized and there is a big difference in comfort between local trains and long-distance and international trains. As the Hungarian rail network was built around Budapest, most long-distance journeys take you through one of the capital's three train stations (Keleti, Nyugati, or Deli).
When traveling by rail in Hungary you can choose to take the cheaper and slower local trains, or pay extra for more modern and faster InterCity rail services (be sure to reserve a seat in advance if you're taking the InterCity train).
From Budapest to Lake Balaton, the train takes around 90 minutes and costs 3,000 HUF. From Budapest to Pécs, the journey takes around 2.5 hours and costs just 4,000 HUF. If you want to take the train into Slovakia, the train from Budapest to Bratislava takes around 2.5 hours and costs 3,500 HUF.
Bus – Volánbusz is the main bus company in Hungary. It's cheap and is sometimes even faster than the train. Flixbus also has routes that connect to nearby countries like Austria, Czechia, and Slovakia.
The ride from Budapest to Pécs takes around 4.5 hours and costs around 3,500 HUF. The 2.5-hour bus from Budapest to Bratislava costs around 3,200 HUF.
Flying – Flying around Hungary will not save you any time or money compared to the train so I'd avoid it. You can fly to nearby countries though, such as Austria, Czechia, Slovakia, and Poland, for under 18,000 HUF with Ryanair or Wizz Air (if you book early).
Car rental – Car rentals can be found for as little as 6,500 HUF per day for a multi-day rental, though this isn't necessarily the most economical way to get around as the buses and trains here are super affordable. If you're driving, make sure to bring an International Driving Permit (IDP) — you'll need one for any car rental.
For the best car rental prices, use Discover Cars.
Hitchhiking – Hitchhiking is safe and relatively common in Hungary. Check out Hitchwiki for more tips and information if you plan on hitchhiking here.
When to Go to Hungary
The most popular time to visit Hungary is June-August. Temperatures hover around 23-29°C (73-84°F) and Hungary (especially Budapest) experiences an influx of visitors. Prices increase during this time as well, but the cities are lively and there are lots of events and festivals.
Winter stretches from November to March. Expect rain and snow, with many tourist attractions shutting down for the season. Temperatures drop below freezing so it's too cold for hiking and exploring on foot. That said, November-December brings Christmas markets galore, so it's a fun time for shorter city trips.
Personally, I think the best time to visit Hungary is the shoulder season in the spring and fall. Temperatures hover between 10-17°C (50-62°F) so it's still warm enough to hike and explore but prices are a little lower and there are fewer crowds.
How to Stay Safe in Hungary
Hungary is a safe country and travelers shouldn't worry about violent crimes here. However, in the tourist areas of Budapest (as well as on crowded public transportation), scams and pick-pocketing can occur. Avoid flashing your valuables around and always keep an eye on your things when on the bus or train.
If you head out to the ruin bars, only bring enough cash for the night. Take a taxi home if you're intoxicated.
For more information on potential scams in Hungary, here is my list of common travel scams to avoid
Solo female travelers should feel safe here but will want to take the standard precautions (avoid walking alone at night while intoxicated, keep an eye on your drink at the bar, etc.).
If you rent a vehicle, don't leave any valuables in it overnight. Break-ins are rare but it's always better to be safe than sorry.
Members of the LGBTQ community will want to be mindful here as the government has been cracking down on the LGBTQ community in recent years.
If you experience an emergency, dial 112 for assistance.
The most important piece of advice I can offer is to purchase good travel insurance. Travel insurance protects you against illness, injury, theft, and cancellations. It's comprehensive protection in case anything goes wrong. I never go on a trip without it as I've had to use it many times in the past. You can use the widget below to find the policy right for you:
Hungary Travel Guide: The Best Booking Resources
These are my favorite companies to use when I travel. They consistently have the best deals, offer world-class customer service and great value, and overall, are better than their competitors. They are the companies I use the most and are always the starting point in my search for travel deals.
Skyscanner – Skyscanner is my favorite flight search engine. They search small websites and budget airlines that larger search sites tend to miss. They are hands down the number one place to start.
Hostelworld – This is the best hostel accommodation site out there with the largest inventory, best search interface, and widest availability.
Booking.com – The best all around booking site that constantly provides the cheapest and lowest rates. They have the widest selection of budget accommodation. In all my tests, they've always had the cheapest rates out of all the booking websites.
HostelPass – This new card gives you up to 20% off hostels throughout Europe. It's a great way to save money. They're constantly adding new hostels too. I've always wanted something like this and glad it finallt exists.
Get Your Guide – Get Your Guide is a huge online marketplace for tours and excursions. They have tons of tour options available in cities all around the world, including everything from cooking classes, walking tours, street art lessons, and more!
The Man in Seat 61 – This website is the ultimate guide to train travel anywhere in the world. They have the most comprehensive information on routes, times, prices, and train conditions. If you are planning a long train journey or some epic train trip, consult this site.
Rome2Rio – This website allows you to see how to get from point A to point B the best and cheapest way possible. It will give you all the bus, train, plane, or boat routes that can get you there as well as how much they cost.
FlixBus – Flixbus has routes between 20 European countries with prices starting as low 5 EUR! Their buses include WiFi, electrical outlets, a free checked bag.
SafetyWing – Safety Wing offers convenient and affordable plans tailored to digital nomads and long-term travelers. They have cheap monthly plans, great customer service, and an easy-to-use claims process that makes it perfect for those on the road.
LifeStraw – My go-to company for reusable water bottles with built-in filters so you can ensure your drinking water is always clean and safe.
Unbound Merino – They make lightweight, durable, easy-to-clean travel clothing.
Top Travel Credit Cards – Points are the best way to cut down travel expenses. Here's my favorite point earning credit cards so you can get free travel!
BlaBlaCar – BlaBlaCar is a ridesharing website that lets you share rides with vetted local drivers by pitching in for gas. You simply request a seat, they approve, and off you go! It's a cheaper and more interesting way to travel than by bus or train!
Hungary Travel Guide: Related Articles
Want more info? Check out all the articles I've written on backpacking/traveling Europe and continue planning your trip: