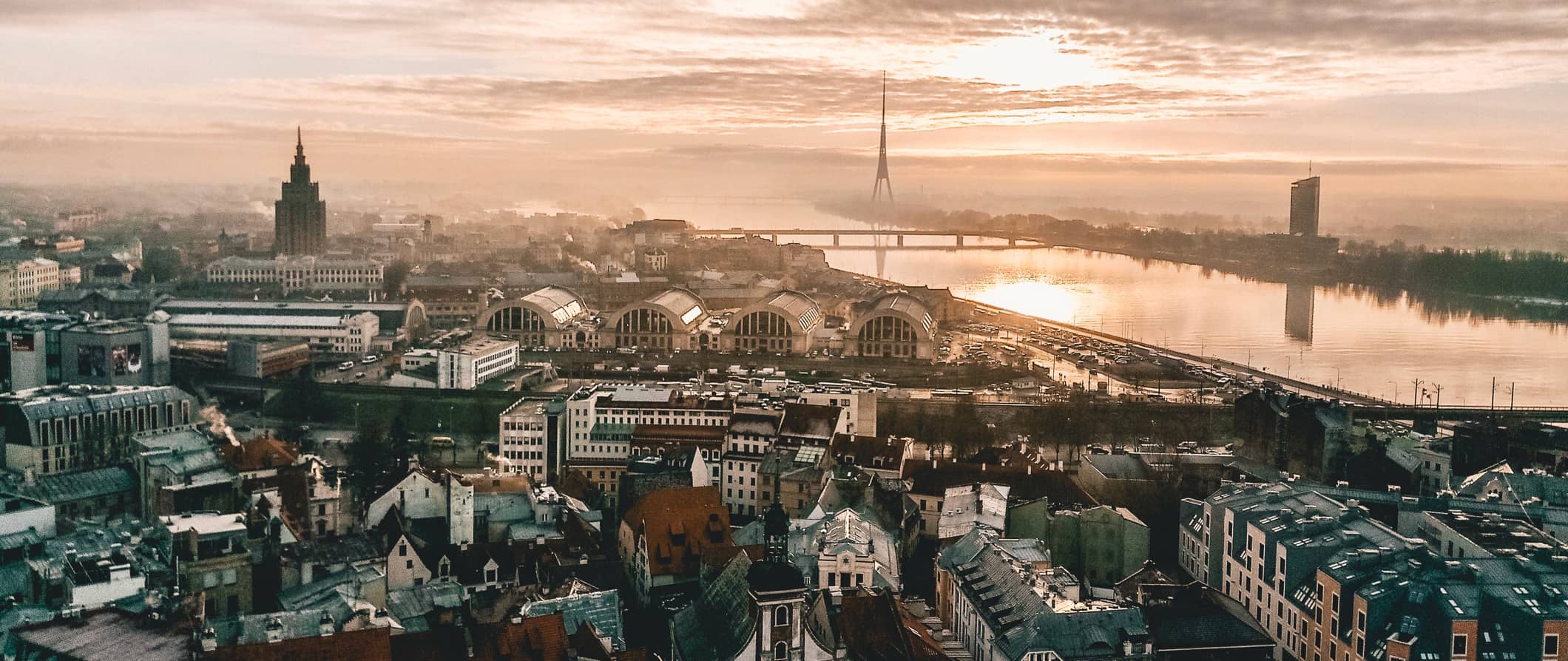 Located on the Baltic Sea between Lithuania and Estonia, The Republic of Latvia is a country often overlooked by travelers to Europe.
Yet this unappreciated country is affordable, safe, and offers a landscape dotted by wide beaches and dense, sprawling forests. It has everything you would find in Western Europe — but with far fewer tourists and for much less money.
Latvia's capital, Riga, is home to a huge central market, art nouveau architecture, and a charming medieval Old Town. The country has lots of opportunities for outdoor adventures, tons of beaches along its 500km (310mi) of coastline, and it's home to Europe's widest waterfall.
It's no surprise, then, that Latvia is considered an underrated destination by everyone who visits. There's something for everyone here!
This travel guide to Latvia can help you plan your trip, save money, and make the most out of your time in this Baltic gem!
Click Here for City Guides

Latvia
Top 5 Things to See and Do in Latvia
1. Explore Riga
Riga is the capital of Latvia. It has Romantic, Gothic, and Baroque architecture dating back to when the city with a powerful medieval port, and the city also has over 800 Art Nouveau buildings, an Open-Air Museum, and a massive central market. It's a lively, fun capital!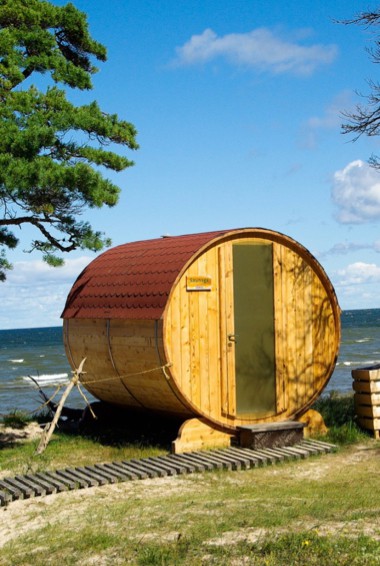 2. Relax in a traditional sauna
As in much of northern Europe, saunas in Latvia are an important part of the culture. Here you rotate between the heat of the sauna and a cold pool as well as getting swatted by switches of juniper or birch (to remove dead skin cells). Prices range from 15-35 EUR usually and can go up from there depending on how luxurious the experience is.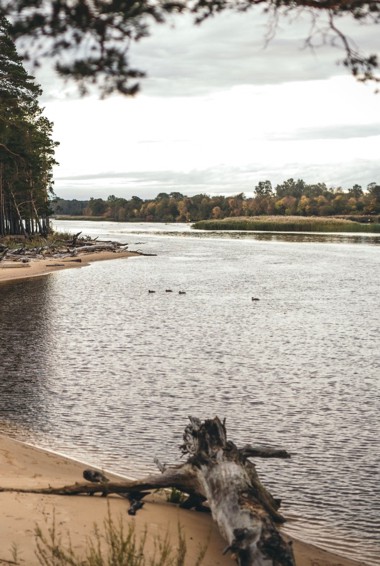 3. Go hiking in Gauja National Park
Located in the northeast and spanning almost 1,000 square kilometers, Gauja National Park is one of the most pristine examples of Latvian nature. Come here to hike, bike, and enjoy the views along the Gauja River. The 10,000-year-old Gutman's Cave can be found here too. Admission is free.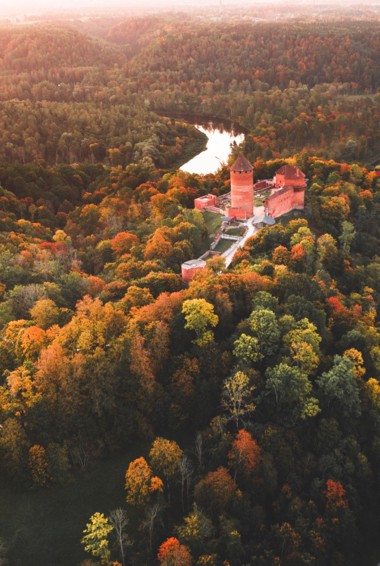 4. See castles in Sigulda
This region is considered "the Switzerland of Latvia." In addition to the stunning landscape, there are several historic buildings here to explore, including the 19th century Krimulda Manor, Sigulda Castle, and the ruins of the 14th-century Krimulda Castle.
5. Visit the Rundale Palace
Rundale Palace is located near Jelgava. Built in two periods (1736-1740 and 1764-1768), it's like the Versailles of Latvia and was used for their extravagant social events. The Baroque and Rococo building is lavish and ornate with massive gardens and stately rooms. Admission is 13 EUR for the interior and gardens.
Other Things to See and Do in Latvia
1. Visit Jurmala
Just a short 20-minute drive from Riga, the seaside town of Jurmala offers laid-back beaches and a vibrant nightlife. Be sure to visit Dzintari forest park (which is home to 200-year-old trees and has several walking paths) and Mr. Morberg's house, a 19th-century neo-Gothic wooden house that looks and feels like a fairytale palace (the interior is both ornate and super colorful).
2. Go skiing
Cross-country skiing is one of the more popular winter pastimes in the country. For downhill skiing, there are slopes all across the country. Some suggested resorts and slopes to check out are Ozolkalns (Cesis), Victory Park (Riga), Vanagkalns (Cesis), and Milzkalns (Tukum). Expect to pay 10 EUR for a two-hour cross-country ski rental and 15 EUR for a lift pass (it's one of the cheapest places to ski in Europe).
3. Explore Ventspils
Situated on the coast of the Baltic Sea, this city is a massive port and important commercial hub. If you aren't into watching the ships come and go, head out to the town's beaches where you can swim and sunbathe. There is a separate section for surfing (and kitesurfing) and even one for nudists! If you're traveling with kids, there's a waterpark in town too.
4. Visit Latgale
The region of Latgale sits in the eastern part of the country and is known as the Land of Blue Lakes thanks to its many picturesque lakes. The region has its own dialect and is perfect for camping, hiking, and enjoying the water. The area is also known for its delicious cheeses since there are tons of small farms here. You can base yourself in Daugavpils, the region's largest city, or stay in some of the many cozy cottages or B&Bs around the countryside. Note: This region is best explored by car since public transportation is limited.
5. See the Corner House
The Corner House is the former headquarters of the Latvian KGB (the secret police). Situated in an Art Nouveau building in the center of Riga, today it serves as a dark reminder of the brutal tactics they employed during the Russian occupation. It's where political prisoners would be brought for torture and interrogation. Admission is by donation and guided tours are available for 10 EUR. It's sobering by informative.
6. Visit the Seaside Open-Air Museum
Located in Ventspils, the Seaside Open-Air Museum is dedicated to Latvia's history, with a special focus on fishing and boating. There is a whole section dedicated to teaching traditional Latvian fishing techniques practiced in the region from the 18th century onwards, complete with replica fisherman's houses, farmhouses, smokehouses, and local craftsmen offering visitors a display of their traditional crafting skills in action. Admission is 2 EUR.
7. Visit 1920s Latvia
Built in 2004 as the film set for the historical drama Defenders of Riga, the complex is a complete replica of 1920s Latvia (the film depicts Latvia in 1919 during its war for independence). Set on 370 acres of land, it includes a small town, a 'Riga-esque' city, and traditional Latvian farmland. When it isn't in use as a film set, it is possible to visit the set. Located one hour west of Riga by car, guided tours cost around 5 EUR.
8. Sleep in a prison
Located on the west coast in Liepaja, Karosta Prison is no longer in use (it shut down in 1997) but has reopened to tourists. It's the only military prison in Europe open to tourists. You can take a day tour or book the full overnight experience. Ghost Hunters International once called Karosta Prison "the most haunted place in the world" so be prepared for a spooky stay. Tours are 5 EUR while overnight rooms start at 24 EUR (breakfast is an additional 5 EUR).
9. See a ballet or opera
The Latvian National Opera is home to both the Latvian National Opera and the Latvian National Ballet company. There are a variety of different performances held here including classical and contemporary dance, opera, traditional Latvian folk stories, and children's plays. With over 200 performances each season, there is plenty to choose from. Tickets for performances start at just 7 EUR.
10. Celebrate Midsummer
In Latvia, the most important holiday is midsummer (the summer solstice). In the Latvian tradition, people stay awake for the whole night so they can greet the rising sun. There are public events across the country where they light bonfires, eat, drink, and dance all night. However, Midsummer in Latvia isn't actually celebrated on solstice day — it's always celebrated on the same day each year (June 23rd).
11. Get lost in Europe's biggest market
The central market in Riga is a UNESCO Heritage Site and is the largest market in Europe. Opened in 1930, between 80,000-100,000 people visit each day. In addition to the standard fresh produce, fish, and meat, there are food stalls, souvenir stands, bars, and everything in between. Come here with an appetite and spend some time wandering the stalls and sampling all the offerings.
12. Stroll along the Great Kemeri Bog Boardwalk
Located in Kemeri National Park just outside of Jurmala, the Great Kemeri Bog Boardwalk lets you explore the inaccessible landscape of the marshland park. Established in 1997, the park offers a 3.7km loop that takes about 90 minutes to walk. There are all kinds of bogs, marshes, and lakes dotting the landscape as well as geese and cranes. Admission to the park is free.
13. Visit the House of the Black Heads
Now a museum, this 14th-century building was built in the old town of Riga for the Brotherhood of Blackheads. The brotherhood was a guild for unmarried merchants, shipowners, and foreigners in Riga. The building had major works done in the early 17th century and it was extensively updated after it was bombed and destroyed in 1941. There are all kinds of artifacts here (pottery, paintings, silverware, etc.) and the space is often used for concerts and events. Admission is 8 or 9 EUR and includes a cup of coffee or a glass of sparkling wine respectively.
14. Explore Cesis Castle
The foundations of Cesis Castle were laid 800 years ago and the castle has had a violent history since that time, including when it was besieged by Ivan the Terrible's army in 1577. The castle fell into disuse after the Great Northern War (1700-1721) but remains one of the most iconic and best-preserved medieval castles in Latvia. Admission varies by season so check the website for details. Guided tours in English cost 35 EUR. Cesis is just 90km northeast of Riga.
Latvia Travel Costs
Accommodation – Hostel dorms start at 5 EUR per night for a dorm with 8 beds or more. For a smaller dorm with 4-6 beds, expect to pay around 15 EUR. Free Wi-Fi is standard, as are self-catering facilities. Private rooms in hostels are less common and cost between 30-50 EUR. Prices are fairly stable between the high and low seasons.
For anyone traveling with a tent, camping is available around the country. Moreover, wild camping is legal as long as you are on government land. If you do want to stay in a campground, basic plots without electricity access at 7.50 EUR.
Budget hotels and guesthouses start at 30 EUR per night. Free Wi-Fi, coffee/tea maker, TV, A/C, and self-catering facilities are all common.
Airbnb is available around the country with private rooms starting at 13 EUR per night but averaging around 20-30 EUR. For an entire home or apartment, expect to pay 40-50 EUR (prices can be even higher in the summer).
Food – Much like their Baltic and Scandinavian neighbors, Latvian cuisine emphasizes meat, potatoes, and seafood. Dishes like cabbage soup, mashed peas and pork, and pelmeni (Russian ravioli) are some common favorites found at most restaurants.
Cheap street food (like hot dogs and sausages) costs around 3-5 EUR while a meal at an inexpensive restaurant costs 7 EUR.
Many restaurants offer a "business lunch," a fixed-price menu that consists of a starter, main course, and a drink. Also known locally as "complex lunches," prices for these meals vary from 5-8 EUR.
A three-course meal at a mid-range restaurant costs 20 EUR, while Chinese, Indian, or Thai (which can only be found in the larger cities) are usually under 10 EUR for a main dish.
Fast food (think McDonald's) costs 5 EUR for a combo meal. A beer or latte costs 2-3 EUR. Bottled water is around 1 EUR.
If you are planning to cook your own food, a week's worth of groceries costs 30-40 EUR for basic staples like vegetables, pasta, rice, and some meat or seafood.
Activities – Latvia has a ton of green space so there are lots of opportunities for outdoor activities such as hiking and biking. There are a multitude of parks and forests full of wildlife to explore for free. There are also many interesting museums in the cities that generally charge between 1-4 EUR. Expect to pay at least 20 EUR for a bike tour or kayak rental, and 40 EUR for a full-day guided hiking tour.
Backpacking Latvia Suggested Budgets
On a backpacker budget of 40 EUR per day, you can stay in a hostel dorm, cook all of your meals, limit your drinking, take public transportation to get around, and do mostly free activities like hiking and enjoying the beaches. If you plan on drinking, add 5-10 EUR to your daily budget. If you camp, you can likely cut 10 EUR or more off your daily budget.
On a mid-range budget of 90 EUR per day, you can stay in an Airbnb, eat out for most of your meals, enjoy a few drinks, take the occasional taxi to get around, and do more paid activities like visiting museums and castles or going kayaking.
On a "luxury" budget of 190 EUR or more per day, you can stay in a hotel, eat out anywhere you want, drink more, rent a car to get around, and do whatever tours and activities you want. This is just the ground floor for luxury though. The sky is the limit!
You can use the chart below to get some idea of how much you need to budget daily, depending on your travel style. Prices are in EUR.
Accommodation
Food
Transportation
Attractions
Average Daily Cost
Backpacker
10
10
10
10-15
40
Latvia Travel Guide: Money-Saving Tips
Latvia is pretty affordable, but it never hurts to save even more money! Here are some of the best ways to save money during your visit:
Take a free walking tour – Riga offers a handful of free walking tours. They're a great way to get familiar with the city and the culture. Just be sure to tip your guide!
Take the bus – FlixBus is budget-friendly way to get around the country. They have Wi-Fi, electrical outlets, and decent enough seats for overnight and long-haul bus journeys.
Cook your own meals – Some hostels here don't include kitchen facilities, so if you want to save money make sure you book accommodation that does. Buying your own groceries may not be as glamorous as going out to eat, but it definitely saves you money!
Wild camp – If you really want to save money, bring a tent and wild camp. It's legal, safe, and free!
Stay with a local – Staying with a local via Couchsurfing is a great way to not only save money but you get to meet a knowledgeable local who can help you better understand the city and its people.
Walk everywhere – All of the major cities in Latvia are quite walkable, so skip the public transportation if you want to save a few extra euros.
Enjoy the free spaces – There are plenty of free parks as well as many free hiking trails around the country. Save your budget and enjoy the outdoors!
Bring a water bottle – The tap water here is safe to drink so bring a reusable water bottle to save money and reduce your plastic use. LifeStraw is my go-to brand as their bottles have built-in filters to ensure your water is always clean and safe.
Where to Stay in Latvia
Looking for budget-friendly accommodation for your trip to Latvia? Here are some of my favorite places to stay around the country:
How to Get Around Latvia
Public Transportation – None of the Latvian cities have subways or elevated transport lines which means public transport can often be slow. In fact, public transportation outside of Riga is limited.
Prices vary by city but expect to pay around 1.15 EUR for a standard adult ticket if you pay in advance. You can buy tickets onboard but they cost more (around 2 EUR).
In Riga, you can buy a 24-hour pass for 5 EUR, a 3-day pass for 10.00 EUR, or a 5-day pass for 15 EUR.
Taxis – Prices start around 2 EUR and cost around 0.70 EUR for every 1km. Skip the taxis if you can though — they add up fast!
Bus – If you are traveling outside of Riga's suburban railway lines then taking a bus is the best option. Expect to pay 10 EUR or less for most trips. Riga to Ventspils, for example, takes 3 hours and costs 7-9 EUR.
If you are continuing to neighboring countries, the bus is the most common mode of transport. On average, a bus from Latvia to Lithuania costs around 14 EUR. The four-hour ride from Riga to Tallinn, Estonia costs about the same.
Trains – Train travel is limited and mostly centers around places you can do as day trips from Riga. Some of the most popular places you can travel from Riga to by train are Jurmala, Gauja National Park, and Daugavpils. Anywhere further afield is better accessed by bus. You can pretty much travel anywhere in the country for under 20 EUR.
Budget Airlines – There are no budget airlines operating domestically around Latvia (it's a small country) but you can get cheap flights in and out of Riga with Air Baltic.
Car Rental – I would not advise inexperienced drivers to drive in Latvia. It's known to be one of the most dangerous countries in Europe to drive in. However, if you are driving you need an International Driving Permit (IDP). Car rentals can be as low as 25 EUR per day for a multi-day rental.
Hitchhiking– It's very common for young people to hitchhike around the country in the summer. During the winter, roads can be dangerous as the weather is unpredictable so it's not advised to hitchhike during this time. Hitchwiki is the best website for additional hitchhiking info.
When to Go to Latvia
The best time to visit Latvia is from April through September. The summer months of July and August are the warmest (and make up the country's busy season). Expect temperatures around 22°C (71°F).
During autumn, the shoreline, wetlands, and forests come alive with bird migrations. The national parks are particularly beautiful at this time of year with the changing colors, and it's nice and cool for hiking.
Temperatures drop below freezing in the winter, so unless you're coming for winter sports, I'd skip a winter visit to Latvia.
Be warned though, no matter what time of year you choose to visit, showers are common and unpredictable. Make sure you always have a raincoat handy.
How to Stay Safe in Latvia
Latvia is a safe country to travel. They have a low crime rate and even pickpocketing in the cities isn't that common. That said, it's always a good idea to keep your wits about you, keep your valuables secure, and avoid flashing things like jewelry around in public.
One danger you do need to be aware of in Latvia is when traveling by road. Latvia is notorious for bad driving — even crossing the street can be dangerous. Take extra caution if you rent a car. Additionally, don't leave any valuables in your car overnight or when out hiking. Theft is rare, but it's better to be safe than sorry!
As in any destination, always keep an eye on your drink when out at the bar. Also, never walk home alone if you're intoxicated.
While scams here are rare, you can read about common travel scams to avoid here if you want to be extra cautious.
Always trust your gut instinct. If a taxi driver seems shady, stop the cab and get out. If your hotel is seedier than you thought, move.
If you don't do it at home, don't do it in Latvia!
The most important piece of advice I can offer is to purchase good travel insurance. Travel insurance protects you against illness, injury, theft, and cancellations. It's comprehensive protection in case anything goes wrong. I never go on a trip without it as I've had to use it many times in the past. You can use the widget below to find the policy right for you:
Latvia Travel Guide: The Best Booking Resources
These are my favorite companies to use when I travel to Latvia. They are included here because they consistently find deals, offer world-class customer service and great value, and overall, are better than their competitors. They are the ones I use the most and are always the starting points in my search for travel deals.
Skyscanner – Skyscanner is my favorite flight search engine. They search small websites and budget airlines that larger search sites tend to miss. They are hands down the number one place to start.
Momondo – This is my other favorite flight search engine because they search such a wide variety of sites and airlines. I never book a flight without checking here too.
Airbnb – Airbnb is a great accommodation alternative for connecting with homeowners who rent out their homes or apartments.
Hostelworld – This is the best hostel accommodation site out there, with the largest inventory, best search interface, and widest availability.
Couchsurfing – This website allows you to stay on people's couches or in their spare rooms for free. It's a great way to save money while meeting locals who can tell you the ins and outs of their city. The site also lists events you can attend to meet people (even if you're not staying with someone).
Booking.com – The best all-around booking site that constantly provides the cheapest and lowest rates. They have a no money down policy, great interface, and the widest selection of budget accommodation. In all my tests, they've always had the cheapest rates out of all the booking websites.
Eurail – If you are going to Europe and taking a lot of high speed or long-distance trains, get a rail pass. I've used a rail pass three times and saved hundreds of dollars each time. The math just works.
Intrepid Travel – If you want to do a group tour around Europe, go with Intrepid Travel. They offer good small group tours that use local operators and leave a small environmental footprint. If you go on a tour with anyone, go with them. And, as a reader of this site, you get a discount when you click the link!
The Man in Seat 61 – This website is the ultimate guide to train travel anywhere in the world. They have the most comprehensive information on routes, times, prices, and train conditions. If you are planning a long train journey or some epic train trip, consult this site.
Rome2Rio – This website allows you to see how to get from point A to point B in the best and cheapest way possible. It gives you all the bus, train, plane, and boat routes that can get you there as well as how much they cost.
BlaBlaCar – BlaBlaCar is a ridesharing website that lets you share rides with vetted local drivers by paying a small fee. You simply request a seat, they approve, and off you go! It's a cheaper and more interesting way to travel than by bus or train!
World Nomads – I buy all my travel insurance from World Nomads. They have great customer service, competitive prices, and in-depth coverage. I've been using them since I started traveling in 2003. Don't leave home without it!
EatWith – This website allows you to eat home-cooked meal with locals. Locals post listings for dinner parties and specialty meals that you can sign up for. There is a fee (everyone sets their own price) but this is a great way to do something different, pick a local's brain, and make a new friend.
Latvia Gear and Packing Guide
If you're heading on the road and need some gear suggestions, here are my tips for the best travel backpack and for what to pack!
The Best Backpack for Travelers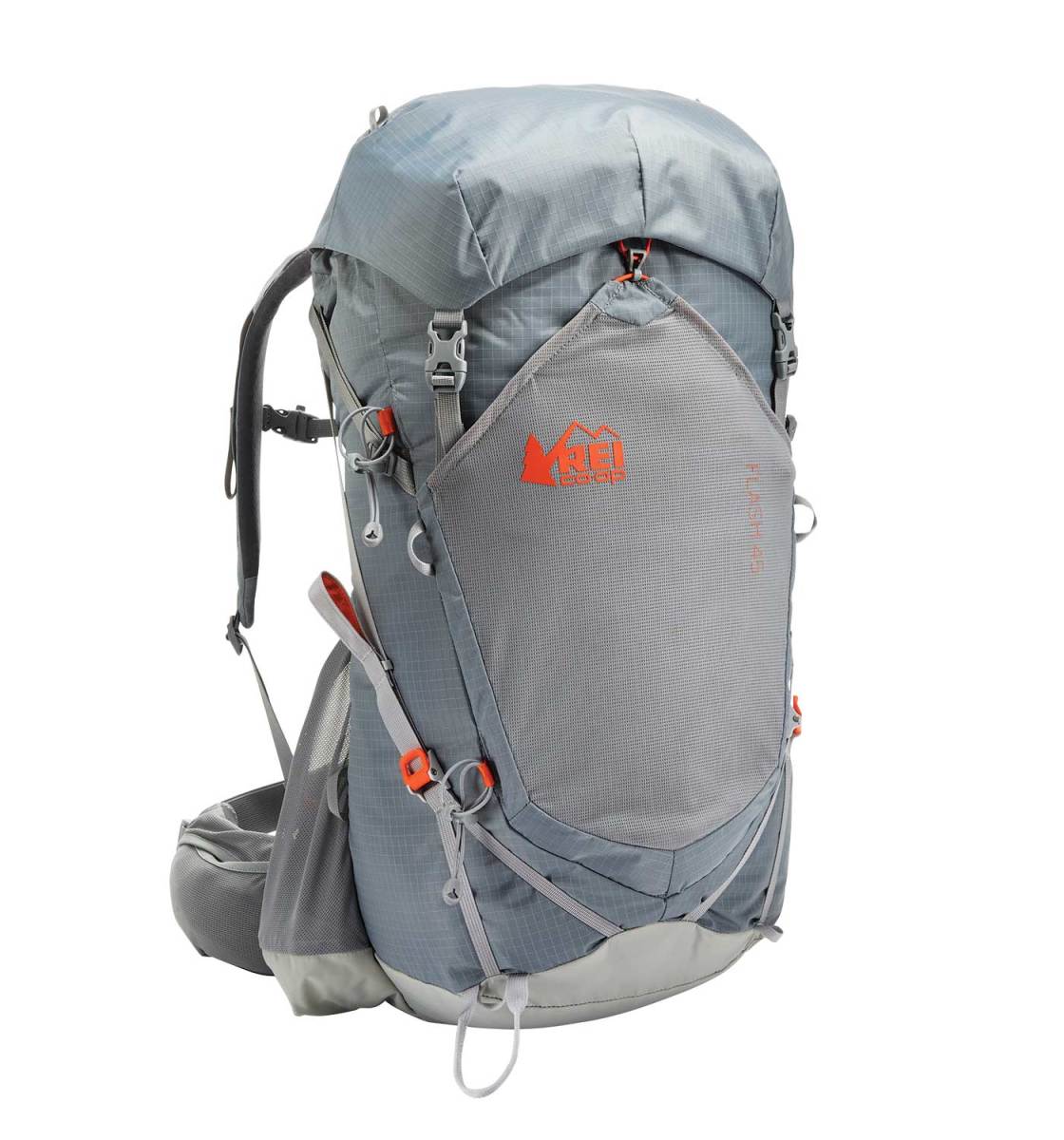 What's the best backpack for traveling long-term? I recommend the
REI Flash 45 Pack
. It's light and comfy, front loading, and fits perfectly in an airplane's overhead bin.
Size:
45-47L
Straps:
Thick and cushy with compression technology that pulls the pack's load up and inwards so it doesn't feel as heavy.
Features:
Removable top lid, large pocket at the front, hydration compatible, contoured hip belt
If you want something different, refer to my article on how to choose the best travel backpack for tips on picking a pack and other backpack suggestions.
What to Pack for Your Trip
Clothes
1 pair of jeans (heavy and not easily dried, but I like them; a good alternative is khaki pants)
1 pair of shorts
1 bathing suit
5 T-shirts (Unbound Merino is my preferred company. If you're a member of NM+, you can get 15% off your purchase)
1 long-sleeved T-shirt
1 pair of flip-flops
1 pair of sneakers
6 pairs of socks (I always end up losing half)
5 pairs of boxer shorts (I'm not a briefs guy!)
1 toothbrush
1 tube of toothpaste
1 razor
1 package of dental floss
1 small bottle of shampoo
1 small bottle of shower gel
1 towel
Deodorant
Small Medical Kit (safety is important!!!)
Miscellaneous
Female Travel Packing List
I'm not a woman, so I don't know what a woman wears, but Kristin Addis, our solo female travel guru, wrote this list as an addition to the basics above:
Clothing
1 swimsuit
1 sarong
1 pair of stretchy jeans (they wash and dry easily)
1 pair of leggings (if it's cold, they can go under your jeans, otherwise with a dress or shirt)
2-3 long-sleeve tops
2-3 T-shirts
3-4 spaghetti tops
1 light cardigan
Toiletries
1 dry shampoo spray & talc powder (keeps long hair grease-free in between washes)
1 hairbrush
Makeup you use
Hair bands & hair clips
Feminine hygiene products (you can opt to buy there too, but I prefer not to count on it, and most people have their preferred products)
For more on packing, check out these posts:
Latvia Travel Guide: Suggested Reading
Latvia: A Short History, by Mara Kalnins
Despite multiple invasions and centuries of domination, the Latvian people have preserved their culture and identity. To condense Latvia's four and a half millennia history takes quite some doing, but this book manages it well. It provides an interesting and insightful chronological overview that helps you understand the struggles faced by the Latvian people. It's a great read if you are looking to improve your historical and cultural knowledge in preparation for your trip.




Flight from Latvia: A Six-Year Chronicle, by Dagnija Neimane
1940 marked the first Soviet occupation of Latvia. What followed was months of suffering, mass arrests, executions, and the deportation of fifteen thousand Latvians to Serbia. Nazi Germany saw off the invaders during World War II only for the Soviets to gain the upper-hand once more in 1944. Flight from Latvia is a true narrative of one family's exile from their home during World War II. Their journey through refugee camps, searching for a safe home, is told through the voice of the youngest member of the family who was just a child when they were forced to flee.



Out of Latvia: The Son of a Latvian Immigrant Searches for his Roots, by
David Kerr
This book tells the story of the son of a Latvian immigrant and his upbringing under the shadow of his father, a Latvian immigrant who escaped his home country after World War II. David shares the story of how his father had to fight against prejudice to raise his family in Australia after his exile. He shares the stories of the hardship of living under Soviet rule, the family's escape from Europe, and the fight to make a new life in a foreign land.



The Hidden Letters, by Gina Ochsner
Set in a small town in Latvia during World War II, this novel tells the story of a young boy who inherits a family history full of holes and secrets. He takes it upon himself to fill in the missing pieces and learn about his family and its past. The book paints a beautiful picture of the Latvian countryside through the author's descriptions. It is easy to read, with a lot of humor and heart.
Latvia Travel Guide: Related Articles
Want more info? Check out all the articles I've written on backpacking/traveling Europe and continue planning your trip: