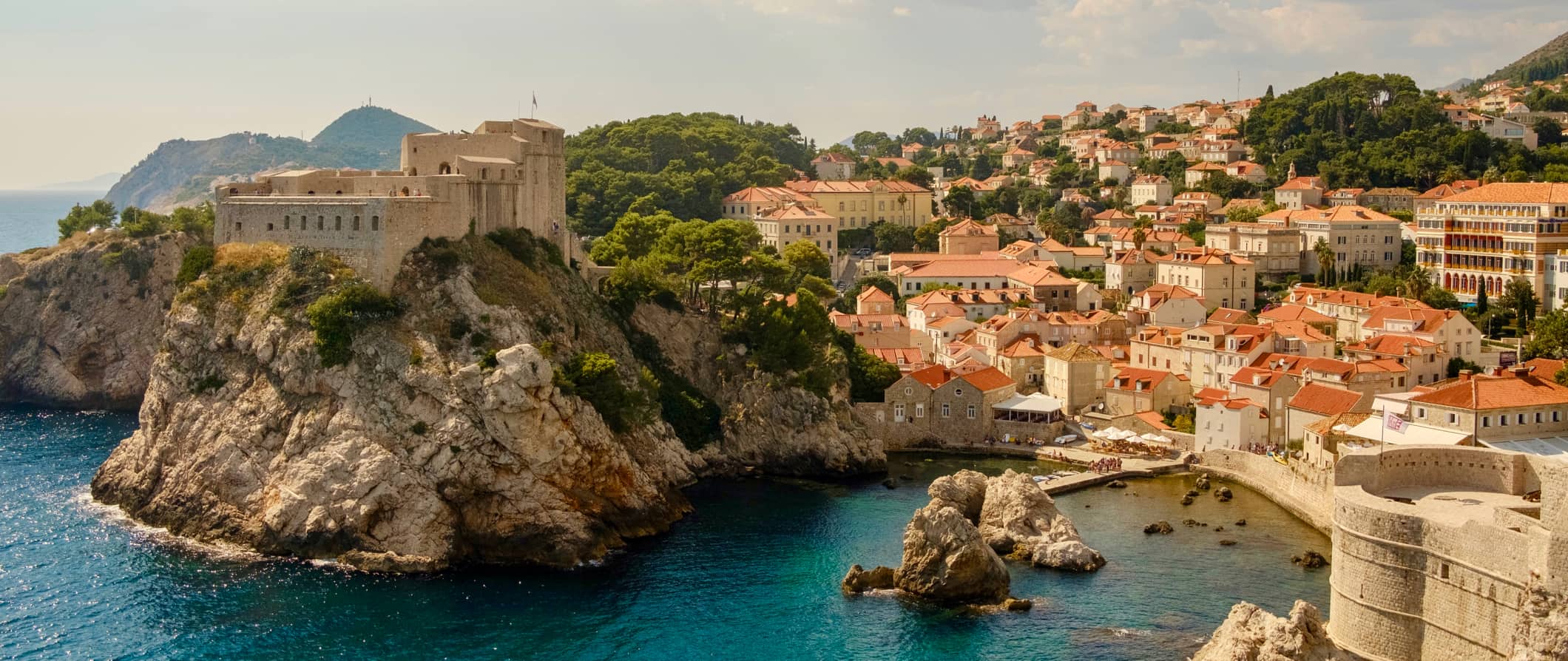 Croatia is one of the most popular destinations in Europe. It's the go-to spot for stunning beaches, rugged islands, historic architecture, and all the sailing you could ask for.
I think the country is vastly underappreciated.
The tourism focus in the country is usually Hvar, Split, Dubrovnik, Istria, or the famed Plitvice Lakes. Too much of the rest of the country is largely ignored. I saw so few tourists in Karlovac, Rastoke, or Slunj. Zagreb didn't have a lot either, despite it being the capital city. Slavonia? Barely a soul goes there.
Once you get off the main stretch of the coast, it feels like you have the country to yourself. Croatia is a country with over a thousand islands, a long coastline dotted with sun-bleached medieval towns, a cosmopolitan capital city, an underappreciated wine region, and an untrammeled inland landscape that sees a fraction of the tourists that the Dalmatian Coast brings in.
Spend longer than you plan and get off the beaten path to really see the magic of the country.
This travel guide to Croatia can give you the tips and tricks you need so you can plan the ultimate adventure there.
Click Here for City Guides
Top 5 Things to See and Do in Croatia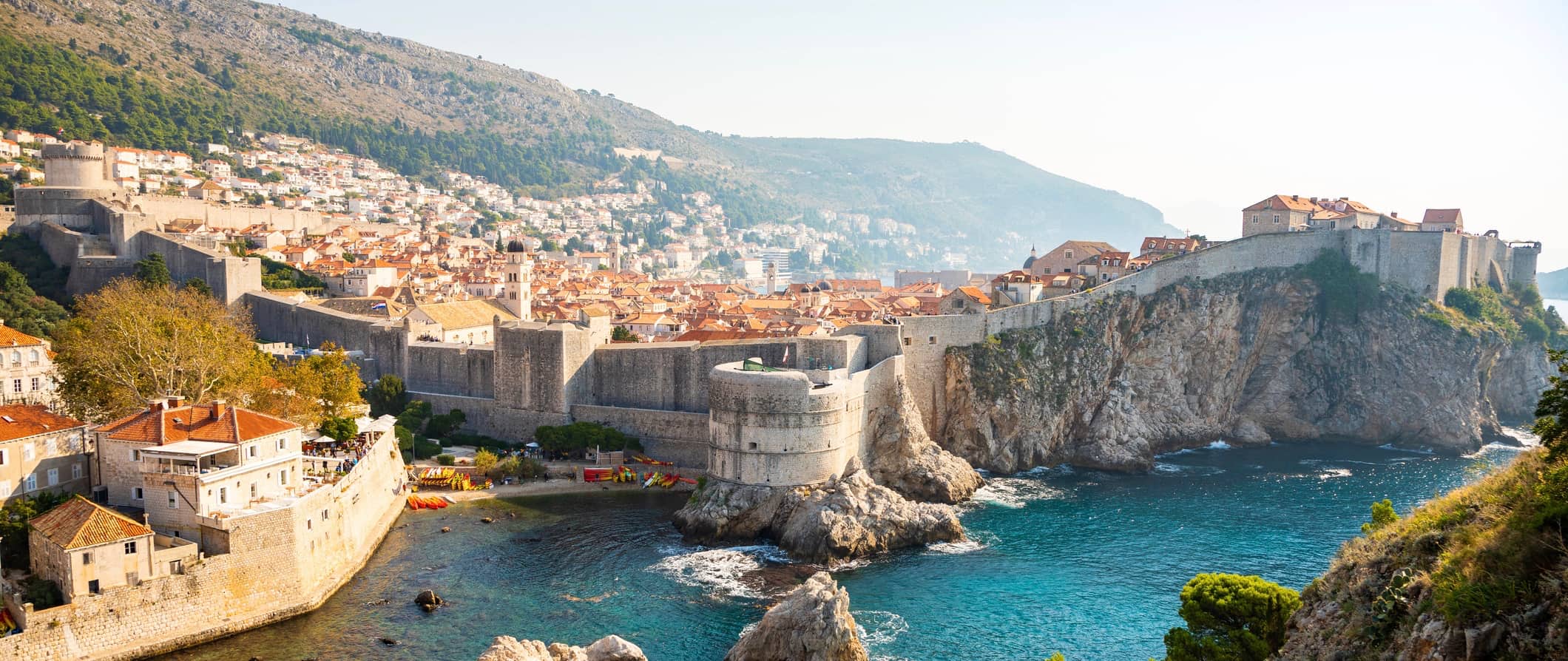 1. Visit Dubrovnik
Dubrovnik is a stunning city best known for its historic Old Town (which was a Game of Thrones filming location). Wander around its limestone streets, admire the baroque buildings, and take in the views of the Adriatic Sea. Don't miss St. Blaise Church and Sponza Palace either. The city also makes for a great base for day trips, including jaunts into nearby Bosnia and Herzegovina and Montenegro. There are lots of wineries nearby too.
2. See Split
Split has some of the best beaches in the country. It's also home to Roman Emperor Diocletian's 4th-century palace. Split also has a lively nightlife, several nearby hikes, historic ruins, cobblestone streets, and incredible seafood. It's a more upscale (and party-focused) Dubrovnik. Be sure to spend a day in nearby Trogir, the most beautiful town you've probably never heard of.
3. Admire Plitvice Lakes National Park
Tucked between Zagreb and the Dalmatian Coast, Plitvice Lakes National Park is a UNESCO World Heritage Site. It's composed of 16 interconnected lakes and over 90 waterfalls. It's beautiful but super popular so arrive early (it gets packed in the summer). Admission is 80-300 HRK depending on the month (prices rise in the summer).
4. Visit Rijeka
Rijeka is home to the medieval 13-century Trsat Castle as well as City Tower, a medieval defensive tower. There's also some amazing diving nearby with lots of underwater cliffs to explore. Don't miss the nearby historic town of Kastav. It's an Insta-worthy walled town surrounded by parks.
5. Explore Lokrum
The island of Lokrum is a nature reserve just off the coast of Dubrovnik. It makes a nice day trip (you're not allowed to sleep here overnight). There are no cars here and, in addition to the beach, there is a former Benedictine monastery to explore. Ferries cost 150 HRK and include admission to the island.
Other Things to See and Do in Croatia
1. Visit Pula
Pula is a seaside city and home to an impressive 1st-century Roman amphitheater that overlooks the harbor that is used to hold concerts, film festivals, and even a summer festival dedicated to all things Roman. The festival, Spectacular Antiqva, is held at least once per week during the summer. Admission is 80 HRK. While you're in Pula, be sure to visit the Archeology Museum and spend some time exploring Brijuni National Park (which is made up of a group of scenic islands). There's also a 14th-century monastery here you can visit as well.
2. Go Island Hopping
With over 1,000 islands, it would be silly to travel to Croatia and not go island hopping. Plan to stay at least a couple of days on one of the islands to step back in time and get the full Croatian experience. The most popular islands to visit are Brac, Hvar, Krk, Cres, and Lošinj. However, don't be afraid to get off the beaten path and explore some of the lesser-known islands such as Silba, Vis, and Lastovo. Some of the islands have ferries that start at 30 HRK each way. There are many ferry companies operating in Croatia leaving from the main ports of Pula, Porec, Rovinj, Split, Dubrovnik, Zadar, Mali Losinj, Umag, and Novalja.
3. See St. James' Cathedral
Located in Sibenik (which is on the coast between Zadar and Split), St. James is believed to be the world's largest church built entirely of stone (there are no wooden or brick supports). It's an architectural masterpiece that was started in 1431 and wasn't completed until 1536. It's massive and spacious with a rather dark and grim stone interior that feels very medieval. Some of the cathedral's highlights are its frieze of 71 heads on the exterior walls, the tomb of Bishop Sizigori, and a 15th-century Gothic crucifix. Admission is 15 HRK.
4. Visit Krka Monastery
This Serbian Orthodox monastery is dedicated to the Archangel Michael and is one of the most important religious sites in Croatia. Founded in 1345, it's located beside a small and peaceful lake forty-five minutes from Sibenik. Built in the Romanesque style, it boasts a unique mix of Byzantine and Mediterranean architecture. Underneath the building is a natural cave system (known locally as the 'secret church') where they have found Christian symbols dating back to the 1st century. The library also has books dating back to the 16th century. Admission is free.
5. Go diving
Thanks to Croatia's seafaring history, the whole of the coastline is littered with shipwrecks. Two of the most popular are Baron Gautsch (off the coast of Rovinj), and Taranto (off the coast of Dubrovnik). Expect to pay 289 HRK for a single-tank dive in the area but the shipwrecks start at around 400 HRK. Open water certification costs around 3,100 HRK. The best diving conditions are between May and November (September and October will be warm and less busy).
6. Visit the Museum of Broken Relationships
Located in Zagreb, this museum is full of mementos from failed relationships between family members, friends, and lovers. Items on display include clothing, jewelry, handwritten letters, photos, and more quirky items like belly button lint and old chocolate bars. Each item has a story attached to it, some funny, some gut-wrenching. The museum offers an honest, unpretentious look at humanity through its failed relationships. Admission is 40 HRK.
7. Explore the Vucedol Culture Museum
This riverside location is home to an archeological dig site where remains from over 8,000 years ago were found. The museum, built on top of the site, is a state-of-the-art representation of the original settlement complete with replica houses. It showcases the culture that was here, which was one of the first in Europe to create calendars and brew beer. It's super informative. Guided tours cost 150 HRK and are available in English. Admission is 40 HRK.
8. Go hiking
From coastal walks to mountain climbing to hiking the inland canyons, hills, and forests, Croatia has a lot to offer. The most popular coastal hiking spot is Mljet National Park, on the island of Mljet. Inland, the most popular hiking spot is Medvednica Mountain near Zagreb or in Risnjak National Park. Other spots worth visiting are Brijuni National Park (which is home to 14 different islands), Krka National Park (which has beautiful waterfalls), and Paklenica (which has some rugged canyon trails).
9. Visit the Blue Cave of Bisevo
The Blue Cave (or Blue Grotto) is a natural sea cave accessible only by boat via a narrow passageway. Inside, the water almost glows and has a bright otherworldly color to it. Access to the cave is restricted to one boat at a time. The cave itself is located at Balun Cove on the eastern side of Komiza. The best time to visit is between 11am-12pm as this is when the light is at its most beautiful. Prices in the off-season are 75 HRK and while it's 100 HRK in the high season. Expect to pay around 800-900 HRK for a full-day tour (and expect crowds).
10. Listen to the Sea Organ
The Sea Organ is tucked away beneath a set of steps that lead down to the water in the seaside town of Zadar. The organ consists of 35 tubes played by the wind and the sea. Designed by architect Nikola Basic, the music sounds similar to whale calls. Come here at sunset to soak in the picturesque views and listen to the captivating sounds of the sea.
11. Go sailing
Croatia is one of the world's best sailing destinations. With calm winds, short distances, and a coastline dotted by islands and historical sites, it really does make for a great place to explore by sea. During the high season, prices rise dramatically, but if you time your visit right and visit during the shoulder season you can find some great deals. If you don't want to join a tour you can charter a boat. Charters can get pricey though, as a 7-day trip starts at 13,000-15,000 HRK. If you're in the mood for partying, Busabout has hop-on-hop-off boat tours. I did one a few years ago (you can read about it here). For a 7- or 8-day trip, expect to pay 8,700 HRK.
12. Tour Zagreb
Zagreb has a charming Old Town reminiscent of cities like Prague and Budapest. There is lots of green space, a couple of nearby lakes, and tons of historic architecture. Be sure to visit the massive Neo-Gothic cathedral and the medieval Old Town Gate where you can find an 18th-century painting of the Virgin Mary thought to be miraculous as it survived the city's Great Fire of 1731. There are also tons of museums (don't miss the Mimara Museum) as well as the Medvedgrad fortress that overlooks the city. To see the highlights on a budget, take a free walking tour with Free Tour Zagreb. Their tours last two hours and cover all the main sites so you can learn more about this underrated city.
13. Experience The Yacht Week
If you want to splash out and spend a week partying on a yacht, check out The Yacht Week. They host week-long parties and festivals with DJs and events throughout the summer. You can book a full boat to share with friends or just a cabin on one if you're traveling solo. They have destinations all around the world, including routes in Croatia. "Yacht Weeks" occur from May-August. Prices start at 4,350 HRK per person. It's one of the biggest things of the summer and it's a wild, wild, WILD party.
14. Visit Hvar
Hvar is a picturesque island off the coast of Split that's known for its lively nightlife. It's popular with younger travelers looking to dance and drink the night away. However, there are also lots of scenic coves, lavender fields, vineyards, and secluded beaches you can enjoy if you visit during the day. While a lot of people come here as part of their sailing trips (or as a day trip from Split), I recommend spending a couple of nights here. It's one of the best places in the country. It's also the sunniest, with over 274 days of sunshine each year.
15. Explore Slavonia
Few tourists make it to Slavonia, a rural region in eastern Croatia famous for its wine production. Head to the wine-country town of Zmajevac (pronounced "zma-ye-vatz"), which is just a few miles from the border with Hungary and Serbia. Be sure to sample the local wines and try fish paprikash, a paprika-laden fish stew slow-cooked over an open flame for hours that's a specialty of the region. Additionally, don't miss Osijek, the main town of Slavonia. It has a large historic center filled with Gothic buildings and cobblestone streets.
16. Eat oysters in Mali Ston
If you love oysters like I do, head an hour's drive up the coast from Dubrovnik to Mali Ston. Founded in the 14th century, the region was originally home to a defensive fortification. Today, it's famous for the oysters that are farmed in Mali Ston Bay. Visit nearby farms to learn about the oyster industry and try some samples. Expect to pay at least 225 HRK per person for a guided oyster tour (with samples).
17. Relax in karlovac
Home to around 55,000 people, Karlovac is an off-the-radar city just one hour from Zagreb. It was originally built by the Austrians in the 16th century, though not much remains from that period. The city's "castle" is really just a small fort that's been rebuilt — but it's worth a quick look as you meander around town. The main draw here is the brewery, Karlovacko. It makes one of the most popular beers in Croatia. Spend a night here and take in the local pace of life. There's also some hiking and nearby waterfalls if you want to get out and stretch your legs.
18. Road trip around Istria
Istria is a peninsula home to delicious wines and sumptuous white truffles. It's a foodie paradise that sees few tourists, perfect for road-tripping travelers. Rovinj is the best-preserved and most popular city on the peninsula. It has a stunning Old Town, plentiful beaches, and numerous ruins. Visit the Heritage Museum to learn about the region's history and then enjoy the exquisite beaches (Monte, Lone Bay, and Amarin) that are perfect for swimming and lounging. Pula, mentioned above, can also be found here.
19. Go truffle hunting
Istria is a major truffle producer and you can go on a truffle tour while you're here. Prodan Tartufi, a family-run truffle-hunting business near the medieval hill town of Buzet, runs a popular (but pricey) excursion. Tarandek Truffle Hunting organizes more affordable, small-group truffle experiences for around 375 HRK per person (they get less expensive the more people are in the group).
For information on specific cities in Croatia, check out these city guides:
Croatia Travel Costs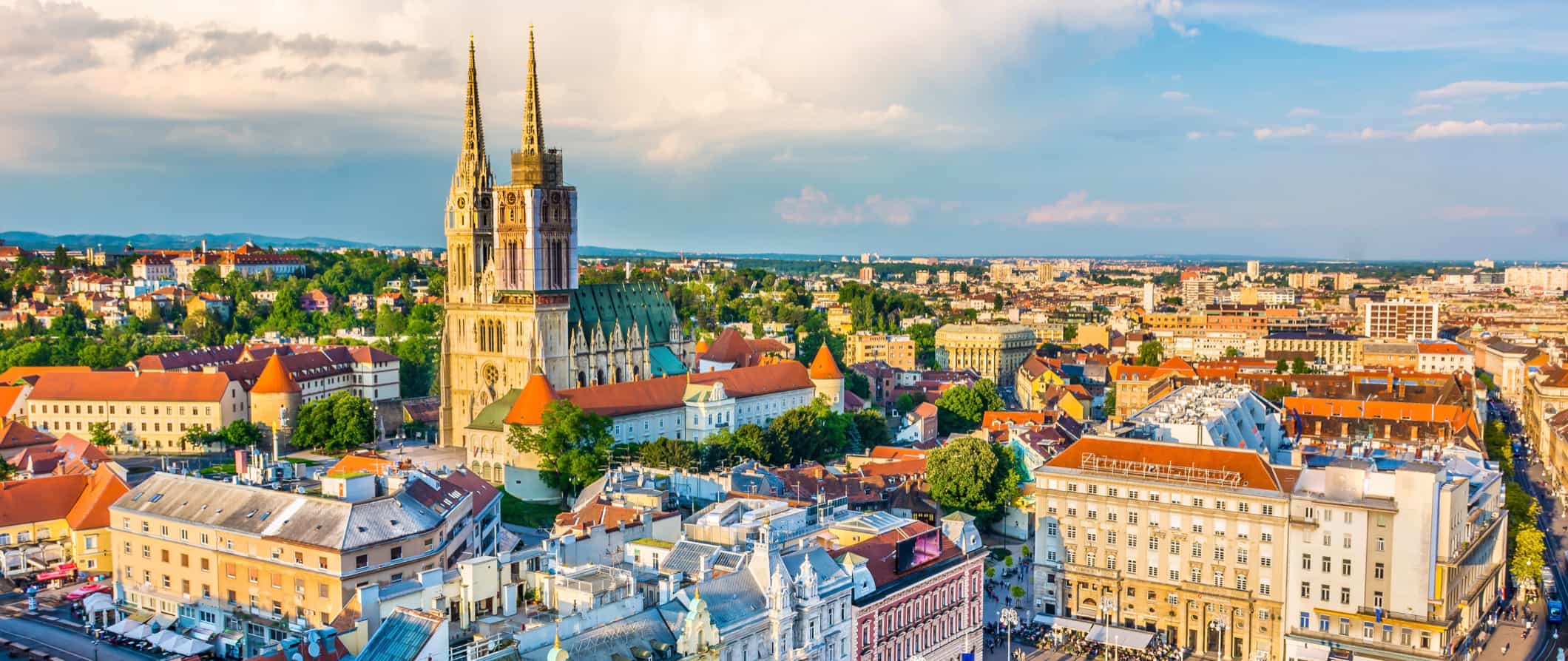 Accommodation – Hostels start at 70 HKR per night for a 6-8-bed dorm. For a private room, prices start at 190-450 HKR. Free Wi-Fi is standard and most hostels have self-catering facilities. Only a few hostels include free breakfast.
Budget two-star hotels start around 300 HRK per night. Most include breakfast and have standard amenities like TV, AC, and a coffee/tea maker. In the more popular destinations, expect them to start around 400 HRK per night.
Airbnb is available around the country with private rooms starting at 250-350 HRK per night. For an entire home or apartment, expect to pay at least 375 HRK per night though prices can double (or triple) in the summer.
For anyone traveling with a tent, there are lots of campsites in Croatia (most of which are scattered down the coast). For a complete list of campsites in Croatia check out Camping Hr. Prices vary depending on how close to the sea you are as well as what season it is. During peak season, expect to pay 220-450 HRK for a two-person plot with electricity and water. During the low season, prices drop to 140 HRK.
If you're coming during the summer or are sticking to the Dalmatian coast, expect prices to be about 30% higher.
Food – Croatian cuisine has influences from Central Europe, the Mediterranean, and the Balkans. Seafood is a prominent staple along the coast. Sausage and schnitzel can be found at most traditional restaurants as well, as can a variety of pasta dishes and stews, especially goulash. In Istria, you'll find a heavy Italian influence.
Food is relatively inexpensive except on the Dalmatian coast. Everything there costs double. For example, take-out sandwiches from the bakery chain Milner in Dubrovnik cost 30-35 HRK while they are just 15 HRK once you leave the Dalmatian Coast. Same sandwich, same place, vastly different price.
An inexpensive meal of traditional cuisine or a burger costs around 70 HRK (75-110 HRK in Dubrovnik). Fast food (think McDonald's) is closer to 45 HRK while Thai or Chinese food costs around 85 HRK. Pizza is available pretty much everywhere with a medium pizza costing around 47 HRK.
If you want to splash out, a higher-end lunch (like a fresh fish fillet) with wine costs around 125-150 HRK. And if you really want to splurge, you can get a delicious sushi dinner with drinks and appetizers for 500-600 HRK.
Expect to pay 20 HRK for a beer and 13 HRK for a latte/cappuccino. Bottled water is 10 HRK while wine is 20-40 HRK per glass.
If you are planning to cook your own food, a week's worth of groceries costs around 210-300 HRK for staples like milk, cheese, rice, seasonal vegetables, and some chicken.
Some of my favorite places to eat were Pupitres Wine & Coffe Bar, Heritage, Curry Bowl, and La Štruk in Zagreb; Cevabdžinica Behar in Karlovac; Tunaholic Fish Bar in Rovinj; and Oyster & Sushi Bar Bota in Dubrovnik.
Backpacking Croatia Suggested Budgets
If you are backpacking Croatia, my suggested budget is 275 HRK per day. This assumes you're staying in a hostel dorm, cooking all of your meals, limiting your drinking, doing free activities like hiking and free walking tours, and using local transportation to get around. You'll need to budget more if you're visiting in the summer or if you plan on drinking.
On a mid-range budget of 800 HRK per day, you can stay in a private Airbnb or private hostel room, eat out for all your meals, have a few drinks, take some guided tours, take the occasional taxi to get around, and visit more museums and attractions
On a "luxury" budget of 1,600 HRK per day, you can stay in a hotel, rent a car to get around, do private guided tours, eat and drink as much as you'd like, and visit as many museums and attractions as you want. This is just the ground floor for luxury though. The sky is the limit!
Accommodation
Food
Transportation
Attractions
Average Daily Cost
Backpacker
130
70
25
50
275
Mid-Range
350
250
50
150
800
Luxury
550
425
250
375
1,600
Croatia Travel Guide: Money-Saving Tips
Expenses in Croatia can add up quickly, especially if you take a lot of tours, boat trips, or just be on the Dalmatian coast where everything is about 30-50% more expensive than other parts of the country. Here are my tips on saving money when you visit Croatia:
Visit during the shoulder season (or low season) – Prices in Croatia can double during July and August. If you want to make sure your money goes further here, visit during the low or shoulder seasons.
Take a free walking tour – Both Dubrovnik and Split have free walking tours. They're a great way to get familiar with the cities and their culture. Just be sure to tip your guide! Check out Dubrovnik Secrets for more information.
Travel with Flixbus – Flixbus is a budget-friendly way to get around the country (and region). They have Wi-Fi, electrical outlets, and decent enough seats for long-haul journeys.
Cook your own meals – Many hostels here have kitchens. While buying your own groceries may not be as glamorous as going out to eat, it will definitely save you money!
Stay with a local – Staying with a local via Couchsurfing is a great way to save money and meet a knowledgeable local who can help you better understand the country and its people.
Get the Croatia Pass – If you're visiting between June-September and plan on seeing a lot of attractions, consider the CroatiaPass. It offers discounts on tons of attractions and will save you some money if you're doing a lot of sightseeing. There are passes for several cities/regions including Zagreb, Split, and Dubrovnik (as well as passes that cover multiple regions). Prices vary per region (and for how many attractions you want to be included) but most will save you at least 250 HRK.
Bring a reusable water bottle – The tap water here is safe to drink so bring a reusable water bottle to save money and reduce your reliance on single-use plastic. LifeStraw makes a portable filter that will keep your water clean and safe.
Use points – Accommodation is expensive along the Dalmatian Coast, so use your travel hacking points on hotels here to save money. It's the best way to stay in nicer accommodation without breaking the bank.
Get sandwiches at Milnar – For cheap eats, pick up sandwiches from Milnar, a chain bakery with stores around the country. You can find sandwiches for just 15 HRK (double that price in Dubrovnik, however).
Get a city tourism card – The Zagreb Card offers free public transportation as well as admission to four museums and the zoo (as well as discounts at restaurants). If you plan on museum hopping, this card can save you over 200 HRK (it costs 98 HRK). The Dubrovnik Card has similar discounts as well as free entry to 9 attractions and free public transportation. It's 250 HKR for the 24-hour pass. (Split has a free tourism card that offers 10% off of several activities, restaurants, and attractions).
Where to Stay in Croatia
During the high season, hostels book up fast so be sure to book in advance, especially on the coast so be sure to book in advance if you're coming during peak season. Here are some of my favorite places to stay in Croatia:
How to Get Around Croatia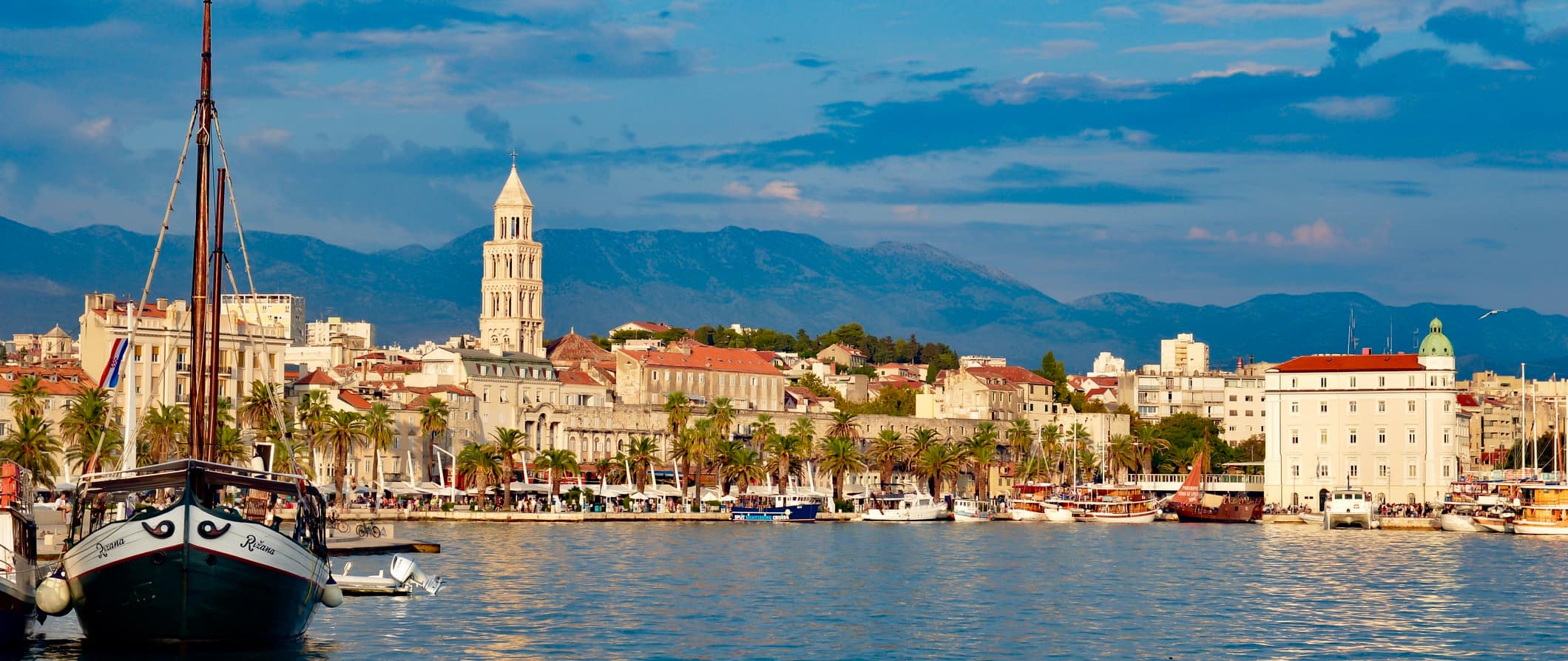 Public transportation – Public transportation is fairly inexpensive in Croatia, with most tickets costing between 6-20 HRK, depending on the distance you go. Both Dubrovnik and Split have day passes that cost around 30 HRK for a 24-hour pass and 75 HRK for a 72-hour pass. Buses and trams are the main ways to get around Croatia's cities.
Bus – To get around the country, Flixbus or Arriva is the most budget-friendly option. Croatia has invested heavily in improving its roads in recent years and traveling by bus is fast, cheap, and comfortable. Most buses have free Wi-Fi, reclining seats, sockets, and AC. You can use Get By Bus for routes and pricing information.
The cross-country 4.5-hour trip from Dubrovnik to Split starts at 98 HRK on Flixbus in the low season and 165 HRK on Arriva. The 2.5-hour trip from Split to Zadar starts at 75 HRK in the low season. Split to Zagreb takes around 5 hours and costs 135-160 HRK. Rovinj to Pula takes just under an hour and costs 55 HRK, while Pula to Zagreb costs around 188 HRK and takes 4.5-5 hours.
Note that buses have a 10 HRK fee for checked bags.
Train – The train lines in Croatia have been neglected in favor of improving the roads. Therefore, trains are slow and infrequent. They also don't run along the Dalmatian coast, making them more or less useless for most travelers. I wouldn't recommend the train here.
Ferry – Ferries in Croatia are efficient and affordable. Most ferries in Croatia are owned by the national carrier Jadrolinija and are large car ferries (so you can bring a vehicle). There is also a network of catamarans that link many of the smaller islands. Most smaller ferries start at 40 HRK during the low season and 100 HRK during the high season. Use Croatia Ferries for routes and prices.
For the 4.5-hour ferry between Dubrovnik and Split, expect to pay at least 230-280 HRK.
Flying – Croatia Airlines is the domestic carrier and offers flights between Zagreb and other airports within the country, including Dubrovnik, Split, Pula, and Zadar. Prices are relatively comparable between all the destinations, with one-way tickets starting at around 1,000 HRK.
Car rental – Car rentals can be found for around 90-200 HRK per day. An International Driving Permit (IDP) is required before you can rent a car (it's usually not enforced, but it's better to be safe than sorry). For the best rental car prices, use Discover Cars.
Hitchhiking – Hitchhiking in Croatia is safe and you generally won't have to wait long for a ride. Having a sign helps, and you'll generally find more rides along the coast. Hitchwiki is the best website for more hitchhiking info.
When to Go to Croatia
The best time to visit Croatia is during the shoulder season between May-June or September-October. During these months, you can expect great weather and fewer crowds. This is also the perfect time for outdoor activities like hiking, boating, and kayaking. Expect temperatures around 22°C (71°F).
During the low season (November-April), the country is a lot cheaper, making it an affordable place to visit for anyone on a tight budget. However, many places (including hotels and restaurants) close for the winter due to the lack of tourists so your options are much more limited during this time.
During the peak season (July and August), expect to pay double what you would in the low season. Dubrovnik is especially busy (and expensive) during this time. The coastal resorts are packed with families and cruisers. Temperatures hover around 30°C (86°F) though so the weather is at its best.
How to Stay Safe in Croatia
Croatia is a safe country to visit. Violent crime against tourists is rare. Pickpocketing and theft can occur in busy areas in Zagreb and Dubrovnik so be sure to keep an eye on your belongings (especially while on crowded public transportation or at a bus station).
Croatia's bars and nightclubs are known for overcharging so be vigilant and check your bill before paying. It is also important to watch your drink and never leave it unattended. Drink spiking has been known to happen at nightclubs in Zagreb, Zadar, Split, and Dubrovnik. It's rare, but it never hurts to be extra careful.
Solo female travelers should generally feel safe in Croatia. However, the standard precautions apply (never walk home alone at night intoxicated, don't accept drinks from strangers, etc.), especially in the party towns. For more tips, check out one of the many solo female travel blogs about the country. They can provide specific tips.
While out hiking take care not to wander far off the beaten path as there are still some regions in Croatia with unexploded landmines. If in doubt, ask locals for advice or hire an experienced guide.
Scams here are rare butt you can read about common travel scams to avoid here.
If you experience an emergency and require assistance, dial 112.
Always trust your gut instinct. Make copies of your personal documents, including your passport and ID.
The most important piece of advice I can offer is to purchase good travel insurance. Travel insurance will protect you against illness, injury, theft, and cancellations. It's comprehensive protection in case anything goes wrong. I never go on a trip without it as I've had to use it many times in the past. You can use the widget below to find the policy right for you:
Croatia Travel Guide: The Best Booking Resources
These are my favorite companies to use when I travel. They consistently have the best deals, offer world-class customer service and great value, and overall, are better than their competitors. They are the companies I use the most and are always the starting point in my search for travel deals.
Skyscanner – Skyscanner is my favorite flight search engine. They search small websites and budget airlines that larger search sites tend to miss. They are hands down the number one place to start.
Hostelworld – This is the best hostel accommodation site out there with the largest inventory, best search interface, and widest availability.
Booking.com – The best all around booking site that constantly provides the cheapest and lowest rates. They have the widest selection of budget accommodation. In all my tests, they've always had the cheapest rates out of all the booking websites.
HostelPass – This new card gives you up to 20% off hostels throughout Europe. It's a great way to save money. They're constantly adding new hostels too. I've always wanted something like this and glad it finallt exists.
Get Your Guide – Get Your Guide is a huge online marketplace for tours and excursions. They have tons of tour options available in cities all around the world, including everything from cooking classes, walking tours, street art lessons, and more!
The Man in Seat 61 – This website is the ultimate guide to train travel anywhere in the world. They have the most comprehensive information on routes, times, prices, and train conditions. If you are planning a long train journey or some epic train trip, consult this site.
Rome2Rio – This website allows you to see how to get from point A to point B the best and cheapest way possible. It will give you all the bus, train, plane, or boat routes that can get you there as well as how much they cost.
FlixBus – Flixbus has routes between 20 European countries with prices starting as low 5 EUR! Their buses include WiFi, electrical outlets, a free checked bag.
SafetyWing – Safety Wing offers convenient and affordable plans tailored to digital nomads and long-term travelers. They have cheap monthly plans, great customer service, and an easy-to-use claims process that makes it perfect for those on the road.
LifeStraw – My go-to company for reusable water bottles with built-in filters so you can ensure your drinking water is always clean and safe.
Unbound Merino – They make lightweight, durable, easy-to-clean travel clothing.
BlaBlaCar – BlaBlaCar is a ridesharing website that lets you share rides with vetted local drivers by pitching in for gas. You simply request a seat, they approve, and off you go! It's a cheaper and more interesting way to travel than by bus or train!
Croatia Travel Guide: Related Articles
Want more info? Check out all the articles I've written on backpacking/traveling Europe and continue planning your trip: