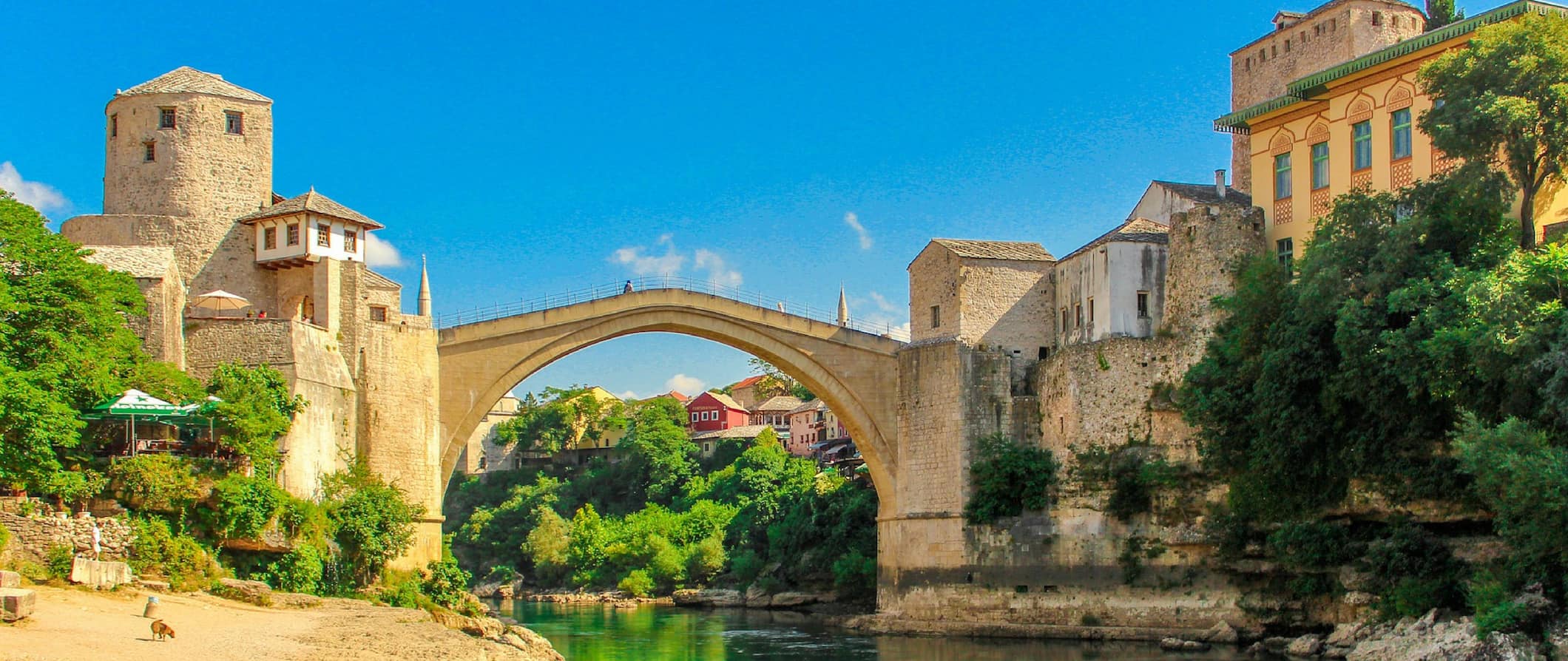 If you want an affordable Mediterranean destination with everything from medieval villages to craggy alpine mountains and gritty-but-beautiful cities, Bosnia & Herzegovina is the place for you.
Often overlooked because the country's name is still synonymous with the Yugoslavian War of the 1990s, Bosnia & Herzegovina deserves your attention, and my goal with this travel guide is to spark your desire to visit.
Not a lot of people backpack or travel through the country but it is rich in history, culture, and natural beauty.
Three major religions (Islam, Roman Catholic, and Serbian Orthodox) all come together in this small area to form a vibrant blend of cultures. You'll hear the Muslim call to prayer over the minarets one minute, and church bells ringing from a nearby church the next.
Watch skilled divers jump from the iconic bridge in Mostar, or enjoy some hookah at one of Sarajevo's sidewalk cafes, take a dip in the turquoise pools below the cascading Kravica Falls, or raft down the Tara Canyon, the deepest canyon in Europe. Bosnia & Herzegovina may be small but there's a lot to do here.
The country (especially the capital) has become more popular in recent years thanks to increasing tourism in the region and cheaper prices but you can still catch it before the big crowds come!
This travel guide to Bosnia & Herzegovina will help point the way by giving you tips on what to see, costs, suggested budgets, and ways to save money.
Top 5 Things to See and Do in Bosnia & Herzegovina
1. Visit Sarajevo
Bosnia's capital has a distinct "east meets west" vibe. On the Ferhadija pedestrian road, one end of the street has mosques and a Turkish bazaar, and the other side has Austro-Hungarian architecture and western restaurants. Enjoy some hookah, take the cable car to the top of Mount Trebevic, and visit the Bašcaršija historic market.
2. Check out Mostar
Mostar is a medieval city best know for its 16th century bridge straddling the Neretva river that people jump off! Explore this historic town and see the ancient Ottoman homes and panoramic views from the local mosque. It's one of the best cities in the country.
3. Visit the Pliva lakes
The Pliva lakes are two emerald lakes surrounded by wooded mountains, just outside Jajce. With its rivers, waterfalls, and easy bike paths, outdoor lovers flock here to swim, paddle, bike, and explore. For something unique, plan your visit around the annual waterfall jumping competition held here each August.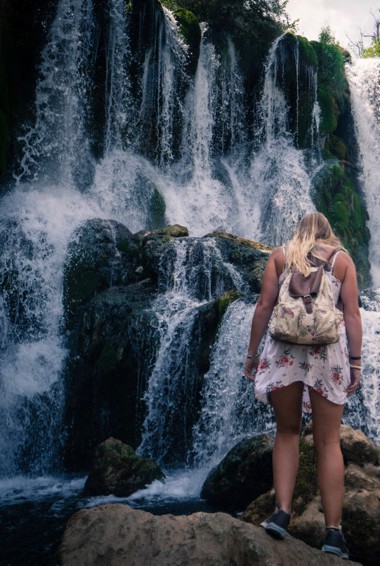 4. Marvel at the Kravica Waterfall
These marvelous cascades drop 25 meters into a bright emerald pool. There's a little café next to the water where you can grab a snack or a cold beer. Admission is 10 BAM ($6 USD), and swimming is allowed. To see the falls as part of a day trip from Mostar or Dubrovnik will cost from 44 BAM ($25 USD).
5. Explore Trebinje
Trebinje is situated on a scenic lake ringed with mountains, Austro-Hungarian ruins, and ancient monasteries. Hike to the Serbian Orthodox Hercegovacka Gracanica monastery, enjoy some time on the lake, and treat yourself to some of the region's famous wine.
Other Things to See and Do in Bosnia & Herzegovina
1. Ostrožac Fortress
This Gothic castle in the Una Valley is one of Bosnia's most photogenic landmarks thanks to its brick torrents and stone wall running along the valley's edge. Ostrožac has plenty to explore within its grounds, including a sculpture garden, ramparts, towers, and a manor house dating back to 1286. You can visit the castle during the summer (it's only open then). Admission is 2 BAM ($1.50 USD).
2. Walk the Tunnel of Hope
Surrounded by Bosnian-Serb forces, Sarajevo had just one link with the outside world from 1992–1995: an 800-meter long, 1-meter wide, 1.6-meter high tunnel connecting two houses on opposite sides of the airport runway. Eventually, the tunnel was equipped with rails to transport food and supplies. You can walk through part of the tunnel from the house on the western entrance while learning about the story of the siege through informational displays and video. It's an incredibly moving experience. The tunnel is open from 9am-4pm daily and admission is 10 BAM ($6 USD).
3. Visit the National Museum of Bosnia & Herzegovina
The National Museum of Bosnia & Herzegovina in Sarajevo houses the Sarajevo Haggadah illuminated manuscript, which contains the illustrated text of the Passover Haggadah that goes with the Passover Seder. It's one of the oldest Haggadah in the world, dating from 1350 and originating in Barcelona. In addition to Greek pottery and Roman mosaics, this museum is also home to a collection of ste?ci (medieval tombstones found scattered around the country). They started appearing in the 12th century for various Christian churches like the Bosnian Church, and most of them are inscribed with the extinct Bosnian Cyrillic alphabet. Entrance to the museum is 8 BAM ($5 USD).
4. See Kajtaz House
Kajtaz House in Mostar was once the harem (women's) area of a large 16th-century homestead built for a Turkish judge. This well-preserved house looks a lot like it did during its heyday, with much of its original furniture and decoration intact, including colorfully embroidered seat cushions and rugs. The family still officially owns it.. To visit Kajtaz House, you will need to take a tour, which costs 4 BAM ($2.50 USD). It's only open daily from April to October between 9am-6pm.
5. See the Mehmed Pasha Sokolovic Bridge
Mehmed Pasha Sokolovic Bridge was built in Višegrad, in 1571 and was designed by Mimar Sinan, the famous chief architect for the Ottoman Empire. He was the master builder behind both the Sehzade Mosque and the Süleymaniye Mosque in Istanbul, and this 11-arch bridge is the only confirmed work he completed in Bosnia & Herzegovina. It stretches 179 meters across the Drina River, and although it's now closed to traffic, you can still appreciate this perfectly symmetrical beauty from land.
6. See the watermills of Jajce
Jajce is known as the "city of falling water" thanks to its giant waterfall that connects the rivers Pliva and Vrbas. During the days of the Austro-Hungarian Empire (1867-1918), the small wooden huts standing on stilts over the gushing water used to ground local farmers' wheat into flour. The huts are genius because instead of using one large water wheel, they aggregate the water power. You can't go inside, but you can see the huts up close.
7. Take a tour of Tito's Bunker
On the bank of the river Neretva, just outside of Konjic and hidden behind a seemingly normal house, the once-forgotten bunker was built under the command of the Yugoslav revolutionary Josip Tito. It was kept secret for many years — even the construction workers were blindfolded until they arrived on site. The bunker costs billions of dollars to build and is now home to a contemporary art biennial called D-0 ARK Underground. You can only visit as a part of a guided tour with Visit Konjic, which costs from 22 BAM ($13 USD).
8. See the Bosnian Pyramids
Located near Visoko, the Bosnian Pyramids are a set of four pyramids dating back to 12,000 years ago that have perfect cardinal alignment, some reaching to heights of 220 meters. While most of the scientific community has debunked the theory that an ancient civilization built these structures, it's a pretty amazing coincidence that they're so aligned with the north. There are no official tours, so you're free to explore on your own.
9. Visit Galerija 11/07/95
One of the most tragic events of the Yugoslavian War was the Srebrenica massacre, the largest genocide since WWII carried out by Bosnian Serb forces. With 8,372 victims, the gallery stands as a memorial to those that lost their life while also sharing survivor stories. It's a powerful exhibition made up of photography, video footage, and audio testimonies. Admission is 7 BAM ($12 USD). An audio guide costs 3 BAM ($1.70 USD) and a tour is 4 BAM ($2.30 USD).
10. Go whitewater rafting
Whitewater rafting on the Tara River Canyon, the deepest canyon in Europe, is one of the most exciting things to do in the country as you tackle rapids and fast-flowing water. Other than navigating 15 miles (25 kilometers) of white water, your guide will take you to waterfalls, springs, and swimming holes. I recommend Rafting Center Drina Tara. Their full-day tour costs 49 BAM ($28 USD) and ends with a delicious traditional dinner of homemade goat pies, soup, grilled lamb, and drinks.
Bosnia & Herzegovina Travel Costs
Accommodation – Hostel dorms start at around 17 BAM ($10 USD) per night for an 8-10 bed dorm while a bed in a 4-6 person dorm will cost closer to 26 BAM ($15 USD).
For a private room, expect to pay at least 44-61 BAM ($25-35 USD) per night for a twin private (for two people).
Budget hotels in the bigger cities (like Mostar and Sarajevo) will cost around 61 BAM ($35 USD) per night for a double or twin. In the more rural areas, you'll find rooms for as low as 35 BAM ($20 USD).
Airbnb is another affordable option, with shared accommodation (like a dorm) starting at 17 BAM ($10 USD) per night. For a private room, expect to pay about 94 BAM ($45 USD) per night, while a full home or apartment averages about 105 BAM ($60 USD) per night.
For anyone traveling with a tent, wild camping on public land is legal in Bosnia & Herzegovina. Additionally, there are campsites available throughout the country. Tent plots cost about 10.50 BAM ($6 USD) per person.
Food – Traditional food in Bosnia & Herzegovina is very cheap and filling (and meat-heavy). You can get plates of cevapi (a pita filled with cream and sausage), or burek (a flaky pastry with meat, cheese, and spinach) for about 7 BAM ($4 USD).
A meal at a mid-range restaurant will cost about 15 BAM ($9 USD) for an entree, and you can expect to pay about 2.50 BAM ($1.50 USD) for a beer. Dinner at a fancy restaurant (including Western restaurants) will cost about 35 BAM ($20 USD) for an appetizer, main, and dessert.
For comparison, fast-food like McDonald's is about 7 BAM ($4 USD).
If you are planning to cook your own food, a week's worth of groceries shouldn't cost more than 61 BAM ($35 USD) for the staples like meat, cheese, bread, and veggies.
Backpacking Bosnia & Herzegovina Suggested Budgets
If you are backpacking Bosnia & Herzegovina, my suggested budget is about 78 BAM ($45 USD) per day. This is assuming you're staying in a hostel dorm, eating local meals, cooking some of your meals, visiting a few attractions, and using local transportation. You can lower this if you're camping.
A mid-range budget of about 140 BAM ($80 USD) will cover staying in a budget two-star hotel or private room at an Airbnb, eating out for all your meals (including nicer restaurants or non-local food), and more guided tours and activities.
For a luxury budget of about 288 BAM ($165 USD) per day, you will stay in a four-star hotel, eat out for all your meals, enjoy lots of drinks, and take all the tours you desire. The sky is the limit here at that price.
You can use the chart below to get some idea of how much you need to budget daily, depending on your travel style. Keep in mind these are daily averages – some days you'll spend more, some days you'll spend less (you might spend less every day). We just want to give you a general idea of how to make your budget. Prices are in USD.
Accommodation
Food
Transportation
Attractions
Average Daily Cost
Backpacker
$10
$15
$10
$10
$45
Mid-Range
$35
$20
$10
$15
$80
Luxury
$60
$50
$25
$30
$165
Bosnia & Herzegovina Travel Guide: Money Saving Tips
Bosnia & Herzegovina, like most of the region, is really budget friendly, especially if you're backpacking around. You'll be able to eat, drink, and stay in comfortable accommodations without breaking the bank too much. However, I always love saving money when I can so here are my tips on saving money when you visit Bosnia & Herzegovina:
Do a free walking tour – Both Sarajevo and Mostar have free walking tours available. They're a great way to get familiar with the city and the culture. (Be sure to tip!)
Wild camp – If you really want to save money in Bosnia & Herzegovina, bring your tent. You can pitch your tent on public land throughout Bosnia & Herzegovina.
Cook your own meals – Many hostels here include kitchen facilities, so if you want to save money cook, your own meals.
Stay with a local – Staying with a local via Couchsurfing is a great way to not only save money but to meet a knowledgeable local.
Walk everywhere – All of the major cities in Bosnia & Herzegovina are walkable, so skip the public transportation if you want to save a few extra dollars.
Enjoy the free spaces – There are plenty of free parks as well as many free hiking trails around the country. Save your budget and enjoy the outdoors!
Drink the tap water – Tap water within the cities is safe to drink, but not in the rural areas. Pick up a LifeStraw (a water bottle with a purifier) so you can cut down on your use of plastic bottles.
Have an ISIC Card – To save 20-50% on the cost of admission to museums and other tourist attractions, be sure to present a valid student card. The ISIC is typically accepted in places where a foreign student ID is not.
Where To Stay in Bosnia & Herzegovina
Like many other countries in this part of Europe, Bosnia & Herzegovina only has hostel accommodation in the cities. In the smaller less popular areas, you will find B&B style accommodation or campsites. Here are some of my favorite places to stay in Bosnia & Herzegovina:
How to Get Around Bosnia & Herzegovina
Public Transportation – Most and towns in Bosnia & Herzegovina are walkable, including Sarajevo. Otherwise, prices will vary by city. You can expect to pay around 1.60 BAM ($1 USD) for a one-way ticket on buses, trams, or trolleybuses.
If you need to take a taxi, prices start at about 1.50 BAM ($0.90 USD) and cost about 1 BAM ($0.60 USD) for every additional kilometer.
Bus – The main form of transportation in Bosnia & Herzegovina is by bus. There is an extensive network of long-distance intercity and international buses. Between towns, it's normally easy enough to wave down any bus. Reservations are sometimes necessary for overnight routes or at peak holiday times. The biggest companies include:
Autoprevoz
Globtour
Centrotrans
A bus from Sarajevo to Mostar takes 2.5 hours and costs from 10.50 BAM ($6 USD), while Sarajevo to Trebinje takes nearly 10 hours and is about 47 BAM ($27 USD). Mostar to Jajce is a 4.5-hour journey and costs about 26 BAM ($15 USD). Try to book a day in advance when possible as seats do fill up quickly in the summer season.
It is worth noting that if you buy a round trip with the same company, you can save yourself up to 60% compared to buying two single tickets. You do need to make sure you travel back with the same company, though, or you will need to pay again. Also if you need to put luggage in the hold, they will often charge you an additional 2-4 BAM ($1.20-2.25 USD).
Trains – Trains do operate in Bosnia & Herzegovina, however, they are outdated and extremely slow. I do not recommend using them.
Budget Airlines – No budget airlines are offering domestic flights within Bosnia & Herzegovina.
Hitchhiking – Hitchhiking in Bosnia & Herzegovina is generally safe, but it's not for everyone and you should use caution in the region. HitchWiki is the best website for hitchhiking info.
When to Go to Bosnia & Herzegovina
In general, May through to October is the best time to visit Bosnia & Herzegovina as these are the warmest months. The temperature averages about 87°F (31°C) daily and rarely drops below 62°F (17°C).
On the other hand, unlike other Mediterranean countries, Bosnia & Herzegovina doesn't have a whole lot of coastal area to enjoy. If you're here mostly for hiking or sightseeing, the cooler spring/fall temperatures might suit you better. Winters here can harsh, and they often last from November to March. Temperatures often drop below freezing, and snowfall is common.
Even in the summer months, Bosnia & Herzegovina doesn't get a ton of tourism traffic. A lot of people will take a day trip to Mostar from Croatia, but you don't have to worry too much about overcrowding in the rest of the country.
How to Stay Safe in Bosnia & Herzegovina
In Bosnia & Herzegovina, scams and pick-pocketing are the most common danger you'll face in on public transport and in the cities, especially around high traffic areas in Sarajevo. Always guard your stuff and only take the cash you need for the day.
You can read about the 14 travel scams to avoid in this blog post.
Moreover, hikers need to be aware of unexploded landmines. Although you will be safe in the highly populated areas if you want to go hiking, it's essential you stick to marked trails only. This is a big problem so stick to the trails!
Always trust your gut instinct. If a taxi driver seems shady, stop the cab and get out. If your hotel is seedier than you thought, get out.
Remember, if you wouldn't do it at home, don't do it in Bosnia & Herzegovina!
The most important piece of advice I can offer is to purchase good travel insurance. Travel insurance will protect you against illness, injury, theft, and cancellations. It's comprehensive protection in case anything goes wrong. I never go on a trip without it as I've had to use it many times in the past. You can use the widget below to find the policy right for you:
Bosnia & Herzegovina Travel Guide: The Best Booking Resources
These are my favorite companies to use when I travel. They consistently have the best deals, offer world-class customer service and great value, and overall, are better than their competitors. They are the companies I use the most and are always the starting point in my search for travel deals.
Skyscanner – Skyscanner is my favorite flight search engine. They search small websites and budget airlines that larger search sites tend to miss. They are hands down the number one place to start.
Hostelworld – This is the best hostel accommodation site out there with the largest inventory, best search interface, and widest availability.
Booking.com – The best all around booking site that constantly provides the cheapest and lowest rates. They have the widest selection of budget accommodation. In all my tests, they've always had the cheapest rates out of all the booking websites.
HostelPass – This new card gives you up to 20% off hostels throughout Europe. It's a great way to save money. They're constantly adding new hostels too. I've always wanted something like this and glad it finallt exists.
Intrepid Travel – If you want to do group tours, go with Intrepid. They offer good small group tours that use local operators and leave a small environmental footprint. And, as a reader of this site, you'll get exclusive discounts with them too!
Get Your Guide – Get Your Guide is a huge online marketplace for tours and excursions. They have tons of tour options available in cities all around the world, including everything from cooking classes, walking tours, street art lessons, and more!
Eurail – If you are going to Europe and taking a lot of high speed or long distance trains, get a rail pass. I've used a rail pass three times and saved hundreds of dollars each time. The math just works.
The Man in Seat 61 – This website is the ultimate guide to train travel anywhere in the world. They have the most comprehensive information on routes, times, prices, and train conditions. If you are planning a long train journey or some epic train trip, consult this site.
Rome2Rio – This website allows you to see how to get from point A to point B the best and cheapest way possible. It will give you all the bus, train, plane, or boat routes that can get you there as well as how much they cost.
FlixBus – Flixbus has routes between 20 European countries with prices starting as low 5 EUR! Their buses include WiFi, electrical outlets, a free checked bag.
SafetyWing – Safety Wing offers convenient and affordable plans tailored to digital nomads and long-term travelers. They have cheap monthly plans, great customer service, and an easy-to-use claims process that makes it perfect for those on the road.
Bosnia Gear and Packing Guide
If you're heading on the road and need some gear suggestions, here are my tips for the best travel backpack and for what to pack!
The Best Backpack for Travelers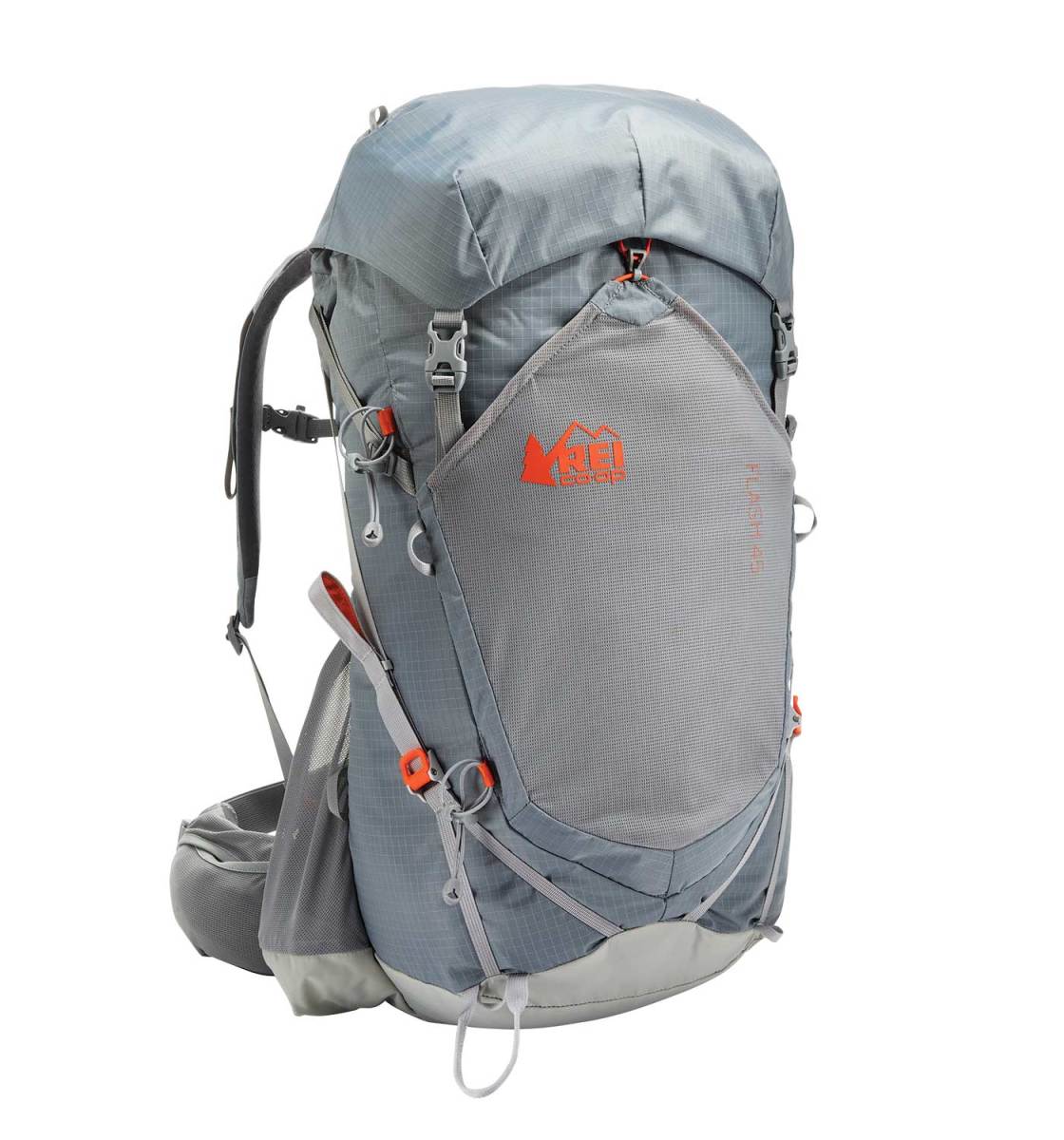 What's the best backpack for traveling long-term? I recommend the
REI Flash 45 Pack
. It's light and comfy, top loading, and fits perfectly in an airplane's overhead bin.
Size:
45-47L
Straps:
Thick and cushy with compression technology that pulls the pack's load up and inwards so it doesn't feel as heavy.
Features:
Removable top lid, pocket at the front, hydration compatible, contoured hip belt
If you want something different, refer to my article on how to choose the best travel backpack for tips on picking a pack and other backpack suggestions.
What to Pack for Your Trip
Clothes
1 pair of jeans (heavy and not easily dried, but I like them; a good alternative is khaki pants)
1 pair of shorts
1 bathing suit
5 T-shirts (Unbound Merino is my preferred company. If you're a member of NM+, you can get 15% off your purchase)
1 long-sleeved T-shirt
1 pair of flip-flops
1 pair of sneakers
6 pairs of socks (I always end up losing half)
5 pairs of boxer shorts (I'm not a briefs guy!)
1 toothbrush
1 tube of toothpaste
1 razor
1 package of dental floss
1 small bottle of shampoo
1 small bottle of shower gel
1 towel
Deodorant
Small Medical Kit (safety is important!!!)
Miscellaneous
Female Travel Packing List
I'm not a woman, so I don't know what a woman wears, but Kristin Addis, our solo female travel guru, wrote this list as an addition to the basics above:
Clothing
1 swimsuit
1 sarong
1 pair of stretchy jeans (they wash and dry easily)
1 pair of leggings (if it's cold, they can go under your jeans, otherwise with a dress or shirt)
2-3 long-sleeve tops
2-3 T-shirts
3-4 spaghetti tops
1 light cardigan
Toiletries
1 dry shampoo spray & talc powder (keeps long hair grease-free in between washes)
1 hairbrush
Makeup you use
Hair bands & hair clips
Feminine hygiene products (you can opt to buy there too, but I prefer not to count on it, and most people have their preferred products)
For more on packing, check out these posts:
Bosnia & Herzegovina Travel Guide: Related Articles
Want more info? Check out all the articles I've written on backpacking/traveling Europe and continue planning your trip: