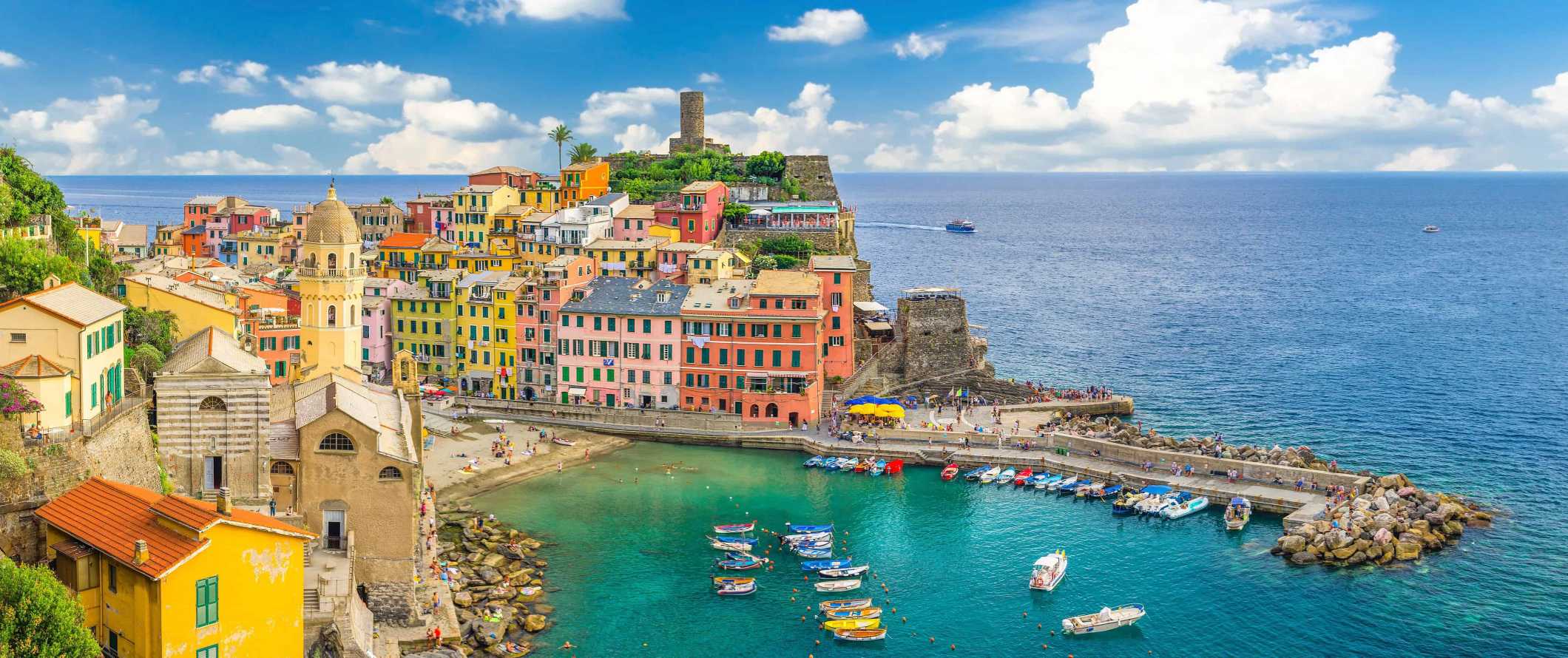 The Cinque Terre consists of five beautiful hillside towns on the west coast of Italy: Riomaggiore, Manarola, Corniglia, Vernazza, and Monterosso. Together, these fishing towns comprise Cinque Terre National Park, a UNESCO World Heritage Site and one of the most visited regions in the country.
From looking inside Manarola's Church of San Lorenzo to hiking down from the vineyards into one of the colorful towns, every second in Cinque Terre is Insta-worthy and postcard-perfect.
This is probably my favorite region of Italy. During the summertime, there is nowhere else I'd rather be. It's just so gorgeous!
Best of all, there are plenty of nature walks, trails, and vineyards in the surrounding area that make it possible to explore Cinque Terre without breaking the bank.
This Cinque Terre travel guide can help you plan an awesome and affordable trip to this stunning region of Italy!
Top 5 Things to See and Do in Cinque Terre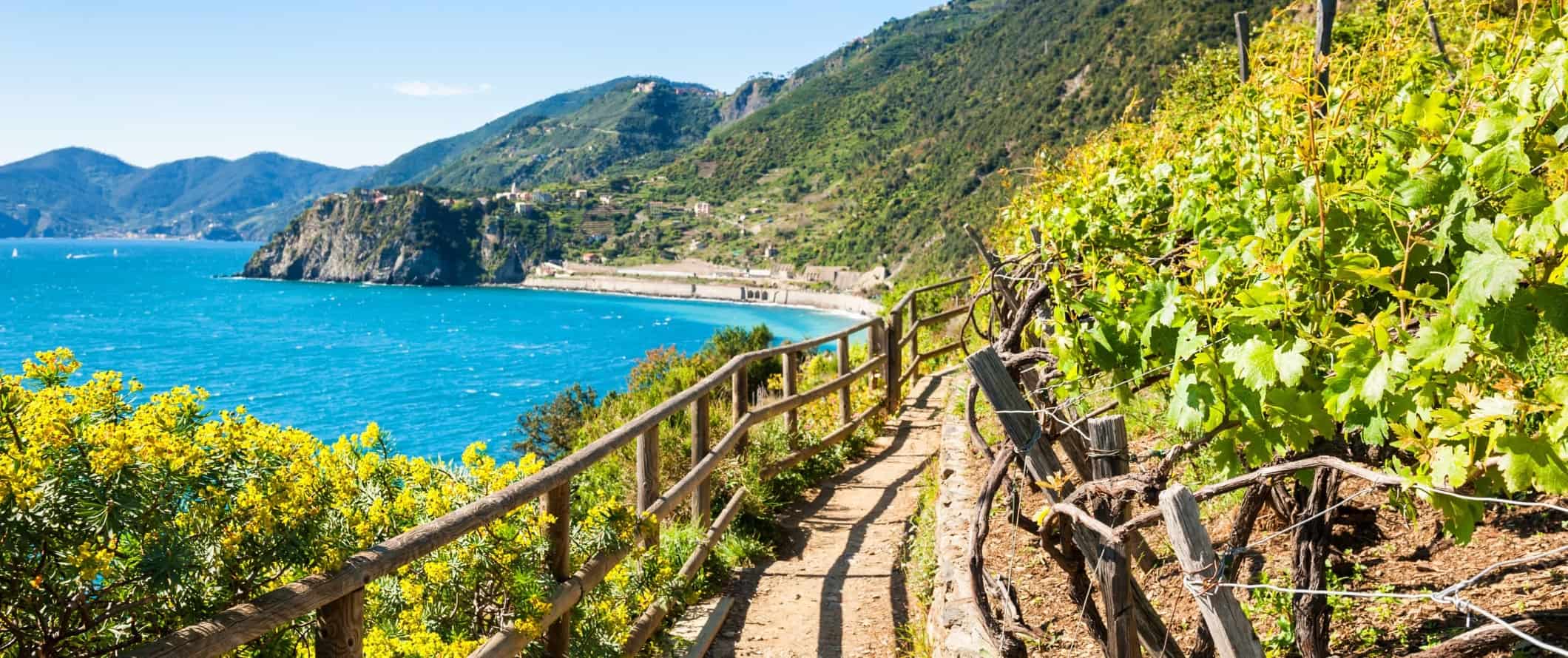 1. Hike the Cinque Terre
Most travelers say that you need to hike the Cinque Terre in order to really appreciate it. I agree. The coastal walk (blue trail) is the easiest and the best way to see the towns. The full walk is about 12 kilometers (7.5 miles), though you can choose to just do certain sections. You must have a ticket for the blue trail as there are checkpoints when entering each village (except in November-March, when all trails are free). The Cinque Terre Trekking Card costs 7.50 EUR for one day, or 18.20 EUR including unlimited travel on the Cinque Terre Express train between the villages. If you want something more difficult, there are many other always free trails that go through the steep hills and vineyards.
Guided full-day hiking trips are also available if you'd prefer to have an expert local guide show you around. Note: The famous Via dell' Amore (Lovers' Lane) section of the blue trail is currently closed due to a landslide. It is scheduled to reopen in 2024.
2. Catch the sunset or sunrise
The views of the sea from the trails and colorful villages are only made more epic during sunset and sunrise. If you can get up early for sunrise, you'll also enjoy the added benefit of sleepier towns before all the tourists arrive. Sunset boat tours are also plentiful here, generally costing 70-85 EUR, including an aperitif.
3. Visit Torre Guardiola
Formerly part of the fortress of the Italian Royal Navy, Torre Guardiola is now a bird-watching and nature observation center. It's located just southeast of Riomaggiore on Fossola Beach, next to a bar. There's also a beautiful trail that leads down to a great swimming spot. Admission is 1.50 EUR. It's closed during winter.
4. Go swimming
The Mediterranean's cool blue waters are a perfect place to go swimming, especially during the hot summer (just stay close to shore). Keep in mind that most beaches here are rocky rather than sandy, with Monterosso being the exception. During the Italian holidays (in August), the beach areas get very crowded so be sure to arrive early. Many beaches have paid and private sections, with the ability to rent umbrellas and lounge chairs.
5. Visit the churches
Every town along the Cinque Terre has its own collection of churches which vary in age (from the 13th to 17th centuries) and architectural style. Be sure to visit the Church of San Lorenzo (Manarola), Santa Margherita di Antiochia Church (Vernazza), or San Pietro (Corniglia). Entrance to the churches is usually free though you'll want to dress respectfully as they are places of worship.
Other Things to See and Do in Cinque Terre
1. Go kayaking
Being on the water makes the views here all the more majestic. The cliffs feel more dramatic, the colors more intense, and the water seems a deeper shade of blue. It's a very different way to see the five towns. Rentals start at 5 EUR per hour or 20-30 EUR per day and can be done from any of the towns in the area. You can also take a guided kayaking tour, with half-day tours starting at 85 EUR.
2. Have an authentic Ligurian beach picnic
Grab yourself a basket and shop around town for some local goodies. There are some great little restaurants that serve fresh, hot focaccia and there are plenty of cheap local wines available too. Grab some food and drinks and head to one of the beaches, where you do as the locals do and eat, swim, and be merry.
3. See the Nativity in Manarola
If you happen to be visiting between December 8th and the end of January, this scene is worth a quick visit. The Nativity Manarola is the world's biggest lighted nativity scene, and its opening ceremony is a huge event. Started in 1961 by a former railway worker, the scene contains more than 300 life-size figures lit up with over 17,000 lightbulbs. Many locals also come out and light candles. It's free.
4. Go camping
Spring through early fall is a beautiful time to go camping (or glamping) here. There are a few campgrounds to choose from that offer inexpensive tent set-ups that can cut your accommodation costs while giving you a chance to embrace the natural scenery here. Camping Acqua Dolce is a popular choice near the town of Levanto (it's close to the beach too). A basic campsite costs 16-20 EUR per night in the shoulder season.
5. Explore castle ruins
In Monterosso, you can visit the ruins of a 16th-century castle which was built as a defense fortification after a Saracen (Arab Muslim) attack. The castle once included a monastery, a watch post, three town gates, and 13 towers. Now the ruins consist of three circular towers and a square tower that lie near the cemetery on San Cristoforo Hill.
6. Learn about Italian naval history
The Technical Naval Museum is located next to a major Italian naval base in La Spezia, the gateway city to the region. The collection takes up two levels and contains a lot of information on the region's naval history. There are also all kinds of artifacts, including old diving suits, ship replicas, anchors, and more. Admission is 5 EUR.
7. Go wine tasting
This region is home to some great wine, so if you get thirsty and need a break from hiking, take a wine tour! You'll learn about the unique grape-growing qualities of this area while tasting locally produced wines. Local wines from Cinque Terre are mostly dry white wines that pair excellently with the abundance of fresh fish and seafood in the area. Tours vary in length and price, but a vineyard tour with Get Your Guide costs around 75 EUR.
8. Check out Chiesa di Santa Margherita
The picturesque harbor of Vernazza has a waterfront piazza that's a great spot for people-watching and taking a break. The Gothic church, Santa Margherita di Antiochia, can also be found here. Originally built in 1318, it was supposedly built when Santa Margherita's bones washed up on the town's shores. The church's unique octagonal, domed bell tower is still intact and offers great views over the harbor.
9. Visit a 13th-century castle
Built in 1290 with additions in the 15th and 16th centuries, Castello di Riomaggiore is perched at the top of Riomaggiore's historic center. Only the tower and a few buildings remain, but it's just a short walk from town and offers beautiful views over the town and the water. It's free to wander around.
10. Hang out in the villages
Each of the five villages has a slightly different flavor and vibe. They range in size from Monterosso al Mare, the largest and home to the only sandy beach, to Corniglia, the smallest and perched high on the cliffs. If you have the time, it's worth spending a little more time in each soaking up the atmosphere. The Cinque Terre express train makes it super easy to pop around to the different villages.

For more information on other cities in Italy, check out these guides:
Cinque Terre Travel Costs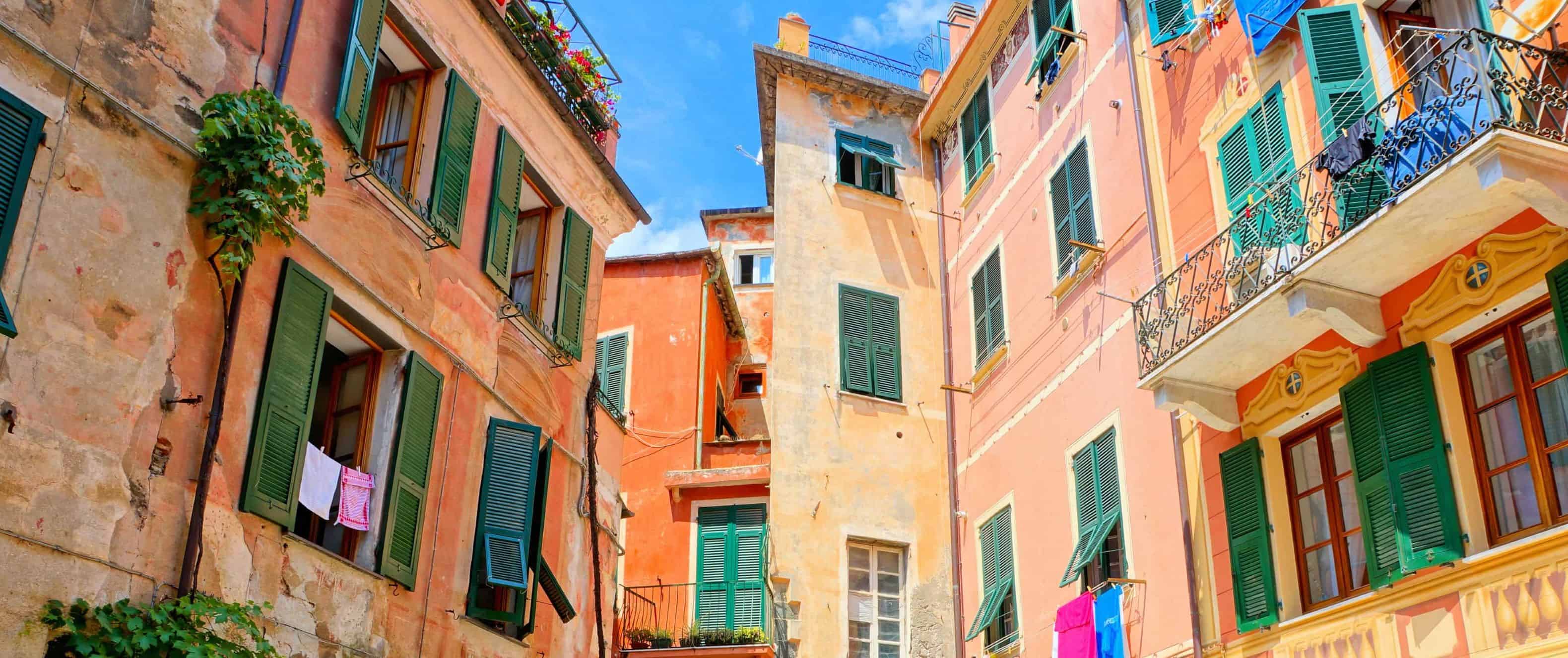 Hostel prices – There are not many hostels in Cinque Terre, so you should book your accommodation in advance if you're on a budget. During the high season, a bed in a 4-6-bed dorm room costs 30-45 EUR per night. Prices drop to 25-30 EUR in the shoulder season (most hostels close in the off-season). A private room in a hostel costs 65-80 EUR. If you want more budget options, you need to stay in nearby La Spezia.
Free Wi-Fi is standard but most hostels do not have self-catering facilities. None include free breakfast.
For those traveling with a tent, camping is available for 16-20 EUR per night for one adult.
Budget hotel prices – Budget hotels start at around 70 EUR per night, but expect to pay at least 100 EUR in the high season. These include basic amenities like a private bathroom, free Wi-Fi, and a TV. For the most options, stay in Monterosso.
On Airbnb, a private room starts at around 75 EUR while entire apartments start at 125-150 EUR per night. Book early, though, or you'll end up paying much more!
Food – Italian cuisine is beloved around the world, though every region in Italy offers its own distinct flavor. Tomatoes, pasta, olives, and olive oil form the backbone of most meals, with meat and fish and various cheeses rounding out the menu (anchovies are especially popular in this area). Be sure to try focaccia, gelato, mussels, and tegame alla vernazzana (an anchovy casserole).
Overall, Cinque Terre is an expensive place to eat. A pasta dish costs 12-17 EUR at a traditional Italian restaurant. Seafood dishes are a bit more, at 16-20 EUR. Generally, restaurant meals cost between 25-35 EUR including a drink. A three-course tasting menu is 35-45 EUR.
Most restaurants open for lunch, close for their siesta, then open again around 7pm for dinner. Additionally, many restaurants add 3 EUR for the "coperto" (sit down fee) that covers service and the bread at the table.
You can get cheap local wine at the store for around 5 EUR and pizza, paninis, or my favorite focaccia for around 5 EUR. A whole pizza costs around 12 EUR.
A beer is around 3.50 EUR, a glass of wine is around 3-4 EUR, and a cocktail is 6-7 EUR. A cappuccino is 3 EUR.
With all kinds of amazing local ingredients to work with, a picnic on the coast is one of my favorite ways to eat in the region. Expect to pay 60-70 EUR per week for groceries that include pasta, seasonal produce, and some meat or fish.
Backpacking Cinque Terre Suggested Budgets
On a backpacking budget, expect to spend around 60 EUR per day. This assumes you're staying in a hostel dorm, cooking all of your meals, limiting your drinking, taking public transportation to get around, and sticking to mostly free activities like hiking and enjoying the beach. If you plan on drinking, add 5-10 EUR to your daily budget.
On a mid-range budget of 150 EUR, you can stay in a private Airbnb, cook most of your meals, enjoy a few drinks out, take the train between towns, and do more paid tours and activities such as kayaking and visiting some museums.
On a "luxury" budget of 250 EUR per day or more, you can eat out for all your meals, drink more, get an unlimited train card, and do whatever tours and activities you want. This is just the ground floor for luxury though. The sky is the limit!
Accommodation
Food
Transportation
Attractions
Average Daily Cost
Backpacker
25
15
10
10
60
Mid-Range
75
40
20
15
150
Cinque Terre Travel Guide: Money-Saving Tips
Cinque Terre is one of the most popular places to visit in Italy, especially during the summer. While it's not cheap, there are a few ways to save money here. Here are my tips for saving money in Cinque Terre.
Go hiking – The hiking trails are the best and cheapest way to see the area. Besides a couple of paid trails, hiking is a free activity that takes up most of your day.
Eat pizza and paninis – Sit-down meals in this region are very expensive. Stick to cheap sandwiches and pizza if you want to save money. Picnics from grocery stores in town made up of fresh pesto, cheese, and focaccia are the way to go! (That said, the food is delicious here, so try and splurge on a restaurant meal at least once!)
Get the Cinque Terre Card – This card includes access to all the paid hiking trails, shuttle buses, and Wi-Fi for 7.50 EUR per day. You also can get the Cinque Terre Train Card, which includes all of the same perks but with unlimited train travel around Cinque Terre for 18.20 EUR.
Pass on the bread – Some restaurants here charge extra for bread but won't tell you about it until the bill arrives. Send it back when it comes if you don't want to be tempted.
Buy lots of wine – You can buy a great bottle of wine at the store for around 5 EUR. It's a lot cheaper than drinking at the bars.
Drink the tap water – Ask for tap water at restaurants or you'll automatically get expensive bottled water included on your bill.
Stay with a local – Accommodation is expensive in Cinque Terre. Use Couchsurfing to stay with locals who have extra beds and couches for free. You'll save money and get to connect with locals who can share their insider tips and advice.
Bring a water bottle – The tap water here is safe to drink so bring a reusable water bottle to save money and reduce your plastic use. LifeStraw is my go-to brand as their bottles have built-in filters to ensure your water is always clean and safe.
Where to Stay in Cinque Terre
When choosing a place to stay in the Cinque Terre, make sure you're located somewhere with easy access to the five towns. My recommended places to stay are:
How to Get Around Cinque Terre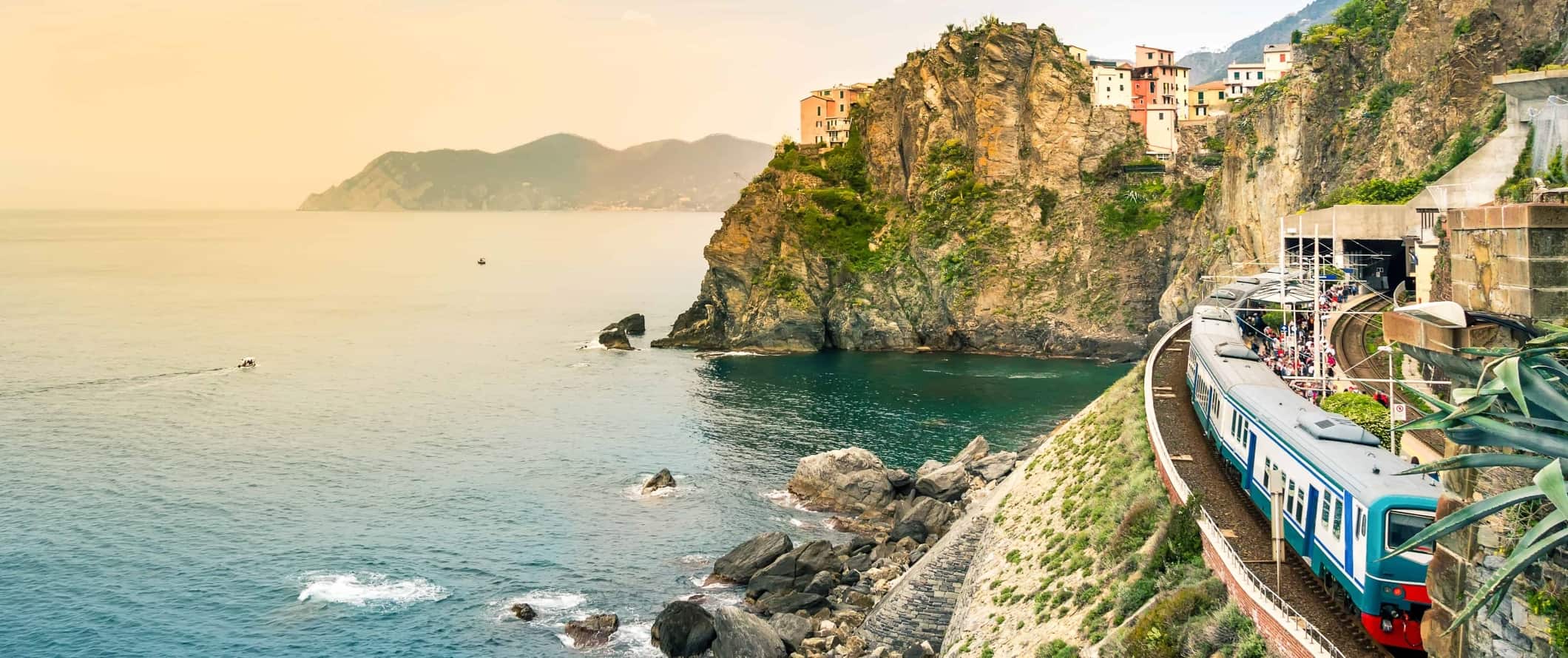 Hiking – Trails connect all the towns but they vary in difficulty so bring sturdy footwear. Personally, I love to hike between the five towns and then take the train back to my accommodation for a rest.
If you plan on just hiking between towns, you can purchase a Cinque Terre Card for 7.50 EUR per day. If you want a more inclusive ticket, it costs 18.20 EUR for a ticket with unlimited access to the trains and buses as well. It also includes free and discounted entry to a few museums.
Train – A train connects all five towns, as well as La Spezia and Levanto (which are located at both ends of the Cinque Terre). Single tickets cost 4 EUR each way, so if you're planning on traveling a lot between towns, you're much better off getting the Cinque Terre Card (see above). If you decide to ride the train, make sure you have your ticket because the authorities give a hefty fine if they catch you without one.
For train trips further afield, a great resource to use is ItaliaRail.
Bus – There is no public bus connecting the towns in the Cinque Terre, but each village has its own bus that takes you to specific destinations. For example, the bus in Riomaggiore runs from the town to the Castle of Riomaggiore, while the bus in Manarola goes to Groppo (famous for its wine) and Volastra. Tickets cost 1.50 EUR but are free if you have a Cinque Terre Card.
There's also a small, hop-on/hop-off kind of bus that connects the five towns to La Spezia and some smaller villages just outside of the Cinque Terre. It's called the Explora 5Terre, and tickets for daily unlimited travel start from 22 EUR.
Car rental – Roads are closed to all but local traffic, and parking outside of this area is expensive, so renting a car in Cinque Terre is more of a hindrance than a help. You don't need one as you can get between all the towns either by walking or taking trains. For the best rental car deals, use Discover Cars
When to Go to Cinque Terre
Peak season here is July and August when the average daily temperature is about 28°C (83°F). Prices increase during this time but the overall atmosphere and weather are great so it's still worth visiting during peak season.
Personally, I think the best time to visit Cinque Terre is shoulder season (March-May and September-October). It's still warm but there aren't as many crowds and prices are lower. The temperatures throughout September are nice, with highs of 25°C (77°F). This is a particularly great time to hang out in the Mediterranean.
Winter here is from November to February. A lot of the region shuts down but if you do come during winter, there are very few crowds, quiet hiking trails, and cheaper accommodation rates. Expect daily highs around 12°C (53°F).
How to Stay Safe in Cinque Terre
The Cinque Terre is an incredibly safe place to backpack and travel as violent crimes are incredibly rare here. That said, scams and pickpocketing can occur, although they're much less of an issue in this region. Nevertheless, always keep your items secure and out of sight when in public.
Solo female travelers should feel safe here, however, the standard precautions apply (never leave your drink unattended at the bar, never walk home alone intoxicated, etc.).
If you're worried about getting scammed, you can read about common travel scams to avoid here.
Some of the hiking trails can be steep and slippery so watch your footing. Bring proper footwear and be aware that these trails are challenging for those with mobility issues.
If you experience an emergency, dial 113 for assistance.
Always trust your gut instinct. Make copies of your personal documents, including your passport and ID. Forward your itinerary along to loved ones so they'll know where you are.
The most important piece of advice I can offer is to purchase good travel insurance. Travel insurance will protect you against illness, injury, theft, and cancellations. It's comprehensive protection in case anything goes wrong. I never go on a trip without it as I've had to use it many times in the past. You can use the widget below to find the policy right for you:
Cinque Terre Travel Guide: The Best Booking Resources
These are my favorite companies to use when I travel. They consistently have the best deals, offer world-class customer service and great value, and overall, are better than their competitors. They are the companies I use the most and are always the starting point in my search for travel deals.
Skyscanner – Skyscanner is my favorite flight search engine. They search small websites and budget airlines that larger search sites tend to miss. They are hands down the number one place to start.
Hostelworld – This is the best hostel accommodation site out there with the largest inventory, best search interface, and widest availability.
Booking.com – The best all around booking site that constantly provides the cheapest and lowest rates. They have the widest selection of budget accommodation. In all my tests, they've always had the cheapest rates out of all the booking websites.
HostelPass – This new card gives you up to 20% off hostels throughout Europe. It's a great way to save money. They're constantly adding new hostels too. I've always wanted something like this and glad it finallt exists.
Get Your Guide – Get Your Guide is a huge online marketplace for tours and excursions. They have tons of tour options available in cities all around the world, including everything from cooking classes, walking tours, street art lessons, and more!
The Man in Seat 61 – This website is the ultimate guide to train travel anywhere in the world. They have the most comprehensive information on routes, times, prices, and train conditions. If you are planning a long train journey or some epic train trip, consult this site.
Rome2Rio – This website allows you to see how to get from point A to point B the best and cheapest way possible. It will give you all the bus, train, plane, or boat routes that can get you there as well as how much they cost.
FlixBus – Flixbus has routes between 20 European countries with prices starting as low 5 EUR! Their buses include WiFi, electrical outlets, a free checked bag.
SafetyWing – Safety Wing offers convenient and affordable plans tailored to digital nomads and long-term travelers. They have cheap monthly plans, great customer service, and an easy-to-use claims process that makes it perfect for those on the road.
LifeStraw – My go-to company for reusable water bottles with built-in filters so you can ensure your drinking water is always clean and safe.
Unbound Merino – They make lightweight, durable, easy-to-clean travel clothing.
Top Travel Credit Cards – Points are the best way to cut down travel expenses. Here's my favorite point earning credit cards so you can get free travel!
BlaBlaCar – BlaBlaCar is a ridesharing website that lets you share rides with vetted local drivers by pitching in for gas. You simply request a seat, they approve, and off you go! It's a cheaper and more interesting way to travel than by bus or train!
Cinque Terre Travel Guide: Related Articles
Want more info? Check out all the articles I've written on backpacking/traveling Italy and continue planning your trip: