The Cinque Terre consists of five beautiful hillside towns on the west coast of Italy: Riomaggiore, Manarola, Corniglia, Vernazza, and Monterosso.
It's one of the most visited regions in all of Italy.
Whether you're backpacking the Cinque Terre, here to hike, or just on vacation, you're going to love it here.
This area is extremely picturesque. Whether you're taking a look inside Manarola's Church of San Lorenzo or hiking down from the vineyards into one of the colorful towns, every second in Cinque Terre becomes a photo-worthy moment.
This part of Italy is probably my favorite, and during the summertime, there is nowhere else I'd rather be!
You'll find plenty of nature walks, trails, and vineyards in the surrounding areas that make it possible to backpack Cinque Terre on a budget.
However, it is also a bit expensive. There are only a few hostels, and most accommodations are pricey. Dining out is also expensive. You just need to stick to these free activities and cheap food.
This Cinque Terre travel guide can help you plan an awesome and affordable trip to the region!

Cinque Terre
Top 5 Things to See and Do in the Cinque Terre
1. Hike the Cinque Terre
Any traveler will tell you that you must hike the Cinque Terre in order to really appreciate the area. The coastal walk (blue trail) is the easiest path and the best way to see the towns. If you want something more difficult, walk the red path through the steep hills and vineyards.
2. Check out Chiesa di Santa Margherita
This is a picturesque harbor with a waterfront piazza that makes a great spot for people-watching and for taking a break. The gothic church, Santa Margherita di Antiochia can also be found here. Originally built in 1318, it has a bell tower that is still intact.
3. Visit Torre Guardiola
This is a bird watching center and nature observation center located just southeast of Riomaggiore marina on Fossola Beach. There is a beautiful trail that leads down to a great swimming spot. Admission is €1.50 EUR ($1.70 USD). It's open 9am-1pm and 4pm-7pm (except August). It's closed during winter.
4. Go swimming
The cool, blue waters are a perfect place to go swimming (just stay close to shore), especially during the hot summer. During Italian holidays, the beach areas get very crowded.
5. Visit the churches
Every town along the Cinque Terre has its own collection of churches which vary in age and architectural style. Take a peek inside the Church of San Lorenzo (Manarola), Santa Margherita di Antiochia Church (Vernazza), or San Pietro (Corniglia).
Other Things to See and Do in the Cinque Terre
1. Rent a kayak
Being on the water makes the cliffs more dramatic, the colors more intense, and the water a deeper shade of blue. It's a very different way to see the five towns. Rentals start at €5 EUR ($5.60 USD) per hour and can be done from any of the towns in the area.
2. Have an authentic Ligurian beach picnic
Grab yourself a basket and shop around town for some local goodies. There are some great little restaurants the serve fresh, hot focaccia and plenty of cheap local wines available. After that head to one of the beaches, where you can eat, swim, and be merry.
3. See the Nativity in Manarola
If you happen to be visiting between December 8th and the end of January, this scene is worth a quick visit. The Nativity Manarola is the world's biggest lighted nativity scene, and their opening ceremony is a big event. Many locals come out and light candles.
4. Go camping
Spring through early fall is a beautiful time to go camping here. There are a few campgrounds to choose from that offer inexpensive tent set-ups, which include beds and linens. Camping Aqua Dolce is a hotspot near the town of Levanto, but also very close to the beach. It's €8 EUR ($9 USD) in the off-season, and €10 EUR ($11 USD) during peak season.
5. Explore castle ruins
In Monterosso, you can visit the ruins of a 16th-century castle built as a defense system after a Saracen attack. The defense system once included a monastery, a watch post, three town doors, and 13 towers. Now the ruins are made up of three circular towers and a square tower that lie near the cemetery on San Cristoforo Hill.
6. Learn about Italian naval history
The Technical Naval Museum is located in La Spezia, which is the gateway city to the region. The collection takes up two levels and contains a lot of information and artifacts from the province's naval history and naval warfare. Admission is €1.50 EUR ($1.70 USD), and it's open daily from 9am-7:30pm.
7. Go wine tasting
The region features some great wine and, if you need a break from hiking, take a wine tour! You'll learn about the unique grape-growing qualities of this area while tasting locally produced wines (and food). Tours vary in length and price but you can expect a basic tour with a tasting at one or two wineries to start from €45 EUR ($50 USD).
For more information on specific destinations in Italy, check out these guides:
Cinque Terre Travel Costs
Hostel prices – There are not many hostels in the Cinque Terre, so you'll want to book your accommodations far in advance. You should expect to pay around €20-25 EUR ($22-28 USD) a night for a 4-6 bed dorm room and about €60 EUR ($67 USD) for a private room. If you want to find more hostel options, you need to stay in nearby La Spezia. My favorites are listed in the accommodation section.
Budget hotel prices – A night in a 2-star budget hotel in a room that sleeps two starts around €63 EUR ($70 USD), but you can expect to pay €20 EUR ($22.30 USD) more in the high season. This includes basic hotel amenities like a private bathroom, free WiFi, and television. A 3-star hotel room starts around €85 EUR ($95 USD). For the most options, stay in Monterosso.
On Airbnb, you can find shared rooms starting around €20 EUR ($22.30 USD) per night while a private room in a home costs from €63 EUR ($70 USD). Entire apartments start from around €72 EUR ($80 USD) per night.
Average cost of food – Cinque Terre is an expensive place to eat. Generally, restaurant meals cost between €25-35 EUR ($28-40 USD) for a meal with drinks. Most restaurants open for lunch, close for their siesta, then open again around 7pm for dinner. At most restaurants, add €3 EUR ($3.35 USD) for the "coperto" (sit down fee) that covers service and the bread at the table. You can get cheap wine at the store for around €5 EUR ($5.60 USD) a bottle and pizza, paninis, or my favorite focaccia for €4 EUR ($4.45 USD). A whole pizza is around €12 EUR ($13.40 USD).
With all kinds of amazing local ingredients to work with, a picnic on the coast is one of my favorite ways to eat in the region. You'll pay about €60 EUR ($67 USD) per week for groceries that will include pasta, vegetables, chicken, and other basic foods. If you find a discount grocer like Eurospin, In's Mercato, LD Market, Lidl or Penny Market, you'll pay a lot less.
Backpacking the Cinque Terre Suggested Budgets
On a backpacking budget in the Cinque Terre, you'll spend around €45 EUR ($50 USD) per day. This will get you a bed in a hostel dorm, cheap food like pizza and paninis, cooking your other meals, and sticking to the free activities like hiking.
On a mid-range budget of about €128 EUR ($143 USD), you can stay in a two-star budget hotel or book a private room at an Airbnb. You will be able to cook about half of your meals but also splurge on a nice dinner or two during your stay (while eating cheap food otherwise). On this budget, you can get the more inclusive Cinque Terre Card with train travel. If you can cut your accommodation costs down, you can spend more on food and activities.
A luxury budget will cost you at least €246 EUR ($275 USD) per day. You'll stay in a 4-star hotel, all your meals and drinks you want, and guided tours such a wine tasting tour, a food tour, or a sunset cruise if you want. The sky is the limit here!
You can use the chart below to get an idea of how much you need per day. Keep in mind these are daily averages – some days you'll spend more, some days you'll spend less (you might spend less every day). We just want to give you a general idea of how to make your budget. Prices are in USD.
Accommodation
Food
Transportation
Attractions
Average Daily Cost
Backpacker
$22
$15
$13
$5
$55
Mid-Range
$70
$25
$18
$30
$143
Luxury
$115
$40
$20
$100
$275
Cinque Terre Travel Guide: Money Saving Tips
The Cinque Terre is one of the most popular places to visit in Italy, especially during the summer months. It's not cheap. However, there are some ways to save money in the Cinque Terre. Here are my tips:
Hike the area – The hiking trails are the best and cheapest way to see the area. It's a free activity and will take up most of your day! Win-win!
Eat the pizza and paninis – Sit-down meals in this region are very expensive. Stick to cheap sandwiches and pizza if you want to save money. Picnics from grocery stores in town made up of fresh pesto, cheese, and focaccia is the way to go! (Though, the food is delicious here so do try and splurge on a restaurant meal at least once – anchovies and pesto are the local specialties.)
Get the Cinque Terre Card – You'll get access to all the hiking trails, shuttle buses, and WiFi for about €7.50 EUR ($8.35 USD) per day. You also can get the Cinque Terre Train Card, which includes all of the same perks with unlimited train travel around Cinque Terre for €17 EUR ($19 USD) per day.
Pass on the bread – Some restaurants here will charge you extra for bread but not tell you about it until the check comes, and you've polished it off. Send it back when it comes if you don't want to be tempted.
Buy lots of wine – You can buy a great bottle of wine for €4 EUR ($4.45 USD). It's a lot cheaper than drinking at the bars in this area (which are pretty expensive).
Drink the tap water – Ask for tap water, or you will automatically get expensive bottled water included on your bill. Moreover, you can refill your bottles of water at any of the drinking fountains throughout Italy.
Couchsurf – Accommodation is quite expensive in the Cinque Terre, even in the hostels. Use Couchsurfing to stay with locals who have extra beds and couches for free.
Have an ISIC Card – To save 20-50% on the cost of admission to museums and other tourist attractions, be sure to present a valid student card.
Where To Stay in the Cinque Terre
When choosing a place to stay in the Cinque Terre, make sure you're located somewhere with easy access to the five towns. My recommended places are:
How to Get Around the Cinque Terre
There are several ways to get around the Cinque Terre, although most people will opt for hiking or using the train.
Hiking – Trails vary in difficulty, so bring your sturdy shoes. I love to hike between the five towns, and then take the train back to my accommodation for a rest.
If you plan on just hiking between towns, you can purchase a Cinque Terre Card for €7.50 EUR ($8.35 USD) per day. If you want a more inclusive ticket, it costs €16 EUR ($18 USD). This ticket grants unlimited access to the trains, buses, and the footpath that connects the villages for a day. It also includes free entry to a few museums.
Train – A train connects all five towns, as well as La Spezia and Levanto (at both ends of the Cinque Terre). Single tickets cost €4 EUR ($4.45 USD) each way, so you're planning on traveling a lot between towns, you're much better off getting the Cinque Terre Card (see above). If you decide to ride the train, make sure you have your ticket with you because the authorities will give you a hefty fine if they catch you without one.
For train trips further afield, a great resource to use is ItaliaRail.
Bus – There is no public bus connecting the towns in the Cinque Terre, but each village has its own bus that will take you to specific destinations. For example, the bus in Riomaggiore runs from the town to the Castle of Riomaggiore, while the bus in Manarola goes to Groppo (famous for its wine) and Volastra. Tickets cost €1.50 EUR ($1.70 USD), or it's free if you have a Cinque Terre Card.
There's also a small, hop on hop off kind of bus (electric) that connects the five towns to La Spezia and some smaller villages just outside of the Cinque Terre. It's called the Explora 5Terre, and tickets start from €17 EUR ($19 USD).
When to Go to the Cinque Terre
Peak season in the region is July and August. Summer is June-August, where the average daily temperature is about 83°F (28°C). Prices increase during this time as well. But the overall atmosphere and weather are great during the summer months, so it's still worth visiting during peak season.
I think the best time to visit the Cinque Terre is shoulder season in the spring and fall (March to May and September to October). It's still warm during this time but there aren't as many crowds, and prices are lower. It's also easier to meet locals. The temperatures throughout September are nice, with highs of 77°F (25°C). This is a particularly great time to hang out on the Mediterranean, and the water is still warm.
Winter season here is from November to February. A lot of the region shuts down and you'll find less shops and restaurants open during that time. But if you do come during winter you'll find very few crowds, quiet hiking trails, and cheaper accommodation rates.
How to Stay Safe in the Cinque Terre
The Cinque Terre is an incredibly safe place to backpack and travel. In Italy, scams and pick-pocketing are common dangers you'll face, although it's much less of an issue in the Cinque Terre. If you're worried about getting scammed, you can read about the 14 travel scams to avoid right here.
Some of the hiking trails can be steep and slippery, so watch your footing. Bring proper footwear. If you have mobility issues, you will find these trails challenging.
Always trust your gut instinct. If your hotel is seedier than you thought, get out of there. Make copies of your personal documents, including your passport and ID.
The most important piece of advice I can offer is to purchase good travel insurance. Travel insurance will protect you against illness, injury, theft, and cancellations. It's comprehensive protection in case anything goes wrong. I never go on a trip without it as I've had to use it many times in the past. You can use the widget below to find the policy right for you:
Italy Travel Guide: The Best Booking Resources
These are my favorite companies to use when I travel to the Cinque Terre. They are included here because they consistently find deals, offer world-class customer service and great value, and overall, are better than their competitors. They are the ones I use the most and are always the starting points in my search for travel deals.
Momondo – This is my favorite booking site. I never book a flight without checking here first.
Skyscanner – Skyscanner is another great flight search engline which searches a lot of different airlines, including many of the budget carriers that larger sites miss. While I always start with Momondo, I use this site too as a way to compare prices.
Booking.com – The best all around booking site that constantly provides the cheapest and lowest rates. They have a no money down policy, great interface, and the widest selection of budget accommodation. In all my tests, they've always had the cheapest rates out of all the booking websites.
ItaliaRail – A great resource to use when planning your trip via train around Italy is ItaliaRail. You can compare prices, routes, and schedules and save up to 60% on your tickets.
Airbnb – Airbnb is a great accommodation alternative for connecting with homeowners who rent out their homes or apartments.
Hostelworld – This is the best hostel accommodation site out there, with the largest inventory, best search interface, and widest availability.
Couchsurfing – This website allows you to stay on people's couches or spare rooms for free. It's a great way to save money while meeting locals who can tell you the ins and outs of their city. The site also lists events you can attend to meet people (even if you're not staying with someone).
Rail Europe – If you are going to Europe and taking a lot of high speed or long distance trains, get a rail pass. I've used a rail pass three times and saved hundreds of dollars each time. The math just works.
Intrepid Travel – If you want to do a group tour around Europe, go with Intrepid Travel. They offer good small group tours that use local operators and leave a small environmental footprint. If you go on a tour with anyone, go with them. And, as a reader of this site, you'll get a discount when you click the link!
The Man in Seat 61 – This website is the ultimate guide to train travel anywhere in the world. They have the most comprehensive information on routes, times, prices, and train conditions. If you are planning a long train journey or some epic train trip, consult this site.
Rome 2 Rio – This website allows you to see how to get from point A to point B the best and cheapest way possible. It will give you all the bus, train, plane, or boat routes that can get you there as well as how much they cost.
Take Walks – A day tour company in Italy (as well as other destinations). What makes them so good is they get you inside access to attractions and places you can't get elsewhere. Their guides rock too!
World Nomads – I buy all my travel insurance from World Nomads. They have great customer service, competitive prices, and in-depth coverage. I've been using them since I started traveling in 2003. Don't leave home without it!
Cinque Terre Gear and Packing Guide
If you're heading on the road and need some gear suggestions, here are my tips for the best travel backpack and for what to pack!
The Best Backpack for Travelers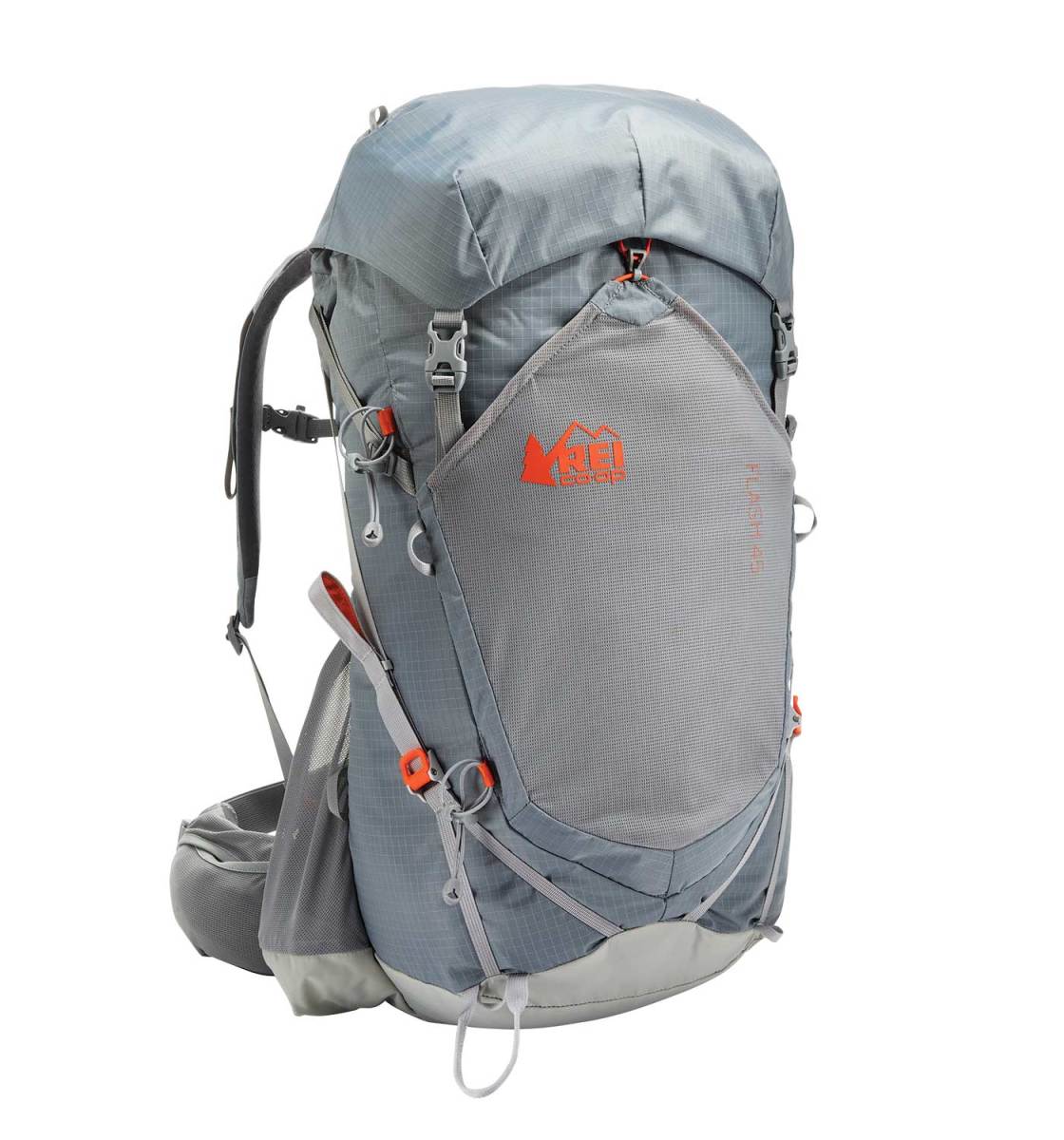 What's the best backpack for traveling long-term? I recommend the
REI Flash 45 Pack
. It's light and comfy, front loading, and fits perfectly in an airplane's overhead bin.
Size:
45-47L
Straps:
Thick and cushy with compression technology that pulls the pack's load up and inwards so it doesn't feel as heavy.
Features:
Removable top lid, large pocket at the front, hydration compatible, contoured hip belt
If you want something different, refer to my article on how to choose the best travel backpack for tips on picking a pack and other backpack suggestions.
What to Pack for Your Trip
Clothes
1 pair of jeans (heavy and not easily dried, but I like them; a good alternative is khaki pants)
1 pair of shorts
1 bathing suit
5 T-shirts (Unbound Merino is my preferred company. If you're a member of NM+, you can get 15% off your purchase)
1 long-sleeved T-shirt
1 pair of flip-flops
1 pair of sneakers
6 pairs of socks (I always end up losing half)
5 pairs of boxer shorts (I'm not a briefs guy!)
1 toothbrush
1 tube of toothpaste
1 razor
1 package of dental floss
1 small bottle of shampoo
1 small bottle of shower gel
1 towel
Deodorant
Small Medical Kit (safety is important!!!)
Miscellaneous
Female Travel Packing List
I'm not a woman, so I don't know what a woman wears, but Kristin Addis, our solo female travel guru, wrote this list as an addition to the basics above:
Clothing
1 swimsuit
1 sarong
1 pair of stretchy jeans (they wash and dry easily)
1 pair of leggings (if it's cold, they can go under your jeans, otherwise with a dress or shirt)
2-3 long-sleeve tops
2-3 T-shirts
3-4 spaghetti tops
1 light cardigan
Toiletries
1 dry shampoo spray & talc powder (keeps long hair grease-free in between washes)
1 hairbrush
Makeup you use
Hair bands & hair clips
Feminine hygiene products (you can opt to buy there too, but I prefer not to count on it, and most people have their preferred products)
For more on packing, check out these posts:
Cinque Terre Travel Guide: Related Articles
Want more info? Check out all the articles I've written on backpacking/traveling Italy and continue planning your trip: