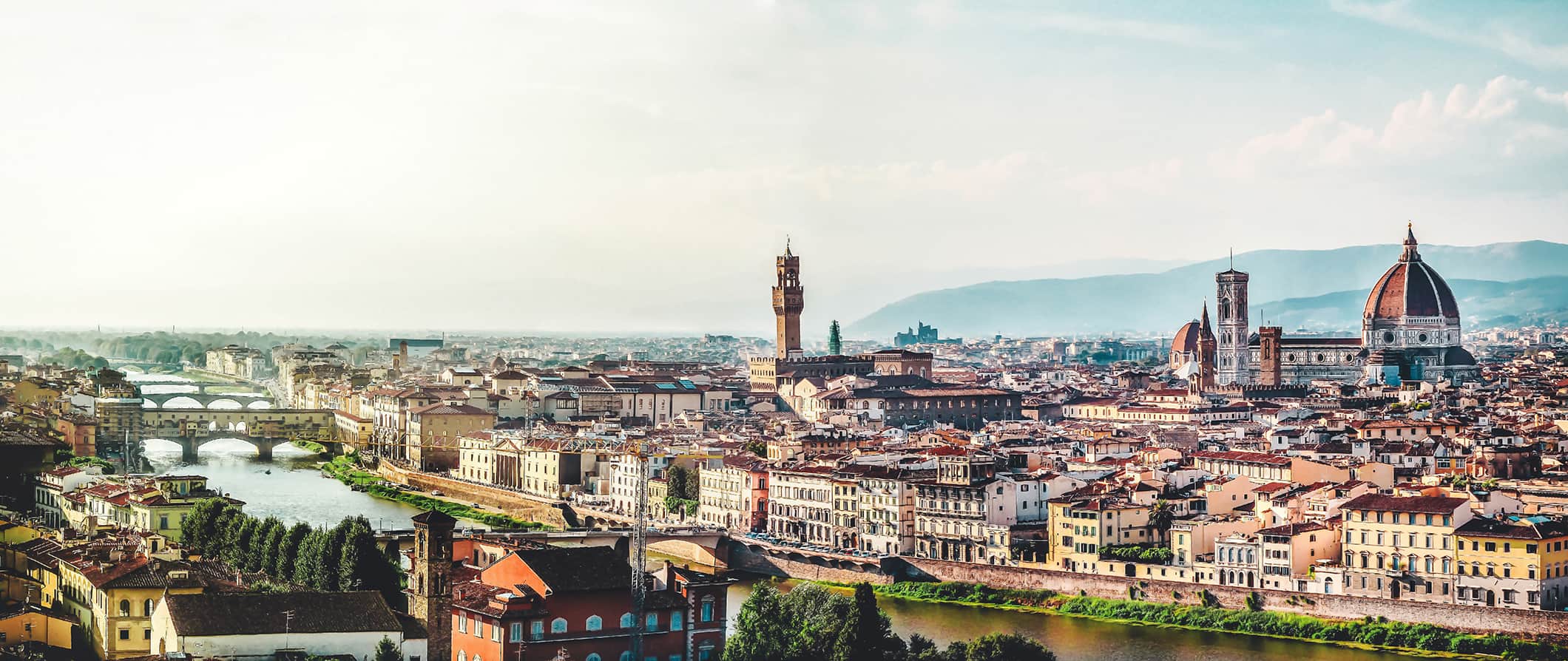 Italy's great food, beautiful countryside, fabulous wine, and long history make it an excellent country to visit.
I fall in love with the country every time I backpack Italy.
The vineyards in Tuscany, the history of Florence, the ancient streets in Rome, the laid back nature of Southern Italy, the gorgeous Cinque Terre, and the romantic canals in Venice, all make the country irresistible.
Italy travel leaves no visitor underwhelmed and, with so much to do and see, it would take a lifetime to complete.
But that doesn't mean you can't see a lot in your time there, whether it's a short two-week vacation or a longer backpacking trip!
Italy is best seen slowly so don't rush it in one visit and try to do too much.
Relax, take in the scenery, and enjoy a latte.
This Italy travel guide combines years of experience to help you plan an even better trip to Italy!
Click Here for City Guides

Italy
Top 5 Things to See and Do in Italy
1. Explore Venice
Besides Carnival,
Venice
is just a great place to visit. While not the cheapest destination in Italy, Venice is great to see canals, experience a gondola ride, and have an amazing romantic candlelight dinner. Head to the old Jewish Ghetto for hip bars and cheap drinks.
2. Discover Rome
Rome
has so much to see and do you'll need to make several trips to even scratch the surface. Besides the obvious highlights, make sure you explore the Trastevere student neighborhood west of the river. It's my favorite place in Rome, and it offers cheap food, funky little bars, and tiny winding streets few tourists venture to.
3. Wander through Pompeii
Pompeii is the ancient city that was destroyed by a volcano but preserved by a blanket of ash. Walk around the city as it stood the day the volcano exploded, moving in and out of homes and businesses where pots and vases still lay. Most of the beautiful frescoes are still there with their beautiful colors. It's a full-day activity.
4. Hike the Cinque Terre
The
Cinque Terre
consists of five dramatically located villages on the west coast of Italy, backed by steep vineyards and mountains. It's heaven here. There are great hikes that range in difficulty, incredible fresh pesto and seafood, and great local wine. Each city has its own unique personality so visit all five.
5. Explore the Amalfi Coast
The southern cousin to the Cinque Terre, the Amalfi coast is much less visited but equally as beautiful (some say more). You'll find great hillside towns, beautiful beaches, and azure blue water in which to cool off.
Other Things to See and Do in Italy
1. See the Venice Carnival
Ten days and nights of masquerade madness in February before Lent is quite the party. This tradition goes back centuries and is one of the biggest parties and festivals in Italy. If you have the funds, you can even pay to attend a traditional masquerade ball. Make plans early, though – the entire city becomes packed and very expensive, so it will definitely change your Venice experience.
2. Shop in Milan
Everyone knows the fashion capital of Italy. Take in the glamor of Milan, but the city itself doesn't have many sights, so don't spend more than a day or two here.
3. Take a photo in Pisa
The entire town of Pisa is focused around taking a photo casually leaning on the leaning tower. Souvenir shops have taken advantage of the tourist crown and line the street up and down the path to the tower. My advice is to put your head down, get goofy, take your photo, and head onto your next Italian adventure.
4. Visit Siena
Everyone always says "I looooove Siena" and with good reason. It's one of the best preserved medieval cities in Italy and has a labyrinth of lanes gathered around the arena of Piazza del Campo (where, during the summer, they have horses racing).
5. Naples
Watch your pockets in Naples while you feast on their famous pizza!
6. Relax on the lakes
The beautiful lakes up north, such as Lake Como, are the summer playground for Italians, the rich, and George Clooney. Come up here, play in the lakes, see beautiful villas, and hike in the countryside.
7. Explore Florence
It's Florence. There's no real need to explain why to go here. Everything people say about it is true. Great food, amazing museums, ancient buildings, small streets, and awesome gelato. While here, make sure you take a few wine tours throughout the Tuscan region to get a feel for the countryside.
8. Drive around "the Heel"
No one ever goes to the southern heel of the Italian boot. But if you have time, make it down here. This is where most of the fruits and vegetables in Italy come from. A trip down here will give you the best glimpse into rustic Italian life.
9. Eat in Sicily
Sicily is famous for its mafia, but there's more to the island than mobsters. It has its own unique cooking style, amazing coastal beaches that stay warm in the summer months, friendly little Italian grandmas, and extensive wineries.
10. Stroll through Sorrento
If you're looking for an off the beaten path location, Sorrento is the perfect, quiet town filled with mountains and valleys in the South of Italy. It also makes a great home base to jump between islands in the Amalfi Coast.
11. Attend Settimana Santa
This is the last week of lent known as Holy Week. During this time, there are several processions throughout Italy, drawing crowds of thousands. Throughout the week, there are various gatherings in Puglia, Abruzzo, and Sicily but the major event occurs on Easter Sunday, and is led by the pope.
12. Visit Alberobello
A Unesco World Heritage Site, this is an interesting and picturesque little town, which is well worth a visit between the months of November and April (to avoid the flocks and gaggles of tourists). There are a couple of museums to peruse through, in addition to some great restaurants, bars, and markets.
13. Admire the Vatican Museums
If you have the patience to wait through the lines, this is one of the most grandeur collections to see while in Rome. Founded in the early 16th century, it is a complex of museums on over five hectares of land. There are so many priceless highlights, you could spend hours just looking at them and glazing over the thousands of other pieces. Consider getting a guide to make the museum come to life. Admission is 16 EUR.
14. Enter Chiesa di Sant'Efisio
When you find yourself in Cagliari, you should probably wander over to the Stampace quarter to see this church. Dedicated to the patron Saint Ephisius, this is the most important church in the city and it was actually built over the saint's prison site.
15. Take a cooking lesson
If tasting local food isn't enough for you and you'd like to bring a like bit of Italian cuisine home with you, then consider enrolling yourself in cooking lessons. Prices vary, but most cost between 75-300 EUR ( for a 1-day class.
16. Day trip to Lucca
Just outside of Florence, this is a great city to explore on a bicycle. There are fewer tourists here, so it's a great escape if you happen to be visiting during the touristy summer months.
17. Take a professional tour
Walks of Italy offers incredible tours around the country. They are relatively inexpensive, but you will get your money's worth. If you are big into history, culture, or architecture these tours are for you. You'll walk away with a much richer understanding of the country.
18. Explore Emilio-Romagna
Located in the northeast, this picturesque region of the country of is worth a visit. It's one of the richest regions in all of the EU, and it's home to the oldest university in the world (the University of Bologna).
Be sure to visit our city travel guides for more detailed information about what to see and do in each place:
For more information on specific destinations in Italy, check out these guides:
Italy Travel Costs
Accommodation – Hostel dorms average 18-30 EUR (20-35 USD) per night while private hostels rooms range between 50-100 EUR (55-115 USD) a night for rooms. Most hostels offer free linens and WiFi. You should expect to spend around 50 EUR (55 USD) per night for the most basic of rooms. For something a little nice and more spacious, look closer to 70 per night. A much better alternative to hotels is Airbnb, where a shared room in someone's house typically costs around 20 EUR (23 USD) a night and an entire apartment start at about 40 EUR.
Food – Italy is known for its cuisine – fresh pasta, bread, tomatoes, pizza, gelato, and wine. It's easy to have a great (and expensive) meal anywhere in Italy, but it's also easy to eat for less than 15 EUR (17 USD) a day if you make the effort. Most restaurant meals with wine will cost around 25 EUR (30 USD) per person.
In tourist hot spots, add about 10 EUR (12 USD) to that. Quick eats like pizza by the slice, paninis, and light snacks will cost between 2-7 EUR. Fast food (i.e. McDonalds) will cost 10 EUR (11 USD) for a value meal.
At most restaurants, add 3 EUR (4 USD) for the "coperto" (sit down fee) that covers service and the bread at the table. If you're feeling ambitious and staying somewhere with a kitchen, consider cooking your own food for between 50-70 EUR (57-80 USD) per week. If you find a discount grocer like Eurospin, In's Mercato, LD Market, Lidl or Penny Market, you'll pay less.
Activities – Most attractions and museums in Italy cost between 10-20 EUR (15-25 USD) to enter. Expect more if you're hoping for a guide in places such as the Vatican or Colosseum. When booking guided tours, some companies will give discounts if you reserve multiple experiences with them.
Also, if you are going to do lots of sightseeing, city cards will give you discounts to the top museums, tours, and attractions. They are priced to save you money when compared to buying separate tickets. Wine tours will cost between 60-75 EUR. Cooking classes can be upwards of 100-300 EUR (115-340 USD) a person depending on how many courses (and how much wine!) is included.

Backpacking Italy Suggested Budgets
If you're backpacking Italy, my suggested budget is 50-70 EUR (60-80 USD). This is assuming you're staying in a hostel dorm, eating cheap meals, cooking some food, visiting a few attractions, and using local transportation.
On a mid-range budget of about 100 EUR, you can stay in a nicer hostel or budget hotel, eat out a lot more, drink a lot more, take some guided tours, and visit more attractions
If you want only private rooms in decent hotels, upgraded transportation options (like rental cars), and higher-end tours (including private tours and day tours), nicer transportation or eat out every meal, you can expect to pay up to 200 EUR per day.
You can use the chart below to get some idea of how much you need to budget daily, depending on your travel style.
Accommodation
Food
Transportation
Attractions
Average Daily Cost
Backpacker
$20-35
$20
$10
$15-20
$60-80
Mid-Range
$50
$40
$20
$60
$100
Luxury
$70
$50
$30
$70-100
$200
Italy Travel Guide: Money Saving Tips
Skip the bread – In the Lazio region, many restaurants will offer you bread when you sit down only to charge you for it once your meal is done (and you've eaten it all). If you're in the region and don't want to pay for the bread, send it back so you won't be tempted! Outside of this region, the bread is included in the price.
Picnic – Italy has a lot of little tiny shops where you can be pre-made sandwiches or ingredients to make your own. Buy some food, eat outside, and watch the city go by. It's a much more enjoyable and cheaper way to eat.
Camp in a garden – A very good camping service specific is Campspace, which allows you to pitch a tent in someone's backyard for free or a nominal fee (around 4-10 EUR). This is a new service that started in 2010 but more and more people are signing up for it each day. All of the garden owners have profiles that tell you what services and facilities they offer.
Drink the tap water – Ask for tap water or you will automatically get expensive bottled water included on your bill. Moreover, you can refill your bottles of water at any of the drinking fountains throughout Italy. The water is fine to drink, and you'll feel like a local as you drink from their ancient Roman city monuments.
Buy lots of wine – You can buy a great bottle of wine for 4 EUR (5 USD). It's a lot cheaper than drinking at the bar.
Take the bus – Budget bus companies like Flixbus can take you across the country for cheap. It isn't glamorous, but for tickets starting at 5 EUR (6 USD) you really can't complain!
Go on a free walking tour – This is a great way to learn the history behind the places you are seeing and to avoid missing any must-see stops. There are some in every major city in Italy.
Eat a panini – Eating out every meal in the popular cities of Italy is an expensive affair. Buy paninis and pizza by the slice for just a few dollars, and save a lot of money.
Couchsurf – Accommodation is quite expensive in Italy, even in the hostels. Use Couchsurfing to stay with locals who have extra beds and couches for free. I use the service a lot and find it not only saves me money, but I meet great people too.
Get a city tourist card – Local tourism offices issue a tourist card for all their attractions, tours, and restaurants. This card gives you free entry and substantial discounts on all the attractions and tours in a city, free local public transportation (a huge plus), and discounts at a few restaurants and shopping malls. They save a ton of money. In Italy, cities like Rome, Florence, and Milan all have city cards.
Rideshare – If you're flexible in your schedule, use the ridesharing service BlaBlaCar and catch rides with locals between cities (or countries). I used this service and, not only did I save a lot of money, but I got to meet interesting people to and learn about local culture and life. Drivers are verified and it's perfectly safe (though sometimes rides don't show up, which is why you need to be flexible).
Have an ISIC Card – To save 20-50% on the cost of admission to museums and other tourist attractions, be sure to present a valid student card. The ISIC is typically accepted in places where a foreign student ID is not.
Where To Stay in Italy
Here are some of my favorite places to stay in Italy:
How to Get Around Italy
The best way to get around Italy is via their extensive train network. Fast trains (Eurostar) cost between 35-65 EUR (40-75 USD) per trip. The slower regional trains cost between 6-25 EUR (7-30 USD) per trip. For long distances when you are short on time, Ryanair and EasyJet have cheap flights throughout the country.
Public Transportation – Public transportation is reasonably priced with most buses and subways costing at most 2 EUR (3 USD) for a single ticket. Taxis and Uber are both readily available too.
Trains – Italy's train network is the easiest way to get around the country. Fast trains (Eurostar) can cost between 35-65 EUR (40-75 USD) per trip. The slow regional trains are cheaper, with trips starting as low as 6 EUR (7 USD)! Italo and Trenitalia are the two main rail systems. Keep in mind that tickets on Trenitalia are often a standard price, while Italo's ticket prices fluctuate more widely. It's worth it to check both. A great resource to use when planning your trip via train is ItaliaRail.
Bus – The bus is another cheap option, with prices on FlixBus starting as low as 5 EUR (6 USD). This isn't the most convenient or fastest way to travel, but these buses are pretty comfortable. Most buses come with outlets and free WiFi! A 3-hour trip from Rome to Florence is as little as 9 EUR (10 USD), while a longer trip (like Venice to Naples) starts around 30 EUR (35 USD).
Budget Airlines – If you're pressed for time and are looking to jump from one city to the next, a budget airline might be the way to go. You can often find tickets where the fare is just 5 EUR (6 USD) round-trip! EasyJet and Ryanair are two big budget airlines in the area, but book in advance to keep costs down. For example, a flight from Rome to Milan costs as high as 115 EUR (130 USD). Keep an eye out for deals.
However, keep in mind that you'll have to pay to check your baggage on these cheap flights. It costs about 25-40 EUR (30-45 USD) for one checked bag. If you wait to pay for your luggage at the gate you'll end up paying almost double.
Take a Ferry – If you want to visit some of Italy's amazing islands like Capri, you'll have to book a ferry. Ferries are frequent and you don't need to book too far in advance, but during peak season it's a good idea to book at least a week ahead of time. High speed ferries are always more expensive. You can use Direct Ferries to find routes and prices. A 50-minute ferry from Naples to Capri starts from 30 EUR (35 USD).
Car Rental – If you're driving, make sure to buy an International Driving Permit (IDP) – you'll need one for any car rental! It costs about 18 EUR (20 USD) and is valid for one year after the date of issue (plus it's valid in 150 countries). Car rentals can sometimes be as low as 30 EUR (35 USD) per day, but this certainly isn't the most economical way to get around (and driving in Italy can be challenging!).
Hitchhiking – Hitchhiking in Europe is very safe, but it's not for everyone. Hitching is quite common around the continent, but in Italy it can be a little time consuming. HitchWiki is the best website for hitchhiking info.
When to Go to Italy
There's no wrong time to visit Italy! Peak season is July and August, but June is also busy. Summer is June-August, where temperatures can soar as high as 38ºC (100ºF), and popular cities like Rome and Florence experience a huge influx of visitors. Prices increase during this time as well. But the overall atmosphere and weather is great during this time, so it's still worth visiting during peak season.
However, I think the best time to visit Italy is shoulder season in the spring and fall (March to May and September to October, respectively). It's still warm during this time but there aren't as many crowds and prices are cheaper. It's also easier to meet locals! This is a particularly great time to hang out on the Mediterranean.
Winter is from November to February. It gets cold, and tourist crowds have thinned out considerably. Temperatures vary quite a bit from north to south, with it sometimes dropping to ?2 °C (28 °F) in Milan and 8 °C (46.4 °F) in Rome. On the other hand, November to December are fantastic – you'll find Christmas markets and festivals galore!
How to Stay Safe in Italy
In Italy, scams and pick-pocketing are common danger you'll face, especially around high traffic areas like the Colosseum or the Circus Maximus in Rome. If someone strikes up a conversation with you trying to sell something affordable for a good price, they'll likely try to get you to pay a couple hundred euros for gas. Similarly, if young children approach you, be on alert – a friend may be reaching for your wallet while you're distracted.
You can read about the 14 travel scams to avoid right here.
Always trust your gut instinct. If a taxi driver seems shady, stop the cab and get out. If your hotel is seedier than you thought, get out of there. You have every right to remove yourself from the situation. Make copies of your personal documents, including your passport and ID. Forward your itinerary along to loved ones so they'll know where you are.
If you don't do it at home, don't do it in Italy!
The most important piece of advice I can offer is to purchase good travel insurance. Travel insurance will protect you against illness, injury, theft, and cancellations. It's comprehensive protection in case anything goes wrong. I never go on a trip without it as I've had to use it many times in the past. You can use the widget below to find the policy right for you:
Italy Travel Guide: The Best Booking Resources
These are my favorite companies to use when I travel to Europe. They are included here because they consistently find deals, offer world-class customer service and great value, and overall, are better than their competitors. They are the ones I use the most and are always the starting points in my search for travel deals.
Momondo – This is my favorite booking site. I never book a flight without checking here first.
Skyscanner – Skyscanner is another great flight search engline which searches a lot of different airlines, including many of the budget carriers that larger sites miss. While I always start with Momondo, I use this site too as a way to compare prices.
Airbnb – Airbnb is a great accommodation alternative for connecting with homeowners who rent out their homes or apartments.
Hostelworld – This is the best hostel accommodation site out there, with the largest inventory, best search interface, and widest availability.
Couchsurfing – This website allows you to stay on people's couches or spare rooms for free. It's a great way to save money while meeting locals who can tell you the ins and outs of their city. The site also lists events you can attend to meet people (even if you're not staying with someone).
Booking.com – The best all around booking site that constantly provides the cheapest and lowest rates. They have a no money down policy, great interface, and the widest selection of budget accommodation. In all my tests, they've always had the cheapest rates out of all the booking websites.
ItaliaRail – A great resource to use when planning your trip via train around Italy is ItaliaRail. You can compare prices, routes, and schedules and save up to 60% on your tickets.
Intrepid Travel – If you want to do a group tour around Europe, go with Intrepid Travel. They offer good small group tours that use local operators and leave a small environmental footprint. If you go on a tour with anyone, go with them. And, as a reader of this site, you'll get a discount when you click the link!
The Man in Seat 61 – This website is the ultimate guide to train travel anywhere in the world. They have the most comprehensive information on routes, times, prices, and train conditions. If you are planning a long train journey or some epic train trip, consult this site.
Rome 2 Rio – This website allows you to see how to get from point A to point B the best and cheapest way possible. It will give you all the bus, train, plane, or boat routes that can get you there as well as how much they cost.
FlixBus – German based Flixbus has routes between 20 European countries with prices starting as low 5 EUR (6 USD)! Their buses include WiFi, electrical outlets, and up to three 3 free bags.
Bla Bla Car – BlaBlaCar is a ridesharing website that lets you share rides with vetted local drivers by pitching in for gas. You simply request a seat, they approve, and off you go! It's a cheaper and more interesting way travel than by bus or train!
Take Walks – A day tour company in Italy (as well as other destinations). What makes them so good is they get you inside access to attractions and places you can't get elsewhere. Their guides rock too!
Fat Tire Tours – If you're looking for a different way to explore the city, take a bike tour with Fat Tire Tours. They use expert local guides and you can cover a lot of ground on their tours. They're fun and insightful too!
World Nomads – I buy all my travel insurance from World Nomads. They have great customer service, competitive prices, and in-depth coverage. I've been using them since I started traveling in 2003. Don't leave home without it!
Italy Gear and Packing Guide
If you're heading on the road and need some gear suggestions, here are my tips for the best travel backpack and for what to pack!
The Best Backpack for Travelers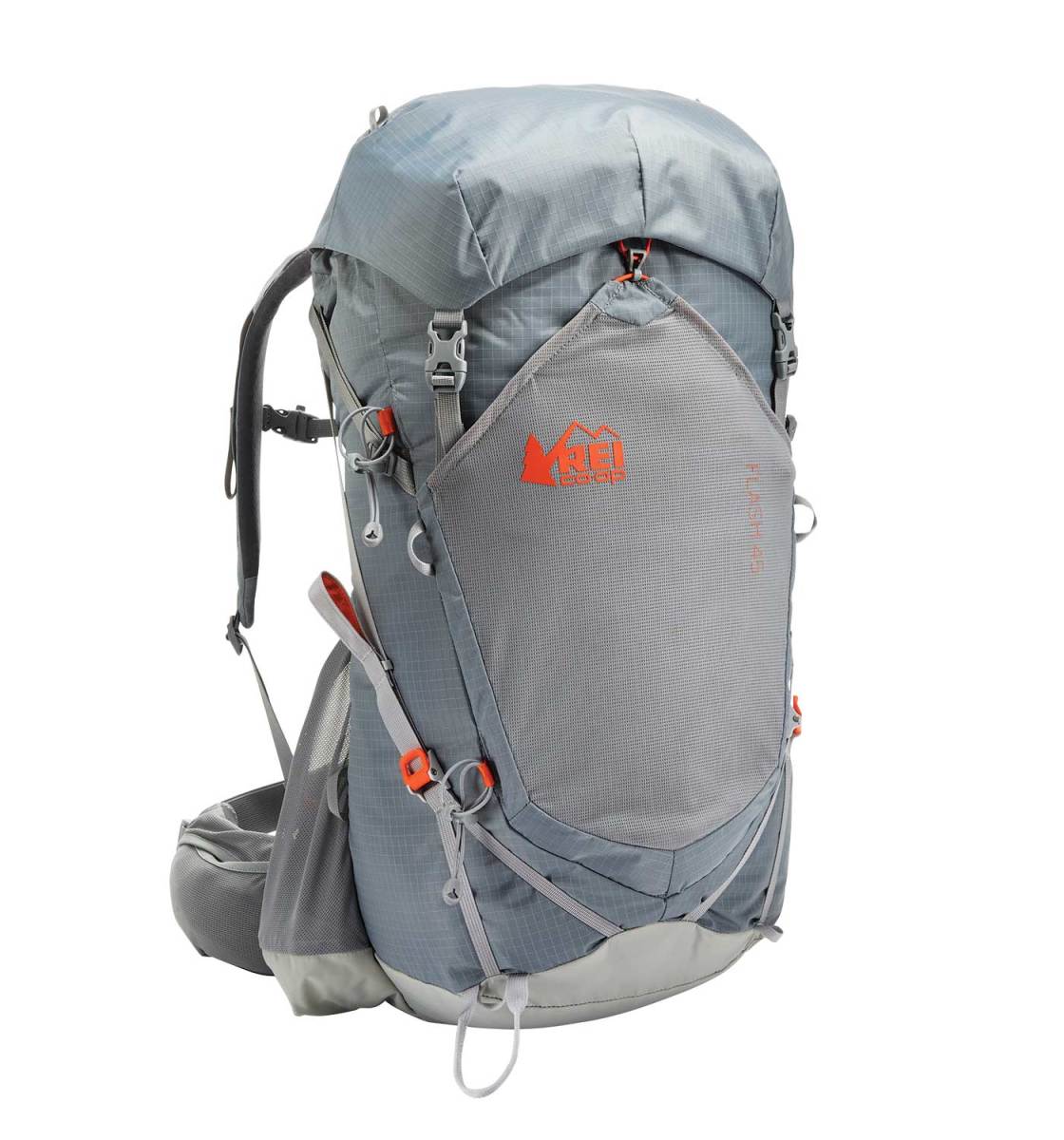 What's the best backpack for traveling long-term? I recommend the
REI Flash 45 Pack
. It's light and comfy, front loading, and fits perfectly in an airplane's overhead bin.
Size:
45-47L
Straps:
Thick and cushy with compression technology that pulls the pack's load up and inwards so it doesn't feel as heavy.
Features:
Removable top lid, large pocket at the front, hydration compatible, contoured hip belt
If you want something different, refer to my article on how to choose the best travel backpack for tips on picking a pack and other backpack suggestions.
What to Pack for Your Trip
Clothes
1 pair of jeans (heavy and not easily dried, but I like them; a good alternative is khaki pants)
1 pair of shorts
1 bathing suit
5 T-shirts (Unbound Merino is my preferred company. If you're a member of NM+, you can get 15% off your purchase)
1 long-sleeved T-shirt
1 pair of flip-flops
1 pair of sneakers
6 pairs of socks (I always end up losing half)
5 pairs of boxer shorts (I'm not a briefs guy!)
1 toothbrush
1 tube of toothpaste
1 razor
1 package of dental floss
1 small bottle of shampoo
1 small bottle of shower gel
1 towel
Deodorant
Small Medical Kit (safety is important!!!)
Miscellaneous
Female Travel Packing List
I'm not a woman, so I don't know what a woman wears, but Kristin Addis, our solo female travel guru, wrote this list as an addition to the basics above:
Clothing
1 swimsuit
1 sarong
1 pair of stretchy jeans (they wash and dry easily)
1 pair of leggings (if it's cold, they can go under your jeans, otherwise with a dress or shirt)
2-3 long-sleeve tops
2-3 T-shirts
3-4 spaghetti tops
1 light cardigan
Toiletries
1 dry shampoo spray & talc powder (keeps long hair grease-free in between washes)
1 hairbrush
Makeup you use
Hair bands & hair clips
Feminine hygiene products (you can opt to buy there too, but I prefer not to count on it, and most people have their preferred products)
For more on packing, check out these posts:
Italy Travel Guide: Related Articles
Want more info? Check out all the articles I've written on backpacking/traveling Italy and continue planning your trip: