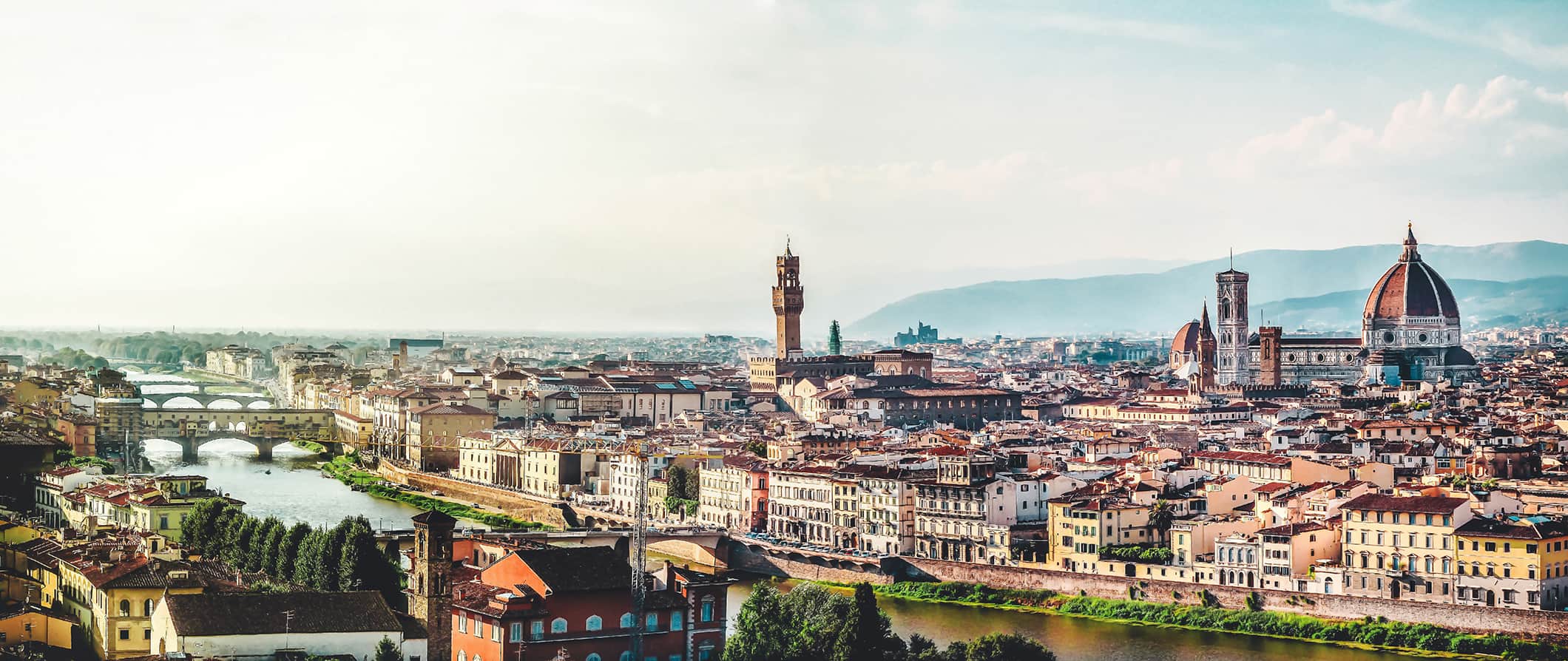 Italy is one of Europe's most iconic and popular destinations. Home to incredible food, fabulous wine, tons of ancient ruins, undying romance, and picturesque landscapes, it should come as no surprise that this is one of the most sought-after travel destinations in the world.
I've been visiting for years – and I never tire of it.
The vineyards in Tuscany, history in Florence, ancient streets of Rome, gorgeous views and hills Cinque Terre, romantic canals in Venice – I love it all.
Italy is best experienced slowly so pace yourself. Soak in the atmosphere and way of life as you explore. Italians move slowly and enjoy la dolce vita and so should you! Relax, take in the scenery, enjoy a cappuccino or a glass of wine. The slower you go, the better you'll be able to appreciate the charms and nuance of this iconic southern European gem.
This travel guide to Italy can help you plan your trip, save money, and make the most of your time here.
Click Here for City Guides
Top 5 Things to See and Do in Italy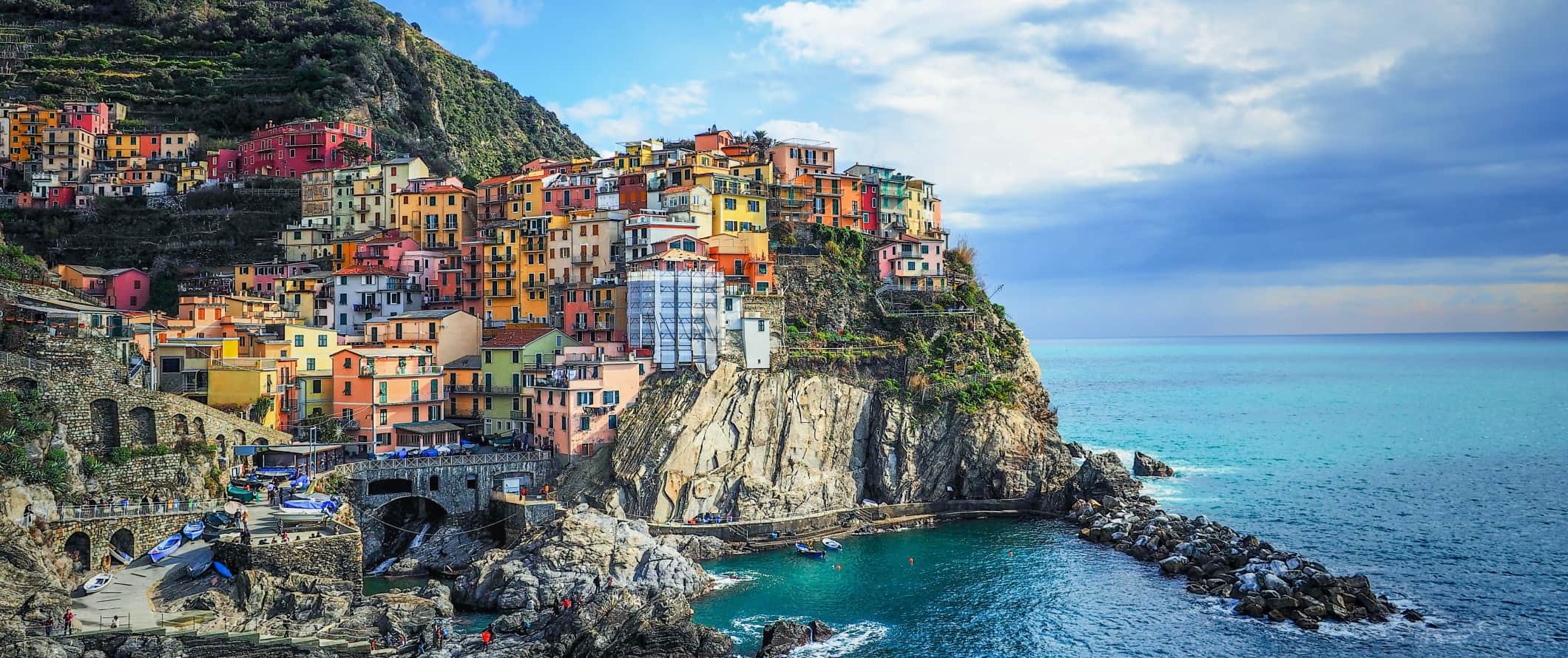 1. Explore Venice
While crowded, Venice is an amazing place to visit. The city's iconic architecture and picturesque canals are everything you dream them to be. Don't miss the Piazza San Marco, Doge's Palace, Rialto Bridge, the Basilica San Marco, and the city's countless museums. Moreover, be sure to head to the old Jewish Ghetto for hip bars and cheap drinks (the English word ghetto comes from this area of Venice). Venice is also home to several world-class festivals. In late winter, the epic Carnival takes place here and, in August, the prestigious Venice Film Festival takes over the nearby island of Lido. If you have time, be sure to explore the neighboring islands on a day tour. They are charming in their own right.
2. Wander Rome
Rome has so much to see and do that you'll need to make several trips to even scratch the surface. Besides obvious highlights like the Colosseum, Forum, Palatine Hill, and Trevi Fountain, make sure you explore the Trastevere neighborhood. It's my favorite area in Rome and offers delicious food, funky bars, and ancient winding streets. Vatican City, the smallest independent city-state in the world, is nestled within the heart of Rome and is home to the Pope, St. Peter's Basilica, the Sistine Chapel, and many fantastic museums. You can fill an endless amount of time here so don't try to rush your visit!
3. Tour Pompeii
Located a 20-40-minute train ride from Naples, Pompeii is an ancient city that was destroyed by a volcano, preserving it in a blanket of ash. Walk around the Roman city as it stood the day that Mount Vesuvius exploded in 79 CE, moving in and out of homes, villas, baths, and businesses where pots and vases still lay. Most of the beautiful frescoes are still there too. Admission is 16 EUR while a guided tour with a professional archeologist is 50 EUR. It's a huge site and will take a full day to visit in depth.
4. Hike the Cinque Terre
The Cinque Terre consists of five coastal villages on the west coast of Italy, backed by steep vineyards and mountains. These small towns are beautiful and teeming with great shops and cafes. Each village has its own unique personality so be sure to visit all of them. There are fun hikes in the hills that range in difficulty. The Cinque Terre express train makes it super easy to pop around to the different villages if you don't want to hike between the towns. Trail #7 is my favorite.
5. Relax on the Amalfi Coast
The southern cousin to the Cinque Terre, the Amalfi coast is equally as beautiful (some say more). The 13 towns are a UNESCO World Heritage Site where you'll find great hillside vistas, beautiful beaches, breathtaking hikes, and azure blue water in which to cool off. Spend at least four days here to take it all in (and get to lesser visited parts of the region). While technically not on the Amalfi Coast, Sorrento is often considered the gateway town to the area as it's the only town that you can reach by train.
Other Things to See and Do in Italy
1. Party at the Venice Carnival
Carnival is ten days of masquerade madness every February leading up to Mardi Gras. The tradition goes back centuries, starting in the 12th century and reaching the height of popularity in the 18th century. Today, it's one of the biggest festivals in Italy, with millions of people attending every year. The iconic and diverse masks are a central part of the festivities and every year there is a contest for the most beautiful mask. If you want to splash out, you can even attend a traditional masquerade ball! Just be sure to book your accommodation early as the city fills up months in advance.
2. Shop in Milan
Milan is the fashion capital of Italy. Spend some time taking in the glamor but don't spend more than a day or two here unless you're looking to splash out. While you're here, don't miss the beautiful Milan Cathedral and Sforzesco Castle, a 15th-century castle that houses Michelangelo's last sculpture. There's also Leonardo da Vinci's The Last Supper, located inside Santa Maria delle Grazie church (which is itself a UNESCO World Heritage Site).
3. See the Leaning Tower in Pisa
The entire city of Pisa is focused around taking photos of the this famed tower. Started in 1173 and finished in 1399, it's the bell tower of Pisa's cathedral, located next door. Although it was meant to be perfectly vertical, the tower started leaning during construction due to the weight of the building on an unstable foundation. Admission to the top is 20 EUR or 27 EUR for a ticket that includes all the monuments in the complex. DiscoveryPisa runs guided tour of all three sites for 30 EUR if you want a more in-depth experience.
4. Visit Siena
Everyone who visits Siena walks away loving it — and with good reason. Located in Tuscany, it's one of the best-preserved medieval cities in Italy and boasts a labyrinth of lanes gathered around the arena of Piazza del Campo. Spend a few days admiring this charming city and exploring one of Italy's most popular and famous regions. Be sure to see the Torre del Mangia, a narrow 14th-century tower that offers stunning views of the area.
5. Wander Naples
Naples, made famous as the birthplace of pizza, is a gritty city home to a wealth of historical treasures. There's the medieval Naples Cathedral, the 18th-century Villa Comunale park, and nearby Pompeii, among others. Naples a must-see destination for history buffs and foodies alike. It's the gateway to the south so you're very likely to come here if you're crisscrossing the country. Its location near Pompeii, Capri, and Sorrento makes it the perfect starting point for exploring the region. Best of all, it's a foodie city like no other; I ate my weight in pizza during my visit!
6. Explore Florence
There's no real need to explain why one should visit Florence — the city speaks for itself. Everything people say about it is true: great food, amazing museums, ancient buildings, small streets, awesome gelato. The city has it all. While here, make sure you take a few wine tours throughout the region to get a feel for the verdant countryside.
7. Drive around "the Heel"
Few travelers ever visit the southern heel of the Italian "boot." But if you have time, it's worth the trip. This is where most of the fruits and vegetables in Italy come from so a trip down here will give you the best glimpse into rustic Italian life far from the maddening crowds of Rome and Italy's other tourist hotspots. Don't miss a visit to the picturesque Polignano a Mare, with its rugged cliffs and white-washed houses.
8. Eat your way around Sicily
Sicily may be most known for its mafia connection, but there's more to the island than mobsters. Sicily has its own unique cooking style, amazing coastal beaches, extensive wineries, and more. Be sure to spend some time in Taormina and Palermo (the capital of Sicily). Also, be sure to visit the stunning Mount Etna, an active volcano.
9. Stroll through Sorrento
Sorrento is a small city in southwestern Italy surrounded by a dreamy landscape of rolling hills, deep valleys, and the Lattari Mountains. In the town itself, there isn't a whole lot to do, but Sorrento makes an ideal starting point for numerous excursions to nearby cities and islands around the famous Amalfi Coast, like Capri and Ischia. I especially love driving along the winding coastal roads overlooking the sea. The area is the perfect place for a road trip. Don't miss a visit to the nearby Blue Grotto.
10. Attend Settimana Santa (Holy Week)
This is the last week of Lent, known as Holy Week. During this time, there are several processions throughout Italy, drawing crowds of thousands. Throughout the week, there are various gatherings in Puglia, Abruzzo, and Sicily but the major event occurs on Easter Sunday and is led by the Pope himself. It's an amazing time to visit, but expect huge crowds and for accommodation to sell out months in advance.
11. Visit Alberobello
A UNESCO World Heritage Site, this is an interesting and picturesque little town just south of Bari (a port city on the Adriatic Sea) known for its unusual white cone-shaped houses (they're super peculiar). It's well worth a visit between the months of November and April (to avoid the flocks of tourists) as there are a couple of museums to peruse, in addition to some great restaurants, bars, and markets.
12. Tour the Vatican Museums
Founded in the early 16th century, it is a complex of museums spanning over 12 acres. There are so many priceless highlights, including Michelangelo's works in the Sistine Chapel. You could easily spend hours here. Consider getting a guide to make the museum come to life. Admission is 17 EUR and skip-the-line guided tours with Get Your Guide cost 50 EUR.
13. See Chiesa di Sant'Efisio
When you find yourself in Cagliari on Sardinia, wander over to the Stampace quarter to see this church. Dedicated to the patron Saint Ephisius, this is the most important church in the city. The original building dates to the 13th century, though it was rebuilt and expanded in the 16th century and then again in the 18th century, this time in the Baroque style. Admission is free.
14. Take a cooking class
Italy is a dream destination for foodies and the best way to learn about this amazing cuisine is to take a cooking class. You'll get to visit a local market, learn about the history of some of the country's best dishes, and then learn how to make them yourself so you can impress friends and family back home. Prices vary, but most cost at least 70 EUR and last a few hours.
15. Take a walking tour
Walks of Italy offers incredible, detailed tours all around the country. They are my favorite tour company in the country. And they are relatively inexpensive and you definitely get your money's worth. If you are big into history, culture, or architecture these tours are for you. You'll walk away with a much richer understanding of the country. Don't miss them.

For information on specific cities in the Italy, check out these city guides
Italy Travel Costs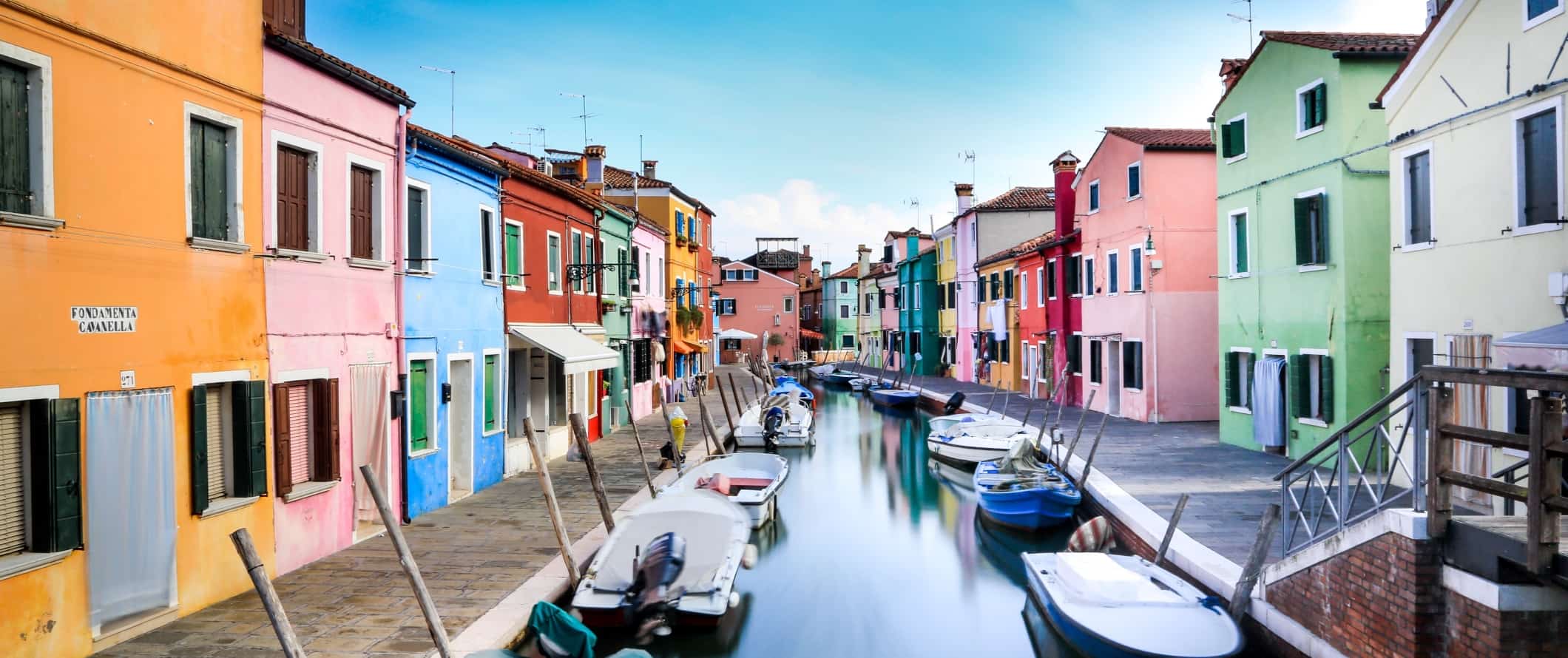 Hostel prices – Hostel dorms average 27-40 EUR per night for rooms with 6-8 beds. Private rooms are usually between 55-100 EUR per night. Free Wi-Fi is standard and many hostels also have self-catering facilities. Most hostels in Italy also include breakfast. During the summer months, expect prices to double. In Rome and Florence, prices throughout the year are about 20% higher than anywhere else.
For those traveling with a tent, campgrounds are available around the country, usually costing between 15-30 EUR per night for a basic plot for two people.
Budget hotel prices – A night in a two-star budget hotel ranges between 70-125 EUR per night. Expect basic amenities like free Wi-Fi, TV, AC, and occasionally free breakfast. Prices are on the higher end in cities like Rome and Venice and also double during the summer.
On Airbnb, private rooms start around 45-90 EUR, while entire apartments usually start around 100-120 EUR. Expect prices to double if you don't book early.
Food – Italian cuisine is beloved around the world, though every region in Italy offers its own distinct flavor. Tomatoes, pasta, olives, and olive oil form the backbone of most dishes, with meat and fish and various cheeses rounding out the menu. Gelato and pizza, of course, are also super popular. Some traditional dishes include bigoli in salsa (pasta in anchovy sauce), risotto al nero di seppia (risotto with cuttlefish ink), gnocchi alla Sorrentina (potato gnocchi), cassoeula (a meat and cabbage stew), and tagliatelle funghi porcini e tartufo (pasta with mushrooms and truffles).
A casual restaurant meal of pizza or pasta usually costs 10-20 EUR. In tourist hot spots, add 5-10 EUR to that.
Quick eats like pizza by the slice, paninis, and light snacks cost between 3-8 EUR. Snacks like croissants are less than 2 EUR.
Fast food (think McDonald's) costs around 8-10 EUR for a combo meal while Chinese/Thai/Indian is 10-12 EUR for a main dish. Dessert is usually around 4-8 EUR for something like tiramisu.
Your average restaurant meal will be around 30 EUR with a drink. Most mains will be around 15-20 EUR while a pizza is around 10-15 EUR. For higher end meals, expect to spend about 70 Euros for a three course meal with a drink.
Beer costs around 4-5 EUR while a glass of wine costs 4-8 EUR. For non-alcoholic drinks, a latte or cappuccino is around 1.50 EUR and bottled water is 1 EUR.
If you plan on cooking your own groceries, expect to spend 50-65 EUR per week. This gets you basic staples like pasta, rice, seasonal produce, and some meat or fish.
Backpacking Italy Suggested Budgets
If you're backpacking Italy, my suggested budget is 60 EUR per day. This assumes you're staying in a hostel, cooking all your meals, limiting your drinking, taking public transportation to get around, and sticking to mostly free activities like hiking, free walking tours, and the beaches. If you plan on drinking, add 5-10 EUR to your daily budget.
On a mid-range budget of 140 EUR per day, you can stay in a private Airbnb, eat out for a couple of meals, enjoy a few drinks, take the occasional taxi to get around, and do more paid activities like touring the Colosseum or exploring Pompeii.
On a "luxury" budget of 255 EUR or more per day, you can stay in a budget hotel, eat out for all your meals, drink as much as you want, rent a car, and do whatever tours and activities you want. This is just the ground floor for luxury though. The sky is the limit!
Accommodation
Food
Transportation
Attractions
Average Daily Cost
Backpacker
25
15
10
10
60
Mid-Range
60
40
15
25
140
Italy Travel Guide: Money-Saving Tips
It's very easy to break the bank in Italy, owing to all the historic sites, expensive accommodation, and delicious but pricey restaurants. Italy is one of the most expensive Eurozone countries. You're going to spending a lot on a visit here. But there are still lots of ways to save and reduce you expenses. Here are some tips to help you save money in Italy:
Skip the bread – Many restaurants offer you bread when you sit down — but they don't mention that it's not free. If you're on a budget, decline the bread and save a few Euros each dining experience.
Picnic – Head to the store or one of the many markets in the country and grab food for a picnic. It's cheaper than eating out and you can lounge in one of the many parks to watch the day go by.
Drink the tap water – When out at a restaurant, ask for tap water or you will automatically get expensive bottled water included on your bill. Since the tap water is safe to drink, bring a reusable water bottle to save money and reduce your plastic use. LifeStraw is my go-to brand as their bottles have built-in filters to ensure your water is always clean and safe.
Buy wine at the store – You can buy a great bottle of wine for 6-10 EUR at the store. It's a lot cheaper than drinking at the bar. Take it outdoors and sit around and enjoy the day/evening.
Take the bus – Budget bus companies like Flixbus can take you across the country for cheap. It isn't glamorous, but with tickets starting at 6 EUR you really can't complain! (And it's cheaper than the train.)
Take a free walking tour – Most cities in Italy offer free walking tours that cover all the main highlights. It's the best budget-friendly way to explore. Just be sure to tip your guide at the end!
Stay with a local – Accommodation is expensive in Italy, even in the hostels. Use Couchsurfing to stay with locals who have extra beds or couches for free. It's the best way to save money and meet people. Just be sure to send your requests early (especially in the summer).
Get a city tourist card – Many tourism offices offer tourist cards that provide free or discounted entry to the main attractions. Some even include restaurant discounts and free transportation. If you plan on seeing a lot, these cards can cut your costs drastically. Check the local tourism board in each city for info when you arrive.
Rideshare – If you're flexible in your schedule, use the ridesharing service BlaBlaCar to catch rides with locals between cities. I used this service and, not only did I save money, but I got to meet interesting people and learn more about life in Italy.
Where to Stay in Italy
There are plenty of fun, affordable, and social hostels in Italy. Here are some of my favorite places to stay:
How to Get Around Italy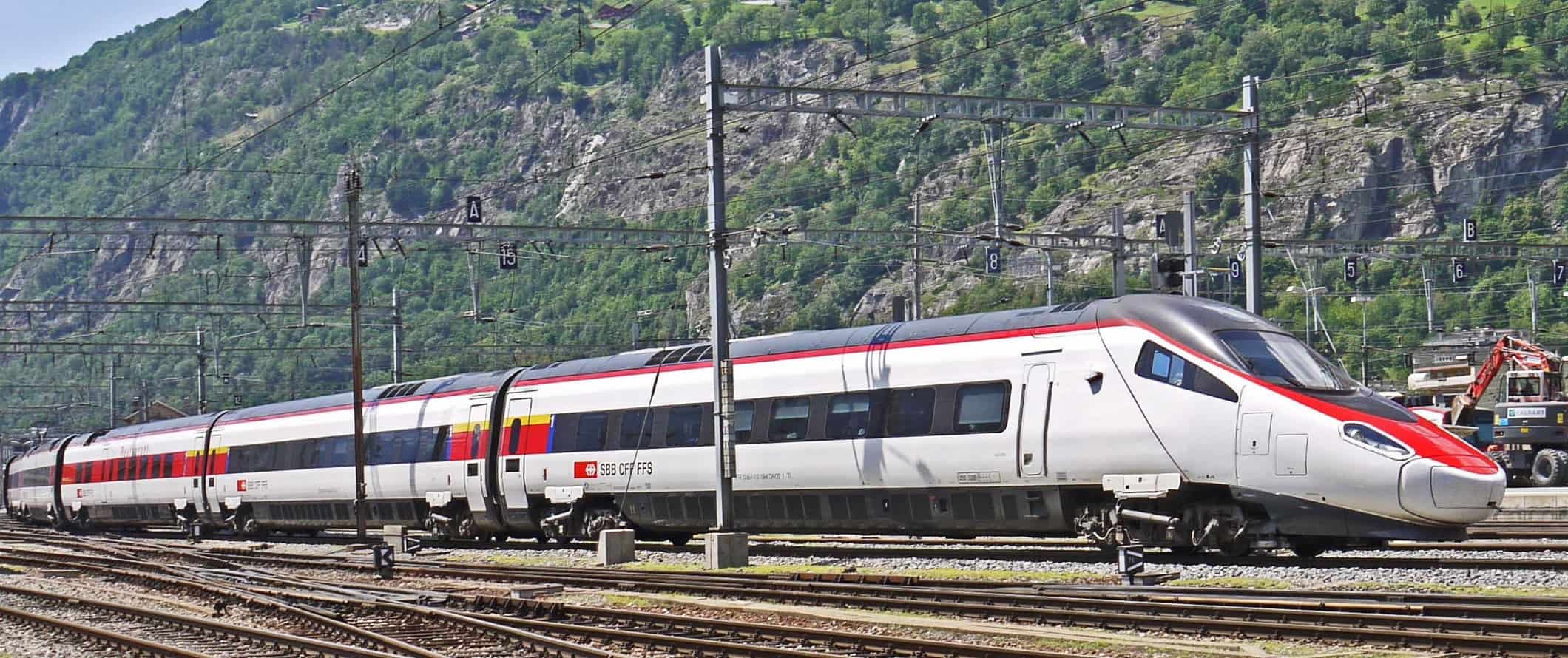 Public transportation – Public transportation is available in all the major cities in Italy (many of which have comprehensive metro systems). Tickets usually cost between 1-2 EUR for a single journey. Some cities also have day passes that offer unlimited travel. In Rome, you can purchase a one-day pass for unlimited travel for 7 EUR. A one-week pass costs 24 EUR, for example. While public transportation is generally reliable, traffic can be a nightmare — especially in Rome.
Trains – The best way to get around Italy is via their extensive train network. Prices are affordable too, with most trips costing just 10-30 EUR. Rome to Florence takes just 90 minutes (on the fast train) with tickets starting at 20 EUR. Rome to Venice takes around 4 hours with tickets starting around 30 EUR. Rome to Naples is just over one hour and costs around 20 EUR.
Italo and Trenitalia are the two main rail systems. Tickets on Trenitalia are often a standard price, while Italo's ticket prices fluctuate more widely. It's worth it to check both.
Bus – The bus is slower than the train but cheaper, with prices on FlixBus starting as low as 6 EUR. This isn't the most convenient or fastest way to travel, but the buses are comfortable and good for short and medium journeys. Most buses come with outlets and free Wi-Fi too.
The 4-hour trip from Rome to Florence costs around 7-15 EUR, while a longer trip like Venice to Naples takes 10-15 hours and costs just 20-32 EUR.
Flying – If you're pressed for time and are looking to jump from one city to the next, a budget airline might be the way to go. Prices can be incredibly low — just 20-100 EUR round trip on airlines like Ryanair.
That said, when you factor in the time spent at airports, you're likely not going to save much time. Also, keep in mind that you'll have to pay to check your baggage on these cheap flights and you usually need to print your boarding pass out too (or pay a fee).
Ferry – If you want to visit some of Italy's amazing islands, you'll have to book a ferry. Ferries are frequent and you don't need to book too far in advance, but during peak season it's a good idea to book at least a few weeks ahead.
You can use FerryHopper to find routes and prices. The popular one-hour ferry from Naples to Capri starts from 25 EUR.
Car rental – Car rentals are generally quite affordable here, usually starting around 25-35 EUR per day for a multi-day rental. Just make sure you have an International Driving Permit (IDP) as it's required before you rent a car. Also, keep in mind that Italian drivers can be on the aggressive side so drive cautiously. For the best rental car deals, use Discover Cars.
Hitchhiking – Hitchhiking in Italy is very safe, but it's not for everyone. It can be a little time-consuming so you'll need to have a flexible schedule. HitchWiki is the best website for specific hitchhiking info and tips.
When to Go to Italy
There's no wrong time to visit Italy. The peak season is July and August, but June is also busy. Temperatures can soar as high as 36°C (98°F) during this time, and popular cities like Rome, Venice, and Florence experience a huge influx of visitors. Prices increase during this time as well but the overall atmosphere is great so it's still worth visiting during peak season.
That said, I think the best time to visit Italy is during the shoulder season (March-May and September-October). It's still warm but there aren't as many crowds and prices are lower. This is a particularly great time to hang out in the Mediterranean.
Winter is from November to February. It gets cold, and tourist crowds thin out considerably. Temperatures vary quite a bit from north to south, with it sometimes dropping to 2°C (36°F) in Milan and 4°C (39°F) in Rome. On the other hand, November to December is fantastic — you'll find Christmas markets and festivals galore!
How to Stay Safe in Italy
Italy is a very safe country as violent crime is rare. However, scams and pickpocketing are common around high-traffic areas like the Colosseum, Leaning Tower, and other popular tourist sites. Always keep your valuable secure and out of sight on public transportation and when out and about.
Be wary of people selling discounted tickets on the street. Chances are they are fake so always buy tickets from reputable sellers only. If you take a taxi somewhere, make sure the driver uses the meter so you don't get ripped off.
You can read about other common travel scams to avoid here.
Solo female travelers should generally feel safe in Italy, however, the standard precautions apply (never leave your drink unattended at the bar, never walk home alone intoxicated, etc.)
If you experience an emergency, dial 113 for assistance.
Always trust your gut instinct. If a taxi driver seems shady, stop the cab and get out. If your hotel is seedier than you thought, get out of there. You have every right to remove yourself from the situation. Make copies of your personal documents, including your passport and ID. Forward your itinerary along to loved ones so they'll know where you are.
The most important piece of advice I can offer is to purchase good travel insurance. Travel insurance will protect you against illness, injury, theft, and cancellations. It's comprehensive protection in case anything goes wrong. I never go on a trip without it as I've had to use it many times in the past. You can use the widget below to find the policy right for you:
Italy Travel Guide: The Best Booking Resources
These are my favorite companies to use when I travel. They consistently have the best deals, offer world-class customer service and great value, and overall, are better than their competitors. They are the companies I use the most and are always the starting point in my search for travel deals.
Skyscanner – Skyscanner is my favorite flight search engine. They search small websites and budget airlines that larger search sites tend to miss. They are hands down the number one place to start.
Hostelworld – This is the best hostel accommodation site out there with the largest inventory, best search interface, and widest availability.
Booking.com – The best all around booking site that constantly provides the cheapest and lowest rates. They have the widest selection of budget accommodation. In all my tests, they've always had the cheapest rates out of all the booking websites.
HostelPass – This new card gives you up to 20% off hostels throughout Europe. It's a great way to save money. They're constantly adding new hostels too. I've always wanted something like this and glad it finallt exists.
Get Your Guide – Get Your Guide is a huge online marketplace for tours and excursions. They have tons of tour options available in cities all around the world, including everything from cooking classes, walking tours, street art lessons, and more!
The Man in Seat 61 – This website is the ultimate guide to train travel anywhere in the world. They have the most comprehensive information on routes, times, prices, and train conditions. If you are planning a long train journey or some epic train trip, consult this site.
Rome2Rio – This website allows you to see how to get from point A to point B the best and cheapest way possible. It will give you all the bus, train, plane, or boat routes that can get you there as well as how much they cost.
FlixBus – Flixbus has routes between 20 European countries with prices starting as low 5 EUR! Their buses include WiFi, electrical outlets, a free checked bag.
SafetyWing – Safety Wing offers convenient and affordable plans tailored to digital nomads and long-term travelers. They have cheap monthly plans, great customer service, and an easy-to-use claims process that makes it perfect for those on the road.
LifeStraw – My go-to company for reusable water bottles with built-in filters so you can ensure your drinking water is always clean and safe.
Unbound Merino – They make lightweight, durable, easy-to-clean travel clothing.
Top Travel Credit Cards – Points are the best way to cut down travel expenses. Here's my favorite point earning credit cards so you can get free travel!
Walks of Italy – This walking tour company provides inside access to attractions and places you can't get elsewhere. Their guides rock and they have some of the best and most insightful tours in all of Italy.
BlaBlaCar – BlaBlaCar is a ridesharing website that lets you share rides with vetted local drivers by pitching in for gas. You simply request a seat, they approve, and off you go! It's a cheaper and more interesting way to travel than by bus or train!
Italy Travel Guide: Related Articles
Want more info? Check out all the articles I've written on backpacking/traveling Italy and continue planning your trip: