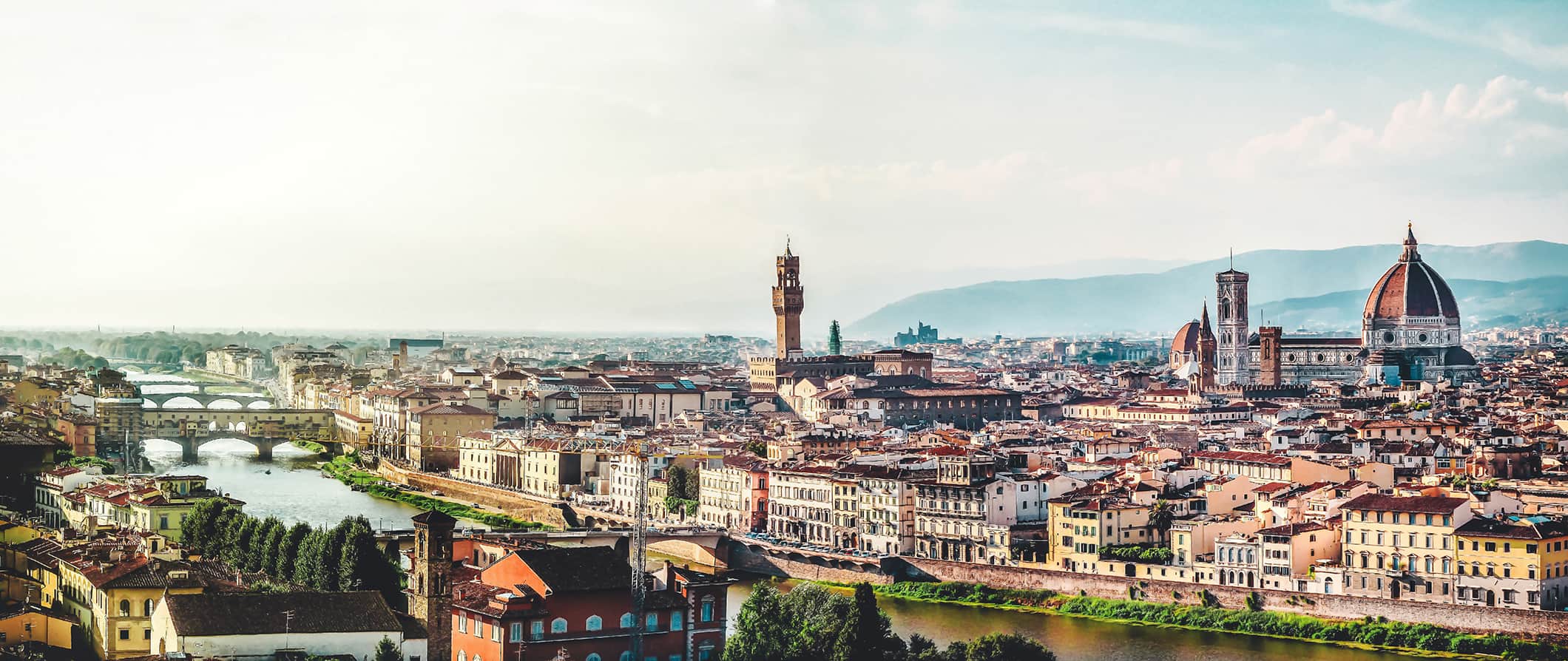 Italy's great food, beautiful countryside, fabulous wine, and long history make it an excellent country to visit. I fall in love with it every time I go. The vineyards in Tuscany, the history of Florence, the ancient streets in Rome, the laid back nature of Southern Italy, the gorgeous Cinque Terre, and the romantic canals in Venice all make the country irresistible. Italy leaves no one underwhelmed and, with so much to do and see, it would take a lifetime to complete. Italy is best seen slowly – just like the attitude of the country – so don't rush it in one visit and try to do too much. Relax, take in the scenery, and enjoy a latte.
Top 5 Things to See and Do in Italy
1. Explore Venice
Besides Carnival,
Venice
is just a great place to visit. While not the cheapest destination in Italy, Venice is great to see canals, experience a gondola ride, and have an amazing romantic candlelight dinner. Head to the old Jewish Ghetto for hip bars and cheap drinks.
2. Discover Rome
Rome
has so much to see and do you'll need to make several trips to even scratch the surface. Besides the obvious highlights, make sure you explore the Trastevere student neighborhood west of the river. It's my favorite place in Rome, and it offers cheap food, funky little bars, and tiny winding streets few tourists venture to.
3. Wander through Pompeii
Pompeii is the ancient city that was destroyed by a volcano but preserved by a blanket of ash. Walk around the city as it stood the day the volcano exploded, moving in and out of homes and businesses where pots and vases still lay. Most of the beautiful frescoes are still there with their beautiful colors. It's a full-day activity.
4. Hike the Cinque Terre
The
Cinque Terre
consists of five dramatically located villages on the west coast of Italy, backed by steep vineyards and mountains. It's heaven here. There are great hikes that range in difficulty, incredible fresh pesto and seafood, and great local wine. Each city has its own unique personality so visit all five.
5. Explore the Amalfi Coast
The southern cousin to the Cinque Terre, the Amalfi coast is much less visited but equally as beautiful (some say more). You'll find great hillside towns, beautiful beaches, and azure blue water in which to cool off.
Other Things to See and Do
(Click the title to expand the text)
1. See the Venice Carnival
Ten days and nights of masquerade madness in February before Lent is quite the party. This tradition goes back centuries and is one of the biggest parties and festivals in Italy. If you have the funds, you can even pay to attend a traditional masquerade ball. Make plans early, though – the entire city becomes packed and very expensive, so it will definitely change your Venice experience.
2. Shop in Milan
Everyone knows the fashion capital of Italy. Take in the glamor of Milan, but the city itself doesn't have many sights, so don't spend more than a day or two here.
3. Take a photo in Pisa
The entire town of Pisa is focused around taking a photo casually leaning on the leaning tower. Souvenir shops have taken advantage of the tourist crown and line the street up and down the path to the tower. My advice is to put your head down, get goofy, take your photo, and head onto your next Italian adventure.
4. Visit Siena
Everyone always says "I looooove Siena" and with good reason. It's one of the best preserved medieval cities in Italy and has a labyrinth of lanes gathered around the arena of Piazza del Campo (where, during the summer, they have horses racing).
5. Naples
Watch your pockets in Naples while you feast on their famous pizza!
6. Relax on the lakes
The beautiful lakes up north, such as Lake Como, are the summer playground for Italians, the rich, and George Clooney. Come up here, play in the lakes, see beautiful villas, and hike in the countryside.
7. Explore Florence
It's Florence. There's no real need to explain why to go here. Everything people say about it is true. Great food, amazing museums, ancient buildings, small streets, and awesome gelato. While here, make sure you take a few wine tours throughout the Tuscan region to get a feel for the countryside.
8. Drive around "the Heel"
No one ever goes to the southern heel of the Italian boot. But if you have time, make it down here. This is where most of the fruits and vegetables in Italy come from. A trip down here will give you the best glimpse into rustic Italian life.
9. Eat in Sicily
Sicily is famous for its mafia, but there's more to the island than mobsters. It has its own unique cooking style, amazing coastal beaches that stay warm in the summer months, friendly little Italian grandmas, and extensive wineries.
10. Stroll through Sorrento
If you're looking for an off the beaten path location, Sorrento is the perfect, quiet town filled with mountains and valleys in the South of Italy. It also makes a great home base to jump between islands in the Amalfi Coast.
11. Attend Settimana Santa
This is the last week of lent known as Holy Week. During this time, there are several processions throughout Italy, drawing crowds of thousands. Throughout the week, there are various gatherings in Puglia, Abruzzo, and Sicily but the major event occurs on Easter Sunday, and is led by the pope.
12. Visit Alberobello
A Unesco World Heritage Site, this is an interesting and picturesque little town, which is well worth a visit between the months of November and April (to avoid the flocks and gaggles of tourists). There are a couple of museums to peruse through, in addition to some great restaurants, bars, and markets.
13. Admire the Vatican Museums
If you have the patience to wait through the lines, this is one of the most grandeur collections to see while in Rome. Founded in the early 16th century, it is a complex of museums on over five hectares of land. There are so many priceless highlights, you could spend hours just looking at them and glazing over the thousands of other pieces. Consider getting a guide to make the museum come to life. Admission is 16 EUR.
14. Enter Chiesa di Sant'Efisio
When you find yourself in Cagliari, you should probably wander over to the Stampace quarter to see this church. Dedicated to the patron Saint Ephisius, this is the most important church in the city and it was actually built over the saint's prison site.
15. Take a cooking lesson
If tasting local food isn't enough for you and you'd like to bring a like bit of Italian cuisine home with you, then consider enrolling yourself in cooking lessons. Prices vary, but most cost between 75-300 EUR for a 1-day class.
16. Day trip to Lucca
Just outside of Florence, this is a great city to explore on a bicycle. There are fewer tourists here, so it's a great escape if you happen to be visiting during the touristy summer months.
17. Take a professional tour
Context Travel and Take Walks offer incredible tours around the country. They are relatively inexpensive, but you will get your money's worth. If you are big into history, culture, or architecture these tours are for you. You'll walk away with a much richer understanding of the country.
18. Explore Emilio-Romagna
Located in the northeast, this picturesque region of the country of is worth a visit. It's one of the richest regions in all of the EU, and it's home to the oldest university in the world (the University of Bologna).