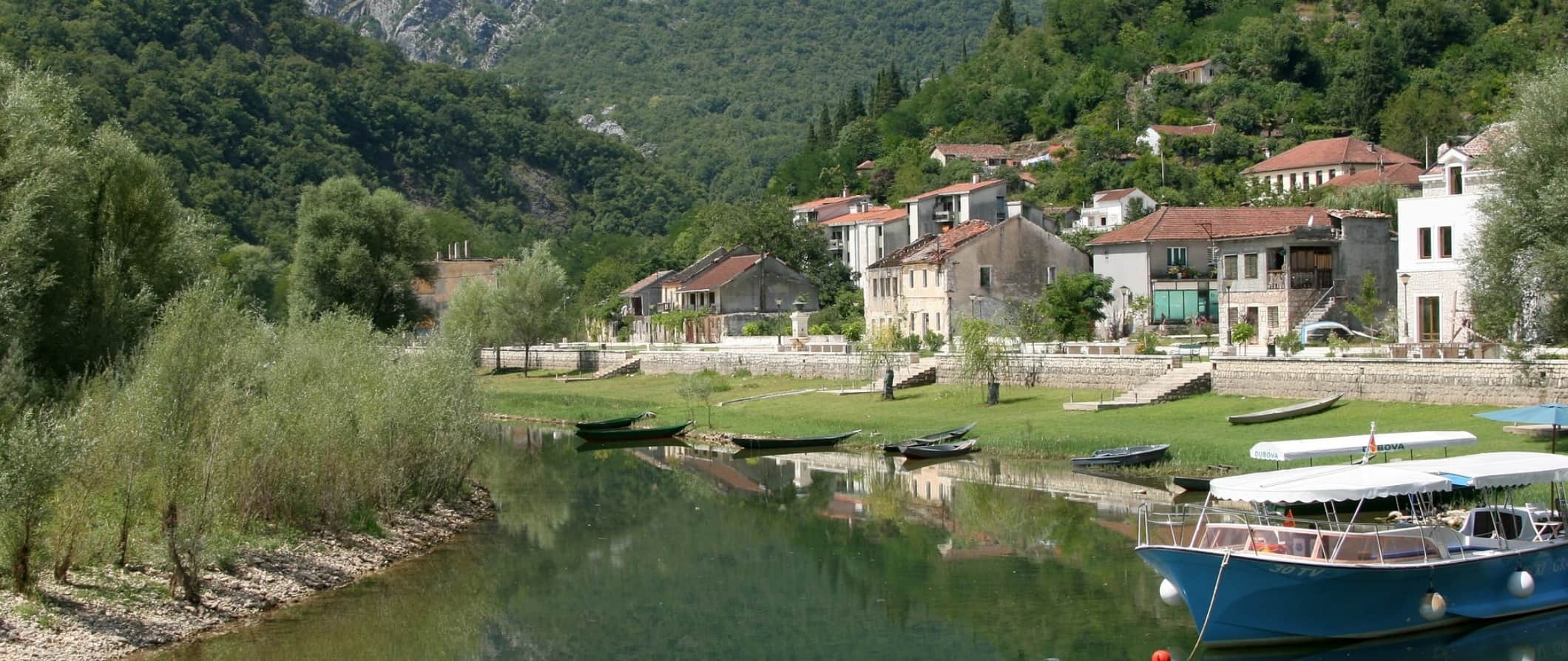 Montenegro is a tiny Balkan country home to rugged mountains, medieval towns, and miles of picturesque beaches. With just over half a million people, Montenegro has become a recent hotspot for backpackers, though it's still overlooked by most budget travelers.
Offering idyllic gems like Kotor, with its stunning medieval architecture and fjord-like bay, as well as world-class pristine beaches stretching down the Adriatic coast, as the Balkans become one of the most up-and-coming tourist regions in Europe, Montenegro has soared in popularity, especially since it is relatively safe, small, and cheap.
I loved my visit to the country. It's a beautiful and charming place.
This Montenegro travel guide has everything you need to know to plan your trip, save money, and make the most of your time in this overlooked and underappreciated destination!
Top 5 Things to See and Do in Montenegro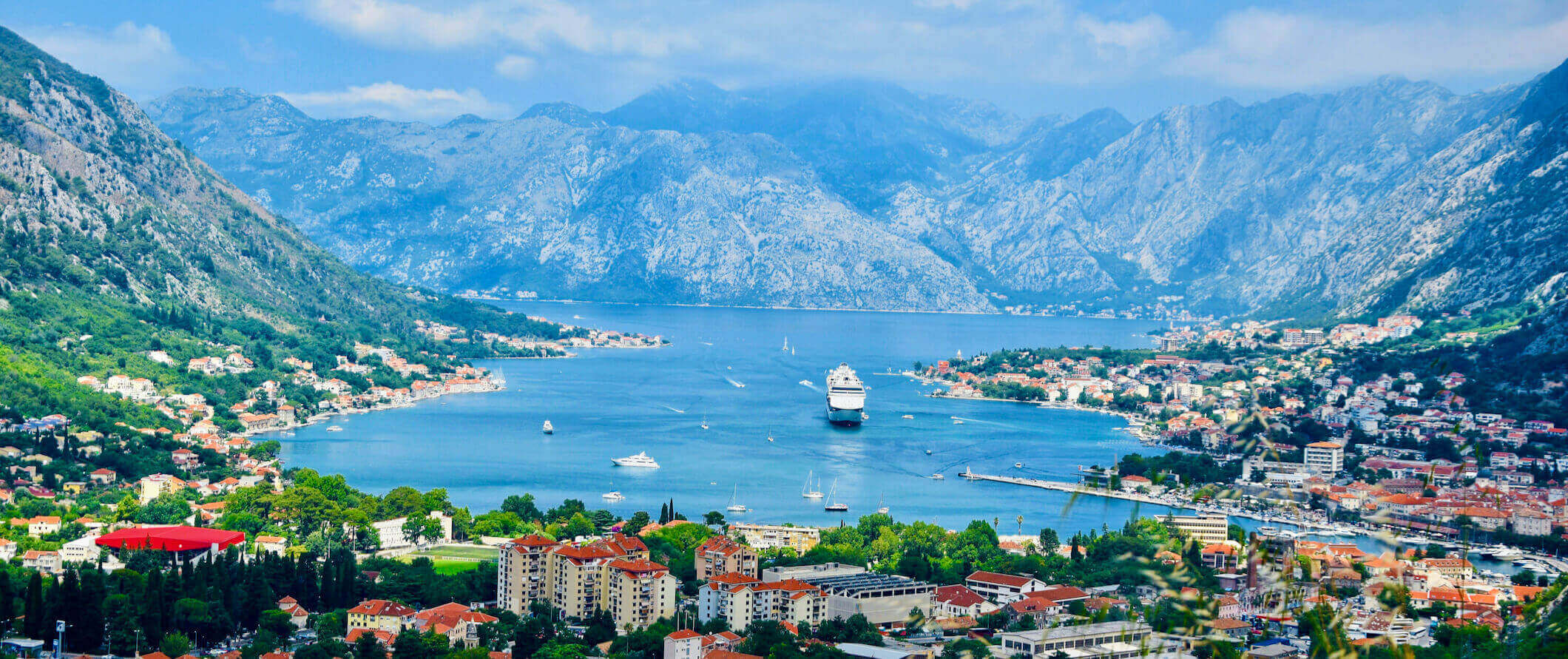 1. Explore Ulcinj
Ulcinj sits on the Adriatic coast and is best known for its long, sandy beaches. In fact, one of the longest beaches in Europe can be found here (Velika plaža). Ulcinj also has a picturesque Old Town (Stari Grad) with gorgeous narrow cobblestone streets, incredible sunset views, and tasty seafood near the city walls. A popular activity is to rent a bike and cycle to Long Beach and spend the day lounging. This beautiful coastal town is the perfect place to spend a few days relaxing and enjoying the water.
2. Hit the beach in Budva
Budva has several beaches as well as coves, cliffs, and islands you can explore. I don't love the main town itself but the area is incredible. The city is 2,500 years old and a bit of a labyrinth of old narrow streets but it's definitely a cool place to wander around. Don't miss the Citadela Fortress, constructed to protect Budva from invaders. Today, the fortress is also a great place to grab a drink and enjoy the scenic views. The Budva Riviera highlights include Jaz Beach, Becici Beach, and Kamenovo Beach. If you want to get away from the main beach crowds, take a boat out to Sveti Nikola, a nearby island, to find incredible turquoise pebble beaches on the shores of a towering cliff. Bring your beach shoes!
3. Visit Kotor
Montenegro is full of beautiful coastal towns, but none are quite as dramatic as Kotor. Home to exquisite sea and mountain scenery as well as historic architecture, the entire town has been declared a UNESCO World Heritage Site. It's one of the most popular places in the country. This 2000-year-old town has several main attractions including its Old City Wall, fortress San Giovanni, the beautiful Cathedral of St. Tryphon, and the Maritime Museum. Kotor has incredible cuisine due to centuries of influence from the Greeks, Ottomans, the Austro-Hungary empire, and many others. Try local dishes such as rice-stuffed calamari, lamb with peas, and grilled fish. Don't forget to try the local wines like Krstac, Kratošija, Žižak, and Vranac, as Montenegro is well known for its 50 types of wine and this is a great place to try some.
4. Go hiking in Durmitor National Park
With its sweeping views of forests, lakes, and waterfalls, and the largest canyon in Europe, Durmitor is a nature lover's dream. The national park makes the perfect outdoor adventure spot for hikers as there are glacial lakes, 50 different peaks, and plenty of beautiful trails to choose from. Some of the most famous hikes include the easy Black Lake and Zminje Lake hike, the moderate Prutaš peak (2,393 meters/7,851 feet), and the hardest, highest peak of Bobotov Kuk (2,523 meters/8,277 feet). Funky Tours offers day trips starting at around 70 EUR including transportation and lunch. Tara Canyon is absolutely stunning, with crystal blue waters surrounded by both rocky shores and tree-lined slopes. And if hiking isn't your thing, Durmitor is also one of the world's best locations for climbing and rafting. They also have an adrenaline park in case you want to check out the spectacular scenery from the comfort of a zip line, dirt bike, or ATV. Admission to the nature park is just 3 EUR.
5. Take a wine tour
A visit to Montenegro's best wine-producing region, Crmnica, is a must for wine lovers, especially since there are so many award-winning varieties here. If you want to try some of the best wineries, there are 22 little villages in Crmnica but two of the most well-known are Godinje and Virpazar on Skadar Lake. You can try delicious wines paired with local cheese, olives, nuts, cured ham, and honey. Located in the south, many wineries here also offer tastings of homemade rakija, a popular Balkan brandy. Tours cost around 15-40 EUR (around 50 EUR or more if they include transportation).
Other Things to See and Do in Montenegro
1. Go rafting
Rafting on the Tara River is one of the most popular outdoor activities in Montenegro. Known as the "Tear of Europe," the river is the fastest in Europe and forms the second deepest canyon in the world (the first being the Grand Canyon) and you can go rafting in easy and moderate conditions while taking in the incredible beauty of the canyon. Prices start at 40-50 EUR for one day of rafting, 70 EUR for two days, and 100 EUR for canyoning. There are multi-day rafting and canyoning combo trips available too.
2. Hike Lovcen Mountain
Lovcen is more than just a mountain to the people of Montenegro, it's a sacred place and national treasure. Located in the southwest one hour from Kotor, the mountains contain the mausoleum of Petar II Petrovic-Njegoš, a beloved Montenegrin ruler. There is also a national park here with hiking trails, including a day-long hike to Kotor. Admission is 2 EUR. If you have time, head to the nearby village of Njeguši to enjoy some local cheese and smoked ham.
3. Relax at Lake Skadar
Lake Skadar, also known as Lake Shkodër in Albanian, is located in the south along the border with Albania and is the largest lake in southern Europe. There is plenty to see and do here, such as visiting the ancient island prisons and monasteries, exploring the National Park and bird reserves, relaxing on one of the private beaches, and taking a swim in the crystal-clear waters of the lake. Expect to pay around 25 EUR for a one-hour boat rental or 5 EUR per hour for a kayak. Lake cruises start at around 15 EUR.
4. Visit the National Museum of Montenegro
The National Museum of Montenegro is located in Cetinje, the country's historic capital (the current capital is Podgorica). Established in 1896, it's composed of several different museums and galleries in one complex. Two of the most popular museums are the Museum of History and the Art Museum. You can easily spend a full day here taking in the exhibitions and learning about the country's history. Collective tickets cost 8-15 EUR while individual museum tickets are 3 EUR. Cetinje itself, a 15th-century town and also a great place to spend a morning or an afternoon. You can visit the Cetinje Monastery, with its collection of Early-Christian-era relics, and the 15th-century Vlah Church. Also, near Cetinje is Lipa Cave, one of the largest caves in Montenegro.
5. Enjoy the history of Stari Bar
Located in the southwest, this town was once ruled by the Byzantines. Its ruined fortress offers one of the most beautiful views in Montenegro thanks to the stunning backdrop of Mount Rumija. The town itself has been the site of many battles (chiefly against the Ottomans) so it's been destroyed and rebuilt many times over. There are also the ruins of a 13th-century Franciscan monastery, an 18th-century Turkish bathhouse, and the oldest olive tree in the world (it's over 2,000 years old). It is just an hour south of Kotor by car.
6. Watch the sunset in Sveti Stefan
Sveti Stefan is a 15th-century village just south of Kotor. Located on the coast, it has a postcard-perfect pink pebbled beach and beautiful clear blue water. While you can't access the nearby island without staying at the five-star resort that occupies it, the beaches here are perfect for a late afternoon swim and for watching the sunset over the Adriatic Sea. Don't miss the 600-year-old Praskvica Monastery that overlooks the village.
7. Hit the slopes
Thanks to an average of 120 days of snow each year, Montenegro is the perfect winter sports destination. The ski resorts in Montenegro sit at altitudes of up to 2,181 meters (7,155 feet) and there are over 20 kilometers (12 miles) of slopes to enjoy. The most popular resorts are Savin Kuk on Durmitor mountain or Kolasin 1450 on Bjelasica mountain. Lift passes are some of the cheapest in Europe, ranging from 10-25 EUR per day.
8. Visit the Cat Museum
For a more unconventional museum experience, visit Kotor's Cat Museum (Museo del Gatto di Cattaro). Located in the Old Town, this small museum is dedicated to cats. It explores the history of Montenegro's feline friends as Kotor has a noticeably high cat population thanks to its history as a trading port. Cats from all around the world traveled here on ships and were subsequently abandoned. They became an important part of the culture of the city. Admission is 1 EUR and helps support local stray cats.
9. See the Castle of San Giovanni
San Giovanni Fortress in Kotor is one of the city's historic fortifications. Perched almost 300 meters (984 feet) above sea level, the castle has a taxing 1,355 steps you have to climb to get to it (which takes about an hour). The fortress, also known as St. John's Fortress, is a UNESCO Heritage Site and dates to the 9th century. It's one of the best historic remnants in the city. It's mostly crumbled now, but there are several stone walls, fortifications, and foundations still in place. There are also over 4.5 kilometers (2.8 miles) of defensive walls, some of which are 20 meters (65 feet) tall. There are several viewpoints on the hike too. The admission price through the gate is about 9.50 EUR.
10. Explore the Blue Cave
Located on the Luštica Peninsula just 22 kilometers (13 miles) from Kotor, the famous Blue Cave of Montenegro is only accessible by boat on an organized tour from either Herceg Novi or Kotor. It's named after the iridescent blue light that shines brightly within the cave. For a 1-2 hour tour of the blue cave (plus other nearby caves) expect to pay around 40-60 EUR per person.
11. Day trip to Perast
Just 20 minutes from Kotor, this stunning village is worth more than the half-day that most people give it (although if that's all the time you have, it's better than nothing!). There are 20 Baroque palazzi and 18 churches to see here, including the Church of St. Nicholas and its 55-meter (180-foot) Perast Bell Tower which you can climb to get an excellent view of the town. There's also a Maritime History Museum here, and if you're in the mood to relax, there's a beautiful beach as well as boat tours around the Bay of Kotor.
Montenegro Travel Costs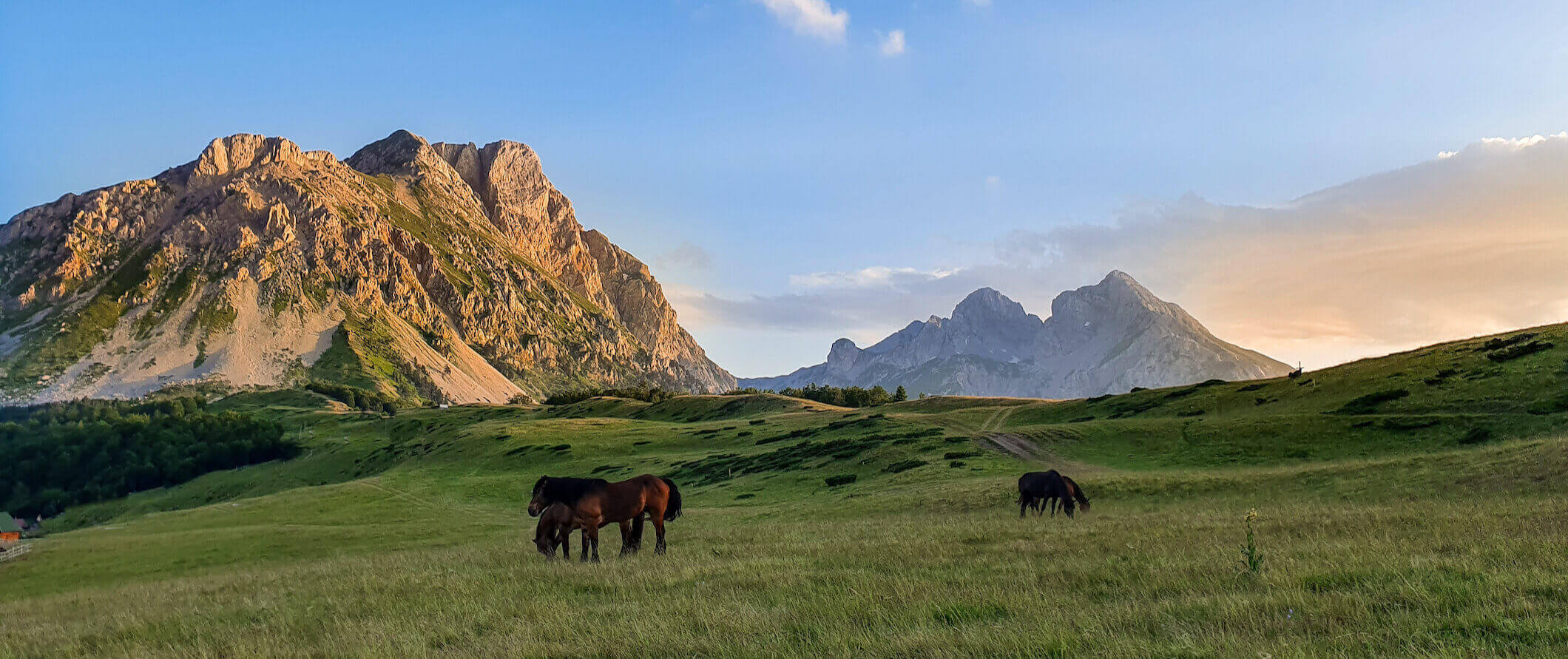 Accommodation – There aren't tons of hostels in Montenegro since it's an up-and-coming backpacker spot. Dorm beds start at 12 EUR per night regardless of size or season. Free Wi-Fi is standard as are self-catering facilities. Most hostels do not include free breakfast. For a private room, expect to pay 40 EUR per night.
Budget hotels start at 25 EUR per night in the off-season for a double or twin. In peak season they start at 30-60 EUR per night. Free Wi-Fi is standard and many budget hotels also include free breakfast.
Airbnb is available in the main cities and towns around the country with private rooms starting at 20-25 EUR per night. For an entire home or apartment, expect to pay at least 40-65 EUR per night.
For anyone traveling with a tent, there are a fair number of campsites around Montenegro. A basic plot without electricity costs around 14-20 EUR per night for two people. Wild camping is illegal.
Food – Food in Montenegro is different from its Balkan neighbors, owing to heavier Mediterranean and Italian influences. Expect to see a lot of pizza and pasta restaurants when you're in the cities. Also, look out for popular favorites like cevapcici (grilled kebabs), sarma (cabbage leaves stuffed with meat), and goulash. On the coast, seafood is readily available.
For a quick on-the-go snack, try burek a Turkish pastry filled with meat or cheese (they typically cost a couple of euros). For inexpensive traditional cuisine, expect to pay 6 EUR for a main dish. For fast food, expect to pay around 5-6 EUR for something like a burger and fries.
If you want to splash out, a three-course dinner at a mid-range restaurant costs around 15 EUR. For something extremely filling, try karadorde vasnicla, a breaded veal cutlet roll stuffed with cheese.
Beer costs 2 EUR while a latte or cappuccino costs 1.50 EUR. Bottled water is less than 1 EUR.
If you are planning to cook your own food, a week's worth of groceries costs 25-35 EUR for basic staples like pasta, rice, seasonal produce, and some meat or fish.
Backpacking Montenegro Suggested Budgets
On a backpacker's budget of 40 EUR per day, you can stay in a hostel dorm, cook all of your meals, limit your drinking, take public transportation to get around, and stick to mostly free activities like relaxing at the beach or hiking. If you plan on drinking, add 5-10 EUR to your daily budget.
On a mid-range budget of 95 EUR, you can stay in an Airbnb, eat out for most of your meals, enjoy a few drinks, take the occasional taxi to get around, and do more paid activities like rafting or canyoning.
On a "luxury" budget of 185 EUR per day, you can stay in a hotel, eat out for all your meals, drink more, rent a car or take more taxis, and do whatever tours and activities you want. This is just the ground floor for luxury though. The sky is the limit!
Accommodation
Food
Transportation
Attractions
Average Daily Cost
Montenegro Travel Guide: Money-Saving Tips
Montenegro is affordable so you won't break the bank here unless you want to splash out. That said, it never hurts to save more money! Here are a few ways to save while you're traveling Montenegro:
Take a free walking tour – Kotor and Budva both offer free walking tours. They're my favorite way to get familiar with a new city and culture while connecting with a local guide who can answer all my questions. Just be sure to tip your guide at the end!
Cook your own meals – Many hostels here have kitchen facilities so if you want to save money make sure you book accommodation with a kitchen. Buying groceries may not be glamorous but it definitely saves you money!
Stay with a local – Staying with a local via Couchsurfing is a great way to save money and connect with a knowledgeable local who can share their insider tips and advice.
Walk everywhere – Most of the major towns and cities in Montenegro are walkable. Skip the public transportation if you want to save a few euros. And definitely skip the taxis!
Enjoy the free spaces – There are plenty of free parks as well as many free hiking trails around the country. Save your money and enjoy the outdoors for free.
Bring a water bottle – The tap water here is generally safe to drink so bring a reusable water bottle to save money and reduce your plastic use. LifeStraw is my go-to brand as their bottles have built-in filters to ensure your water is always clean and safe.
Where to Stay in Montenegro
Even though Montenegro is small there are tons of hostels around the country. Here are some of my favorite places to stay in Montenegro:
How to Get Around Montenegro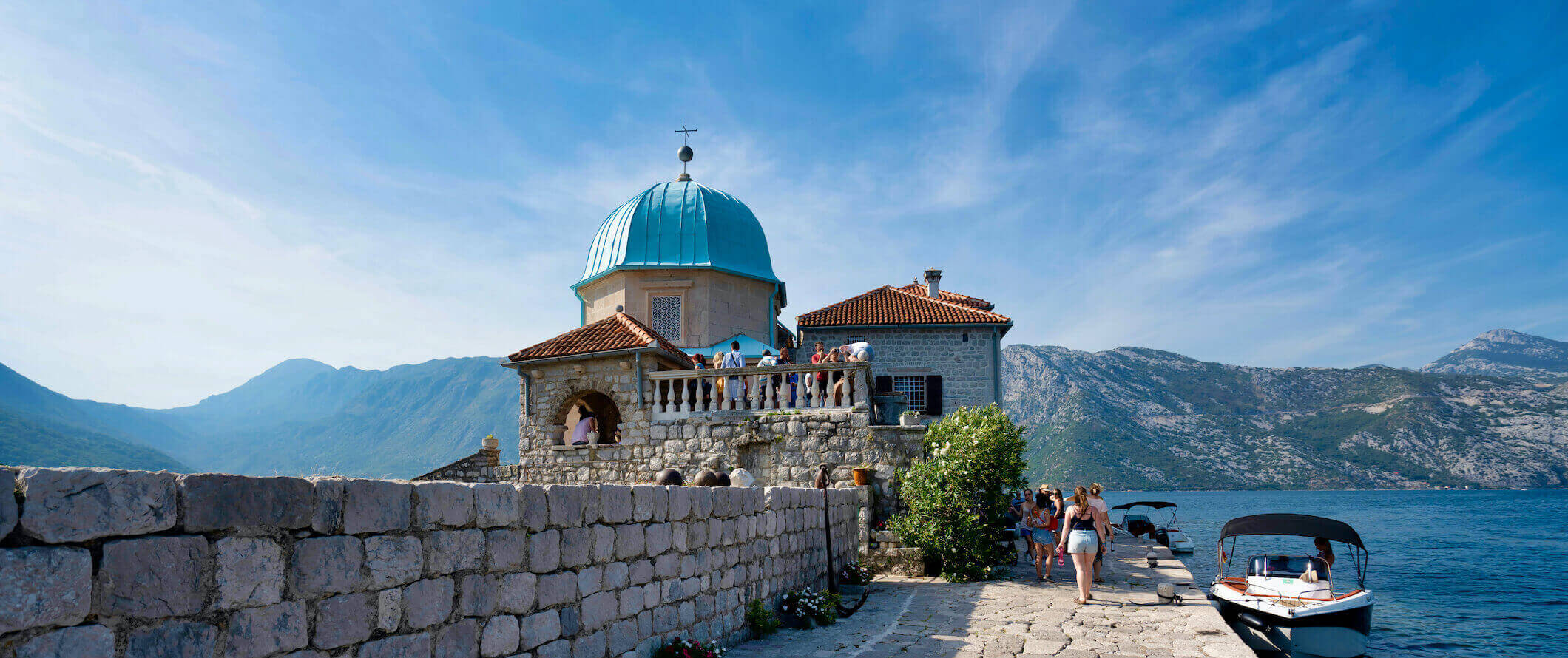 Public transportation – Public transportation prices vary by city, but expect to pay around 1 EUR for a standard adult bus ticket.
Bus – Montenegro has an extensive intercity bus network that is comfortable and reliable. You can often save money by buying your ticket directly from the driver as prices are sometimes cheaper when buying tickets right as you're looking to leave. However, if you are traveling during the summer, it's worth booking in advance to ensure you get a seat.
The bus from Kotor to Budva takes around an hour and costs as little as 5 EUR while the bus from Kotor to Ulcinj takes around 4.5 hours and costs around 10 EUR. Kotor to Dubrovnik, Croatia takes around 3-4 hours and costs 19-25 EUR.
Taxi – Taxis fares in Montenegro start at 1 EUR and go up by around 0.80 EUR per kilometer. Since they can add up fast, I'd skip the taxis if you can.
Train – The railway in Montenegro is old and not modernized at all. I would not advise train travel within Montenegro as the buses are nicer, faster, and far more reliable.
To enter and exit Montenegro, Montenegro Railways has a service that takes you north into Serbia all the way to Belgrade. It's a 10-hour trip and costs around 29 EUR.
Flying – There are no domestic flights within Montenegro.
Car rental – Car rentals can be as low as 15-20 EUR per day for a multi-day rental. Just make sure you have an International Driving Permit (IDP) as you need one to rent a vehicle. Also, be aware that the roads here are in rough shape and that drivers can be on the aggressive side.
For the best car rental prices, use Discover Cars.
Hitchhiking – Hitchhiking in Montenegro is possible, but it can be rather slow as many of the roads are winding and mountainous. Expect long waits between rides — especially outside the main summer months. HitchWiki is the best website for more hitchhiking info.
When to Go to Montenegro
The best time to visit Montenegro is between April and September. Peak season is July and August when the weather is warmest. Daily highs in the summer are usually around 31°C (89°F).
If you're on a budget and want to beat the summer crowds, the best time to visit is either June or September. You still have the heat but there are fewer crowds and it's not sweltering. For hiking and outdoor activities, consider September-October as the national parks look particularly pretty as the leaves change.
Winters are cold, especially if you go inland where there is more of a sub-alpine climate, offering heavy rainfall and snow. Unless you plan on skiing, I'd avoid visiting in the winter.
How to Stay Safe in Montenegro
Although Montenegro is a relatively safe country, scams and pickpocketing can occur, especially in Kotor, Budva, Sveti Stefan, and Herceg Novi. Be vigilant in tourist areas and while on crowded public transportation and always keep your valuables secure and out of sight.
If you have a purse or shoulder bag, wear it across your body and not just over one shoulder so it can't be easily torn off and stolen.
Solo female travelers should generally feel safe here, however, the standard precautions apply (never leave your drink unattended at the bar, never walk home alone intoxicated, etc.).
If you're renting a car, be aware that many of the roads are in rough condition. Drive slowly and cautiously — even if the locals aren't. Additionally, don't leave any valuables in your vehicle overnight. While break-ins are rare, it's better to be safe than sorry.
If you're checking a bag on a bus, don't leave any valuables in it just in case it gets taken or misplaced.
If you're doing any mountainous hikes, be sure to check the weather in advance and bring appropriate gear/clothing. It's colder and windier at higher altitudes.
Unfortunately, organized crime has a strong foothold here. While the majority of their activities won't impact you, some beggars have been known to take part in schemes wherein they provide information to thieves and pickpockets based on who gives them money. Don't give money to beggars to avoid complications.
You can read about common travel scams to avoid here.
There are a lot of unexploded land mines near the border with Kosovo. If you are exploring that area, be sure to stick to the main roads and don't head off into the brush.
If you experience an emergency, dial 122 for assistance.
The most important piece of advice I can offer is to purchase good travel insurance. Travel insurance protects you against illness, injury, theft, and cancellations. It's comprehensive protection in case anything goes wrong. I never go on a trip without it as I've had to use it many times in the past. You can use the widget below to find the policy right for you:
Montenegro Travel Guide: The Best Booking Resources
These are my favorite companies to use when I travel. They consistently have the best deals, offer world-class customer service and great value, and overall, are better than their competitors. They are the companies I use the most and are always the starting point in my search for travel deals.
Skyscanner – Skyscanner is my favorite flight search engine. They search small websites and budget airlines that larger search sites tend to miss. They are hands down the number one place to start.
Hostelworld – This is the best hostel accommodation site out there with the largest inventory, best search interface, and widest availability.
Booking.com – The best all around booking site that constantly provides the cheapest and lowest rates. They have the widest selection of budget accommodation. In all my tests, they've always had the cheapest rates out of all the booking websites.
HostelPass – This new card gives you up to 20% off hostels throughout Europe. It's a great way to save money. They're constantly adding new hostels too. I've always wanted something like this and glad it finallt exists.
Get Your Guide – Get Your Guide is a huge online marketplace for tours and excursions. They have tons of tour options available in cities all around the world, including everything from cooking classes, walking tours, street art lessons, and more!
The Man in Seat 61 – This website is the ultimate guide to train travel anywhere in the world. They have the most comprehensive information on routes, times, prices, and train conditions. If you are planning a long train journey or some epic train trip, consult this site.
Rome2Rio – This website allows you to see how to get from point A to point B the best and cheapest way possible. It will give you all the bus, train, plane, or boat routes that can get you there as well as how much they cost.
FlixBus – Flixbus has routes between 20 European countries with prices starting as low 5 EUR! Their buses include WiFi, electrical outlets, a free checked bag.
SafetyWing – Safety Wing offers convenient and affordable plans tailored to digital nomads and long-term travelers. They have cheap monthly plans, great customer service, and an easy-to-use claims process that makes it perfect for those on the road.
LifeStraw – My go-to company for reusable water bottles with built-in filters so you can ensure your drinking water is always clean and safe.
Unbound Merino – They make lightweight, durable, easy-to-clean travel clothing.
Top Travel Credit Cards – Points are the best way to cut down travel expenses. Here's my favorite point earning credit cards so you can get free travel!
Montenegro Travel Guide: Related Articles
Want more info? Check out all the articles I've written on backpacking/traveling Europe and continue planning your trip: