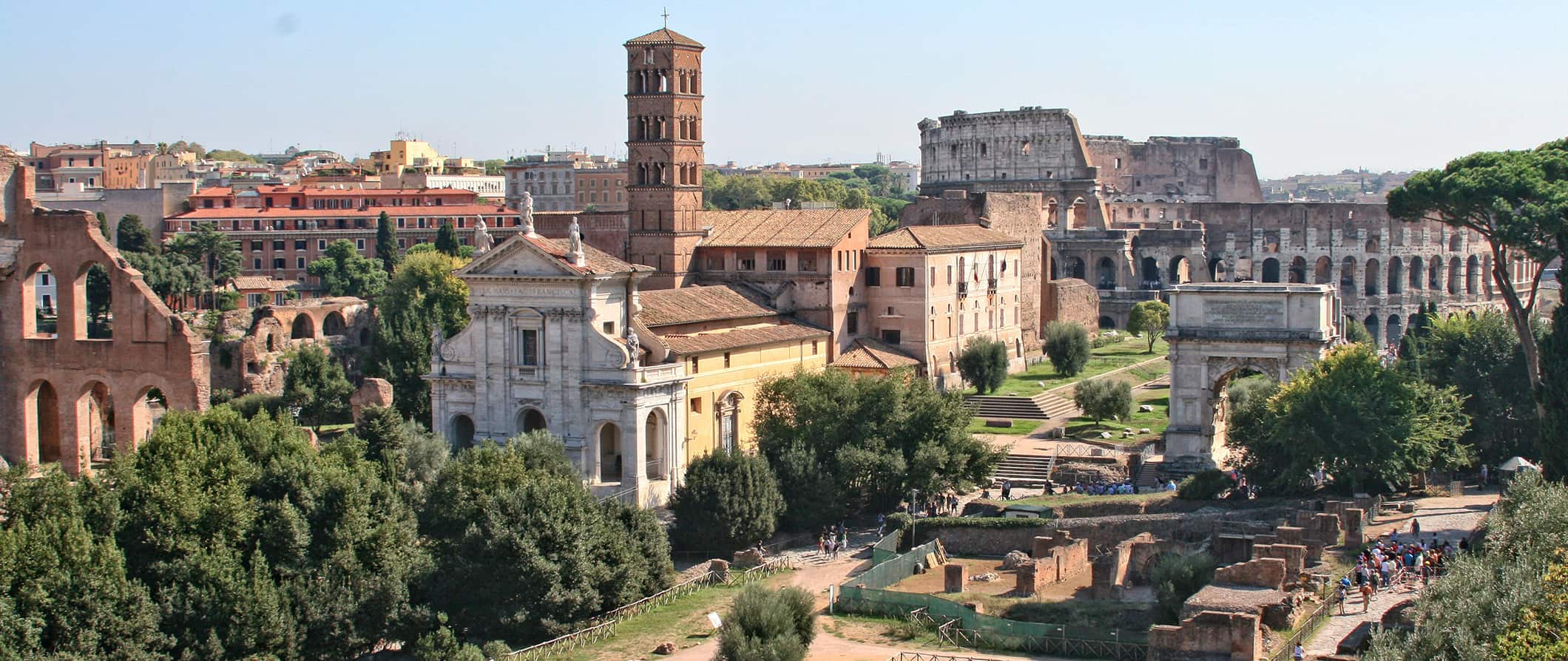 What is there to really that you can't say about Rome? Considered the center of the world for centuries, the birthplace of Caesar, and home to the Catholic Church, Rome is a city built on history. Rome is Rome. There's no place like it on earth. The history, the crowds, the congestion, the traffic, and the ton of tourists. You walk down the street and next to a modern building are ruins dating back thousands of years. Roman cuisine is some of the best in Italy. Rome is tremendous and, though crowded, it is a city filled with life, beauty, and charm.
Top 5 Things to See and Do in Rome
1. Wander the Colosseum
Even though the line of tourists can seem endless, the Colosseum is not to be missed. It is nearly 2000 years old and was the largest amphitheater in the entire Roman Empire. Admission is 12 EUR. It's open 8:30am until one hour before sunset.
2. The Forum and Palatine Hill
Explore the seat of Ancient Rome and experience from where Rome administered its empire. Next to it is Palatine Hill where the Roman aristocracy lived. You can combine a visit to the Colosseum with Palatine Hill. It is also worth getting a guide to give you context and bring the ruins to life (admission is 12 EUR).
3. See Vatican City
Vatican City is easy to see, but you could spend at least a half a day there. Don't leave Rome without spending some time to see the home of the Pope, St. Peter's Basilica, the Sistine Chapel, and all of the wonderful museums (16 EUR).
4. See the Trevi Fountain
The Trevi Fountain is always crowded, especially at night when couples come for a romantic picture. The best time to see this beautiful fountain is before lunch, when the crowds are thin. Don't forget to throw two coins over your left shoulder in (one for love, one to return to Rome) while you are here.
5. Explore Trastevere
This is one of my favorite areas of the city to explore. The winding alleys are picturesque and there is some really great food to be found here. Spend some time strolling around — you won't regret it! Very few tourists go here too so it has a much more authentic Roman feel to it!
Other Things to See and Do
(Click the title to expand the text)
1. Overload on churches
Rome has a ton of churches. Wander into each as you pass by and take in the great art, sculptures, decorations, and stained glass.
2. Explore Ostia Antica
The ruins of the ancient Rome port of Ostia Antica are well worth a visit. It is a huge complex, and you can easily spend several hours wandering around the old streets, shops, and houses. You should plan at least a half day for this trip. To get there, take the Metro Line B to Magliana, and take the Ostia Lido train from there.
3. Enter the Pantheon
The Pantheon looks today much like it did nearly 2,000 years ago, making it a marvel all in itself. Marble floors, a plethora of history, and by far one of the best-preserved buildings in the world.
4. Hang out on the Spanish Steps
The Spanish Steps are a long and grand staircase in Rome to the Piazza di Spagna at the base. The stairway was built in the 1720s. The Spanish steps have become a social hub for both tourists and locals to hang out and people watch. This place is also a popular place for pub crawls too, so watch your step.
5. Check out the art museums
If you enjoy art museums, you are in for a treat. There are a ton of great ones here, several of which are some of the highest-ranking in the world. The Galleria Naionale d'Arte Moderna is a good starting point as it is home to several Italian masterpieces.
6. Partake in La Settimana dei Beni Culturali
This is a 10-day event that occurs every May. During this time, all governmentally owned and operated landmarks, museums, and archeological sites offer free admission. There aren't any other deals better than this!
7. See a show
Aside from beautiful auditorium complexes, Rome is often host to world-class operas and concerts performed by international musicians. The Olympic Stadium is a hotspot for summer concerts and the Auditorium in Viale Pietro de Coubertin and at Parco della Musica hold events year round.
8. Visit Castel Sant'Angelo
This structure was built as a mausoleum for Emperor Hadrian at the end of the 1st-century, C.E.. During the course of history, it has also served as a papal residency and a prison. As you may know from The Da Vinci Code, there's a passageway here that runs into the Vatican. Admission is 7 EUR and it's open daily (except Mondays) from 9am-7:30pm.
9. Explore the Catacombs
Rome has three major sets of catacombs that are open to the public – the Catacombs of Praetextatus, the Catacombs of San Sebastiano, and the Catacombs of San Callisto. Some of the underground crypts are adorned by sculptures and frescoes.
10. Take a cooking class
The food in Italy is arguably some of the best in the world. If you're a foodie like me it won't hurt to take a cooking class and learn some of their prized culinary skills and recipes. Prices will vary depending on what you want to cook and how many meals, but expect to spend at least 25 EUR. Take Walks offers my favorite cooking classes.
11. Explore with the professionals
If you want to get a detailed look at Rome then consider taking a walking tour with Context Tours. While they are not cheap (around 90 EUR per person) you will get an incredibly detailed tour. Whether you are into history, archeology, or food, Context will have something specific for everyone — even if you have kids! You'll definitely get your money's worth!