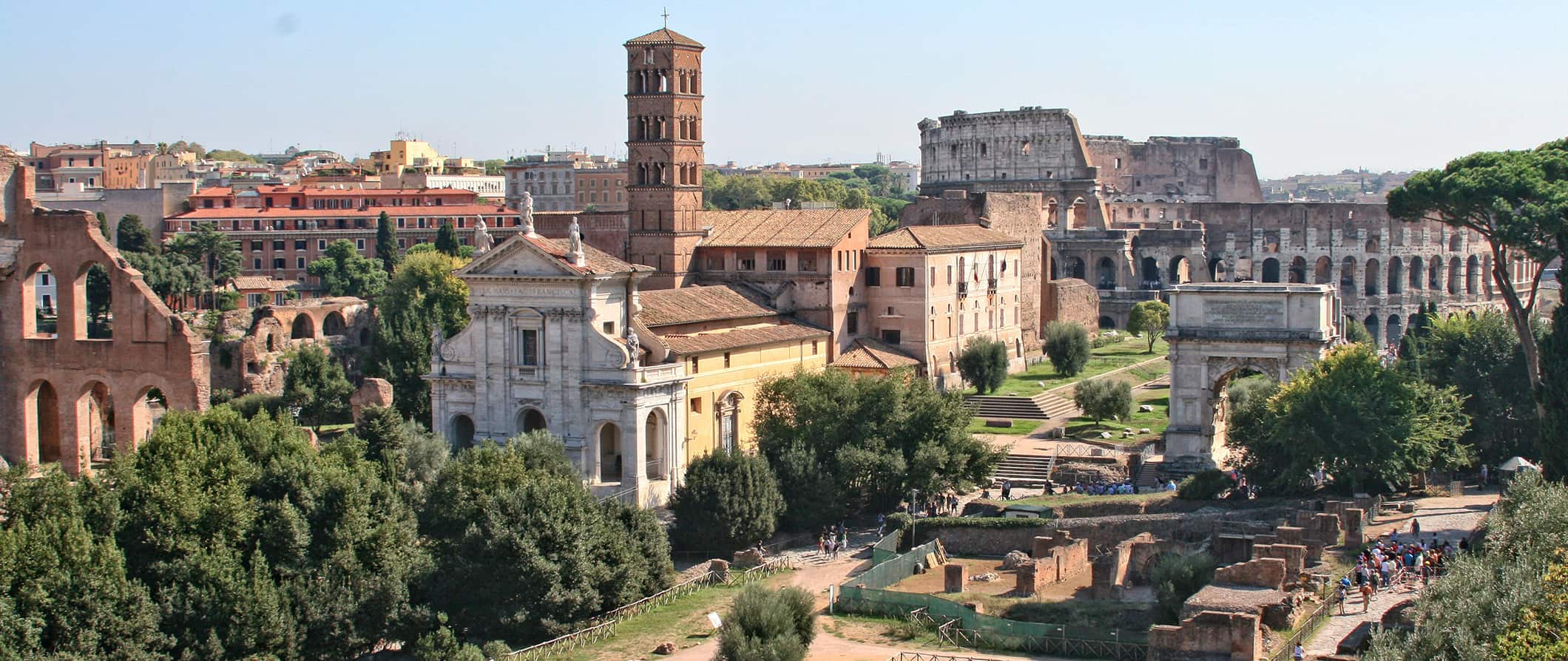 Considered the center of the western world for centuries, Rome is the birthplace of Caesar and home to the Catholic Church. It's also bursting at the seams with ancient historic ruins and tons of delicious restaurants (I particularly love Trastevere for food), bars, and world-class shopping.
Here you walk down the street and see modern buildings next to ruins dating back thousands of years.
It's a city filled with life, beauty, and charm that appeals to travelers of all stripes. Backpacking here is popular with budget travelers on Eurotrips, history buffs come to explore the ruins, couples visit Rome on honeymoons, and the jet-set splash out on the city's upscale dining and nightlife.
No matter your interests, Rome has you covered.
This budget travel guide to Rome can help you plan your trip, navigate the endless amount of sites and attractions, learn how to get around in the chaos, and save money in one of the most expensive cities in Italy!
Top 5 Things to See and Do in Rome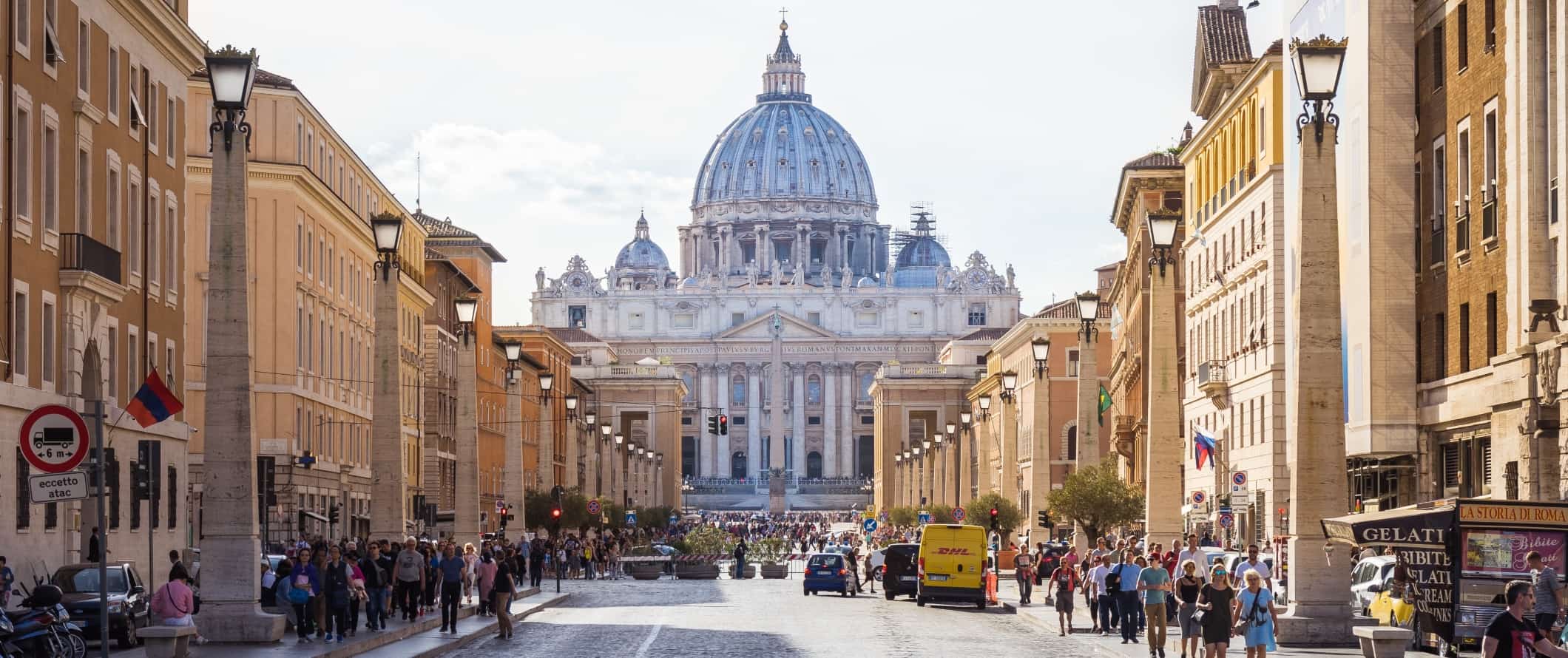 1. Explore the Colosseum
Even though the line of tourists can seem endless, the Colosseum is not to be missed. Built in the 1st century CE, it is nearly 2,000 years old and was the largest amphitheater in the entire Roman Empire (it could hold 50,000-80,000 people). During the Roman Empire, it was used for gladiatorial contests and other public events including animal hunts, dramatic plays, executions, and military re-enactments. From the Middle Ages onwards, it was repurposed into workshops, housing, and even a Christian shrine. Admission is 16 EUR for a ticket that offers 24-hour access to the Colosseum, Palatine Hill, and the Roman Forum (though not the Colosseum's arena). A two-day ticket with access to all areas (including the arena) is 22 EUR.
For an in-depth tour with special access to the arena floor, book a tour with Walks of Italy. They run the best tours in the city and use expert local guides who ensure you have fun and learn a ton. I always take their tours when I'm in Rome.
2. See the Forum and Palatine Hill
The Roman Forum was the seat of Ancient Rome. It was the center of Roman public life and the place from which Rome administered its empire. Today, the forum is a two-hectare (five-acre) site filled with ruins of countless important buildings amongst which you can wander around. Next to the Forum is Palatine Hill, where the Roman aristocracy lived. Admission to both is 16 EUR or 22 EUR (depending on which combination ticket you purchase). It is also worth getting a guide to give you context and bring the ruins to life. You can book a tour with priority skip-the-line access for 64 EUR.
3. Tour Vatican City
Vatican City is an independent city-state surrounded by the city of Rome. It gained its full independence from Italy in 1929 and is the smallest city-state in the world. Don't leave Rome without spending some time here to see the home of the Pope, St. Peter's Basilica, the Sistine Chapel, and all of the wonderful museums. (Please dress modestly as the Basilica has a strict dress code). Tickets are 17 EUR while skip the line tickets cost around 27 EUR. Keep in mind that tickets sell out weeks in advance (especially in the high season, so you'll want to plan this one in advance).
If you want a behind-the-scenes tour with VIP access, book the Key Master's Tour of the Vatican. You'll get to help unlock the chapel in the morning, giving you access to the Vatican before all the other tourists enter. It's an amazing, unique opportunity with limited space so be sure to sign up in advance!
4. Admire the Trevi Fountain
The 18th-century Trevi Fountain was built at the ending point of the aqueduct that supplied ancient Rome with water from the surrounding countryside. Designed by Roman architect Nicola Salvi and composed largely of stone from a quarry just 35 kilometers (22 miles) from the city, the Baroque fountain is a true emblem of Rome and has been featured in numerous films. It is always crowded, especially at night when couples come for a romantic picture. The best time to see this beautiful fountain is before breakfast when the crowds are thin. Tradition says that if you throw a coin over your left shoulder into the fountain, you'll find your way back to Rome. (The thousands of euros thrown into the fountain each day are donated to charity).
5. Eat your way around Trastevere
This former working class district turned bohemian neighborhood is one of my favorite areas of the city to explore. The winding, cobblestone-lined alleys and buildings covered in ivy are incredibly picturesque, so spend some time strolling around — you won't regret it! Fewer tourists go here as compared to the historic center, so it has a much more authentic Roman feel to it. There is some really great food to be found here too. Food and wine tours around the neighborhood start at 140 EUR.
Other Things to See and Do in Rome
1. Take a free walking tour
Walking tours are a wonderful way to learn about a city. I recommend Rome's Ultimate Free Walking Tour or New Rome Free Tours. Their tours cover all the highlights and can introduce you to the city on a budget. Just be sure to tip your guide at the end!
If you're looking for a paid guided tour that goes above and beyond, check out Walks of Italy. They have expert guides and can get you behind the scenes at the city's best attractions. They're my go-to walking tour company!
2. See the churches
Rome has a ton of churches so don't hesitate to wander into them as you pass by to take in the art, sculptures, decorations, and stained glass. The Basilica di Santa Maria Maggiore, dating back to 440 CE, is one of the most impressive. It's covered in 5th-century mosaics which display 36 scenes from the Old Testament. Other noteworthy churches include the Santa Maria Sopra Minerva, one of the few Gothic churches in Rome and known for its deep blue vaulted ceiling; and San Giovanni in Laterano, the official cathedral of Rome which apparently is home to the heads of St. Peter and St. Paul.
3. Explore Ostia Antica
The ruins of the ancient Rome port of Ostia Antica are well worth a visit. About 2,000 years ago, this place was a bustling commercial center and home to 60,000 people. Now you can wander the ruins of the docks, apartments, mansions, baths, and warehouses. You should plan at least a half-day for this trip. Entry is 12 EUR. City Wonders runs half-day tours for around 58 EUR.
4. Tour the Pantheon
The Pantheon looks today much like it did nearly 2,000 years ago before it became a church (it was originally a Roman temple). Hadrian built it over Agrippa's earlier temple, and it has been around since 125 CE. As soon as you walk through the heavy bronze doors and across the marble floors, you can look up and marvel at the largest unreinforced dome ever built. It's by far one of the best-preserved buildings in the world, as its been in use continuously since its construction. Entry is free.
5. See the Spanish Steps
The Spanish Steps, built in the 1720s, are a long and grand staircase in Rome with the Piazza di Spagna at its base and Trinità dei Monti looming at the top. While the Spanish Steps were once a social hub on which you could hang out and people watch, sitting on the steps is no longer allowed. This is part of new preservation measures enacted in 2019, intended to ensure that the monument will be around for generations to come. While you can't linger on the steps, visiting this iconic sight is a must, and you can still climb them to get to the top.
6. Check out the art museums
If you enjoy art museums, Rome will not disappoint. There are a ton of great ones here, several of which are some of the highest-ranking in the world. The Galleria Nazionale d'Arte Moderna is a good starting point as it is home to several Italian masterpieces. The Galleria Borghese is also excellent as it boasts a garden villa filled with Bernini sculptures and artwork from Caravaggio, Raphael, Titian, and other masters. Cardinal Scipione Borghese originally commissioned this collection. For something different, check out MAXXI, Rome's first national museum devoted entirely to contemporary art.
7. Partake in La Settimana dei Beni Culturali
This is a 10-day event that occurs every May. During this cultural heritage week, all governmentally owned and operated landmarks, museums, and archeological sites offer free admission. There aren't any other deals better than this! Be forewarned, these sites get really crowded so arrive early.
8. See a show
Aside from beautiful auditorium complexes, Rome often hosts world-class operas and concerts performed by international musicians. The Olympic Stadium is a hotspot for summer concerts and the Auditorium in Viale Pietro de Coubertin and at Parco della Musica holds events year-round. Ticket prices vary but expect to pay at least 25 EUR.
9. Visit Castel Sant'Angelo
This structure was built as a mausoleum for Emperor Hadrian at the end of the 1st-century. During the course of history, it has also served as a papal residence and a prison. As you may know from The Da Vinci Code, there's a passageway here that runs into the Vatican. It was designed as an escape passage for the Pope in case of an emergency, and it was actually used in 1527 by Pope Clement VII. You can visit the castle and look around the exhibits; there are seven levels in total. The Terrace of the Angel has some amazing city views. Admission is 14 EUR while Get Your Guide offers reserved tickets for 23 EUR.
10. Explore the Catacombs
Rome has three major sets of catacombs that are open to the public – the Catacombs of Praetextatus, the Catacombs of San Sebastiano, and the Catacombs of San Callisto. Some of the underground crypts are adorned with sculptures and frescoes. San Callisto is the most popular, with a labyrinth of galleries extending about 19 kilometers (12 miles) long and 20 meters deep. Admission to each catacomb is 8 EUR.
11. Take a cooking class
If you're a foodie, taking a cooking class in Rome is a must. I like Walks of Italy as they offer some my favorite cooking classes, including a pasta making class. Their classes are around 3 hours each and are super insightful. You'll not only have fun but you'll learn a lot too. Prices vary but expect to spend around 50-90 EUR. Eat and Walk Italy runs tours for around 60 EUR.
12. See the Roman Appian Way
This ancient road connects Rome all the way to Brindisi. It was finished in 312 BCE and it's so well preserved you can see the ruts in the stones left by chariots. There are lots of interesting highlights along the way, including the Catacombs of San Callisto and a huge mausoleum for Cecilia Metell, a Roman noblewoman. A lot of people rent a bike to pedal the path, but I think walking is the best way to go. You'll be following in the footsteps of the ancient Romans! If you'd prefer a tour, Walks of Italy runs an Ancient Rome walking tour that covers the Appian Way (as well as the Park of the Aqueducts below — and much more!).
13. Hang out in the Park of the Aqueducts
This large, green park is part of the Roman Appian Way and home to some of the ancient aqueducts that once carried millions of tons of water into the city from the mountains. Although the park is located on the outskirts of the city, it's a really great place to go and just hang out with the locals. Pack a lunch and a bottle of wine, and enjoy a lazy afternoon in the shade of some 2,000-year-old monuments.
14. Visit Piazza Navona
This is one of the most beautiful public spaces in Rome. It's home to Bernini's Fontana dei Quattro Fiumi, with its stunning statues representing the great rivers of the world. The entire oval-shaped piazza is lined with restaurants, gelaterias, shops, and the Museo di Roma. Nearby, you'll find Via della Pace, one of the city's most photogenic streets. Pull up a chair at a sidewalk cafe and take it all in.
15. Wander around Centro Storico
Spending an afternoon getting lost in the maze of cobblestone streets in Centro Storico is one of the best free things you can do in Rome. Wind your way through the narrow alleyways and streets, admire the churches filled with Baroque art, pause for a coffee, and do some shopping at the many boutiques.
16. Climb Gianicolo
Gianicolo (or Janiculum) Hill offers the best views over Rome. It's a famous spot for young lovers and tourists and from here you can see some of the city's best attractions, including Palazzo Venezia and the Spanish Steps. It's beautiful at dusk, but if you come in during the day, prepare for the cannon firing at noon (it has been happening daily since 1904).
17. Take a food tour
To learn more about the history and culture behind Rome's cuisine, take a food tour. It's the best way to eat your way around the city sampling the best eats Rome has to offer while learning what makes the cuisine unique. Devour Tours runs in-depth food tours led by expert local guides that will introduce you to the food culture and its history. If you're a foodie like me who wants to learn more about the history and culture behind each dish, this tour is for you! Tours from 69 EUR.
For more information on other cities in Italy, check out these guides:
Rome Travel Costs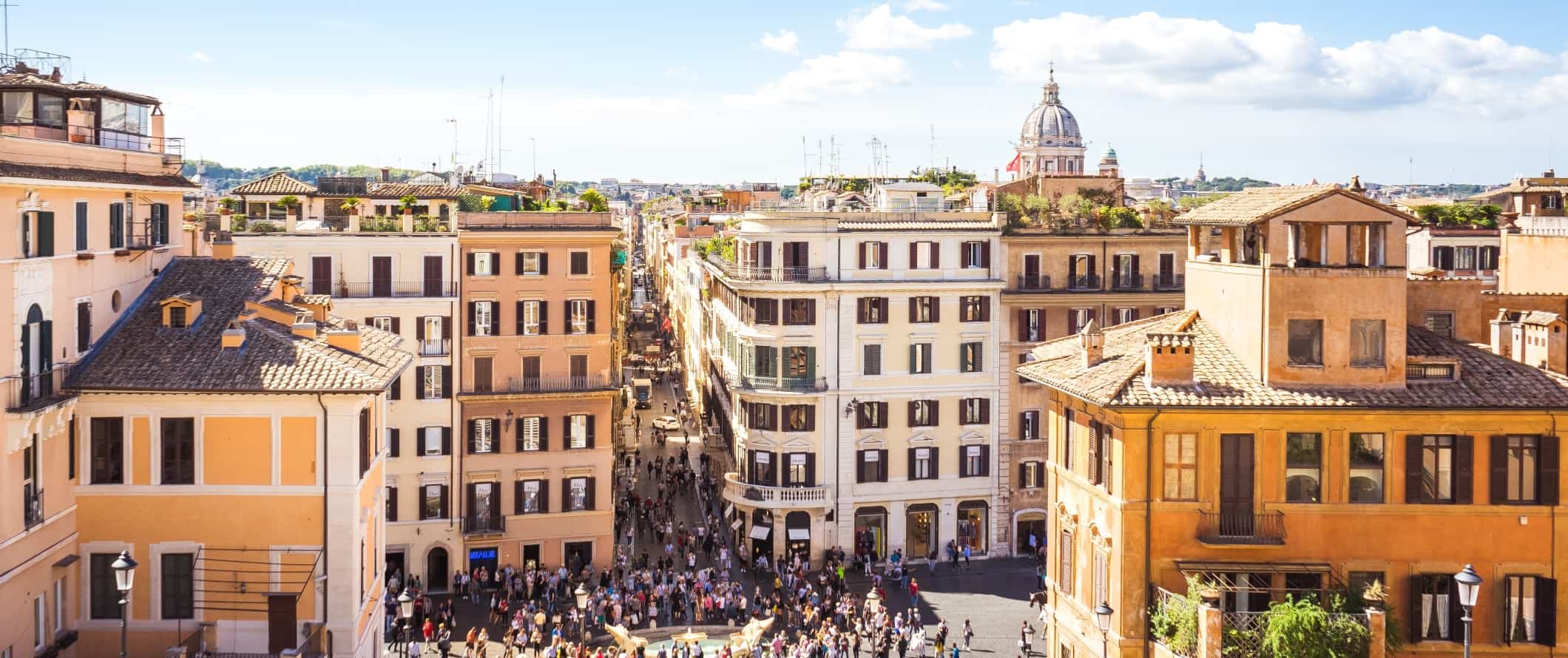 Hostel prices – For a bed in a dorm with 6-8 beds, expect to pay 33-49 EUR per night during peak season and 17-35 EUR off-peak. Private rooms go for 80-120 EUR per night during peak season and 55-75 EUR off-peak. Free Wi-Fi and self-catering facilities are standard and many hostels also include free breakfast.
Budget hotel prices – Two-star budget hotels start at 60-100 EUR per night. Prices are about 10-20 EUR cheaper per night in the off-season. Expect basic amenities like free Wi-Fi, TV, AC, and a coffee/tea maker. There are a number of bed and breakfasts that include breakfast in the room rate.
On Airbnb, you can find private rooms starting around 40-60 EUR per night and entire apartments for 80-125 EUR per night. Expect to pay double (or more) if you don't book early.
Average cost of food – Italian cuisine is beloved around the world, though every region in Italy offers its own distinct flavor. Tomatoes, pasta, olives, and olive oil form the backbone of most meals, with meat and fish and various cheeses rounding out the menu. Gelato is a must also. You can find dishes from across the country in Rome, as well as tons of international fare; it's the best foodie city in the country.
Most casual restaurant meals with wine cost around 15-20 EUR. In tourist hot spots, add another 10 EUR to that.
Quick eats like pizza, paninis, and sandwiches cost 4-8 EUR. Fast food (think McDonald's) is around 8 EUR for a combo meal. Chinese takeout costs 5-10 EUR for a main dish.
If you want to splash out, a three-course meal at a mid-range restaurant starts at 30 EUR.
Beer costs around 4-5 EUR while a glass of wine costs 3-5 EUR. For non-alcoholic drinks, a latte/cappuccino is around 1.50 EUR and bottled water is less than 1 EUR.
Most restaurants will also add a 2.50-3 EUR coperta (cover charge) to your bill. No way to get around it.
If you plan on cooking your own food, expect to spend around 55-65 EUR per week on groceries. This gets you basic staples like rice, pasta, seasonal produce, and some meat.
Backpacking Rome Suggested Budgets
On a backpacker's budget in Rome, you'll spend about 60 EUR per day. This assumes you're staying in a hostel, cooking all of your meals, limiting your drinking, taking public transportation to get around, and doing mostly free activities like free walking tours and visiting free sights like the Parthenon and Spanish Steps. If you plan on drinking, add another 10 EUR to your daily budget.
On a mid-range budget of 160 EUR per day, you can stay in a private Airbnb, eat out for most meals, enjoy a few drinks, take the occasional taxi to get around, and do more paid activities like touring the Colosseum and visiting the Vatican.
On a "luxury" budget of 275 EUR or more per day, you can stay in a hotel, eat out for all your meals, drink as much as you want, take more taxis, and do whatever tours and activities you want. This is just the ground floor for luxury though. The sky is the limit!
Accommodation
Food
Transportation
Attractions
Average Daily Cost
Backpacker
25
15
10
10
60
Mid-Range
80
40
15
25
160
Rome Travel Guide: Money-Saving Tips
It's easy to blow a lot of money in Rome as it's one of the most expensive cities in Europe. Luckily, there are plenty of ways to cut your costs. Here are some of the best ways to save money in Rome:
Stay outside the center – If you are open to staying on the outskirts of Rome, you can save a lot of money on accommodation. Food outside of the city is much cheaper as well, and it's easy to take the train to Rome for your sightseeing.
Eat cheap – When eating in Rome, opt for sandwich and pizza places as opposed to touristy restaurants. For really good, inexpensive food, visit Trastevere across the river.
Cook your own meals – If you're on a tight budget, skip eating out and cook your own meals. If you have access to a kitchen, you'll be able to save a fortune.
Get a tourist card – If you are going to see a lot of museums, consider buying one of Rome's many budget cards such as the Roma Pass, the Omnia Card (for Rome and the Vatican), or the Colosseum Full Experience ticket (which grants access not only to the Colosseum but several other iconic sites). You pay one flat fee for all the attractions and can save a good amount of money in the process.
Pass on the bread – Some restaurants charge you extra for bread they leave on the table — but they won't tell you about it until the bill arrives. Send it back if you don't want to be tempted.
Drink the tap water – When eating out, ask for tap water or you will automatically get expensive bottled water included on your bill.
Buy your wine at supermarkets – You can buy a great bottle of wine for 6-10 EUR at the store. It's much cheaper than the bar.
Stay with a local – Use Couchsurfing to stay with locals who have extra beds or couches for free. It's the best way to save money while connecting with a local who can share their insider tips and advice.
Go on a free walking tour – This is a great way to learn the history behind the places you are seeing and get your bearings. Rome Free Walking Tour has a few tours that can show you what the city has to offer. Just don't forget to tip your guide!
Get a transportation pass – A 24-hour transportation pass for the metro, bus, and trams is just 7 EUR. It's the best way to get around the city on a budget.
Take advantage of free museums – On the first Sunday of the month, dozens of museums and galleries around the city have free entry, including the Colosseum, the Borghese, and the modern art museum (among many others). And on the last Sunday of the month, the Vatican Museums are free. Just expect crowds!
Bring a water bottle – The tap water here is safe to drink so bring a reusable water bottle to save money and reduce your plastic use. LifeStraw is my go-to brand as their bottles have built-in filters to ensure your water is always clean and safe. You'll find clean drinking fountains all over the city.
How to Get Around Rome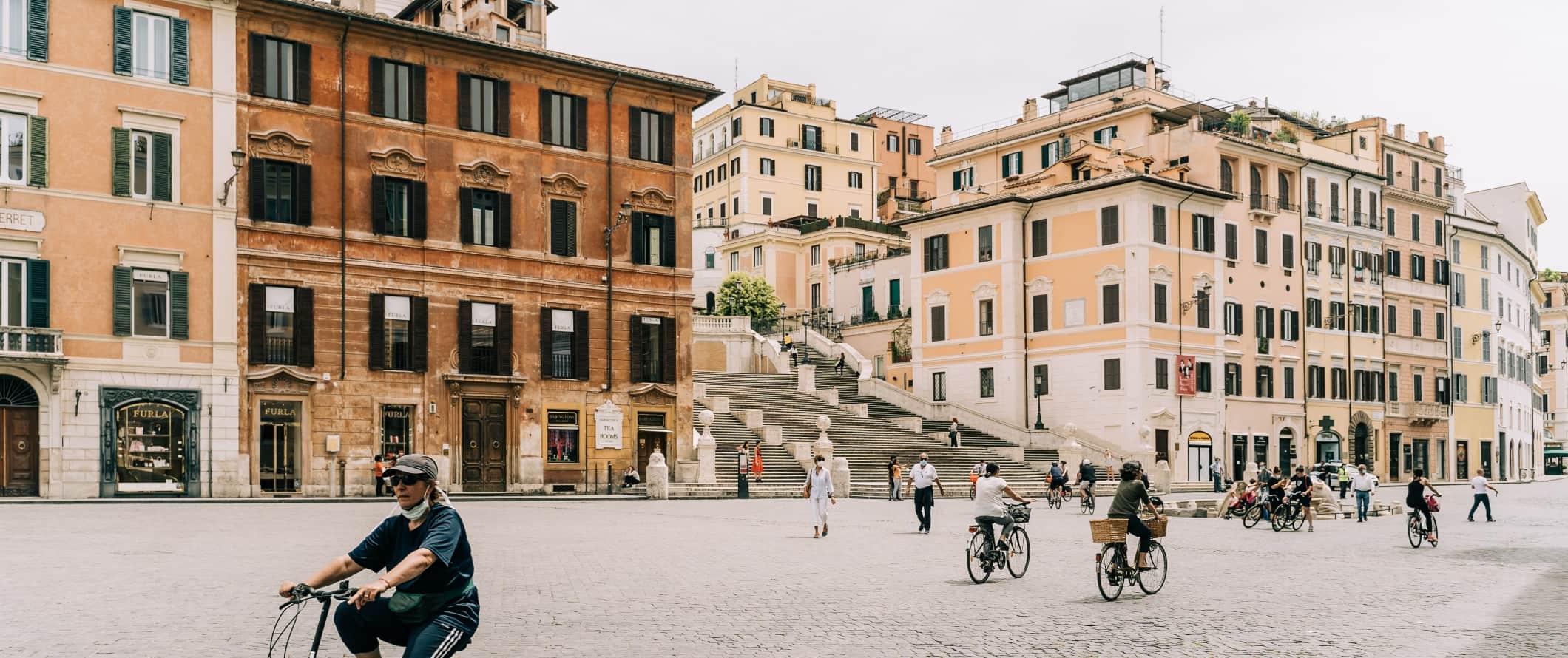 Public transportation – Rome has an extensive public transportation network consisting of buses, a subway (metro), trams, and trolleys.
The metro is the fastest way to get around the city. There are three lines and a single journey ticket that's valid for 100 minutes is 1.50 EUR. You can pick up tickets from local tobacco shops, newsstands, and vending machines at the stations. You can also use contactless payment methods on the metro.
The bus can get you into the areas not covered by the metro system, but it's a lot slower than the subway due to constant traffic jams. Tickets are 1.50 EUR.
You can purchase a one-day pass for unlimited travel for 7 EUR. A one-week pass costs 24 EUR.
If you're going to be using the public transportation system a lot, the Roma Pass is your best bet as it includes free access to some museums, discounts on others, and unlimited public transportation. It's 32 EUR for 48 hours and 53 EUR for 72 hours.
Taxis – Taxis are very expensive here so I don't recommend taking them. The meter starts at 4 EUR and then goes up 1.20 EUR per kilometer. Avoid them at all costs!
Ridesharing – Uber is available in Rome and their prices are usually cheaper than taxis. That said, they're still not super cheap so skip Uber too!
Bike rental – Bicycling around Rome may seem a little scary with the high volume of traffic (and the hills), but there are bike lanes around the city center that make it possible. Bike rentals start at 14-20 EUR per day.
Car rental – The traffic in Rome is absolutely terrible so I would avoid renting a car here. Even if you're leaving the city, it will still be a nightmare to get around and find parking. If you do want a car, the best rental car deals can be found with Discover Cars
When to Go to Rome
Peak season is during the summer, from June through August. You'll be constantly competing for views at Rome's main tourist attractions, but the weather is also fantastic during these months (although sometimes it's unbearably hot and humid). Temperatures during this season average around 27°C (81°F), but in August, temperatures soar above 32°C (89°F) per day.
If visiting in the summer, wake up early to beat the heat and the crowds.
Personally, I recommend visiting during the shoulder season, which is from April-May and late September-October. It's slightly less chaotic than the summer months, and the temperature is pleasant, hovering around 18°C (64°F). That said, post-COVID, tourism has grown so much that even those times of the year can still be pretty crowded.
Winter is from November to March. This is the off-season in Rome but the city is never quiet. Although there are fewer travelers around, you can still expect a bustle of activity everywhere you go. Temperatures during this time range from 4-15°C (39-59°F).
How to Stay Safe in Rome
Rome is a very safe place to backpack and travel — even if you're traveling solo and even if you're a solo female traveler. However, petty theft can be a problem here so keep your valuables secure and out of sight. Pickpockets are very active around Rome's main attractions such as the Colosseum and St. Peter's Square so stay vigilant.
It's also not uncommon to get ripped off in this city. You should never buy tickets from unofficial ticket offices. If you are approached by someone selling skip-the-line tickets, ignore them. Also, always make sure your taxi driver is using the meter.
If you're worried about getting scammed, you can read about common travel scams to avoid here.
Solo female travelers should generally feel safe here, however, the standard precautions apply (never leave your drink unattended at the bar, never walk home alone intoxicated, etc.).
If you experience an emergency, dial 113 for assistance.
Always trust your gut instinct. Make copies of your personal documents, including your passport and ID. Forward your itinerary along to loved ones so they'll know where you are.
The most important piece of advice I can offer is to purchase good travel insurance. Travel insurance will protect you against illness, injury, theft, and cancellations. It's comprehensive protection in case anything goes wrong. I never go on a trip without it as I've had to use it many times in the past. You can use the widget below to find the policy right for you:
Rome Travel Guide: The Best Booking Resources
These are my favorite companies to use when I travel. They consistently have the best deals, offer world-class customer service and great value, and overall, are better than their competitors. They are the companies I use the most and are always the starting point in my search for travel deals.
Skyscanner – Skyscanner is my favorite flight search engine. They search small websites and budget airlines that larger search sites tend to miss. They are hands down the number one place to start.
Hostelworld – This is the best hostel accommodation site out there with the largest inventory, best search interface, and widest availability.
Booking.com – The best all around booking site that constantly provides the cheapest and lowest rates. They have the widest selection of budget accommodation. In all my tests, they've always had the cheapest rates out of all the booking websites.
HostelPass – This new card gives you up to 20% off hostels throughout Europe. It's a great way to save money. They're constantly adding new hostels too. I've always wanted something like this and glad it finallt exists.
Get Your Guide – Get Your Guide is a huge online marketplace for tours and excursions. They have tons of tour options available in cities all around the world, including everything from cooking classes, walking tours, street art lessons, and more!
The Man in Seat 61 – This website is the ultimate guide to train travel anywhere in the world. They have the most comprehensive information on routes, times, prices, and train conditions. If you are planning a long train journey or some epic train trip, consult this site.
Rome2Rio – This website allows you to see how to get from point A to point B the best and cheapest way possible. It will give you all the bus, train, plane, or boat routes that can get you there as well as how much they cost.
FlixBus – Flixbus has routes between 20 European countries with prices starting as low 5 EUR! Their buses include WiFi, electrical outlets, a free checked bag.
SafetyWing – Safety Wing offers convenient and affordable plans tailored to digital nomads and long-term travelers. They have cheap monthly plans, great customer service, and an easy-to-use claims process that makes it perfect for those on the road.
LifeStraw – My go-to company for reusable water bottles with built-in filters so you can ensure your drinking water is always clean and safe.
Unbound Merino – They make lightweight, durable, easy-to-clean travel clothing.
Top Travel Credit Cards – Points are the best way to cut down travel expenses. Here's my favorite point earning credit cards so you can get free travel!
Walks of Italy – This walking tour company provides inside access to attractions and places you can't get elsewhere. Their guides rock and they have some of the best and most insightful tours in all of Italy.
BlaBlaCar – BlaBlaCar is a ridesharing website that lets you share rides with vetted local drivers by pitching in for gas. You simply request a seat, they approve, and off you go! It's a cheaper and more interesting way to travel than by bus or train!
Rome Travel Guide: Related Articles
Want more info? Check out all the articles I've written on backpacking/traveling Italy and continue planning your trip: