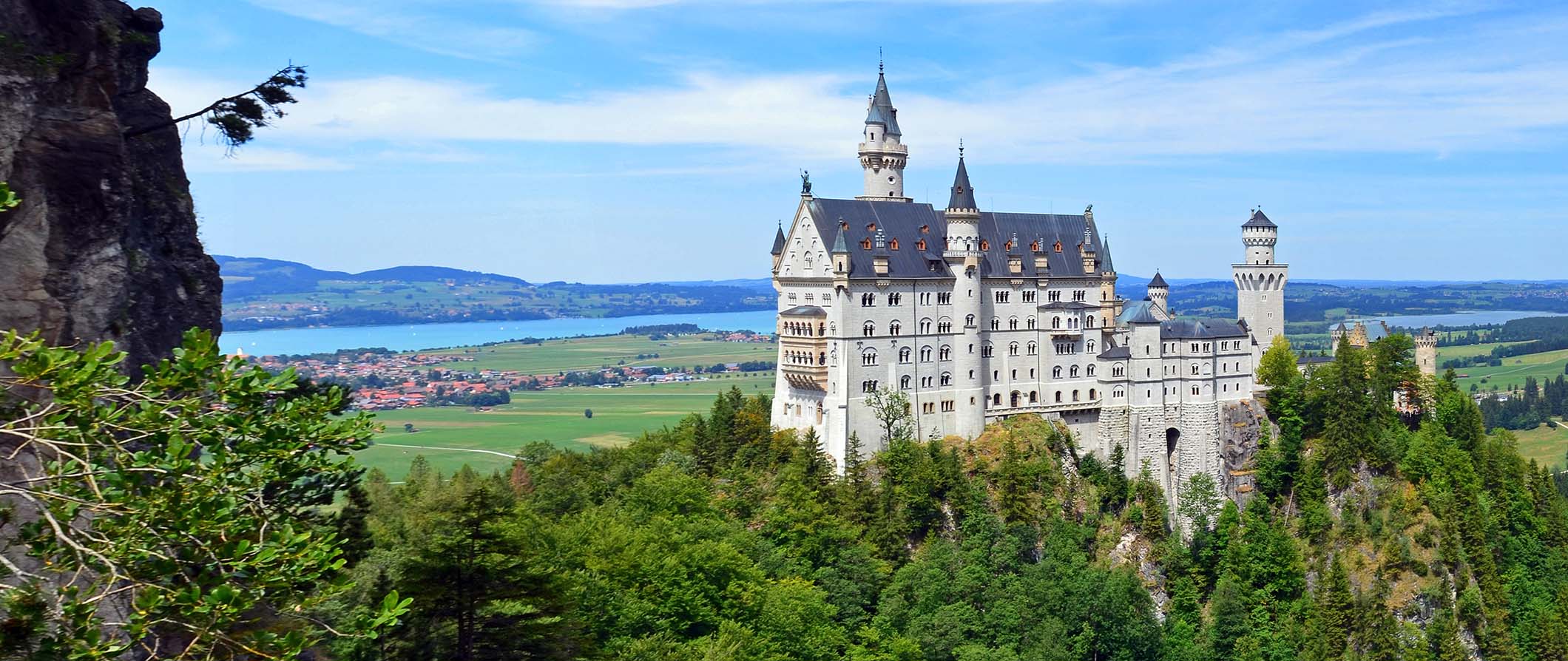 Germany. The country is synonymous with beer, sausages, incredible hiking, majestic castles, serious people, and wild techno parties. It's huge, diverse, and utterly amazing.
There's a vibrant art and music scene in Berlin, beautiful forests in the west, majestic cathedrals and castles throughout the country, picturesque "Sound of Music" cities in the south, and overlooked historic cities and beaches in the north.
The more I visit Germany, the more I fall in love with it. Whether you are backpacking, traveling on a mid-range budget, or looking to splash out, traveling around Germany is wonderful.
That said, Germany is a huge country so don't rush your visit. There's more to the country than just Berin and those cross-country train rides are longer than you think.
This travel guide to Germany will help you plan your trip, save money, and make the most of your visit!
Click Here for City Guides
Top 5 Things to See and Do in Germany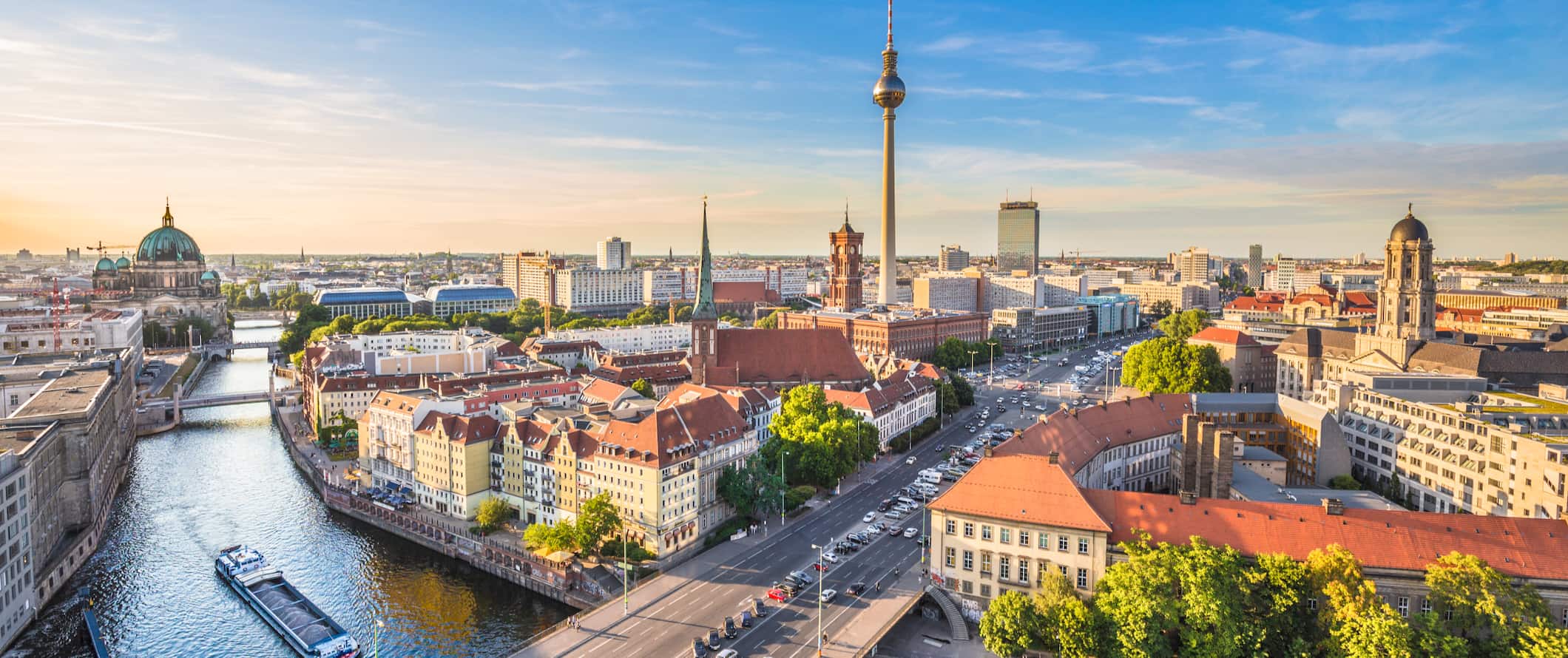 1. Get lost in Berlin
Germany's hip capital has world-class museums, history, funky neighborhoods, and some of the best nightlife in Europe. From the museums to the art and music scene to the great bars and cheap food, Berlin is electric (and one of the cheapest European capitals). It's a really amazing city that has grown on me with every visit.
2. See Munich
Berlin's quiet, upscale cousin, Munich is a city steeped in history, lively beer halls, incredible food, lush parks, and a royal palace. It's a beautiful destination and there are a lot of Bavarian towns nearby that make for scenic day trips.
3. Party at Oktoberfest
Held annually in September and October, the world's largest beer festival is filled with huge steins and giant pretzels. I went there for 5 days and had the time of my life. Buy some lederhosen, raise a glass, and sing some German beer songs. Just make sure to plan your trip well in advance as things sell out fast!
4. Explore the Romantic Road
A string of historic cities in Bavaria, the "Romantic Road" is the name for the route through majestic Bavarian towns and their surrounding snow-capped mountains. The area can get quite touristy but it's a beautiful area and a great choice for road trips and romantic getaways. There are a ton of tour options for the area that are worth checking out. For some of the more further afield attractions, the tours are a must as they are hard to visit without a car.
5. Hike the Black Forest
The Black Forest is so named because of the dark green pine trees that grow here. Spanning over 6,000 square kilometers (2,300 square miles), there are hundreds of miles of hiking trails worth exploring and you can spend some time stopping in towns that are famous for their cuckoo clocks and hearty German fare. If you want to go on a guided hike or adventure activity, you can find a lot here.
Other Things to See and Do in Germany
1. Explore Lake Constance
Lying along the country's southwestern border with Switzerland and Austria, Lake Constance (known as Bodensee in German) is Germany's largest freshwater lake and the third-largest in Central Europe. One of the lake's main attractions is the island of Mainau, also known as Flower Island, which is home to many specialty gardens, a baroque palace, and one of the largest butterfly houses in Germany. Tickets to visit the island are 10.50 EUR. Be sure to visit the many picturesque medieval villages and castles nearby, enjoy water sports, and go hiking and biking along the 272-kilometer (170-mile) Lake Constance Trail.
2. Visit Hanover
This city was one of the hardest hit during World War II, leaving it with only a few historical landmarks. But what I loved about Hanover were its large green areas of forests and big parks, the River Leine winding through the city, and the Sprengel Museum. Not many people visit, but I think it is one of Germany's most underrated destinations.
3. Hike Berchtesgaden National Park
This national park, located in the south of Germany along the Austrian border, is an alpine heaven of lush forests, steep rock faces, crystal clear lakes, sleepy villages, and rolling meadows. It's just you, the chirping birds, and cows ringing their brass bells. Well-marked trails wind through the spectacular scenery, which brims with opportunities for hiking and cycling. While nature is the main attraction, the beautiful red-domed Church of St. Bartholomew (dating to 1697) is a worthwhile stop as well.
4. Check out Trier
Nestled in the Moselle River valley, picturesque Trier is the oldest town in the country. With a 2,000-year-old history, Trier was home to six Roman emperors and contains numerous UNESCO Roman ruins. The most outstanding example is the Black Gate, a monumental structure that was once part of the city walls. Other Roman sites worth visiting include the incredibly well-preserved basilica, the huge amphitheater, the bridge, and the baths. Trier is also home to several important Gothic and Baroque churches, a beautiful main square, and great wine due to its location in the Moselle wine region.
5. Visit Dresden
Dresden, the capital of the German state Saxony, is a vibrant city located along the majestic Elbe River near the Czech and Polish borders. During World War II, the city was subject to one of the most devastating bombings of the war. Tens of thousands of civilians died, and over 90% of the city was razed at the hands of British-American forces. After the war, the city was completely rebuilt. The famous Frauenkirche church, the Neumarkt historic district, the Zwinger Palace, the Royal Palace, and the Semper Opera House have all been restored to their former glory. Other must-see attractions include the Fürstenzug, a unique 102-meter-long (334-foot) porcelain mural dating to the 1870s; and the baroque Grosser Garten, the largest green space in the city.
6. Spend a day in Cologne
Cologne is a cool place to stop in West Germany on your way to or from the Netherlands. The cathedral is the most popular landmark in the city (and one of the most popular in the country), but there's also a vibrant art scene, incredible international restaurants, and lots of riverside cafes and pubs. It's an underrated stop worth exploring for a couple of days.
7. See Neuschwanstein Castle
This 19th-century Neo-Romantic palace is the model for the Disney castle and a must for any Germany itinerary. It's one of the most popular tourist attractions in all of Europe, with over 1.5 million visitors each year. Perched on a rugged hill in Bavaria near the town of Füssen, the palace was commissioned by Ludwig II of Bavaria as a retreat and as an homage to Richard Wagner. Visitors can walk around outside and admire the stunning exterior for free, but the interior is only accessible by guided tour at specific times, which must be booked in advance. While the palace is 6,000 square meters (65,000 square feet) in size, only 14 of those rooms were ever finished. The finished rooms were fitted with very modern technology for the time, such as central heating, hot and cold running water, automatic flush toilets, and telephones. Admission is 15 EUR and guided tours are available. I think the guided tours add a lot of context and would really recommend taking one.
8. See Frankfurt
Often considered just a stopover city (there is a huge airport here), Frankfurt is home to a gigantic exhibition hall (one of the largest in the world so tons of events and conferences are held here), an excellent science museum, and a towering 14th-century cathedral. It's less expensive compared to other cities in Germany and worth spending a day or two visiting.
9. Visit Olympia Park
Located in Munich, this massive complex was originally constructed for the 1972 Olympic Games. It is topped by the largest roof in the world, which spans over 700,000 feet. There is a really good restaurant here too. Tickets to the stadium cost 3.50 EUR while a ticket to the Olympic Tower costs 11 EUR. You can also skate in the ice arena, swim in the Olympic swimming pool, and reserve court time on the tennis courts. The BMW Museum is also nearby and worth a visit.
10. Tour to Schloss Colditz
Originally built to be a Renaissance palace, this interesting structure has a long, bizarre history. Located between Leipzig and Dresden in the region of Saxony, it's been a hunting lodge, a poorhouse, and even a mental hospital. It is most famous for being a prisoner-of-war camp during World War II. There is a museum within the palace, with tickets costing 4 EUR. A two-hour guided tour through the castle (and escape tunnels built by prisoners) is 10 EUR. There is even a hostel within the castle (30.50 EUR per night).
11. Visit Hamburg
Located in northern Germany, Hamburg is Germany's second-largest city. This port city, home to the second-busiest port in Europe, is famous for its parks and canals. Near its core, Inner Alster lake is dotted with boats and surrounded by cafes. The city's central boulevard connects the Neustadt (new town) with the Altstadt (old town) and is home to landmarks like 18th-century St. Michael's Church.
12. See Tierpark Hagenbeck
Located in Hamburg, this zoo and aquarium spans over 60 acres and is home to more than 2,500 animals including polar bears, penguins, and walruses. In addition to the classic attractions, there is a petting zoo, a miniature railway, pony rides, a playground for kids, and a serene Japanese garden. Combination tickets for the zoo and aquarium are 40 EUR.
13. Take a break in Bremen
Located in the north (near Hamburg), Bremen is a smaller city worth exploring. The charming medieval Schnoor district makes for a great stroll, and there is a beautiful cathedral and opulent city hall in the historic market square. The medieval harbor has been converted into the Schlachte, a large pedestrian promenade along the banks of the Weser River lined with countless restaurants, beer gardens, and riverboats. Bremen is also home to several fascinating museums, including the Universum Bremen, an interactive science museum in a modern whale-shaped building. The museum also offers a Dining in the Dark three-hour dinner experience, where you learn to experience food with just four out of your five senses.
14. Explore the Rhine Valley
The longest river in Germany, the Rhine holds incredible importance both historically and culturally. The most popular area to visit is the Upper Middle Rhine Valley. This 67-kilometer (41-mile) stretch is a UNESCO World Heritage Site with countless castles, ruins, villages, and vineyards. An extensive network of walking and cycling paths, as well as excellent public transportation, means you don't even need to rent a car when visiting.
15. Step back in time in Bamberg
Located less than an hour from Nuremberg, Bamberg is one of Germany's best-preserved medieval towns, home to Europe's largest intact historic city wall. Founded in the 9th century, the town was important in both the 12th-century Holy Roman Empire and the 18th-century German Enlightenment. It's an incredibly picturesque town so spend the day wandering around, seeing the old homes, visiting the 13th-century cathedral, the 17th-century palace, the 18th-century city hall, and the seven churches that sit atop each of the seven hills surrounding the village.
16. Take a river cruise
Many of Germany's major cities lie along large rivers, making river cruises a popular way to see the country. While there are expensive multi-day cruises going from city to city, you can also take a day cruise for a more budget-friendly option. Generally, these are around 15-25 EUR for a 1-2 hour trip. They are super fun.
17. Ascend Germany's tallest mountain
Located in the Alps along the German-Austrian border, the Zugspitze mountain measures 2,962 meters (9,718 feet) and is a popular destination for winter sports. Even if you're not into skiing, you can still enjoy the trip up the mountain via one of three different cable cars and a 90-year-old rack railway line. At the top, you'll be treated to panoramic views and several restaurants with traditional Alpine food. Round-trip cable car tickets cost 24-63 EUR depending on the season and which cable car you take. If you don't want to go solo, day trips are available from Munich and are the best way to get there and around without transportation.

For more information on specific cities in Germany, check out these guides:
Germany Travel Costs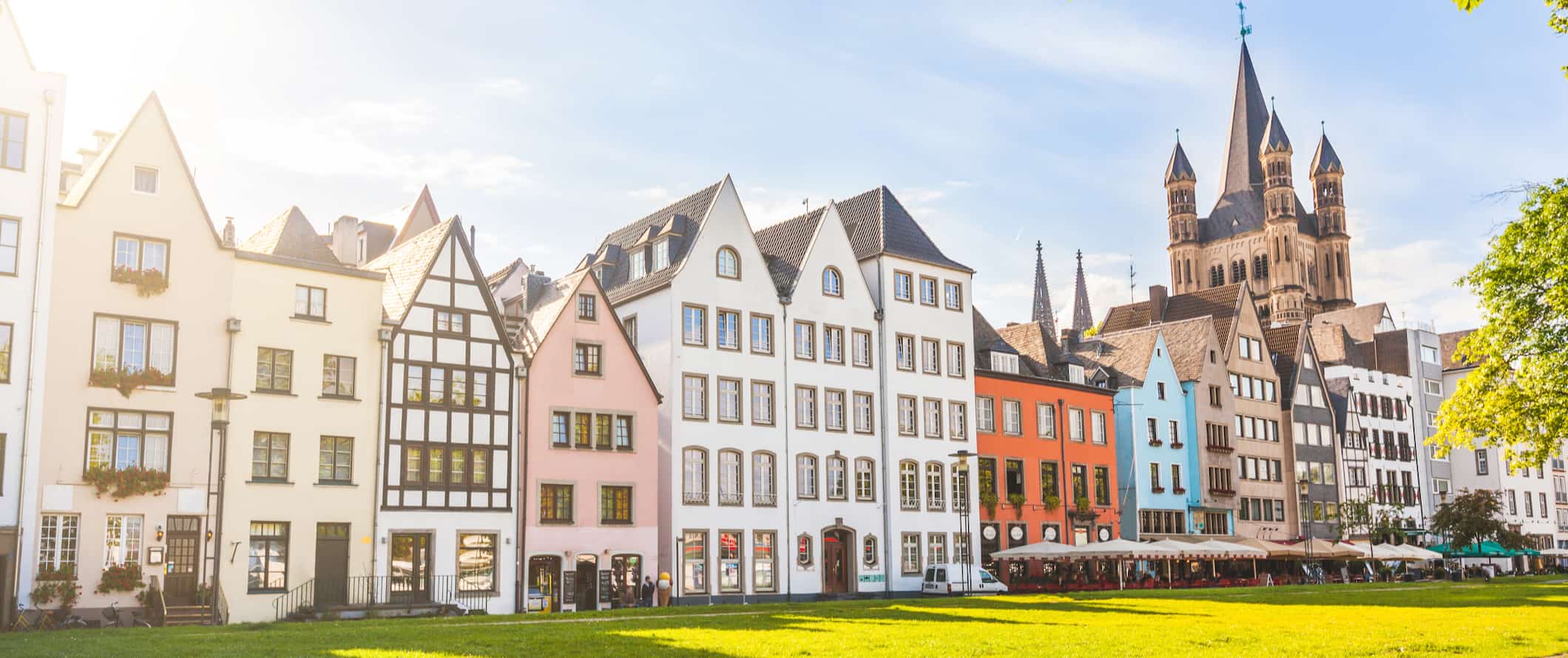 Accommodation – Accommodation in Germany is quite affordable compared to other Eurozone countries. Hostels are plentiful and range from 17-25 EUR per night for a dorm room with 6-8 beds. For a private room, expect to pay 40-60 EUR per night. Free Wi-Fi is standard and many hostels also include free breakfast.
Budget hotel prices begin around 45-65 EUR for a small double room with a private bathroom and free Wi-Fi.
Airbnb is available everywhere with private rooms going for as little as 30-45 EUR per night and entire apartments or homes starting at 50-75 EUR. Book early though or prices will double (or triple).
While wild camping is illegal, there are a ton of campsites around the country. Expect to pay 5-20 EUR per night for a basic plot for two people without electricity.
Food – Food in Germany is very cheap (and hearty). Meat is a staple of most meals, especially sausages; there are over 1,500 different kinds of sausages in Germany (sausages here are known as "wurst"). Stews are also a popular traditional choice, as are potato dumplings and sauerkraut. Breakfast is usually composed of bread, cold cuts, cheese, and boiled eggs.
You can get sausages and bratwurst from outdoor vendors for around 3-5 EUR. Meals at many of the beer halls around the country cost 9-15 EUR. Pre-made sandwiches cost around 5 EUR. Fast food (think McDonald's) costs around 8.50 EUR for a combo meal.
If you eat in the beer halls, a traditional German meal costs around 14-18 EUR. Turkish, Middle Eastern, and Asian food can be found for as little as 5 EUR, while a nicer meal at a sit-down restaurant costs around 25 EUR.
Beer costs around 4 EUR while a latte/cappuccino is around 3 EUR. Bottled water is around 1 EUR.
If you plan on cooking for yourself, a week's worth of groceries costs around 40-50 EUR. This gets you basic staples like rice, pasta, seasonal produce, and some meat. While they don't always offer the most variety, the cheapest places are Aldi, Lidl, Penny, and Netto. Bring your own bag if possible.
Backpacking Germany Suggested Budgets
If you're backpacking Germany, my suggested budget is 55 EUR per day. This is a suggested budget assuming you're staying in a hostel dorm, cooking all your meals, limiting your drinking, using local transportation to get around, and doing mostly free activities like hiking and taking free walking tours. If you plan on drinking, add another 5-10 EUR to your daily budget.
On a mid-range budget of 135 EUR per day, you can stay in a private Airbnb room, eat a few meals out, take the occasional taxi to get around, enjoy a few drinks, take the bus between cities, and do more paid activities like visiting museums and castles.
On a "luxury" budget of 245 EUR or more per day, you can stay in a hotel, travel between cities via train, eat out at restaurants for all of your meals, drink more, take taxis to get around, and do whatever tours and activities you want. This is just the ground floor for luxury though. The sky is the limit!
You can use the chart below to get some idea of how much you need to budget daily, depending on your travel style. Keep in mind these are daily averages – some days you'll spend more, some days you'll spend less (you might spend less every day). We just want to give you a general idea of how to make your budget. Prices are in EUR.
Accommodation
Food
Transportation
Attractions
Average Daily Cost
Backpacker
25
10
10
10
55
Mid-Range
65
35
15
20
135
Germany Travel Guide: Money-Saving Tips
Overall, Germany is not an expensive country to visit. Yes, river cruises are expensive. Yes, there's plenty of high-end cuisine throughout the country. Visiting Frankfurt, the capital of finance, costs a pretty penny. But those are exceptions to the rule. Overall, Germany is quite affordable for a Eurozone country, with plenty of bargains throughout the country. Here are my best tips for saving money in Germany:
Eat cheap – Throughout Germany, cheap outdoor sausage vendors offer quick eats for only a couple of euros. Additionally, some of the best and cheapest food in Germany is Turkish and Middle Eastern cuisine. You can get meals for 5-8 EUR that are delicious and filling. It's what I mainly eat while in Germany whenever I want to eat out.
Drink cheap – In Germany, buying beer and walking around — known as a 'Weg bier' — is totally acceptable. Take advantage of good weather by sitting outside in Germany's lovely plazas and lush parks and buy your own drinks from the Späti shops, street kiosks, and supermarkets to save money. Also, find the student areas by the universities as you'll find the discounted places.
Take the free tours – The bigger cities in Germany have free walking tours. They're a good way to see the city, learn about the history, and get your bearings without spending money. Just make sure to tip your guide at the end!
Book your train early – Trains in Germany are expensive but you can get a saver ticket that is around 40-50% off the standard fare if you book at least a week in advance. These tickets have limited availability, so be flexible with your travel plans. Also, if you are more flexible with times, try Flixtrain instead, which has fewer routes between bigger cities sometimes at inconvenient times but is way cheaper than Deutsche Bahn.
Take the bus instead of the train – While not as comfy or romantic, Flixbus or Postbus are two bus companies with super cheap prices. Download the app and you can get tickets last-minute but be aware that prices vary by time and availability so if you need to be somewhere by a certain time or day book in advance.
Use rideshares – If you're flexible in your schedule, use the ridesharing service BlaBlaCar and catch rides with locals between cities (or countries). You save money and get to spend time with locals. Drivers are verified and it's perfectly safe (though sometimes rides don't show up, which is why you need to be flexible). While the bus might be cheaper, this is usually faster (and more interesting). Just make sure to check where the pickup and drop-offs are as sometimes they are not exactly central places or main station.
Stay with a local – While accommodation in Germany is pretty cheap, if you want to get some local insight into the country, you should Couchsurf. Not only will you save money on accommodation but you'll meet locals who can help get you off the tourist trail and show you around! Plus, they have occasional meet-ups depending on the city so you can meet other travelers and locals
Bring a water bottle – The tap water here is safe to drink so bring a reusable water bottle to save money and reduce your plastic use. LifeStraw is my go-to brand as their bottles have built-in filters to ensure your water is always clean and safe.
Look out for free museum days – Most museums in Germany offer free admission on certain days or evenings. Check their website or ask the local tourism office to find out about discounts.
Get transportation day passes – If you're going to be using public transportation a lot in a city, get a day pass. Paying for single rides adds up quickly.
Get city tourism cards – Most of the major cities in Germany offer city tourism cards. These include free admission to major museums and attractions, discounts on restaurants, and usually unlimited public transportation. If you plan on seeing a lot, these cards can save you money.
Where to Stay in Germany
There are lots of fun and social hostels in Germany. Here are some of my suggested places to stay:
How to Get Around Germany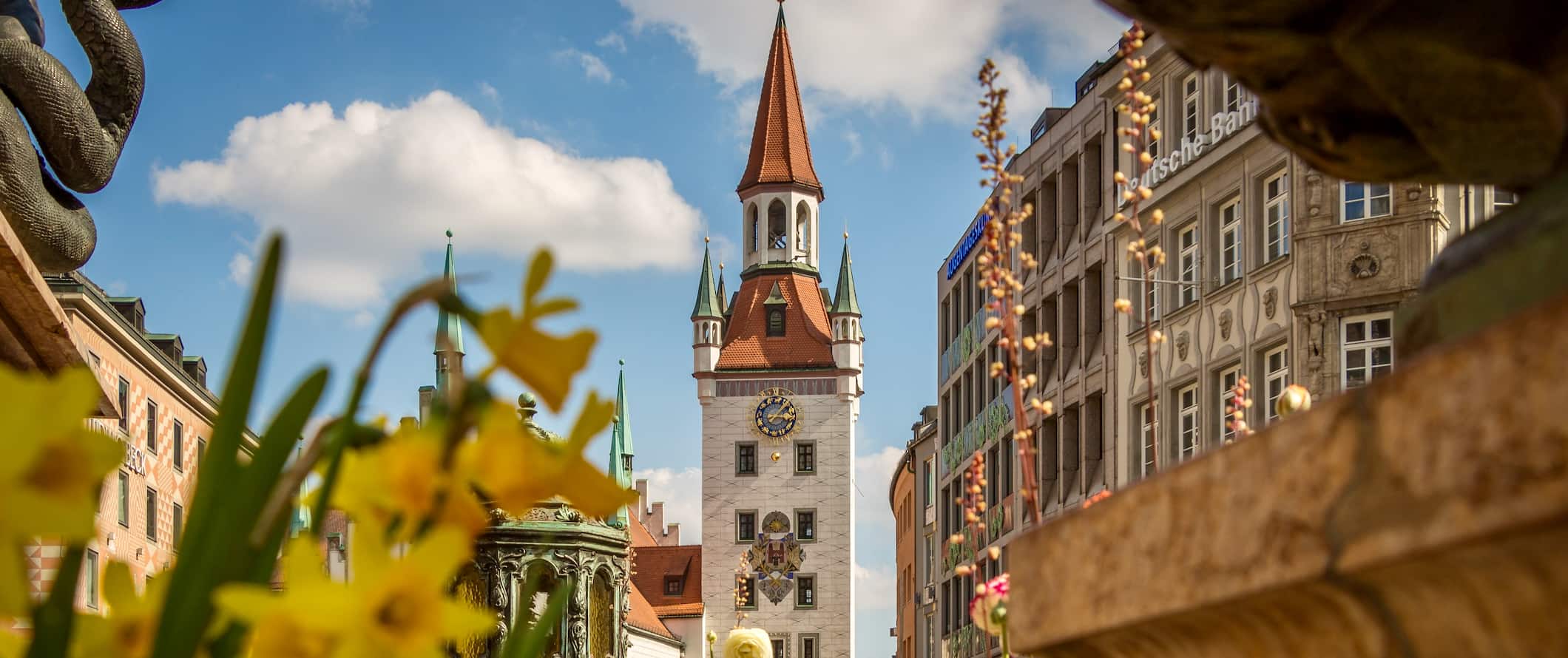 Public transportation – Germany has some of the best public transportation in the world. All the cities and larger towns have public transportation that is reliable and efficient. In cities like Berlin and Munich, all the various networks are integrated: one ticket gives you access to buses, trams, U-Bahn (subway), and S-Bahn (above ground train). Fares are determined by zone, but generally, a one-way fare starts from 2.90 EUR. A one-day unlimited pass is generally around 7-9 EUR while a three-day pass costs 17-20 EUR.
Train – Train travel is an incredibly efficient way to get around Germany, though it's not cheap. Germany's main rail system is Deutsche Bahn, which has both high-speed trains and regular trains. The high-speed trains are a quick way to get around but are usually much more expensive.
Take advantage of regional group tickets that start at around 22 EUR. These regional discounted tickets are available in Bavaria, Brandenburg-Berlin, Baden-Wüttermburg, Lower Saxony, North Rhine-Westfalia, Hesse, etc. For example, the Bavarian Bayern Ticket is 58 EUR for a group of 5 tickets for any train in Bavaria from 9am to 3am.
Last-minute tickets from Berlin to Hamburg can cost 50 EUR, but advance bookings start around 20 EUR. Frankfurt to Cologne is also around 20 EUR. It's always best to book in advance when possible, otherwise, you'll pay the price for last-minute bookings. You can track schedules and fares on the Deutsche Bahn website.
A Eurail Pass, which allows travelers to explore Europe by providing a set number of stops in a specific time period, might also be a good option if you're doing some country hopping. Here's a detailed breakdown of how Eurail passes work and can save you money.
Bus – Aside from hitchhiking, buses are the cheapest way to get around Germany. They are punctual but slow, with comfortable seats, air-conditioning, rest stops, and usually free Wi-Fi.
I recommend Flixbus for the cheapest rates and most comfortable buses. You can get from Berlin to Dresden for as little as 10 EUR, or from Berlin to Munich for 20 EUR. Munich to Hamburg is around 22 EUR.
Ridesharing – Ridesharing in Germany is very common. Ridesharing means you travel as a passenger with someone in exchange for payment toward fuel costs. It's usually not as cheap as the bus but it's often faster and you'll meet some interesting characters! BlaBlaCar and Mitfahren are the two most popular ride-sharing websites.
Car rental – German is a great country to explore by car. Car rentals start at 30 EUR per day for a multi-day rental. Renters need to be at least 21 years old.
For the best car rental prices, use Discover Cars.
Hitchhiking – Hitchhiking in Germany is very safe, but it's not very common. HitchWiki is the best website for additional hitchhiking information.
When to Go to Germany
Germany is a year-round destination. Summer is the most popular time to visit as temperatures are hot and everyone's outdoors enjoying the weather. People flock to beer gardens and to the lakes to swim. This is also the peak season, when prices are much higher than usual. During this time, average temperatures hover around 24°C (75°F) and can soar well into the 30s°C (high 80s°F). You'll want to book accommodation and transportation early (especially in July and August).
Temperatures warm up fast in spring, and the season is marked by the arrival of cherry blossoms. By May it's warm enough to walk around in t-shirts and shorts. May 1 (Der Erste Mai) is Germany's Labor Day, and the country breaks out in full celebration. If you're lucky enough to be here during this time, take to the streets with your fellow Germans and enjoy the live music, drinking, dancing, and general mayhem.
Thanks to the famous Oktoberfest, autumn is a very popular time to visit Germany (especially Munich). From the end of September to early October, millions of people flock here from all over the world to enjoy the most epic beer-drinking festival in the world. If you're planning on attending Oktoberfest, book your accommodations in advance. Way, way in advance.
An autumn visit to Germany is overall a great idea, especially in Bavaria when the foliage in the hills and mountains makes for some amazing photography. Temperatures can sometimes be chilly, but with light layers, you'll be fine.
Winter in Germany can be cold, with temperatures as low as -10°C (14°F), but Germany is known for its Christmas spirit and the holiday markets all over the country are well worth your time, especially in Munich, Berlin, and Dresden. Pack some warm clothes and let the delicious glühwein (mulled wine) warm you up.
Winter in Bavaria is a skier and snowboarder's dream only around one hour outside of Munich. While people might not think of Germany first in terms of skiing in Europe, these slopes are pristine, truly breathtaking, and way cheaper than neighboring Switzerland. Check out Garmisch-Partenkirchen, Füssen, Kranzberg, Zugspitze, and Laber.
How to Stay Safe in Germany
Germany is an incredibly safe place to travel. However, due to a few high-profile terrorist attacks in the country, I often get asked if it's safe to travel to Germany. I wrote a whole article about how Germany (and Europe) is safe to visit if that's a concern of yours.
Generally, you just need to watch out for scams and petty crime as you would anywhere (especially in Berlin late at night). Keep an eye on your valuables when in large crowds and on public transportation. Violent crime is rare so as long as you keep your valuables secure you shouldn't experience any issues.
Scams are rare but if you're worried about getting ripped off you can read about common travel scams to avoid here.
Solo female travelers should feel safe in Germany, however, the standard precautions apply (never leave your drink unattended at the bar, never walk home alone at night intoxicated, etc.).
If you experience an emergency, dial 112 for assistance.
Always trust your gut instinct. Make copies of your personal documents, including your passport and ID. Forward your itinerary along to loved ones so they'll know where you are.
The most important piece of advice I can offer is to purchase good travel insurance. Travel insurance will protect you against illness, injury, theft, and cancellations. It's comprehensive protection in case anything goes wrong. I never go on a trip without it as I've had to use it many times in the past. You can use the widget below to find the policy right for you:
Germany Travel Guide: The Best Booking Resources
These are my favorite companies to use when I travel. They consistently have the best deals, offer world-class customer service and great value, and overall, are better than their competitors. They are the companies I use the most and are always the starting point in my search for travel deals.
Skyscanner – Skyscanner is my favorite flight search engine. They search small websites and budget airlines that larger search sites tend to miss. They are hands down the number one place to start.
Hostelworld – This is the best hostel accommodation site out there with the largest inventory, best search interface, and widest availability.
Booking.com – The best all around booking site that constantly provides the cheapest and lowest rates. They have the widest selection of budget accommodation. In all my tests, they've always had the cheapest rates out of all the booking websites.
HostelPass – This new card gives you up to 20% off hostels throughout Europe. It's a great way to save money. They're constantly adding new hostels too. I've always wanted something like this and glad it finallt exists.
Get Your Guide – Get Your Guide is a huge online marketplace for tours and excursions. They have tons of tour options available in cities all around the world, including everything from cooking classes, walking tours, street art lessons, and more!
The Man in Seat 61 – This website is the ultimate guide to train travel anywhere in the world. They have the most comprehensive information on routes, times, prices, and train conditions. If you are planning a long train journey or some epic train trip, consult this site.
Rome2Rio – This website allows you to see how to get from point A to point B the best and cheapest way possible. It will give you all the bus, train, plane, or boat routes that can get you there as well as how much they cost.
FlixBus – Flixbus has routes between 20 European countries with prices starting as low 5 EUR! Their buses include WiFi, electrical outlets, a free checked bag.
SafetyWing – Safety Wing offers convenient and affordable plans tailored to digital nomads and long-term travelers. They have cheap monthly plans, great customer service, and an easy-to-use claims process that makes it perfect for those on the road.
LifeStraw – My go-to company for reusable water bottles with built-in filters so you can ensure your drinking water is always clean and safe.
Unbound Merino – They make lightweight, durable, easy-to-clean travel clothing.
Top Travel Credit Cards – Points are the best way to cut down travel expenses. Here's my favorite point earning credit cards so you can get free travel!
BlaBlaCar – BlaBlaCar is a ridesharing website that lets you share rides with vetted local drivers by pitching in for gas. You simply request a seat, they approve, and off you go! It's a cheaper and more interesting way to travel than by bus or train!
Germany Travel Guide: Related Articles
Want more info? Check out all the articles I've written on backpacking/traveling Germany and continue planning your trip: